Visit Chicken Run for customisable clay pot dishes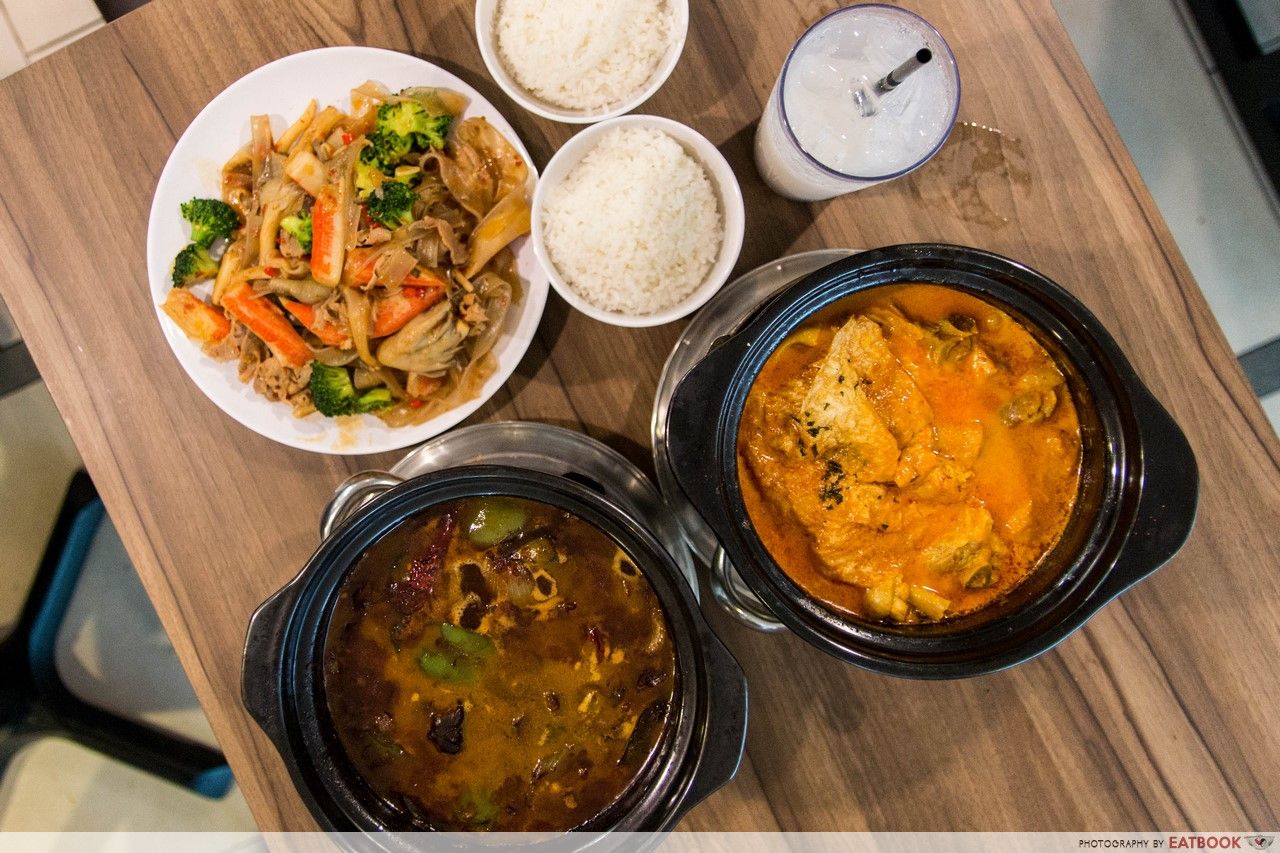 My favourite thing to order at a kopitiam as a kid was fish soup hot pot. Watching my dad balance the hot pot with crimson flames peeking through the 'chimney' was a highly anticipated part of those meals. Eating at Chicken Run evokes some of that childhood nostalgia with clay pots that are kept bubbling over a steady flame.
Food at Chicken Run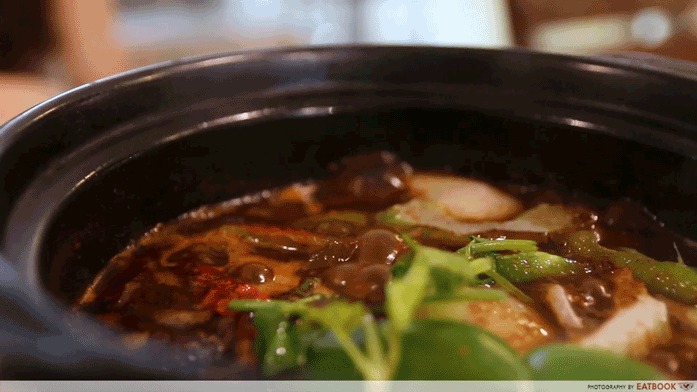 Customisable options and a long list of add-ons available mean you can have a unique order every time you visit Chicken Run. Different clay pot sizes makes eating here good for both solo adventures and group outings, and the restaurant caters to different tolerances for heat with three levels of spiciness.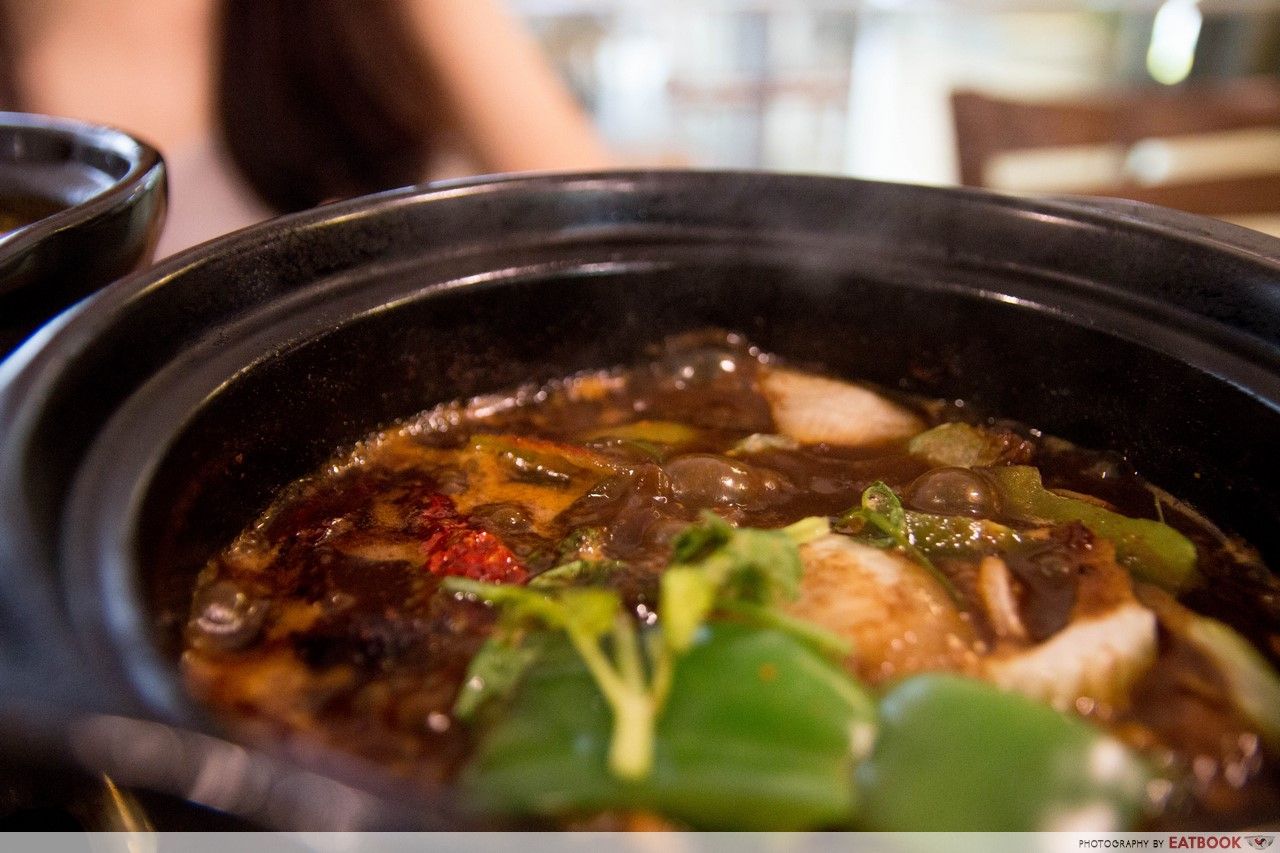 We decided to try their signature Chicken Pot ($15.90+/$21.90+/$30.90+) at level one spiciness. We took advantage of their lunch special, which got us the Chicken Pot as well as a bowl of rice at $9.90+. The chicken pot had chunks of bone-in chicken stewed in a dark brown sauce, along with pieces of green capsicum and sliced onions.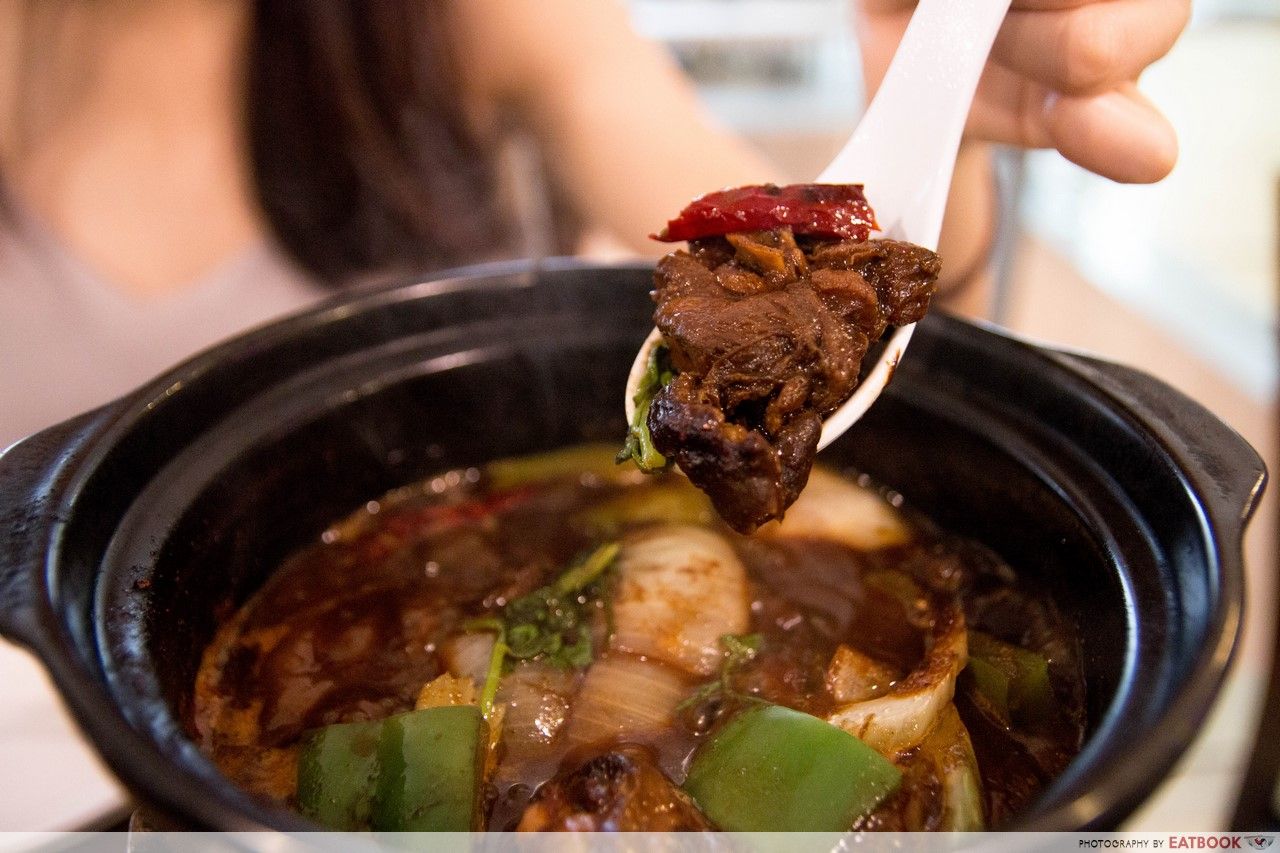 Despite its similar appearance to Chinese braising sauce, the gravy tasted very different. It was sweet on first taste, then developed a savoury saltiness like that of fermented bean paste. The latter remained the dominant flavour throughout the dish. The spiciness was a creeping heat – the back of my throat began to tingle just when I commented, "This isn't that spicy."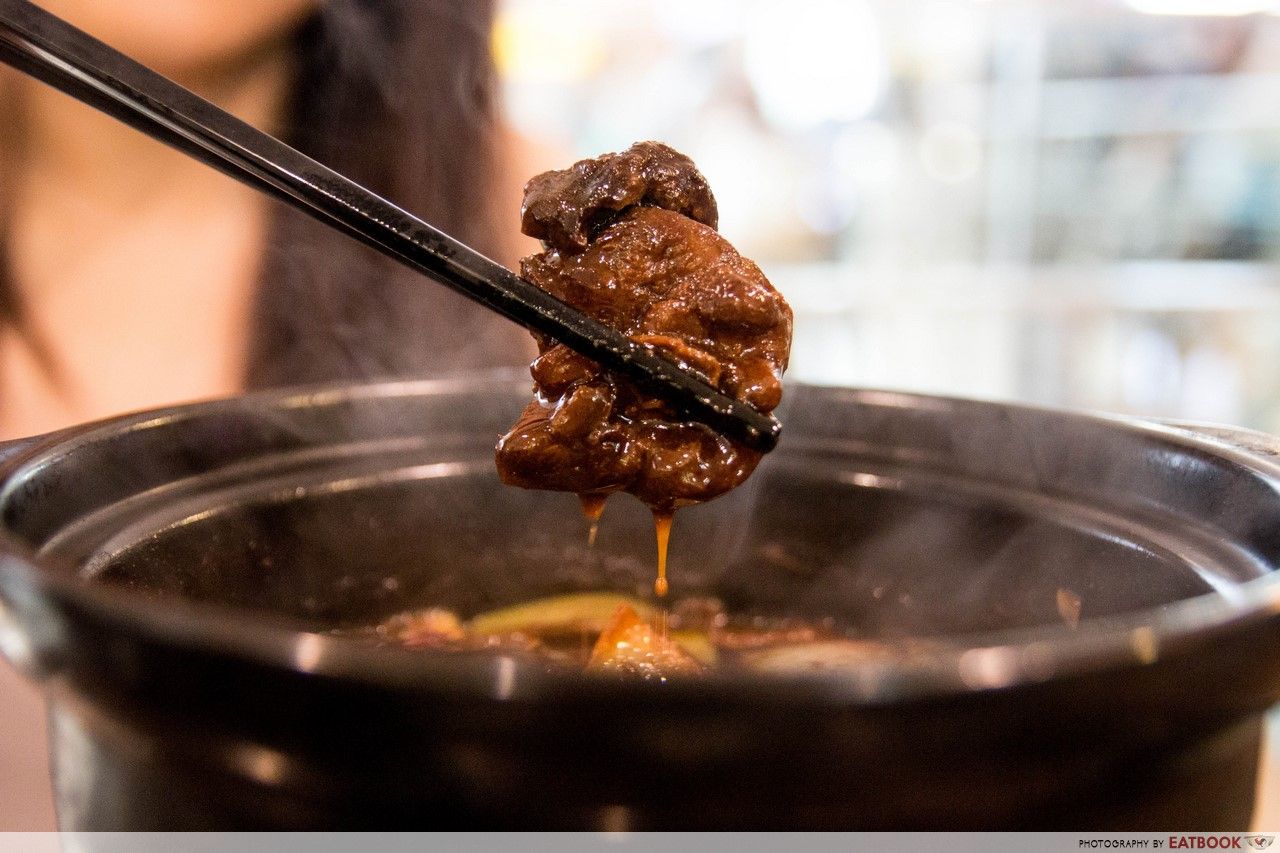 Using bone-in chicken made for succulent meat that broke apart easily with a few bites. The chicken absorbed the flavour of the gravy and was very tasty. If you believe white rice must always be paired with zhup, go ahead and douse your rice liberally – the restaurant offers free refills for gravy. The lunch set came in a generous portion and could satisfy two small eaters.
You can zhng your clay pot dishes with add-ons such as fried beancurd ($1.90+) and pork belly ($2.90+), which will be served raw so you can cook it hot pot-style in the bubbling clay pot.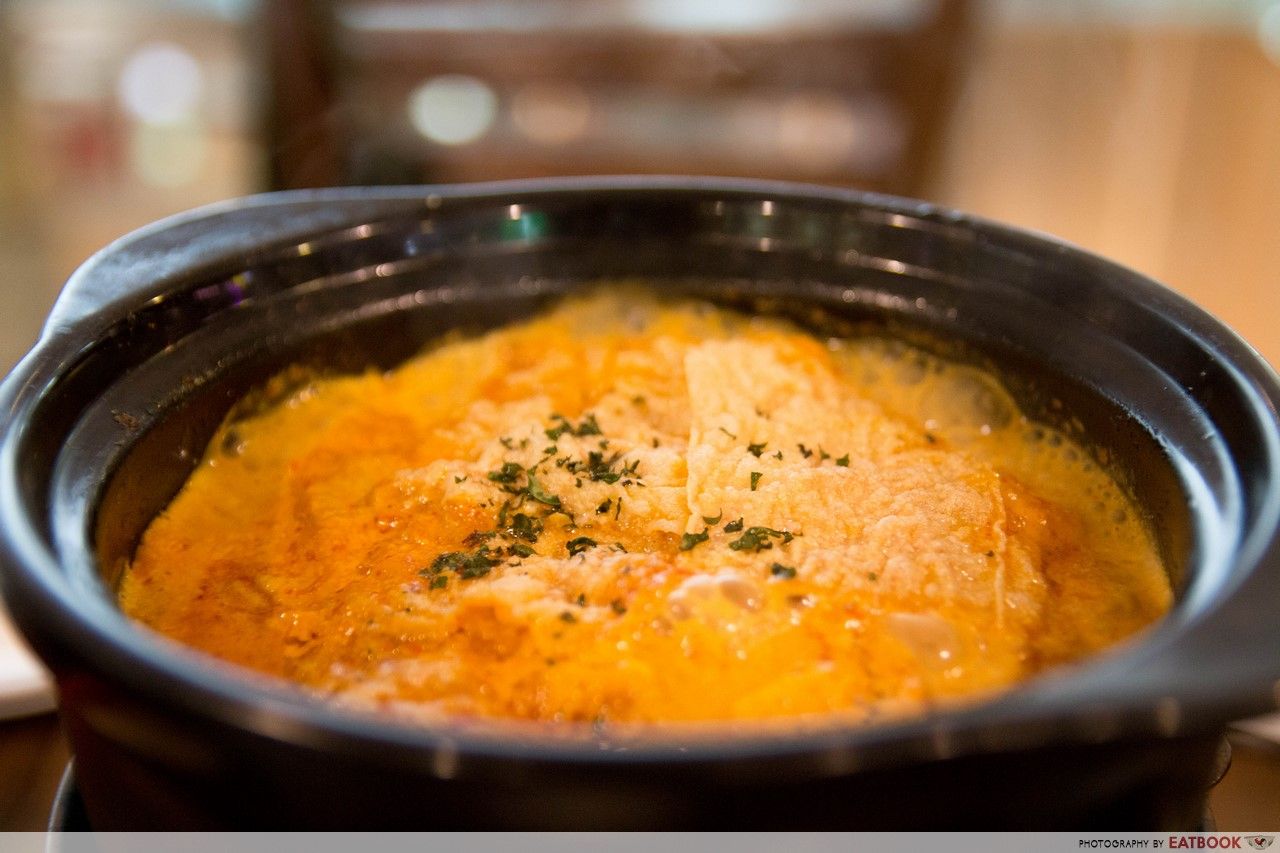 Their Laksa Pot ($17.90+/$23.90+/$32.90+) was the real star in our eyes. This was $10.90+ with the lunch special. We chose to have this at level three spiciness, and the dish turned out to be full-flavoured and numbing but enjoyable for us spicy food lovers. We weren't sniffling afterwards as the creaminess of the soup probably helped to mute some of the heat.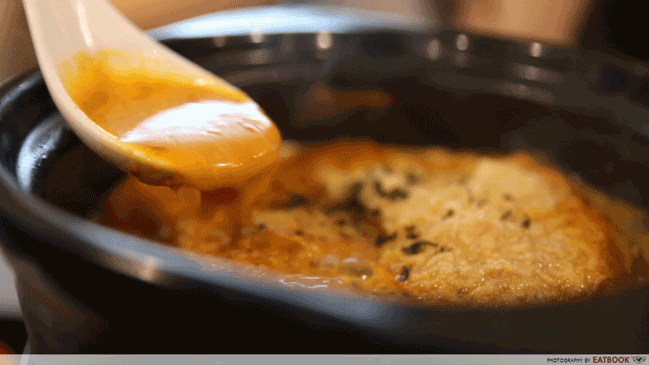 The soup carried a strong laksa fragrance that held its own against the spiciness, and was slurp-ably addictive. The laksa pot does not come with laksa noodles but you can have that as an add-on at $1.90+.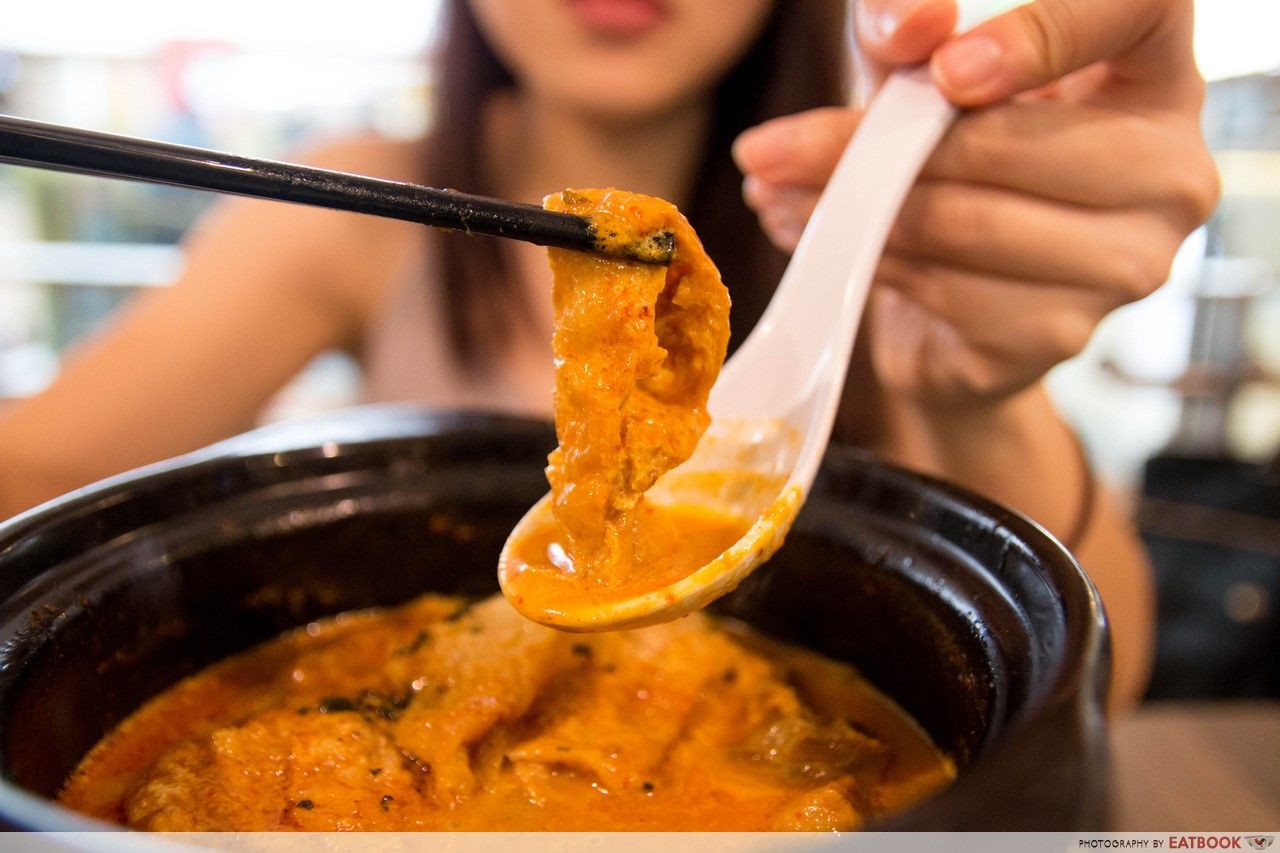 Besides chicken chunks, there were tau pok and pieces of beancurd skin in the pot. Remember to keep an eye on the meat if you leave it in the bubbling clay pot, as the chicken chunks in our laksa got a little tough after a while.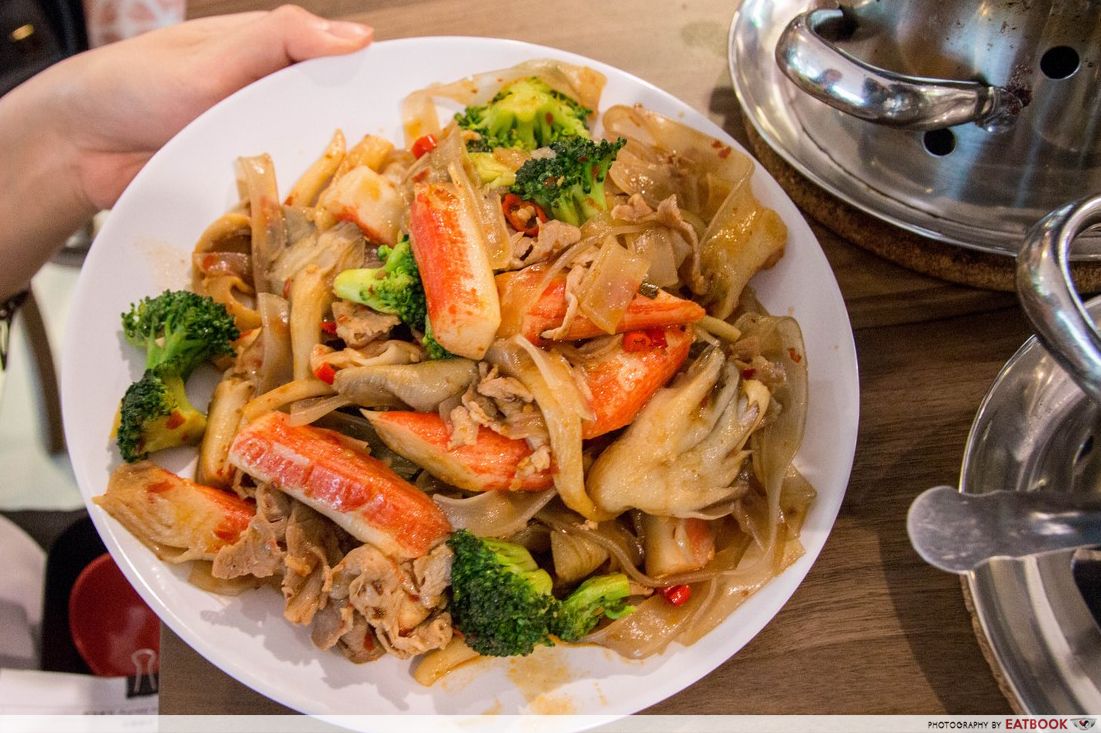 For a DIY experience, their create your own dish (price varies) option lets you select ingredients and a sauce for a stir-fry.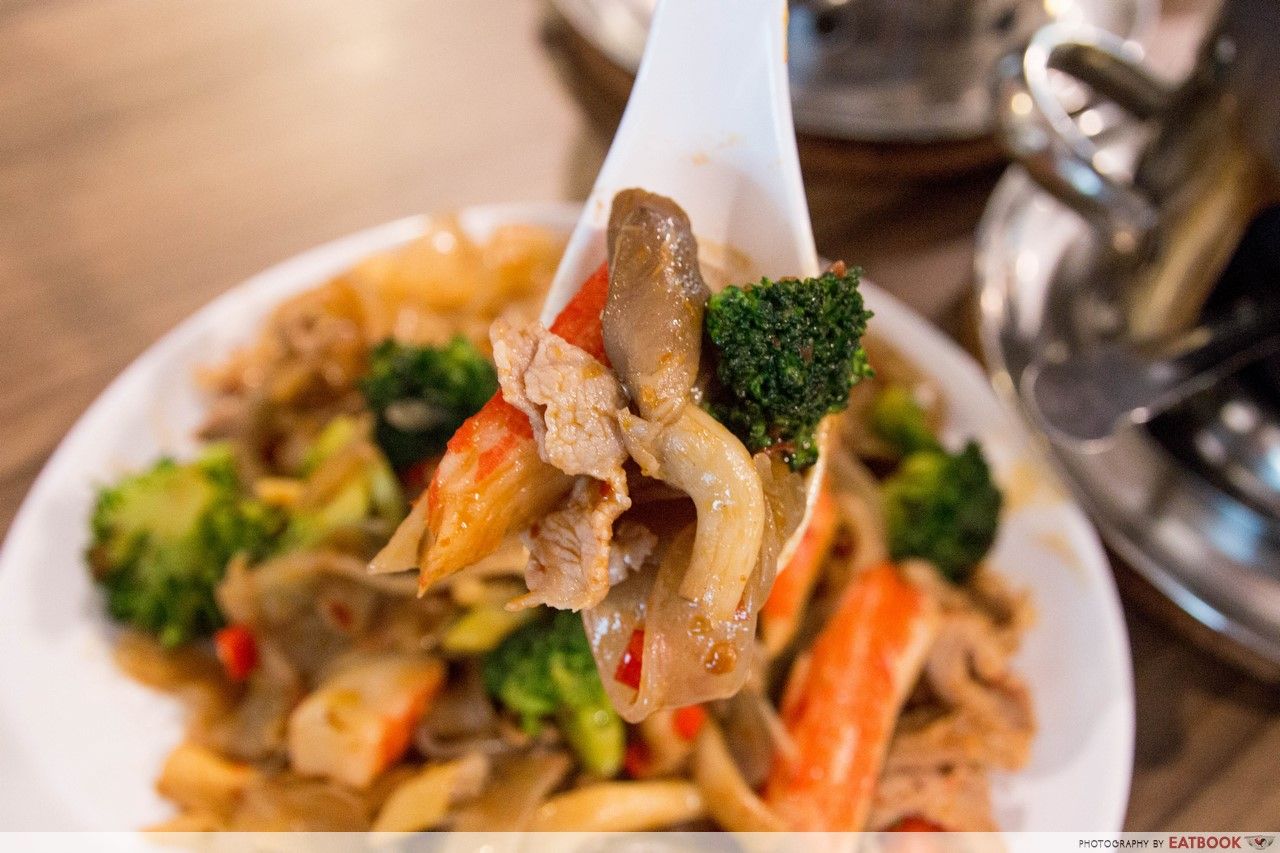 We went with potato noodles ($1.90+), crab sticks ($2.90+), broccoli ($2.90+), oyster mushroom ($2.90+), and pork collar shabu shabu ($3.90) in a bean paste stir-fry ($5+).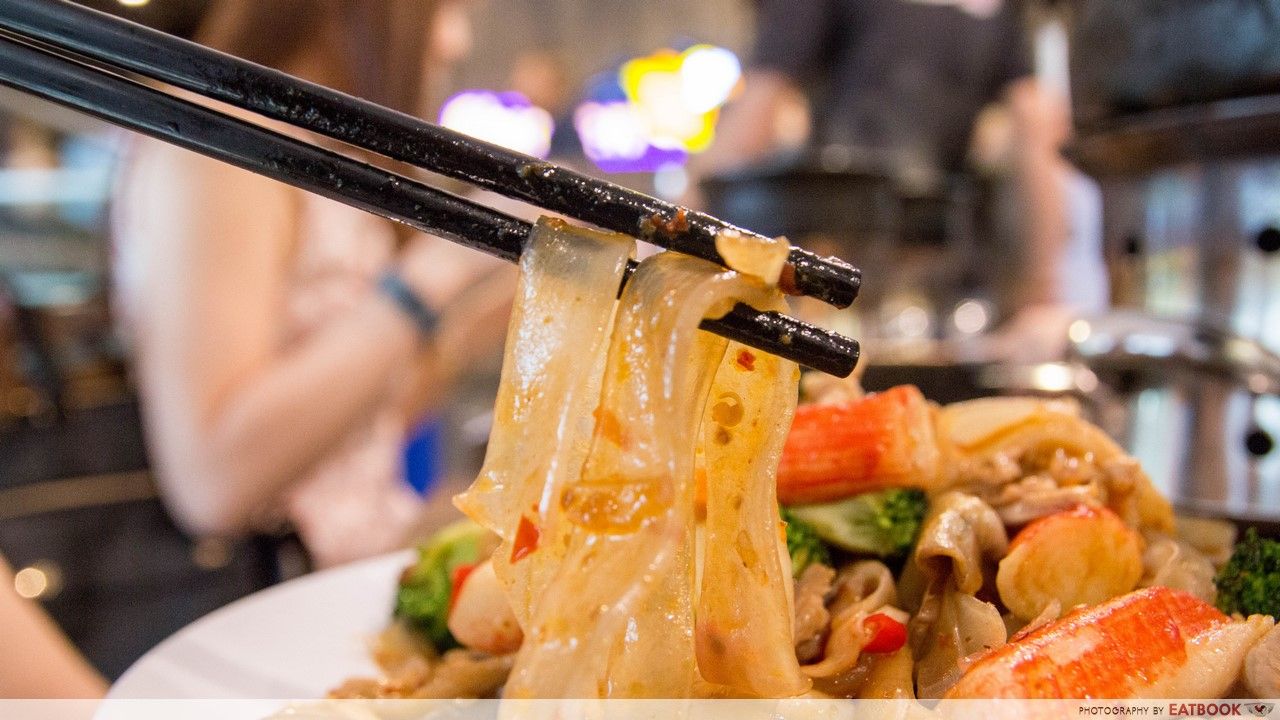 We found the stir-fry a little too dry and was lacking a distinct flavour, though our choice of dense and chewy potato noodles might have had something to do with it. The sliced chillis in it were a welcomed addition. Fragrant garlic stir-fry ($5+) or fermented beancurd stir-fry (+$6) may fare better.
Ambience at Chicken Run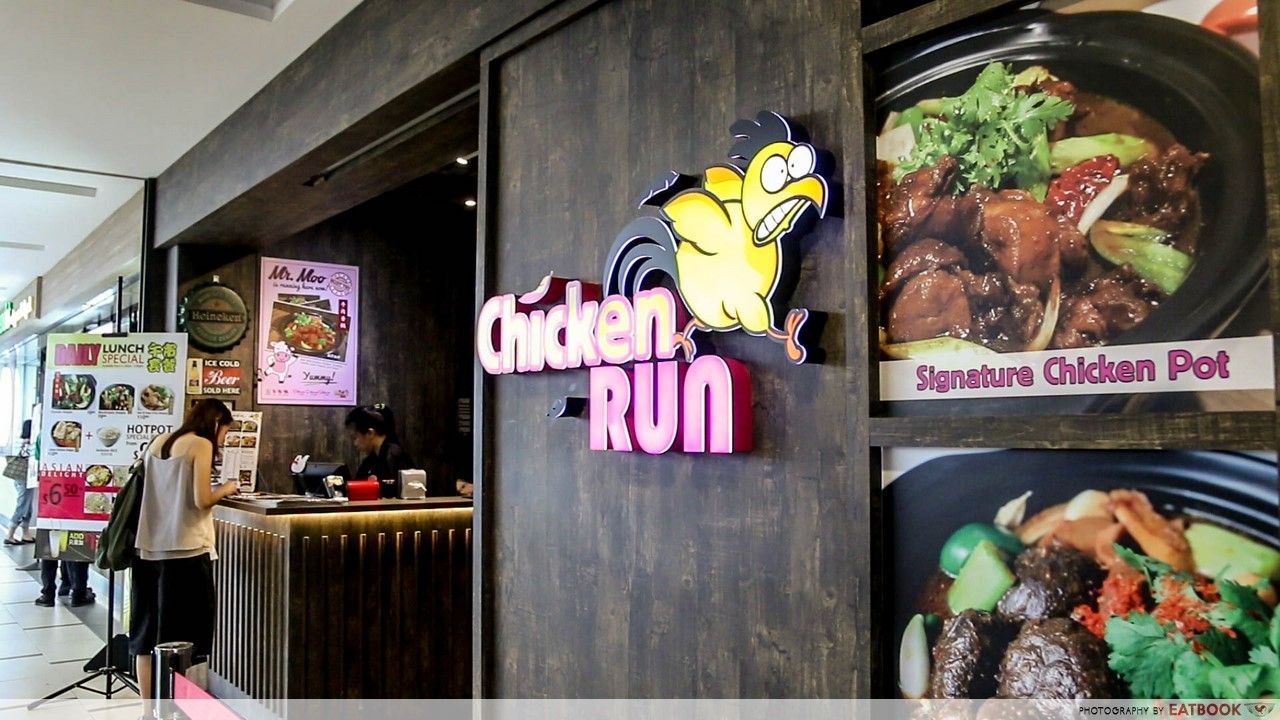 Chicken Run has two seating areas, one inside and another outside the restaurant. There are plenty of tables so queues that form during lunch subside rather quickly. We received quick service from the staff, and they also refilled our clay pot with gravy from time to time, so we had no complaints about the service charge.
The verdict
We liked the customisable food options and add-ons available at Chicken Run. Since food was served in a clay pot and placed over a flame, our food remained hot throughout our meal – though sometimes scaldingly so. Their lunch special menu is available daily from 11:30am to 5pm, so we recommend making a visit during that time for a value-for-money meal. For something easier on your wallet, check out Lao Wang Claypot Delights at Serangoon. 
Address: 60 Paya Lebar Road, #02-18/19/K4, Paya Lebar Square, Singapore 409051
Opening hours: Daily 11:30am to 10pm
Tel: 6702 1373
Website
This is an independent review by Eatbook.sg.
Summary
Pros
– Customisable food
– Good for groups
Cons
– A la carte menu is rather pricey
Recommended Dishes: Laksa Pot ($17.90+/$23.90+/$32.90+), Chicken Pot ($15.90+/$21.90+/$30.90+)
Operating Hours:
Daily 11:30am to 10pm
Tel:
6702 1373
Address: 60 Paya Lebar Road, #02-18/19/K4, Paya Lebar Square, Singapore 409051