---
Customisable food for the pickiest of eaters
---
In Singapore, almost every meal can be customised to a certain degree. Whether you like your chicken rice with chilli, soya sauce, both, or even without sauce, nobody will judge your preference. Even removing vegetables is little more than a daily occurrence at any hawker stall. Now, if only we could do the same at restaurants.
Well, if you are – or you know – a picky eater, fret no more. From rice bowls to pizza, you can personalise your meals at these joints. No more picking out bell peppers or spitting out taugay, since you can choose exactly what goes into your bowl!
---
1. The Big Cheese
---
Hidden in a corner of Sunshine Plaza is The Big Cheese, a halal cafe that allows you to choose exactly what goes into your mac and cheese. Their Make-A-Mac ($5.90 for small, $9.90 for large) allows you to choose two cheese bases, two meat or seafood options, and a variety of toppings such as bacon bits and truffle oil!
Check out other unique mac and cheese dishes you can get in Singapore.
Address: 91 Bencoolen Street, #01-59, Sunshine Plaza, Singapore 189652
Opening hours: Tue-Sun 11am to 2pm, 6pm to 10pm
Tel: 8147 0485
Website
---
2. Knicker + Bockers
---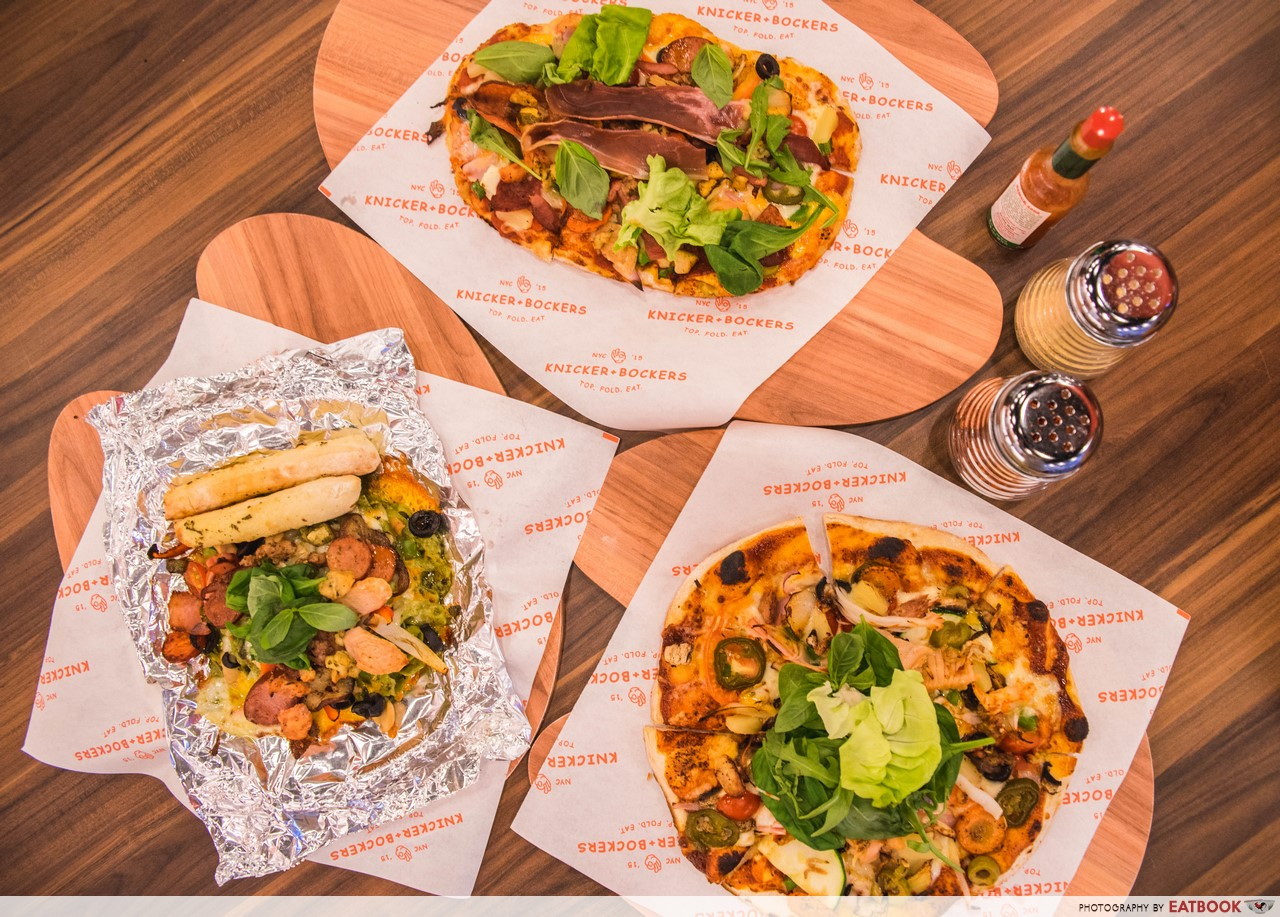 Yes to pineapples, no to olives and bell peppers, but yes to spinach? No problem at Knickers + Bockers, which lets you customise your own pizza. A 10-inch pizza would set you back $13.90, and you get to choose from five sauces, eight cheeses, 16 gourmet meats, 20 greens and six seafood toppings. Yes, you are allowed to pile on over 30 toppings if you want to! You can also customise your pasta at $8.90 here.
Check out our full review of Knickers + Bockers.
Address: 10 Collyer Quay, #B1-10, Ocean Financial Centre, Singapore 049315
Opening hours: Daily 8:30am to 8pm
Tel: 6509 9247
---
3. Idaten Udon
---
Idaten Udon serves udon sets in a casual setting. From $5.90, you can personalise your udon set to include your choice of flavoured noodles, soup base, and sides such as tempura. The colourful noodles give an interesting twist to your meal, and come in flavours such as matcha (+$1), togarashi (Japanese pepper) (+$1) and yuzu (+$1).
Address: 1 Raffles Link, #B1-21, CityLink Mall, Singapore 039393
Opening hours: Daily 11am to 10pm
Tel: 6238 7490
Website | Full list of outlets
---
4. Fasta
---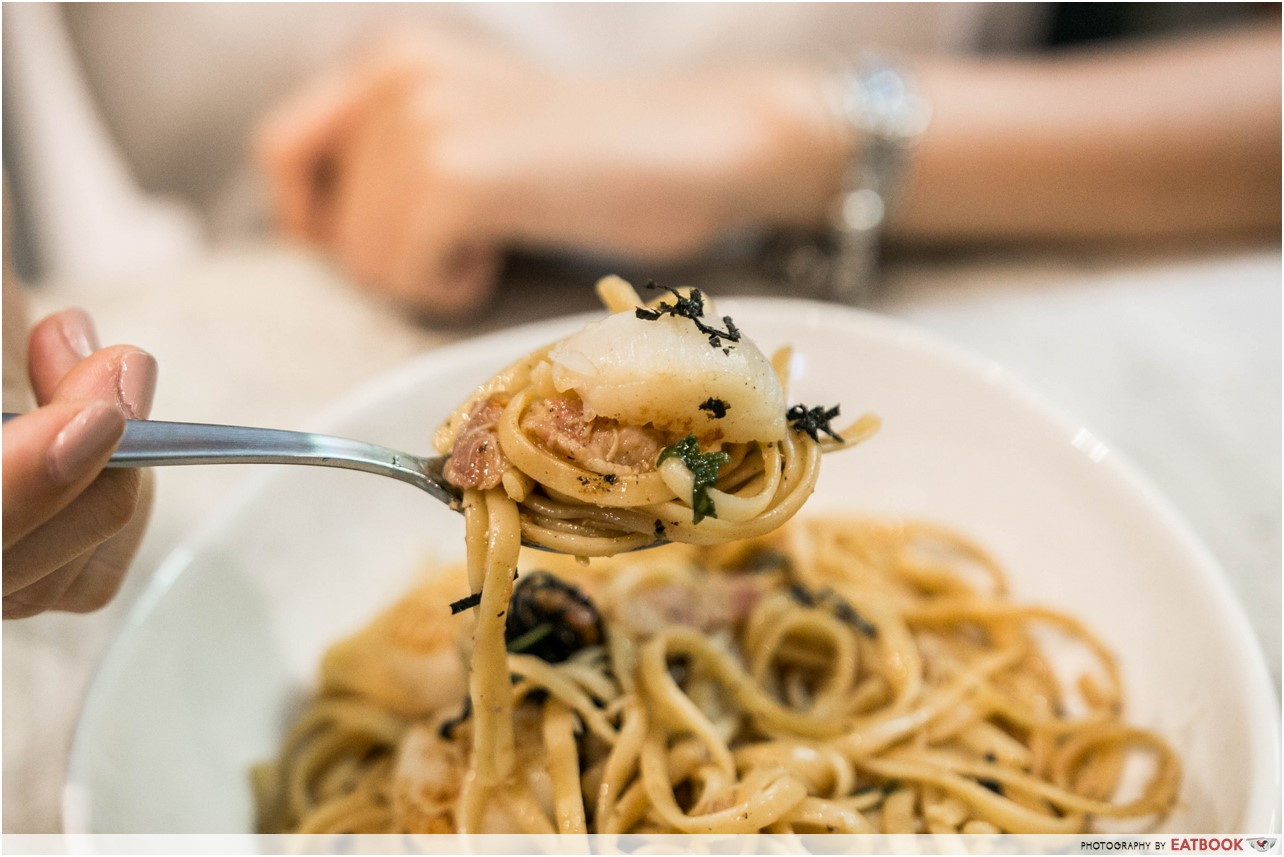 At Fasta, you can get fusion pasta such as Sio Bah Mee ($13), which features glazed pork belly bites in spaghetti. Alternatively, be your own pasta chef by choosing a Create Your Own ($10.50) pasta that lets you pick your own base, four sides, two garnishes and a sauce. Apart from pasta, you can also go for Truffled Quinoa (+$2) or Buckwheat Soba (+$2). They don't just have good old tomato sauce either, so try their house-made Teriyaki Cream Sauce and get premium add-ons such as seaweed duck (+$3.50) or scallops (+$4.50) for a fasta-stic meal.
Check out our full review of Fasta.
Address: 26 Beach Road, #B1-23, South Beach Avenue, Singapore 189768
Opening hours: Mon-Sat 11am to 8pm
Tel: 9111 1245
Website
Menu
---
5. Doodles

---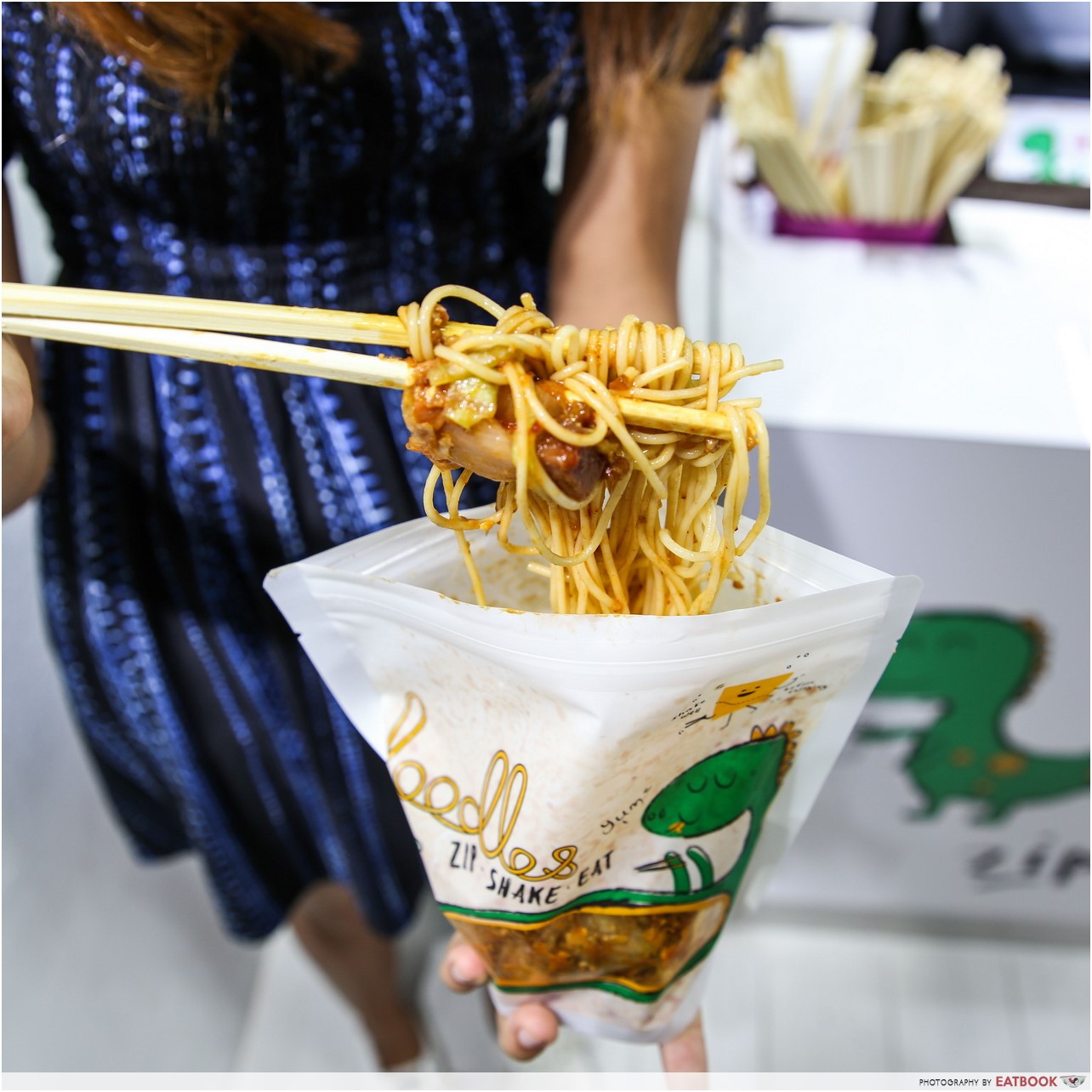 If you are a fan of Hong Kong's cold noodles, you will love Doodles, a cold noodle bar at Tiong Bahru Plaza. This little takeaway lets you mix-and-match your own noodle packet, with over 20 vegetables and meats to choose from. Their sets range from Herbivore ($4), which consists of a base and two veggies, to Om-nom-nomnivore ($6), which has a base, two veggies and two proteins. Choices for noodles include angel hair pasta, soba and fusilli, and they also have interesting sauces such as truffle X.O. (+$1).
Check out our full review of Doodles.
Address: 302 Tiong Bahru Road, #B1-111, Tiong Bahru Plaza, Singapore 168732
Opening hours: Daily 10am to 9.30pm
Website
---
6. Omoomodon
---
Whether you're craving soba, salad, or rice with your steak, Omoomodon has got you covered. This Korean-Japanese rice bowl restaurant has a Build My Don ($8 onwards) option that allows you to choose your base from choices such as multi-grain rice, fried glass noodles and udon soup, and add on as many proteins as you wish, from a choice of grilled unagi, chicken cutlet, bulgogi and more. You can then add garnishes and sides such as onsen egg and tobiko to complete your meal.
Check out other affordable donburi meals you can get in Singapore.
Address: 1 Vista Exchange Green, #02-14/15, The Star Vista, Singapore 138617
Opening hours: Daily 11am to 9.30pm
Tel: 6694 3111
Website
---
7. Dosirak

---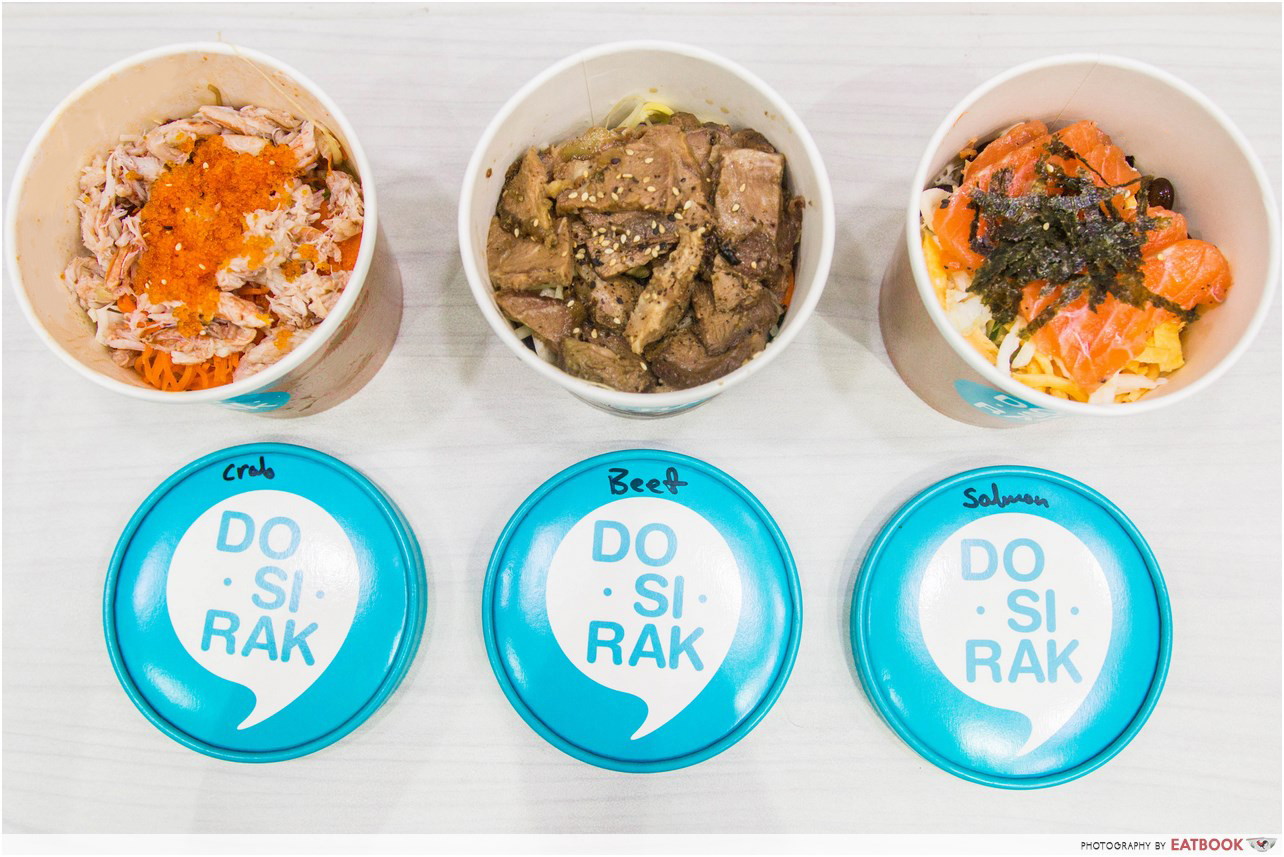 Dosirak's Korean rice bowls come in either DIY or pre-designed combis, and prices start at $7.90 per bowl. You get to pick a protein, a base, and choose five sides from a large variety available. Their options scream healthy-eating, with base choices such as brown rice, tofu, and cauliflower 'rice'. Proteins and add-ons include smoked duck, cured salmon, bulgogi, crab, avocado and more. You can then drizzle their special sauce, which is a blend of gochujang and apple cider vinegar, and cap on the lid to shake before eating.
Check out our full review of Dosirak.
Address: 18 Cross Street, #01-02, China Square Central, Singapore 048423
Opening hours: Mon-Fri: 11.30am to 6pm, Sat 11.30am to 3.30pm
Tel: 6536 6034
Website
Menu
---
8. Teppei Syokudo

---
If you love sashimi and all things fresh even while on-the-go, Teppei Syokudo at ION Orchard is for you. This small basement kiosk by the Teppei group has DIY Kaisendon ($8.80 for small, $15.80 for medium, $19.80 for large) that's exclusive to this outlet. You can pick two choices of fresh fish with a small don, four with a medium bowl and five for large. No matter what size you order, the chunks of fish are thick, fresh and generous. If you are not feeling like carbs, you can also opt for salad instead of rice to go with your sashimi.
Address: 2 Orchard Turn, #B4-57, ION Orchard, Singapore 238801
Opening hours: Daily 10am to 10pm
Website
---
9. Fatboy's The Burger Bar
---
With a name like Fatboy's, this famous burger joint can appease the fat kid in you with their BYOB (Build Your Own Burger). With over 25 toppings, 11 sauces, three types of buns and seven patties, you can go wild with the choices. You can choose from buns such as whole wheat, honey oat and sesame, and patties including salmon, beef, portobello, lamb, et cetera. There's also a huge array of add-ons you can play around with!
Check out other crazy creative burgers you can get in Singapore.
Address: 29 Lorong Mambong, Singapore 277687
Opening hours: Mon-Thur 4pm to 12am, Fri-Sun 12pm to 12am
Tel: 6463 2312
Website | Menu | Full list of outlets
---
10. Maki-San
---
If you love sushi rolls but are always picking the cucumbers out, go for Maki-San. You can choose exactly what goes into your sushi at this DIY sushi and salad place. Their customisable Little San Sushi starts at $7.90 and a Mega San Sushi starts at $9.90. This halal-certified spot is great for a quick maki fix complete with pretty boxes.
Find out where else to get maki rolls in Singapore.
Address: 2 Handy Road, #B1-17/18, The Cathay, Singapore 229233
Opening hours: Sun-Thur 11:30am to 9:30pm, Fri-Sat 11:30am to 10pm
Tel: 6737 8772
Website
Menu
---
Trim every meal to your fancy
---
For picky eaters, the best meals are ones where you control every single aspect. Put all your favourite food items into one bowl at these places that let you customise your dish! Let us know if you have any other such food places to recommend.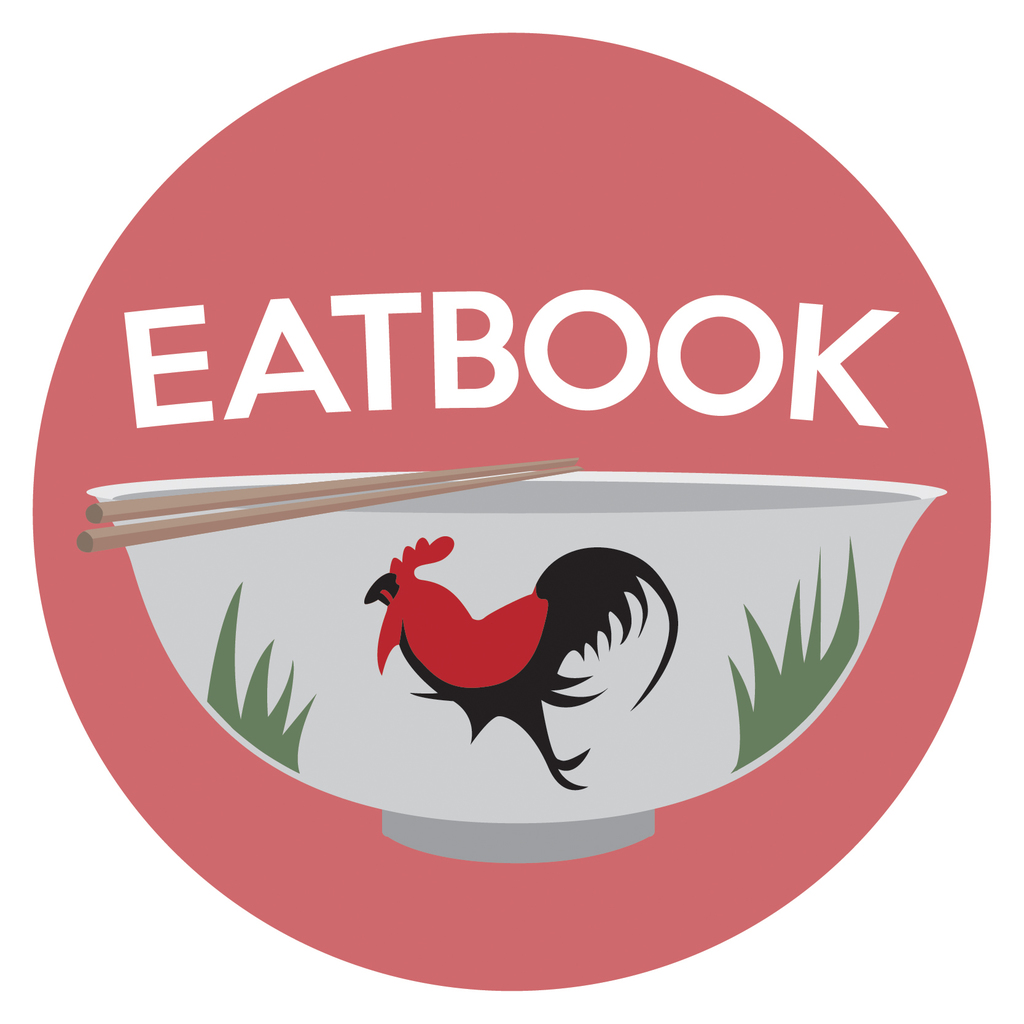 Drop us your email so you won't miss the latest news.