Knicker + Bockers allows you to personalise pizza and pasta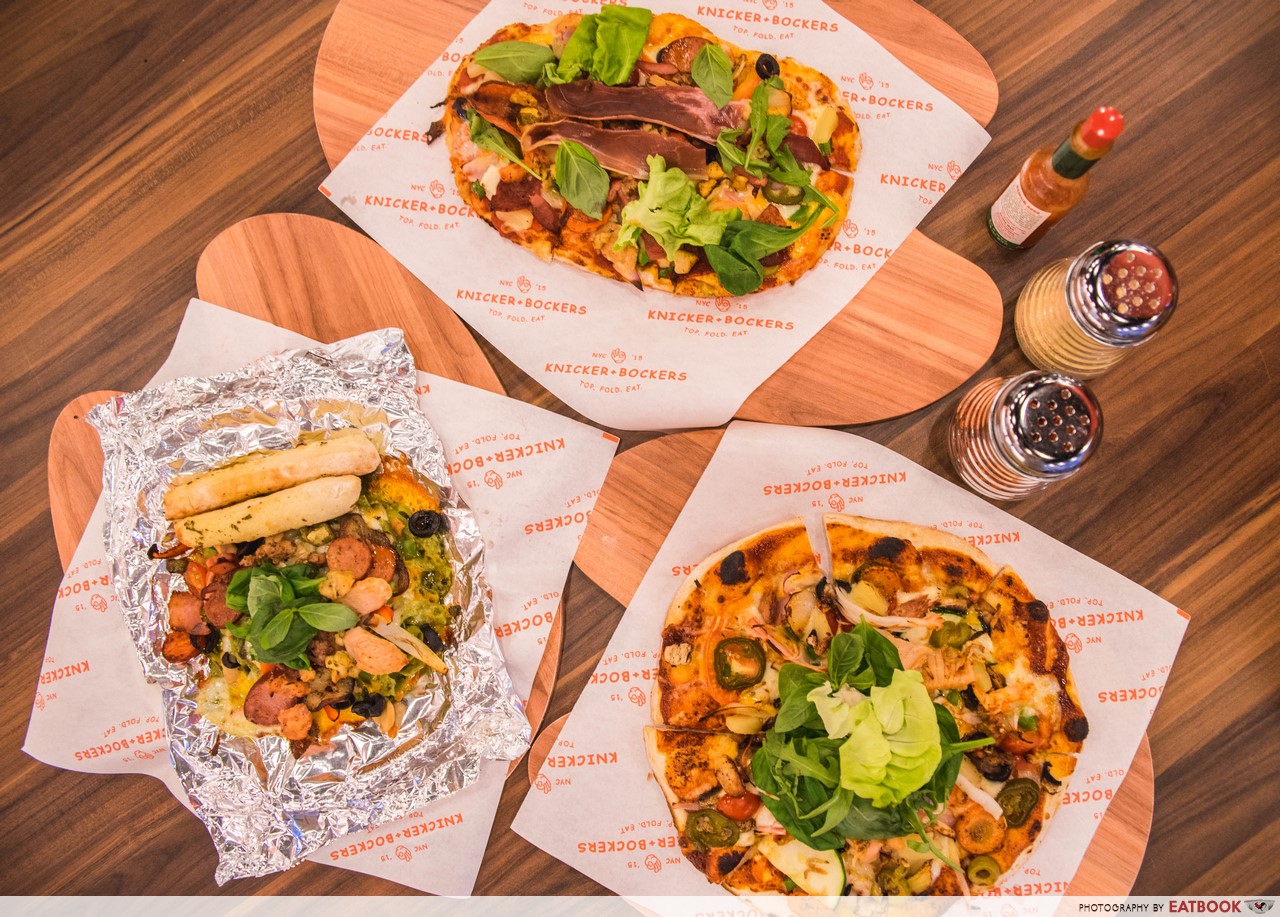 The name Knicker + Bockers was inspired by a New York fashion trend in the past that declared it was trendy to wear baggy pants gathered at the knees or calves (knickerbockers). Cute name aside, what makes this pizza place stand out is their concept of letting you DIY your own pizza or pasta.
At $13.90, you get to choose between five sauces, eight cheeses, 16 gourmet meats, 20 greens and six seafood toppings to top your 10-inch pizza with! As for the pasta, it costs $8.90 and you get to select from four noodles, three sauces, nine cheeses, 10 vegetables, eight gourmet meats and two types of seafood.
Food at Knicker + Bockers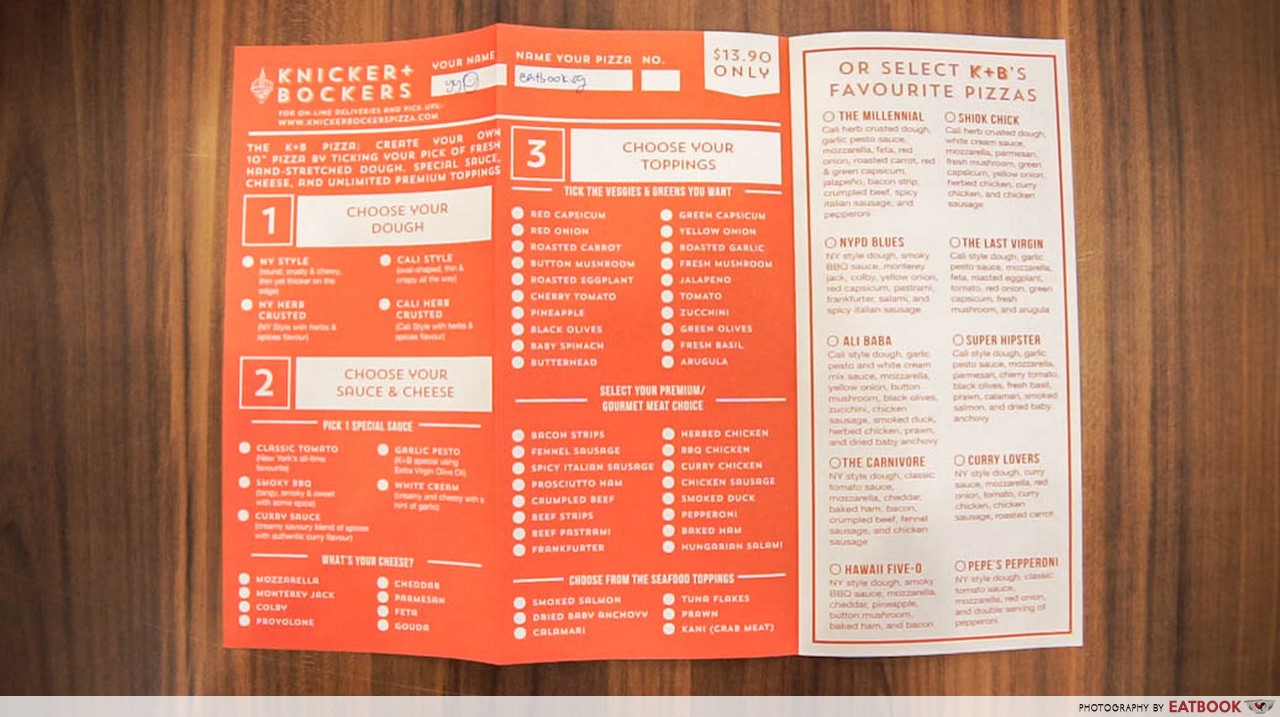 The ordering process at Knicker + Bockers is fuss-free; simply tick your preferred ingredients and pass the order form to the cashier while making payment in exchange for a buzzer. You can even give your own pizza or pasta a name!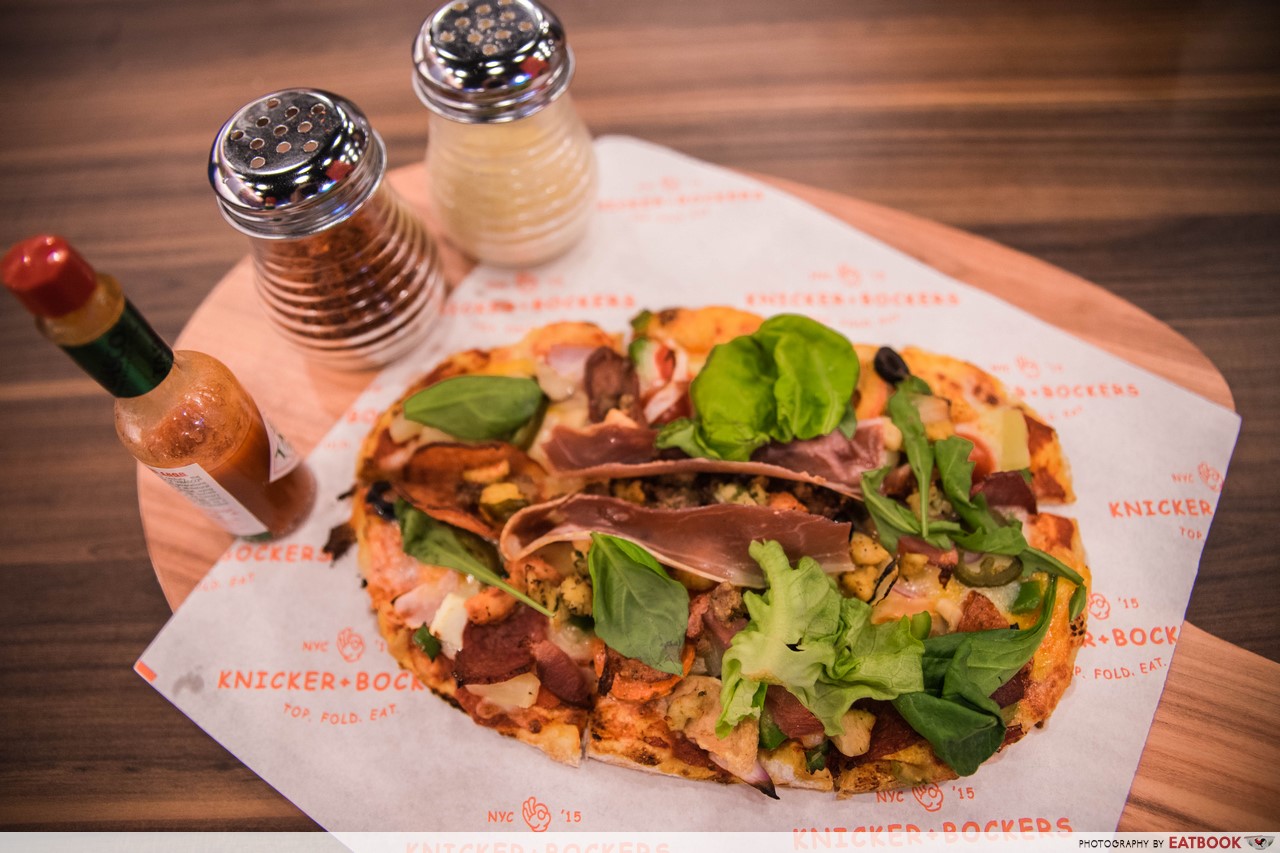 Wanting to make the best out of our buck, we topped our first Cali Herb Crusted pizza with tomato sauce, all the available cheeses except Gouda, which they ran out of, as well as all 20 vegetable and 16 gourmet meat options.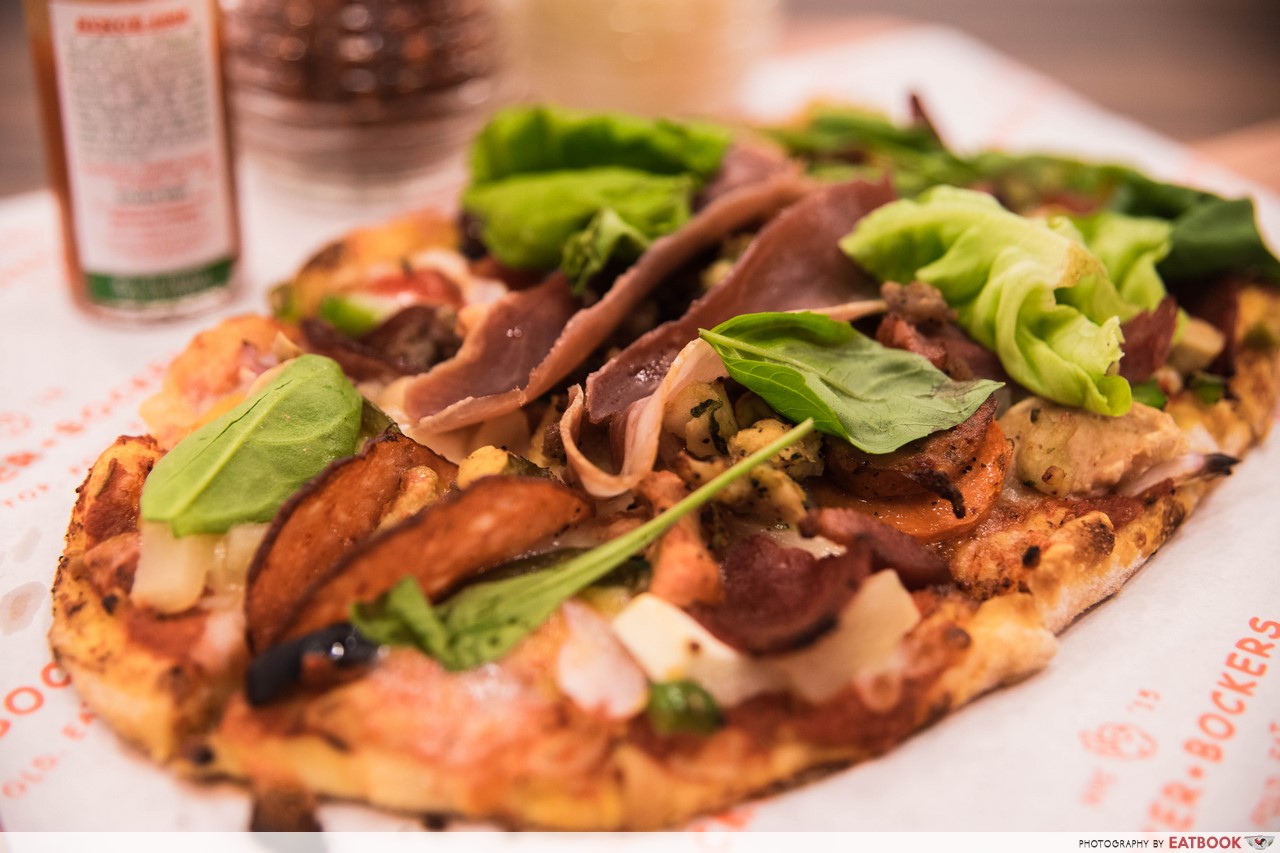 While this pizza might not look like it, it did have over 36 ingredients on it. Of course, given that the crust was 10 inches, not many of each ingredient could be added. Covered with heaps of meat and vegetables, the tomato sauce was barely even visible.
One bite and our taste buds were assaulted by a combination of salty cured meat, fresh veggies and tangy tomato sauce. The ingredients were scattered randomly across the pizza such that each slice had a different topping, and it was fun because no two slices tasted the same.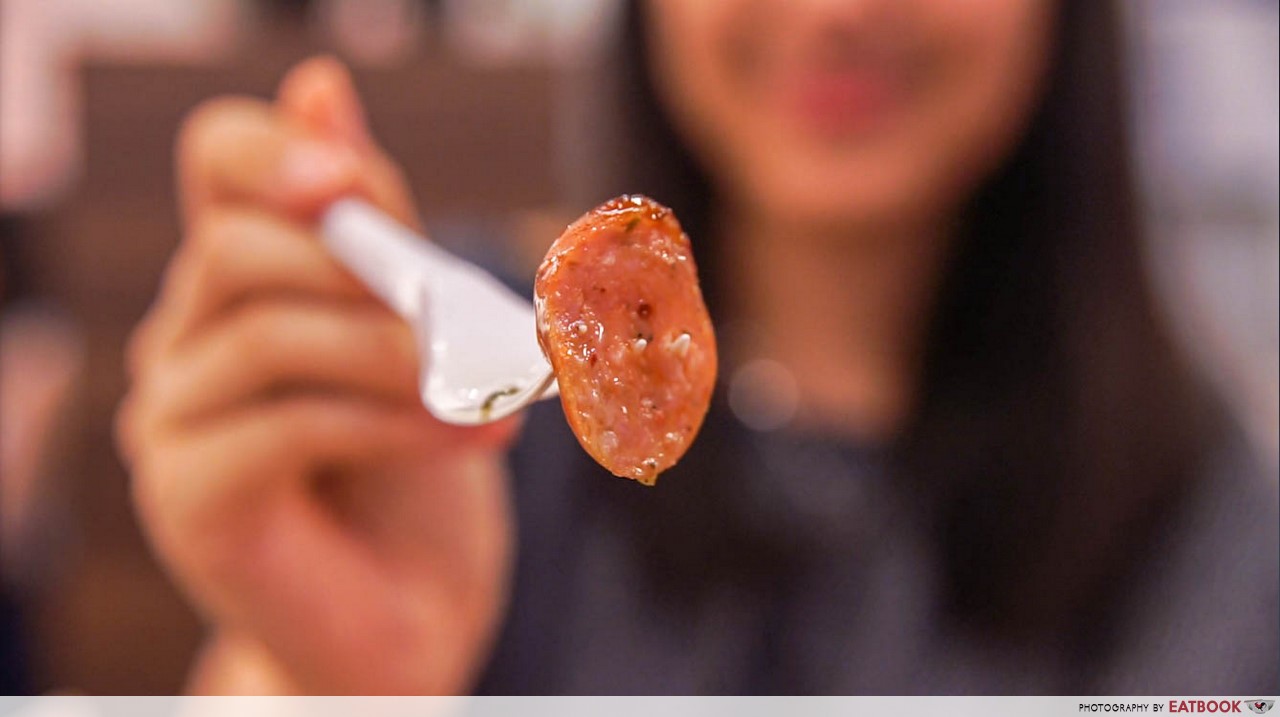 Spicy Italian sausage stood out among all the meat. Despite the mixture of cured meat, it still managed to shine by providing a spicy kick that toned down the otherwise heavy slice of pizza.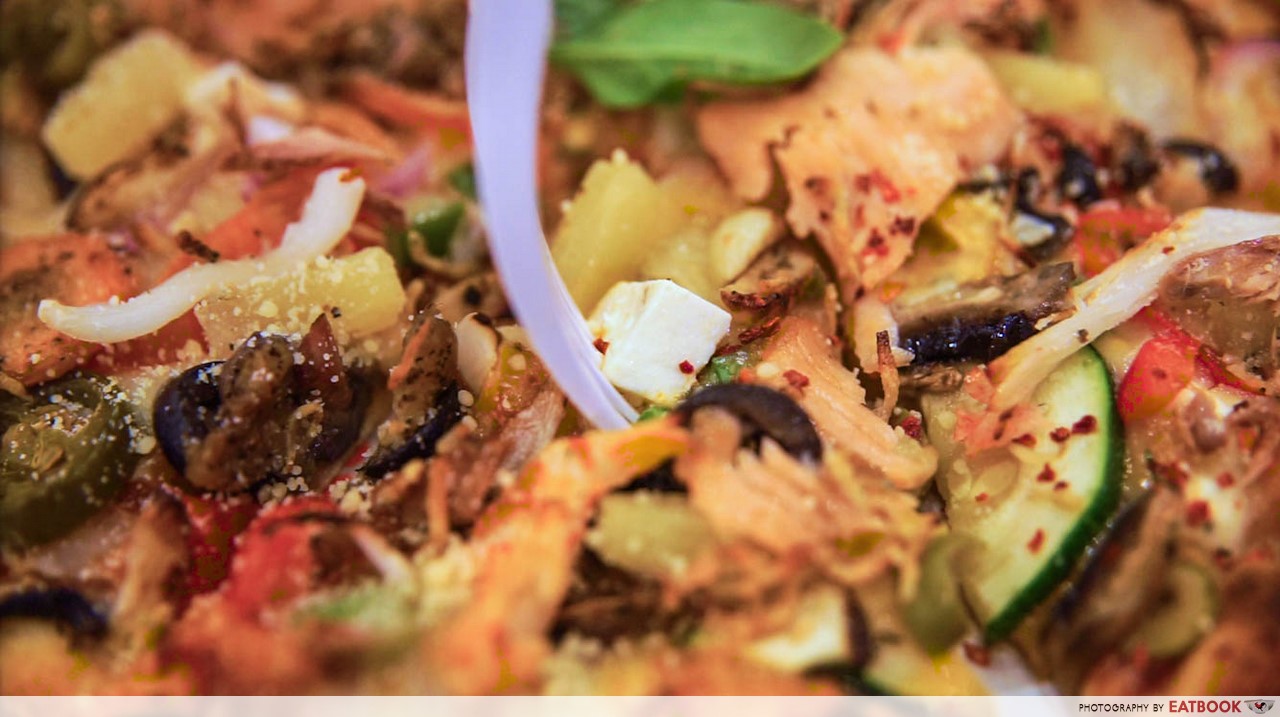 The taste of the cheeses didn't come through, except for the feta. The cubed cheese provided an element of surprise when we bit into an unsuspecting slice of pizza only to get a burst of ooey-gooey cheese that melted in our mouths almost instantly.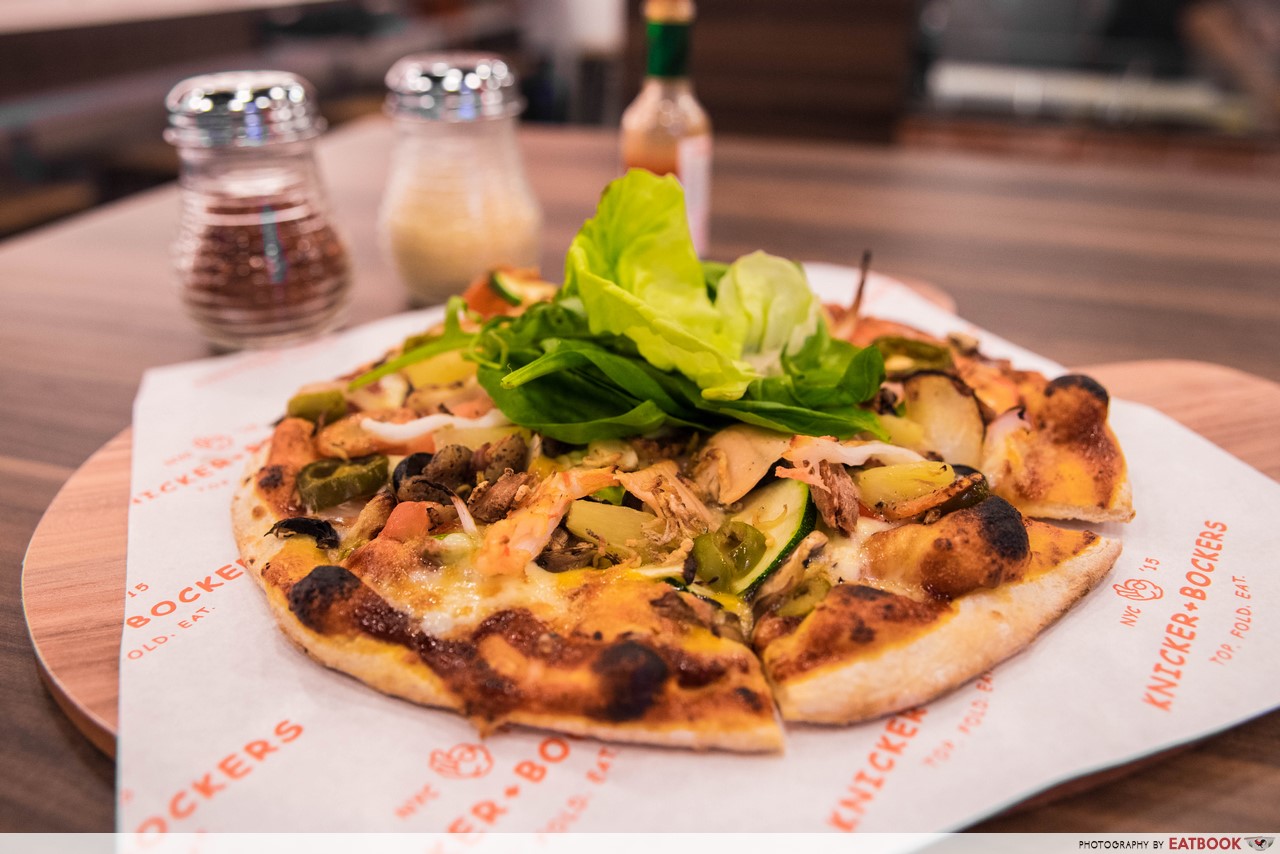 Our next customised pizza featured NY Herb Crusted dough, Smoky BBQ sauce, all the cheeses, vegetables and seafood.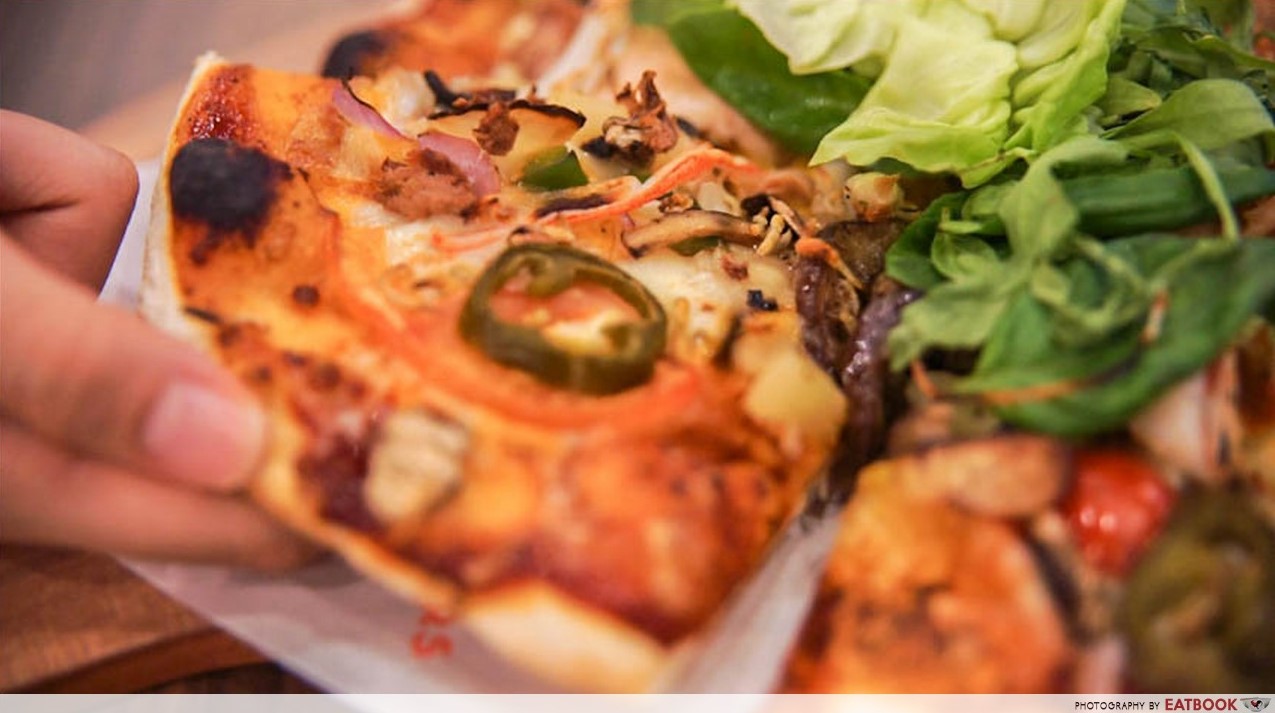 Topped with smoked salmon, tuna flakes, dried baby anchovies, prawns, calamari and actual crab meat, a waft of this pizza screams "SEAFOOD". As expected, they were less generous with the toppings this time.
The barbeque sauce, unlike some bottled ones, was not overwhelming on the palate. Instead, it provided an aromatic, deep flavour that brought out the seafood's natural sweetness.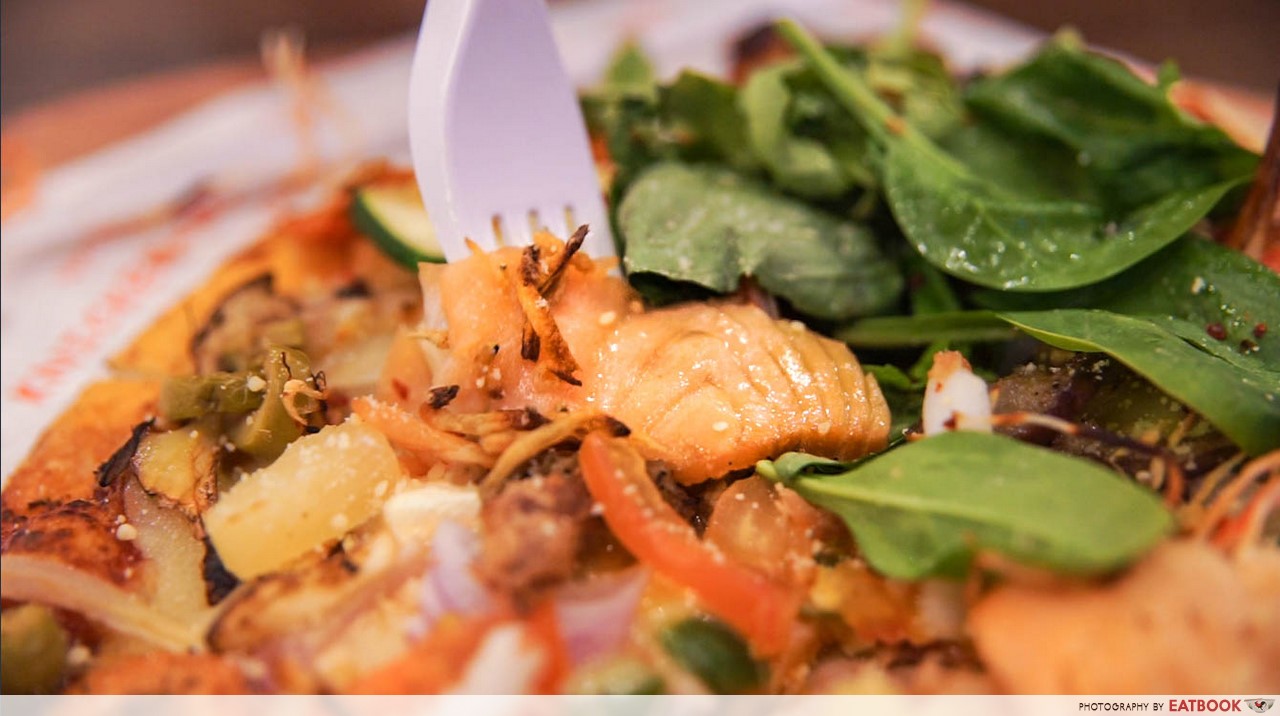 My favourite for this was definitely the smoked salmon. The amount of time this pizza spent in the oven was just right, leaving the salmon flaky and gleaming. Sadly, there were only a few slices of smoked salmon.
Pro-tip: although it might be tempting to have loads of toppings on your pizza, it's better to stick to just a few of your favourites. Ordering every option available might cause you to have a pizza with very few pieces of each topping and some flavours might clash with others.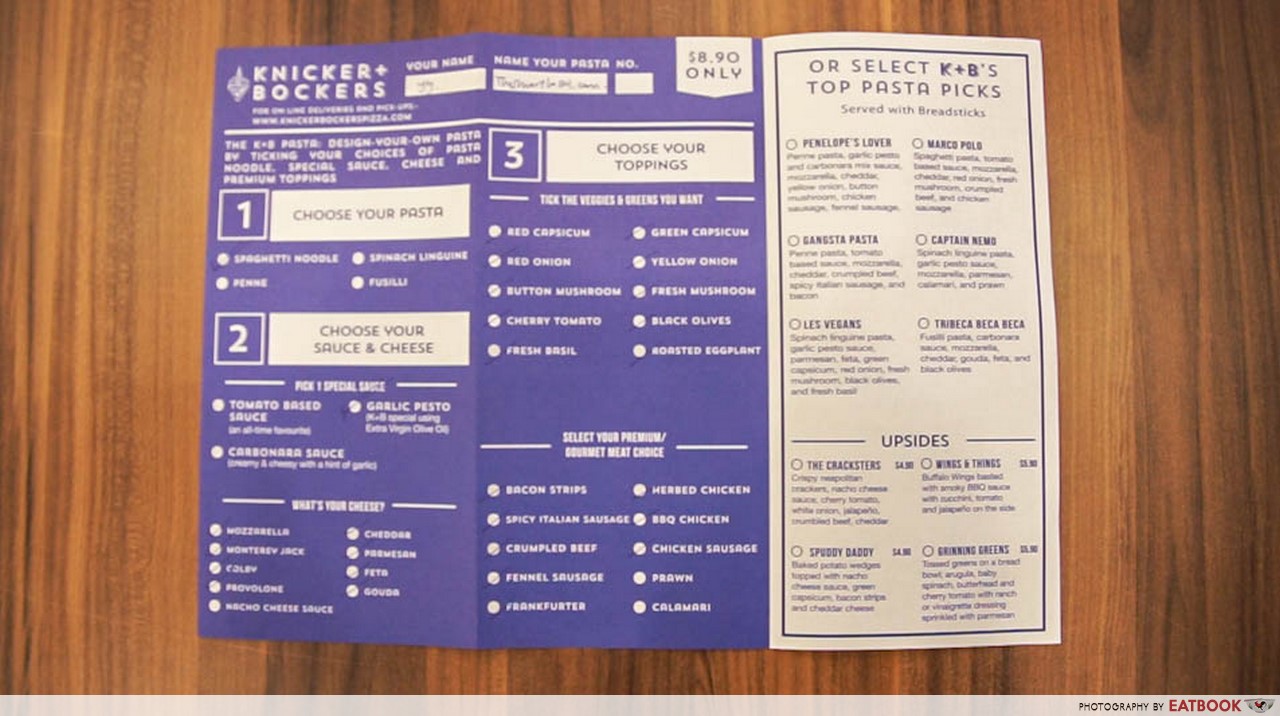 For our pasta, we picked spinach linguine, garlic pesto sauce, all types of cheese except nacho, all the veggies and all the gourmet meat.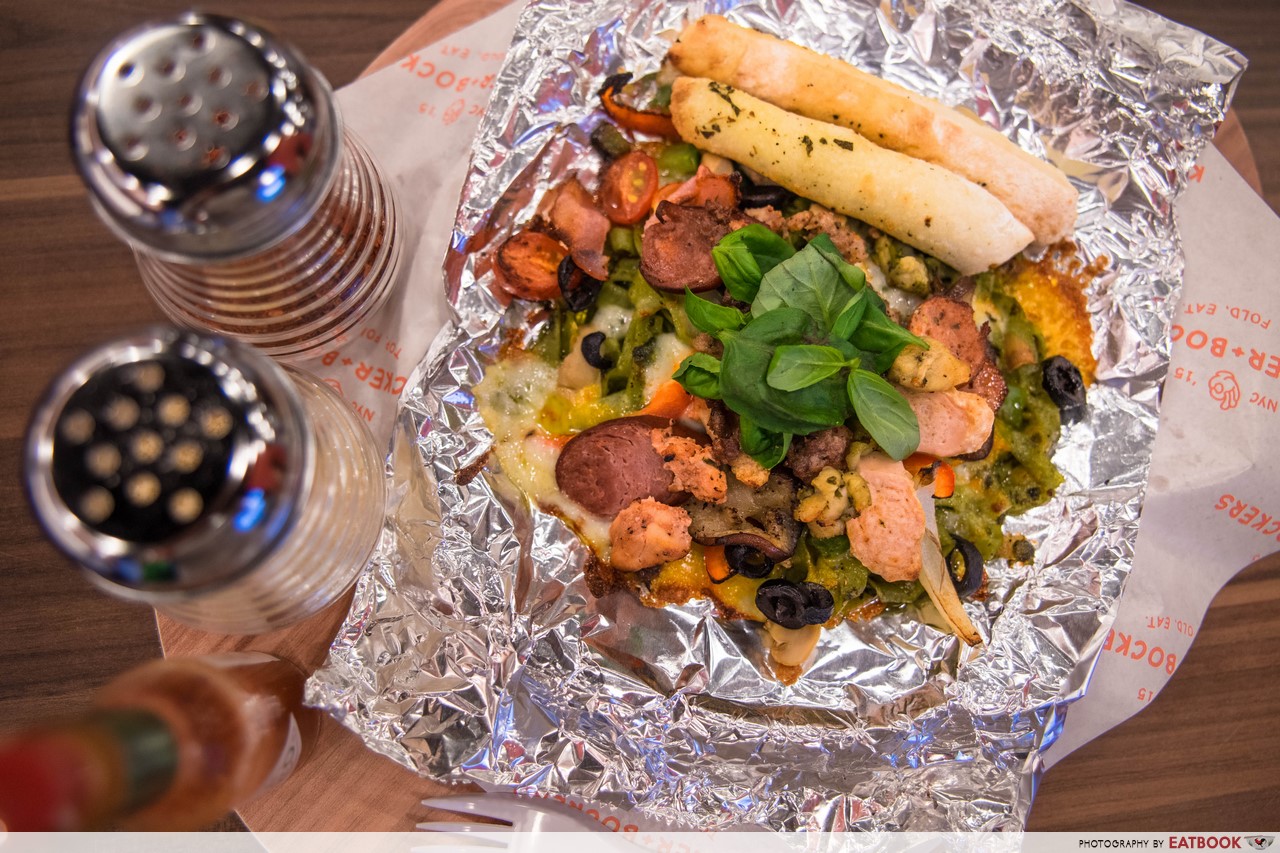 Health junkies would be glad to know the spinach linguine here is made with actual spinach blended into pasta. Chunks of meat were tossed with the pasta before baking it with the cheeses we picked, and two complimentary breadsticks were served along with it.
The creamy garlic pesto sauce was the star of this dish. Instead of overpowering the rest of the ingredients, the sauce's surprisingly light flavour complemented the meat by adding a touch of freshness.
Ambience at Knicker + Bockers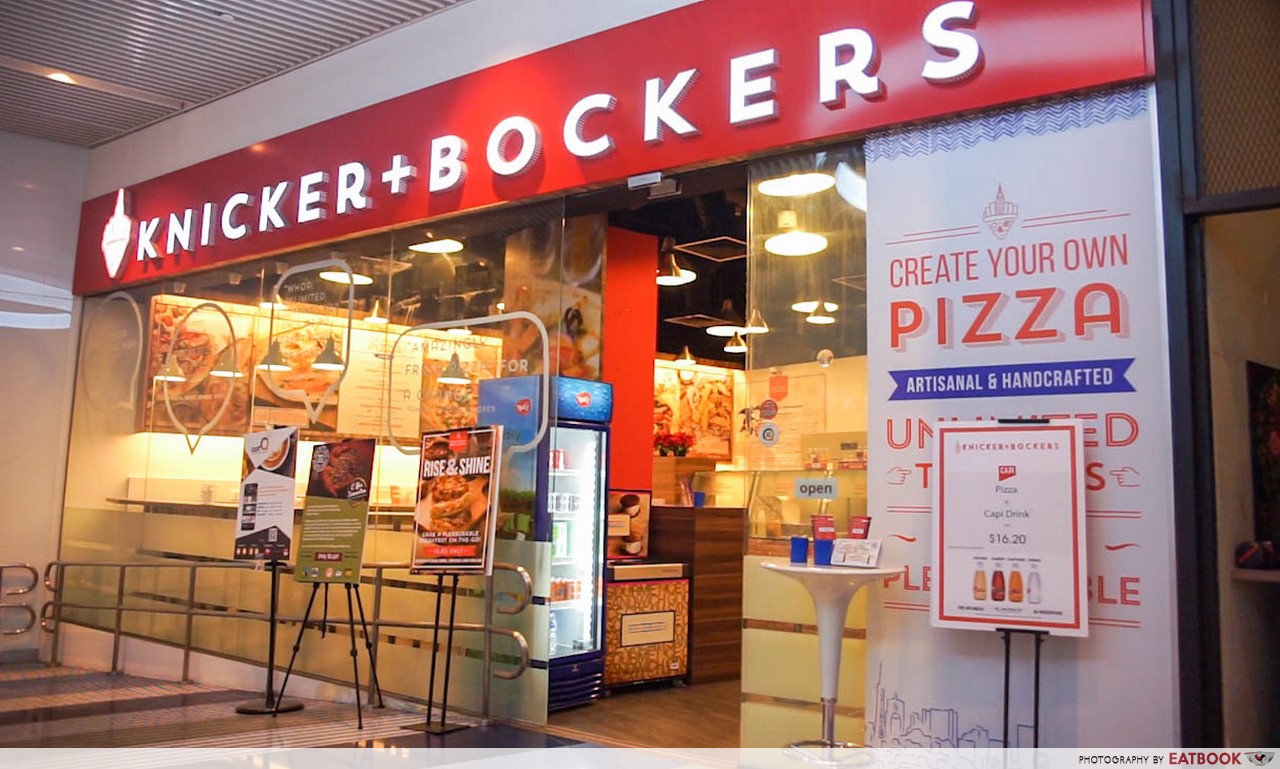 Head towards Exit C from Raffles Place MRT Station and you'll see Knicker + Bockers snugly situated in Ocean Financial Centre. This pizza joint may not be the most spacious, but they make the best out of their space with bar stools and wide tables.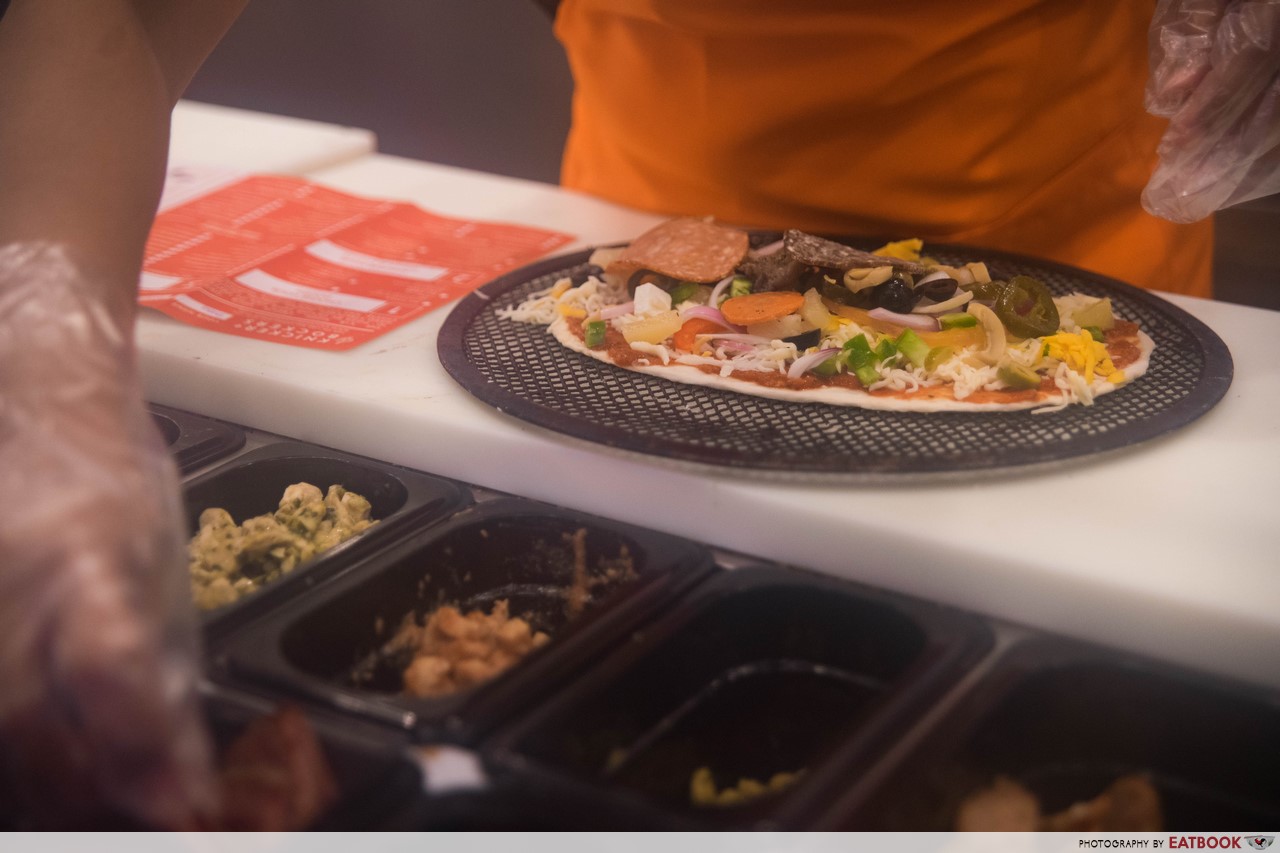 With a concept similar to that of salad bars, you can watch the staff prepare your pizza or pasta, and even catch them roll out the pizza dough. Utensils are at a self-service counter, and condiments such as parmesan cheese, red chilli flakes and extra virgin olive oil are available at all tables – we particularly enjoyed spamming the cheese on everything.
The verdict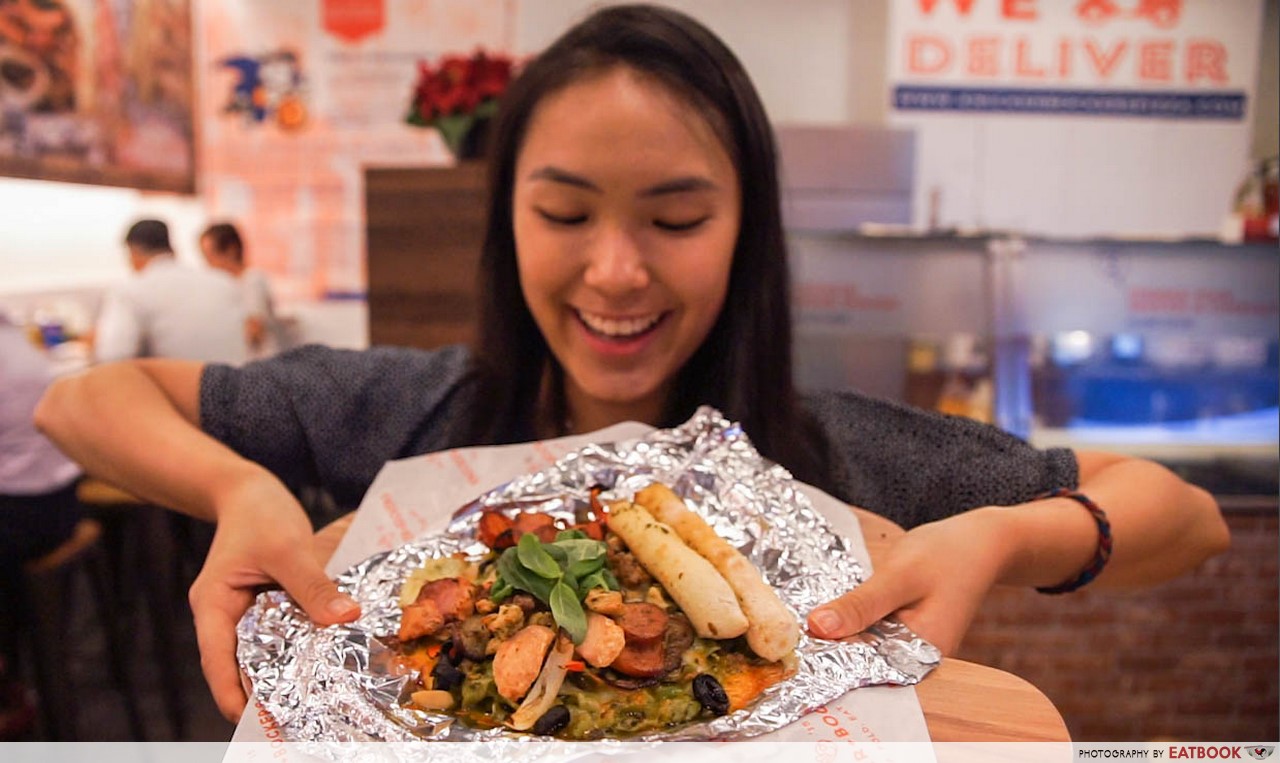 I've always enjoyed creating my own things, especially food, because only then can you be sure that every morsel is something you love! Knicker + Bockers' offers just that, and it is also affordable and filling. This may be the first time I paid them a visit, but it will definitely not be the last.
This is an independent review by Eatbook.sg.
Summary
Pros
– Value for money
– Convenient location
– No GST or service charge
Cons
– Lack of seats during lunch hour
– Toppings not evenly spread out
Recommended Dishes: Design-your-own pizza ($13.90), Design-your-own pasta ($8.90)
Operating Hours:
Daily 8:30am to 8pm
Tel:
6509 9247
Address: 10 Collyer Quay, #B1-10, Ocean Financial Centre, Singapore 049315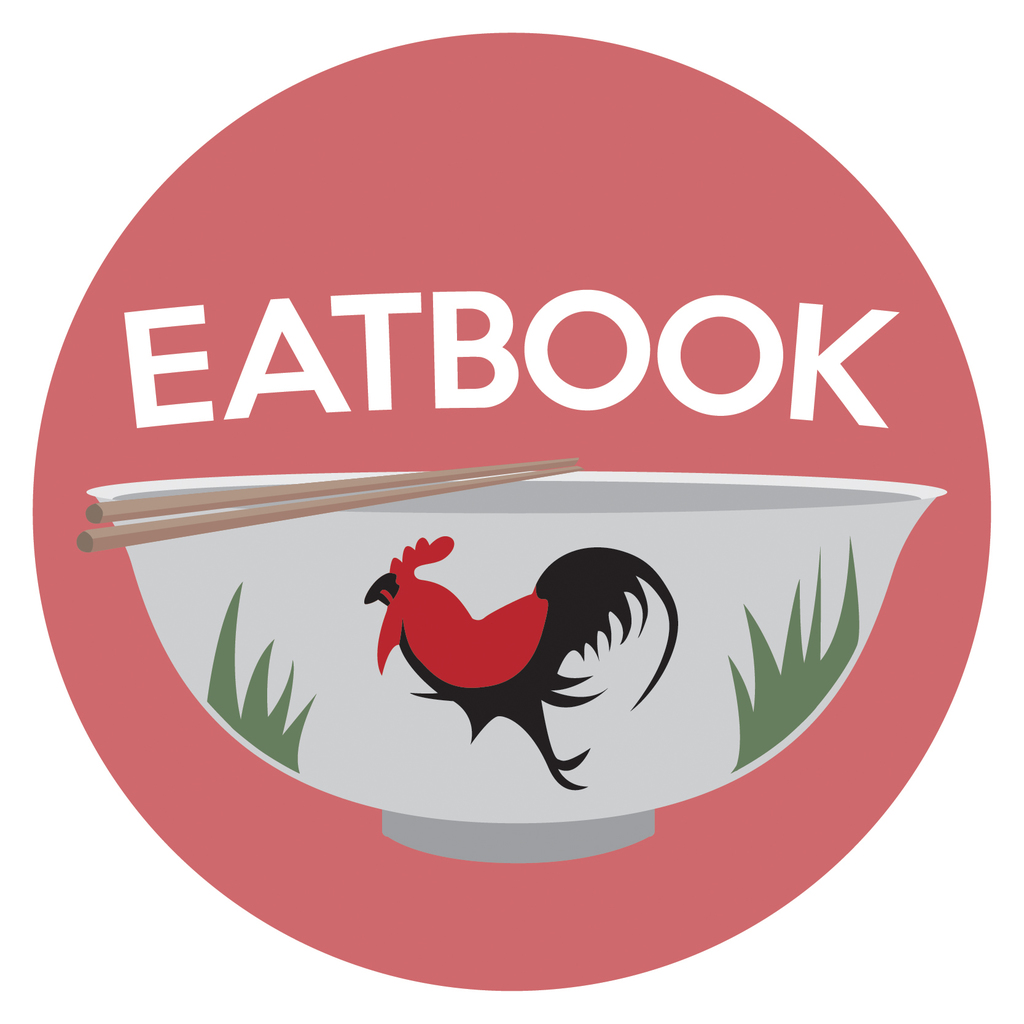 Drop us your email so you won't miss the latest news.