---
Best cheap buffets in Singapore
---
We recently wrote about the best buffets in Singapore, but as someone who's constantly on the lookout for good deals, I sought to find more wallet-friendly buffet options. Rather than breaking the bank on a single buffet, I have managed to collate 10 cheap buffets in Singapore that are priced under $40 a person. There's a mix of sweet and savoury options, as well as different cuisines, so there's something for different tastes. 
---
1. Lexus Durian King
---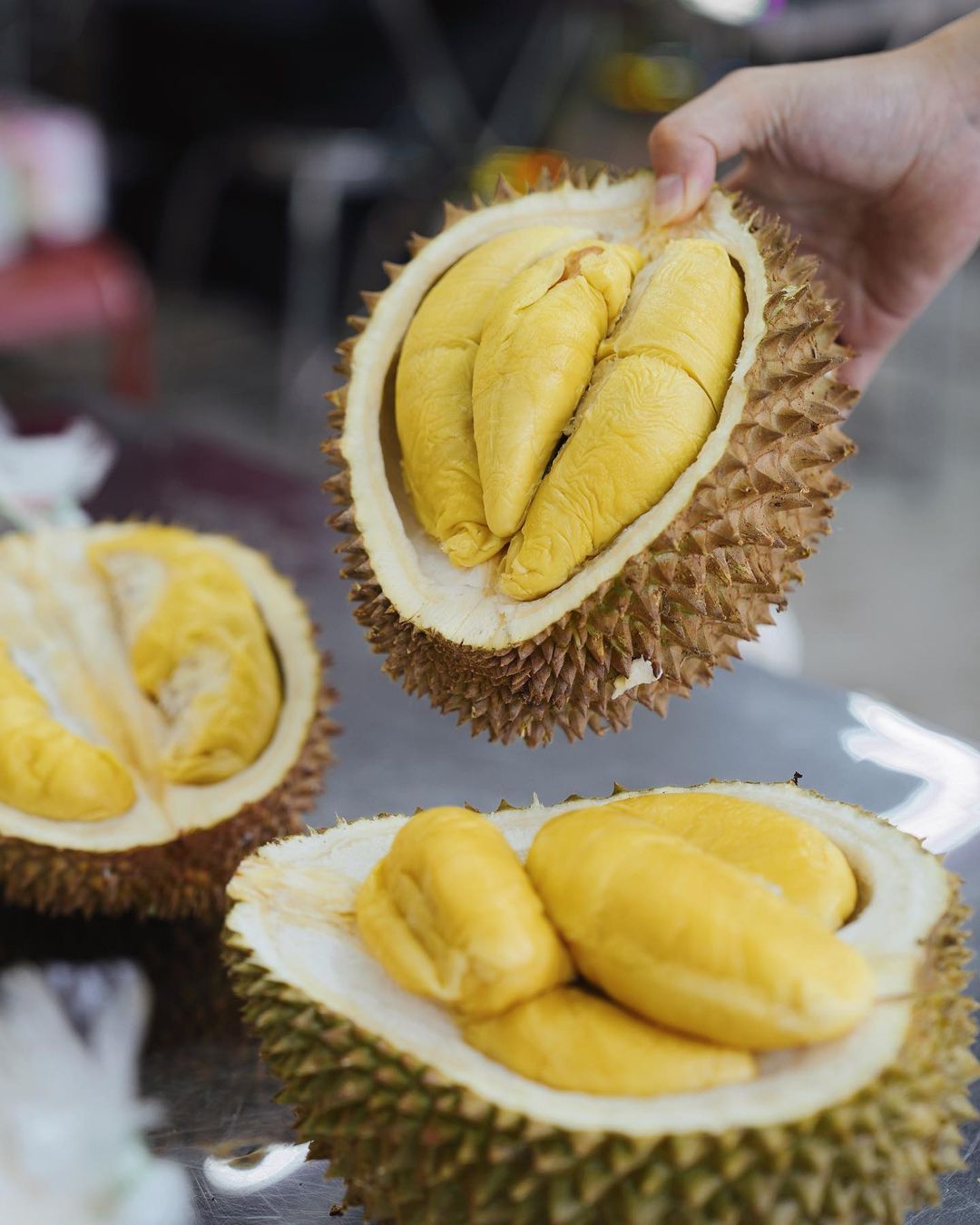 Image credit: @eatingwitheating
Calling to all durian fans: here's where you can get free-flow Mao Shan Wang at just $38.80 per person! Lexus Durian King is also open 24 hours daily, which means that you can eat durian whenever you want to. 
To make up for the short durian seasons, MSW durians are blast frozen after they're harvested, and stored so that they'll still taste fresh, without compromising on flavour. The eatery has a relaxed seating area so you can enjoy your durians al fresco, where you can also order fresh coconut water to beat the heat. Reservations are necessary, and can be made through their website.
Address: 1001 Upper Serangoon Road, #1001, Singapore 534739
Opening hours: Daily 24 hours
Tel: 8778 3213
Website
Lexus King Durian is not a halal-certified eatery.
---
2.That1
---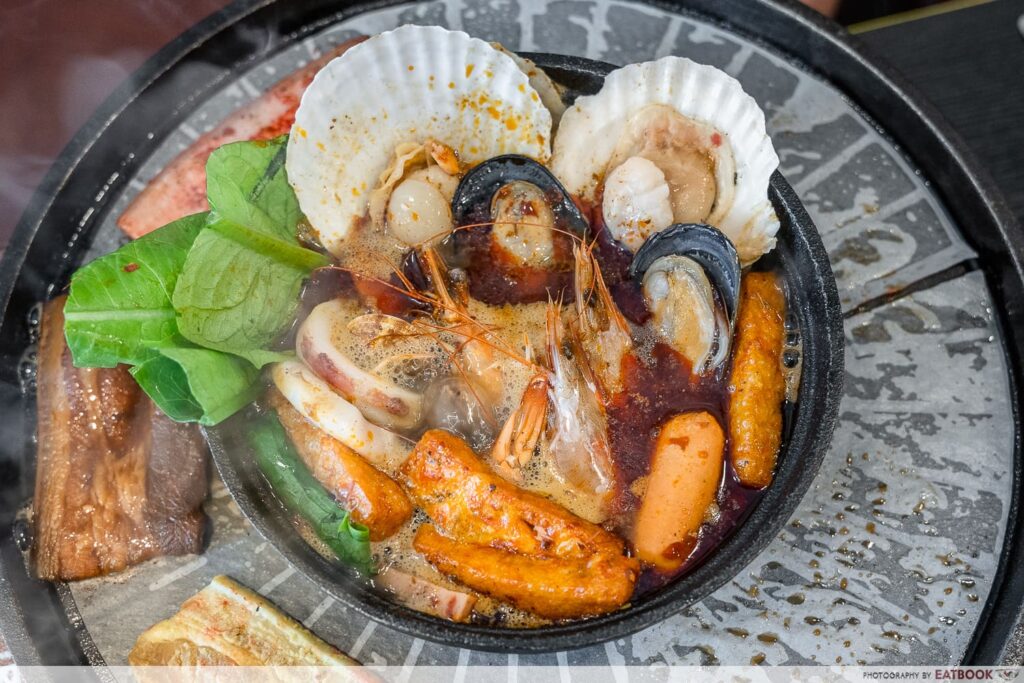 If you want to enjoy a steamboat meal with a view, check out That1! They're open till 1am daily, which means you can add this place to your list for a hearty supper option with your friends. Starting from $29.90+ per person, you can have a 90-minute session of BBQ steamboat, with plenty of seafood options to choose from. Along with this, you get to pick any food item from their main menu. Plus, you can get free flow soft drinks, or free flow beer with a top-up of $10+. Their dining area on the second level is also galaxy-themed, if you're looking for that unique experience. 
While this cheap buffet offer runs from Monday to Thursday between 11am to 3pm, you can still enjoy this buffet at other times, priced at $39.90+. 
Check out our That1 review!
Address: 99 Geylang Road, Singapore, Singapore 389208
Opening hours: Daily 11am to 1am
Tel: 9091 3288
Website
That1 is not a halal-certified eatery.
---
3. Yakiniku Ohji
---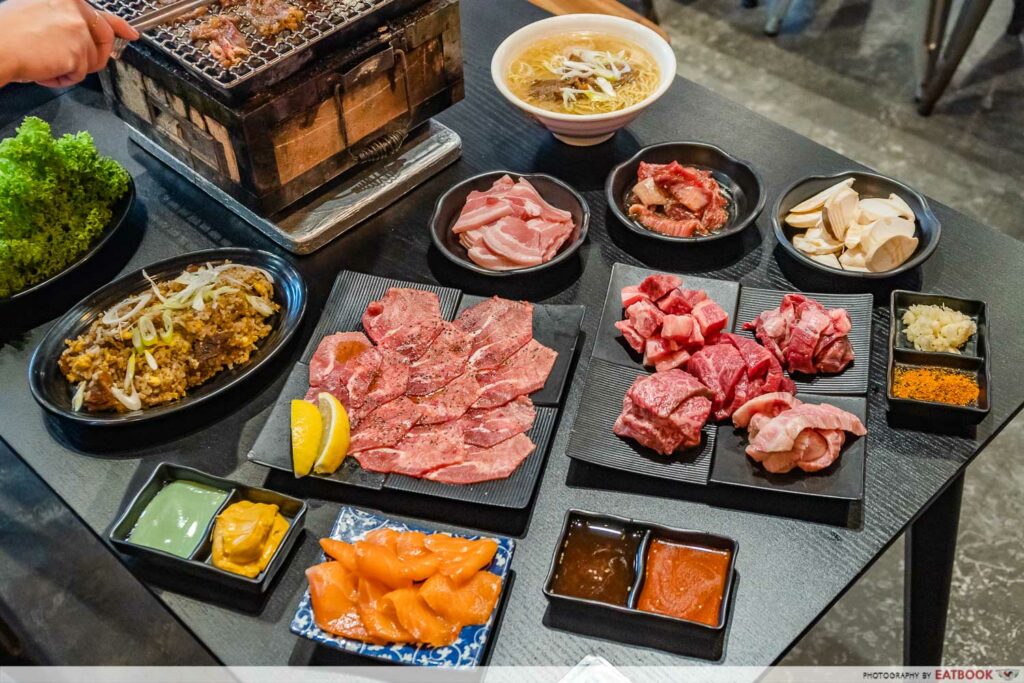 This is for all meat lovers: Yakiniku Ohji has 90-minute BBQ buffets that are really value-for-money! From $24.80+, you can choose from a selection of meats including marinated pork kalbi, pork loin, marinated chicken and more. Top up $2.50+ per person to add charcoal to your grill for that smokier taste. 
If you're looking to indulge, you can even go for the more expensive menu that's priced at $37.80+, where you can get marinated harami skirt, Angus beef and more. To cut through the heavy meats, there's also a variety of fresh vegetables you can choose from. 
Do note that these promotional prices are only valid from Monday to Thursday.
Check out our Yakiniku Ohji review!
Address: 321 Clementi Avenue 3, #01-01, Singapore 129905
Opening hours: Daily 12pm to 10pm
Tel: 6258 2849
Website
Yakiniku Ohji is not a halal-certified eatery.
---
4. You Are My Sunshine
---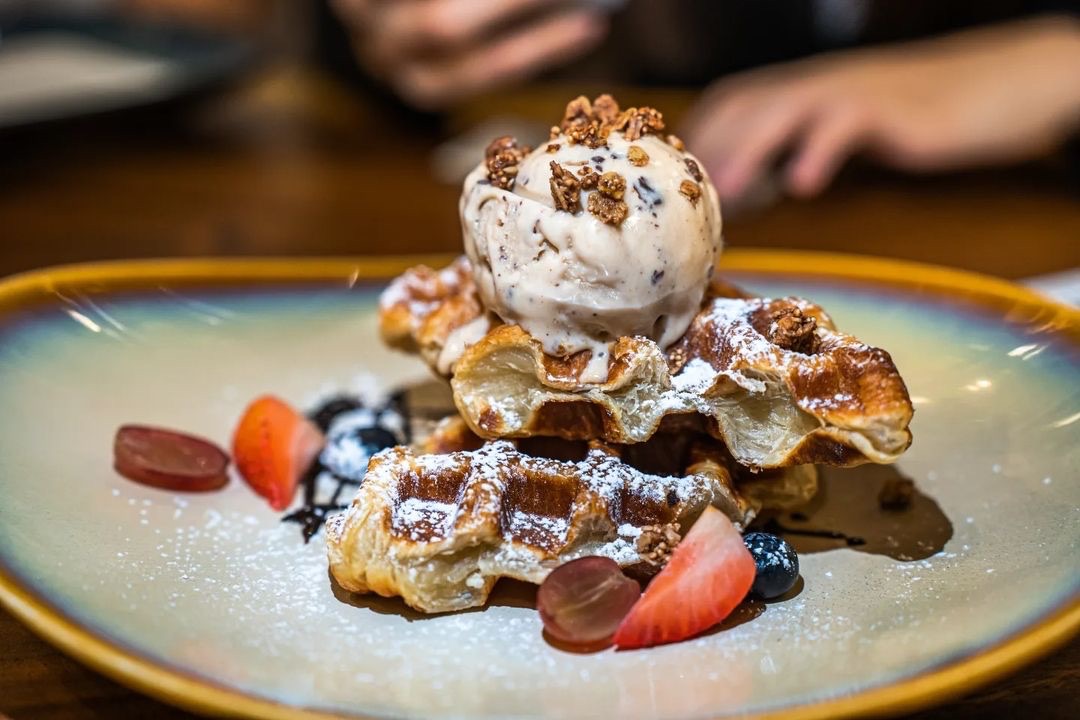 Image credit: @eatsbykoh
Check out You Are My Sunshine for their all-day buffet that features unlimited kroffles and ice cream! Priced from $9.90++, you get to enjoy two buttery kroffles per serving, with a scoop of their handmade ice cream flavours including Peanut Butter Mud-pie, Mexican Vanilla Pod, Earl Grey Lavender, and Artisan Chocolate. 
This cafe also has Korean food and drinks, where you can top up $5 for a non-alcoholic drink such as Ginseng Smoothie (UP $14++) and Butter Cream Latte (UP $7++)! 
Do note that this runs from Sunday to Thursday, and is priced at $15.90++ on Friday and Saturday.
Address: 391B Orchard Road, #05-05A, Ngee Ann City, Singapore 238874
Opening hours: Daily 11am to 10pm
Tel: 8887 8805
Website
You Are My Sunshine is not a halal-certified eatery. 
---
5. Annalakshmi
---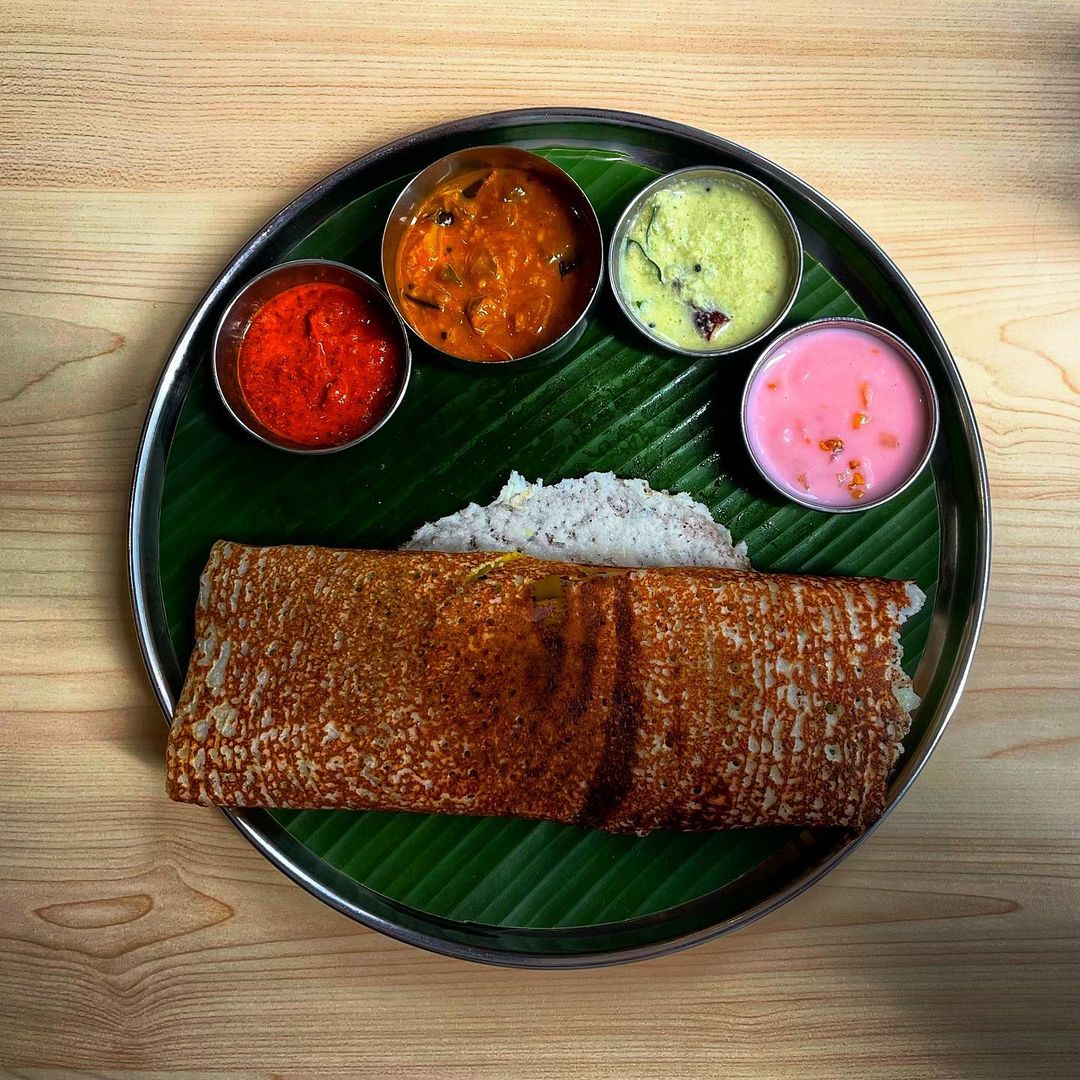 Image credit: @sgram_life
Located in the CBD area, Annalakshmi is a popular Indian vegetarian restaurant. Their motto is to serve the community with nutritious food and to give generously. Hence, they encourage their diners to pay as they wish. However, as with all kindness, it's best not to take advantage of it, and for diners to be considerate of the business too.
Serving up a wide range of vegetarian Northern Indian dishes, this restaurant lets you have your fill of vegetable curry with chapati and bhatoora, AKA deep-fried leavened bread. You will also get to try dishes such as red pumpkin sambar and bhindi masala here. 
Do note that reservations are currently not available. 
Address: 6A Shenton Way, #01-03, Downtown Gallery, Singapore 068815
Opening hours: Tue-Sun 11:30am to 3pm, 6pm to 9pm
Tel: 6339 9993
Website
Annalakshmi is not a halal-certified eatery but uses no pork or lard.
7 Unique Buffets You Must Try In Singapore, Including Durian, High Tea And Zi Char Buffets
---
6. Al Jasra Restaurant
---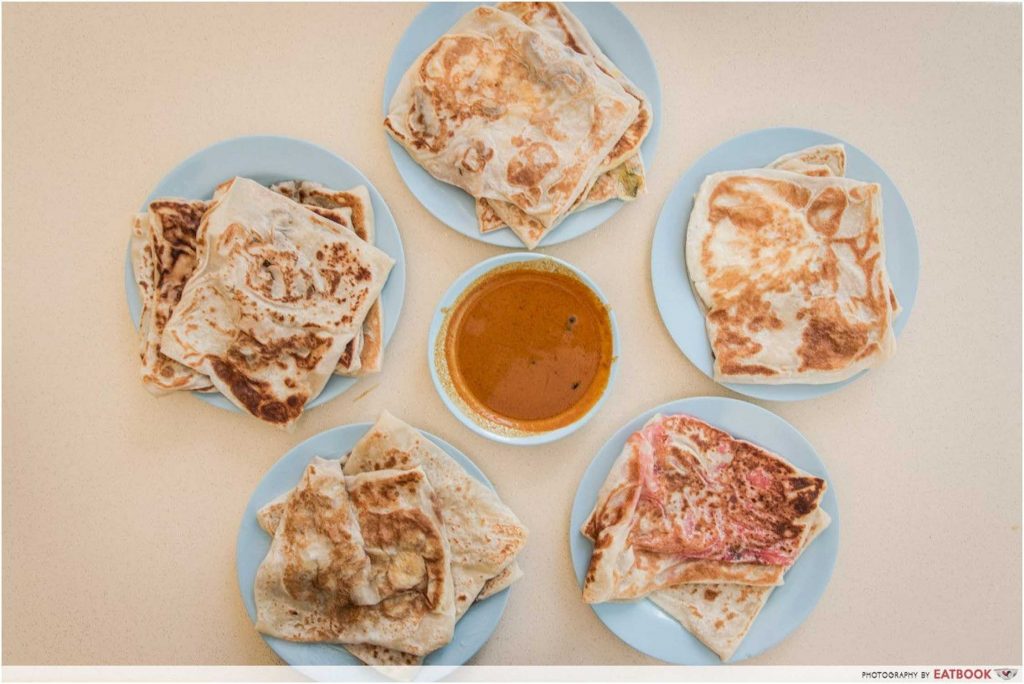 If all the places in our prata guide are not enough to satiate your cravings, Al Jasra Restaurant's prata buffet, priced at only $7.90, might just do the trick. 
They have an extensive variety of 16 prata options, but skip the usual flavours and dive straight into unique flavours such as Masala Prata and Honey Prata. The Masala Prata is stuffed with a fragrant masala curry filling, which has an aromatic curry flavour without being overly spicy, while the Honey Prata takes the usual sugar prata up a notch. Familiar flavours such as Cheese & Mushroom are also available if you'd rather stick to the usual options.
Check out our Al Jasra Restaurant review!
Address: 459 Changi Road, Singapore 419882
Opening hours: Daily 24 hours
Tel: 6742 5786
Website
Al Jasra is a Muslim-owned eatery. 
---
7. Greenleaf Cafe
---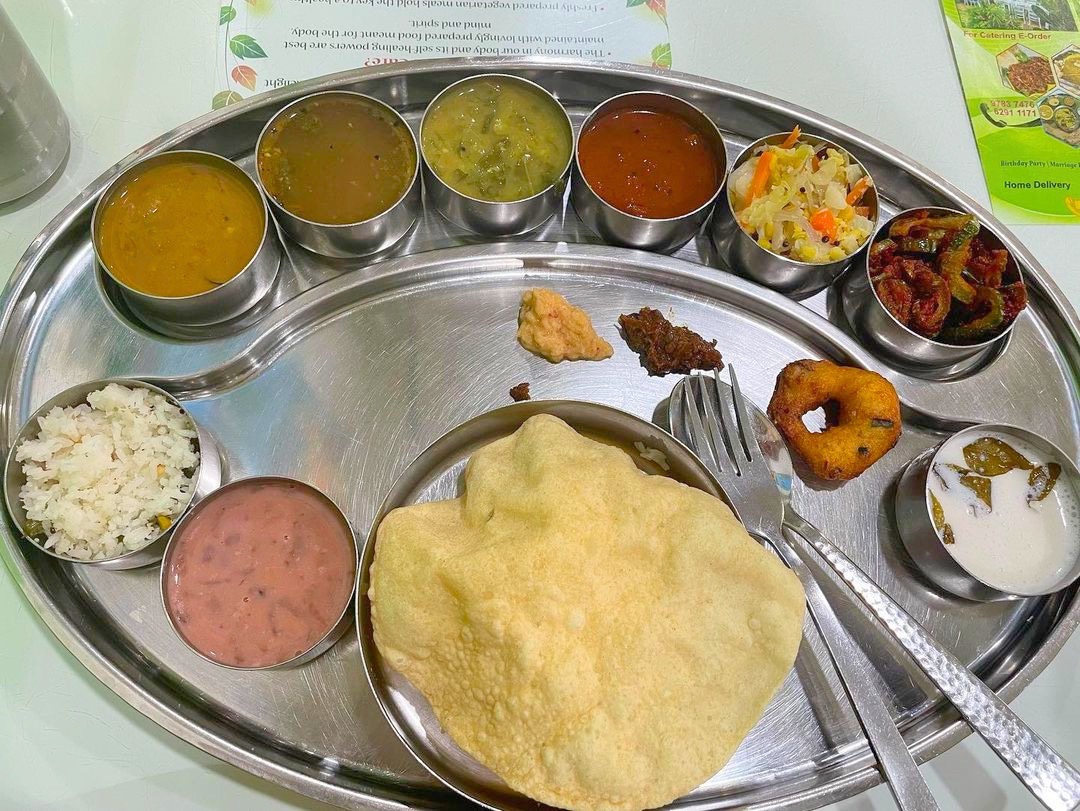 Image credit: @yukimonchy.65
Located near Little India MRT Station, Greenleaf Cafe exudes a warm and comforting ambience, and offers a wide variety of Indian vegetarian dishes. They pride themselves on their hearty and healthy South Indian buffet spread, priced at $19, which includes dishes that are made without white sugar, artificial flavourings, and preservatives. 
The menu is rotated every day, and you can expect dishes including dhal curry, pappadum, and variations of payasam. Even my friends who are self-proclaimed carnivores gave this spot a thumbs up!   
Address: 43 Cuff Road, Singapore 209753
Opening hours: Wed-Mon 11am to 10:30pm
Tel: 9783 7476
Website
Greenleaf Cafe is not a halal-certified eatery but uses no pork or lard.
---
8. MiMi Korean BBQ
---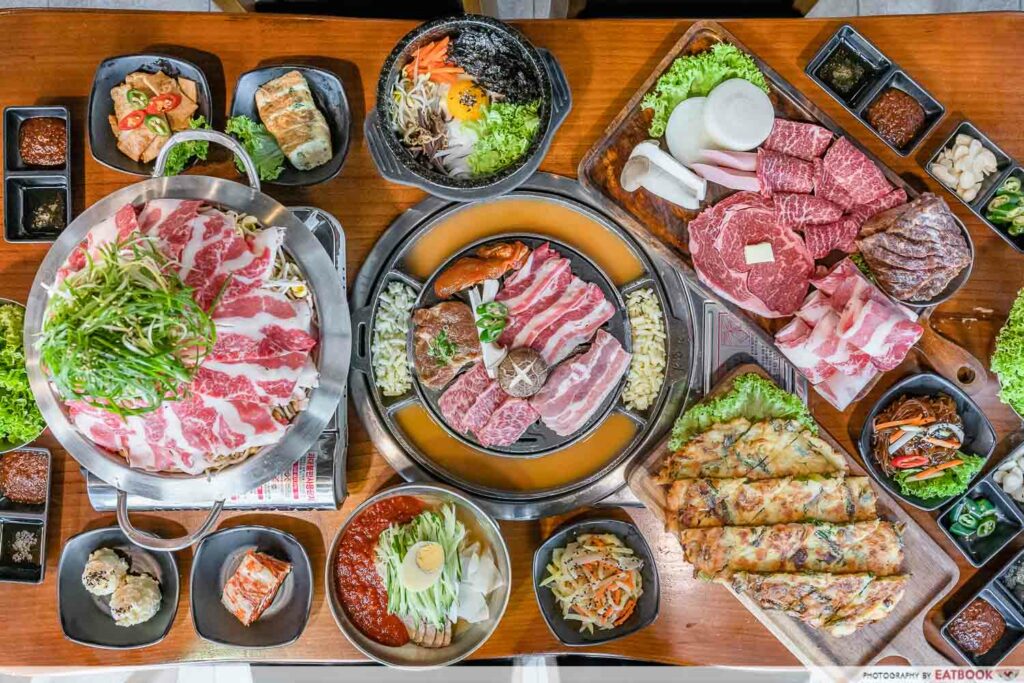 Tanjong Pagar is known as the place to visit for Korean cuisine, but rather than heading to your typical restaurants such as O.BBa Jjajang, check out MiMi Korean BBQ for their affordable buffet. For just $29.50+, you get to enjoy a 90-minute BBQ buffet from Mondays to Thursdays, with seven types of meats, including beef short plate, beef bulgogi, soya chicken galbi and more. Alongside these, you'll also get side dishes, vegetables, and Korean barley tea.
Address: 2 Peck Seah Street, #01-01, Air View Building, Singapore 079305
Opening hours: Daily 11:30 am to 3 pm, 5:30 pm to 12 am
Tel: 9114 9510
Website
MiMi Korean BBQ is not a halal-certified eatery. 
---
9. Family Mookata
---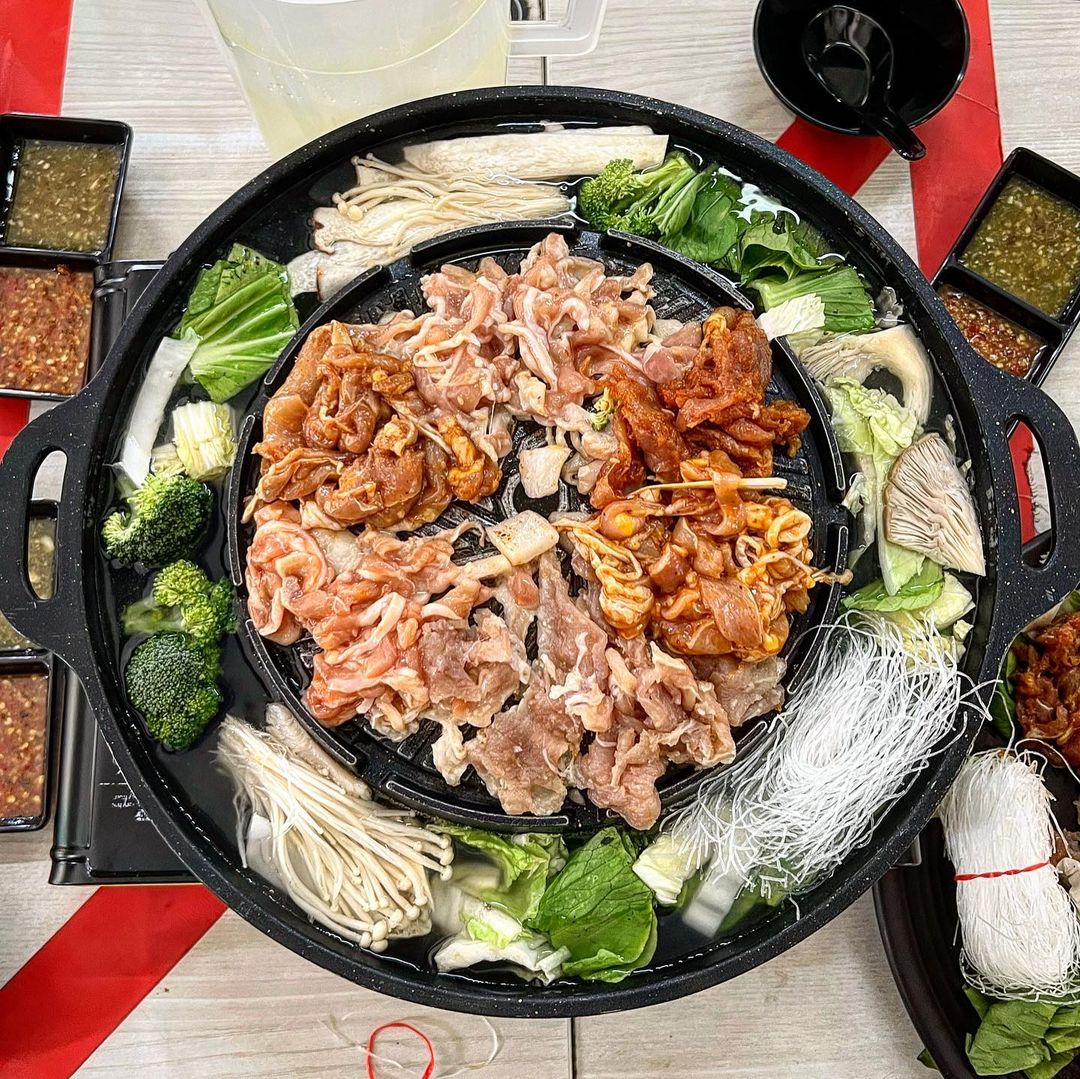 Image credit: @eat.nonstop
I remember a time when mookata was all the rage in Singapore. Though it seems like we're past that phase, you'll want to check out Family Mookata because they have a cheap mookata Protein Buffet, priced at just $14.90 per person. There's a variety of marinated meats including Garlic Pork Slice, Thai Marinated Pork Slice, and Honey Tomato Chicken Thigh. 
The buffet also comes with vegetables, mushrooms, and carbs to help cut through the heavy meat flavours. The house-made chilli dip here is really popular as well, so be sure to get that alongside your meats!
Address: 6 Yishun Industrial Street 1, Northview Bizhub, Singapore 768090
Opening hours: Tue-Fri 3pm to 11pm, Sat-Sun 1pm to 11pm
Tel: 9339 4388
Website
Family Mookata is not a halal-certified eatery. 
---
10. Hao Lai Wu Steamboat BBQ
---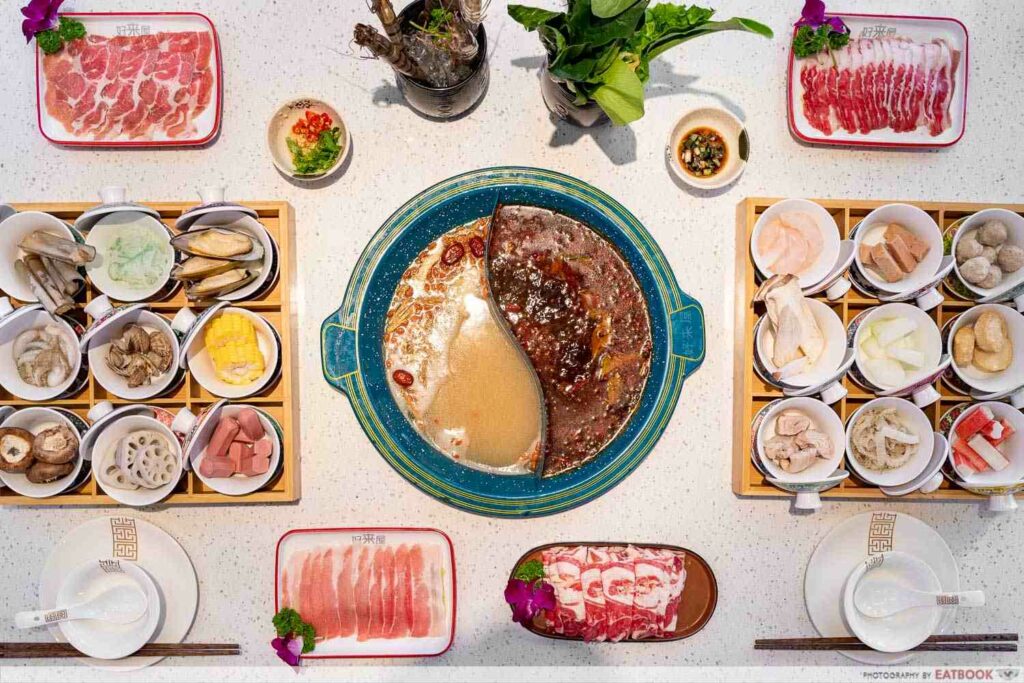 There's endless options to choose from when you crave hotpot, but one you should check out is Hao Lai Wu Steamboat & BBQ's steamboat buffet. The 90-minute hotpot buffets here are priced from $26.80++, though you get to dine for 120 minutes if you dine in groups of four or more. Pick a single or double pot, with your choice of soup bases including Chongqing Mala, Thai Tom Yum, and Secret Recipe Pork Bone. They also have cuts of meat such as Sliced Pork Belly, USA Sliced Beef, and Beef Omasum. Otherwise, if you prefer seafood, there's fresh Prawns, Mussels, and Bamboo Clams. 
Do note that this buffet deal is valid from Monday to Thursday, otherwise it's priced at $28.80++ for the rest of the week and on public holidays.  
Bencoolen Street
Address: 175 Bencoolen Street, #01-57, Burlington Square, Singapore 189649
Opening hours: Daily 11am to 3am
Tel: 6732 0816
Smith Street
Address: 37 Smith Street, Singapore 058950
Opening hours: Daily 11am to 3am
Tel: 6221 0065
Website
Hao Lai Wu Steamboat & BBQ is not a halal-certified eatery. 
---
Where to find cheap buffets in Singapore
---
Head down to one of these buffets for your next group gathering, and leave with a satisfied belly. For more buffets, read our guide to unique buffets in Singapore with high tea and zi char! Alternatively, check out our best buffets guide in Singapore, which caters to different budgets, including hotel buffets. 
17 Best Buffets In Singapore For All Budgets, Including Hotel Buffets, Outdoor BBQ And More
Feature image adapted from @eatsbykoh and @eat.nonstop.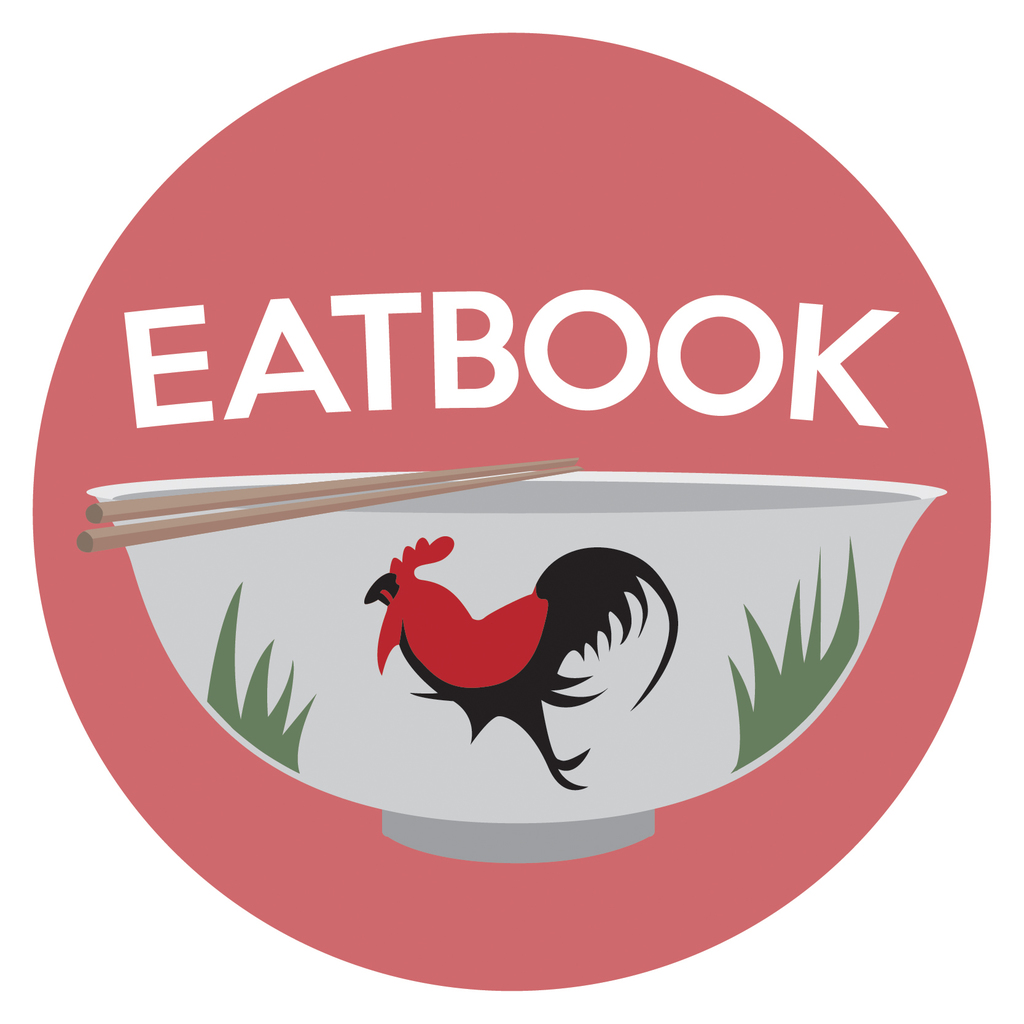 Drop us your email so you won't miss the latest news.