---
Mac and cheese that are cheesy and grate
---
Mac and cheese is like that aunt agony that no one really notices when they aren't there, but is the very person we turn to when we need some comfort. This is a simple dish to make, yet there are a thousand and one ways to spice it up. If you don't have time to make some, we've rounded up 10 mac and cheese dishes for you to get your cheese fix!
---
1. Kimchi Mac & Cheese
---
With bingsu becoming a go-to dessert nowadays, the Korean food scene in Singapore has certainly got our attention. Joo Bar does a bang-up job of marrying two classics from the East and West with Kimchi Mac & Cheese ($14++). Tangy kimchi is mixed into cheese sauce to give this dish a slight crunch while preventing the cheese from overwhelming your palate. Before you leave, be sure to get some House Brew Organic Makgeolli ($7++/$15++/$28++) as well!
Address: 5 Tan Quee Lan Street, Singapore 188094
Opening hours: Mon-Fri 12pm to 2pm, 5:30pm to 12am, Sat-Sun 5:30pm to 12am
Tel: 8138 1628
Menu
---
2. Salted Egg Crawfish Mac & Cheese
---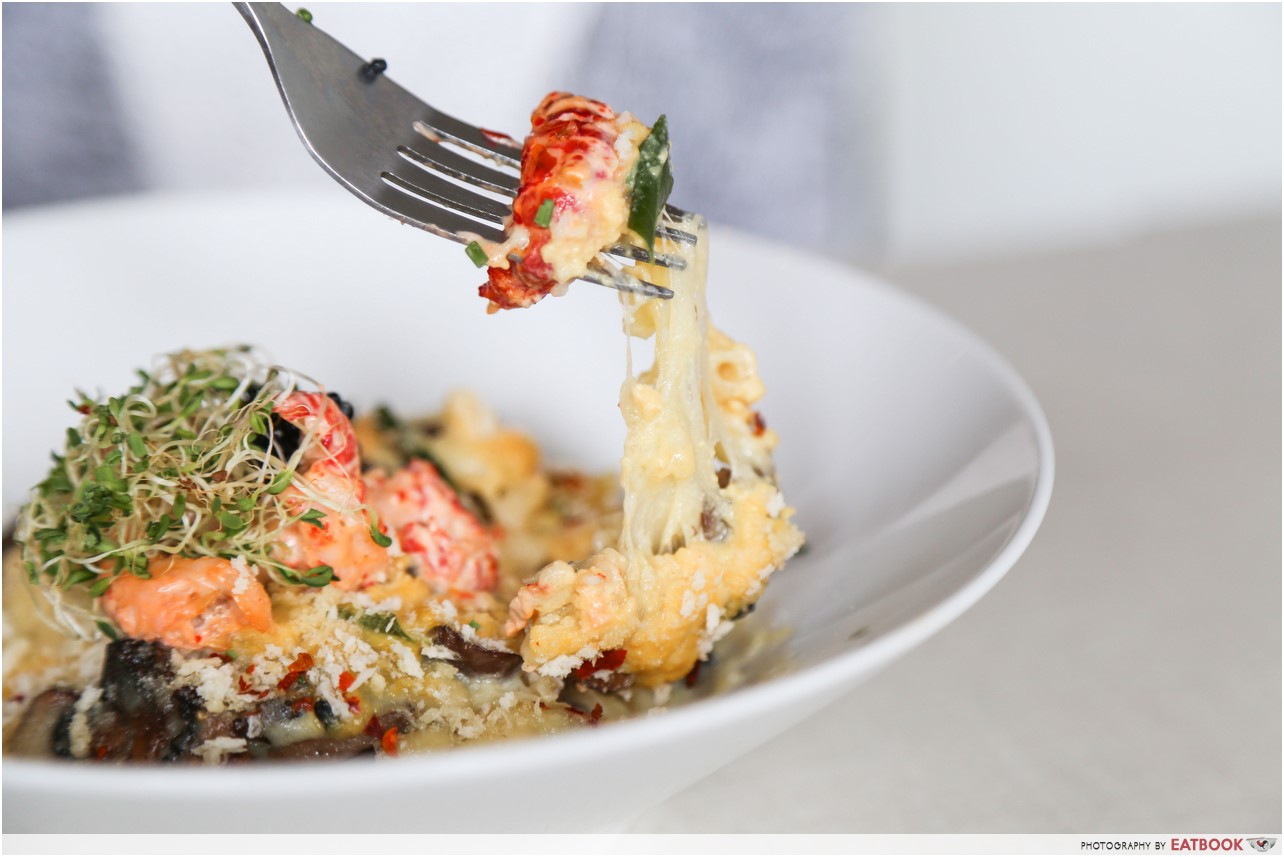 Hyde & Co. is known for high tea, but their Salted Egg Crawfish Mac & Cheese ($22) is pretty unforgettable as well. The mac and cheese is made atas with Norwegian crawfish, and together with salted egg yolk sauce, results in a dish that knows how to attract Singaporean palates. Plus, let's not forget the stringy cheese that makes a hell of a money shot.
Address: 785 North Bridge Road, Singapore 198753
Opening hours: Mon 12pm to 6pm, Wed-Fri 12pm to 10pm, Sat 11am to 10pm, Sun 11am to 6pm
Tel: 6635 5785
Menu
Read our full review here.
---
3. 3-Cheese Penne Gratin
---
Even though dining al fresco isn't the most ideal in Singapore's weather, FIX has a really nice poolside cafe that might convince you to do so anyway. Chow down on 3-Cheese Penne Gratin ($10) that's packed with mushrooms as you chill by the water. Along with interesting desserts like Donut With Salted Egg Dip ($6) and Passionfruit Mango Coconut Chiffon Cake ($5.50), this halal-certified cafe is a good choice for those looking for an affordable spot to relax at on weekends.
Address: 31 Ah Hood Road, #01-06, HomeTeam NS, Singapore 329979
Opening hours: Daily 11am to 10pm
Tel: 6256 1484
---
4. Mac and Cheeks
---
For mac and cheese lovers who also die die need their meat fix, OverEasy's Mac and Cheeks ($22++) should do the trick. Featuring braised beef cheeks and macaroni mixed in Gruyere and Bechamel sauce, this is an easy fix for those who want some protein in their food. Truffled Mac & Cheese W. Wild Mushrooms ($18++) and Good Ol' Fashioned Mac & Cheese ($14++) are also available at both outlets, so mac and cheese lovers should really bookmark this place for future reference.
Address: 541 Orchard Road, #01-01, Liat Towers, Singapore 238881
Opening hours: Mon-Thur 12pm to 12am, Fri 12pm to 1am, Sat 10am to 1am, Sun 10am to 12am
Tel: 6684 1453
Menu
Click here for more details on their Fullerton outlet.
---
5. Claypot Chicken Mac & Cheese

---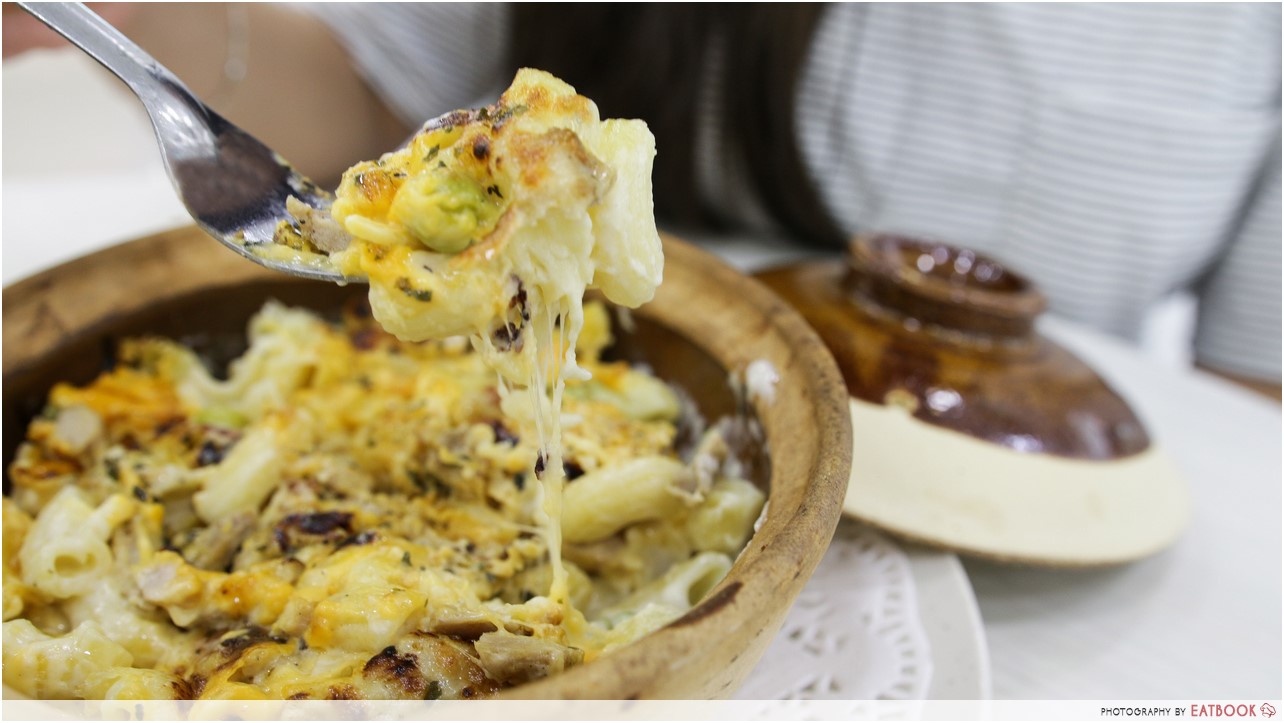 Claypot chicken rice is a popular dish in many Asian countries, and The Cafe Menu came up with a Western twist to it. Chicken Mac & Cheese ($5) from this kopitiam stall comes in a claypot and a generous amount of chicken cubes and peas. But hangry souls be warned, this dish is made to order, so you'll have to wait about 15 minutes before feasting on it.
Address: Blk 433A Sengkang West Way, #01-01, Happy Hawkers Coffeeshop, Singapore 560531
Opening hours: Mon-Thur 12:30pm to 8:30pm, Fri 3pm to 8:30pm, Sat-Sun 5pm to 8:30pm
Tel: 9067 5190
Read our full review here.
---
6. Mac and cheese burger
---
Eating a burger overflowing with mac and cheese can be very messy, but it's a good kind of mess. Known as Royal Rumble ($5.80), this mac and cheese bun from Squeezed! features truffle macaroni and melted nacho cheese stuffed into a brioche bun in the shape of a UFO. Other options like Smores & More ($5.80) and Tori Tori ($5.80), a teriyaki chicken UFO burger, are also available. The only downside is that these burgers are only available at their Waterway Point outlet, so those who don't live at Punggol gotta get ready to travel a little for these babies.
---
7. Old School Baked Mac & Cheese
---
Here's one for those who stick to the classics. Little Diner's Old School Baked Mac & Cheese ($16.50++) is drenched in rich, creamy cheese and the macaroni is topped with crispy breadcrumbs potent enough to satisfy any cheese cravings you might have. If you'd like some truffle oil and mushrooms in your mac and cheese, go for Version 2 Mac & Cheese Royale ($20.50++) instead.
Address: 789 Bukit Timah Road, Singapore 269763
Opening hours: Tue-Thur 11:30am to 3:30pm, 6pm to 10pm, Fri 11:30am to 3:30pm, 6pm to 10:30pm, Sat 11am to 3:30pm, 6pm to 10:30pm, Sun 11am to 3:30pm, 6pm to 10pm, PH 11am to 3:30pm (last order is one hour before kitchen closes)
Tel: 6466 4088
Menu
---
8. Mac & Cheese Fritters
---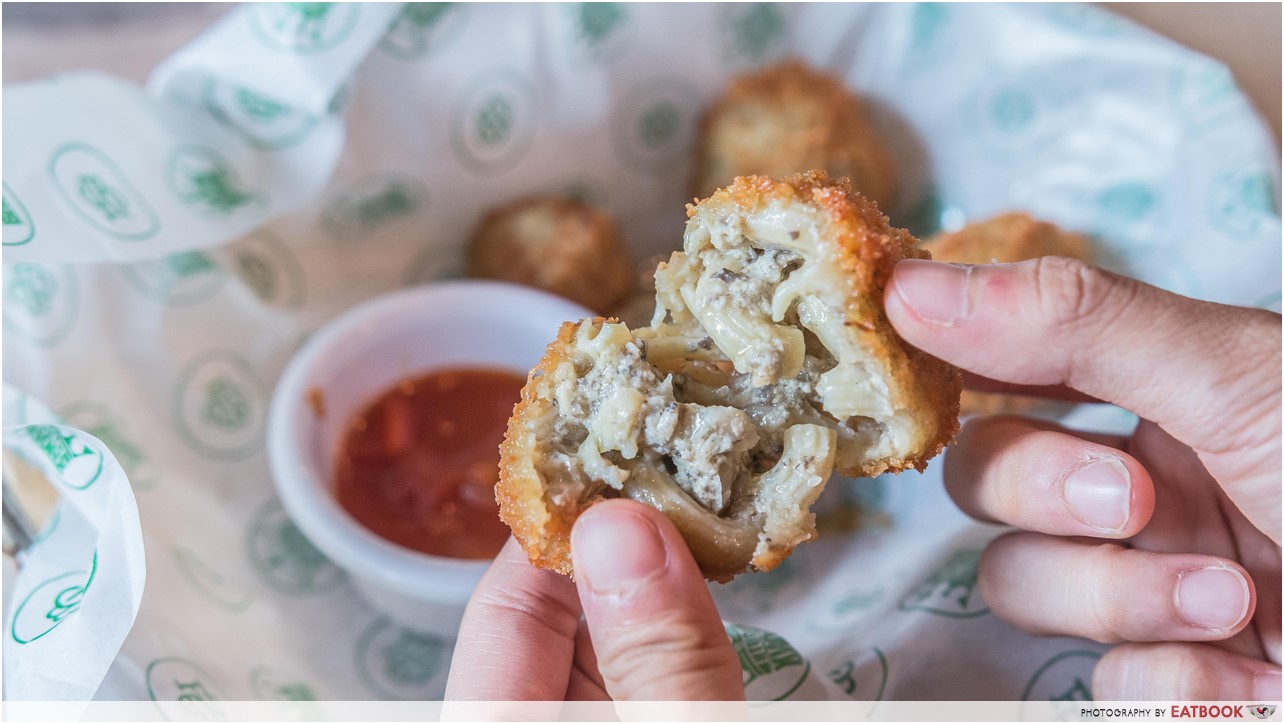 By creating a variety of savoury waffles and gigantic freakcakes, Montana has successfully elevated some of our favourite comfort food. Mac & Cheese Fritters ($6.50++) are fried nuggets of mac and cheese that come with jalapenos to create a peppery kick. Feel free to eat it on its own, but we suggest dipping it in tomato relish sauce on the side to make it less jelak. Remember to try Assam Crab Waffles ($17.50++) while you're there!
Address: 1 Selegie Road, #02-25, PoMo, Singapore 188306
Opening hours: Mon-Thur 11am to 10pm, Fri 11am to 11pm, Saturday 9am to 11pm, Sunday 9am to 9:30pm
Tel: 6334 3137
Read our full review here.
---
9. Truffle Crack & Cheese
---
Truffle Crack & Cheese ($15+) from Forty Hands stands out with crispy squid ink brioche crumbs sprinkled over truffle mac and cheese. The amount of cheese is just right so you won't feel jelak after polishing this off. If you're there for brunch, give their Eggs Benedict with Juicy Steak ($21+) a go as well. This unique eggs benny comes with two large pieces of steak and a whole lotta spicy roasted potatoes.
Address: 78 Yong Siak Street, #01-12, Singapore 163078
Opening hours: Daily 7:30am to 6pm
Tel: 6225 8545
Menu
Find out where else to get unique eggs benedicts here.
---
10. Mac & Cheese with bacon
---
Mac & Cheese ($12++) at The Beast is made with bacon, Gruyere, aged sharp cheddar and mozzarella. This Southern restaurant nailed it when it comes to the balance between cheese, sauce and carb, but more bacon bits could have been added to create more textures and savouriness. If you're feeling up for a fight, take up The Beast Burger challenge where you have to finish 3.5kg worth of burger and sweet potato fries to walk out without paying $125++!
Address: 17 Jalan Klapa, Singapore 199329
Opening hours: Mon-Wed 5pm to 12am, Thur-Fri 5pm to 1am, Sat 5pm to 12am, Sun 10am to 5pm
Tel: 6295 0017
Menu
Find out where else to go for meat challenges here.
---
Overdose on cheese
---
As the ultimate comfort food, there will always be days you're craving for good mac and cheese. So remember to bookmark this list for times you need a M&C fix! Let us know down below if you've got any more places to recommend.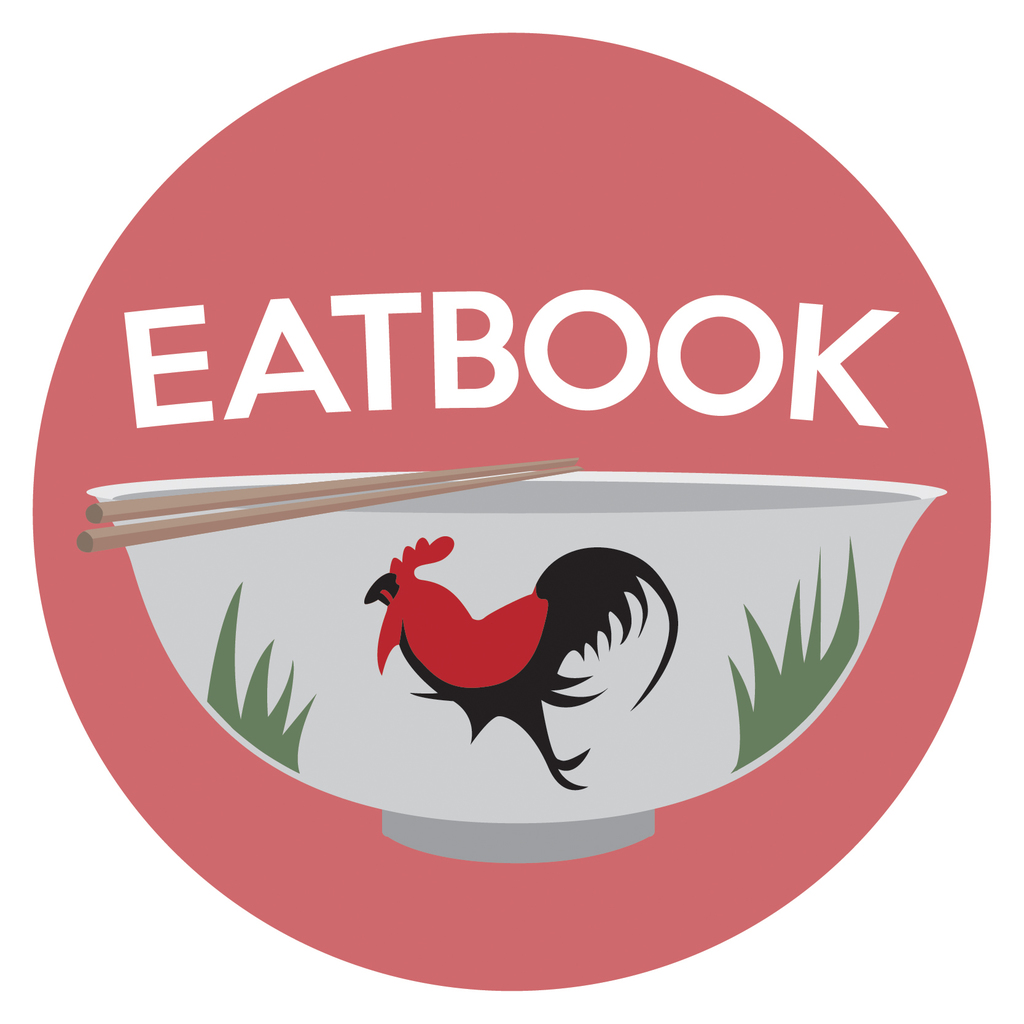 Drop us your email so you won't miss the latest news.