---
Food challenges reserved for meat lovers
---
Food challenges are a dime a dozen in America. These food challenges generally require participants to devour an insane amount of food within a limited time frame to get a free meal. With towers of burger patties and mountain of fries to be devoured by one single soul, these challenges are not to be underestimated no matter how hungry your are.
With more and more diners in Singapore coming up with their own food challenges, you no longer have to spend nights on Youtube watching competitive eaters scarf down plates after plates of tender ribs. Instead, pay a visit to these 10 restaurants and try it for yourself!
---
1. Meat n' Chill
---
Source
The Spicy #YOLO Challenge at Meat n' Chill is not just a meat challenge; it's a heat challenge too. Get your tastebuds ready to devour this plate of fries and ribs that comes in two different spice levels: Walk in the Park ($24+) or On Cloud 9 ($35+). The hot sauce is made with a blend of Carolina Reaper Chilli Peppers and Trinidad Moruga Scorpion, which are certified as the world's hottest chilli pepper by Guinness World Records in 2013 and 2012 respectively. And if that's not enough, you can order some off-the-menu spicy wings that have the same hot sauce in the challenge to complete your meat fest!
Address: 805 Bukit Timah Road, #01-04, 6th Avenue Centre, Singapore 279883
Opening hours: Tue-Thur 11:30am to 2:30pm, 6pm to 11pm, Fri 11:30am to 2:30pm, 6pm to 11pm, Sat 11am to 11pm, Sun 11am to 10:30pm
Tel: 6219 7460
Menu
---
2. Little Diner
---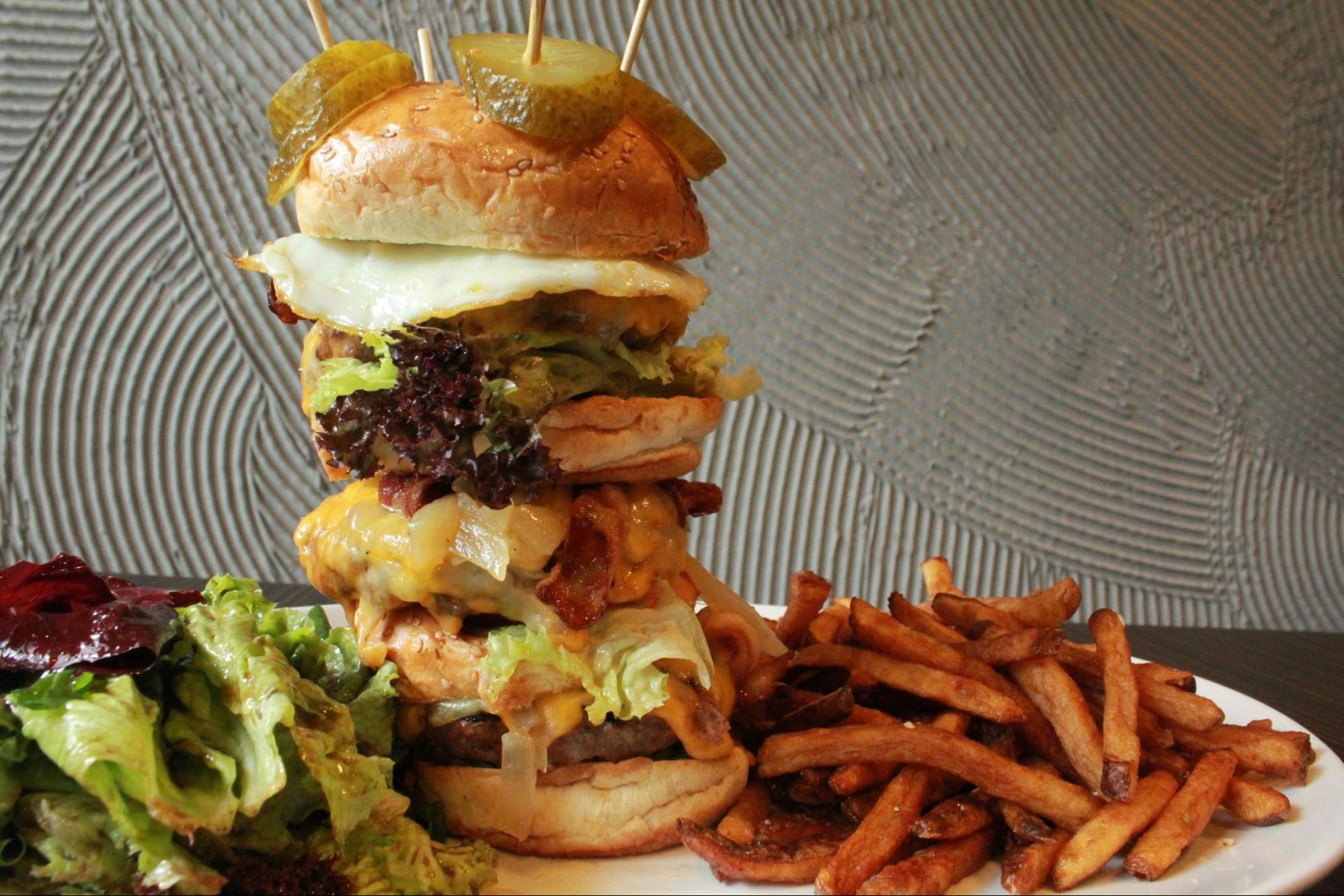 Source
Little Diner's Empire Burger ($55++) is good for 3 to 4, but if you're up for it, feel free to gobble all 3 beef patties, multiple slices of bacon, swiss and cheddar cheese, caramelised onions, lettuce, tomato slices and a fried egg all by yourself. If that sounds like nothing, try finishing the ENTIRE plate of burger, fries and everything else in 20 minutes. Succeed, and the burger is on the house. But if you don't, the folks at Little Diner will charge you for the monster burger but throw in a dessert for free to give you a sweet ending anyway.
Address: 789 Bukit Timah Road, Singapore 269763
Opening hours: Tue-Thur 11:30am to 3:30pm, 6pm to 10pm, Fri 11:30am to 3:30pm, 6pm to 10:30pm, Sat 11am to 3:30pm, 6pm to 10:30pm, Sun 11am to 3:30pm, 6pm to 10pm
Tel: 6466 4088
Menu
---
3. Little Hiro
---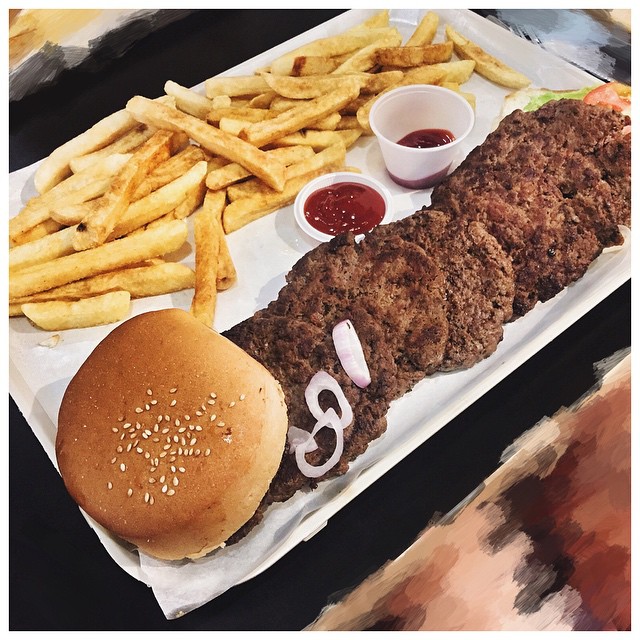 Source
Aptly named the Superhiro Challenge ($25), you'll be a superHERO if you down these monster of a burger AND fries at Little Hiro. Coming with 8 200g beef patties and half a kilo of fries, you have to beat the time set by the previous record holder to walk away without paying. Talk about a burger of epic proportions.
Address: 559 Bukit Timah Road, #01-01, King's Arcade, Singapore 269695
Opening hours: Mon-Thur 11:30am to 9:30pm, Fri-Sat 11:30am to 10pm, Sun 11:30am to 9:30pm
Tel: 6466 3477
Menu
Find out where else to get food in epic proportions here.
---
4. The Beast
---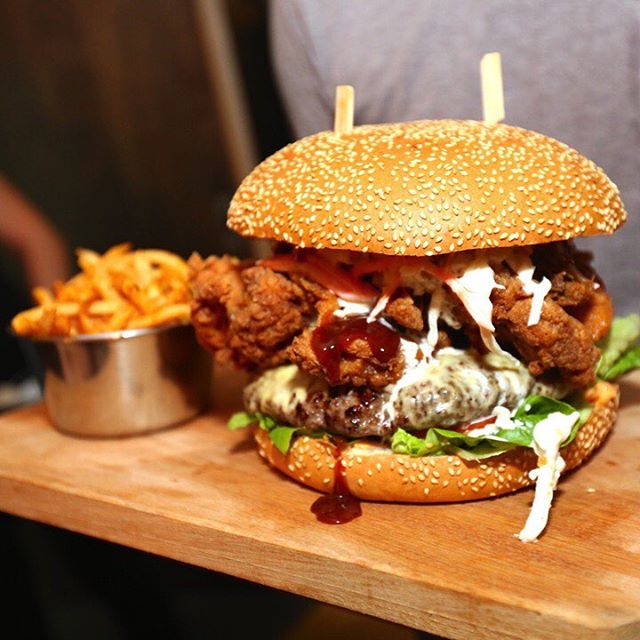 Source
With a juicy beef patty weighing at about 3.5kg, this burger at The Beast is the mother of all beef burgers. Chow down this crazy plate that also consists of a good serving of slaw, slow-cooked pulled pork, buttermilk fried chicken slapped in between two buttery hot buns AND the accompanying sweet potato fries, and you're on your way to win The Beast Burger Challenge ($125++). If you beat it, the meal's on them. But if you don't, get ready to pay a hefty bill. Don't forget to do a pre-order before you head down for the challenge!
Address: 17 Jalan Klapa, Kampong Glam Conservation Area, Singapore 199329
Opening hours: Mon-Thur 5pm to 12am, Fri-Sat 5pm to 1am
Tel: 6884 6884
Menu
---
5. Roadhouse
---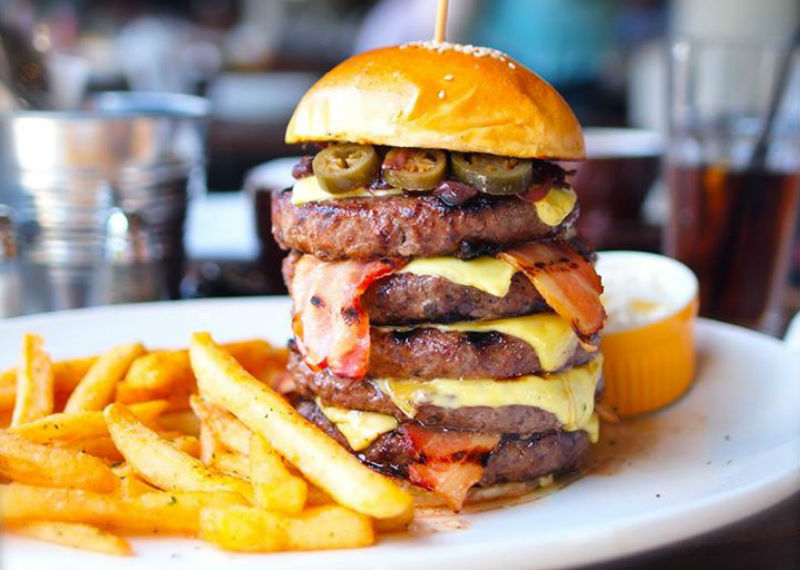 Source
One of the most popular food challenge in Singapore, The Terminator ($58++) towers with 6 wagyu beef patties, layered with cheese, bacon and caramelised onions, coleslaw and fries. If you finish it in less than 20 minutes, the burger's on the house. And if that's not enough, Roadhouse has upgraded their challenge for meat AND spice eaters.
For this challenge, you'll have to gobble down a Red Hot Terminator Burger ($58++) in 25 minutes or less. If you do it, the burger will be free AND you'll also receive a $20 dining voucher together with your name in their Hall of Fame. The burger is made up of 1kg of meat, consisting of 5 spicy wagyu beef patties, caramelised onions, melted cheese, fried bacon and jalapenos, all on a soft sesame seed bun.
Address: 13 Dempsey Road, Singapore 239674
Opening hours: Mon-Fri 11:30am to 3pm, 6:30pm to 10:30pm, Sat-Sun 9am to 10:30pm
Tel: 6476 2922
Menu
---
6. Satay Power 6
---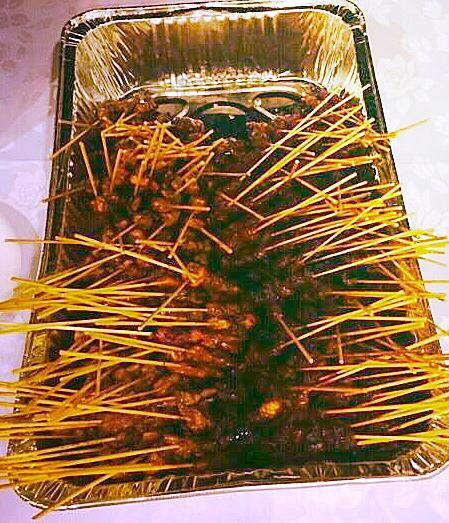 Source
Satay lovers, heads up. Wolf down as many sticks of your favourite skewers in 20 minutes at Lau Pa Sat's Satay Power 6 and you may get a chance to go home without paying a single cent. Just beat the previous record holder who downed 150 sticks in 19.41 minutes and walk away feeling like a Satay King. But if you can't then that'll be $0.70 per stick please, thank you.
Address: 18 Raffles Quay, Stall #8, Lau Pa Sat Festival Market, Singapore 048582
Opening hours: Mon-Sun 10am to 10pm
Tel: 9384 7148
---
7. Base Cafe
---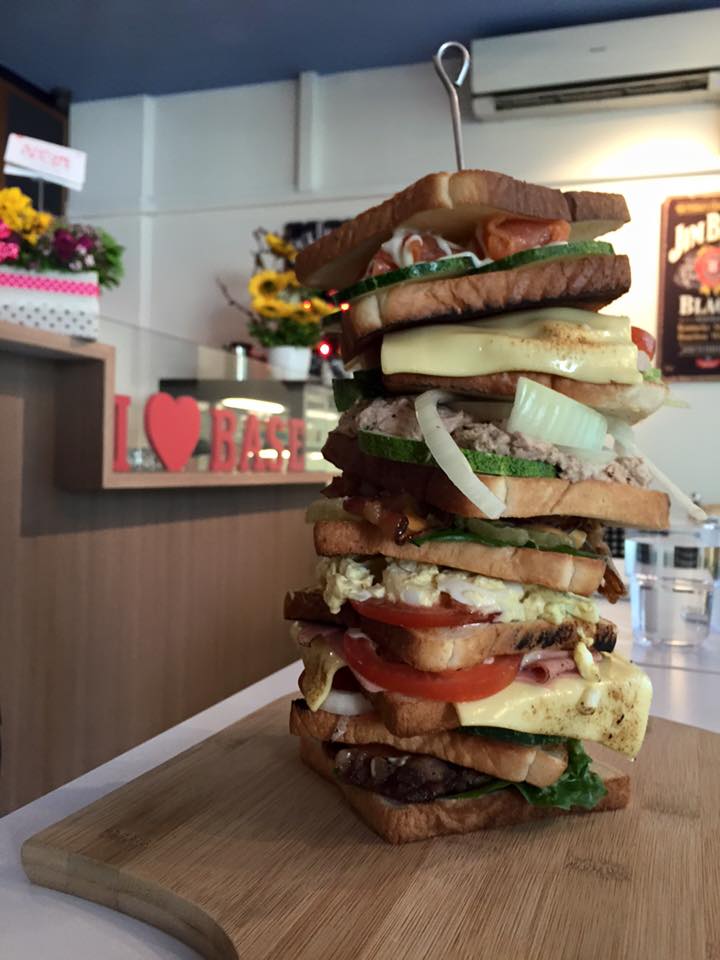 Source
The carbs are heavy in this one. Base Cafe's Mega Tower Challenge ($25+) features 9 layers of sandwich goodness, stuffed with layers of ham, tuna, smoked salmon slices, egg mayo, cheese, tomato slices, lettuce, onions and cucumber. If you finish it within 10 minutes, the tower of food will be free!
Address: Block 603 Ang Mo Kio Avenue 5, #01-2661, Singapore 560603
Opening hours: Tue-Sun 11am to 10pm
Tel: 6451 3008
---
8. MEATliquor SIN
---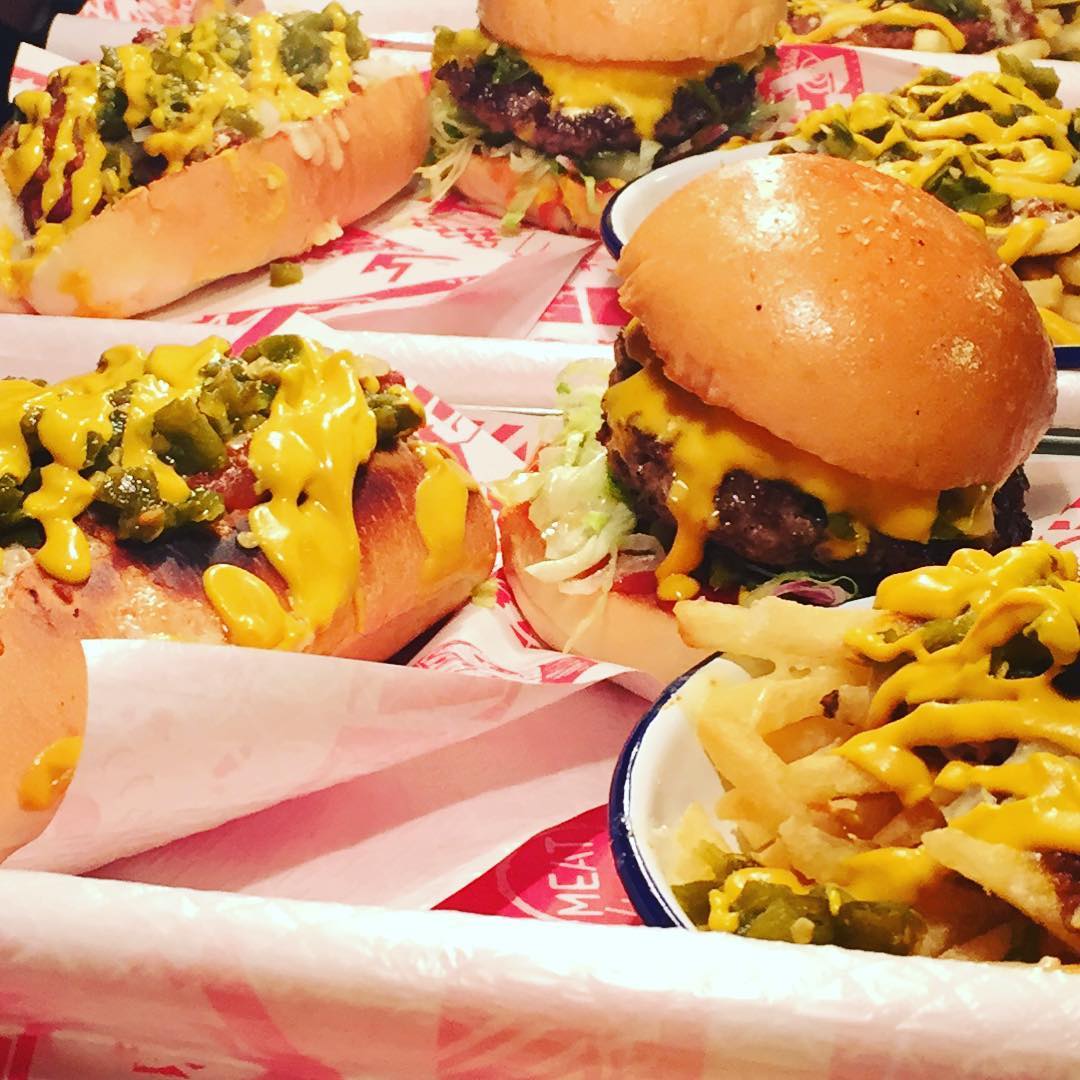 Source
It's not called a Triple Chilli Challenge ($50++) for no reason. This challenge at MEATliquor features not 1 but 3 huge entrees for you to scarf down within a limited time. You have a maximum of 10 minutes to finish 1 jalapeno covered burger, a jalapeno covered hot dog and also jalapeno covered fries. Beat that and you get your meal free and your name on their wall of fame.
Address: 99 Duxton Road, Singapore 089543
Opening hours: Sun-Thur 11:30am to 11pm, Fri-Sat 11:30am to 1am
Tel: 6221 5343
---
9. McGettigan's Irish Pub
---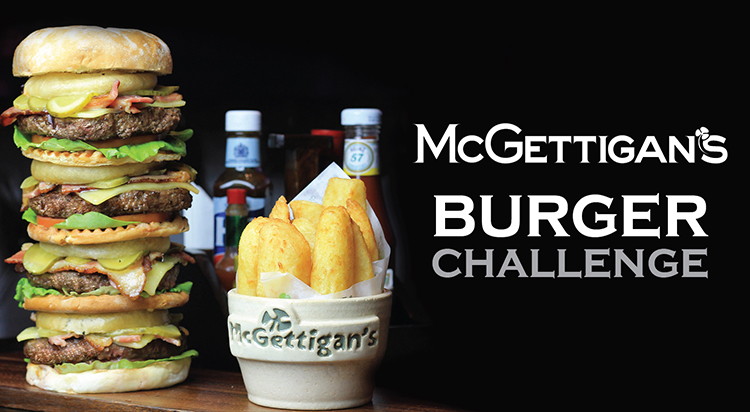 Source
One of the newer eating challenges in Singapore, the Burger Challenge ($60++) at McGettigan's Irish Pub comprises 5 sets of burger buns, 900g of Wagyu Minced Beef Patties, 200g of streaky bacon, 60g of yellow onion, 100g of cheddar cheese, 60g tomato, 90g capers and 100g romaine lettuce all stacked in a tall burger tower together with 500g of fat chips. TLDR; it's a HUGE pile of meat, carbs, cheese and veggie on a plate. Finish all 32 ounces within 32 minutes and the crown's yours.
Address: 3A River Valley Road, Merchant's Court, Singapore 179020
Opening hours: Mon-Tue 12pm to 1am, Wed-Fri 12pm to 3am, Sat 11am to 4am, Sun 11am to 1am
Tel: 6837 0577
---
10. EPIKebabs
---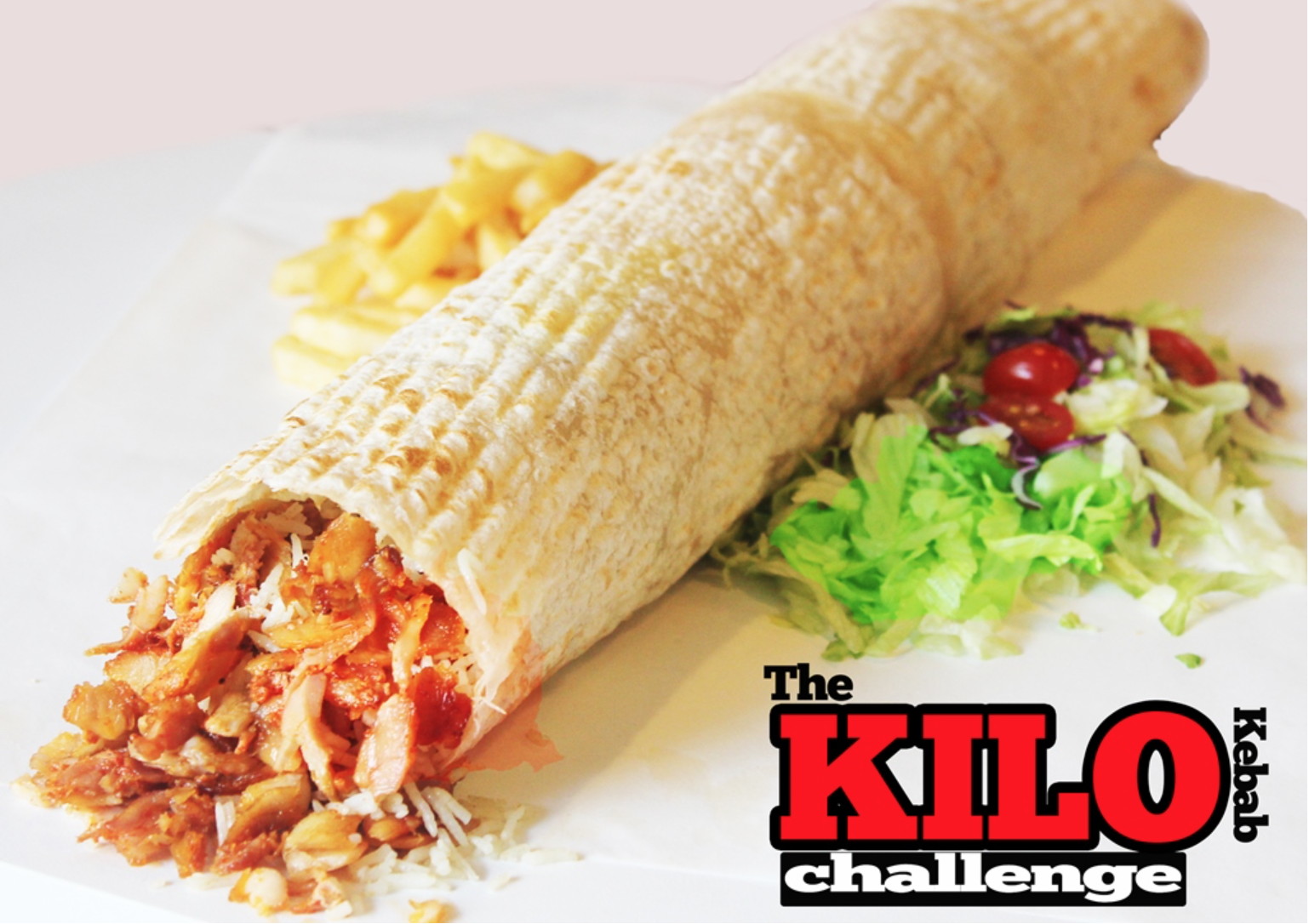 Source
Get your tummy ready to beat this kebab challenge. Only available at EPIKebab's Wilkie Edge Outlet on weekends, the challenge is to eat and finish a kebab roll weighing 1kg within 10 minutes. Stuffed with a chockful of chicken meat, you'll get this Kilo Kebab Challenge ($20) on the house if you complete it successfully. Besides that, you'll also get a $20 EPIKebab voucher and your name immortalised on their conqueror's board.
Address: 8 Wilkie Road, #01-17, Wilkie Edge, Singapore 228095
Opening hours: Mon-Sun 11am to 8:30pm
Tel: 8575 6393
Menu
---
Time to loosen those pants!
---
If a free meal sounds like your thing, then make a call and head down to one of these places to test your limits! However, always remember to exercise caution when attempting any of these challenges. Have fun and let us know down below if you know any other places with epic meat challenges!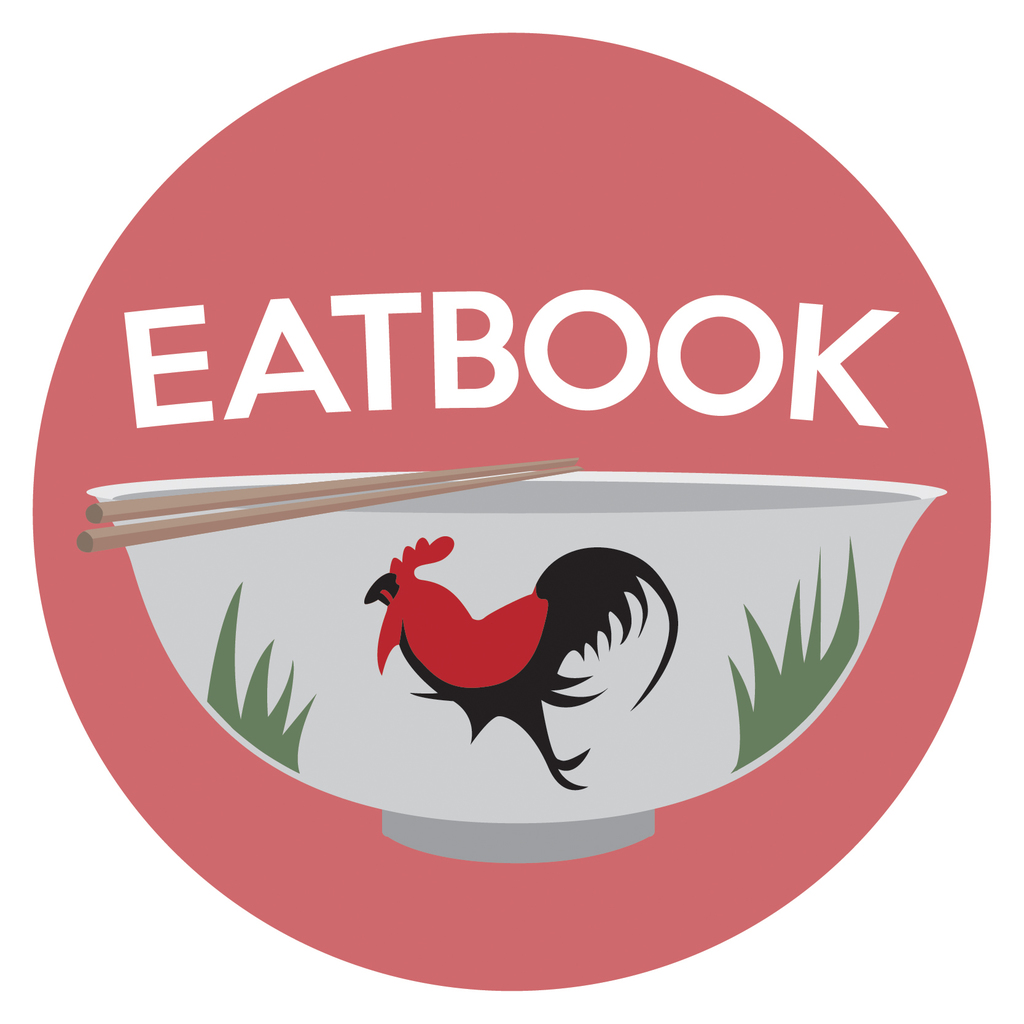 Drop us your email so you won't miss the latest news.