---
Home-based chilli makers in Singapore 
---
Chilli is to Singaporeans what Marmite is to the British. Home bakers have popped up amongst the best of us this year, but home-based chilli makers are slowly, surely gaining recognition for their additive-free, all-natural chilli blends. Follow us on our round-up as we suss out the ones worth trying, from generations-old family recipes to others who make more than just, chilli. 
---
1. Agatha's Garlic Chilli
---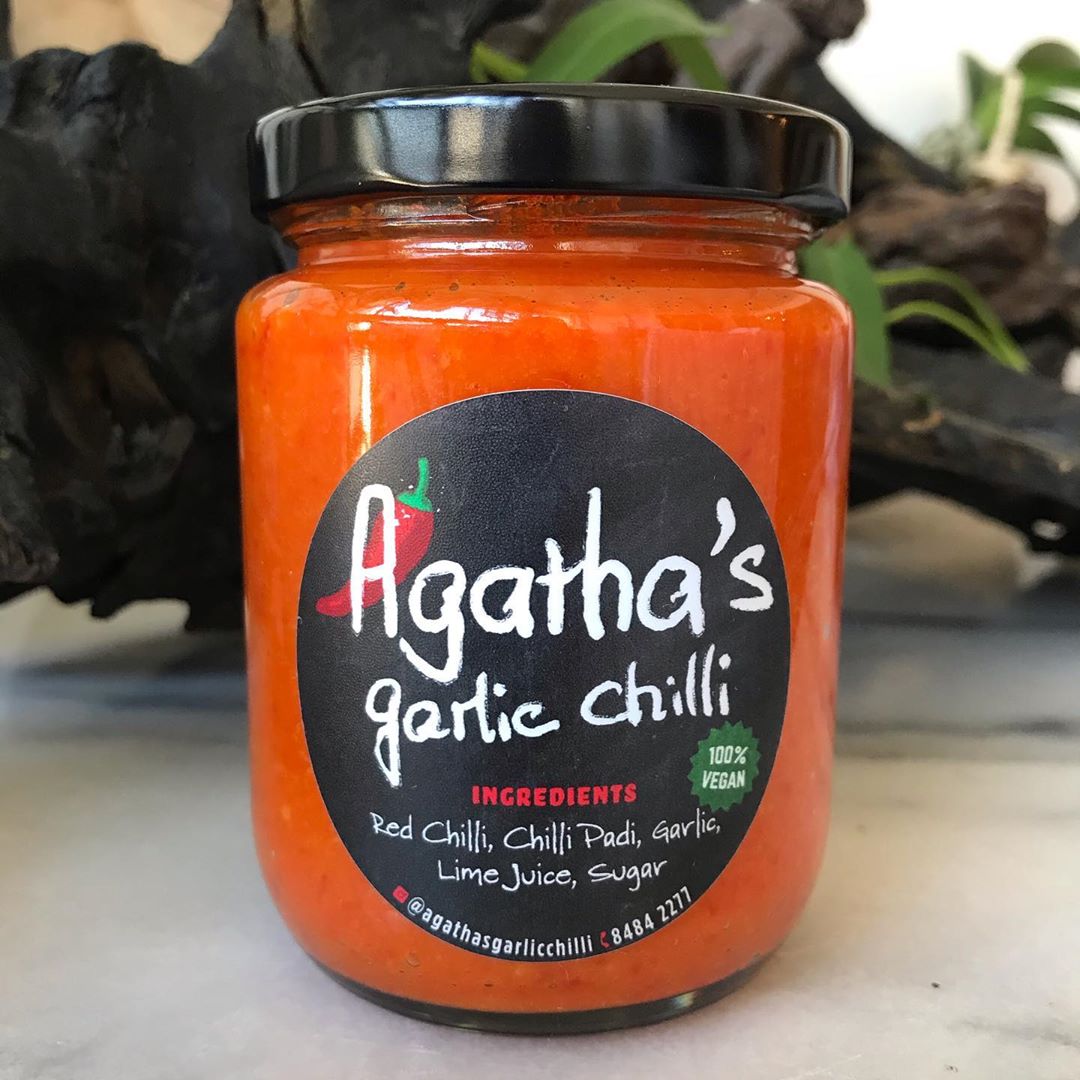 Image credit: @agathasgarlicchilli
Thespian Pam Oei keeps herself busy while theatres are closed, and her late mama, Agatha's, legacy alive through her garlic chilli. There is a minimum order of 2 bottles at $15 for each 250ml jar, with a $10 islandwide delivery charge. You could also pick it up yourself around Holland Village, but be warned that there is an average wait of two weeks for this chilli.
25 Home Bakers Selling Unique Bakes Such As Matcha Chiffon Cake, Pineapple Tarts, Choux Pastries And More
---
2. Ah Pa Chilli
---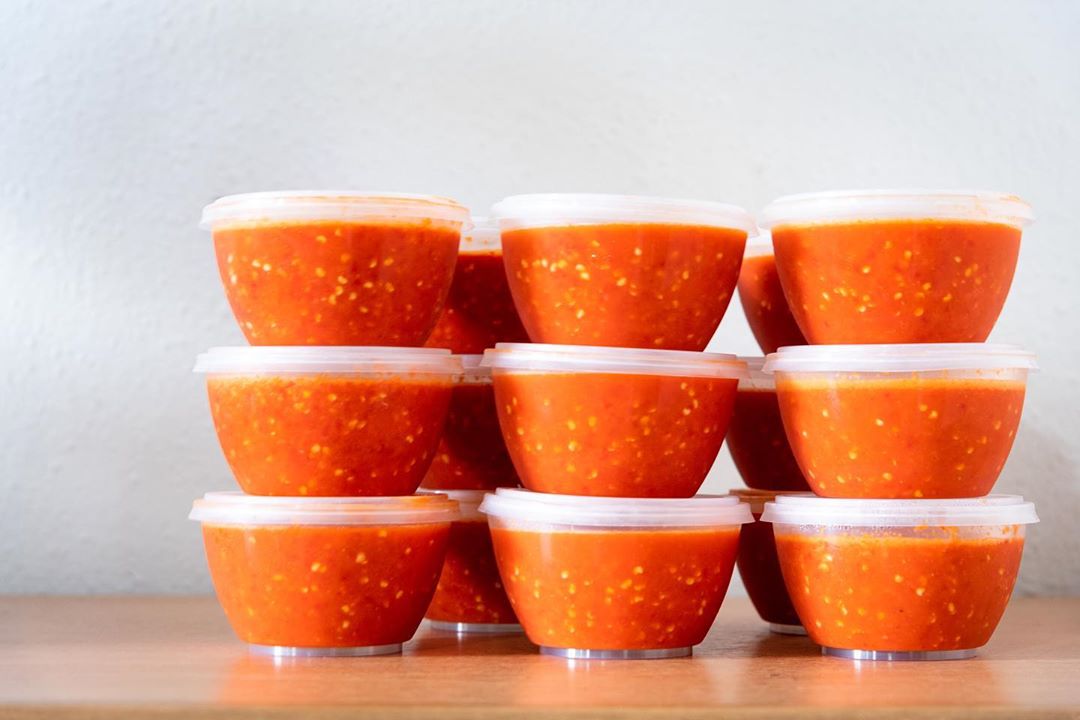 Image credit: @ahpachilli
Ah Pa makes his garlicky chilli with five different levels of heat. Go for Level 4 at your own risk, he claims. He has made his own chilli for years, and it's the highlight of each Chinese New Year feasting season. Having lost his job to COVID, Ah Pa is now free to make his chilli for everyone. 300ml jars of his chilli go for $6, with delivery slots open on the weekends for $5, or self-collection in Hougang through this form.  
---
3. Audrey's Chilli
---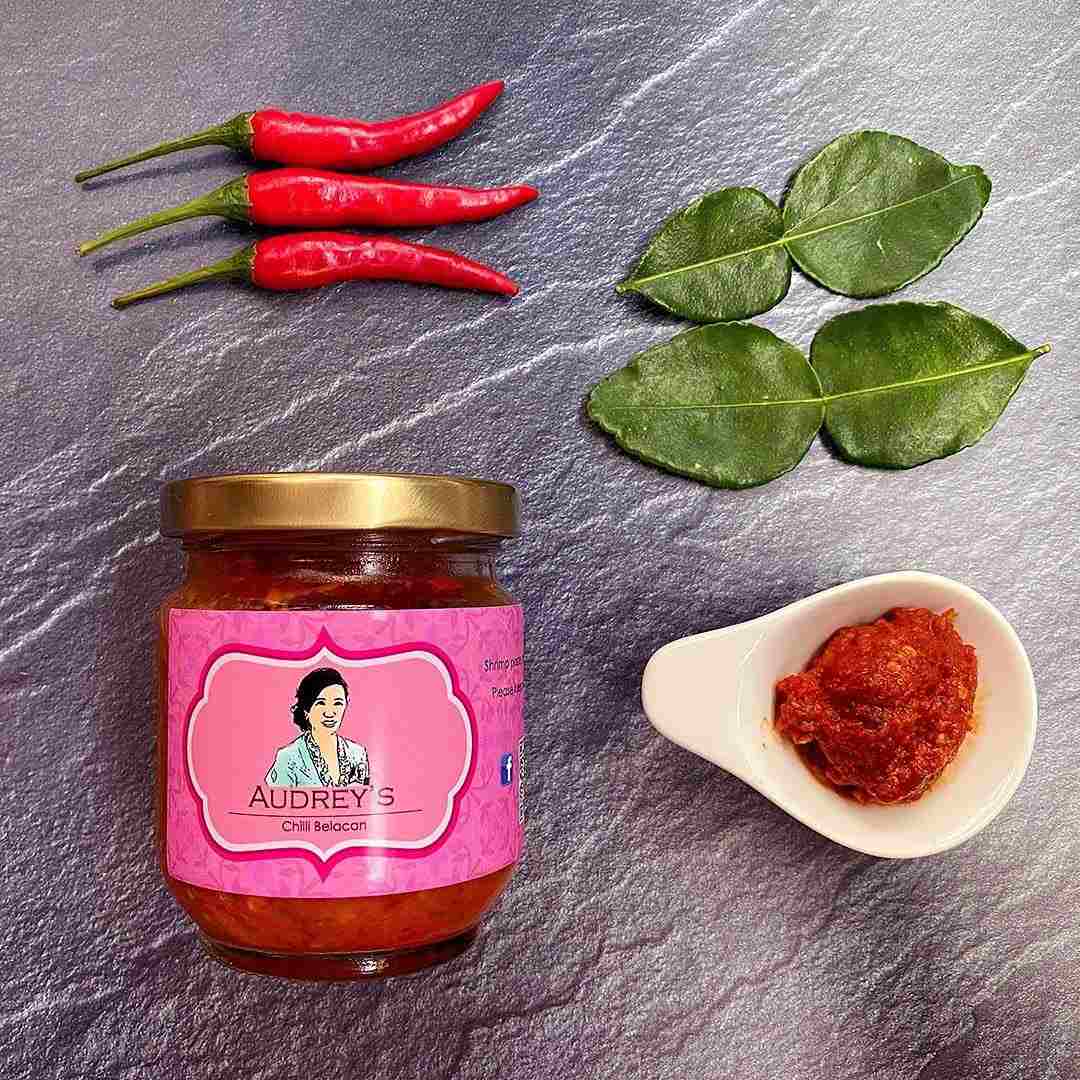 Image credit: @audreyschilli
Audrey's Peranakan-style Sambal Belacan ($7.50) is given a fresh lease of life. Three generations down and going strong, her sambal belacan is characterised by its balance of saltiness, spiciness, sweetness and richness. They have personally rated this sambal belacan a blistering 9/10 on the spicy meter. 
Other than sambal belacan, Audrey has also introduced Sambal Ikan Bilis ($11.50), zhnged with hei bee (dried shrimp) for extra umami. Her latest offering is Hei Bee Hiam ($16), an exciting jar of dried shrimp chilli that we would love to get our hands on.
Delivery charges vary from $5 to $9 based on the delivery location, with self-collection available in Bukit Panjang and Serangoon.
Heng Ji Chicken Rice Review: Underrated Chicken Rice Stall With Over 40 Years Of History At Chinatown
---
4. Cabeholic SG
---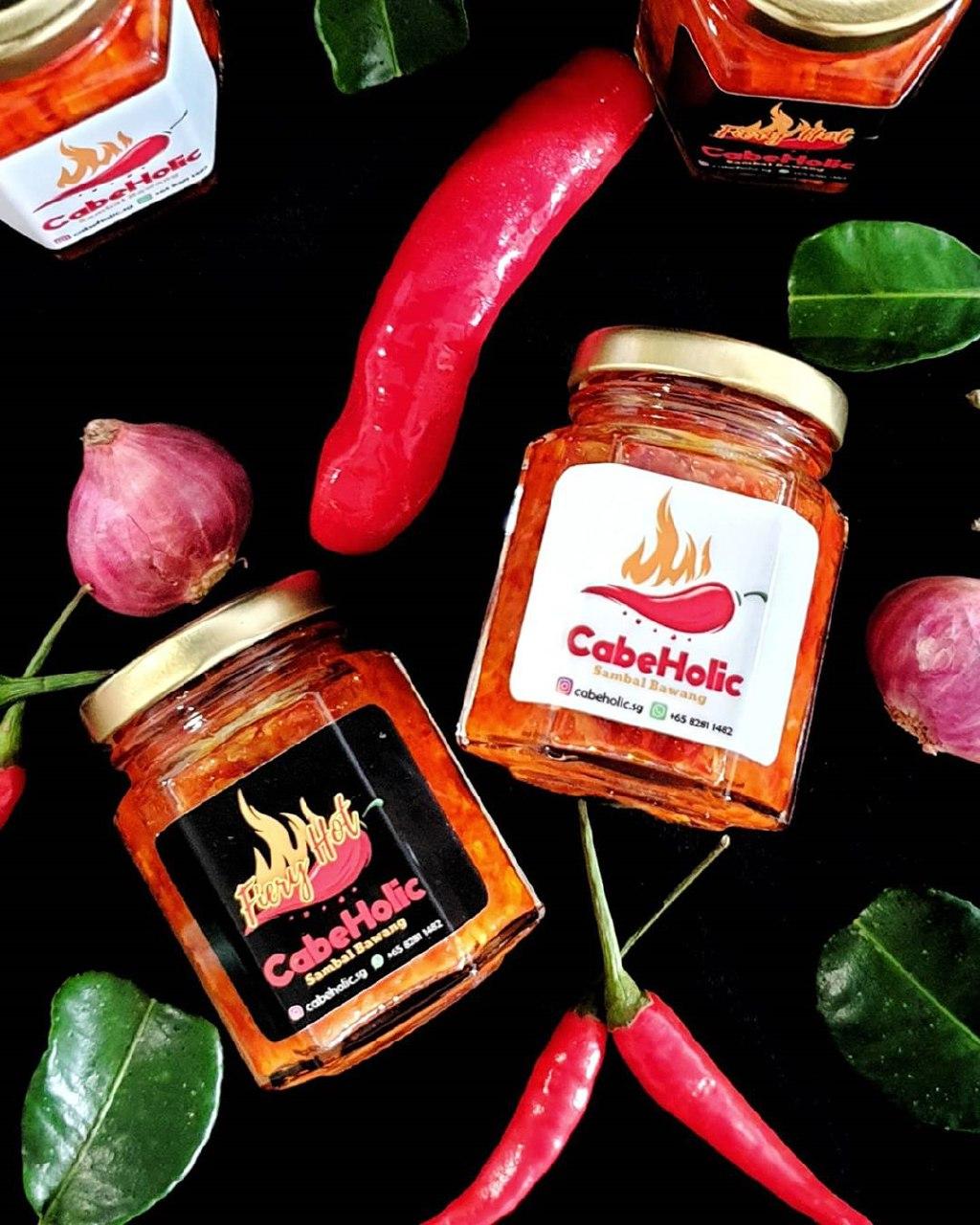 Image credit: @cabeholic.sg
Sambal bawang is an Indonesian chilli that marries the best of shallots and chilli padi into an explosive flavour bomb. The husband and wife team behind Cabeholic.SG makes their sambal bawang in small batches, with two levels of spice ─ Original and Fiery Hot ($6 for 100g). Perfumed with kaffir lime, this versatile chilli goes with everything.
---
5. Master Chicken
---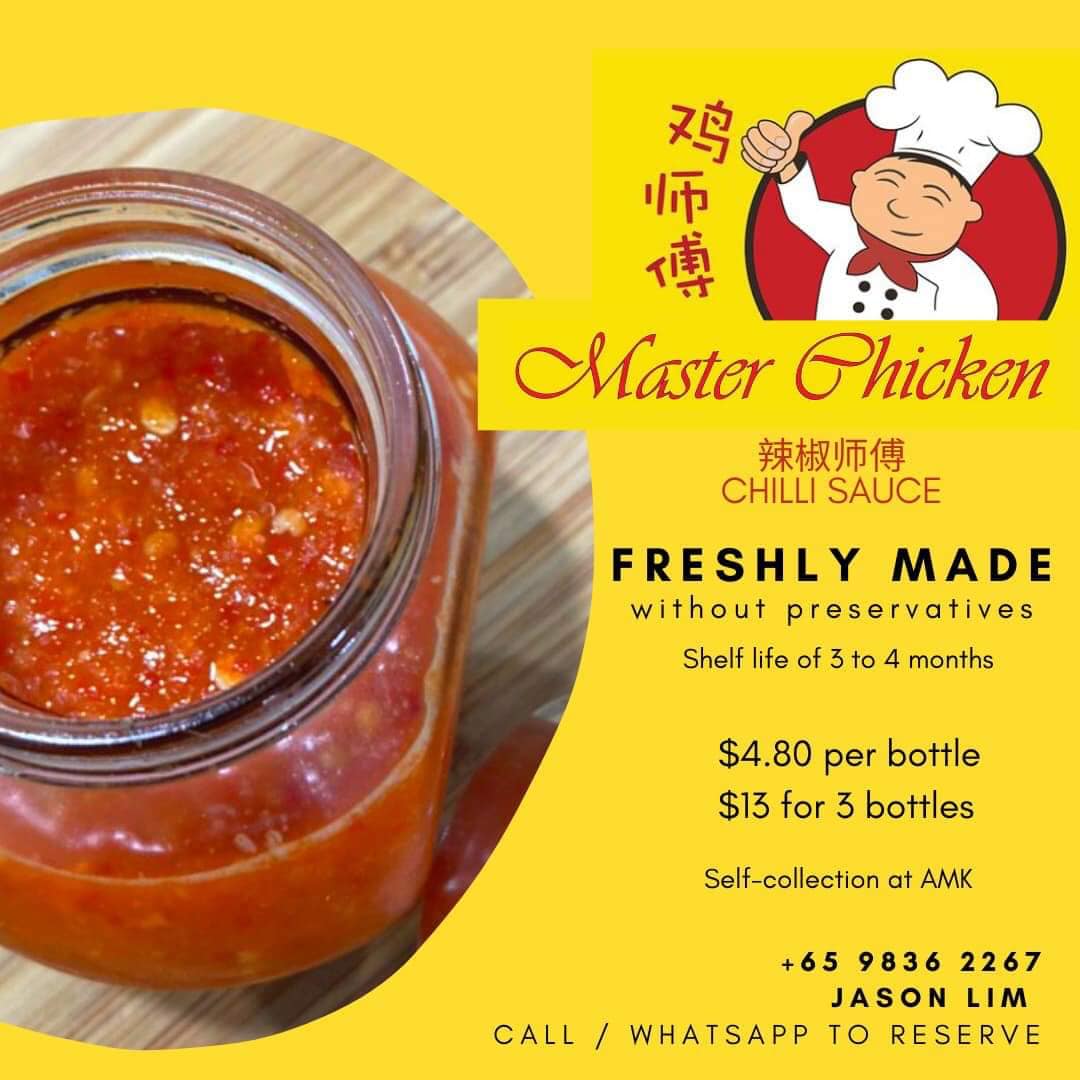 Image credit: Master Chicken Facebook
Consider getting your next dose of chicken rice chilli from Jason, a canteen hawker who started selling his own Master Chicken chicken rice chilli and ginger when schools were shut for the Circuit Breaker. His chilli goes for $4.80 a 200ml bottle, or 3 for $13. Pick it up at McNair Road on weekday mornings, or Ang Mo Kio in the afternoons. What's more, you get a discount if you are a returning customer and bring the used bottles back to him!
---
6. MMM! Natural
---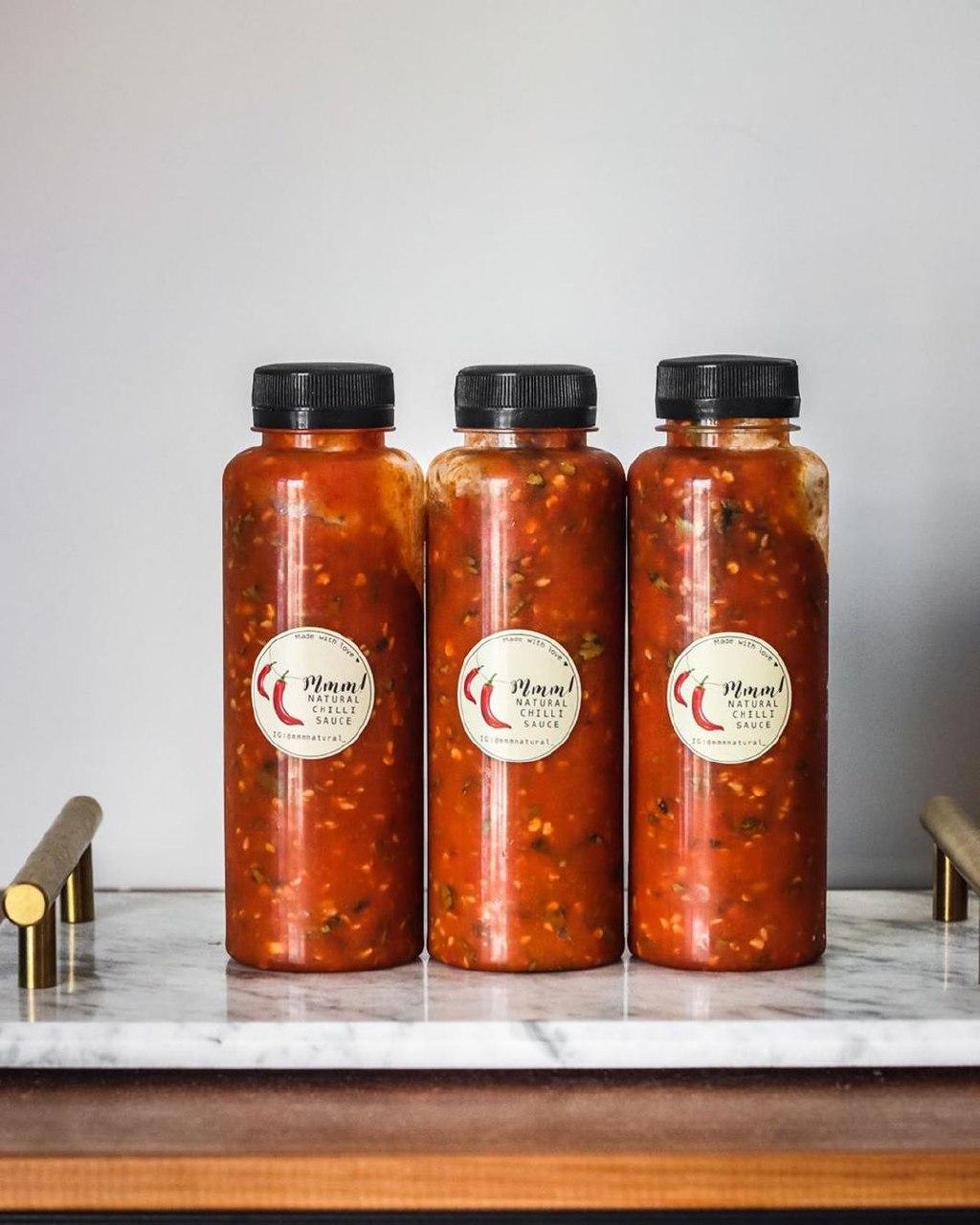 Image credit: @mmmnatural_
MMM! Natural sold 500 bottles of their specialty chilli sauce ($6.90 for 300g) in their first three weeks. Made with a family recipe that's more than 20 years old, it has your usual suspects of chilli and coriander, and a surprising addition of sesame seeds. The family used to run a hotpot business, and this chilli is made specifically to go with it. A Stage 2, spicier variant is now available too.
Keep an eye on their Instagram page for restocks, because MMM! Natural is usually sold out. Restocks are always at 12pm. A delivery charge of $5 applies if your order is less than $40, although pick-ups are available in the vicinity of Haig Road.
---
7. Oh My Sauce
---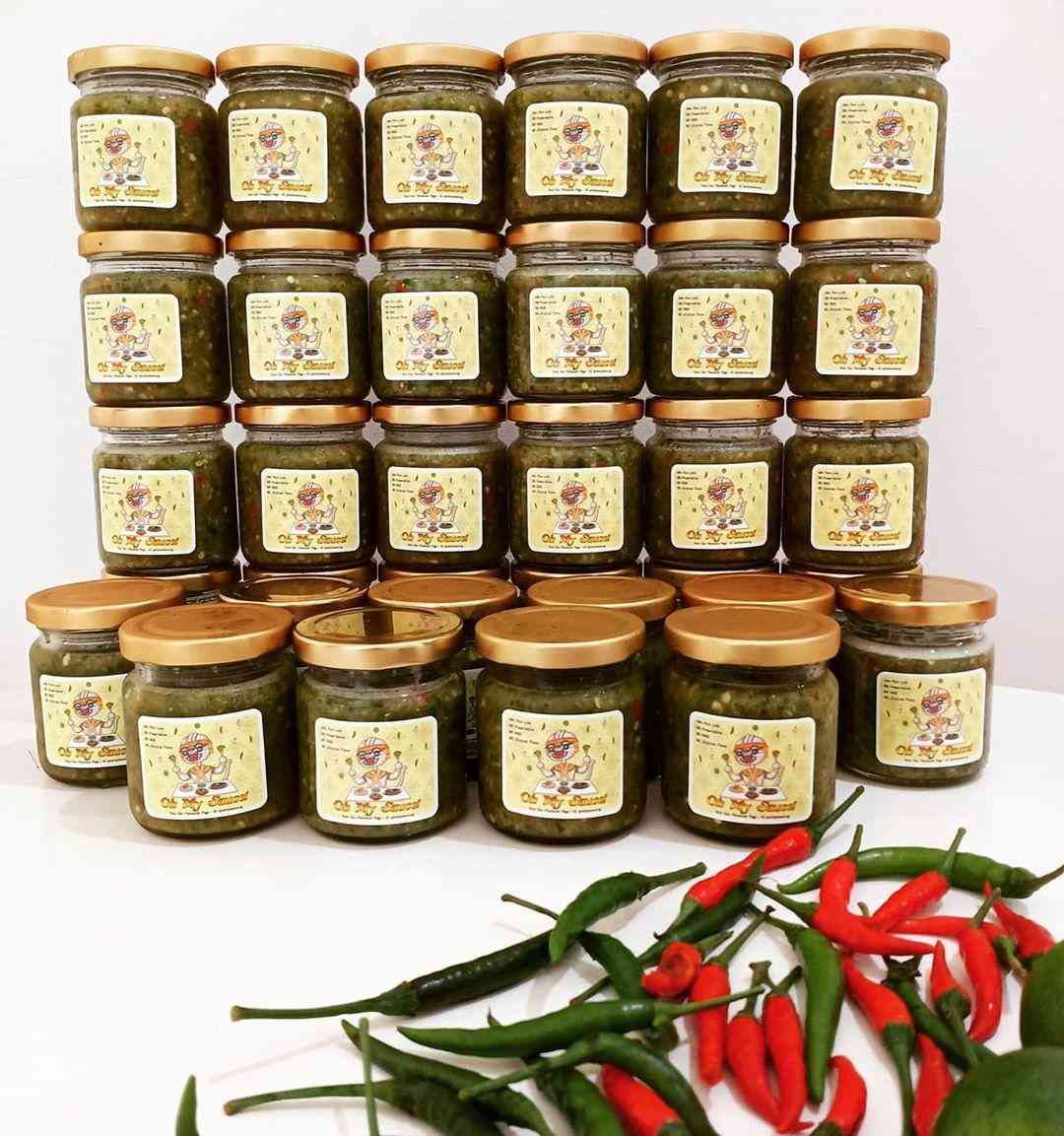 Image credit: @ohmysauce.sg
Andy and Pim run Ohmysauce.SG, making a most punchy and appetising green Thai chilli dip ($6.80, or 3 for $18) made with a copious amount of fresh lime juice. It's zingy and fresh, and spicy without being overly so. Perfect for a Thai twist to your regular hotpot dips, or to sneak in your bag to the next mookata sesh. Delivery fees are set at $7 islandwide on the weekends but is free if you order 10 bottles. Or you can pick it up yourself if you're near Sengkang.
---
8. Sambaliciouz
---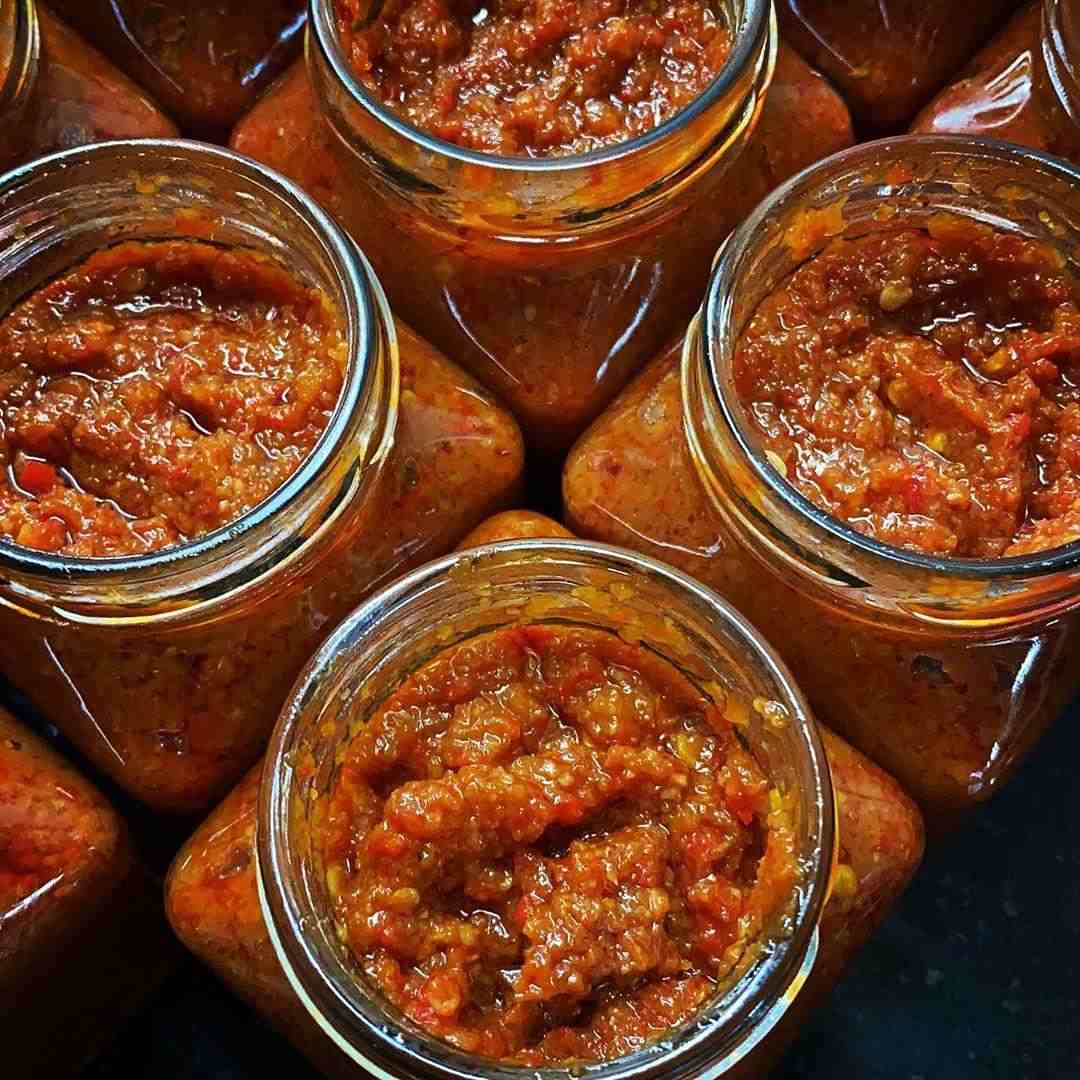 Image credit: @sambaliciouz
Foodie influencer Caecilia (@Singaporeliciouz) cooks as well as she eats. She received so many requests she started Sambaliciouz just to sell her Sambal Ijo ($12 for Medium Spicy, $12.50 for Extra Spicy) and Sambal Uleg (Terasi), which sells for $15. These are traditional Indonesian chillis ─ Sambal Ijo is a green chilli paste, while Sambal Uleg (Terasi), like sambal belacan, has the addictive punch of shrimp paste. With 620 followers posting about having the sambal on toast, crab rolls, and even with fries, it's hard to skip over this. Caecilia takes a very limited number of pre-orders through DM open every Friday at 3pm for collection at Balmoral Road the week after.
---
9. 2 Mamas & A Wok
---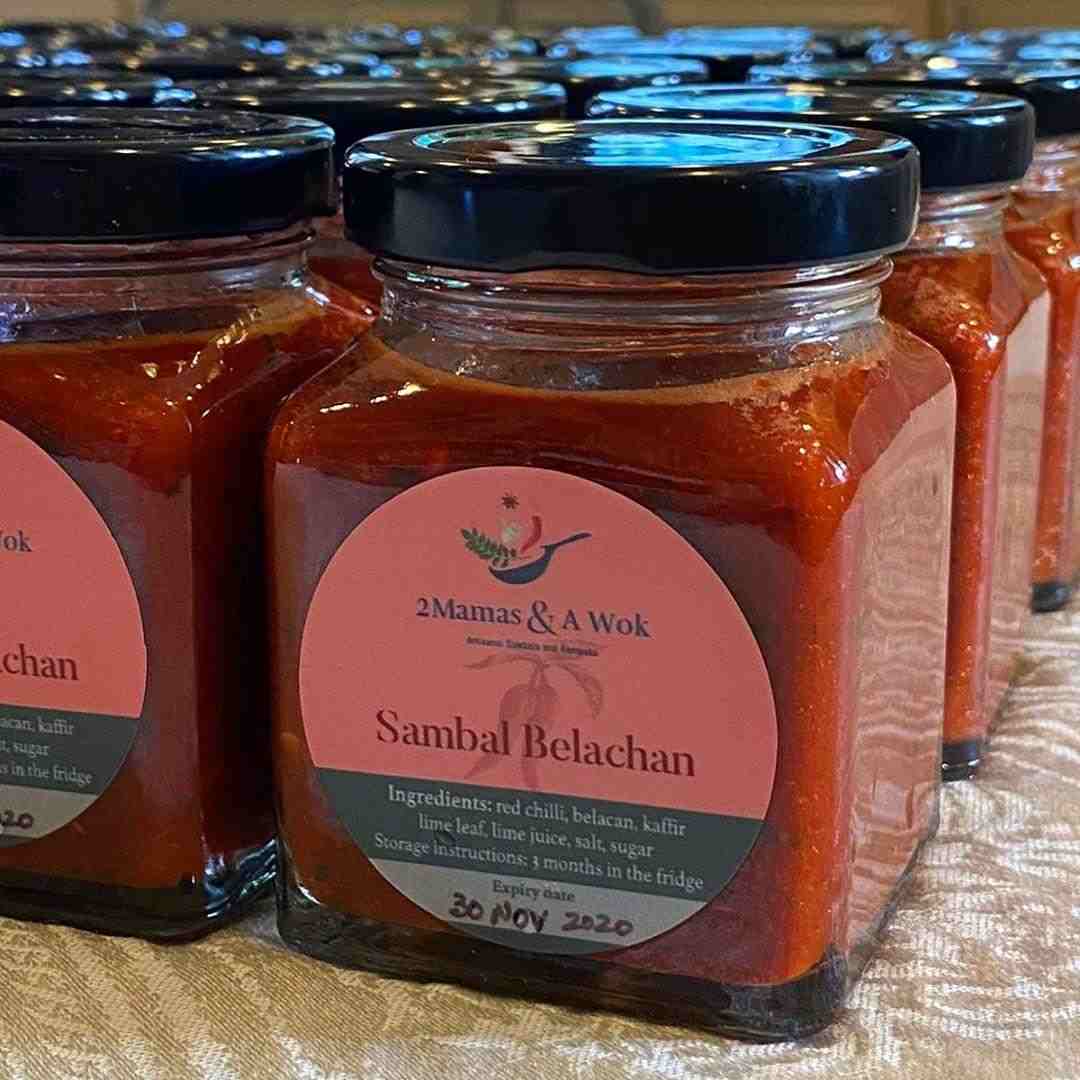 Image credit: @2mamasandawok
Mama G's signature Sambal Belacan goes for $12, but 2 Mamas and A Wok first began during the Circuit Breaker, selling their homemade Dry Laksa Rempah ($12) to raise funds for vulnerable communities through SG Pays It Forward. They have now added a Rendang Rempah ($12) to their repertoire, and are looking to expand the range further. We can verify that the laksa and rendang taste great, and have no doubt the Sambal Belacan does, too.
Delivery charges range from $4 to $8 per order, depending on your location, or opt for self-collection in River Valley.
Butter Bean Review: BreadTalk's Cool New Cafe Opens In Funan And VivoCity
---
10. Ah Ma's Yam Cake
---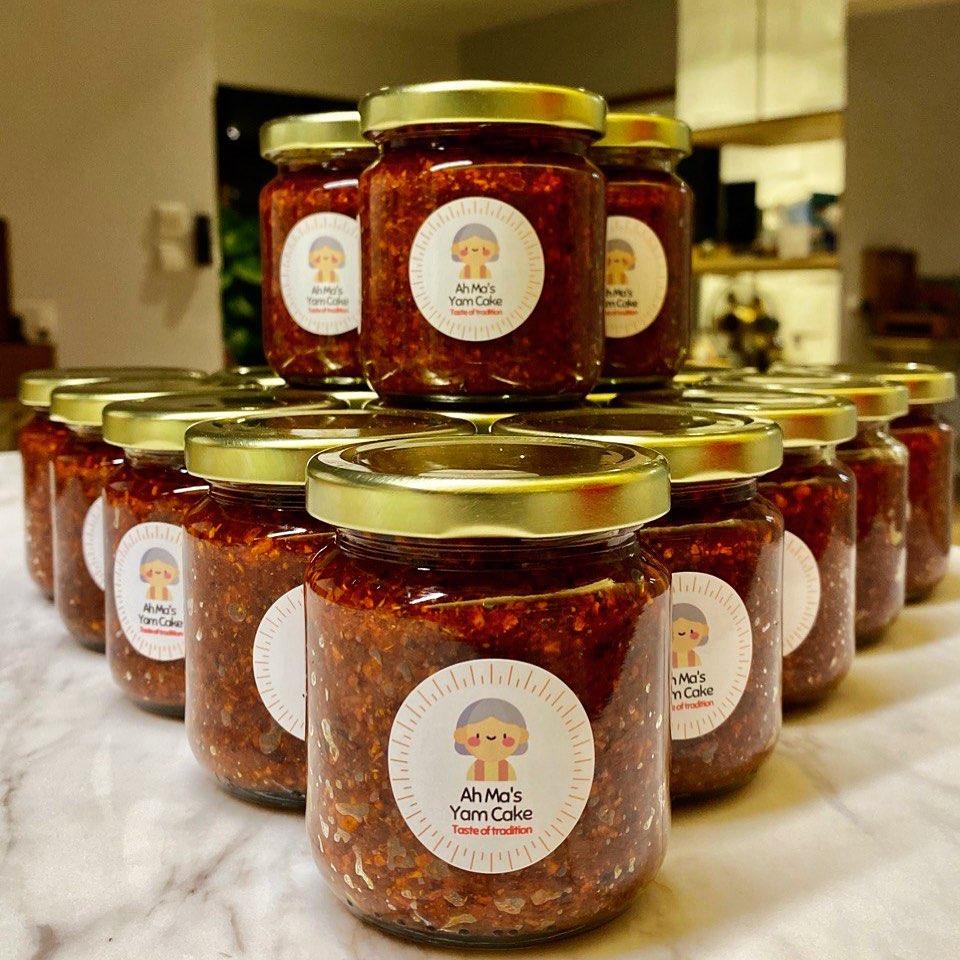 Image credit: @ahmayamcake
As the name suggests, Ah Ma's Yam Cake is made with Ah Ma's age-old family recipe. These Yam Cakes ($15 – $50), made fresh daily, are frequently sold out, but deserving of mention is the signature Ah Ma's Hei Bee Hiam Chilli ($10 for 200g), only available via pre-order. It's so popular, there is a waitlist for this Hei Bee Hiam Chilli. Islandwide delivery is available at $10, or free with a minimum spend of $100. 
---
11. Cai.Eats
---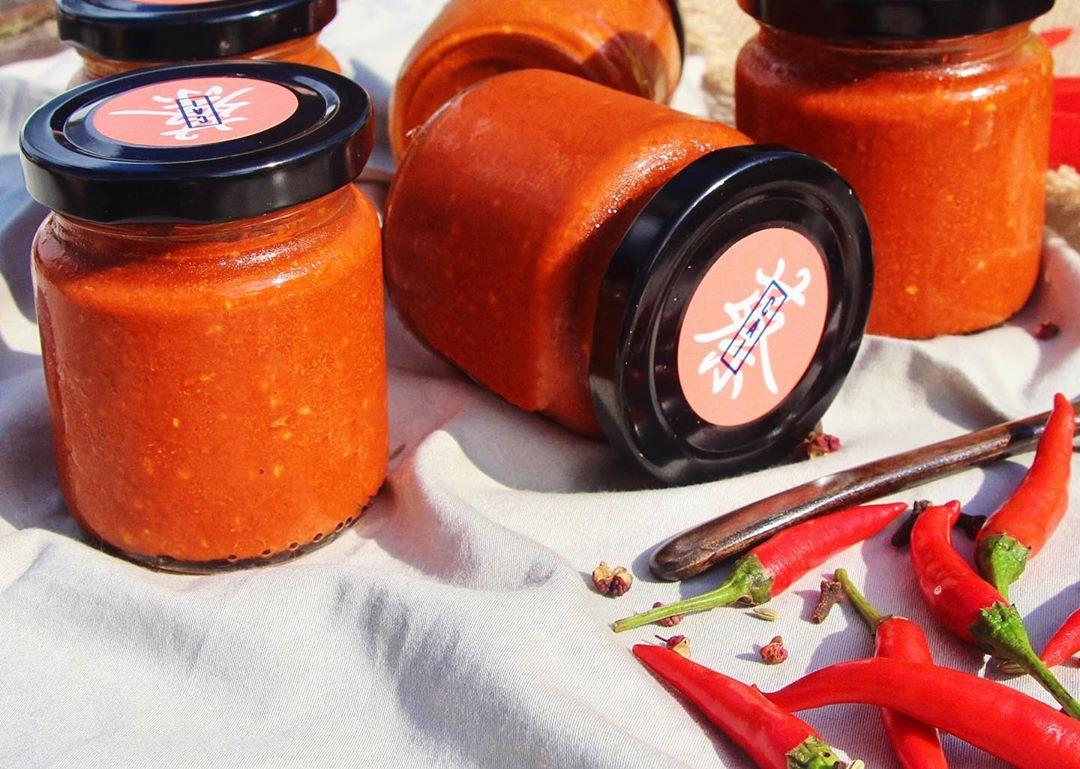 Image credit: @cai.eats
Cai.Eats was started by the Chua siblings ─ Charmaine, Amanda and Irwin ─ making their grandmas' ngoh hiang (Chinese five-spice pork roll) and Sambal Belacan ($10 for 180g). While the ngoh hiang is the best of both their grandmas' recipes, the Sambal Belacan comes from their mother's Hainanese-Peranakan side. It's fire-engine-red and looks like it packs a whole lotta pow. They even do a Mala Pork and Prawn Ngoh Hiang ($26 a box of 20) for all you mala lovers! 
Delivery is $8 per location, and free with any order of four boxes of ngoh hiang.
---
12. Caitoucake
---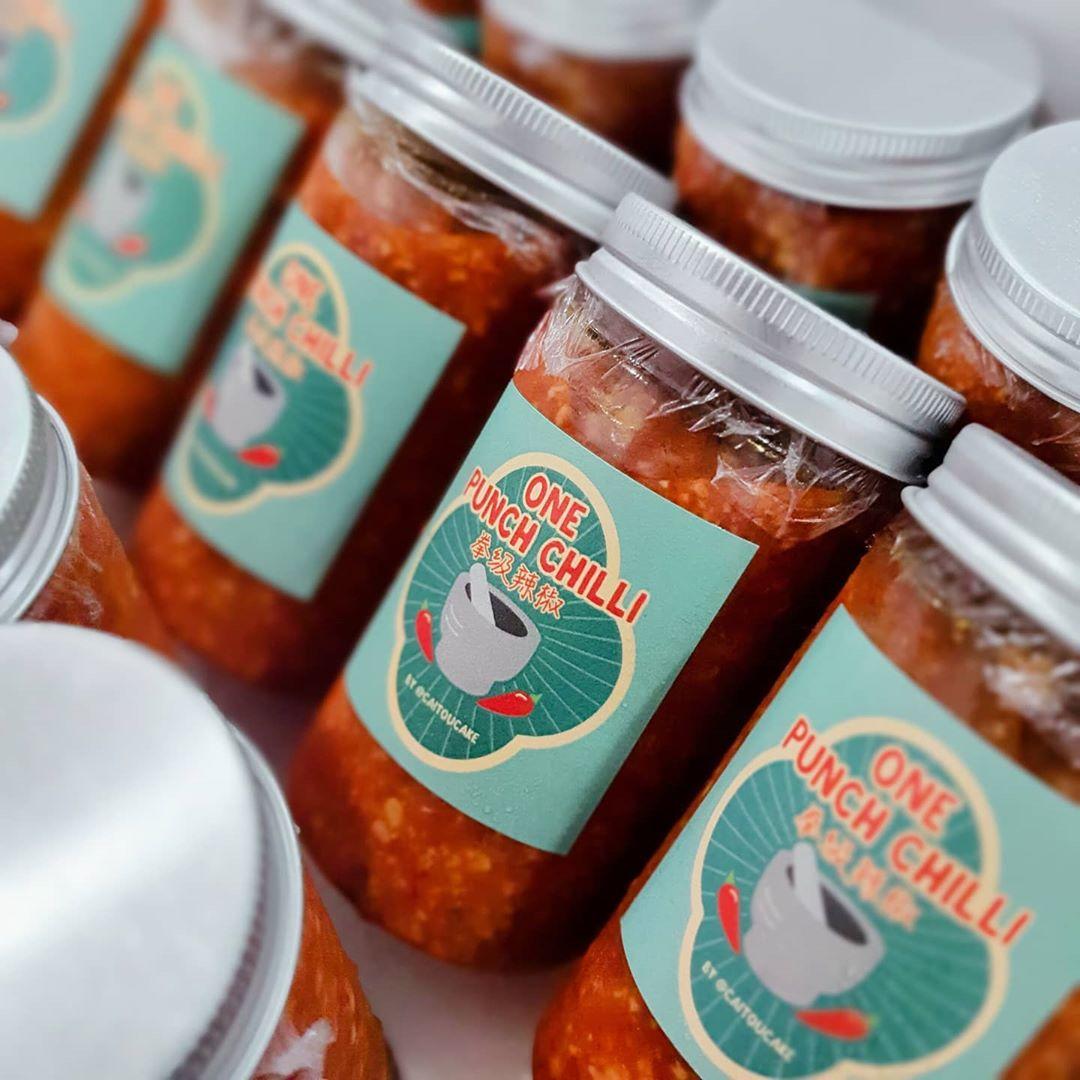 Image credit: @caitoucake
Get your dim sum fix with Caitoucake, whose HK-style carrot cake is said to be melt-in-your-mouth. They have also started sales of their One Punch Chilli ($8 for 200g), a garlicky sambal chilli that they make fresh every week. Unfortunately, it's only available if you order their Caitoucake ($18/$28), which comes with a delivery charge of $4.
Sum Dim Sum Review: Beef Noodles And Pandan Crispy Pork Buns That Can Rival Tim Ho Wan's
---
13. Lady Boss Chicken
---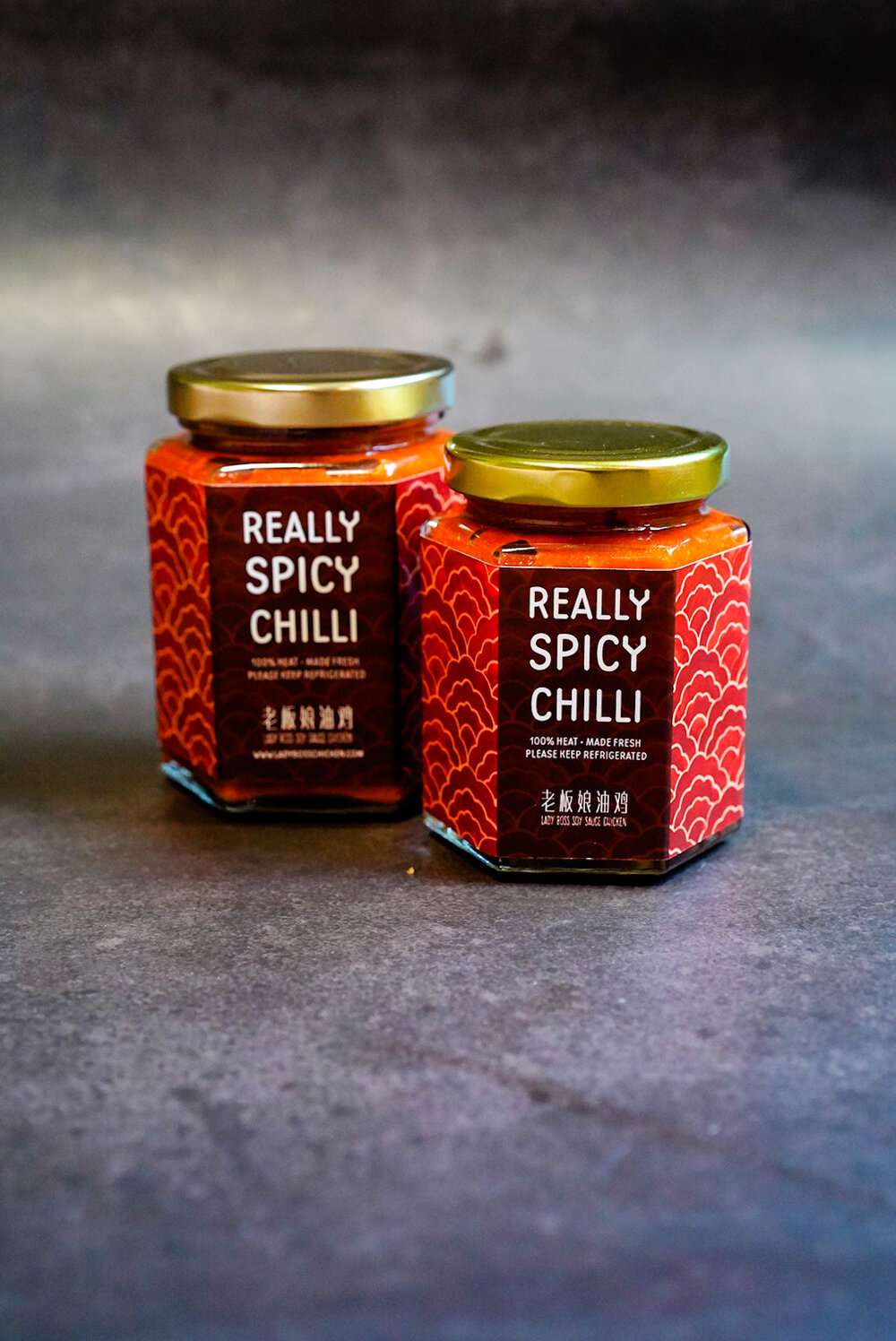 Image credit: Lady Boss Chicken
Restaurateurs Sharon and Sandra Sim know food. The lady bosses of Sum Yi Tai are behind Lady Boss Chicken ─ Sandra is the chef behind the Soy Sauce Chicken ($30) that she makes out of her home kitchen with artisanal rice wine and a generations-old recipe, while Sharon came up with the Really Spicy Chilli ($10 for 170ml, $15 for 280ml) that accompanies it. 
The fiery chilli is a hand-pounded blend of chilli, garlic and ginger. It is available for islandwide delivery at $12, or self-collection at Bartley, although you do get some, complimentary, with every order of the Soy Sauce Chicken. Don't miss Sandra's Scallion Noodles ($6.80) too, topped with crispy shrimp and tobiko.
---
14. Nusantara Bite
---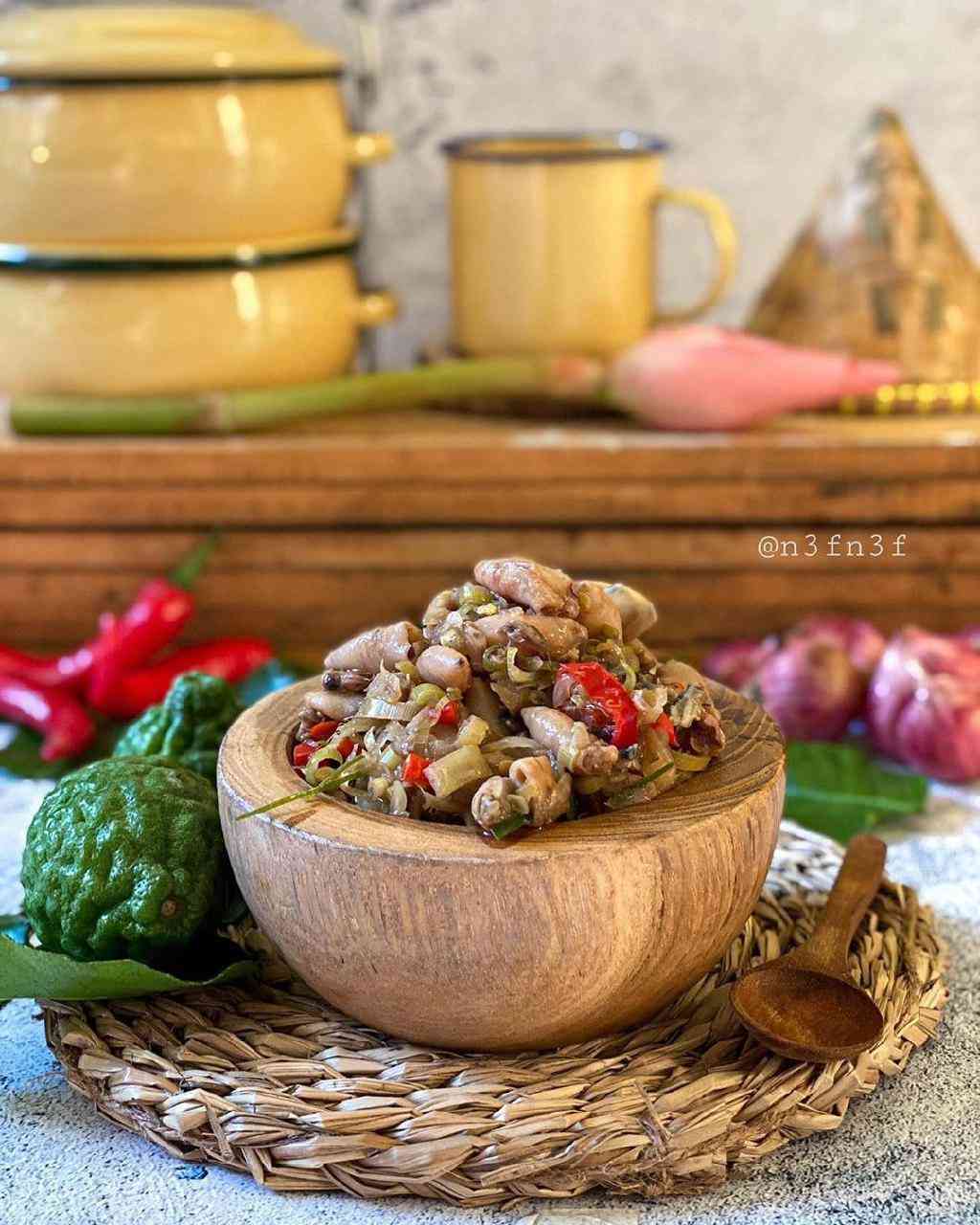 Image credit: @nusantarabite
Self-styled the queen of sambal, Nusantara Bite brings you more Indonesian sambals, including the Balinese Sambal Matah ($8 for 125g), which will transport your tastebuds to Bali, since nobody is getting to travel there soon. There is also a version with baby squid, Baby Cumi Sambal Matah ($10 for 125g)!
They also make Sambal Kecombrang ($8 for 125g), a sambal of ginger flowers and Sambal Teri Kecombrang ($10 for 125g) that has ikan bilis. The newest chilli on Nusantara Bite sambal's menu, Sambal Belacan Baby Cumi Pete ($12 for 160g), also features baby squid, and a familiar belacan base. These come in three different spice levels.
Padasuka Indo Food: New Delivery Service With Legit Babi Guling, Barbecue Ribs And More
Order your sambal and other homemade Indonesian goodies like kueh and bakso now, before they go on a break from 28 September to 10 October! Delivery charges are applicable at $9 an order, but self-collection is usually available at City Hall and Bishan MRT.
---
15. Umami Boy 
---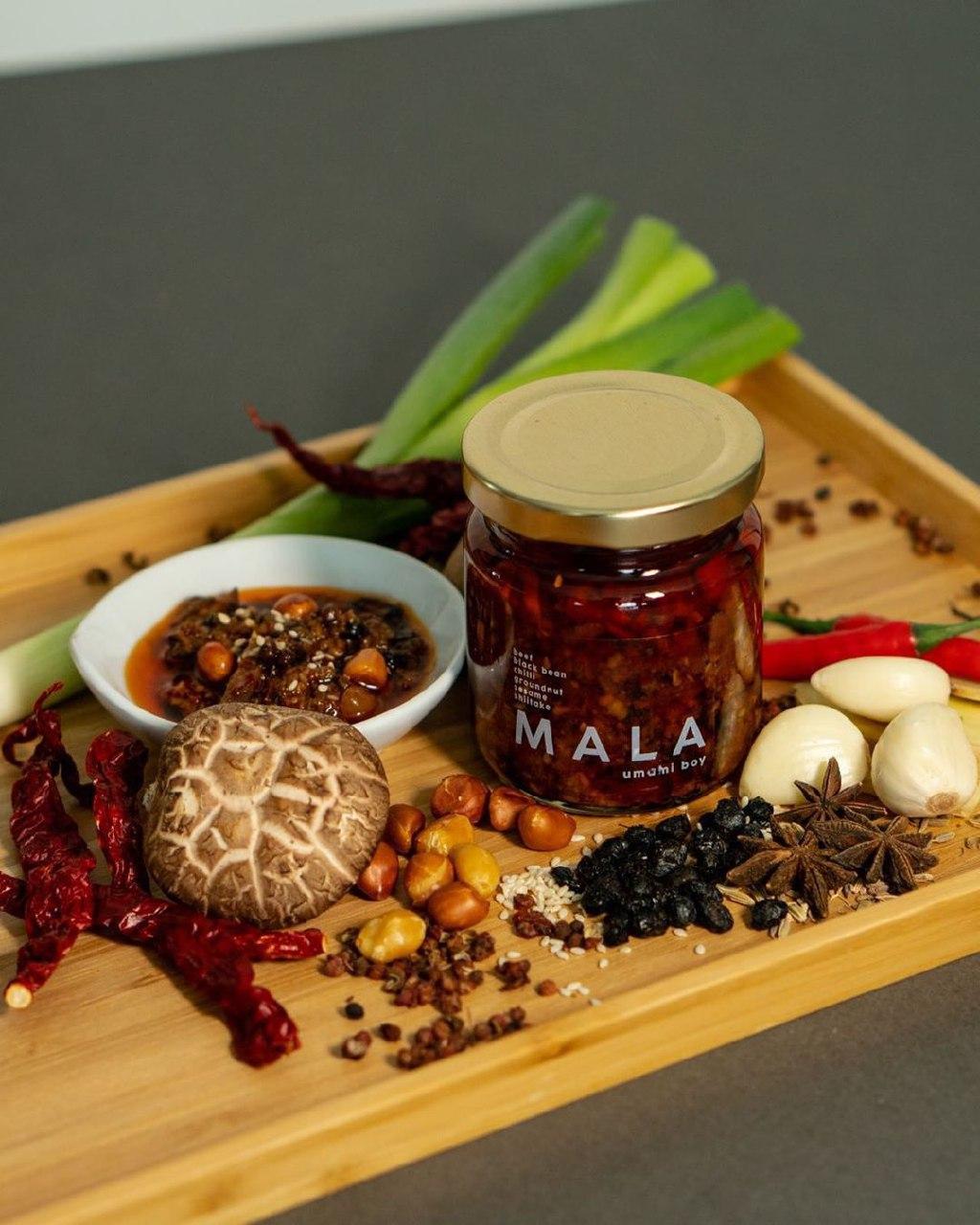 Image credit: @umami.boy
Chef Willin Low (@willcookwilleat), the founder of Mod-Sin (modern Singaporean) cuisine, gave his stamp of approval to Umami Boy's MALA Mushroom Sauce. 
Chef Will Chng spent six years on the restaurant circuit, and was inspired by his year-long stint in Taiwan to create Umami Boy's three chillis ─ MALA Beef Sauce ($15), MALA Mushroom Sauce ($14) and Umami XO Sauce ($18). Respectively, they are beef-based, 100% plant-based, and seafood-based, so there is a chilli for everyone. They also have a seasonally-changing menu, the latest of which is a HK-Style 'Lap Mei' Fried Glutinous Rice for two, which you can order with your choice of chilli ($39 – $43).
Islandwide delivery is $8, while pick-up is available in Clementi.
---
16. Simply Chilli SG
---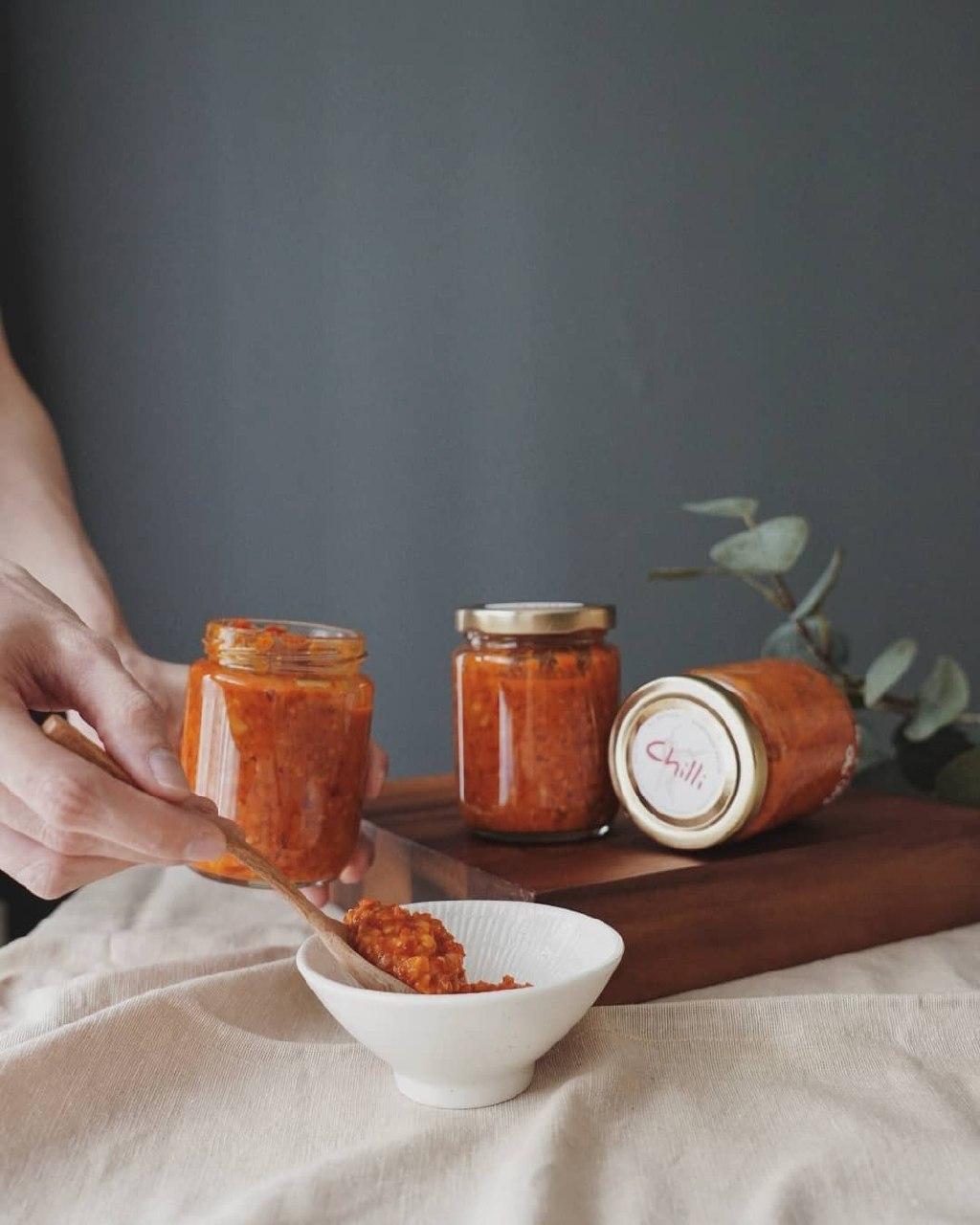 Image credit: @stayhomedays
Former fashion editor Esther Quek started Simply Chilli SG after finding there were no keto-friendly options in the supermarkets. She now makes her all-natural, keto-friendly chillis and they retail at $10.90 for 230g jars. Choose between for Mild or Spicy Chilli in Australian Hi-Oleic Peanut Oil or Italian Extra Virgin Olive Oil if you have a peanut allergy. Gluten- and sugar-free, non-GMO and low-carb, only premium ingredients like Himalayan pink salt are used here. There is also an Extra Spicy version of the Chilli in Australian Hi-Oleic Peanut Oil for serious spice lovers. 
Besides these chilli sauces, Esther also makes, among other items, Pesto ($15.90 for 210g) which, unlike store-bought varieties, is shot through with green chilli, parsley, kale and spinach. A $6 delivery charge applies to each order, but you can pick it up yourself in Bukit Panjang. 
---
Explore these home-based chilli businesses
---
If you're as spice-loving as the next Singaporean and a connoisseur of fine chillis, we trust this list will come in handy for you. No matter how you like your chilli, there's something on this list that will check your boxes.
10 Spiciest Dishes In Singapore Including Level 27 Sambal Fried Chicken And Red Hell Ramen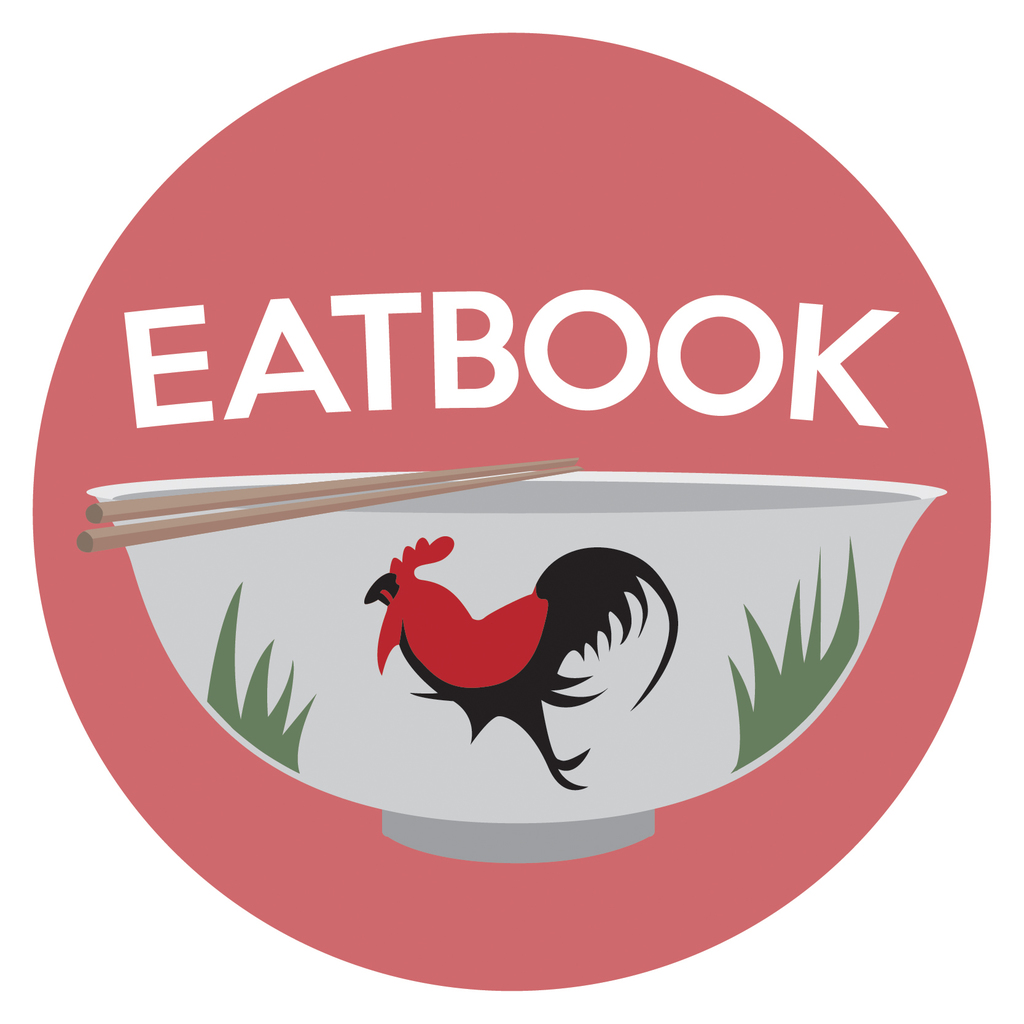 Drop us your email so you won't miss the latest news.