Heng Ji Chicken Rice at Chinatown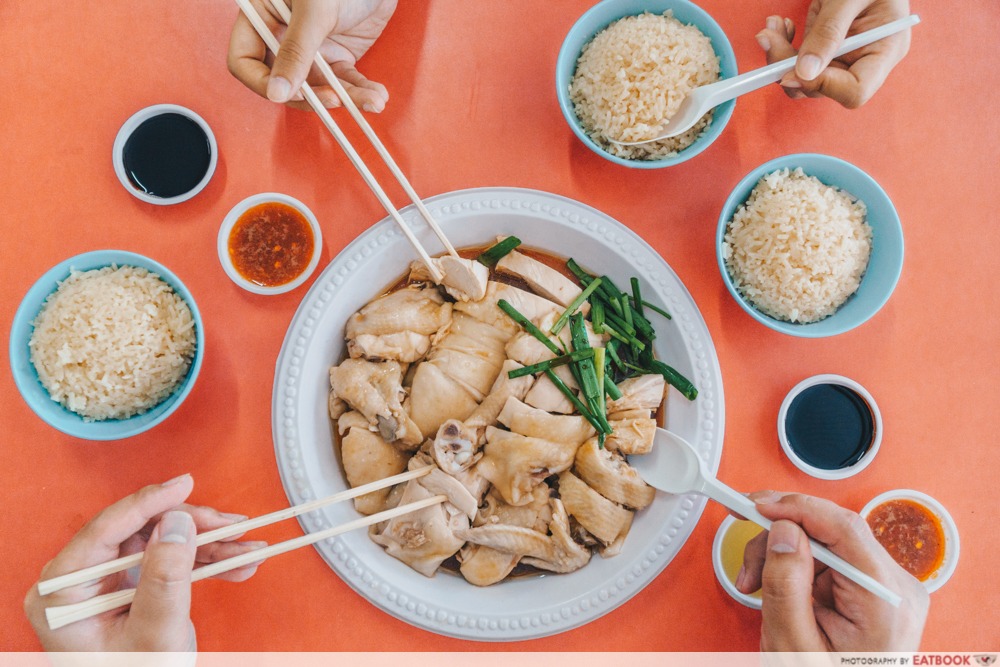 Chicken rice is probably the easiest hawker dish for me to settle on. There's something about how a simple combo of juicy chicken and fragrant rice can stir up my appetite without fail. Heng Ji Chicken Rice is an unassuming chicken rice stall that has been selling only one dish⁠—chicken rice⁠—for the past 40 years. 
Though the world is all about change nowadays, the stall has found success by sticking to their guns. From the moment they opened at 3pm, a line of customers materialised, seemingly out of nowhere, in the otherwise quiet hawker centre. 
As I stood in line for the food, I struck up a conversation with a lady who shared that she was one of the stall's regular customers. She quipped that there's nowhere else in Singapore that makes their chicken rice quite like Heng Ji, and that many of the stall's frequent patrons have been faithful followers since the stall was located at the old Smith Street food alley many years ago.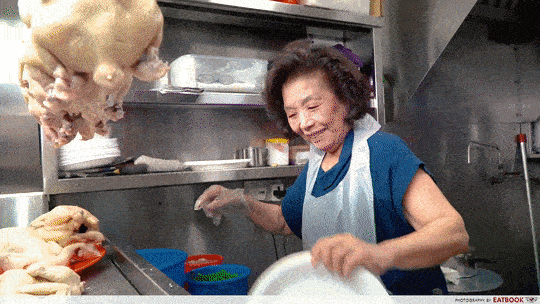 The second-generation owner, Ms Lim, worked tirelessly behind the counter, chopping chicken and scooping rice with the efficiency of an experienced hawker—all the while keeping her bright smile and permed locks on point. The sprightly lady boss took over the trade from her father-in-law in order to keep the family business running. 
Food at Heng Ji Chicken Rice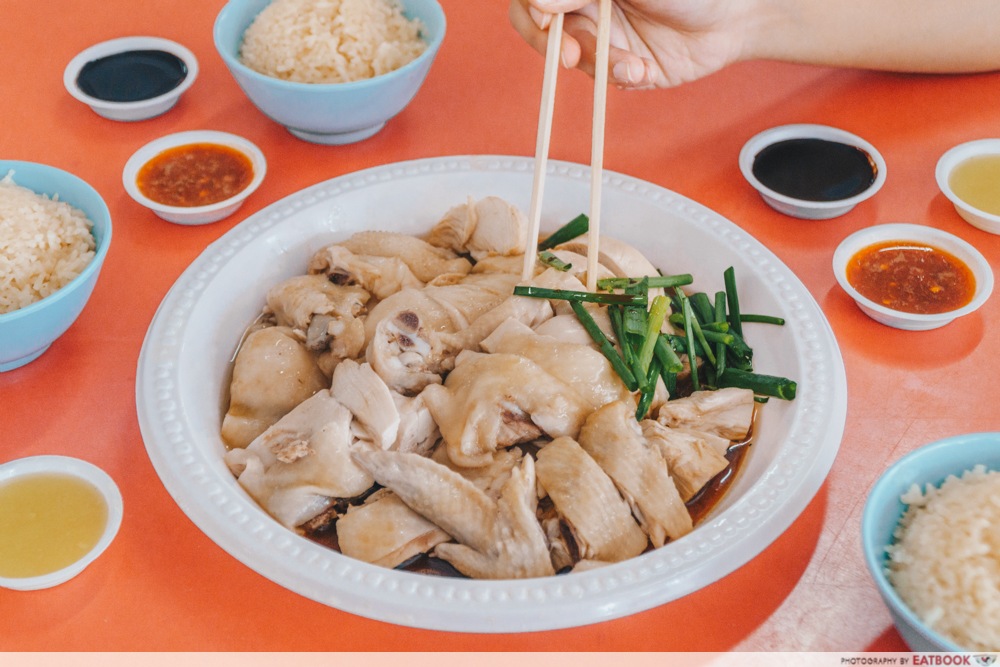 A normal plate of steamed Chicken Rice is sold at an affordable price of $2.50. But since we were eating as a group, I opted for the Half Chicken ($10) which came served on a plastic plate with a pool of light soya sauce and spring onion on the side.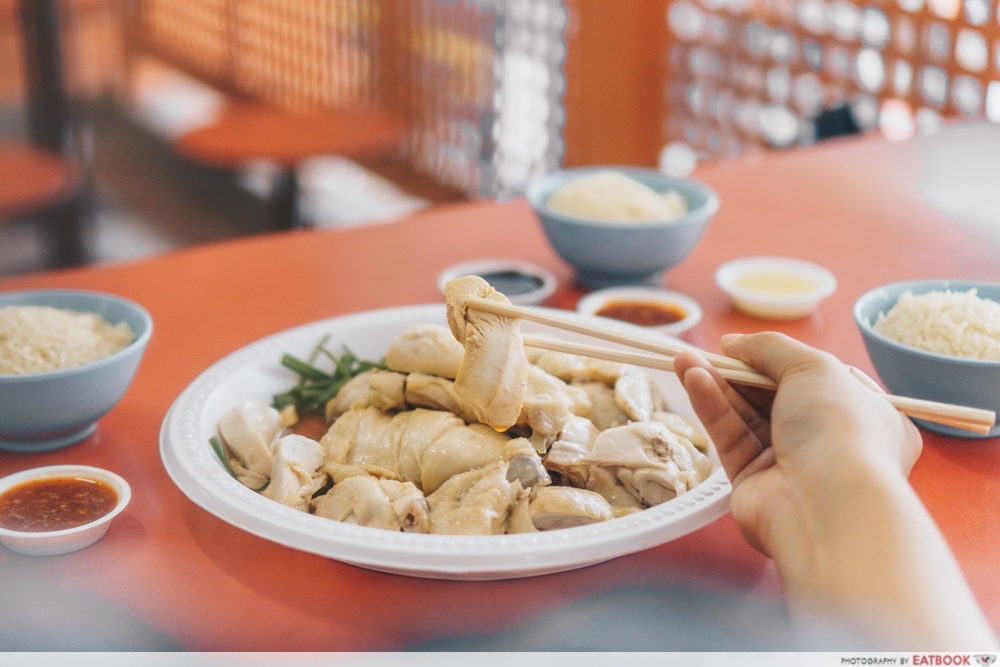 I dove straight for the largest slab of chicken breast meat since it's my favourite cut. The piece was gloriously white and plump, looking like it soaked up a good amount of the thin sauce. Stuffing the whole piece into my mouth, I held back an exclamation of surprise as the succulent chicken meat exploded with savoury juices. 
The sauce seemed like a mix of light soya sauce and fragrant sesame oil, giving the soft meat a mildly sweet and earthy flavour.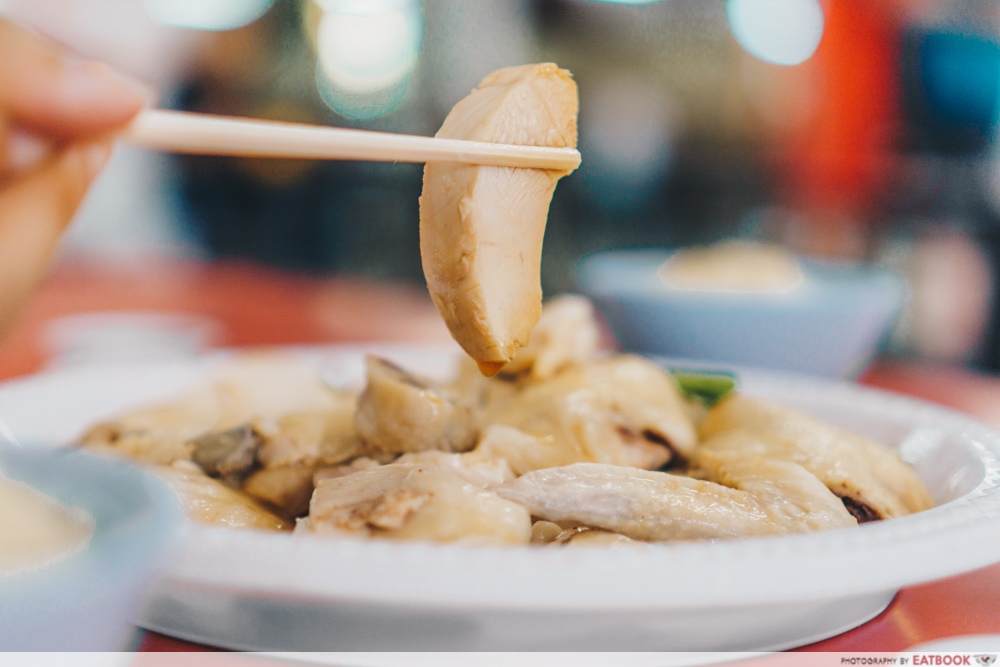 It's not easy to keep the meat moist all the way through, especially with meat chunks this thick. I suspect the combination of immaculately-timed poaching and the soaking of the chicken in the sauce is what kept the meat wonderfully tender.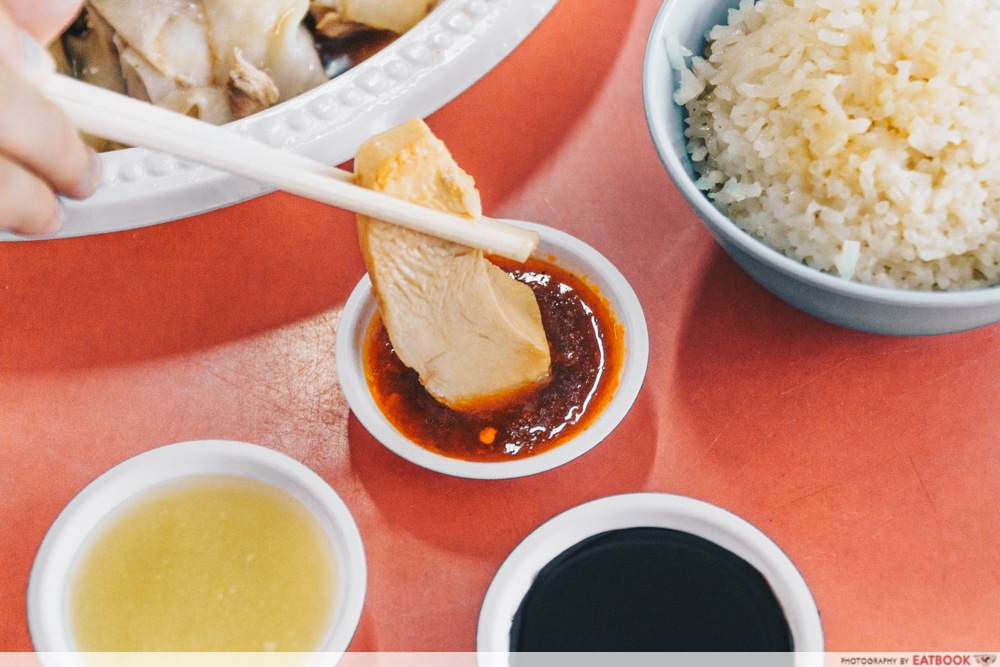 The chilli at Heng Ji Chicken Rice was not like the conventional garlic chilli sauce that I'm used to. It was tangy, sweet, and much more reminiscent of sweet Thai chilli. I would still much prefer the classic garlic chilli with my chicken rice, but I'll admit that the sweet chilli balanced out the salty light soya sauce well.
10 Best Chicken Rice In Singapore Ranked, Including Tian Tian And Boon Tong Kee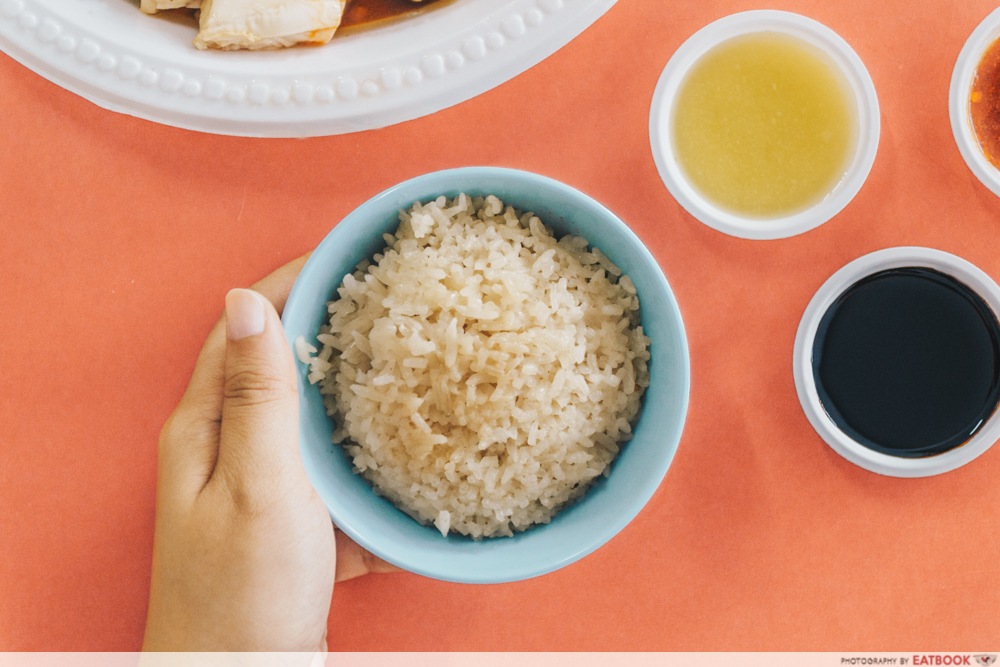 Moving on to my favourite component of chicken rice, the 'you fan', which literally translates to "oily rice" in English, is sold at $0.30. Though cheaper than the prices at other chicken rice stalls, the portion of the rice is rather small. I recommend going for two bowls if you're a big eater.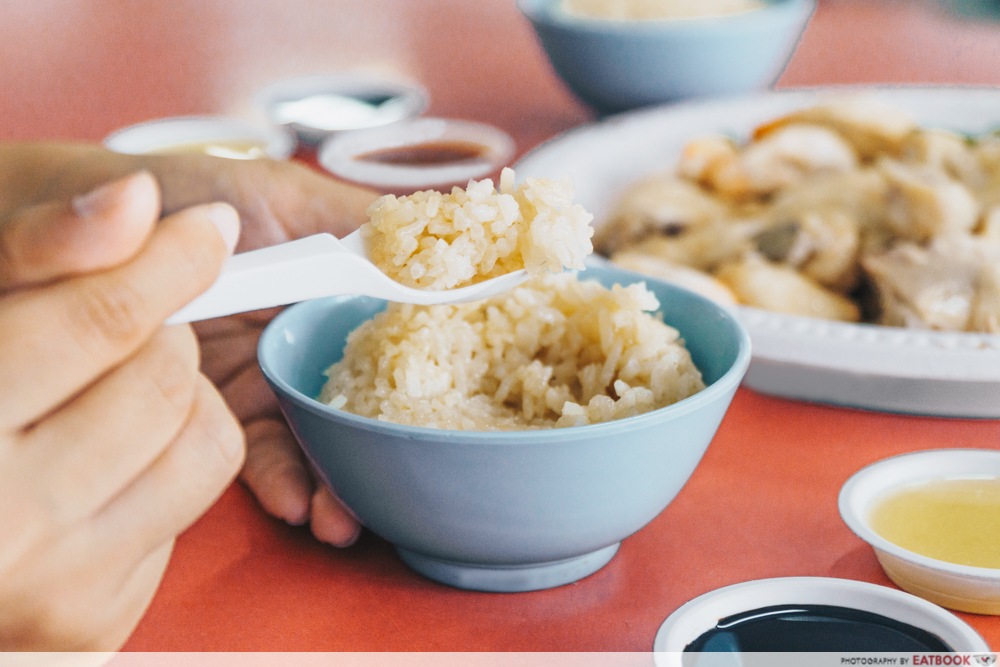 I noticed almost immediately that the rice had a rather unique texture. It had a broken-grain look, almost as if some of the grains had been minced into finer pieces. This gave the rice a slightly mushier mouthfeel, straying from the fluffy texture I was looking for. 
The rice also had a slight, warm-brown hue to it as the result of incorporating fried shallots in the cooking process. All the stock from cooking the chicken also goes into flavouring the rice. These added steps infused each morsel with the tantalising aroma of shallots and the subtle flavour of chicken, making the rice strangely addictive.
One of my colleagues polished off the bowl in record speed and even remarked that it was the best chicken rice she's had in a long time.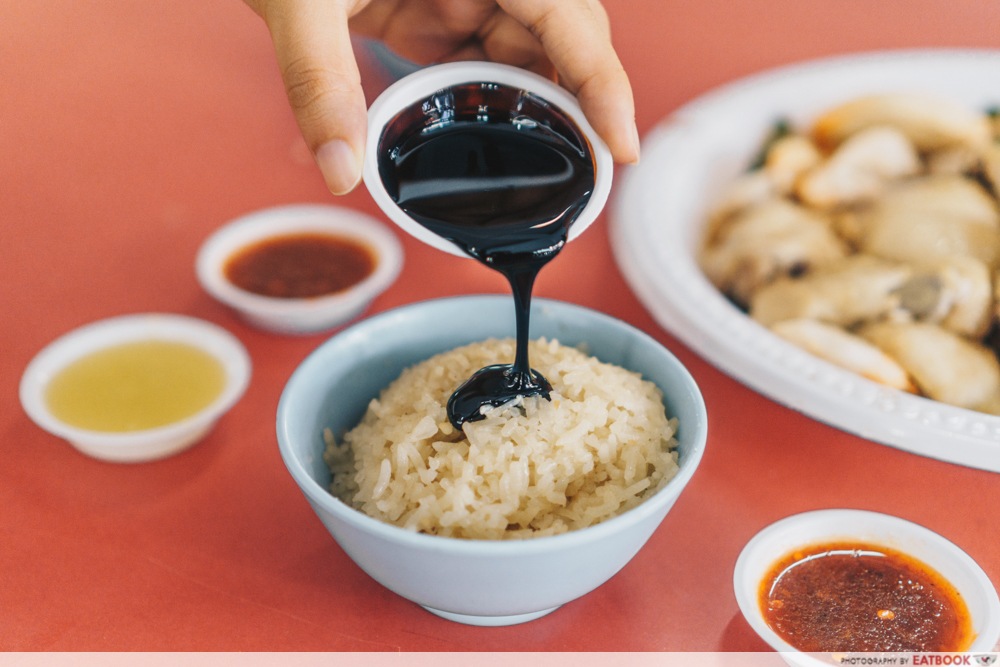 Some may protest against me doing this, but drenching my chicken rice with dark soya sauce is actually one of my favourite ways to enjoy the traditional dish. The thick, syrupy sauce gives the savoury rice a deep sweetness that I seriously can't get enough of. If you're not afraid of being overly indulgent, I highly recommend including this step in every one of your chicken rice escapades. 
Ambience at Heng Ji Chicken Rice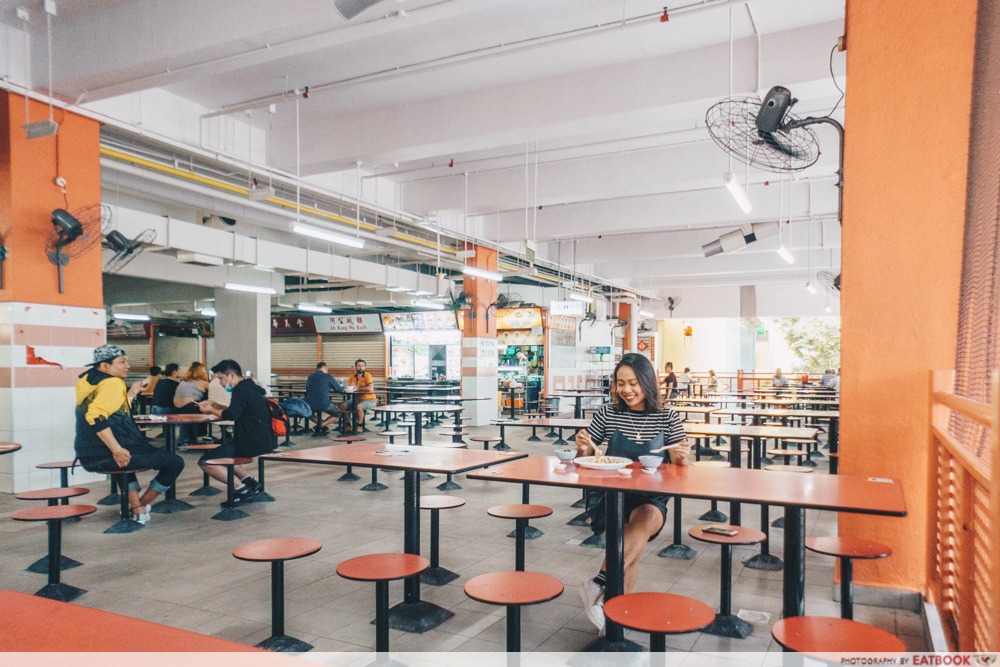 Tucked in Chinatown Complex Food Centre, Heng Ji Chicken Rice is a short three-minute walk from Chinatown MRT Station. Seating at the edge of the food centre treated us to a peaceful view of the Buddha Tooth Relic Temple and uncles playing chess in the shade downstairs.
With many famous stalls such as Jin Ji Braised Duck and Woo Ji Cooked Food in the same food centre, the place is bound to get crowded during meal hours. So head down early if you want to avoid jostling for seats. 
The verdict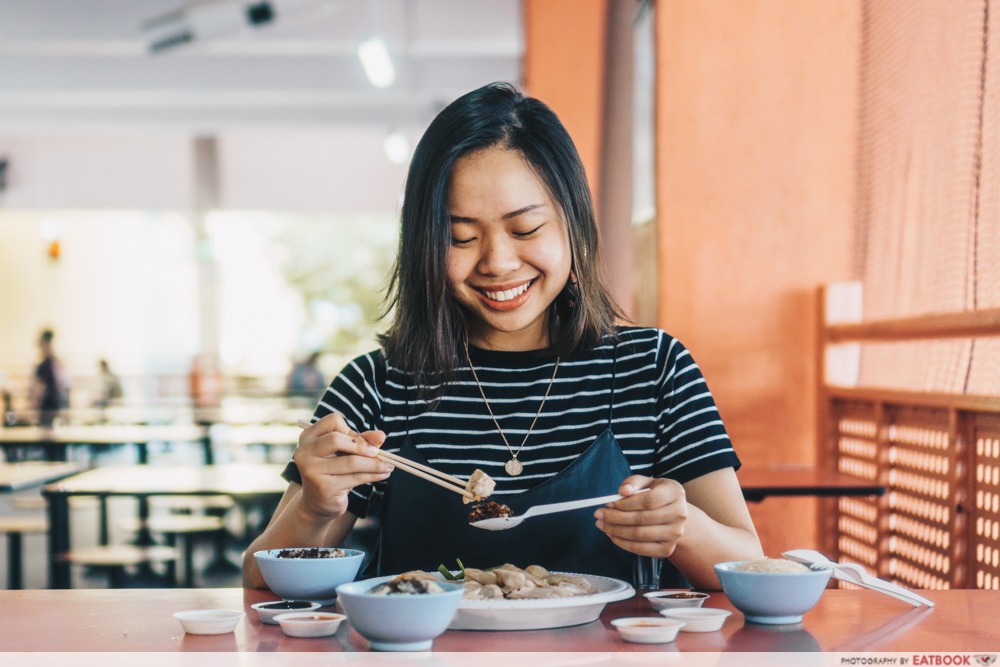 There's always an inexplicable charm that comes attached to old-school chicken rice. For some reason, this was especially the case for Heng Ji Chicken Rice. Perhaps it's the thought of the humble stall offering the same style of chicken rice for over 40 years, or maybe it was seeing Ms Lim's radiant smile as she served the unceasing line of customers. Regardless of the reason, the stall's earnest effort in delivering their best version of the simple, traditional dish certainly shone through. This is one stall I'll recommend to any chicken rice lovers out there. 
If you're looking for more famous chicken rice spots, check out our review of Hua Kee Chicken Rice. Or if you're in the area and searching for good food, check out our list of must-try Chinatown Complex grub!
Hua Kee Chicken Rice Review: Famous Chicken Rice Stall By A 77-Year-Old Hawker At Redhill
Address: 335 Smith Street, #02-131, Chinatown Complex Market & Food Centre, Singapore 050335
Opening hours: Mon-Sat 3pm to 8pm
Heng Ji Chicken Rice is not a halal-certified eatery.
Photos taken by Alif Ramli.
This is an independent review by Eatbook.sg.
Heng Ji Chicken Rice
Summary
Pros
– Juicy white chicken
– Addictive fragrant rice
– Affordable prices
– Friendly owner
Cons
– Small portion of rice
Recommended dishes: Half Chicken ($10), Rice ($0.30)
Opening hours: Mon-Sat 3pm to 8pm
Address: 335 Smith Street, #02-131, Chinatown Complex Market & Food Centre, Singapore 050335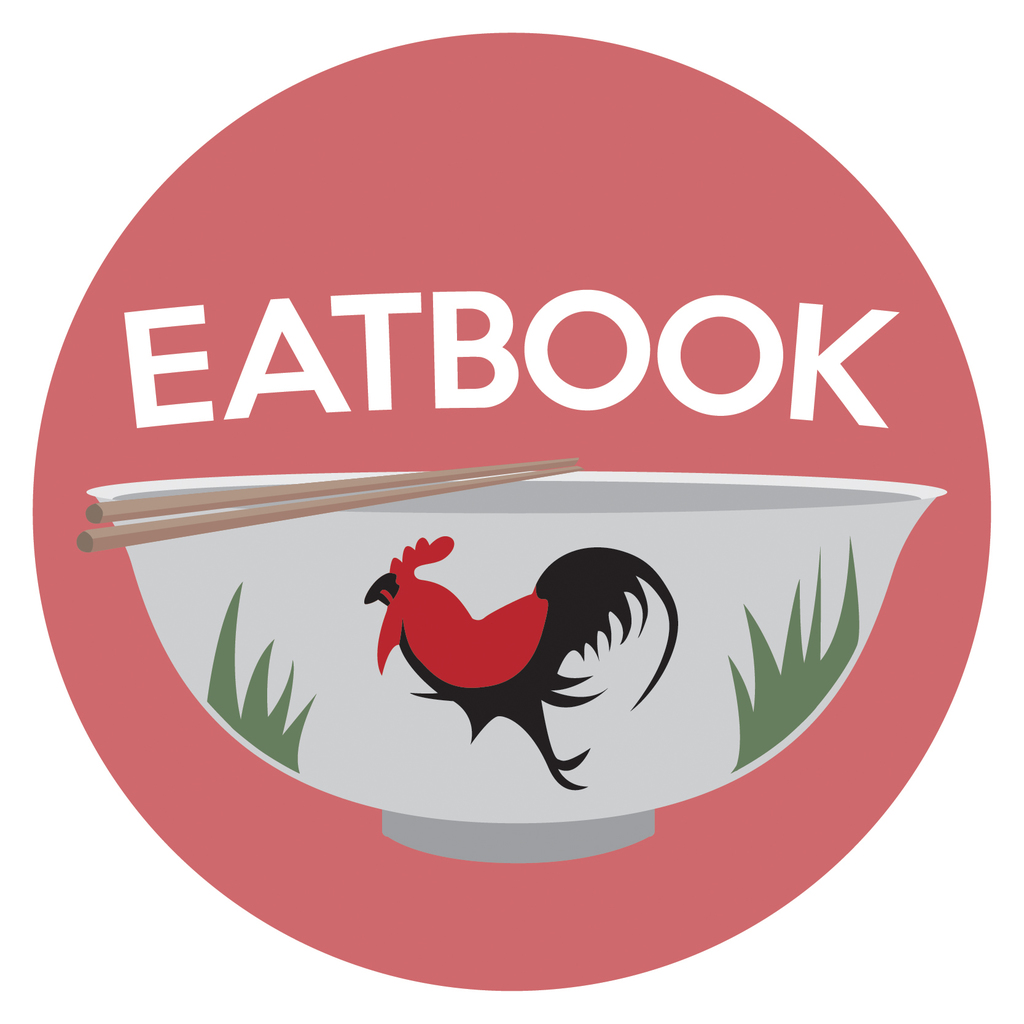 Drop us your email so you won't miss the latest news.