Butter Bean is BreadTalk's new cafe concept
BreadTalk Group enters the cafe scene in Singapore with their latest concept, Butter Bean, which opens today at Funan Mall, with a second outlet opening September 2020 in Vivo City.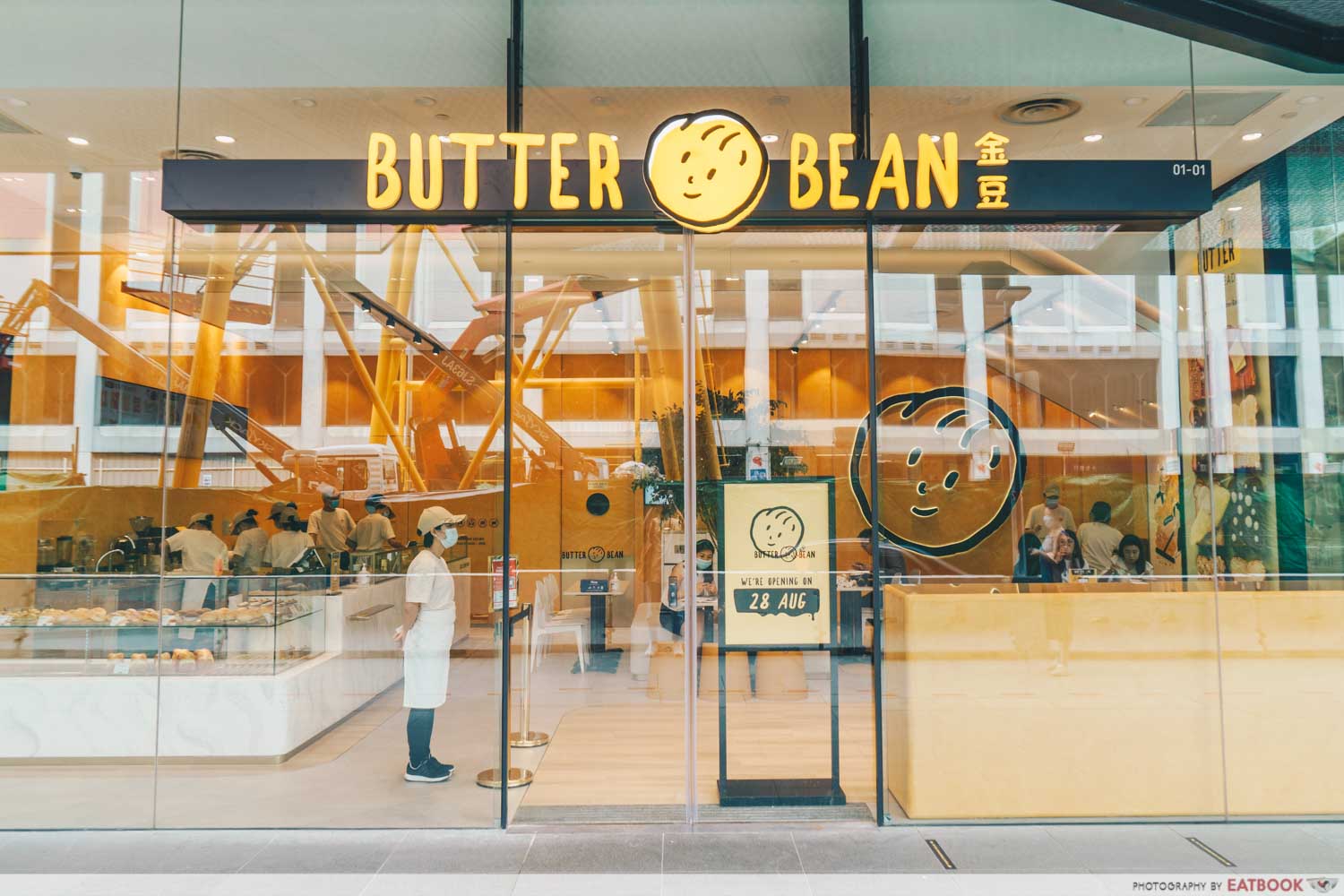 Butter Bean's affordable menu reimagines local favourite drinks and dishes, made without pork or lard. Think of it as the cooler sibling to Toast Box, with elevated thick toasts, Korean-inspired sandwiches and upgraded Nanyang coffee.
Food at Butter Bean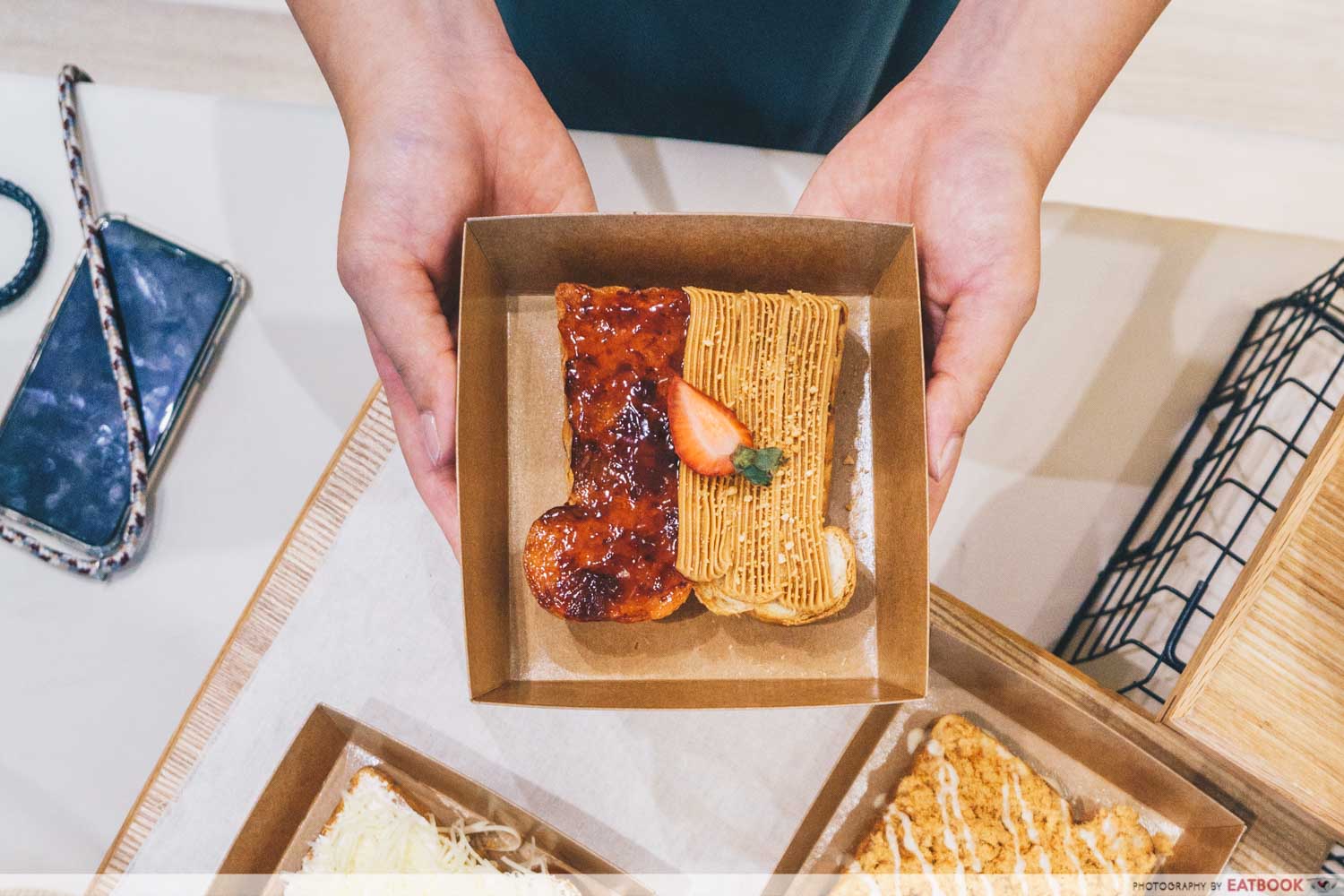 We had the opportunity to sample some of Butter Bean's signature offerings ahead of their opening, starting with the PB&J ($2.80). The thick slice of toast is spread with the classic combination of peanut butter and strawberry jam, both made in-house ─ and your attention is drawn to the bread, which is the star of the show.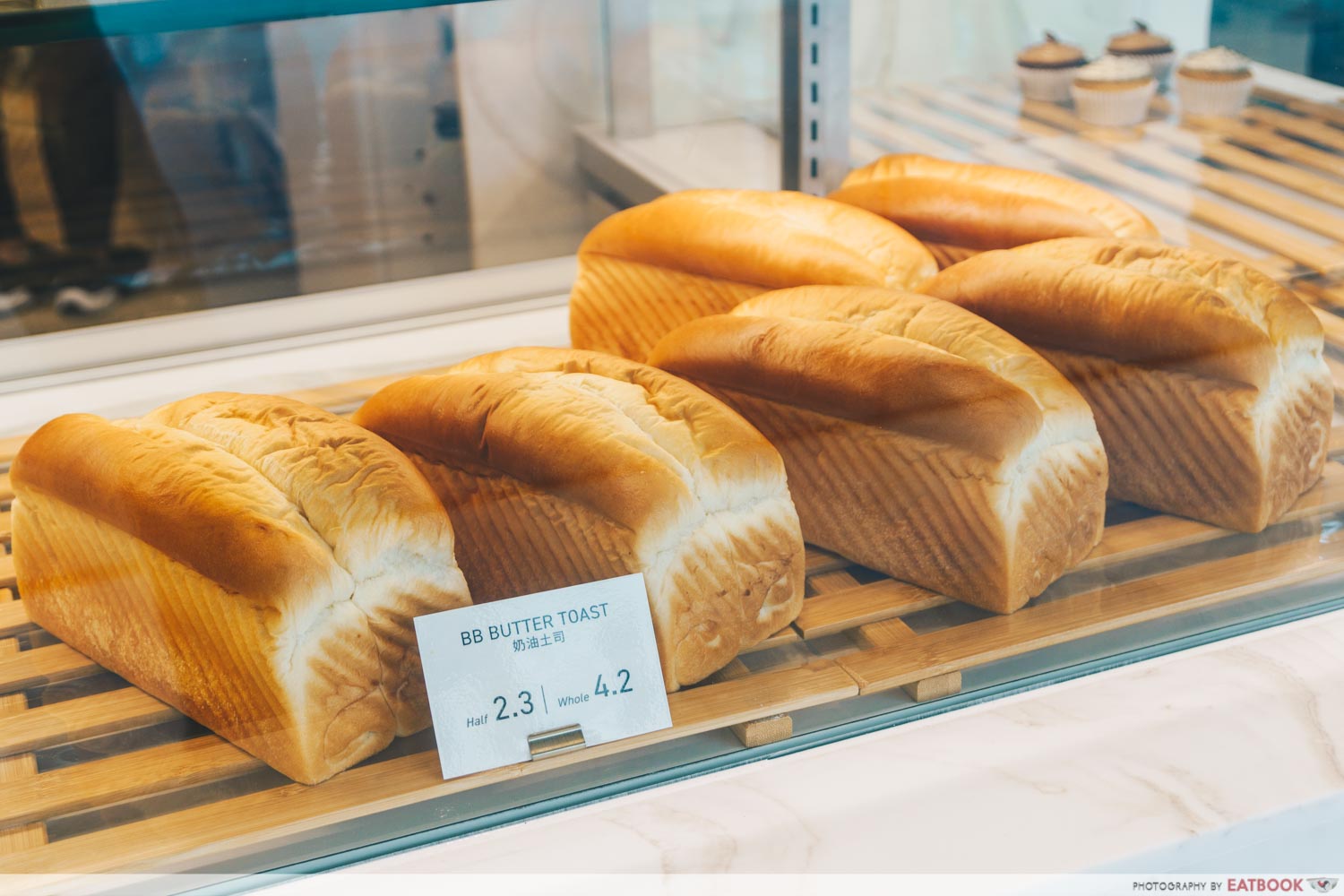 The toast is made from their signature butter loaves, which are baked fresh on the premises daily using their very own recipe. Made with pure New Zealand butter and specially-imported Japanese flour, the bread is super pillowy, with the heady fragrance of quality butter.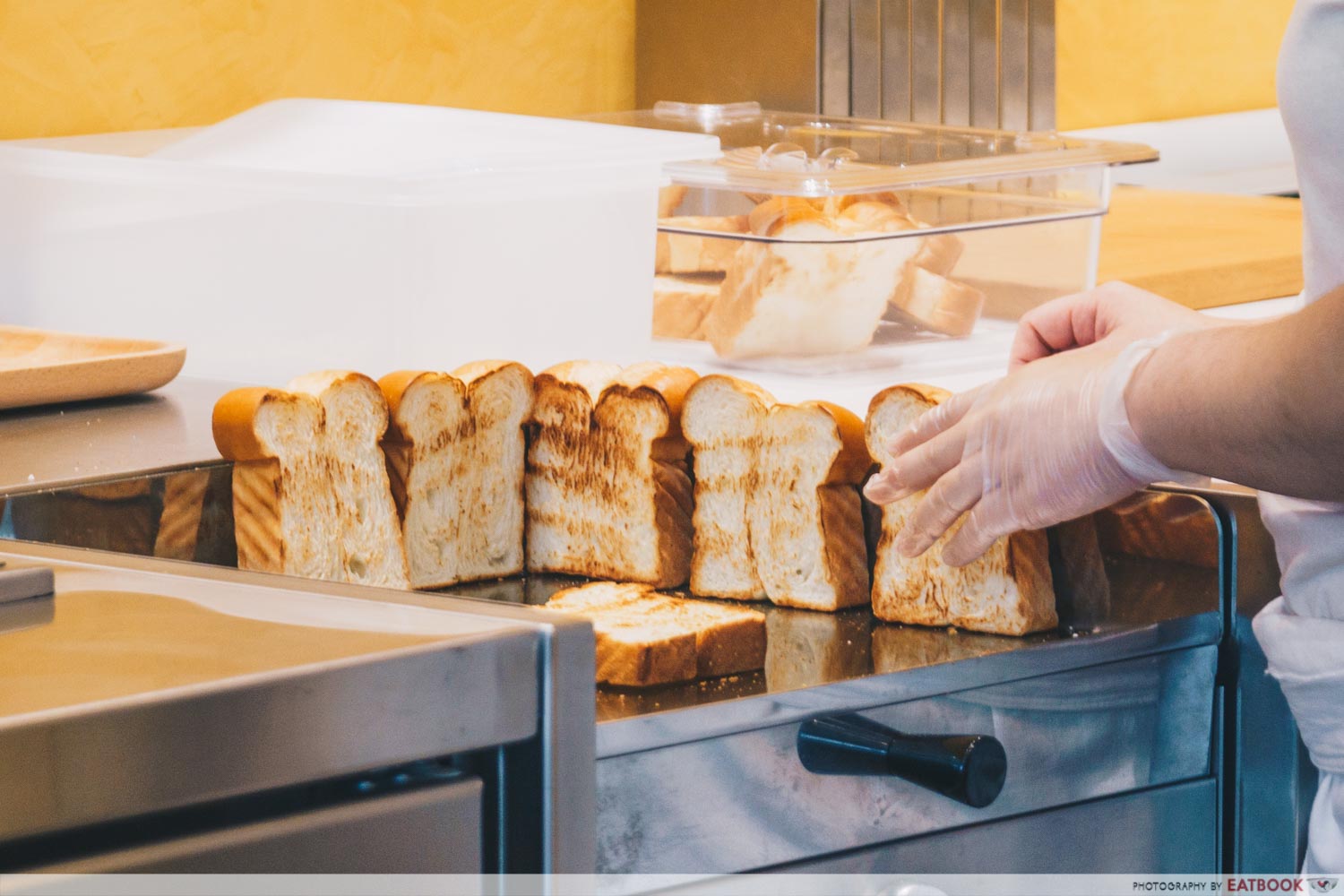 Each inch-thick slice of bread is toasted on a flat iron grill, resulting in a perfectly-crisp outside that serves as a delightful contrast to the fluffy insides.
Next, we tried Say Cheese! ($2.80), a savoury toast topped with buttercream and shredded cheddar. It's simple, comforting, and reminds us of childhood.
Make any of these toasts into a set with a top-up of $3, which comes with two eggs and a regular hot drink. You are given a choice between your regular half-boiled eggs, and Hanjuku-style eggs with perfectly-molten yolks.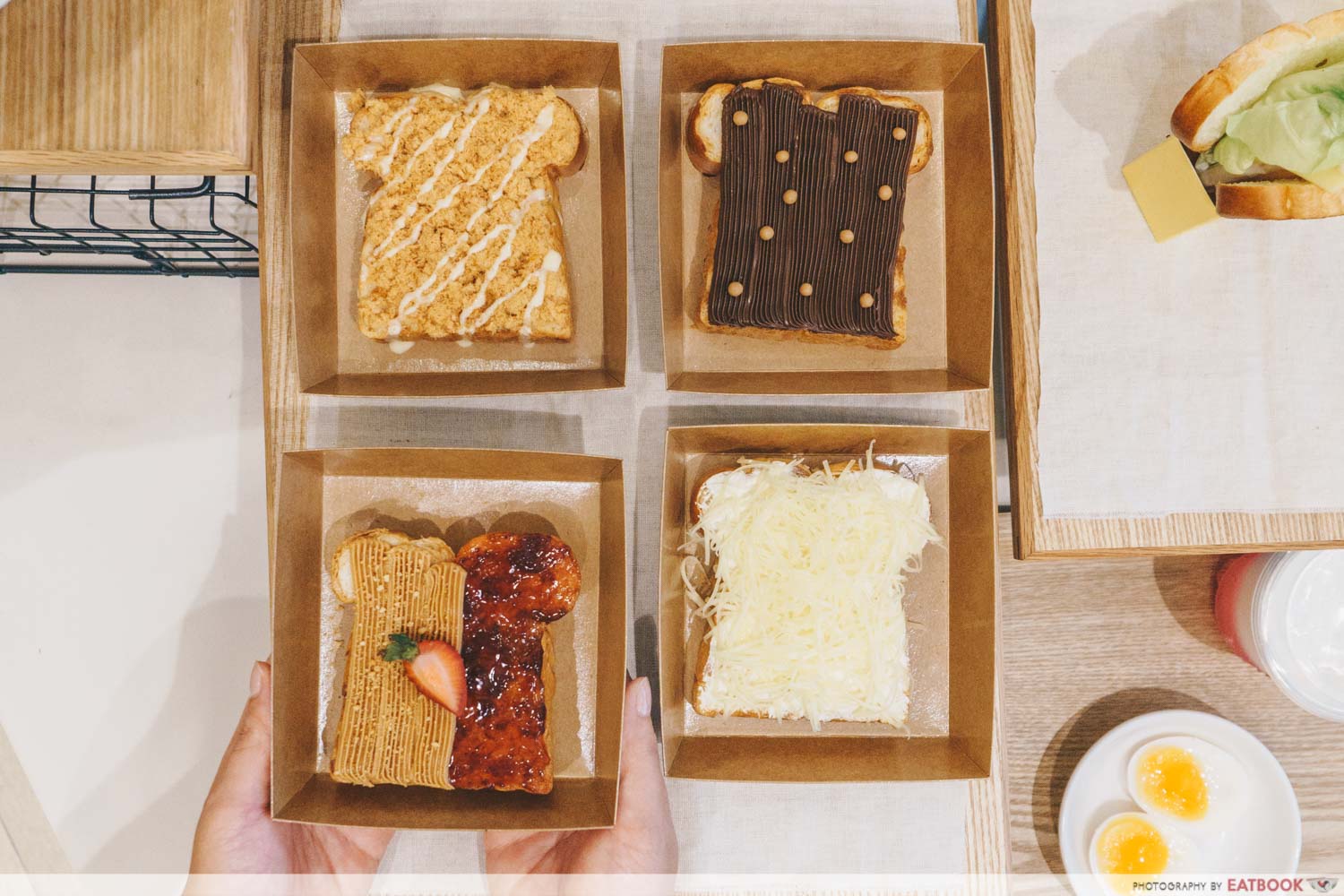 Other toast options (from $2 each) include Flossy Chick, which recalls BreadTalk's very own Pork Floss bun, Milky Milo, BB's Kaya, Butter Sugar, and a savoury Omu Cheese. 
Butter Bean's sandwiches come in a jolly yellow sleeve that honestly, makes eating the sandwich that much easier. Also made with their house butter loaves, we had the B.F.F Battered Fried Fish ($4.60) and C.F.C Crispy Fried Chicken ($4.60), but you couldn't go wrong with a Basic Ham and Cheese ($4.20).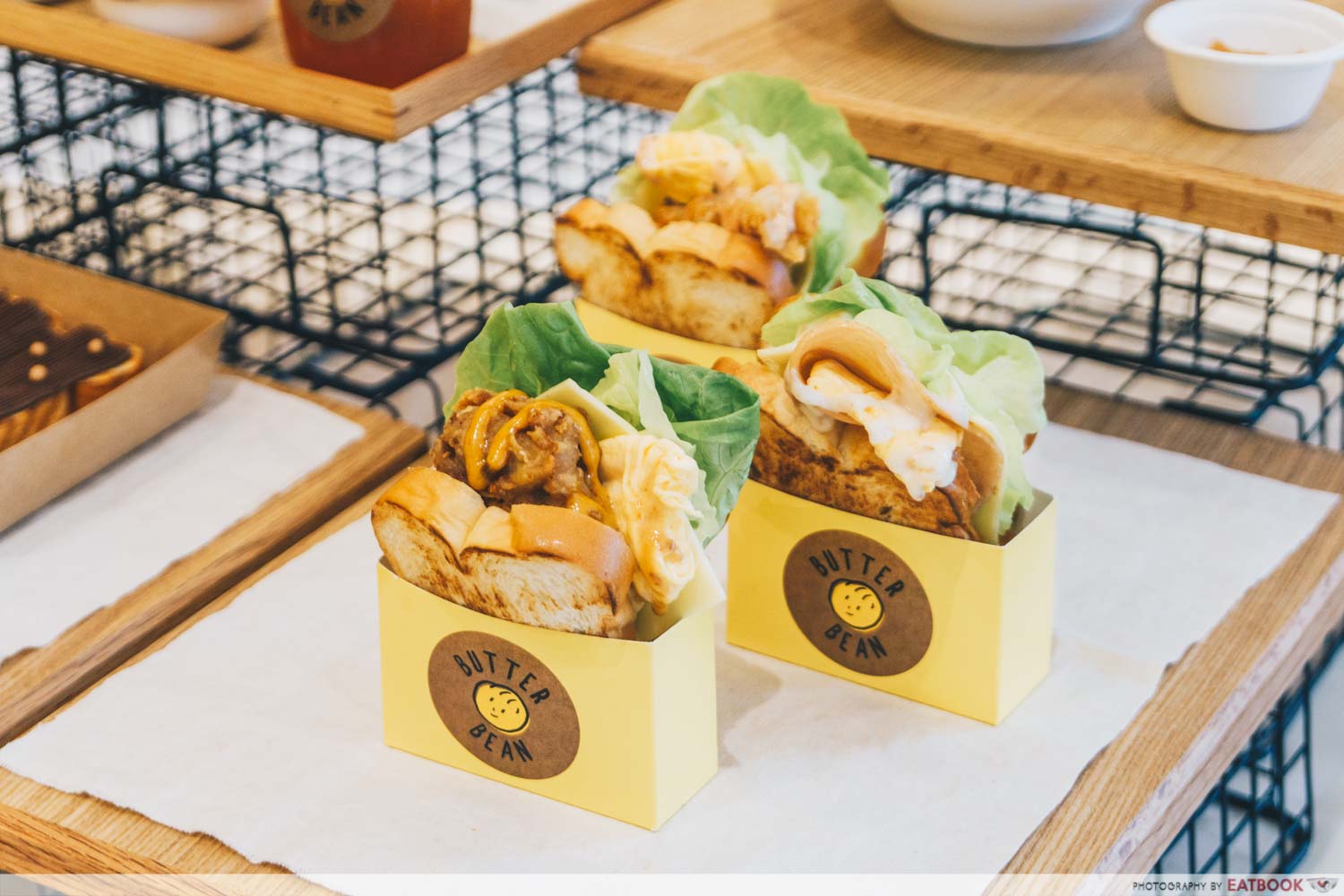 These sandwich pockets come stuffed with exactly what they are named for, with an acronym to boot because Singaporeans simply love acronyms. You get a choice of Curry, Black Pepper, Garlic Sesame or Thousand Island dressing, all house-made, to complete the sandwich. We found the Thousand Island to be a little too tart, but the other sauces were well-done. You might want to give the Garlic Sesame a miss on a date, though.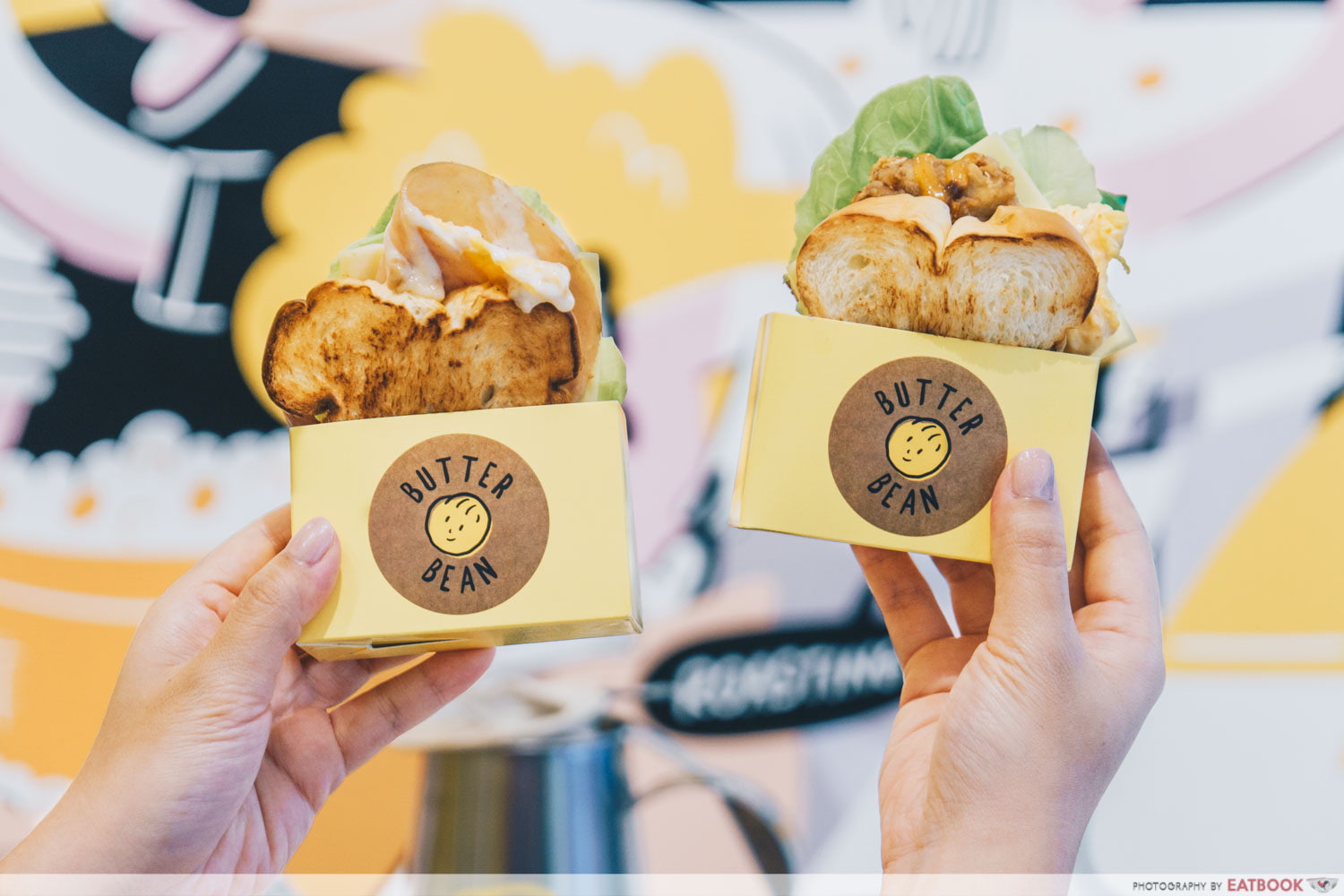 The suggested dressings for C.F.C Crispy Fried Chicken ($4.60) are Curry or Black Pepper. The house-made Curry was flavourful without overwhelming the nicely-seasoned chicken fillet, which like the fish was well-fried. The Black Pepper dressing with the crispy chicken brought to mind our favourite black pepper chicken chops.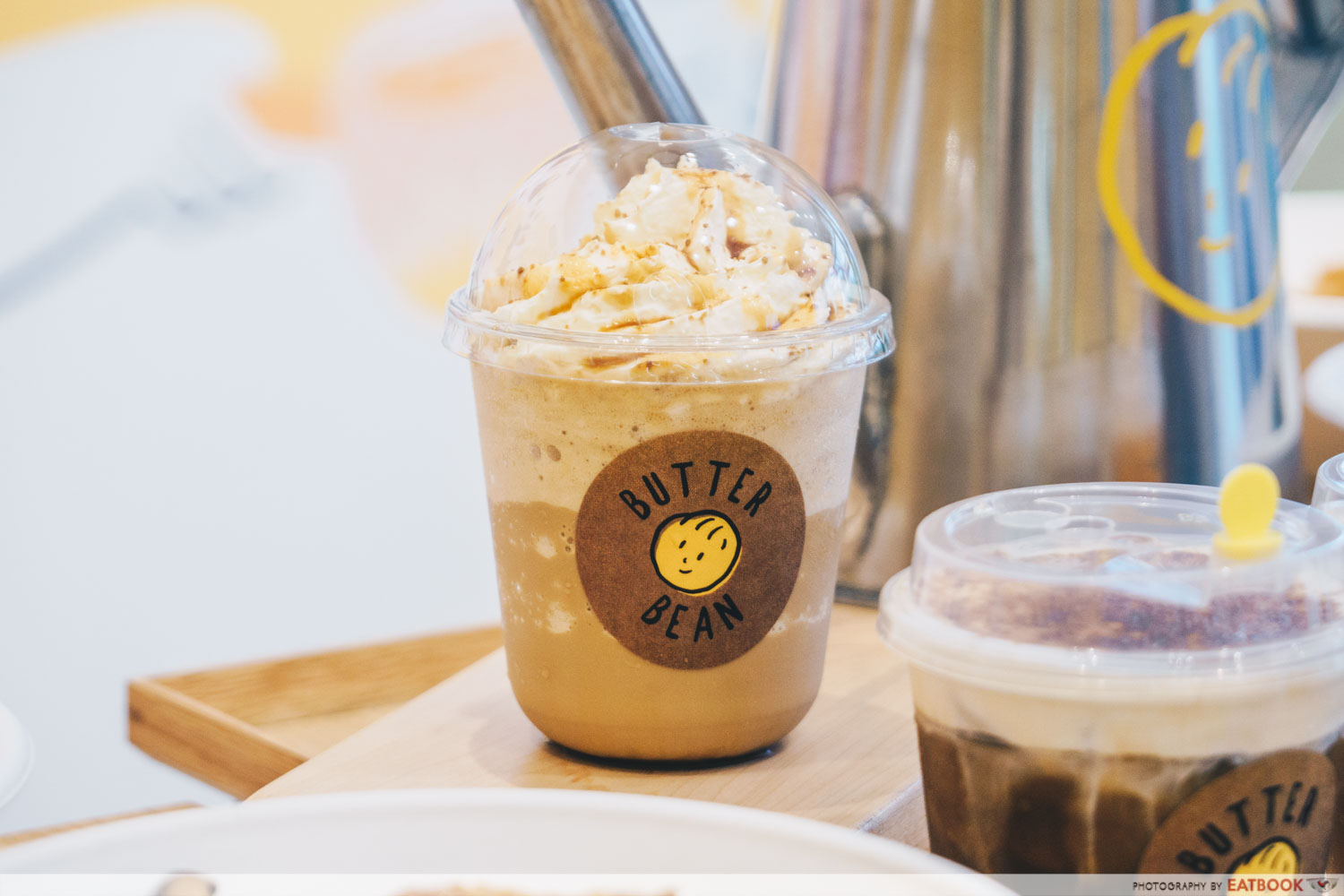 We had the G.M. Kopi BBliss ($3.50), a most Instagrammable creation, with our sandwiches. It's BBlissful indeed, with rich gula melaka that is prepared in-house. When stirred into the coffee, made via a custom blend of Arabica and Robusta beans, this drink is intoxicating. The specially-sourced beans are roasted locally with sugar and butter, which gives the coffee an added taste of caramel. It is topped off with fresh milk, freshly whipped cream, more gula melaka and finally, sprinkles of gula melaka crystals.
Playmade Has New Limited-Edition Yakult BBT Series And Grape Boba
In a nod to bubble tea lovers everywhere, Butter Bean also has a BBrûlée Kopi Latte ($3.20). This drink has three distinct layers of fresh milk, Nanyang coffee and a signature salted cream foam topped with coconut sugar, which is torched for that familiar taste of burnt sweetness. Sweet and salty, creamy and crunchy ─ we were hard-pressed to choose our favourite drink. Not to exclude non-coffee drinkers, these drinks are also available in tea variations.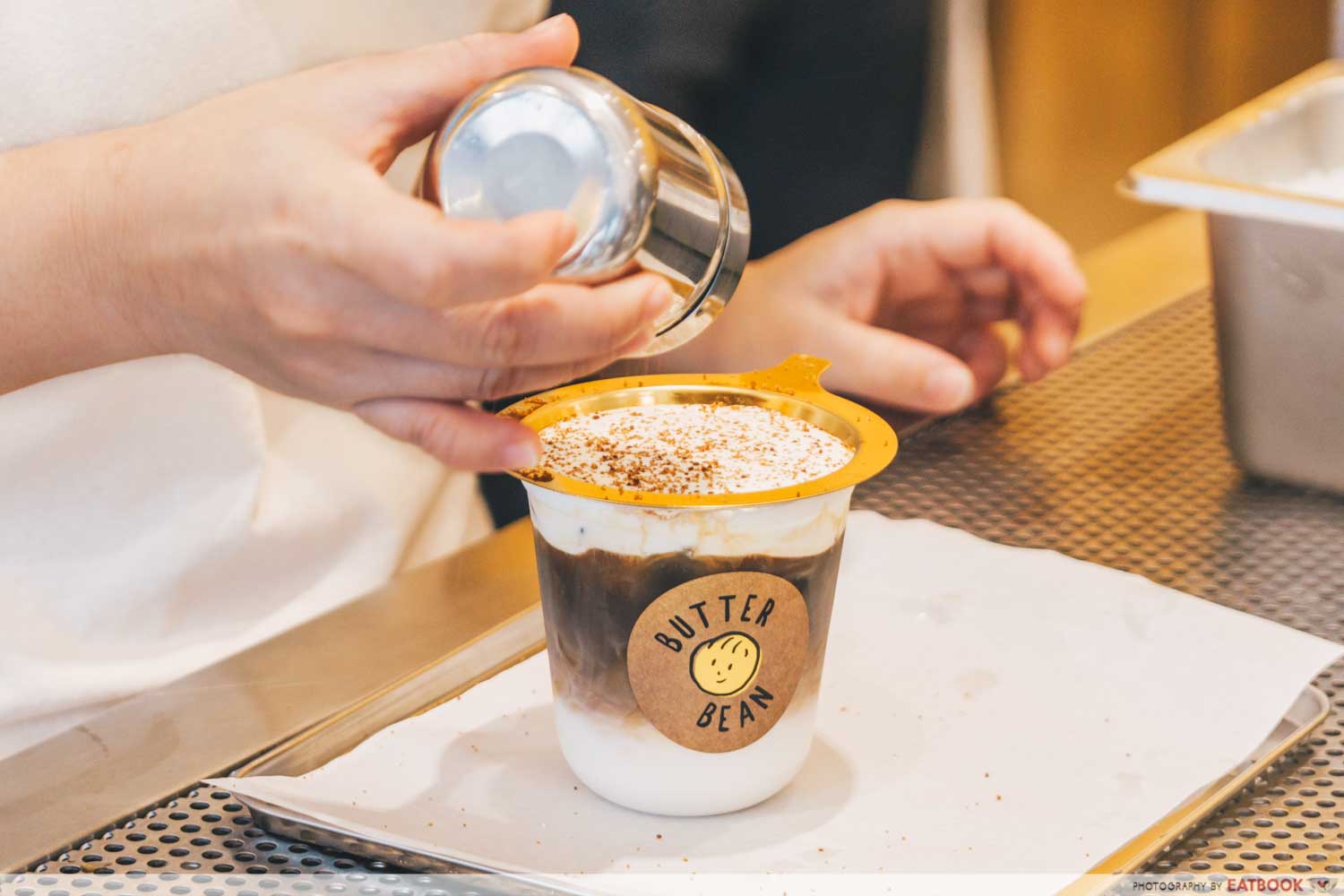 The menu at Butter Bean also features speciality drinks inspired by local favourites. The Lychee Orange Tea ($3.50) which we had is a refreshing, hand-shaken tea, served with fresh lychee and slices of orange. BB Rose ($3.50) was the highlight for us, featuring rose water, rose jelly and Butter Bean's signature salted cream foam. The candy pink beverage is a modern interpretation of the classic Bandung.
The concise list of mains at Butter Bean is a showcase of more local favourites. We had Curry On Sunshine ($6.80), a familiar favourite of potato curry with steamed rice. The dish differentiates itself with its serving of juicy, crispy chicken thigh and the blanket of scrambled eggs, both of which we feel add more flavour and dimensions to what would be a regular dish of curry rice.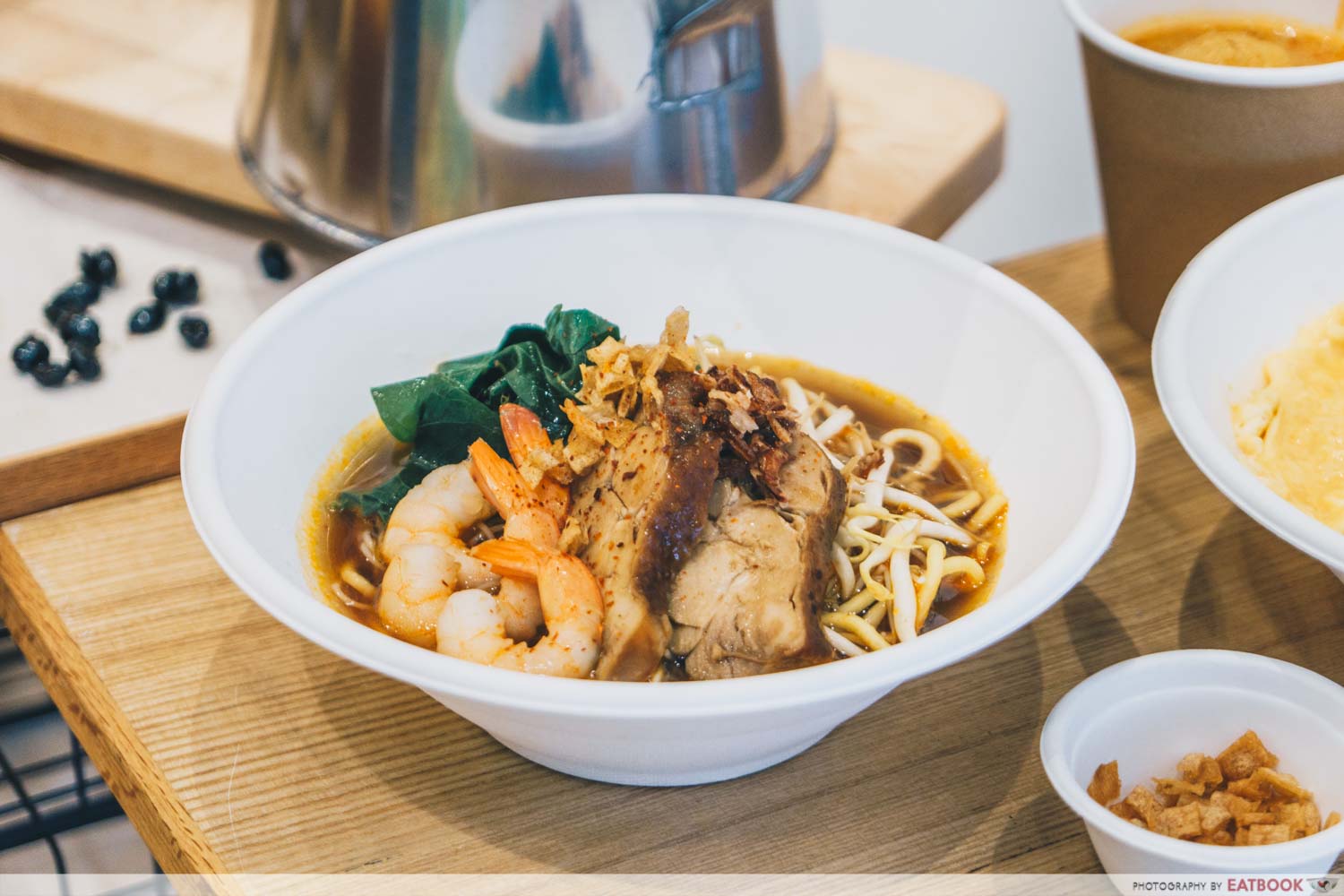 There was also Hey You Hae Mee ($6.80), the cheeky moniker representative of the modern take on hae mee (prawn noodles). Made with a combination of chicken stock, prawn heads and hae bee (dried shrimp), we found the stock to be surprisingly robust even without the use of pork bones. We particularly liked the crispy fried Dahfa dried fish bits that provided a nice crunch with each mouthful.
We'll definitely be back to try Laksa Love ($6.80) and Braise Me Up ($6.80). The former is Butter Bean's take on laksa, complete with Hanjuku-syle eggs, Dahfa dried fish, and a laksa leaf pesto. We had a shot of the laksa gravy with the pesto and boy, was it delicious. Another round, please.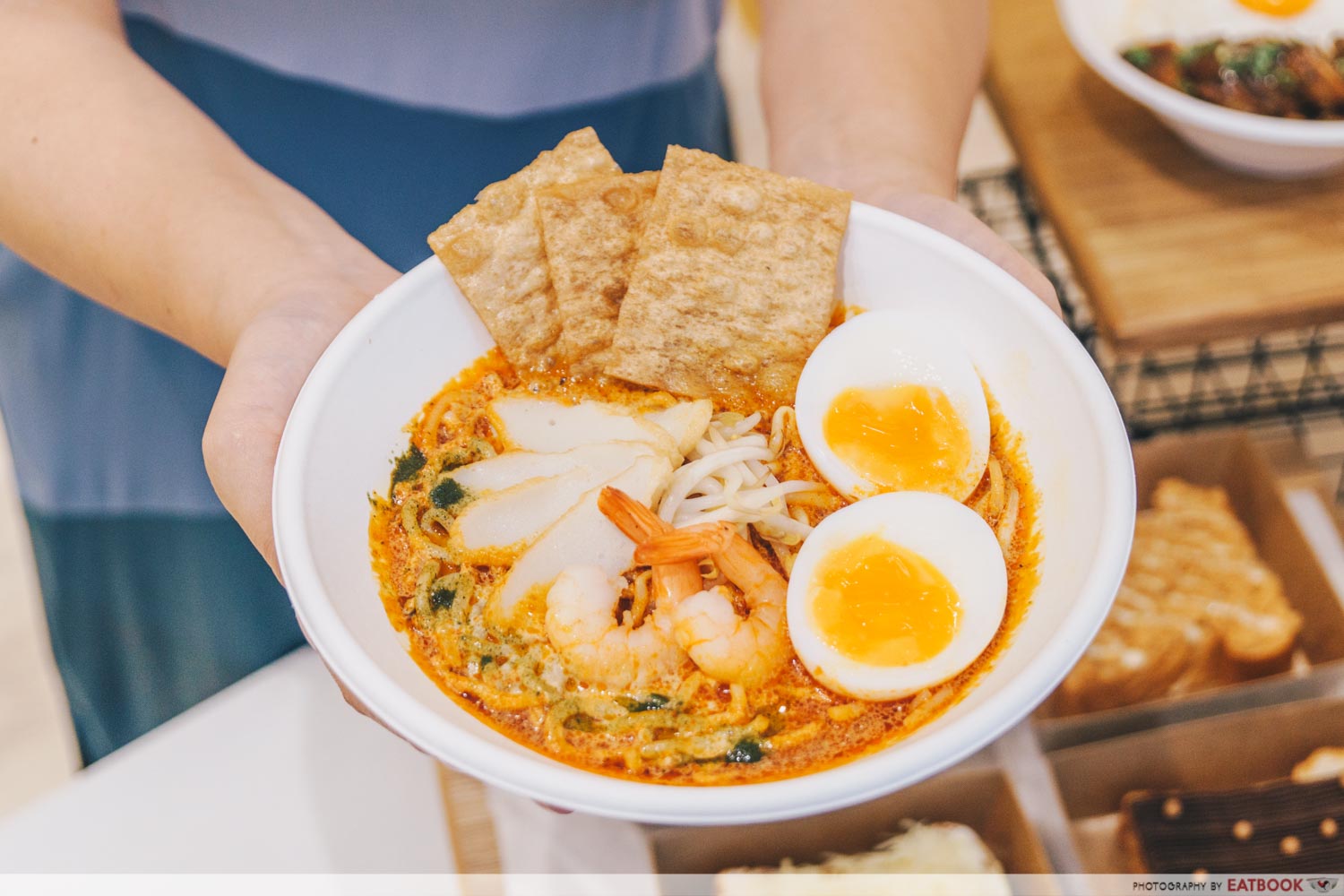 Like the toasts, you can choose to pay a top up of $2.20 to make these sandwiches and mains into a complete set, with a choice of iced Kopi or Teh Latte, or top up $2.90 for speciality drinks.
Ambience at Butter Bean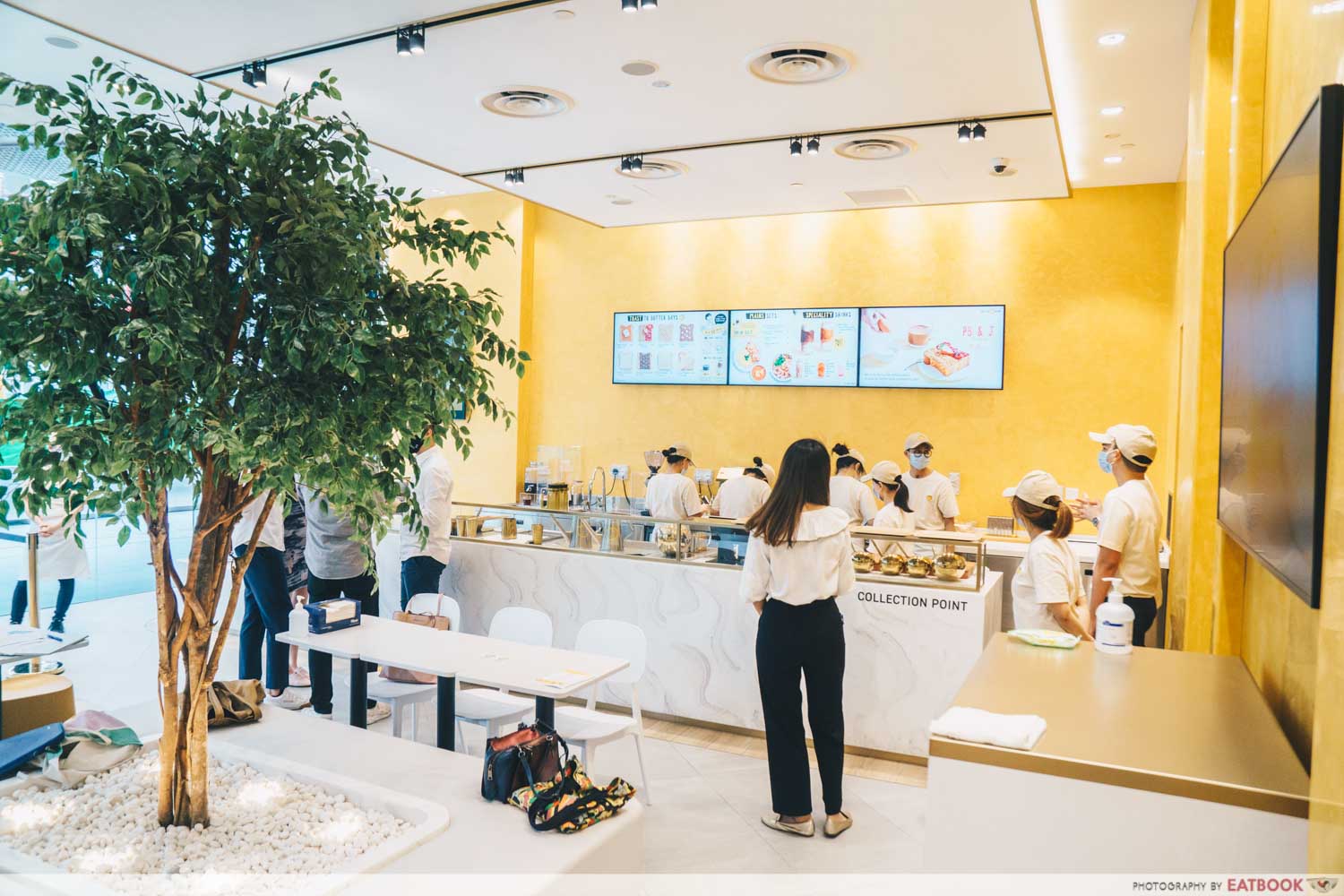 The cheery and well-lit yellow store boasts marble display counters, a bar table made to resemble a giant block of butter, and a 45-seater capacity. It is a burst of sunshine on the first floor of Funan Mall, with a 'Cherry to Cup' wall mural, illustrated just for Butter Bean, by local creative studio 8EyedSpud. 
The Verdict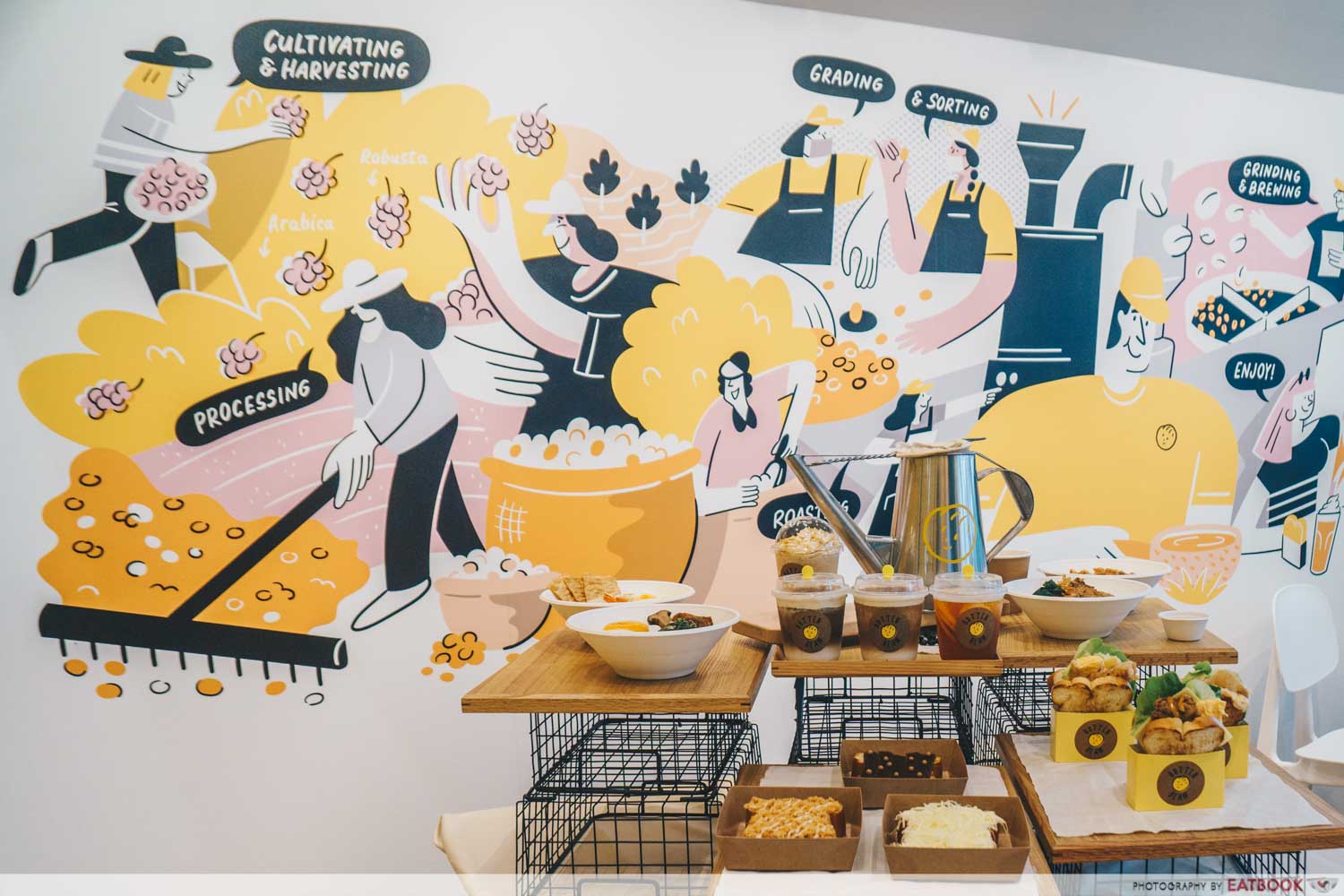 Butter Bean is a novel concept in the BreadTalk Group empire, moving away from its casual Toast Box cafes. Butter Bean is exactly what you want from a cafe concept ─ good coffee (plus points for it being local!), substantial food options, fresh-baked treats, and most importantly, it is wallet-friendly. Its central locations in Funan Mall and the upcoming outlet at Vivo City are another bonus. This is not to say that more mature customers would be put off dining here because the undeniably familiar flavours will resound with any Singaporean.
Little Farms Café Review: Hidden Cafe In A Supermarket With XXL Avocado Toasts And Wagyu Beef Burgers At River Valley
In line with the opening of its first outlet, customers to Butter Bean can enjoy a bevvy of various promotions.
From 28 to 30 August 2020, all customers will get 50% off Butter Bean's Signature Favourites at various hours throughout the day. This is not valid with other promotions or discounts.
8am to 10am ─ Any toast set (U.P. $5 – $7.20)

11am to 2pm ─ Curry on Sunshine (U.P. $6.80)

3pm to 5pm ─ BBrûlée Kopi/Teh Latte (U.P. $3.20)

6pm to 8pm ─ Hey You Hae Mee (U.P. $6.80)
The first 50 customers a day from 28 to 30 August 2020 will also be entitled to redeem a Butter Bean tote bag and sticker sheet when they like and follow Butter Bean's Instagram and Facebook pages, and spend $15 in a single receipt.
From 31 August to 3 September 2020, customers can enjoy up to 30% off set meals at Butter Bean, with different promotions running throughout the day. Each set comes with a choice of iced Kopi or Teh latte, with the option to top up for other drinks.
8am to 10am ─ $5 sandwich sets (U.P. $6.40 – $6.80)

11am to 2pm; 5pm to 8pm ─ 30% off all mains sets (U.P. $9)
Butter Bean will also be running a promotion for mobile orders from 31 August to 3 September 2020, where customers can redeem a free bun with a minimum spend of $8!
Check out ChaTraMue's flagship outlet at Paya Lebar Quarter for another caffeine option, or visit Jem to get your wanton mee fix at Koung's Wanton Mee's new stall!
Address: 109 North Bridge Road, #01-01, Funan Mall, Singapore 179105
Opening hours: Daily 8am to 9pm
Website
Butter Bean is not a halal-certified eatery.
Photos taken by Muhammad Hafiq.
This was a media tasting at Butter Bean.
Summary
Pros
– Centrally-located
– High-quality food with familiar flavours done well
– Wallet-friendly prices
Cons
– A little similar to BreadTalk Group's existing concepts
– Might be a tad spicy for some
Recommended dishes: C.F.C Crispy Fried Chicken Sandwich ($4.80), Curry On Sunshine ($6.80), G.M Kopi BBliss ($3.50)
Opening hours: Daily 8am to 9pm
Address: 109 North Bridge Road, #01-01, Funan Mall, Singapore 179105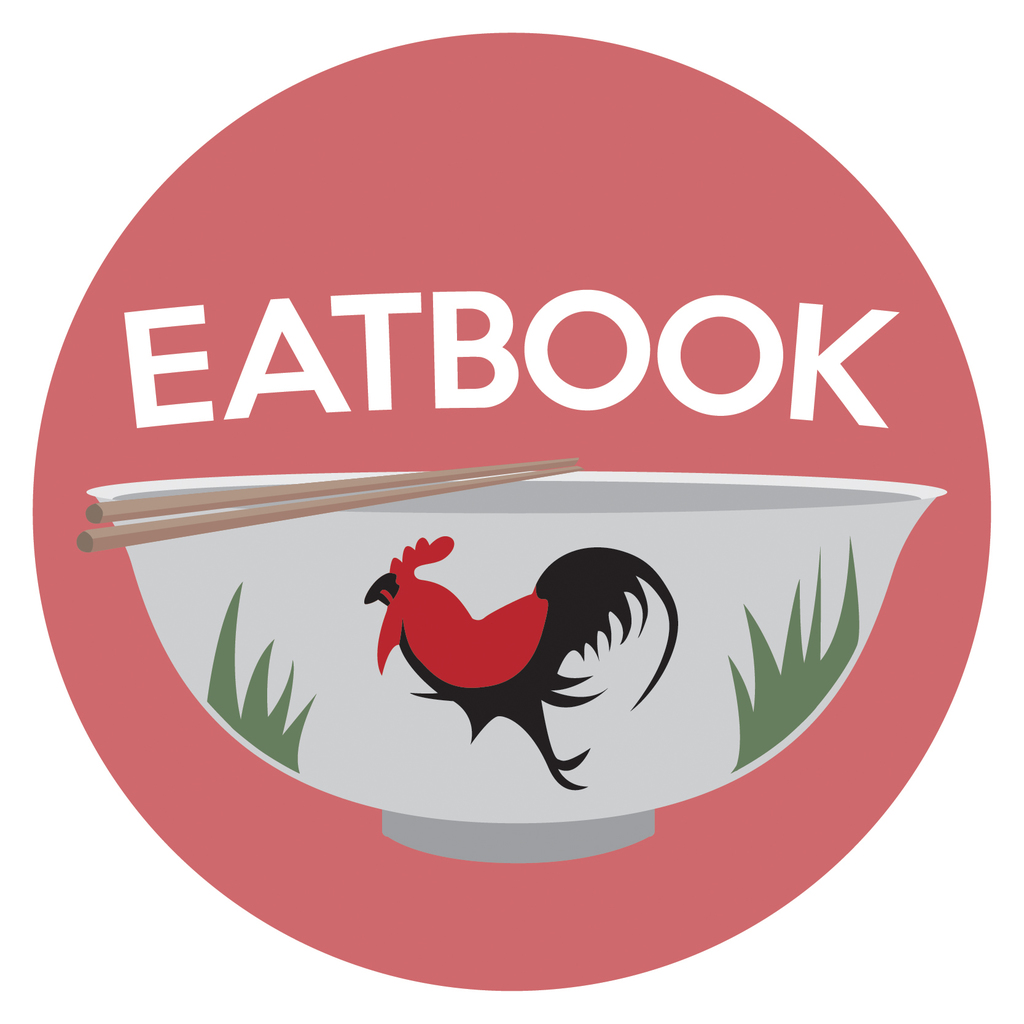 Drop us your email so you won't miss the latest news.