Tasty and affordable prawn noodles at East Treasure Speciality Prawn Noodle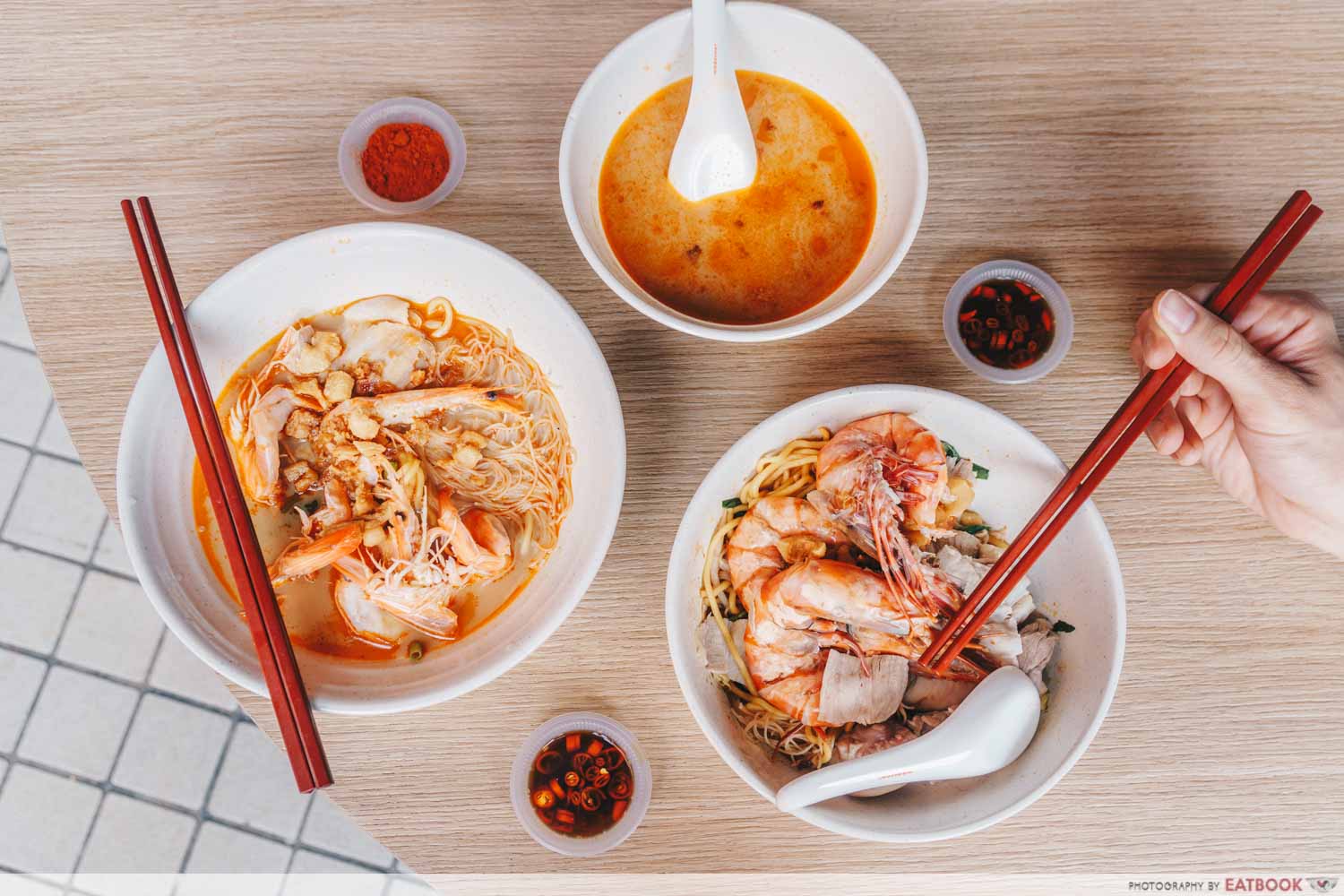 With many stalls serving delicious prawn mee along Joo Chiat Road such as Beach Road Prawn Noodles and Da Dong Prawn Noodles, it's hard for other prawn mee stalls to stand out. Opened by the Astons group, East Treasure Speciality Prawn Noodle is the newest contender amongst the big fishes.
Da Dong Prawn Noodles Review: Prawn Noodles With Huge Prawns By A Second Generation Hawker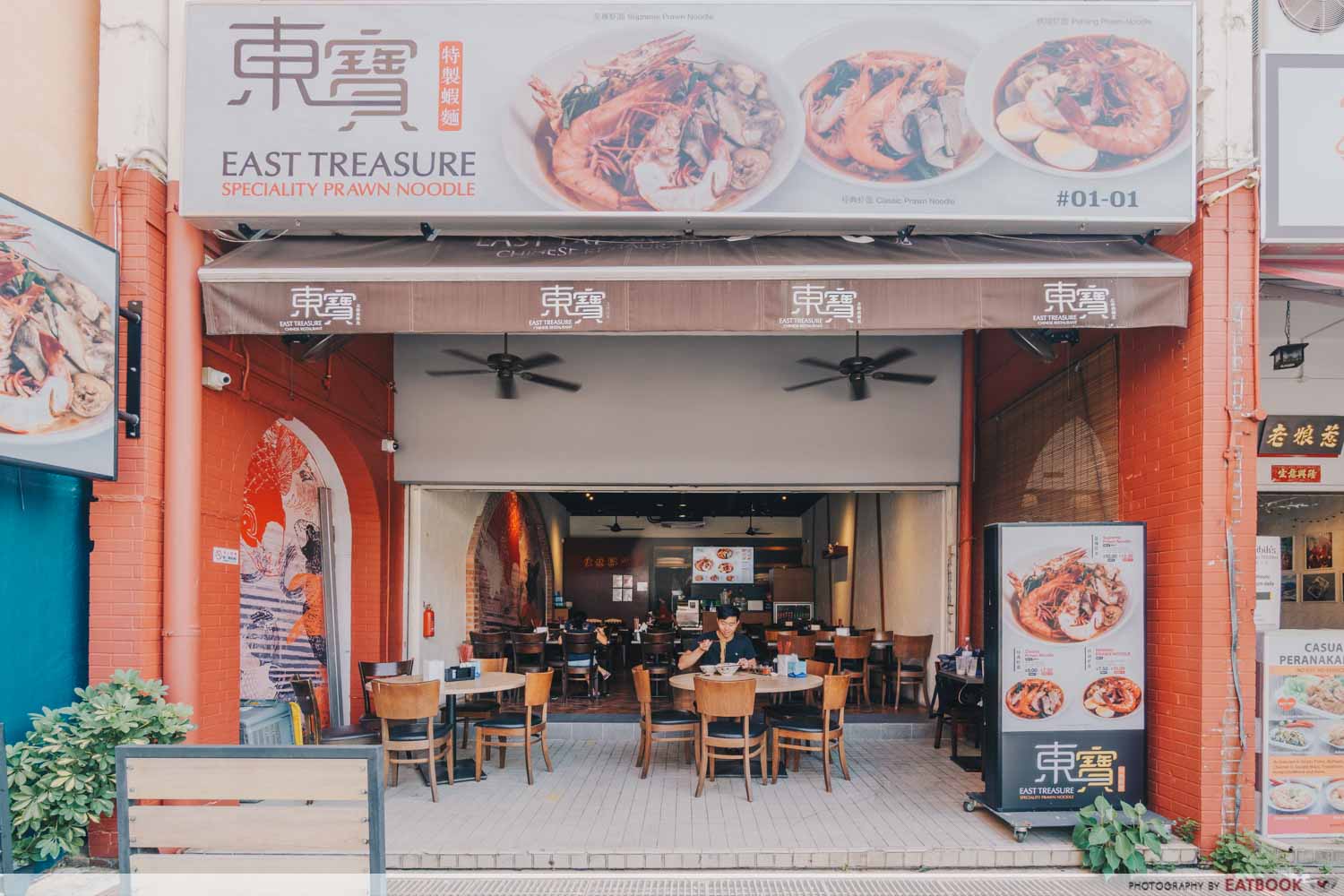 The restaurant used to go by the name 'East Treasure Chinese Restaurant', and it formerly sold traditional Chinese cuisine. Since August 2019, it has answered the call of many Singaporeans, and changed their name and cater to many Singaporeans' love for hearty prawn noodles. 
Food at East Treasure Speciality Prawn Noodle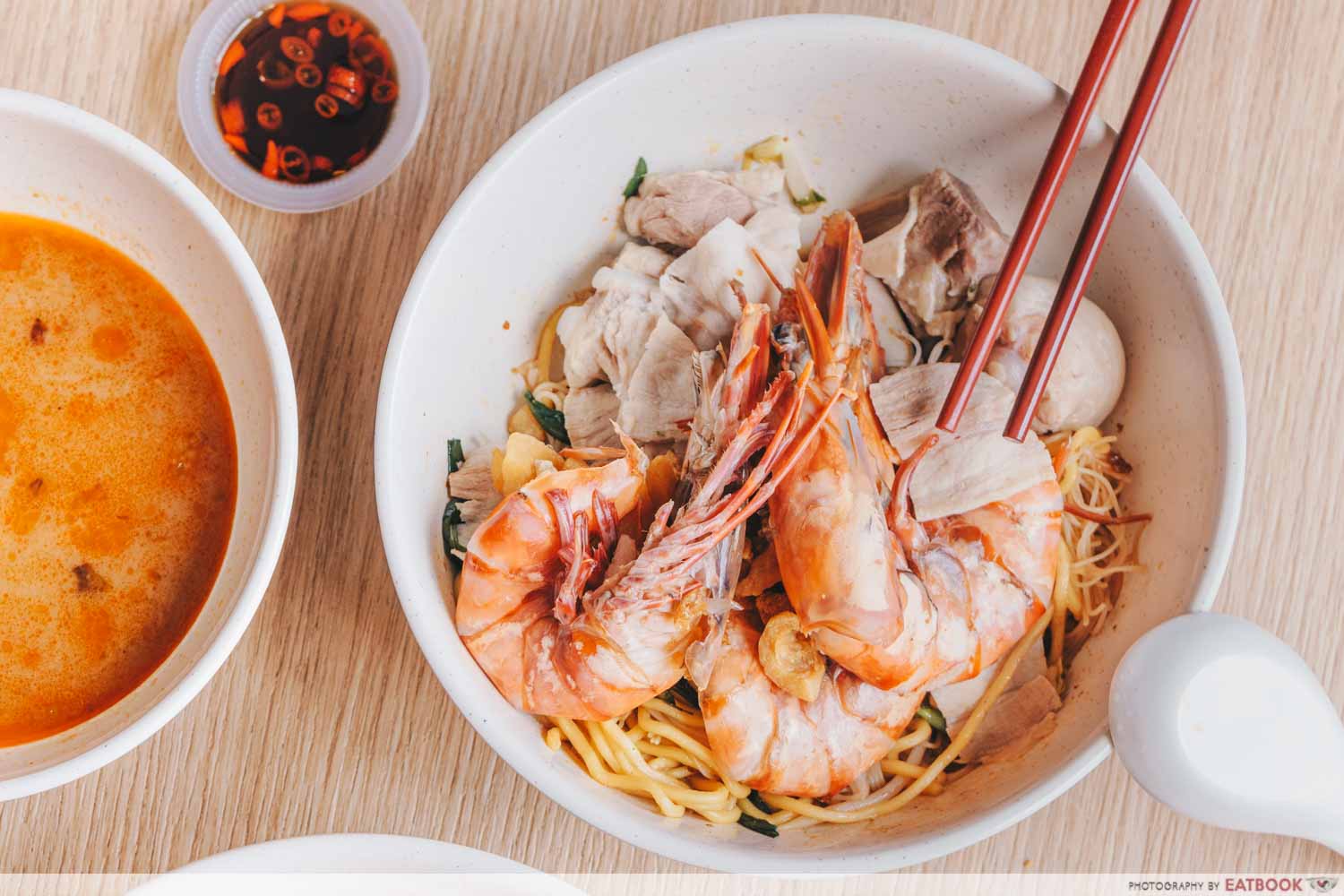 To start, we went for the most affordable item on the menu, the Classic Prawn Noodle ($5). To my surprise, the bowl was filled to the brim! It consisted of three decently sized prawns and numerous mouth-watering pork belly slices, all atop a bed of soupy, steaming mixed noodles. I had hoped for more of the flavourful prawn broth as the amount of soup present in this soup variation was rather modest. 
The prawns were sizeable and fresh, and their shells came off easily after a few light tugs. Chewing on the juicy, succulent chunks of sweet prawn meat made for a satisfying experience.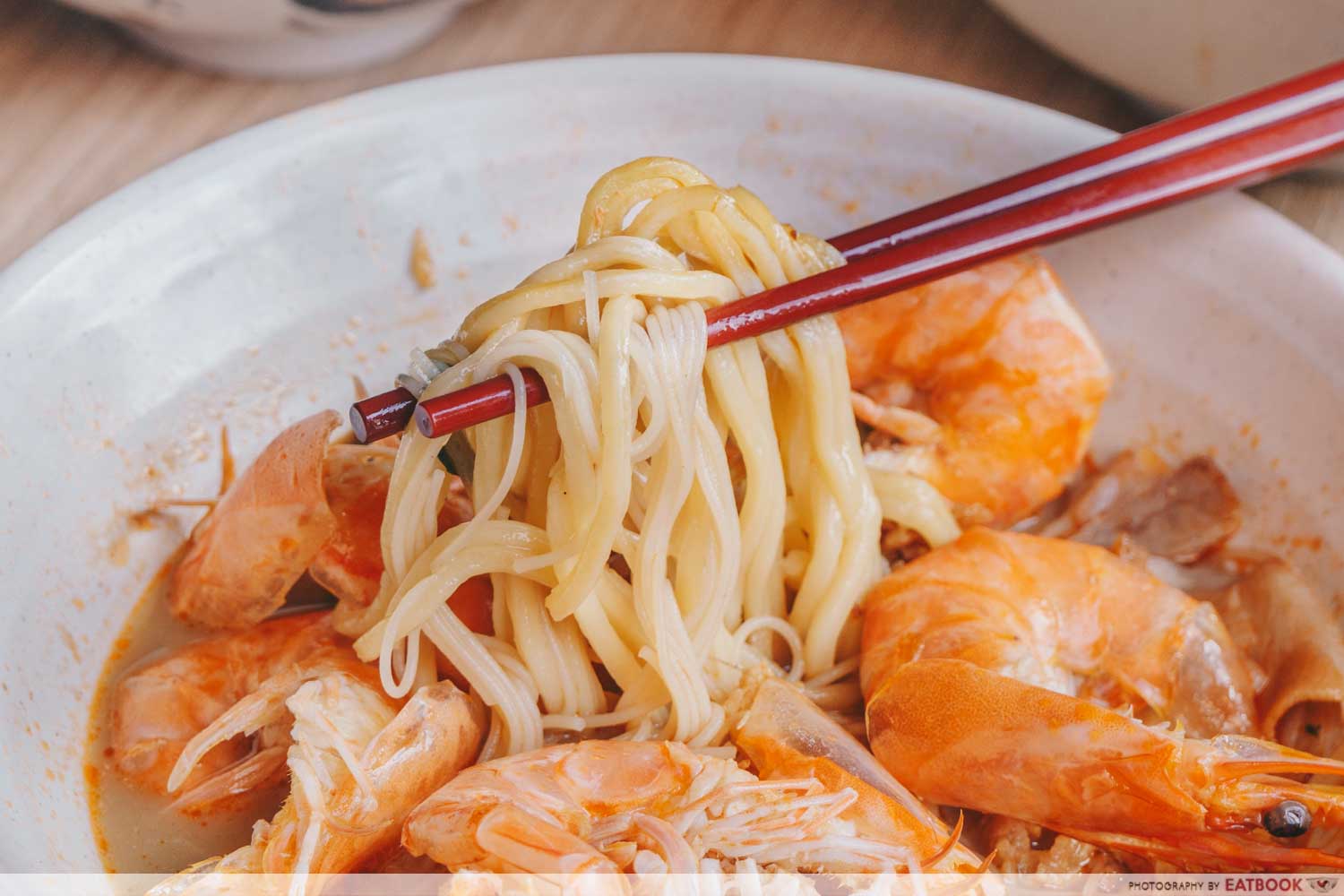 My go-to choice of noodles at any prawn mee stall is the yellow noodle and bee hoon mix. I really like their different textures, as the chewy bee hoon noodles complement the smooth feel produced by yellow noodles.
The yellow noodles were delightfully buttery. I was glad that its distinct alkaline taste did not overpower my palate as I'm not a fan of a strong alkaline taste. 
Despite how sinful pork lard is, I do have a soft spot for these crispy delights that are filled with sacs of creamy oil. Hence, when I spotted the copious amounts of pork lard in my bowl, I let out a soft cry of happiness.
Biting into the crisp pork lard produced bursts of umami-licious oils, which provided a greater depth of flavour to my spoonfuls of prawns and noodles.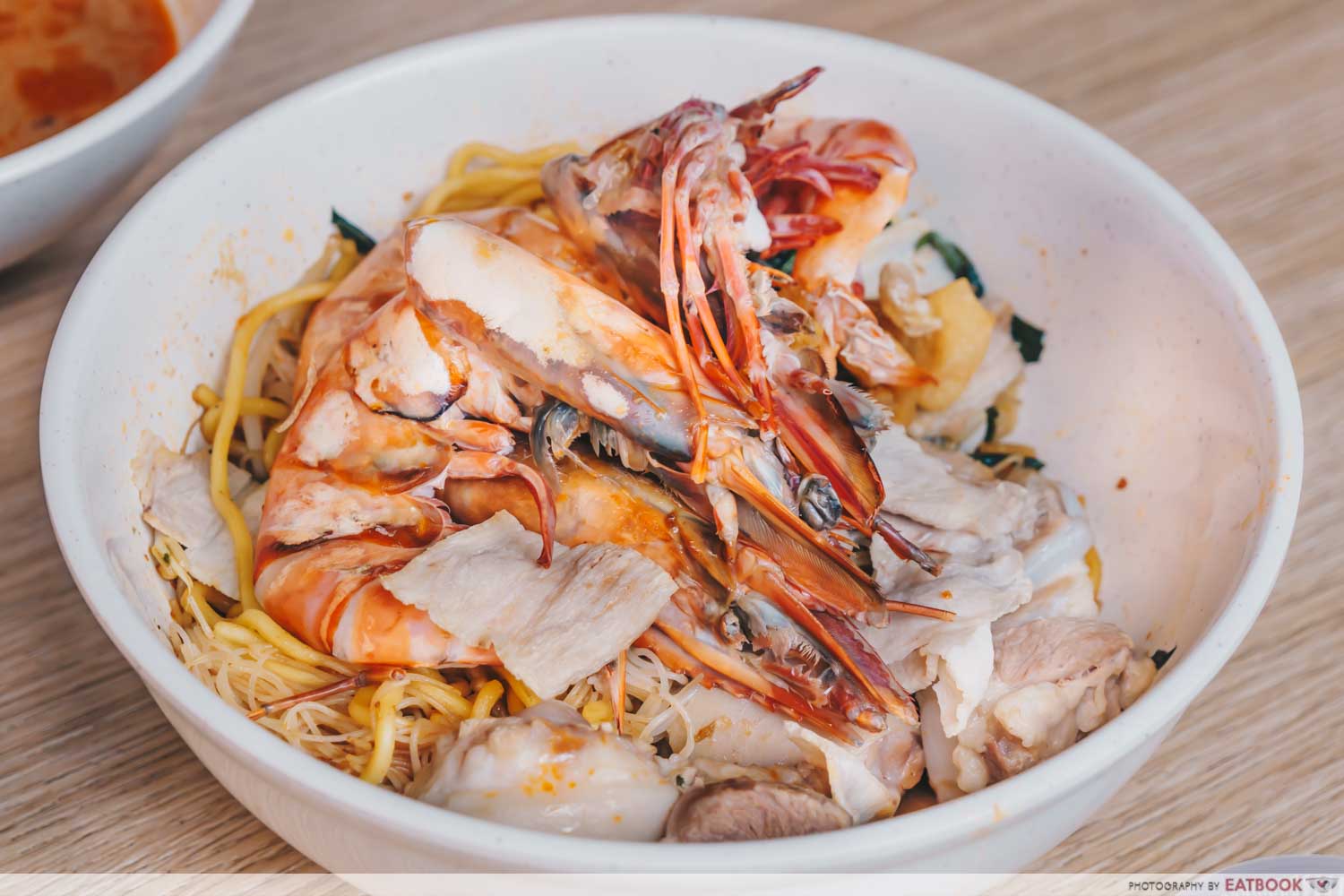 Catering to Singaporeans' love for jumbo prawns, the Supreme Big Prawn Noodle ($12.50) is filled with humongous prawns, decadent pork belly slices, pork ribs, pork tails, and finished with fibrous bean sprouts and kangkong.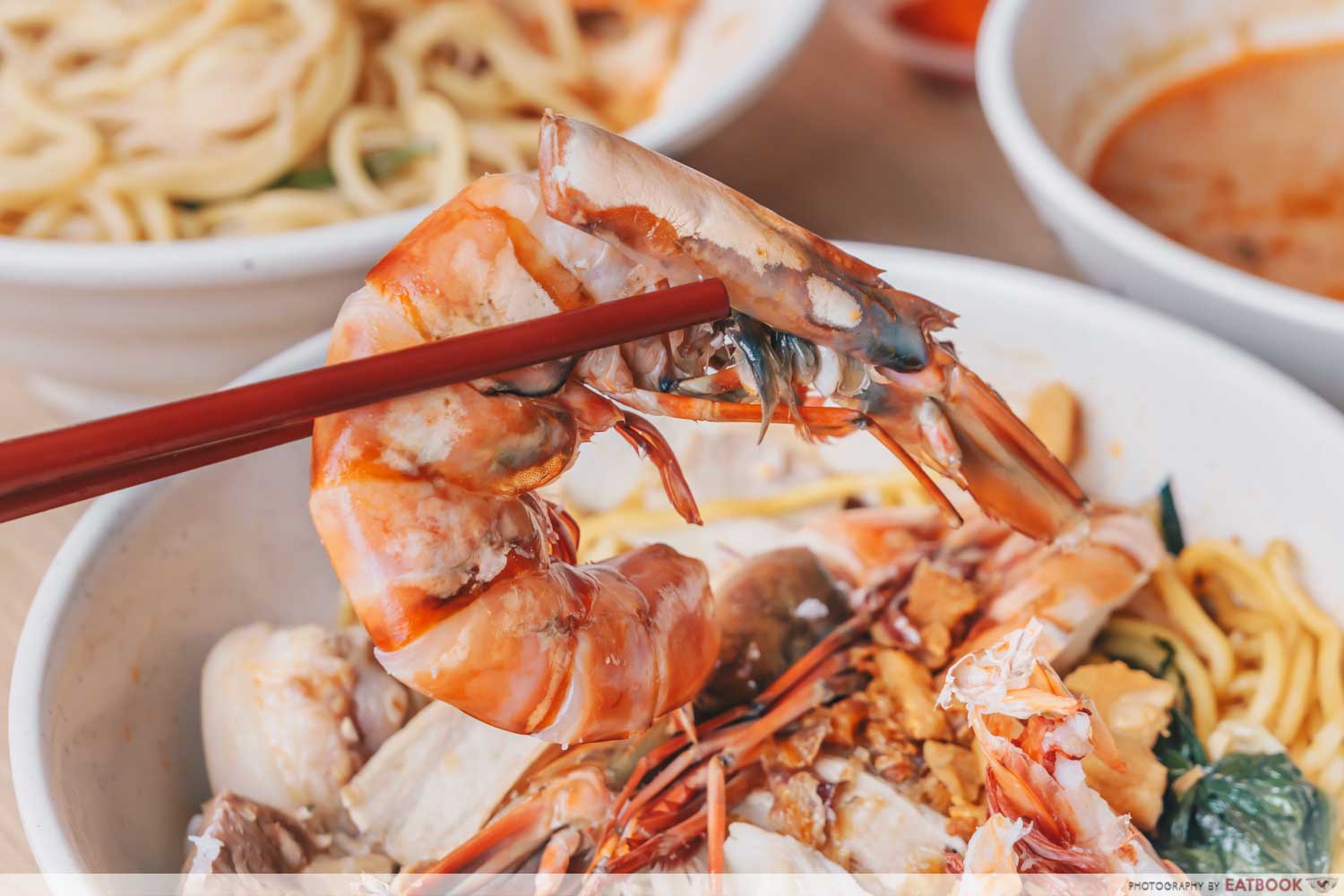 At first glance, these giant sea prawns looked menacing. Their sharp claws and bright red body harshly reflected the midday sun. "Must've been one heck of a creature at its prime," my dining companion remarked, and we couldn't wait to feast on this monstrosity.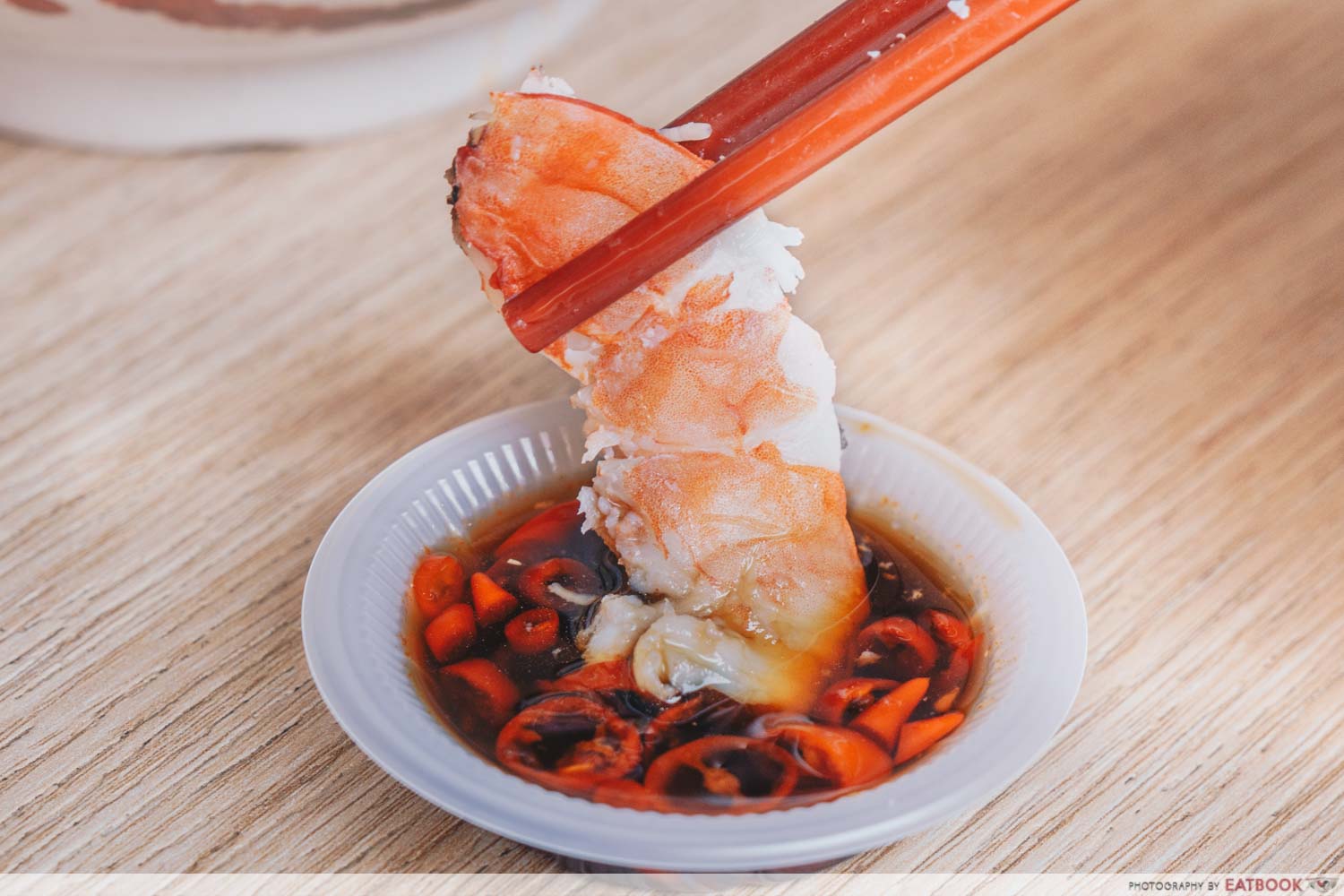 When peeled open, the fierce-looking prawns were a sharp contrast to their innocently sweet and tender prawn meat. Dipping the plump prawn meat into the chilli in soya sauce gave the meat a deeper flavour profile, as the sweet and salty flavours of the flesh had a nice kick of spice. My only qualm was that it was hard to peel the prawns, and perhaps the freshness of these prawns could be improved.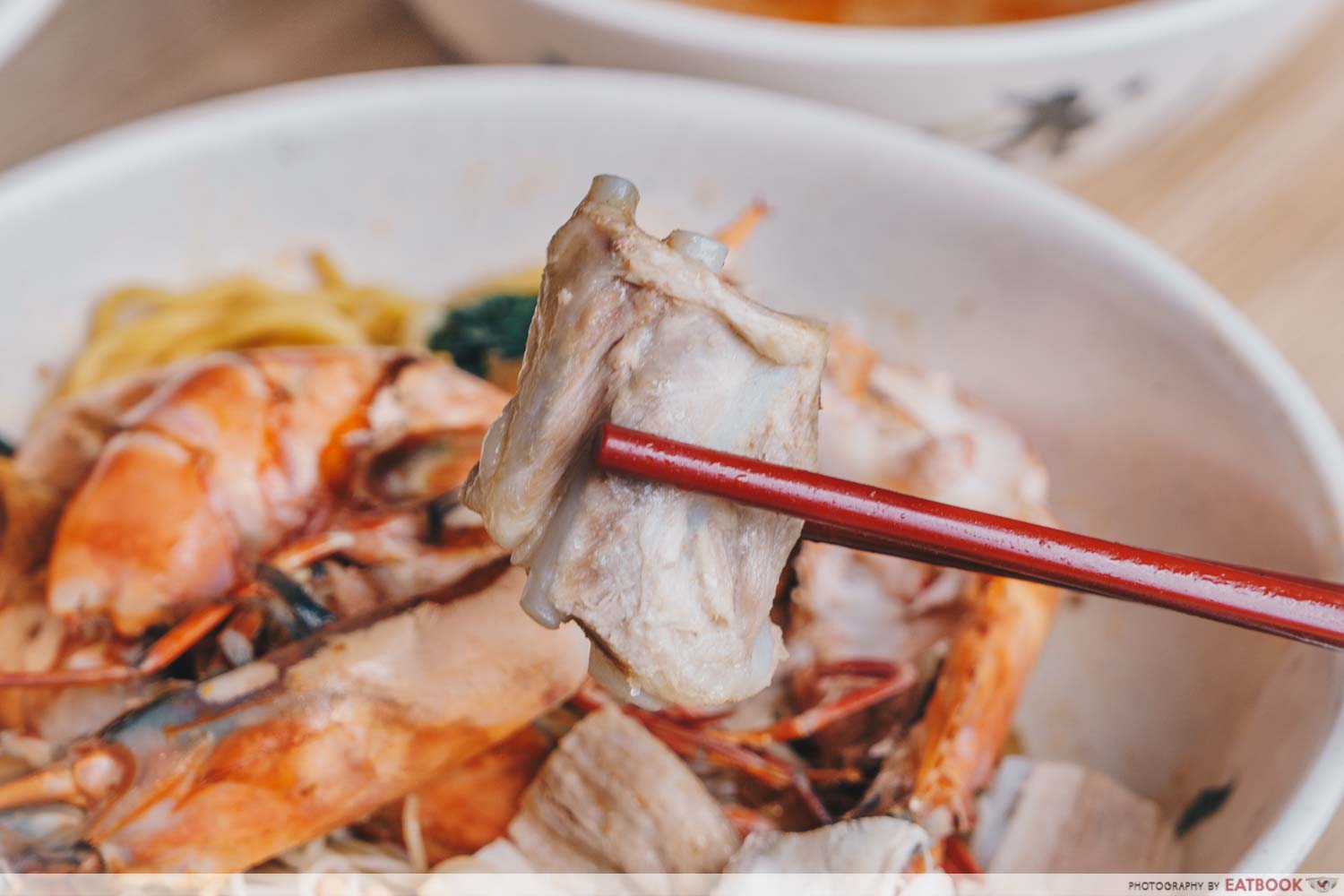 The pork ribs were succulent and tender, and its meat fell off the bone with ease. Like butter on a hot pan, the creamy pork fat melted in my mouth beautifully. I liked that a generous amount of pork ribs were provided in the bowl, making for a satisfying, meaty mouthful.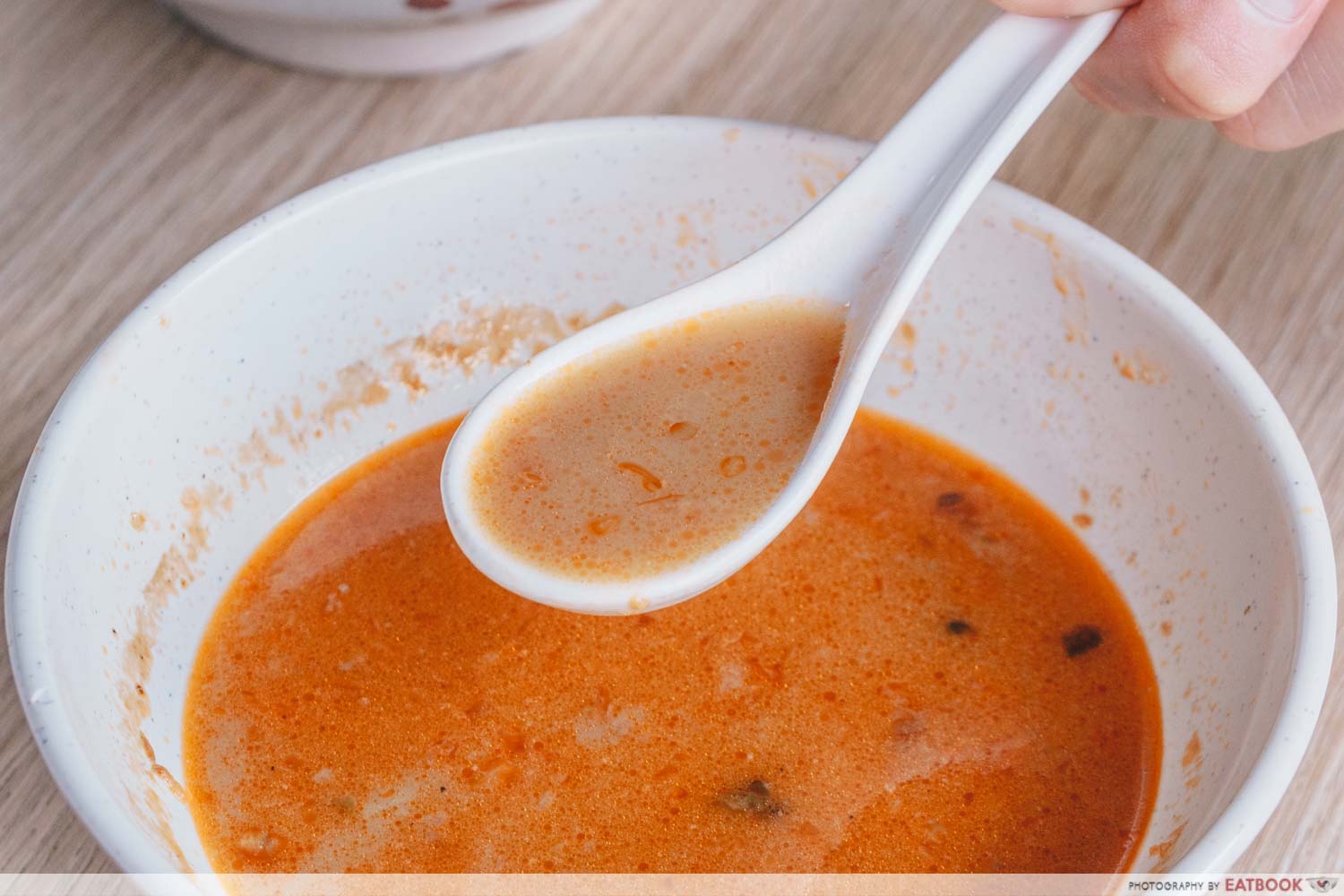 East Treasure Speciality Prawn Noodle's signature prawn broth accompanies every bowl of dry noodles. It was full-bodied and full of umami. Sadly, I found it to be slightly salty and too rich for my liking.
Ambience at East Treasure Speciality Prawn Noodle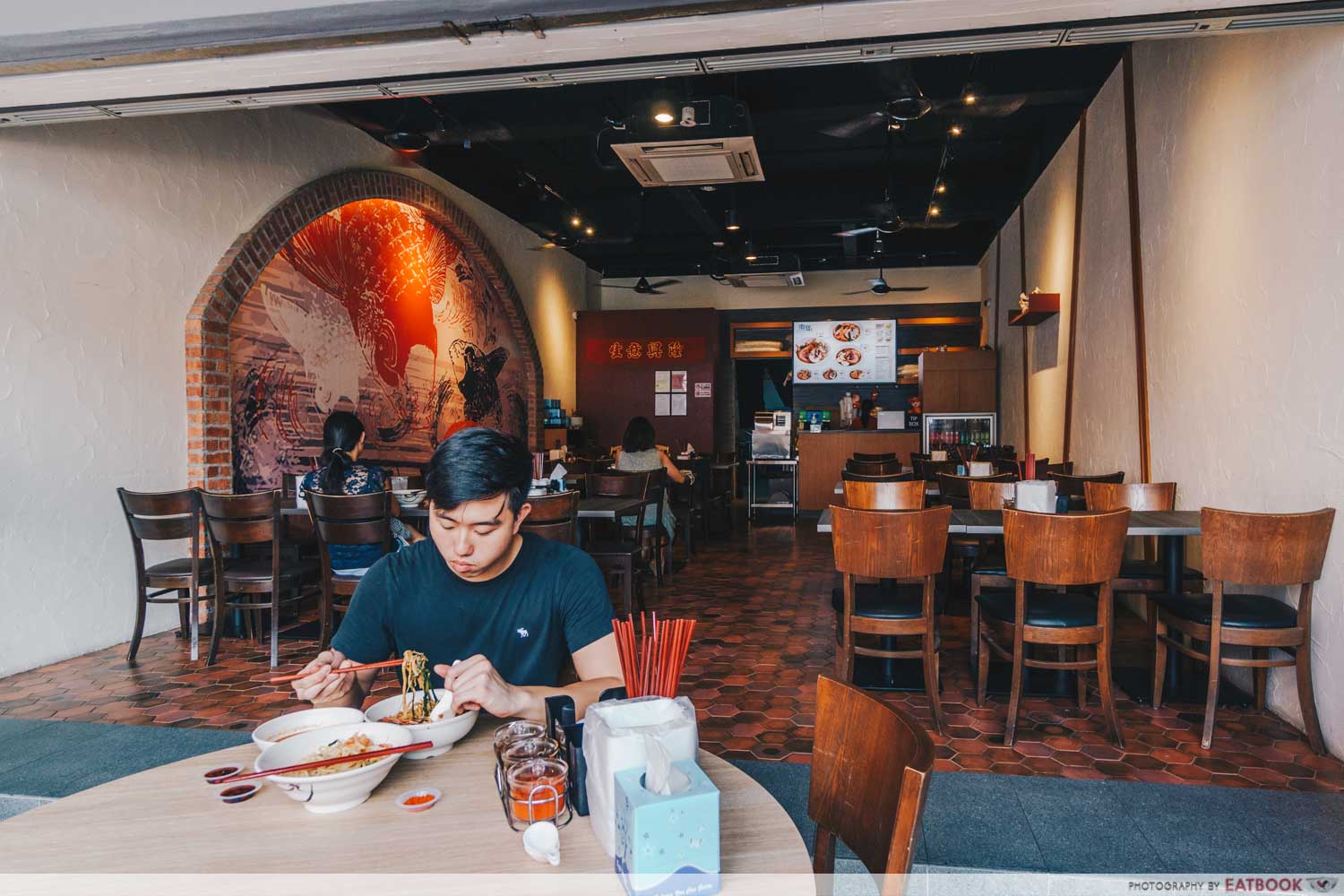 The simple wooden chairs and round tables against the backdrop of a beautiful koi fish make for a rather rustic atmosphere. Even though the restaurant has no doors and is in the embrace of the Singapore heat, you'll still be able to dine comfortably as the many ceiling fans make for a cool setting. 
The verdict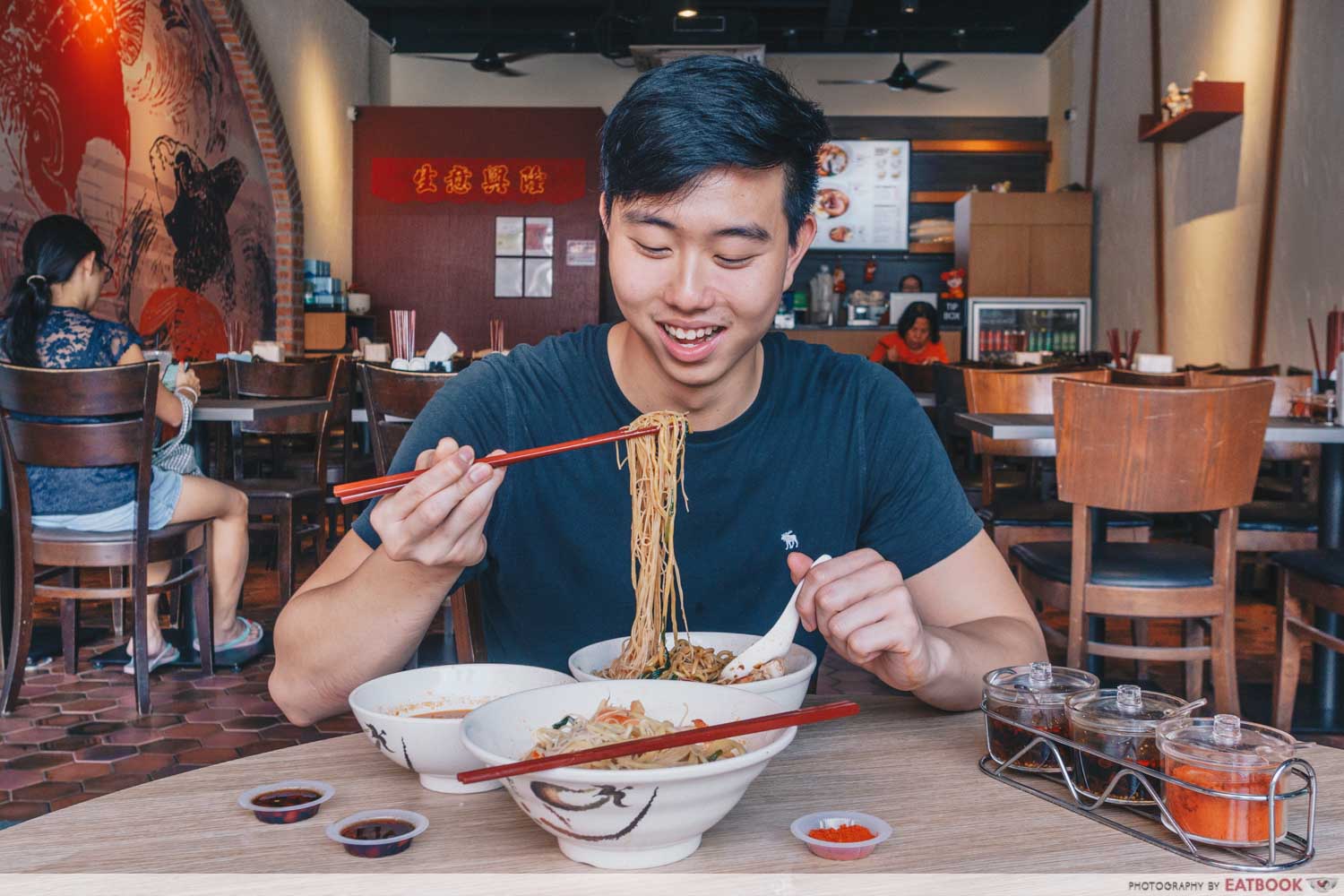 With fresh prawns and a generous amount of ingredients, all at a price of $5, the Classic Prawn Noodle offers the most bang for your buck. That alone is enough to reckon a repeat visit from me.
For more solid prawn mee stalls, check out Big Prawn Noodles, Prawn & Mee. If you're craving more tasty prawn noodles that do not break the bank, do visit these cheap prawn mee in Singapore.
10 Prawn Mee So Cheap And Shiok You'll Willingly Queue For Them Again
Address: 328 Joo Chiat Road, #01-01, Singapore 427585
Opening hours: Daily 11:30am to 10pm
Tel: 6247 7545
Website
East Treasure Speciality Prawn Noodle is not a halal-certified eatery.
Photos taken by Bevelyn Tan.
This is an independent review by Eatbook.sg.
East Treasure Speciality Prawn Noodle
Summary
Pros
– Fresh prawns
– Tender pork ribs
– Springy noodles
– Generous portions 
Cons
– Broth was slightly salty
– Hard to peel off the shells of the big sea prawns
Recommended dishes: Classic Prawn Noodle ($5), Supreme Big Prawn Noodle ($12.50)
Opening hours: Daily 11:30am to 10pm
Address: 328 Joo Chiat Road, #01-01, Singapore 427585