Huge prawns and tender pork ribs at Da Dong Prawn Noodles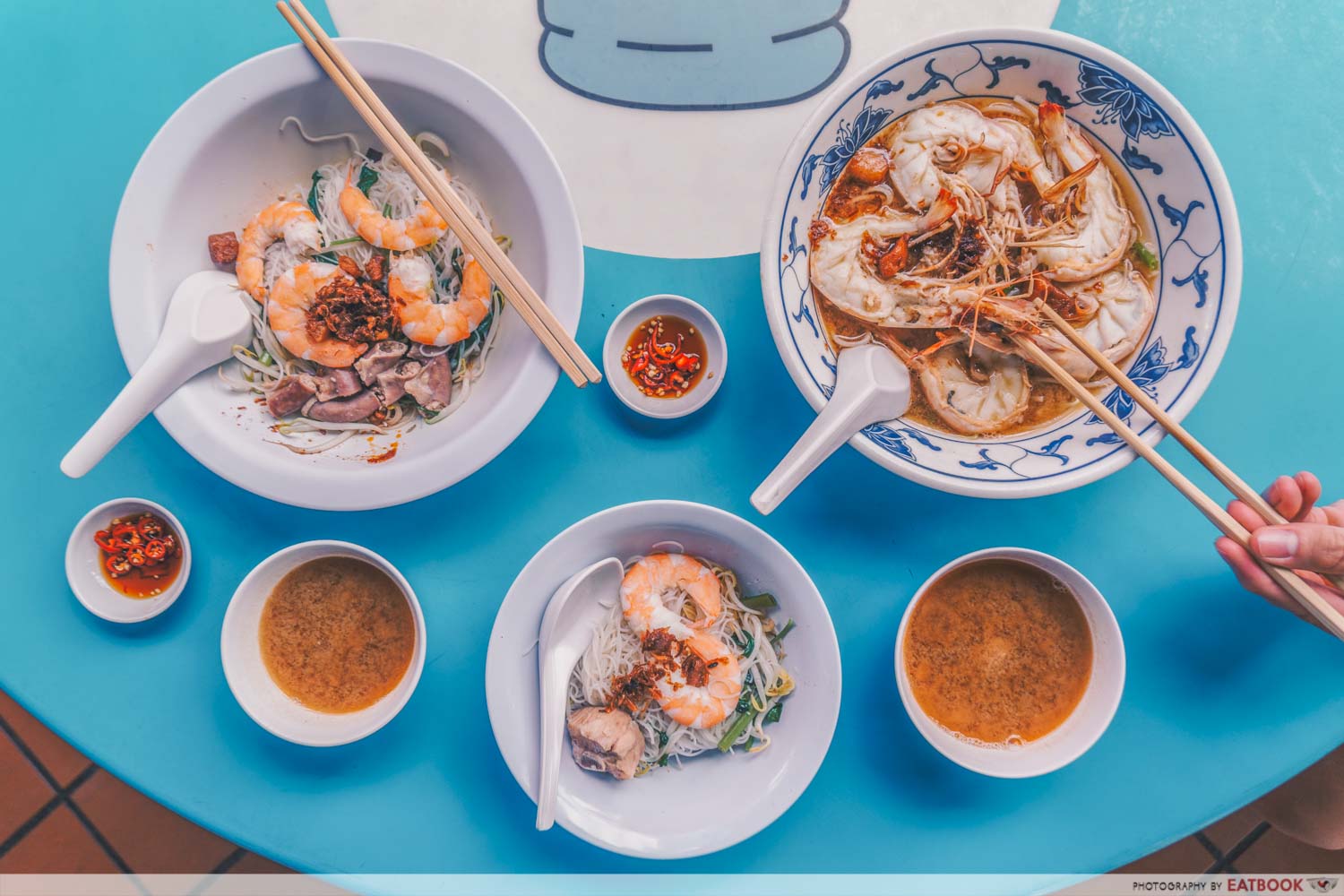 I gotta admit, I'm a fussy eater when it comes to prawns, as I avoid the frozen ones. The dry and tough meat of lacklustre prawns always seems to turn me away from many prawn noodle stalls. Of course, there are other elements to the dish, such as the springiness of the noodles and the flavour of the broth. After savouring the food there, I'm glad to say that Da Dong Prawn Noodles ticks off most of my boxes for a solid bowl of prawn mee. 
This humble stall is helmed by a young hawkerpreneur, 31-year-old Watson Lim. Along with a few other young men, he consistently dishes out steaming bowls of prawn noodles for the hungry masses from 7:30 in the morning.
Founded in 1966 by Watson's father, Mr Lim Kim Khoon, Da Dong Prawn Noodles has been around for quite a while. In a bid to uphold his father's legacy, Watson took over the business in 2018, instead of a corporate position. It has paid off, with many of his father's regular customers commenting that Watson's food is just as comforting.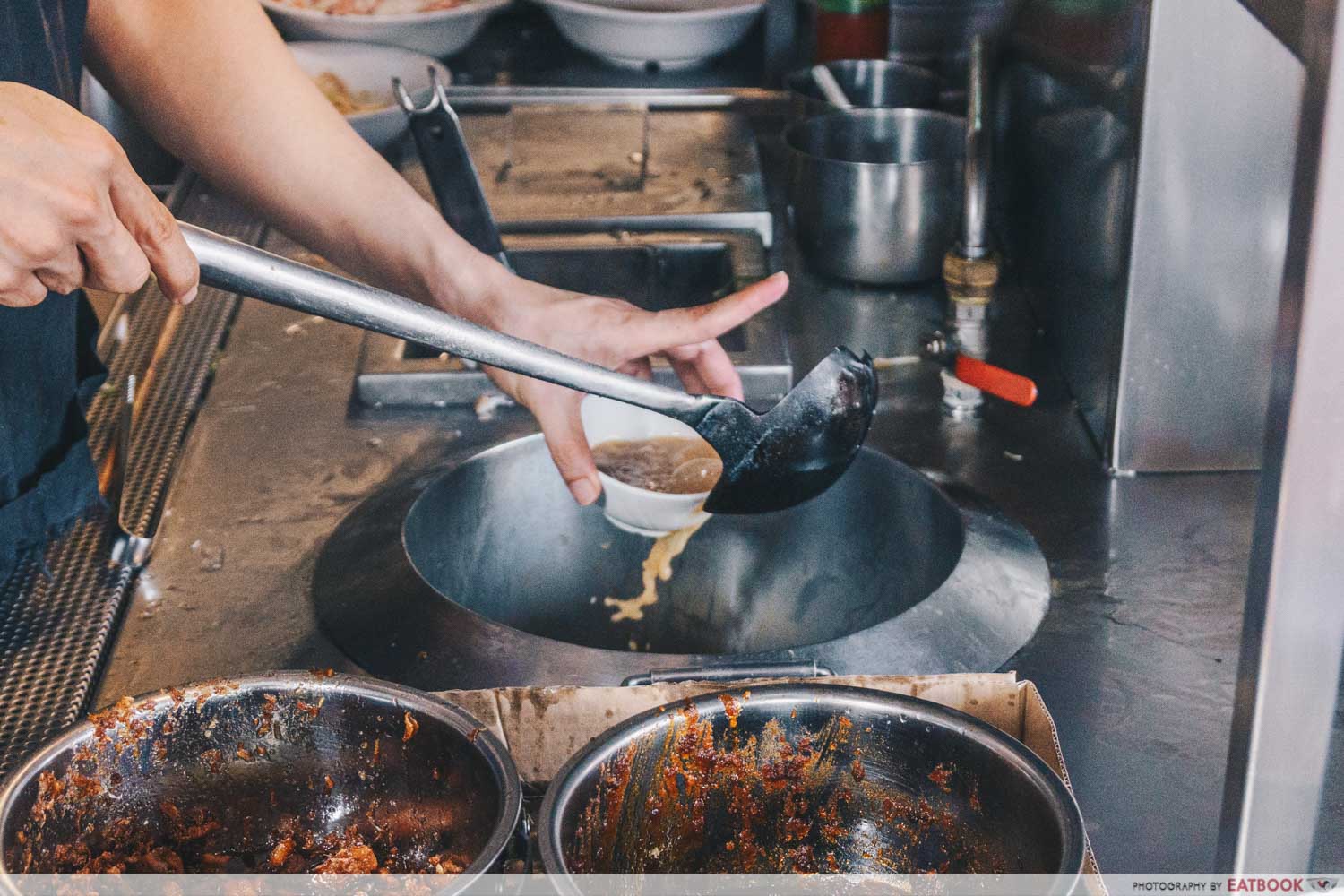 Many have raved about Da Dong's tasty prawn broth, which Watson begins preparing as early as four in the morning! Watson does not entertain refills of the broth, and it's a highly prized asset for customers to savour until the last drop.
Food at Da Dong Prawn Noodles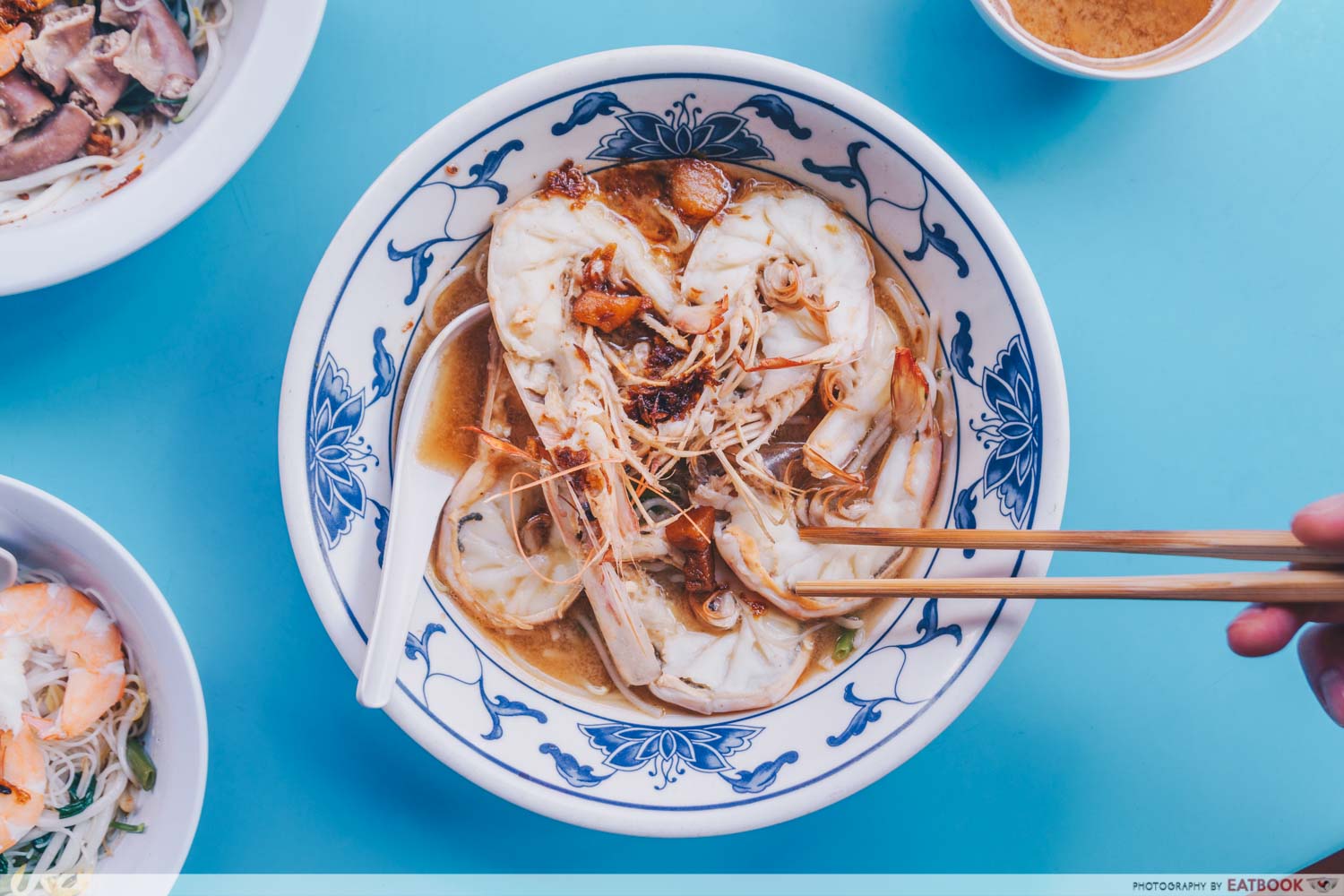 Since this was my first meal of the day, I was craving for a hearty breakfast. Their Big Prawn Noodles ($15) sounded like a good idea for my rumbling stomach, and I confidently requested their large soup variation.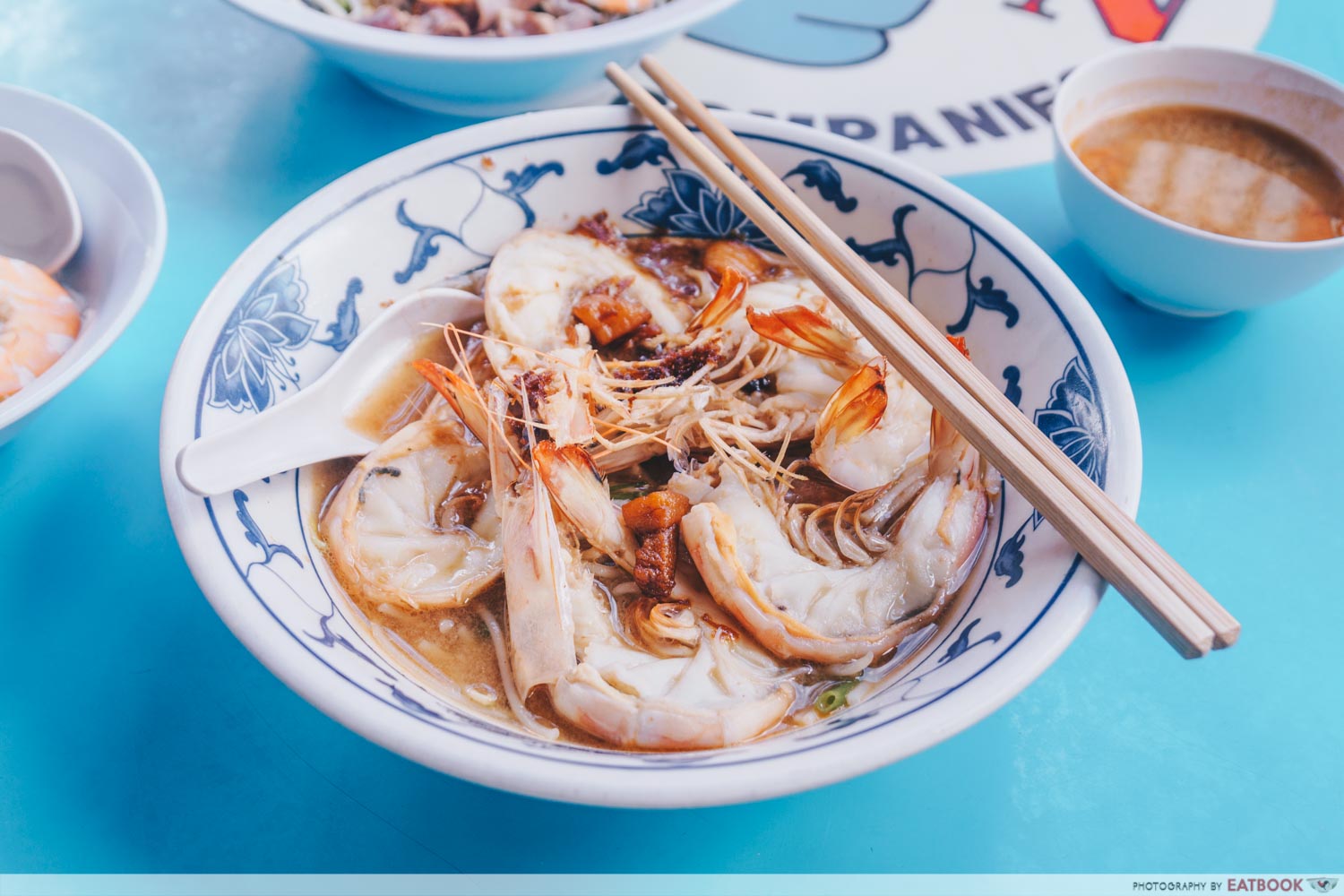 The hefty price of $15 for a bowl of prawn noodles will definitely draw shouts of "Preposterous!", and I too was skeptical. But after seeing five huge prawns in my bowl, I dived straight in.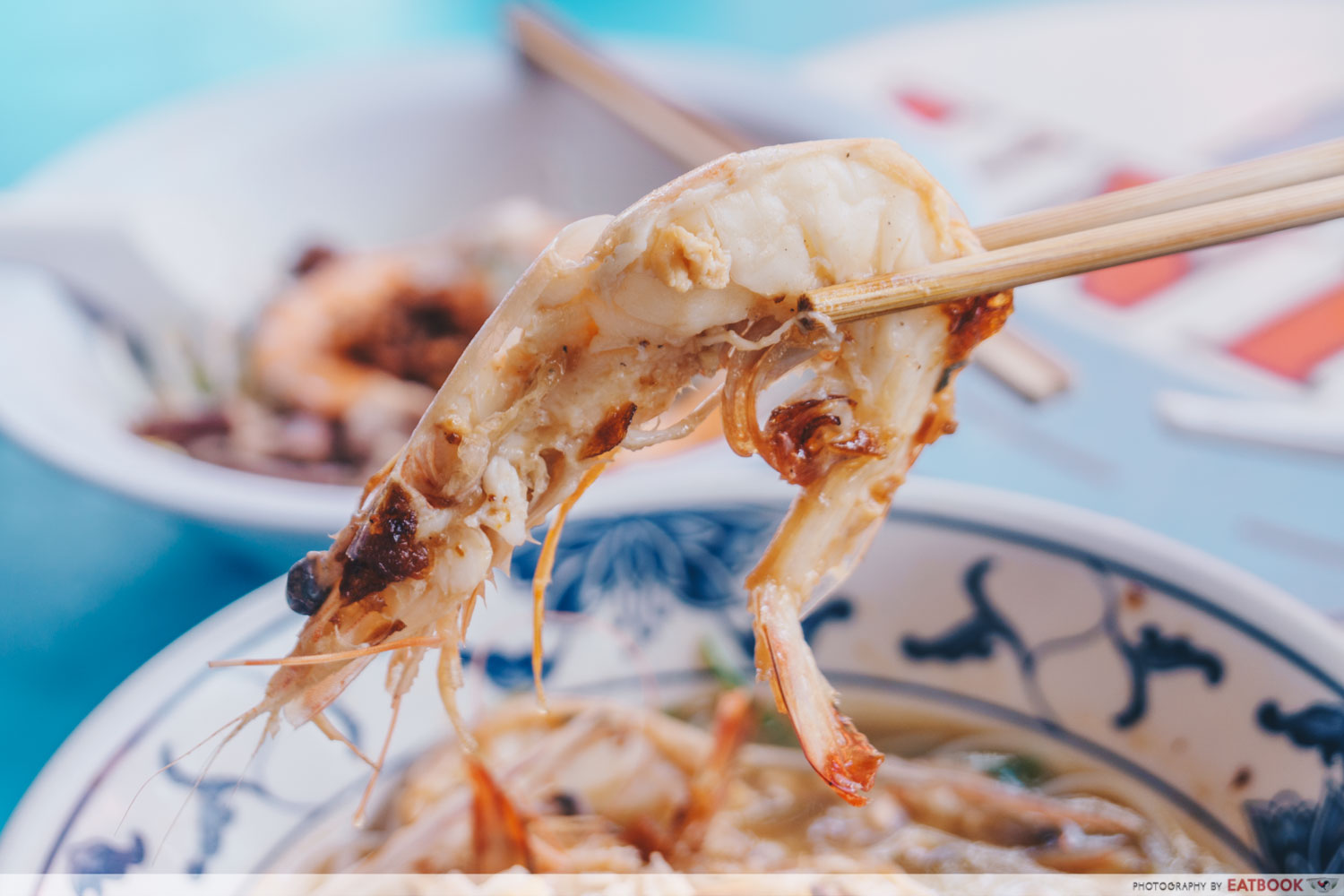 The prawns were plump and juicy, and they came off the shell with relative ease. I felt that the meat was on the softer side, perhaps due to being immersed in the flavourful broth, which produced subtle sweet and salty undertones. Fresh prawns are usually on the sweeter side, but that distinct sweetness was too subtle in Da Dong's large prawns. It was sad to see that the meat near the head was squashed in some of the prawns, which made only half of them edible. These large prawns were decent, but I've had better.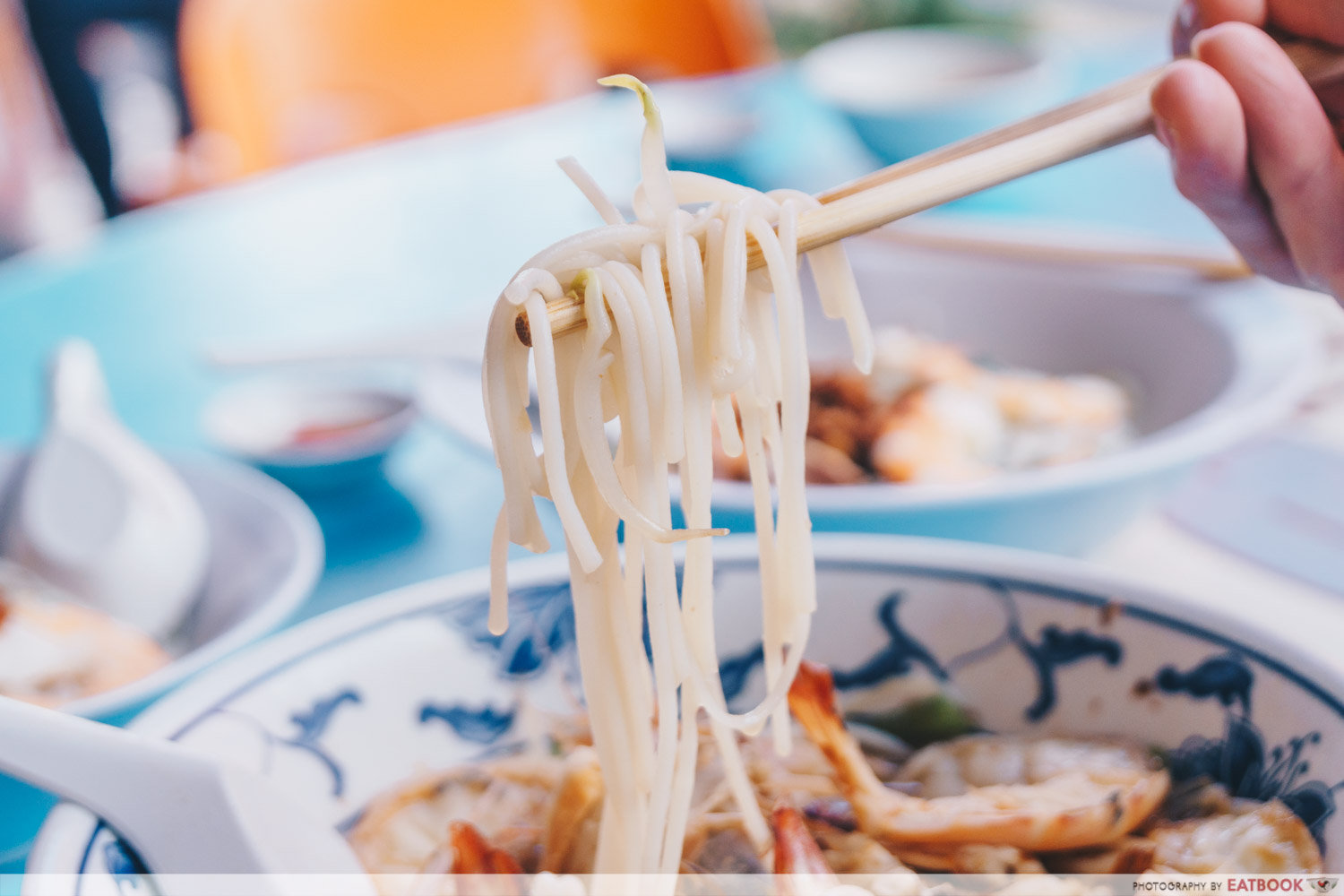 The thick bee hoon noodles were smooth and slippery, and slurping them with the tasty broth was indeed satisfying.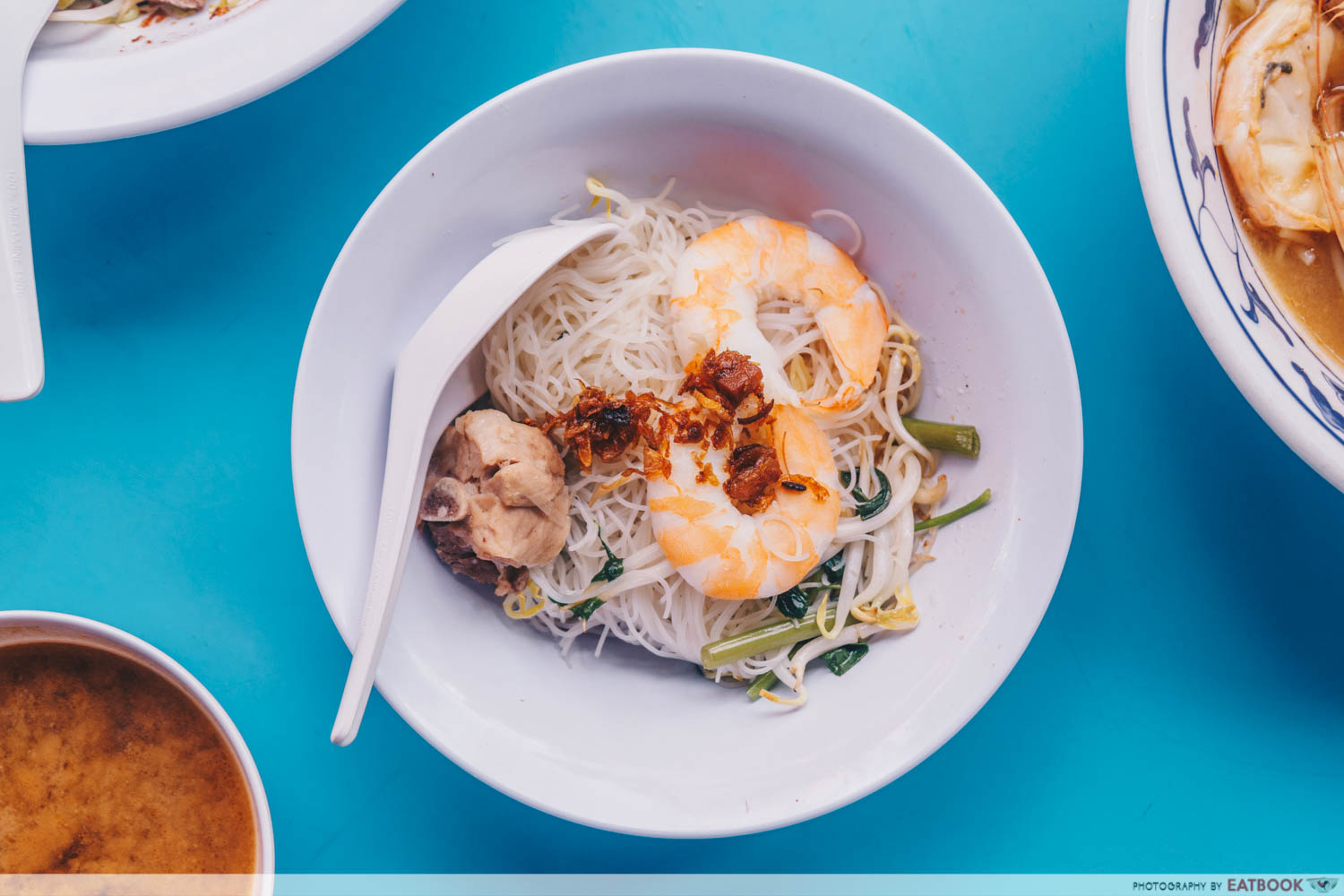 Pork ribs are a usual complement to prawns at many prawn noodle stalls. Hence we got the small, dry version of the Pork Rib Prawn Noodles ($5). The noodles arrived in a small bowl, and its modest portion size was akin to those at Thai boat noodle stalls.
I expected a lot from Da Dong's pork ribs as many food publishers have raved about them. However, I was sorely disappointed. The meagre amount of meat around the pork rib, though tender, tasted rather dry.
I only spotted a single pork rib, and I rummaged through the bowl with my chopsticks in search of more. Sadly, it was to no avail. Even though I asked for the small bowl, I felt that Watson could've been more generous with his pork ribs.
On the flip side, the two prawns were stunners. They gave off a nice pink hue, and each piece was considerably sweeter and firmer than the big prawns. The sweetness of the prawns and the kick of spice from the chillies in soya sauce were the perfect dynamic duo.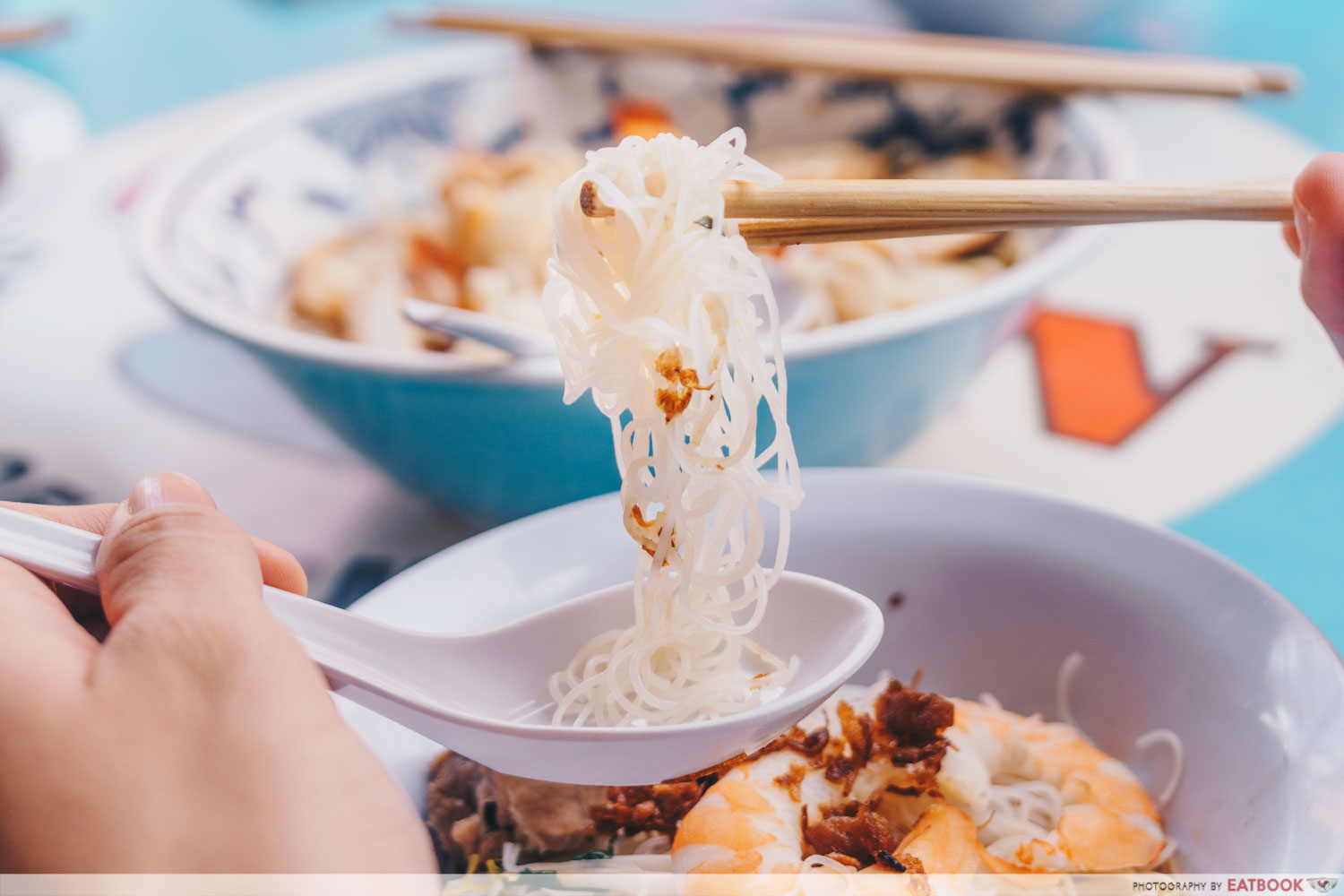 The thin bee hoon noodles were nice and springy, albeit bland. When tossed in the sweet chilli found at the bottom of the bowl, the noodles gave a good bit of flavour and spice. I personally preferred the thin bee hoon over the thick ones as the latter had just the right amount of chewiness to it.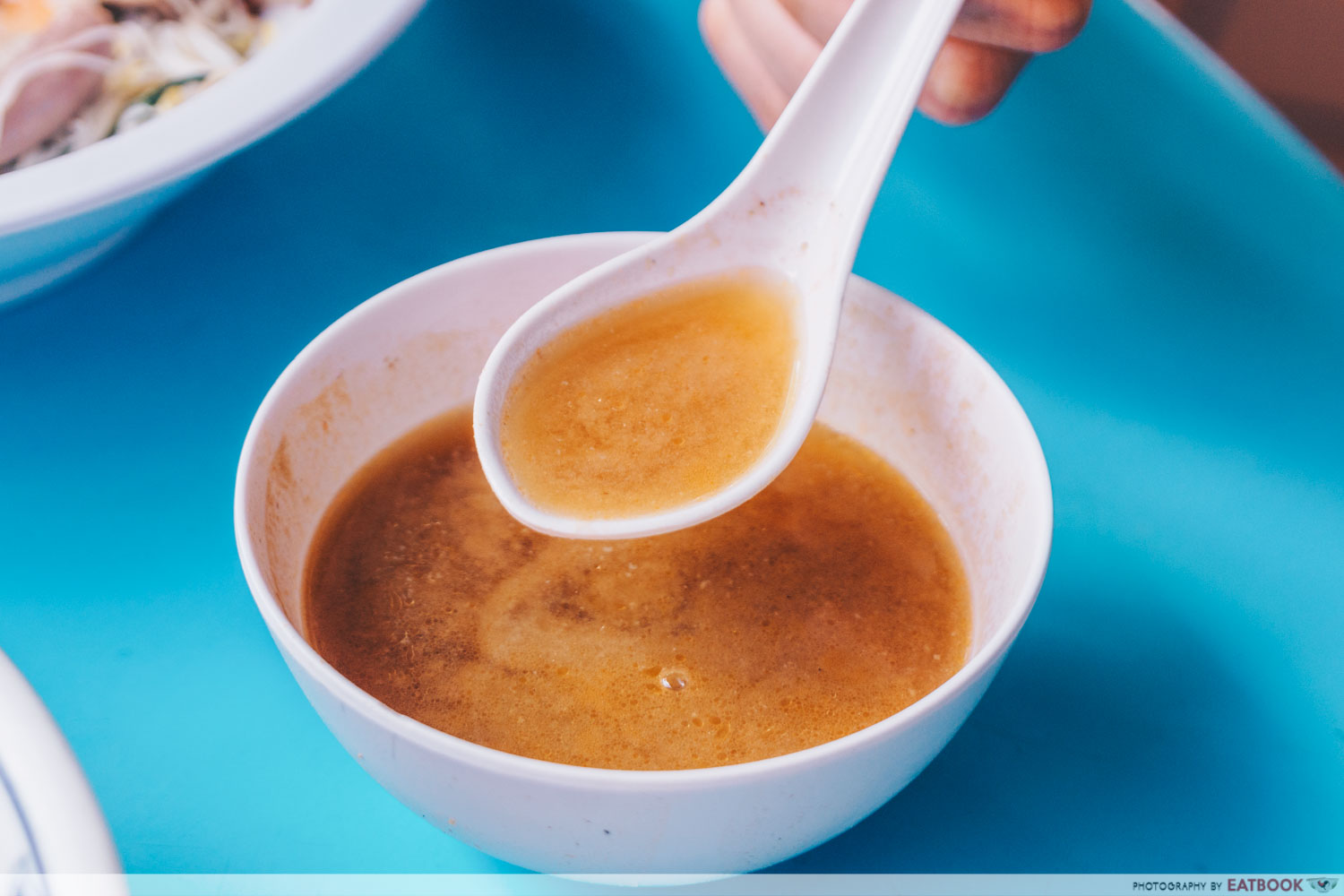 Da Dong's prawn broth is the winner, and is one of the better broths I've tasted. It's slightly more potent than the broth in regular soup prawn noodles, and comes with every bowl of dry prawn mee. Each luxurious spoonful was full-bodied yet smooth. Watson incorporates pork into the preparation of the broth, which explains why it's slightly sweeter than prawn broths elsewhere.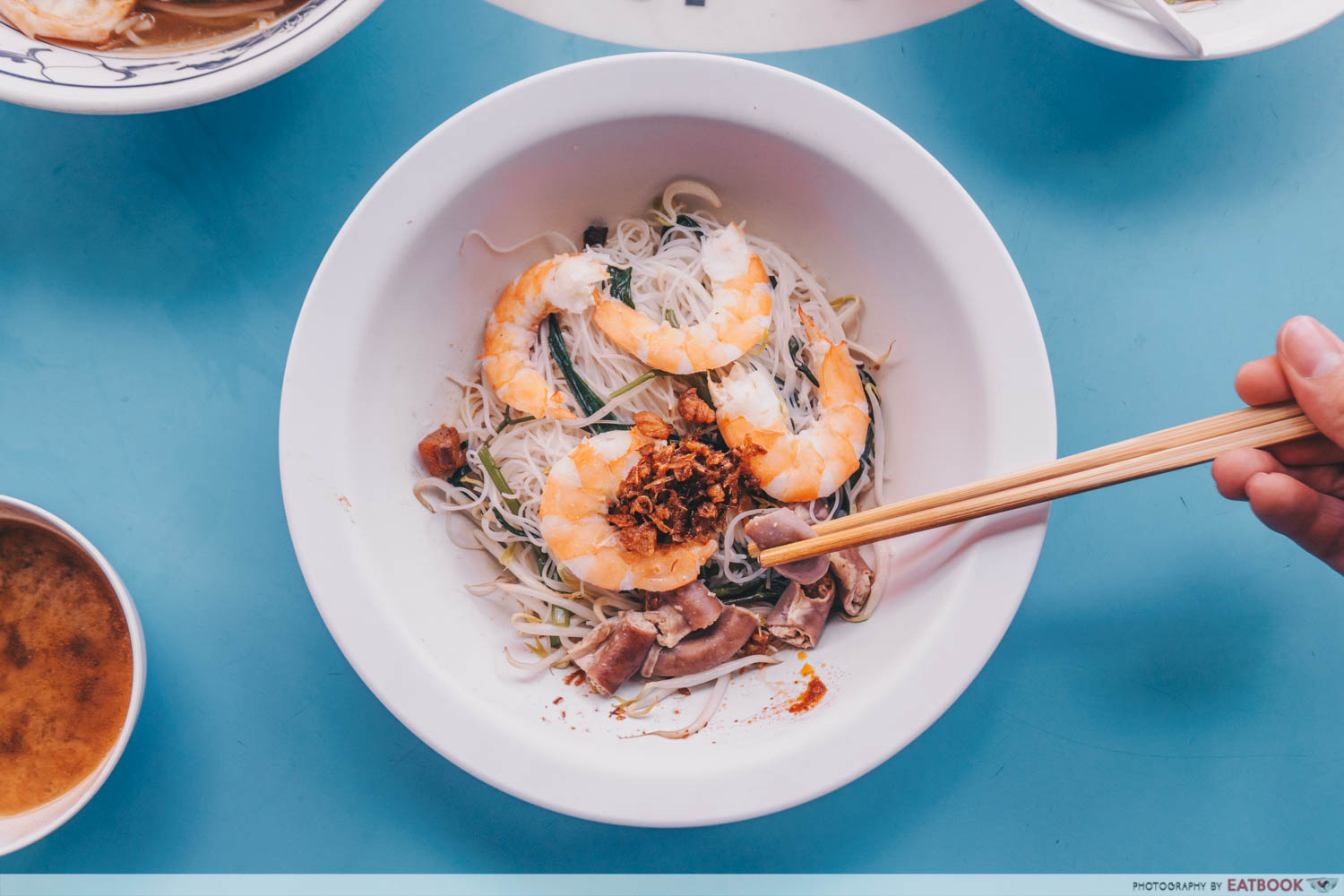 Being a huge fan of innards, I had to get their Pork Intestine Prawn Noodles ($10).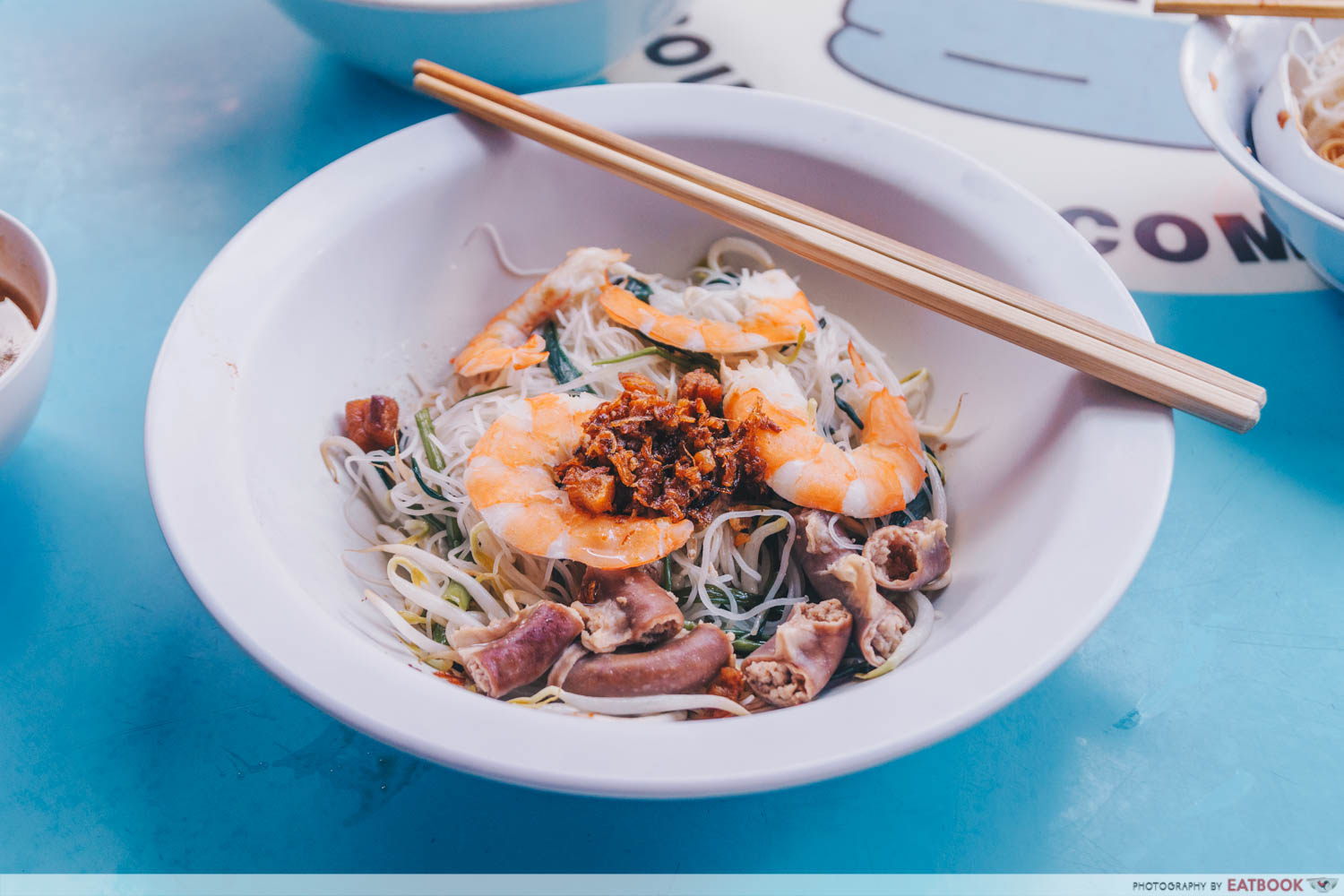 The dry noodles come with four beautiful prawns, a good amount of pork intestines, vegetables, and crispy shallots.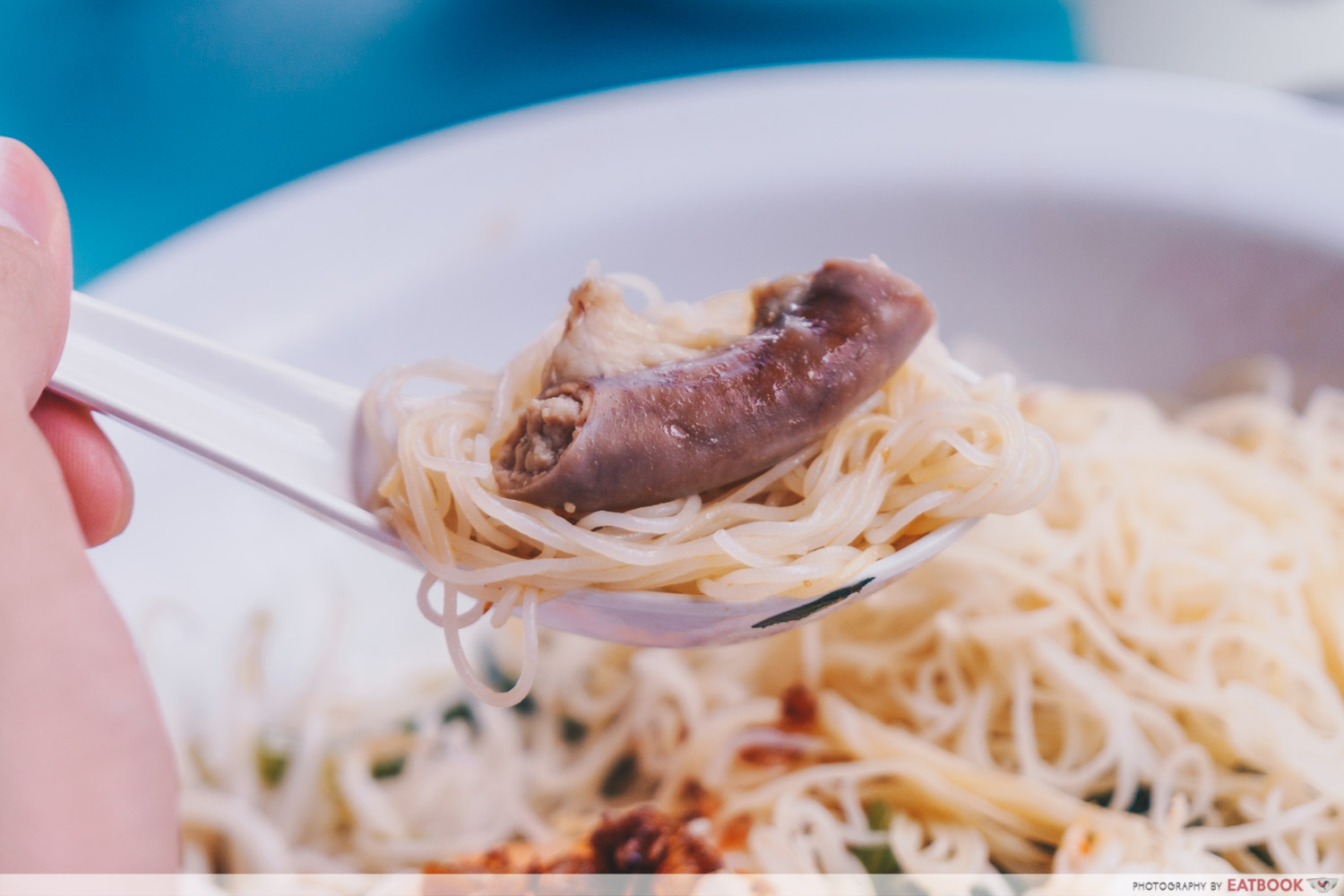 The delicious innards were flavourful, chewy, and not too gamey. It provided a nice depth of flavour to the noodles, and its distinct taste was superb.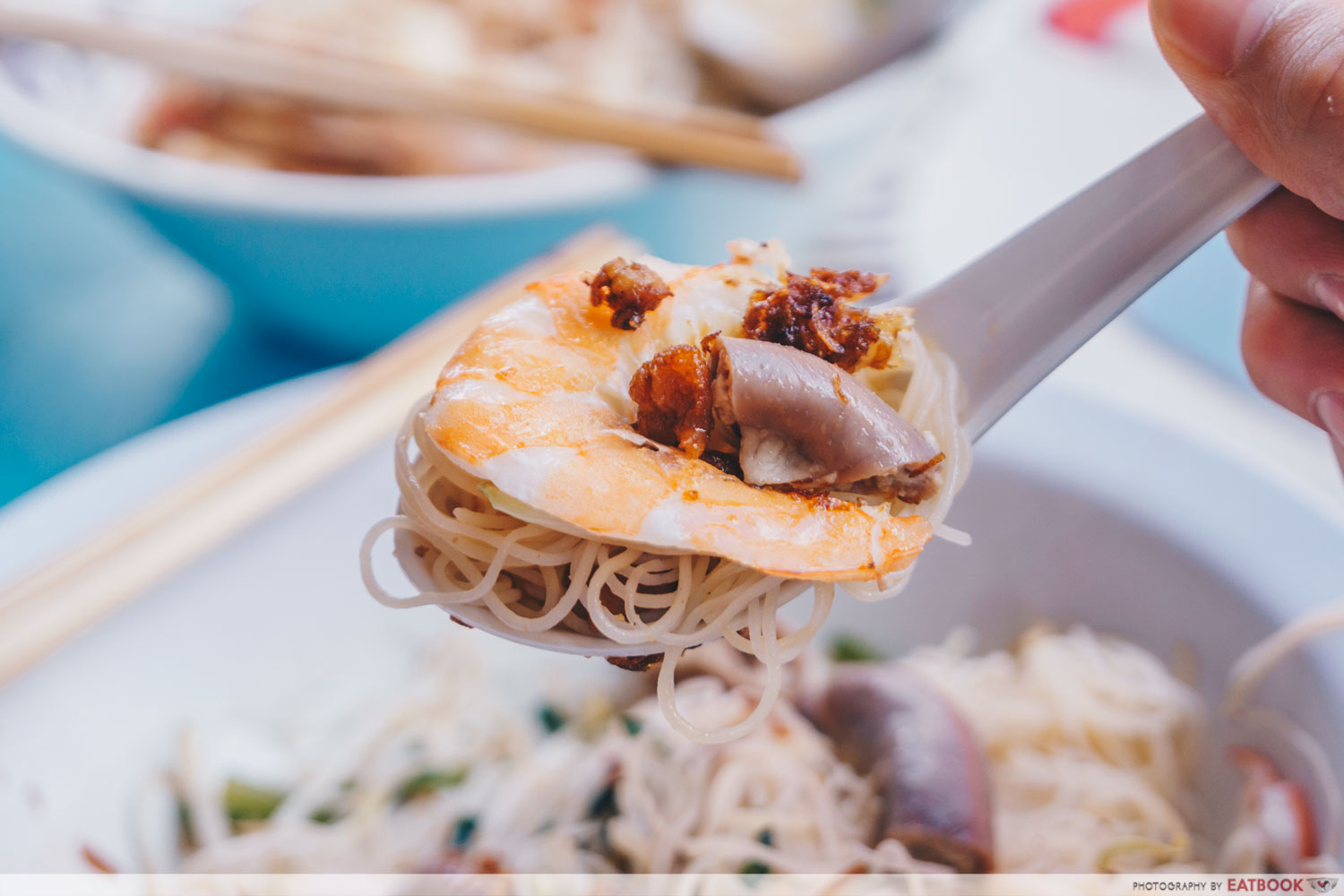 When the intestines were paired with the prawns, they gave each mouthful a decadent and rich taste. 
Each spoonful of noodles was a sinful indulgence, as generous amounts of pork lard were present in the bowl. These crispy pieces were filled with sacs of creamy oil, and they made every mouthful a delight.
Ambience at Da Dong Prawn Noodles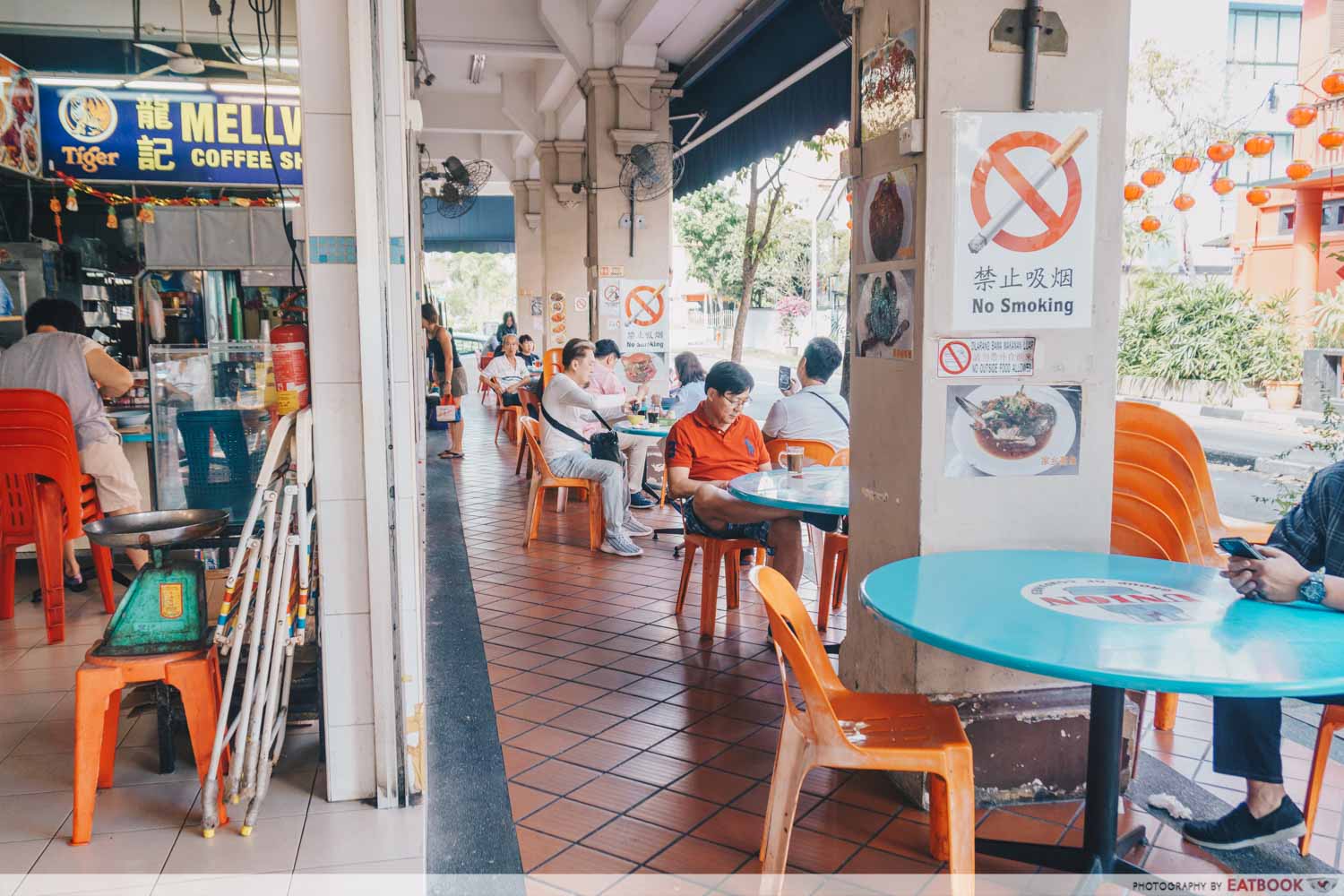 Located in an obscure coffee shop along quiet Joo Chiat Road, the stall surprisingly receives a ton of customers, especially during the breakfast hours. There are limited seats available, so do keep your eyes peeled if you want to snag a seat. The surroundings might get warm closer to lunchtime, so you might want to sit near the fans positioned at certain pillars.
The verdict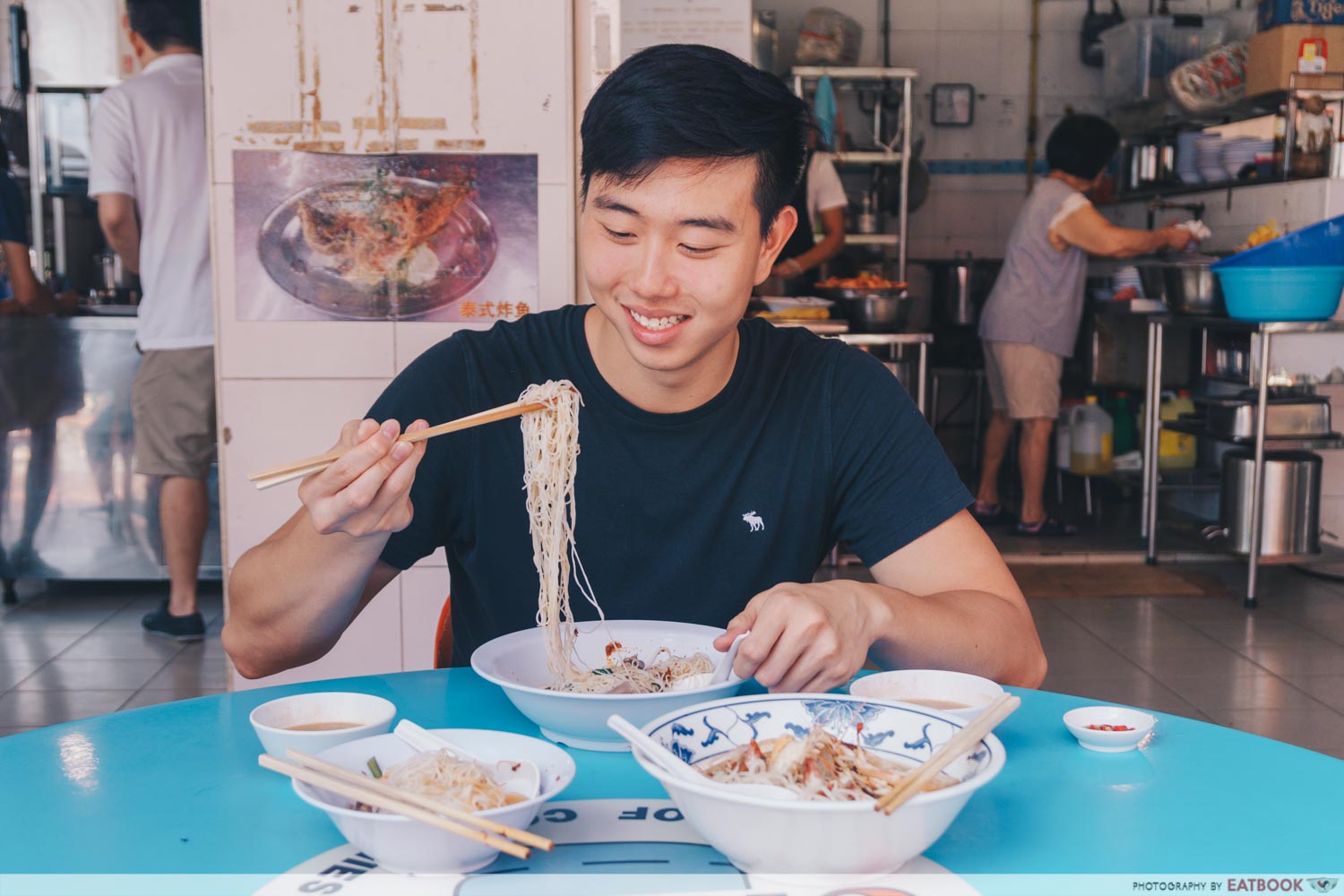 Da Dong Prawn Noodles dishes out one of the better prawn noodles I've tasted in Singapore. However, I would be lying if I said that the exorbitant prices did not put me off. Nonetheless, I'll be back for their tasty, large prawns and pleasantly flavoured broth.
Big Prawn Noodles Review: Famous Prawn Noodles That Is Worth The Travel And 30-Min Queue
For more delicious bowls of prawn noodles, check out Big Prawn Noodles, Prawn & Mee, and Chef Kang Prawn Noodle House.
Address: 354 Joo Chiat Road, Singapore 427600
Opening hours: Wed-Sat 7:30am to 2pm, Sun 7:30am to 1pm, Mon 7:30am to 2pm
Website
Da Dong Prawn Noodles is not a halal-certified eatery.
Photos taken by Chng Jia Yan.
This is an independent review by Eatbook.sg.
Summary
Pros
– Delicious prawns
– Prawns were huge
– Rich and tasty prawn broth
– Intestines were flavourful
Cons
– Small portions
– Pork ribs were dry
– Expensive for prawn noodles
Recommended dishes: Big Prawn Noodles ($15 for large), Pork Intestine Prawn Noodles ($10)
Opening hours: Wed-Sat 7:30am to 2pm, Sun 7:30am to 1pm, Mon 7:30am to 2pm
Address: 354 Joo Chiat Road, Singapore 427600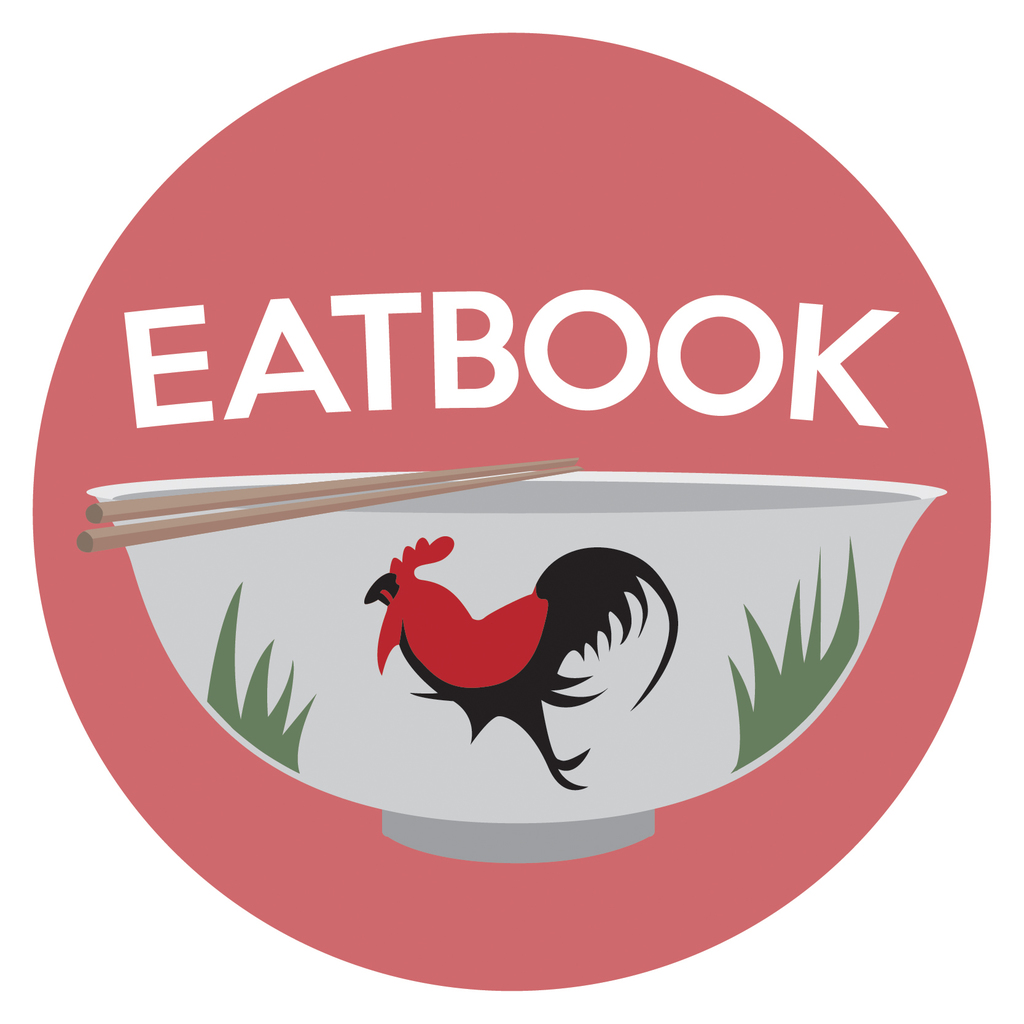 Drop us your email so you won't miss the latest news.