Chef Kang Prawn Noodle House at Toa Payoh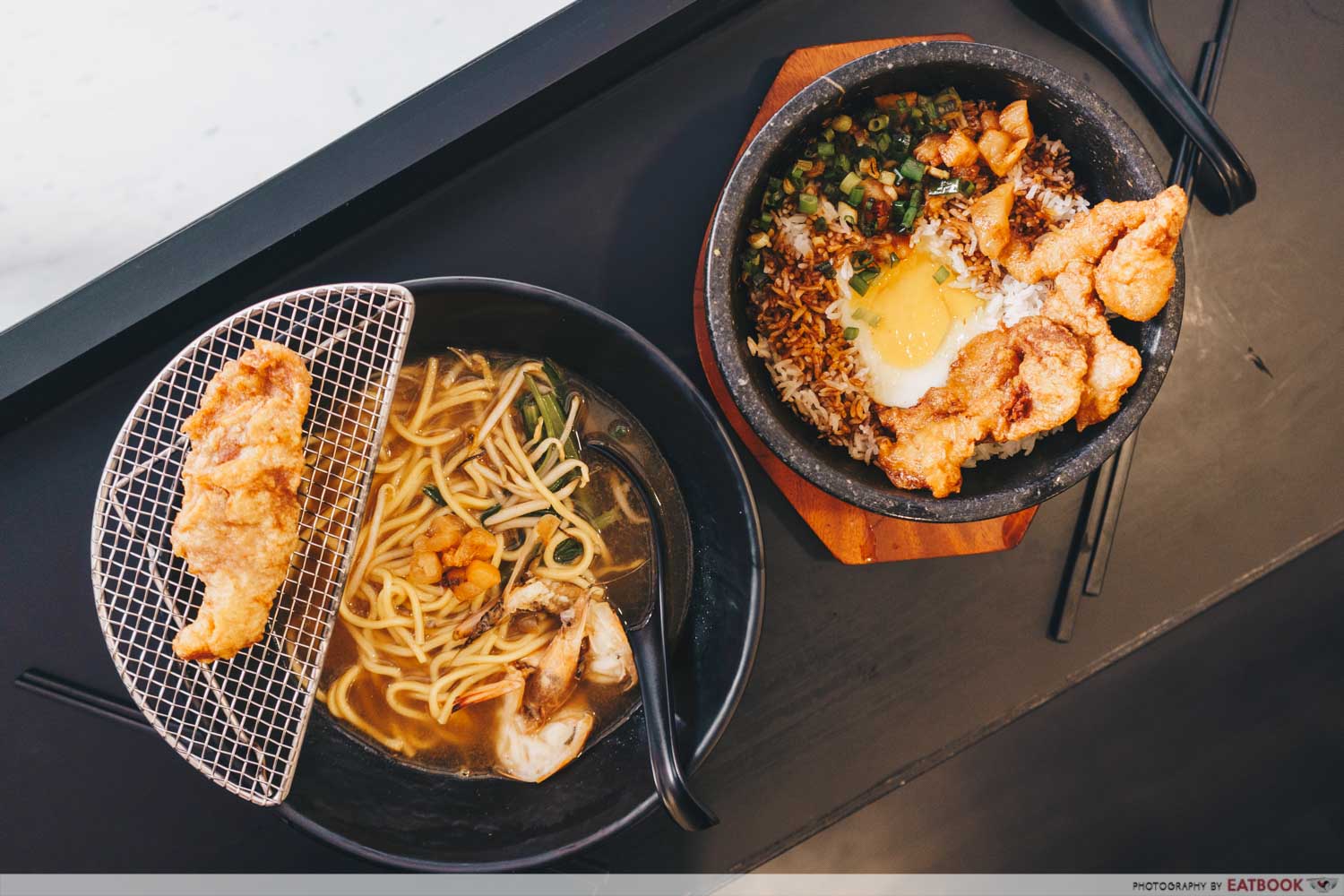 Michelin-starred Chef Kang recently came up with a new name-branded restaurant that serves prawn noodles in a neighbourhood setting. Chef Kang Prawn Noodle House in Toa Payoh is located a short distance away from his previous venture— a wanton mee stall that earned a Michelin Bib Gourmand.
But unlike the wanton mee place, which can be found in a hawker centre, his noodle house is located in an air-conditioned unit, tucked away at the base of a HDB block. It sells only two dishes, and even though we came down before opening hours, there was already a long queue forming. We managed to slip in near the back, moments before a large group took their places behind us.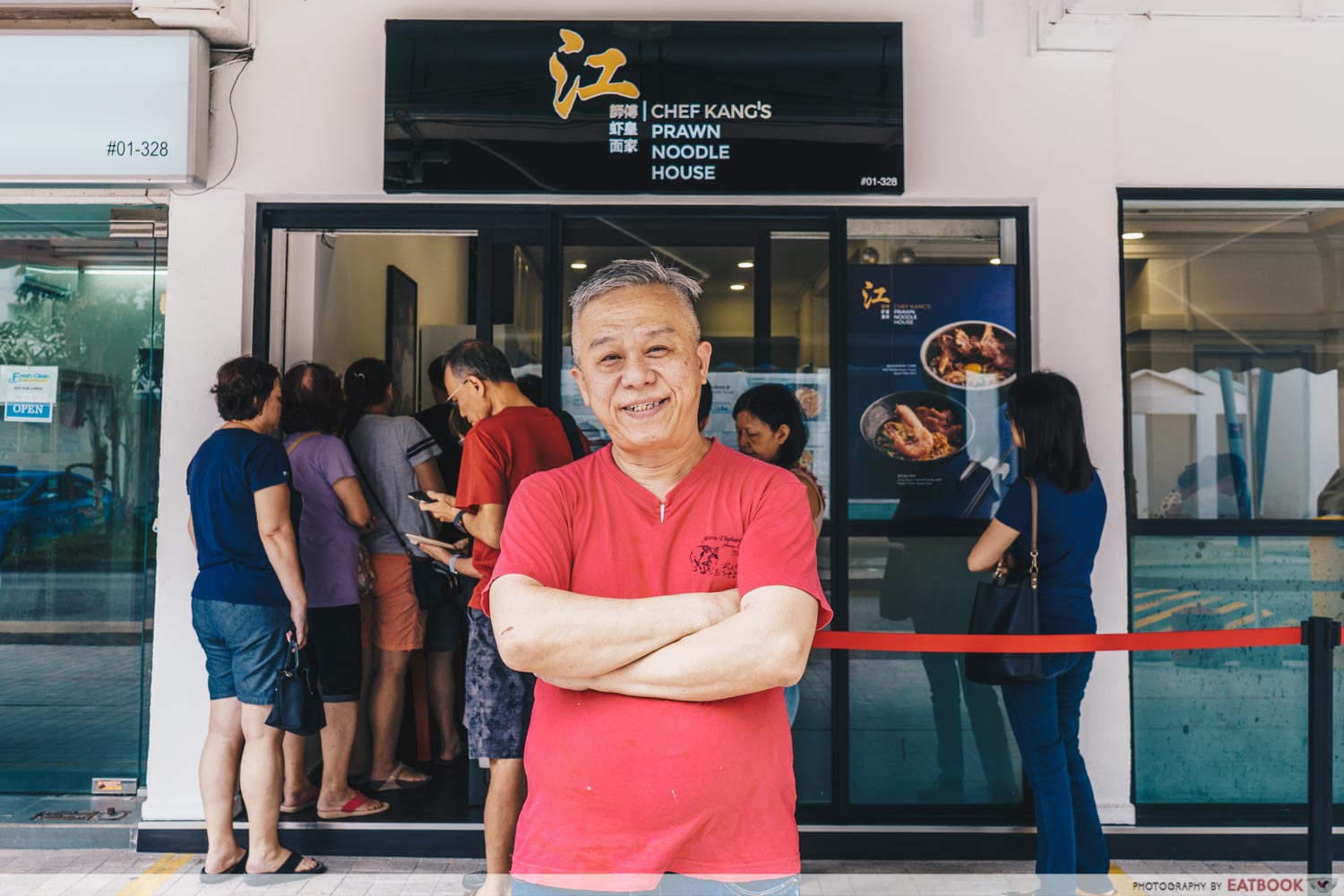 Chef Ang Song Kang, who won a Michelin star for his Chinese restaurant Chef Kang, has been cooking since he was 17. His passion started at a young age and he trained in a zi char kitchen for much of his youth. After finishing NS, he served as an apprentice under a master chef and learnt about Hong Kong cuisine, until he was finally ready to start up a place of his own in the early 2000s. 
While a couple of his early ventures were unsuccessful, and he's lived through his fair share of hardships, things took a turn for the better when his restaurant earned a Michelin star. 
After hearing of his previous exploits, we decided to head down and see if the food at his newest restaurant was just as good as his other places. 
Food at Chef Kang Prawn Noodle House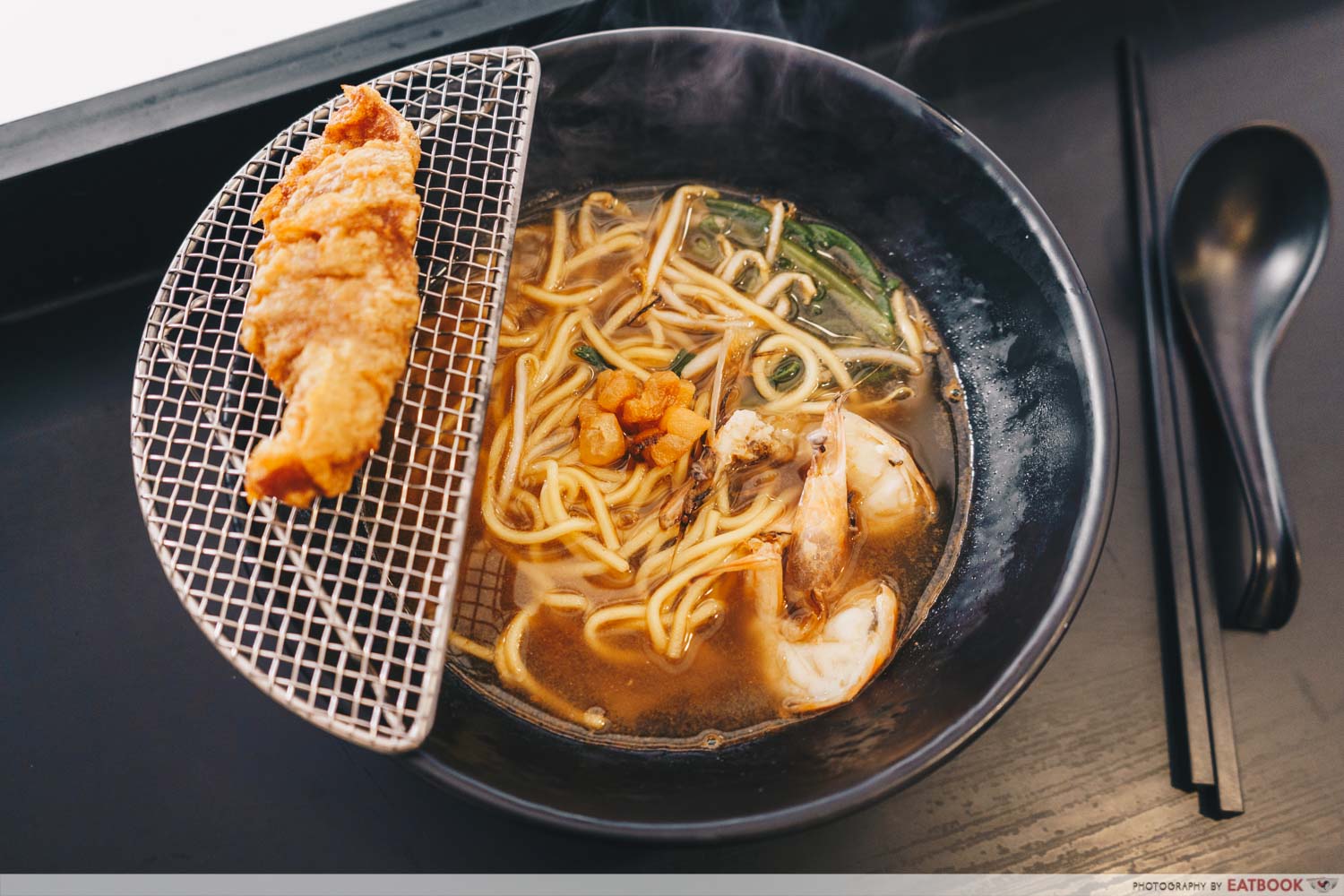 The main dish was the King Prawn Noodle Soup With Prawn Paste Spare Ribs ($10). I was already a little sceptical of the price, and I expected to be blown away after forking up that much for a relatively basic dish. One thing that was pretty special was the har cheong pork rib. It was pretty big, but made up the bulk of the actual meat in the dish.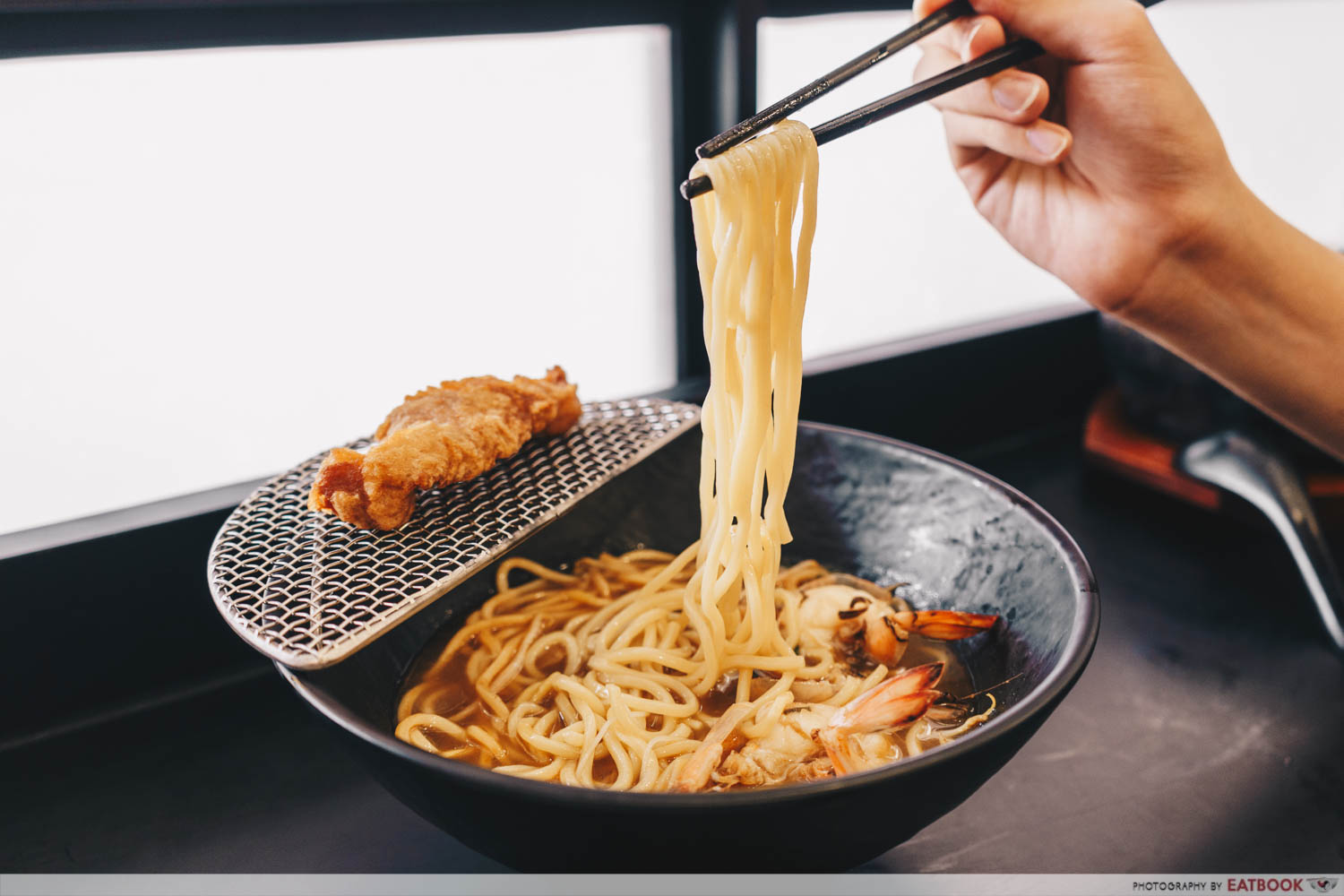 The noodles were clean-tasting and didn't have any hint of alkaline to it, but they were quite standard apart from that. The portion size of noodles was large, but there was little variation in taste and texture. It got almost boring to eat after a while. They also offer bee hoon noodles, and it might be a good idea to ask for both varieties to mix it up a bit in terms of texture.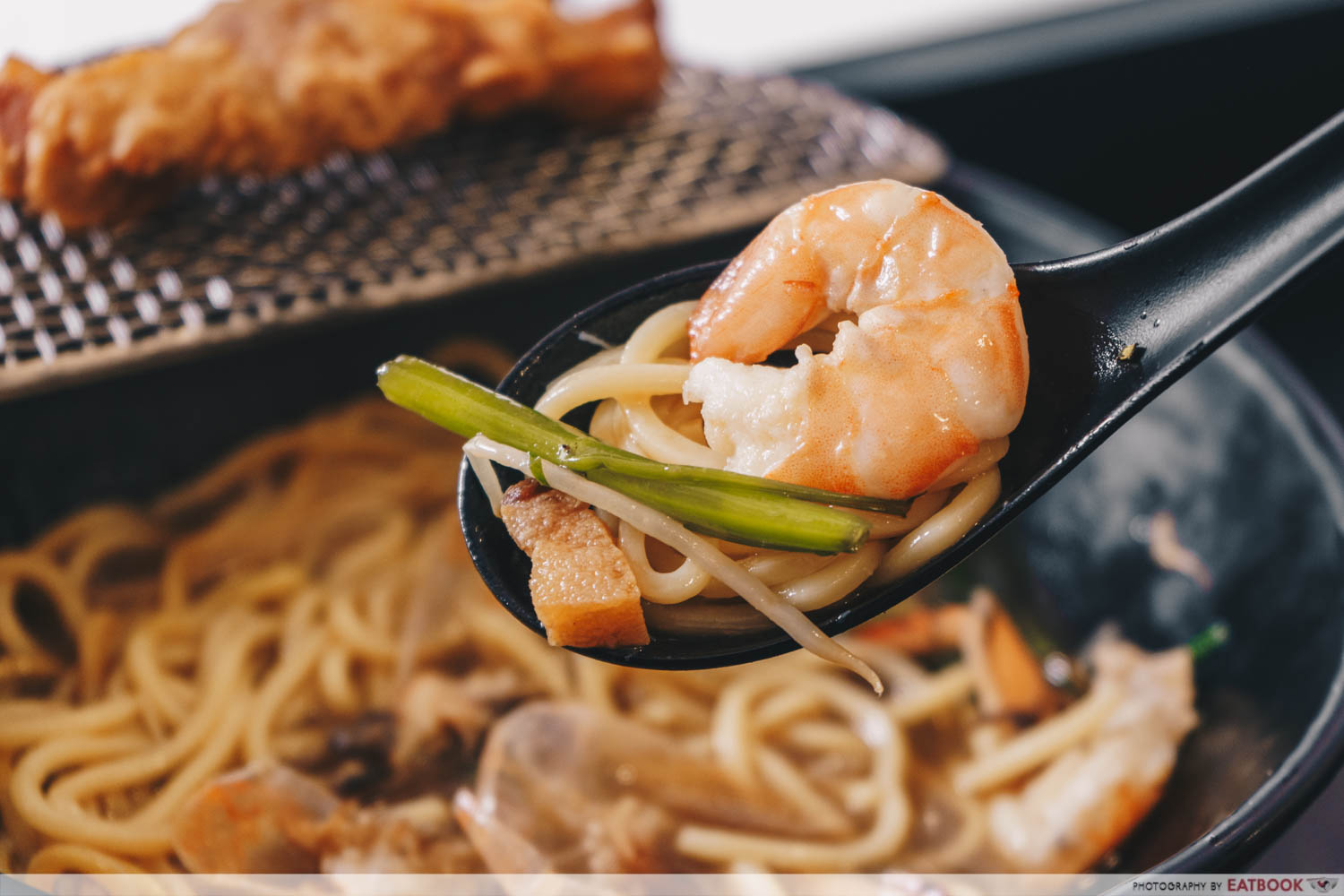 There were ingredients such as fried lard and beansprouts throughout the bowl, which helped add bits of crunchy texture to the dish.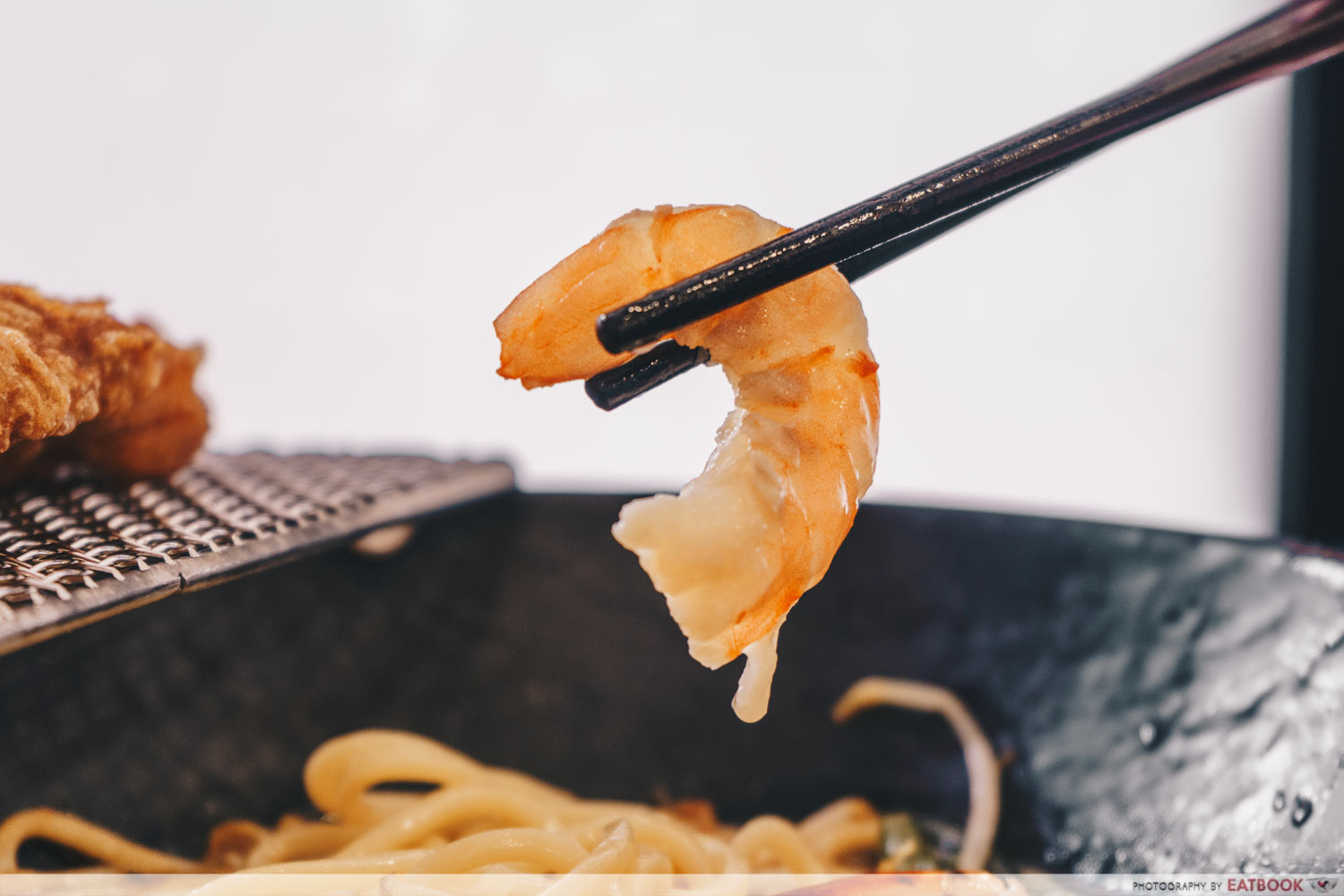 I was particularly disappointed by the prawns. I expected something as big as a tiger prawn, considering that there was only one piece in the dish. Instead, it was jst as big as any other prawn. For a $10 dish, having a single tiny prawn was quite a letdown. There was nothing particularly great about the taste either; it was simply a standard prawn.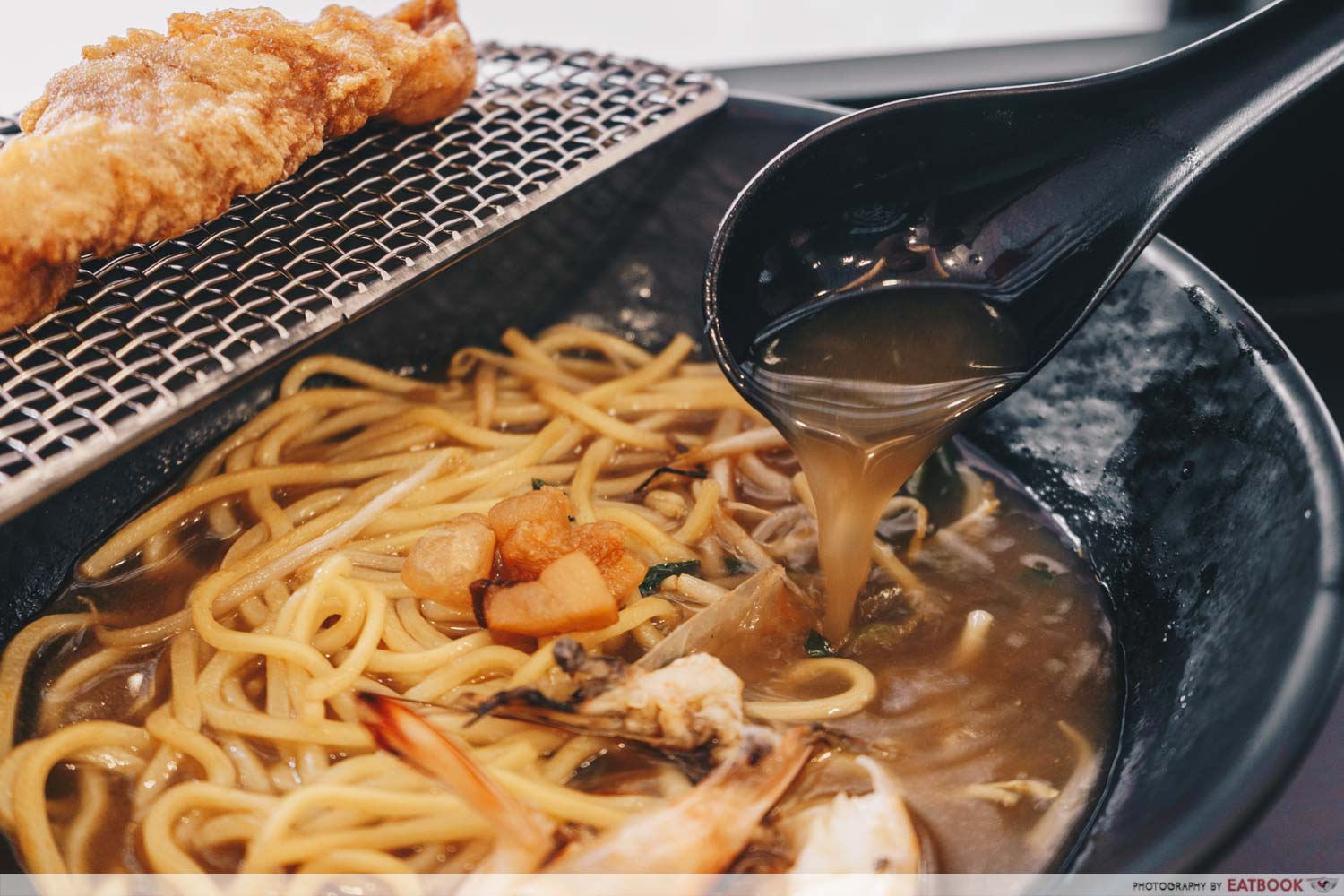 I liked the lighter taste of the soup, and the seafood sweetness was quite noticeable. It uses chicken feet as its base instead of pork bone, so it's less meaty and a lot smoother. It may not be for die-hard fans of classic prawn noodle soup, but it's certainly a unique twist.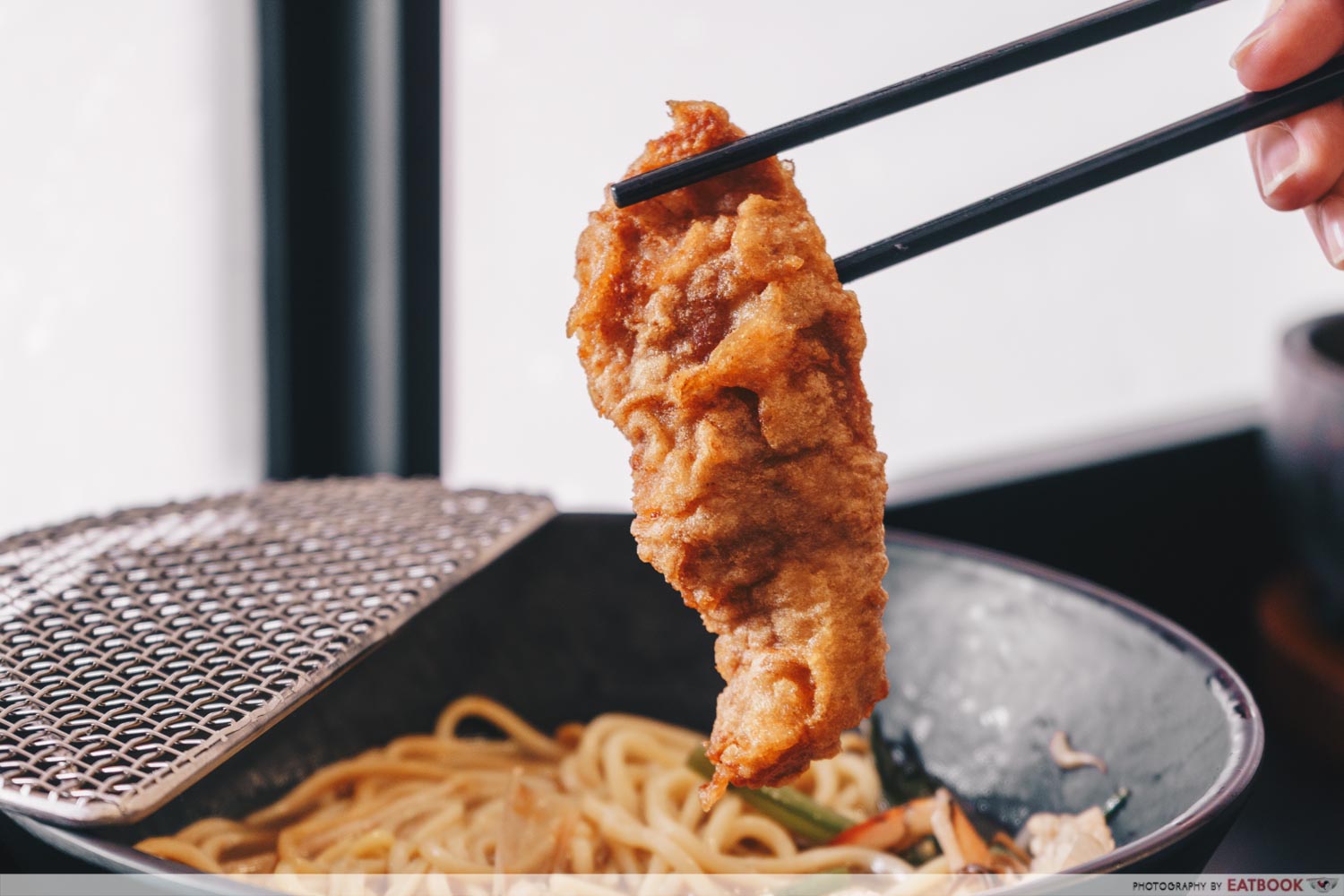 One thing I was really impressed by was the pork ribs. I'm not a fan of the boiled pork ribs in prawn noodles most of the time, but I was intrigued by this unique spin on it. The prawn paste ribs sat on a metal net— similar to how it's done in tonkatsu restaurants—so that they wouldn't get soggy.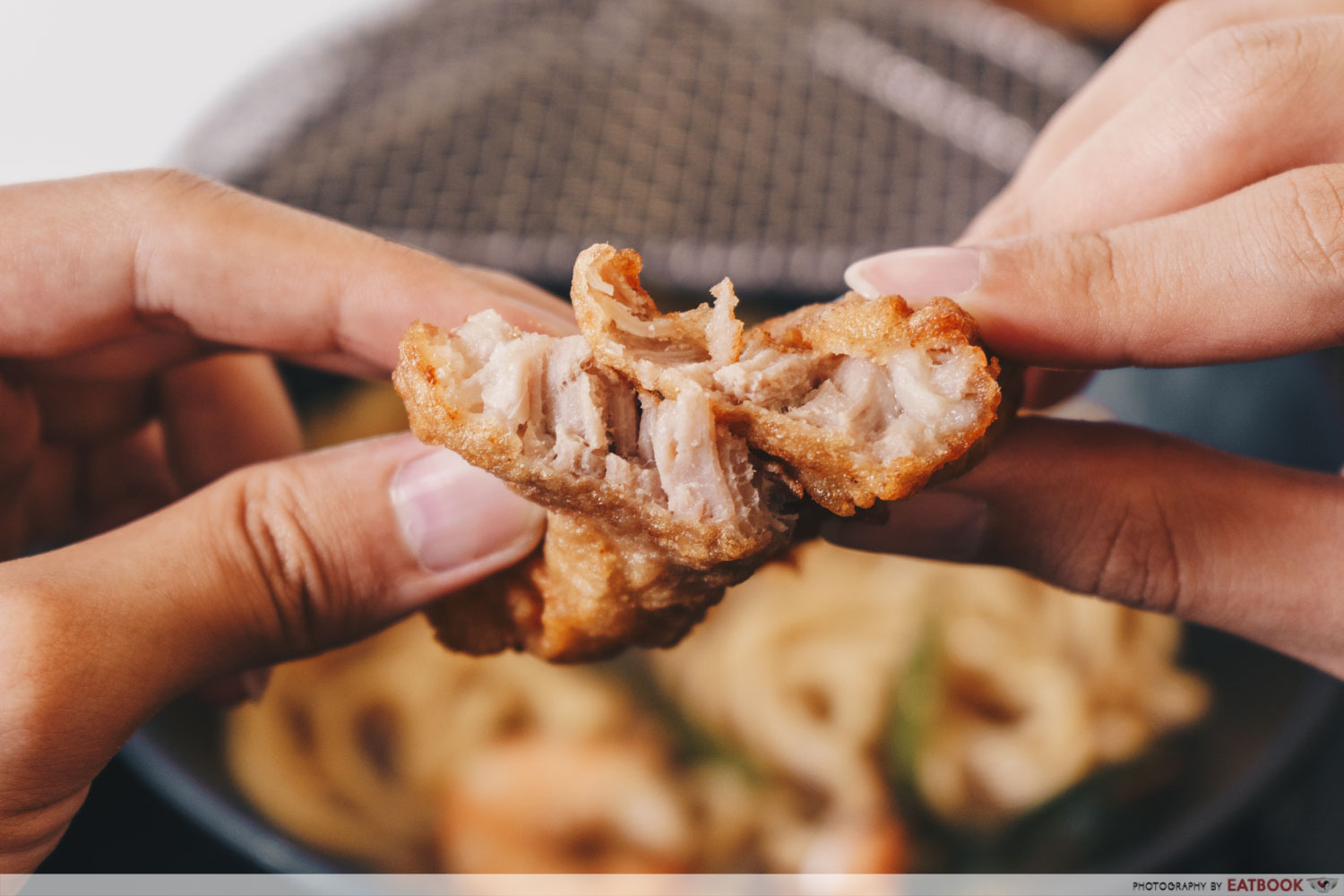 Breaking it open showed how thick the meat was, and revealed that it wasn't simply puffed up by fried batter. I'd definitely say the pork ribs are the best part of the dish. Its prawn paste taste gives it an enjoyable umami flavour, and the meat is juicy and succulent. You don't need to give your jaw a workout, as it's tender and easy to chew on.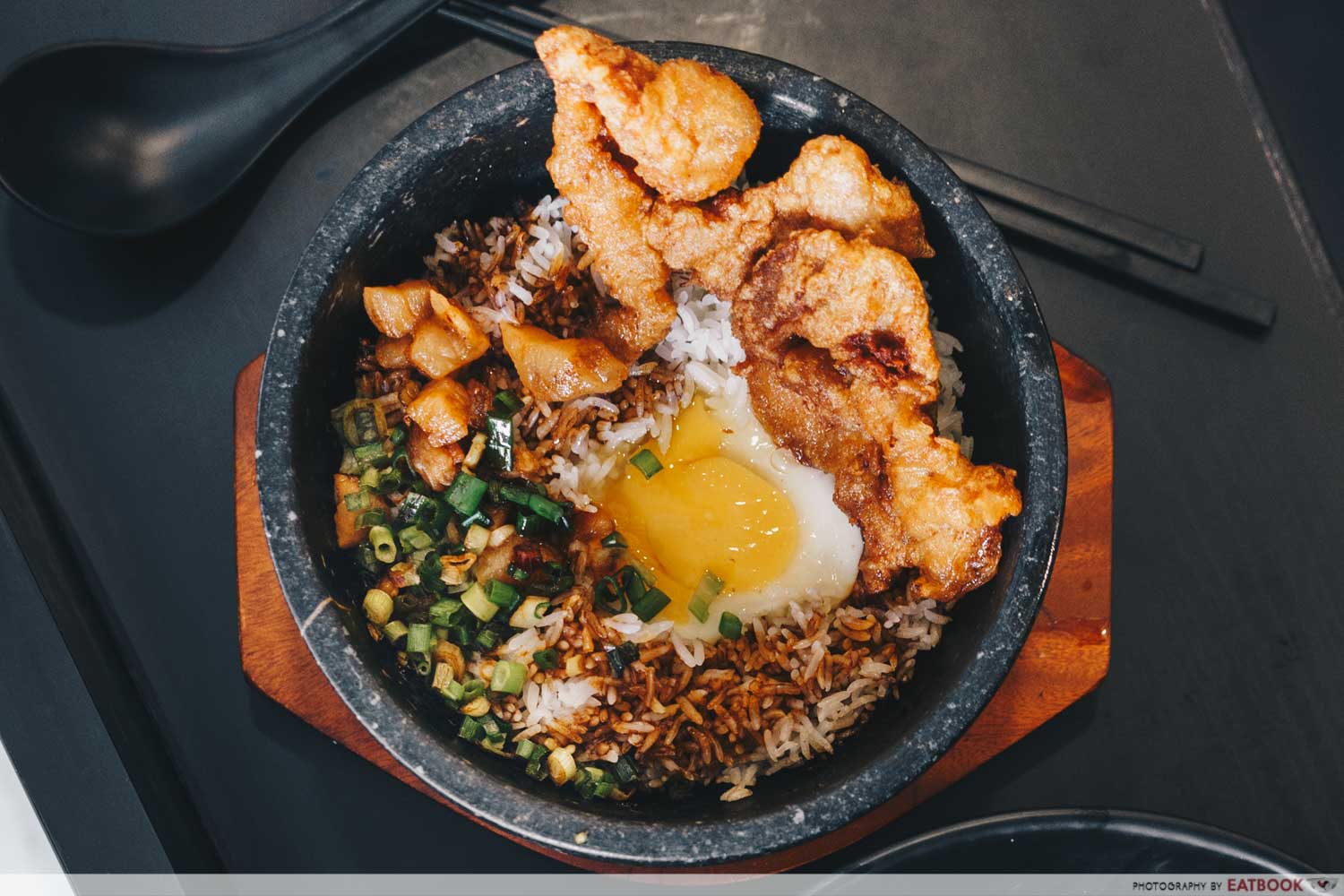 The next dish, and only other one on the menu, was the Hot Stone Prawn Paste Spare Ribs Rice ($10). It came sizzling and was steaming hot. I have to say that it was impressive in presentation, and I was overjoyed to see so many of the pork ribs that I liked so much. Another portion of crunchy lard topped it off, along with spring onions and a raw egg. We wasted no time in mixing it up while the bowl was still hot.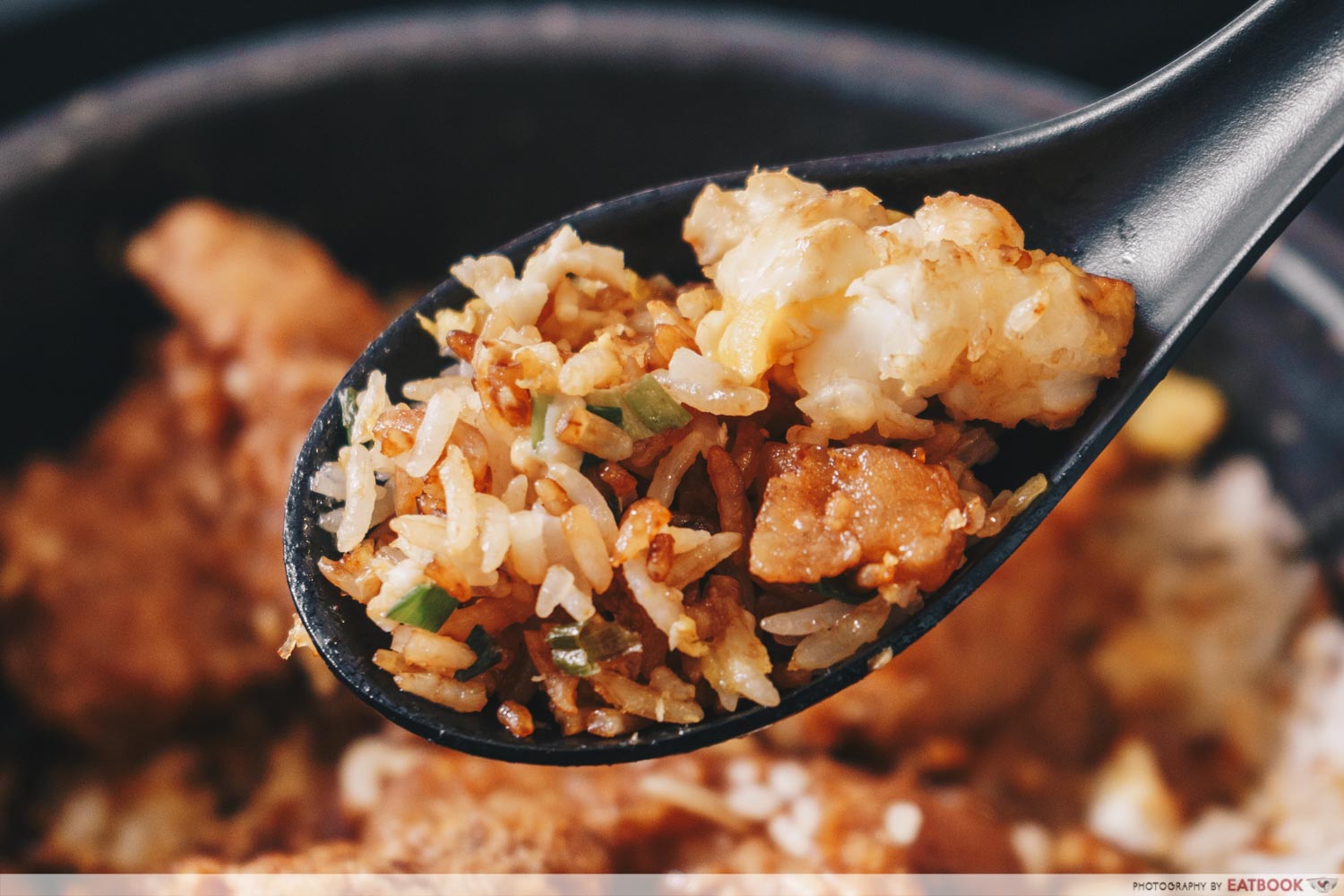 After a while of mixing, the rice at the bottom was browned and gently charred, while the egg was cooked properly and spread throughout the dish. The fried lard gave it a good texture and provided a bit of savouriness, but the rice itself suffered from a lack of flavour. It was similar to claypot rice, but plenty of the grains were simply seasoned with oil and didn't have any other flavour to them at all. 
While I enjoyed the smokiness at first, it soon got dull, like the noodles. There really wasn't much going on. I had to put in a large amount of light sauce in order to get any flavour from the rice.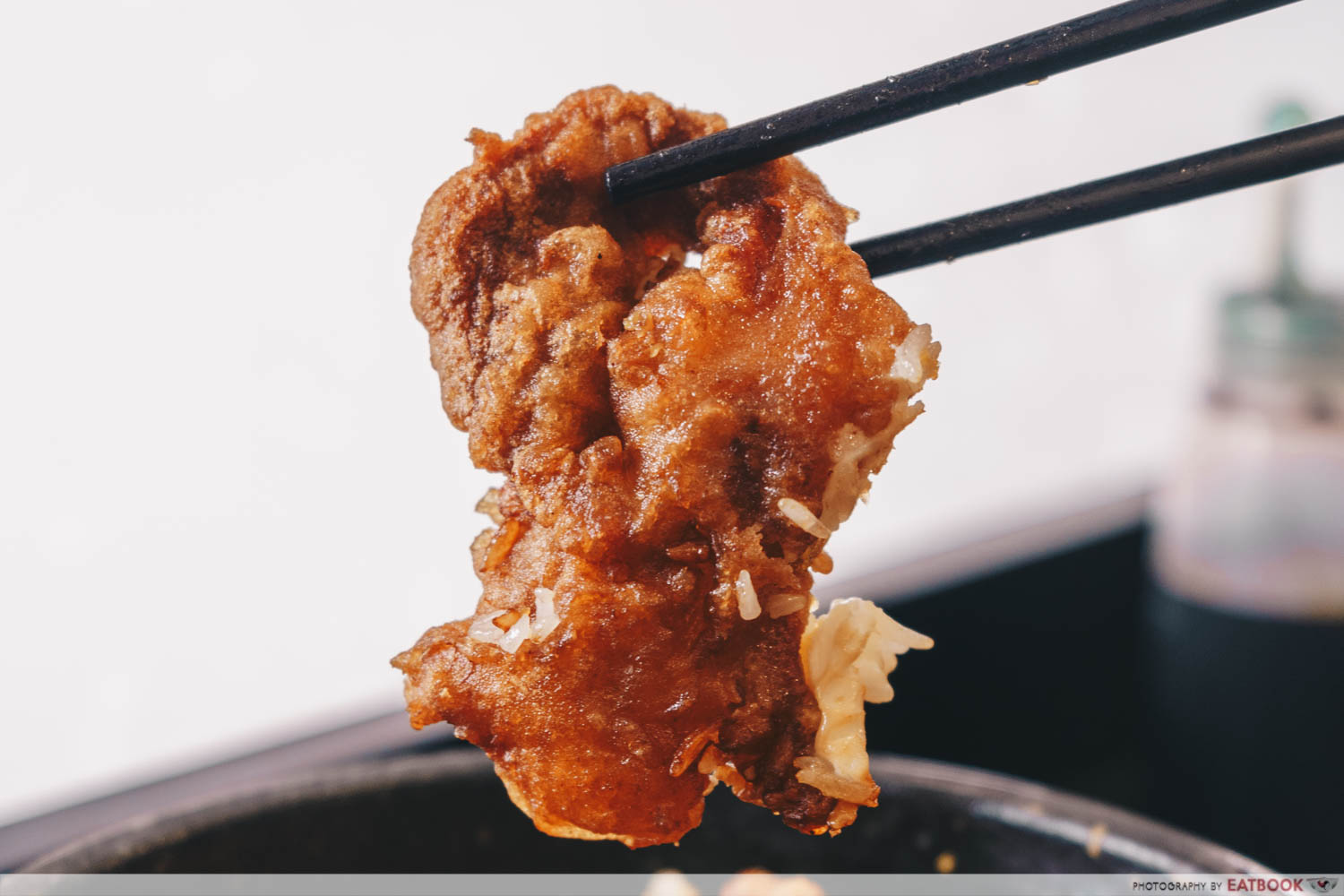 The meat, of course, helped to amp up the spoonfuls of rice and lard. They were just as tasty as the one that came with the prawn noodles, with the added benefit of being kept piping hot. No complaints about the meat, it came in a fairly-sized portion and helped improve the rather bland rice with mouthfuls of savoury meatiness. 
Ambience at Chef Kang Prawn Noodle House
The eatery is located in a Toa Payoh neighbourhood and stands out among the tuckshops and old-school coffee shops surrounding it. The area is quite small, and they have limited seating, which doesn't help in shrinking the long queues that form outside it. It's a 10-minute bus ride from Toa Payoh interchange
Chef Kang's reason for starting an eatery here is a simple, relatable one: childhood nostalgia. He grew up in Toa Payoh, and wanted to start his next business venture there to be close to where he grew up. 
The verdict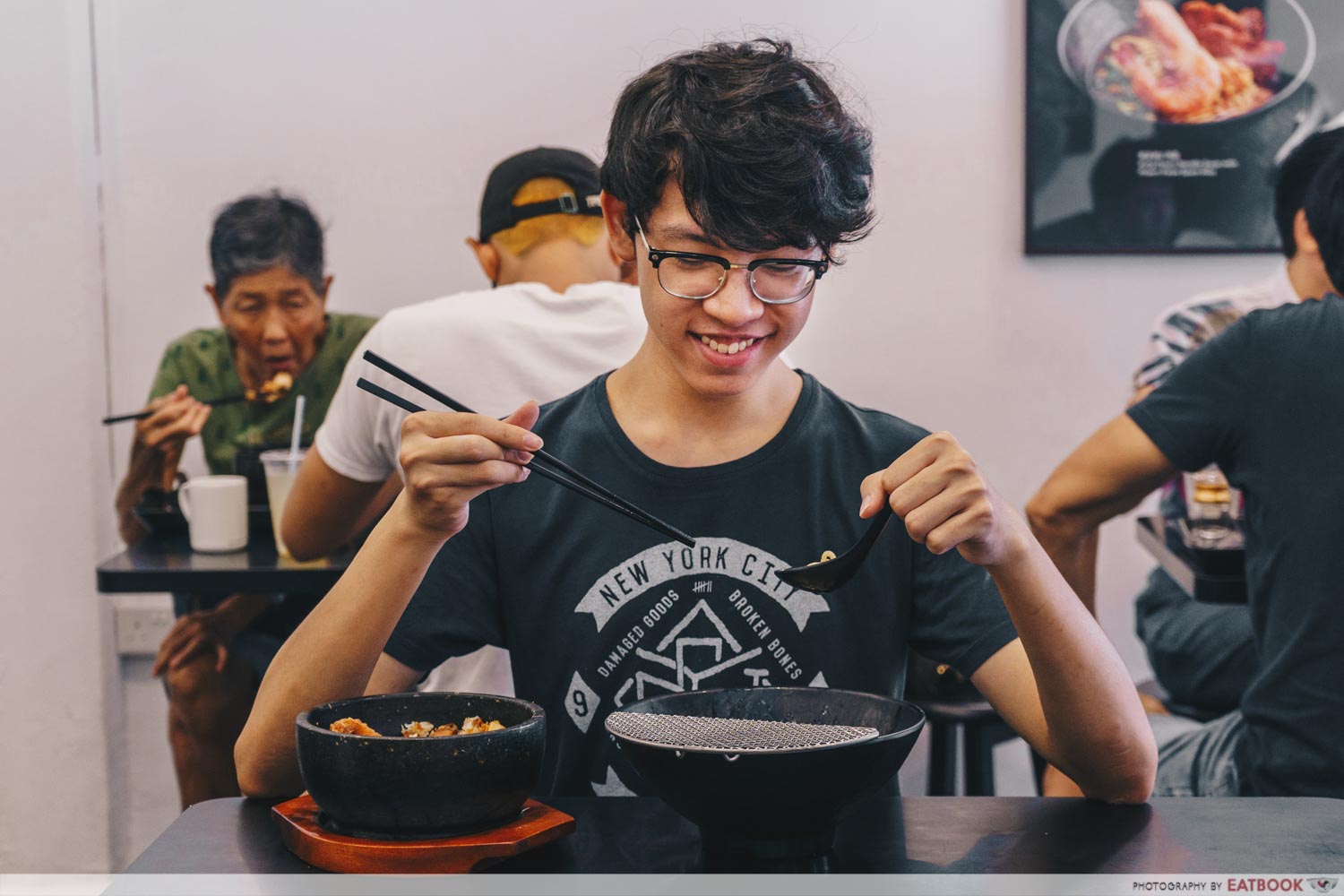 All in all, I was rather disappointed by the meal. At $10 per dish, the bowls of noodles and rice are far pricier than what they actually contain. The prawn noodles were unremarkable and came with a paltry amount of prawns. The rice didn't have enough flavour, and even though the pork ribs were frankly amazing, I wouldn't be willing to fork out that much money for the meal again. Despite the long queue, which draws in us Singaporeans like moths to a flame, I felt like the payoff wasn't worth it in the end. 
For another modern twist on prawn noodles, check out our review of Prawn & Mee! If you've got a hankering for seafood, and want something a bit more premium, check out New Shop Spinach Soup's lobster spinach soup!
Address: Blk 85 Toa Payoh Lorong 4, #01-328, Singapore 310085
Opening hours: Tues-Sun 10am to 2pm or sold out
Website
Chef Kang Prawn Noodle House is not a halal-certified eatery.
Photos taken by Ho Jing Yi.
This is an independent review by Eatbook.sg.
Summary
Pros
– Pork ribs were delicious and flavourful
– Soup base was tasty
Cons
– Expensive
– Rice was near tasteless
– Very little prawn
– Long queue and closes early, very limited seating
Recommended dishes: Hot Stone Prawn Paste Spare Ribs Rice ($10)
Opening hours: Tues-Sun 10am to 2pm or sold out
Address: Blk 85 Toa Payoh Lorong 4, #01-328, Singapore 310085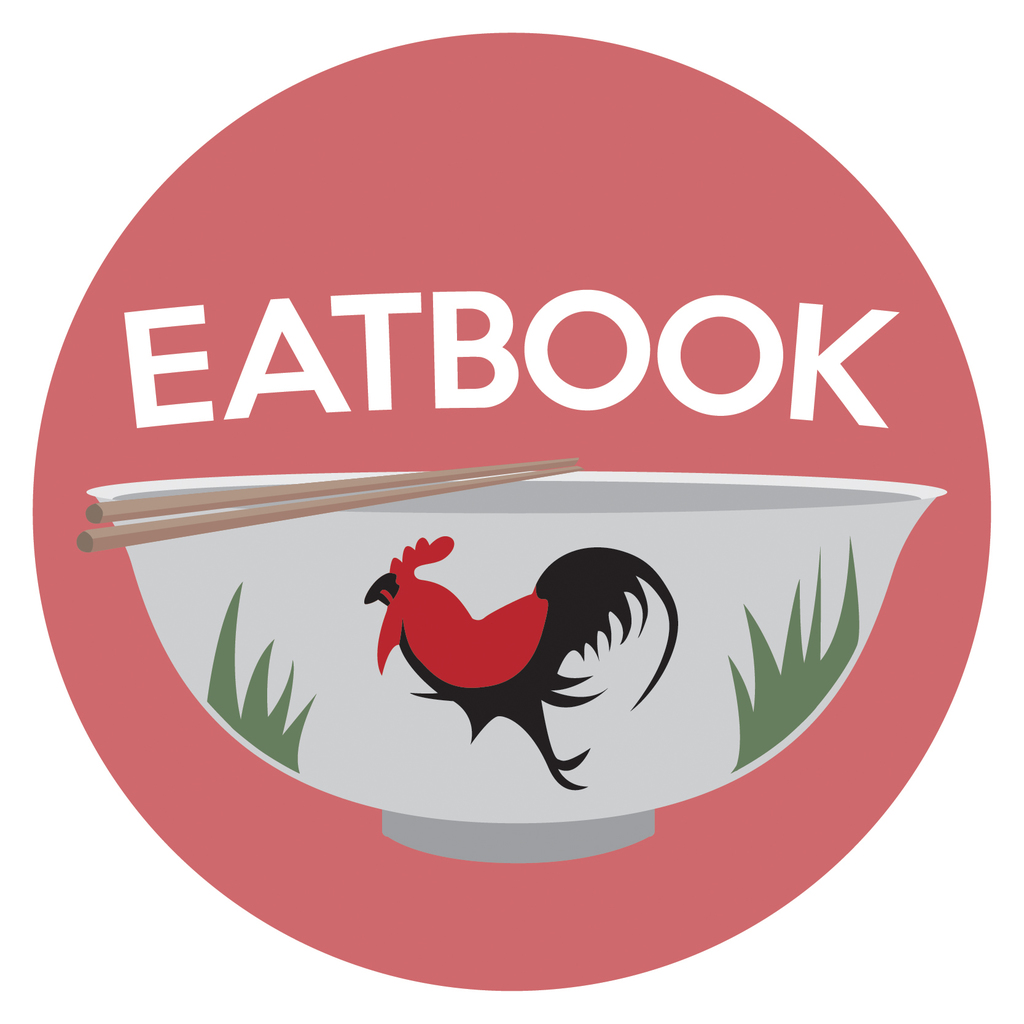 Drop us your email so you won't miss the latest news.