Classic Western food at Yummy Western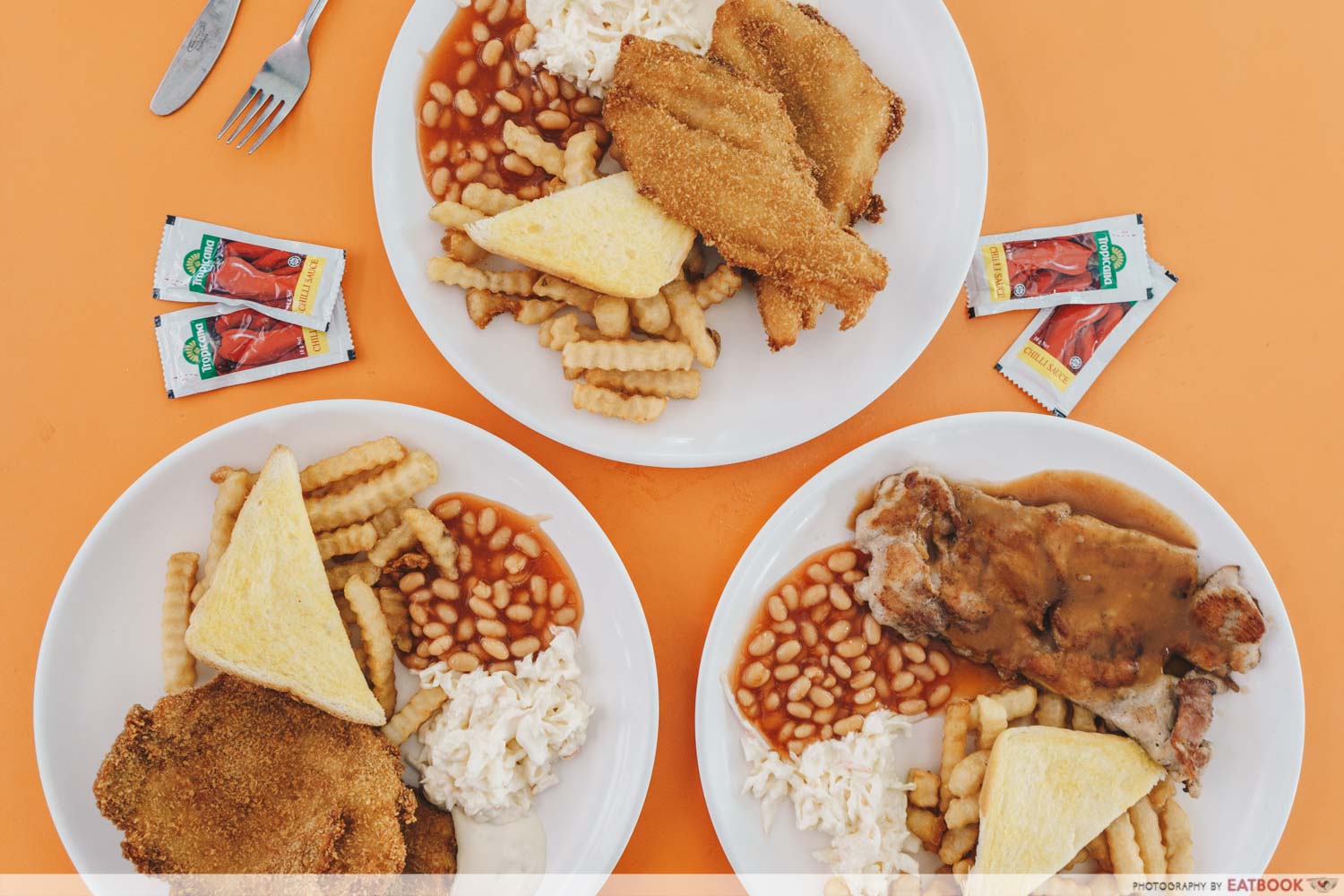 A lot of modern-day Western food stalls aspire to have something flashy and unique about them. The fusion food at Shaker Lakers is one example. Back when I was a kid, Western food didn't try to stand out. All the ones I knew were simple, classic Western food stalls, that unapologetically served chicken cutlets and pork chops with the exact same sides of fries, beans, and toast. So heading down to visit Yummy Western was like going back in time. The stall apparently drew a crowd during peak hours, with local residents forming 30-minute queues. It had been quite a while since I visited a truly traditional Western food stall, so I wasn't sure if it would meet my nostalgia-boosted expectations. 
Food at Yummy Western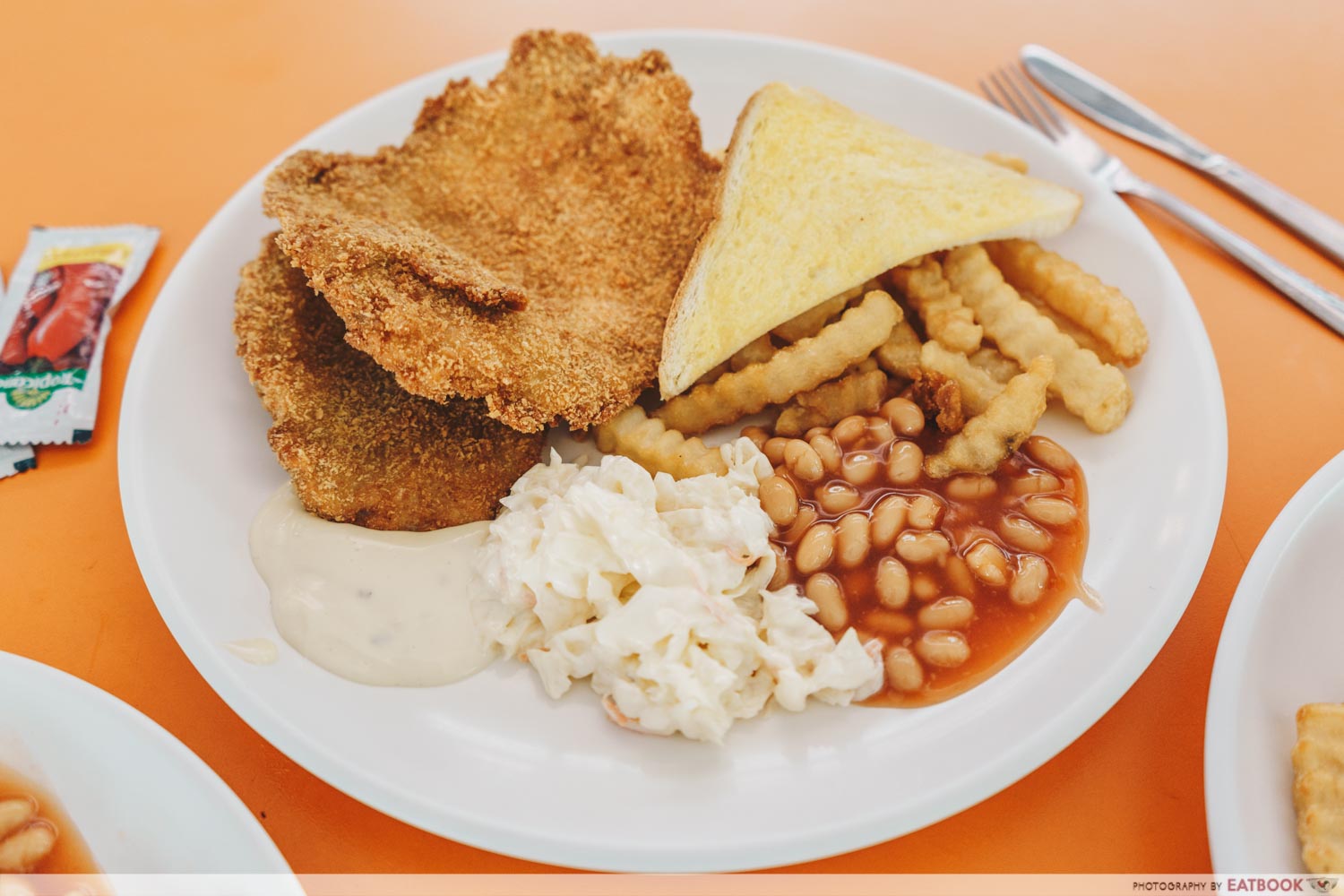 Admittedly, I didn't have the best first impression of the Pork Cutlet ($6.80). I didn't think it looked like anything special. There were two large slices, but each looked rather thin. The golden-brown exterior also seemed a bit dry and rough.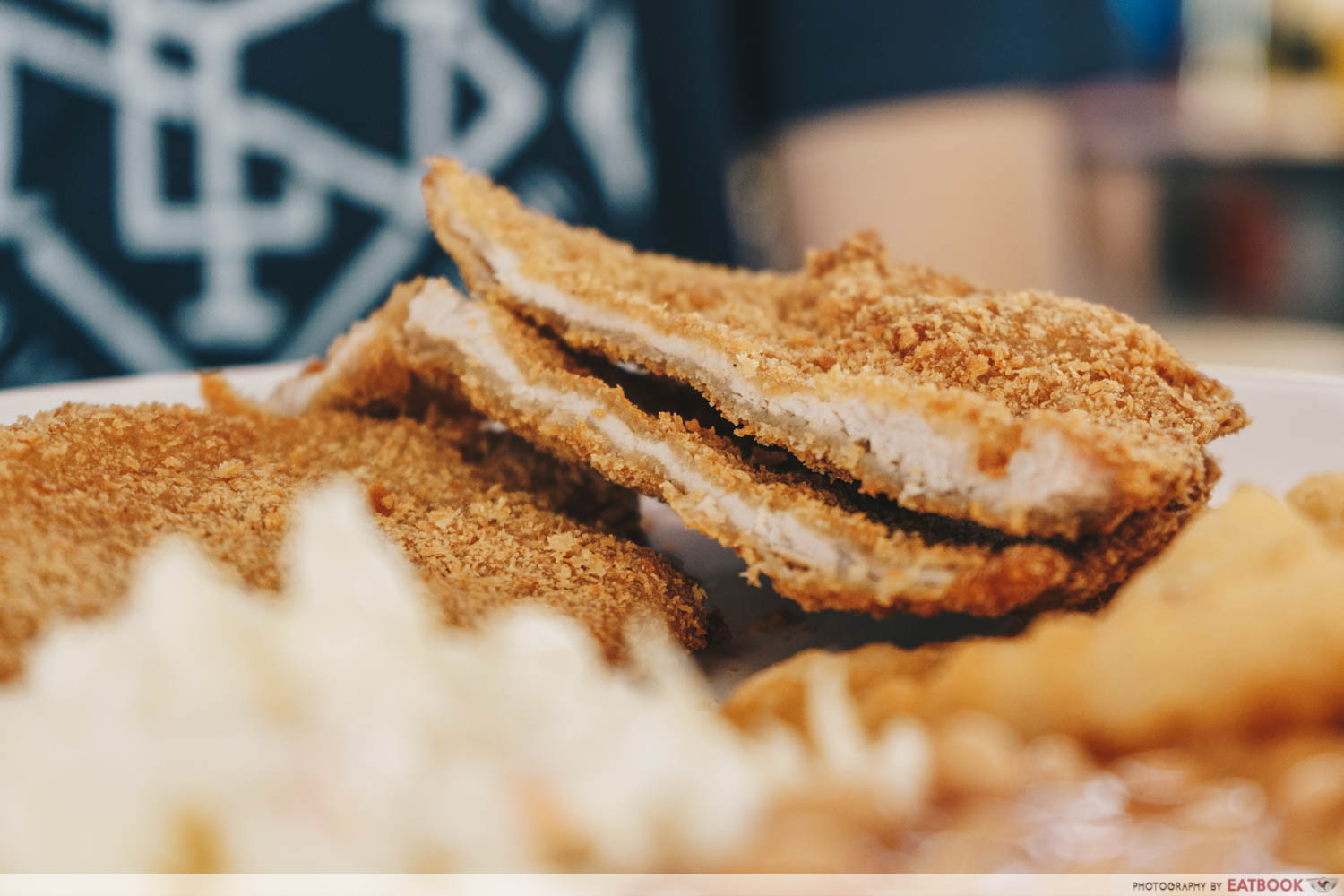 As we cut it open, my colleague and I gave each other judgmental looks. It was as thin as we suspected. At the very least, the batter didn't take up too much of the already limited space.
But once I tasted it, I was surprised to find that it was still quite juicy. The batter crunched noisily as I continued chewing, and I found myself enjoying it. It wasn't hard or dried out despite being thin, so each bite felt tasty and substantial.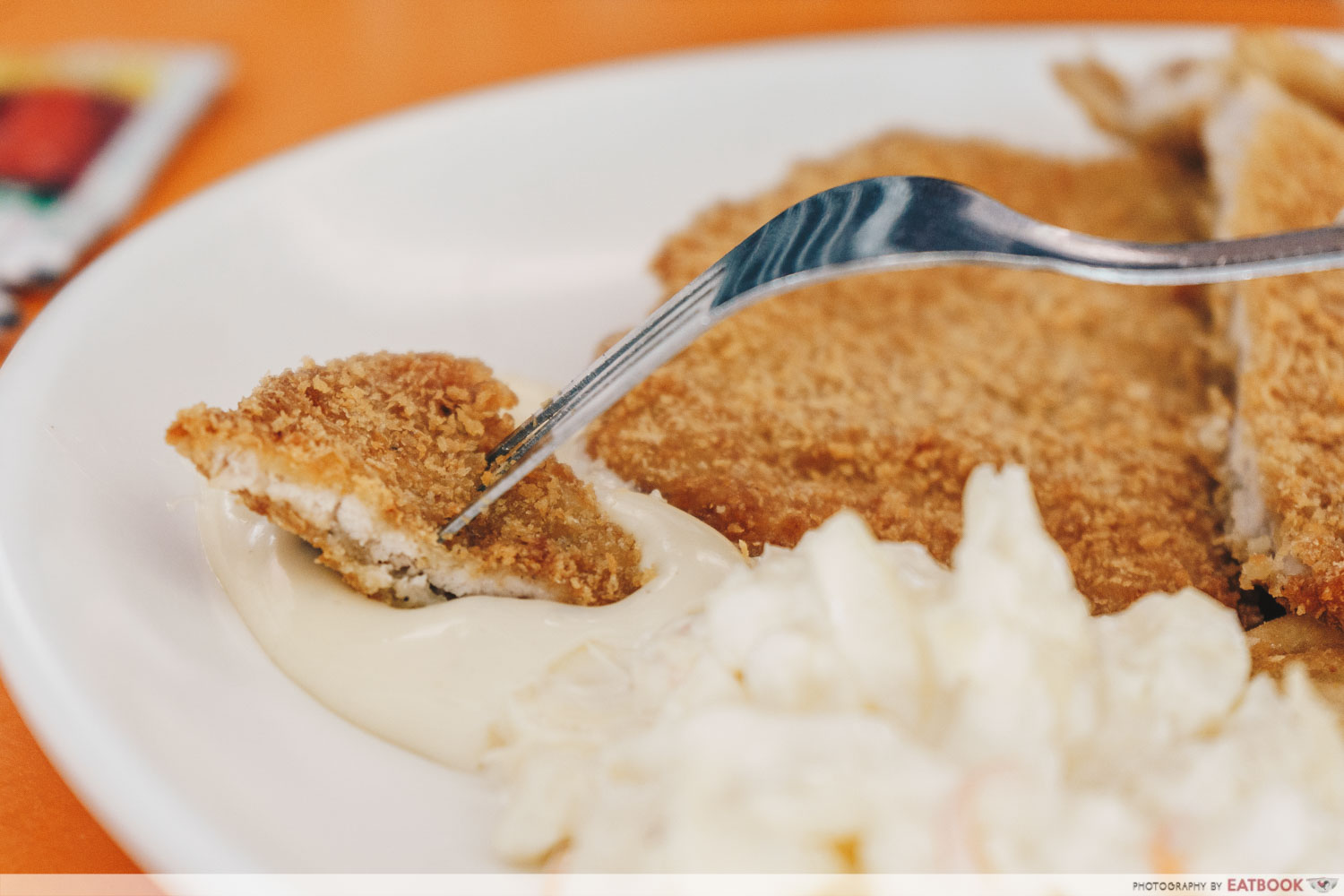 The cutlet was already savoury and juicy inside, but dipping it in the puddle of mayo gave the crust additional sweet flavour and moisture. By the time I finished one of the cutlets, I was regretting my earlier hasty judgement of the succulent meat. While it was still thin and didn't come in satisfying portions, it tasted surprisingly decent.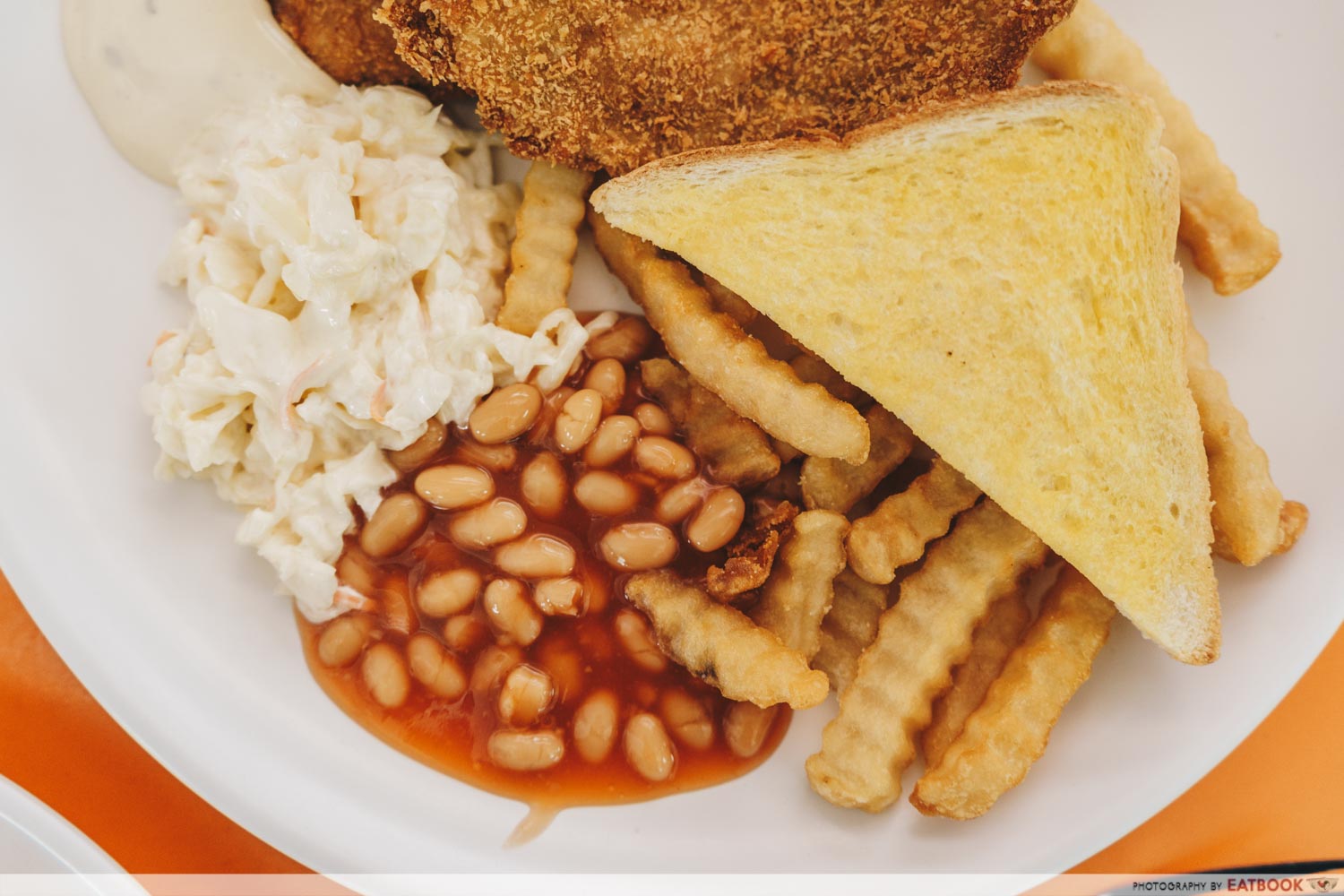 Each dish came with a set of sides. They were the standard kind that you'd expect to get when eating hawker centre Western food. For its price, the portion was decent. There were fries, baked beans, coleslaw, and garlic bread.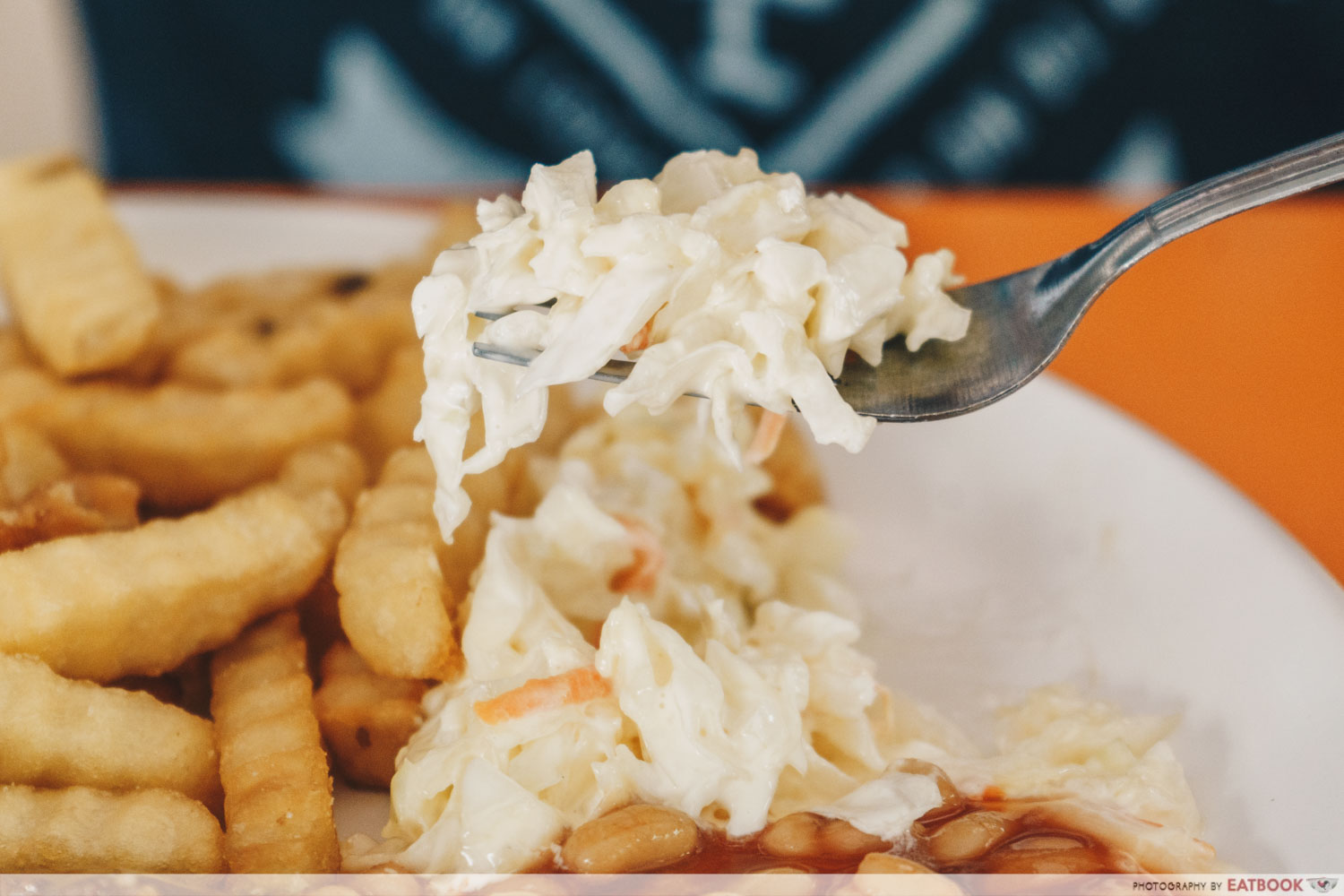 The coleslaw was made in-house, and I caught sight of the staff chopping vegetables and dumping them into large tubs of coleslaw. The dressing was thick, sweet, and flavourful. It was a refreshing respite from the crumb-coated breading and savoury flavours of the meat.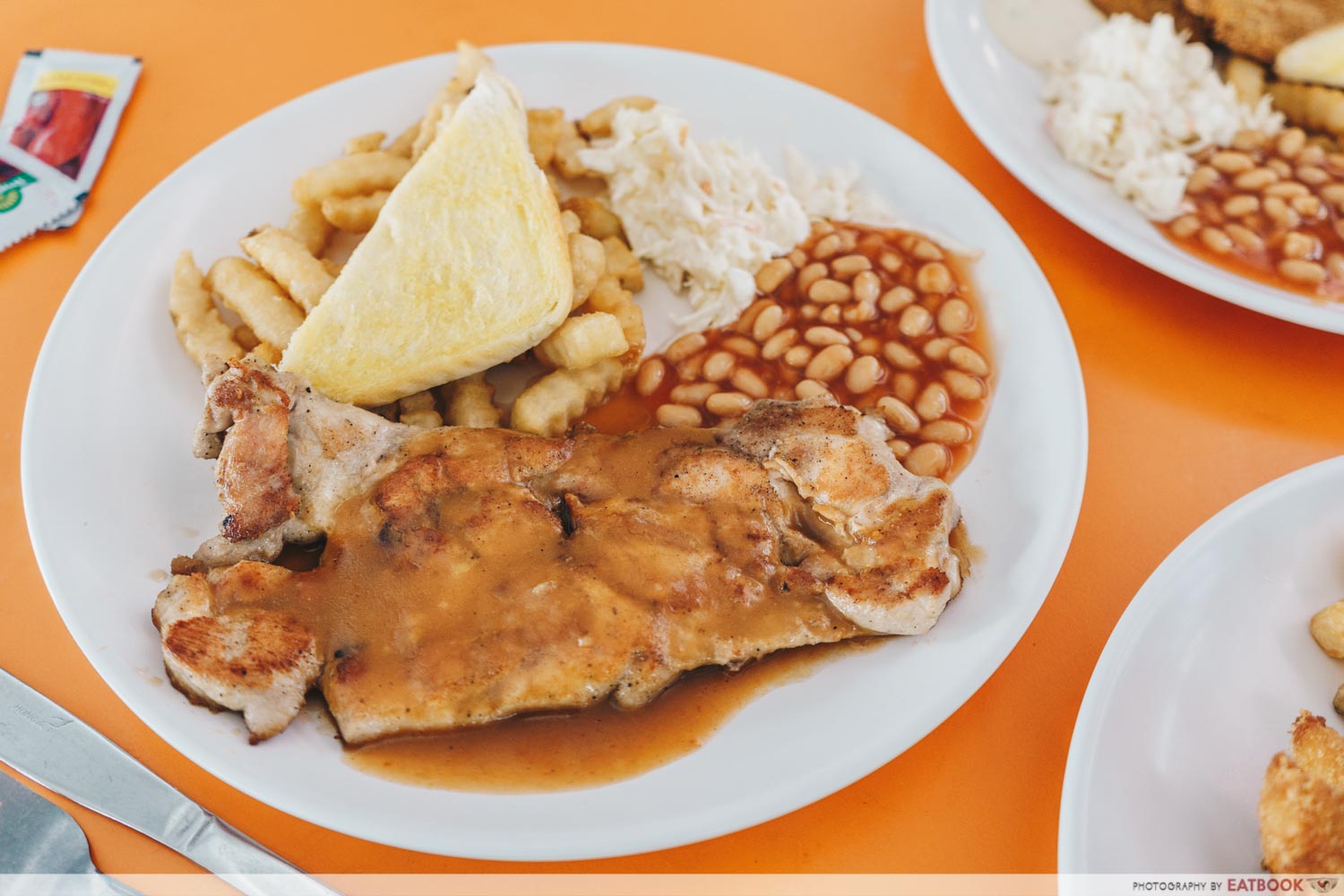 The Black Pepper Chicken Chop ($6.80) was succulent and juicy, with a layer of brown sauce pooling over the grilled chicken. I enjoyed it a little more than the pork cutlet, especially since it was way juicier and had plenty more peppery sauce to be dipped into. The meat was easy to cut through, and had a thin layer of slightly crispy skin left behind.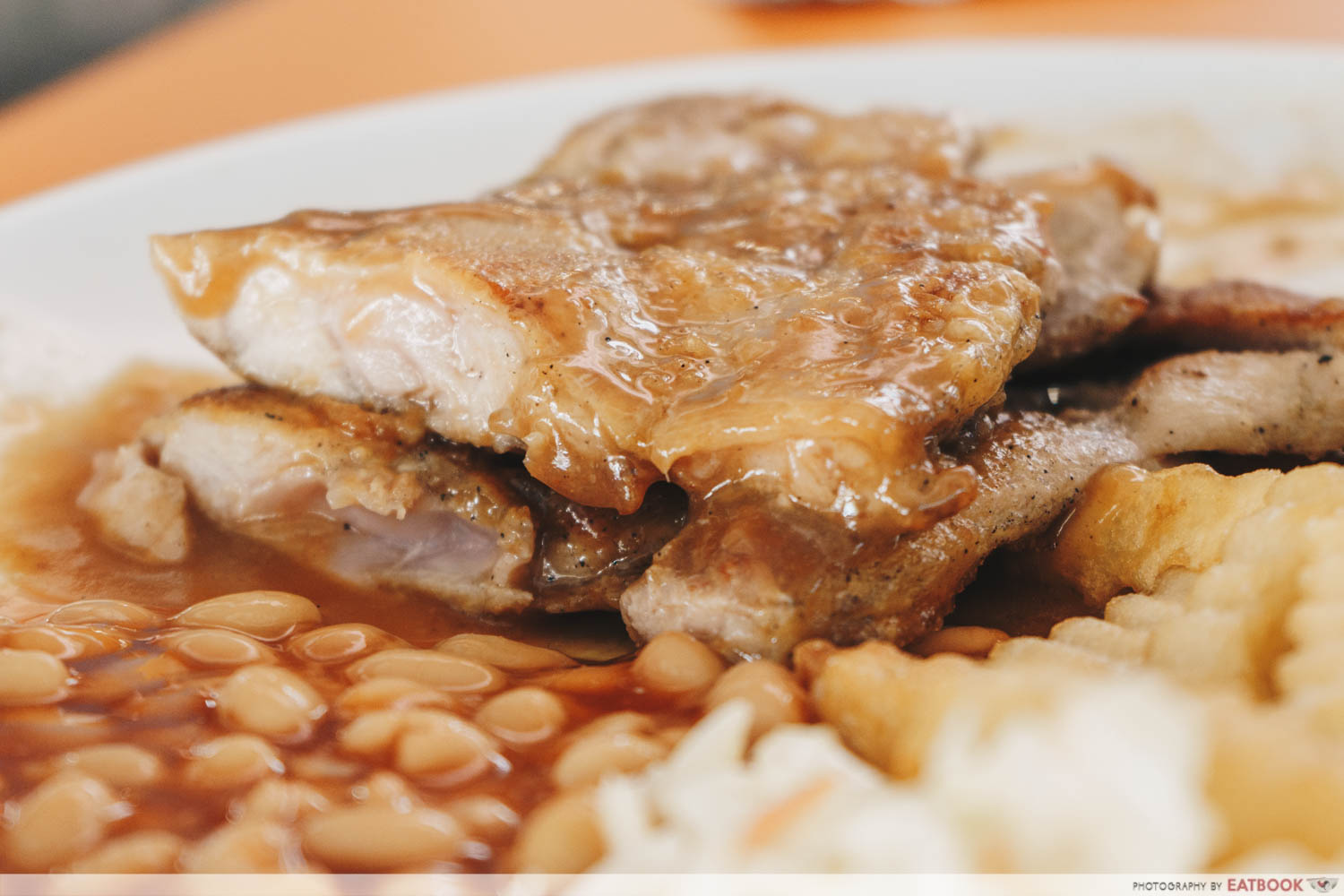 Overall, I was satisfied with the portion. It was a pretty sizable piece of chicken and was well seasoned. The meat was tender and easy to chew through.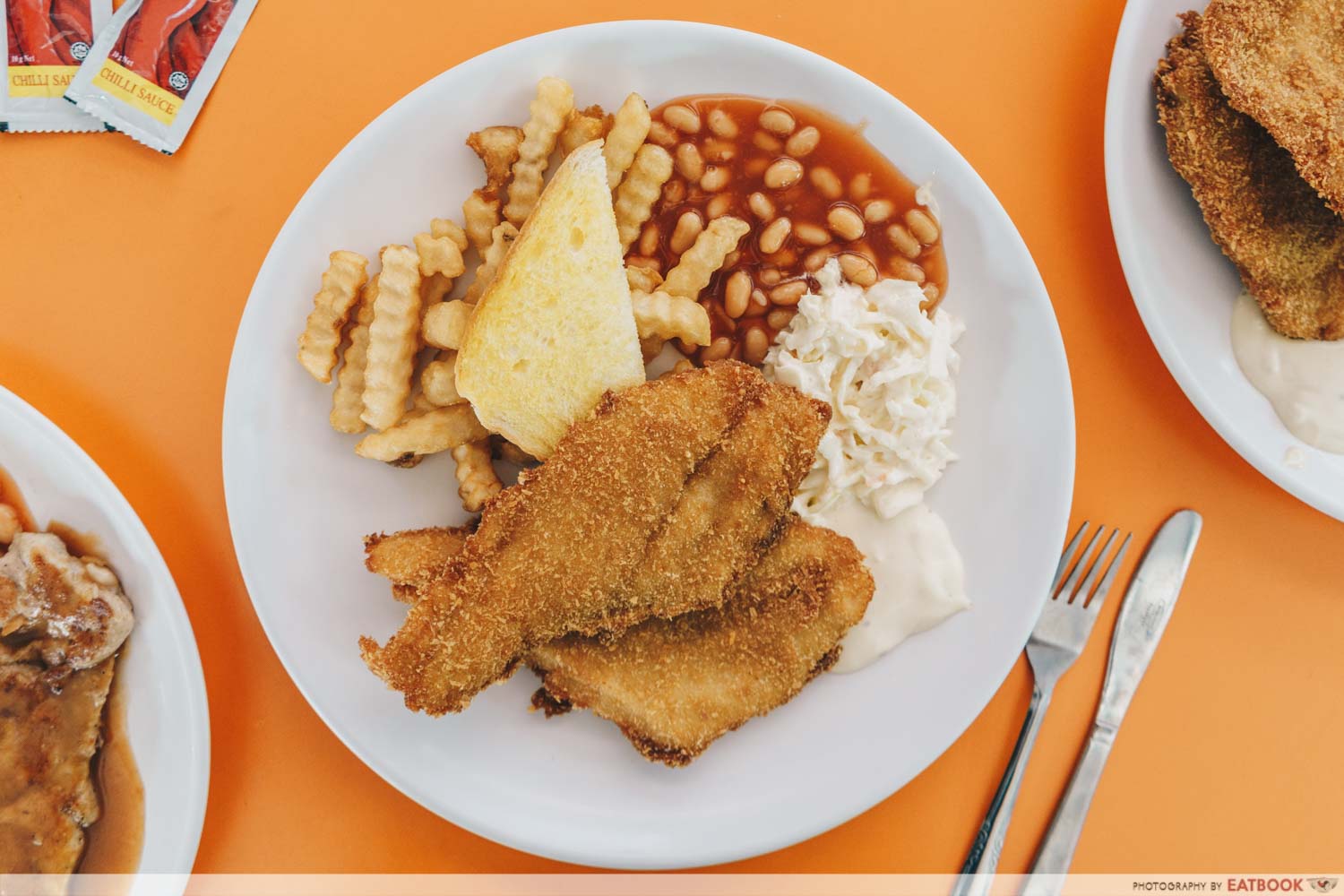 The Fish & Chips ($6.80) used two thick filets for their fish and chips, served with a side of tangy tartar sauce. I prefer batter that's fried to an airy, light layer, rather than the hard and crispy breaded kind that Yummy Western had. 
Regardless, the fish was thick and flavourful. The meat remained firm when being cut, but was still tender enough to chew without any issue. The crispy batter didn't overpower the texture of the meat, and dipping it in tartar sauce helped to boost the fishy natural sweetness. 
Ambience at Yummy Western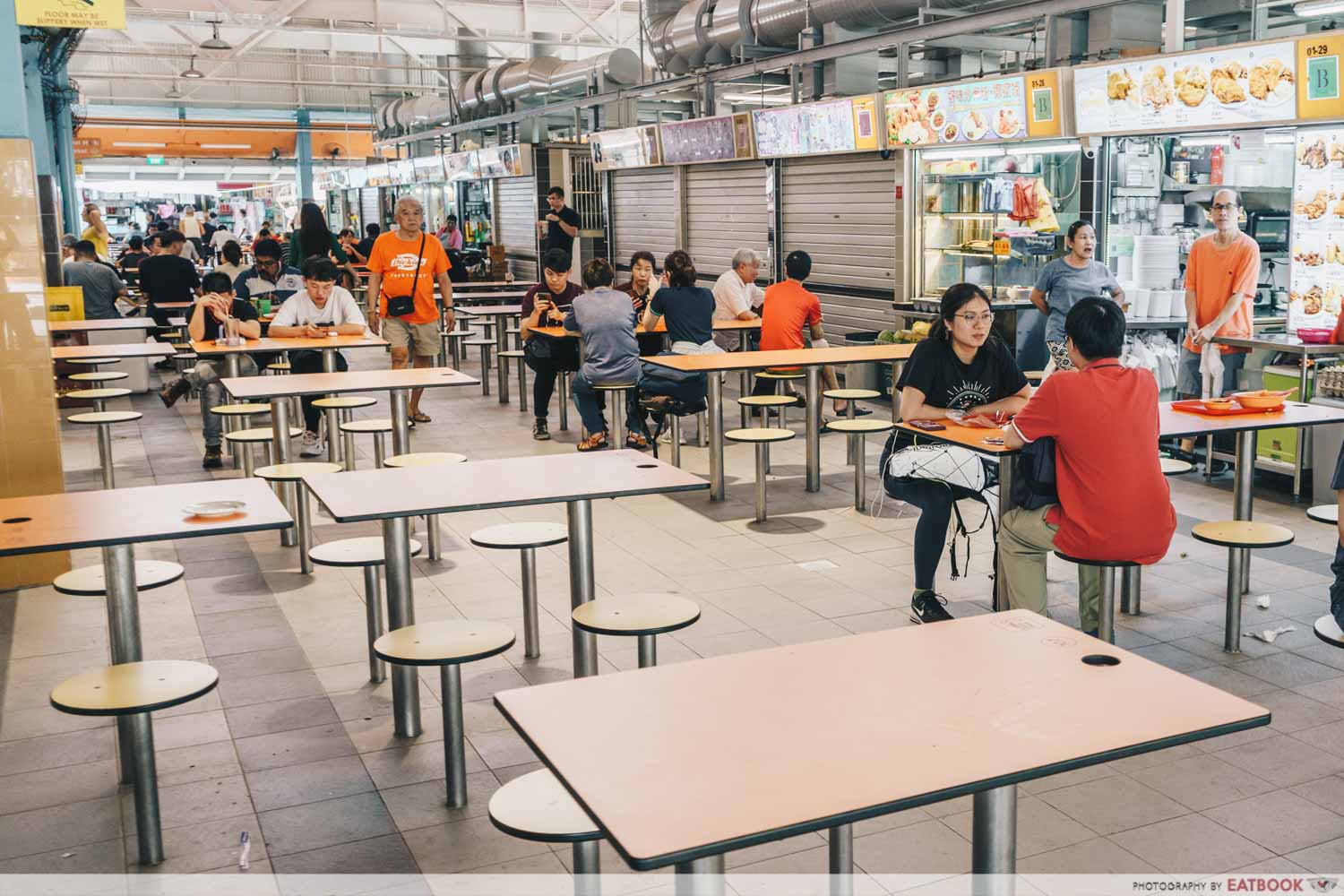 Yummy Western can be found in 409 AMK Market and Food Centre, which is quite a distance away from the nearest MRT Station. It's a 10-minute bus ride away from the interchange, and then another short walk. All in all, it's in a pretty remote location, regardless of whether you take public transport or not.
The stall takes up two whole units, and has quite a lot of staff running it. With such a large kitchen, it managed to get our three dishes ready pretty quickly. 
The verdict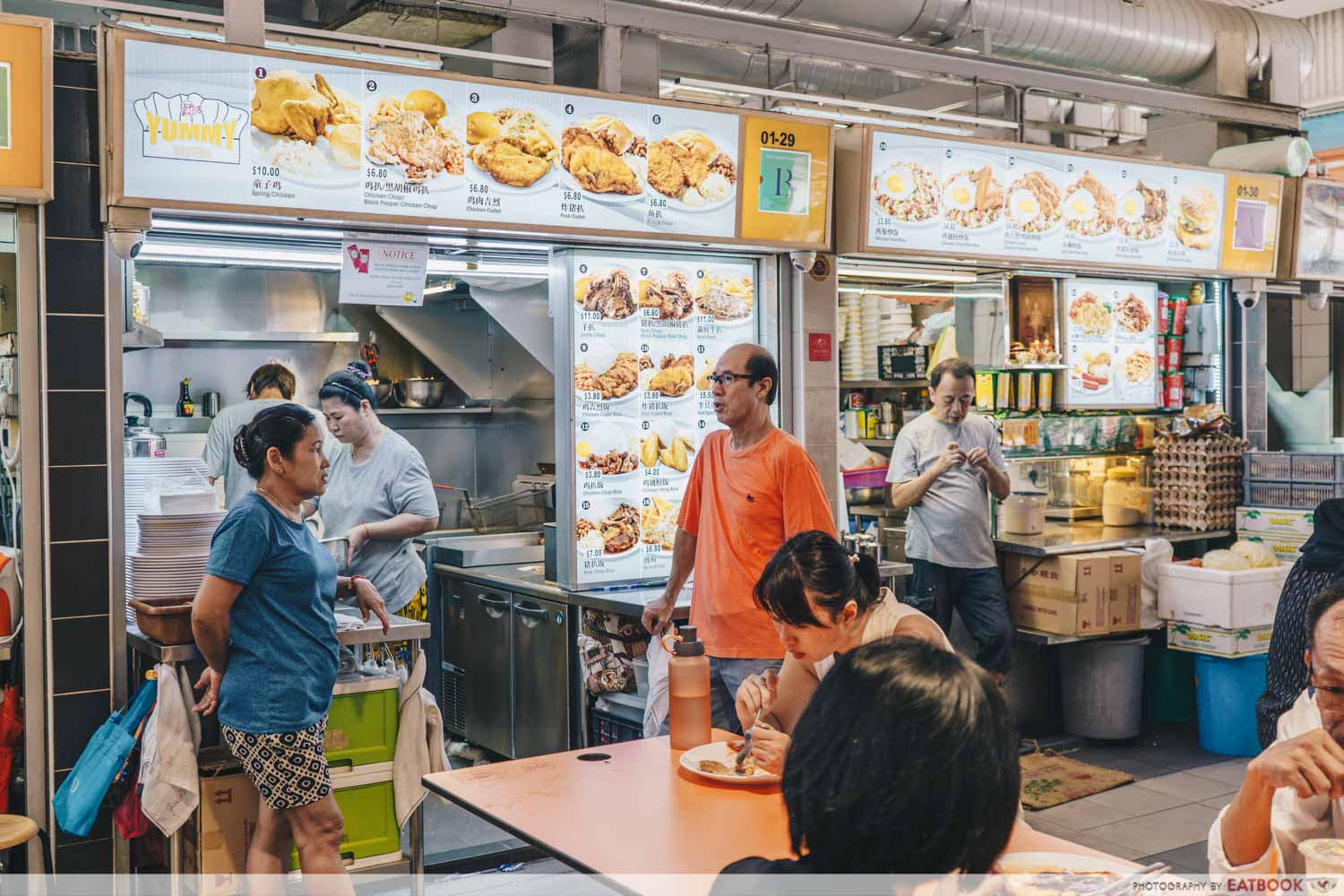 Yummy Western is the sort of place that would appeal best to neighbourhood residents. The stall is a regular haunt for those around the area, but is a little too remote for most other people to visit regularly. Their food is affordable, classic, and exactly the type that I used to love so much. 
But in an era of flashy hawker gimmicks and fusion food, I find it harder and harder to stay invested in this classic take on chicken chops and other Western food. Especially when there are way more distracting options. 
For more food in the Ang Mo Kio area, check out our list of 10 Ang Mo Kio Food Gems! 
Address: 409 Ang Mo Kio Avenue 10, #01-29/30, 409 AMK Market And Food Centre, Singapore 560409
Opening hours: Daily 12pm to 10:30pm
Yummy Western is not a halal-certified eatery.
Photos taken by Ho Jing Yi.
This is an independent review by Eatbook.sg.
Yummy Western Review: Classic Western Food At Ang Mo Kio With 30-Minute Queues
Summary
Pros
– Flavourful chicken chops
– Affordable
Cons
– Pork cutlet was very thin
– Breading was a little dry and rough
– Inconvenient Location
Recommended dishes: Black Pepper Chicken Chop ($6.80)
Opening hours: Opening hours: Daily 12pm to 10:30pm
Address: 409 Ang Mo Kio Avenue 10, #01-29/30, 409 AMK Market And Food Centre, Singapore 560409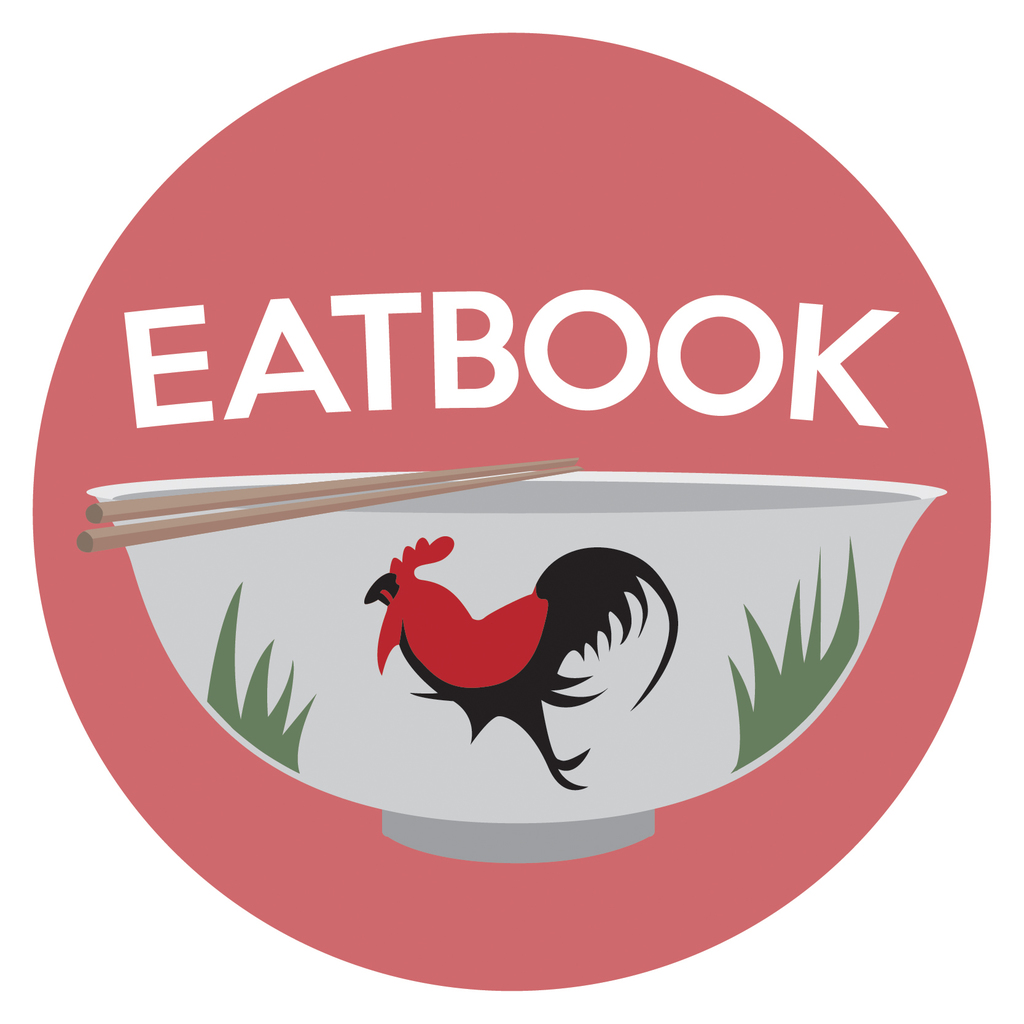 Drop us your email so you won't miss the latest news.