---
Spicy dishes that will set your mouth on fire
---
Growing up in a Peranakan household, I'm pretty familiar with spice. From sambal prawns to assam fish, chilli dishes are a mainstay at my dinner table. That said, my tolerance for heat is distinctly average, so I gawk at friends who feast on bowls of spicy Samyang noodles for pleasure. Such people are addicted to capsaicin, the molecule in chilli which excites the tongue's pain receptors to create that feeling of heat. Still, I imagine these spice addicts will have difficulty taking on this list of the 10 spiciest dishes in Singapore. Proceed with caution, as these fearsome dishes break the Scoville scale, with explosive tendencies granted by everything, from chilli padi to ghost peppers.
---
1. Level 27 WTF Challenge Ayam Geprek
---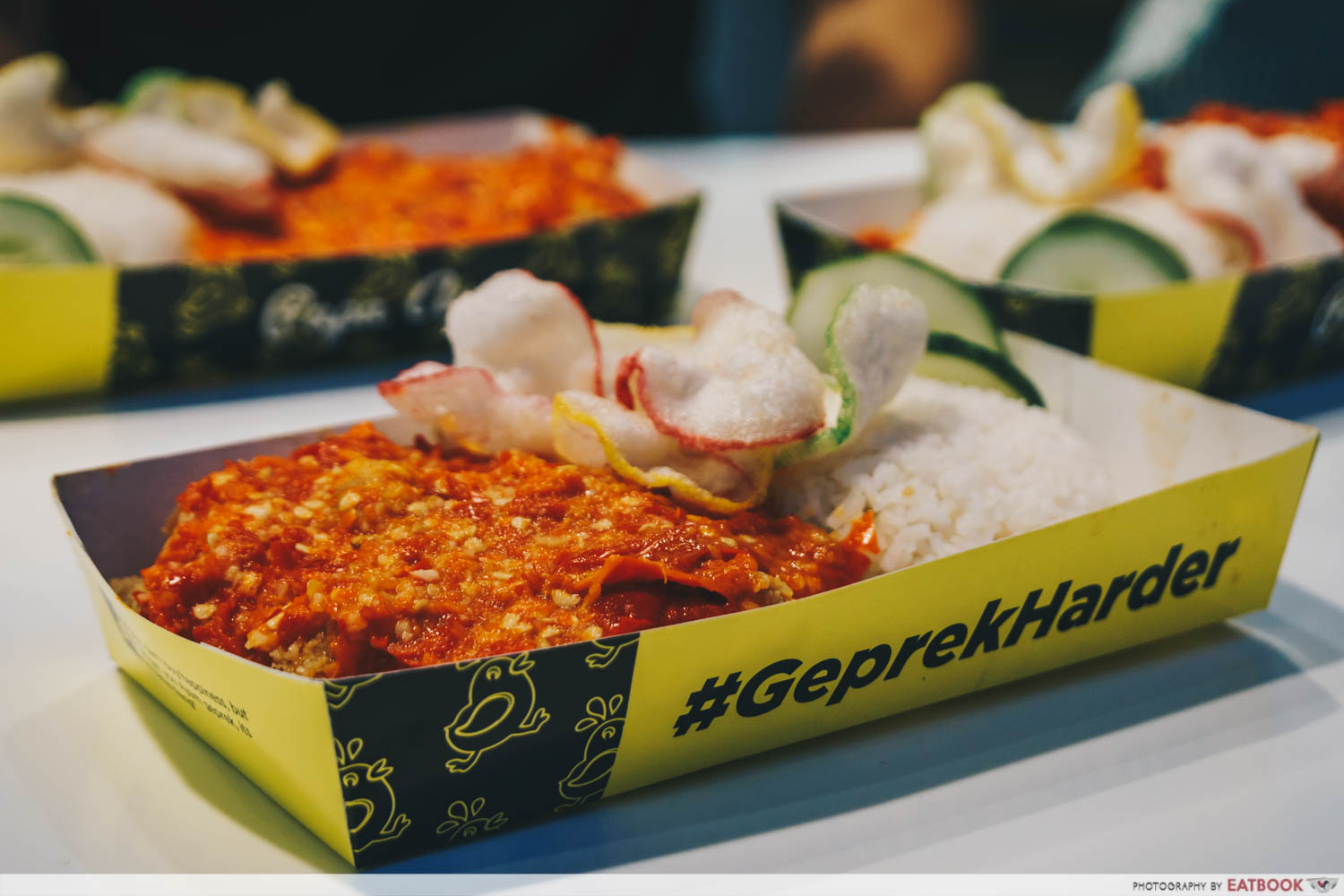 Most Singaporeans think of ayam penyet when it comes to smashed fried chicken, but it's cousin, ayam geprek, has flourished in popularity over the past few years. These boneless chicken thighs are given a good pounding by mortar and pestle, and have grown into a culinary phenomenon in Indonesia. The dish is especially beloved among youths, who are enamoured by its cracker-crisp skin and fiery layer of sambal with varying levels of heat.
Papa Ayam transports the dish to our shores, serving up Ayam Geprek Original ($6.80) that boasts 15 levels of spice. Fried chicken fanatics with an iron stomach can attempt the WTF Challenge ($13.70), which breaks the spice scale and skips all the way to level 27.
This intensely crimson ayam geprek looks like it should be marked with a hazard symbol. But we managed to polish it off within five minutes, thus scoring a free meal and a spot on the wall of fame. Keep a towel handy, because you'll be sure to work up a sweat downing those nefarious chunks of chicken.
Check out our full review of Papa Ayam!
Papa Ayam Review: Finish This Level 27 Sambal Fried Chicken Rice And Get It For Free At Somerset
Address: 313 Orchard Road, #B3-49, 313@Somerset, Singapore 238895
Opening hours: Sun-Thur 11am to 10pm, Fri-Sat 11am to 10:30pm
Tel: 8698 3921
Website
Papa Ayam is a Muslim-owned eatery.
---
2. Ma La Hot Pot
---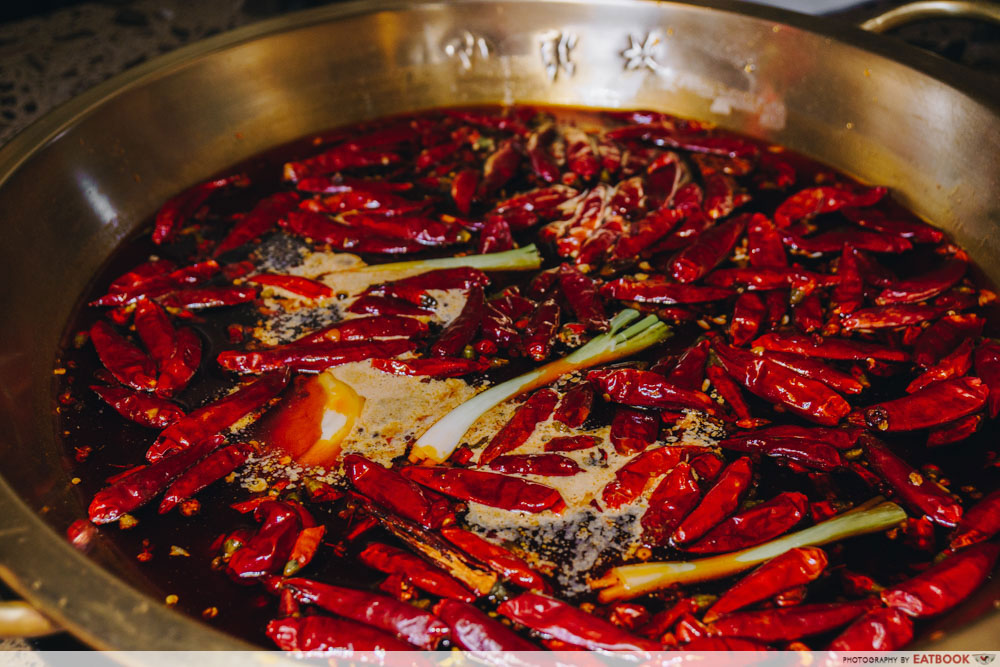 Nothing screams searing heat like a bubbling cauldron of dried chillies. Armed with a sea of chillies and an ominously dark broth, Xiao Long Kan Hotpot's Butter Spicy Hot Pot ($18++) will make your stomach tremble before your first mouthful. It's not all mindless heat though. The use of ma la butter to flavour this soup base results in a rich and creamy finish that will keep you going in for more, even as sweat drenches your shirt.
Pair this explosive soup base with their Australian Prime Beef Slice ($26++), which are blessed with robust flavour and streaks of unctuous fat. Those traits make them stand out and complement the potent broth, rather than having their meaty flavours drowned out.
Address: 200 Victoria Street, #02-54, Bugis Junction, Singapore 188021
Opening hours: Daily 11am to 6am
Tel: 6909 6458
Website
---
3. Red Hell Ramen
---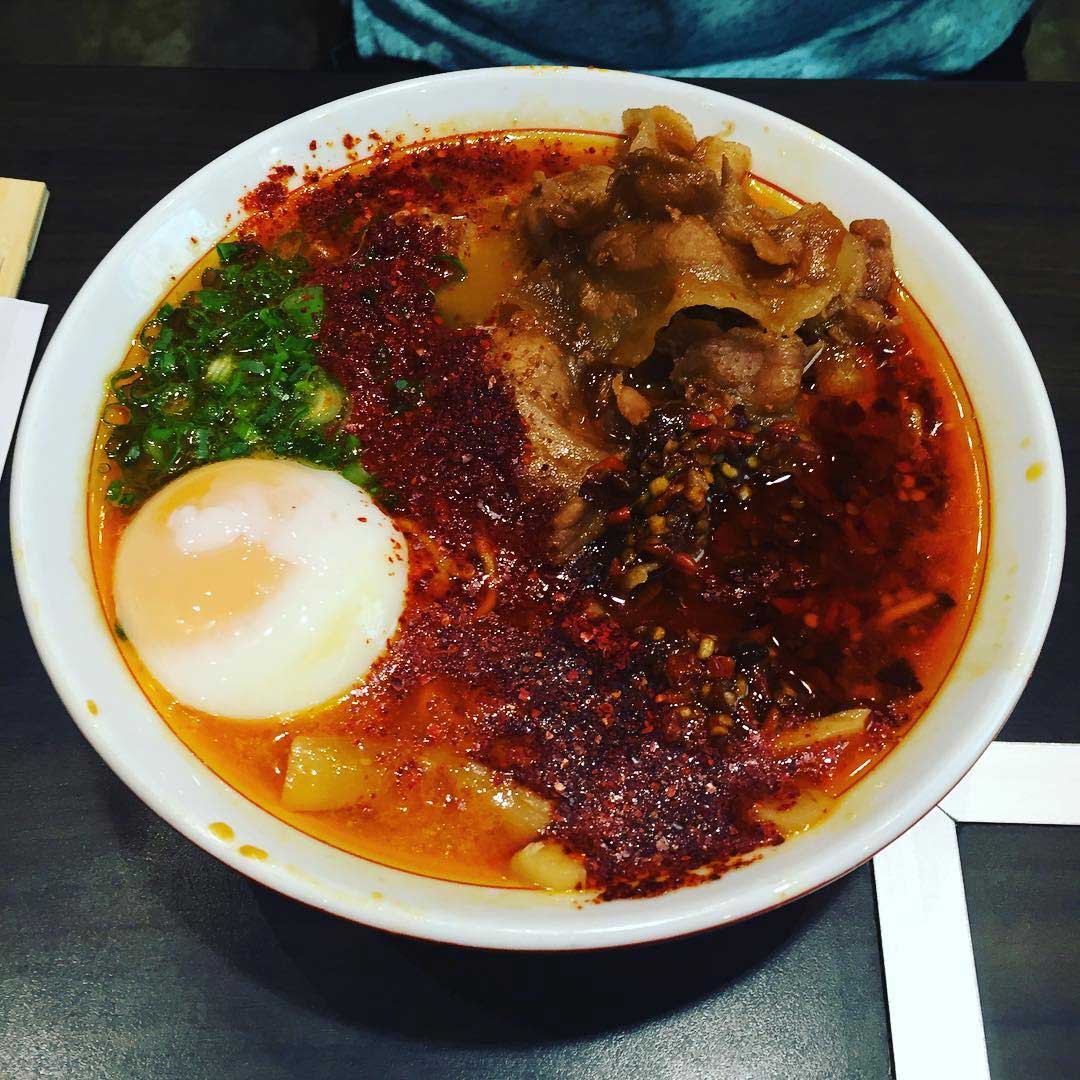 Image credit: @hafizmansur
It's not controversial to call pork belly the most popular ma la xiang guo ingredient. The cut's luscious flavour and springy texture make it a suitable partner for spicy and aromatic seasonings.
It makes sense then, that Singapore's spiciest bowl of noodles is served up at Buta God, a Ramen Champion stall specialising in tonkotsu ramen topped with sukiyaki-style pork belly. Their Red Hell Ramen ($14+) comes with five levels of spice, maxing out at the sinister-sounding Go To Hell. That entails a positively fearsome bowl, garnished with dollops of chilli paste and enough chilli oil to scare even the most courageous spice eater.
Address: 201 Victoria Street, #04-10, Bugis+, Singapore 188067
Opening hours: Mon-Fri 11am to 10:30pm, Sat-Sun 10:30am to 10:30pm
Tel: 6238 1011
Website | Full list of outlets
---
4. Secret Level 10 Buffalo Wings
---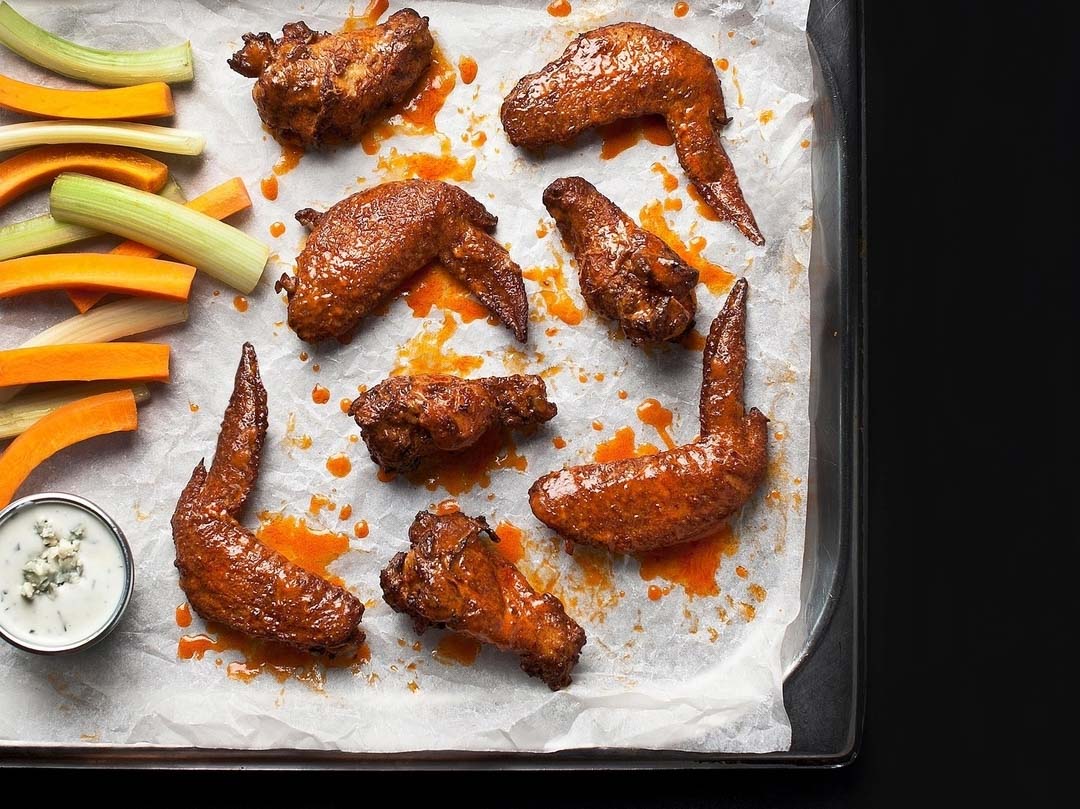 Image credit: @shakeembuns
Diner-cum-bar OverEasy evokes the spirit of 20th century USA in every aspect, from decor to menu. Live out your Riverdale fantasies by reclining in comfy booths while sipping on a milkshake and munching on a quintessential diner snack – buffalo wings.
The casual joint's Spicy Buffalo Wings ($16++) are some of the hottest you'll find in Singapore, with three spice levels ranging from Wimp to Crazy Mofo. Real spice fiends can tempt fate by going even further with their secret, off-menu Level 10 Buffalo Wings.
While they look pretty innocuous, these wings are tossed in a sauce spiked with the notorious Naga Jolokia chilli, which has a Scoville rating of over one million Scoville Heat Units. By comparison, chilli padis range from 50000 to 100000 Scoville Heat Units, so only the most confident of spice addicts should take a stab at these wings.
Address: 541 Orchard Road, #01-01, Liat Towers, Singapore 238881
Opening hours: Mon-Thur 3pm to 11pm, Fri 12pm to 1am, Sat 10am to 1am, Sun 10am to 10pm
Tel: 6684 1453
Website | Full list of outlets
---
5. Spaghetti From Hell
---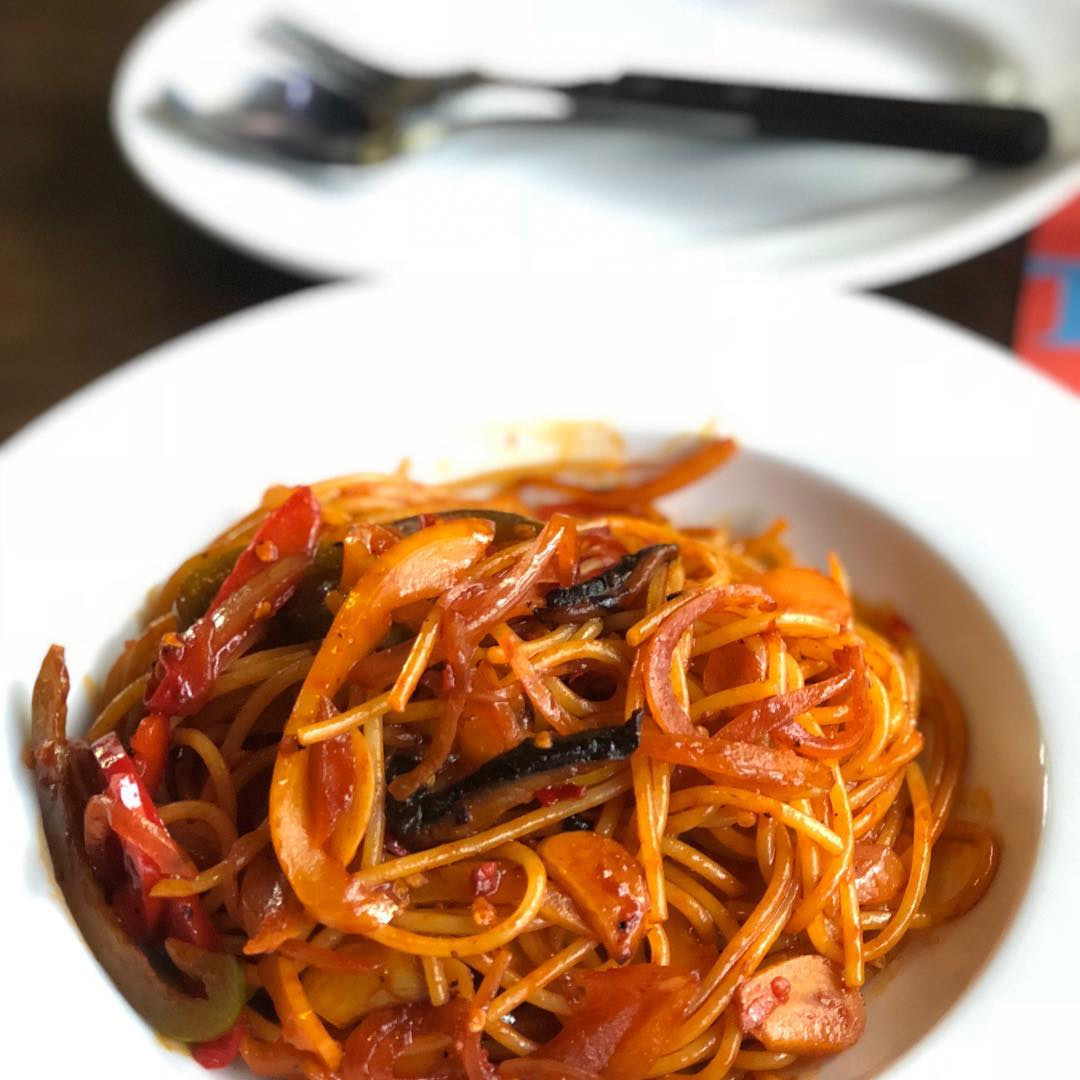 Image credit: @fishbonezng
Contrary to what its innocent facade suggests, this is the spiciest plate of spaghetti on our island. It's dangerously hot – so hot that you have to sign an indemnity form to attempt this Level 18 Spaghetti From Hell Challenge ($26++) at Southwest Tavern. Not sure about you, but I've never had to sign a contract before eating something.
Driving that insane heat is a cocktail of chilli padi, chilli flakes and Trinidad Scorpion Butch T peppers, the latter of which was the world's hottest pepper until 2013. Scaling this painful mountain of noodles will grant you two free towers of Heineken beer or a $100 voucher for your next visit. While those are attractive prizes, they'll probably come at the expense of a few excruciating days camped in the toilet.
Address: 8 Boon Lay Way, #01-33, Tradehub 21, Singapore 609964
Opening hours: Daily 11am to 12am
Tel: 6515 4303
Website
---
6. Level 5 Japanese Curry
---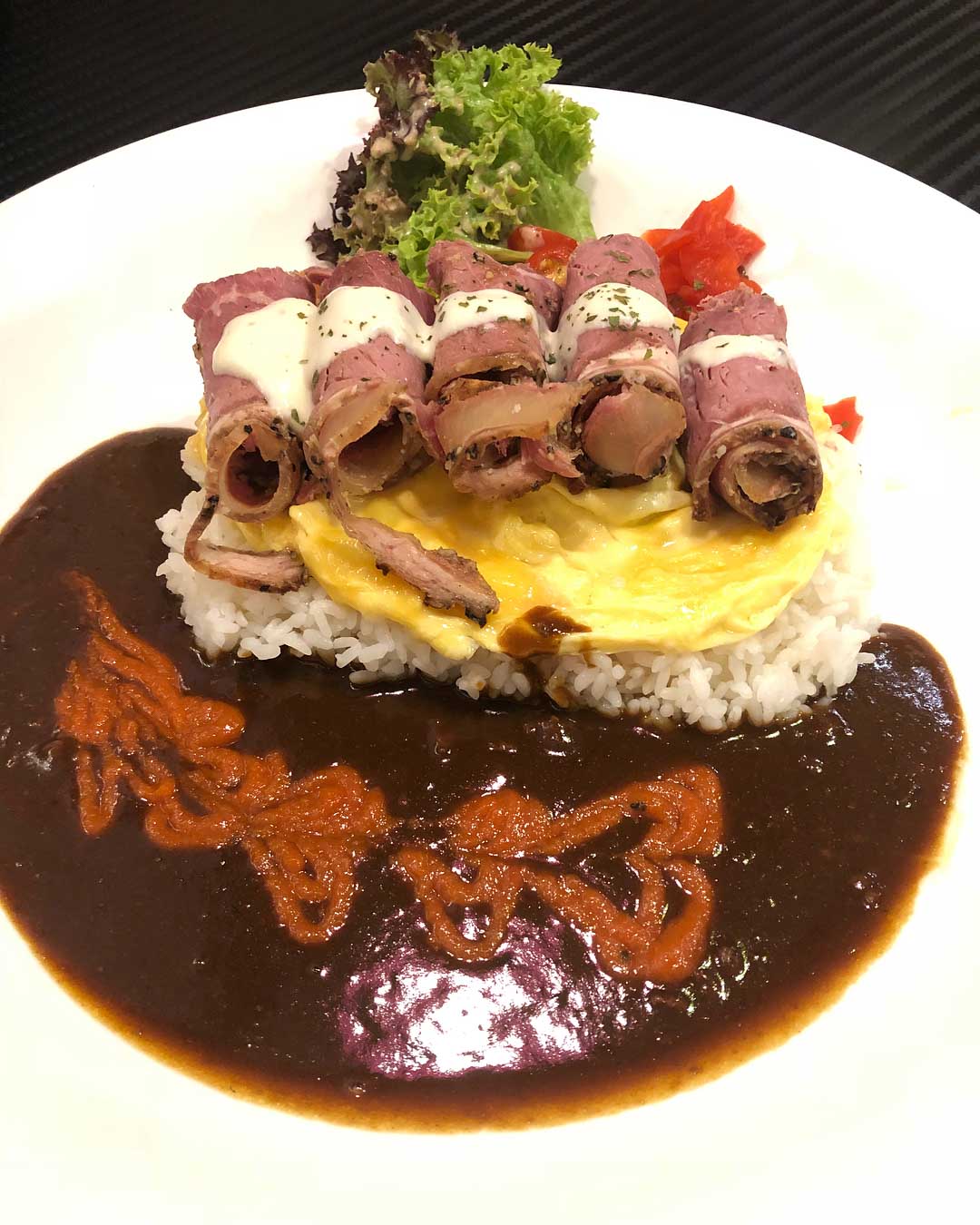 Image credit: @fluffyms_93
Monster Curry is arguably Singapore's most prolific Japanese curry specialist, boasting 12 outlets all over the country. That success is a result of their deeply flavourful and savoury demi-glace curry, in conjunction with their monstrous portions.
While Japanese curry isn't known for heat, this illustrious chain lets spice fans crank up the heat. Their Level 5 Curry features five heart-shaped squiggles of red-hot chilli sauce, perhaps representing the heartburn that will ensue. Once mixed in, they transform this rich curry from child's play to a concoction capable of reducing grown men to tears.
Pork Katsu Curry ($13.80++) is the fail-safe option when it comes to Japanese curry, but the signature Monster Curry Combo ($27.80++) offers massive variety. Flaunting pork katsu, shabu-shabu pork, shrimp tempura, fried fish and cheese, this gargantuan plate is fit for two hungry diners to share.
Address: 2 Orchard Turn, #B4-52, ION Orchard, Singapore 238801
Opening hours: Daily 11am to 10pm
Tel: 6509 4555
Website | Full list of outlets
---
7. We Declare You King Curry
---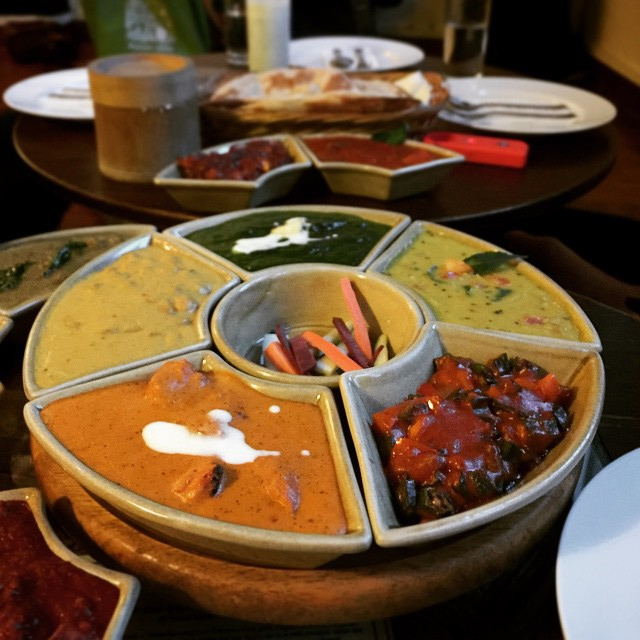 Image credit: @yonia
MICHELIN Bib Gourmand awardee Lagnaa Barefoot Dining is one of the best spots in Singapore for a deep dive into Indian cuisine, beyond prata and fish curry. They also offer 10 levels of spice for all their curries, so you can simultaneously discover a whole host of aromatic curries you never knew existed and torture your tastebuds with heat. Butter Chicken ($12+) and Prawn Masala ($17+) are noticeable standouts, with each curry possessing great depth of flavour.
Even the most foolhardy of chilli-eating showoffs can't jump straight to level 10 though. You'll have to prove your mettle by polishing off a Level 6 – I Dare You curry to receive an invite to try your hand at the Full Moon Challenge. As the name suggests, this challenge only happens once a month on nights with full moons. Entrants attempt clearing a level 7 to 10 curry of their choice without toilet breaks, all to get the dish free. Try your luck, but be warned – no one has ever conquered the Level 10 – We Declare You King curry.
Address: 6 Upper Dickson Road, Singapore 207466
Opening hours: Daily 11:30am to 10:30pm
Tel: 6296 1215
Website
---
8. #YOLO Ribs Challenge
---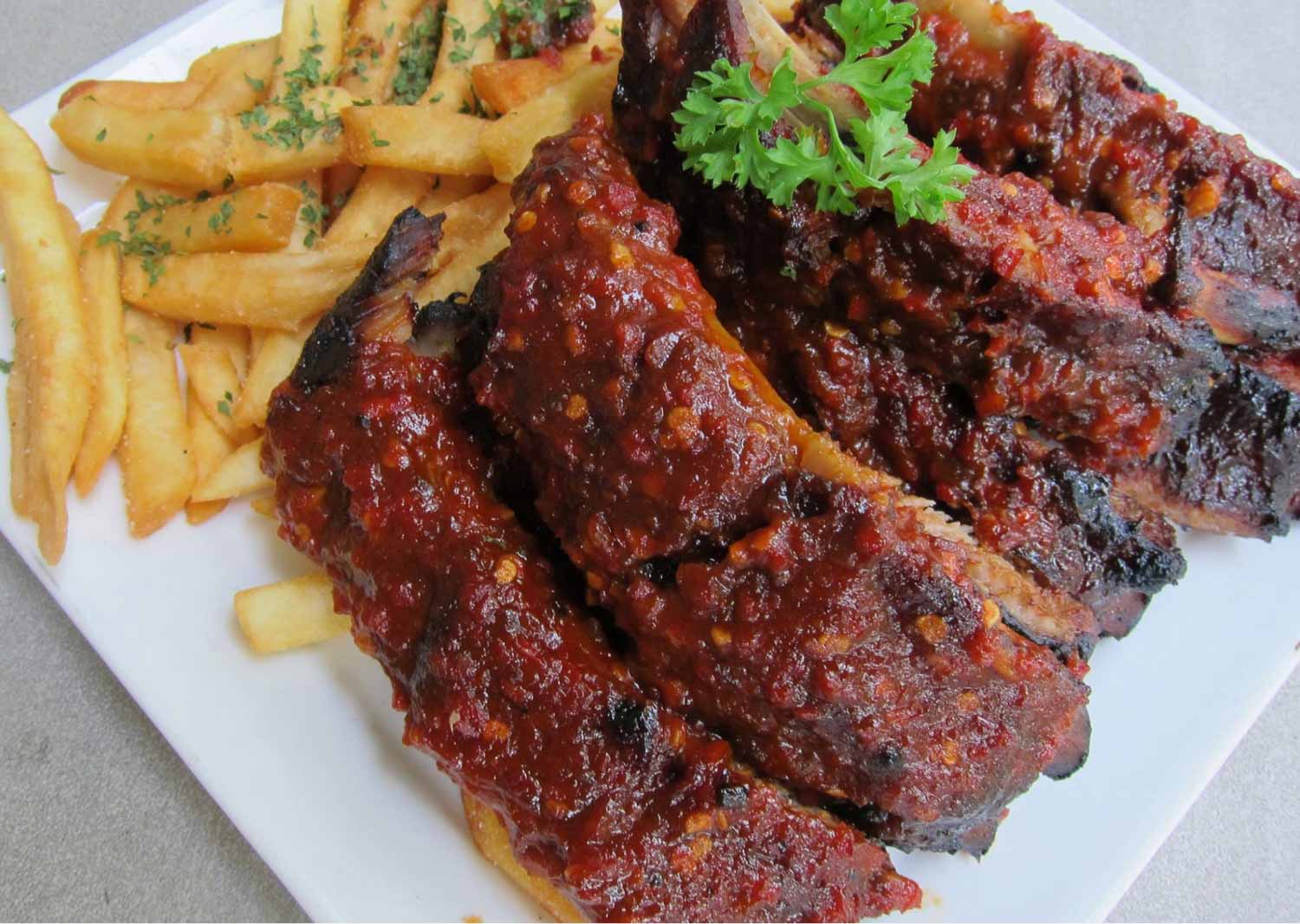 Image credit: Meat N' Chill FB Page
When I'm craving some hearty barbecued meat, Meat N' Chill is one of the few places I head to, especially for their sumptuous pork ribs. A bevy of flavours are available, from classics like Hickory to exotic rubs such as the pineapple and rum-laced Caribbean.
There are flavours to suit chilli enthusiasts as well, notably in their Spicy #YOLO Challenge. The challenge entails finishing up an entire rack of their Live Free Or Die Hard Ribs ($35+) within 30 minutes, all for a free meal and a pint of lager.
With meat that falls off the bone and robustly-flavoured marinades, it's usually hard to stop downing their tender bars of porky goodness. However, the Carolina Reaper peppers that coat these ribs will likely have you second guessing. This American abomination is the incumbent Guinness World Record holder for the world's hottest pepper, weighing in at a whopping 1.6 million Scovilles.
Address: 805 Bukit Timah Road, #01-04, Sixth Avenue Centre, Singapore 279883
Opening hours: Tue-Fri 11:30am to 2:30pm, 5:30pm to 10pm, Sat-Sun 11:30am to 3pm, 6pm to 10pm
Tel: 8812 4455
Website
---
9. Ma La Braised Fish
---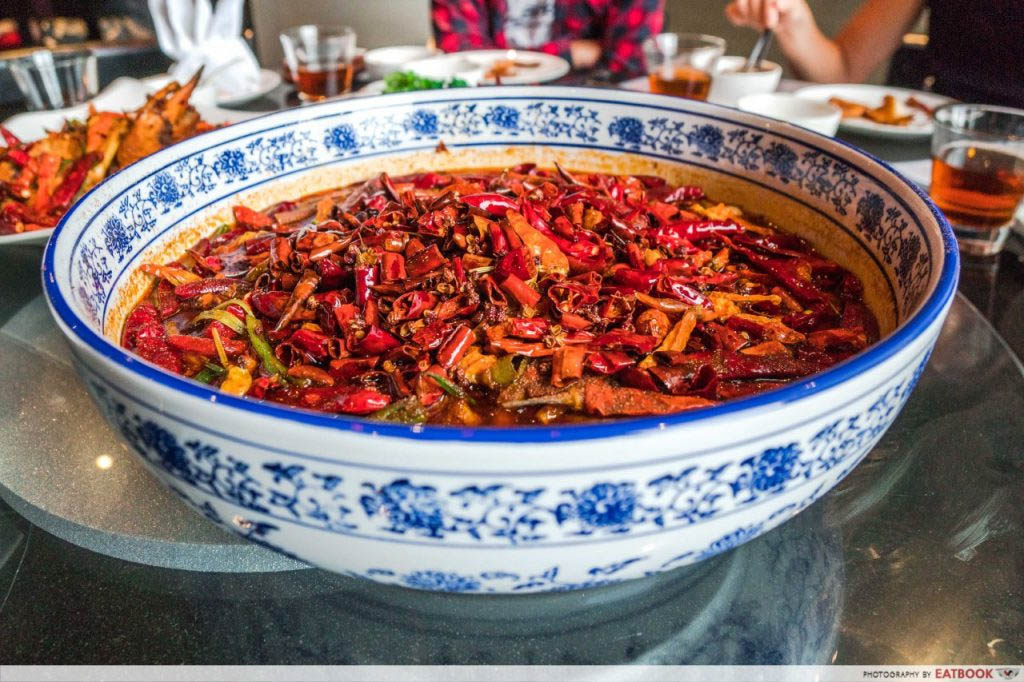 Quite possibly the single scariest looking dish on our list is the Braised Garoupa Fish Fillet In Chilli Oil Soup ($40++ for small, $50++ for large) from Qi – House of Sichuan. This massive bowl of chilli broth looks more like an evil potion than anything I'd eat for pleasure, and my colleague who tried it assured me that it's not for the faint of heart.
That shower of chillies shrouds a mound of mushrooms, sweet potato noodles, and fresh slices of garoupa fillet. Even the most seasoned ma la xiang guo lovers should expect their mouths to be set ablaze, before being overwhelmed by the familiar tingling sensation of a deluge of Sichuan peppercorns.
Check out our full review of Qi – House of Sichuan!
Qi – House of Sichuan Review: Spicy Ma La Dishes In The CBD By A Michelin-Starred Restaurant
Address: 8A Marina Boulevard, #02-01, Marina Bay Link Mall, Singapore 018984
Opening hours: Daily 11:30am to 3pm, 6pm to 10pm
Tel: 6634 8277
Website
---
10. Nashville Hot Chicken
---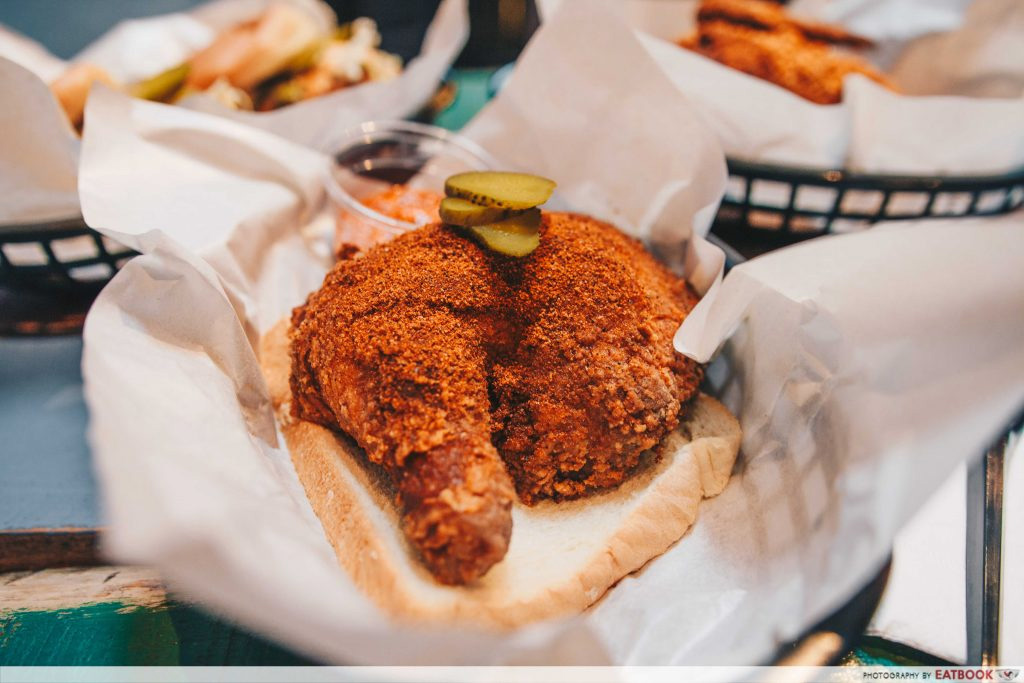 Alongside buffalo wings comes USA's second spicy fried chicken entry, hailing from Nashville, Tennessee. Chix Hot Chicken doles out Nashville Hot Chicken ($9.90 for a quarter chicken), which takes delectable buttermilk fried chicken into fearsome territory. The crackling golden pieces of chicken are coated in a spice paste headlined by cayenne pepper and brown sugar. The result is a stick of dynamite dressed up as chicken, deep red and ready to destroy your digestive system. It's so spicy that piquant pickles and a slice of white bread come standard to soothe your scorching tongue.
Co-owned by Singapore Idol winner Taufik Batisah, these spunky chicks come in three levels of spice. Turn up the fire to full blast by opting for Insane Hotness, which spruces up the spice rub with a healthy dose of Naga Jolokia dust. Keep some napkins handy, to wipe both the chicken juices from your mouth and the sweat off your forehead.
Check out our full review of Chix Hot Chicken!
Chix Hot Chicken Review: Taufik Batisah Opens A Fried Chicken Cafe At Bugis
Address: 1 Jalan Pisang, Singapore 199069
Opening hours: Mon-Sat 12pm to 9pm
Tel: 9839 0607
Website
Chix Hot Chicken is a Muslim-owned eatery.
---
Protect
your teeth with Sensodyne Repair & Protect
---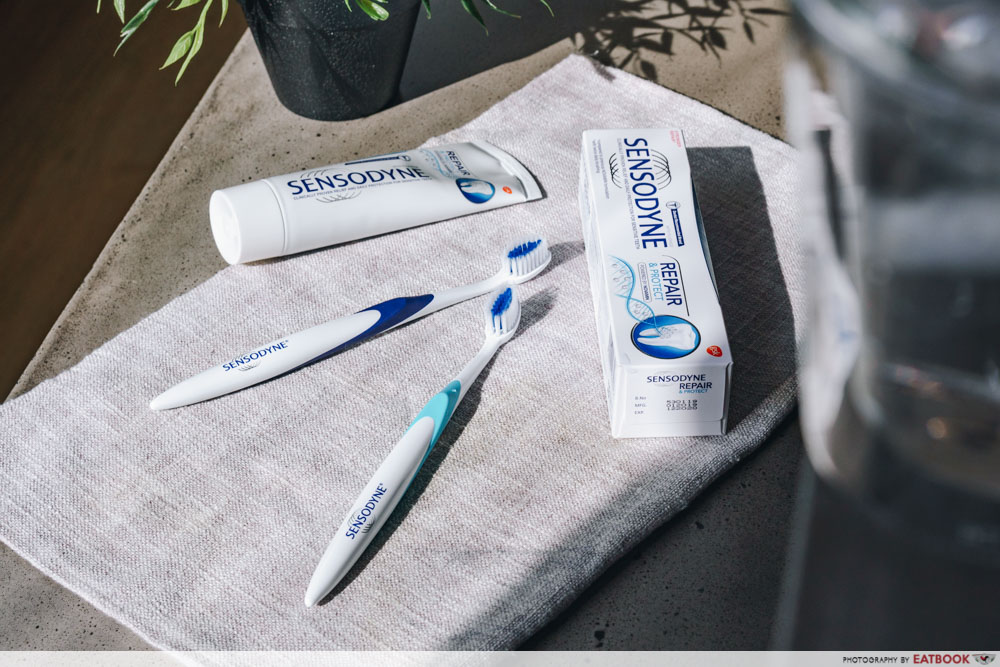 While eating spicy food may be enjoyable in the moment, the consequences aren't always as fun. Trips to the toilet aside, eating excessive amounts of spicy food can lead to sensitive teeth.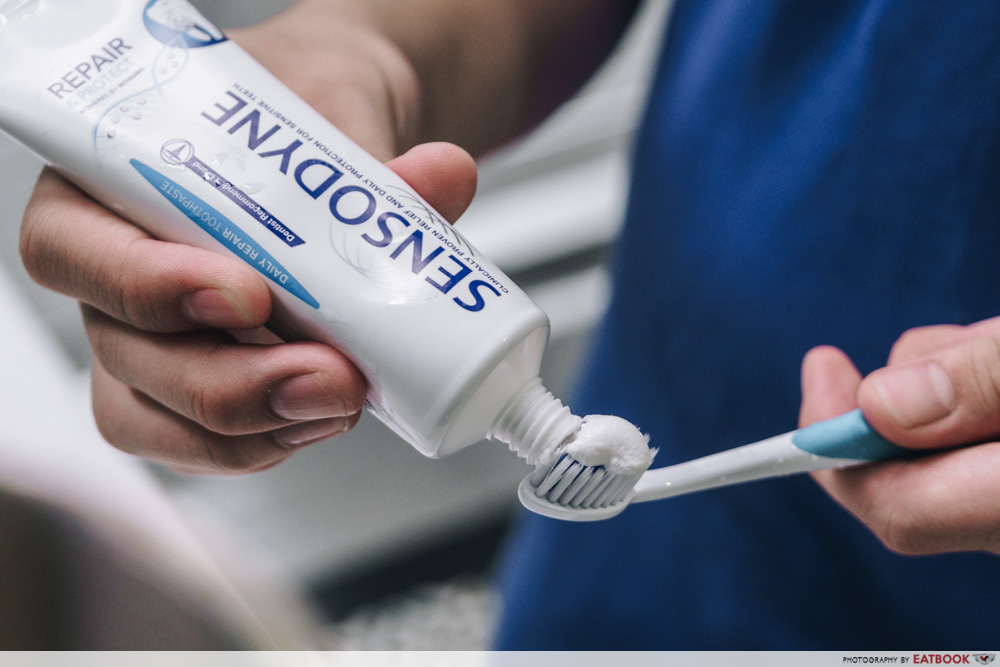 Protect your teeth while devouring as much ma la hot pot as you want with Sensodyne Repair & Protect. Over time, this toothpaste forms a protective layer over the sensitive areas of your teeth, meaning you'll get long-lasting relief from sensitivity and strengthened enamel. Just be sure to brush twice a day!
Sensitivity won't solve itself – the pain only gets worse over time. Discover if you have sensitive teeth and take the first steps to fixing the issue by completing Sensodyne's free Online Checkup.
Photos taken by Sharlene Lau.
This post is brought to you by Sensodyne.