Get quality dim sum at Sum Dim Sum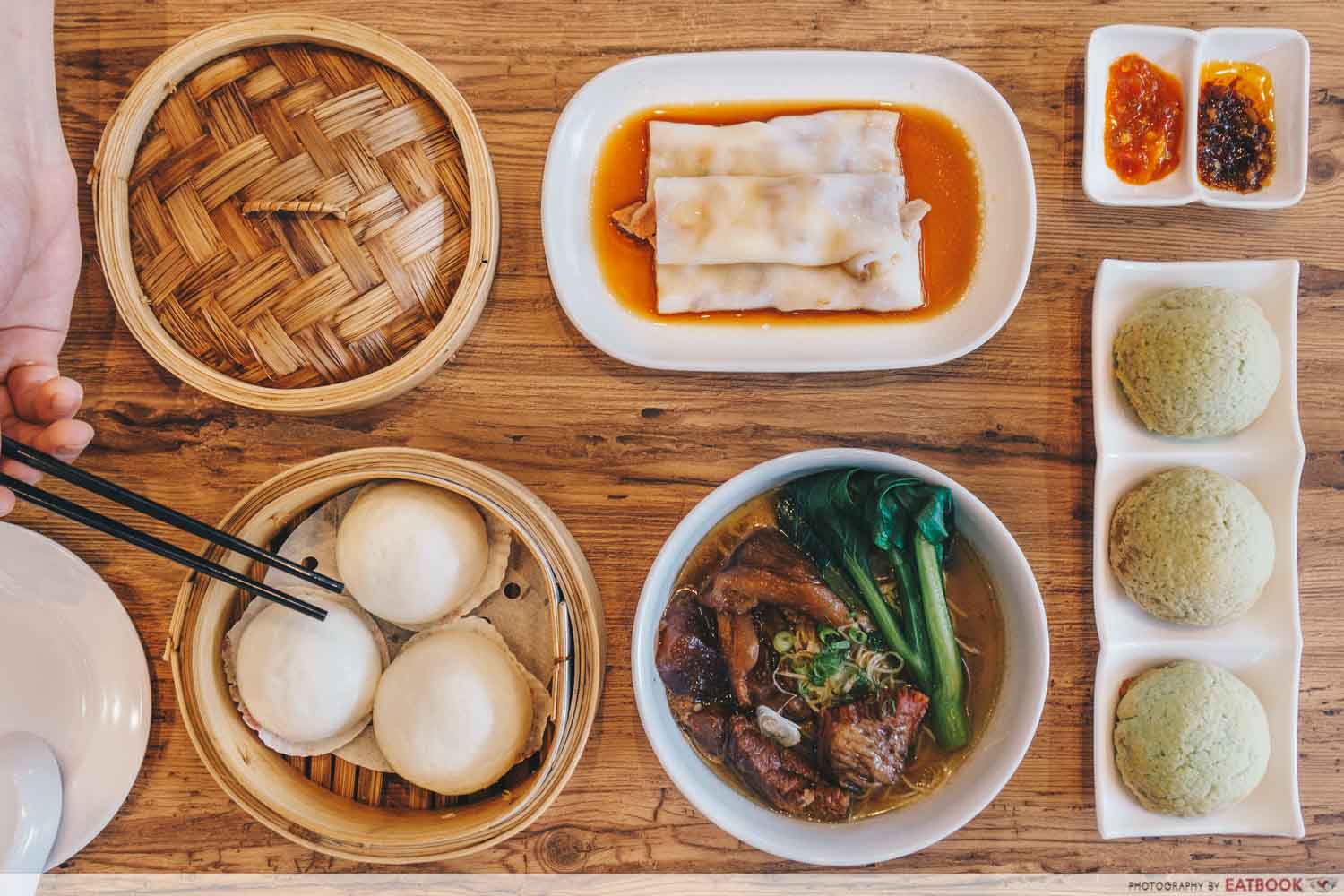 Amongst heavyweights like Swee Choon Tim Sum Restaurant and Dim Sum Haus is another contender that has joined the dim sum competition at Jalan Besar. Sum Dim Sum is the newest kid on the block, and it serves delectable bites in a cosy setting.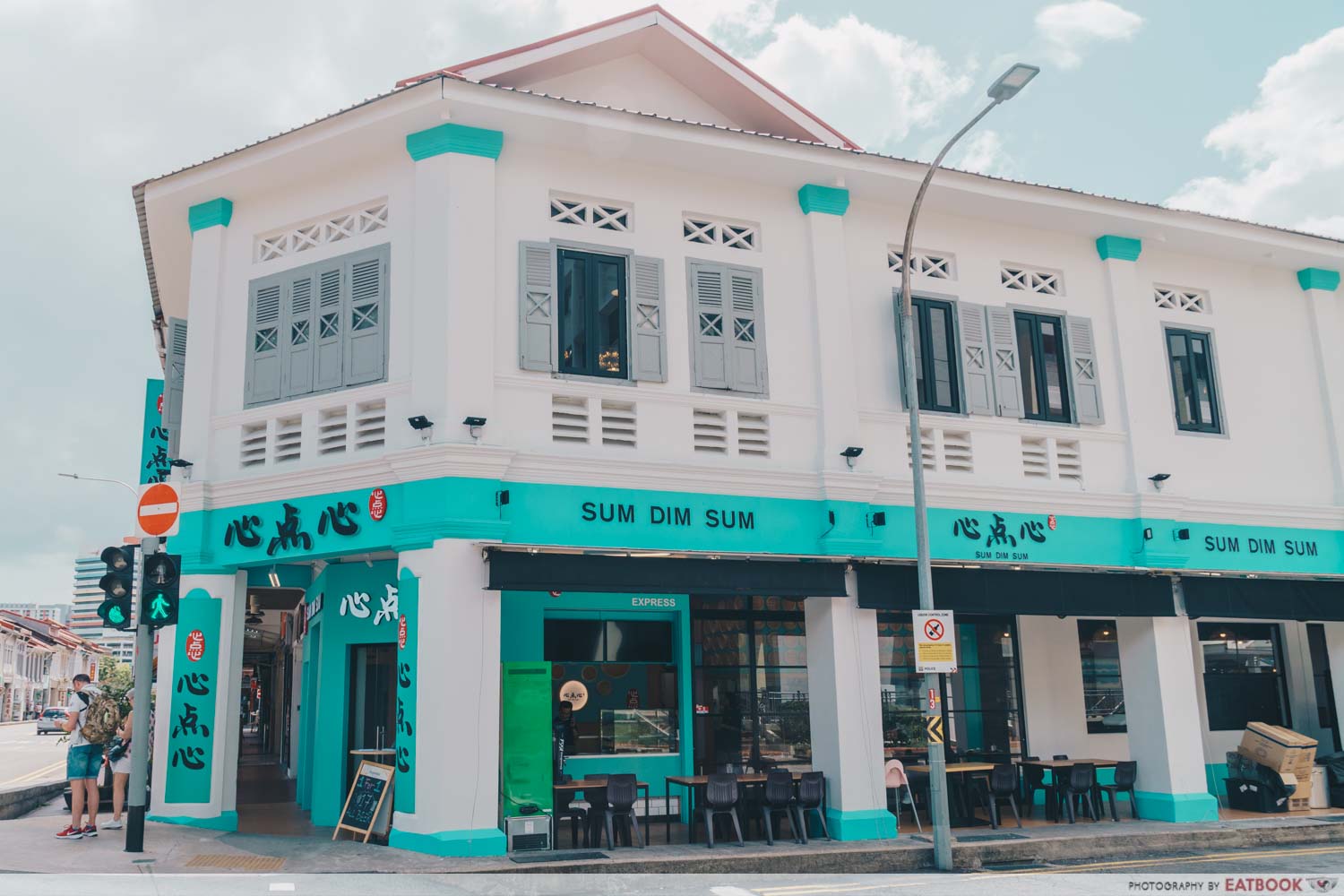 First impressions count, and Sum Dim Sum's left a lasting one on me. Housed below a timeless shophouse, the restaurant's Tiffany blue colour was striking, and I easily spotted its storefront from afar. The bright colour thoroughly complemented the mellow white of the shophouse, and it was a pleasant juxtaposition between the past and present, both combining to form a collective entity.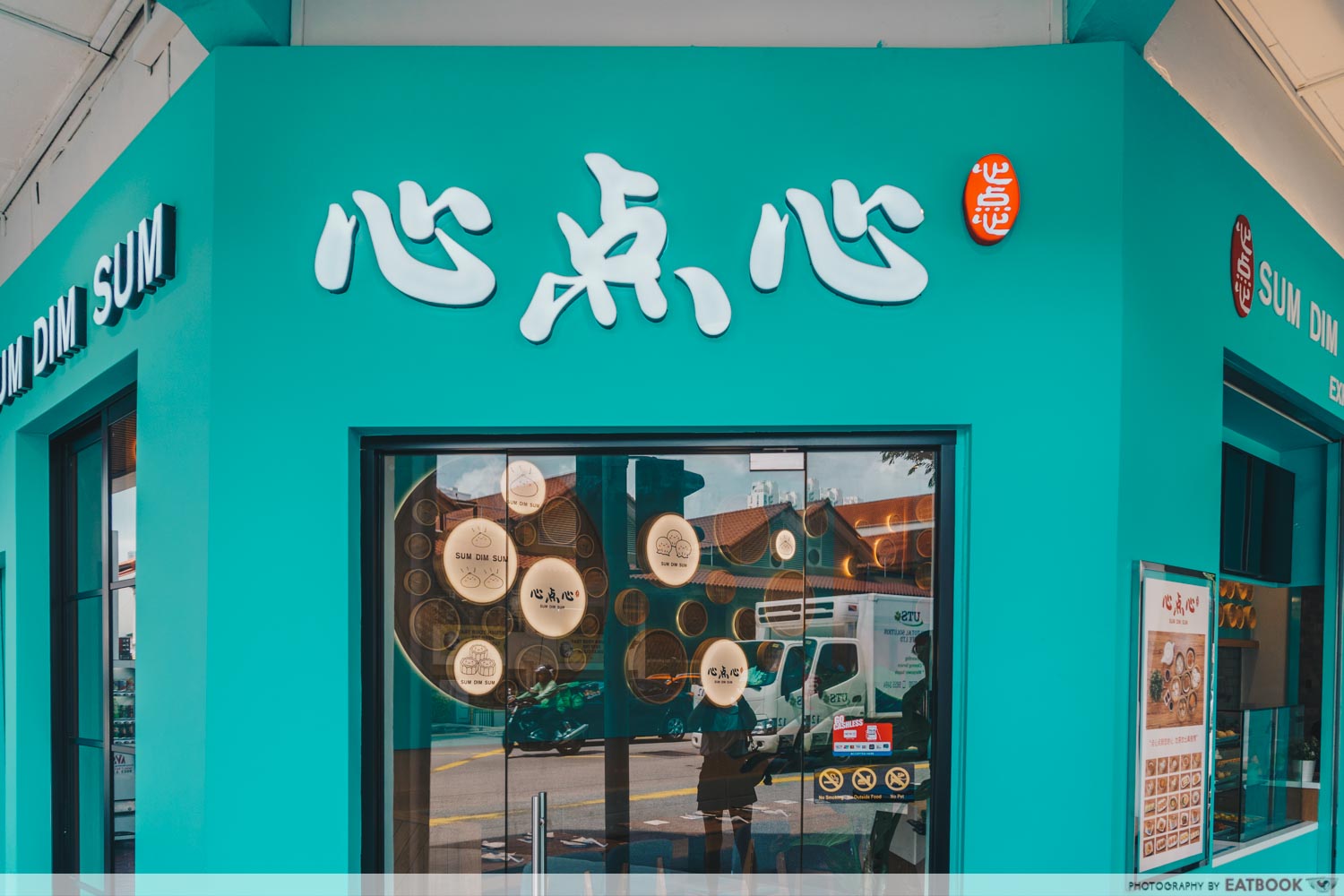 When I arrived at the front door, the dainty colours from afar transformed into a dazzling blue background, headlined by the white Chinese words of their name. The Chinese words can be translated to "heart dim sum", which provided a hint to the kind of food the restaurant serves.
Food at Sum Dim Sum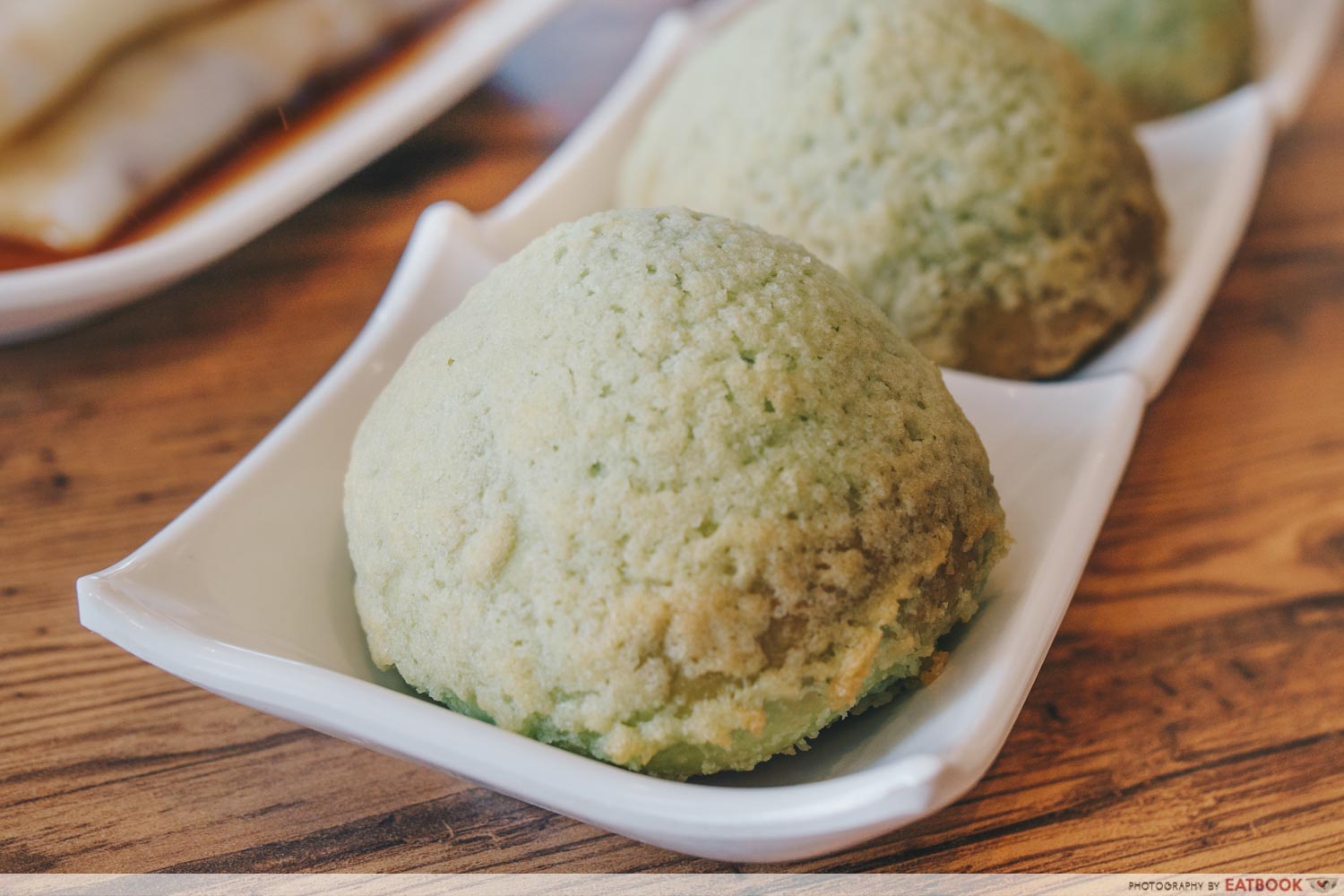 The most popular item here has got to be the Signature Crispy Pork Buns ($6+) that's served on plates of three. One noticeable difference between their pork buns and those from other restaurants is that the buns here have a unique shade of green, which comes from pandan flavouring.
When the buns were settled onto our table, a distinct pandan fragrance wafted through the air, which further triggered my already ravenous appetite.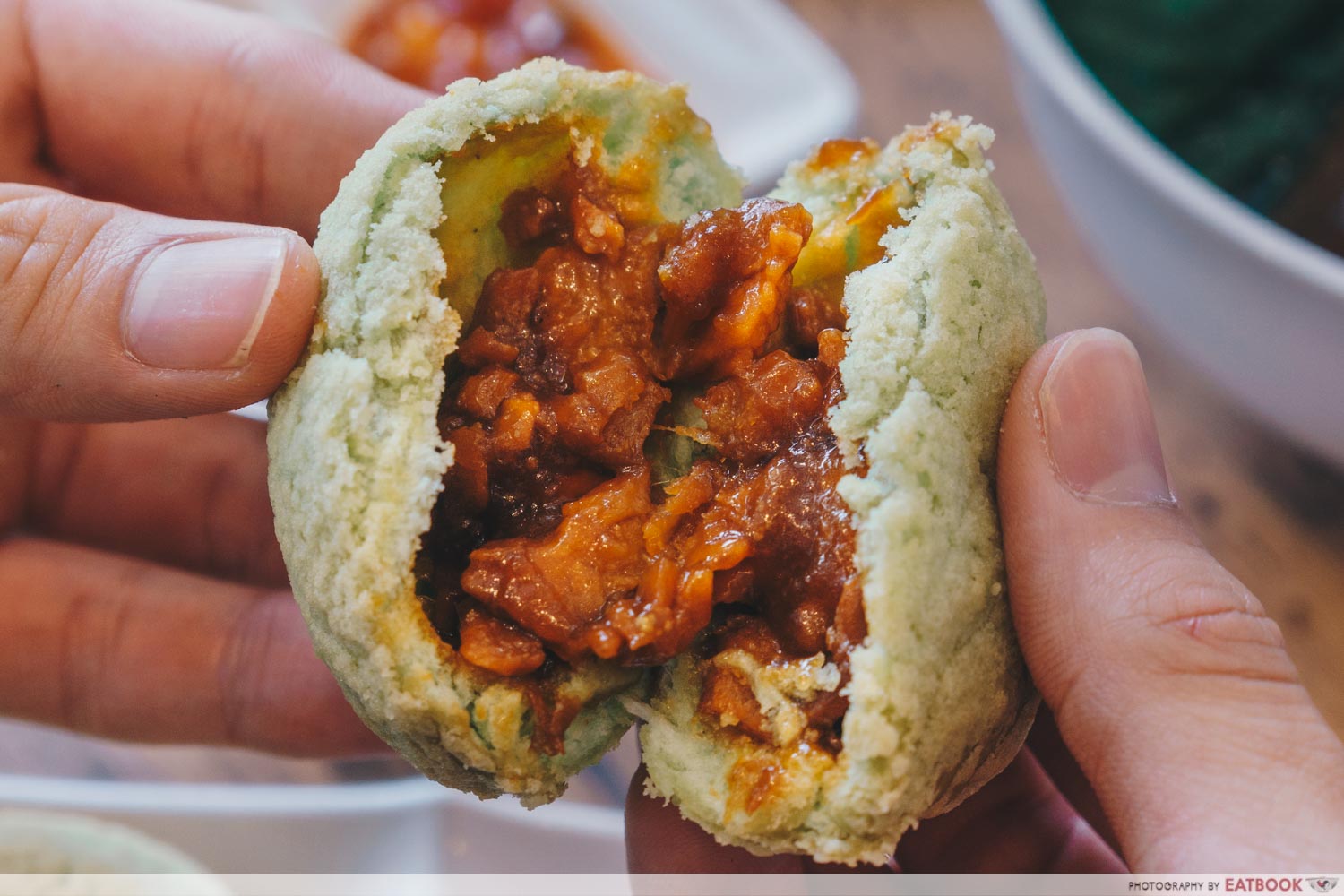 The bun was crispy and warm to the touch. Peeling apart the flaky pastry revealed glistening chunks of juicy pork.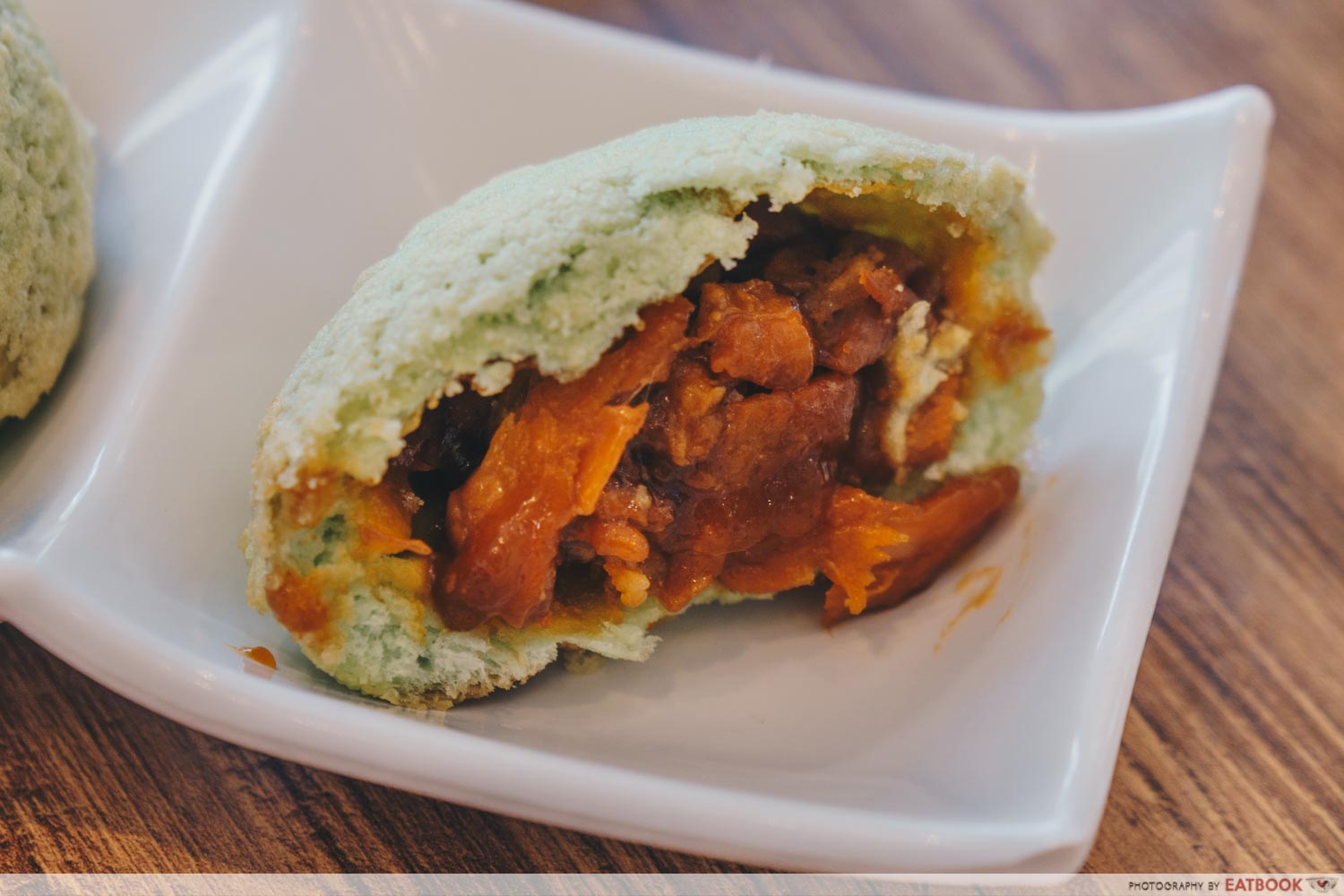 I was delighted that a generous amount of char siew was present, and each bite released pockets of succulent meat into my mouth. The char siew sauce provided a nice sweetness to each mouthful, and when coupled with the small sacs of creamy pork fat, they formed the perfect dynamic duo. The savoury, earthy tang from the pandan added a nice touch to the bun's already intense flavour profile, and that was its winning factor.
Dim Sum Haus Review: New Dim Sum Eatery At Jalan Besar With Nothing Priced More Than $5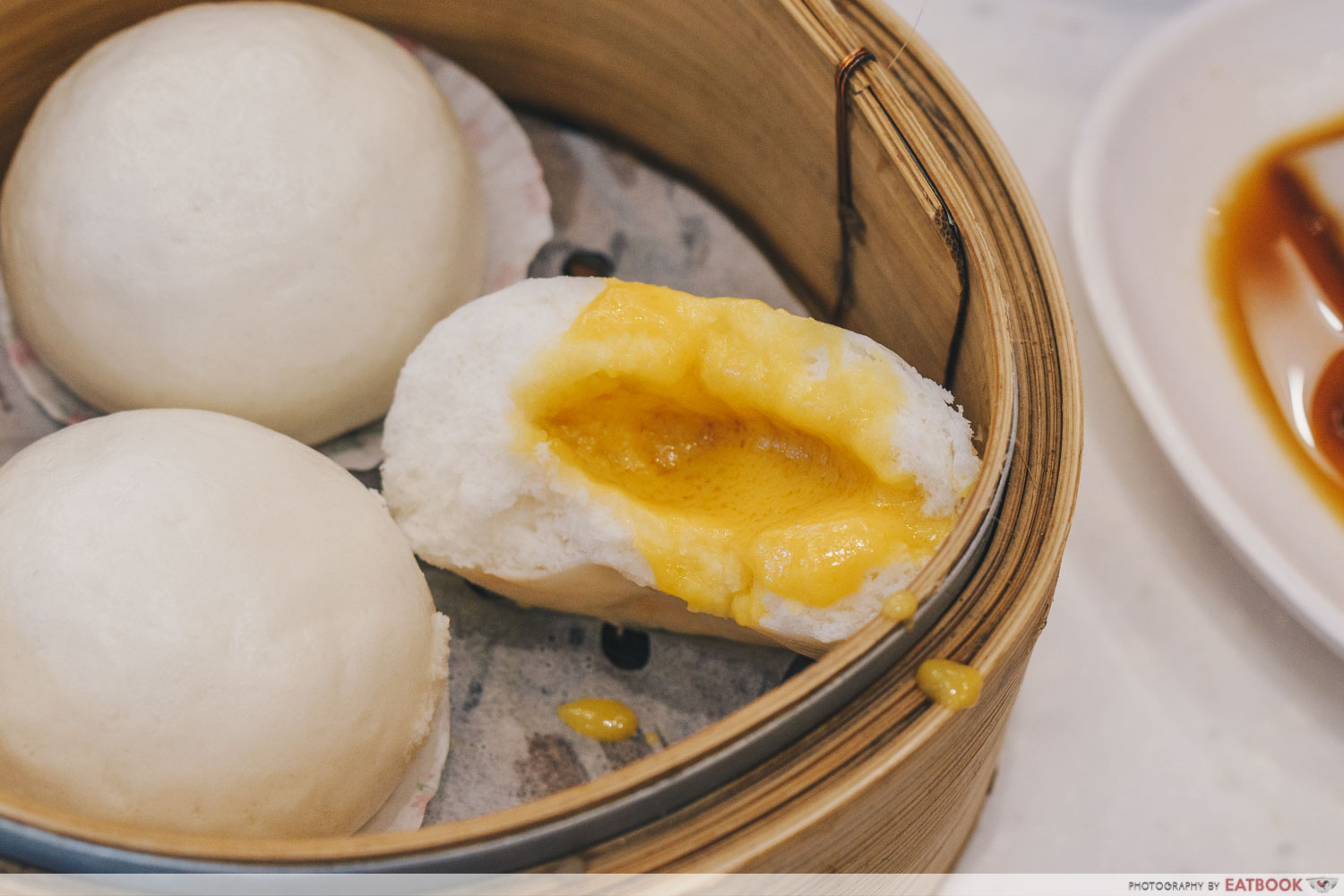 At every dim sum restaurant, I would never fail to order their Golden Custard Buns ($4.50+). The buttery goodness in most golden custard buns is like an addictive drug, and my expectations were high for this dish.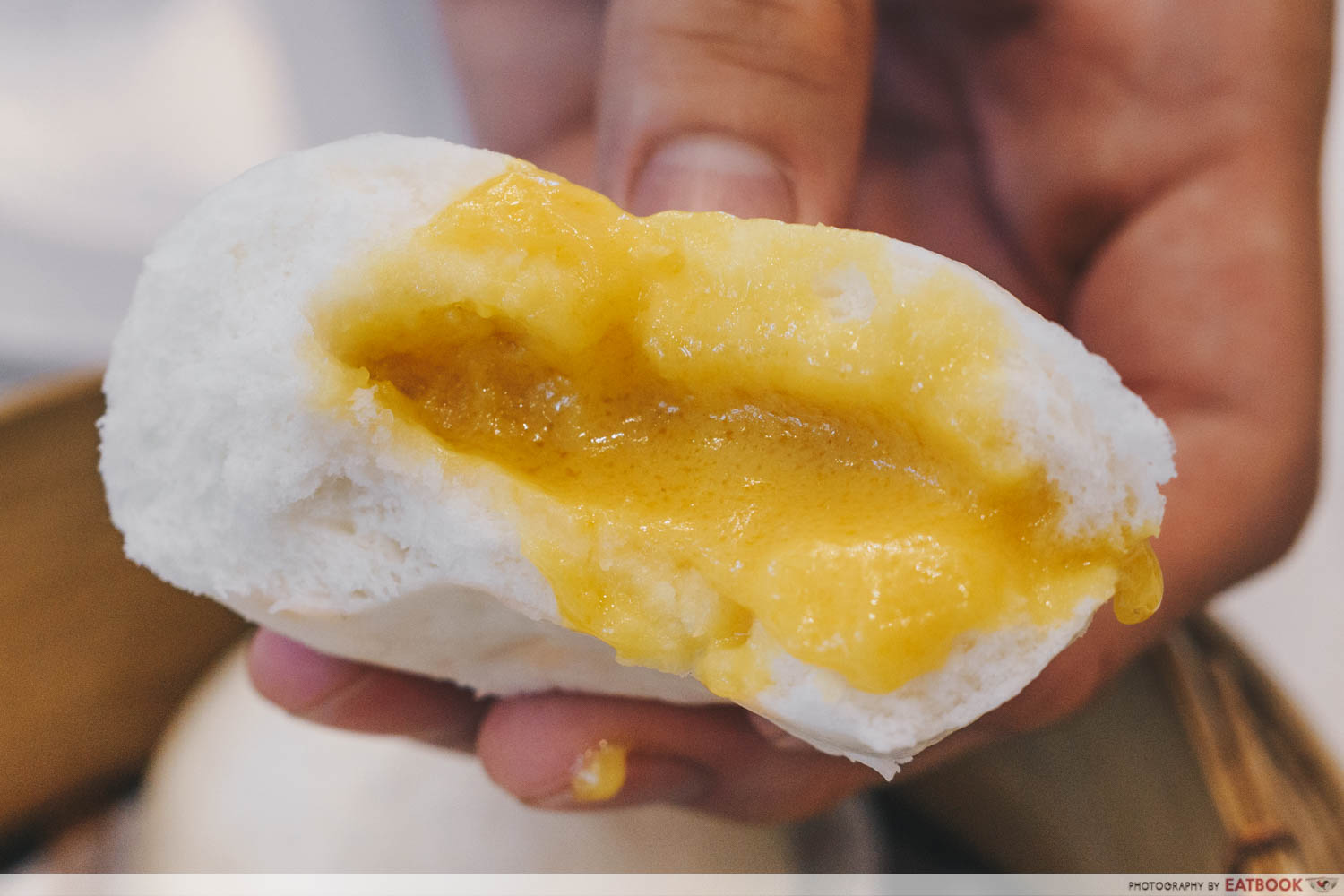 Akin to the Cantonese version of a lava cake, the fluffy buns were filled with creamy, golden salted egg that flowed out lusciously with each bite. I licked my lips in delight as the warm, gooey custard flowed through my mouth, engulfing my taste buds with its delightful sweetness.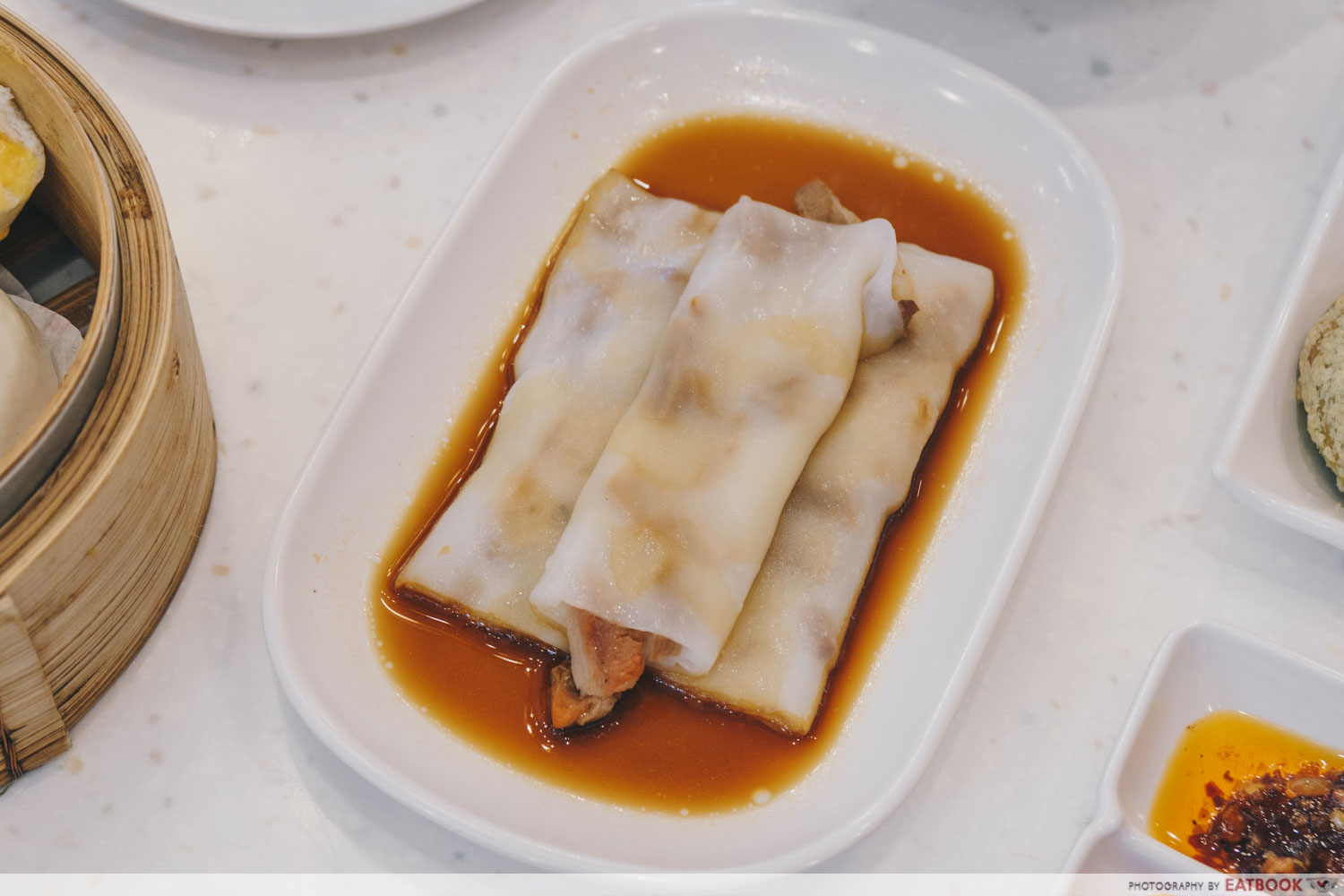 Next, I opted for the classic BBQ Pork Rice Roll ($4.90+). The sweetness of the pork and the slight saltiness of the sauce added a welcome balance to the smooth slippery rice rolls, which made for an easy mouthful. My only qualm was that there could have been more pork within the rice rolls to make for a richer mouthful.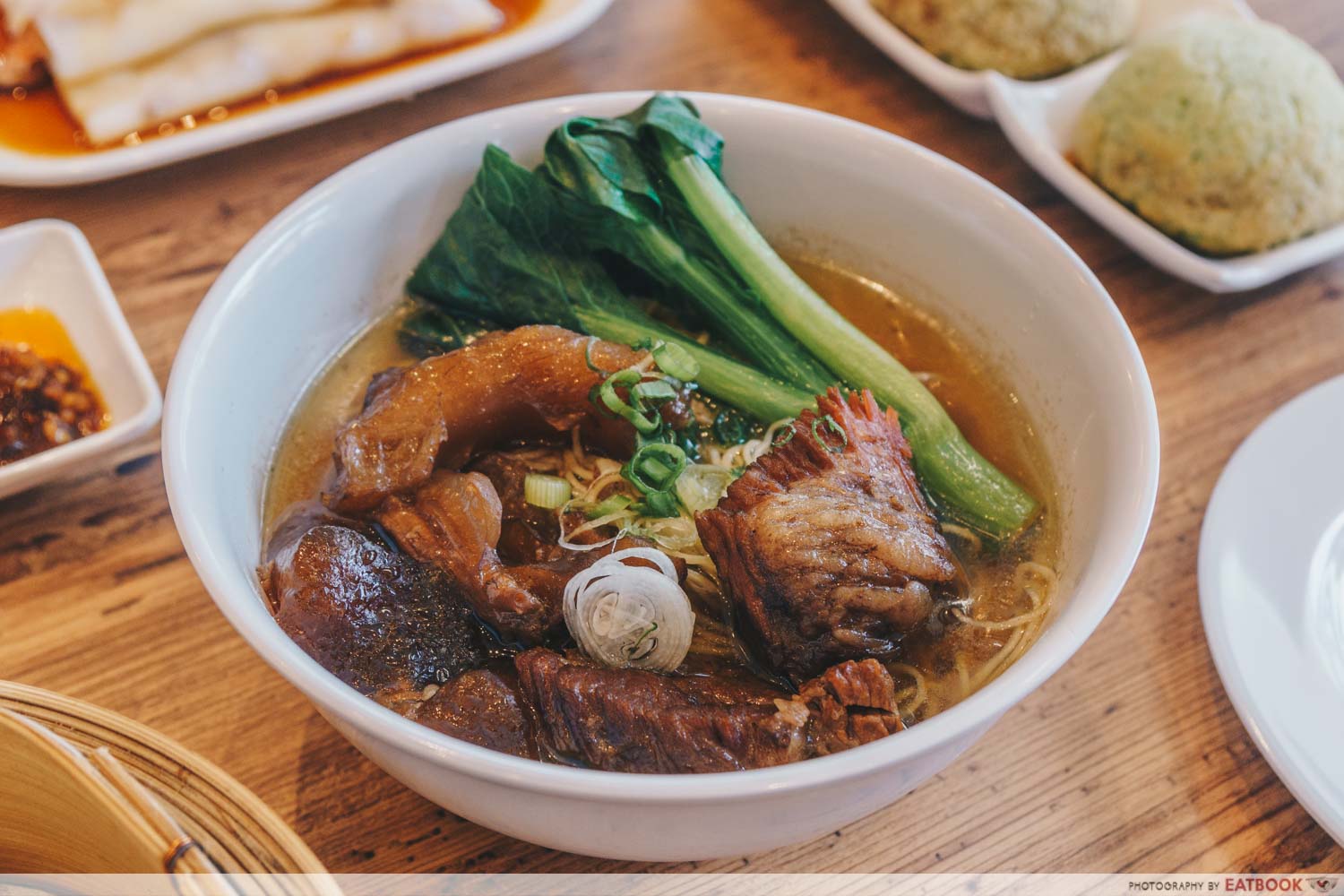 I was craving for a warm, hearty bowl of soup noodles, so I went ahead with the Beef Noodles ($7.80+). You can choose their dry or soup variation, and I heard from the chefs that the dry version is pretty tasty as well.
Garnished with spring onions, each steaming bowl comes with bountiful chunks of beef, tendons, and noodles.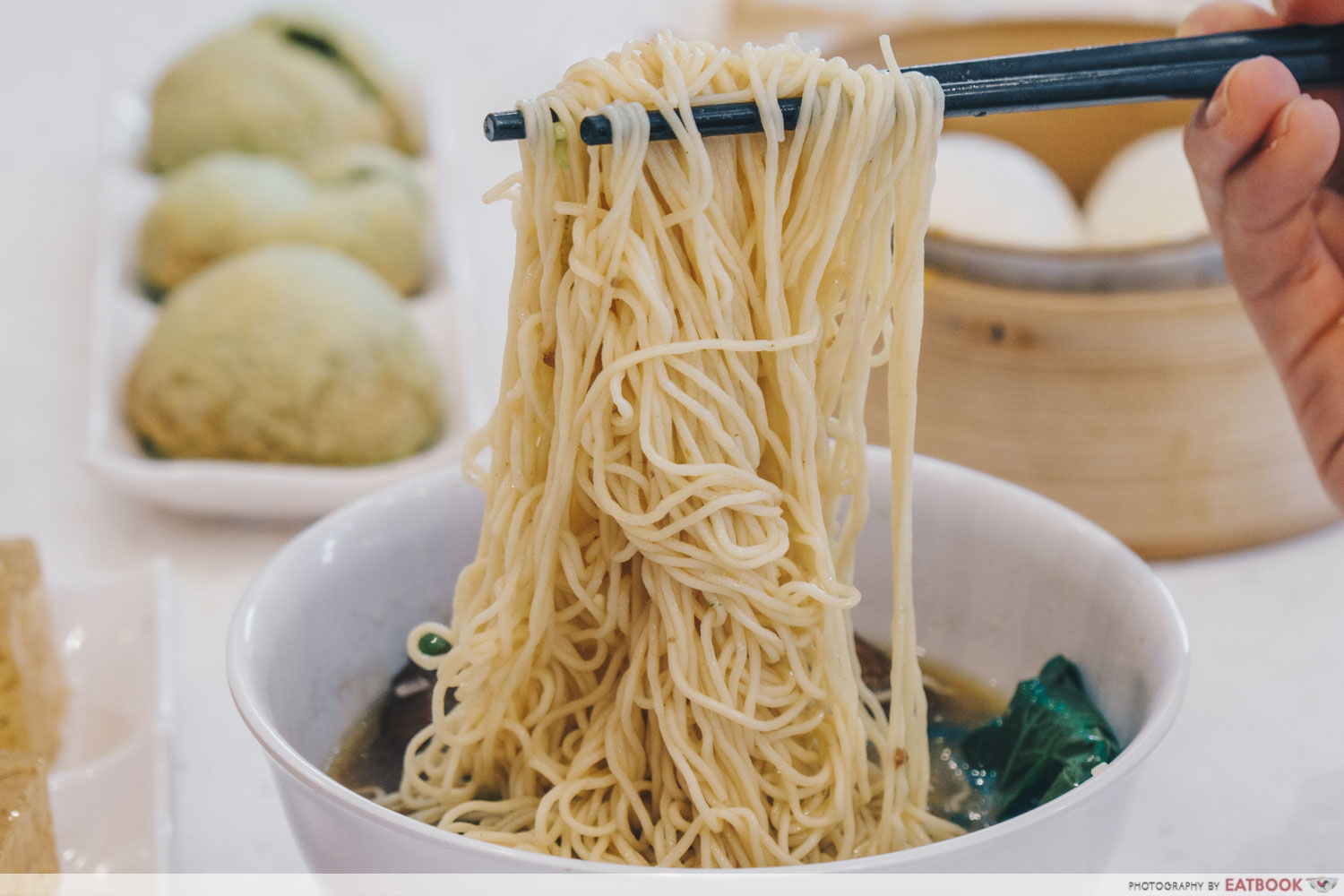 The noodles were thin and springy, and it was a joy to slurp up the QQ eggy strands which soaked up some of the fragrant beefy broth.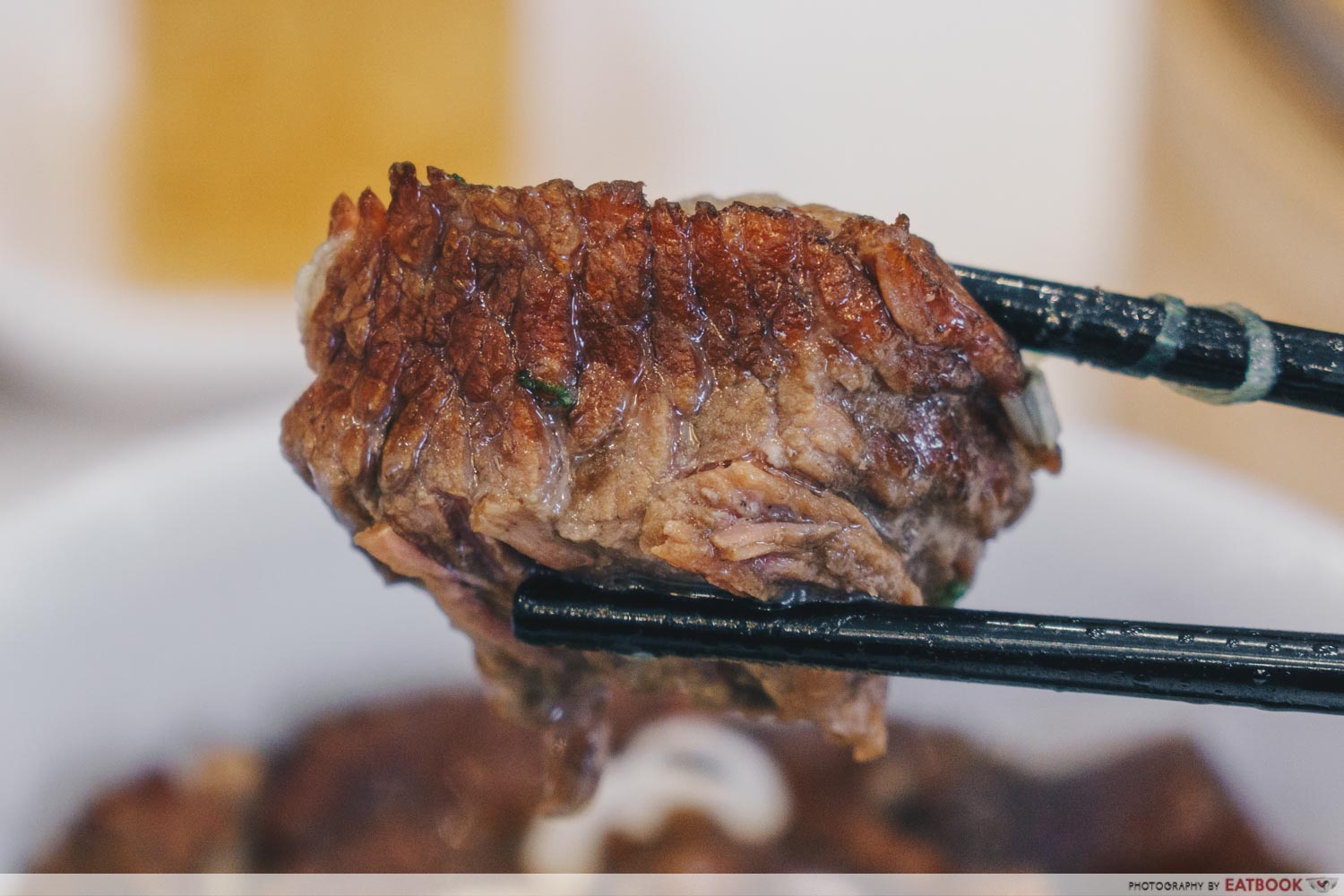 The beef chunks still had a slight red hue to them, and remained succulent despite their hefty thickness. The juicy chunks split apart with ease upon each bite.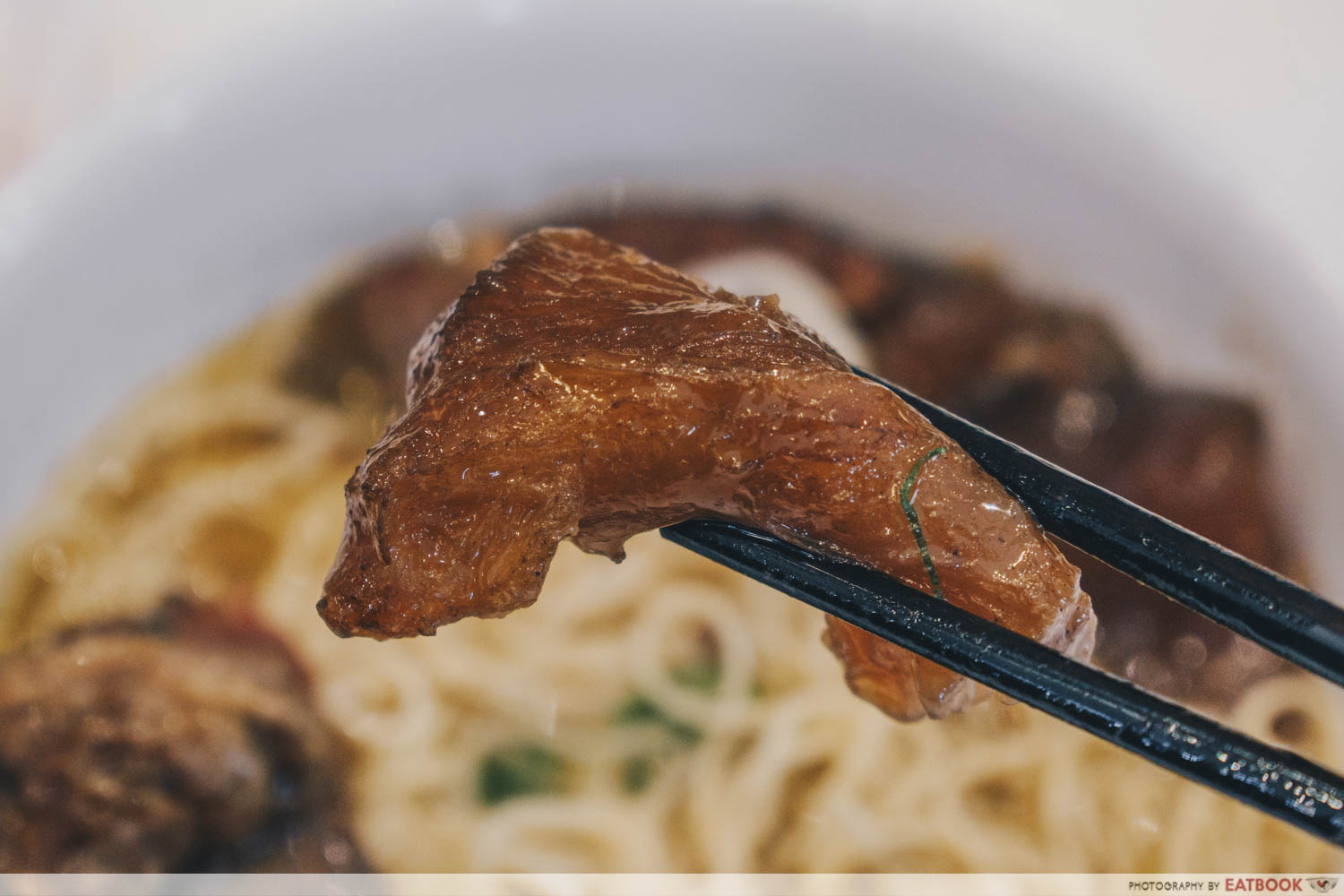 I'm a big fan of tendons due to their chewy, jelly-like texture. The ones in this bowl of beef noodles were decently sized and like butter in a hot pan, each piece gradually melted in my mouth.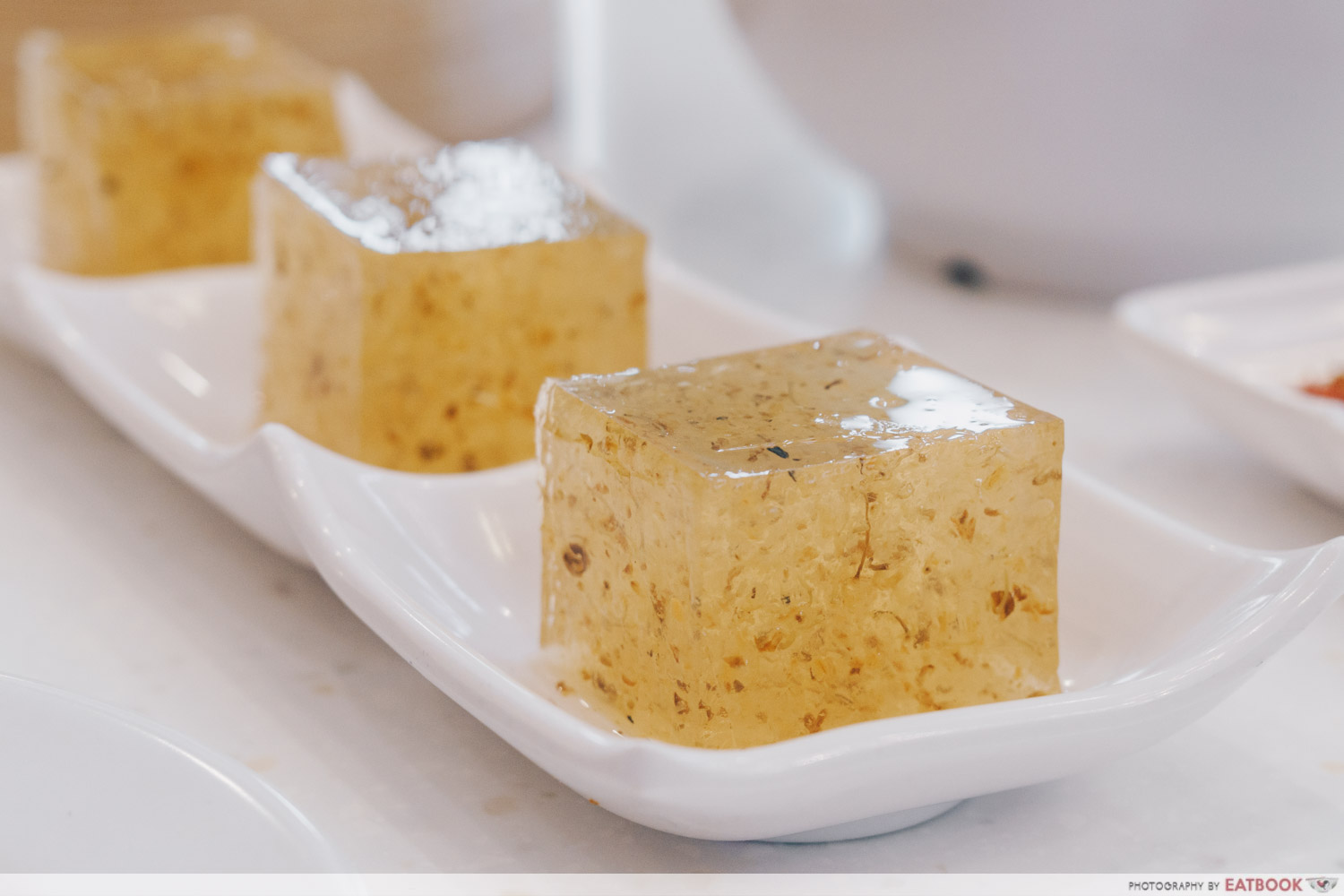 Their Osmanthus Jelly ($4.50+) provided a sweet, well-rounded end to our meal. My colleague and I watched in fascination as a soft jiggle of the platter set the jellies into a graceful wobble.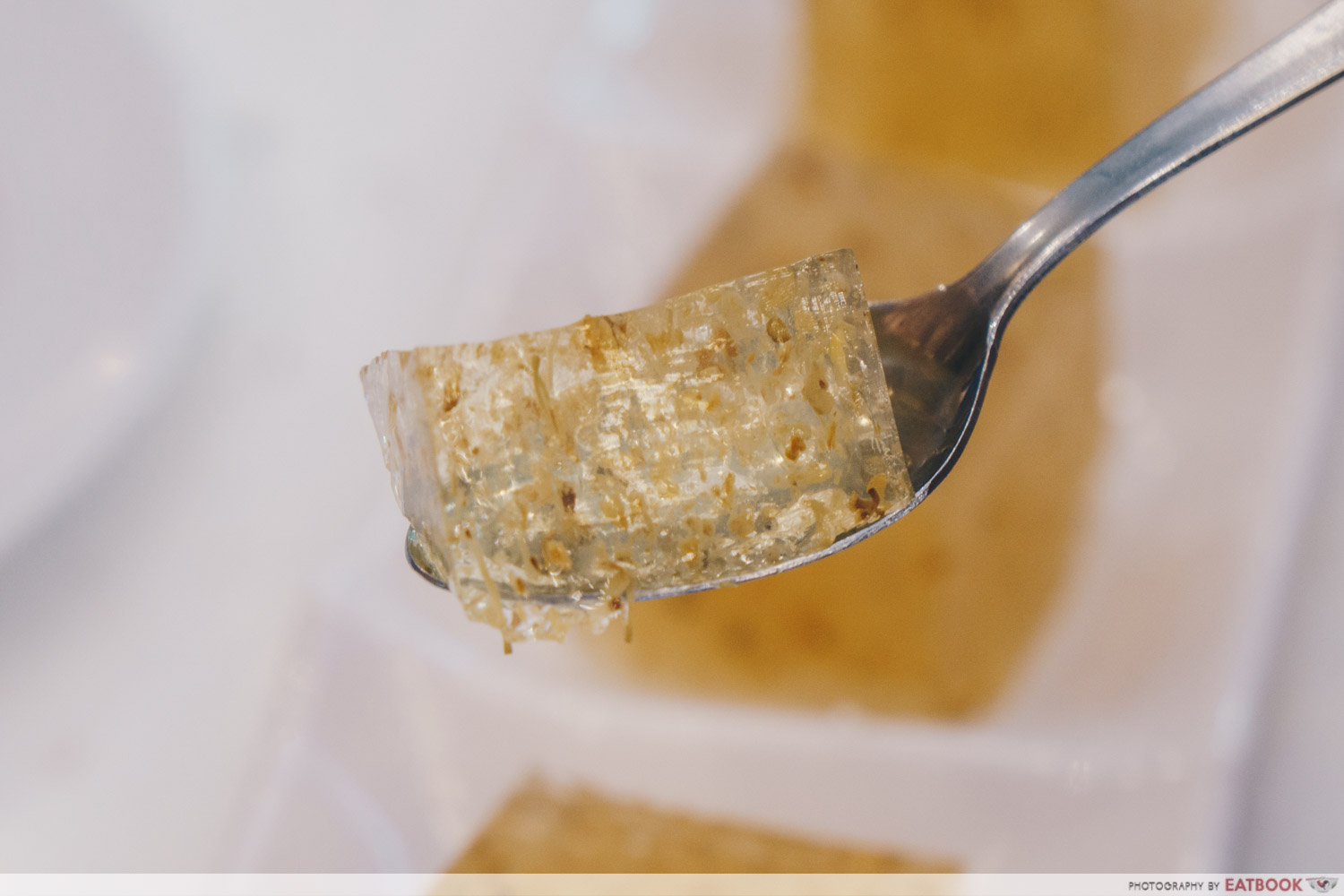 The jellies looked plain, but they were packed with flavour. Its sweetness was met with flowery notes and gentle herbal undertones, making for an unexpectedly great dessert.
Ambience at Sum Dim Sum
The large wall at the front of this quaint restaurant was adorned with cute bamboo baskets of different sizes, and coupled with the vibrant colour scheme, made a wonderful sight.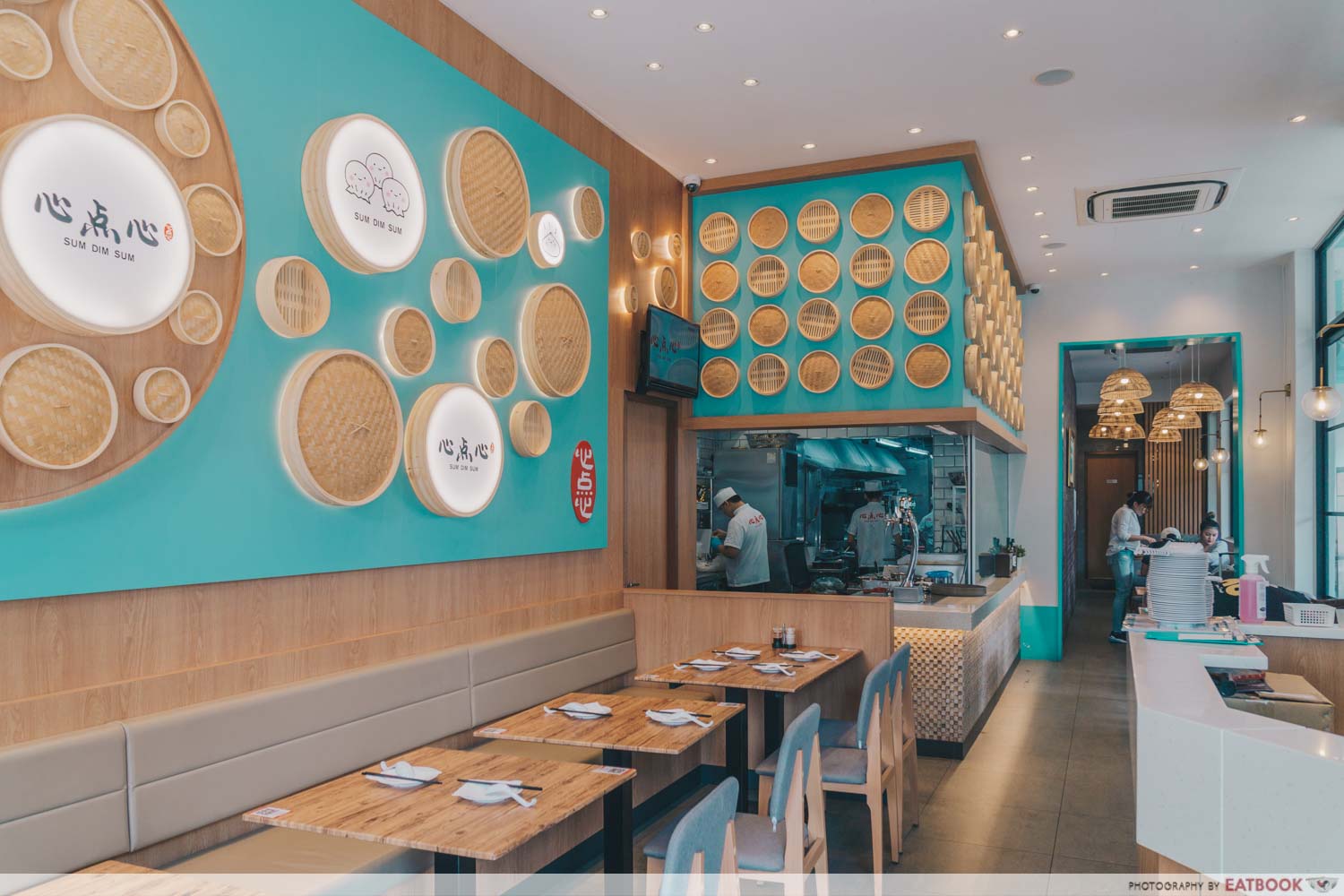 The spaces between the tables nearer to the front of the restaurant were narrow and hence, I avoided those seats. Nonetheless, due to its charming vibe and amicable service staff, the restaurant felt homely.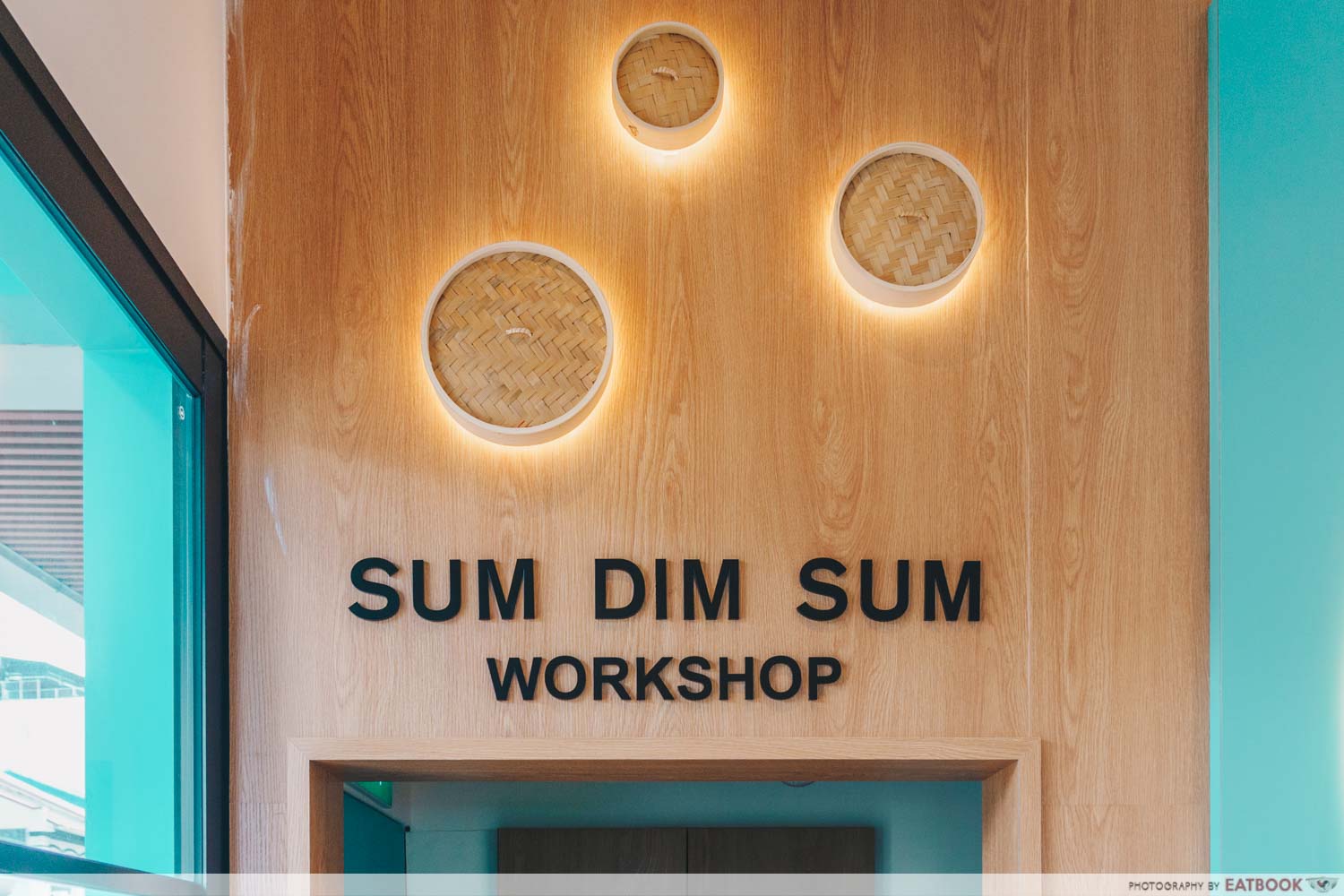 When my colleague and I were just about to unload our belongings onto one of the more spacious seats, we were told by a staff member that there was a secret dining space. Her words piqued our curiosity, and we gladly obliged.
She led us into a small doorway near the front of the restaurant, where the words "Sum Dim Sum Workshop" were neatly placed above the door frame. My colleague and I gave each other confused looks as we began our slow ascent up the steep staircase.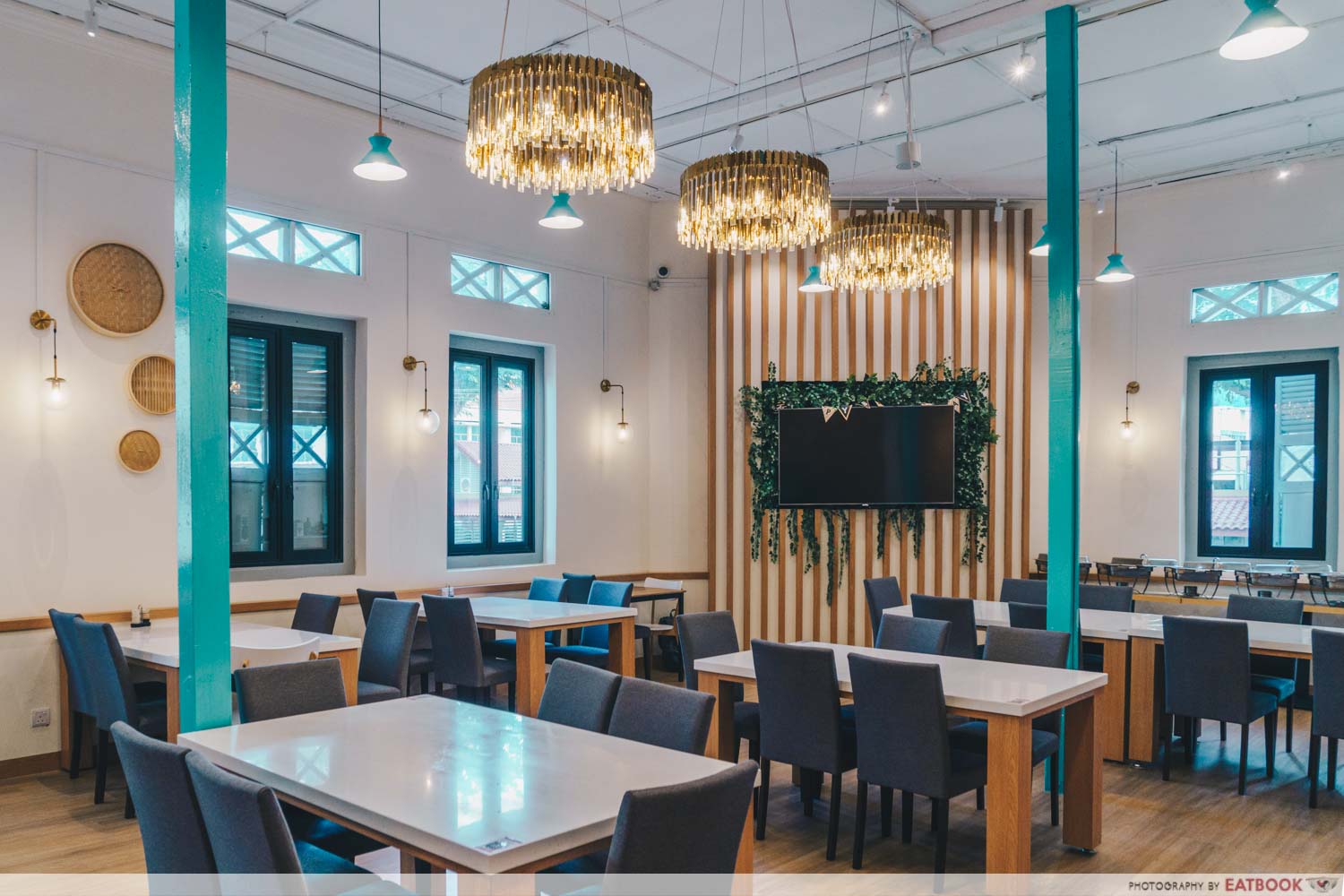 On the second floor, charming chandeliers hung beautifully from the high ceiling, reflecting rays of sunlight that penetrated through the windows.
Customers are treated to a larger dining area on the second storey, along with a view of the bustling streets below from the windows. I made a mental note that this space is suitable for casual date nights.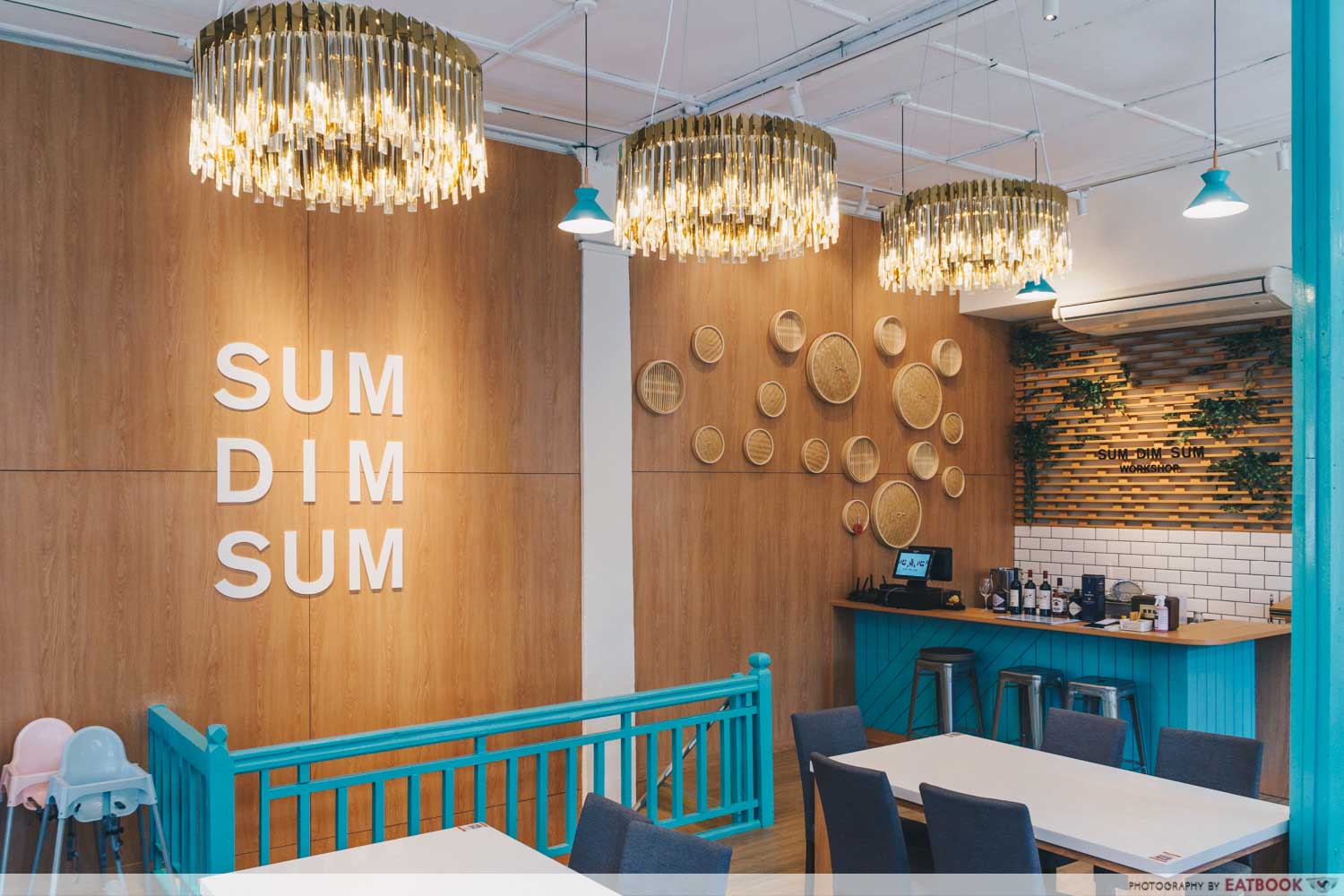 Like the first storey, the pillars and railings are painted with the restaurant's signature Tiffany blue colour, against a wooden backdrop.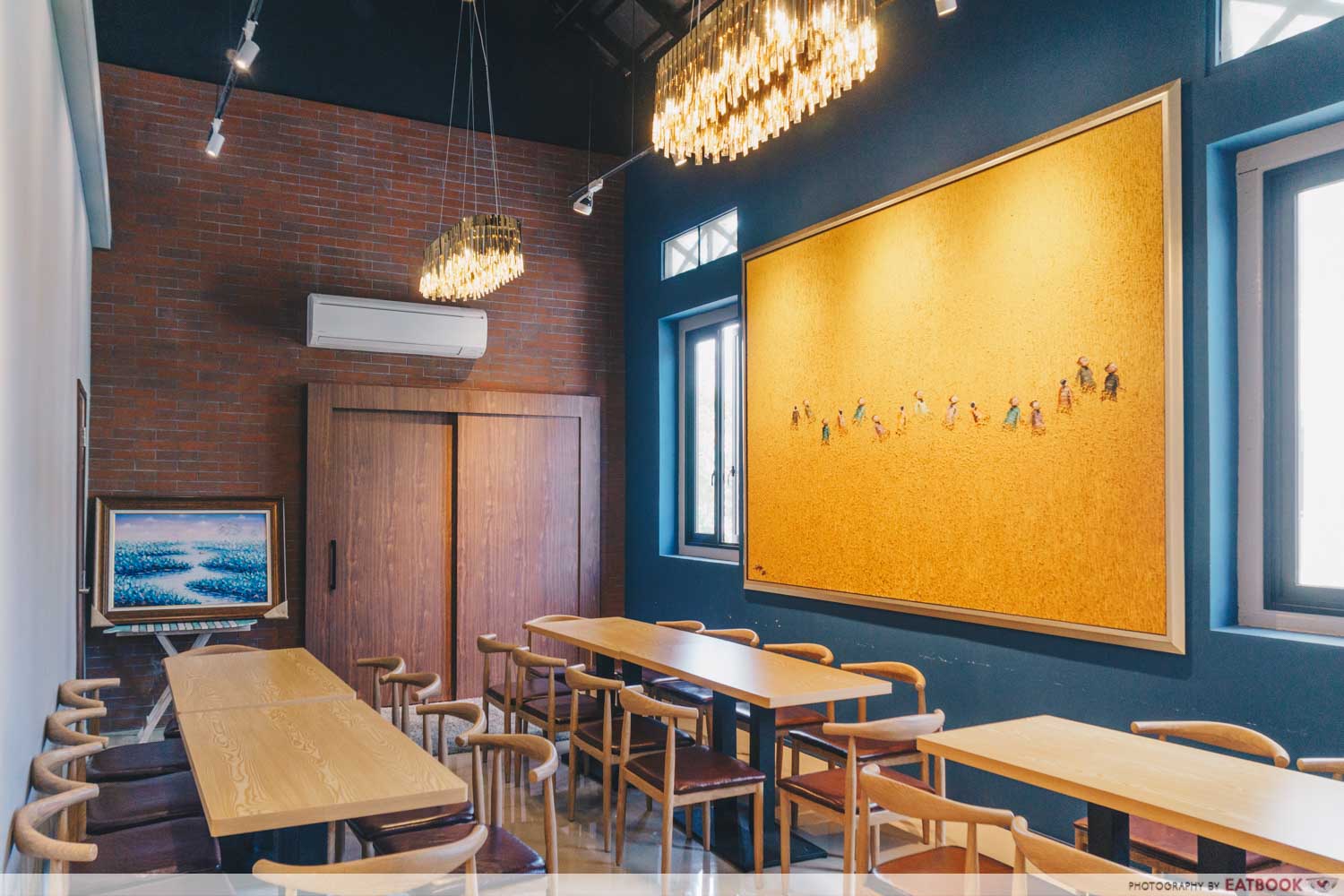 For customers who are holding small gatherings, Sum Dim Sum has a private dining room that diners can book at no extra cost. Paintings and ambient lighting set a tranquil mood within the room. Suitable for business meetings or boisterous social gatherings, this room was cosy and practical.
The verdict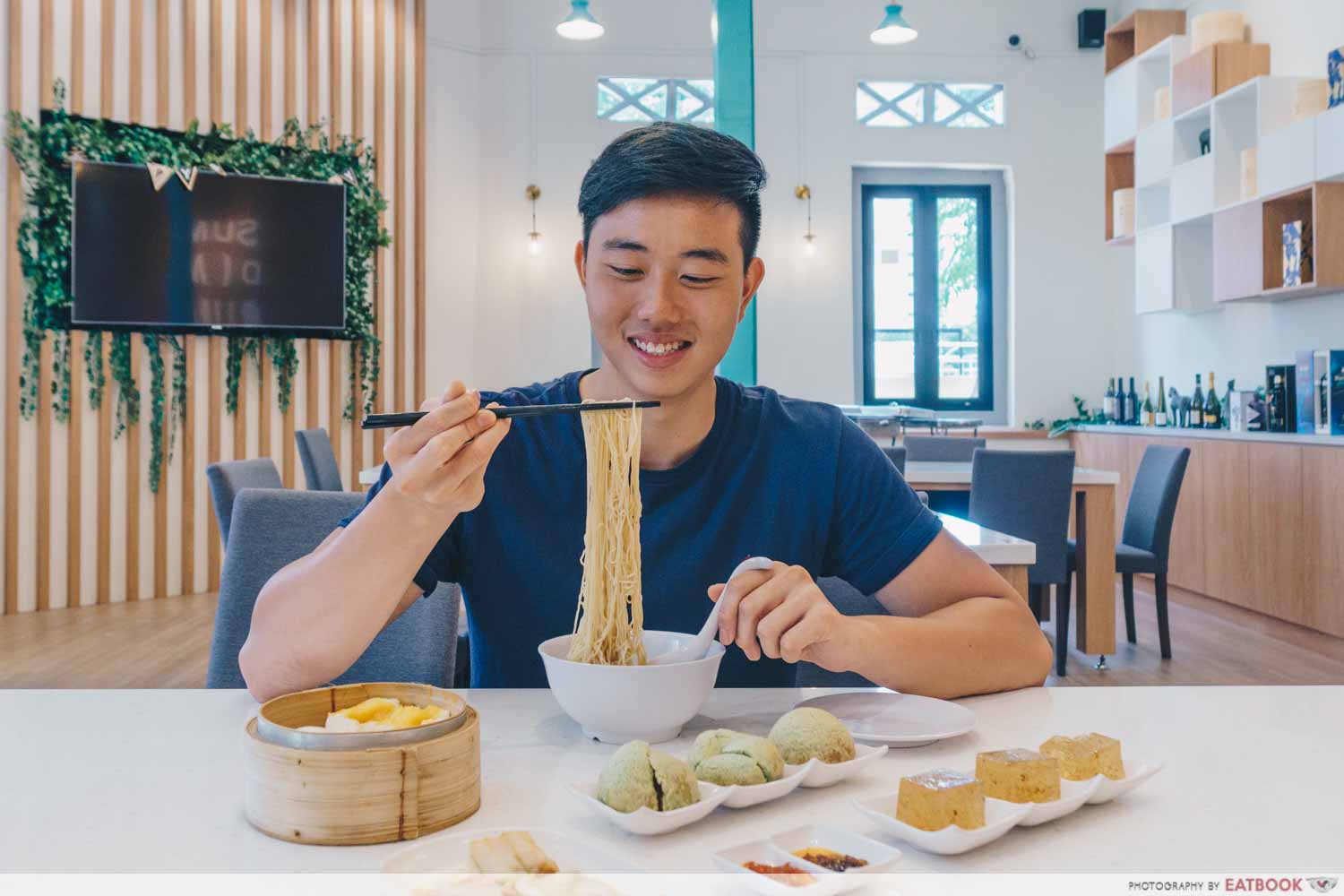 Sum Dim Sum serves up delicious dim sum in a beautiful atmosphere, and I truly enjoyed this experience. It will not be my last visit here, as it's my new winner in this competitive dim sum war in Jalan Besar.
For more of such feasts without breaking the bank, check out these cheap dim sum places in Singapore.
Address: 161 Jalan Besar, Singapore 208876
Opening hours: Mon-Fri 11:30am to 11:30pm, Sat 10:30am to 11:30pm, Sun 10:30am to 11pm
Website
Sum Dim Sum is not a halal-certified eatery.
Photos taken by Bevelyn Tan.
This is an independent review by Eatbook.sg.
Summary
Pros
– Unique and flavourful pork buns
– Tender beef chunks
– Great ambience
– Tasty dim sum
– GST is included in the prices indicated in the menu
Cons
– Some dishes were pricey
– BBQ pork rice roll could use more char siew
Recommended dishes: Signature Crispy Pork Bun ($6+), Golden Custard Bun ($4.50+), Beef Noodles ($7.80+)
Opening hours: Daily 11:30am to 1:30am
Address: 161 Jalan Besar, Singapore 208876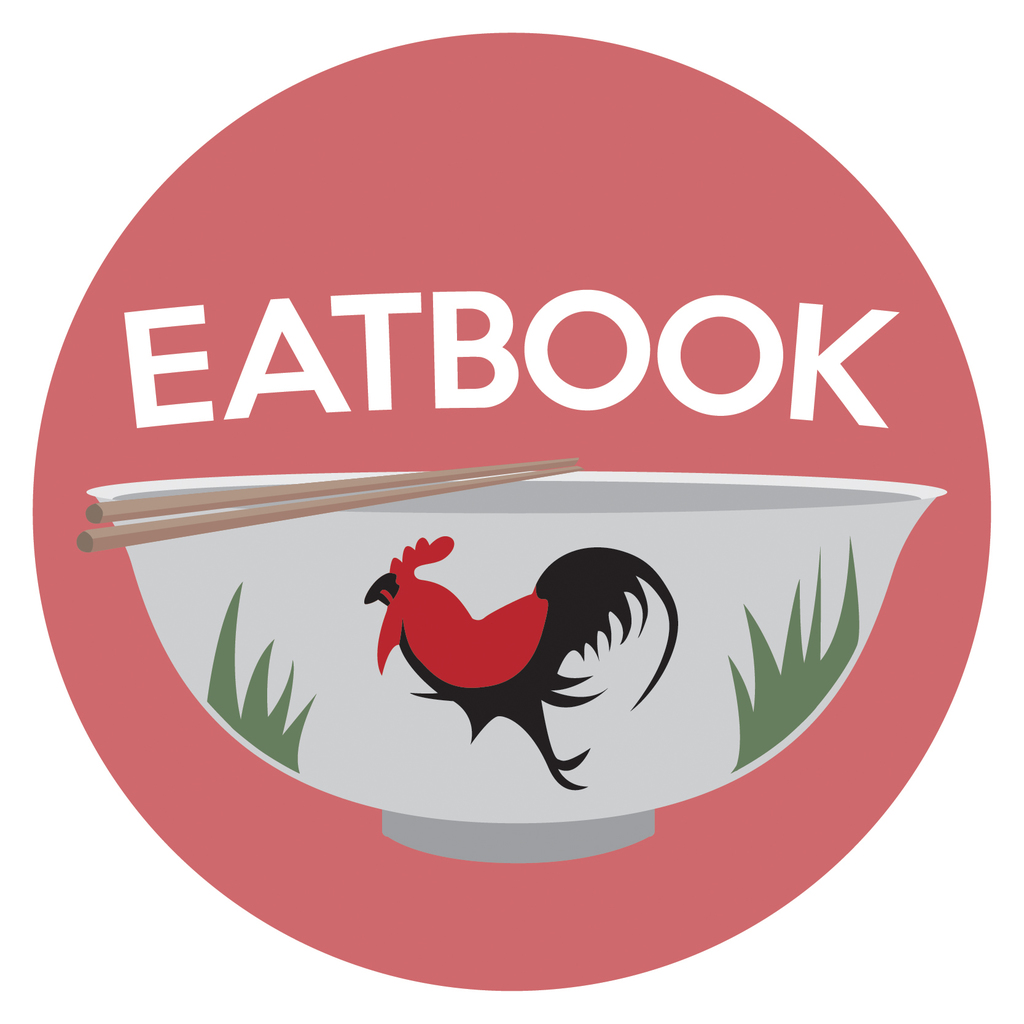 Drop us your email so you won't miss the latest news.