Dim Sum Haus presents affordable dim sum with a twist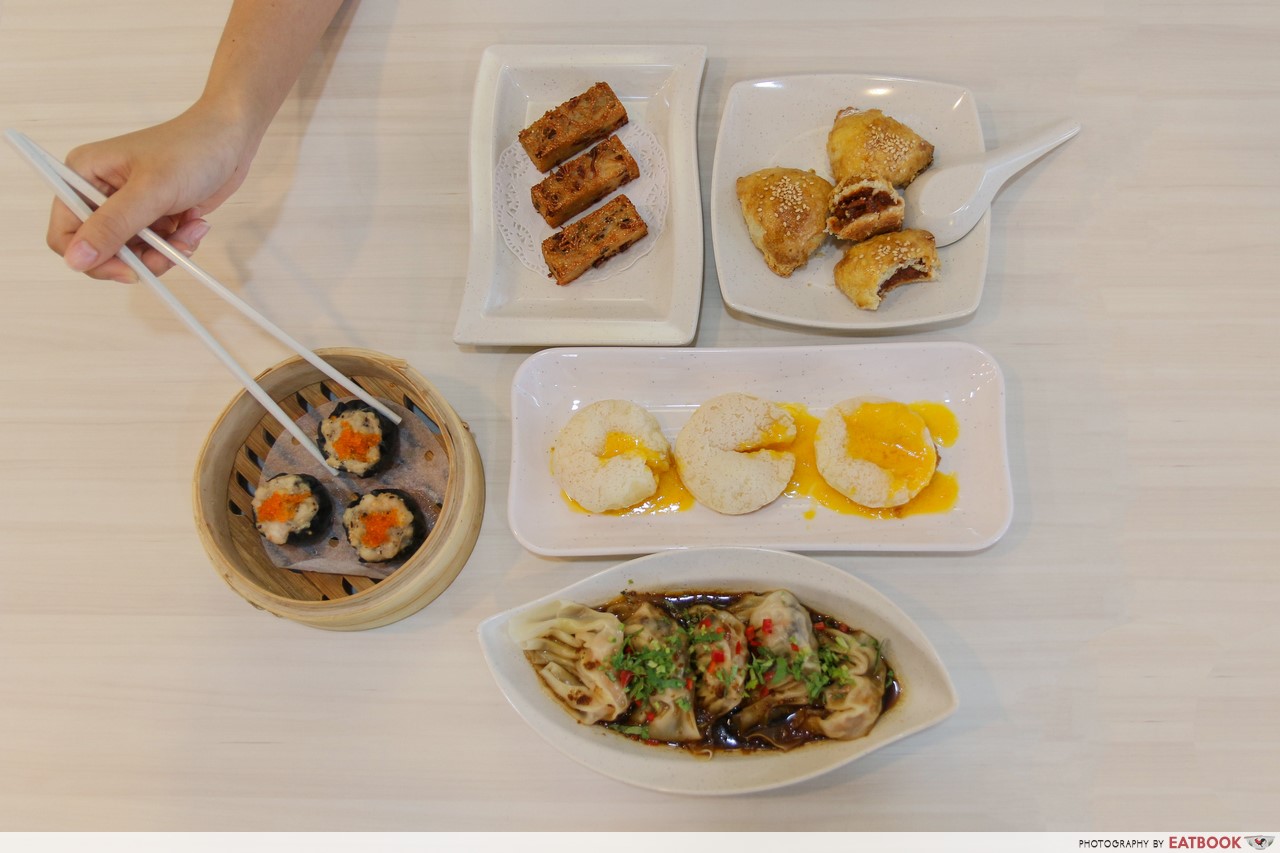 There is a special place reserved in my heart for dim sum, perhaps because I'm that annoying friend who loves to kope small bites of food from others. Dim sum allows me to do that without being annoying, or creating a big mess, since everything is already in small portions.
Yet, it has been a long time since I had a good dim sum sesh with my pals, because many dim sum restaurants are too expensive, and cheaper places at hawker centres are too hot. So, after stumbling upon Dim Sum Haus on Instagram, I decided to check it out. This two-month-old dim sum restaurant along Jalan Besar serves a range of classic and interesting dim sum items.
Food at Dim Sum Haus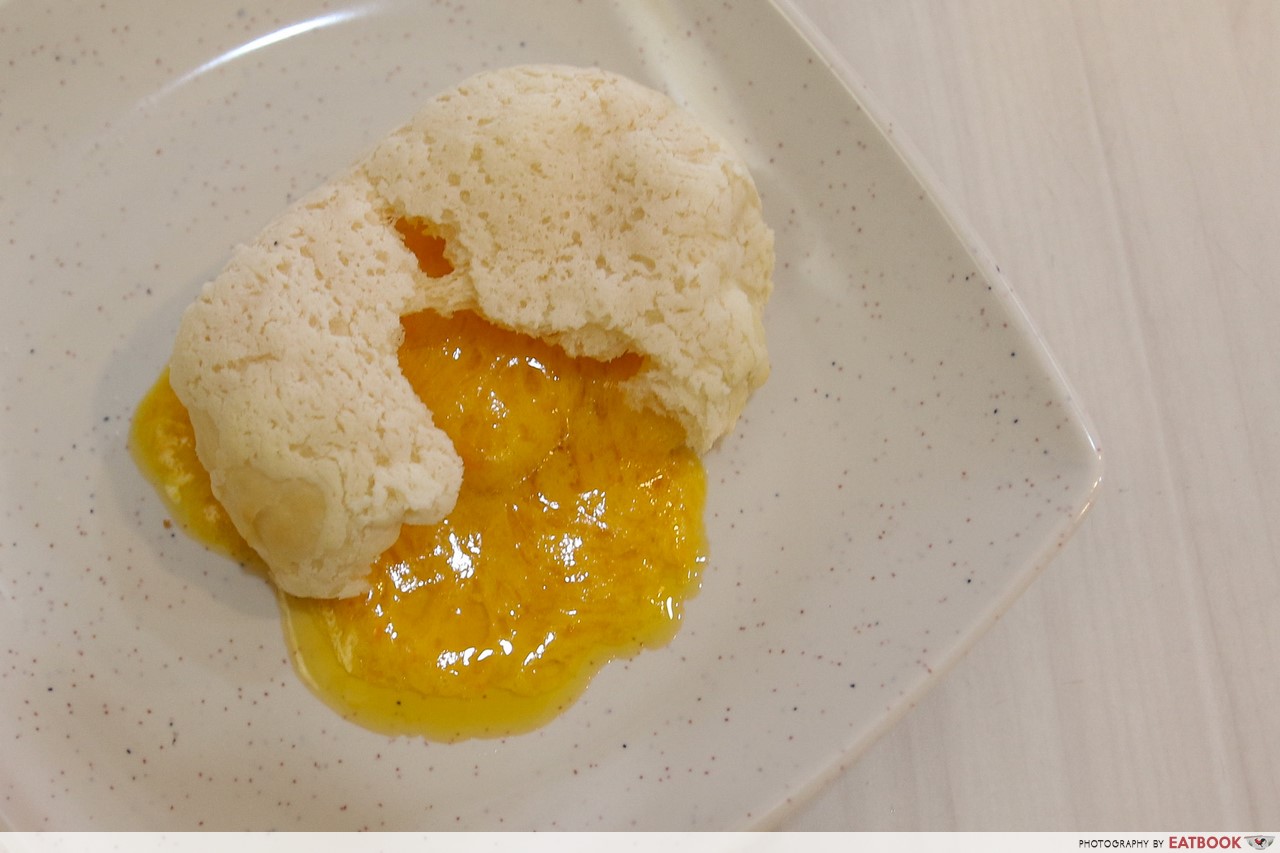 I've had my fair share of food claiming to be "salted egg yolk" but tasting nothing like it. Thankfully, Baked Salted Egg Custard Bun ($4.80+ for three pieces) does not fall into that category.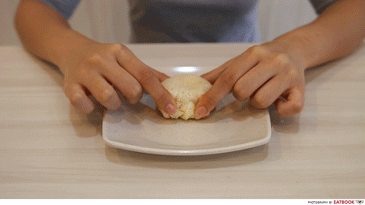 One bite into its thin, buttery shell and viscous liquid gold spewed out. It was hot, smooth, sweet and savoury all in one bite. Eating this was a messy affair, and I had to use two packets of wet towels to clean up afterwards. But, boy, it was so worth it. Each bun is #foodporn and #foodgasm in one palm-sized goodness – definitely on my list of items you must order!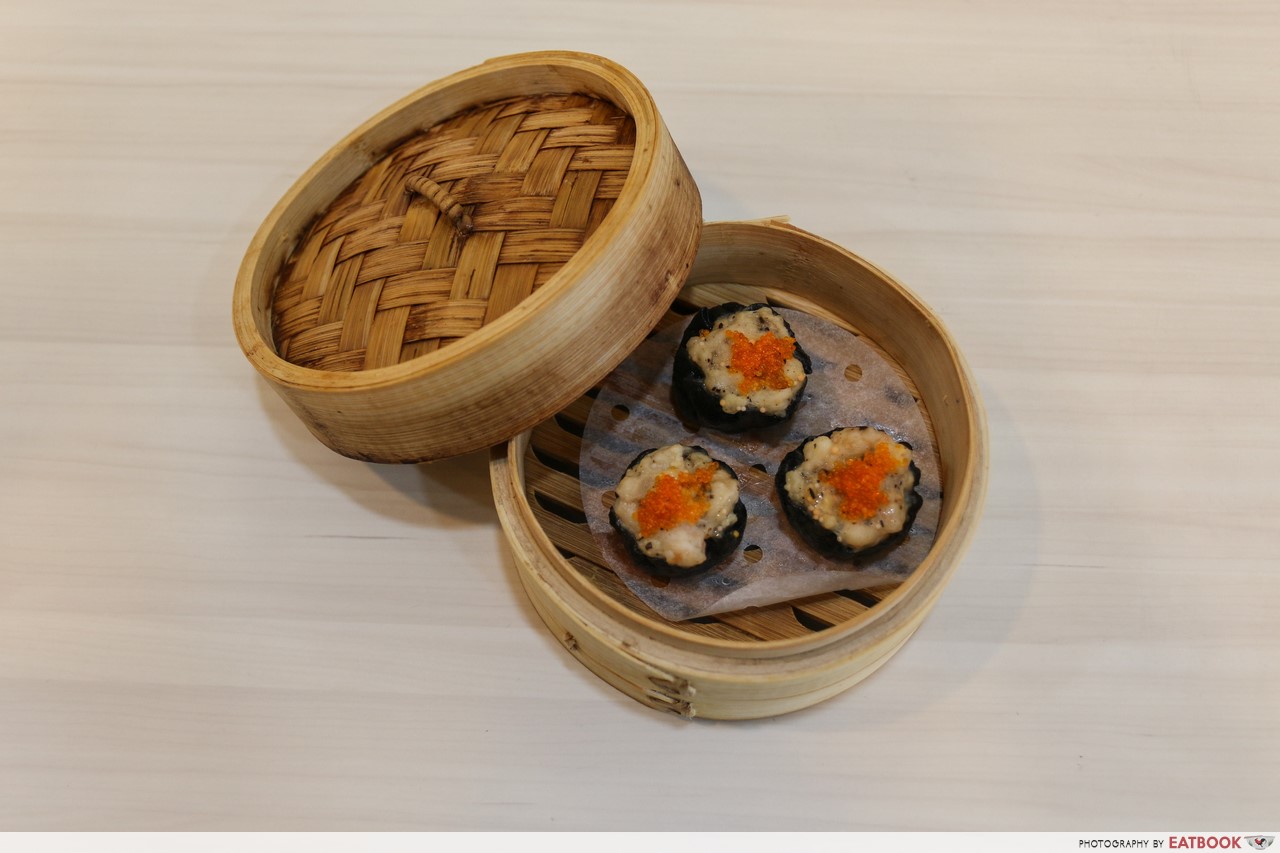 The basket containing Steamed Charcoal Chicken & Shrimp Dumpling "Hak Kam Kai Siew Mai" ($4+ for three pieces), or charcoal siew mai, was releasing wisps of steam as the waiter placed it on our table, making it hard for us to contain our hunger. I was particularly excited to try this dish, as I seldom see charcoal siew mai at other dim sum eateries.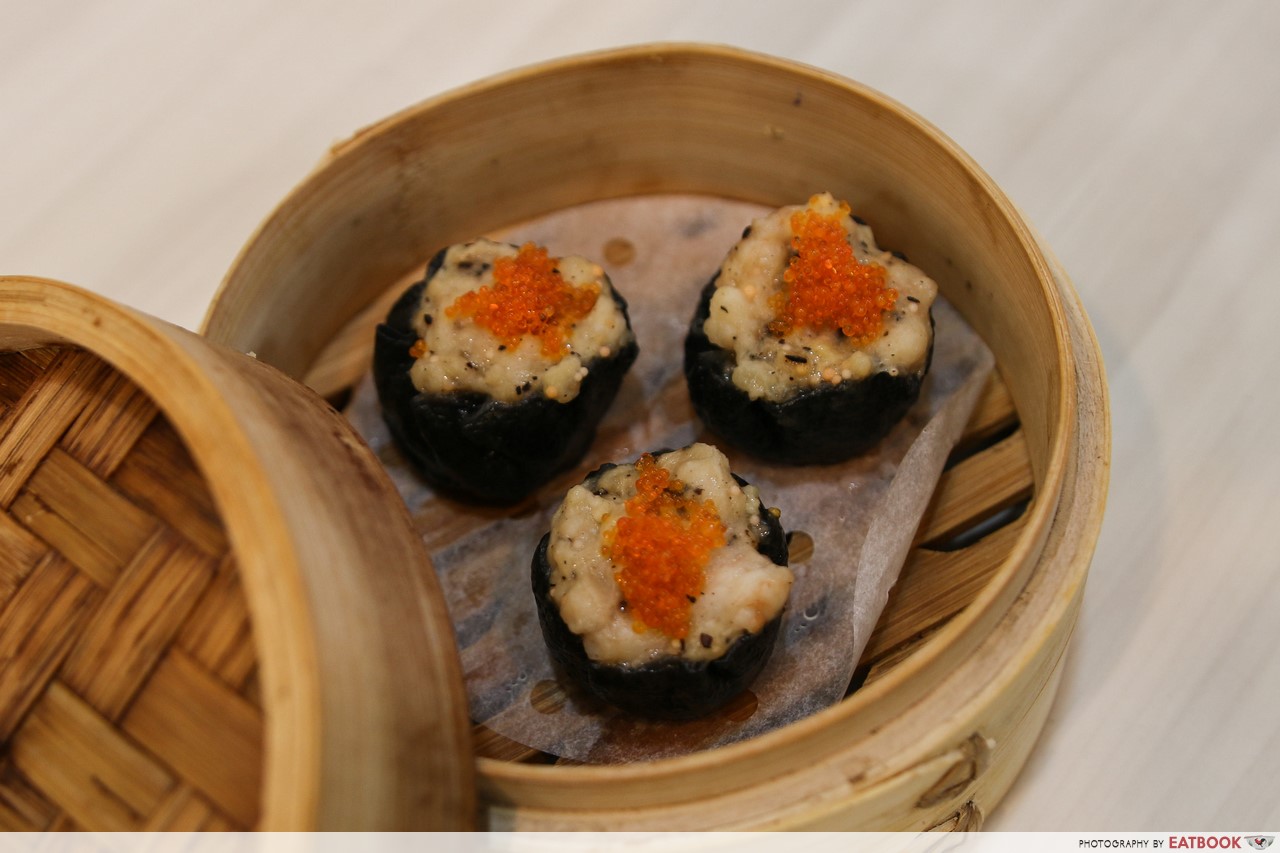 The skin tore apart easily to reveal generous chunks of juicy prawn and minced chicken – yes they do their siew mai with chicken instead of pork!
The chicken gave the dumplings a firmer texture, but it also took away the flavour and juiciness of pork fats. I say stick to their Steamed Pork & Shrimp Dumpling "Siew Mai" ($3.90+ for three pieces), as the charcoal dumpling skin provides no additional taste or texture.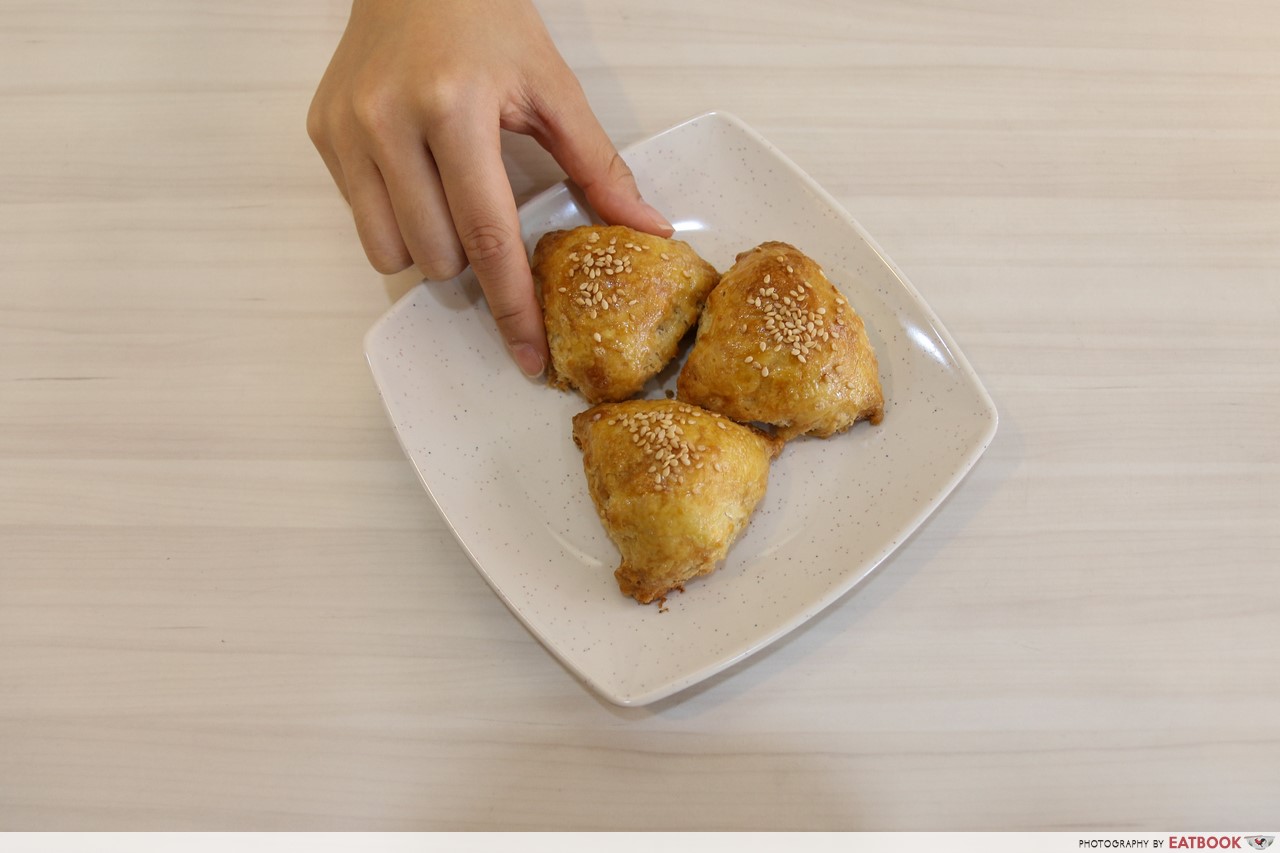 Known in Cantonese as "char siew sou", Baked BBQ Pork Pastry ($4.50+ for three pieces) is a quintessential dim sum item I'd never skip. Appearance-wise, Dim Sum Haus' version is nothing special, with the usual shiny egg wash and white sesame seeds.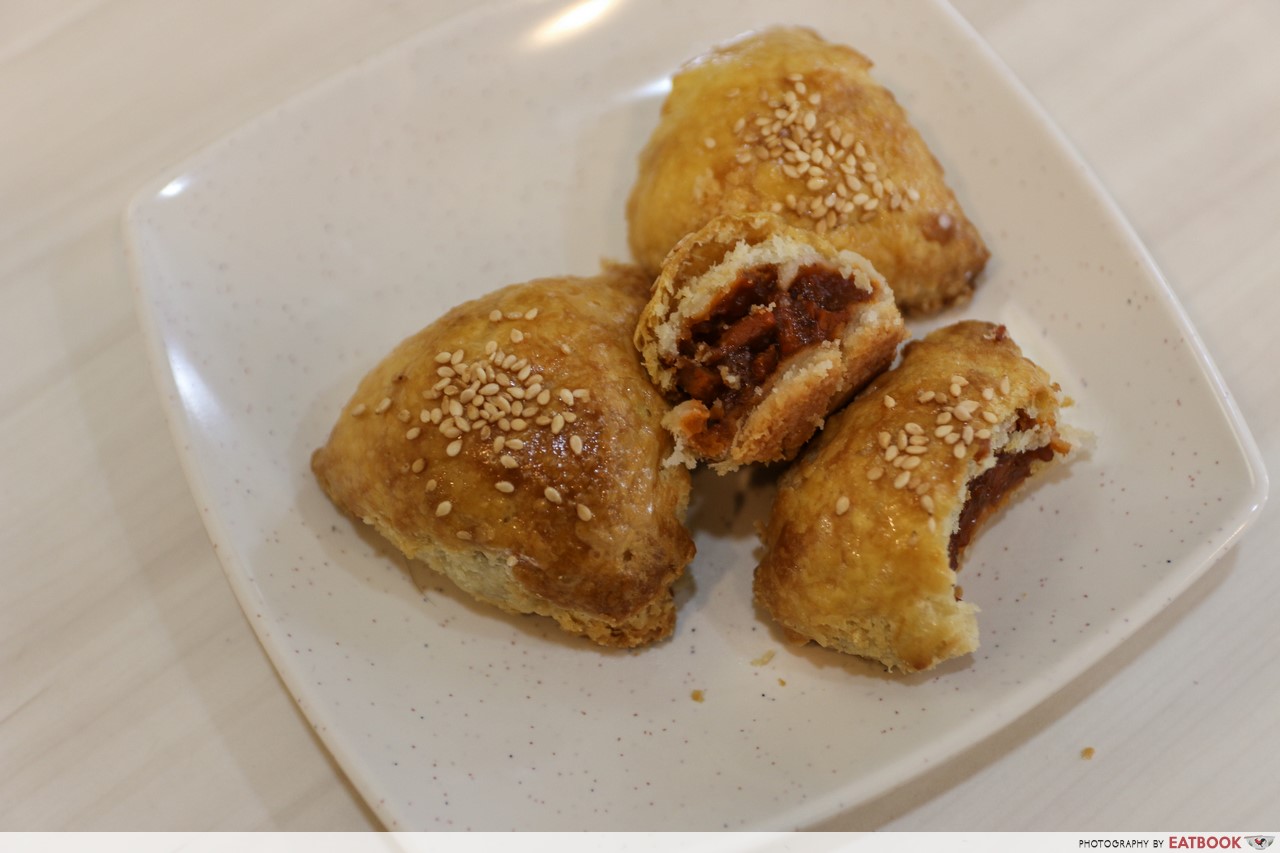 But when it comes to flavour, this is hands-down one of the best char siew sou I have ever tried. The lean char siew filling had a great balance between savoury and sweet, and melded into the buttery, flaky pastry with just one bite. The chefs nailed the ratio of filling to pastry, and were able to create this crumbly, melt-in-your-mouth pastry without making it too oily. It only took me three bites to finish one of these; it would have been too easy to wipe out the entire plate by myself.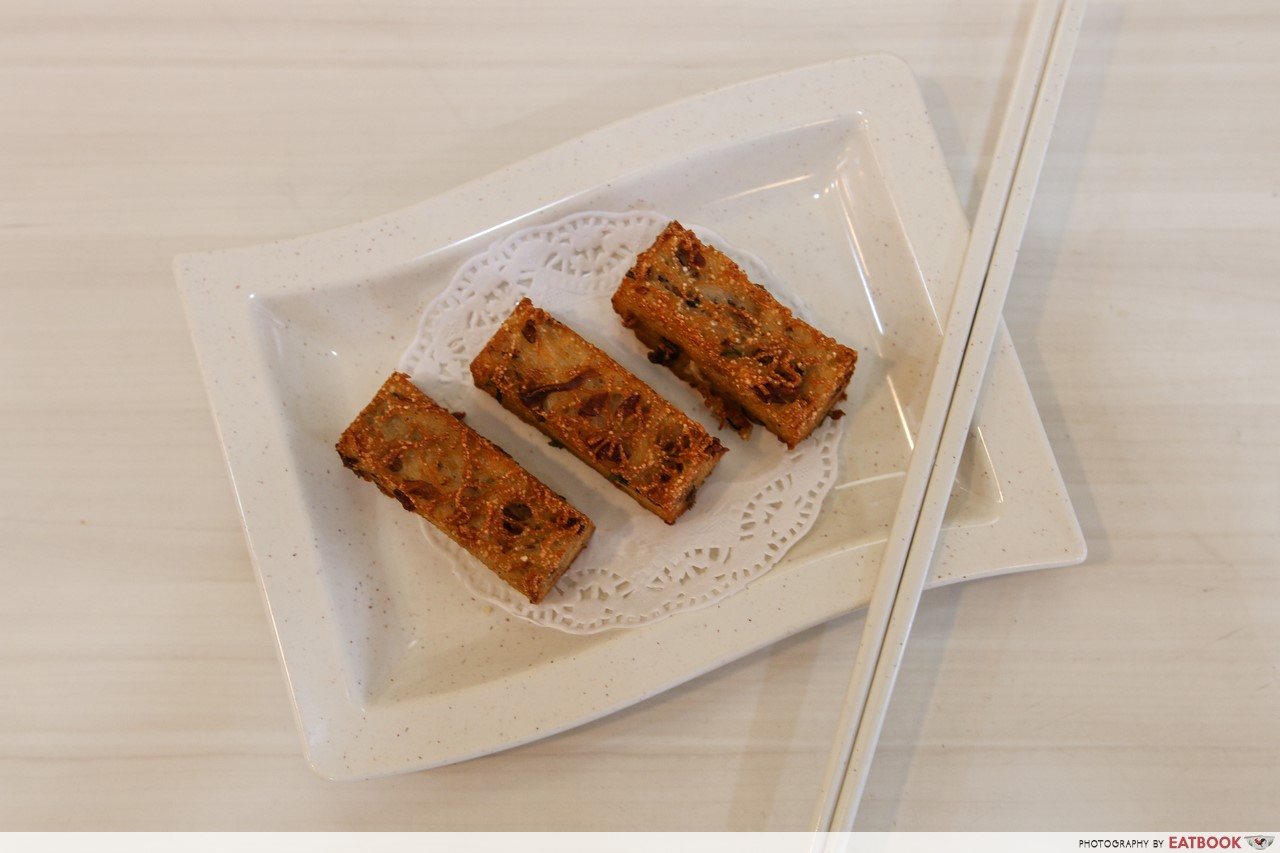 When Crispy Mee Sua Kueh with Chinese Sausage ($3.60+ for three pieces) arrived, my first reaction was, "Huh, that's it?" Its appearance did not tally with the elaborate name, and the three slabs of brown rectangles did not look appetising. Surprisingly, this turned out to be a good example of not judging a book by its cover.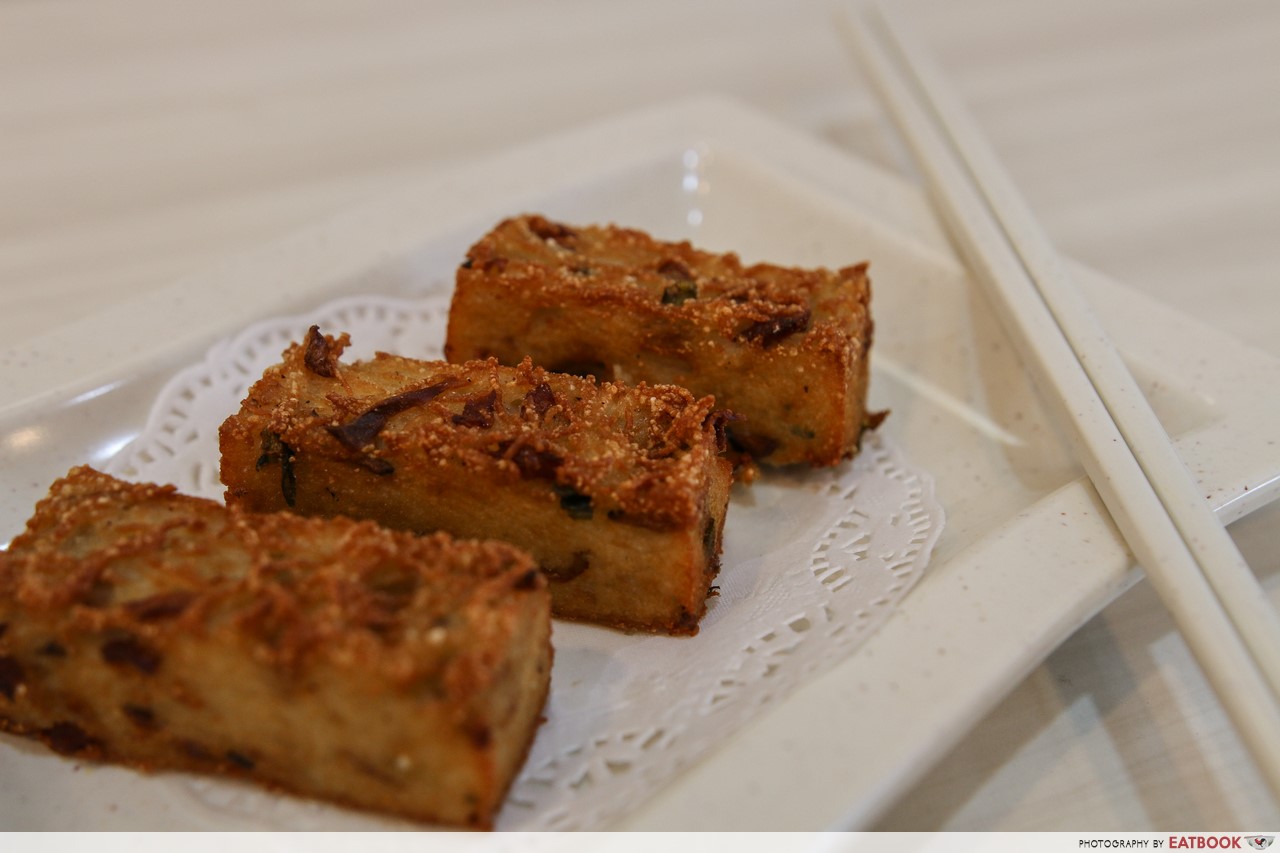 I asked the boss how this dish is made, and she shared with me three essential steps. First, mee sua is pan-fried with lup cheong (Chinese sausage) and mushroom to take on a wok hei flavour. Next, the fried mee sua is steamed and shaped into rectangles. Finally, each cuboid of mee sua is deep fried till golden brown.

I enjoyed how the two different textures of mee sua – crispy on the outside and moist on the inside – came together seamlessly, like a compact version of chao tar bee hoon. The lup cheong added a smoky flavour, and the mushrooms a burst of juiciness.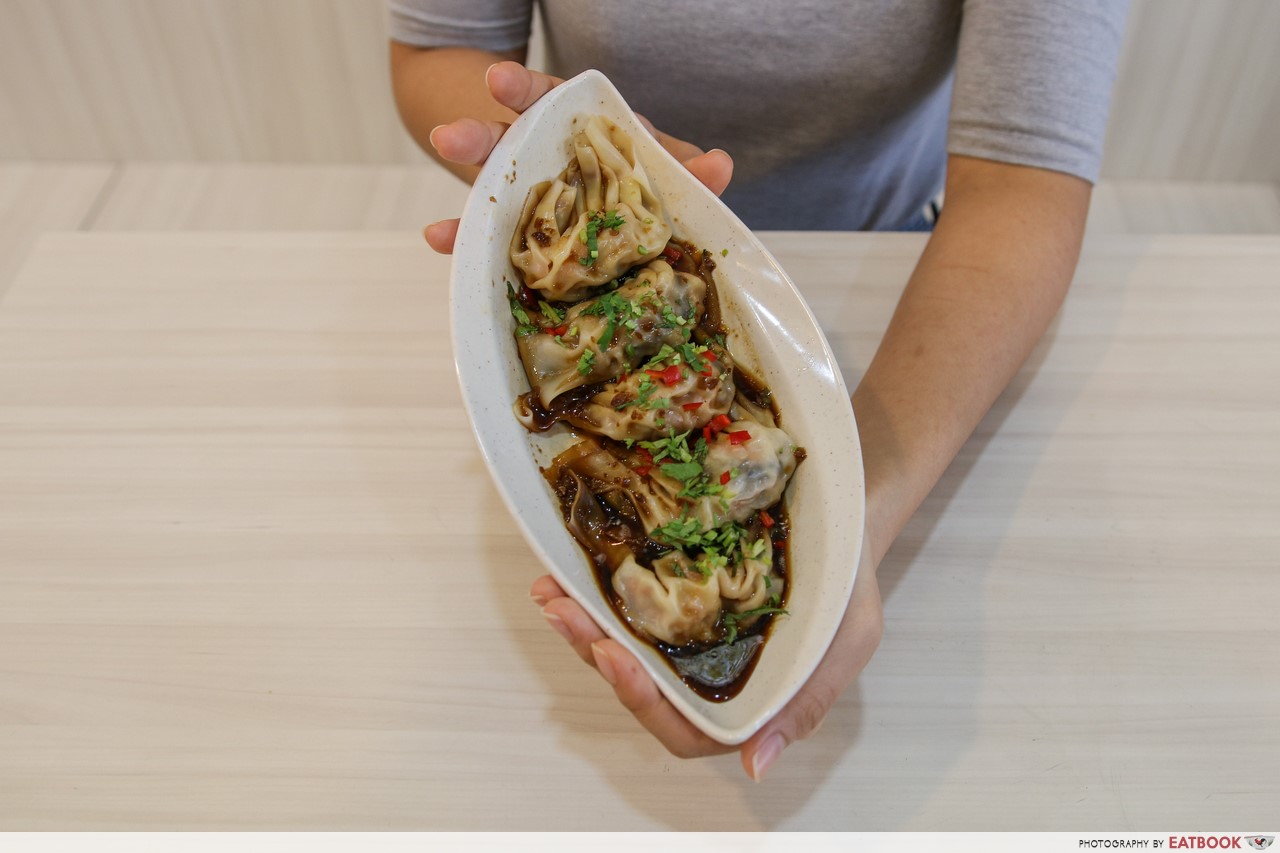 The last dish, Japanese Dumplings ($4.60+ for five pieces), got me scratching my head in confusion. It seemed so out of place on the menu and I took a while to figure out the Japanese element of this dish.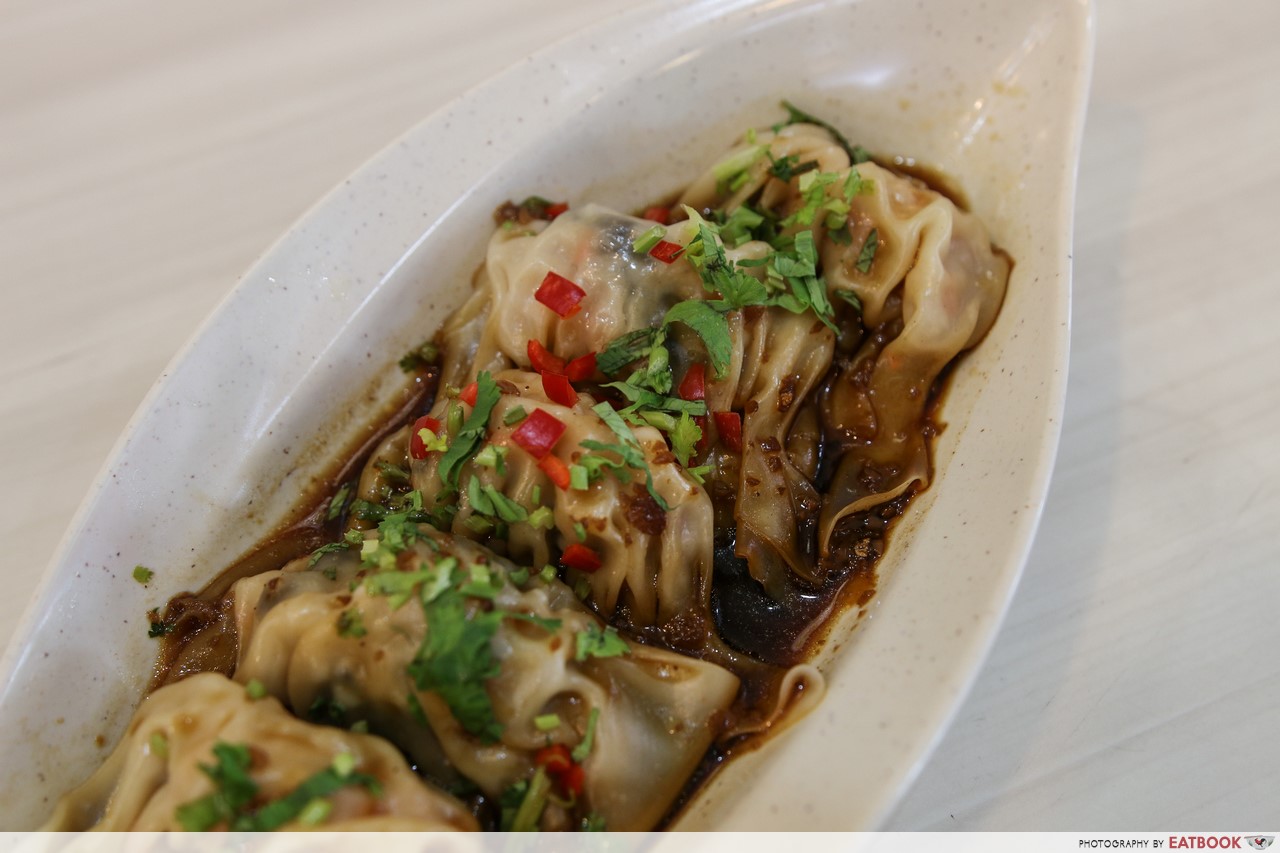 This dumpling is a combination of Japanese gyoza and Cantonese har gow (prawn dumplings). Shaped like a gyoza and steamed like har gow, each translucent dumpling encased prawns, black fungus and minced meat. Every dumpling was plump and chock-full of ingredients, with a good crunch from the prawns. I particularly enjoyed how tiny pieces of red chilli provided a little heat that created a nice balance to the vinegary sauce.
Ambience at Dim Sum Haus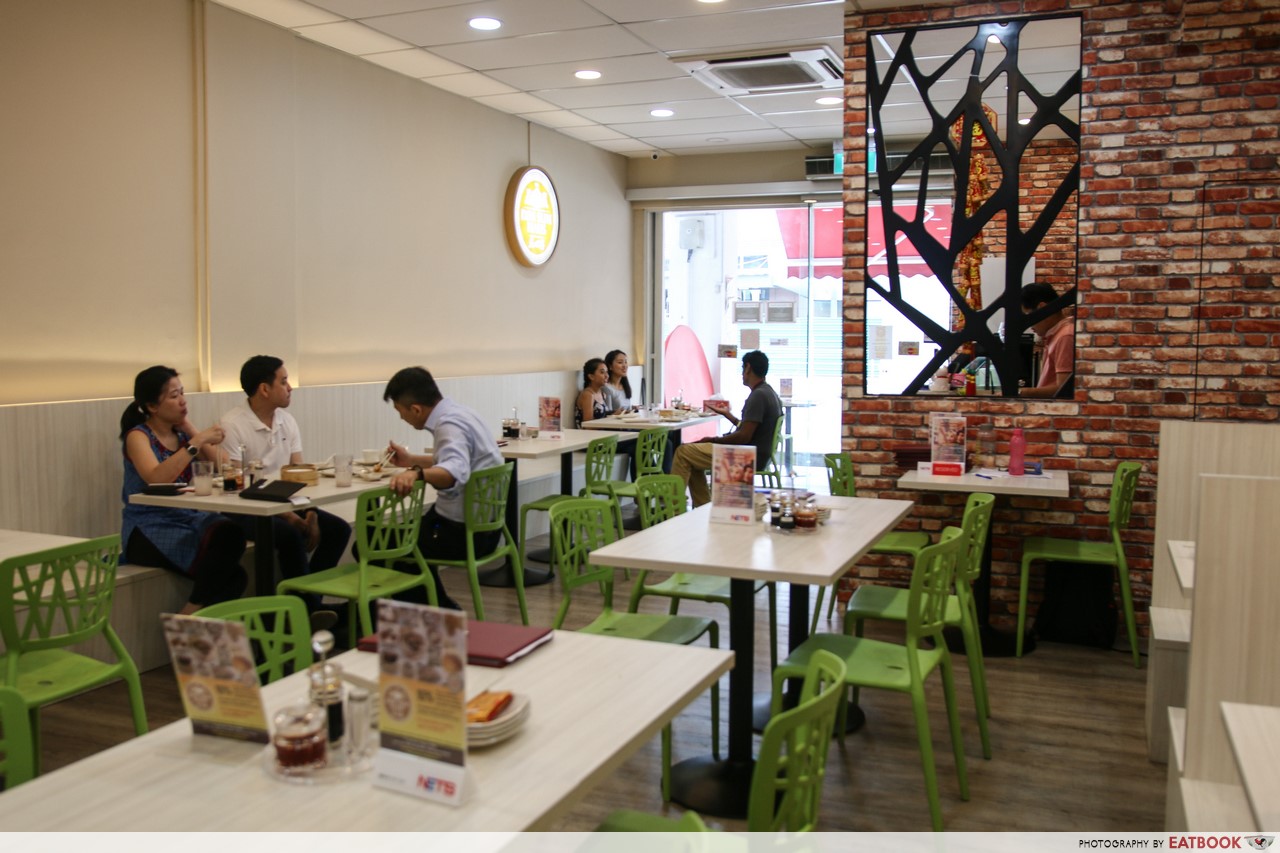 Found along a row of shops, Dim Sum Haus stands out with a large stall sign and well-lit interior. The interior is spacious and well-conditioned, and the kitchen has a glass window for you to witness the chefs in action.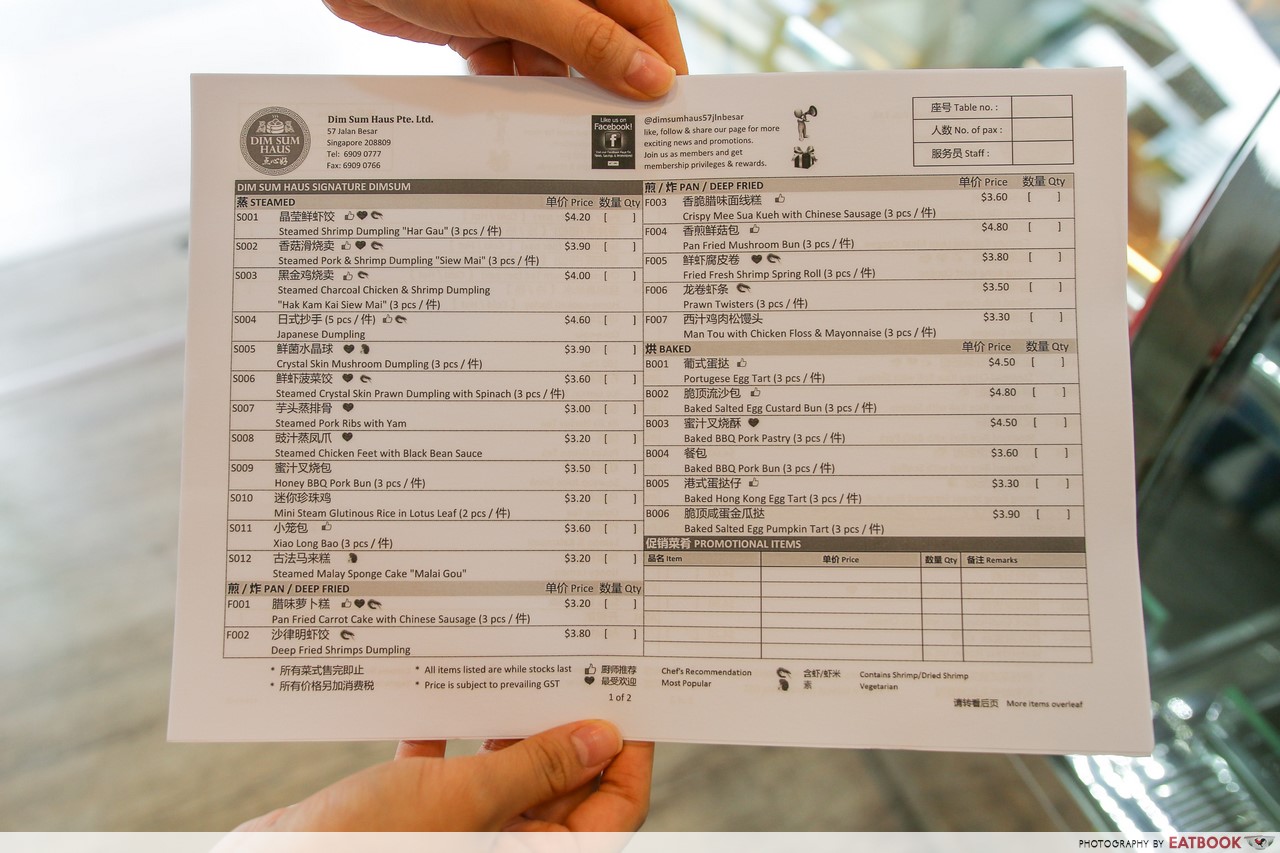 The ordering process is simple; tick the dishes you'd like on the order form and pass it to one of their friendly staff members. Payment is by the counter, and remember to bring the bill along.
The verdict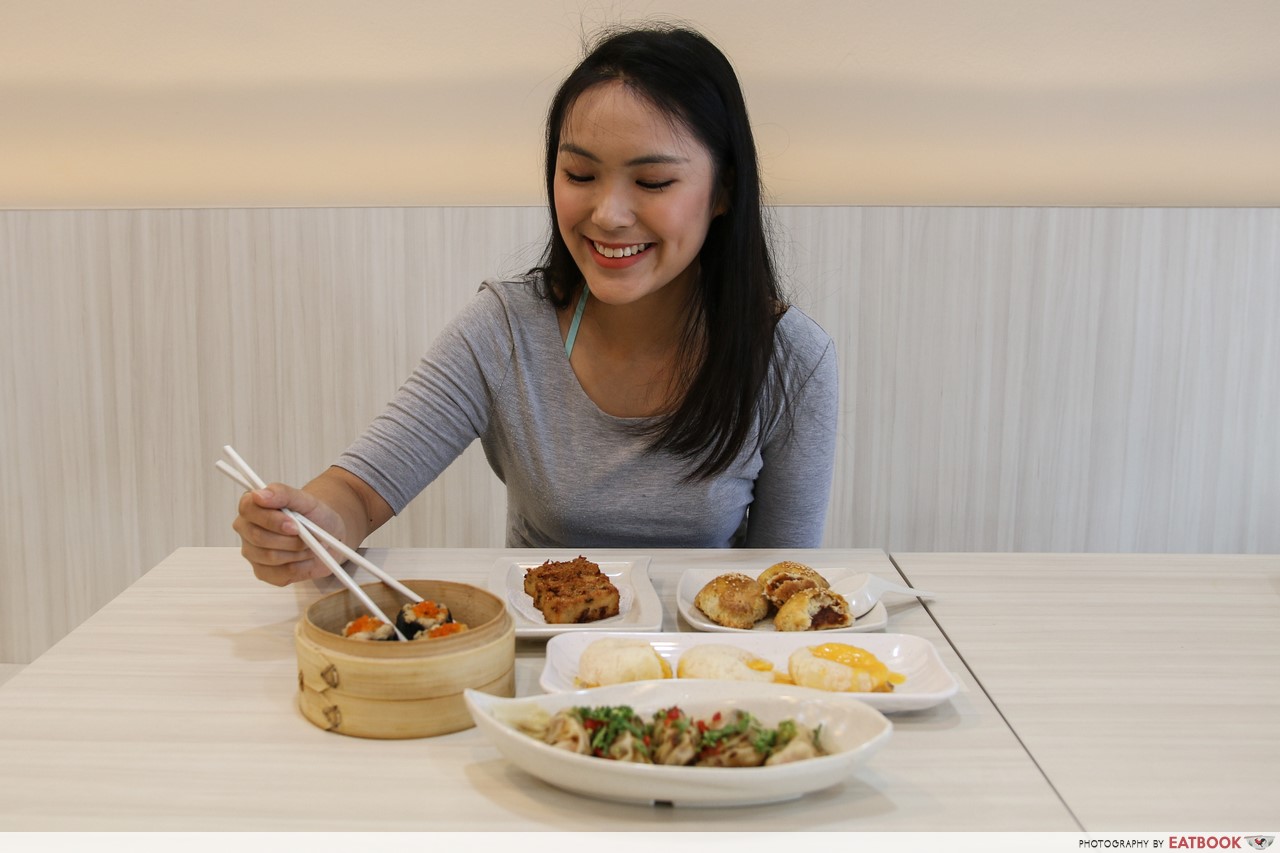 Dim Sum Haus is opened by a couple who enjoys dim sum, and hopes to spread the same joy to others. With both traditional and contemporary dim sum, along with the restaurant's warm and friendly ambience, Dim Sum Haus does a great job in making customers want to return.

P.S. Most of these pictures were taken by John, a migrant worker from Chennai who did a "life swap" with our photographer, who is also called John. We'll be updating this space with a video of their swap soon!
This is an independent review by Eatbook.sg.
Address: 57 Jalan Besar, Singapore 208809
Opening hours: Tue-Fri 11am to 10pm, Sat-Sun 9am to 10pm
Tel: 6909 0777
Summary
Pros
– Affordable
– Good customer service
– No service charge
Cons
– Inconvenient location
Recommended Dishes: Crispy Salted Egg Yolk Bun ($4.80+), Japanese Dumpling ($4.60+), Baked BBQ Pork Pastry ($5.50+), Crispy Mee Sua Kueh with Chinese Sausage ($3.60+)
Operating Hours:
Tuesday – Friday 11am to 10pm
Saturday – Sunday 9am to 10pm
Tel:
6909 0777
Address: 57 Jalan Besar, Singapore 208809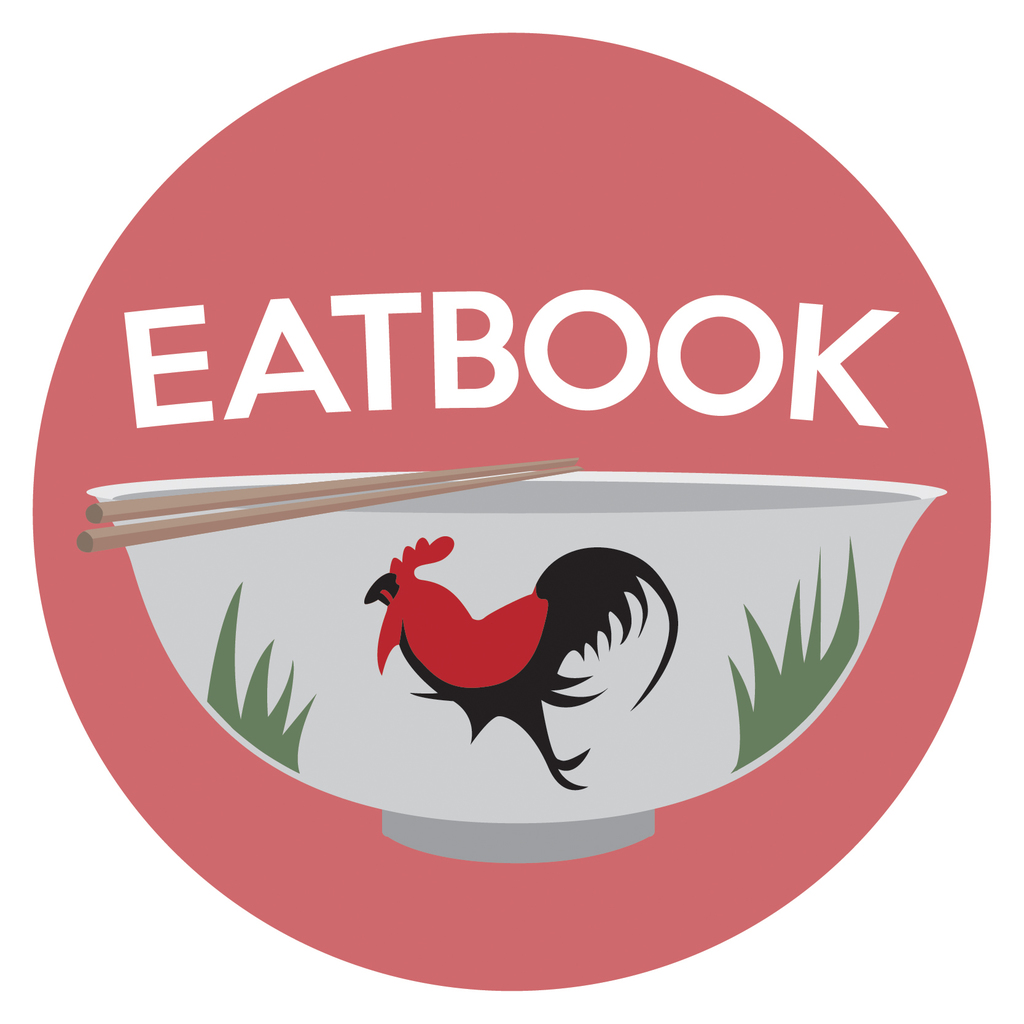 Drop us your email so you won't miss the latest news.