---
Best donuts in Singapore
---
I grew up with a serious love for donuts—or doughnuts if you will—thanks to the bakery below my HDB block. These sugar-studded rounds were a treat for sitting through tuition classes or helping out with household chores, so it's no surprise that come adulthood, passing by a local donut shop sends the reward centre of my brain firing in all happy directions.
Nowadays, doughnuts are returning to the spotlight in Singapore thanks to a growing number of local bakers, both on and offline. These are not your international franchises either, but homegrown specialty stores that push out ever-inventive flavours. From Singapore-inspired flavours such as Milo Dinosaur to unique takes on stuffed bombolini made with sourdough, here are some of the best donuts in Singapore.
---
1. Burnt Ends Bakery 
---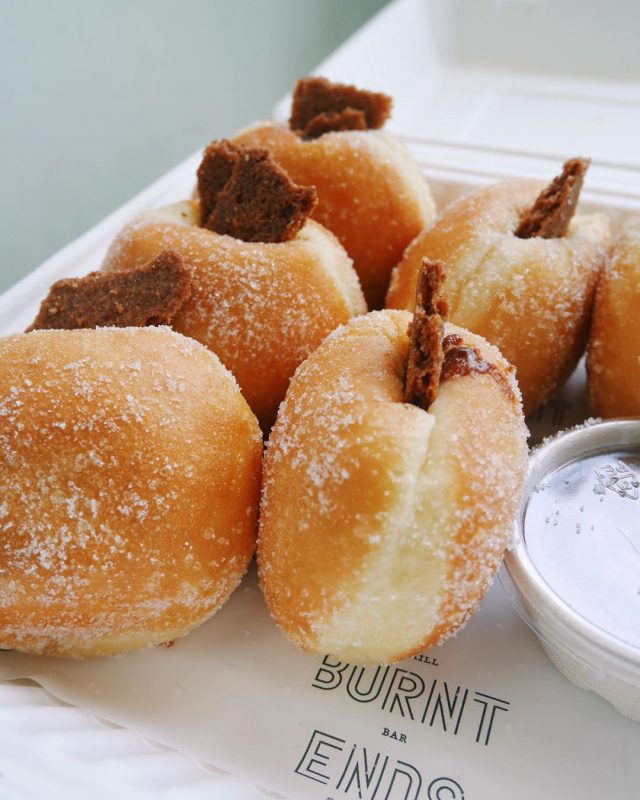 Image credit: @travellingfoodmonster
Michelin-starred restaurant, Burnt Ends, has been having great success with its sister concept, the Burnt Ends Bakery, thanks to their Milo Dinosaur Doughnuts ($30 for six). Brioche doughnuts are filled with silken Milo cream, then topped with a Milo biscuit for crunch. They also sell other flavours, including Plain ($24 for six), Passionfruit Curd ($30 for six), Nutella ($30 for six) and Vanilla Cream ($30 for six). Walk-ins are available from Thursday to Sunday, 8pm to 4pm, but it's recommended for you to pre-order online as they tend to sell out early.
Address: 7 Dempsey Road, #01-01, Singapore 249671
Opening hours: Thur-Sun 8am to 4pm
Website
Burnt Ends Bakery is not a halal-certified eatery.
---
2. City Donut
---

Housed along Telok Ayer, City Donut is a specialises in doughnuts made with a local twist. Their bestseller is the Pandan Ondeh-Ondeh ($2.80), where fragrant pandan dough meets a sticky gula melaka glaze and coconut filling, though I personally am a big fan of the Orh Nee ($2.50), and the Pulut Hitam ($2.20), both of which taste so close to the desserts they nod to.
Check out our full review of City Donut.
Address: 2 McCallum Street, Singapore 069043
Opening hours: Mon-Tue, Sat 9am to 6pm, Wed-Thurs 9am to 10:30pm, Fri 9am to 11pm
Website
City Donut is not a halal-certified eatery.
City Donut: New Doughnut Cafe With Flavours Such As Orh Nee, Ondeh-Ondeh, Milo And More In Telok Ayer
---
3. Doughnut Shack 
---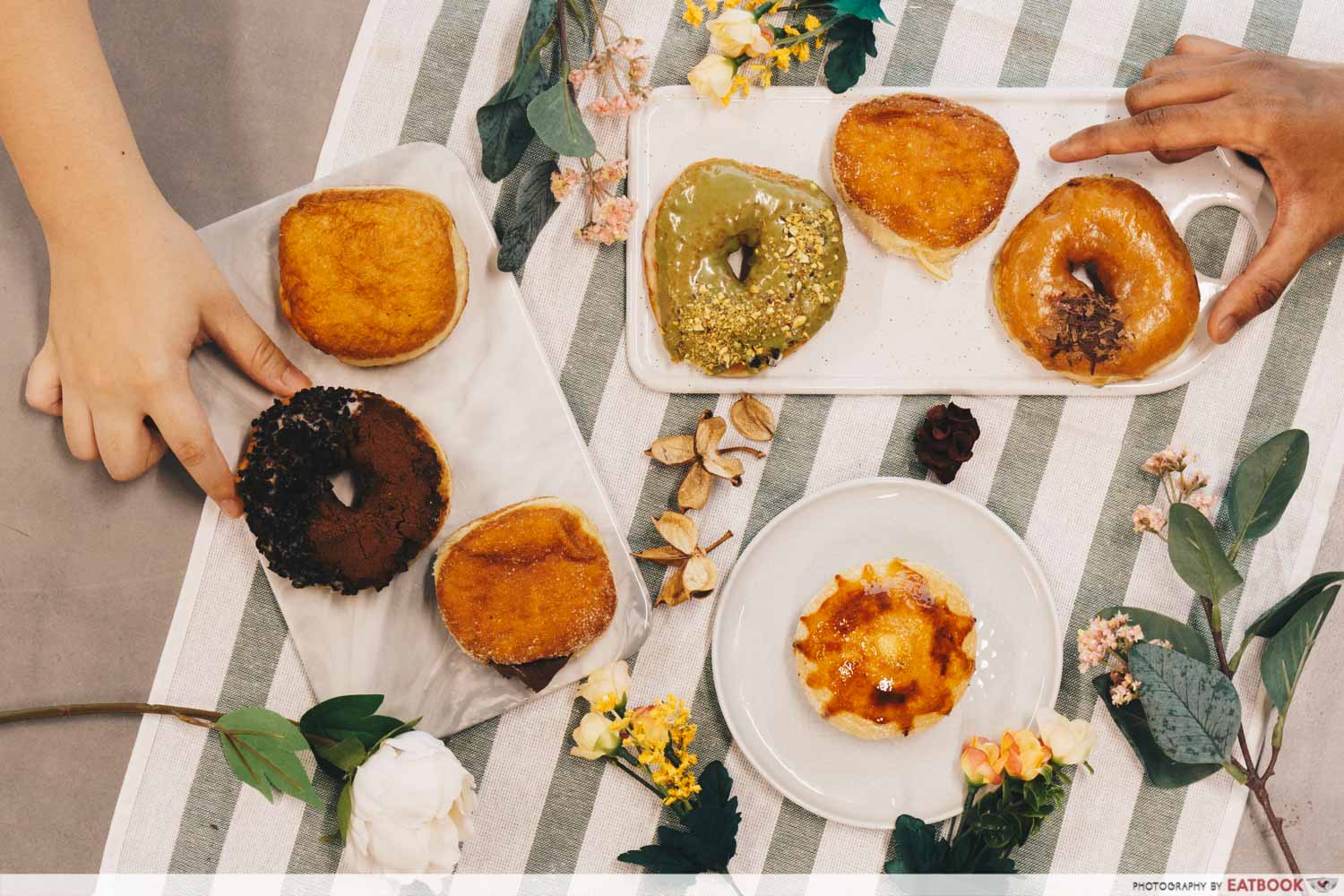 For doughnuts overloaded with a generous amount of filling, head to Doughnut Shack, a short walk from Farrer Park MRT Station. Best known for their bombolone (Italian for "stuffed doughnuts"), Doughnut Shack has flavours such as Black Forest, Banana Fritters, Creme Brulee, and Black Sesame. Prices start at $3 per doughnut, which is a steal compared to other famed bombolini speciality stores. Their flavours rotate monthly, so be sure to check their Instagram for more details.
Check out our full review of Doughnut Shack.
Address: 151 Kitchener Road, Singapore 208526
Opening hours: Tue-Sun 11am to 7pm or until sold out
Tel: 9109 6287
Website
Doughnut Shack is not a halal-certified eatery, but uses no pork or lard.
Doughnut Shack Review: Chilli Crab And Crème Brûlée Doughnuts From $2.50 At Whampoa
---
4. Korio
---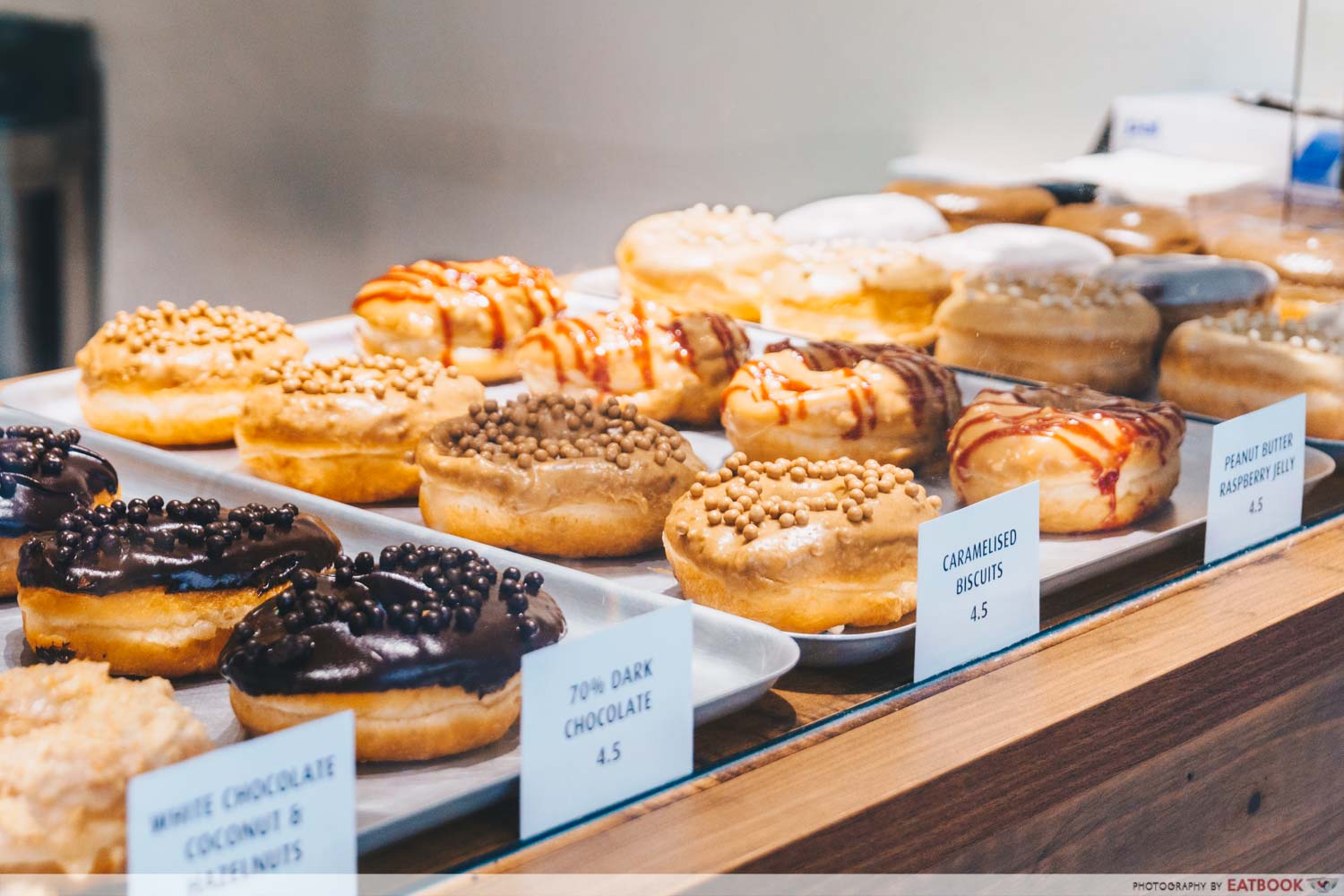 Korio is famed for two things: grilled cheese sandwiches, and their Brooklyn-style brioche doughnuts. The small hole-in-the-wall cafe features a selection of flavours daily, all from $4.50. Flavours here are rather unique; think Cinnamon Sugar with Whipped Honey Butter ($5.50), and Honey with Smoked Sea Salt ($5.50).
Pop by the next time you're in the CBD for a quick pick-me-up. They collect pre-orders on their website too and have delivery islandwide. Do note that their doughnuts are available from Tuesdays to Fridays from 10am onwards. 
Check out our full review of Korio. 
Address: 135 Amoy Street, #01-03, Far East Square, Singapore 049964
Opening hours: Tue-Fri 9am to 1:30pm, Sat 9am to 1pm
Tel: 9771 6491
Website
Korio is not a halal-certified eatery.
Korio Review: Brooklyn-Inspired Brioche Donuts And Grilled Cheese Toasts At CBD
---
5. Nassim Hill Bakery 
---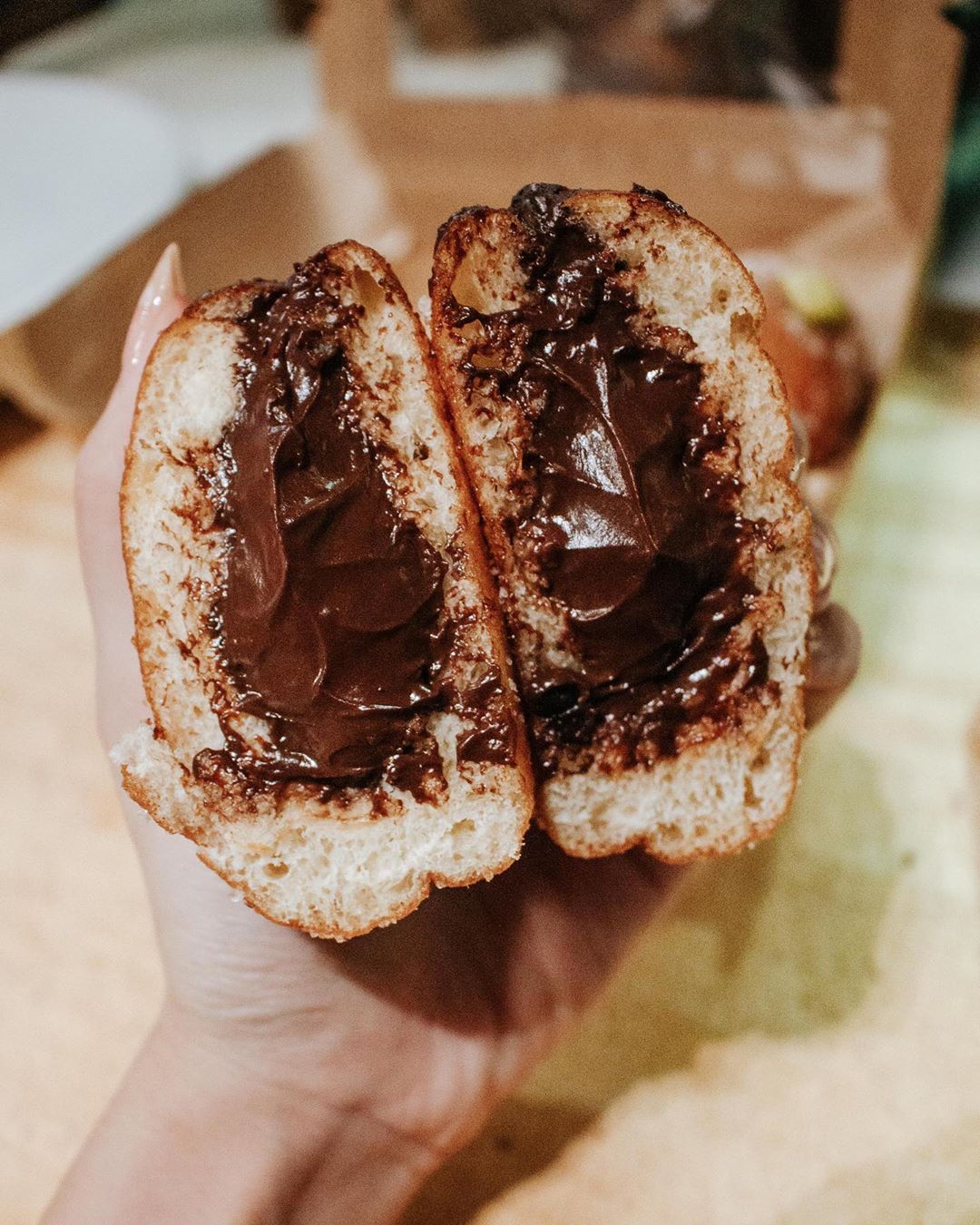 Image credit: @nassimhillbakery
The Brioche Bombolinis ($3.80) at Nassim Hill Bakery are a signature, and one bite is all it takes to know why. The dough is light as a feather and discernibly buttery, given that fine French Elle et Vire butter is used. The filling-to-bread ratio is, for a lack of a better word, gao gao too. Pick from their popular Kaya, with pandan coconut jam made in-house, or the ooey-gooey Chocolate, or mix and match both. You can pre-order them for takeaway or delivery here, or get them at the bakery itself as you enjoy their brunch fare, though head down early as they tend to sell out. 
Address: 56 Tanglin Road, #01-03, Singapore 247964
Opening hours: Tues-Sun 8am to 10pm
Tel: 6835 1128
Website
Nassim Hill Bakery is not a halal-certified eatery.
---
6.  Fluff Bakery
---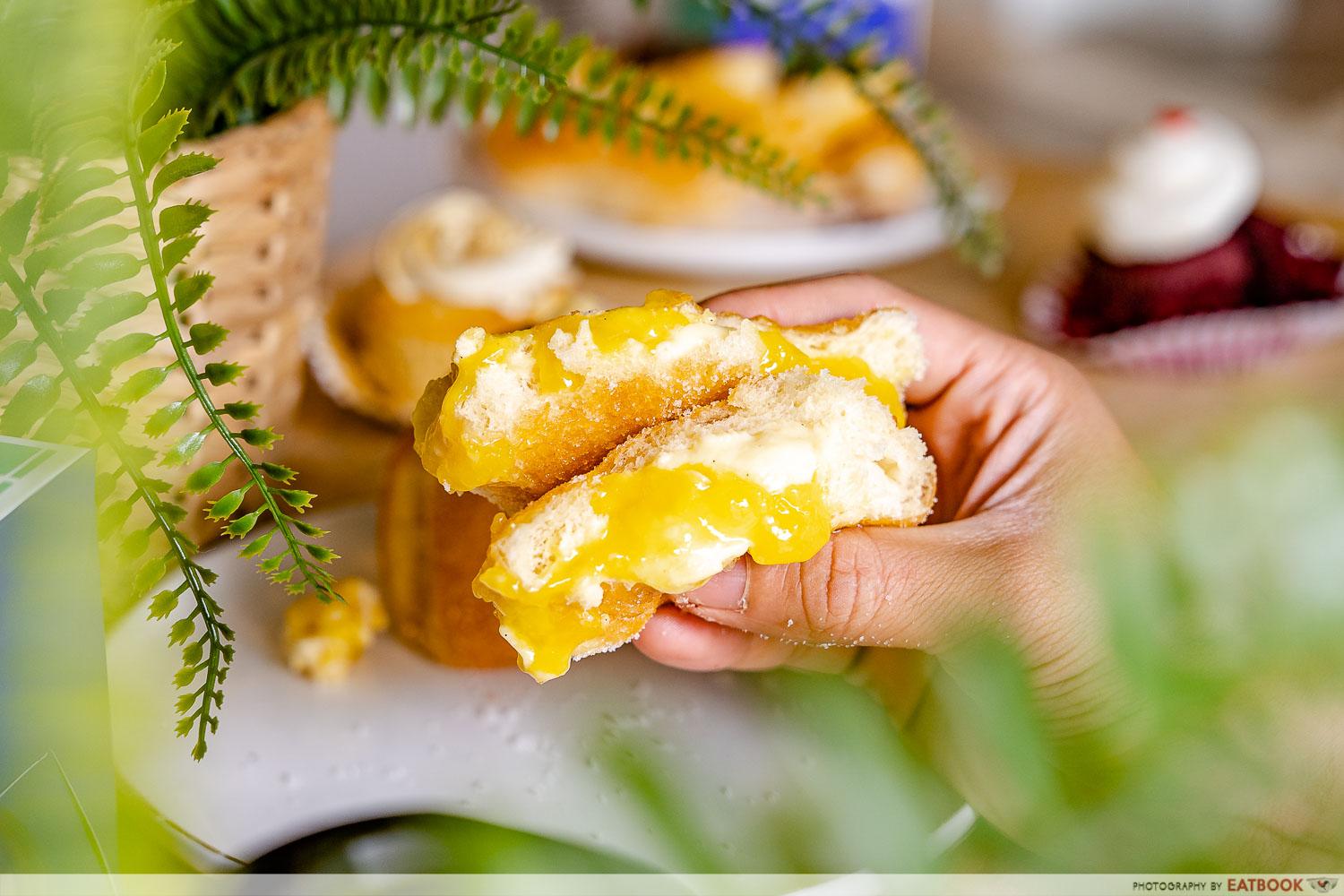 Fluff Bakery is one of the OG halal bakeries specialising in cupcakes, having been around since 2013. They have since moved to a relatively new location along North Bridge Road, and expanded their menu to include fresh bakes such as galettes, savoury flatbreads, and doughnuts.
We loved their Mandarin Orange Cream Doonut ($4) when we wrote our Fluff Bakery review in early January 2022, but this seasonal special is no longer available. Nonetheless, you'll find other mouthwatering flavours such as Earl Grey Milk Chocolate Donut ($4.50) and Strawberry Cheesecake Donut ($4.50). Act fast though, as the flavours switch up regularly!
Address: 795 North Bridge Road, Singapore 198763
Opening hours: Mon-Sat 11:30am to 7pm, Sun 11am to 5pm
Tel: 9144 7729
Website
Fluff Bakery is halal-certified.
Fluff Bakery Review: IG-Famous Halal Bakery With Horlicks Cupcake, Maple Cinnamon Doughnut And More
---
7. Harritt's Donuts
---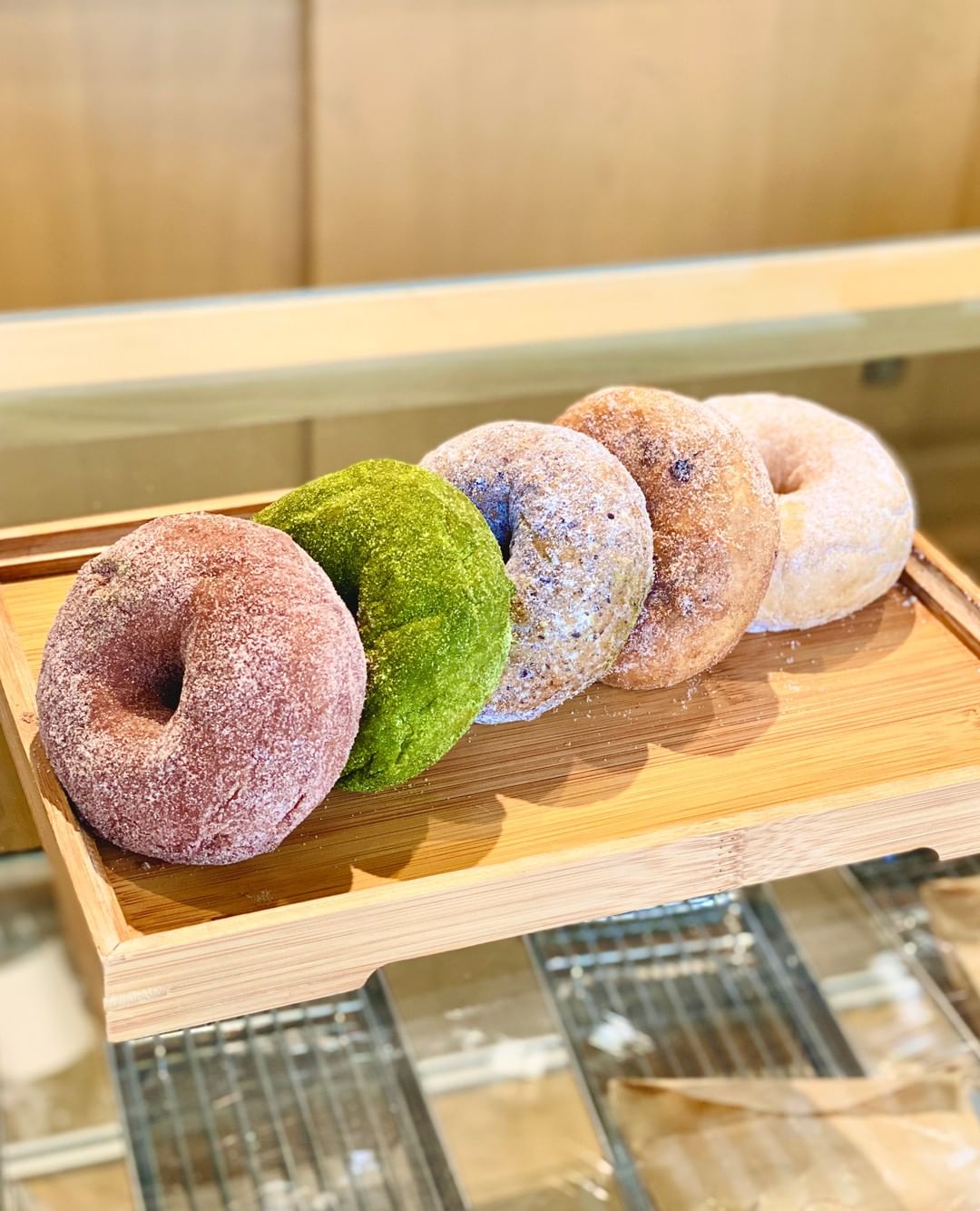 Image credit: @harritts_singapore
So low-key is this doughnut store that you wouldn't know that Harritt's Donuts is famous in its native Japan and in Taiwan too. Abroad, their bakes are limited to just three per customer given how quickly they sell out, and in Singapore, bakes are pretty limited daily. Head down to the Havelock outlet for a cup of coffee and to try their selection of stuffed or ring doughnuts, in flavours such as Matcha, Pistachio, and Earl Grey. Expect fluffier, almost bun-like rounds that are generously filled. Prices range from $1.90 to $3.20.
Address: 2 Havelock Road, #01-08, Havelock II, Singapore 059763
Opening hours: Wed-Fri, Sun 11:30am to 6pm
Website
Harritt's Donuts is not a halal-certified eatery.
Flipper's: Japanese Souffle Pancake Cafe From Tokyo To Open In Singapore
---
8. Dochi Dochi
---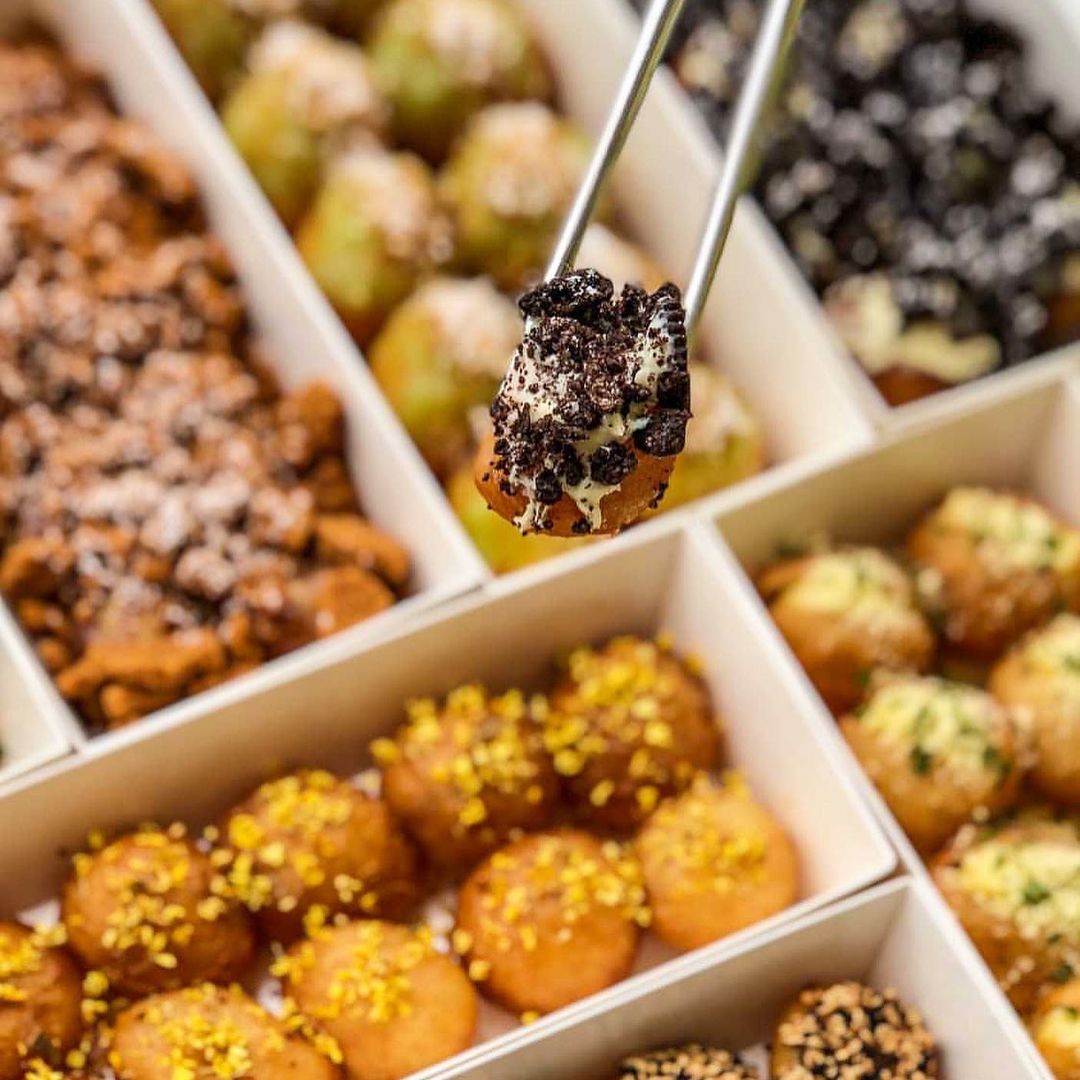 Image credit: @goneinpieces
Dochi Dochi by WTV Food is a takeaway kiosk in Joo Chiat specialising in mochi doughnuts, AKA dochi. Here the soft and chewy doughnut balls are handmade, and come in both sweet and savoury flavours. Go for the Original, priced at $7 for 10 pieces, if you'd like an unadulterated taste of the dochi. Other options include Oreo Bomb, Kaya-Lah, and an Asian-inspired Maple Osmanthus. Savoury dochi are priced at $12 for 10, with two flavours available: Kani-Mayo, and Parmesan Garlic Butter.
Address: 95 Joo Chiat Road, #01-02, Singapore 427389
Opening hours: Tues-Fri 11am to 9pm, Sat-Sun 10am to 9pm
Tel: 9012 8089
Website
Dochi Dochi is not a halal-certified eatery.
This Home-Based Business Sells Mini Mochi Doughnuts In Flavours Such As Kaya And Biscoff
---
9. Bakes By NY
---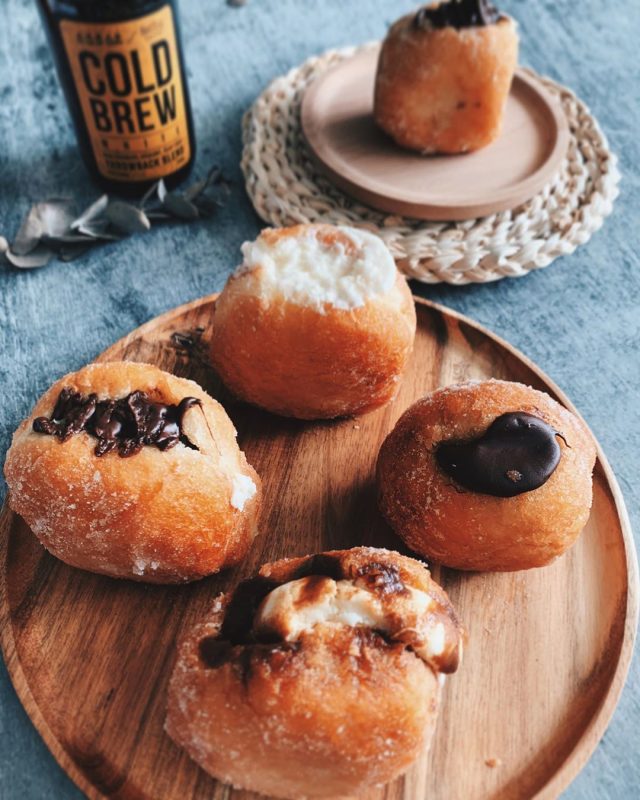 Image credit: @food.ally
Heartland Muslim-owned bakery Bakes By NY has been around since 2016, with addictive bombolone as a signature. These stuffed goodies are available at $4 a pop, with locally inspired flavours including Bandung and Ondeh Ondeh. Go all out and treat the fam with a box of five ($20) or 12 ($40), perfect for your next party.
They also have another outlet at 41 Sultan Gate, catering to those who don't live in the east. 
Address: 201E Tampines Street 23, #01-120, Singapore 527201
Website
Bakes by NY is a halal-certified eatery.
18 Bedok 85 Fengshan Food Centre Stalls To Visit For Famous Pork Porridge, Satay Bee Hoon And More
---
10. Sourbombe 
---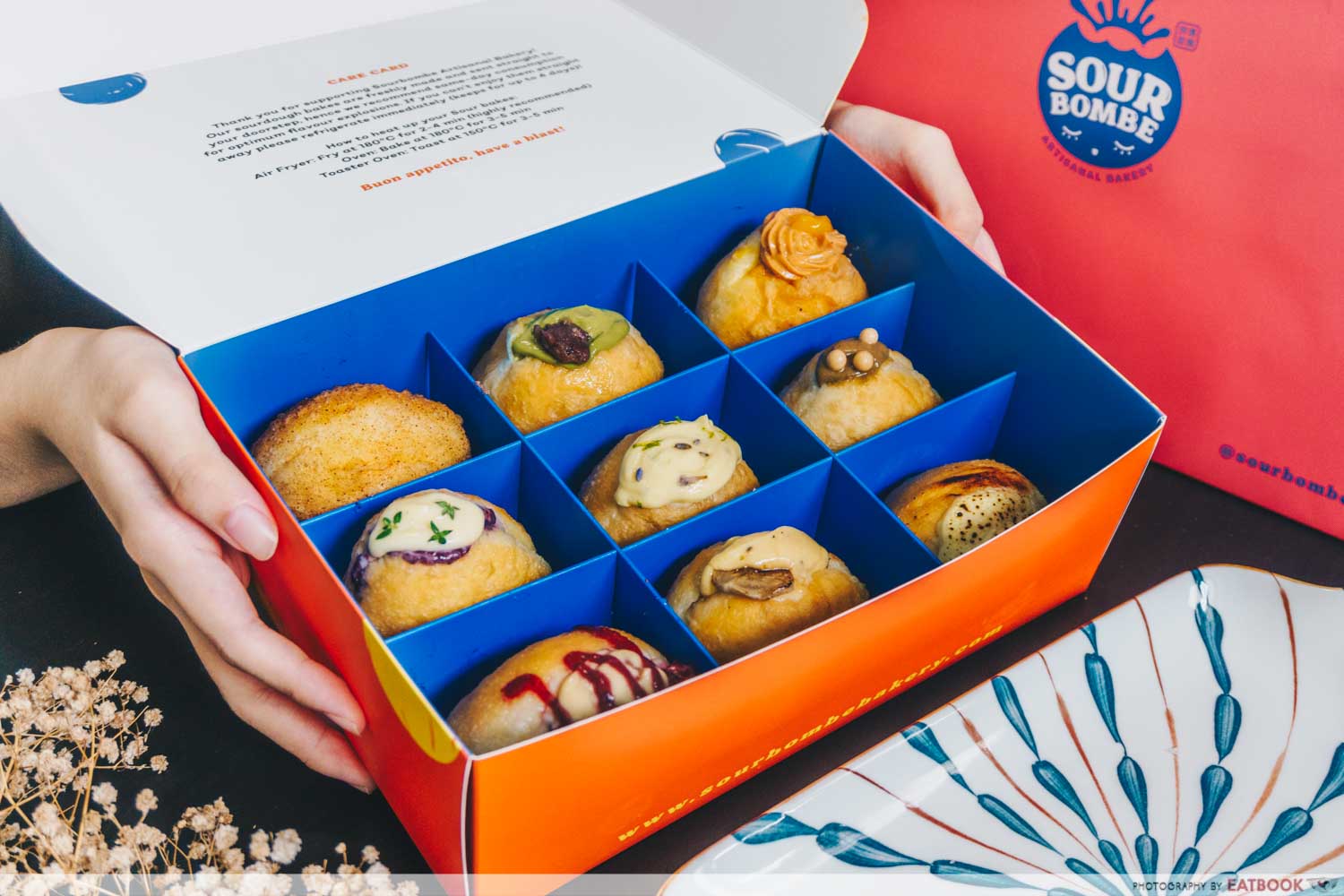 Masterchef runner-up Genevieve Lee now fronts Sourbombe Bakery, where her own sourdough bombolini creations reign. This online-only bakery has one-of-a-kind fillings that play on hot food trends, including the Basque Burnt Cheesecake ($5.60) doughnut. These are also made-to-order and fried in coconut oil so they are less greasy too. Fastest fingers first when their pre-orders open, though, as they can sell out as quickly as in 10 minutes.
Check out our full review of Sourbombe Bakery.
Sourbombe Bakery Has Sourdough Doughnuts With Burnt Cheesecake And Hojicha Fillings
---
11. The Fat Kid Bakery 
---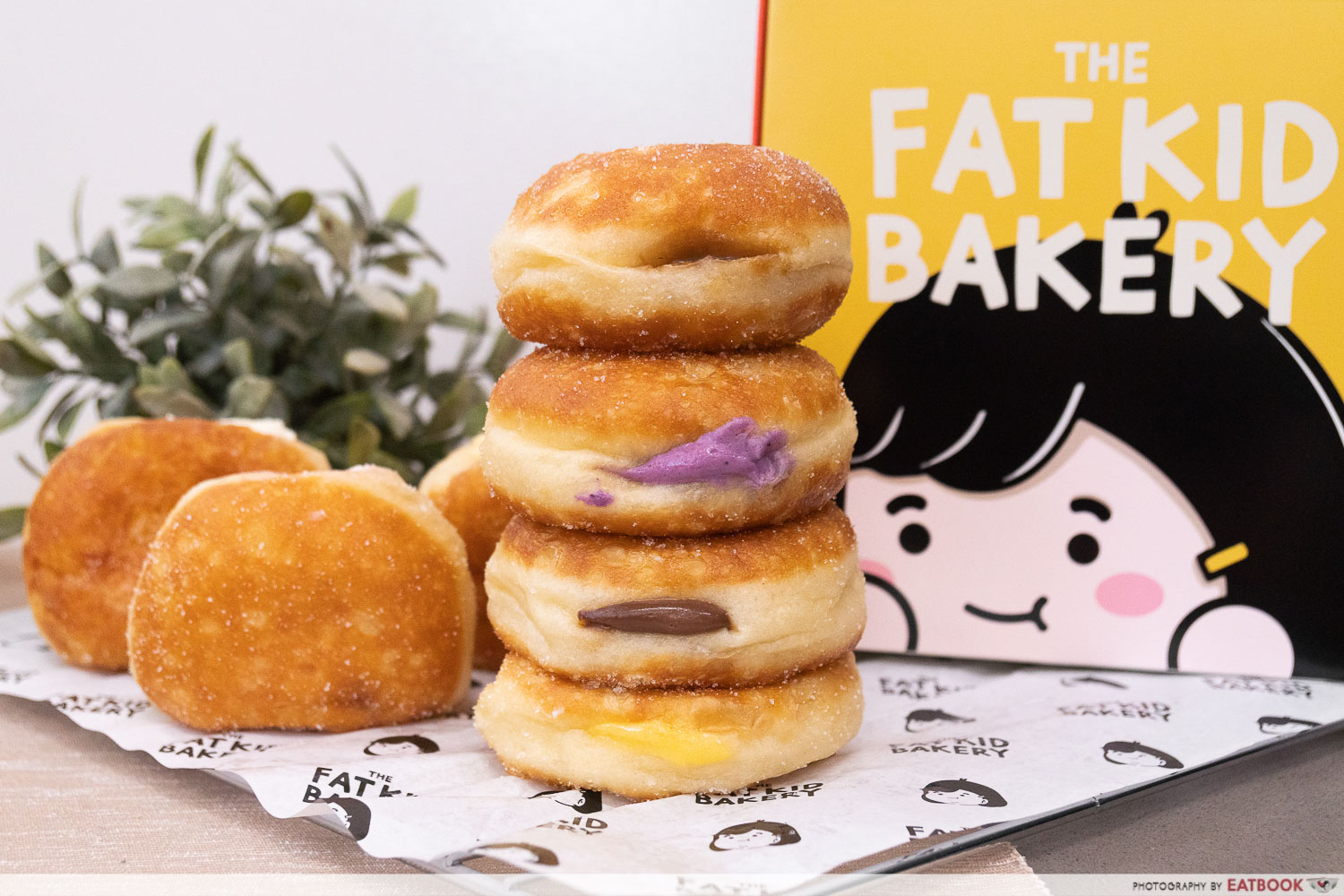 Another home baker making sourdough bombolini is the aptly-named The Fat Kid Bakery. Their doughnuts are priced from $15.20 for a box of four, with more premium flavours requiring a top-up. Their Sea Salt Maple is a popular pick for good reason. It's filled with a creamy cheesecake filling, and comes with fragrant notes of sweet maple syrup, offset by sea salt. Other must-tries include the Kaya with Whipped Butter, an ode to kaya toast, and Earl Grey Milk Tea.
Although the doughnuts are available for walk-in purchases, they tend to sell out rather quickly. Make sure you pre-order online to snag your favourite flavours!
Read our review on The Fat Kid Bakery!
Address: 7 Ang Mo Kio Street 66, #01-07, Flora Vista, Singapore 567708
Opening hours: Wed-Sun 10am to 5pm (or sold out)
Website
The Fat Kid Bakery is not a halal-certified eatery.
---
12. Doughter Bakery 
---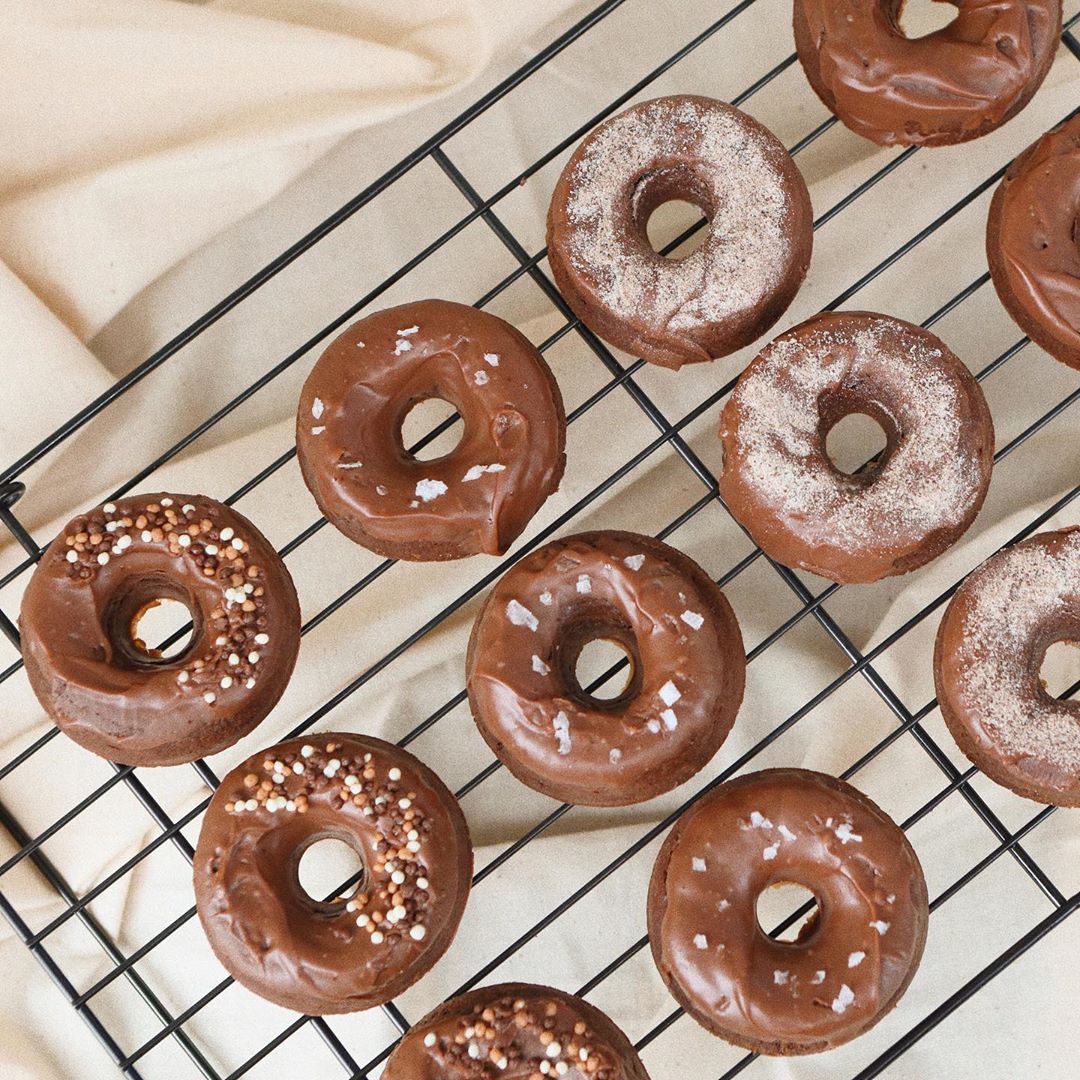 Image credit: @doughterbakery
I used to only be able to find mochi doughnuts in Japan's Mister Donut, but not anymore, because of Doughter Bakery. This all-mochi specialty home baker turns the QQ Japanese snack into an array of baked treats, from cookies to muffins to doughnuts. These chewy rings are sold in their bake boxes and monthly bake sales along with other Doughter Bakery items, in Chocolate Mocha, Sea Salt Chocolate and Chocolate Crispearls as their main offerings. Boxes are priced from $22, and you can often expect limited-edition flavours to pop up too.
---
13. Puffs And Peaks
---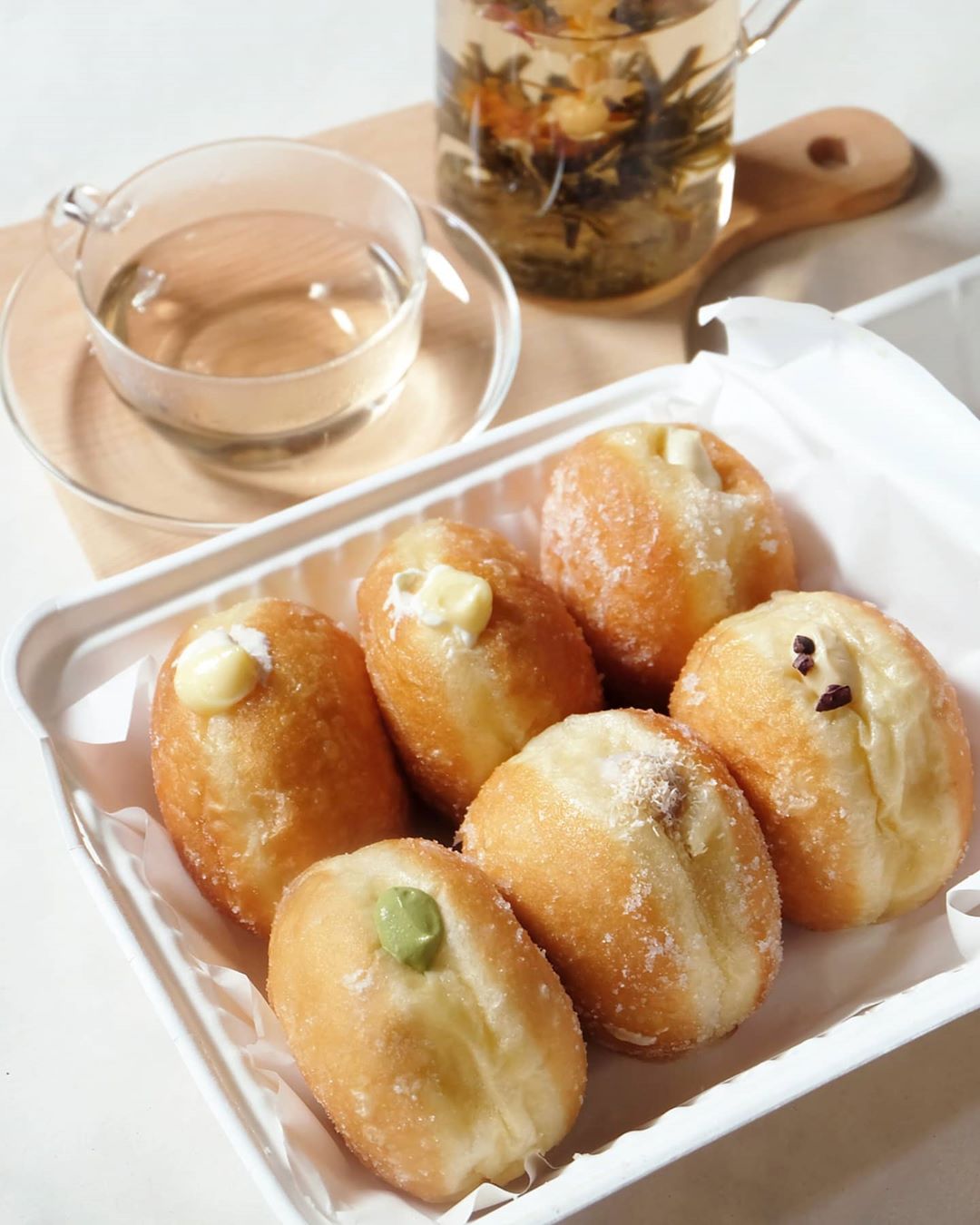 Image credit: @vanessa_kou
Puffs and Peaks is a doughnut-centric home baker that got so popular, they have opened a physical store in Tampines Central CC, a 15-minute walk from Tampines MRT Station. They're most known for their filled doughnuts, available in an array of fillings. Try the all-time favourite Lemon Curd ($3.80), or go for the Hazelnut Praline Chocolate ($4) for something more indulgent. Alternatively, get the Sour Cream & Chives ($3.80) if savoury flavours are your jam!
Read our Puff & Peaks review!
Puffs And Peaks Review: Bakery With Taro Brioche Donuts, Brookies And Matcha Cookies In Tampines
---
14. Delish Hotel Pillow Donuts
---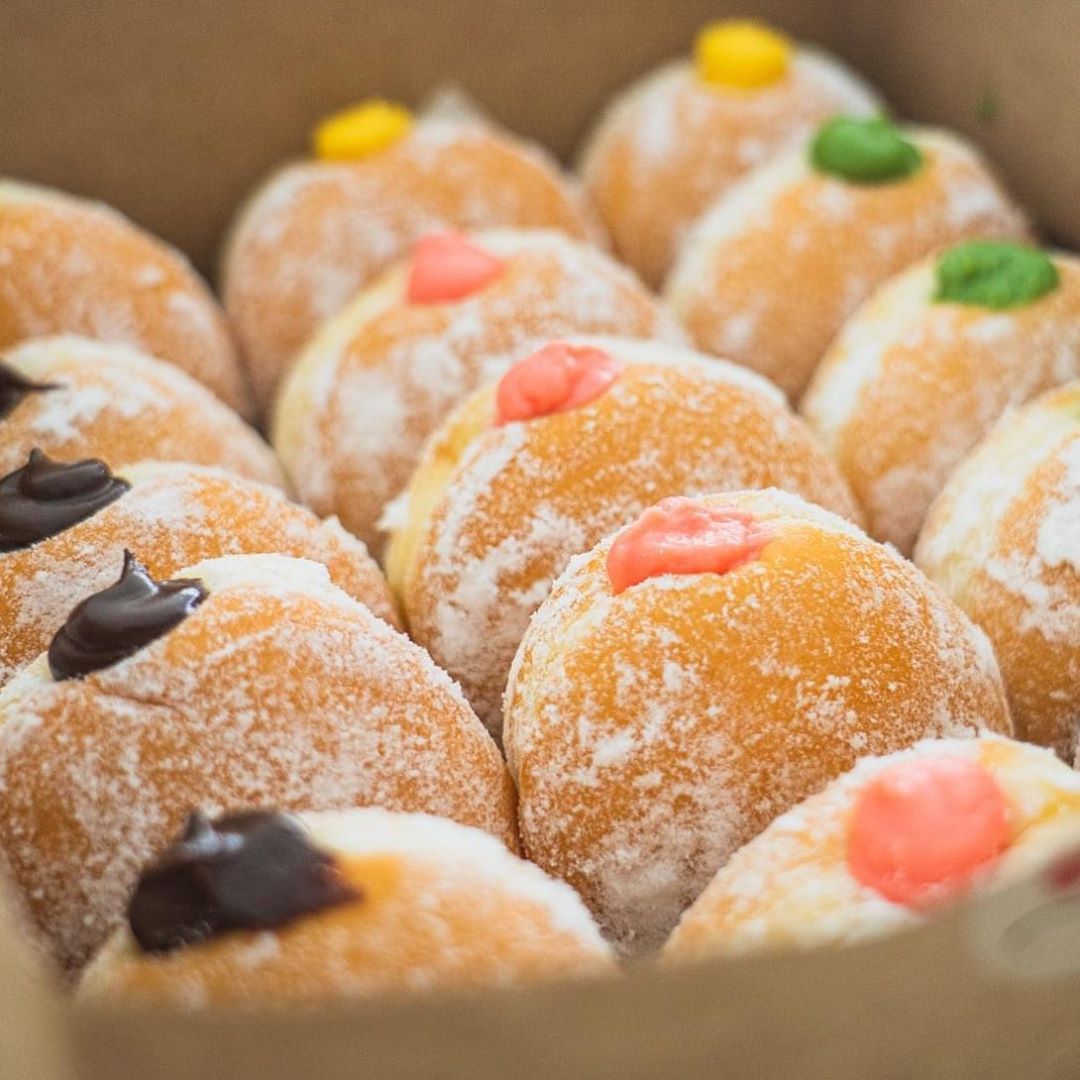 Image credit: @welovedelish
So soft and dense are these treats from Delish Hotel Pillow Donuts that they are very much like the goose down-packed cushions they're named after. You get a mix of their Classic Sugar, Passionfruit Mango, Matcha, Strawberry Cream, and Chocolate Ganache doughnuts in every box. Prices start at $14 for eight pieces of classic, sugar-coated doughnuts. They also have a unique Durian Pengat ($29 for 10) flavour that one reviewer simply described as "OMG" and "overwhelming", so take note, durian fans. 
Address: 60 Springside Walk, #01-10, Singapore 786020
Opening hours: Tue-Sat 10am to 1pm
Website
Delish Hotel Pillow Donuts is a halal-certified eatery.
---
15. Mr Holmes Bakehouse
---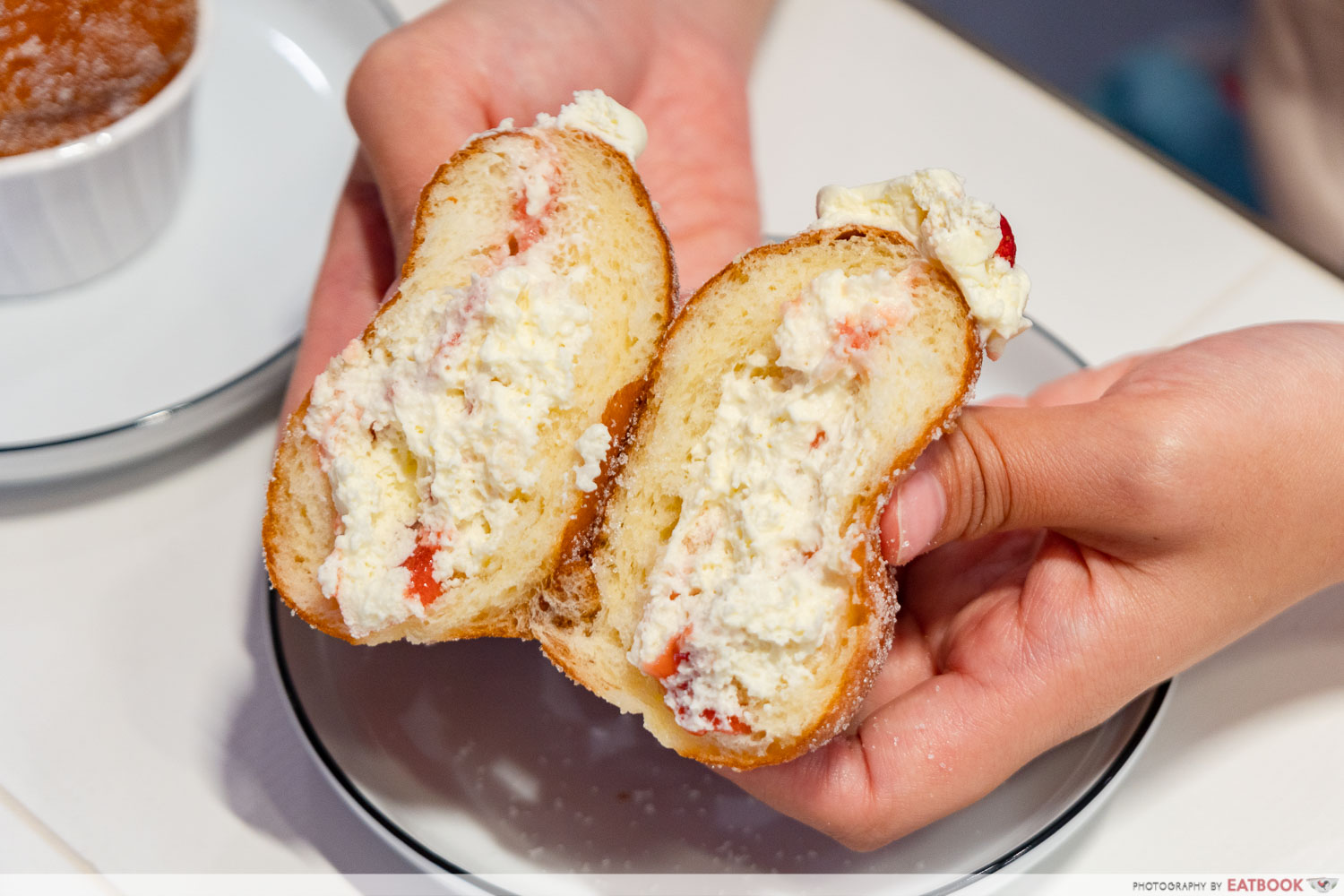 Popular San Franciso bakery Mr Holmes Bakehouse offers a yummy assortment of freshly baked doughnuts, cruffins, danish and more. On the doughnut end, you can expect new flavours that are released each month. Mainstays include the Black Sesame Donut ($5.80), featuring broiche dough filled with a roasted black sesame cream, and topped with a black sesame brittle. There's also a tangy Key Lime Donut ($5.80) if you prefer something fruity.
Check out Mr Holmes' new Raffles Place cafe!
Website | Full list of outlets
Mr Holmes Bakehouse is not a halal-certified eatery.
Mr Holmes Bakehouse Opens At Raffles Place With Two Men Bagel House Collab And New Cruffins
---
16. Brawn & Brains
---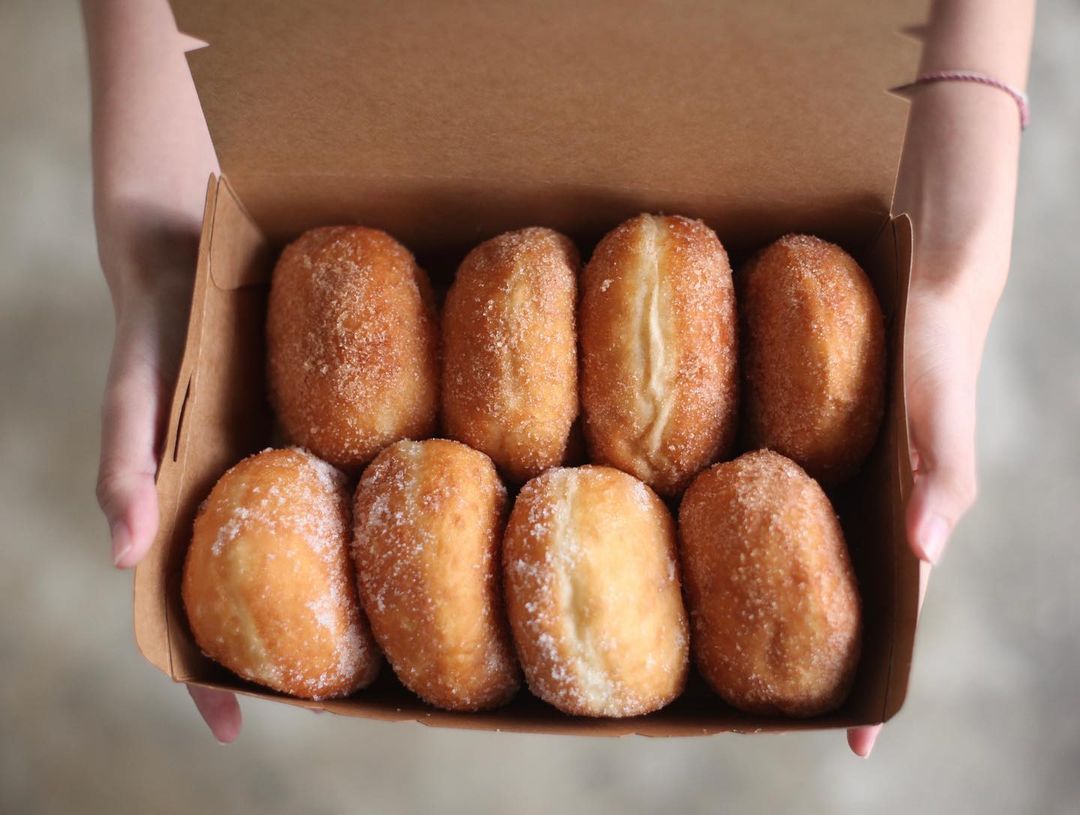 Brawn & Brains recently opened a new outlet in Jalan Besar, with pastries and barista-brewed coffee for cafe-hoppers to indulge in. Try their BB Donuts ($4.20+) stuffed with locally inspired fillings such as Milo Custard and house-made Kaya. For something lighter and more refreshing, the Lemon Curd or Zesty Lime Curd option is worth considering.
Address: 16 Hamilton Road, #01-06, Singapore 209186
Opening hours: Tue-Fri 9am to 5:30pm, Sat-Sun 9am to 6pm
Tel: 9666 9719
Website
Brawn & Brains is not a halal-certified eatery.
Brawn & Brains Coffee Opens Near Bendemeer MRT Station With Milo Doughnuts And More
---
Trendy donuts in Singapore
---
Given how trendy doughnuts are in Singapore right now, do yourself a favour and get yourself a box from any of the stalls on this list. Be quick, they sell out fast.
For more desserts worth trying, read our Sinful Cakes review. Otherwise, head to Whisking Bakes, SG's first orh nee cafe, for taro-infused bakes and drinks!
Whisking Bakes Review: First Taro Cafe In Singapore By HBB With IG-Famous Orh Nee Tarts, Taromisu And More