Puffs And Peaks in Tampines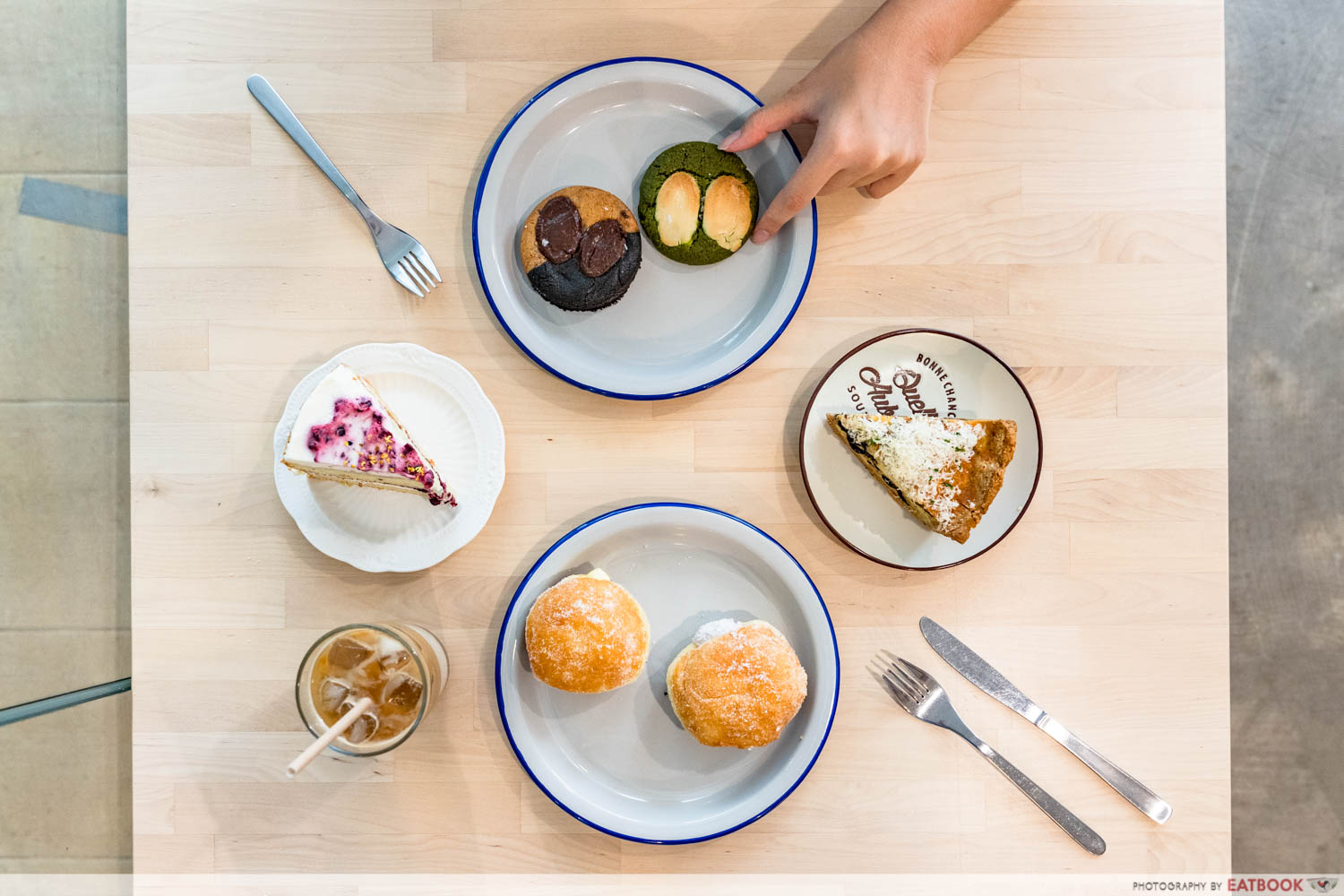 There has been a surge of online-stores-turned-physical-bakeries, as seen by Rachelrax Cakes and Guilt Cookies. These online ventures, which started out as passion projects, quickly became so popular that owners turned to physical spaces for sales. Another bakery to add to that list is Puffs And Peaks, which recently opened their physical store in Tampines.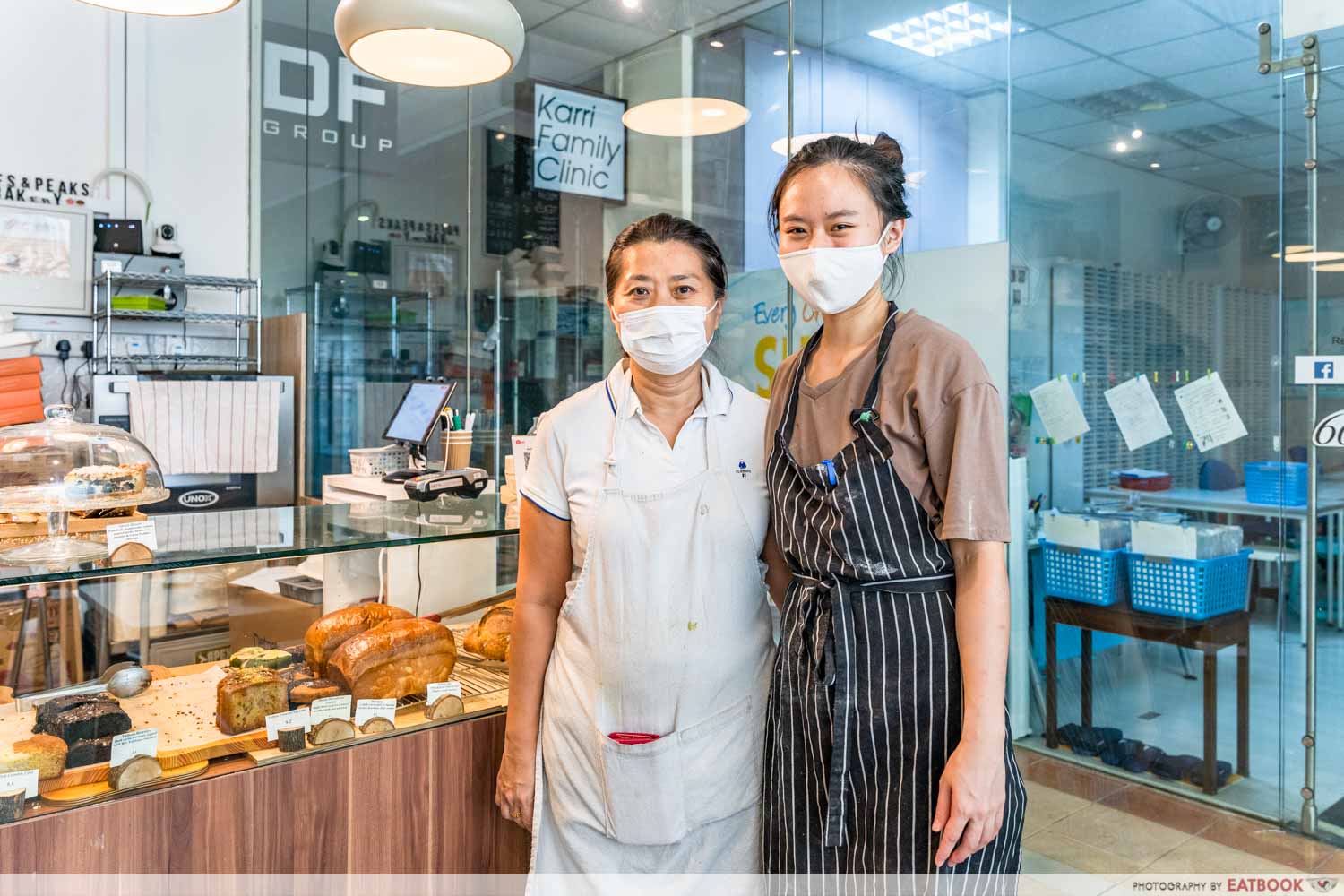 Puffs And Peaks is the brainchild of the mother-daughter duo, Linda and Jing Ting. They gained traction for their signature brioche doughnuts, amongst other homely bakes, made without any preservatives. We asked Jing Ting about their transition to a physical bakery, and she said that while it was stressful, she enjoys having a bigger space to work with. Heartened by their story, my colleague and I were eager to try their bakes.
Rachelrax Cakes Review: Home Baker Opens Bakery With Orh Nee Tarts And Galaxy Dome Cake
Food at Puffs And Peaks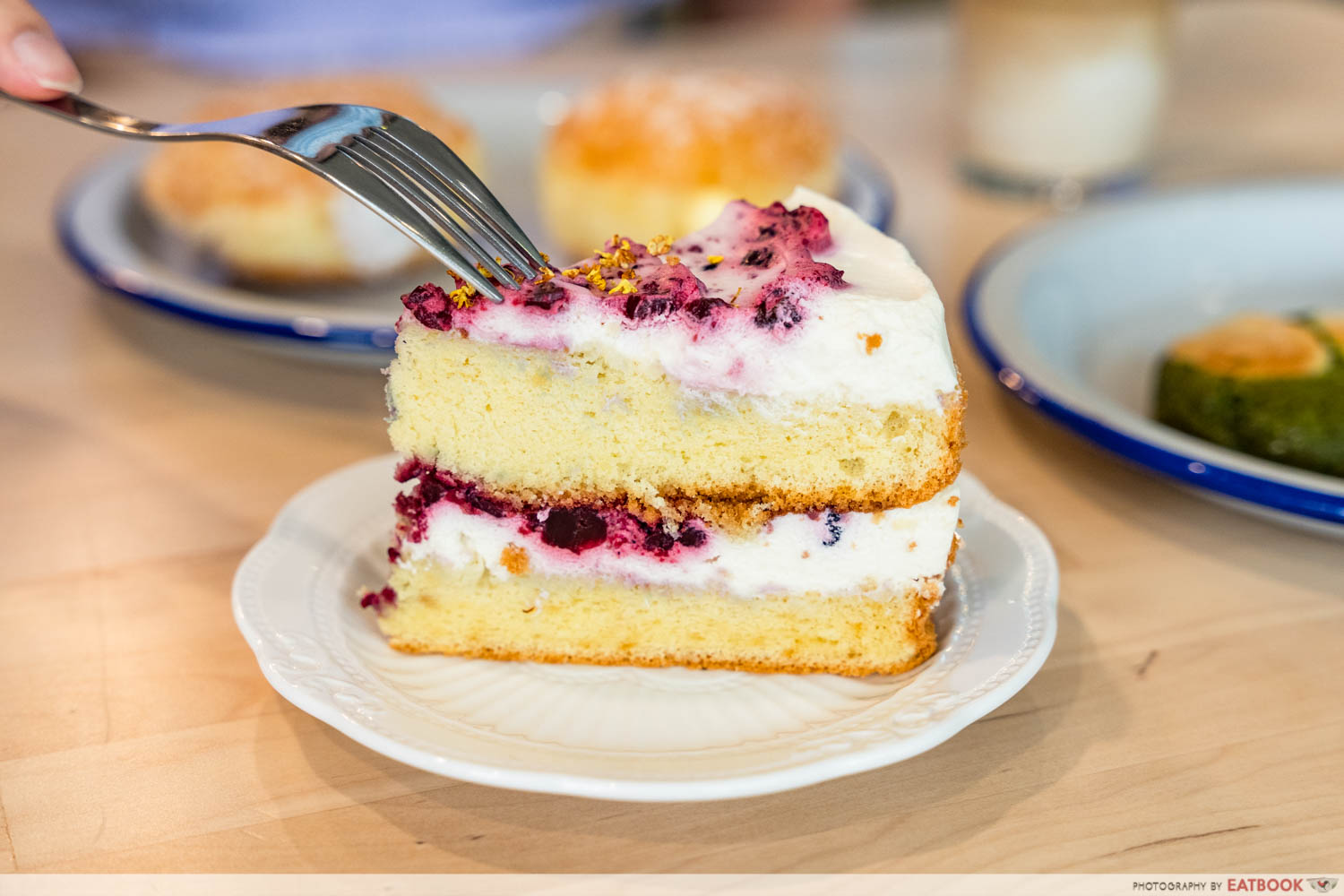 We began our round of sweets with the Salted Honey, Lavender, Blackcurrant Jam Cake ($6). This slice of cake is layered with a lavender sponge, salted honey whipped cream, and their house-made blackcurrant jam.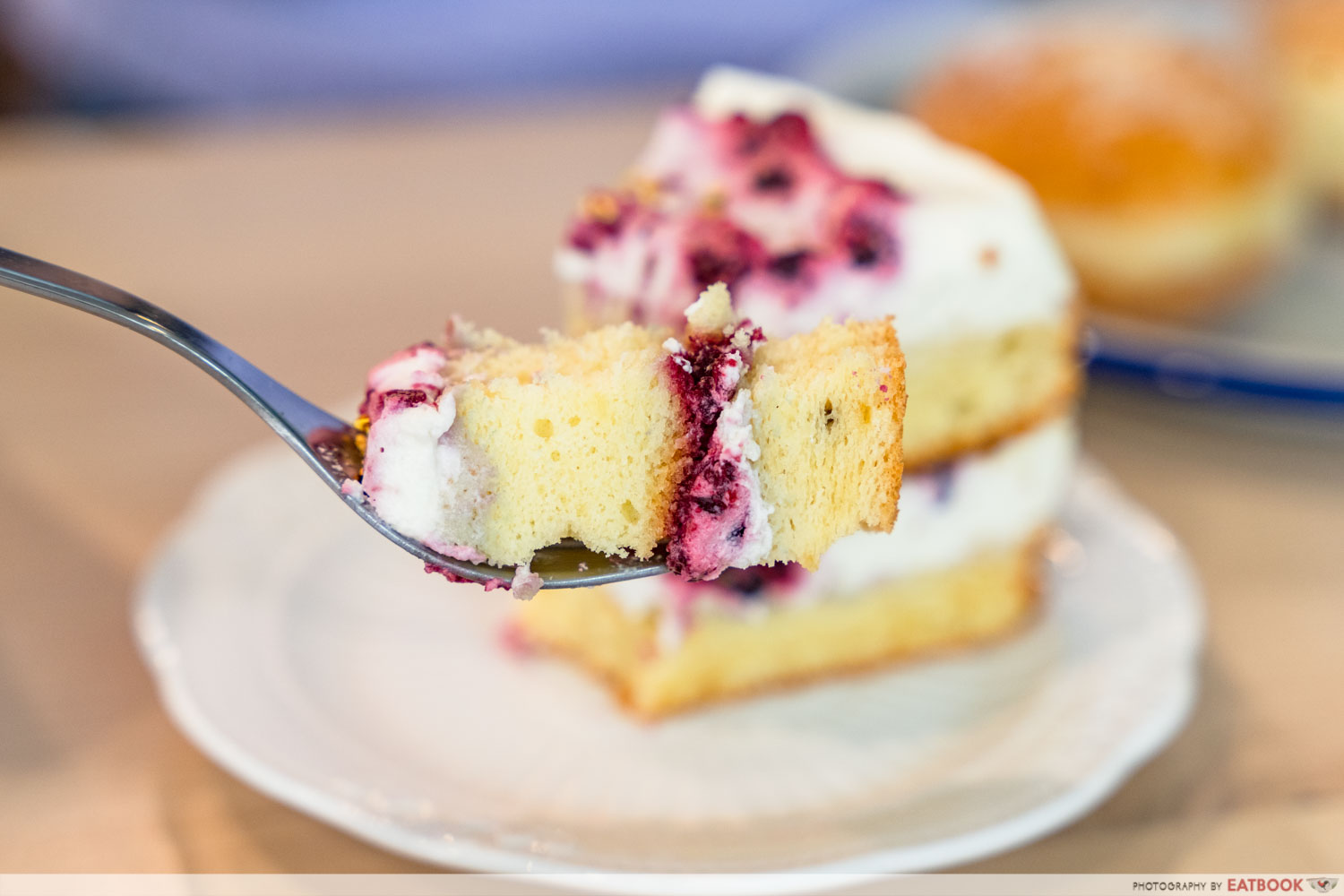 While the sponge felt a touch dry, the cake was well-balanced in terms of flavour. The whipped cream perfumed the cake with a honeyed fragrance, while the lavender brought floral notes. Meanwhile, the blackcurrant jam provided a zingy sweetness to the cake.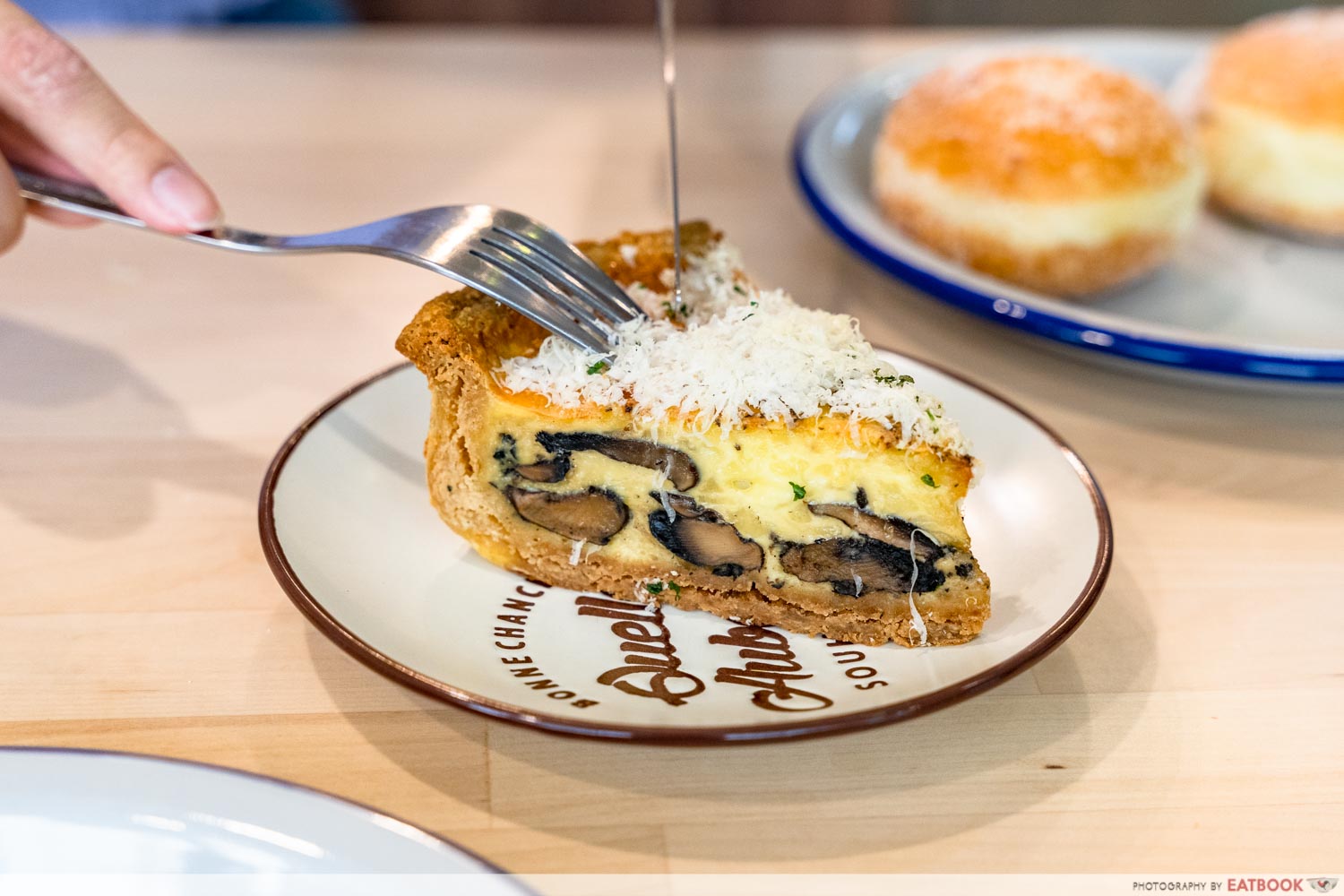 To complement the sweet treat, we moved on to their Portobello, Mushroom, Roasted Garlic, Cheddar Quiche ($6), the only savoury item available for pre-order that week. This quiche had mushrooms and roasted garlic folded within, topped with generous amounts of shaved parmesan.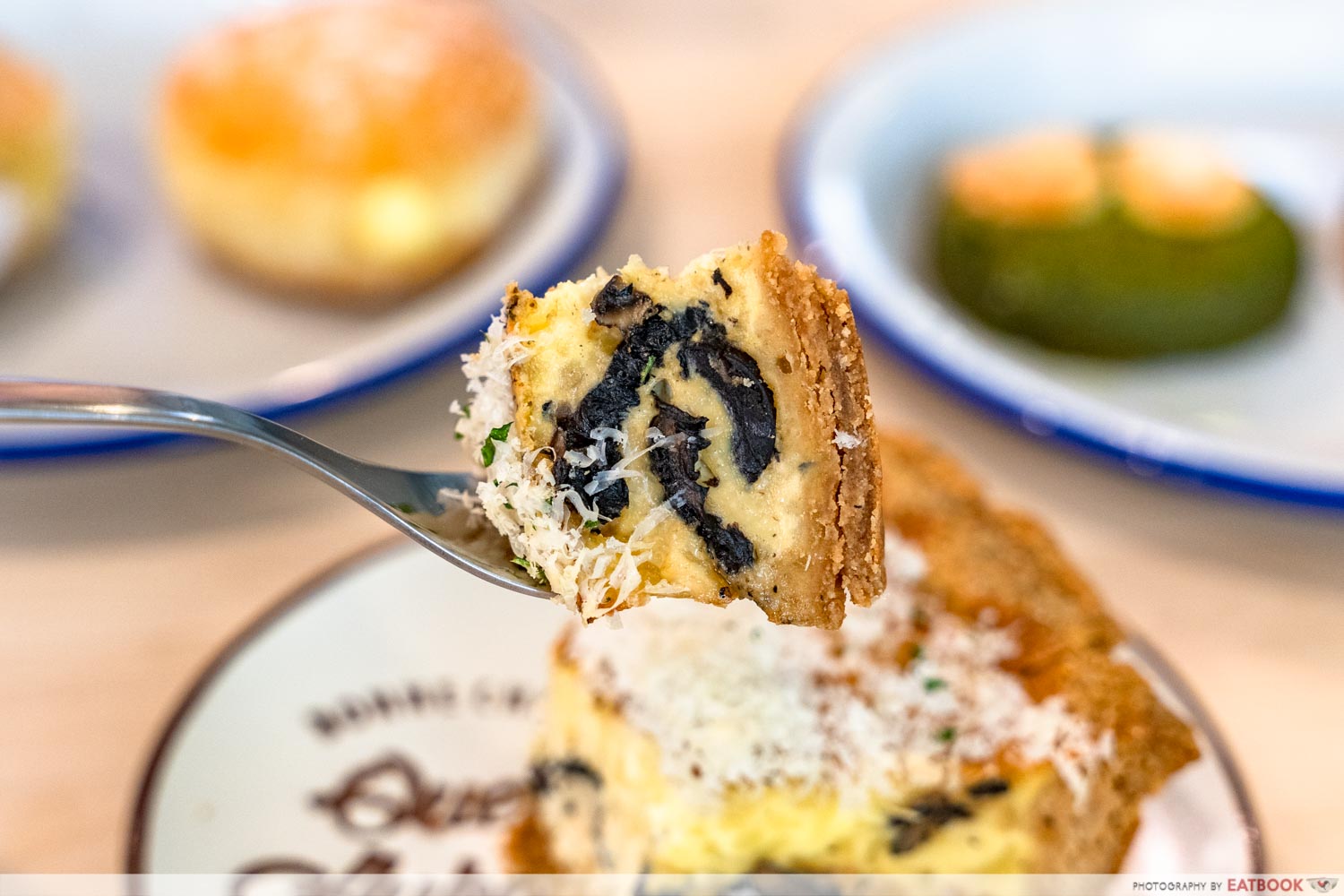 I'm not typically a fan of quiches, as they can be too eggy when not done well. Thankfully, Puffs And Peaks' rendition was well executed, with nutty notes from the combination of cheddar and parmesan, and a savouriness from roasted garlic. 
The portobello mushrooms added to the umami factor. I also enjoyed the crust, which was firm enough to hold the filling, while retaining a slight butteriness.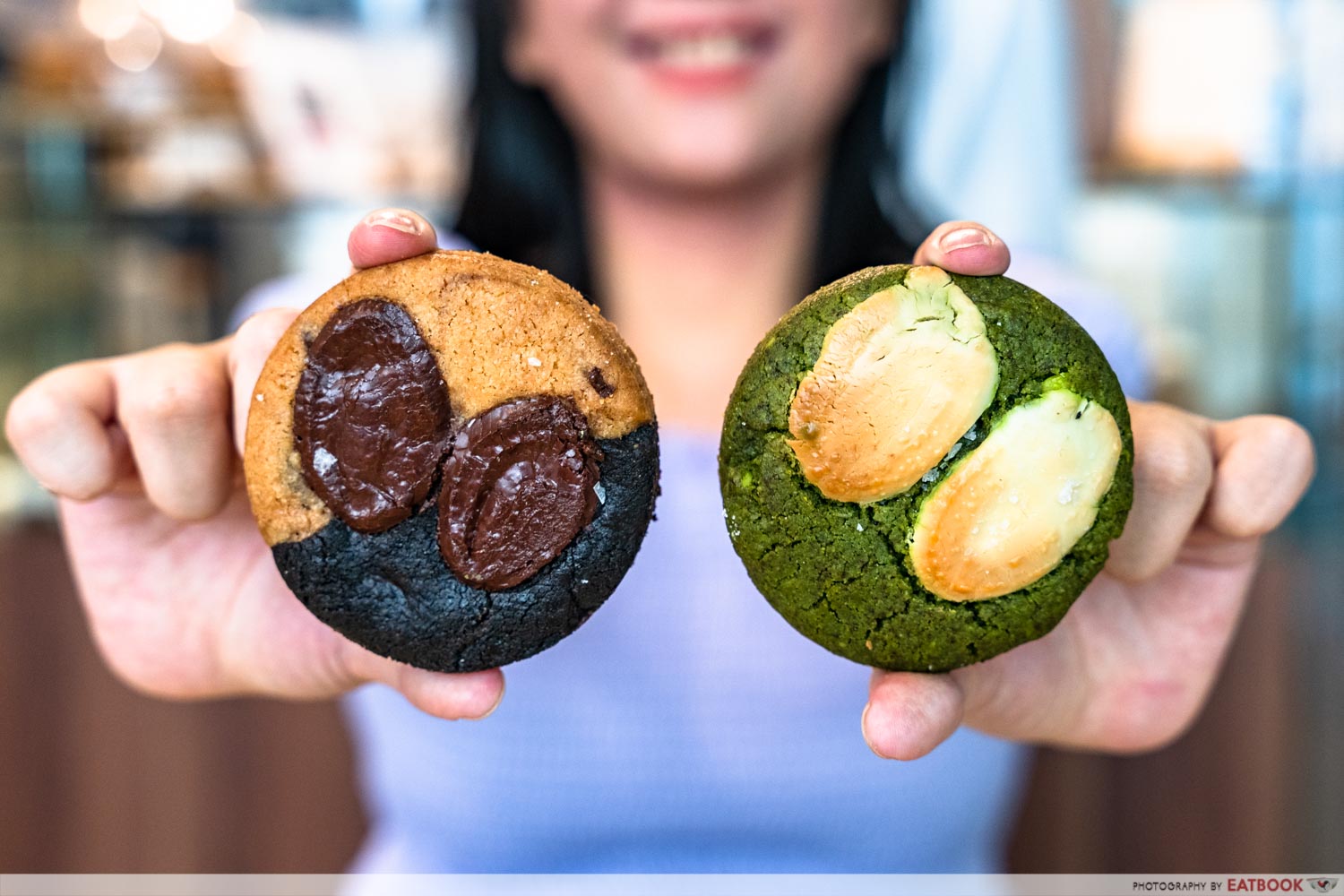 Zipping back to the sweets, we moved on to their available cookies for the week—the Brookie ($3.70) and Matcha Macadamia ($3.70). The former is a classic at Puffs And Peaks, a half-chocolate chip and half-brookie circle, embellished with nuggets of Valrhona dark chocolate. Meanwhile, the matcha macadamia cookie sees an Uji matcha base, studded with macadamia nuts, and white chocolate on top.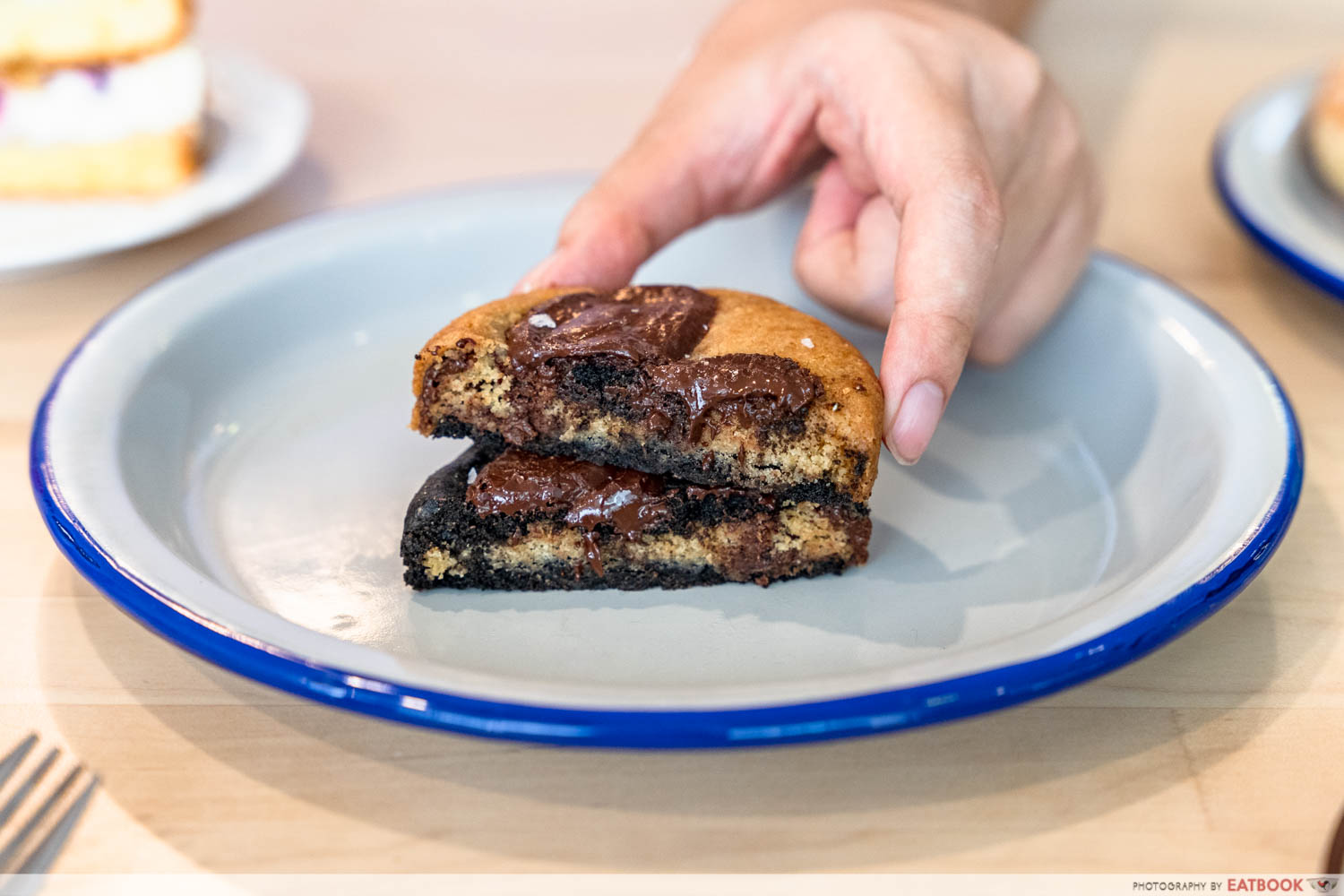 The chocolate chip half of the Brookie felt standard─crisp on the rim, and soft towards the middle. I enjoyed the brookie half more, which replicated a decadent brownie rather well. The rich, gooey Valrhona chocolate in the centre tied everything together.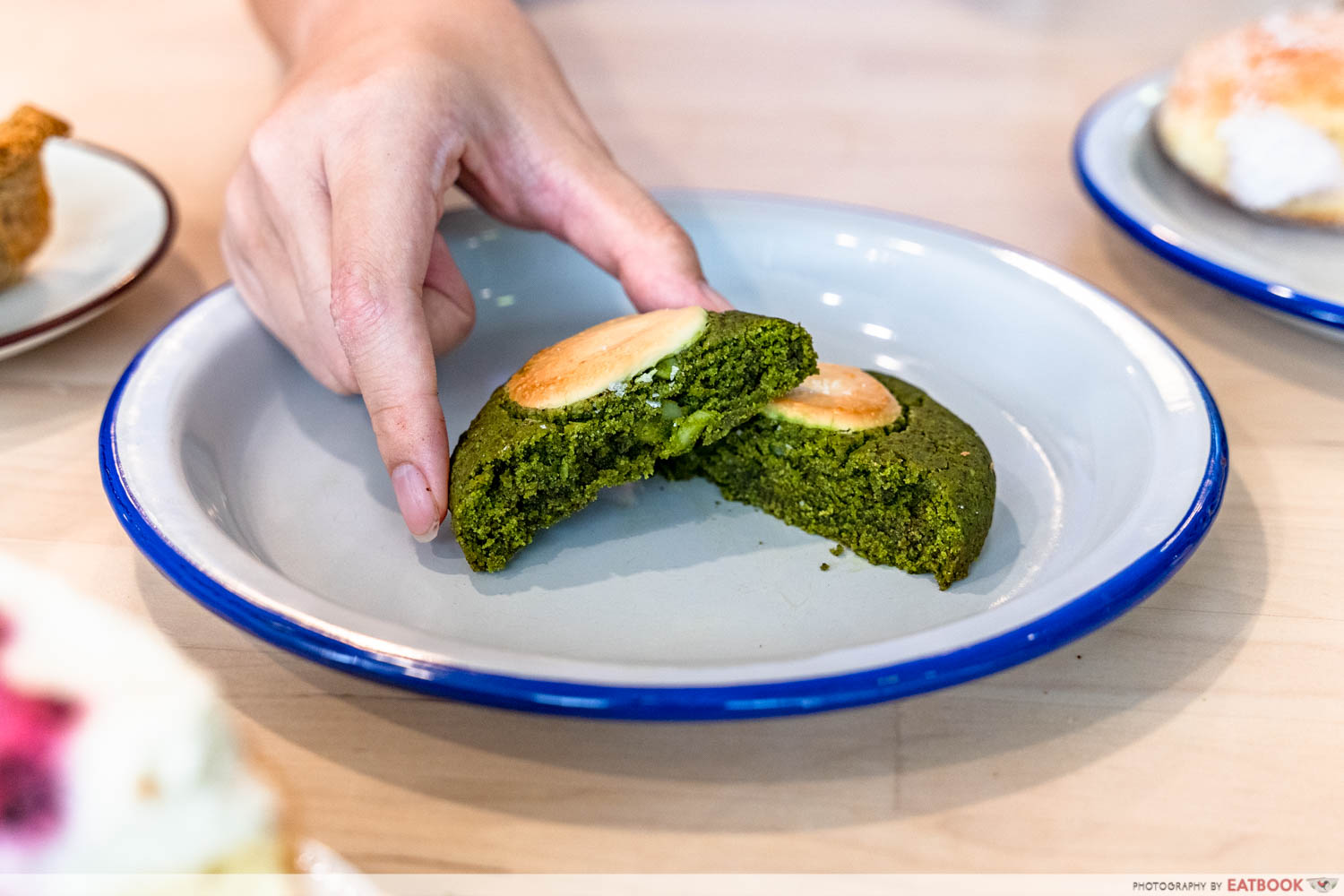 Their Matcha Macadamia was an easy favourite, infused with a bitter matcha taste. Meanwhile, the macadamia nuts peppered within provided a crunch to the cookie. The white chocolate on top balanced the bitterness of matcha with its candied sweetness.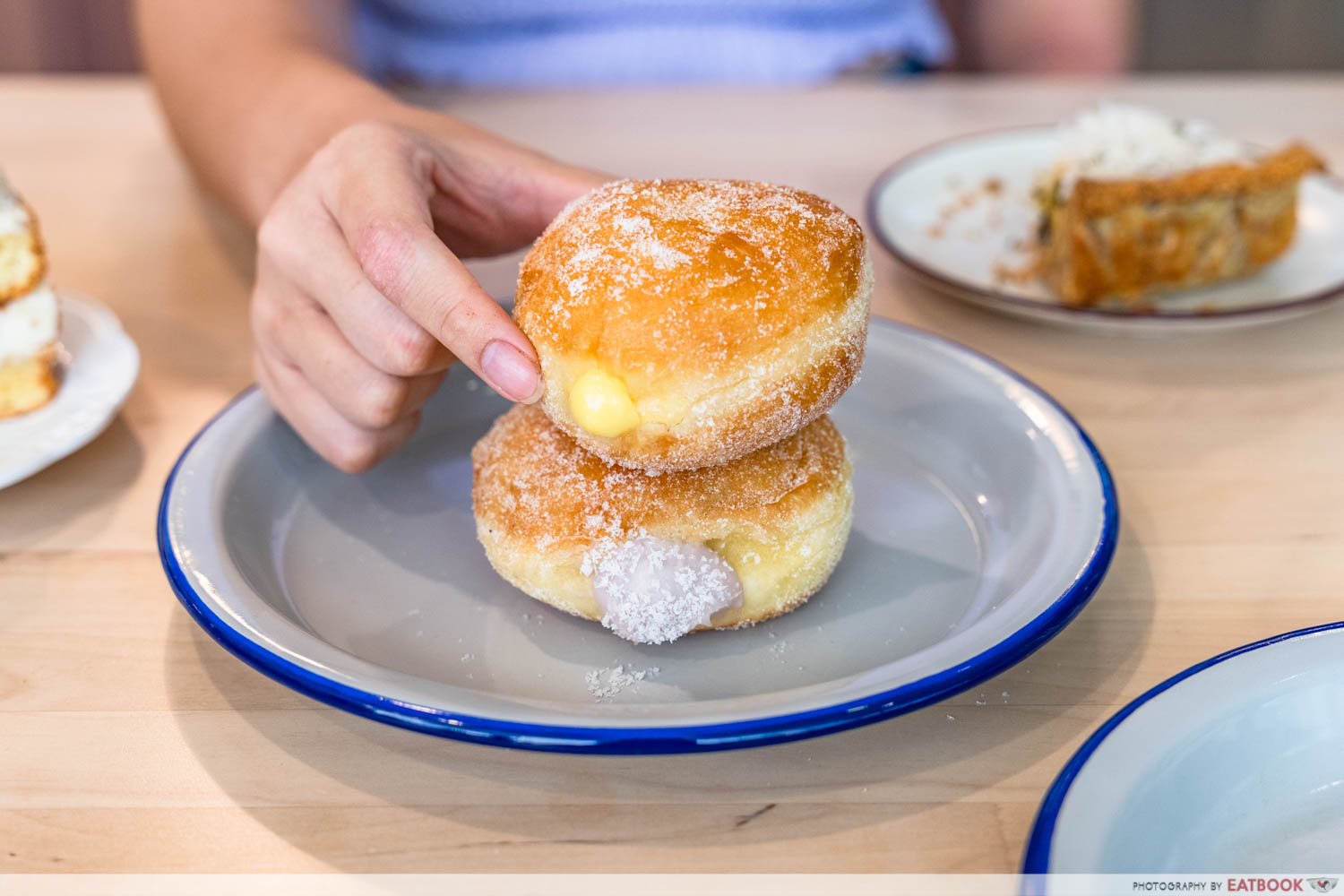 We rounded off our visit with their signature brioche doughnuts, an item I was personally most excited about. As my colleague and I are both orh nee lovers, the Taro Coconut ($3.80) was an easy pick, filled with house-made taro paste. For something on the sour side, we also got the Lemon ($3.80), which was laden with lemon custard.
I was absolutely blown away by the taro doughnut, which overflowed with lilac-coloured filling when we tore it open. I expected this doughnut to taste heavy, as most orh nee desserts tend to be. However, this was light and fragrant, retaining a pronounced taro flavour without being overly sweet. Meanwhile, the brioche pastry was divine—soft, fluffy, airy, and the perfect vessel for the taro paste.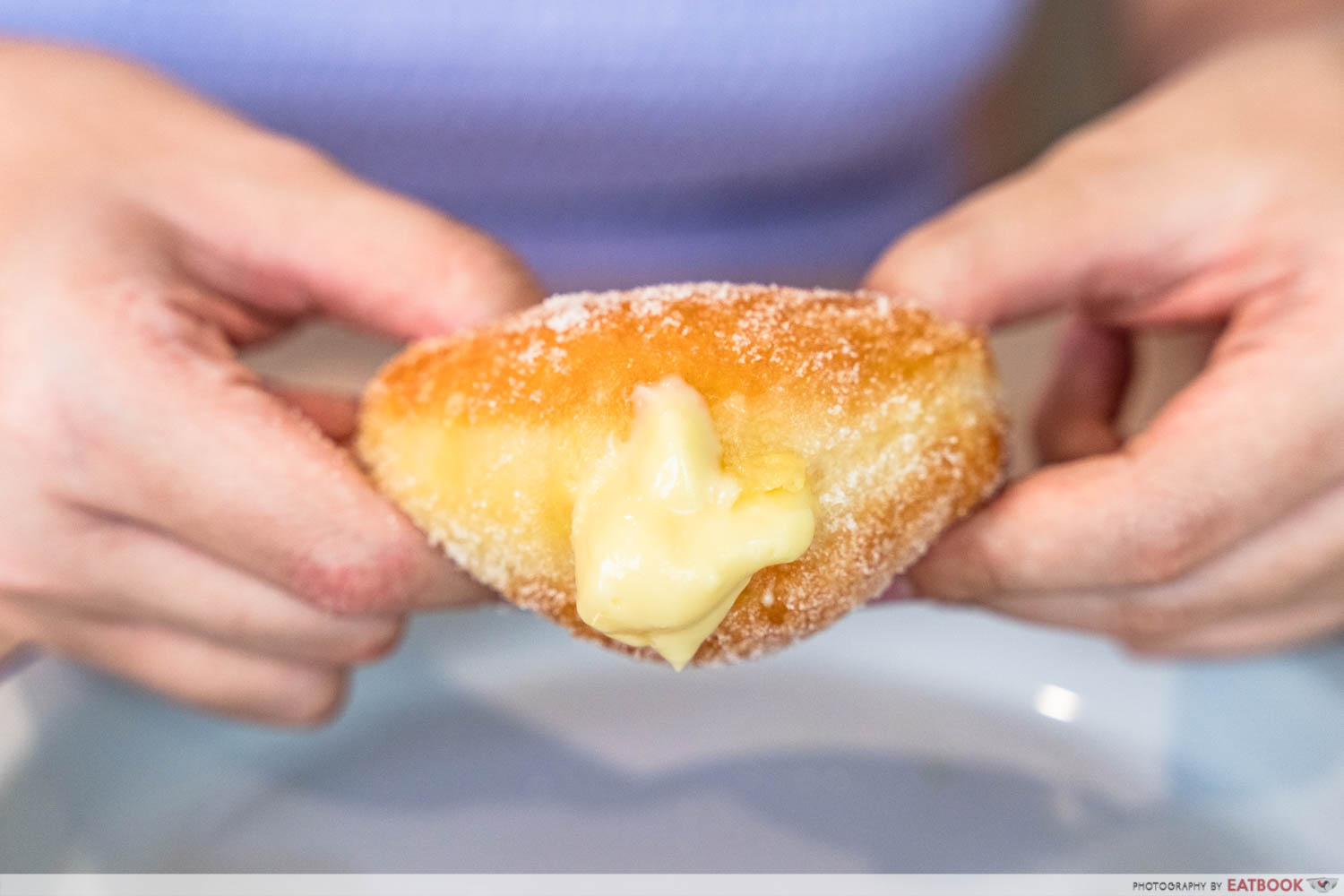 On the other hand, the lemon custard was slightly too tart for my liking, though I can imagine that it would sit well with people who prefer such flavours. Still, it made for a refreshing flavour contrast against all the other sweet treats we had.
15 Donut Shops For Milo Dinosaur Doughnuts, Ondeh-Ondeh Bombolinis And More
Ambience at Puffs And Peaks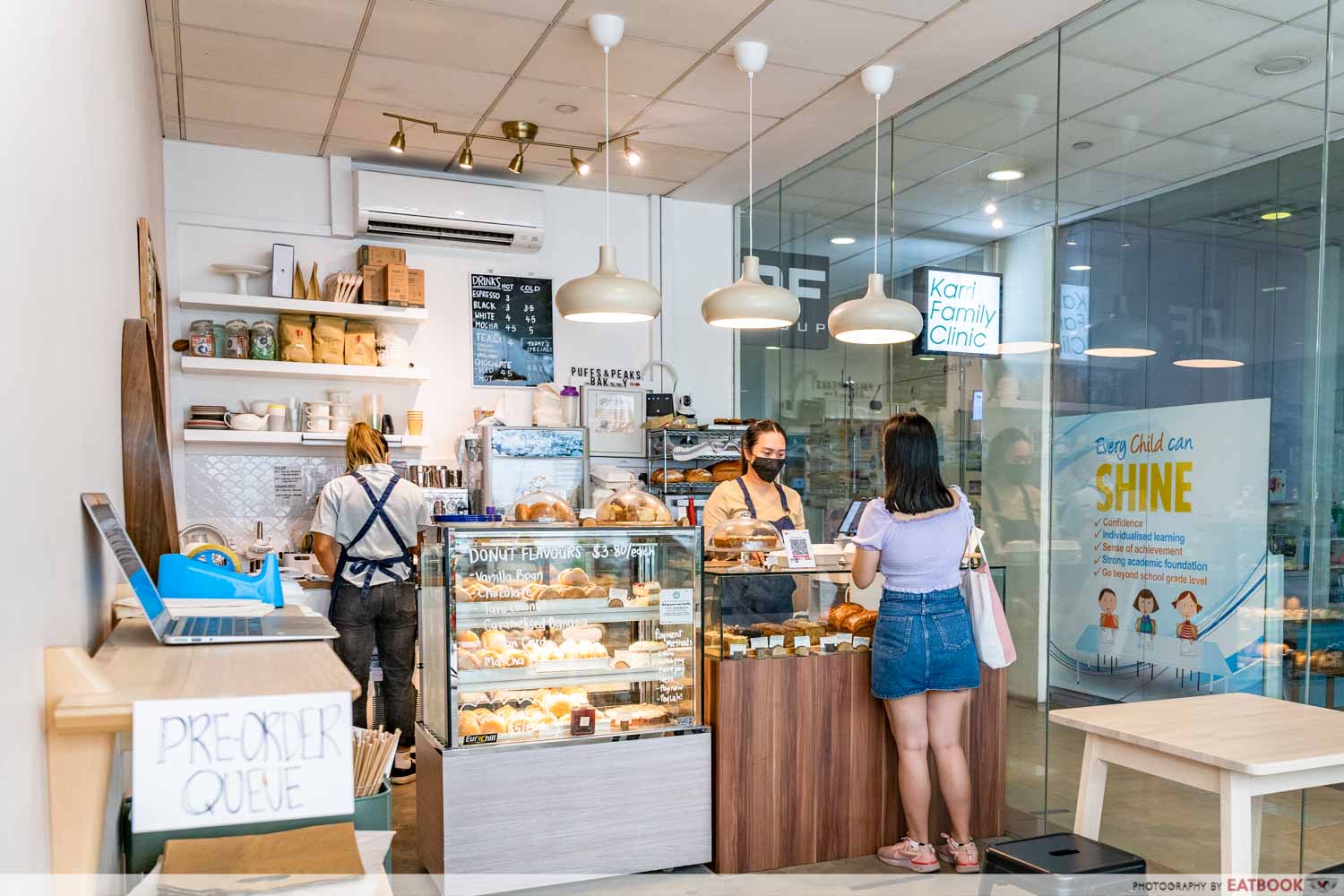 Puffs And Peaks has a small dine-in space, decked in wooden finishings and homey shades of brown. While their bakes are available for walk-in sales, I highly recommend making pre-orders before going down for a visit. Located in the far East, its location is rather inaccessible, requiring a fifteen minute-walk from Tampines MRT Station.
City Donut: New Doughnut Cafe With Flavours Such As Orh Nee, Ondeh-Ondeh, Milo And More In Telok Ayer
The verdict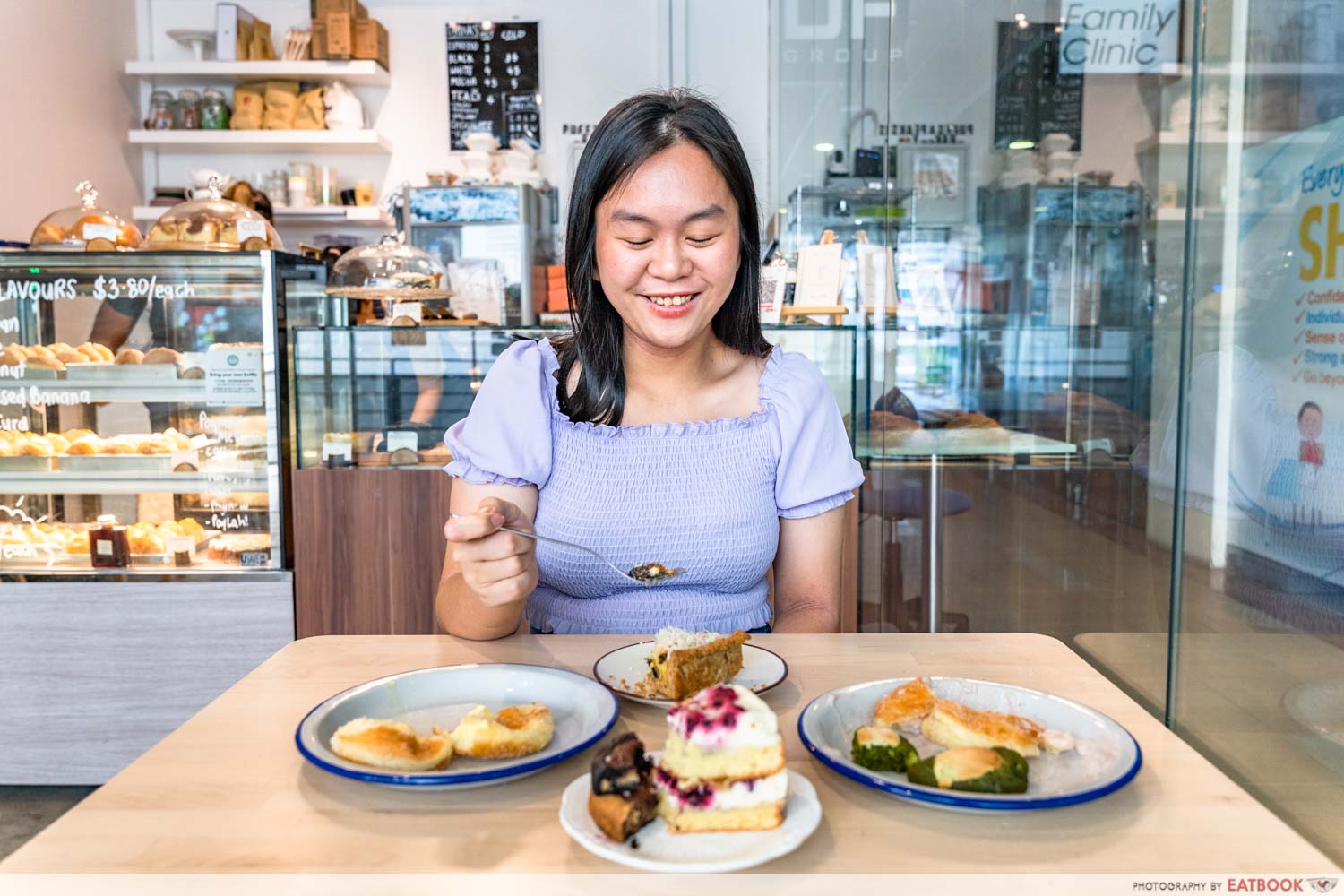 Amidst the new dessert eateries that have been popping up in Singapore, Puffs And Peaks has truly impressed me with the quality of their bakes. Every item is prepared with so much thought, both on the textural and flavour fronts. The prices here are also rather affordable, averaging around $5, where it would have easily cost upwards at other artisanal places. Despite the ulu location, I definitely would make a return trip down, and snag a few more of those delicious doughnuts.
For more sweet treats, check out our Nirvana Dessert Cafe review, for affordable souffle pancakes and charcoal waffles. There's also our Burnt Cones review, a gelato cafe that's open until late.
Address: 866A Tampines Street 83, #03-03, Tampines Central Community Complex, Singapore 521866
Opening hours: Thur-Sun 10:30am to 5pm
Website
Puffs And Peaks is not a halal-certified eatery.
Nirvana Dessert Cafe Review: Affordable Souffle Pancakes And Hong Kong Shaved Ice In Bugis
Photos taken by Chew Yi En.
This is an independent review by Eatbook.sg.
Puffs And Peaks Review: Famous Online Bakery Opens Physical Store With Taro Brioche Donuts And Brookies
Summary
Pros

– Taro Coconut Doughnut was delicious
– Quiche was well-executed
– Matcha Cookie was fragrant
Cons

– Lemon custard in doughnut was too tart
– Sponge in the Salted Honey Cake felt dry
Recommended dishes: Taro Coconut ($3.80), Matcha Macadamia ($3.70), Portobello, Mushroom, Roasted Garlic, Cheddar Quiche ($6)
Opening hours: Thur-Sun 10:30am to 5pm
Address: 866A Tampines Street 83, #03-03, Tampines Central Community Complex, Singapore 521866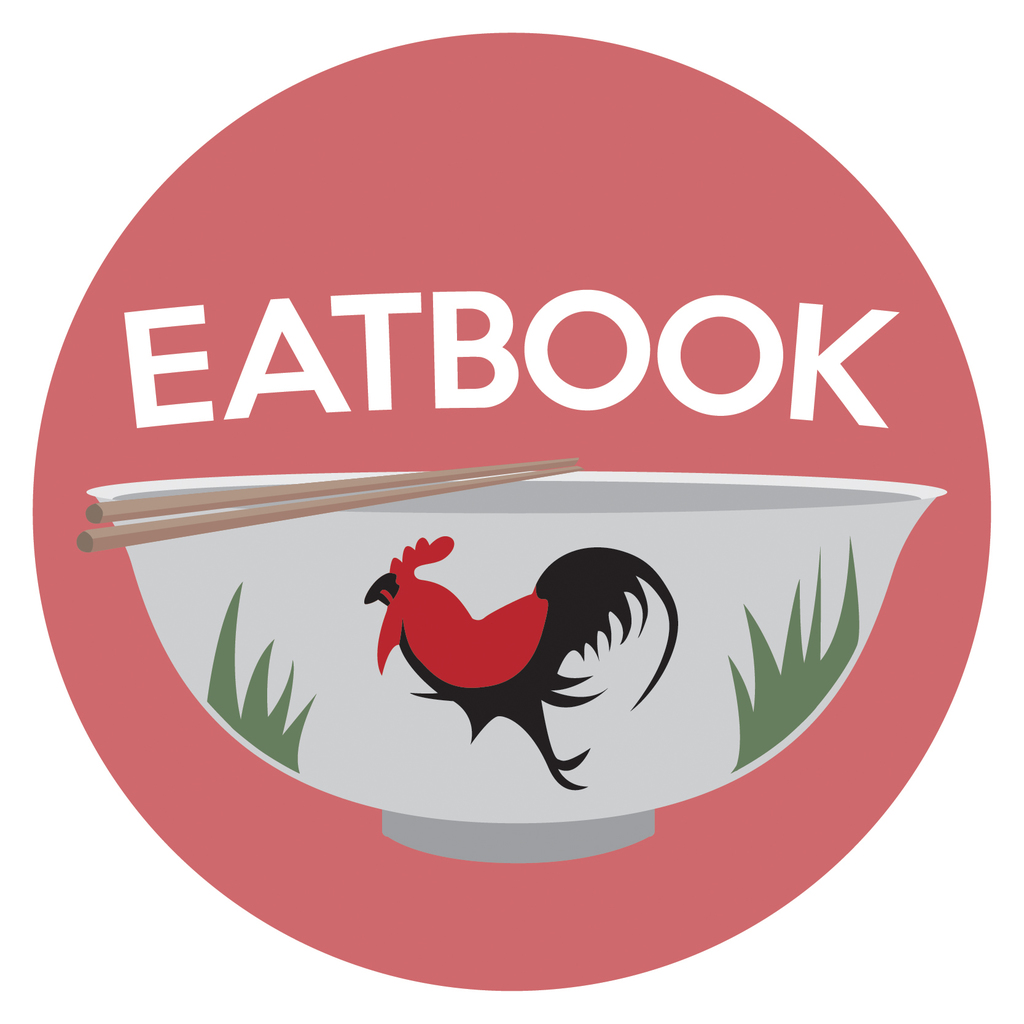 Drop us your email so you won't miss the latest news.