Guilt cookies at Arab Street
After the Circuit Breaker, home-based businesses are undergoing a 'survival of the fittest' moment, where the successful are still going strong online, while the very successful are now opening brick-and-mortar stores. One such example is Guilt, an all-cookie bakery that has moved from digital to physical, with their flagship shop set to open on 21 November on Arab Street.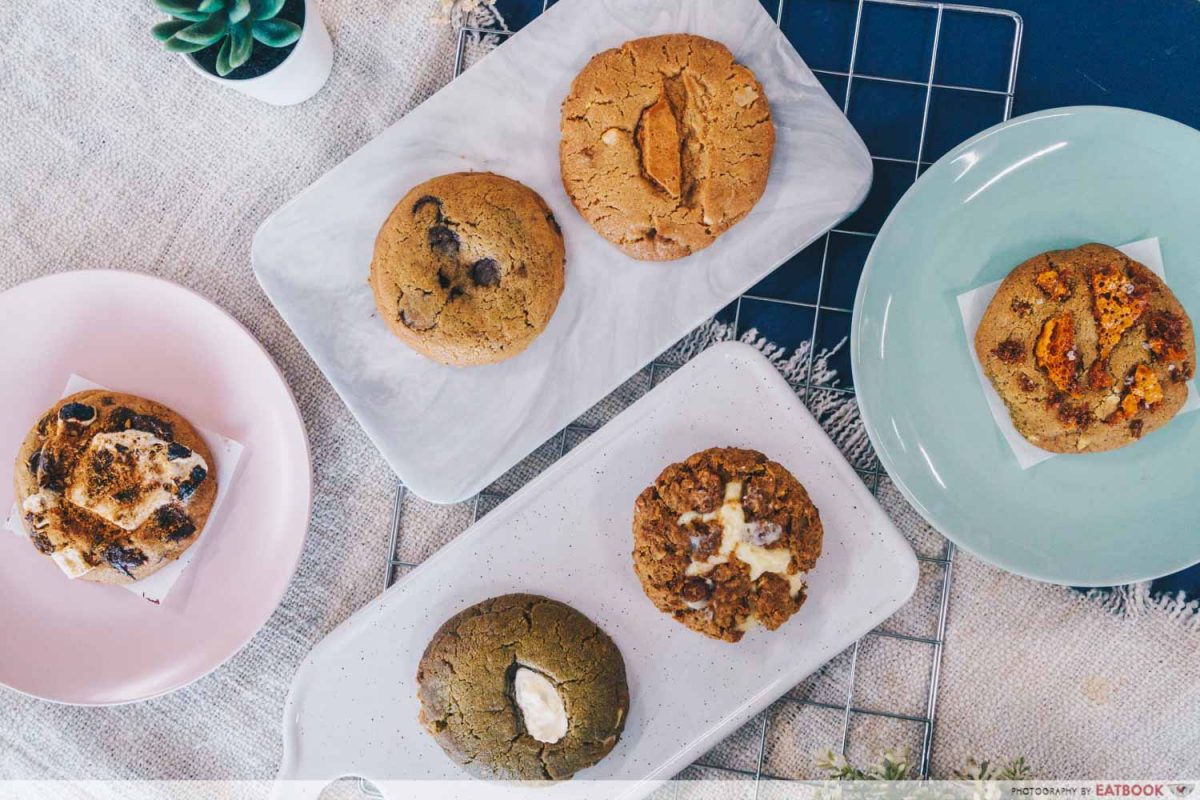 Founded by friends Grace Kim and Kirsty Tang, Guilt was a passion project that the duo dove into after Kirsty lost her job, and Grace went through a bad heartbreak, all under the whip of COVID-19.
Their non-stop baking gave life to a line of 13 cookies that Guilt brands as "Girl Scout cookies gone wild"—a point the menu lives up to with names like Spill The Tea, Fifty Shades of Grey, and Tinder Surprise on it.
Nasty Cookie Opens Nasty Factory, A New Cafe With Birthday Cake Cookies, Nutella And Speculoos Lattes
Food at Guilt
The cookie market in Singapore now has two distinct camps: Levain cookies, a nod to the famous New York-based Levain bakery's signature cake-like cookies, and Nasty Cookie-esque whoppers, where cookies are pumped full of sinful toppings. Guilt's offerings lie somewhere in the sweet middle. Their cookies are dense and chewy, with curious flavours that entice without sounding like jelak bombs.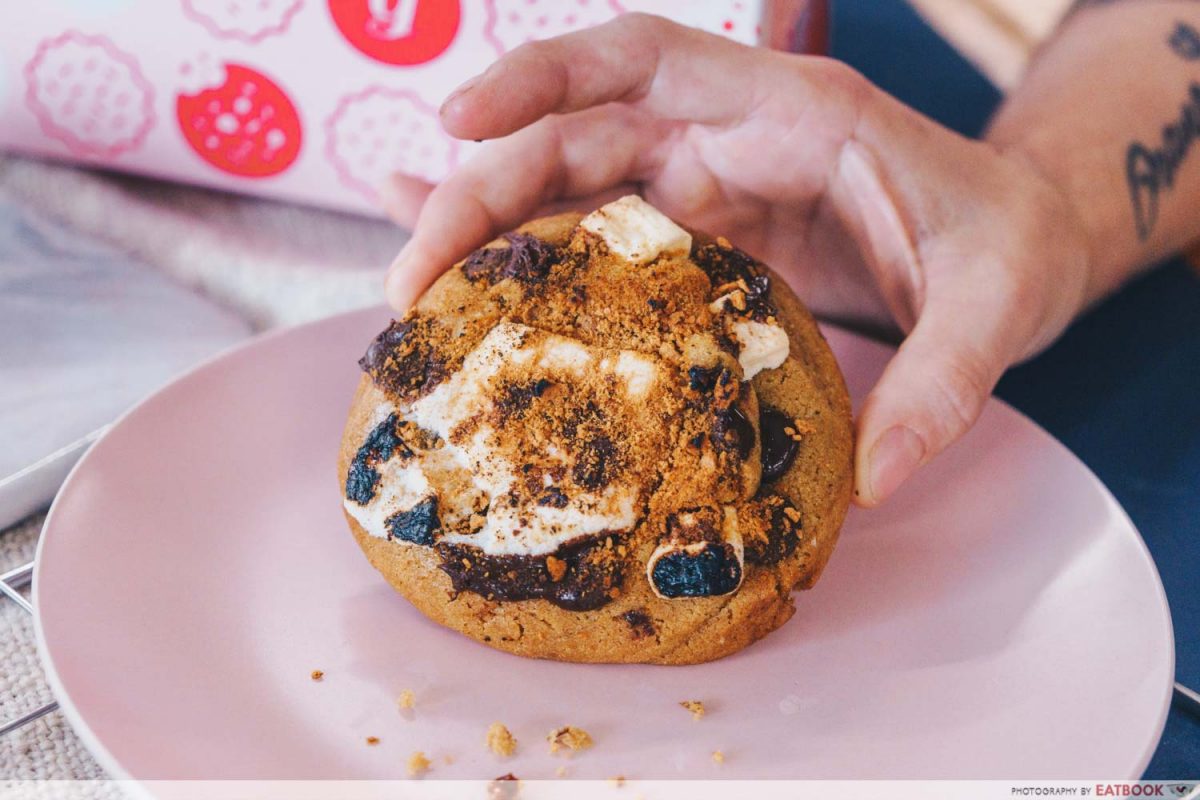 In the classic camp is their pioneering product, the Walk of Shame ($4.50), where dark chocolate chip meets a caramel-infused cookie, and goes on a date with extra-dark chocolate chunks and a marshmallow centre.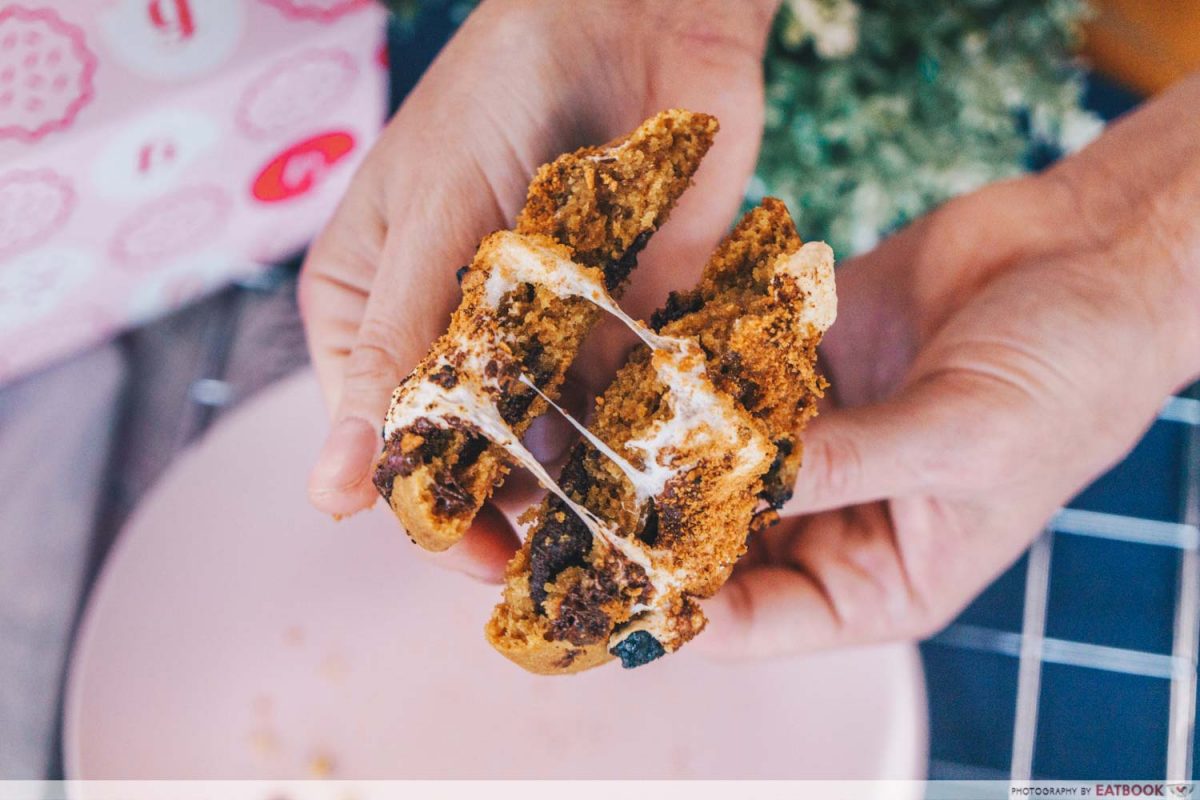 Bittersweet, with a gooey, chewy middle thanks to the marshmallow, this spin on the average S'mores cookie hits the spot as it is not too sugary.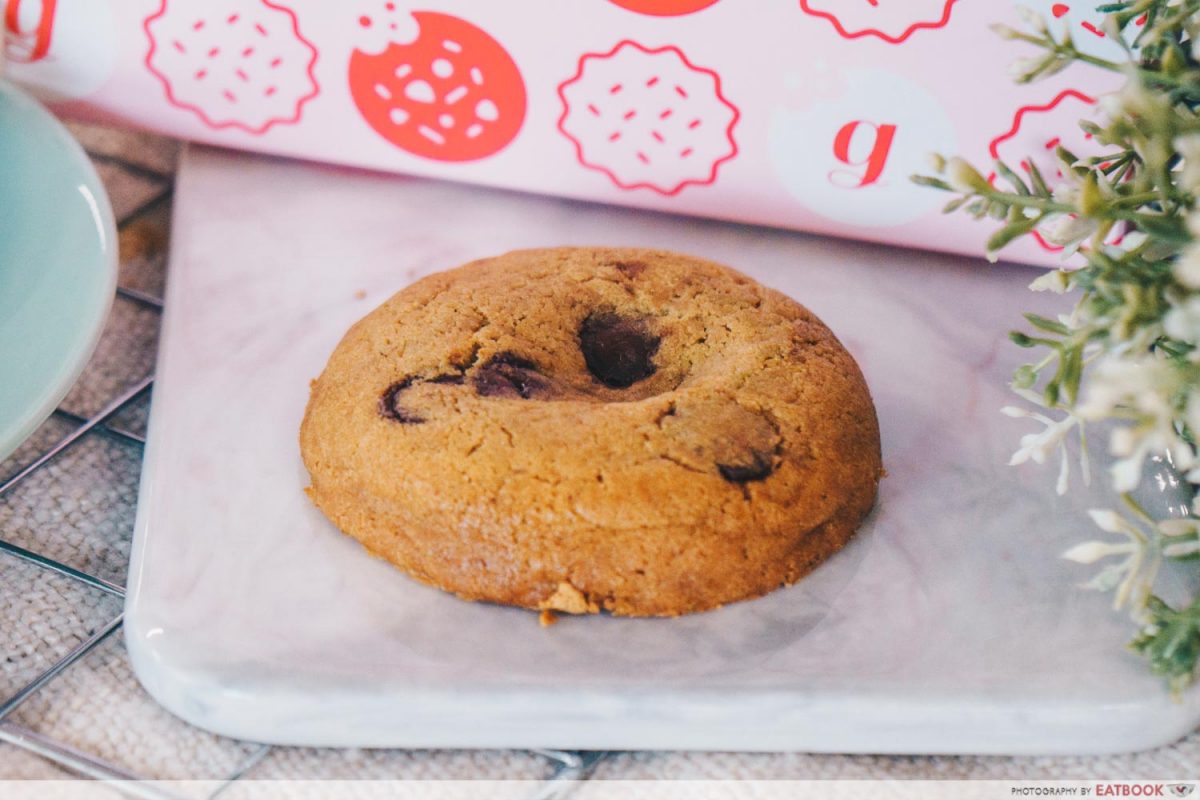 The Tinder Surprise ($4.50) is another OG for Guilt, a simple combination of double chocolate fudge brownie and a chocolate chip cookie. Unlike the brookies flooding the market right now, this frankencookie is not as chewy, but equally dense.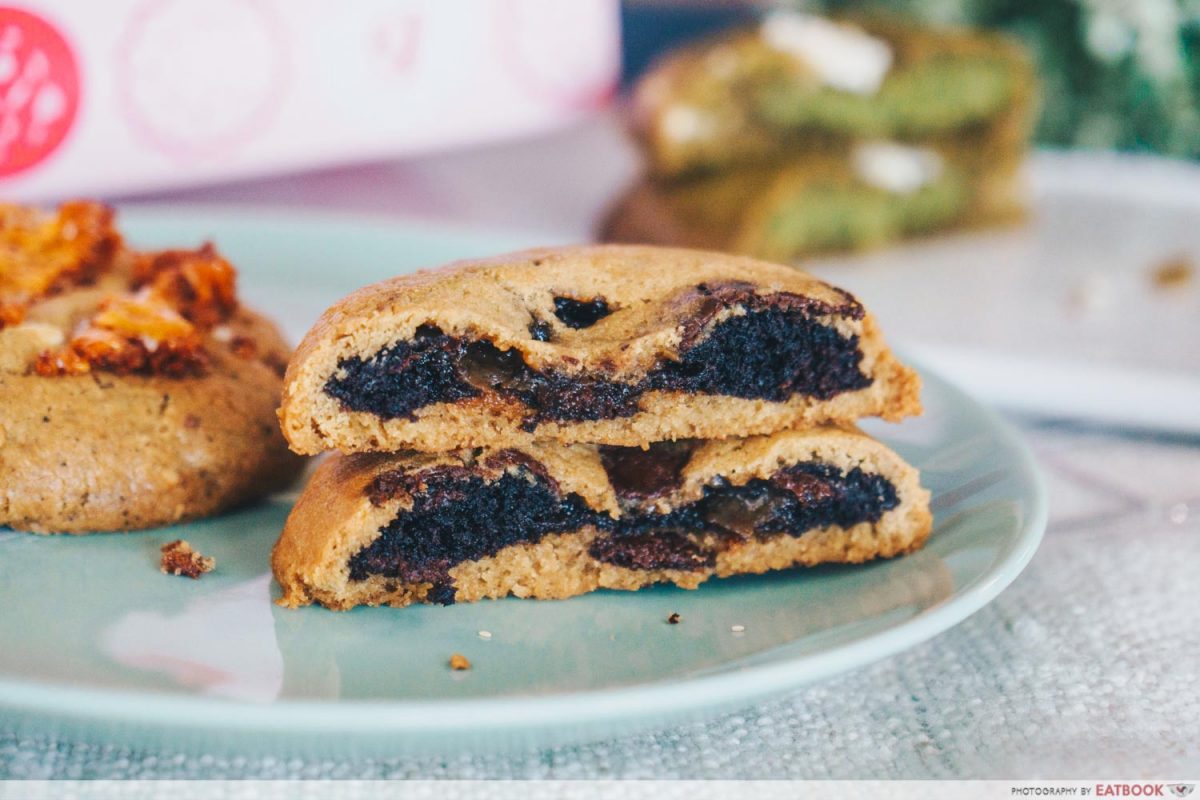 Still, stacked up against the rest of the brand's creations, the Tinder Surprise is quite the plain Jane.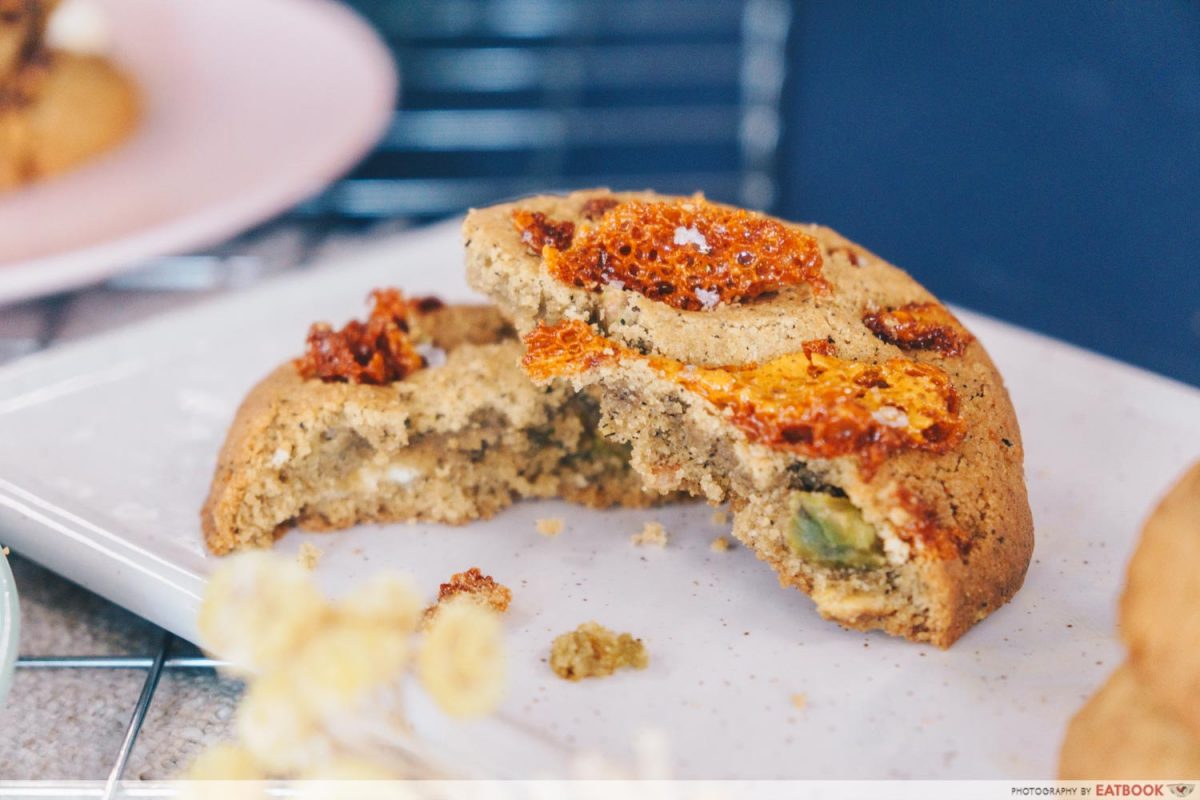 My favourite has to be the Fifty Shades of Grey ($5.50). Normally, I keep earl grey-flavoured desserts at arm's length as they can taste like potpourri, but this cookie is such a clever medley of elements. An earl grey cookie, subtly perfumed by orange peel, is packed with crunchy pistachios and white chocolate chips, then finished with sea salt and honeycomb toffee.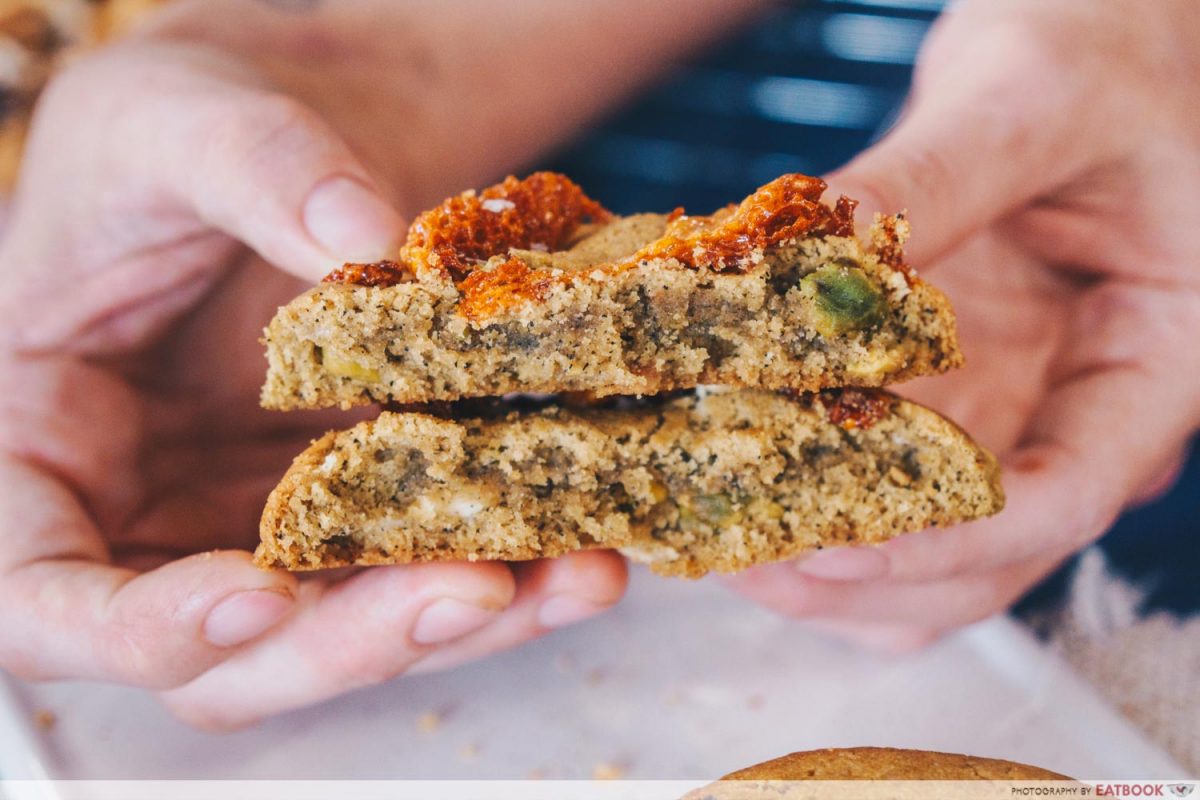 Every taste is checked: bitter tea, nutty pistachios, sweet honey, buttery chocolate, and a lash of salt to finish.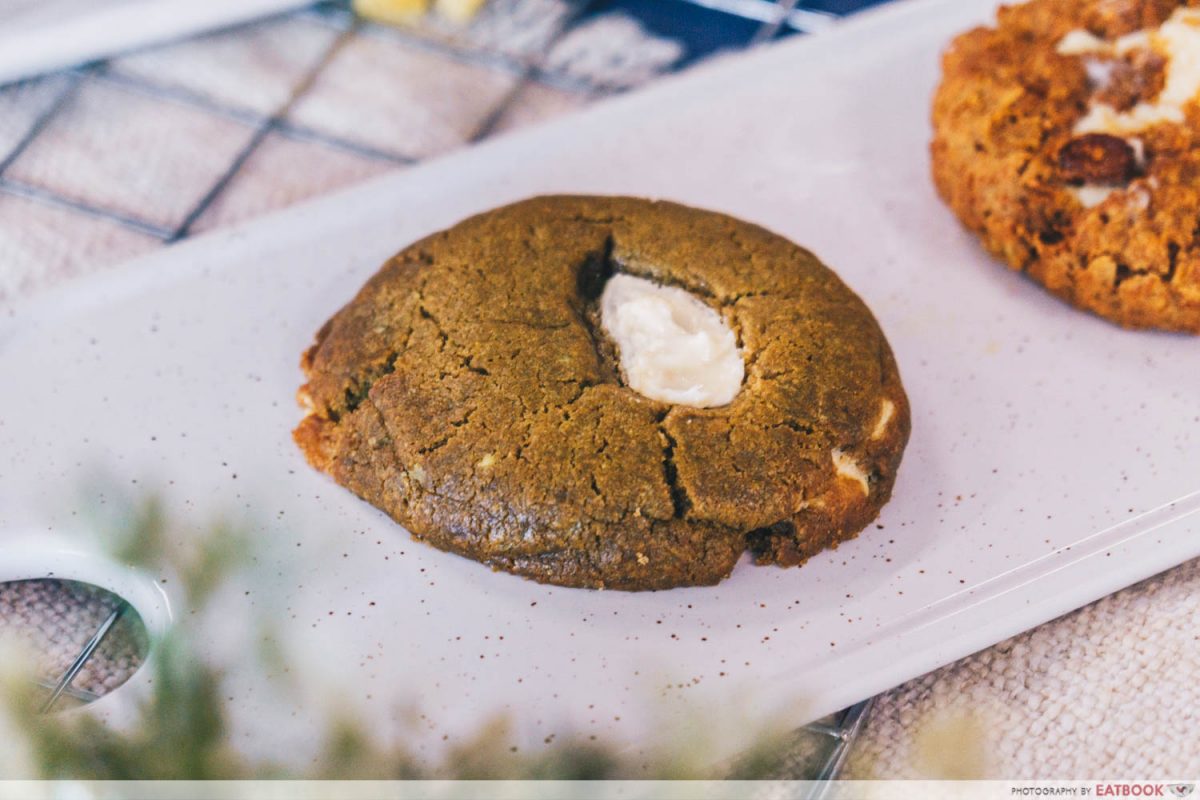 A close second was the Spill The Tea ($5.50), a yuzu white chocolate and matcha swirl packed with cream cheese.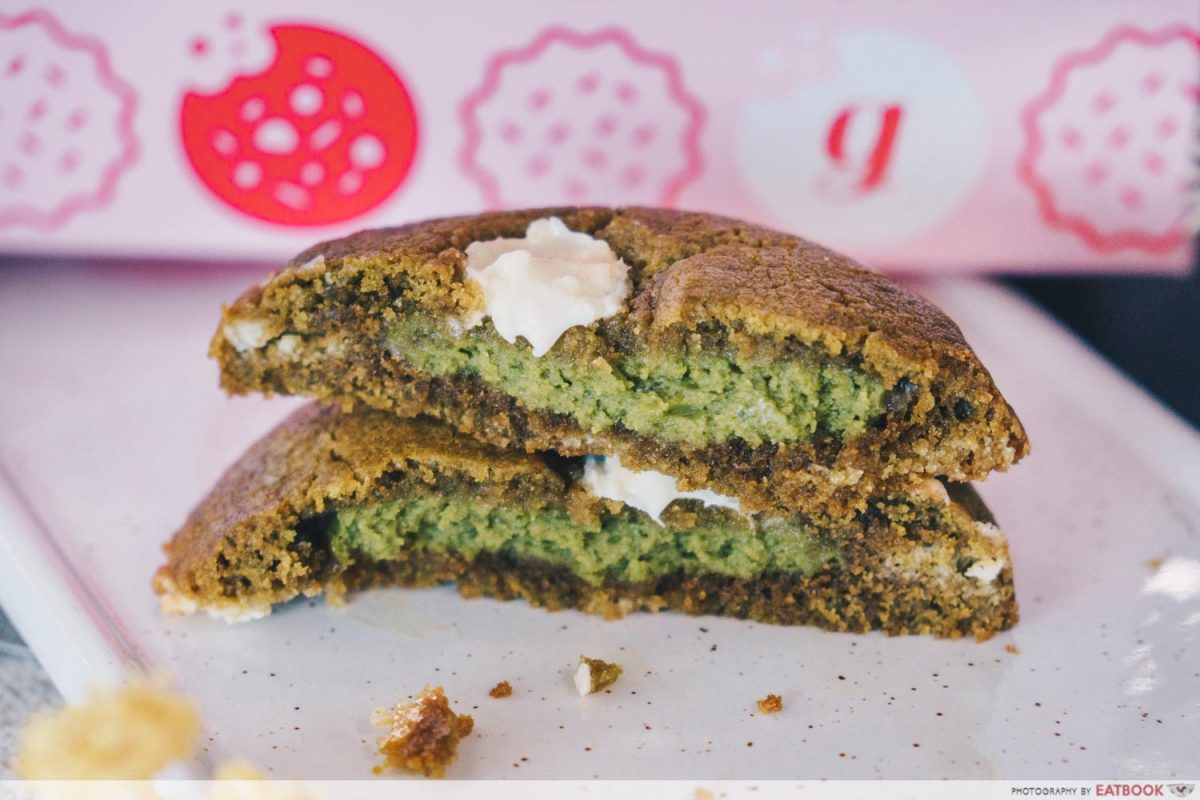 Surprisingly bright with yuzu and cheese, this was Japanese springtime in a cookie.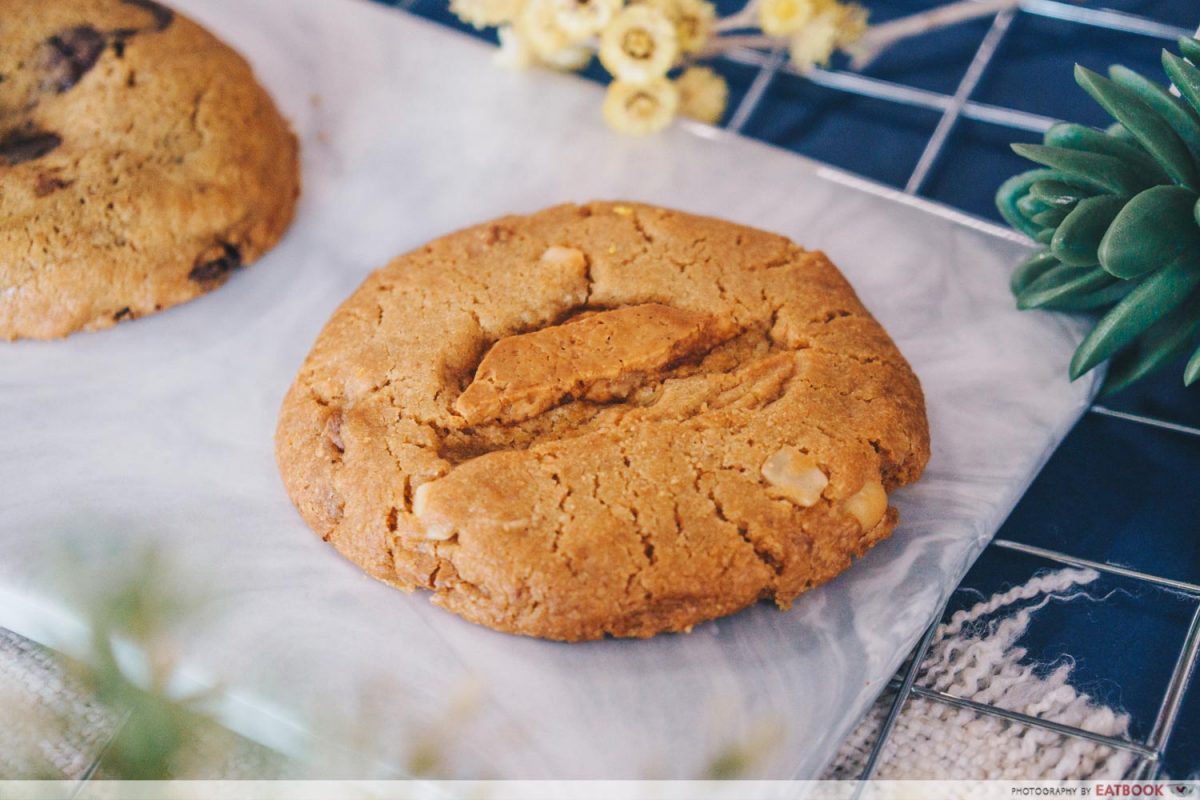 Miso is becoming a firm baking staple of late, and Guilt has their own twist with the Mac Daddy ($5.50), a brown butter miso cookie with Dulcey chocolate and macadamia.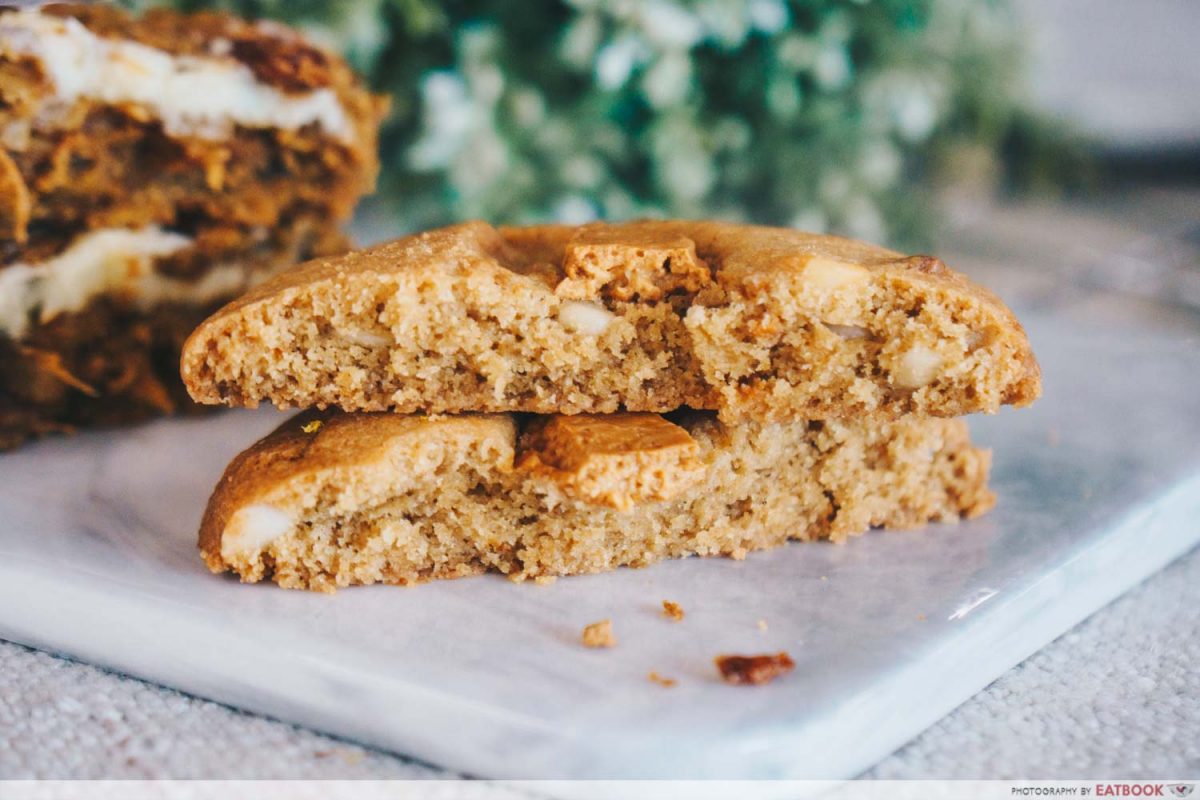 Hands down, this was the most divisive cookie I ordered. As a big fan of salt-forward desserts, the nutty, charred miso and butter duo intrigued me, but a friend commented that it tasted a touch plasticky.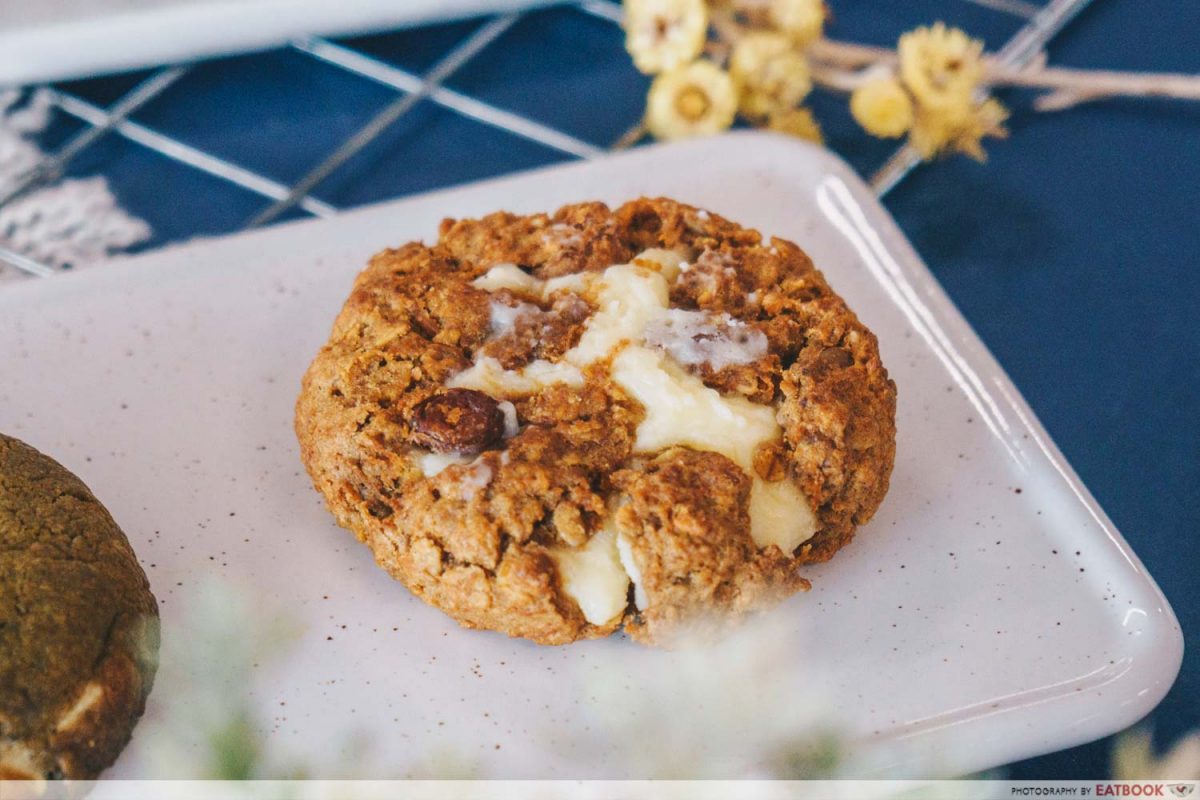 Guilt also tries to be inclusive of a range of dietary restrictions, so the menu includes vegan and gluten-free options. The latter includes the Playboy Bunny ($5.50), a mix between a carrot cake and a cinnamon roll. Made with a spiced oatmeal batter, the cookie is filled with cream cheese, walnuts, and juicy raisins.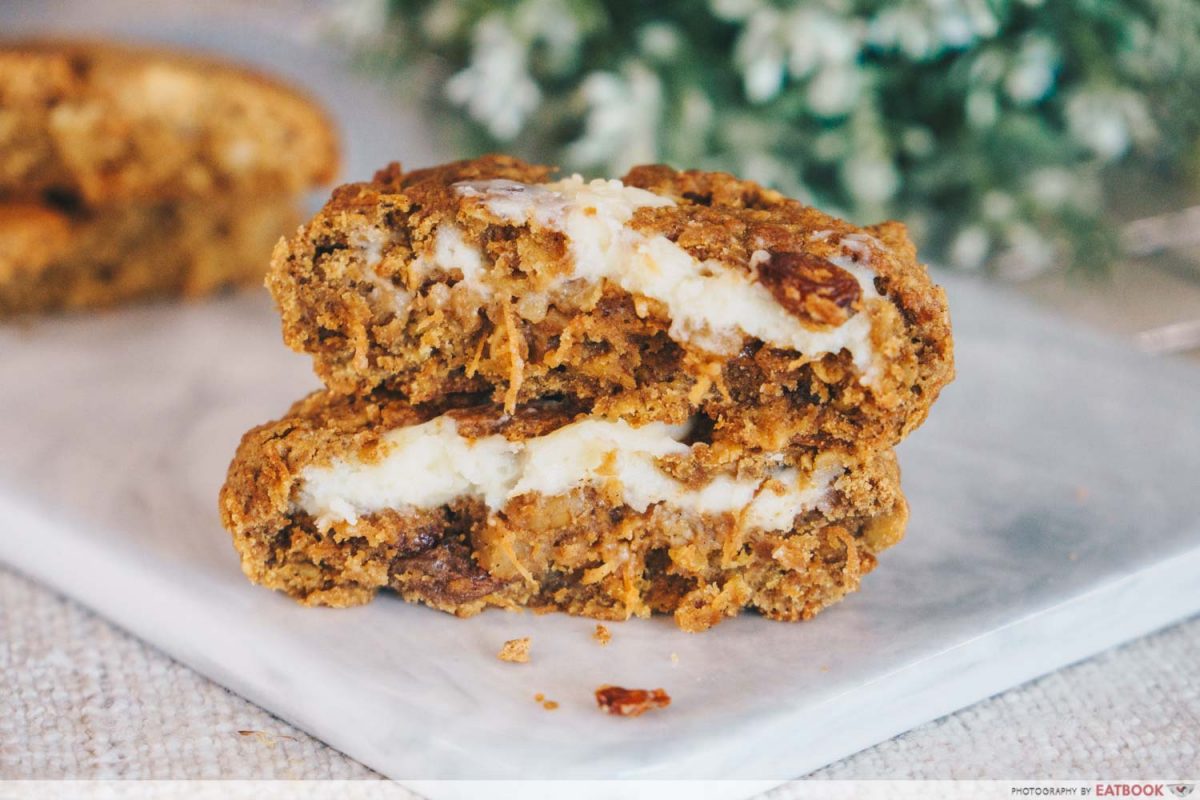 Apart from what I tried, the bakery also releases seasonal flavours on occasion. For Mid-Autumn Festival, for instance, they had Fineapple Bun, a polo bao-inspired cookie with salted egg filling. They also intend to bring back Thiccy Bun (Price TBA), a seasonal cinnamon bun-style cookie.
15 Bugis Food Places In Singapore Including A Halal Thai Restaurant And Vietnam Pho
Ambience at Cookie Guilt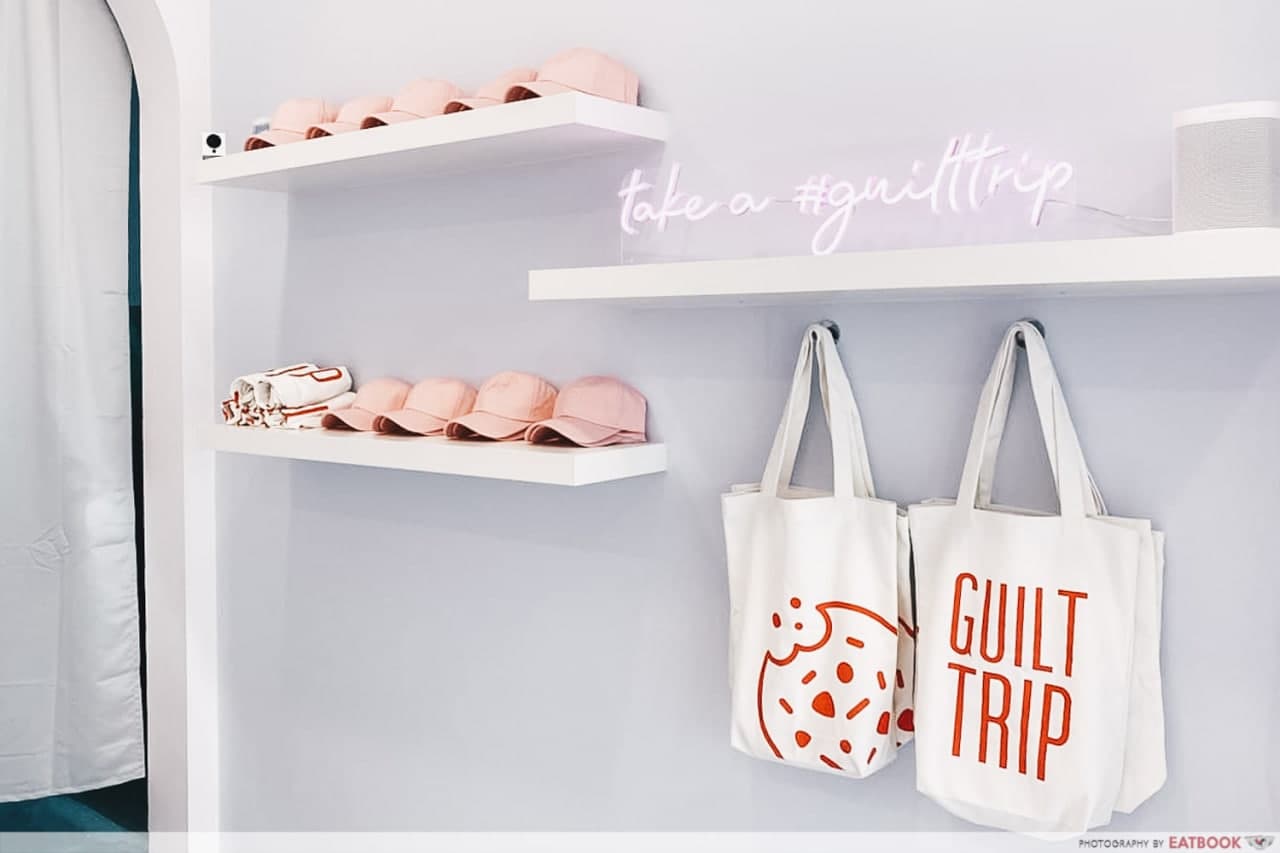 The takeaway store is decked out in Guilt's bold pink, purple, and red hues, with a simple counter where cookies are displayed. Neon accents make for small IG-worthy pockets in store, and they sell merch too!
The Guilt flagship is a short five to 10 minutes walk from Bugis MRT, and easily accessible via nearby bus stops.
The verdict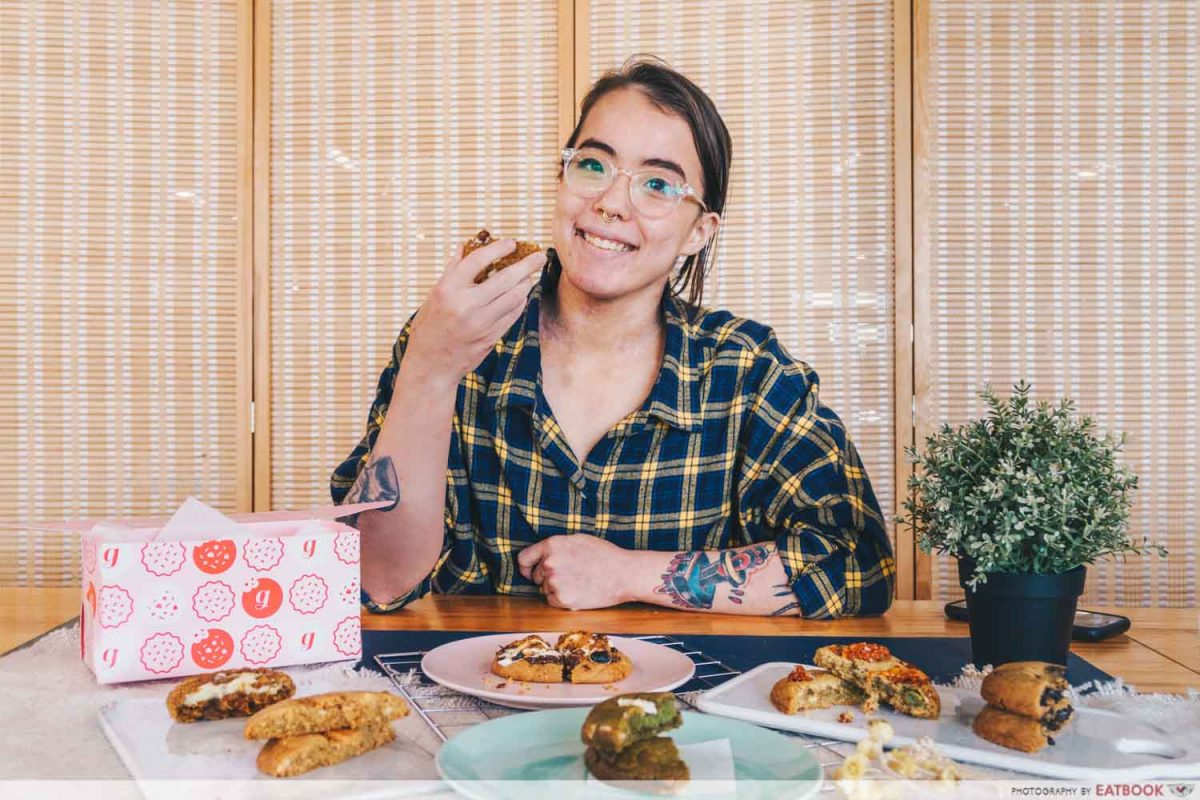 I have been a big fan of Guilt since their early days as an online bakery, so it made me way too excited to find out that they have moved into physical retail. What really pleased me, however, is that their standards have remained consistent in spite of the transition. They also continue to deliver cookies that spark both the tastebuds and imagination, now to a wider audience.
The local cookie market is very saturated, and yet, Guilt is a name worth betting on in the ring. Smart recipes, witty marketing, and flavours I will return for─you won't catch me feeling guilty about the calories when I walk out of the Arab Street store.
Read our guide on cookies to try in Singapore for more stalls to satisfy your sweet tooth. Otherwise, there is The Whisking Well, a home baking business that now also has a physical store for their weekend bake sales, where burnt cheesecakes, brownies, and more draw queues.
24 Cookie Bakers In Singapore For Levain Cookies, Chocolate Lava Brookies And More
Address: 29 Arab Street, Singapore 199728
Opening hours: Mon, Wed-Sat 10:30am to 6pm, Sun 11am to 6pm
Tel: 8343 1019
Website
Guilt is not a halal-certified eatery.
Photos taken by Muhammad Hafiq and Beatrice Bowers.
This is an independent review by Eatbook.
Guilt Review: IG Cookie Bakers Open Arab Street Store, With Flavours Like Matcha Yuzu And Red Velvet
Guilt Review: IG Cookie Bakers Open Arab Street Store, With Flavours Like Matcha Yuzu And Red Velvet -

8/10
Summary
Pros
– Inventive cookie flavours
– Central bakery
– Cookies are not too sweet
Cons
– Slightly pricey
Recommended dishes: Fifty Shades of Grey ($5.50), Spill The Tea ($5.50)
Opening hours:Mon, Wed-Fri 10am to 6pm, Sat-Sun 10am to 3pm
Address: 29 Arab Street, Singapore 199728
Google map code: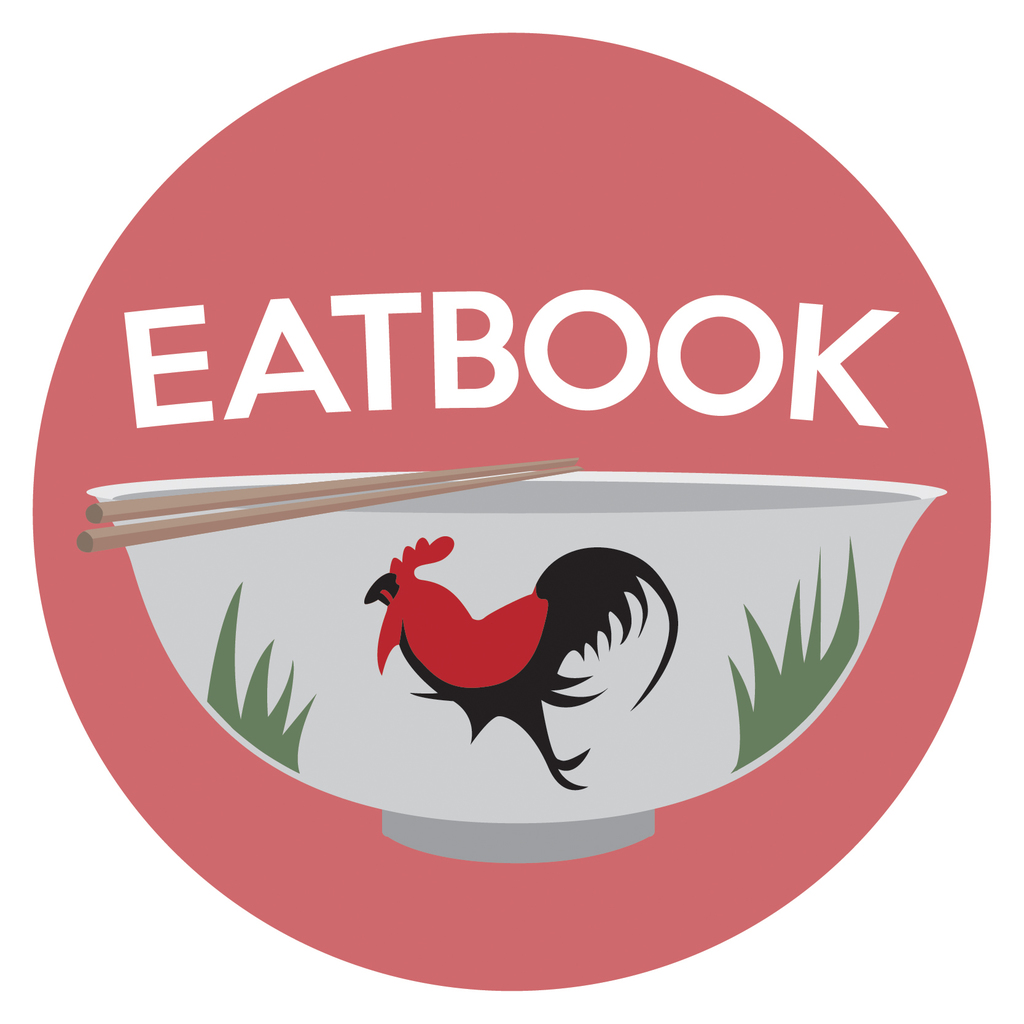 Drop us your email so you won't miss the latest news.