---
Levain cookies and more from bakers in Singapore
---
Cookies have come back in trend lately, and we're not talking about the dainty, crunchy bites you get from the likes of Famous Amos. We're talking big, chunky, stuffed cookies; fist-sized, sugary beasts chock full of texture, chew, and toppings ─ the kind you see circling Instagram lately thanks to the influx of new speciality bakers, both home-based and in-stores.
From New York-style Levain cookies to stuffed brookies oozing with lava, and #thicc stacks with inventive flavours, here is our round-up of the most unique cookies in Singapore anyone with a sweet tooth has to try.
20 Cookie Recipes To Try Including Fudgy Brookies, Mochi Cookies, And Miso Butter Cookies
Cookie stores
---
1. Nasty Cookie
---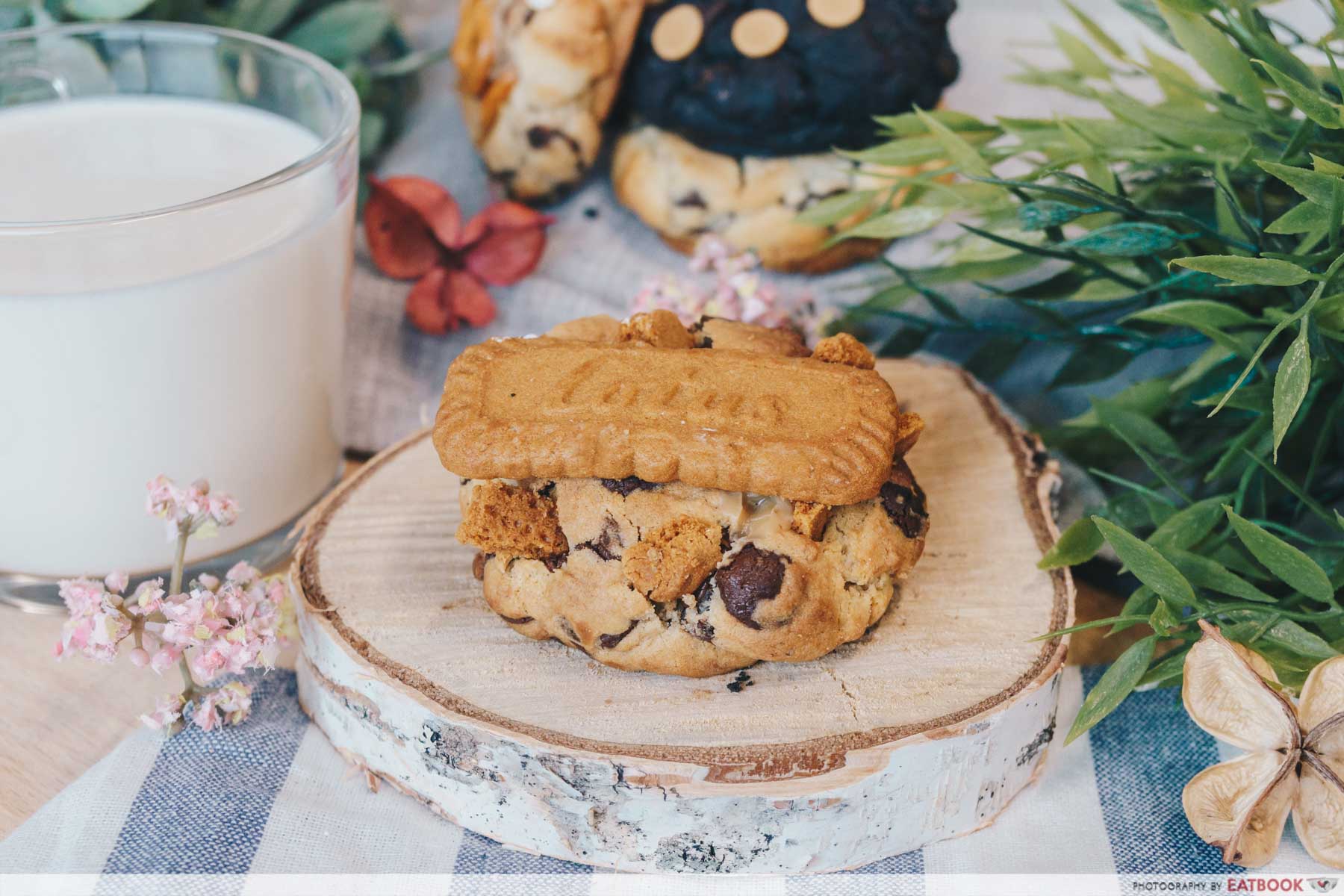 We definitely have to give props to one of the most popular cookie stores in town ─ Nasty Cookie. Run by a 22-year-old personal trainer, Nasty Cookie began as an online bake store selling downright sinful treats, but have since branched into having a physical outlet in Funan Mall. The Biscoff Cookie($4.90) is a classic that everyone has to try, but we're also into their Oh! Smores ($5.50), an upgraded version of the regular chocolate chip, with gooey marshmallows. Watch out for their seasonal flavours too.
Though they are not halal-certified, Nasty Cookies does not use pork or lard in their baking.
Read our full review of Nasty Cookie.
Address: 107 North Bridge Road, #02-35, Funan Mall, Singapore 179105
Opening hours: Daily 1pm to 8:30pm
Website
Nasty Cookie is not a halal-certified store.
Nasty Cookie Review: Soft Monster Cookies With Nutella, Marshmallow, And Oreo Fillings
---
2. BUNDT By The Backyard Bakers
---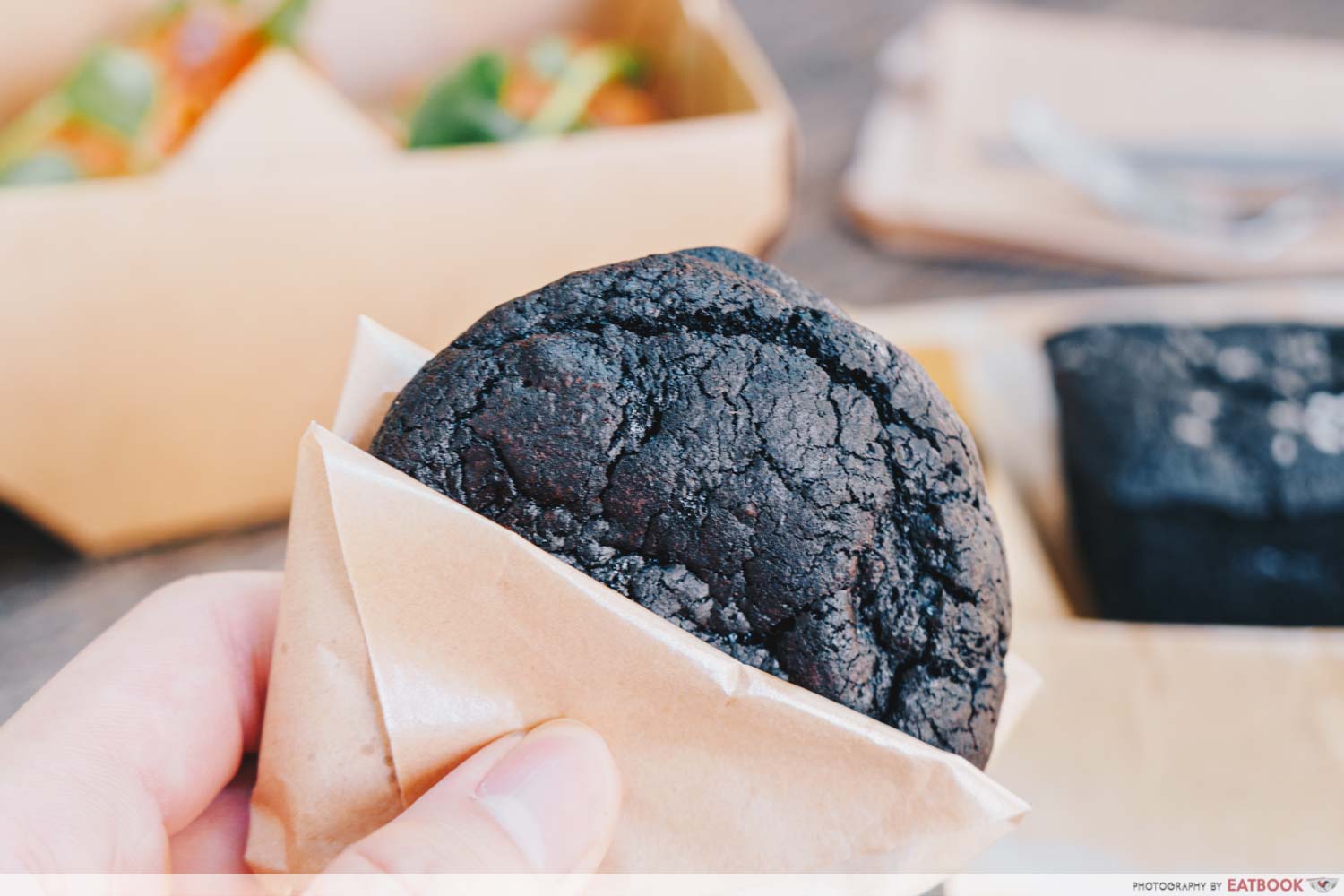 Viral bakery BUNDT By The Backyard Bakers made a global stamp thanks to their Blackout Brownies, but their brownie cookies are equally worthy of your attention. These lava brookies are made with high-quality Valrhona dark chocolate, so the depth of flavour is on another level. Their menu changes daily so be sure to check out their Instagram for the latest deets, and order as soon as you can. These run out quick. Prices start at $4.90.
Read our full review of BUNDT By The Backyard Bakers.
Address: 2 Havelock Road, #01-22, Havelock II, Singapore 059763
Opening hours: Mon-Fri 7:30am to 4:30pm, Sat-Sun 10am to 3pm
Website
BUNDT by The Backyard Bakers is not a halal-certified eatery.
BUNDT By The Backyard Bakers Review: Sea Salt Brownies, Molten Lava Brownie Cookies And More At Clarke Quay
---
3. Ben's Cookies
---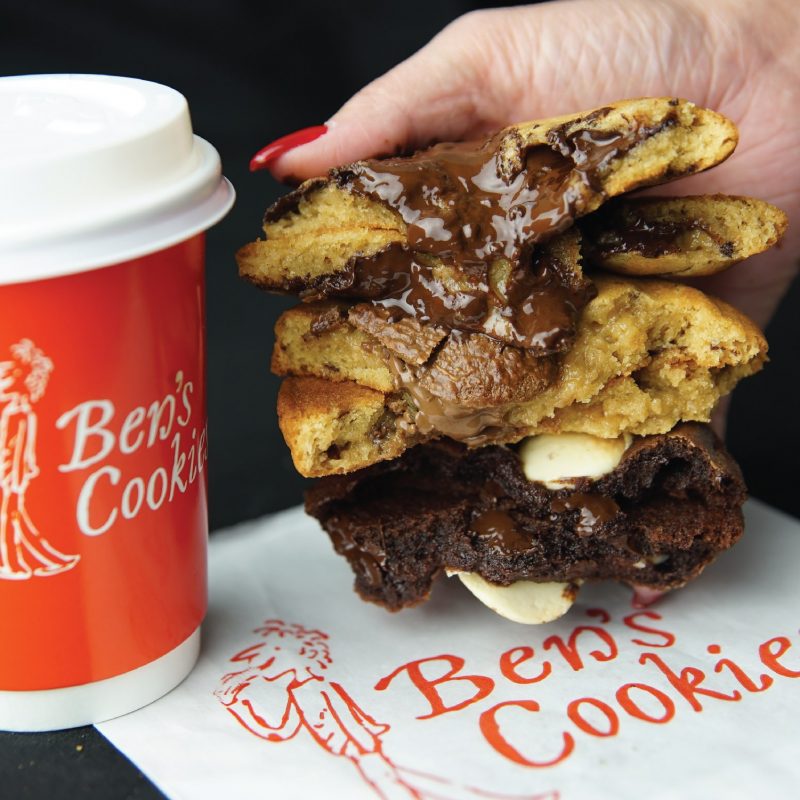 Image credit: Ben's Cookies
Hailing from England, Ben's Cookies arrived in Singapore in 2014 and is best known for its Wisma Atria outlet, though they do have another store in Yishun. Soft cookies baked with chunks, not chips, are the MO here, and each flavour is priced at $2.95 each.
Website
Full list of locations
---
4. Charlie Tea
---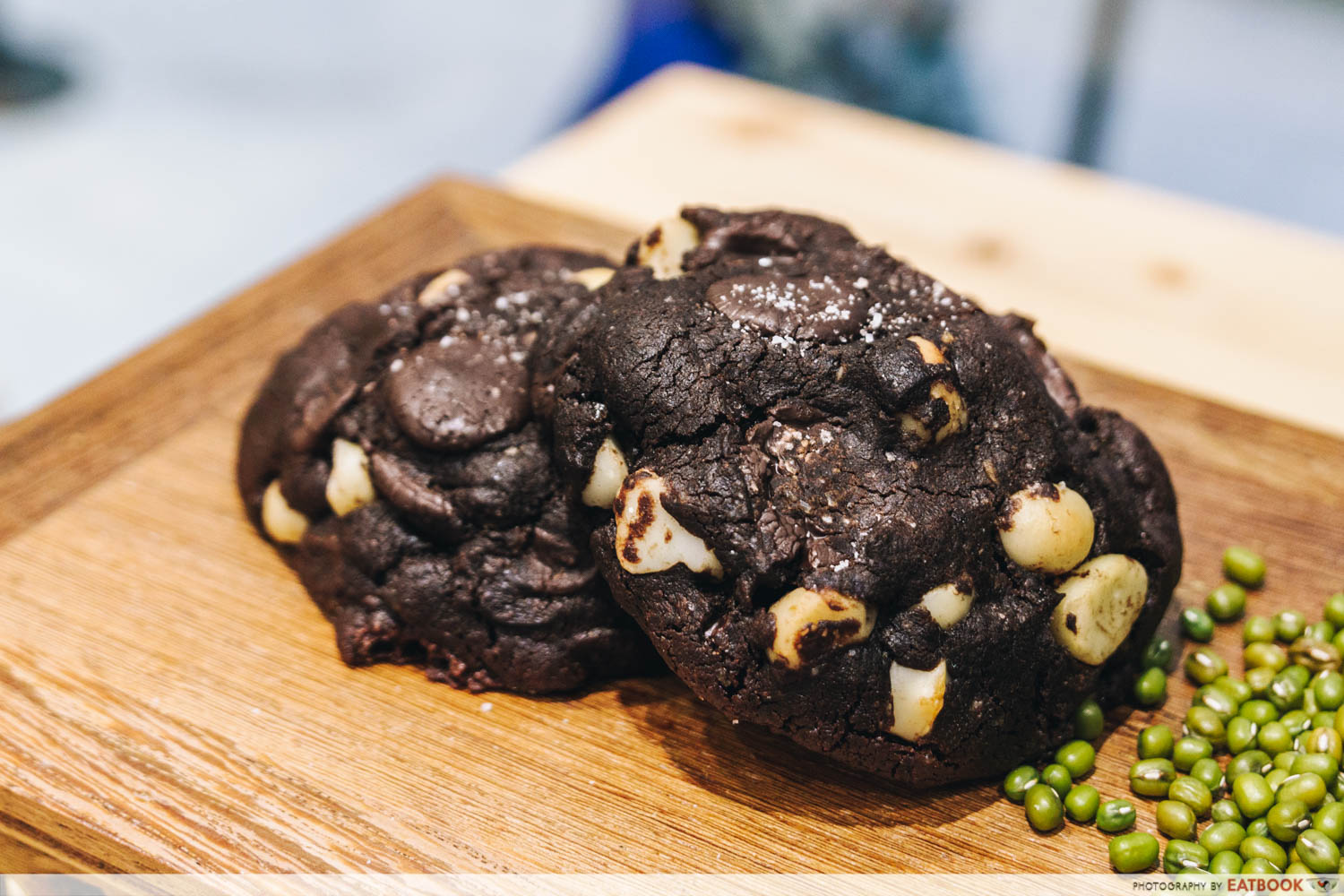 BreadTalk's latest tea venture, Charlie Tea, has an impressive range of baked treats at its cafe, but we have a soft spot for its fudgy, New York-style Chunkies. Crisp on the outside, these discs break apart to flaunt dense, chewy insides dotted with chocolate. Choose from Red Velvet White Chocolate, Matcha White Chocolate, or Double Chocolate, priced at $3.20 each.
Read our full review of Charlie Tea.
Address: 391 Orchard Road, #B1-30, Takashimaya Shopping Centre, Ngee Ann City, Singapore 238872
Opening hours: Daily 10am to 9pm
Website
Charlie Tea is not a halal-certified eatery.
BreadTalk Opens Charlie Tea, Their New Bubble Tea-Style Concept In Singapore
Home bakers
---
5. Guilt
---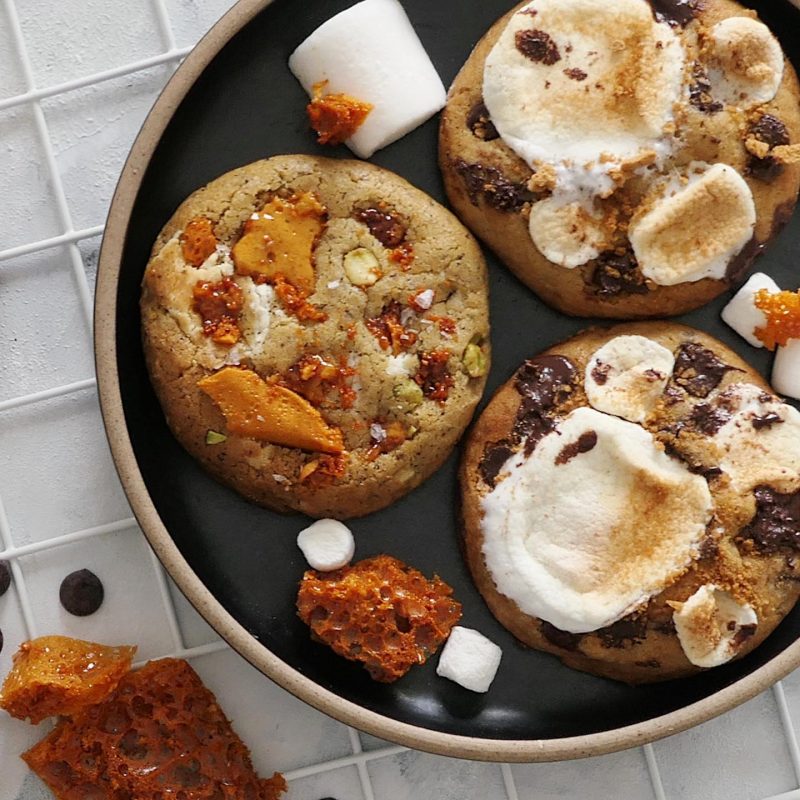 Image credit: @cookieguilt
Polo bun cookies with salted egg lava? Check. Peanut butter and jelly wheels filled with sticky-sweet PB&J? Check. Brown butter rounds glazed with whisky and orange? Check. These are just the tip of the iceberg when it comes to the insane menu at Guilt, where flavours that they sell read like Cookie Monster's deepest fantasy. Their collaborations with the likes of Park Bench Deli and Bar Stories, as well as their seasonal flavours do get quite popular too, so keep your eyes peeled on their Instagram. Prices start at $4.50, and dessert boxes are available too.
8 Chocolate Chip Cookie Places For Nutella, Cream Cheese And Marshmallow-Filled Cookies
---
6. Whiskdom
---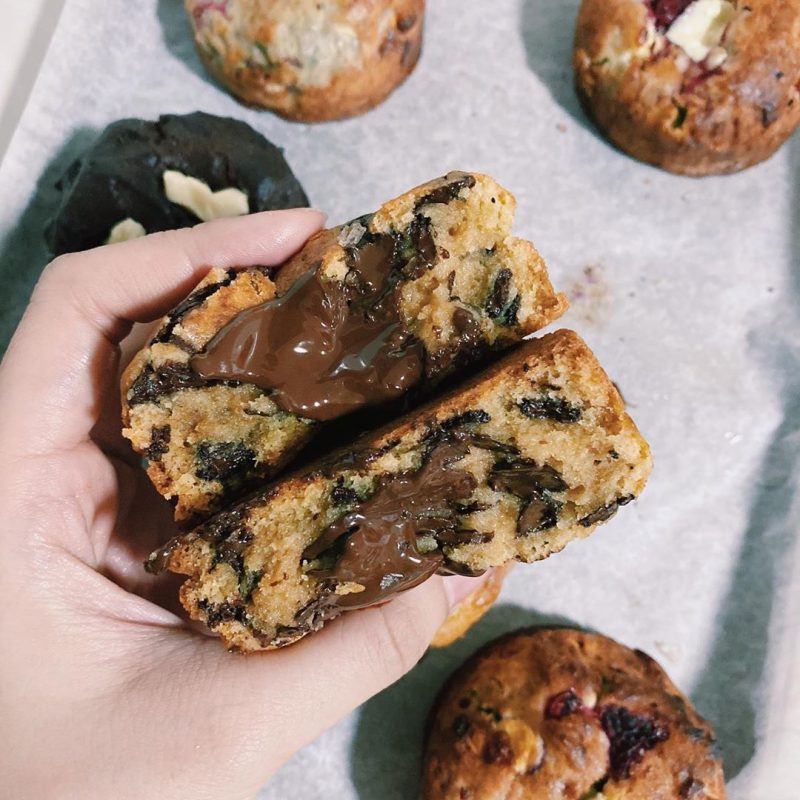 Image credit: @whiskdom
Arguably one of the most popular home bakers to emerge from the Circuit Breaker period is Whiskdom, run by former tech professional, Fiona Loh. She has a 750-person long waiting list just to order her bake boxes ($42), which showcase a mix of molten brownies and Levain-inspired cookies. Flavours range from the decadent Chunky Chip Caranoa 55%, dark chocolate and caramel cookie, to a Milo Dinosaur brownie, with six in each box. Those who don't want to be on the waiting list can opt to snag an order every Monday at 10am and 7pm when slots are released, but it's fastest fingers first. Check out her Instagram for more details.
---
7. Monstah Kookies
---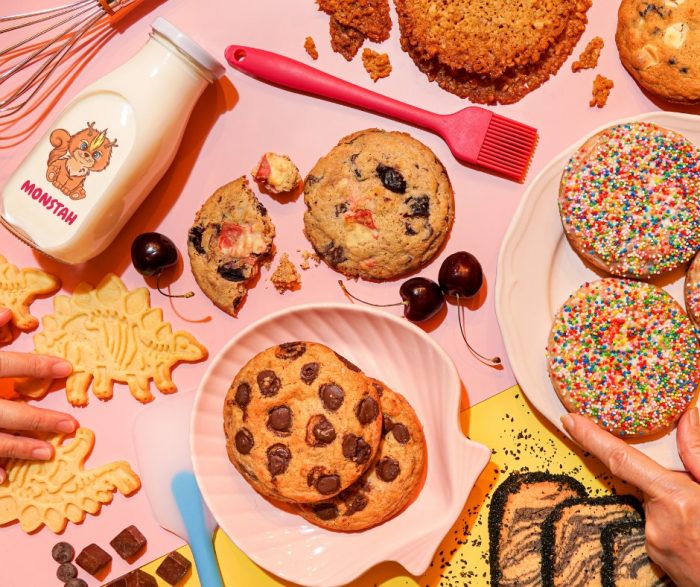 Image credit: @monstahkookies
Monstah Kookies made a name for themselves with their Monstah Krisps ($2.50) ─ thin, melt-in-your-mouth crisps made from almond, oats and honey. They have since levelled up with plenty more offerings on their catalogue, including classic Chocolate Chip ($3.50), Dark Chocolate and Cherry ($3.50) and the kid-friendly Sprinkle Snickerdoodle cookie ($3.20). These come in stuffed versions as well for an extra fee, with fillings like hazelnut chocolate and rainbow cheesecake. 
---
8. No.125 Baked By J
---
Image credit: @no.125sg
The cookies made by No.125 Baked By J are huge. The "125" in their name, after all, stands for the fact that every cookie on their menu is a whopping 125g. Baked Levain-style, so they are crisp on the outside and fluffy within. Four simple flavours are available at $5 each: Triple Chocolates, Chocolate Chip and Walnut, Matcha Yuzu Mochi and White Chocolate, Cranberries and Biscoff. Brownies are available from $13 for a tray too.
Onalu Review: $10 House-made Bagel Sandwiches and Mochi Brownies At Dhoby Ghaut
---
9. Joju
---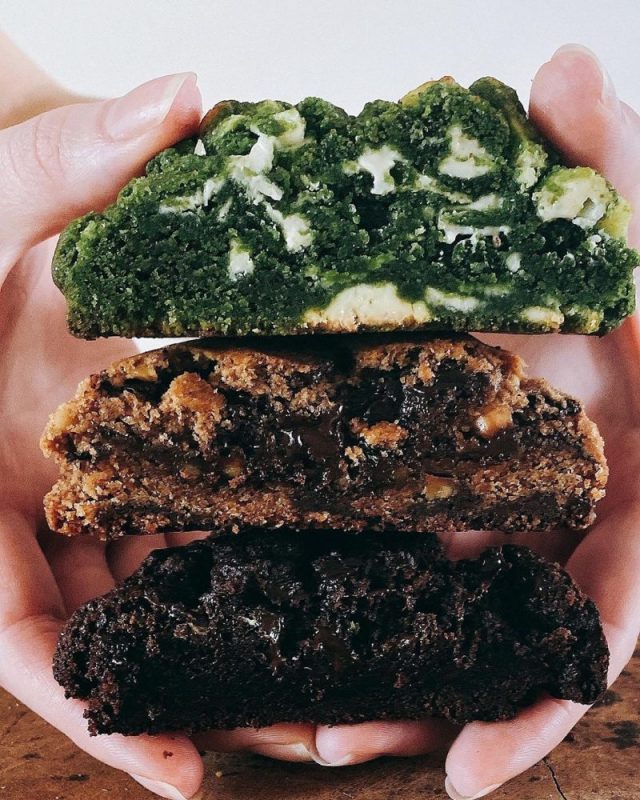 Image credit: @joju.bakes
Joju sells out every time they have a drop, all thanks to their fudgy, chunky bakes. Available in three flavours: chocolate chip and walnuts in Nuts About You, double chocolate in Double Trouble and the green tea-based ILY So Matcha, cookies are sold in boxes of four ($20) or six ($26). Reviews rave about how gao each bite is, loaded with melted chocolate for extra chewiness.
---
10. 3 Boys Dough
---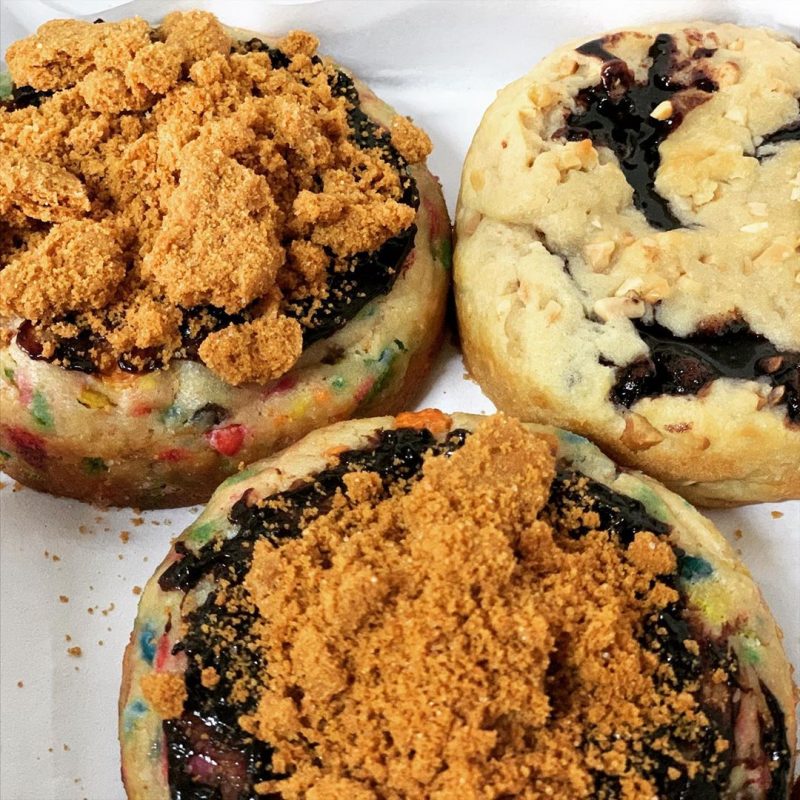 Image credit: @3boysdough
If you like your sweet treats very, very upsized, then 3 Boys Dough's 160g cookies are the things your dreams are made of. Apart from the classic chocolate chip, matcha and double chocolate options, 3 Boys Dough has other inventive items on the menu, such as Over The Rainbow, made with Fruity Pebbles cereal, Oreo Kream Cheese topped with Hershey Kisses, and a Lotte ChocoPie cookie. They also let customers go wild with a Build Your Own service. Cookies cost between $5-$6 each.
---
11. Brenda's Bakery
---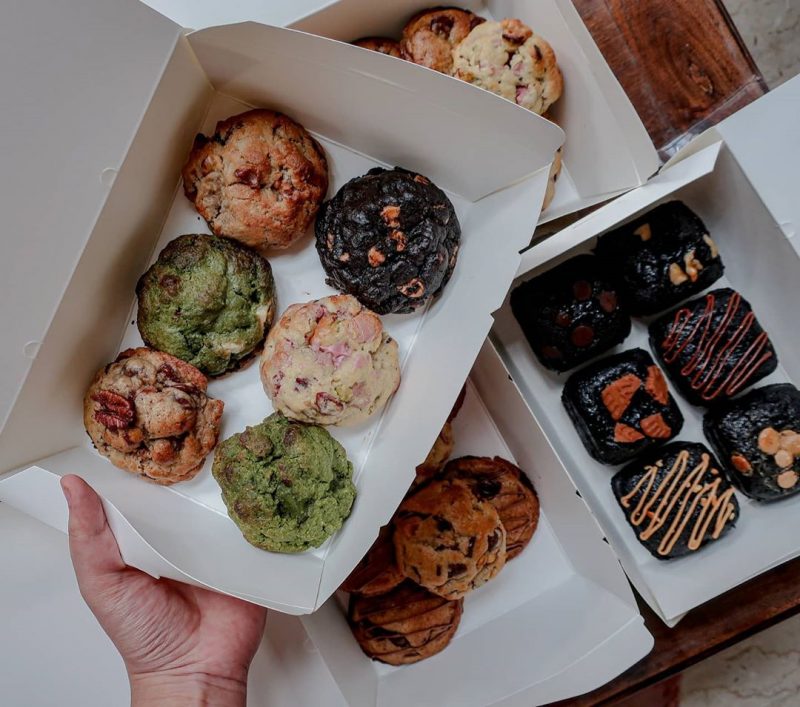 Image credit: @brendas.bakery
Brenda's Bakery specialises in Levain-style cookies with a twist. She makes the classics but also has original flavours, all made with fine Callebaut chocolate. Some crowd favourites include the Ruby Pistachio, made with ruby chocolate, cranberries and pistachios, and the Black Gold, a simple combination of gold chocolate and black cocoa. Sold in two sizes, cookies are priced from $2.50 for 70g and from $4 for 125g. Also on the menu are brown butter biscuits with dark chocolate ($2.20) or Nutella ($2.50), though these are only 60g.
Kamome Bakery Review: Japanese Cafe With Red Bean Butter Buns, Mentaiko Baguettes And More
---
12. Folks & Stories
---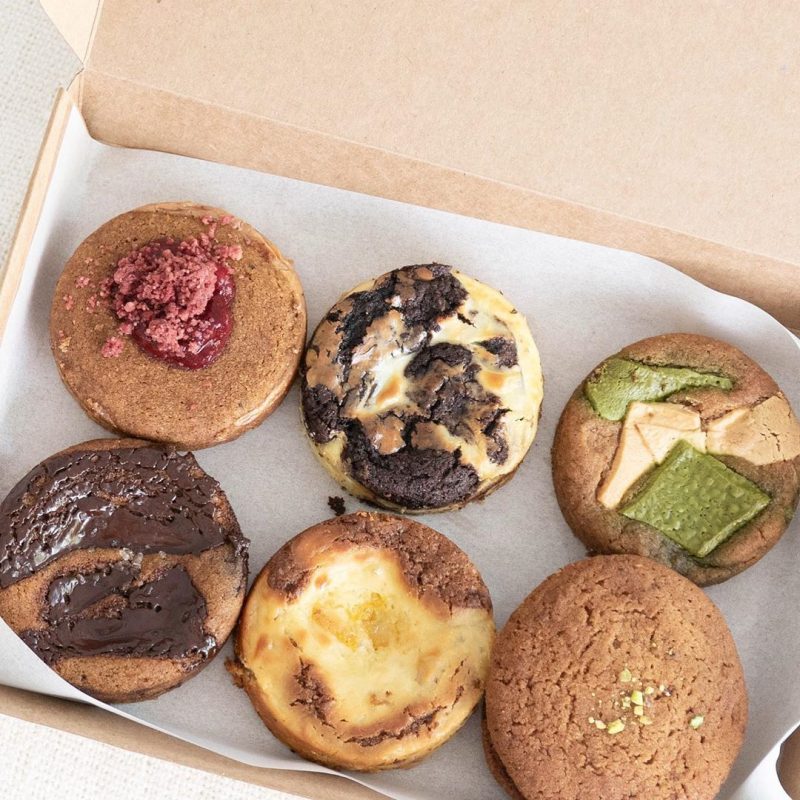 Image credit: @folksandstories
Established in 2018, Folks & Stories is a cookie store that has bakes inspired by people. With 12 flavours on its menu to choose from, Folks & Stories leaves you spoilt for choice, but their signatures definitely lie in their cookies with cheesecake centres. Try the fruity Care Bear ($4.20), topped with a berry crumble, or the brown butter and yuzu cheesecake duet, Best Friend ($4.20). Soft-baked cookies go from $3.90, and sable biscuits are also sold here.
---
13. Crusty Bakes
---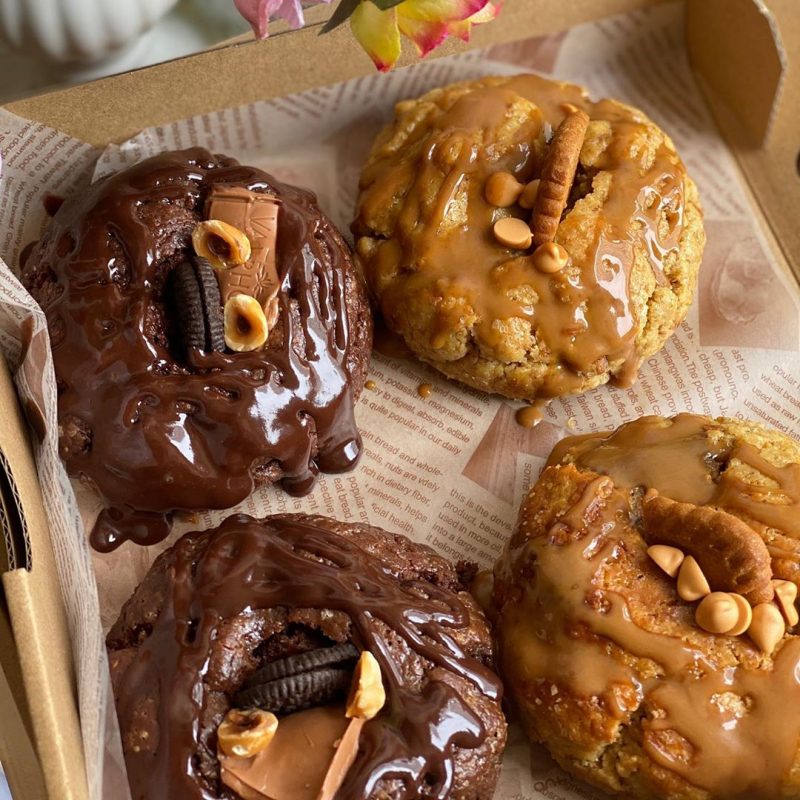 Image credit: @crusty_bakes
Crusty Bakes has two specialities: burnt cheesecake and stuffed cookies. The latter sees a rotating menu of fun flavours ─ think Bubble Tea Mochi cookies with pearls and dark chocolate, Snickers-inspired cookies with a molten core, Milo Dinosaur cookies that wrap Milo nuggets, and much more. Four choices are on the order form every week, and each cookie is priced at $5.
---
14. Ok Can Cookies
---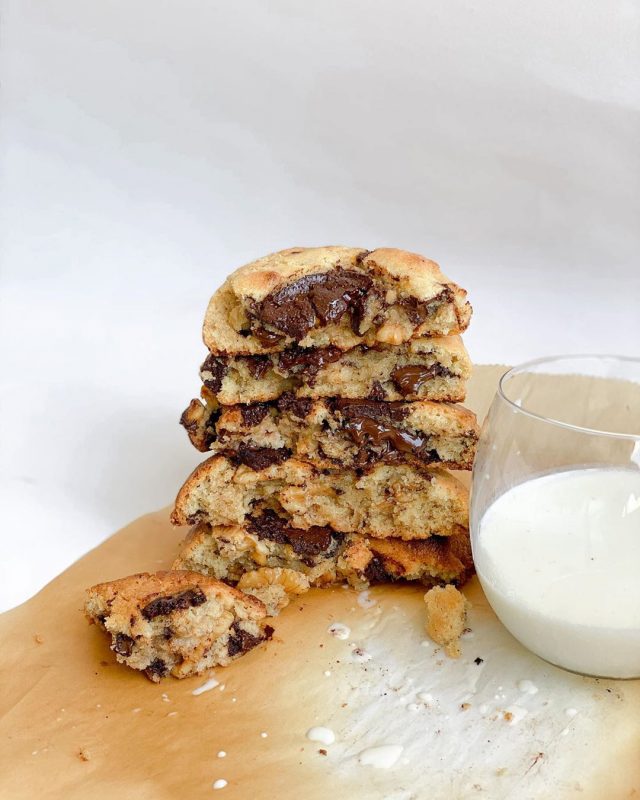 Image credit: @okcancookies
XXL treats are what Ok Can Cookies are known for, as each cookie weighs a hefty 120g. Five types are currently on the menu, with Kaya Sea Salt being its most unique. This locally-inspired prize is sweet, salty and coconutty, packed with a jammy kaya centre. For purists, these bakers also make the Cookie Kosong, a plain, buttery jumbo cookie. All are sold in boxes of three ($15), six ($28), and 12 ($54).
Ice On You Review: Hawker With XXL Thai Milk Tea Shaved Ice And More Bangkok-Style Desserts
---
15. Dolce Dente 
---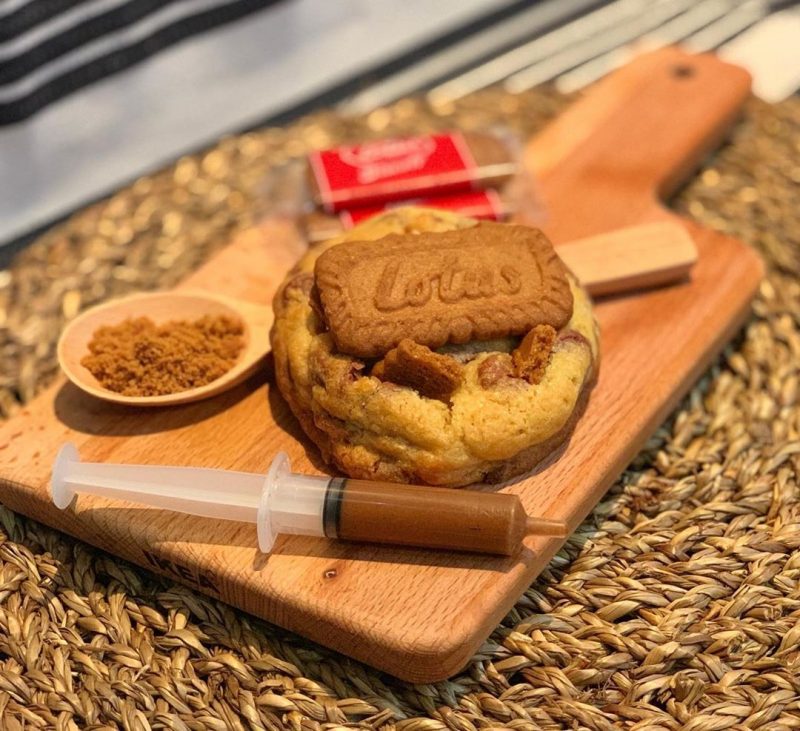 Image credit: @dolce.dente
Muslim-owned bakery Dolce Dente sells an intriguing Cookie Med Kit, where a cookie is served with a syringe full of "sauce" for you to either pipe into or glaze your order. These come in three flavours ─ Chocolate Madness ($8.50), paired with a milk chocolate and Nutella injection, the red velvet and cream cheese-filled Dark Velvetier ($9.50), and Double O's ($9.50), where an Oreo cookie meets a cookies-and-cream injection. Seasonal flavours are also available.
---
16. Flourworks
---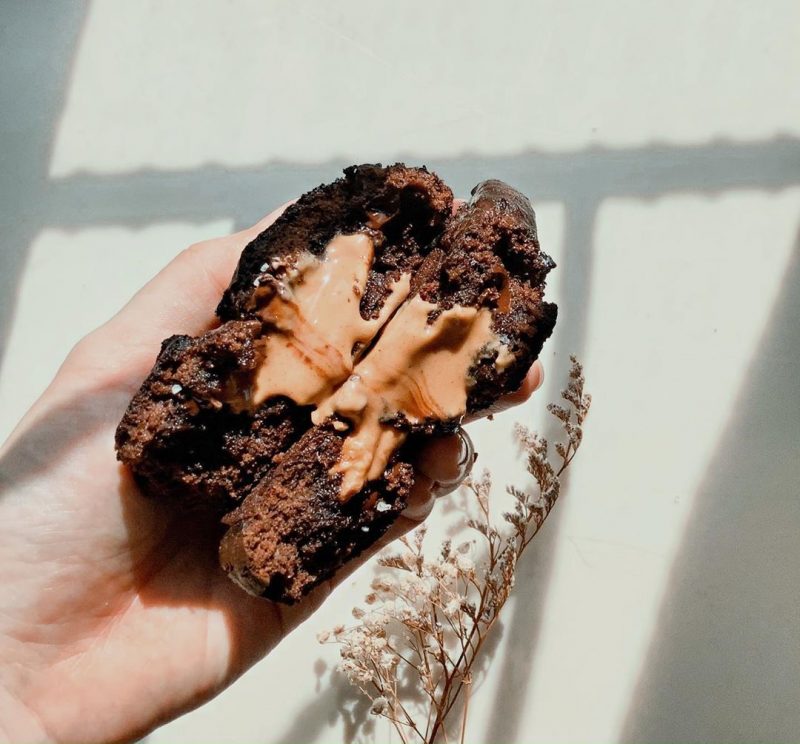 Image credit: @flourworks.co
Student-owned Flourworks has many different baked goods on its menu, but their Thickies are a star. Sold in boxes of six (from $12), four flavours are typically on the menu, with the Peanut Butter Macadamia being the baker's personal favourite. A peanut butter-laced cookie meets molten chocolate chips and whole macadamia nuts for crunch, so every bite is a textural bomb. Bake sales drop weekly, but you can pre-order in advance via this page.
---
17. Lookie Cookie
---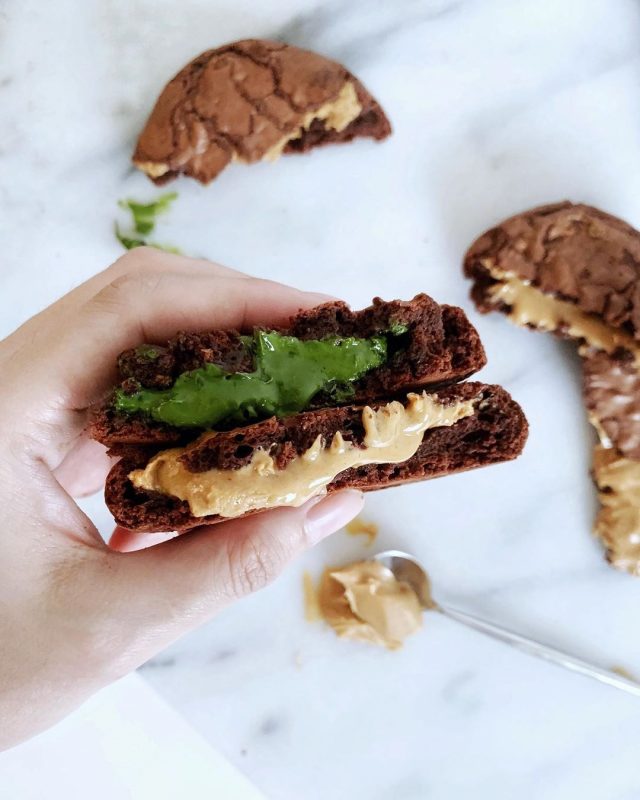 Image credit: @lookiecookiesg
Dark chocolate brookies are the speciality at Lookie Cookie, with two categories to pick from. Their bite-sized Signature Cookies ($26 for 16) come in seven flavours, from Sea Salt to Peppermint, and are perfect for snacking till you drop. Their Giant Stuffed Cookies ($21 for four), on the other hand, sees the brookie dough supercharged with molten filling, from a classic Nutella to the popular Uji Matcha. Order slots are released every Monday at 7:30 pm here.
Bangkok Jam Now Has Mango Sticky Rice And Thai Milk Tea Souffle Pancakes
---
18. Of Feast And Field
---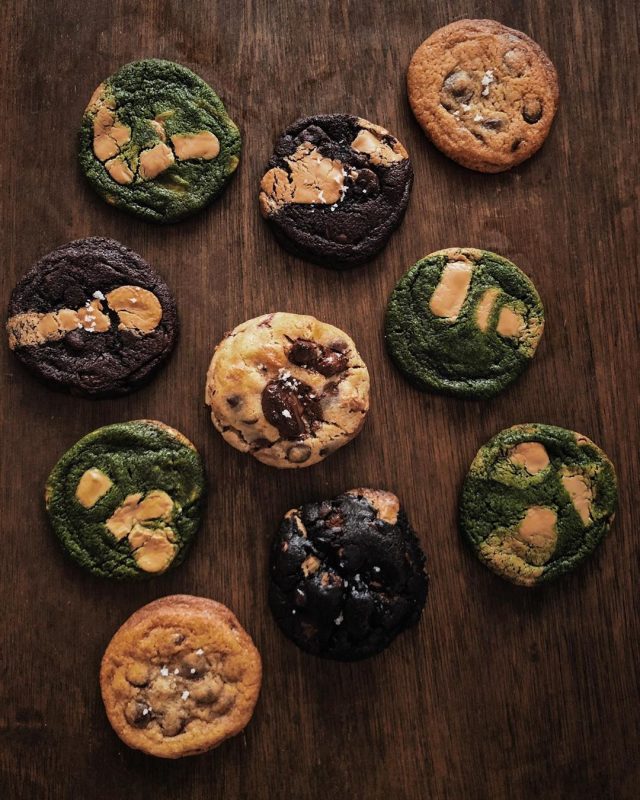 Image credit: @offeastandfield
Of Feast And Field is one of Singapore's OG home bakers. Run by the talented Shijie since 2015, Of Feast And Field melds minimalism with quality ingredients across their menu. Three cookies are signatures with this baker ─ a classic Levain-inspired Chocolate Chip Cookie with two grades of dark chocolate and one milk chocolate, a Double Chocolate and Dulcey Cookie, where the trio of chocolates used include blond Dulcey buttons, and a Matcha And Dulcey Cookie, made with two different grades of green tea. Their bake sales are ad hoc so be sure to subscribe to their Telegram channel for updates. They also post their original recipes here if you'd like to give them a go.
---
19. Sugary Bakez
---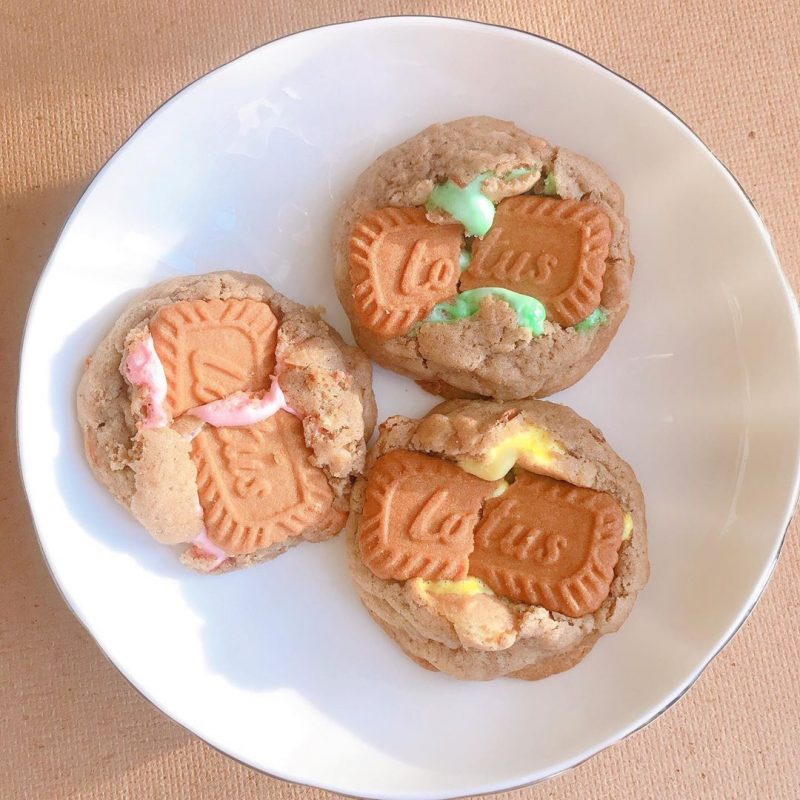 Image credit: @sugarybakez
Sugary Bakez's bestseller are their S'mores 4 You Cookies, and these are far from typical. Instead of chocolate chip and marshmallows, these stand out with homemade pastel marshmallows that are quite the sight when broken apart. These fluffy bites are also topped with a Biscoff biscuit for contrast. Other options to note are their Mega Messy Matcha Levain Cookies, and their seasonal flavours, of which Pandan Kaya and Cornflakes gained rave reviews. Prices start at $12 for a box of three.
City Donut: New Doughnut Cafe With Flavours Such As Orh Nee, Ondeh-Ondeh, Milo And More In Telok Ayer
---
20. Butterspace
---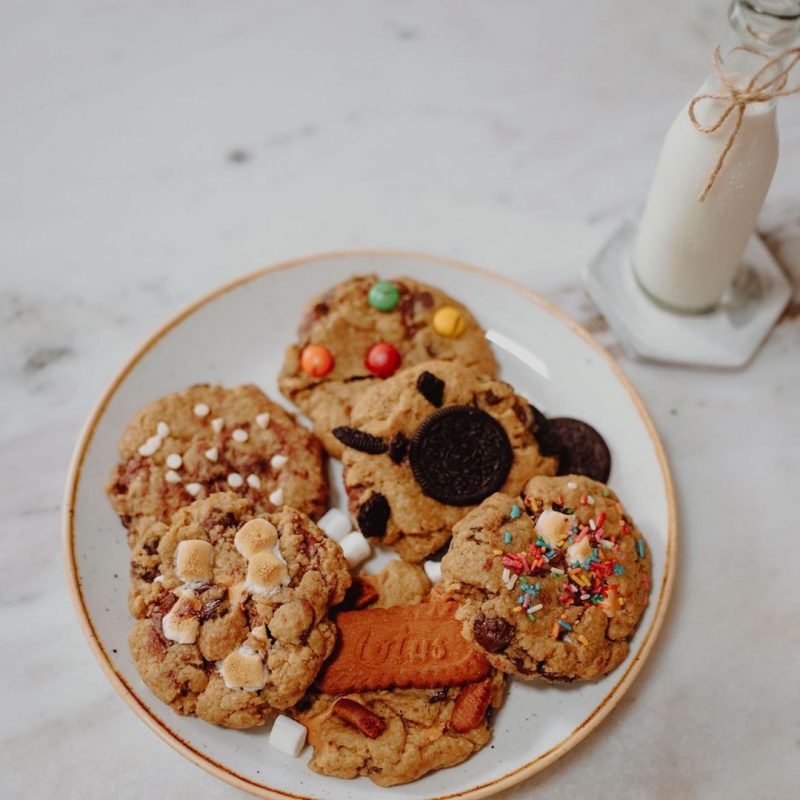 Image credit: @butterspace_bakery
There are six types of chewy cookies to choose from at Butterspace, and most of them come generously stuffed with Nutella. Their Birthday Cake Cookie is one of the most eye-catching, dotted with rainbow sprinkles and packed with both marshmallows and the chocolate spread, but true junk food fans ought to nab the Oreo Cookies for the best of both worlds Cookies are sold in boxes of three, six, nine and 12, from $9.
---
21. Butterlight Bakery
---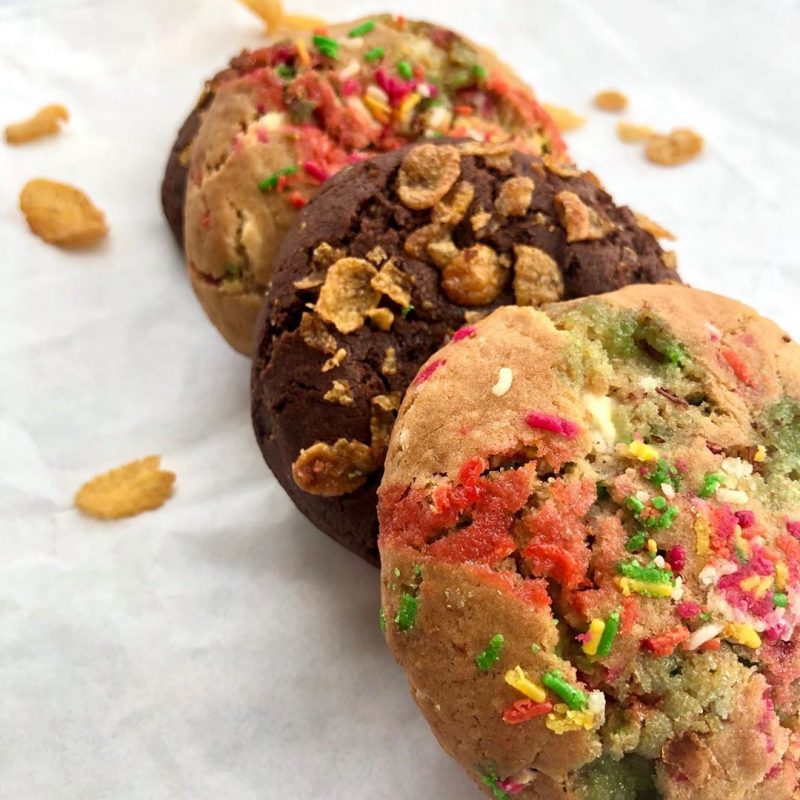 Image credit: @butterlightbakery
Chomp down on monster cookies guilt-free as Butterlight Bakery offers a more nutritious alternative: Oakies, also known as cookies made with oat flour. Healthier doesn't mean boring, though, as Butterlight Bakery's offerings are very inventive, from the breakfast-inspired Peanut Butter x Pandan Kaya to the nutty Black Sesame x  Roasted Peanut. Kid-friendly bites are also sold, like their bold, colourful White Chocolate Funfetti x Gummy Bears creation. Prices average $16 for a box of four.
---
22.Dat Cookie Pull 
---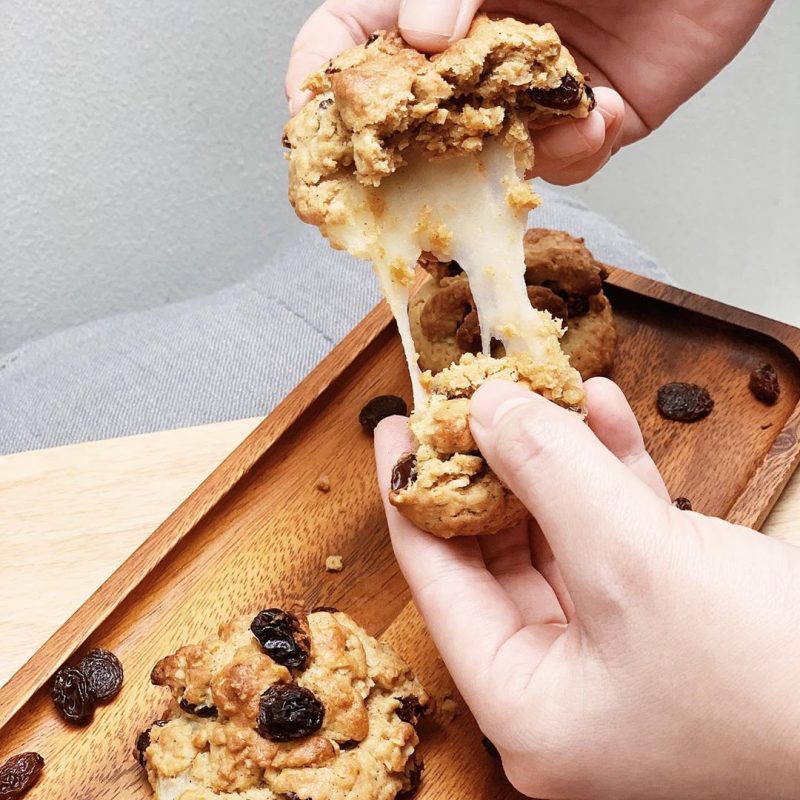 Image credit: @datcookiepull
Dat Cookie Pull has a very creative menu full of mochi cookies, and these change seasonally. Their mainstay Hojicha and White Chocolate with Soya Mochi cookies are a sweet-and-savoury, Japanese-inspired powerhouse that gets extra-chewy with the addition of azuki fillings, but don't skip out on the limited edition range too. Dat Cookie Pull goes beyond one flavour dimension by incorporating citrus, floral and fruity notes into their cookies, with the likes of Earl Grey Lavender with Yuzu Lemon Mochi cookies, or the Peanut Butter Cookie with a juicy Jam-infused Mochi. A box of six goes for $19, with a top-up fee of $0.50 for the azuki stuffing.
---
23. Banter 
---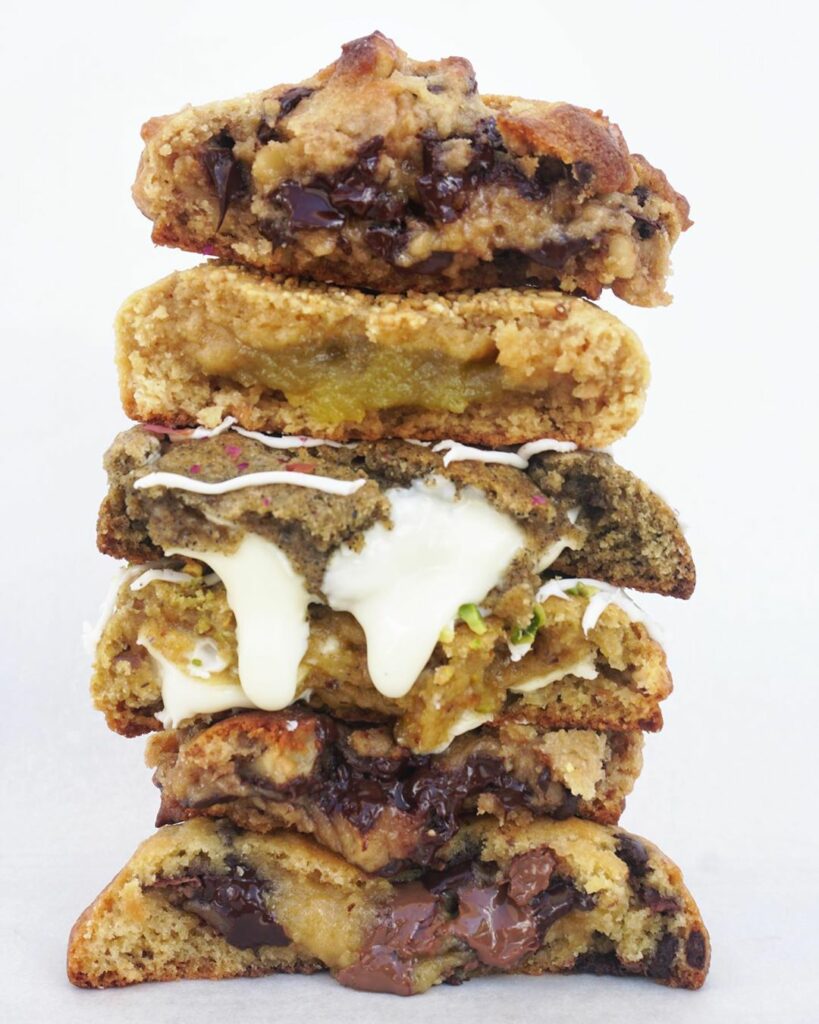 Image credit: @cookiebanter
Stuffed cookies in tried-and-true flavour combis run the show at Banter, but what makes them different is their use of flavoured cookie doughs for more oomph. Outside of the classic buttery cookie dough, Banter also has a peanut butter batter for its PBK and PBJ (Peanut Butter Kaya or Jam) bites, or tea-infused dough for its Earl Grey Cookie with white chocolate chunks. One cookie goes for $5.50, though you can get three for $15 or six for $27.
A Bite of Joy: Home Baker Makes Sold-Out Matcha Madeleines, Boba Cake And More
---
24. Miss Van Dough
---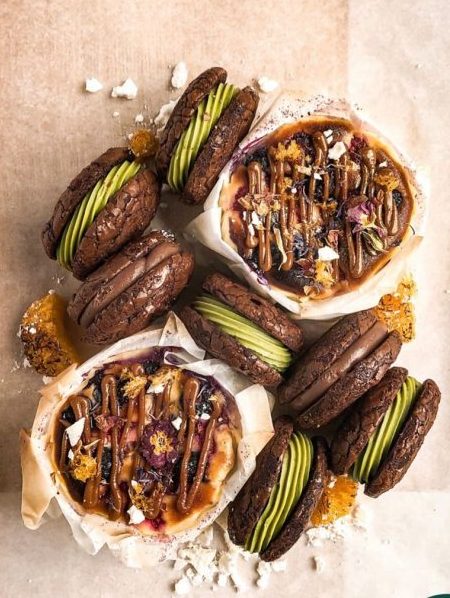 Image credit: @missvandough
Miss Van Dough's Brookie Sandos started out as an experiment, but were so well-received by their customers that it is now on the regular bake sale menu. Two dense brownie cookies sandwich airy pastry cream in matcha and chocolate flavours, sold alongside their other popular goodies: the Pandan Speculoos Chunky Cookie, the Oreo Nutella Chunky Cookie and the usual Chocolate Chip. A bake box goes for $40 and contains six items or so.
---
Best cookies in Singapore
---
If you have a serious sweet tooth, then these cookies ought to be right at the top of your list for your next treat or cheat day.
Bendemeer Tutu Kueh: Hidden Tutu Kueh Stall By A 67-Year-Old With Over 50 Years Of Experience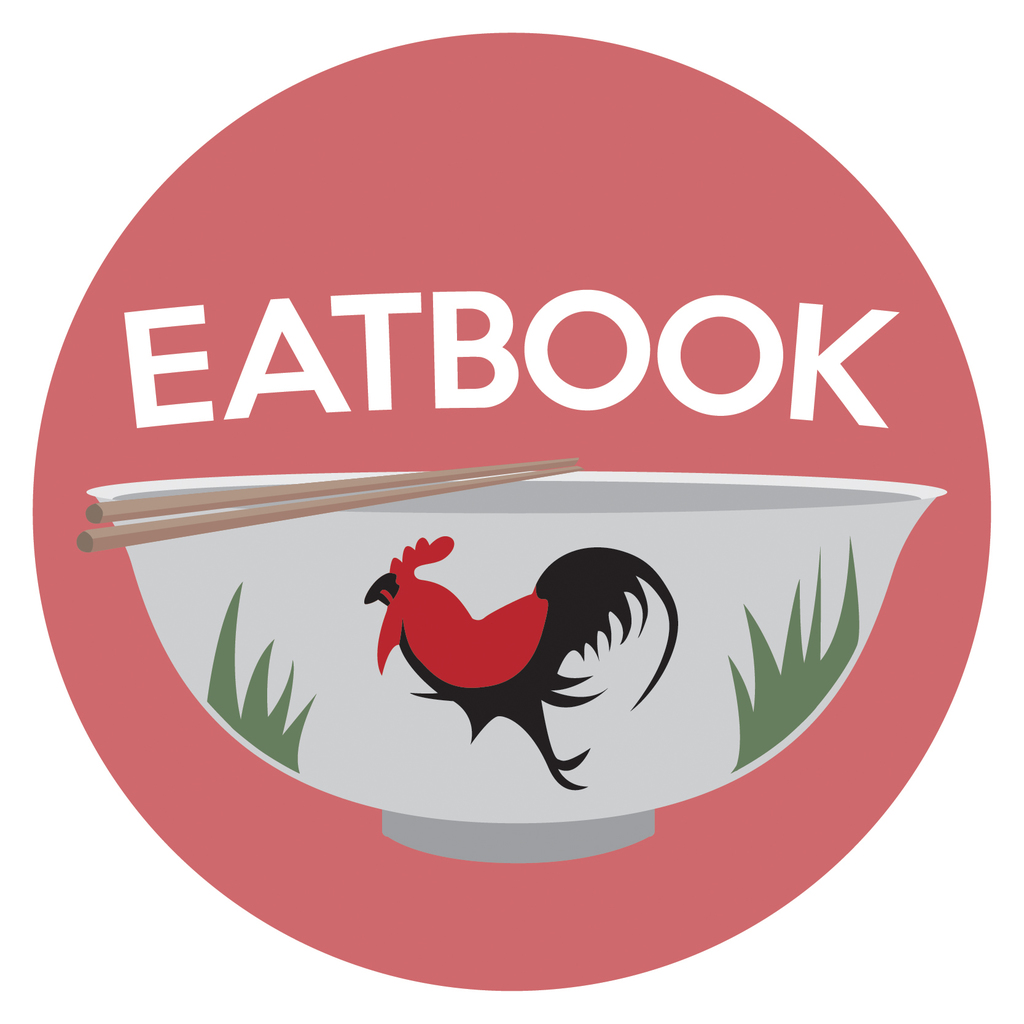 Drop us your email so you won't miss the latest news.