Mr Ho's tutu kueh at Bendemeer
Update (14/9/2020): Prices changed.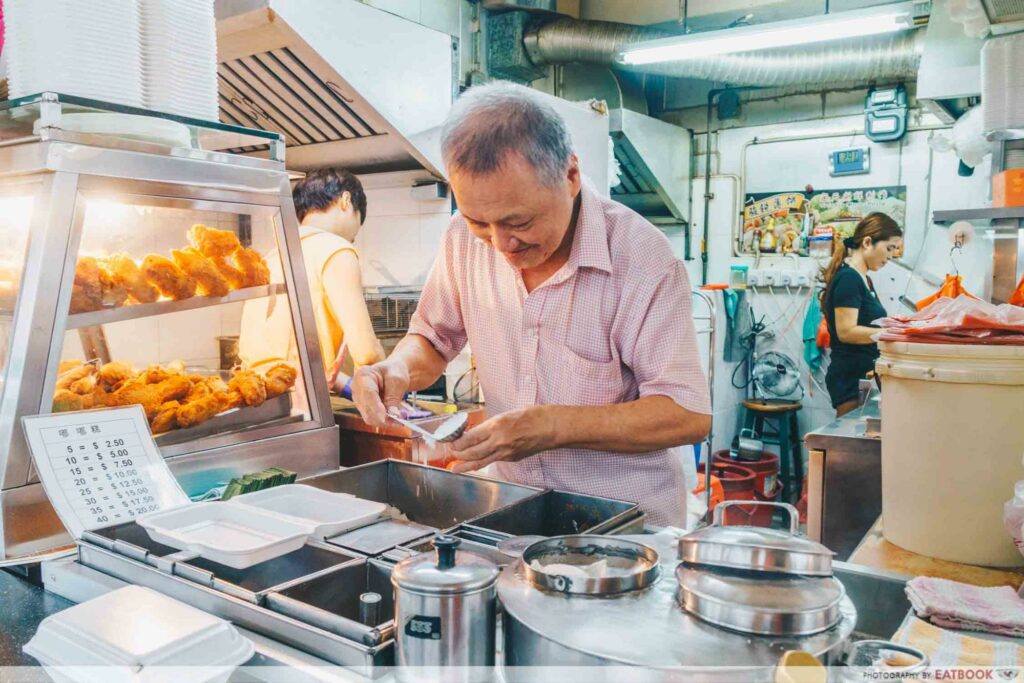 "Oi Mr Ho!" an 80-year-old hollered from across the coffee shop. Our interview had yet again been interjected. To my dismay, this happens frequently. But the tutu kueh master waves at him lovingly with a genuine smile.
The jubilant Mr Ho is quite the personality around here. Residents of Bendemeer drop by to say hi, even if they're not getting tutu kueh. Though a man of few words, his sincerity is felt by everyone.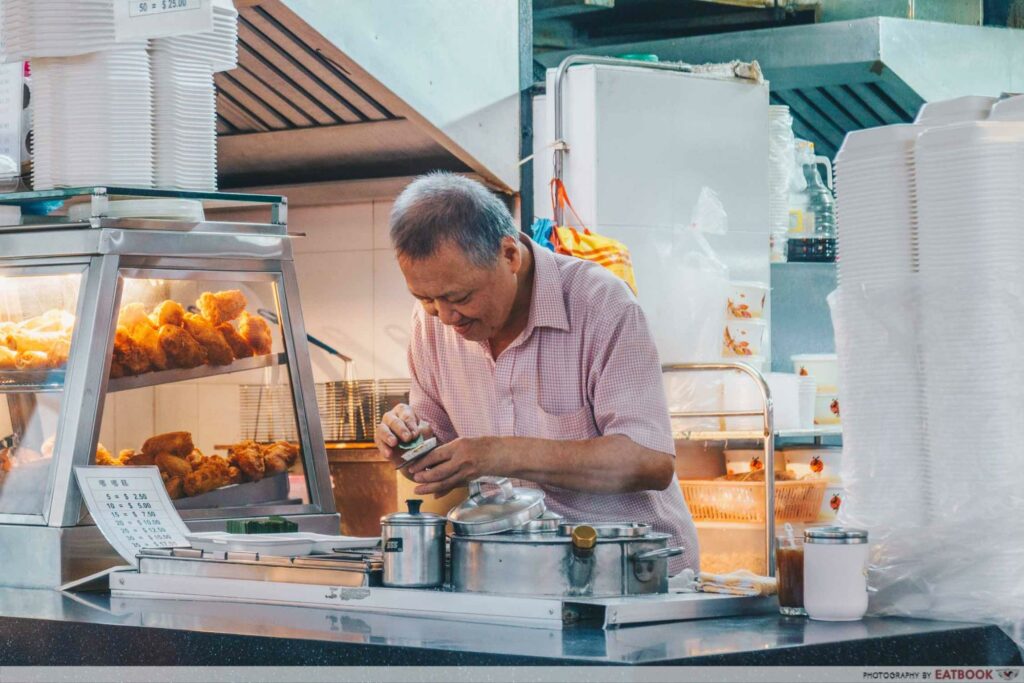 As we began filming, the elderly residents of Bendeemer started flocking towards us. Their nosiness annoyed me, but some offered nuggets into his personality.
The common thread underlying their input was his sincerity and affability. Throughout the interview, he doesn't talk much. Yet with his adorable smile, he seemed to make everyone laugh.
We began by asking him for an introduction. "Ho Mu Ren," he blurts out his name in Mandarin.
Realising that was all he had to say, we prompted for his age and stall's name. "I'm 67," he answers shyly, but falls short of telling us the name of his stall. Aside from a laminated sheet of paper that lists the price of his kueh, there's no branding involved here. We realise that the store had not been named. 
I proposed calling it Mr Ho's Tutu Kueh, to which he chuckled and obliged to my spirited determination for an answer.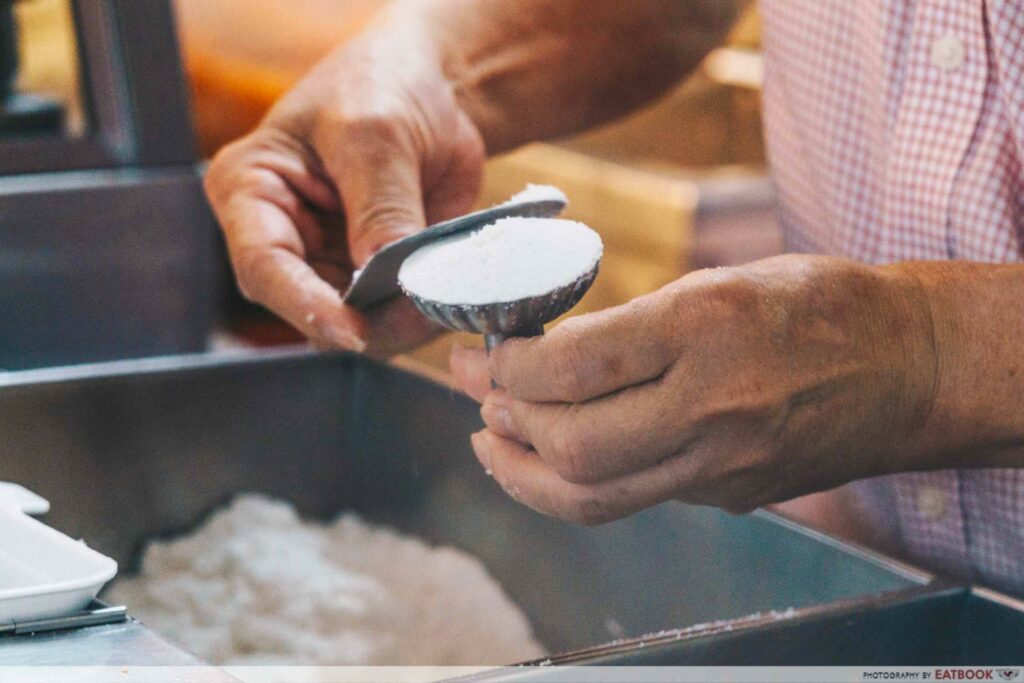 I sensed that Mr Ho had not placed much emphasis on naming his brand. After all, he is the brand. Having shifted from the CBD to Hougang, and finally to Bendeemer, his customers have followed him around.
"I remember how an elderly customer was so happy that he finally found me at Bendemeer after so long," Mr Ho cheerfully recounts.
I would feel happy too. He sells one of the most affordable tutu kueh I've ever had: $0.70 apiece.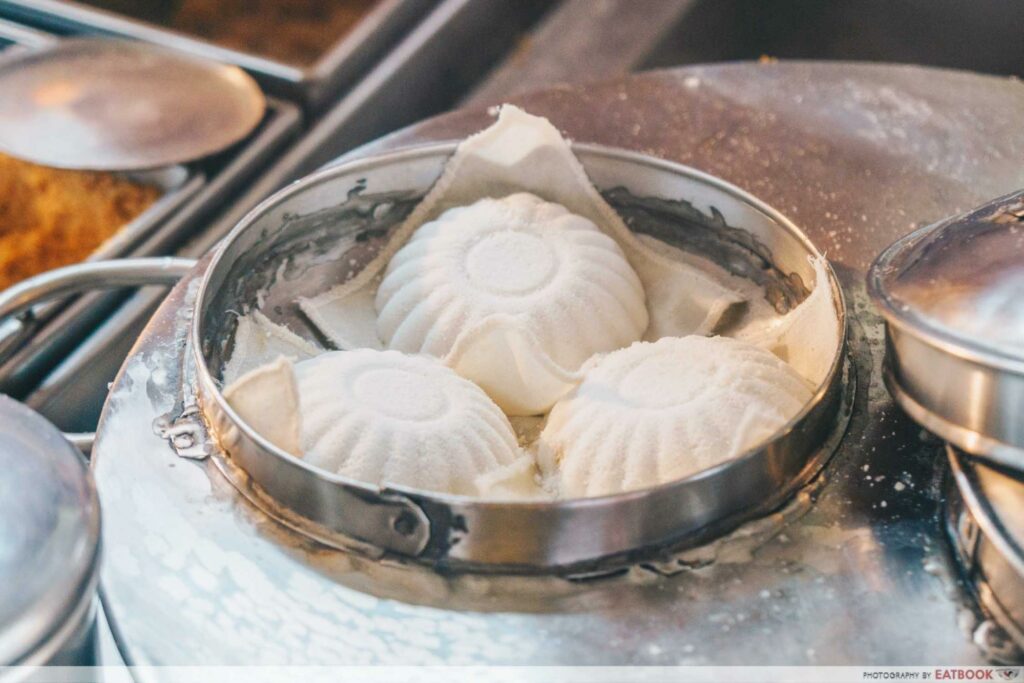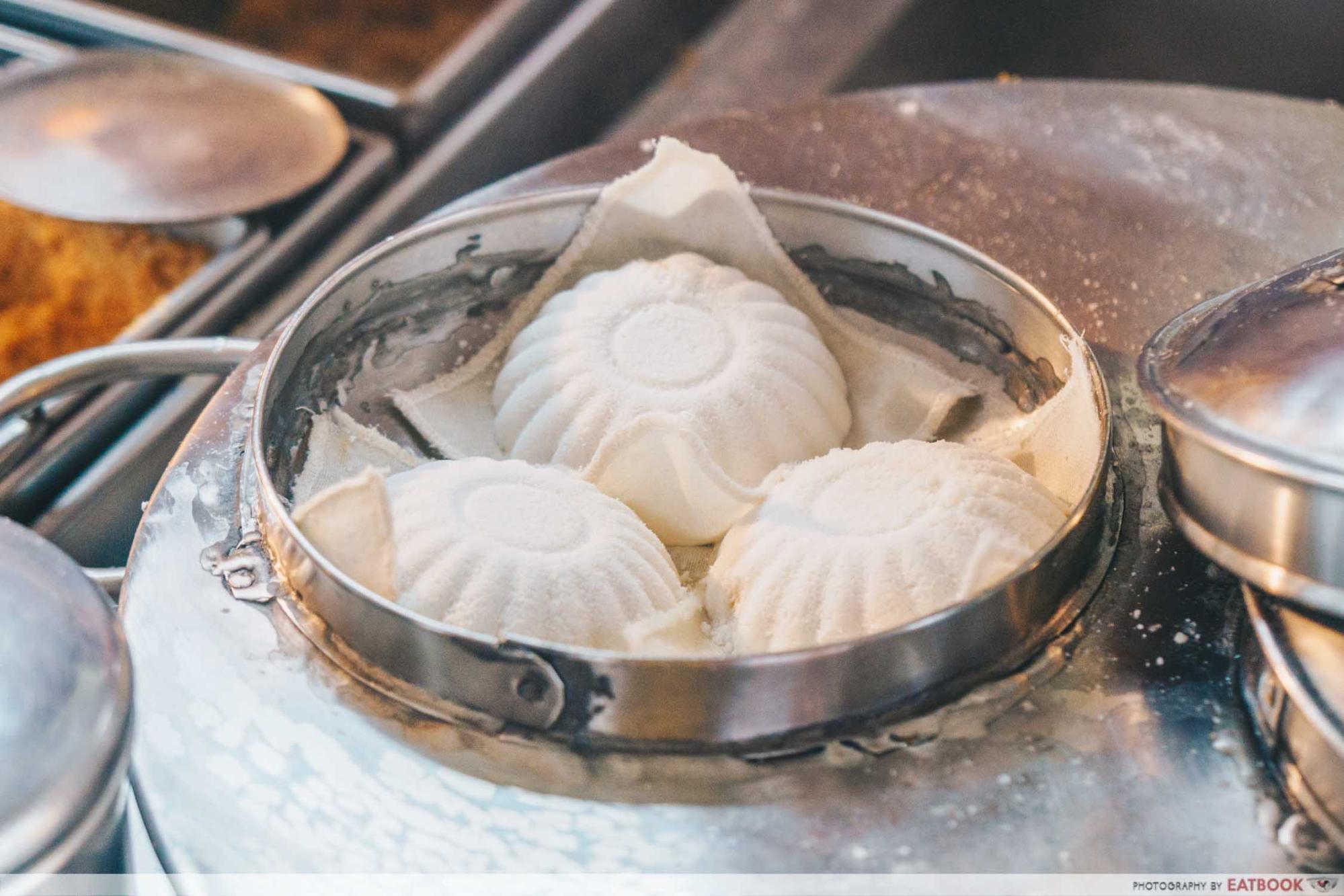 I told him he was undercharging; they were too delicious.
He blushed. "Back when I was a boy and started selling tutu kueh on a trishaw with my father these were only $0.15 for five!" 
I know that behind his nonchalant facade lies a noble reason for maintaining lower prices. Many of his clientele are elderly folks; they may not afford a price hike.
But he does this at his own expense. He earns $0.10 for every kueh sold, a far cry from the huge profit margins tutu kueh chains make.
Even if his carefree demeanour may fool you to think otherwise, he believes everyone should be able to have access to his kueh.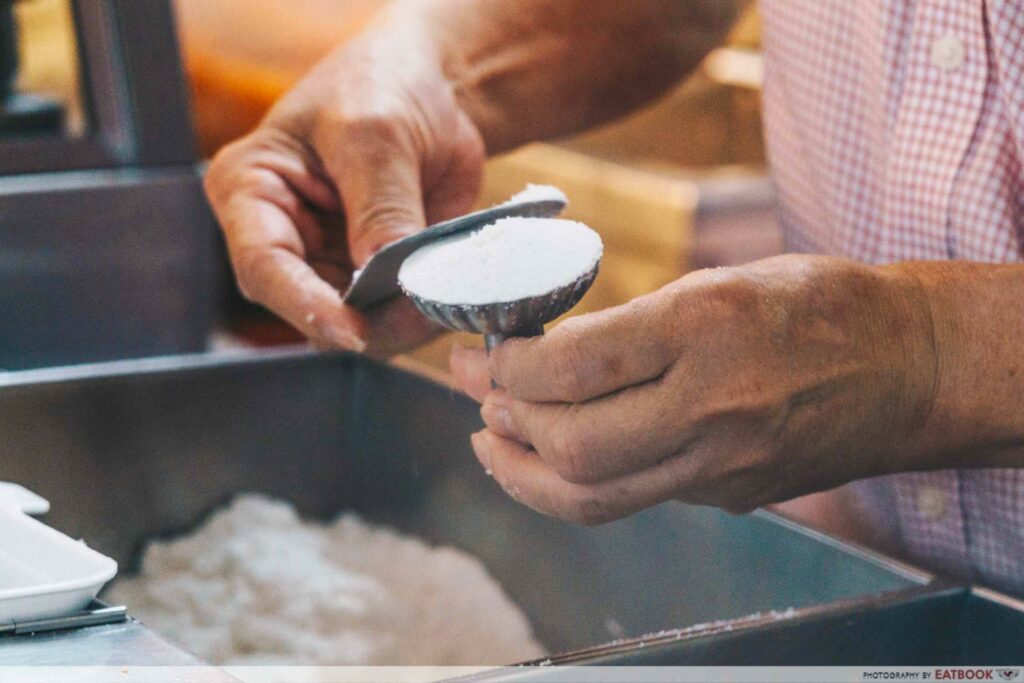 Watching him in action is quite the experience. With a slight hunch, the elderly man works quickly. He looks at each kueh adoringly; a faint smile gleams on his face whenever a tutu kueh is perfectly steamed.
Due to the confined natures of his store, he's only able to steam six tutu kueh at any given time. This gives him little time to rest, maximising the output of every slot. His hands are always moving and there's never spare time for him to relax.
The only respite he gets is bending down to access a basin of water. He washes the sticky muslin cloths and dries them by the steamer. Without a break in his rhythm, the chirpy grey haired man then returns to his grind like clockwork.
Food at Mr Ho's Tutu Kueh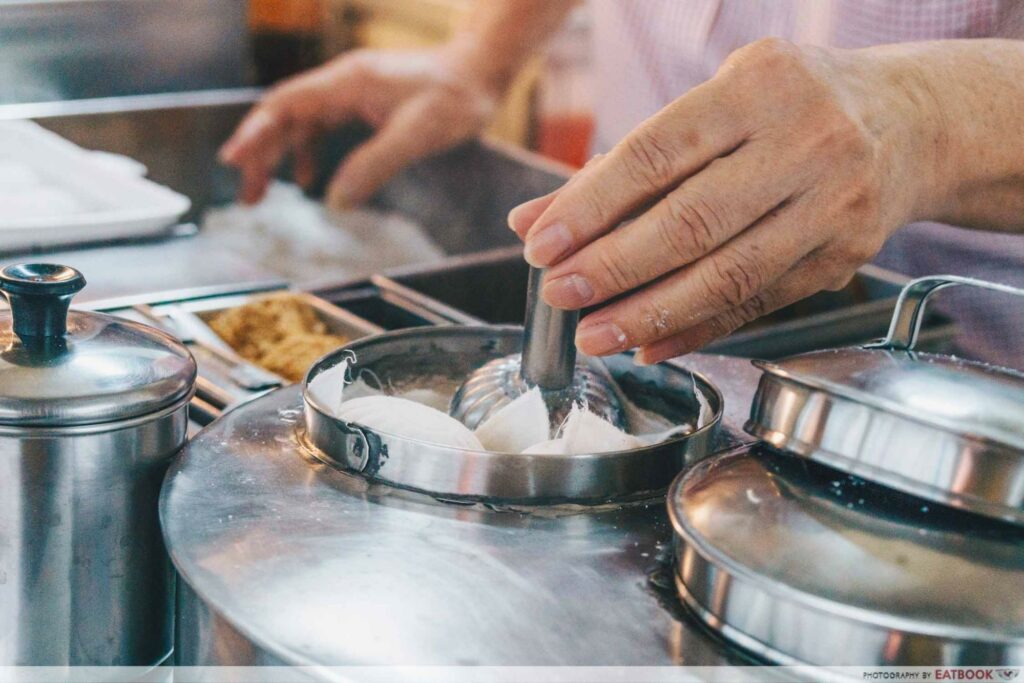 I had planned to film the process of Mr Ho making the kueh when he's preparing the ingredients. Besides the ground peanuts, he makes everything else from scratch.
But two days before, he called me to back out. "It's not convenient," he insisted.
I sensed hesitation to expose his recipe and assured him that we won't leak anything out.
For an easygoing man, he's remarkably firm in his traditionalist principles. I asked, "What if someone really wants to learn?"
He shakes his head with an awkward smile. Of the many years that I've patronised his stall, I had never realised he was so sensitive about his craft.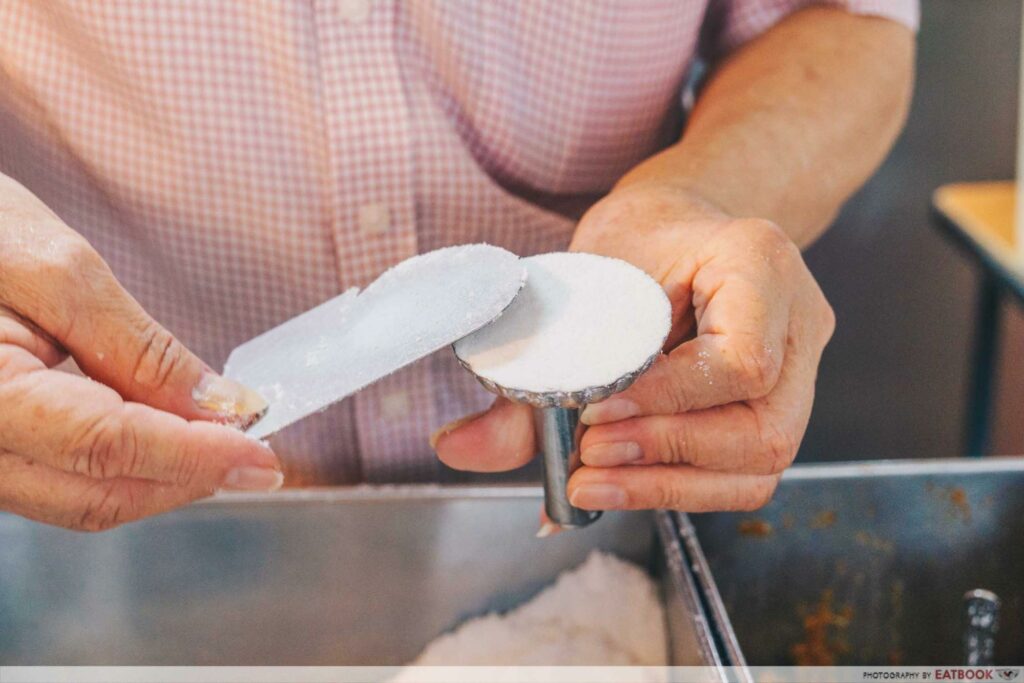 I still managed to sniff out a few of his trappings. The rice flour, for instance, had been roasted to impart fragrance. Many vendors skip this step.
The coconut is also special, made with gula melaka instead of the overly sweet red sugar that most chains relegate to these days. Palm sugar is superior because it introduces a slightly smoky and floral counterpoint to the otherwise cloying sweetness.
10 Bendemeer Food Places Near Bendemeer MRT Station Including Blue Nasi Lemak And Unicorn Pancakes
He also insists on making them fresh. A day in his life starts at 6am to purchase gula melaka and coconut all the way from Aljunied. He maintains that the ones found there are the best.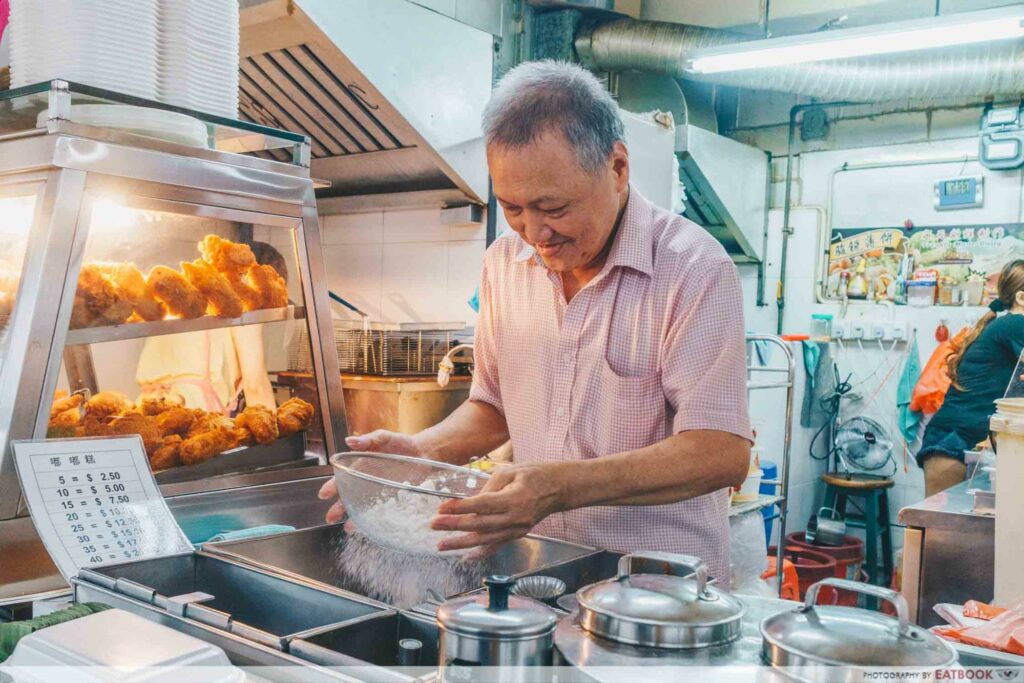 I asked if he could sift the flour again—just for another picture. He did not understand my horrid Mandarin, so my producer translates for me.
When he finally got our question, the cheery man laughs, nods and takes out the sift again. He then goes about explaining the importance of sifting flour.
A finer powder makes for a fluffier tutu kueh. It also reduces the chances of the kueh cracking when being steamed.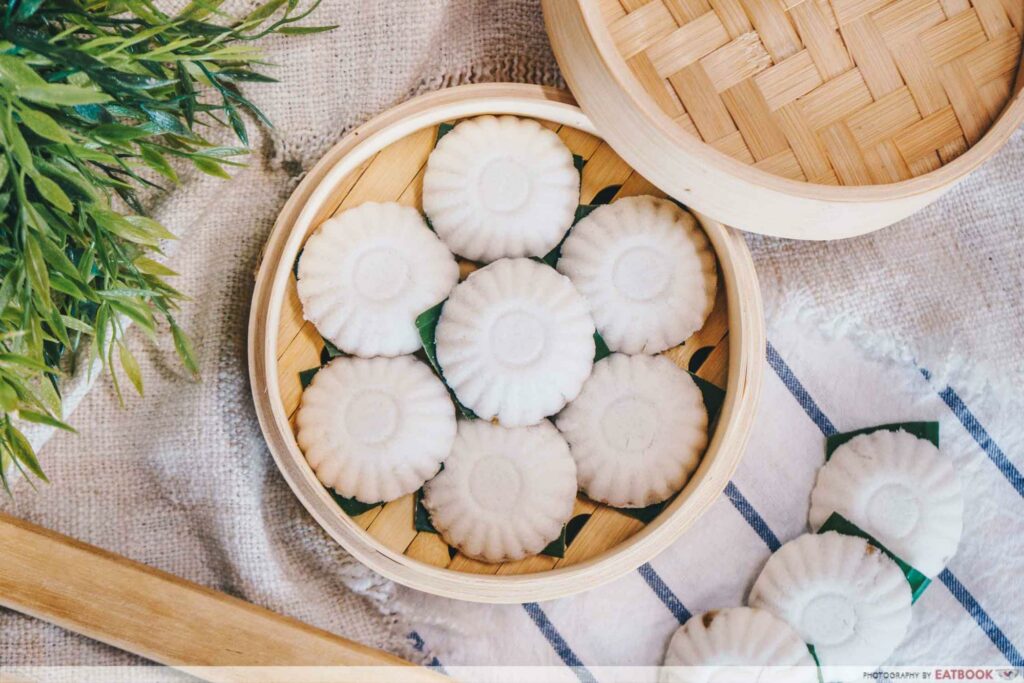 There are two items on the menu: coconut and peanut. Both look enticing, so we got both.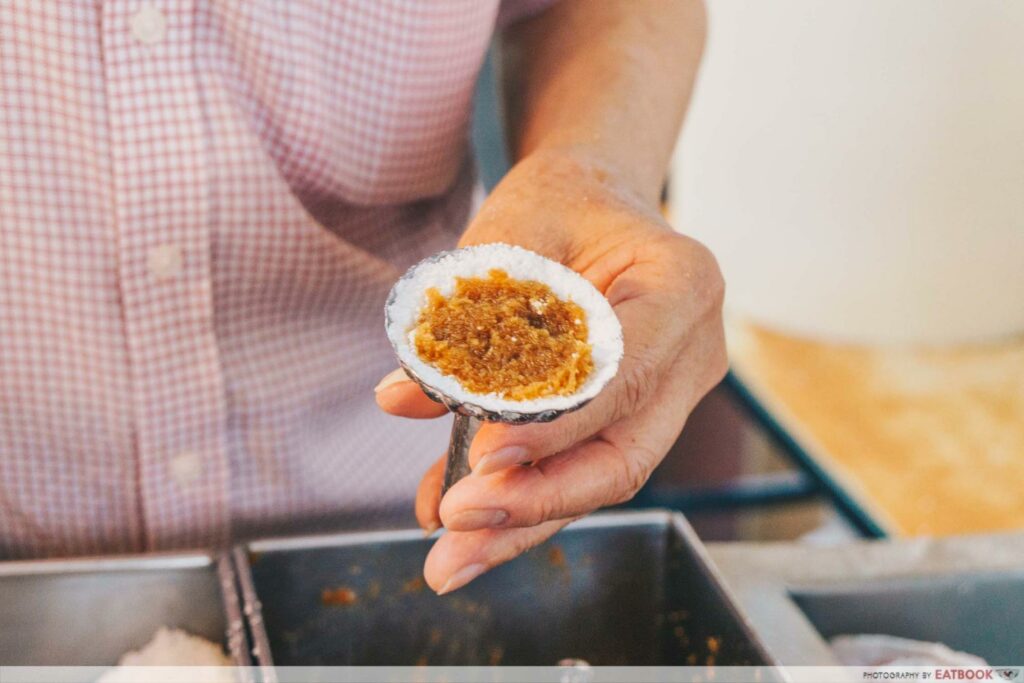 I'm a fan of the coconut filling. The flavours are rich, with a slightly stringy and gooey texture.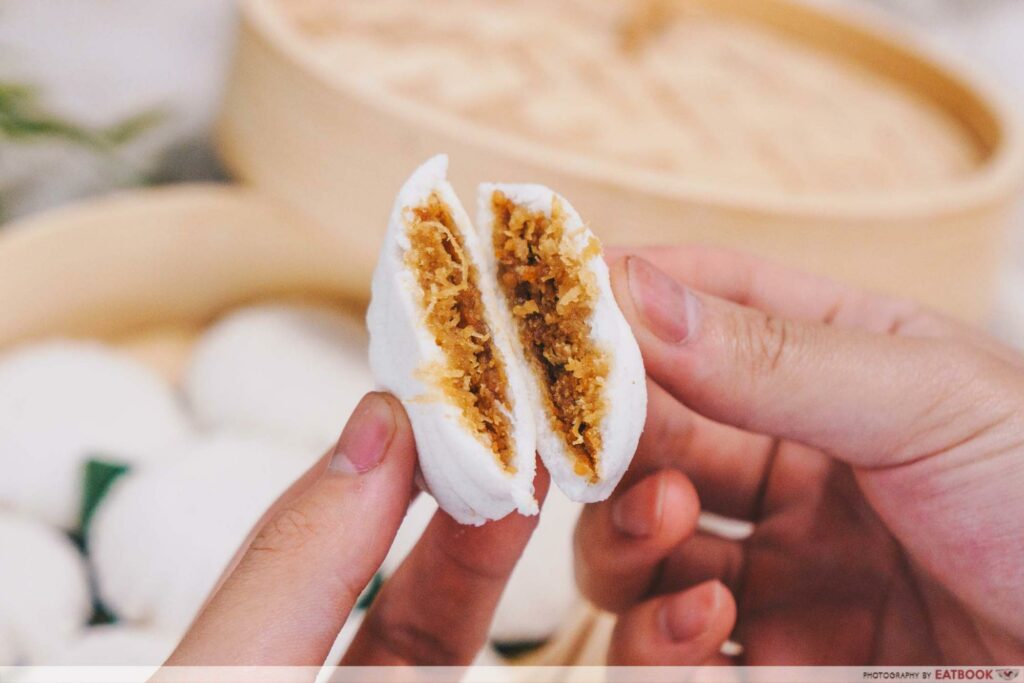 The pandan leaves also play an important part here, imparting gentle floral notes that meld so delightfully with the perfume of rice flour.
Its white casing is also soft but chewy, feeling slightly sticky on the hands. I love how there's a bite to it initially, yet in the mouth, it completely dissolves.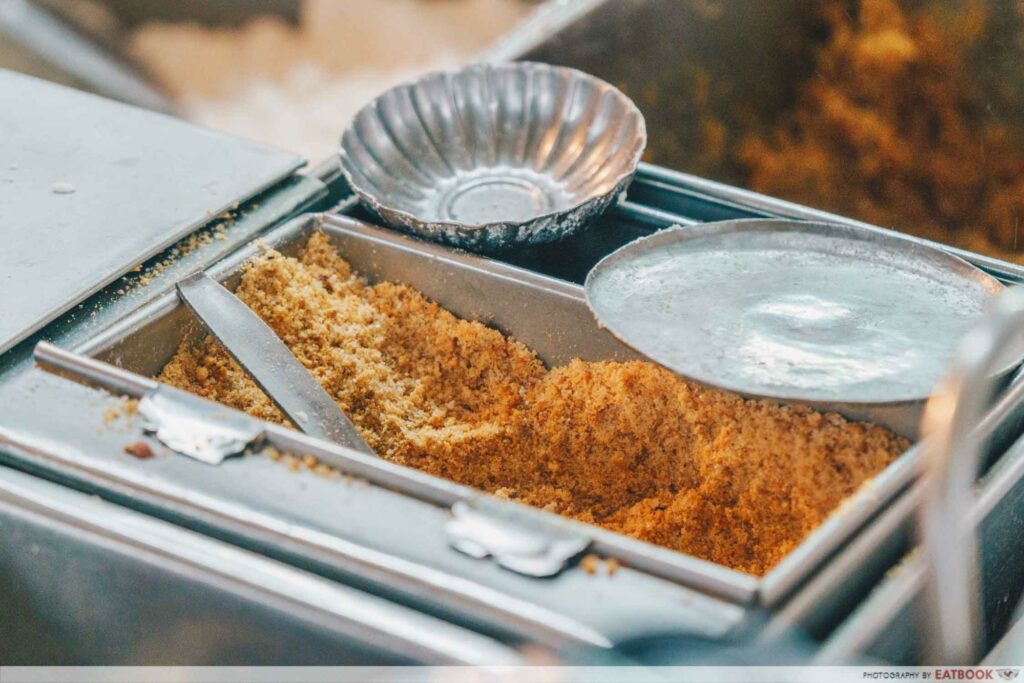 The peanut filling was as drool-worthy. It had a good balance of sugar and peanuts, accompanied by a crunch from the slightly coarser bits.
Each kueh is generously filled, giving a deep nuttiness to every bite.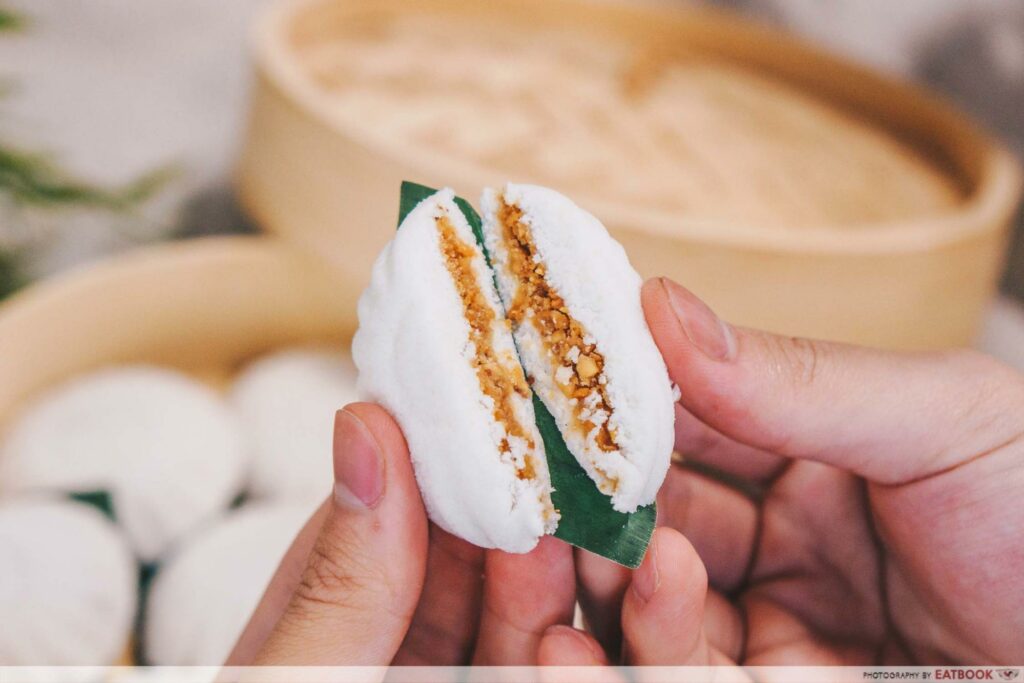 The filling is not too far from the ground peanuts you'd find in muah chee. Except when intricately prepared as a filling for tutu kueh, the peanuts feel less cloying and its ubiquitous nutty fragrance shine.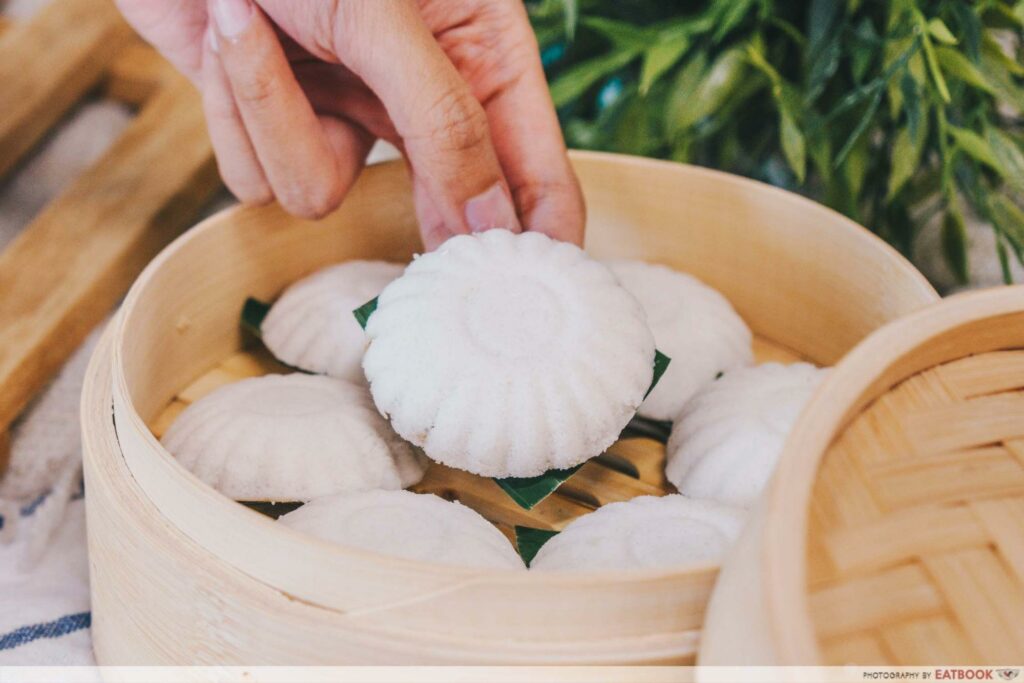 I'm also in love with how flawless each one of them looked. Pale white rice flour shaped like a chrysanthemum, juxtaposed against the dark green pandan squares. Its colours and flavours check all the right boxes. I could eat these for the rest of my life.
I asked him if he was sick of eating his own tutu kueh.
"I'm sick of them!" he exclaims.
"Definitely!" he repeats, now with a cheeky laugh.
"What about your loyal customers, are they tired of them?"
"No they're not," he replied. "They still love my tutu kueh."
I, too, still love his tutu kueh.
The verdict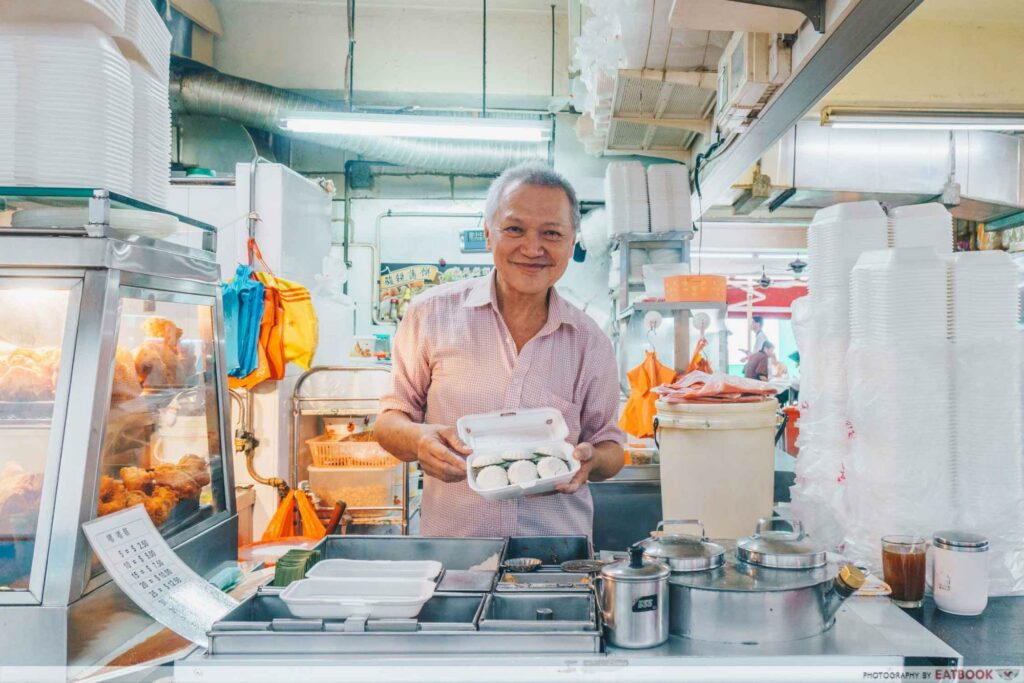 We came back in the evening to watch Mr Ho close his shop. He wipes everything down and rearranges everything for the next day.
Breaking the silence, I ask him what was the best compliment he received today.
"Someone told me that they only buy tutu kueh from me," he grinned.
We then invited him to dinner, which he declined. Apparently, he doesn't have the habit of dinner. He prefers to rest early so that he'll feel energised when he wakes up before six the next day.
I left him with one last question before making a move. "What would you have worked as if you're not selling tutu kueh?"
"No, nothing," he shakes his head. "I'll always be selling tutu kueh."
For more traditional snacks and kueh, check out these 16 bakeries!
16 Traditional Bakeries In Singapore For Old-School Banana Pie, Orh Nee Tarts And More
Address: 26 Bendemeer Road, Stall 7, Chang Cheng Coffee Shop, Bendemeer Mall, Singapore 330026
Opening hours: Mon-Sat 1pm to 7pm
Mr Ho Tutu Kueh is not a halal-certified eatery.
Photos taken by Lim An.
This is an independent review by Eatbook.sg.