Freshly baked goods At BUNDT by The Backyard Bakers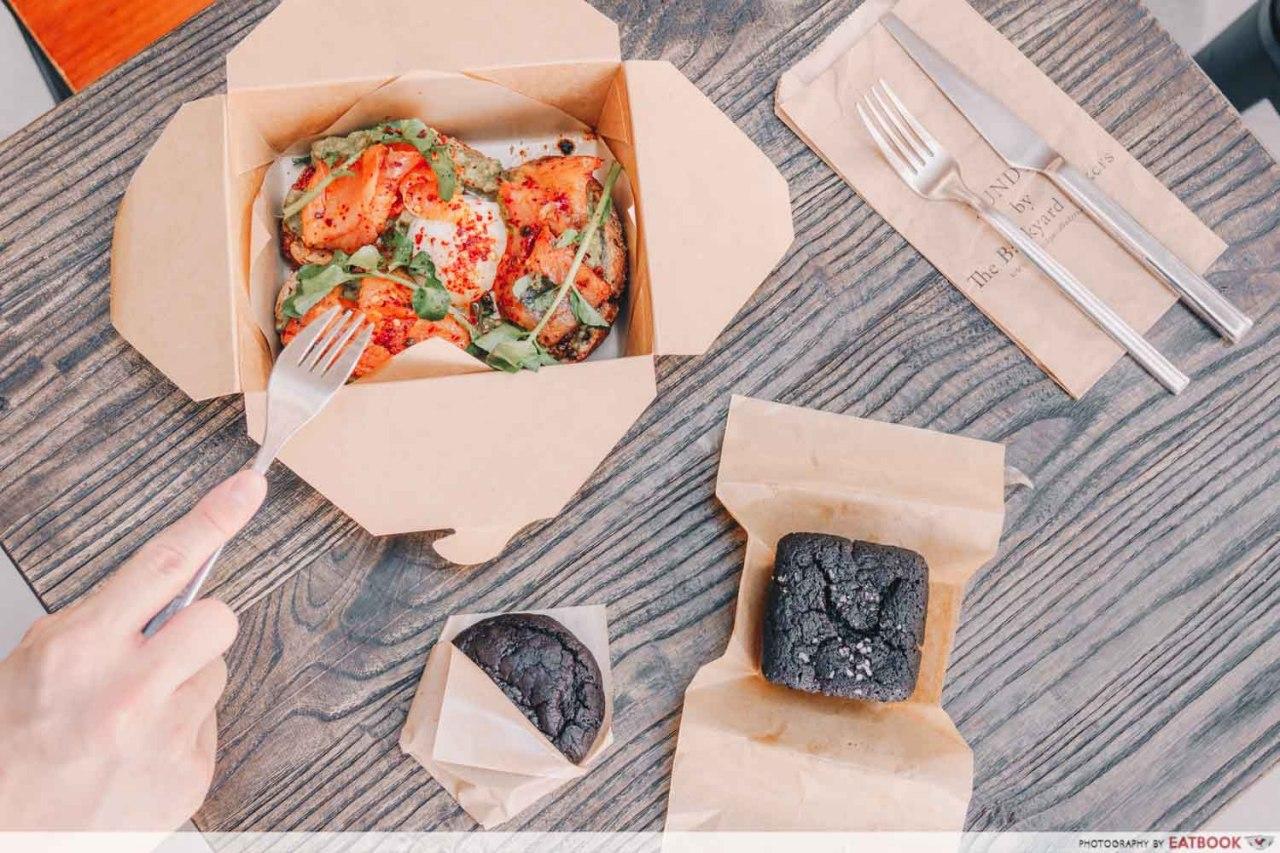 I was visiting the State Courts some time ago when I saw a takeaway kiosk that had a snaking long queue. Selling primarily baked goods, this hole-in-the-wall bakery drew a line of over 10 office workers who were sweating profusely in the afternoon sun. Three weeks later, I tried their food myself and finally knew why the wait was worth it. Stemmed from their love for baking, BUNDT by The Backyard Bakers is the brainchild of two close-knit sisters.
Three years ago, they started selling their bakes in the backyard of their home in Tiong Bahru. The tasty baked goods were met with huge success, and they decided to open a shop to share their delightful bakes and food with more hungry folks. 
Food at BUNDT by The Backyard Bakers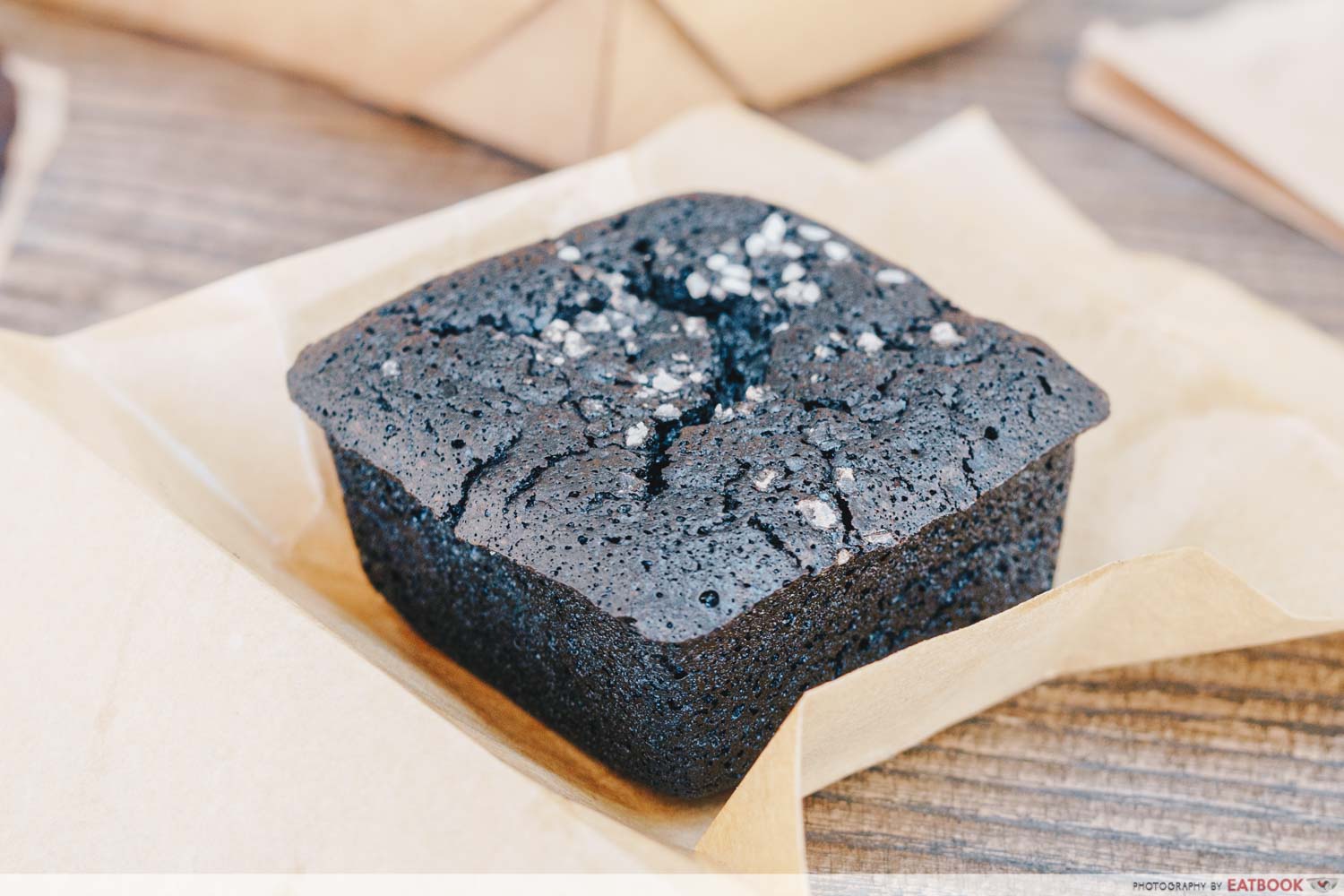 The store does not have a fixed menu, so every visit here opens up a box of surprises. This means you can get avocado toast or quinoa bowls on some days, and even quesadillas on others. But one thing that remains is their baked goods.
The Maldon Smoked Sea Salt Brownie ($4.80) sounded unique, so we opted for that to start. Its simple presentation was a sharp contrast to its complex flavour profile. Unlike the usual fudgey version that's topped with a heaping scoop of ice cream, this brownie's texture resembles a light cake. It was soft yet flaky, and not too moist.
It felt slightly warm to the touch, as if it was fresh out of the oven. Upon sinking my teeth into the brownie, I could make out a familiar chocolatey taste and rich sweetness with a hint of bitterness. The slight saltiness from the sea salt was the icing on the cake, and complemented the cacao really well.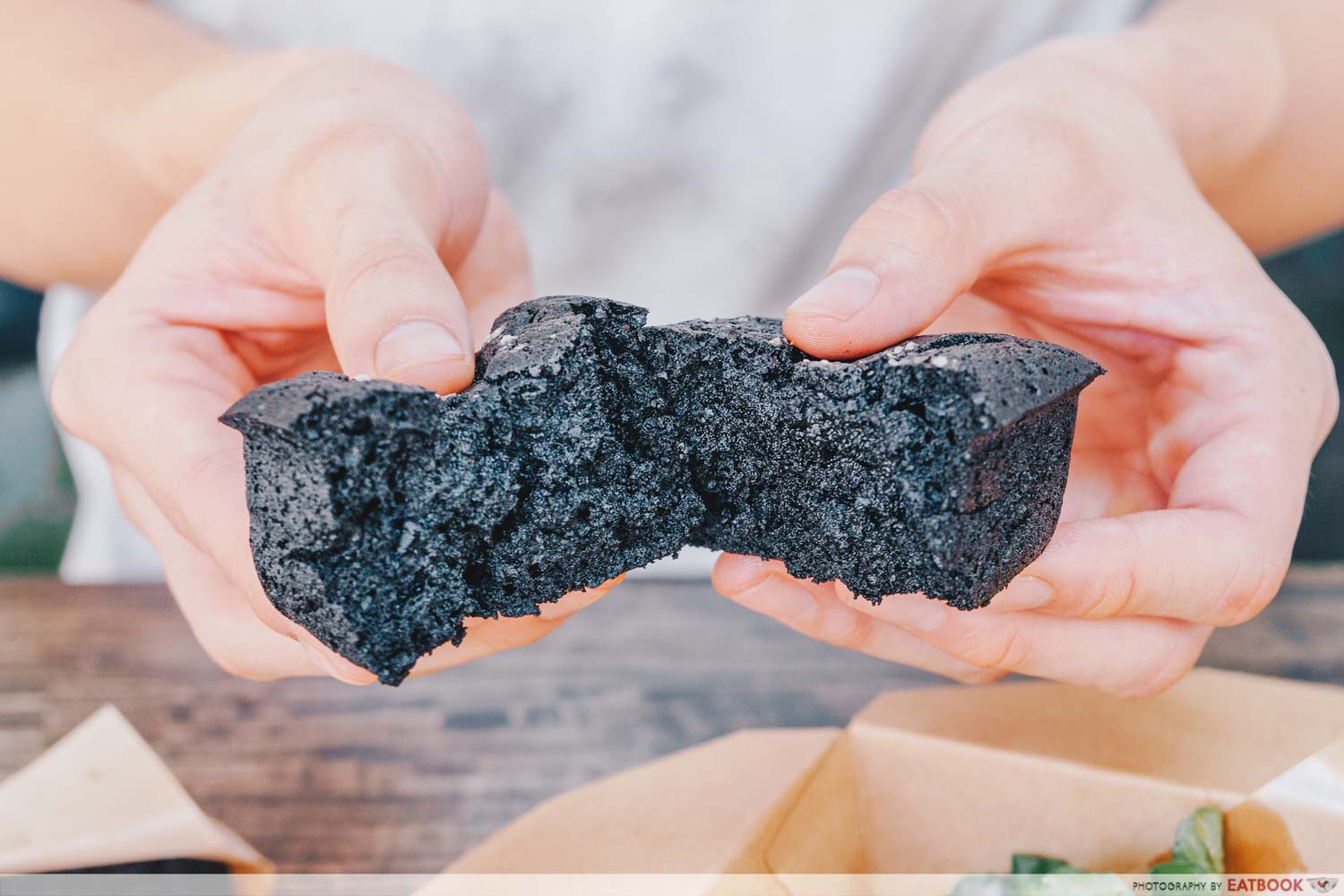 The centre of the brownie was moist and almost creamy, and like butter in a hot pan, it melted in my mouth. Brownies usually overpower my palate due to its immense richness, and I was really glad that this brownie had just the right amount of richness that didn't have me feeling too sick of eating after two mouthfuls.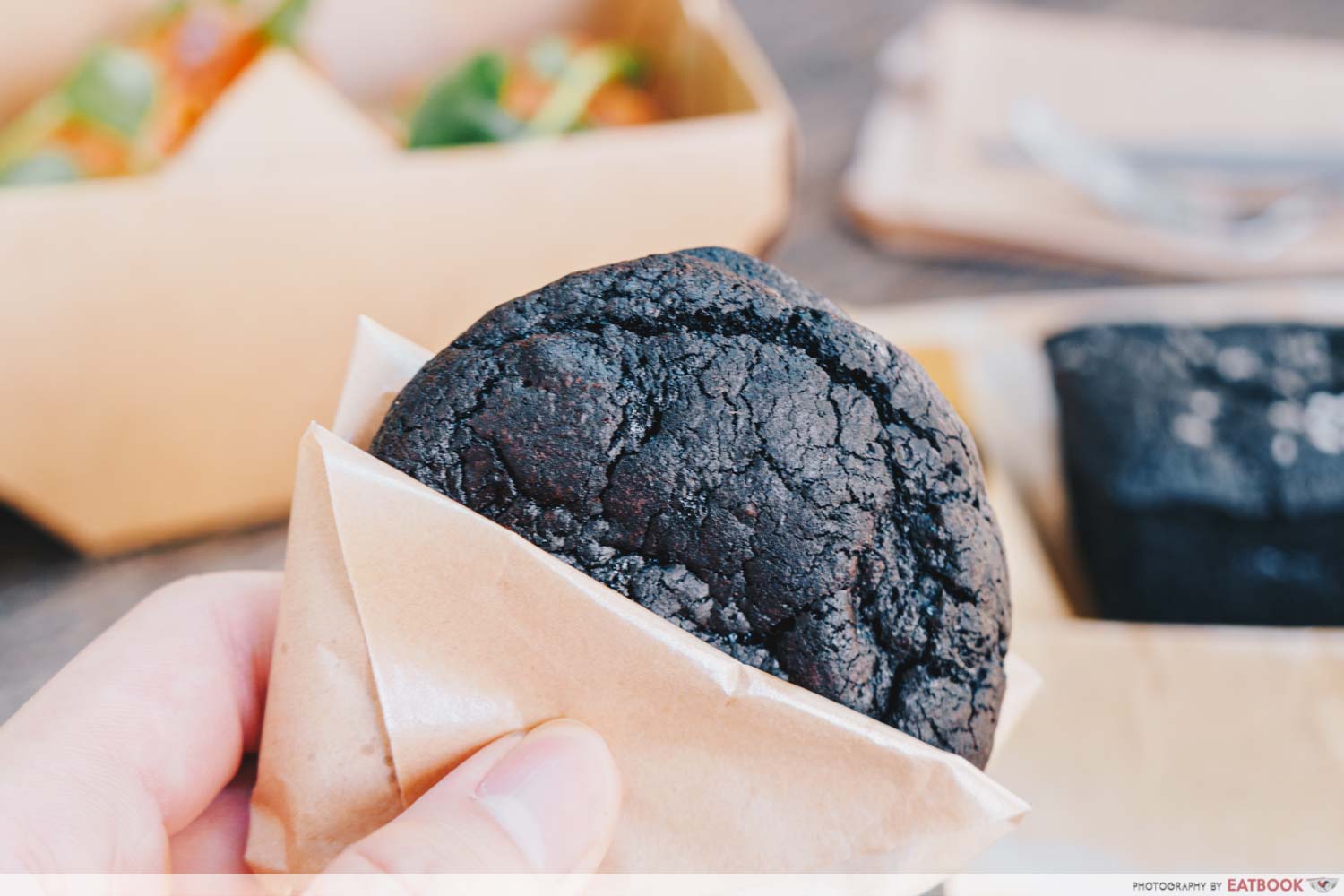 When I first saw the word "Brookie" on the menu, I figured it was a mix between a cookie and a brownie. I was extremely curious. I had to try it for myself, so I decided on their Valrhona Guanaja 70% Dark Choc Brookie ($4.90). The rich dark chocolate was encapsulated by a crumbly yet chewy cookie-like exterior. Biting into it all at once and slowly savouring it was such an enjoyable experience.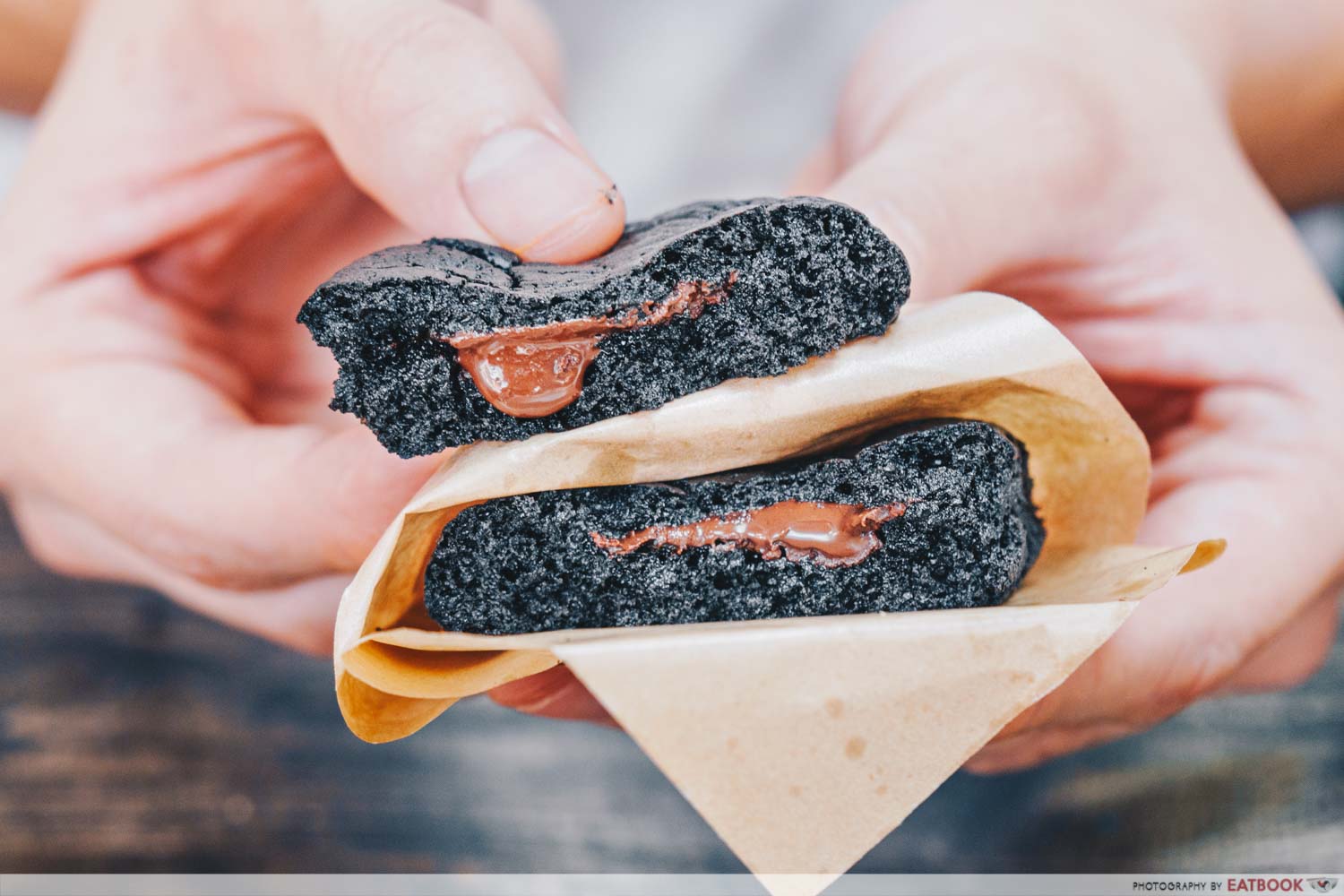 The dark chocolate oozing out of the brookie was smooth and creamy. Despite not being a lover of dark chocolate, I enjoyed the filling here. The overall flavours combined well and I'm a huge fan of this tasty creation. 
Starter Lab Review: Muji-Style Cafe At Tiong Bahru Serving One Of Singapore's Best Sourdough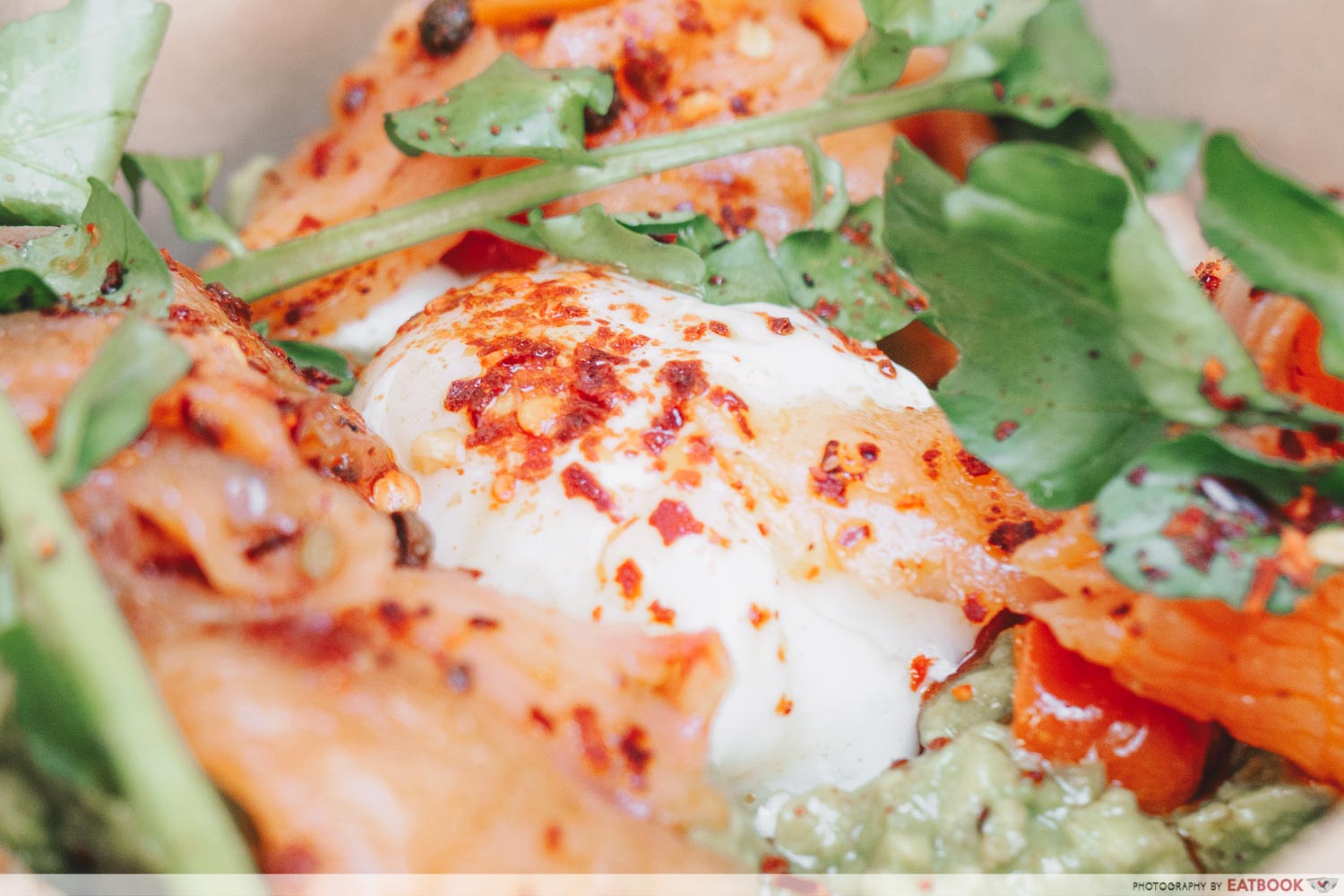 Finally, being fans of ma la and avocado toast, we had to try their Mala Smoked Salmon Avocado Sourdough with Onsen Egg ($16.50). There is a cheaper version that comes with regular toast and without egg at $12.50, but we wanted an upgrade as the sourdough option allows for three times the amount of avocado. 
As expected, each sourdough toast was topped with loads of avocado and smoked salmon. The creamy texture of avocado butters the sourdough superbly, and its earthly sweetness paired well with the saltiness of the smoked salmon. 
I was happy to hear that they make their guac in-house, and all their avocado toasts are prepared only when an order is received, hence their quality and freshness are guaranteed. 
The spicy mala kick gave a breath of fresh air as compared to the classic avocado toast served in countless cafes all around Singapore. Catering to Singaporeans' love for chilli and mala, its spiciness level is in the middle of the typical mala scale.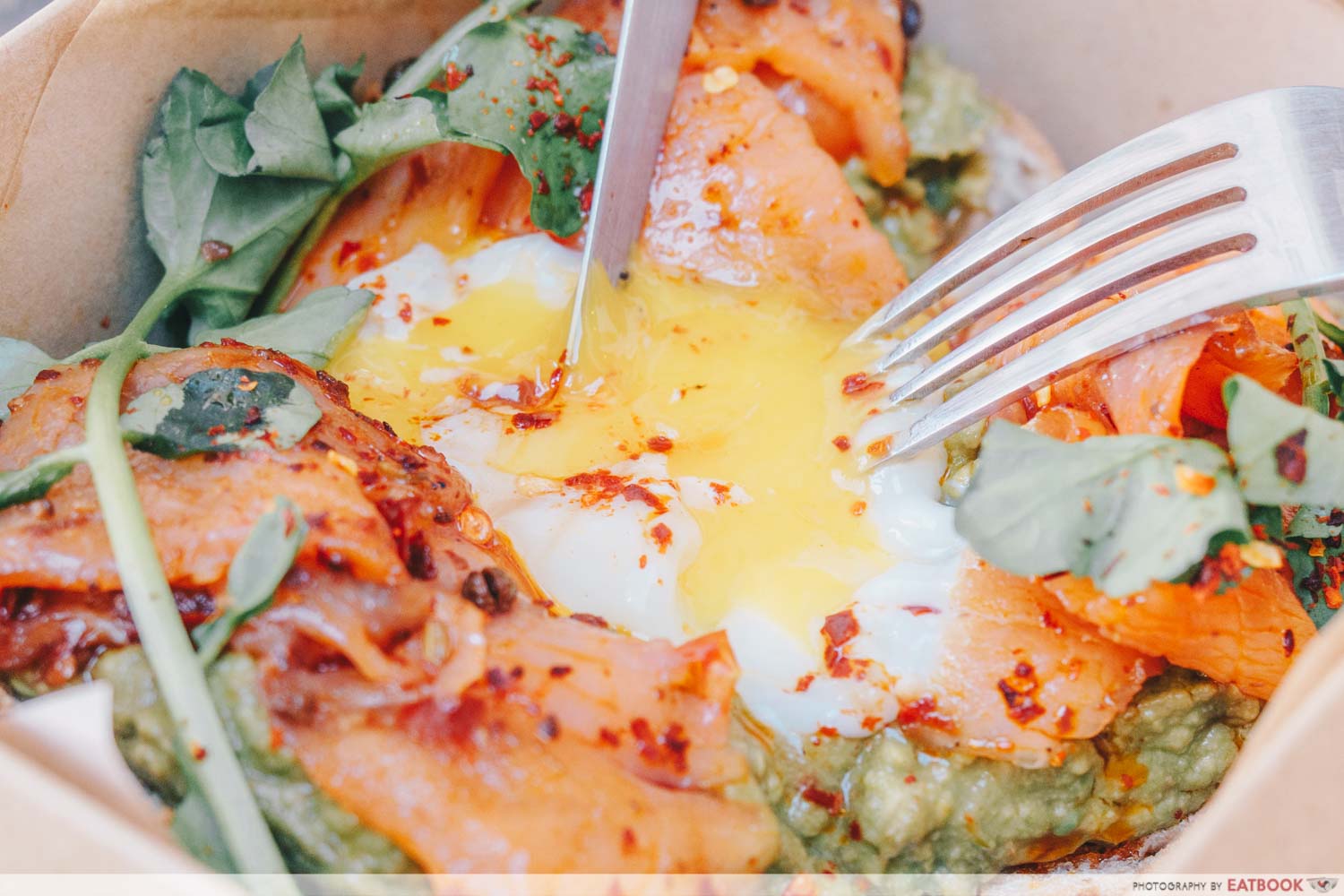 The luscious runny egg yolk and avocado brought down the heat of this dish slightly, making them very welcoming to a spicy food amateur like me.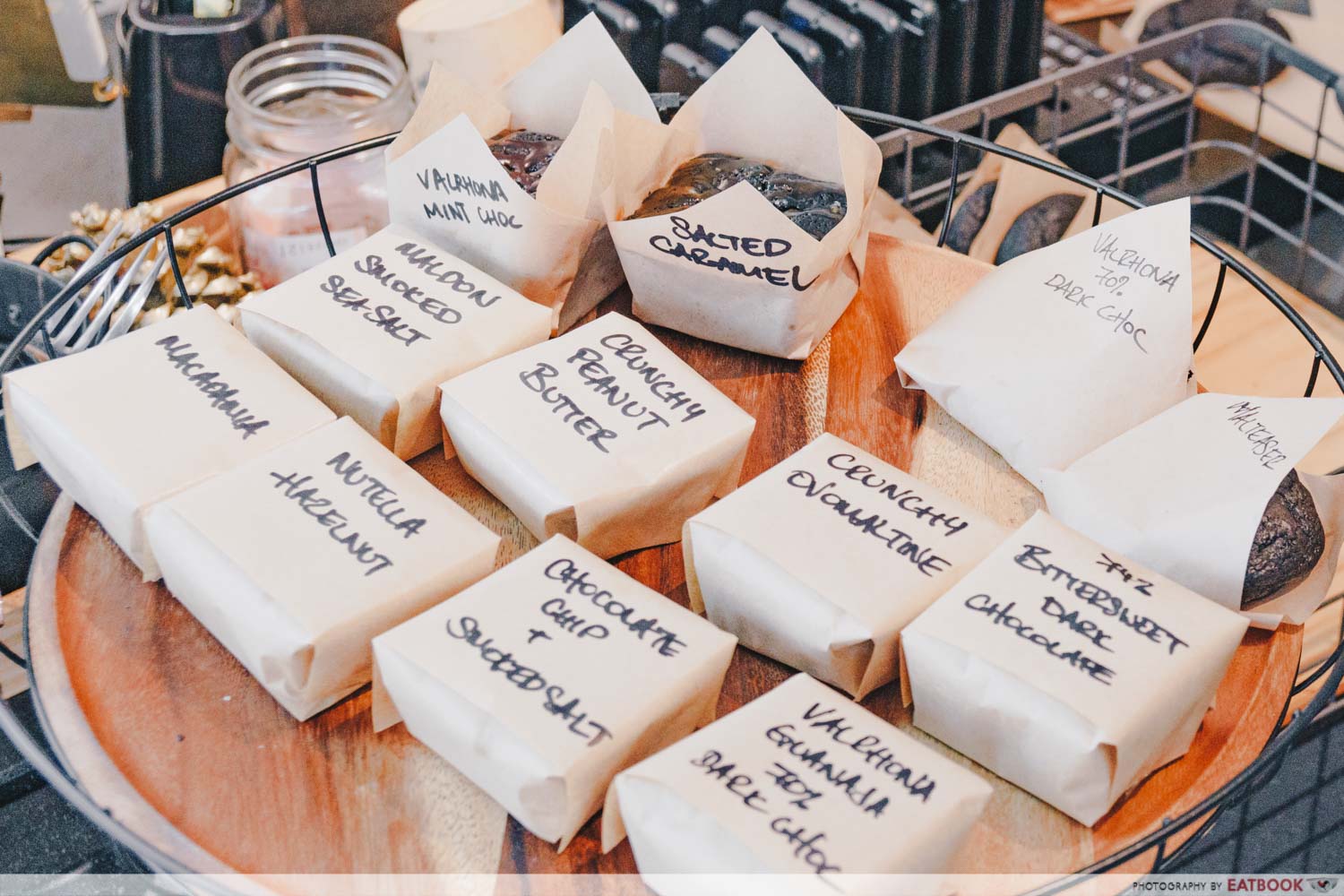 We recommend pre-ordering as their food sells like hotcakes. Since they change their menu daily, they would only release the menu a day in advance on their Instagram page, @thebackyardbakers. They only accept pre-orders through Instagram messages.
Your orders need to be in a specific and succinct format as shown in their Instagram Story highlights, "How To Order", as the sisters are very particular about this. This is because they receive tons of pre-orders every day and they need to be able to comprehend them quickly to satisfy each customer's request.
Ambience at BUNDT by The Backyard Bakers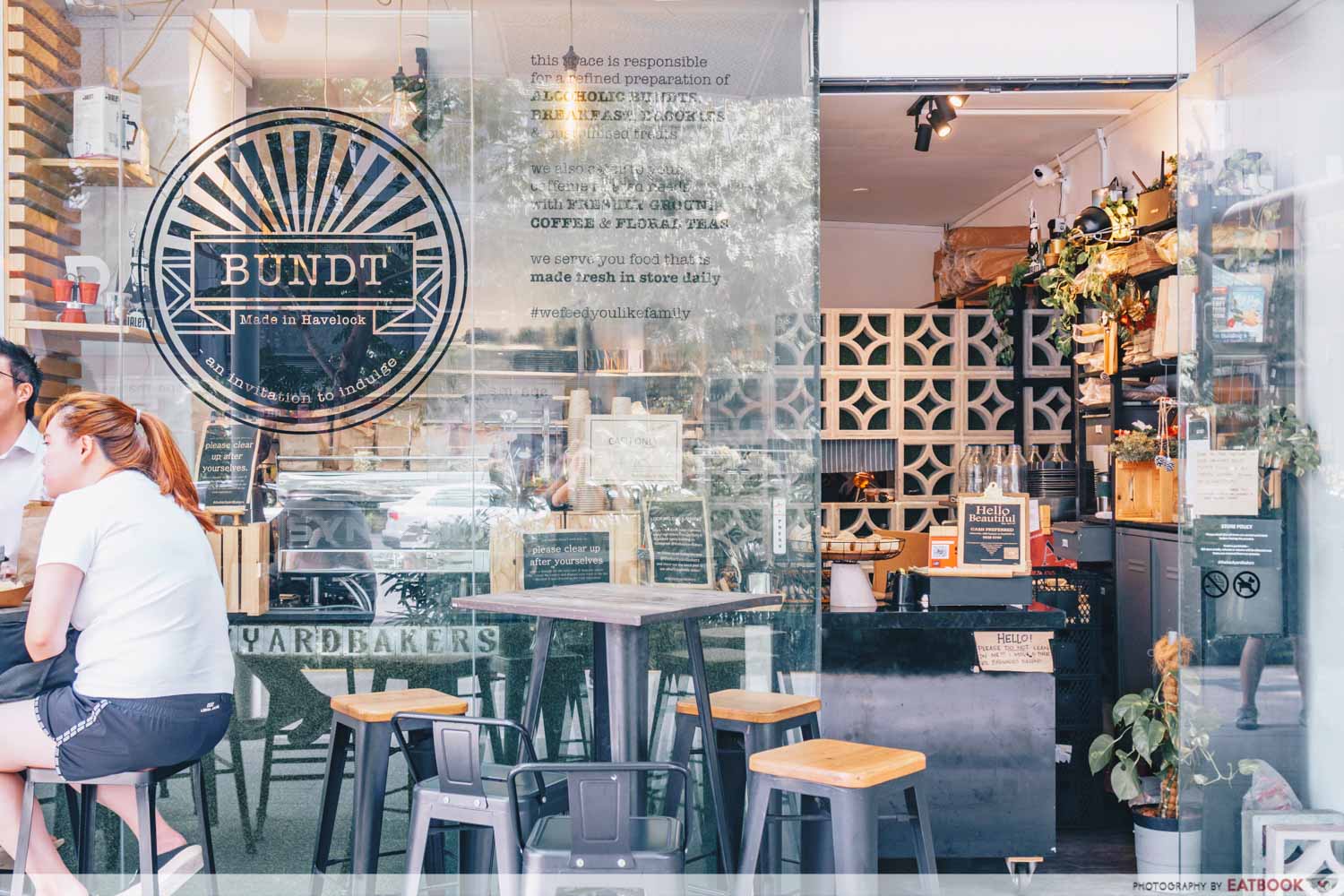 BUNDT by The Backyard Bakers is housed in a cosy space that is occupied by a small cash register and their kitchen. There are limited seats and tables outside, as they only entertain takeaways. Most of their customers come from nearby offices.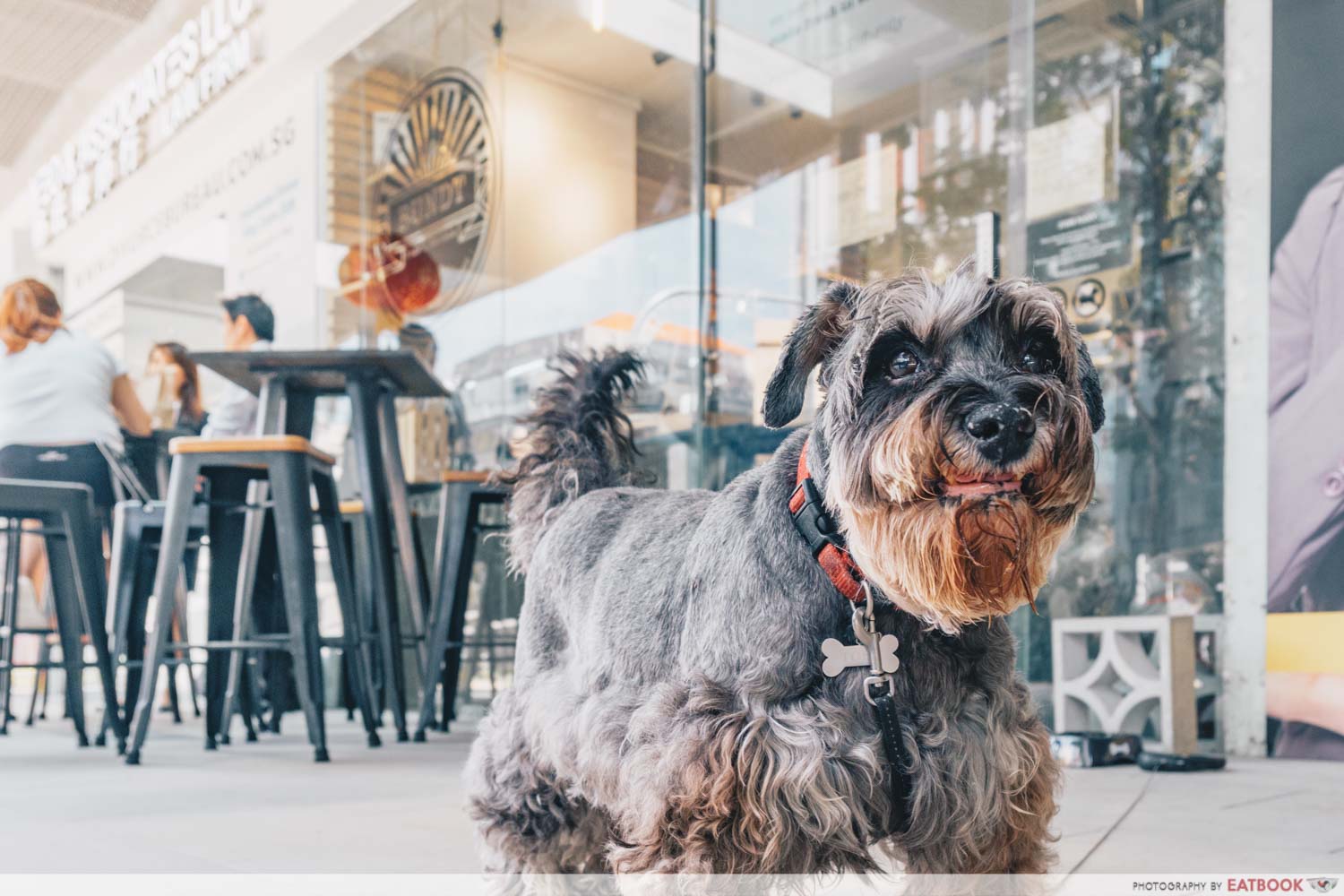 If you are lucky, you might be able to get a glimpse of Toby the schnauzer hanging out near the store. Toby is the sisters' beloved dog, and he is also the store's adorable mascot.
The verdict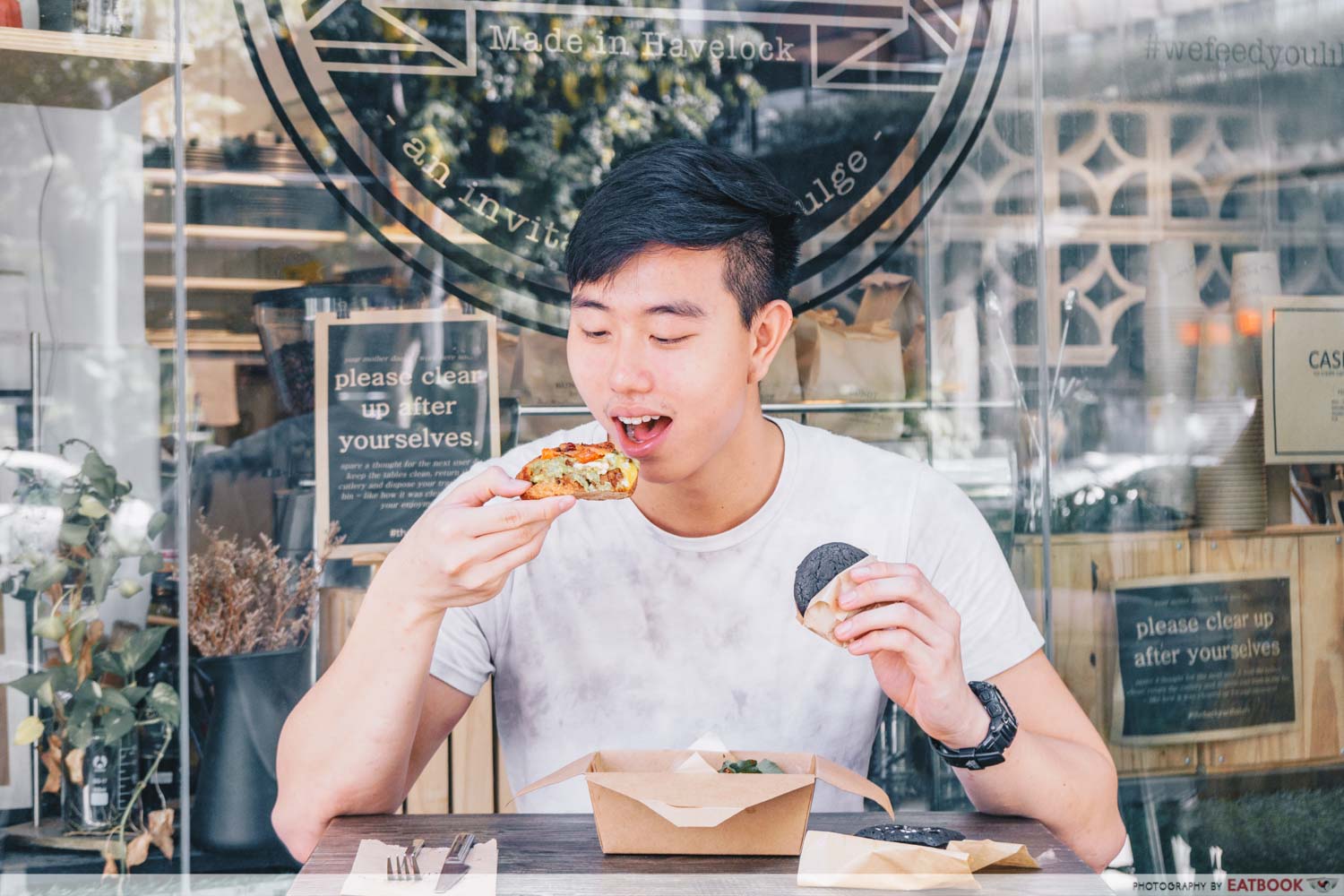 Waking up at four in the morning to prepare the ingredients is a testament to the sisters' dedication towards delivering delectable food at wallet-friendly prices. Remember to clear up after yourself if you decide to dine in. The sisters are tough as nails and they ain't afraid to give you a earful for not being a considerate customer. BUNDT by The Backyard Bakers offers good food and affordable prices in the CBD, and I couldn't have asked for more. 
For more wallet-friendly food in the CBD, check out these must-tries at Tanjong Pagar Plaza.
10 Tanjong Pagar Plaza Food Stalls For Halal Ramen And Thai Food
Address: 2 Havelock Road, #01-22, Havelock II, Singapore 059763
Opening hours: Mon-Fri 7:30am to 4:30pm, Sat-Sun 10am to 3pm
Website
BUNDT by The Backyard Bakers is not a halal-certified eatery.
Photos taken by Clarisse Gan.
This is an independent review by Eatbook.sg.
BUNDT By The Backyard Bakers Review: Sea Salt Brownies, Molten Lava Brownie Cookies And More At Clarke Quay
Summary
Pros
– Tasty brownies
– Unique "brookies"
– Affordable prices
– Generous portions
Cons
– Limited payment options, only accepts cash, DBS PayLah! or PayNow
– Only a few tables and seats are available
Recommended dishes: Maldon Smoked Sea Salt Brownie ($4.80), Valrhona Guanaja 70% Dark Choc Brookie ($4.90), Mala Smoked Salmon Avocado Sourdough with Onsen Egg ($16.50)
Opening hours: Mon-Fri 7:30am to 4:30pm, Sat-Sun 10am to 3pm
Address: 2 Havelock Road, #01-22, Singapore 059763