Ice On You has affordable Thai desserts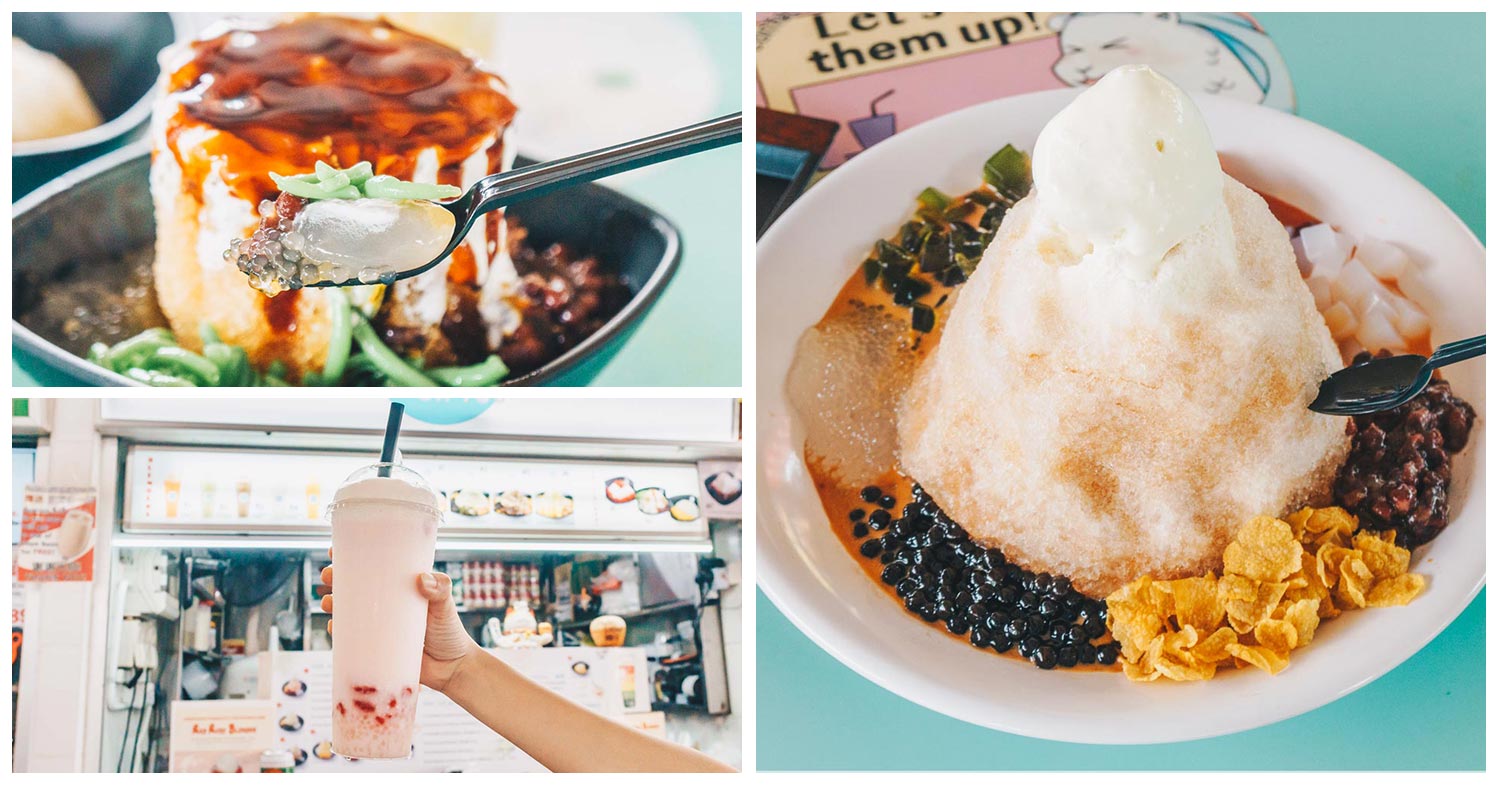 We've all found ourselves in Bangkok at some point, scouring for trendy, affordable buys as well as delectable Thai eats. For Wee Seng and Jacqueline, the bubbly owners of Ice On You, their getaway to the bustling city was for a completely different reason ─ to learn and bring Thai desserts to our shores. 
10 Affordable Thai Food Places With Mains Below $10 For Your Next Squad Outing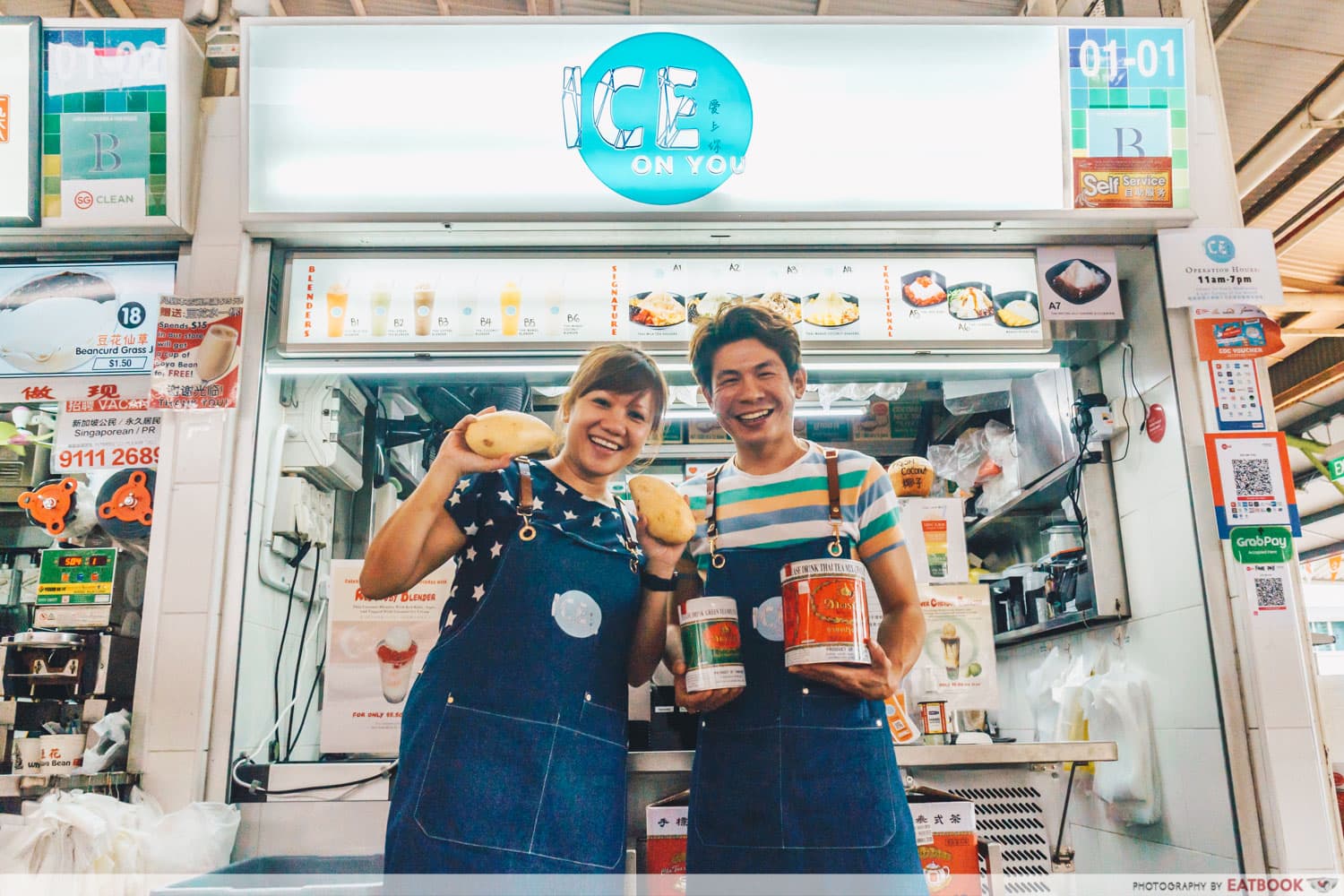 Bringing both their jovial personalities and Bangkok-inspired desserts into Ghim Moh Road Market and Food Centre, this chirpy couple has been running Ice On You for only six months, enticing passers-by with their Thai-inspired shaved ice desserts and ice-blended drinks.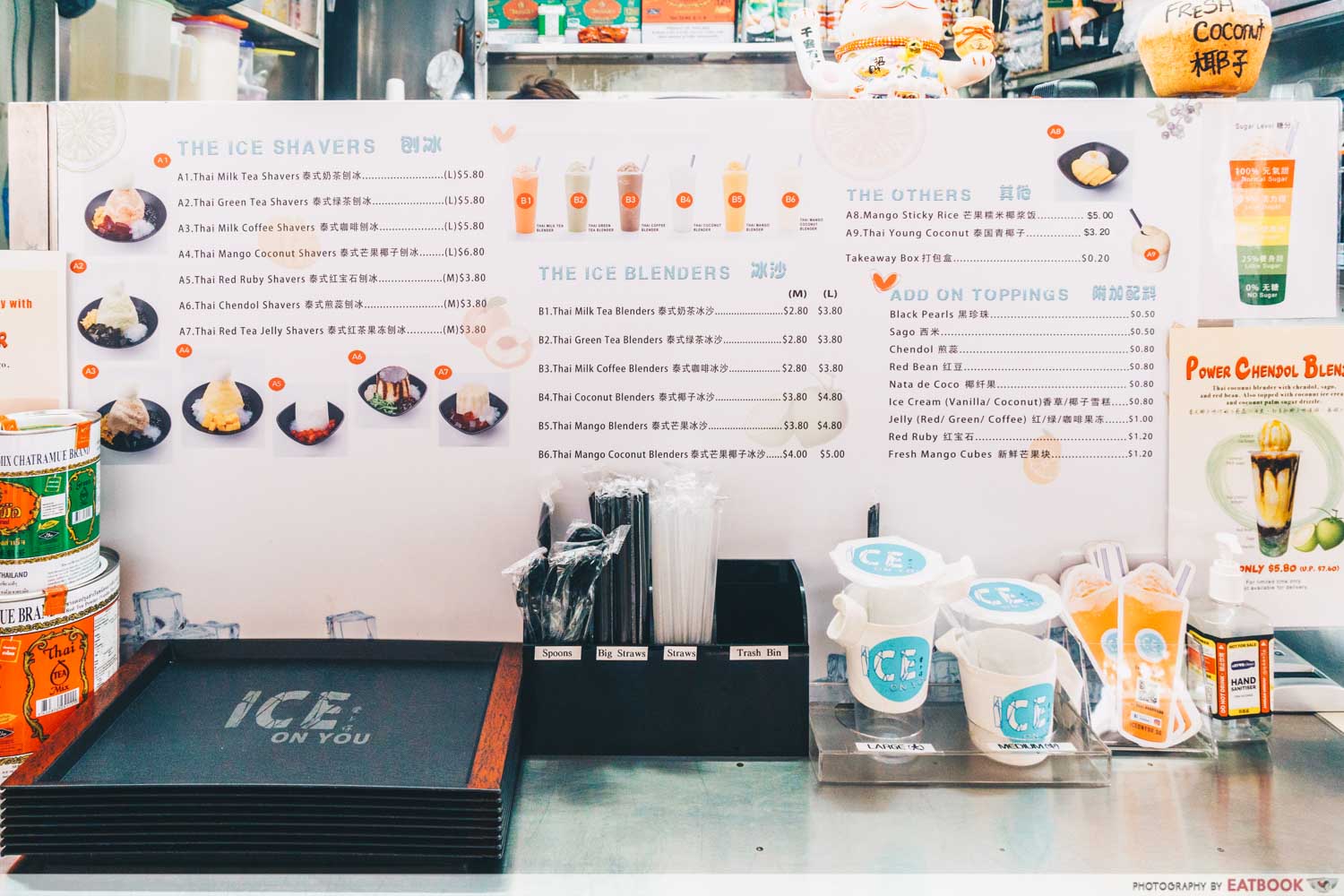 Apart from a specially curated menu that suits the local palate, they expound the use of Thai ingredients to replicate authentic Thai dessert flavours in their offerings. You can also opt for your preferred sugar level in their ice-blended beverages. 
Food at Ice On You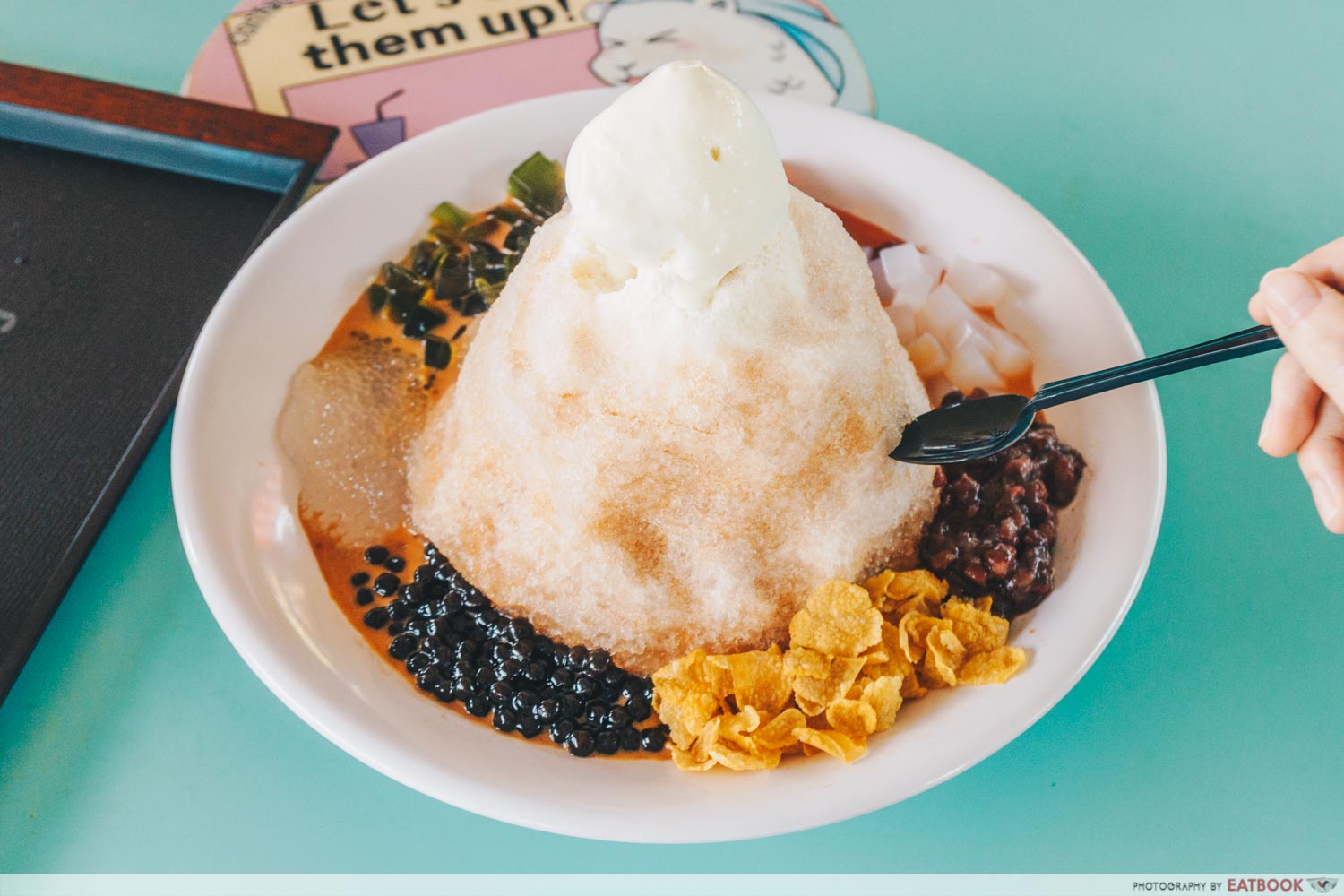 The Giant Thai Milk Tea Shavers ($13.80) is an oversized version of their Thai milk tea shaved ice dessert. It's more than enough to feed four sweet-toothed addicts. It seems like Oriental Ice Bistro has competition in the arena of XXL desserts now. 
Oriental Ice Bistro Review: XXL Bingsu And Red Velvet Cheese Toast At This Halal Cafe
This off-menu item had a whopping pyramid of shaved ice, drenched with Thai milk tea and topped with a scoop of creamy vanilla ice cream. It was also accompanied by a variety of elements including black pearls, sago, jelly and cornflakes. The accompaniments came in assorted textures, making for a crunchy and chewy combo. 
I could instantly tell that the Thai milk tea was well-brewed, with its floral fragrance and balanced milky sweetness, though it got a little diluted near the end once most of the ice had melted. If you loved ChaTraMue's Thai milk tea, you'll be glad to know that Ice On You uses tea leaves from this brand.  
Disclaimer ─ this isn't the kind of dessert to chitchat over. With Singapore's scorching weather, we had to devour it in a race against the elements, as we didn't want to risk the melted ice overflowing the bowl.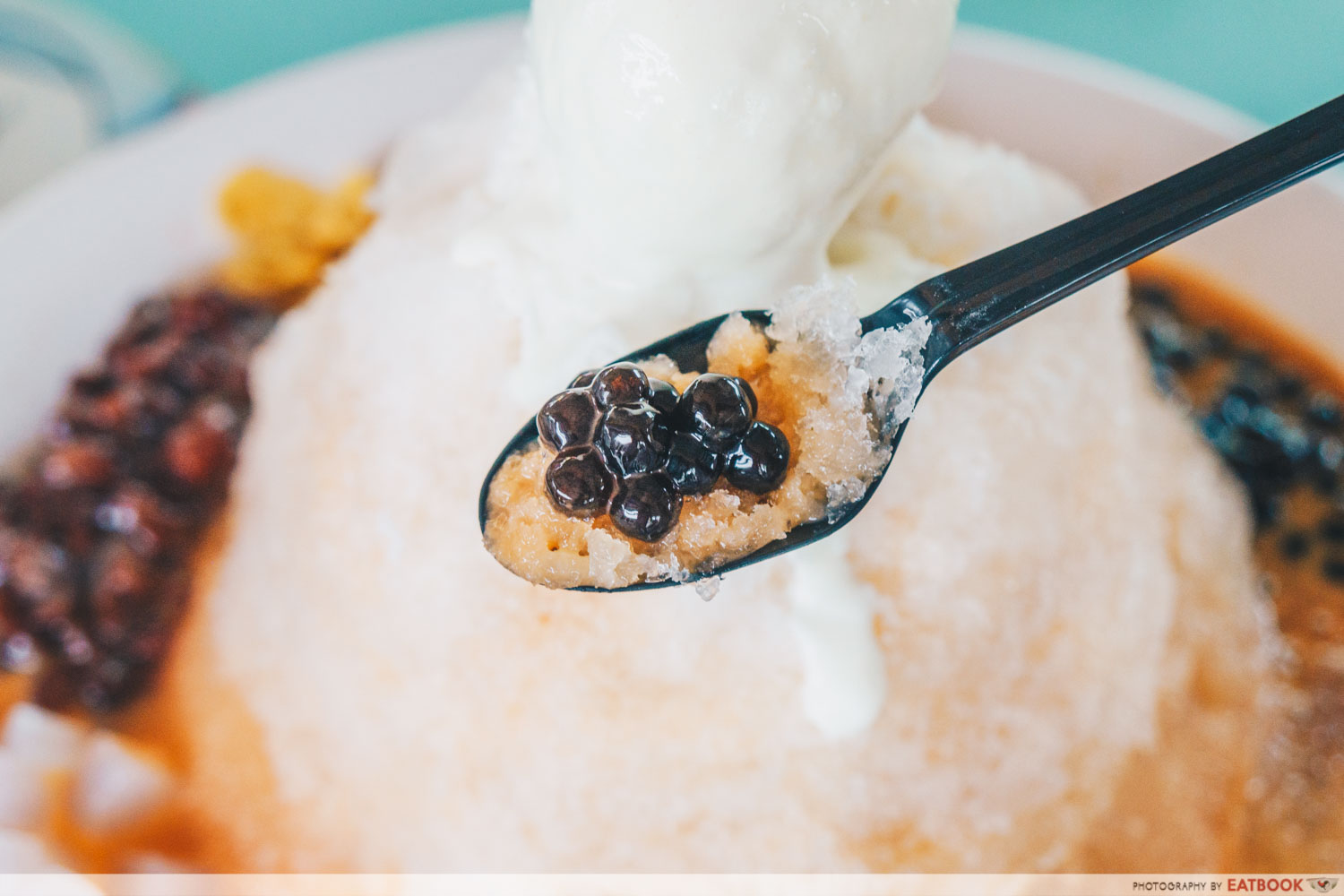 The addition of pearls to the Giant Thai Milk Tea Shavers is Ice On You's way of hopping on the boba bandwagon. Although it isn't like the regular boba you get with your favourite bubble tea as it wasn't as plump and sweet, the chewy texture was still pleasant and went well with the milk tea.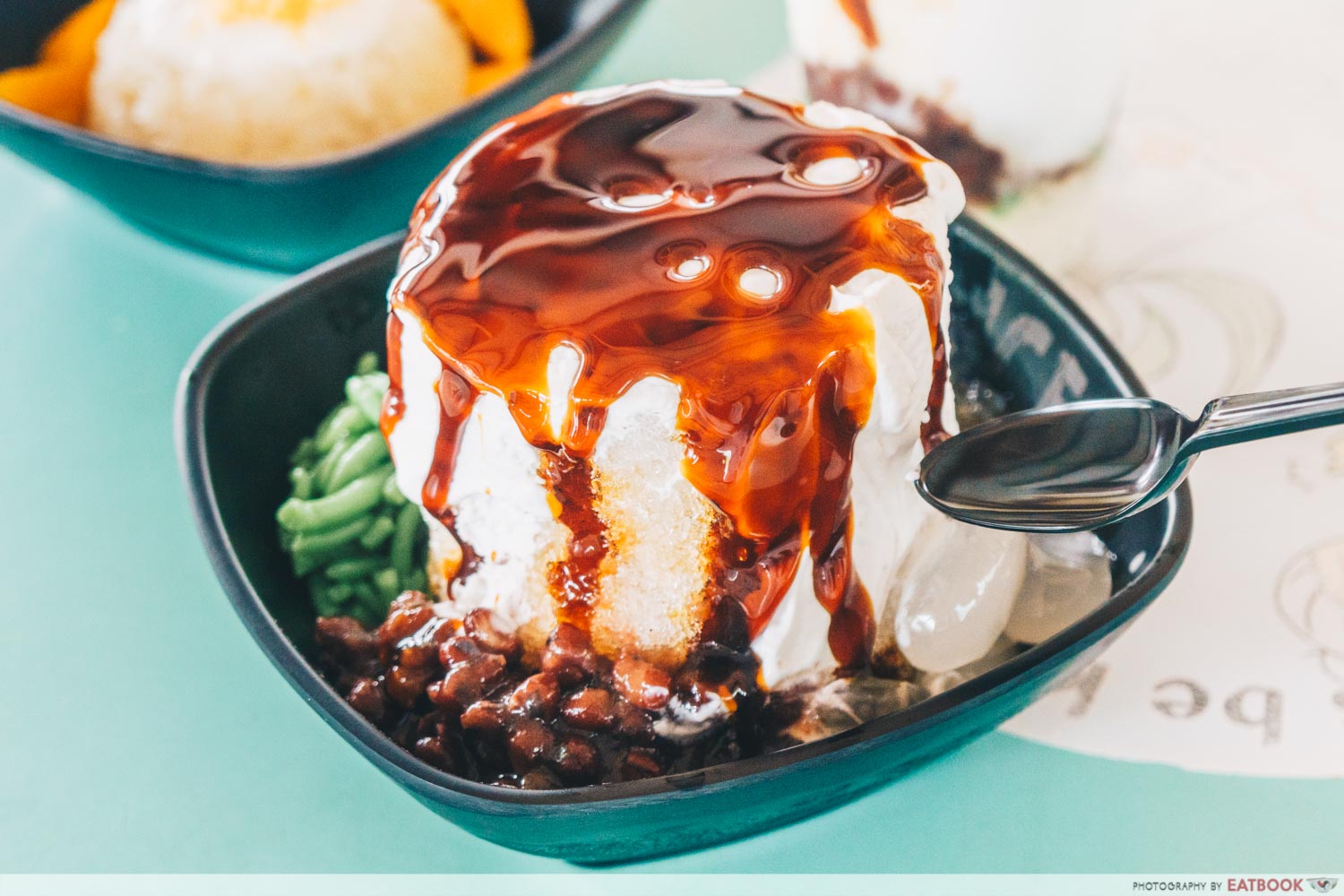 Next, we indulged in their Thai Chendol Shavers ($3.80). Glazed with a gula melaka and coconut milk topping, it came with red beans, atap seeds, sago and strands of pandan jelly.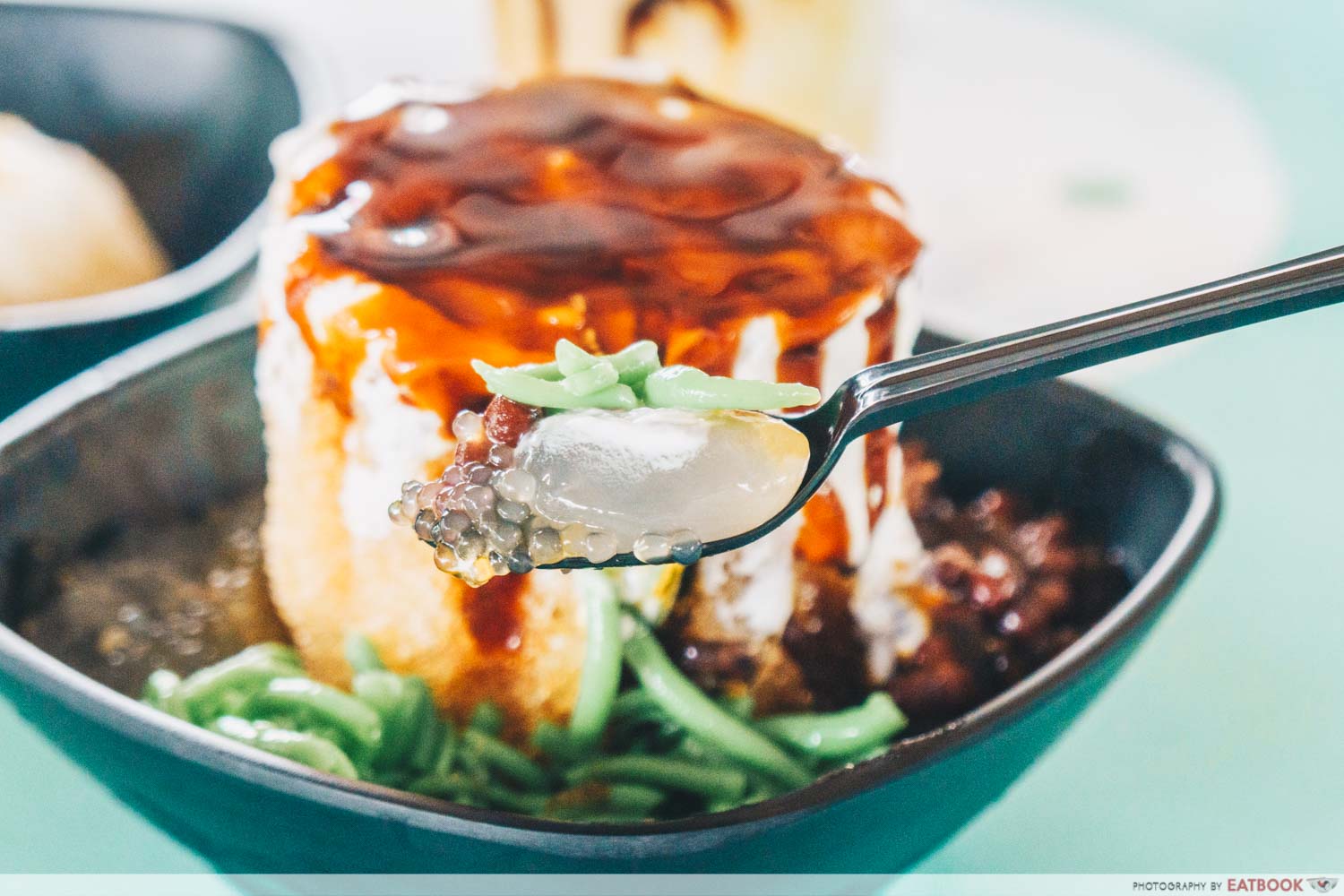 As with all chendol desserts, the potent caramel of good gula melaka is key. The sticky and concentrated gula melaka syrup was a decadent finish to this dessert.
The noodle-like strands of pandan jelly, which is personally my favourite part of all chendols, were a bit starchy. I would've preferred them to be springier. The Thai Chendol Shavers was a little too sweet for my palate, but if you are one who embraces bold and sweet flavours, you'll definitely enjoy Ice On You's rendition of Thai chendol.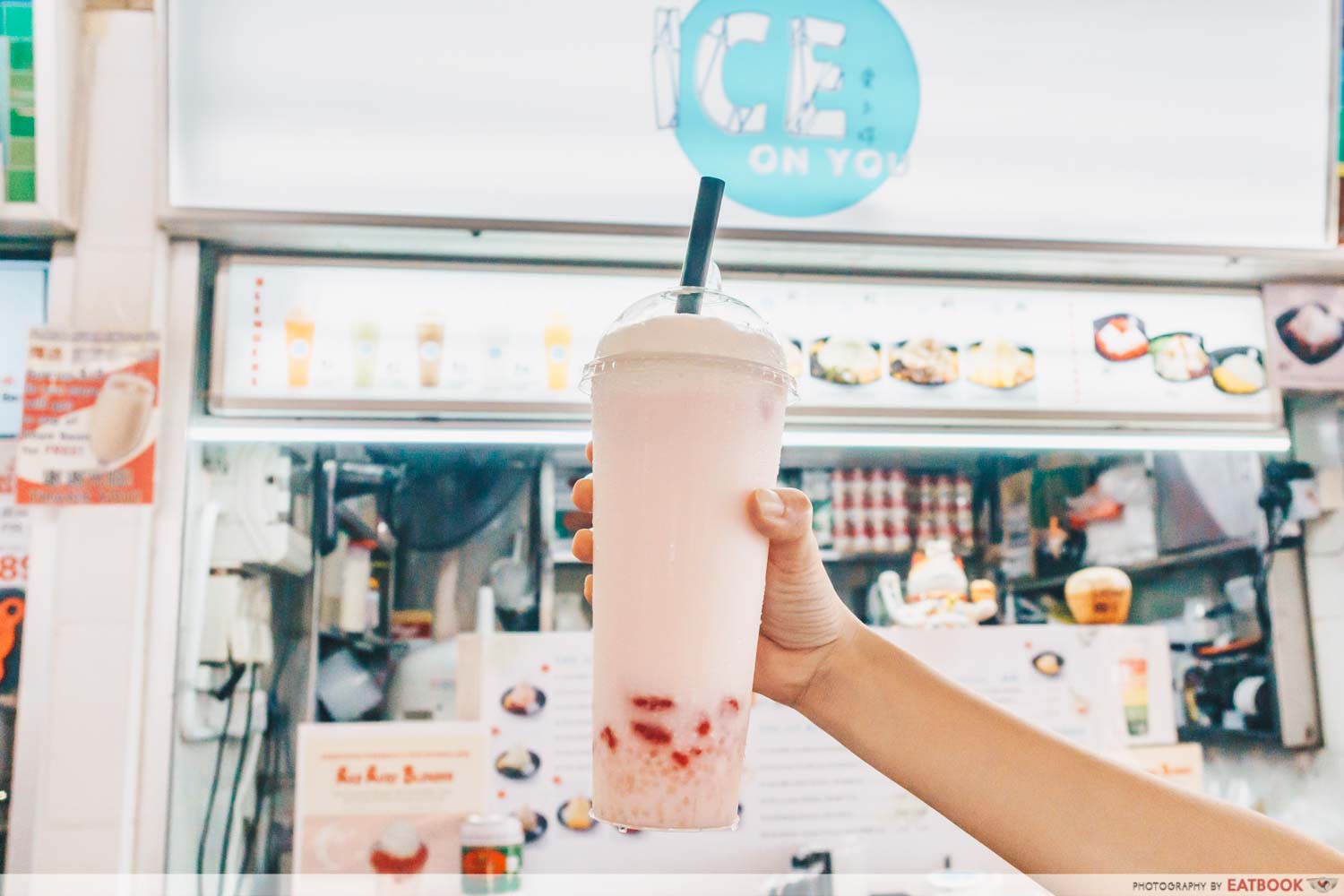 And here's to end with the best of the lot. The Red Ruby Blender ($5.50) was a harmonious medley of fresh coconut water, coconut ice cream and coconut meat, coupled with red ruby and sago. Nothing beats a refreshing ice-blended drink on a hot day. 
This thirst-quenching beverage had got me hooked with its sweet, nutty flavour and clean aftertaste. The familiar, robust coconut fragrance took me right back to the streets of Chatuchak market.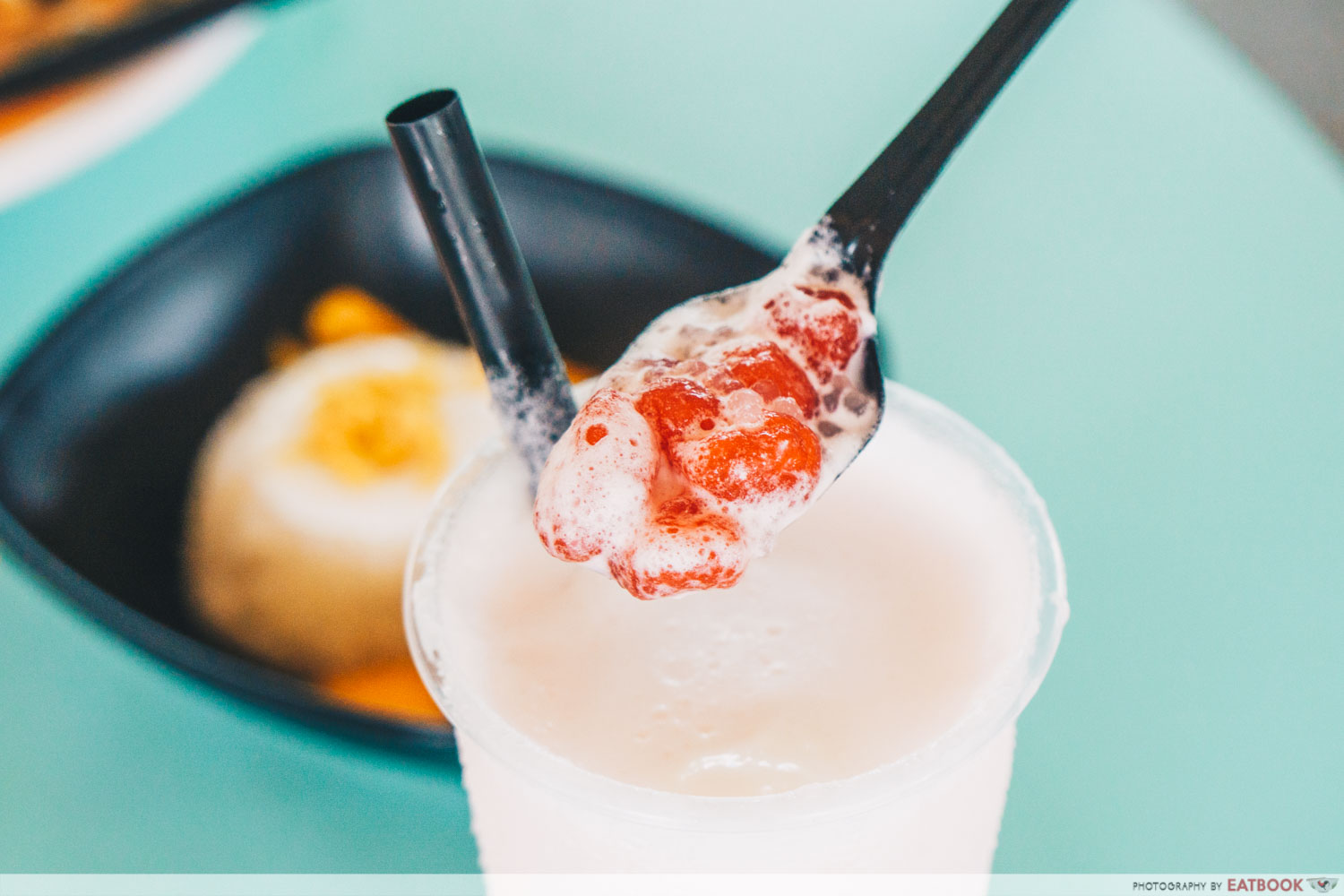 Apart from giving the drink a pastel pink hue, the red ruby provided an element of crunch, making it even more satisfying. 
The Red Ruby Blender was initially concocted as a limited edition mix to commemorate National Day. Even though we're way past our nation's birthday, you can still enjoy this refreshing drink by ordering their Thai Coconut Blenders ($3.80) and topping it up with Red Ruby ($1.20), Sago ($0.50) or even an extra scoop of Coconut Ice Cream ($0.80) for a creamier delight.   
Ambience at Ice On You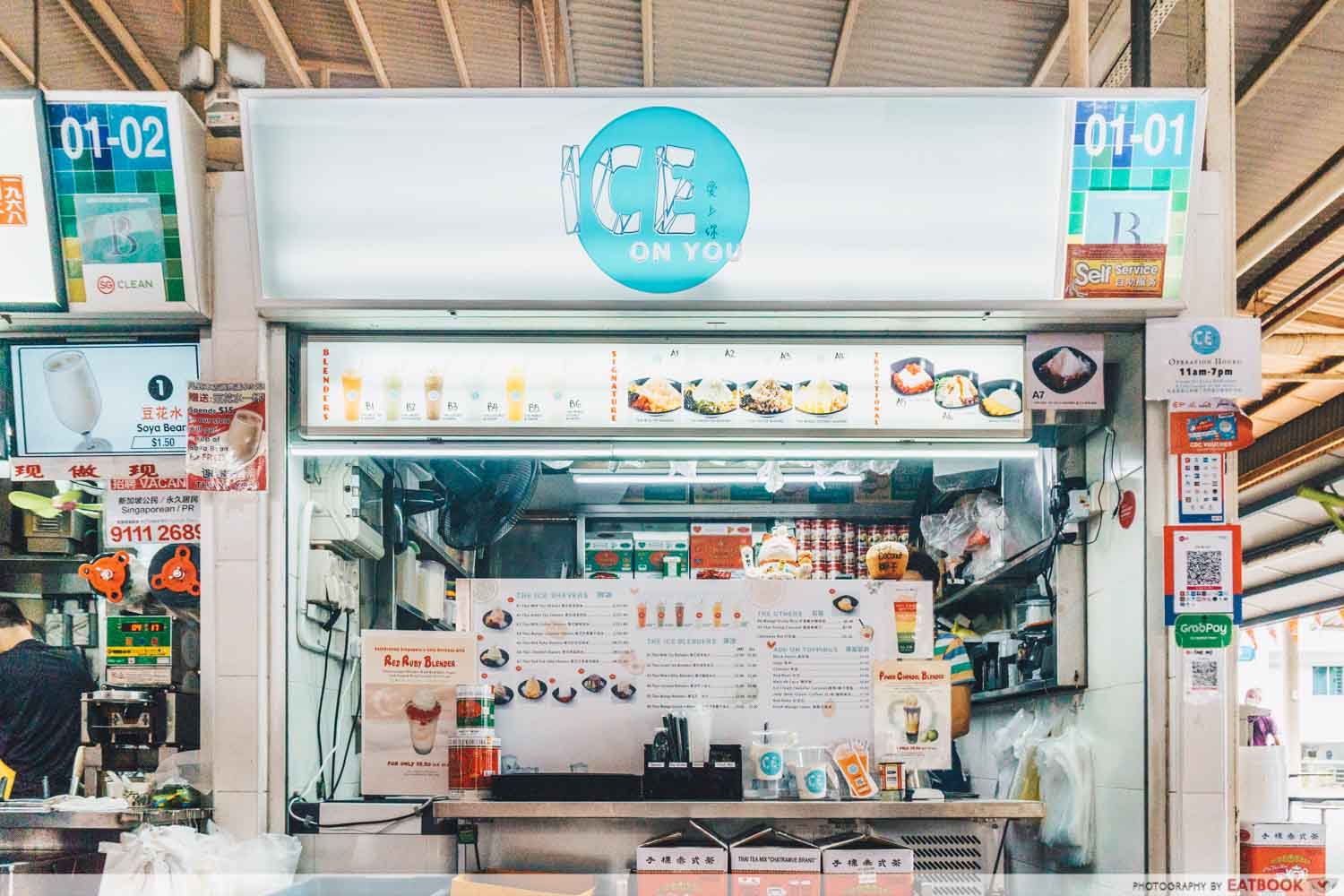 It'll take you approximately 15 minutes to get to Ghim Moh Market and Food Centre from Buona Vista MRT or Holland Village MRT. This place was bustling with life, even during non-peak hours, which isn't surprising, considering there are a couple of reputable stalls here.   
10 Ghim Moh Food Centre Stalls To Check Out After Your Ghim Moh Marketing
The close proximity of Ghim Moh Market and Food Centre to the neighbouring office buildings makes it a popular choice with the office crowd. We expect that Ice On You to be packed, especially towards the end of the lunch hour, and on hot days.
The verdict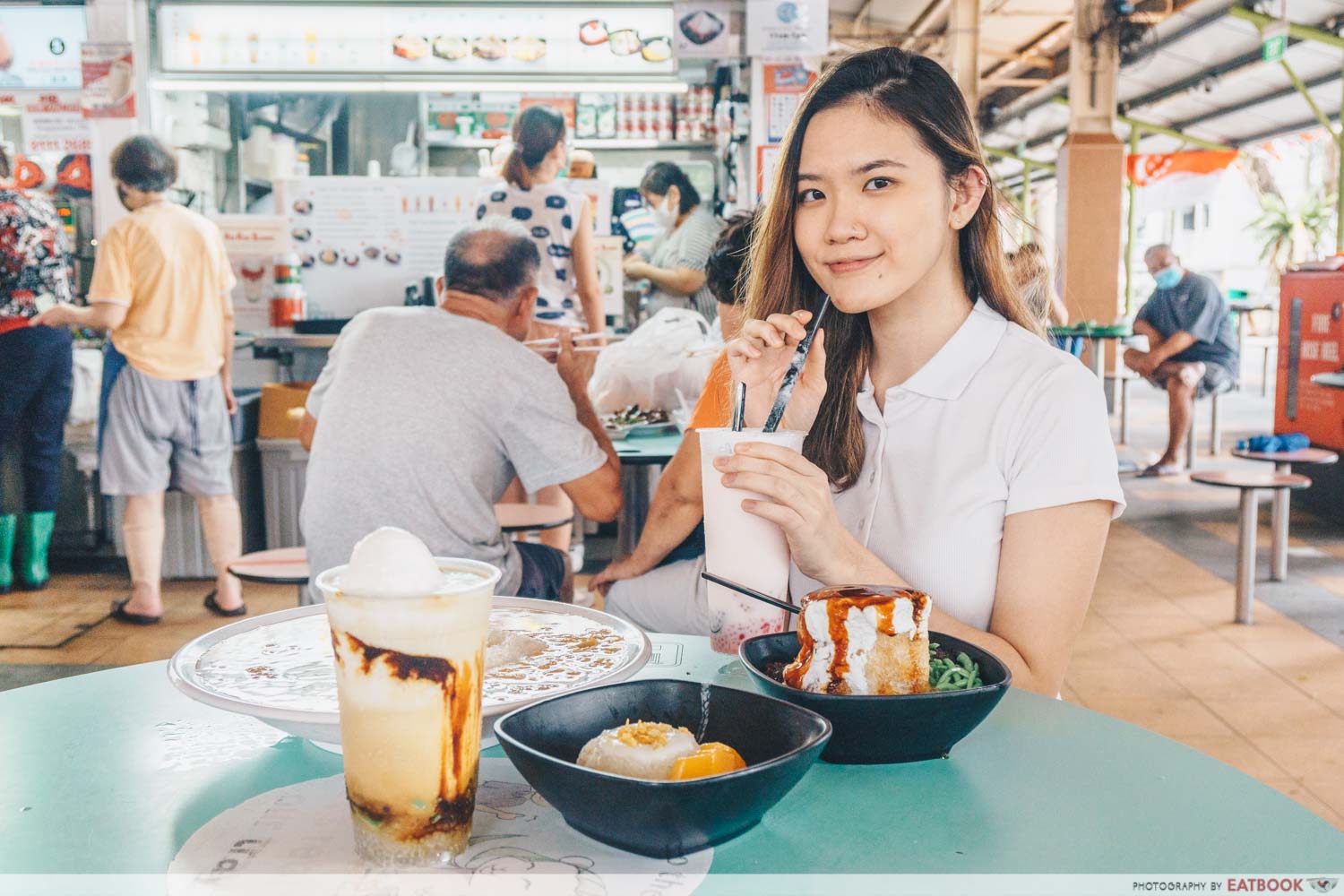 Ice On You definitely brings something different to the table. They also have interesting creations every now and then so there is a variety on the menu. Even though their desserts are hit-or-miss, their beverages such as the coconut drink and Thai milk tea were on point.
Bangkok Jam Now Has Mango Sticky Rice And Thai Milk Tea Souffle Pancakes
For more Thai-inspired desserts, check out the Thai milk tea souffle pancakes that are a recent menu addition at Bangkok Jam. Alternatively, read about our review on Oh My Mango, a Thai dessert cafe selling fusion creations such as tom yum toast and coconut gula melaka bingsu. 
Oh My Mango Review: Thai Dessert Cafe in Jurong With Coconut Bingsu And Tom Yum Toast
Address: 20 Ghim Moh Road, #01-01, Ghim Moh Market and Food Centre, Singapore 270020
Opening hours: Thu-Tue 11am to 7pm
Website
Photos taken by Muhammad Hafiq.
This is an independent review by Eatbook.sg.
Summary
Pros
– Refreshing ice-blended drinks
– Interesting variety
Cons
– Chendol can be too sweet
– Giant Thai milk tea dessert can get messy
Recommended Dishes: Thai Milk Tea Shavers ($5.80), Thai Coconut Blenders ($3.80)
Opening hours: Thu-Tue 11am to 7pm 
Address: 20 Ghim Moh Road, #01-01, Ghim Moh Market and Food Centre, Singapore 270020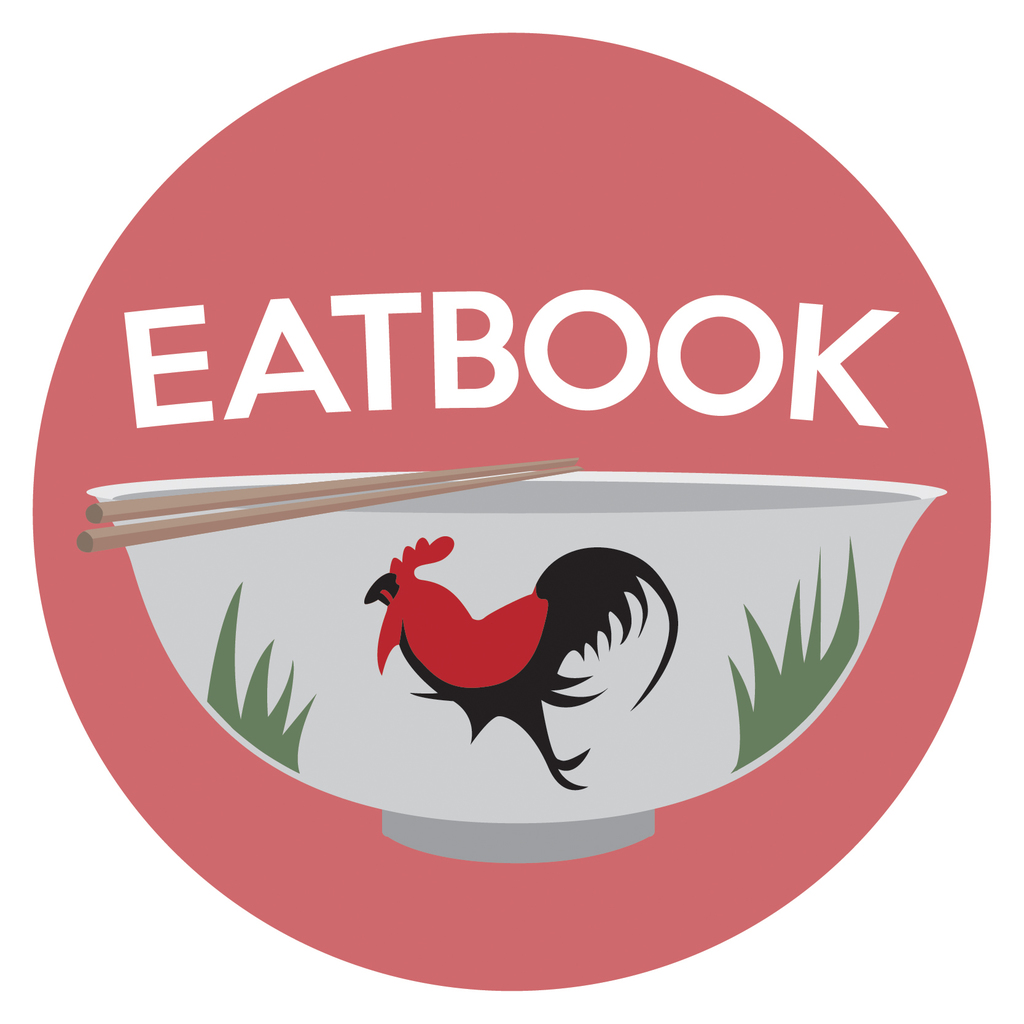 Drop us your email so you won't miss the latest news.