Oriental Ice Bistro At Rangoon Road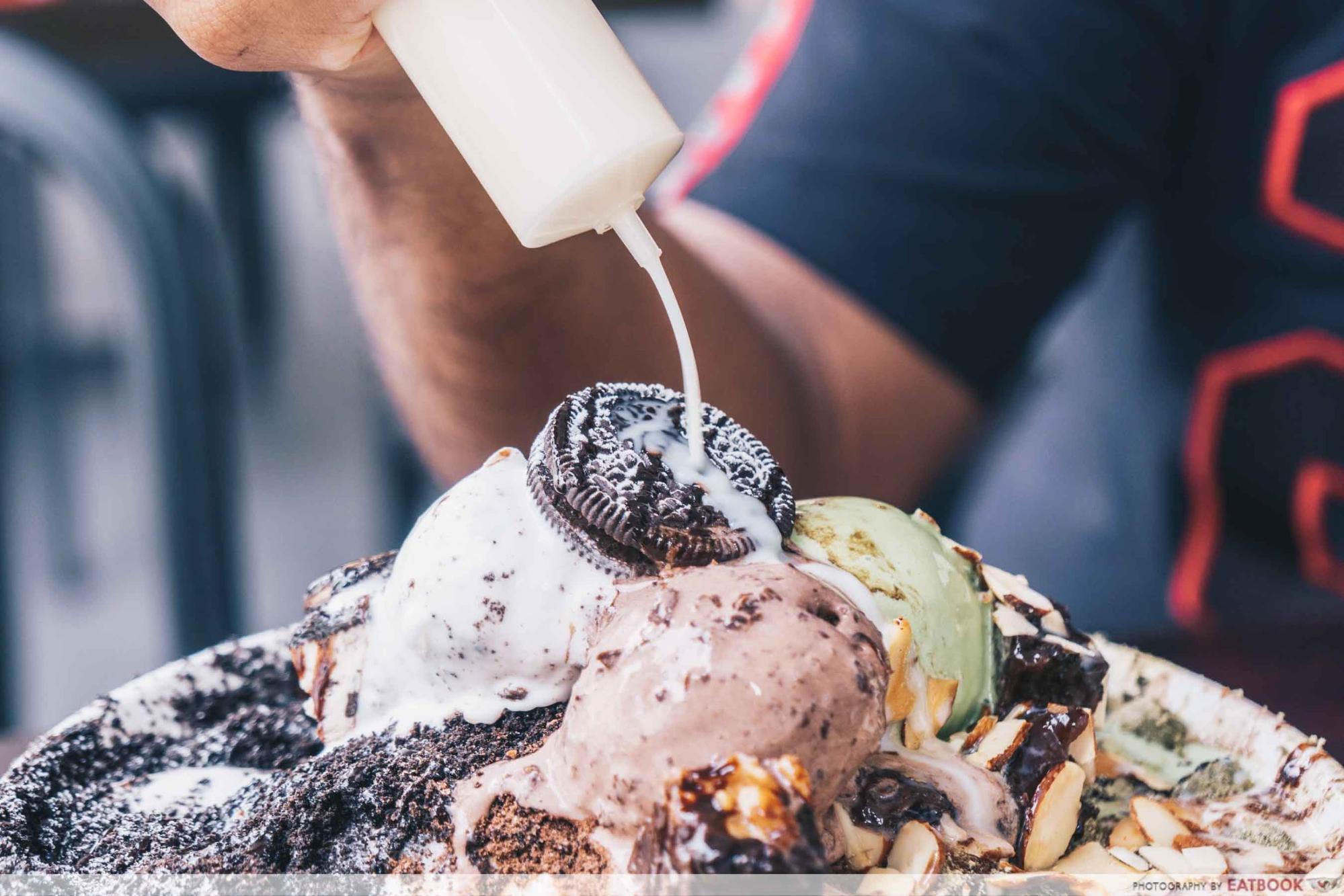 Every time my friends and I hang out, bingsu ends up being on our agenda. Decadent yet light, this bowl of milky goodness is the perfect post-meal indulgence.
While regular bingsu is already shareable, Oriental Ice Bistro has upped the ante with a humongous bingsu bowl that's big enough for your squad's squad. And if that wasn't a sufficient flex, they also have other bright and saccharine desserts that'll make even Pinkie Pie blush.
Food at Oriental Ice Bistro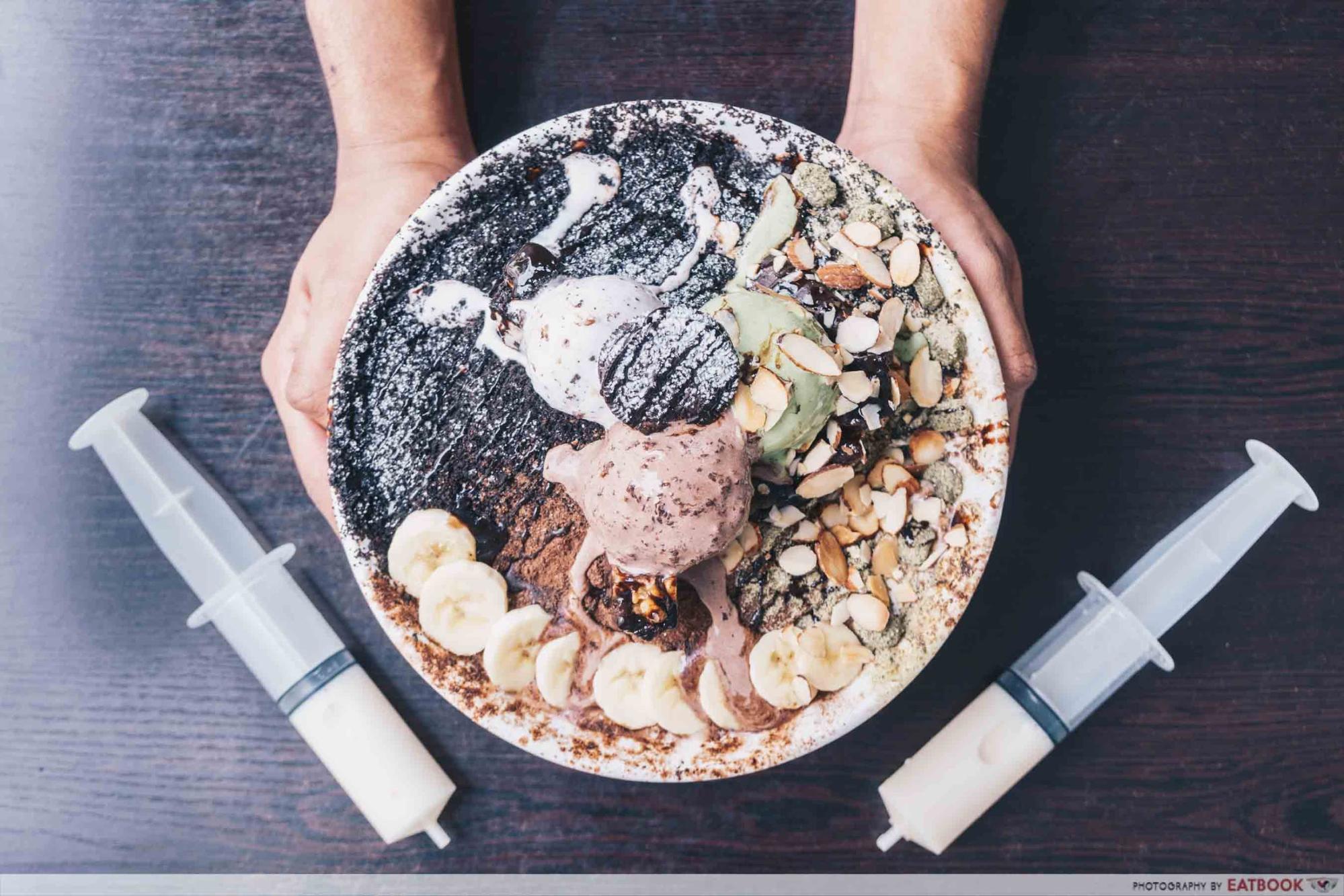 Exhibit A is the Overdose Bingsu ($24.90), a combination of three different bingsu that's sure to rouse your appetite. The bowl is cleanly split into three sections – matcha, Oreo, and choco-banana – so you can satisfy the taste buds of all your party members.
Keep your IG pics to a minimum 'cause the bingsu melts fast. Thankfully, we managed to savour all of the components before the dessert became a gooey mess. Some of the stuff you can find include three scoops of ice-cream, a double chocolate brownie, sliced bananas, and matcha rice cakes.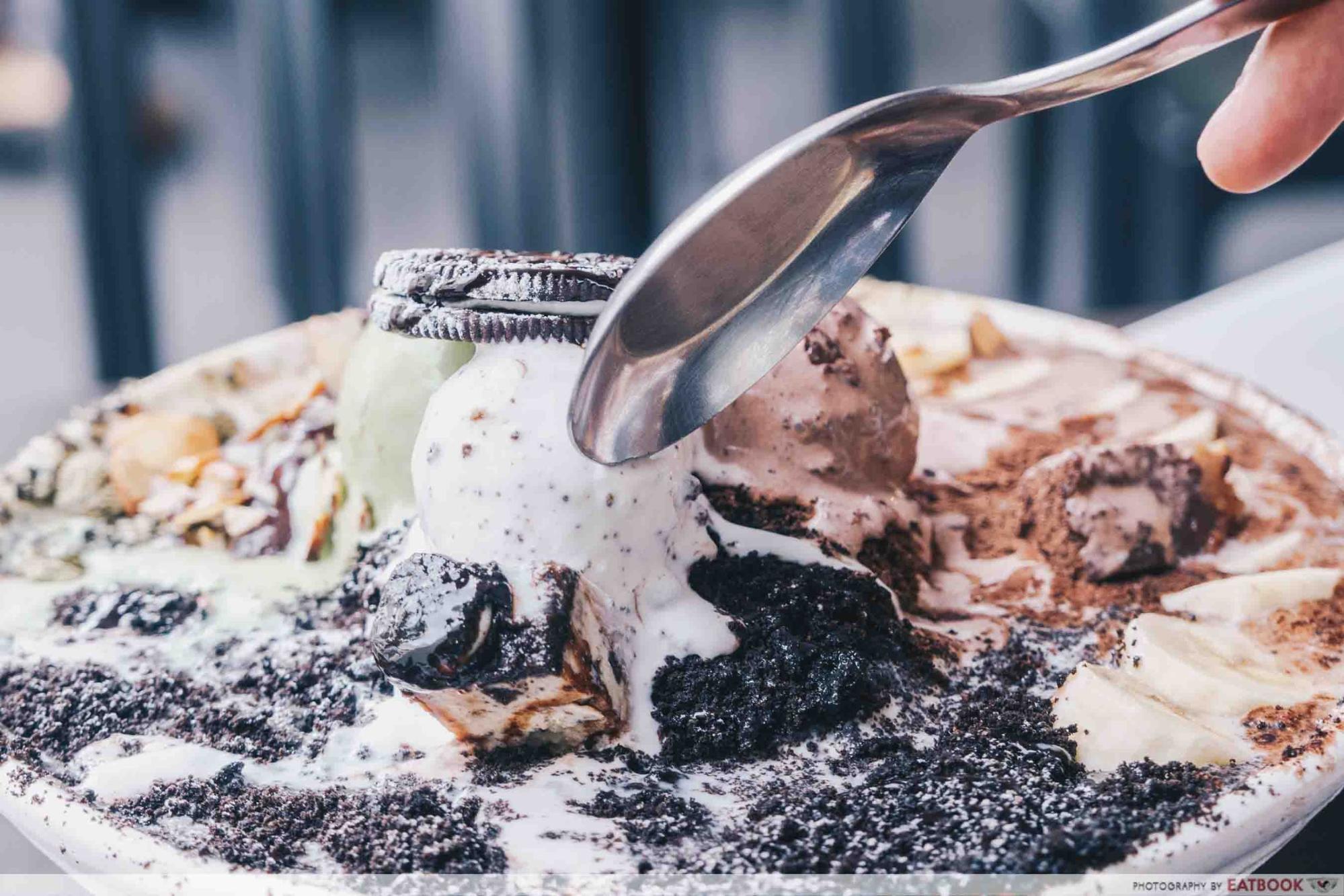 The chewiness of matcha rice cakes, combined with the crushed Oreo bits, gave an incredible mouthfeel that'll have you fishing for more cakes. The velvety milk ice was like a canvas that amplified the different flavour profiles present, from the sweetness of ice-cream to the bitterness of matcha.
That being said, I wasn't pleased by the milk which came served in two syringes. They were way too watery, with zero flavour. I would recommend eating the bingsu as it is.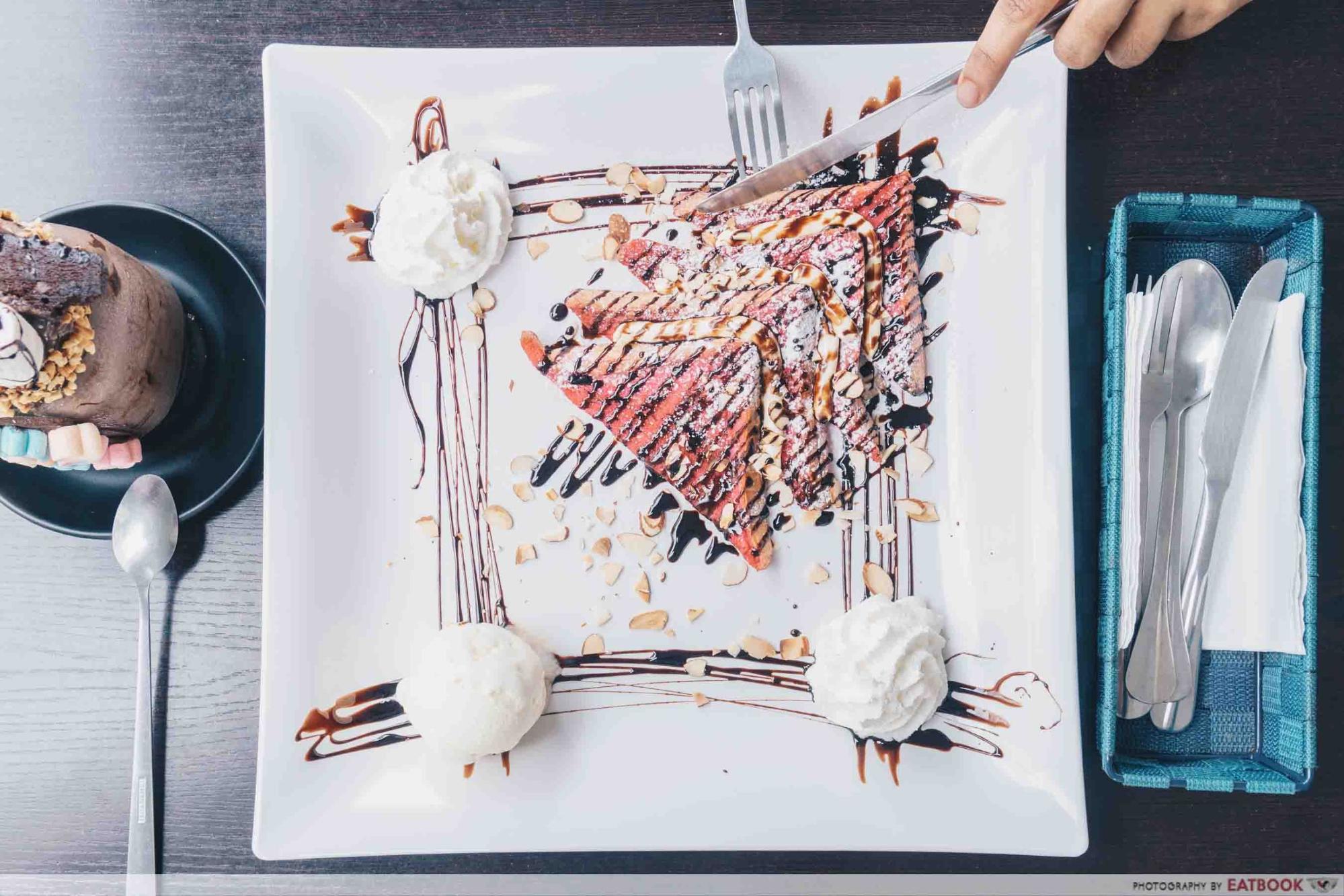 Admittedly, the plating for the Red Velvet Cream Cheese Toast ($9.90) is a lil' extra, but the dish itself is delicious. Slices of red velvet toast are topped with cream cheese, then drizzled with dark chocolate sauce. It also comes with a scoop of vanilla ice-cream and whipped cream for good measure.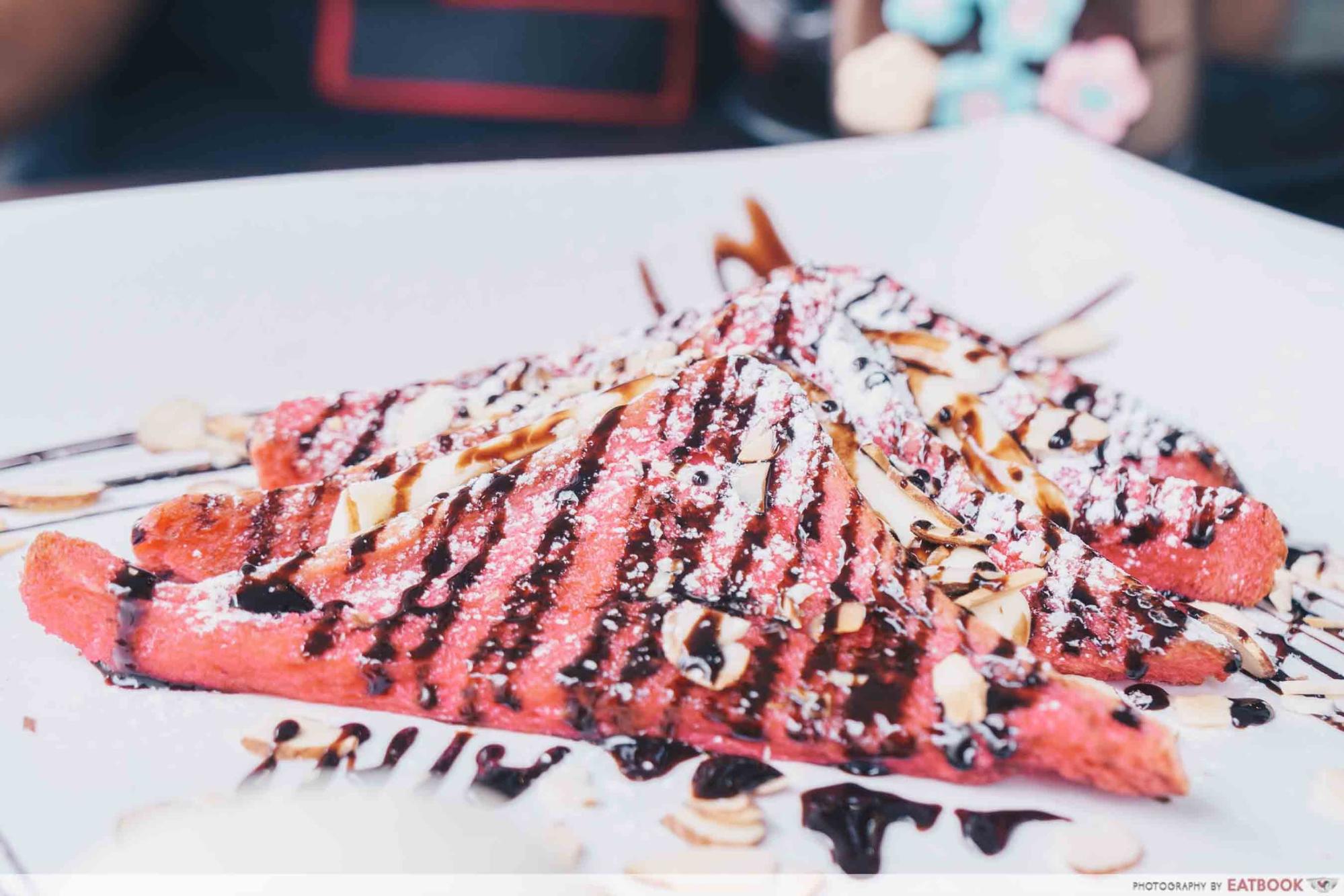 I love how chewy the toast was, despite every inch of it being covered in something sweet. The cream cheese, in particular, was thick and rich, and went swimmingly with the bitter dark chocolate. I only wish they used more cheese, although the generous amount of powdered sugar made up for it.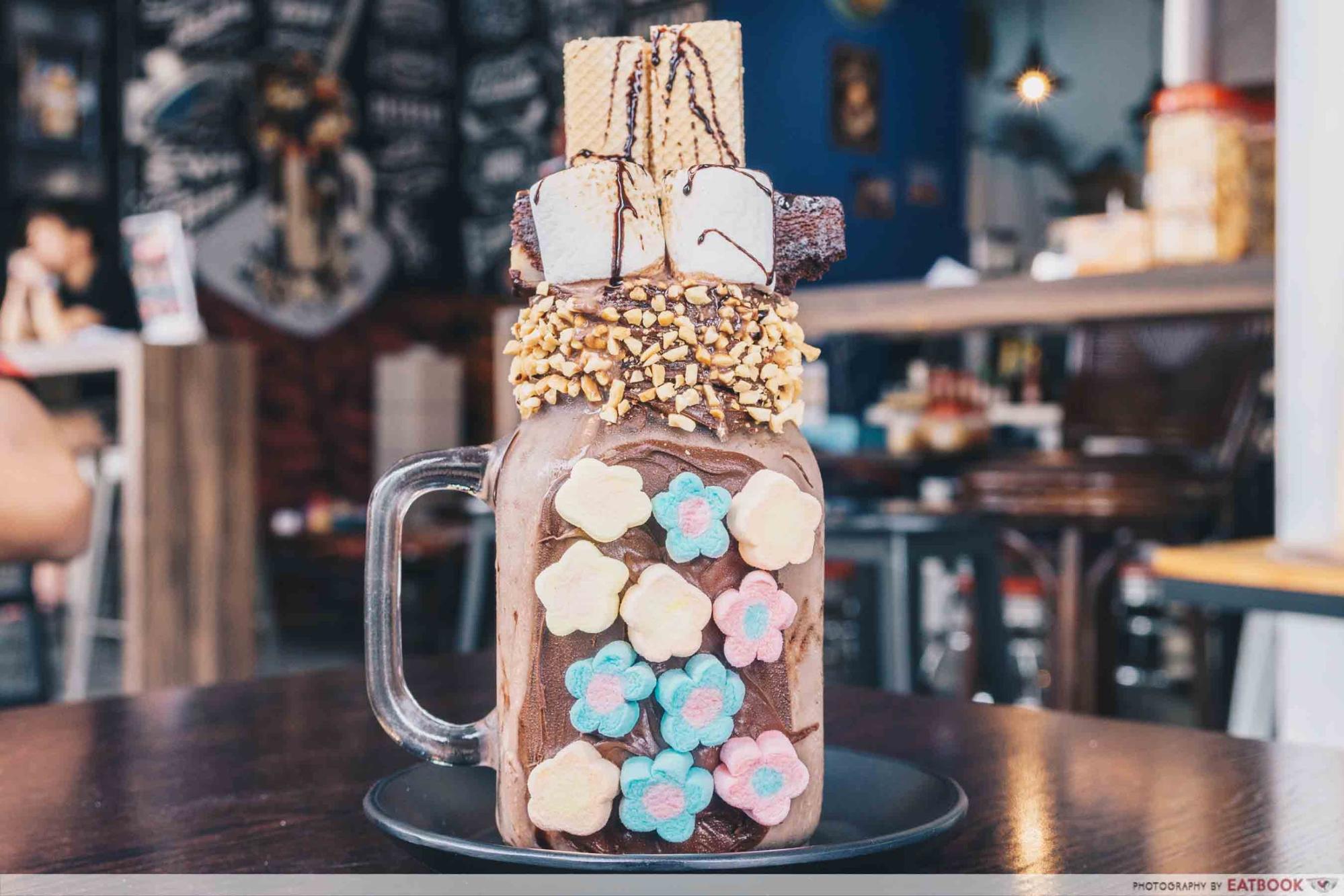 The Clad in Black Shake ($12.90) brings to mind Black Tap's Crazyshakes with how loud it looks. The drink comprises double chocolate ice-cream, capped with wafers, marshmallows and a brownie. The resulting concoction is then served in a chocolate frosted glass, enveloped with even more marshmallows.
Black Tap Review: Prime Beef Burgers And Crazy Shakes From New York's Famous Burger Joint
Maybe it's 'cause we were spoilt by the previous two entries, but I found this shake to be quite meh. It wasn't notably rich or sweet, resulting in an ironically boring taste. The wafer was dry and the marshmallows weren't as chewy as I would have liked.
Ambience at Oriental Ice Bistro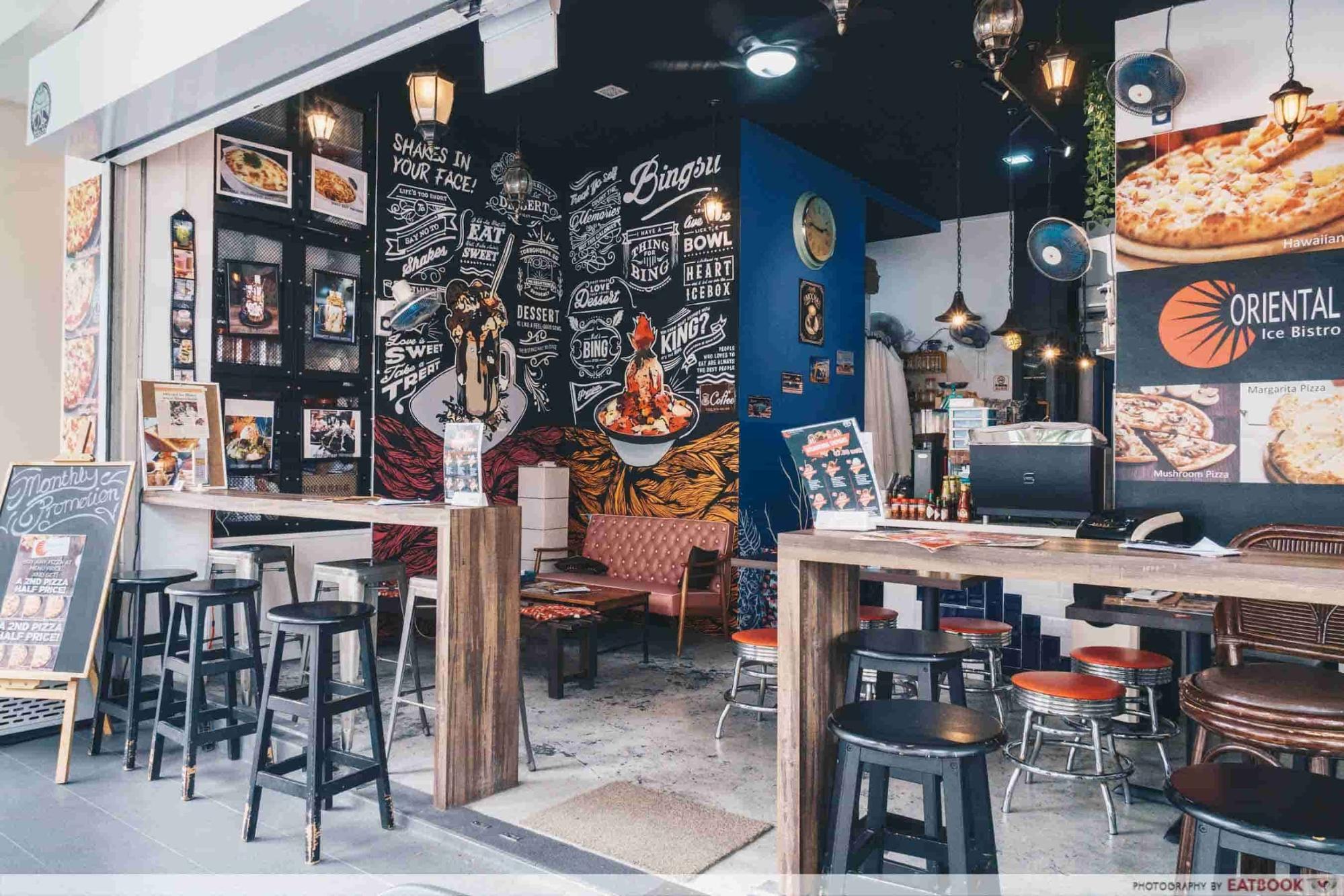 There are multiple seating options here, from sofas to a well-ventilated alfresco area. Personally, I'd recommend sitting outdoors as the space inside is a tad cramped.
The verdict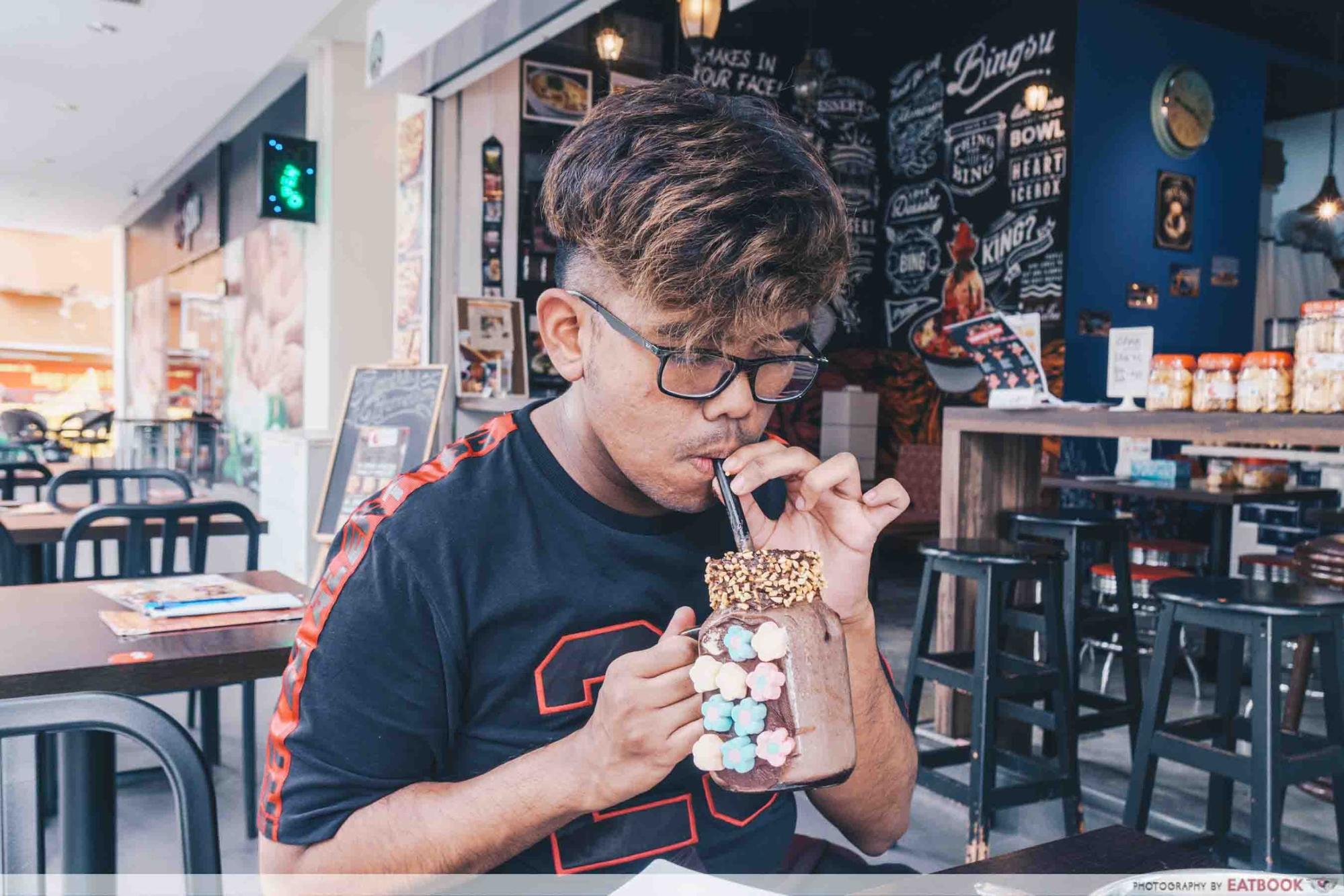 Just a short walk from Farrer Park MRT Station, Oriental Ice Bistro is a breath of fresh air from the other Rangoon Road cafes in that it's halal. The desserts here are quirky and, for the most part, tasty. So if you're an Eastie looking to get your bingsu fix without travelling to town, you can't go wrong with this joint.
C Plus Review: Cakes By Famous Home Bakers Including Masterchef Finalist Gen
Address: 89 Rangoon Road, #01-30, Singapore 218375
Opening hours: Thurs-Tues 12pm to 11pm
Website
Oriental Ice Bistro is halal-certified
Photos taken by Lim An.
This is an independent review by Eatbook.sg.
Summary
Pros
– The desserts had the right amount of sweetness
– Decent portions
– Nett prices
Cons
– The Clad in Black Shake was disappointing
Recommended Dishes: Overdose Bingsu ($24.90), Red Velvet Cream Cheese ($9.90)
Opening hours: Mon-Fri 1pm to 10:30pm, Sat-Sun 12:30pm to 11pm
Address: 89 Rangoon Road, #01-30, Singapore 218375