Cheap Japanese food from Kazoku Japanese Cuisine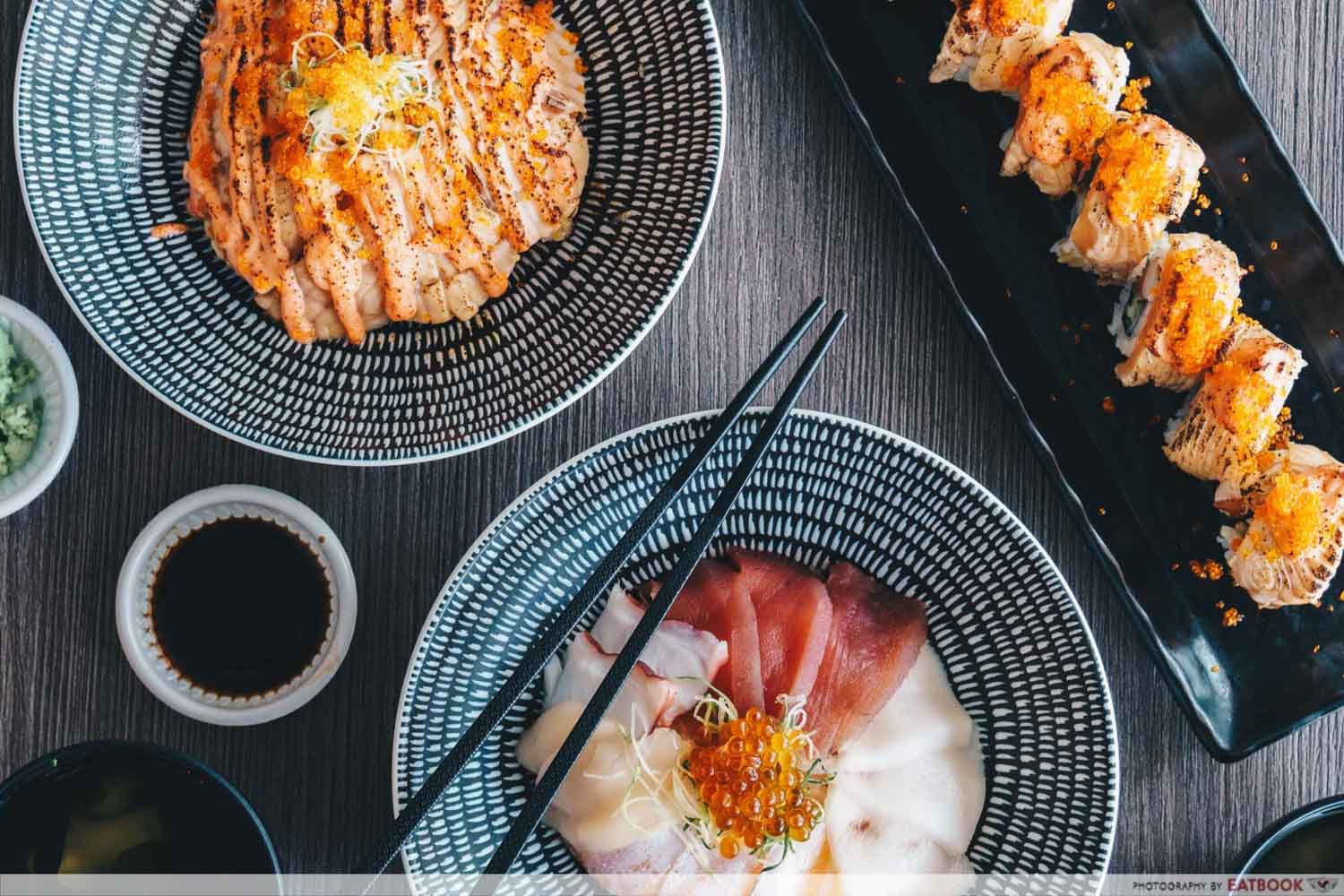 Ask me to name my favourite Japanese dishes and chirashi don would comfortably sit on the top of the list. Not only does the dish look so camera-worthy with its neat arrangement, but it also pampers your taste buds with an impressive variety of seafood.
Alas, it's challenging to find these rice bowls for cheap in Singapore, with rare excursions to Itacho Sushi leaving me with a gaping hole in my wallet.
I was thus delighted when I chanced across Kazoku Japanese Cuisine. Tucked away in a hip coffee shop in Novena, the store cooks up one of the cheapest chirashi bowls in Singapore and other affordable Japanese dishes.
Food at Kazoku Japanese Cuisine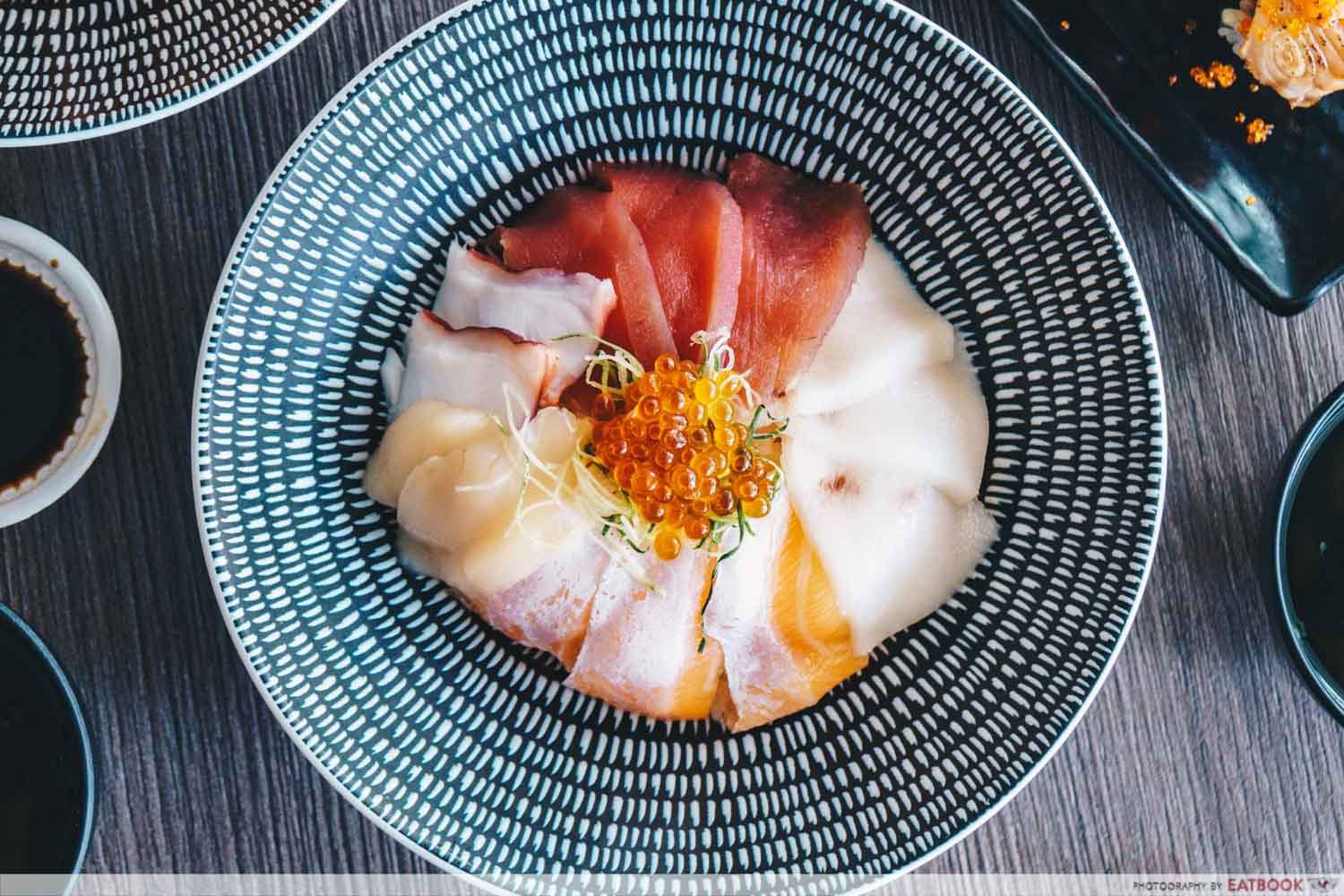 Most people flock to Kazoku Japanese Cuisine for their signature Kazoku Don ($11.90), which features a colourful smorgasbord of raw seafood. Other than the usual suspects of salmon and tuna, the rice bowl also featured scallop, tako (octopus), and mekajiki (swordfish). A generous dollop of salmon roe topped off this bountiful treat.
What makes their Kazoku Don such a good bang for the buck is not just the quantity of seafood but the quality as well.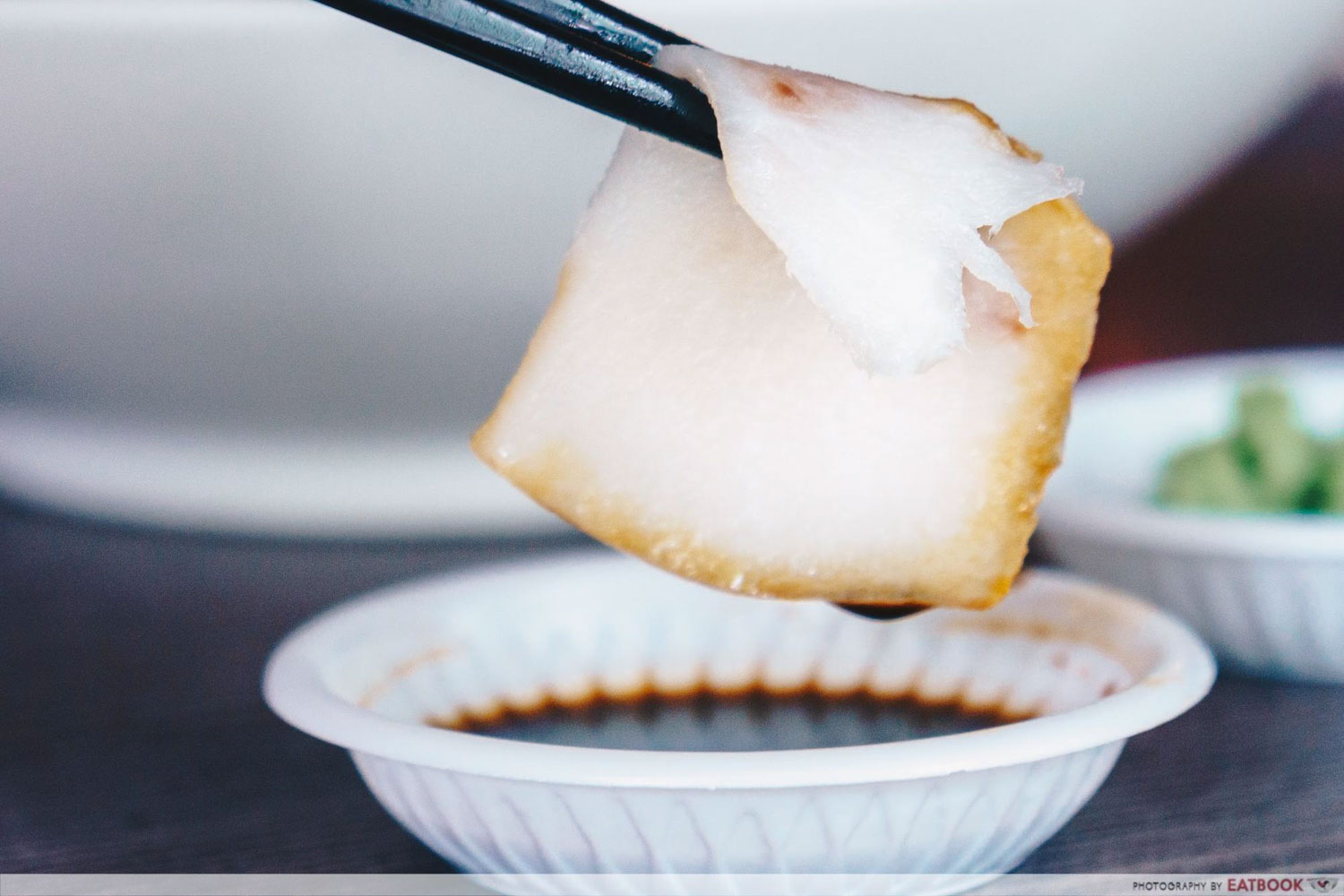 In case you're unaware, a large fraction of a swordfish is actually inedible, explaining the high price mekajiki fetches. Hence, it was a bargain to find thick slices of swordfish sashimi incorporated in this low-priced chirashi don.
Furthermore, the mekajiki possessed an ivory hue with patches of translucency – a telltale sign of its fresh quality.
10 Cheap Chirashi Don Places With Chirashi Don From $8.80 Nett
If you find tuna overpoweringly fishy, you'll probably appreciate the clean tang of the swordfish. This sashimi doesn't leave you overpowered with an unrelenting surge of butteriness. Instead, it eased my palate with a gentle crescendo of savoury flavours.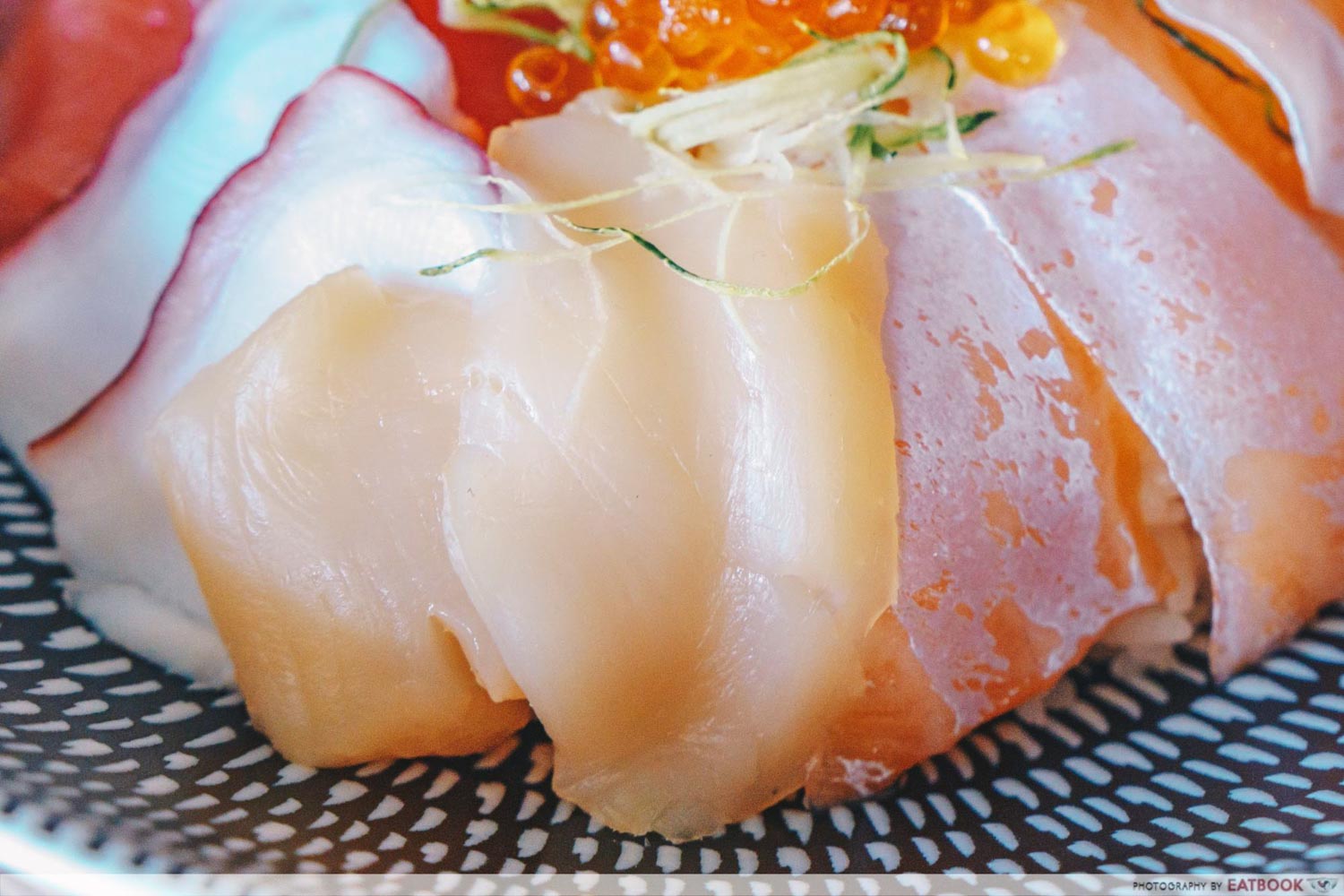 Unlike the mekajiki, their succulent scallops left a strong first impression with their explosive sweetness. I also appreciated how luxuriously tender the scallops were, as my teeth sliced through the shellfish like a knife slicing through butter.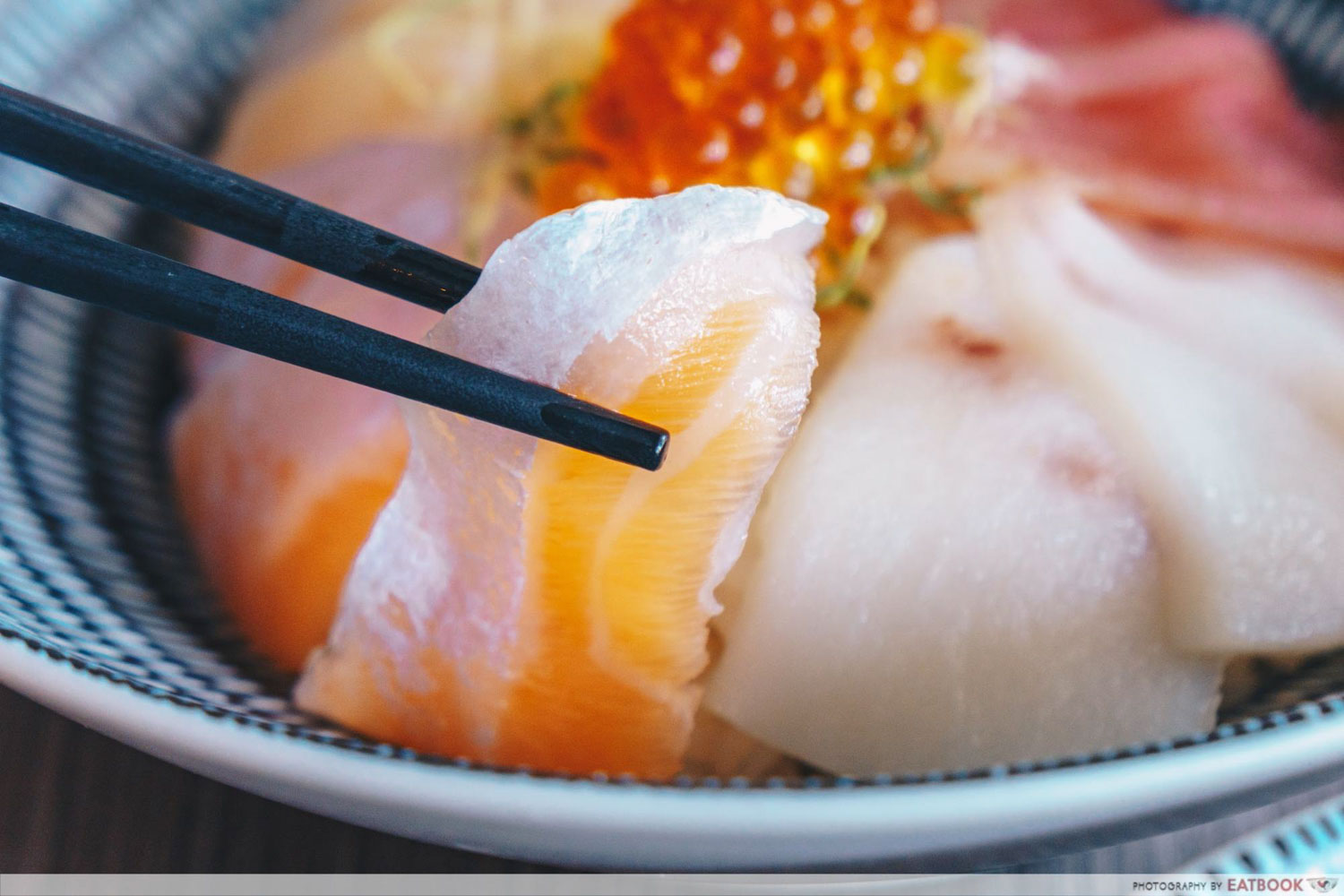 Equally as flavoursome were the salmon belly slices. Every bite laced my tongue with the rich tang of salmon, with a subtle sweetness chasing closely behind. As my taste buds reeled from the full-bodied salmon, I found myself lamenting the thinness of the sashimi.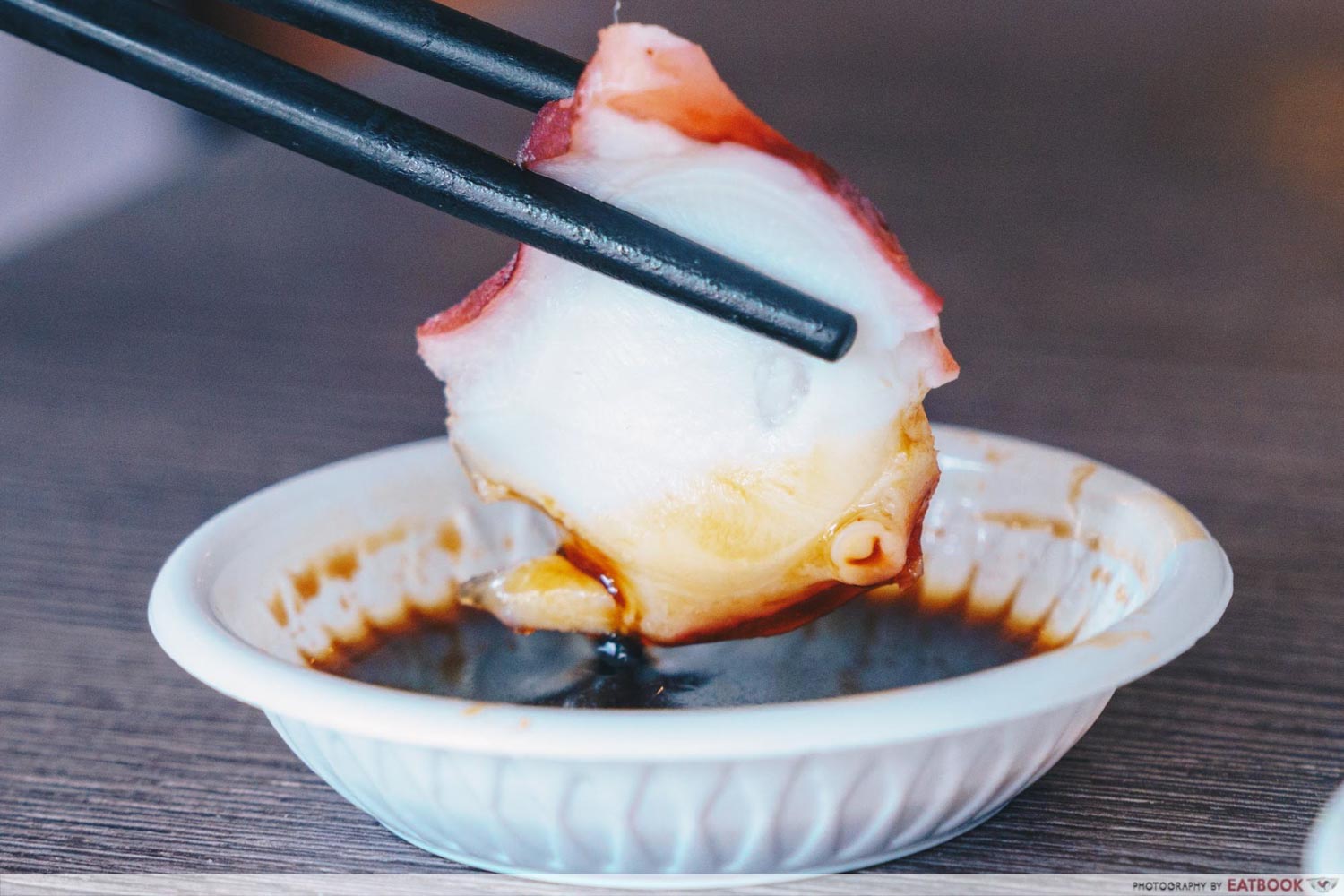 Kudos to their tako as well. For me, fresh octopus sashimi has all the qualities of an enjoyable conversation. A good convo leaves you sufficiently engaged; a poor one drags on endlessly. Similarly, I enjoyed how the tako was chewy enough for me to appreciate its briny and sweet taste. At the same time, its texture didn't warp into an aggravating rubberiness.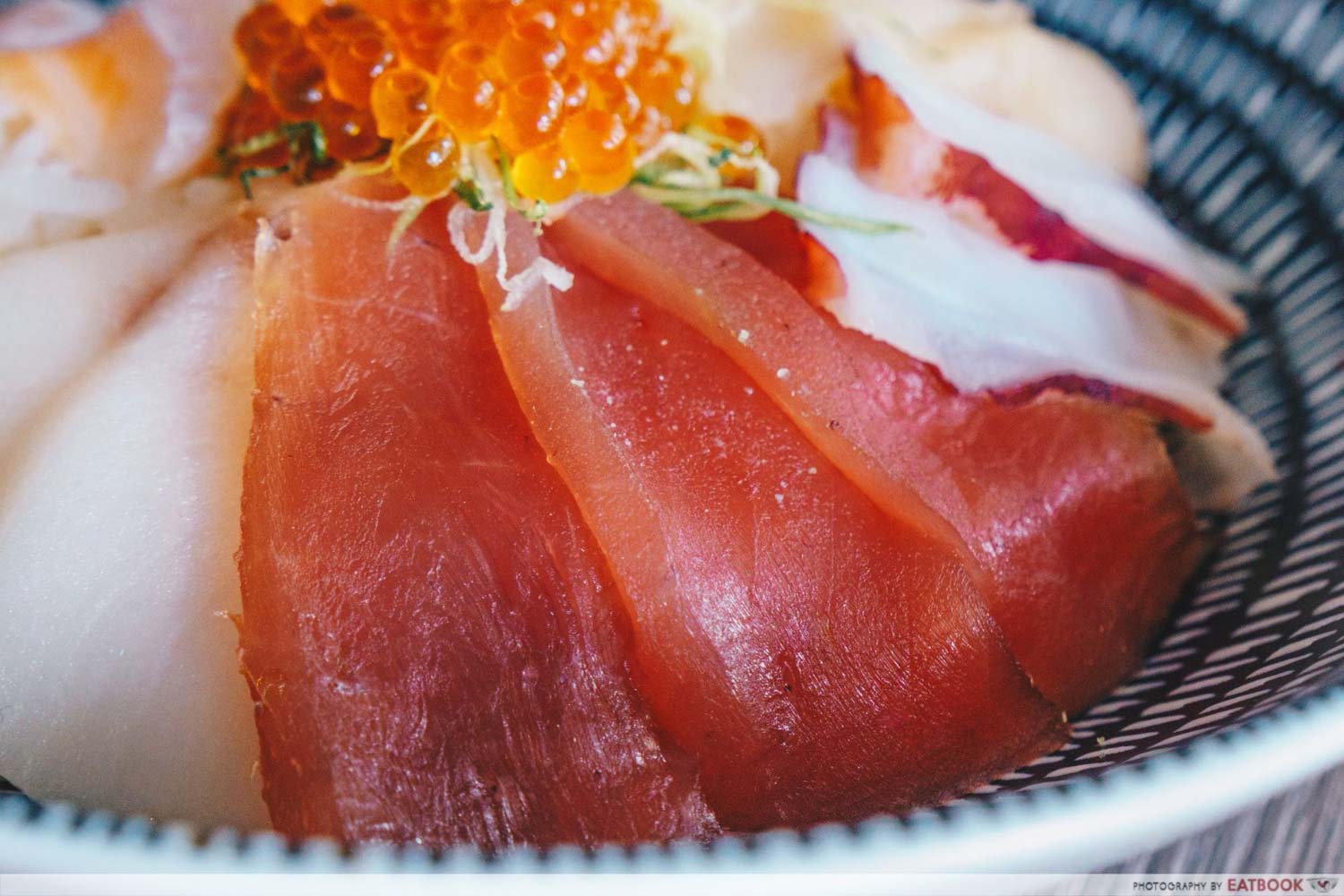 My only gripe was with their tuna, which effused a light sourness and could have been fresher.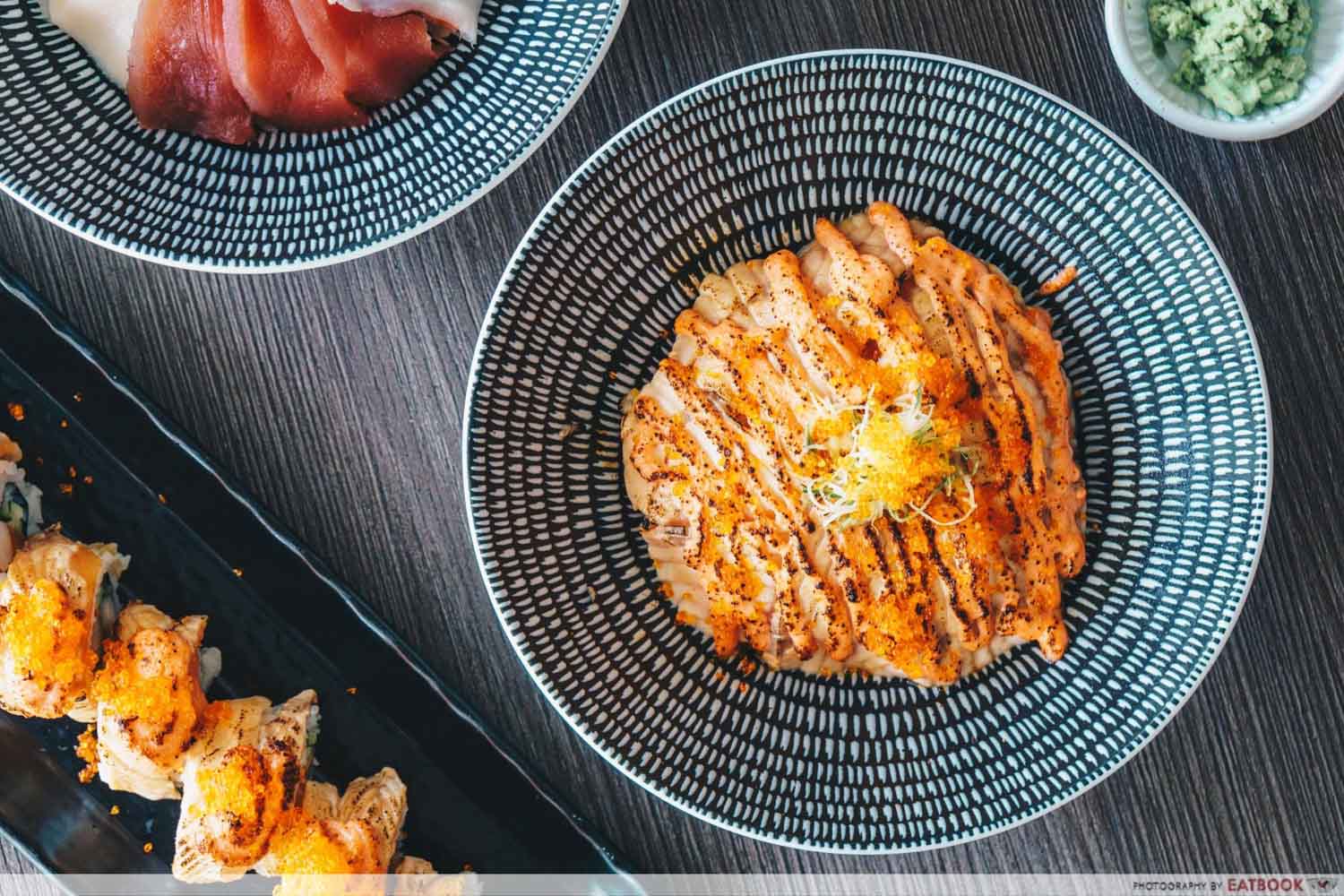 A lover of all-things mentaiko, ordering their Aburi Mentai Salmon Don ($10.90) was second nature to me. A recent addition to their menu, the dish showcased salmon belly slices that were slathered in mentaiko mayo and blow-torched for a seductive char.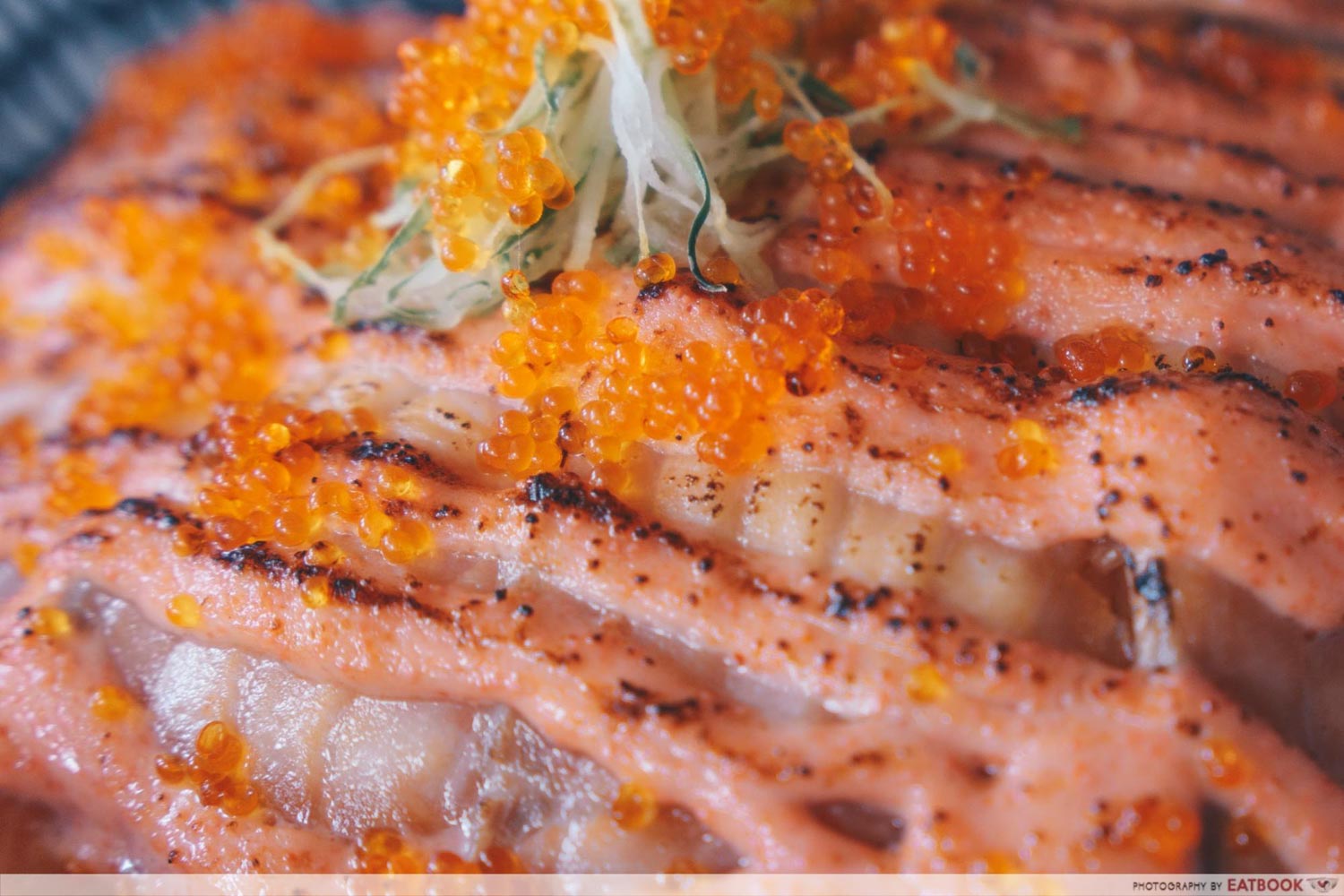 Mentaiko and salmon are a marriage made in heaven, but it's the aburi (flaming) element that elevated this pairing to new heights. Torch-grilling released the butteriness of the salmon and bolstered its luscious tang with creamy undertones. As this robust medley melded with the umami-packed mentaiko, it surged up my tongue in a decadent overload of rich flavours.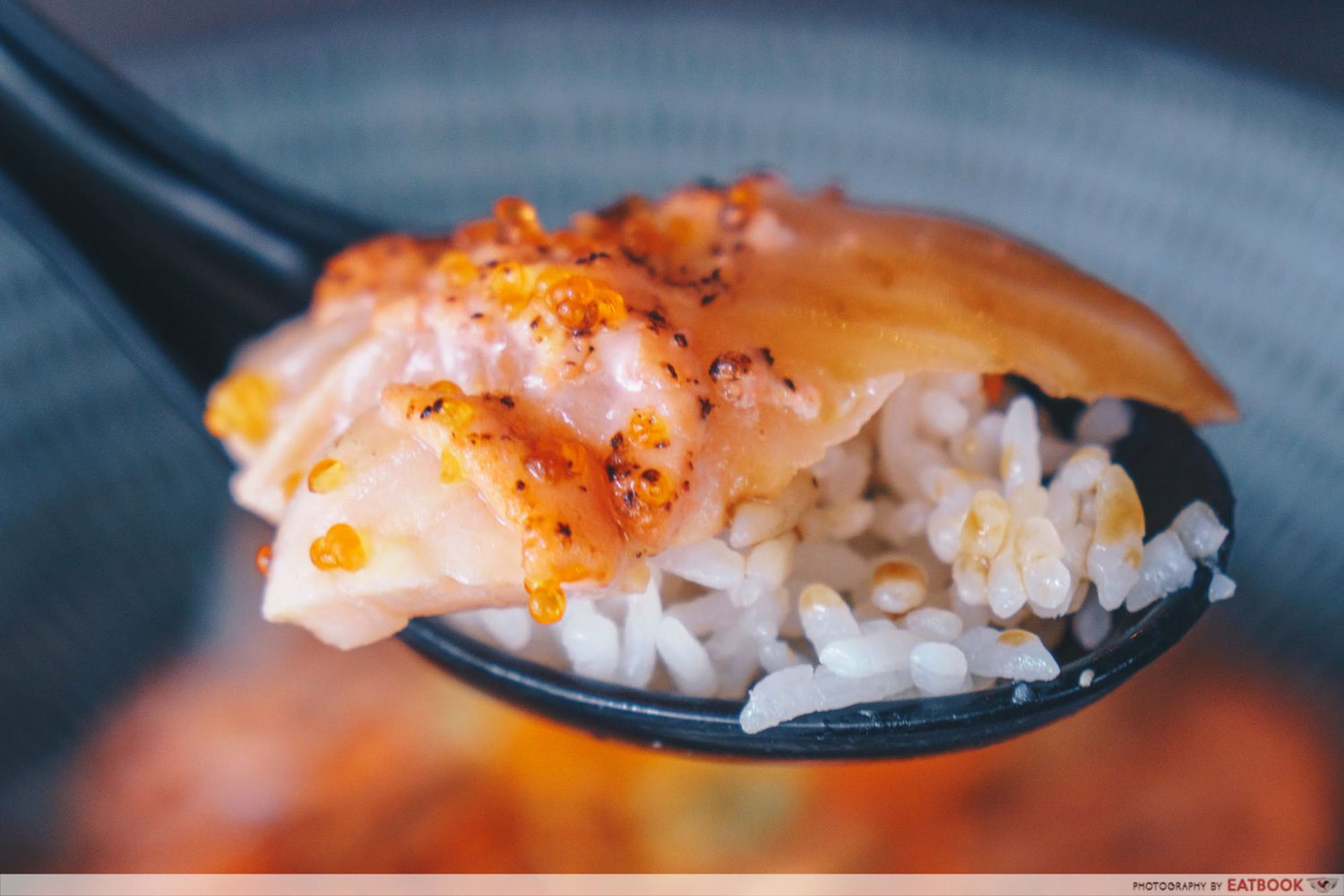 Another nice touch was the vinegared rice, which cut through the bold tang of the mentaiko mayo with its light sourness. Moreover, their sticky texture paired nicely with the tenderness of the grilled salmon.
However, I found their rice bowl lacking the wow factor, as long-grained rice was used in place of Japanese short-grained rice.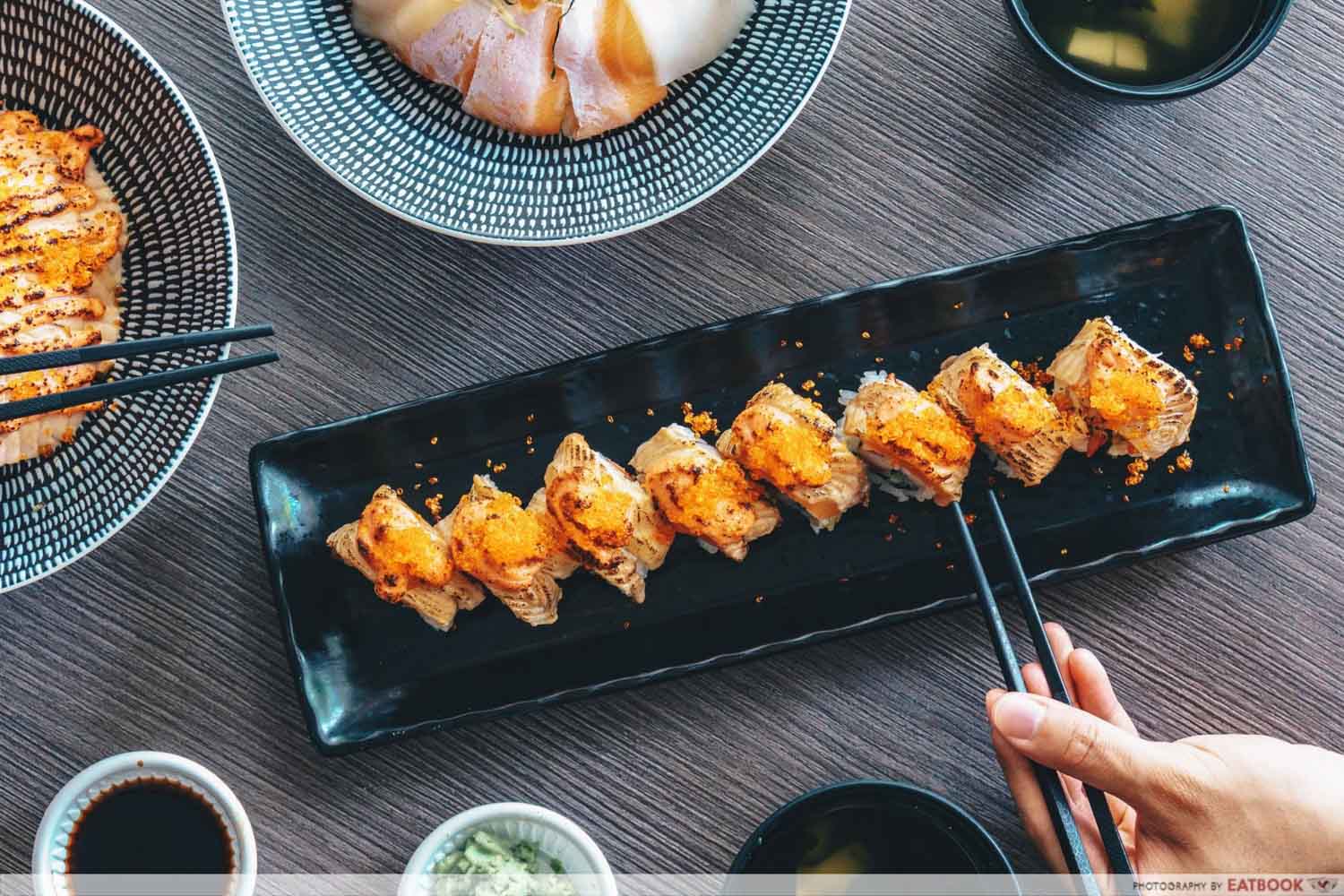 Other than their assorted rice bowls, Kazoku Japanese Cuisine also impressed with their Aburi Mentai Roll ($6.40/$11.40). Compared to the Aburi Mentai Salmon Don, their maki roll was more multifaceted in flavour.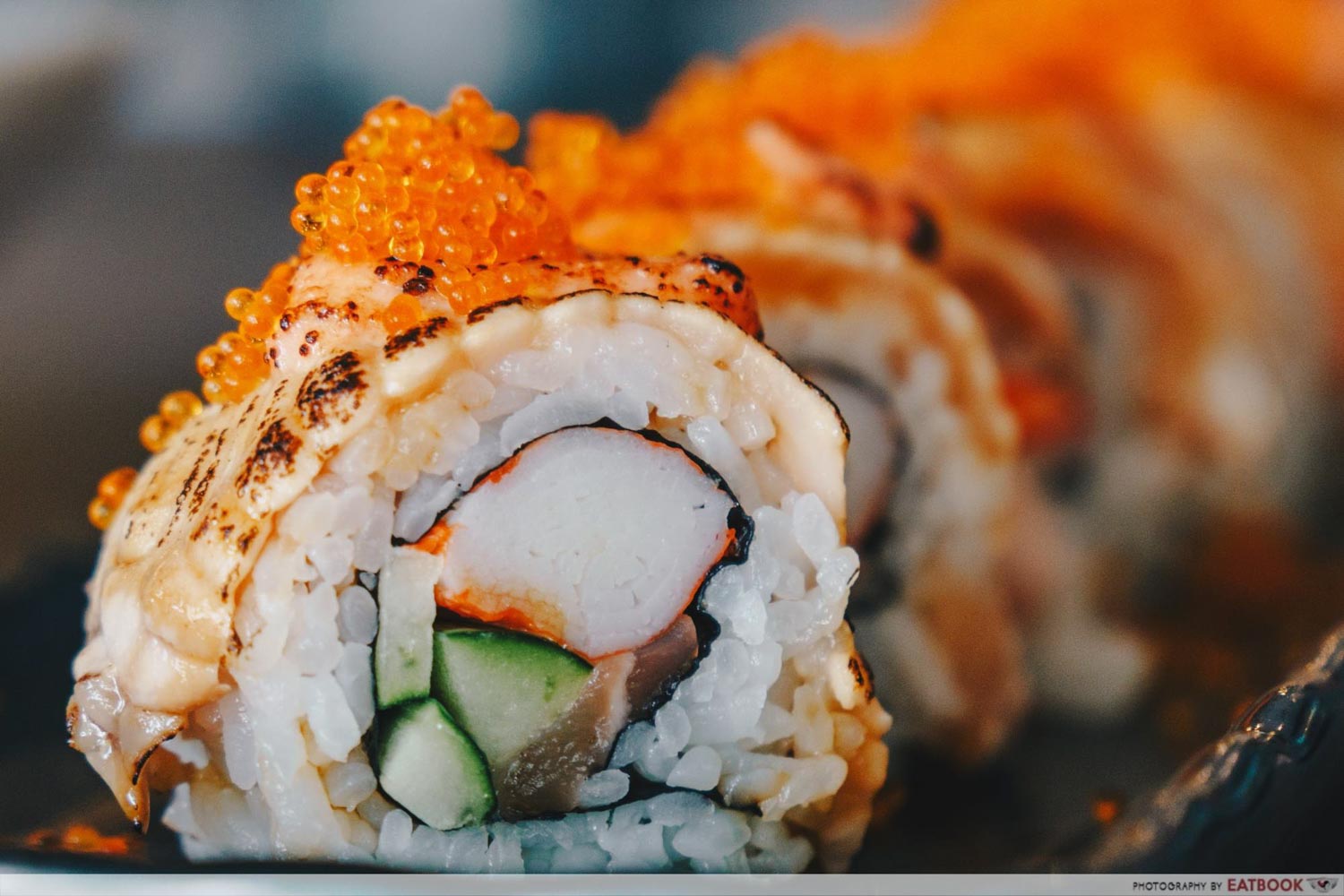 Though the torch-grilled mentaiko salmon took centre stage, I also detected the sweet accents from the crabstick and buttery tang of the avocado. The cucumber was a fitting finish, as it wrapped up this colourful ensemble with its fresh taste and light crunch.
The only letdown was the diced salmon, which failed to establish its presence in this jumble of elements.
Ambience at Kazoku Japanese Cuisine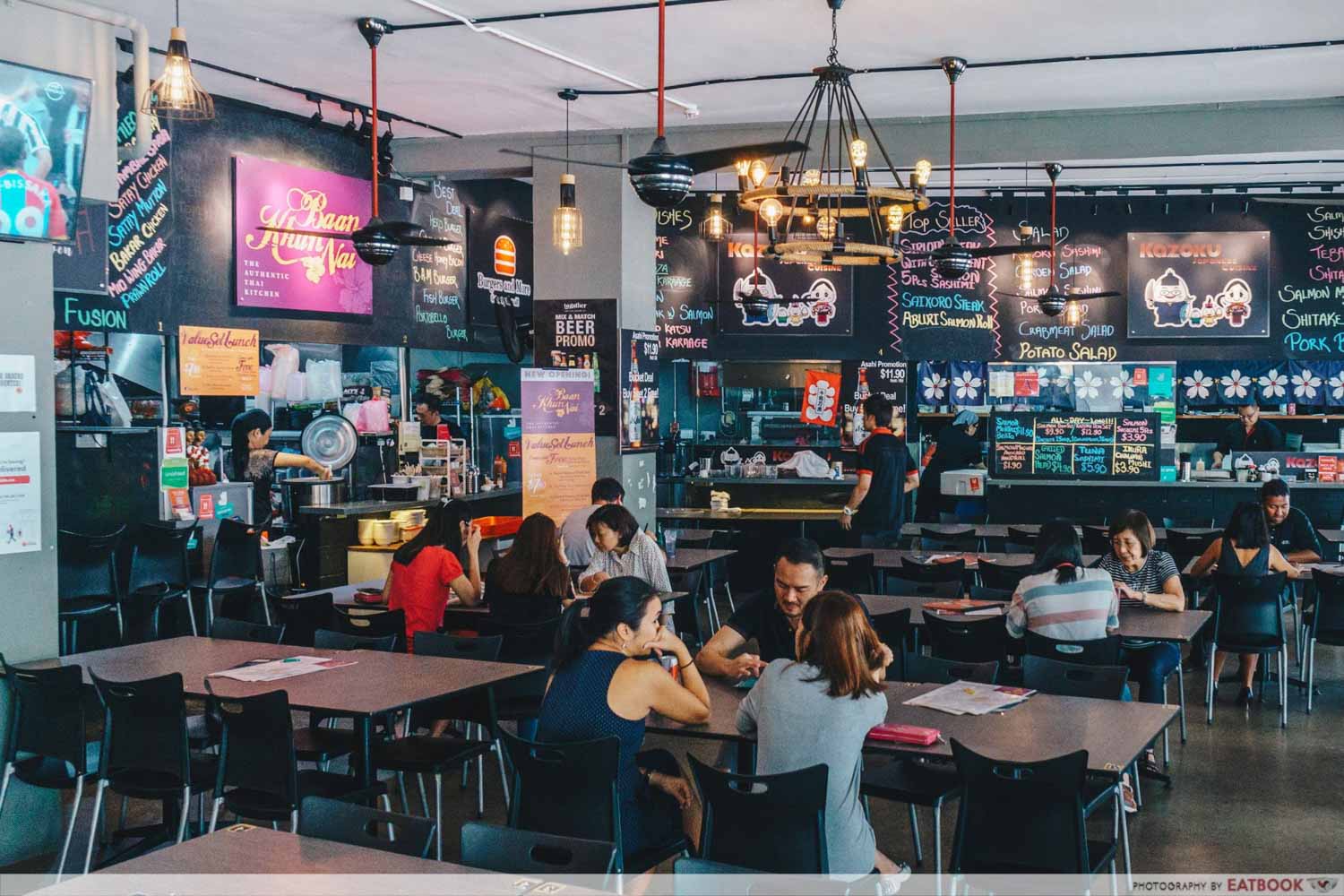 Kazoku Japanese Cuisine is one of the few eateries found in the homely ToGather Kitchen & Bar. Given the bistro's proximity to Novena MRT Station, it is a popular choice among office workers from the CBD.
Though the open-air setting of the hip coffee shop left me at the mercy of the sweltering heat, there was an array of ceiling fans and portable air-conditioners that kept me cool and comfortable.
Do note that there's a shared counter for placing your orders, so feel free to funk up your meal with the Thai set meals at Baan Khun Nai as well.
Baan Khun Nai Review: Affordable Thai Set Meals From $7.90 At Novena
The verdict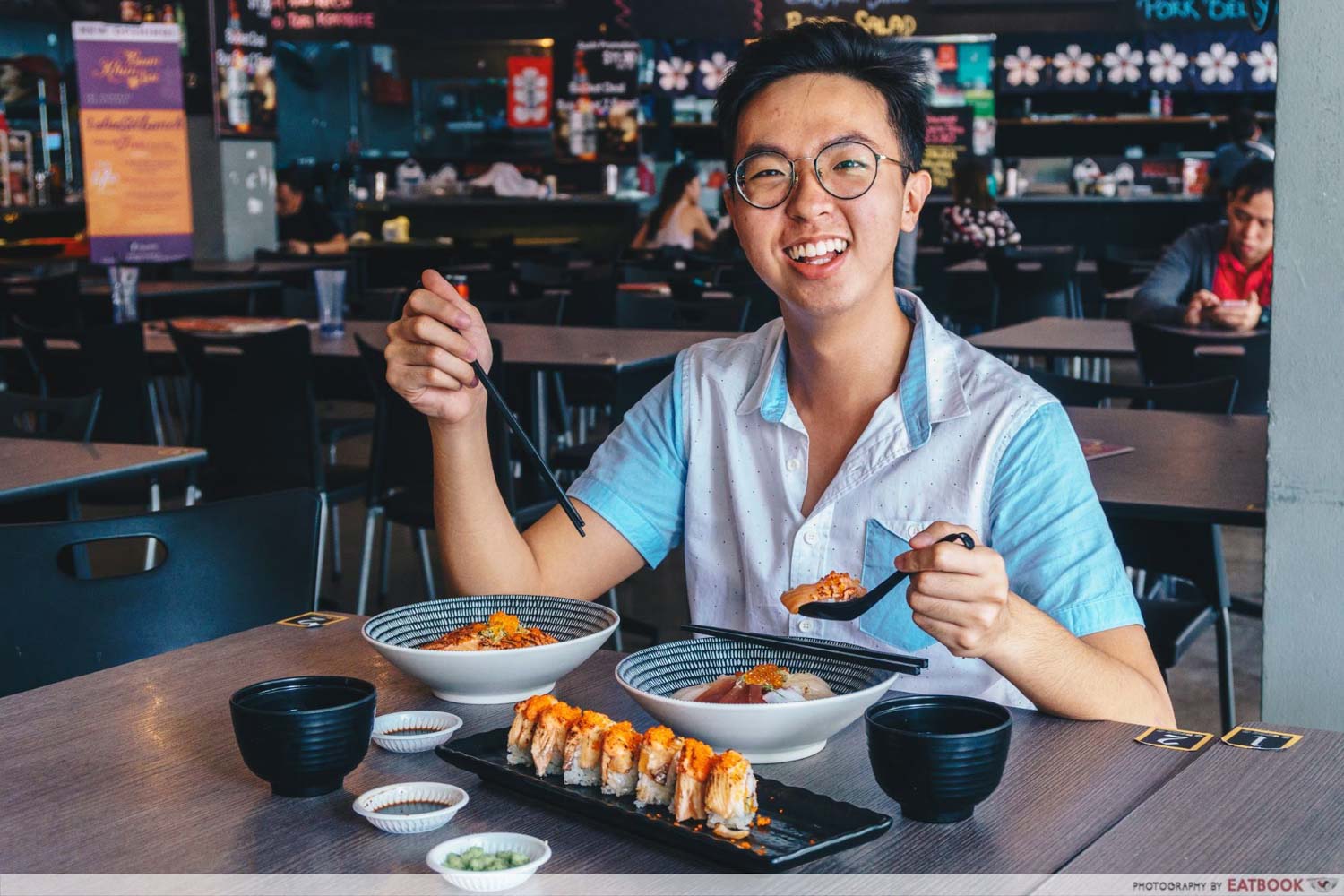 Heads up: Kazoku Japanese Cuisine isn't going to offer you mind-blowingly amazing Japanese food. Some of the rice bowls can be tweaked for a more cohesive taste and consistent quality. 
But considering their central location, cheap selection, and premium ingredients, the place still remains one of the most value-for-money Japanese eateries in Singapore.
If you are searching for more affordable restaurants in Novena, check out Uncle Kiisu at Square 2. This cosy Mod-Sin restaurant dishes up affordable Japanese-Peranakan dishes, which will certainly bring the wow factor to any date-night!
Uncle Kiisu Review: IG-Worthy Japanese-Peranakan Food To Impress Your Date With
Address: 1 Goldhill Plaza, #01-05, ToGather Kitchen & Bar, Singapore 308899
Opening hours: Daily 11:30am to 10pm.
Tel: 9687 3782
Website
Kazoku Japanese Cuisine is not a halal-certified eatery.
Photos taken by Crystal Tan.
This is an independent review by Eatbook.sg.
Summary
Pros
– Value-for-money Japanese food
– Generous portions
– Located near the MRT
Cons
– Open-air setting
Recommended Dishes: Kazoku Don ($11.90), Aburi Mentai Salmon Don ($10.90)
Opening hours: Daily 12pm to 10pm
Address: 1 Goldhill Plaza, #01-05, ToGather Kitchen & Bar, Singapore 308899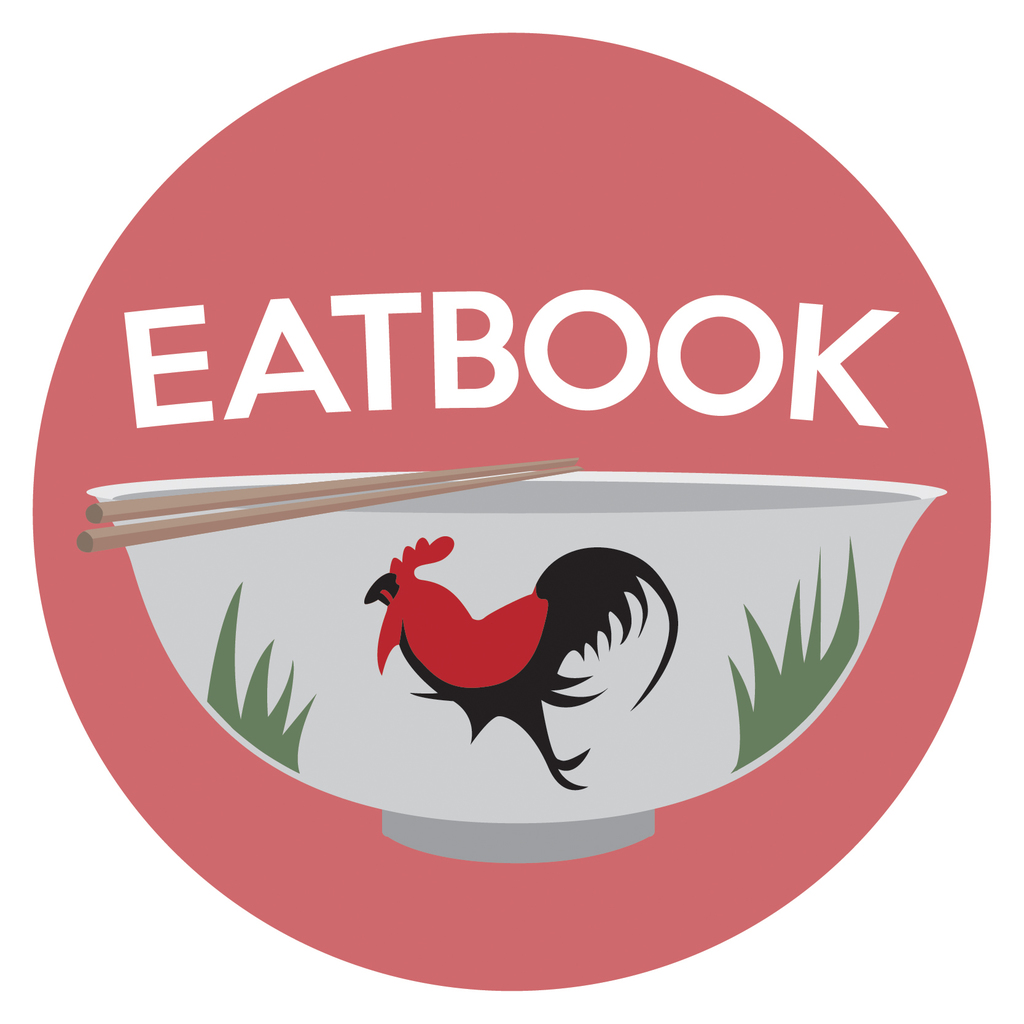 Drop us your email so you won't miss the latest news.