Nothing ordinary with Uncle Kiisu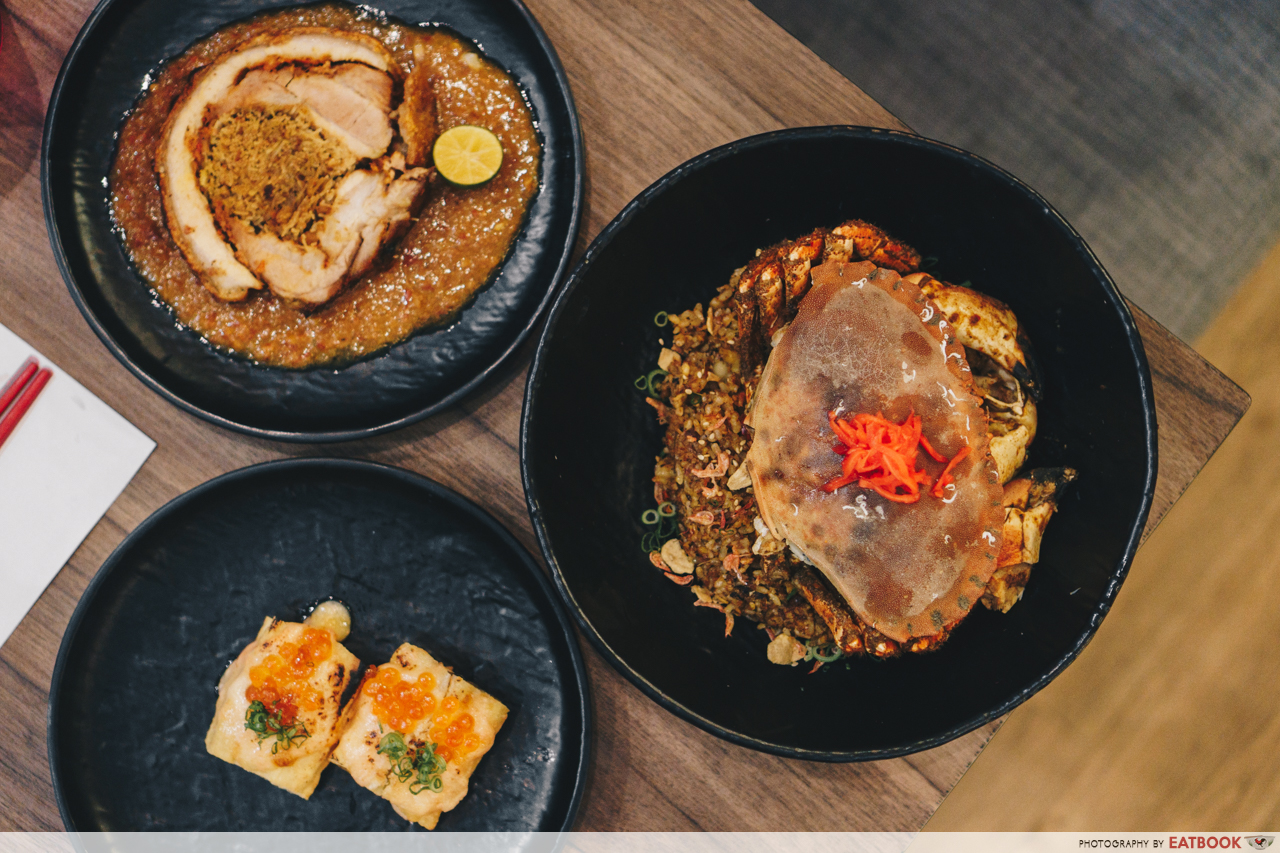 A new kid on the block, Uncle Kiisu would be a novelty for many people. It is a restaurant specialising in Japanese, Western, and Peranakan fusion cuisine, laced with an out-of-this-world quirk. I was surprised by how an affordable yet impressive restaurant like this could stay under the radar. If you are a foodie on a budget or on a date, fear not – Uncle Kiisu is here to save the day.
Food at Uncle Kiisu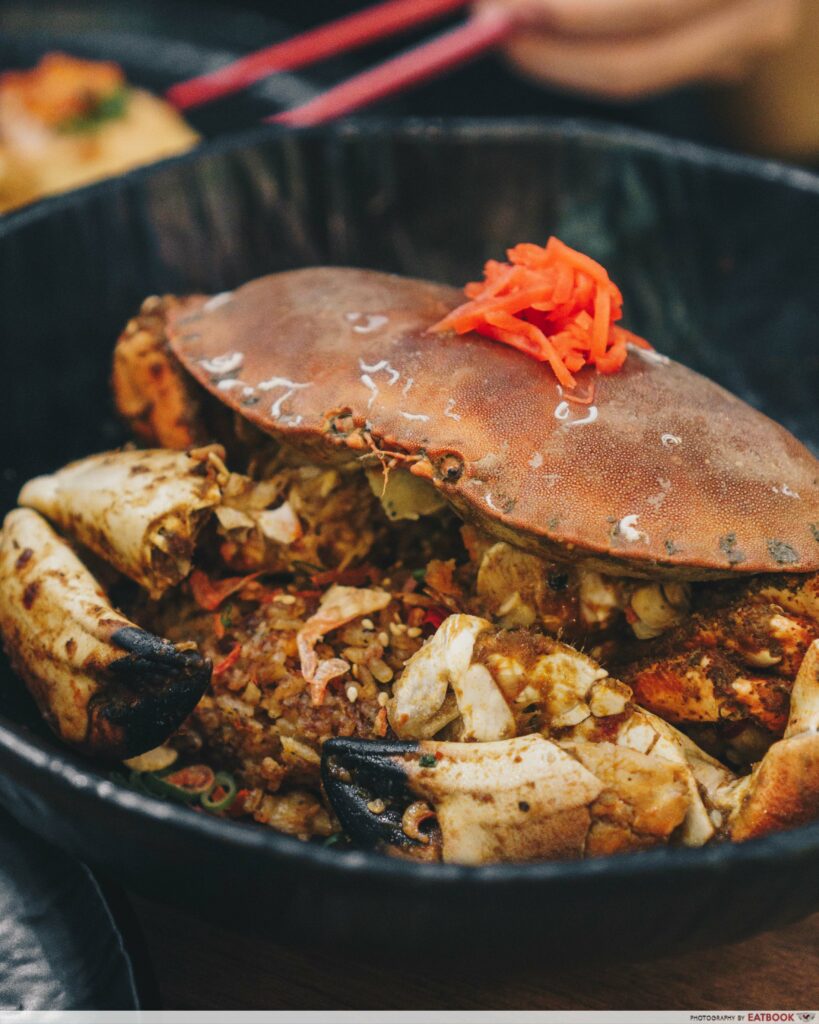 One glance at the menu and you can already tell that the people behind the restaurant are adventurous with the food they offer. The menu is done in the fashion of Uncle Kiisu's Instagram page, with names of dishes presented as hashtags. This is one #foodporn feed I would definitely follow. And amongst the sea of IG-worthy dishes, the first one that caught my eye was #CrabOnTheRedHill ($21.80+).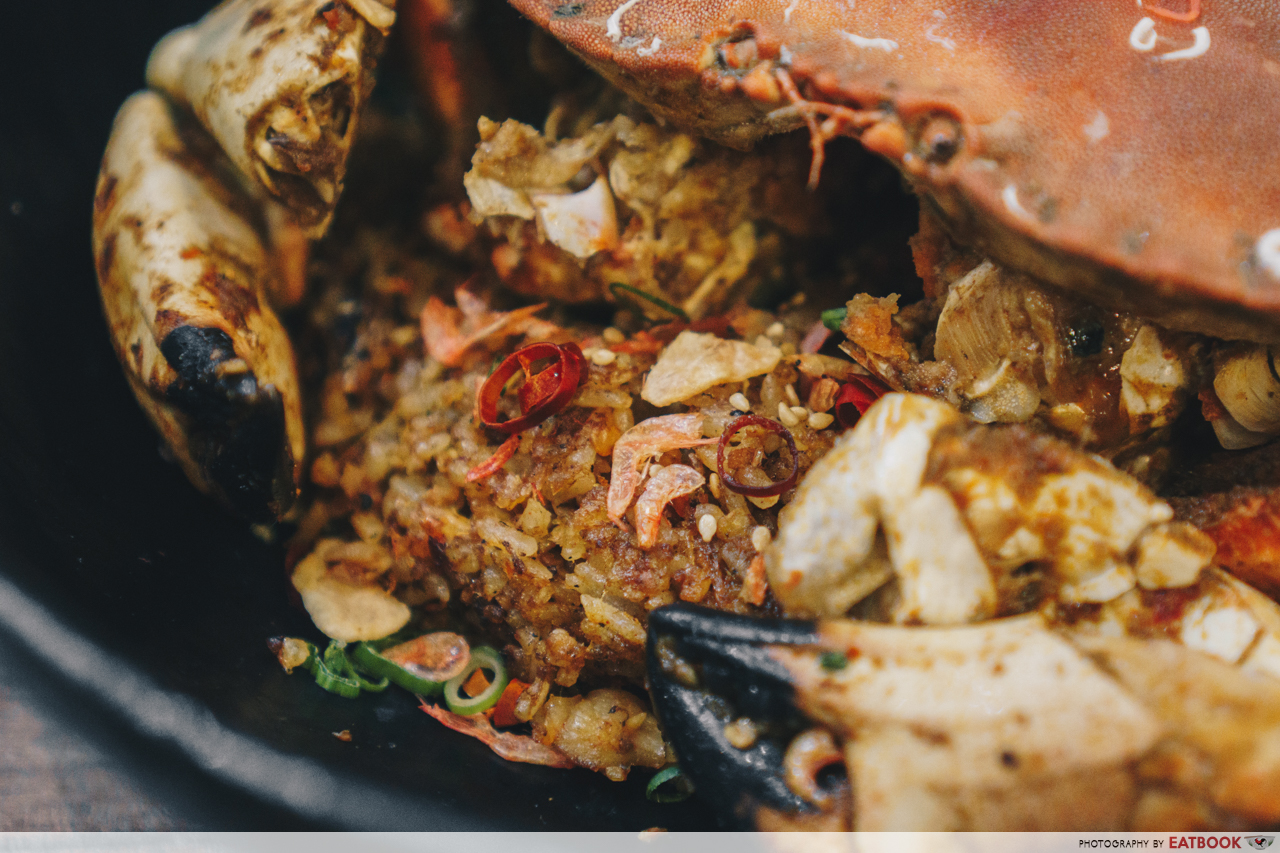 It featured a whole Australian brown crab resting atop a mountain of fried Japanese rice. The rice was peppered with a variety of toppings that came in a kaleidoscope of colours. There were red chili padi slices, chopped green onions, garlic slices fried to a golden yellow, dried shrimps, and sesame seeds. Each of them played a role in adding a depth of flavour to the rice.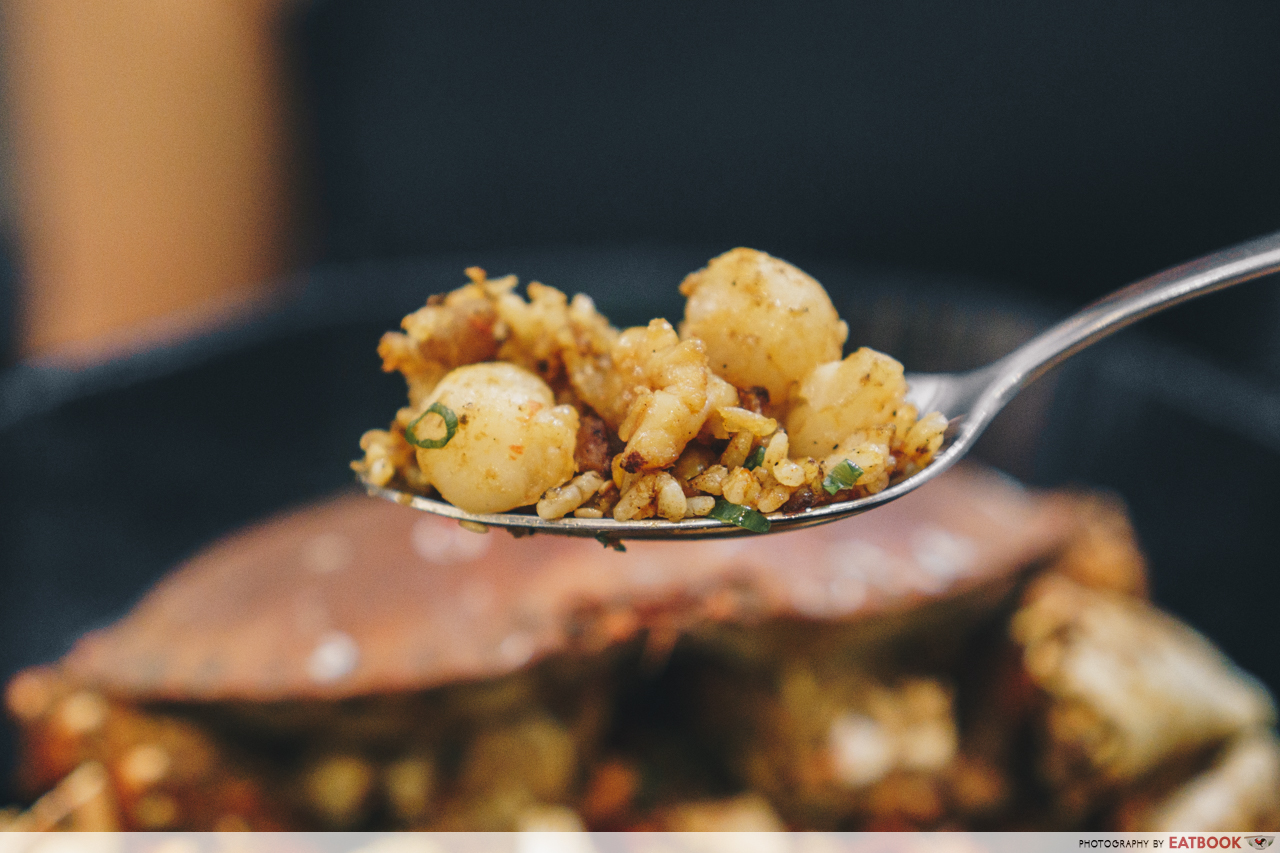 To my delight, there was also a lavish amount of scallops in the mix. Each spoonful either had a scallop or a chunk of crab meat in it. The entire dish was a terrific agreement of flavours. The chef behind the dish, Marcus, mentioned with pride that the ingredients were tossed in a house-made rempah. Every mouthful was mildly spicy and umamilicious – a glorious one that was so tasty it had me thinking about it all week.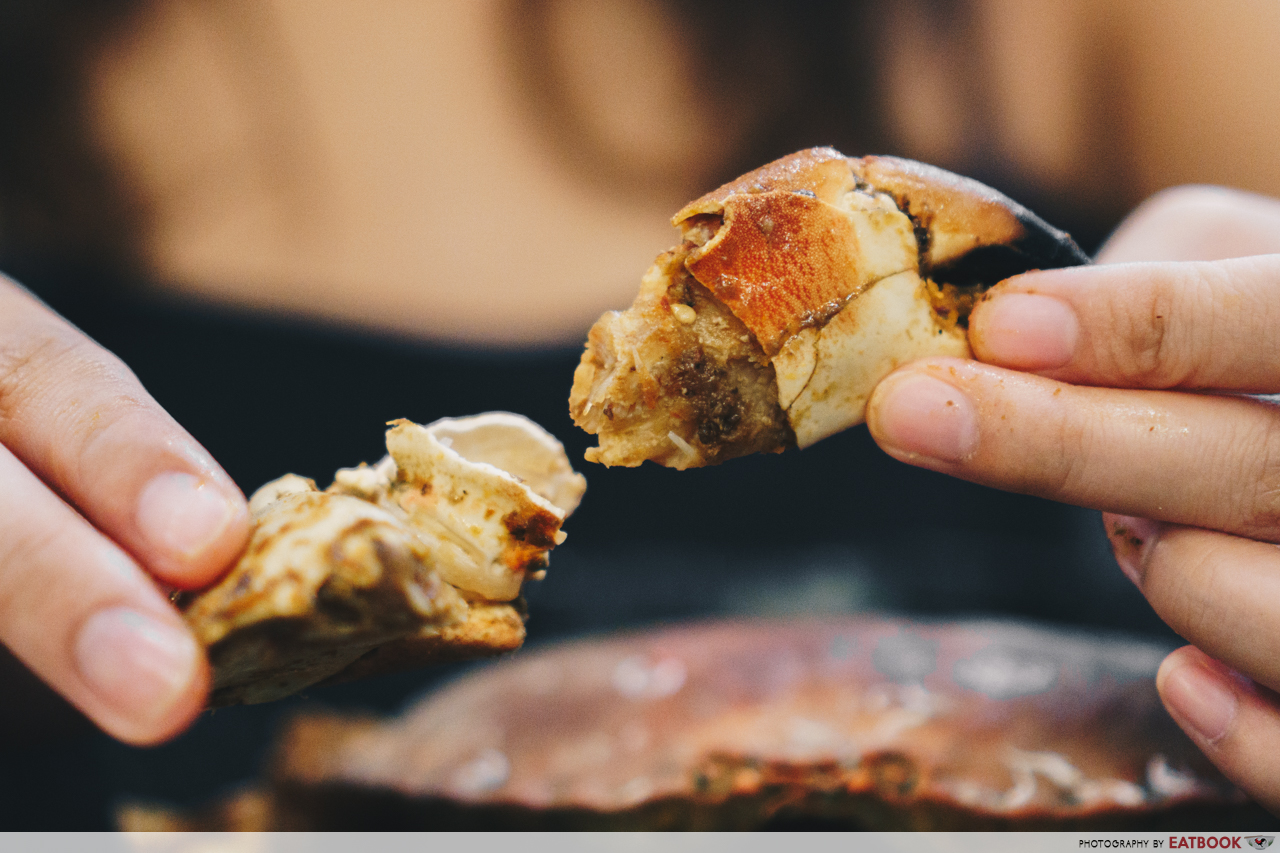 With the generous amount of crab meat found in the rice, I expected the crab shell to be empty. But instead of it being there for mere aesthetic purposes, the crab was still chock-full of flavourful meat.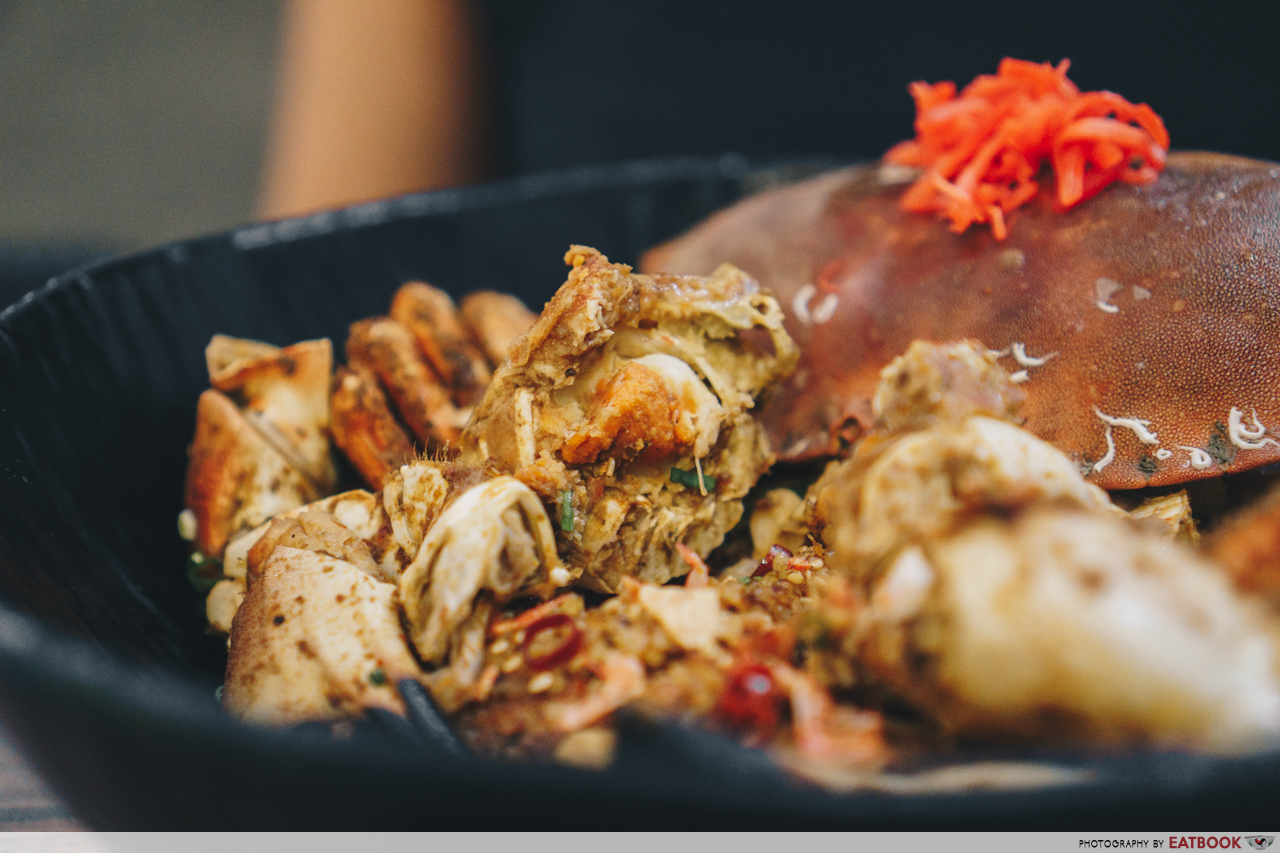 If you're lucky, you might even find orange crab roe peeking from underneath the shell like we did!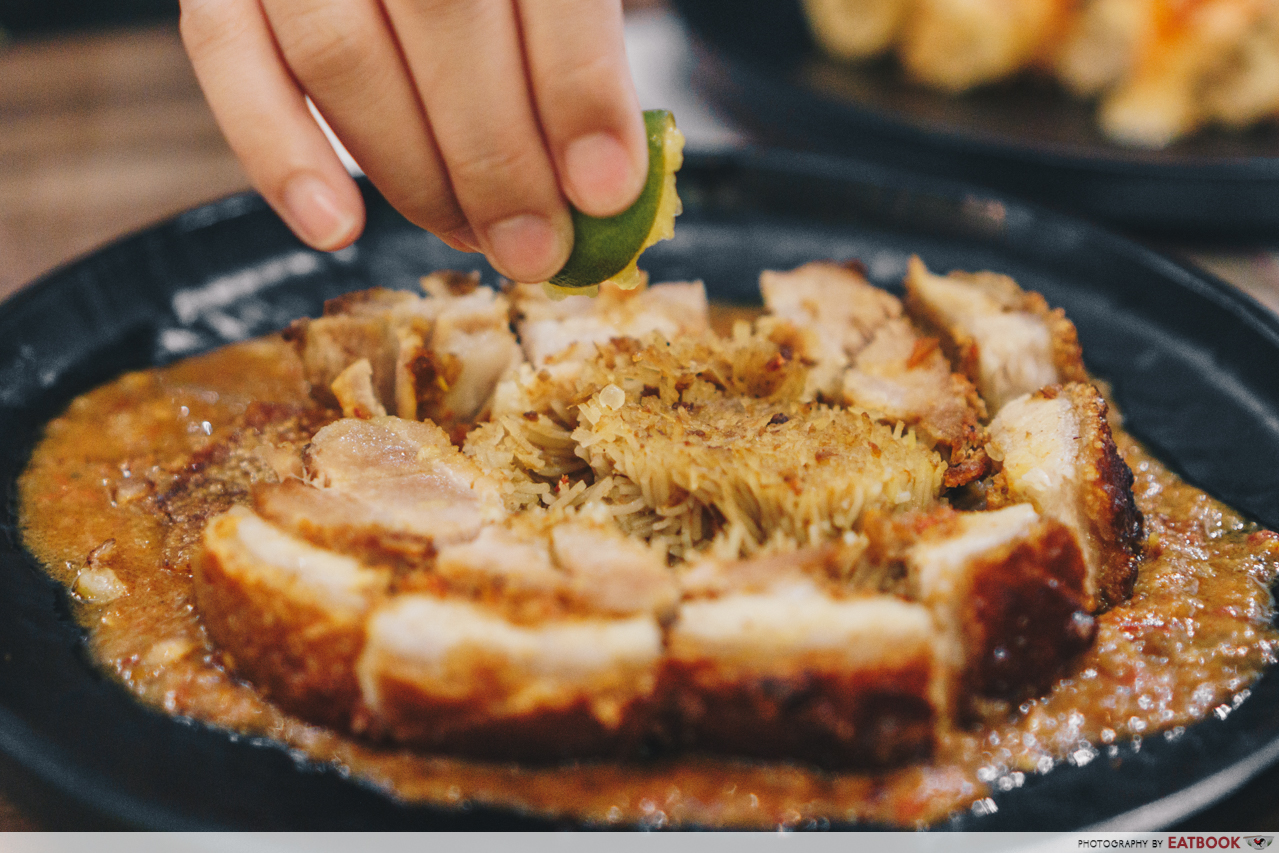 The second item on the menu was #BellyRollMe ($12.80+). Similar to the first dish, we were engulfed in an aroma of spices. This dish probably takes the cake as the most creative mod-Sin dish I've tried thus far. Think classic porchetta, but with a 180-degree twist in flavours.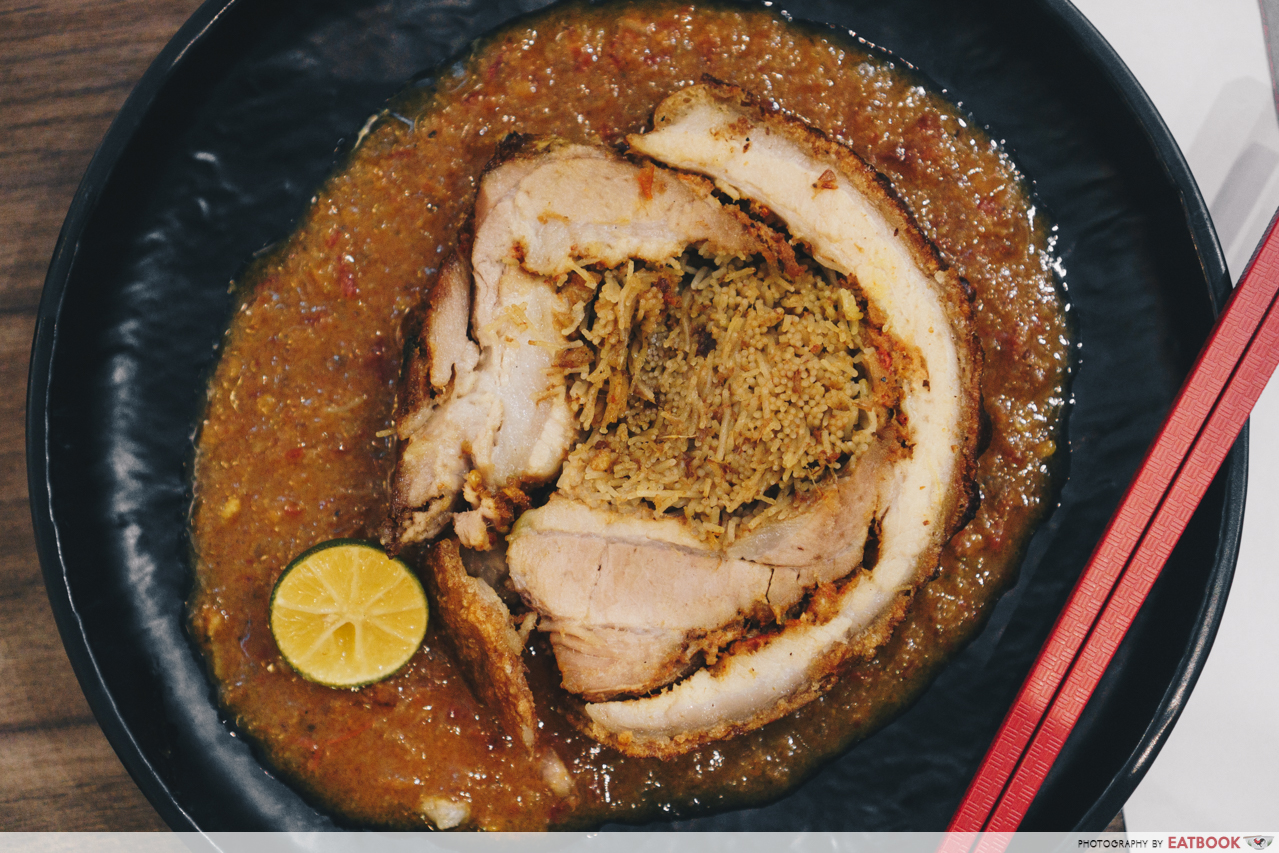 Uncle Kiisu's version of a porchetta, stuffed with bee hoon and paired with a piquant mee siam sauce, was utterly sublime.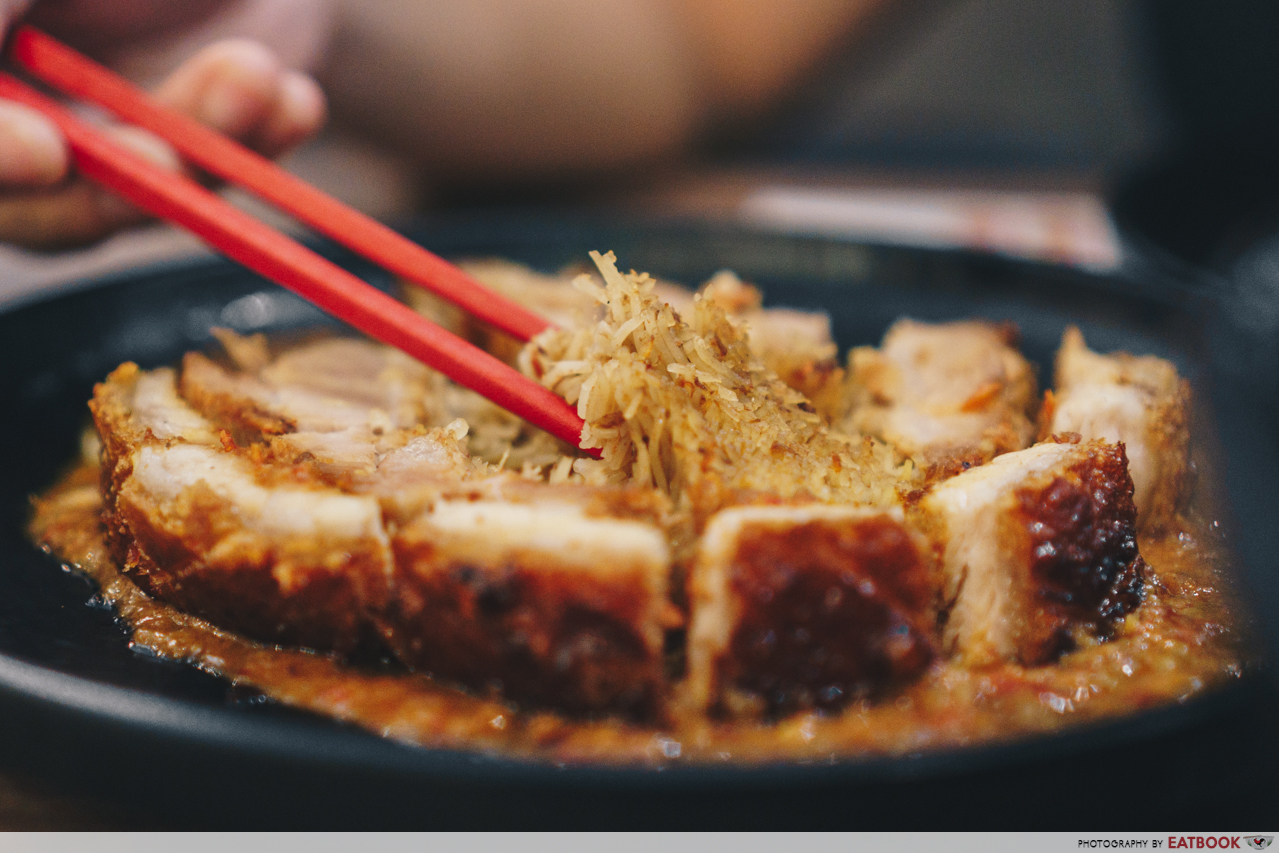 I couldn't decide which part of #BellyRollMe I loved more. There was the sweet and sour mee siam sauce, which brought life to everything it touched. There was the delicate and well-seasoned bee hoon centre. And there were also the morsels of tender meat that came with a killer crunch from its crackling, puffed up into a magical crust of porky goodness.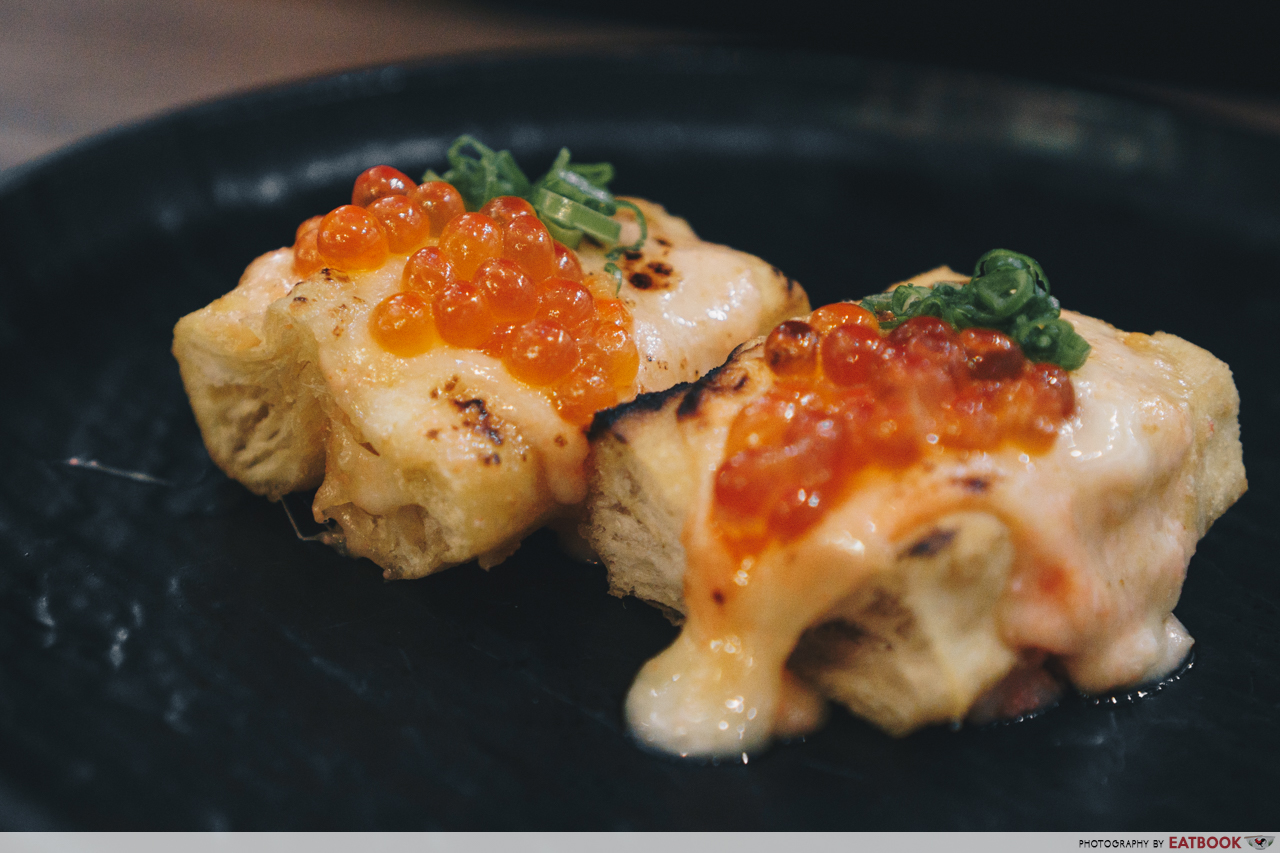 My colleague and I also decided to give their bruschetta a try. We got the #MentaikoCheeseBruschetta ($3.80+), which was just fried you tiao slathered with mentaiko sauce and piled with cheese and ikura roe.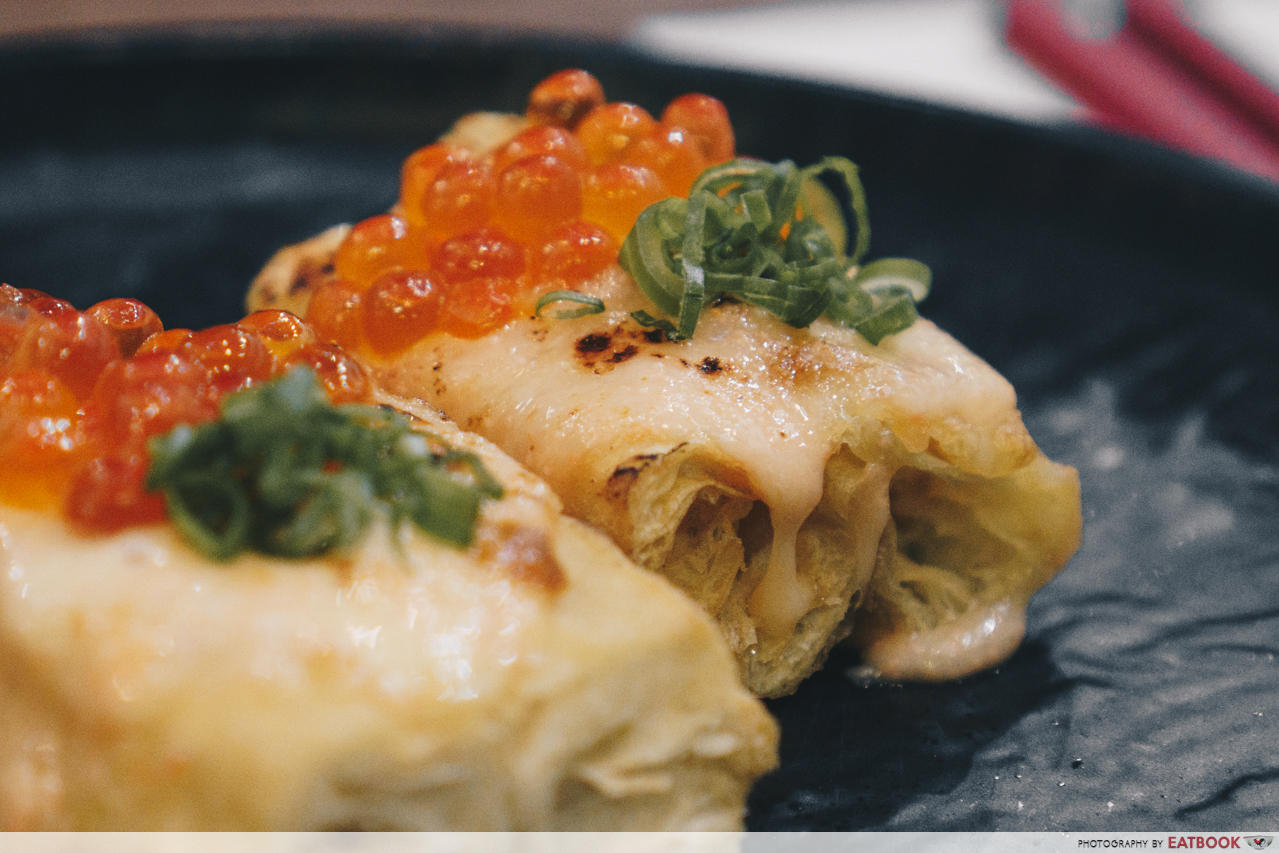 These bite-sized dough fritters had a hint of smoky taste to them, as they were touched by the breath of a blowtorch before being served. The melted cheese also added an element of fun to the otherwise ordinary dish. But at $3.80+ a pop, I expected more than just two pieces in a serving.
Ambience at Uncle Kiisu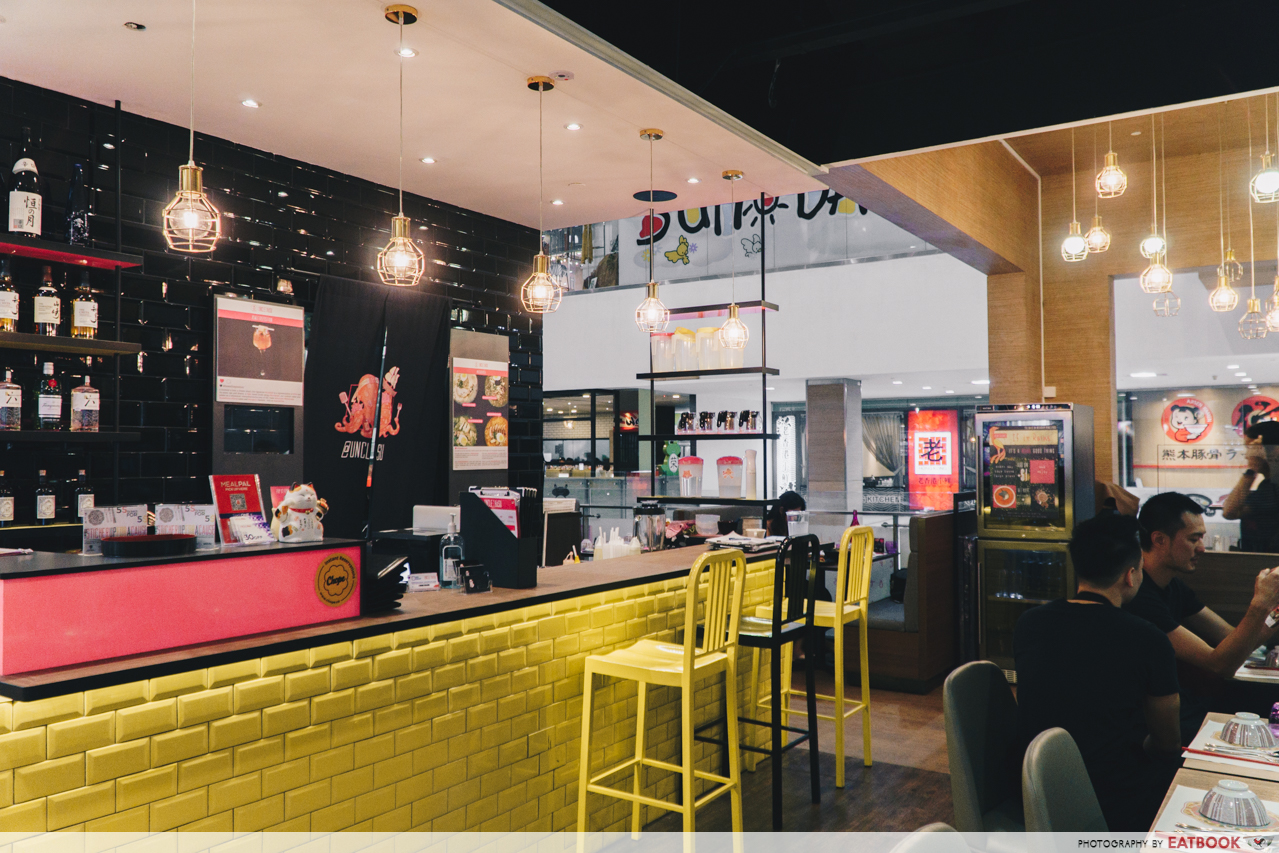 Despite being located along a cramped walkway opposite Daiso in Square 2, Uncle Kiisu's loud and quirky neon signs and posters easily caught our attention from afar. The restaurant housed more tables than it looked like it could from the outside. Modern lighting also filled the space with a soft glow, making it an ideal place to feast and chill at.
The verdict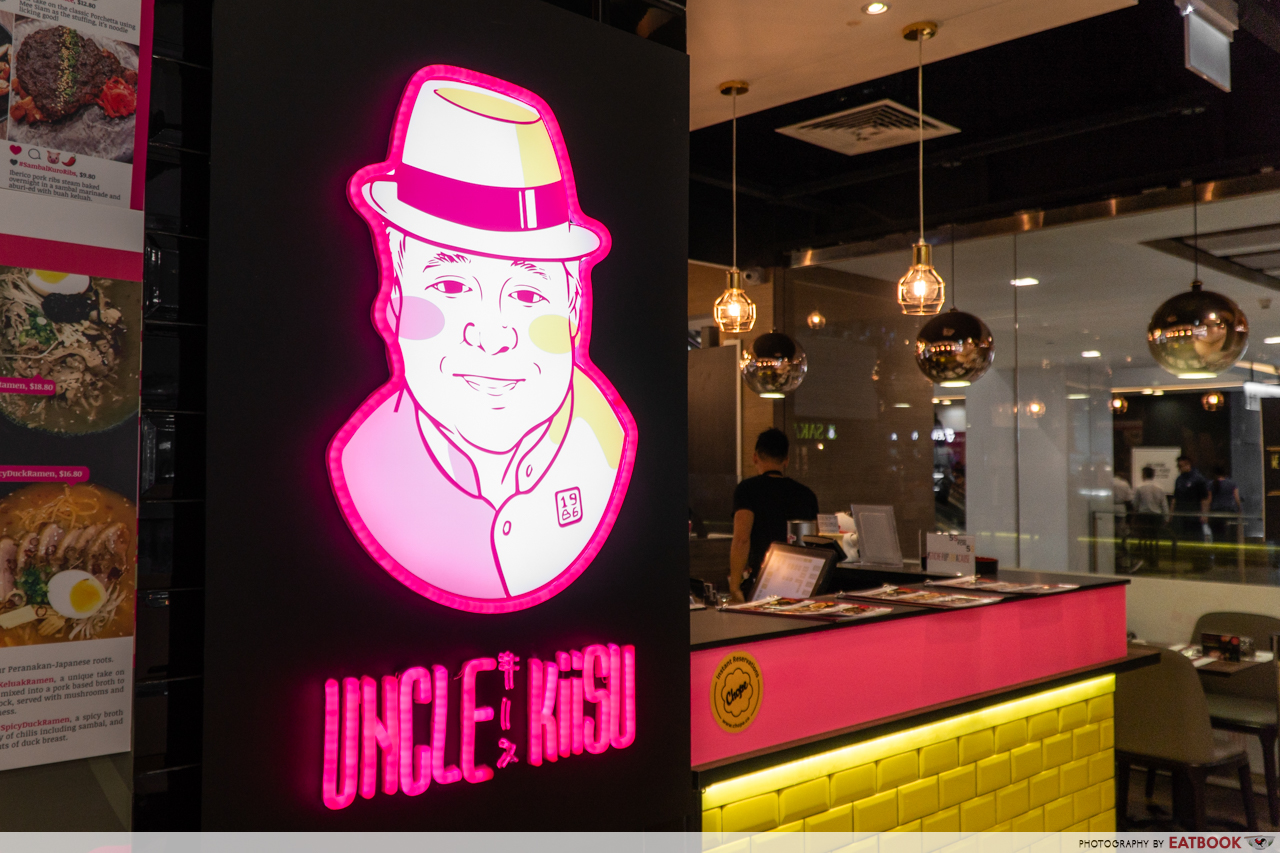 Expect the unexpected here at Uncle Kiisu. If you're looking for a fun place to bring your date, this is the place to go. If you're looking to impress your usual group of makan kakis, this is the place to recommend as well. The only gripe to my experience here was that I didn't have enough stomach space for more than three dishes in the menu. I'll be sure to head down with an empty stomach for a re-visit!
For more fancy schmancy food to try, check out our review on Aqua S, which serves whimsical sea salt soft serve with fairy floss and popping candy. If you're adventurous with your nosh but are on a budget, check out our round-up of affordable mod-Sin food to try.
10 Affordable Mod-Sin Food From $4 That Makes It More Than A Trend For Atas People
Address: 10 Sinaran Drive, #02-65, Square 2, Singapore 307506
Opening hours: Mon-Fri 10am to 10:30pm, Sat-Sun 10am to 11:30pm
Tel: 6251 0177
Website
Photos taken by Nadia Loewito.
This is an independent review by Eatbook.sg.
Summary
Pros
– Food was well-seasoned
– Extensive menu
– Unique dishes
– Good service
Cons
– Some items in the menu were pricey
Recommended Dishes: BellyRollMe ($12.80+), CrabOnTheRedHill ($21.80+)
Opening Hours:
Mon-Fri 10am to 10:30pm, Sat-Sun 10am to 11:30pm
Address: 10 Sinaran Drive, #02-65, Square 2, Singapore 307506