---
Try these recipes for famous dishes at home
---
It's been nearly two months into this stay-home period, and I'm sure many of us have been converted into Circuit bakers and cooks. If you want to put your newfound culinary skills to the test, there's no better way than to host your own version of Bon Appetit's 'Gourmet Makes' at home. See if you can dupe your family into believing your creations are the real deal, with these easy recipes of famous dishes. 
---
1. IKEA Meatballs
---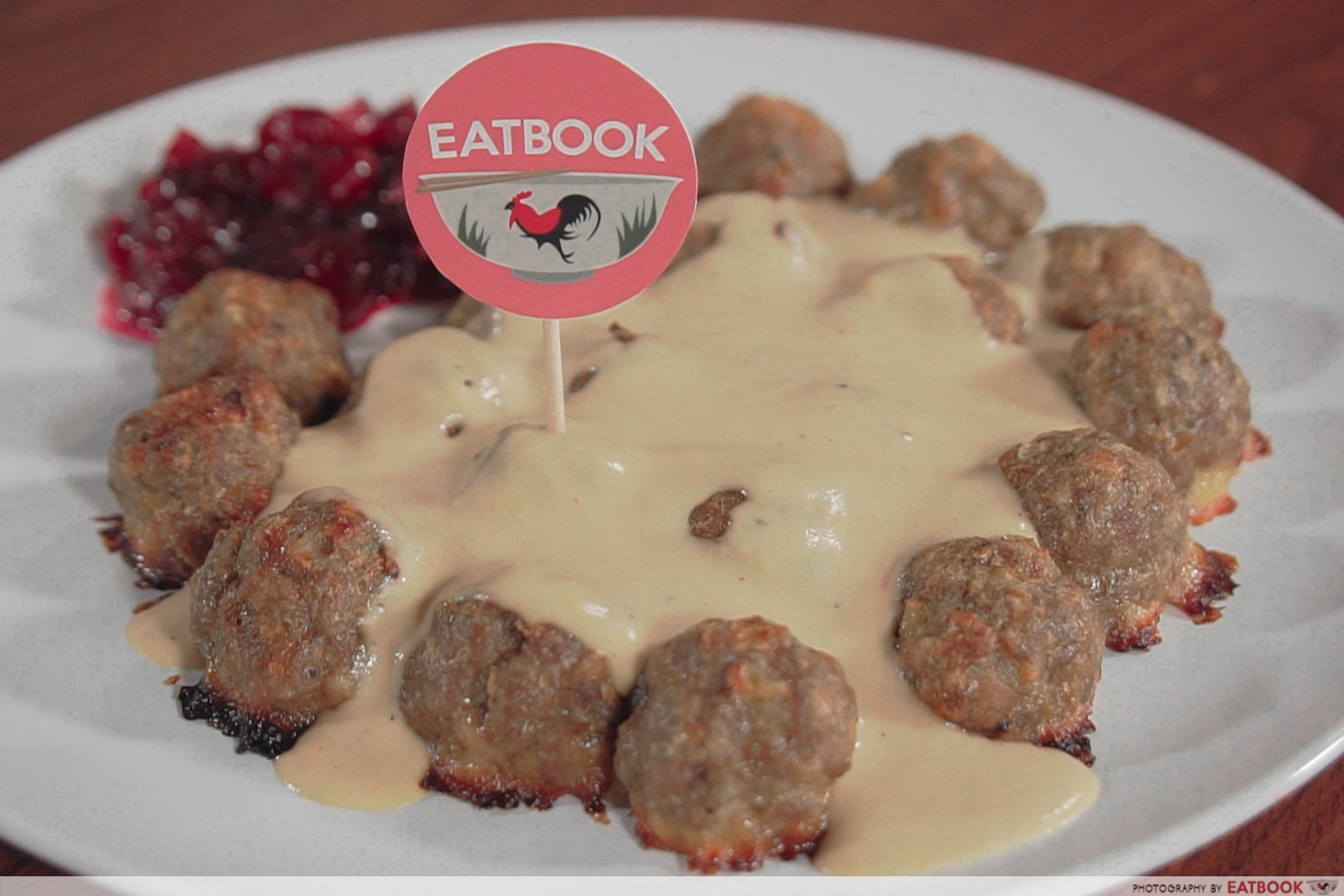 In this time of isolation, IKEA released their Swedish meatball recipe on Twitter for all the folks who want to try cooking it at home. To the official IKEA Meatball recipe, we've added a pinch of allspice to give it more flavour, and included a homemade cranberry sauce recipe as an alternative to IKEA's lingonberry jam.
Before the viral recipe was released, we made our own take of the beloved dish with our IKEA meatballs recipe. To see how well our recipe fared against the real deal, as well as the full illustrated steps, check out our Eatbook Cooks YouTube video on the iconic Swedish meatballs!
Yield: Serves 5 (40 meatballs)
Time needed: 60 minutes
Ingredients
500g minced beef
250g minced pork
1 onion, finely chopped
1 clove garlic, peeled and minced
100g breadcrumbs
1 egg
5 tbsp whole milk
1½ tsp salt
1 tsp black pepper
¼ tsp allspice
Cranberry sauce:
100g cranberries
50g water
50g sugar
Gravy:
3 tbsp butter
3 tbsp plain flour
150ml vegetable stock
150ml beef stock
150ml thick double cream
2 tsp soy sauce
1 tsp of Dijon mustard
Directions:
In a bowl, combine minced beef and minced pork. Break the mince apart and mix to get rid of lumps.

Add in the rest of the ingredients, namely the chopped onion, garlic, breadcrumbs, egg, milk, salt, and pepper. Mix everything thoroughly.

Form the mixture into tablespoon-sized meatballs, then refrigerate for two hours.

Heat a greased pan over medium heat. Add the meatballs and let them brown on all sides.

Place the meatballs into an oven-proof dish and cover them. Bake the meatballs in a preheated oven for 30 minutes, at 180°C.

To prepare the gravy, heat a pot on medium heat and melt the butter. Add the flour and whisk for two minutes or till the mixture starts to develop a nutty aroma.

Add vegetable and beef stock, and stir continuously. Add in the double cream, soy sauce, and Dijon mustard. Let the mixture simmer until it thickens.

To prepare the cranberry sauce, start by boiling water in a saucepan. Add sugar when the water starts to boil and stir occasionally until it thickens. Add in the cranberries while stirring and gently pressing them. 

Continue cooking the mixture for around 10 minutes. Remove from heat when the mixture has been reduced into a thick jam. 

Plate the meatballs and place a dollop of cranberry sauce at the side. To serve, pour the gravy all over the meatballs.
Recipe adapted from IKEA UK's post on Twitter.
---
2. Famous Amos Cookies
---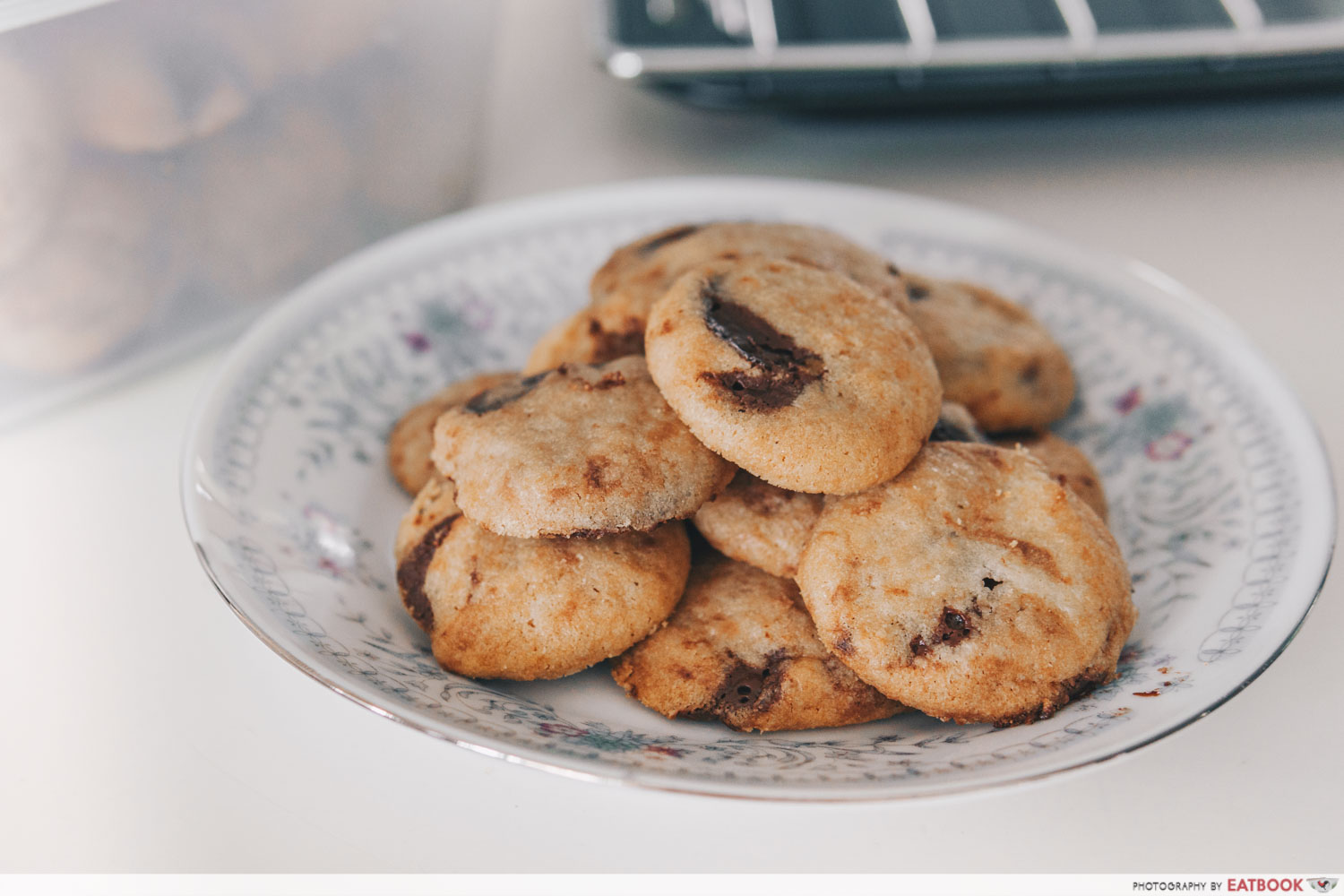 The divine buttery aroma of Famous Amos Cookies is something I dream about from time to time—I could smell 'em from a mile away. It seems like the cookie gods have answered our calls with this viral Famous Amos chocolate chip cookie recipe, for us to kickstart our stay-home baking adventures, and add to our recipe lineup of famous dishes.
Making this fuss-free chocolate chip cookie is as easy as combining all the ingredients together in a single bowl, so it's definitely a recipe you can whip up with kids. If you want, you can even make the cookie dough a few days in advance and keep it in the freezer till you're ready to bake. Watch us try these recipes of famous dishes on Eatbook's YouTube channel!
Yield: Serves 6 (36 cookies)
Time needed: 15 minutes
Ingredients
250g butter, softened
1¼ cups brown sugar
1 tsp vanilla essence
1 egg
2½ cups all-purpose flour
½ cup cornstarch
1 tsp baking soda
1 tsp baking powder
6 tsp vegetable oil
2 cups chocolate chips
Steps:
In a large mixing bowl, combine butter, brown sugar, vanilla essence, and egg. Beat well using a wooden spoon, for a maximum of two minutes.

Sift in the flour, cornstarch, baking soda, baking powder, then add in the vegetable oil. Mix till everything is well combined.

Add in the chocolate chips and fold them in till well distributed. Cling wrap the bowl and refrigerate for at least 30 minutes.

Preheat the oven to 150°C, and prepare your baking tray by brushing a layer of butter on the surface—this will help to brown the bottoms of the cookies as they bake.

Pinch a teaspoon-sized ball of cookie dough, and place each dough ball at least two to three inches apart. Bake in the preheated oven for 20 minutes.

Let the cookies cool on a cooling rack and enjoy!
---
3. Breakfast McGriddles
---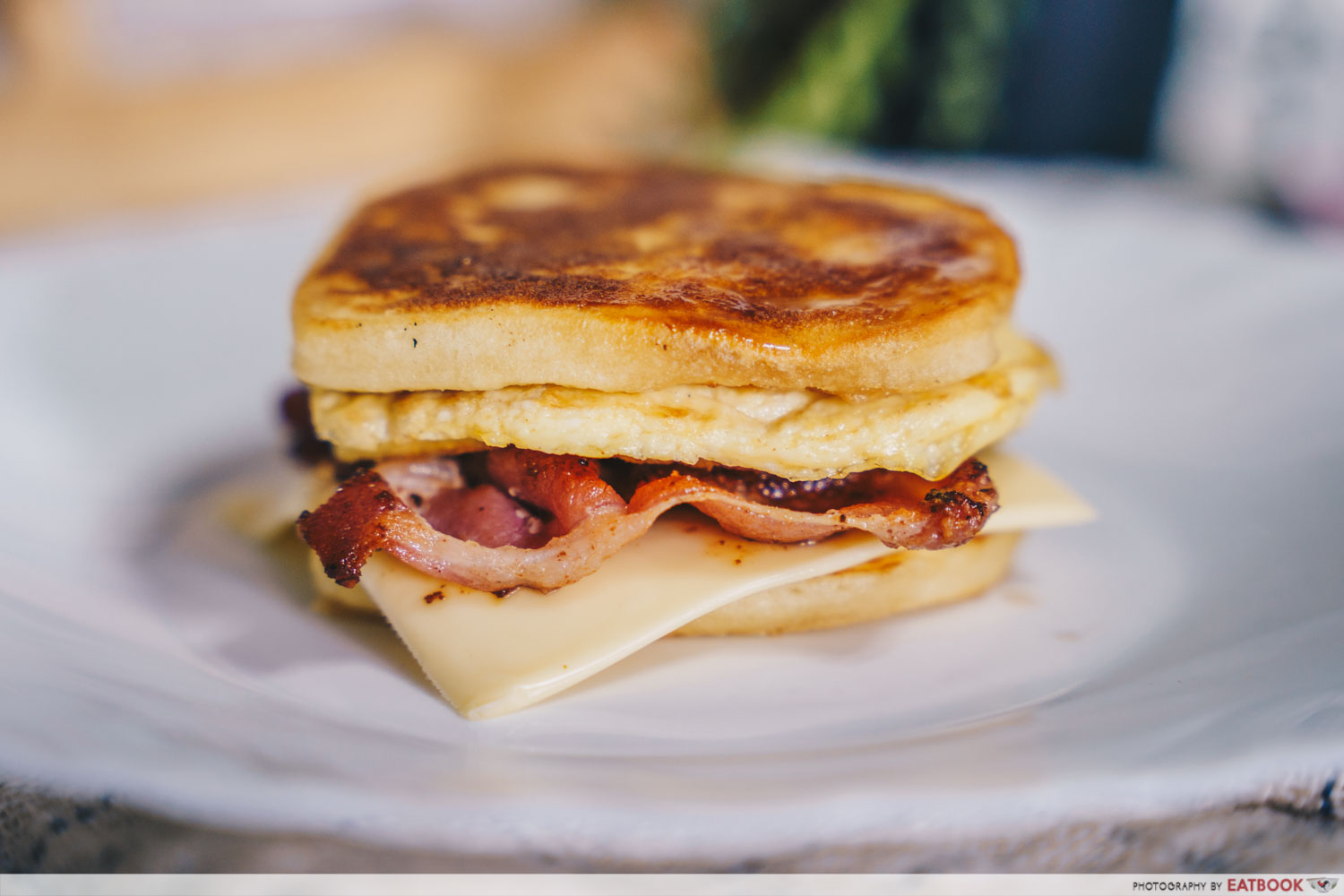 Of all our recipes of famous dishes, this one is the most sought after right now. McDonald's may be back in the fast food scene, but I doubt the elusive McGriddles will be making a reappearance anytime soon. For all those missing this popular sweet and savoury McDonald's item, try constructing your own Breakfast McGriddles at home.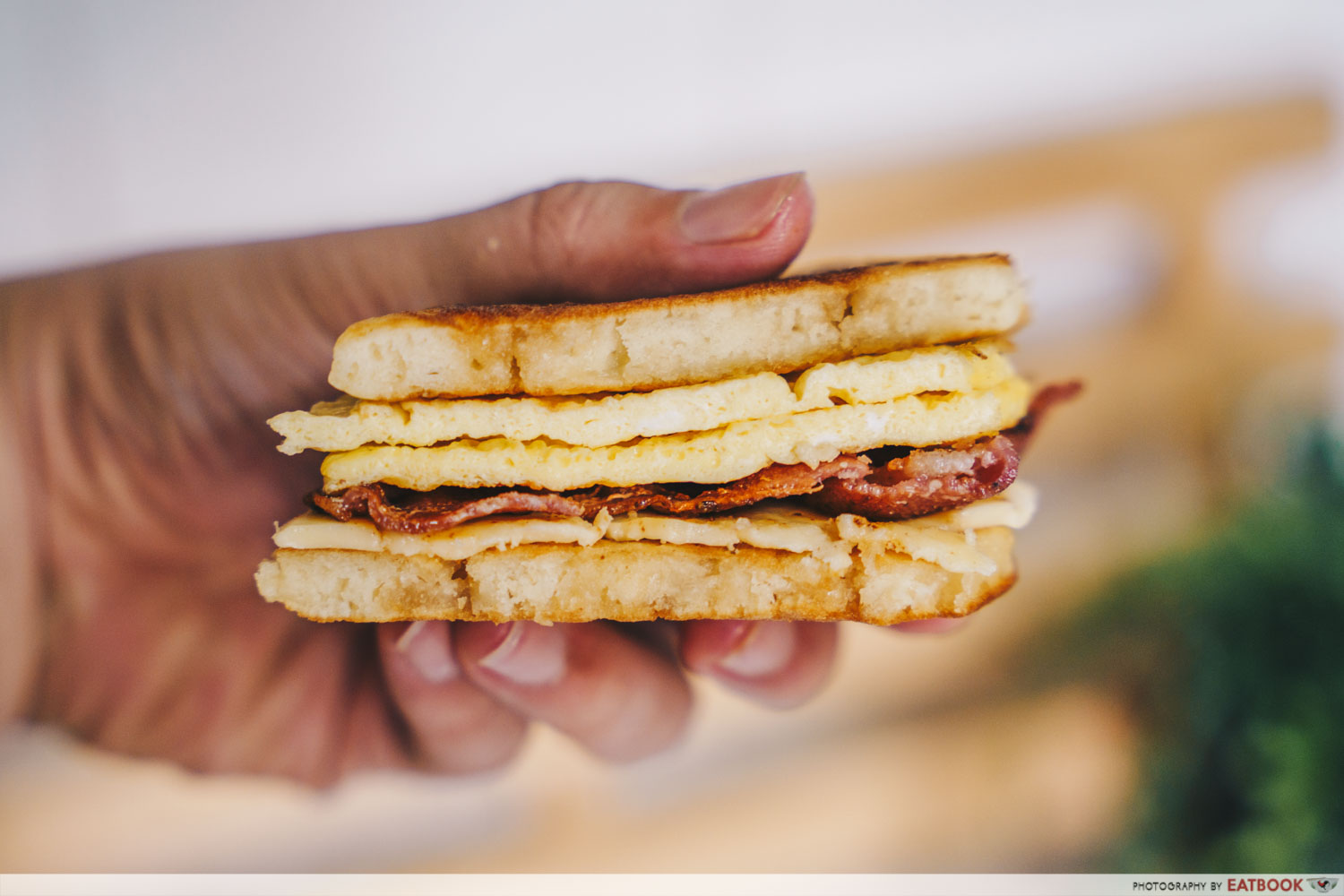 This recipe makes a good ol' bacon, cheese, and egg burger, sandwiched between maple-filled, fluffy pancakes. Use the fluffiest pancake recipe you can find for the best results. Check out our list of zhnged sandwich recipes for more quick meal options.
Yield: Serves 3
Time needed: 30 minutes
Ingredients
1 batch pancake batter
3 tbsp maple syrup
6 bacon strips
2 eggs
Salt
Black pepper
Cheese slices
Steps:
Prepare pancake mix according to the instructions, or use your favourite pancake recipe.

Lightly grease a frying pan with butter and bring up to medium heat. Pour about a ¼ cup of pancake batter onto the pan or into pancake rings.

Pour one tablespoon of maple syrup into the centre of the pancake and top it with two more tablespoons of pancake batter.

Once the edges start bubbling slightly and the pancake is cooked on the bottom, flip the pancake over and let it brown on the other side. Remove pancakes from the pan. 

Bring a frying pan to medium heat and cook your bacon slices on it. Cut them into smaller pieces if they are too big.

Remove your bacon slices once they are cooked, and crack two eggs into the same frying pan.

Scramble the eggs and season it with a bit of salt and pepper as you go.

Brush some maple syrup on one side of your pancakes.

Assemble your McGriddles with cheese slices, scrambled eggs, and bacon slices.
---
4. Ramly Burger
---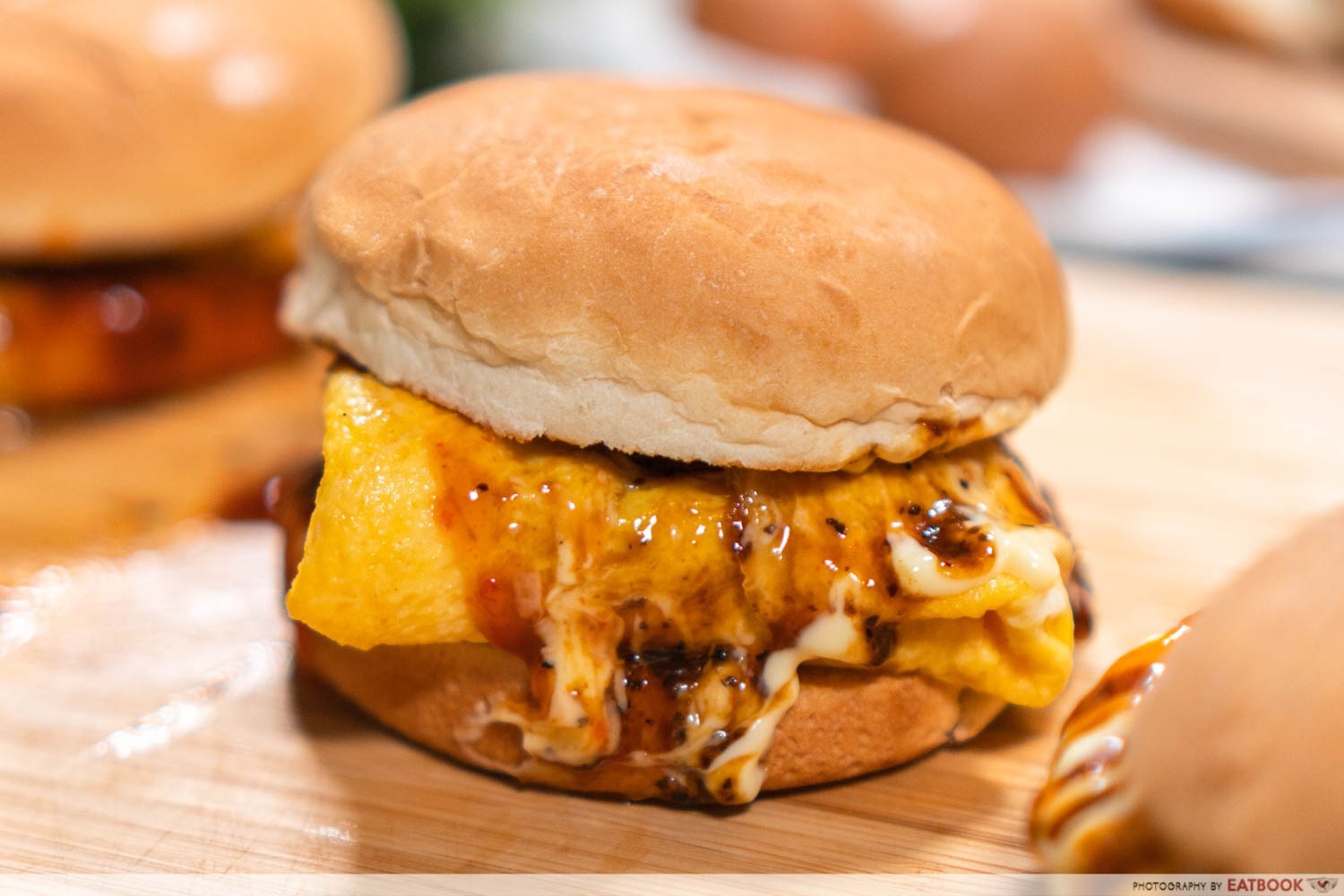 We couldn't leave this pasar malam staple out of our list of recipes for famous dishes. The nostalgic Ramly Burger has always been a must-get at any night bazaar, but since pasar malam isn't much of a viable option now, one thing you can do is experiment with recipes of one of their most famous dishes.
The secret ingredient to this low-cost, low-effort DIY burger is adding a few drops of Maggi seasoning into the chicken marinade. This grants the patty all the addictive umami notes that you'd want in your burger dupe. Make sure to give your burger a trademark squeeze of mayonnaise and chilli sauce to serve it just like they do at food festivals!
Check out our fully illustrated Ramly Burger recipe.
Yield: Serves 4
Time needed: 30 minutes
Ingredients
4 burger buns
2 tablespoon butter
Chicken Patty:
360g fresh minced chicken
½ tsp white pepper
1 tsp Maggi seasoning
1 tsp salt
Sauce:
2 tbsp mayonnaise
2 tsp Worcestershire sauce
2 tbsp black pepper sauce
2 tbsp chilli sauce
1 tsp curry powder
4 eggs
Steps:
To prepare the chicken patties, combine the minced chicken, white pepper, and Maggi seasoning.

Chill chicken mixture in the fridge for a minimum of 15 minutes.

Remove and divide the chicken mixture into four equal portions. Shape each portion into individual discs.

Slice the burger buns lengthwise and slather generously with butter.

In a large pan on medium heat, carefully toast the buttered buns till golden-brown. Remove buns from the pan.

In the same pan on medium-high heat, add a light coat of oil and fry the chicken patty.

Season the first side with salt, Worcestershire sauce, and curry powder before flipping over.

Cook the patties until they are golden-brown on both sides. Remove patty from the pan.

In the same pan on low-medium heat, add a light coat of oil and pour in a beaten egg. You will have to do this separately for each burger.

Swirl the eggs around the pan and scrape down the sides.

When the egg is fully cooked, with no runny eggs in the middle, place a chicken patty in the centre of the omelette.

Gently fold the omelette on all four sides to cover the patty so that it resembles a parcel.

Place the omelette-wrapped patty on the buns and slather with black pepper, mayonnaise and chilli sauce.

Serve immediately.
---
5. Bengawan Solo Pandan Chiffon Cake
---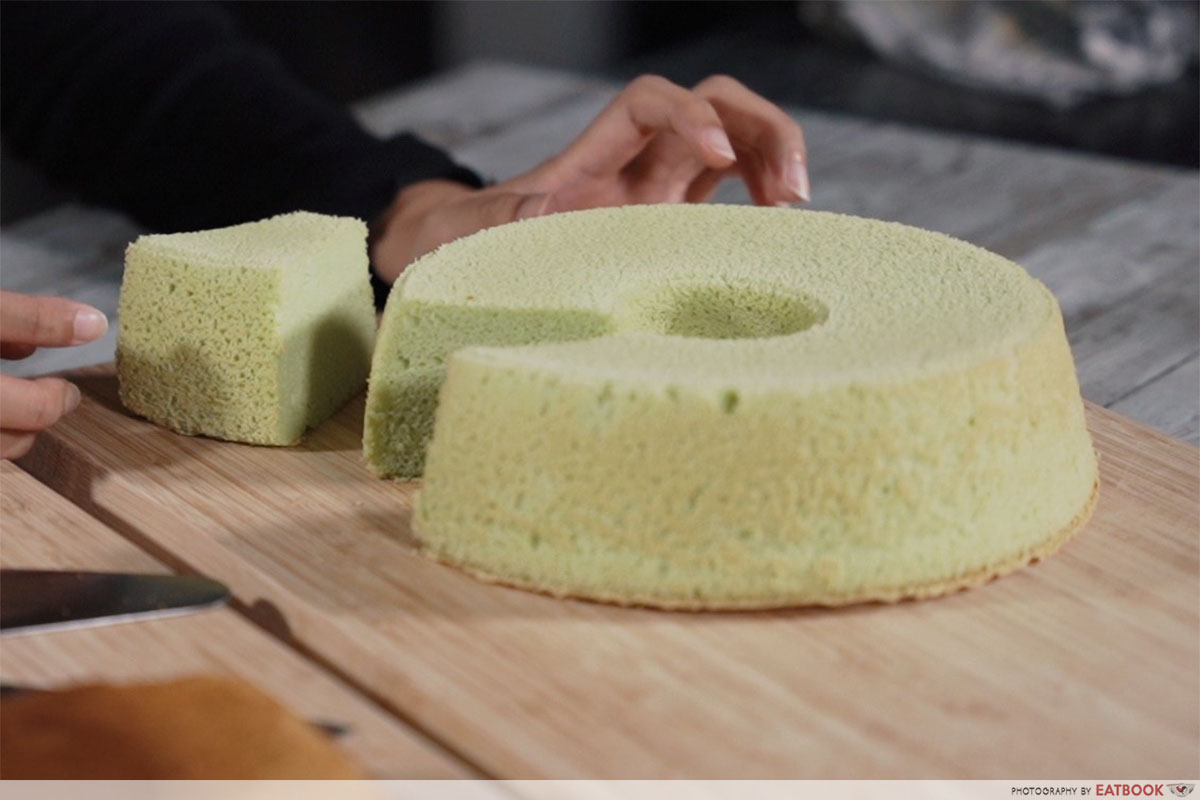 Soft, pillowy, fragrant, and green—the first thing that comes to mind is a Pandan Chiffon Cake, more specifically, the one sold at Bengawan Solo. This iconic cake is the best after-school snack to come home to; it's not too jelak, but just sweet enough to quell your sugar cravings till dinnertime.
The trick to an ultra-fluffy chiffon cake is to incorporate lots of air into the batter, and this is done through whipping the egg whites into a meringue. Remember to fold the meringue carefully with the rest of the ingredients so you don't undo all of your hard work! For a more intense pandan flavour, we used both pandan paste and homemade pandan juice in this recipe.
Watch our YouTube video to see how well our recipe did against the legit Bengawan Solo cake.
Yield: Serves 8
Time needed: 25 minutes
Ingredients
Pandan juice:
5 pandan leaves
100ml water
Egg yolk mix:
6 egg yolks
50g castor sugar
50ml vegetable oil
150ml coconut milk
120g cake flour
1 tsp baking powder
⅛ tsp salt
½ tsp pandan paste
1 tsp vanilla essence
30ml pandan juice
Egg white mix:
6 egg whites
½ tsp cream of tartar
80g castor sugar
Steps:
Blend the pandan leaves and 100ml of water. Using fine sieve or cheesecloth, strain the mixture and collect the pandan juice.

Place egg yolks and sugar into a mixing bowl and whisk to combine.

Add in the coconut milk, baking powder, salt, vegetable oil, pandan paste, vanilla essence and 30ml of pandan juice, then sift in the cake flour. Stir till everything is well combined.

In a separate mixing bowl, pour in the egg whites and whisk using a hand mixer.

Once foamy, add in the cream of tartar and continue whisking. Add in the sugar slowly, in three batches, while whisking continuously. Stop whisking once stiff peaks form.

Gently fold in the egg whites into the first mixing bowl, in three separate batches

Pour the cake batter into a tubeless baking pan and place into a preheated 170°C oven, set to bottom heating, for 50 minutes. In the last 15 minutes, switch the heating to both top and bottom.

Let it cool upside down, and then invert the cake onto a plate and serve.
---
6. KFC Fried Chicken
---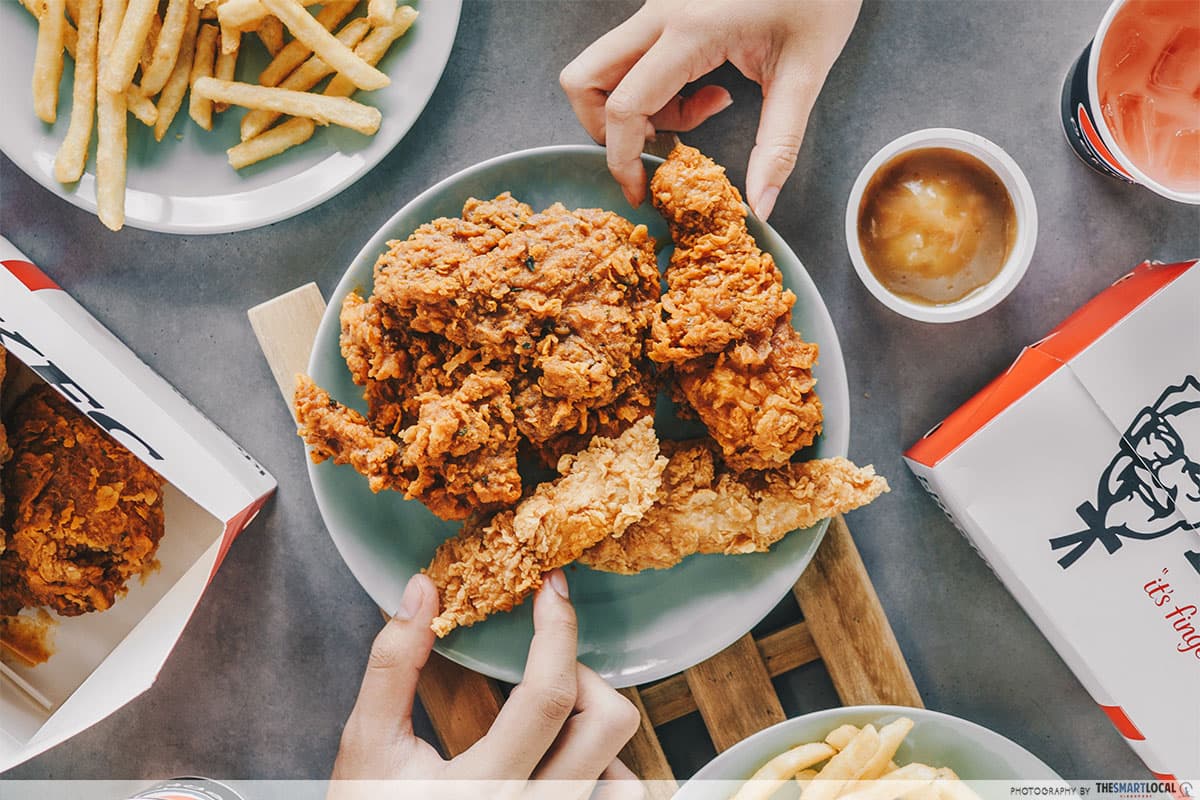 A few years ago, food bloggers across the Internet buzzed with excitement over the release of the alleged original recipe to KFC Fried Chicken. Many homecooks set out to test their own recipes of the famous spice mix, which consists of 11 herbs and seasonings, and their dishes can vouch for the legitimacy of the viral recipe.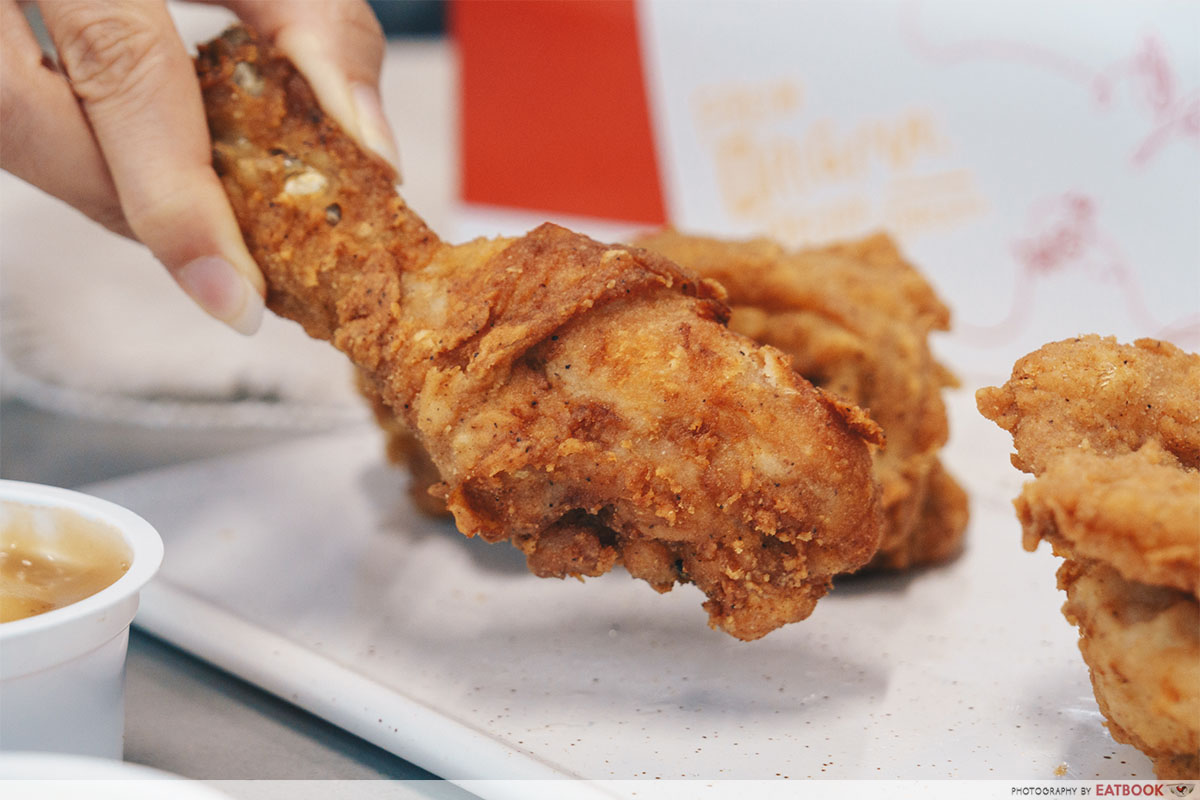 To make fried chicken, you need to be deep frying. However, if you're not a fan of working with a pot of hot oil, you can try out this air-fryer version instead. For more KFC-inspired recipes of famous dishes, check out our video on the KFC Hotblaze Grilled Chicken dupe!
Yield: Serves 9
Time needed: 40 minutes
Ingredients
Buttermilk
2 whole chickens (about 3kg)
2 cups all-purpose flour
Oil 
Spice mix:
2 tsp salt
1½ tsp dried thyme
1½ tsp dried basil
4 tbsp paprika
1 tsp dried oregano
1 tbsp celery salt
2 tbsp garlic salt
1 tbsp black pepper
1 tbsp mustard powder
3 tbsp white pepper
1 tbsp ground ginger
1 tbsp MSG (optional)
Steps:
Cut each chicken into nine pieces each: two drumsticks, thighs, wings, side breasts, and a centre breast. Place all the pieces in buttermilk and set aside to soak overnight.

In a large bowl, combine all the ingredients for the spice mix. Stir thoroughly till there are no more clumps.

Add in the flour and mix well till the spices are evenly distributed. Pour the mixture onto a tray.

Dip each chicken piece in plain water, shaking off the excess, then dredge in the flour and spice mixture. Repeat for all remaining pieces. Leave the pieces to sit in the flour and spice mixture while the oil heats up, for about 10 to 15 minutes.

Preheat a deep-fryer, or pot filled with oil, to 170°C. Using tongs, carefully lower each piece of chicken into the hot oil, starting with the largest pieces first. 

Fry each piece of chicken for about 10 to 18 minutes, until each piece turns a deep golden brown.

Place the fried chicken pieces on a metal rack and hold them in an oven preheated to 90°C while you finish frying off the whole batch. Keep them in the oven till you are ready to serve.
Recipe adapted from RockRecipes.com's post.
---
7. Pepper Lunch Beef Pepper Rice
---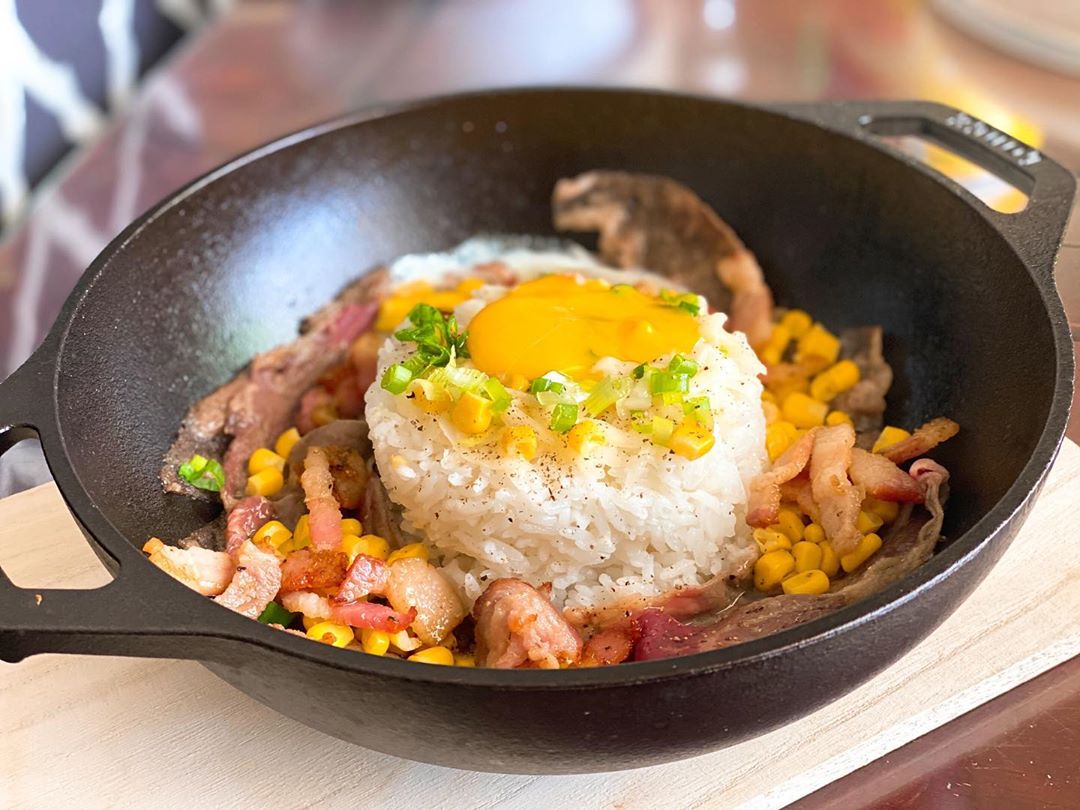 Image credit: @cutieada
When I enter a food court, the smell of Pepper Lunch is the first thing that attacks my nostrils, and I'm immediately tempted to get myself one of their sizzling hotplates. One of their most famous dishes is the Beef Pepper Rice, which features strips of melty sukiyaki beef surrounding a mound of slightly charred, buttery rice.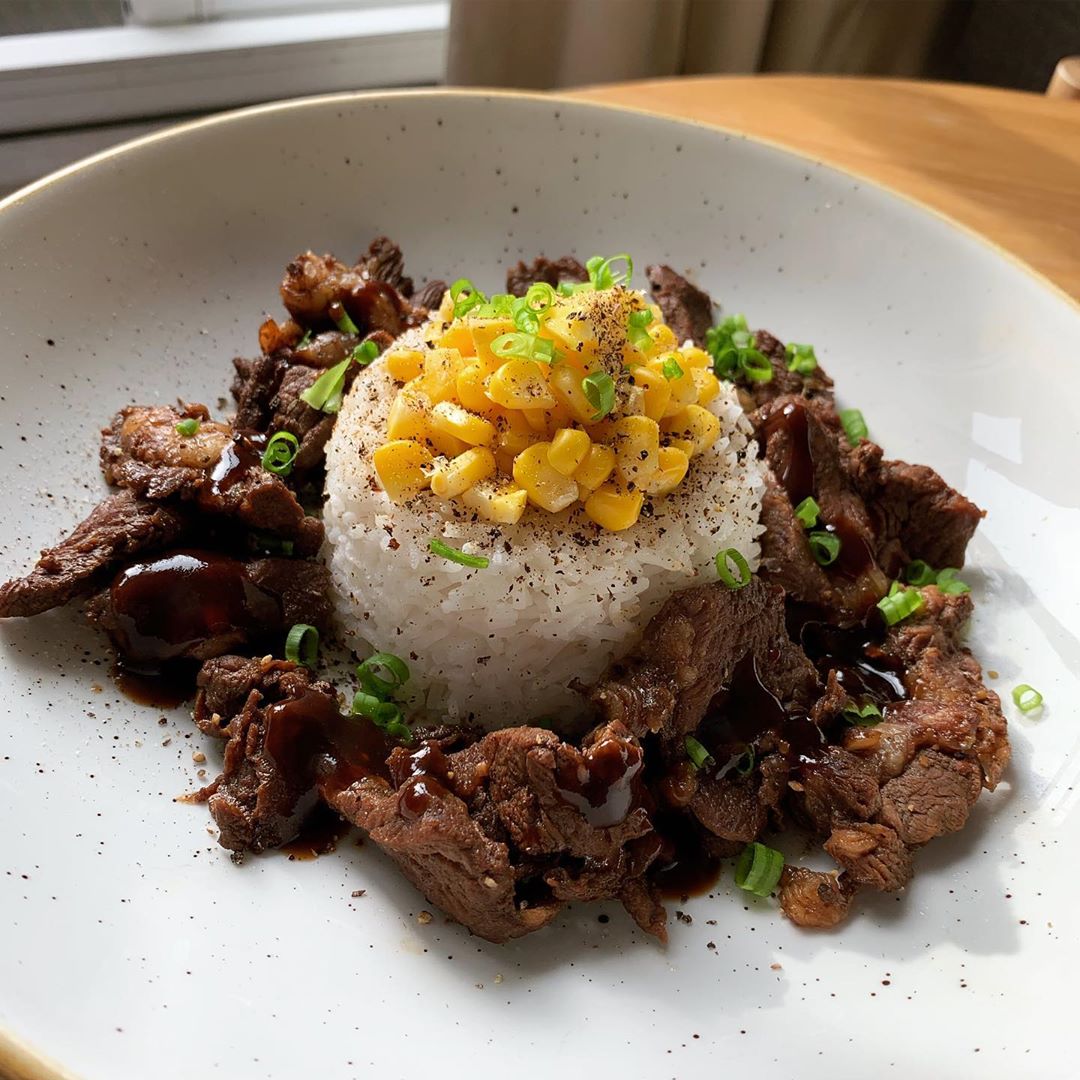 Image credit: @whatsarahcooks_
No sizzling plate of Pepper Lunch is complete without a saucer each of honey brown sauce and garlic soy sauce. Make a big batch of these iconic sauces and keep them in your refrigerator to use another time. This recipe makes enough for two, and if you don't have a large enough iron skillet for two portions, split the cooking of the pepper rice into two pans, and cook each portion separately.
Yield: Serves 2
Time needed: 30 minutes
Ingredients
Amakuchi sauce:
¼ cup honey
¼ cup tamari sauce
¼ cup oyster sauce
2 tbsp water
Karakuchi sauce:
1 tsp vegetable oil
3 cloves garlic, peeled and minced
½ cup tamari sauce
½ tsp black pepper
¼ cup water
1 tsp cornstarch
Beef Pepper Rice:
2 tbsp vegetable oil
½ an onion, finely chopped
1 clove garlic, peeled and minced
2 cups precooked Japanese white rice
350g sukiyaki beef or very thinly sliced beef
Black pepper
½ cup corn
2 tsp butter
1 tbsp spring onions, chopped 
Steps:
For the Amakuchi sauce, add all the ingredients into a saucepan. Cook over low heat, stirring occasionally, for about five minutes. Set aside to cool.

For the Karakuchi sauce, in a saucepan, saute garlic in oil until slightly aromatic. Add in the tamari and black pepper. 

Mix the water and cornstarch together to make a slurry, then gradually add the mixture into the saucepan. Cook until the sauce boils and thickens slightly, then set aside to cool.

To make the beef pepper rice, add the oil, onions, and garlic to a large iron skillet. Saute over high heat until aromatic.

Add the rice to the middle of the pan, then place the beef strips around the rice. Sprinkle a few pinches of black pepper over the beef, and top the rice with corn, as well as butter.

Continue cooking the beef pepper rice over medium-high heat, until the beef reaches the desired doneness. Serve with the Amakuchi and Karakuchi sauces, as well as a sprinkle of chopped spring onions.
Recipe adapted from Healthy World Cuisine's post.
---
8. Nama Chocolate
---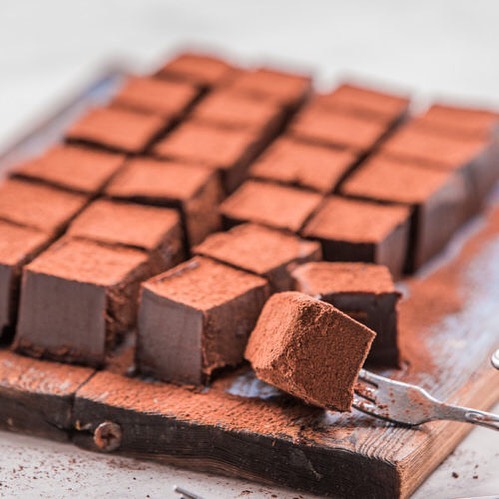 Image credit: @tiem_co_bong
Nama Chocolates is one of those classy food gifts that anyone would enjoy receiving, simply because they taste so good. The word 'nama' translates to 'raw' in Japanese, also referring to the purity of the chocolate in this decadent treat.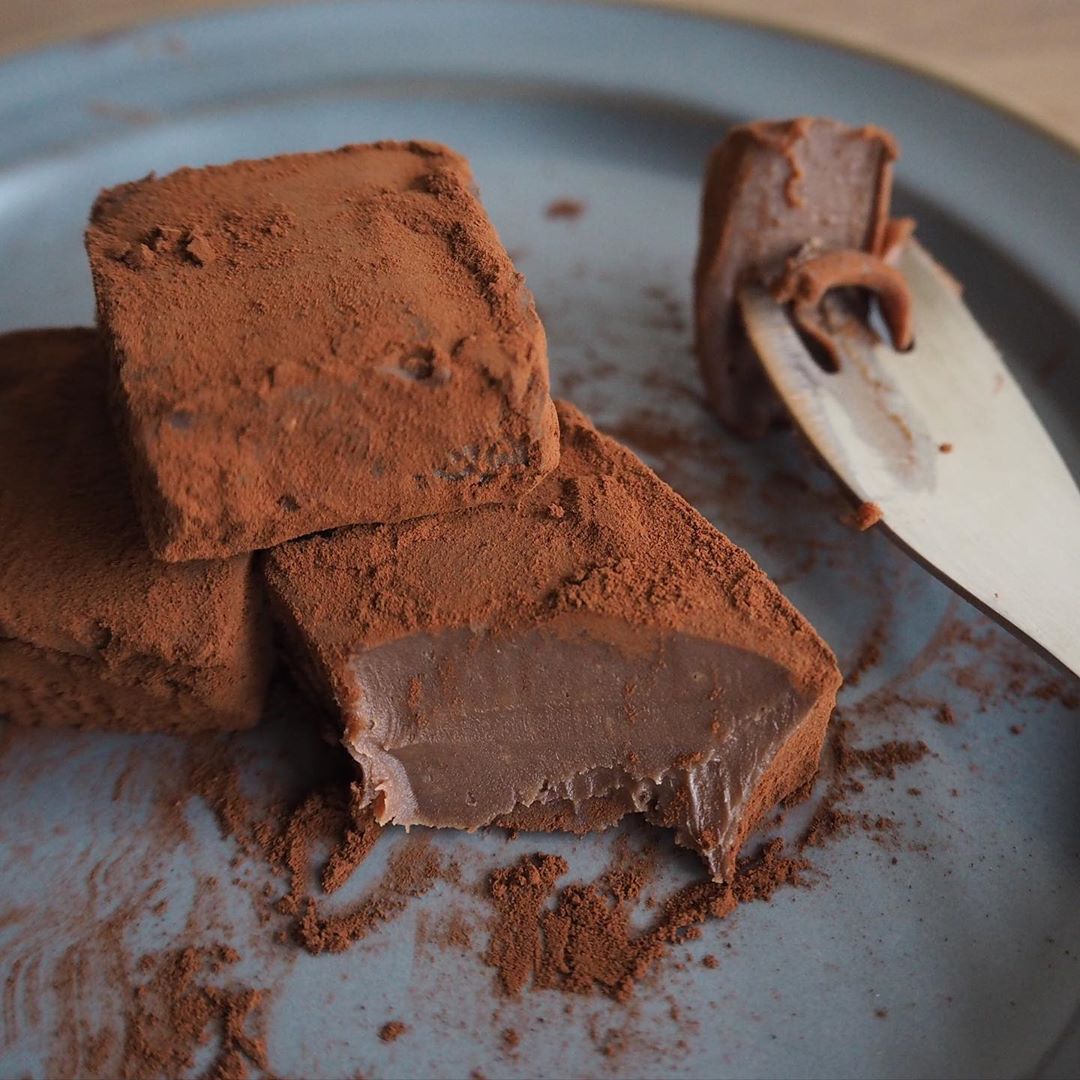 Image credit: @miwa_ishino
This nama chocolate recipe needs only three ingredients: high-quality dark chocolate, heavy cream, and cocoa powder. If you want to give your chocolate bites a bit more bitterness and depth, spike the mix with your favourite liqueur. For the best results, use high quality, Dutch-processed cocoa powder. 
Yield: Serves 9 (36 pieces)
Time needed: 30 minutes
Ingredients
400g 70% dark chocolate, roughly chopped
200ml heavy whipping cream
Unsweetened cocoa powder
1 tbsp liqueur of your choice (optional)
Steps:
In a saucepan over medium heat, pour in the heavy whipping cream. Heat the cream while whisking occasionally to evenly distribute the heat. When small bubbles start to appear around the edges, remove from the heat.

Add the chopped chocolate into the warm cream. Stir till the chocolate completely melts, and the mixture is smooth and glossy.

If you're using liqueur, add and stir it into the mixture.

Line a 20cm square pan with parchment paper. Pour the mixture into the pan, and use a spatula to smooth out the surface. Tap the pan on the surface of the table a few times to evenly distribute the chocolate. Refrigerate for four to five hours.

Warm a sharp knife using a hot towel. Cut the chocolate slab into 36 one-inch squares, trimming the uneven sides if you have to.

Using a fine sieve, generously dust the chocolate pieces with cocoa powder, coating all sides of each piece. Store in an airtight container in the fridge for up to four days, or in the freezer for up to a month.
Recipe adapted from Just One Cookbook's post.
---
9. Starbucks Drinks
---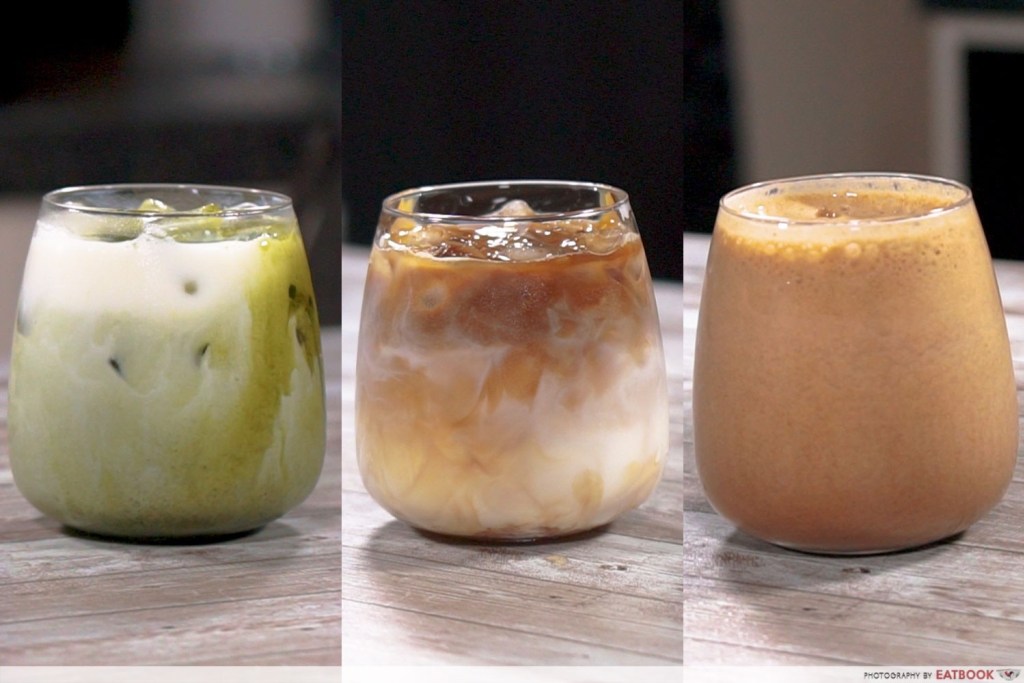 Seeing how overpriced Starbucks drinks are, I really only treat myself to a cup when I'm feeling fancy, or on the rare occasions that they have 1-for-1 deals. For those who don't really want to make a special trip out and overspend on a cup of coffee, we've come up with these copycat recipes for popular Starbucks frappes and lattes.
You'll feel like a legit barista stirring and blending up this earthy Green Tea Latte and chocolatey Java Chip Frappuccino, and a bonus is that you get to decide how sweet, as well as how icy you want your Starbucks dupes. Check out our recipe for Starbucks' Iced Caramel Macchiato!
Yield: Serves 1
Time needed: 6 minutes
Ingredients
Green Tea Latte:
2 tsp matcha powder
2 tbsp brown sugar
60ml hot water
2 drops vanilla essence
1 cup fresh milk
Java Chip Frappuccino:
1 tbsp instant coffee powder
Hot water (as desired)
1 cup ice
½ cup fresh milk
4 tbsp chocolate chips
Chocolate syrup (as desired)
Ice (as desired)
Steps:
To make the matcha latte, dissolve the matcha powder and brown sugar in hot water. Mix thoroughly.

Then add vanilla essence to fresh milk and stir well. Combine both mixtures and add ice.

To make the Java Chip Frappuccino, stir instant coffee powder in hot water. Then blend the coffee together with ice, fresh milk, and chocolate chips.

Serve with a drizzle of chocolate syrup.
---
10. Magnum Ice Cream
---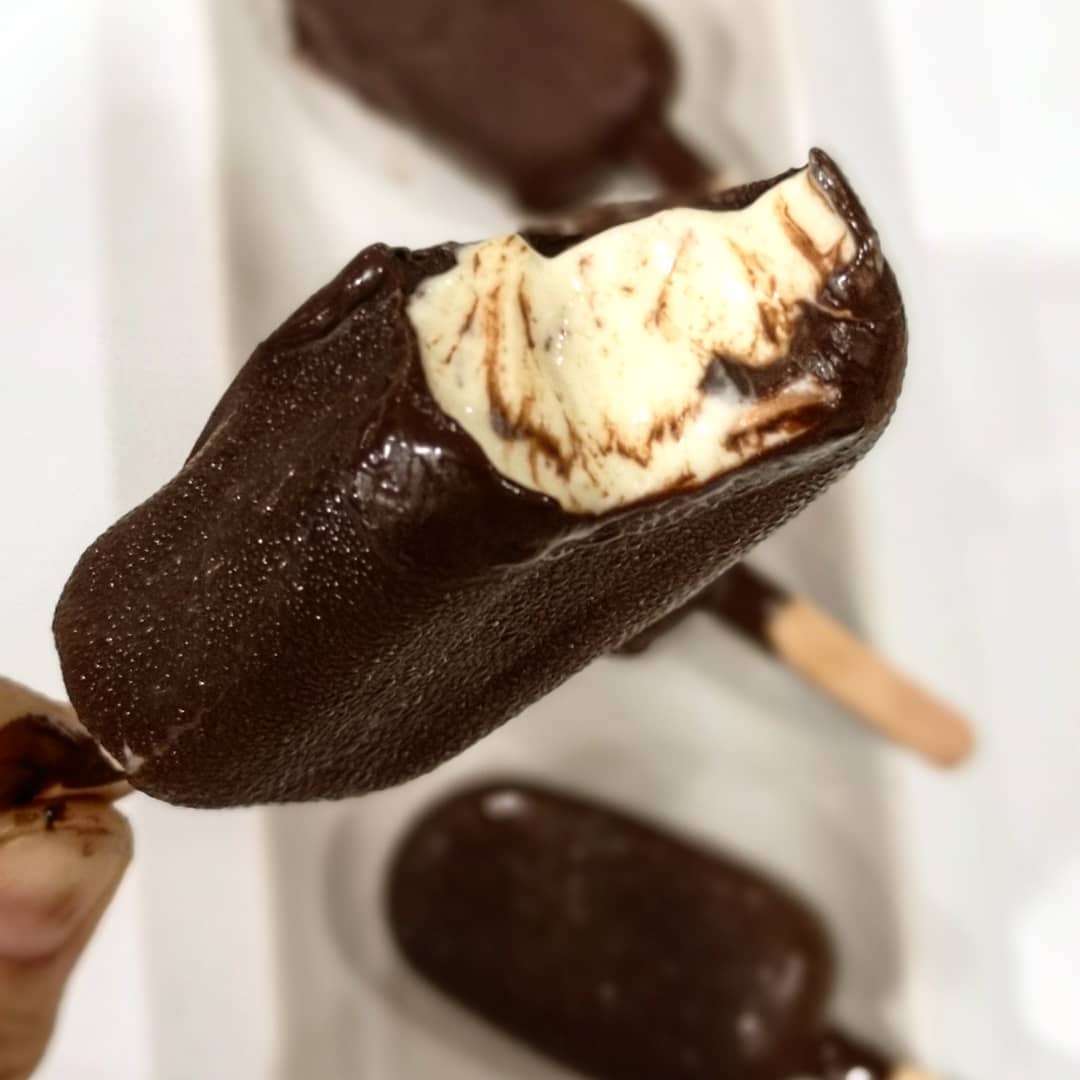 Image credit: @gracekitchencorner_
With a crunchy, chocolatey exterior encasing a creamy, cold centre, Magnum Ice Cream is an ingenious combination of two of the best things in the world: chocolate and ice cream. As pleasurable as it is to enjoy this luscious chilled treat, it's way more gratifying to DIY them.

Image credit: @thehungergains
Toss some chopped almonds into the melted chocolate to give your ice cream bars the emblematic crunchy exterior of a Magnum Almond. Mix and match chocolate types, flavours, and coatings. You can even melt some ruby chocolate to recreate the recently released Magnum Ruby, if you want something more unique.
Yield: Serves 6
Time needed: 15 minutes
Ingredients
Ice cream:
220g whipping cream
160g condensed milk
100g evaporated milk
1 tsp vanilla extract
400g dark chocolate
400g white chocolate
400g milk chocolate
300g coconut oil
Almonds, roughly chopped (optional)
Steps:
In a large mixing bowl, combine the whipping cream, condensed milk, evaporated milk, and vanilla extract. Using a hand mixer, beat the mixture on medium speed for about 30 seconds to a minute, until completely smooth.

Pour the mixture into popsicle moulds, inserting wooden sticks into the centre. Freeze for at least eight hours.

Place the chocolates into tall, microwave-safe cups or glasses. Melt each chocolate by microwaving them in 20-second intervals, until completely melted.

Add 100g of coconut oil into each chocolate, and stir till the chocolate is thinned out.

Take the frozen ice cream out of their moulds. Dip the ice cream into the melted chocolate until completely coated, then lift it up and lightly shake off the excess. Repeat for all the ice cream.

For the almond-coated version, toss chopped almonds into the melted chocolate, then dip the ice cream in and coat well.

Stick the chocolate-coated ice cream into a styrofoam board to keep them upright, and freeze for at least four hours.
Recipe adapted from Leonor's Sweet Creations' video.
---
These recipes will let you make your own version of famous dishes 
---
Imitation is the highest form of flattery. One of the best ways to celebrate your favourite dishes is to try recreating these recipes of famous dishes yourself, and giving them your own little spin. Not only can you make them more cost-effective, it's also way more rewarding to whip these dishes up with your own effort. Just give these recipes of famous dishes a try and you'll know what I mean!
For more recipes to try out this Circuit Breaker, check out our list of no-bake Asian desserts or this list of upgraded instant noodle recipes.
11 Easy No-Bake Asian Desserts Including Dalgona Candy, Rice Cooker Muah Chee And More
Feature image adapted from @tiem_co_bong's post.