Ramly burger recipe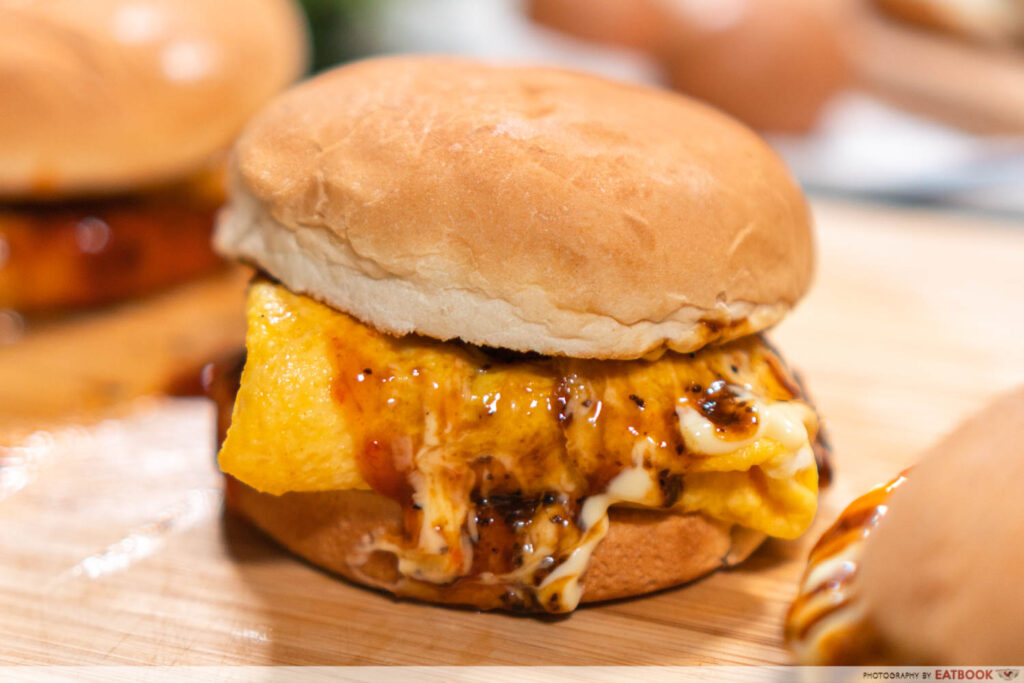 Burgers in Singapore have come a long way since the first McDonald's at Liat Towers in 1979 – and have never fizzed since, with a wide range of choices available islandwide. A quick look at the scene today reveals international chains such as Fatburger, Black Tap, and most recently, Shake Shack coming fresh off the grill.
Despite all the flashy burgers, there's one that has remained the closest to Singaporeans heart and that's Ramly Burger. Commonly found in Malaysia and Singapore, this affordably priced street food is undoubtedly the burger of choice at pasar malams.
It pains me to learn that this humble burger has gotten increasingly pricey. At an average of $4 per burger, it's no longer a wallet-friendly alternative to fast-food burgers. Heck, it's even pricier than some of them.
This inspired me to make them myself. I've experimented with various spices and cuts of chicken, but eventually settled on this simple concoction that took just minutes to make.
Tasty and most importantly affordable, these chicken patties are similar to the real thing. There are also zero preservatives used – a far cry from the processed stuff used in the real McCoy.
Head to the bottom of the article for the full recipe.
The process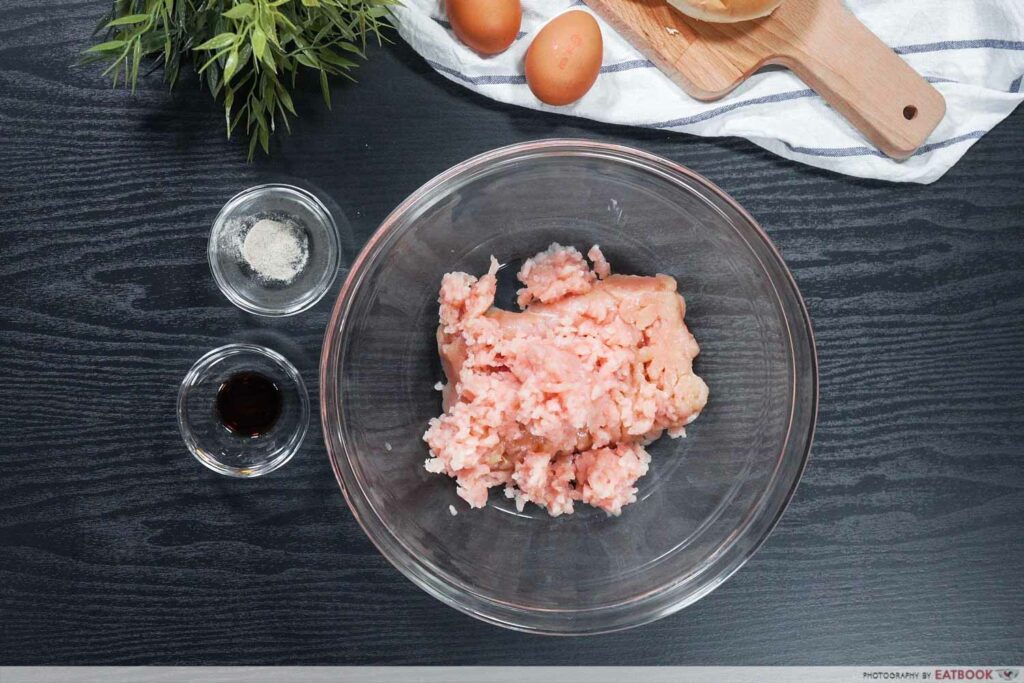 All you need are four ingredients for the patty: minced chicken, salt, Maggi seasoning and white pepper. Minced chicken works best as it has a low-fat content. This makes it very similar to the ones found in Ramly burger.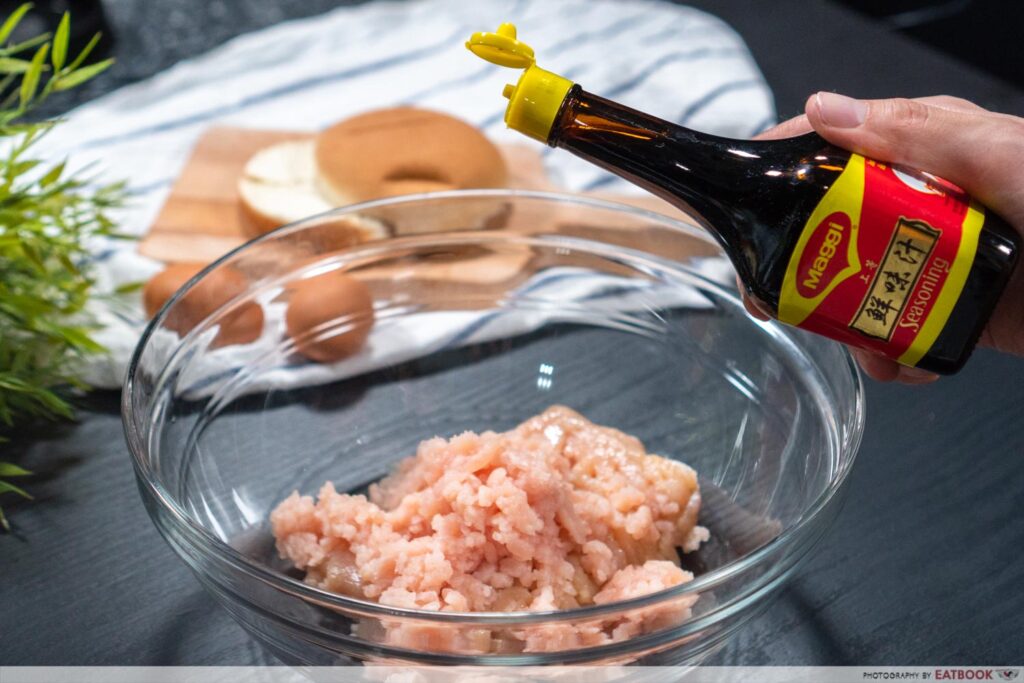 The secret ingredient is a few drops of Maggi seasoning. This concentrated sauce is full of flavourful umami notes and makes for a beautiful marinade. Give everything a good mix and leave them to rest in the fridge for a minimum of 30 minutes. This nicely gels up all the flavours.
I also added a touch of white pepper to give it a bit of heat. If you like your food peppery, feel free to add more.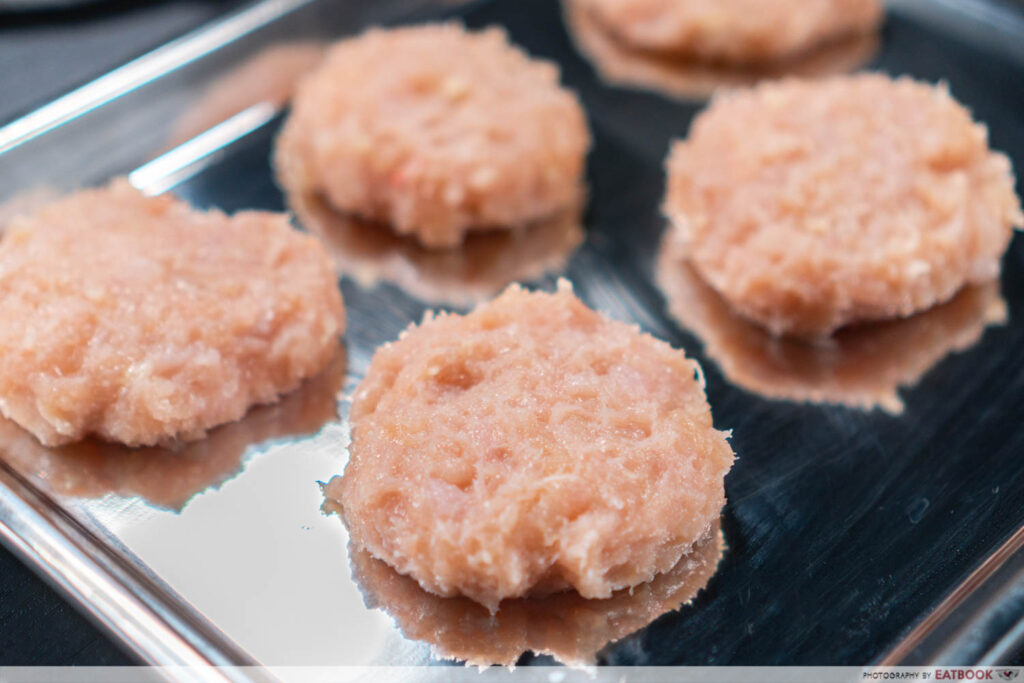 Divide the patties into four equal portions and shape them into medallions. You don't need to shape them into perfect circles, just form them loosely so that they can cook evenly on the pan.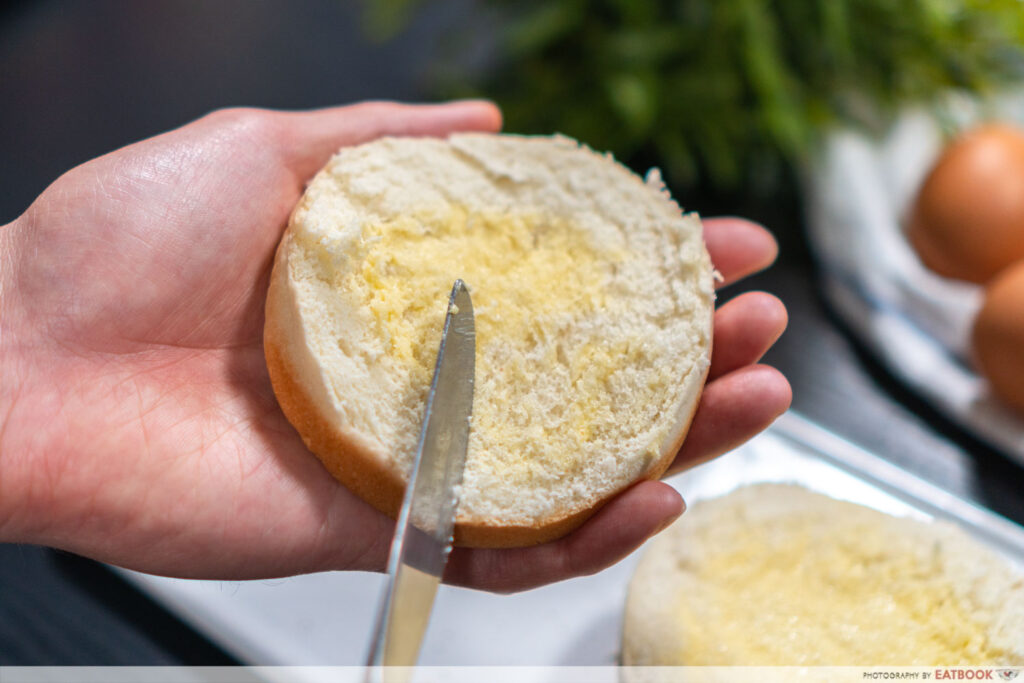 Butter up some hamburger buns. Regular Ramly joints usually use margarine but I prefer butter as it gives more flavour, compared to its vegetable-oil based substitute.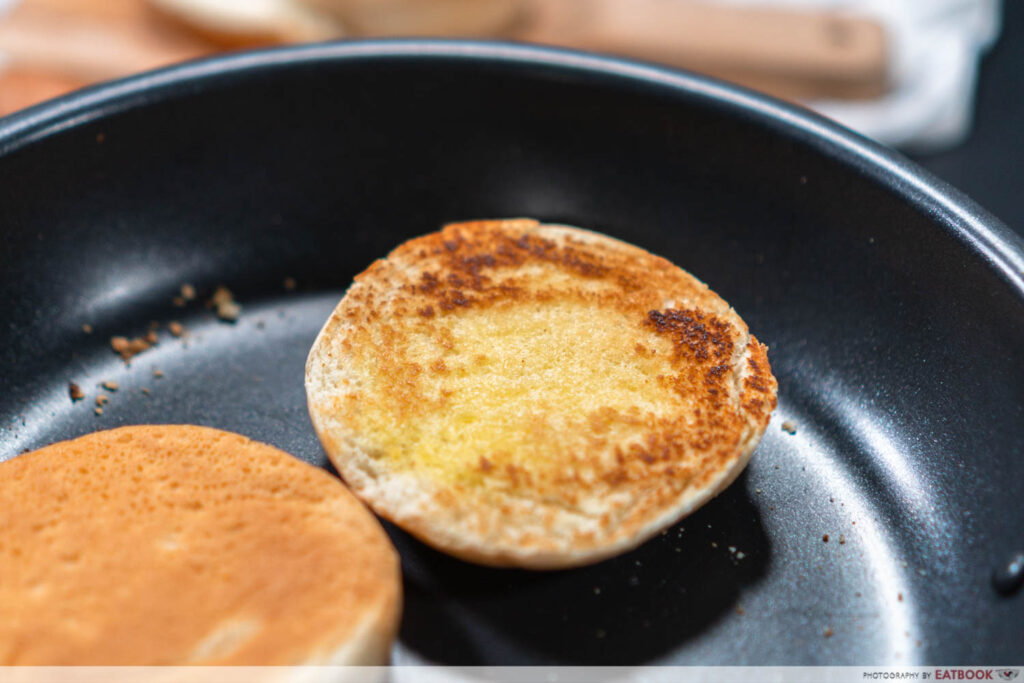 Heat up a frying pan on medium heat and lightly toast the buns till they're golden brown. You might want to watch them carefully, as they tend to burn quite quickly.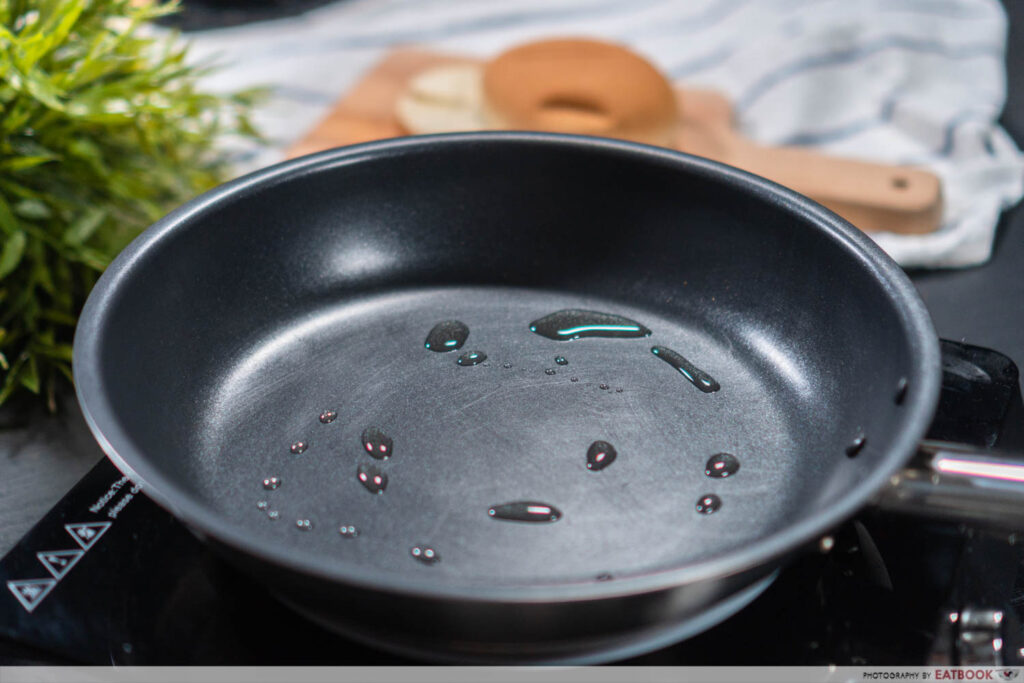 Remove the buns and oil the same pan with a generous splash of vegetable oil. Increase the heat to medium-high so that you can give the chicken patties a good sear on each side.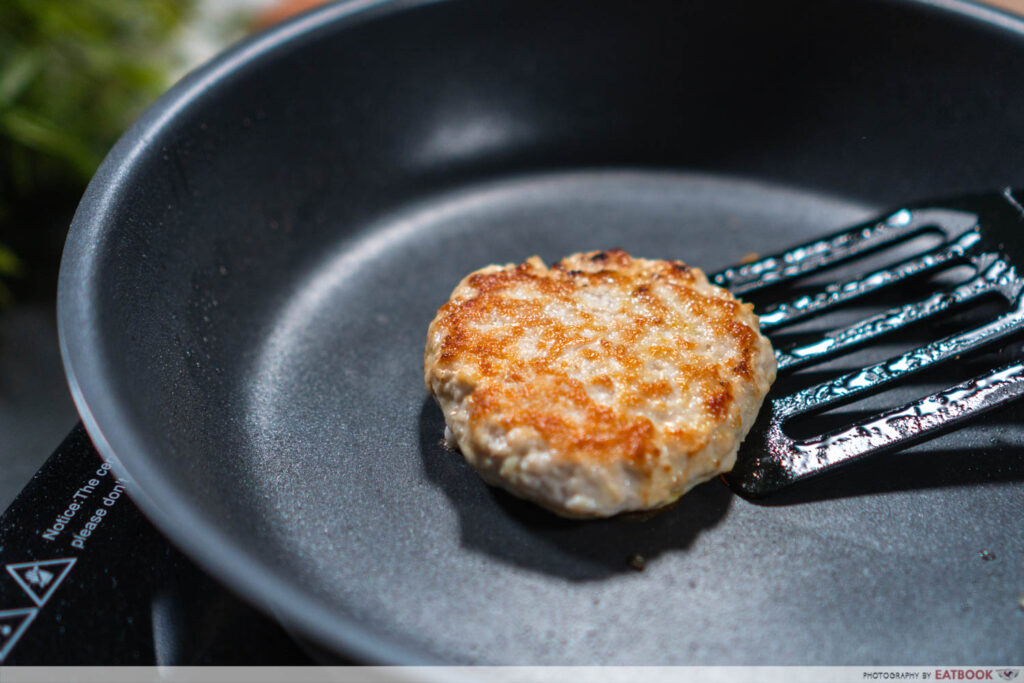 Cook the first side for three minutes before seasoning with salt, Worcestershire sauce, and curry powder.
Flip the patty over and cook for another three minutes.
Notice that these seasonings are added only during the cooking process. This ensures that they are exposed directly to heat, resulting in greater caramelisation of flavours.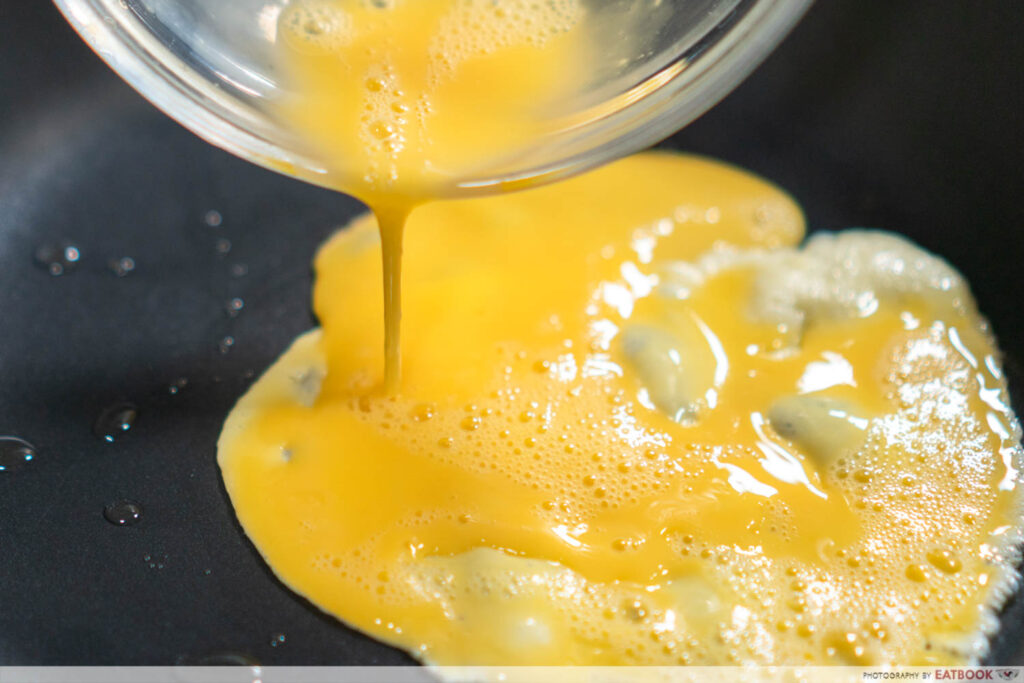 Remove the patties and add a light coat of oil to the same pan. Pour in a beaten egg and swirl it around the pan so that it thins out evenly.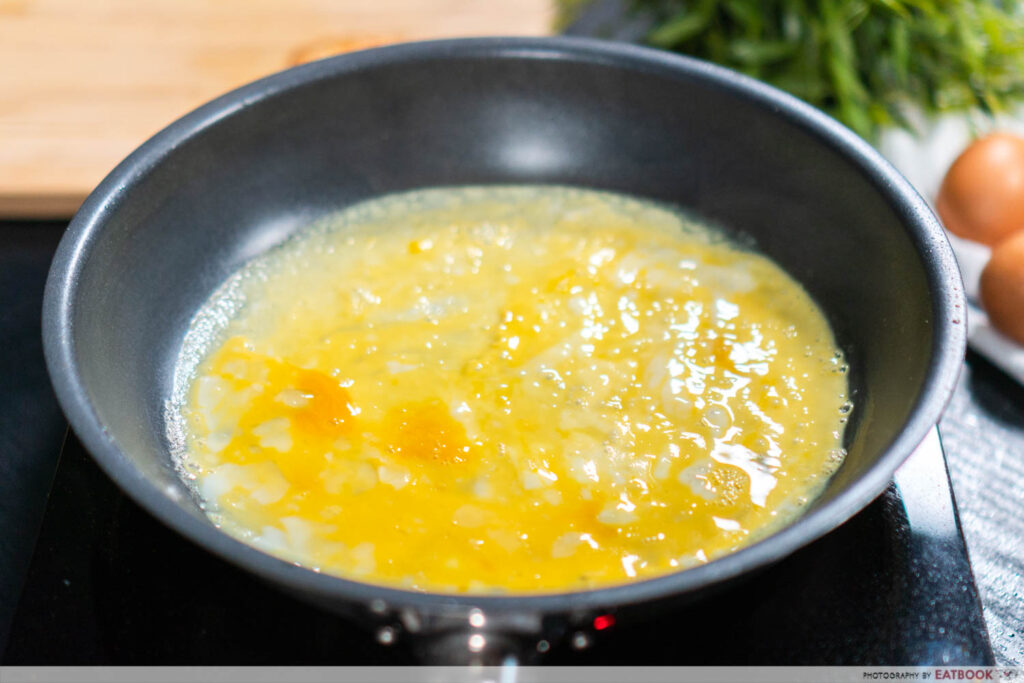 A thinner omelette covers the chicken patty better, resulting in a wider blanket that wraps everything up beautifully.
It's also good to scrape down the sides of the egg during the cooking process so that it'll be easier to flip them later.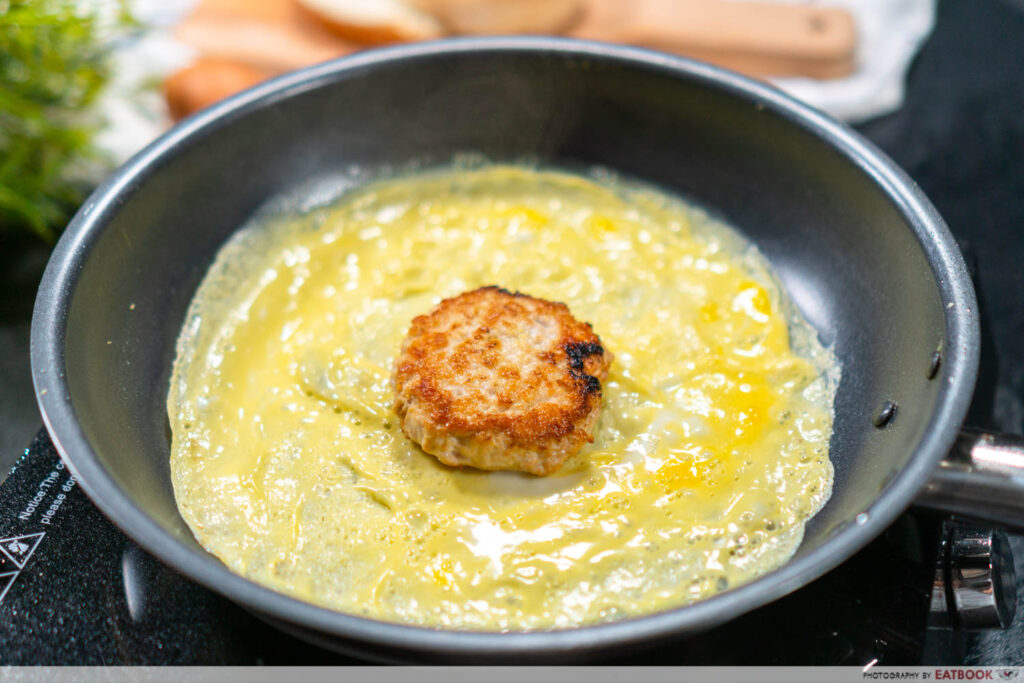 When the omelette is cooked through, with no runny egg in the centre, switch off the heat and place the chicken patty back in the middle.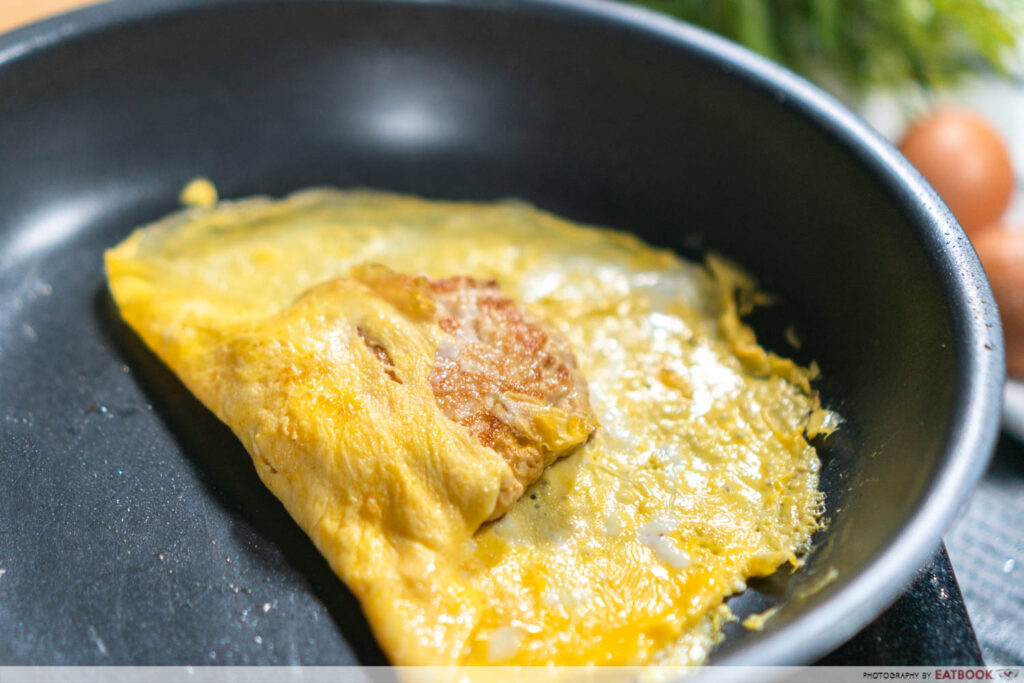 Fold each side of the omelette over the chicken patty. The egg might break so try to be as gentle as possible.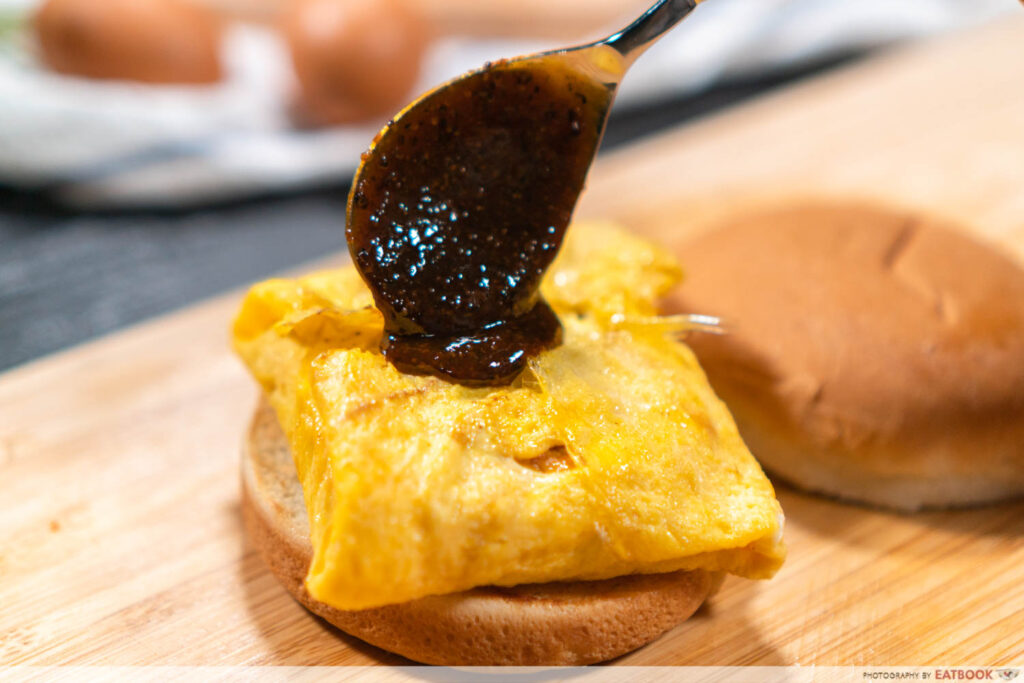 The final product should look like a parcel. Place the omelette-wrapped patty on the toasted buns and add a scoop of black pepper sauce. You should be able to get this ready-to-eat black pepper sauce from the supermarket.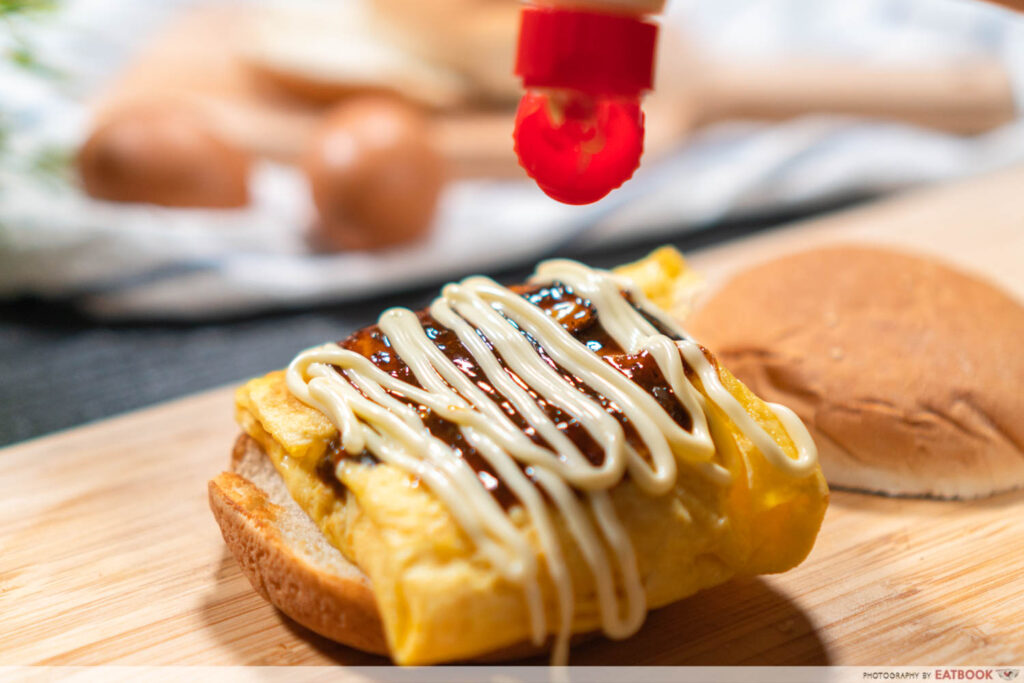 A healthy drizzle of mayonnaise is always welcomed.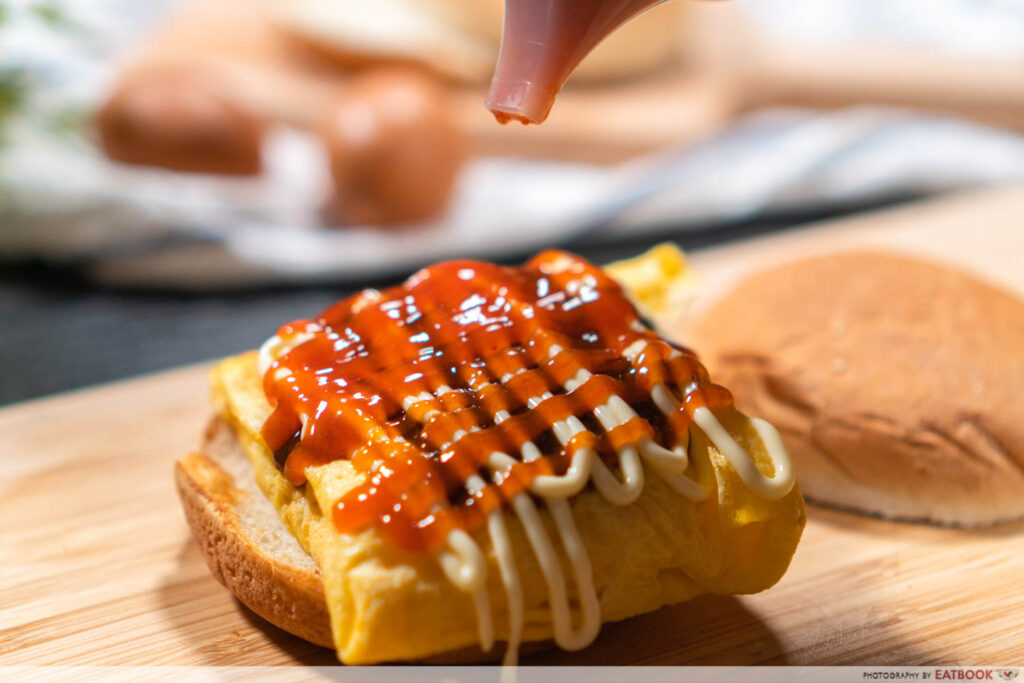 And the finishing touch: a generous squirt of chilli sauce to give the burger a light spicy kick.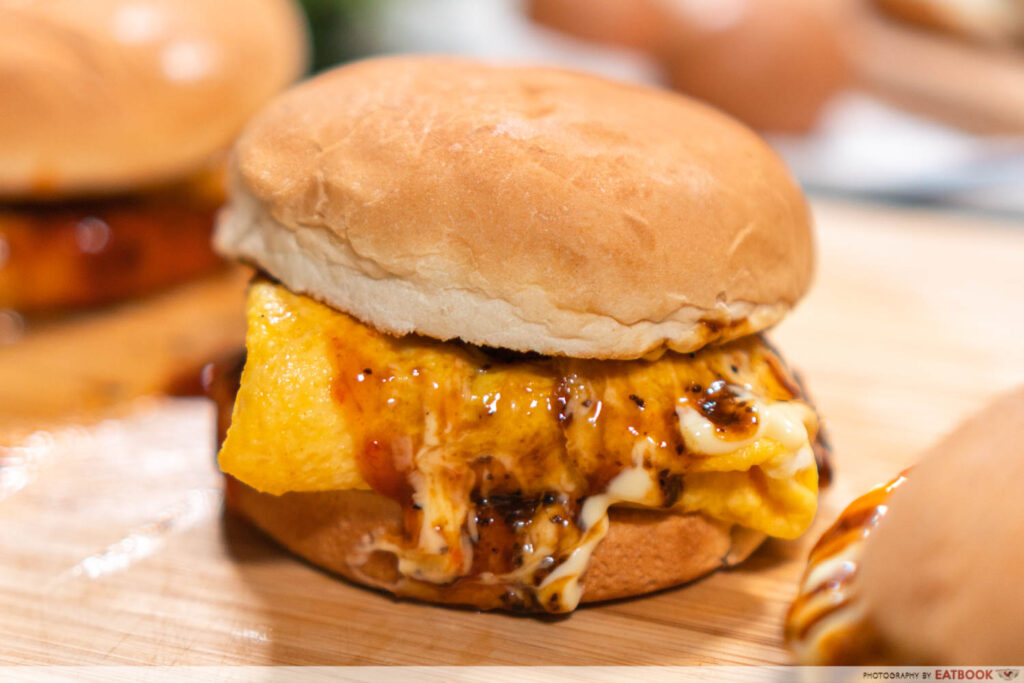 Don't be afraid to go heavy on the sauces. The chicken patties are simply seasoned so that it goes well with the heavily flavoured sauces.
You know you're done when the sauces are oozing out. Grab some napkins and dig in.
---
Chicken Ramly burger recipe
---
Yield: 4 burgers
Cooking time: 30 minutes
Ingredients:
Chicken Patty:
360g fresh minced chicken
½ teaspoon white pepper
1 teaspoon Maggi seasoning
1 teaspoon salt
Buns:
4 burger buns
2 tablespoon butter
Sauce:
2 tablespoon mayonnaise
2 teaspoon Worcestershire sauce
2 tablespoon black pepper sauce
2 tablespoon chilli sauce
1 teaspoon curry powder
4 eggs
Directions:
To prepare the chicken patties, combine the minced chicken, white pepper, and Maggi seasoning.

Chill chicken mixture in the fridge for a minimum of 15 minutes.

Remove and divide the chicken mixture into four equal portions. Shape each portion into individual discs.

Slice the burger buns lengthwise and slather generously with butter.

In a large pan on medium heat, carefully toast the buttered buns till golden-brown. Remove buns from pan.

In the same pan on medium-high heat, add a light coat of oil and fry the chicken patty.

Season the first side with salt, Worcestershire sauce, and curry powder before flipping over.

Cook the patties until they are golden-brown on both sides. Remove patty from the pan.

In the same pan on low-medium heat, add a light coat of oil and pour in a beaten egg. You will have to do this separately for each burger.

Swirl the eggs around the pan and scrape down the sides.

When the egg is fully cooked, with no runny eggs in the middle, place a chicken patty in the centre of the omelette.

Gently fold the omelette on all four sides to cover the patty so that it resembles a parcel.

Place the omelette-wrapped patty on the buns and slather with black pepper, mayonnaise and chilli sauce.

Serve immediately.
Photos taken by Lim An.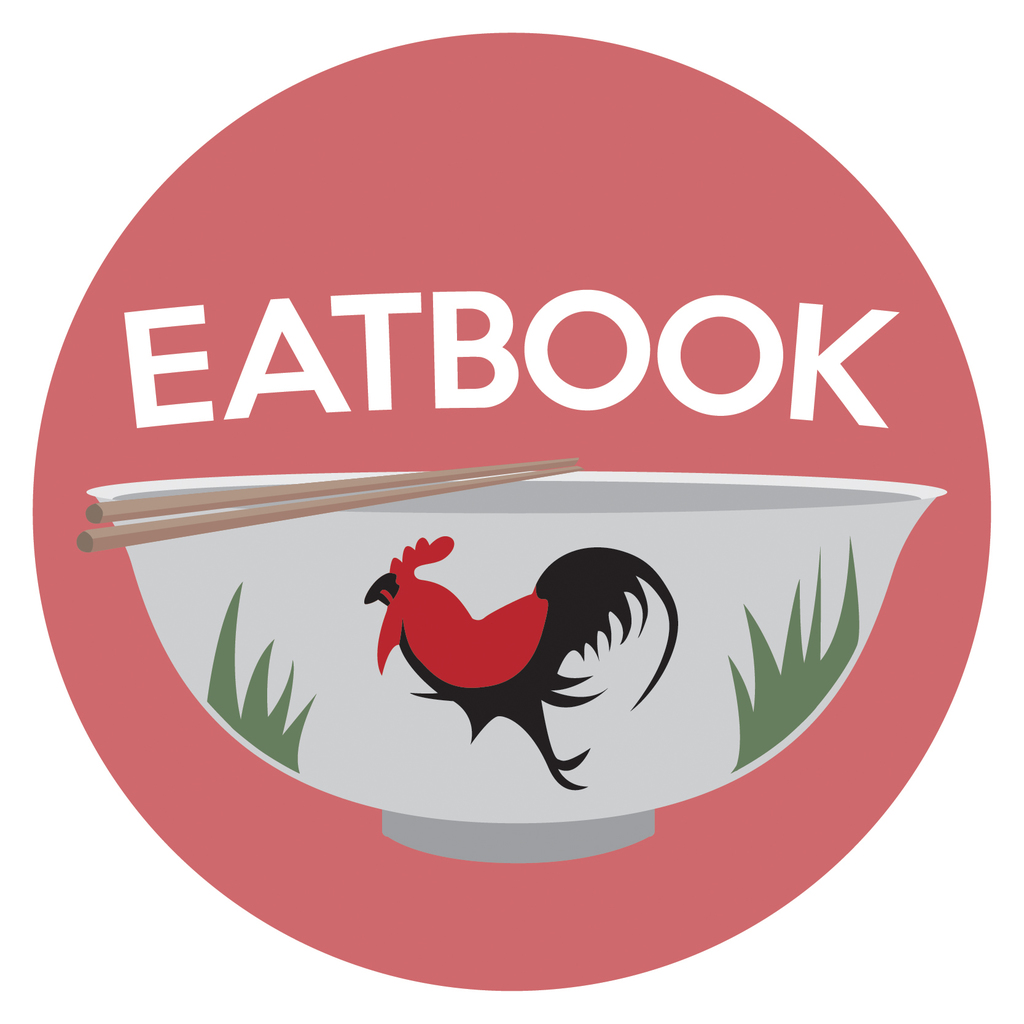 Drop us your email so you won't miss the latest news.