---
Sandwich recipes that look and taste good
---
With the extended Circuit Breaker measures in place, there's no better time to start getting active in the kitchen. We've compiled a list of sandwich recipes inspired by sweet and savoury creations from all over the world. Anyone can put together a basic PB&J or ham and cheese sandwich, but we're here to prove that you can easily take this versatile dish to the next level. 
---
1. Breakfast McGriddles
---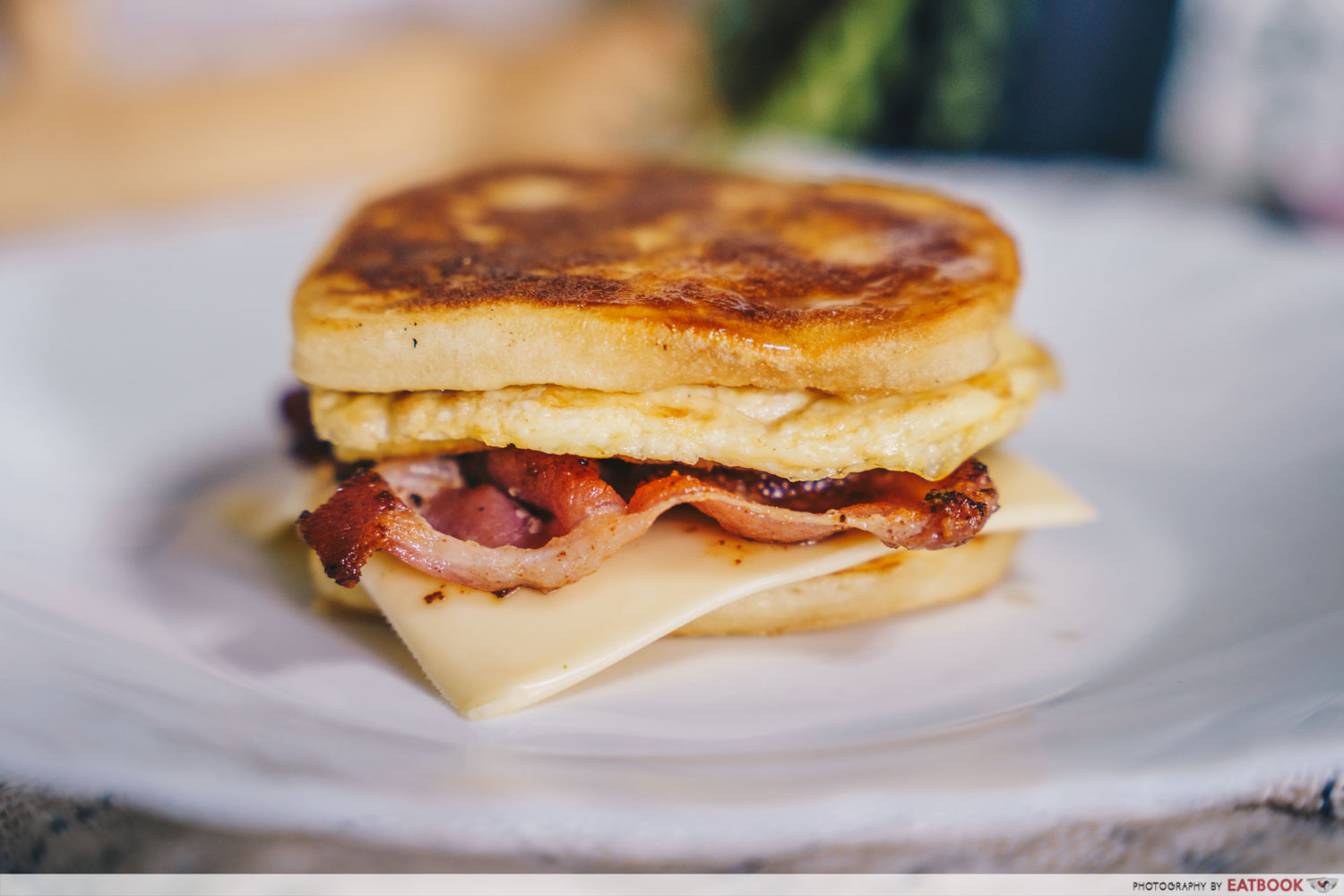 The limited-edition McGriddles was a wildly popular McDonald's item when it first arrived, and the maple-infused burger quickly became a cult favourite. Now that McDonald's outlets no longer carry the item, it's become impossible to get your hands on this elusive treat. So, instead of moping around, we decided to DIY a Breakfast McGriddles of our own.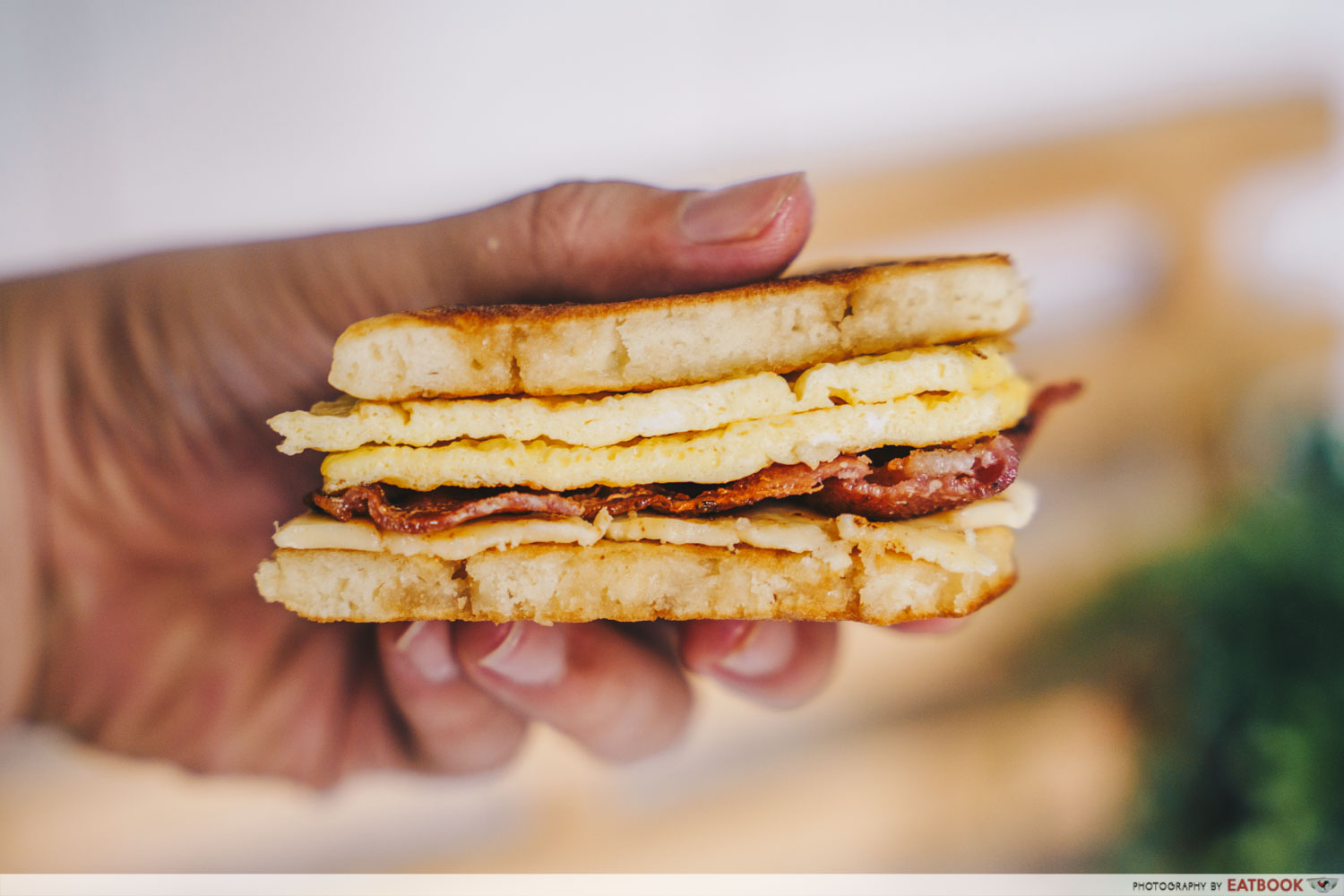 To make the buns, you will need to prepare your favourite pancake recipe or use a pre-made pancake mix. The most important step in recreating these maple-infused buns is to place a dollop of maple syrup in the centre of each pancake while it is cooking. To keep the pancakes as round and thick as possible, you can use a pancake or egg mold on the pan. 
Yield: Serves 3
Time needed: 30 minutes
Ingredients
1 batch pancake batter
3 tbsp maple syrup
6 bacon strips
2 eggs
Salt
Black pepper
Cheese slices
Steps:
Prepare pancake mix according to the instructions, or use your favourite pancake recipe.

Lightly grease a frying pan with butter and bring up to medium heat. Pour about a ¼ cup of pancake batter onto the pan or into pancake rings.

Pour one tablespoon of maple syrup into the centre of the pancake and top it with two more tablespoons of pancake batter.

Once the edges start bubbling slightly and the pancake is cooked on the bottom, flip the pancake over and let it brown on the other side. Remove pancakes from the pan. 

Bring a frying pan to medium heat and cook your bacon slices on it. Cut them into smaller pieces if they are too big.

Remove your bacon slices once they are cooked, and crack two eggs into the same frying pan.

Scramble the eggs and season it with a bit of salt and pepper as you go.

Brush some maple syrup on one side of your pancakes.

Assemble your McGriddles with cheese slices, scrambled eggs, and bacon slices.
---
2. One-Pan Egg Sandwich
---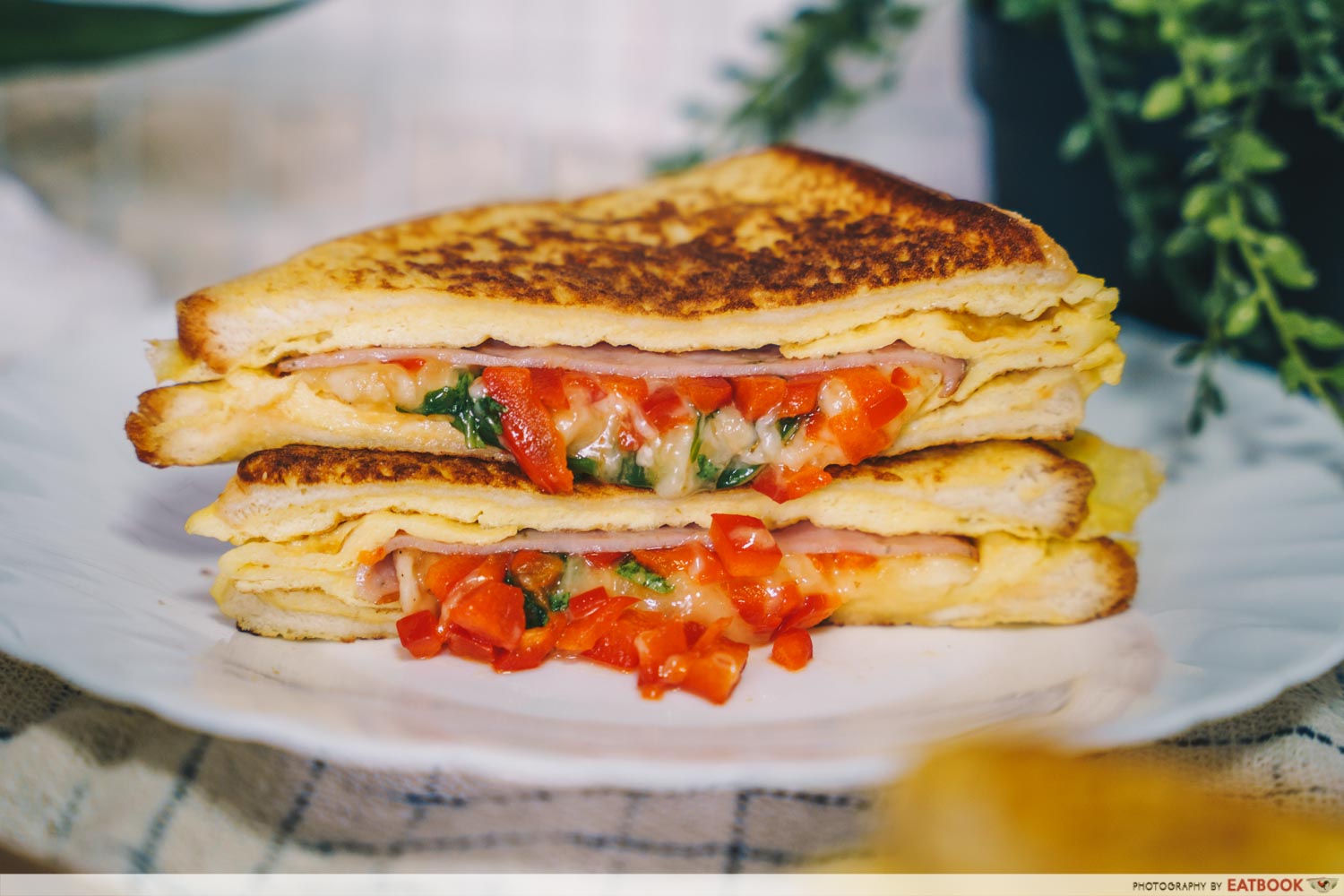 Having an omelette in a sandwich is typical, but too basic. Instead, we tried wrapping our sandwich inside an egg omelette for this One-Pan Egg Sandwich. If you're getting into filming your creations during this Circuit Breaker, this egg sandwich hack will probably make captivating content for your TikTok videos or IG Stories.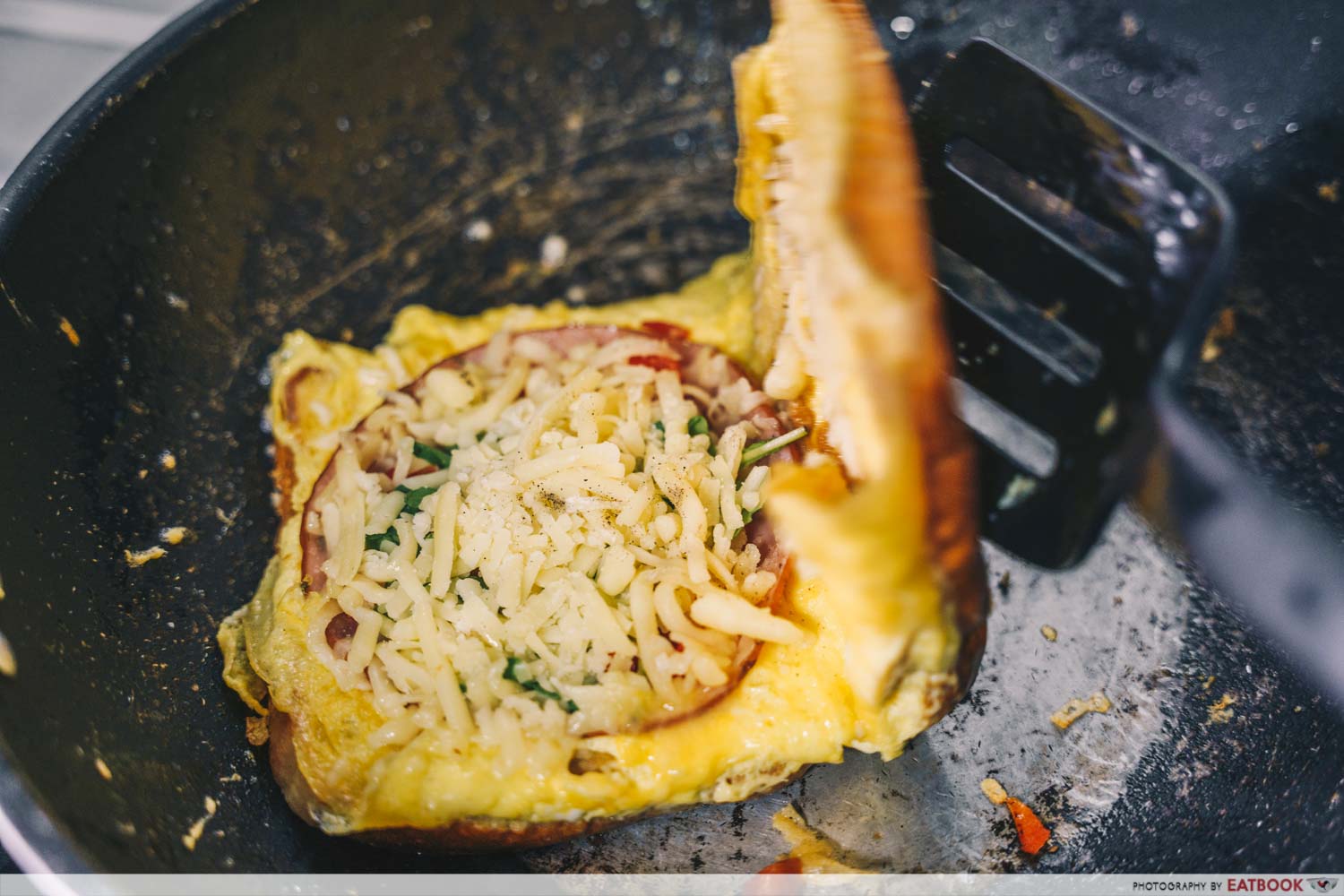 Like many other sandwich recipes in this list, the toppings are entirely up to you and what you have in your kitchen. Using four eggs for a single sandwich might seem like a lot, but you will need a thick layer of omelette to be able to coat the pan and form your sandwich burrito.  
Yield: Serves 1
Time needed: 10 minutes
Ingredients
4 eggs
Salt
Black pepper
1 tbsp butter
2 slices bread
Shredded cheese
Ham slices
Bell peppers, chopped
Rocket leaves
Steps:
Crack four eggs into a bowl and beat them, seasoning well with salt and pepper.

In a frying pan over medium heat, melt one tablespoon of butter before pouring in the beaten eggs. Tilt the pan to evenly spread out the egg.

Immediately place two pieces of bread into the egg mixture and flip them around after one side is coated. Let the egg cook for one to two minutes.

Using a large spatula, flip the entire omelette over and let the egg cook on the other side.

Sprinkle shredded cheese, chopped bell peppers, ham, or other ingredients of your choice onto one half of the omelette.

Using a spatula, fold over the excess omelette wings such that it looks like a long rectangle.

Fold the rectangle in half by flipping one slice of bread over the other. Cut the sandwich in half and serve.
---
3. IKEA Meatball Sub
---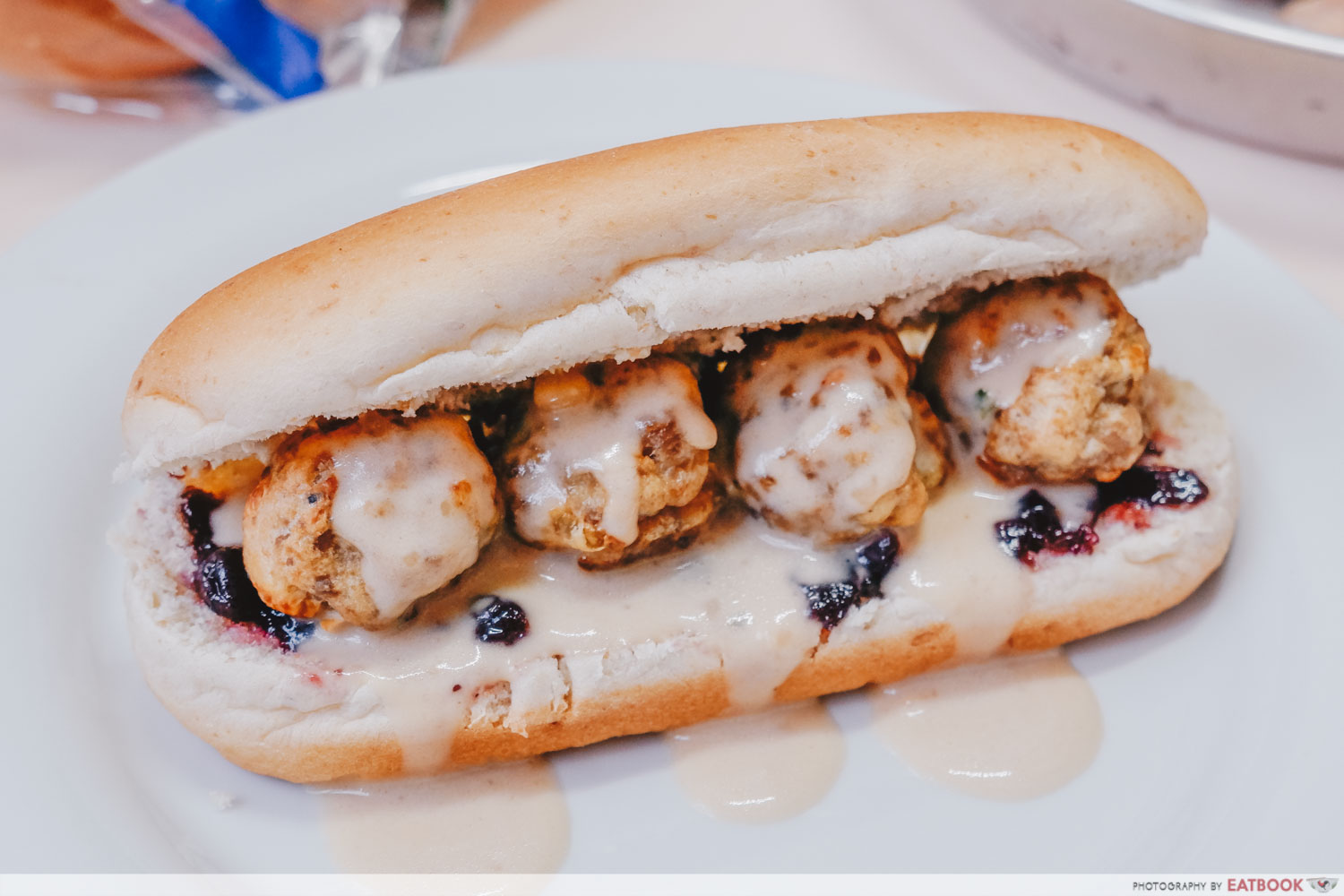 Saucy and hearty meatballs, topped with melted cheese, and sandwiched between toasted bread rolls—meatball subs are one of the best comfort foods. In this IKEA Meatball Sub recipe, we've married a meatball sub together with the iconic Swedish dish to create a creamy and meaty sandwich. 
Our IKEA Meatballs recipe makes up to 40 meatballs, so you'll have plenty to fill up your bread rolls with leftovers to keep. The classic Swedish meatball dish calls for lingonberry sauce, but since the fruit is not easily found in Singapore, you can use cranberry jam as a sweet and tart alternative.
We recommend toasting your bread rolls before stuffing them with meatballs. It'll prevent the bread from getting too soggy, as well as allow it to be served crispy and warm.
Yield: Serves 5
Time needed: 45 minutes
Ingredients
5 hotdog buns or subway rolls
Cranberry or lingonberry jam
Meatballs:
250g minced beef
250g minced pork
2 eggs
Half an onion, minced
60g breadcrumbs
70g butter
1½ tsp salt
1 tsp black pepper
¼ tsp allspice
30ml milk
Gravy:
200ml beef stock
30ml soy sauce
Salt
1 tsp pepper
25g all-purpose flour
25g butter
1 tsp chilli powder
100ml whipping cream
Steps:
In a saucepan on low heat, gently sweat the onions in butter until they turn clear and translucent. Set them aside to rest. 

Mix the breadcrumbs, eggs and milk in a mixing bowl.

Add the minced beef, minced pork, onions, allspice, salt, and pepper to the bowl. Mix everything thoroughly and refrigerate for 30 minutes.

After refrigerating them, roll the meatballs into the size of a tablespoon.

Prepare a glaze by combining melted butter and a pinch of allspice. Glaze the meatballs on the baking tray.

Bake the meatballs in a preheated oven for 20 minutes at 220°C or until they are browned.

To prepare the gravy, heat a pot on low heat and add butter. Once the butter has melted, add the flour and mix them together. When the flour and butter mixture starts to develop a nutty aroma, in about five minutes, add the beef stock. 

Add soy sauce, whipping cream, chilli powder, salt and pepper.

When the sauce has been reduced to half, remove the pan from the stove. 

Spread a layer of cranberry jam on the buns and fit in as many meatballs as you can. Then, spoon your homemade gravy onto the buns and serve. 
---
4. Egg-In-A-Hole Sandwich
---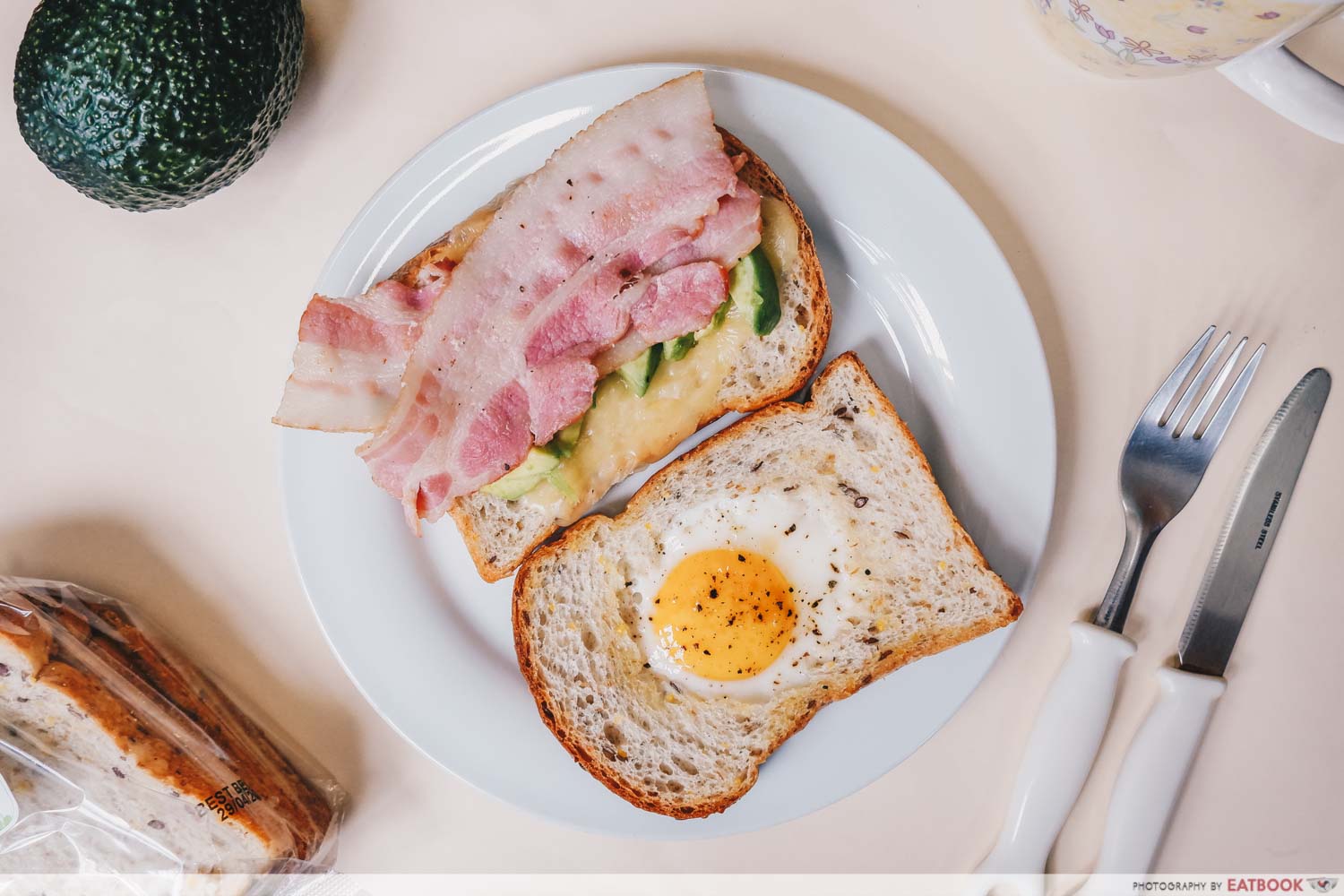 We've all heard of fried egg on toast, but this Egg-In-A-Hole Sandwich literally puts the fried egg in toast. With crispy bread encasing a runny egg centre, stacked atop layers of bacon, cheese, and avocado, this is a sandwich that definitely requires a fork and knife to eat.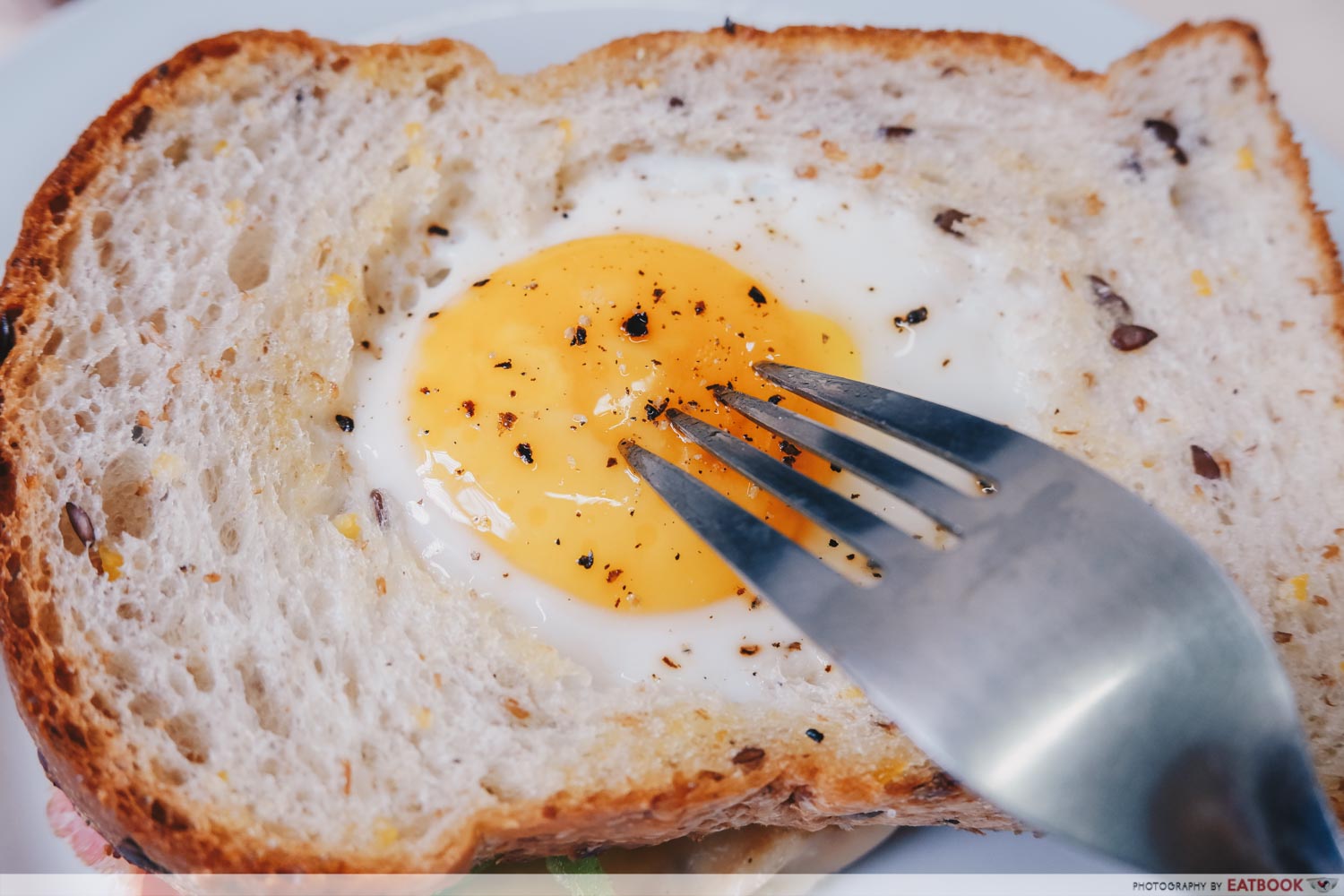 Besides bacon, cheese, and avocado, you can use as many ingredients as you like, including vegetables or more meat. Pro-tip: use thicker bread slices or crusty breads, such as sourdough, so that the slice can hold its shape even with a hole cut out of it. 
Yield: Serves 1
Time needed: 15 minutes
Ingredients
2 bacon strips
Butter
2 slices bread
1 egg
Salt
Black pepper
2 cheese slices
Half an avocado, sliced
Steps:
Fry the bacon on a pan over medium heat until they turn crispy. Remove and wipe down the pan.

Cut a hole into one slice of bread using a cookie cutter or just a cup and a knife. 

Grease a pan with butter and, over medium heat, toast the bread slices on both sides.

Crack an egg into the cut-out hole and lightly season with salt and pepper.

Top the other slice with cheese and cover the pan. Let both slices cook for about two minutes, or until the egg whites turn white, and the cheese is melted.

Assemble your sandwich with the sliced avocado and crispy bacon.
---
5. Korean Gilgeori Toast
---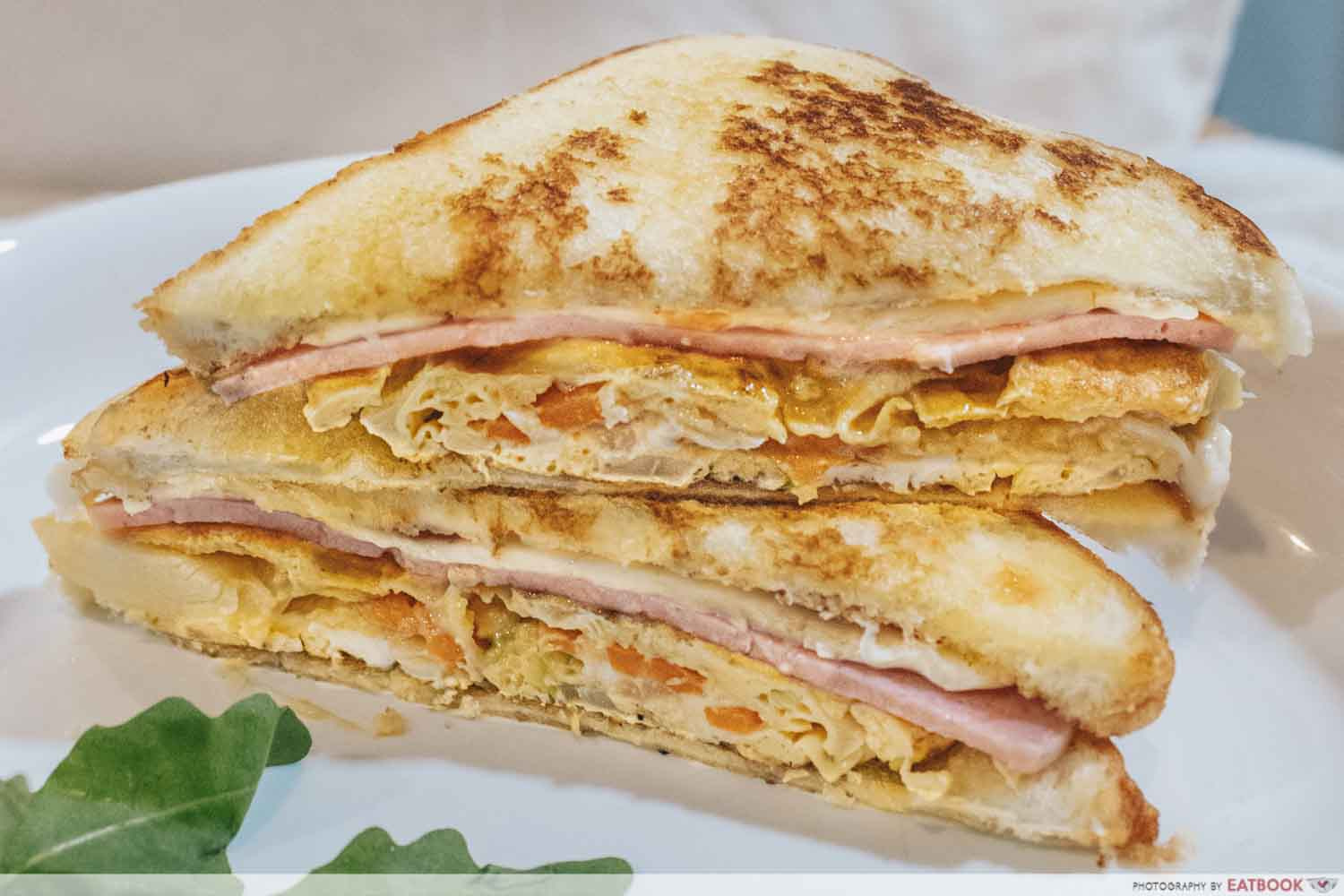 The Korean Gilgeori Toast, or Korean street toast, is an internationally beloved snack, thanks to names such as Isaac Toast, that popularised the sweet and savoury treat all over the world. Often served rolled up in a cup or tinfoil, the quick streetside snack usually consists of a vegetable omelette topped with ham, cheese, and a squeeze of ketchup.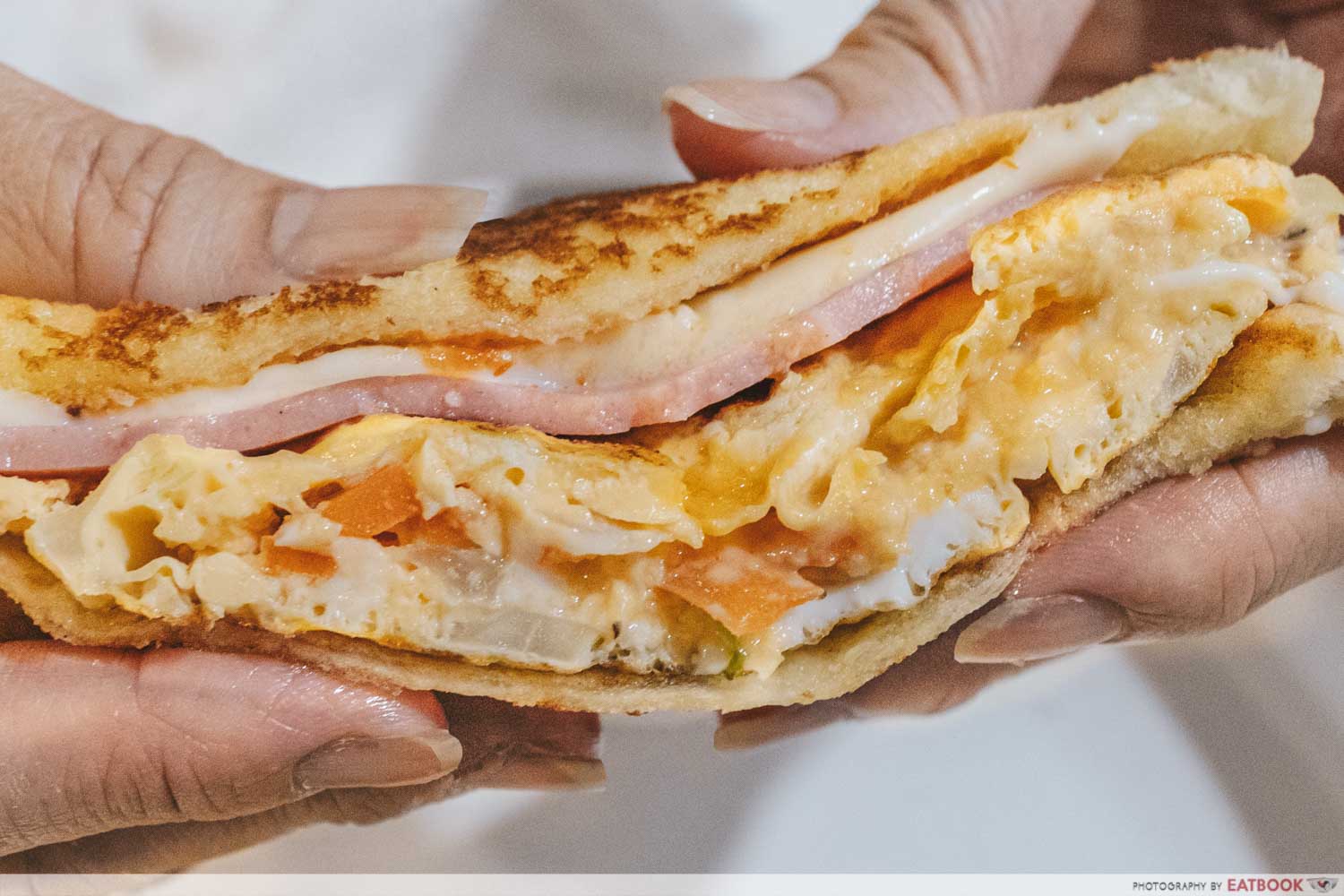 The most vital step that makes the gilgeori toast what it is, is the sprinkling of sugar over the cooked omelette. This easily overlooked step adds a subtle crunch, and is what gives the unique toast its sweet undertones. 
Yield: Serves 1 
Time needed: 15 minutes
Ingredients
2 eggs, beaten
30g cabbage, finely shredded
15g carrots, julienned
5g green onion, sliced
Salt
Black pepper
2 slices bread
Butter
Sugar
Ham slices
Cheese slices
Ketchup
Mayonnaise (optional)
Steps:
Combine the beaten eggs, cabbage, carrots, and green onion in a mixing bowl. Add a pinch of salt and pepper, then mix them well.

Heat a greased pan on medium-low heat and pour in the egg mixture.

Cook both sides of the omelette well and put it aside.

Spread some butter on both sides of the bread slices, and toast them in a pan over medium heat.

Fold or trim your omelette into squares to fit the toasted bread and lay it on one slice of bread.

Sprinkle sugar over the omelette, and lay the ham slices and cheese on top. Squeeze ketchup and mayonnaise across your toppings.

Complete the sandwich with the other slice of toasted bread and serve.
---
6. Japanese Fruit Sandwich
---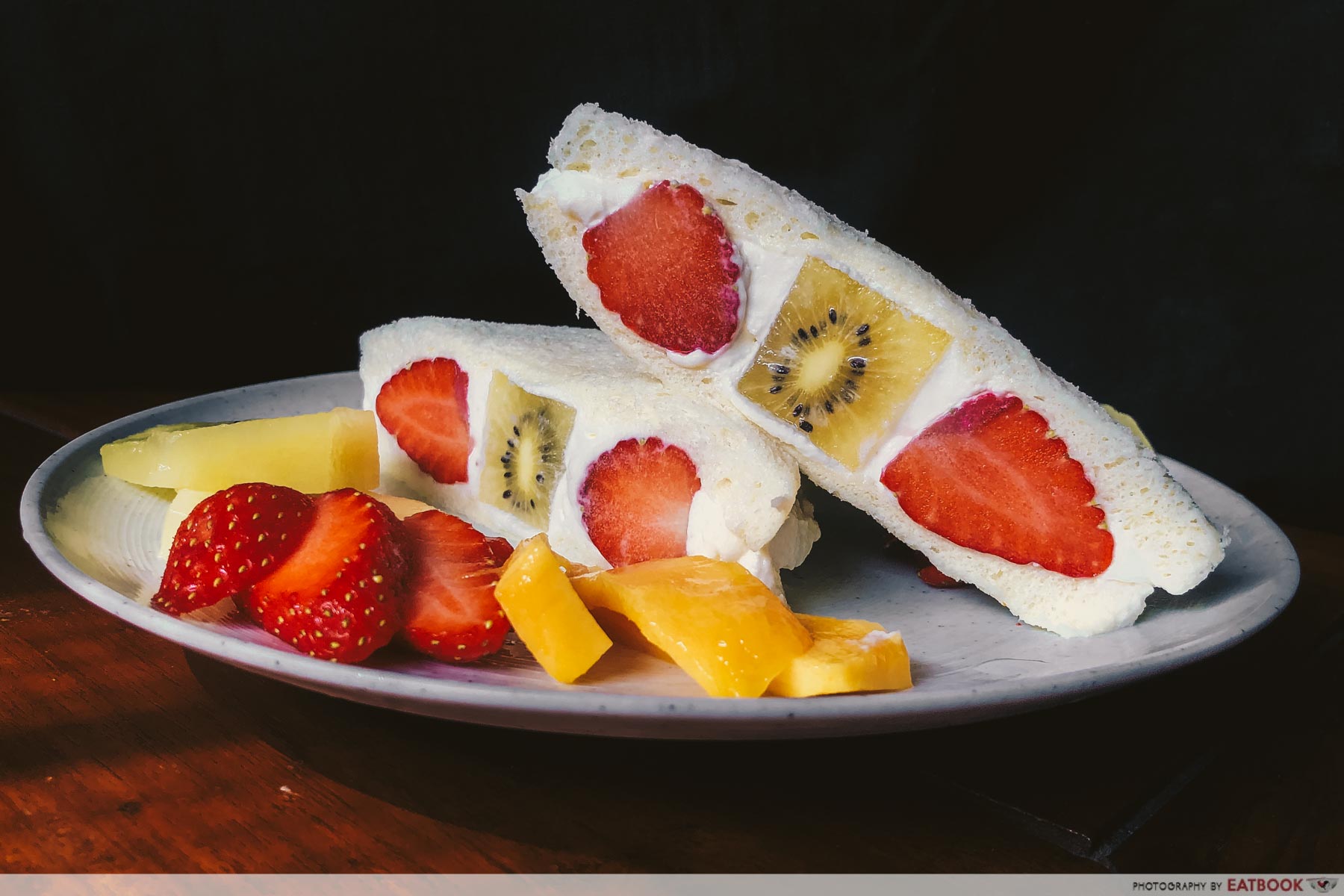 These dessert sandwiches are one of the most IG-worthy sandwich recipes that you can whip up at home. The Japanese Fruit Sandwich consists of only three ingredients: fluffy whipped cream, fresh fruits, and white bread. However, to make these sweet sandwiches look as good as they taste, it's important to plan the arrangement of your fruit well.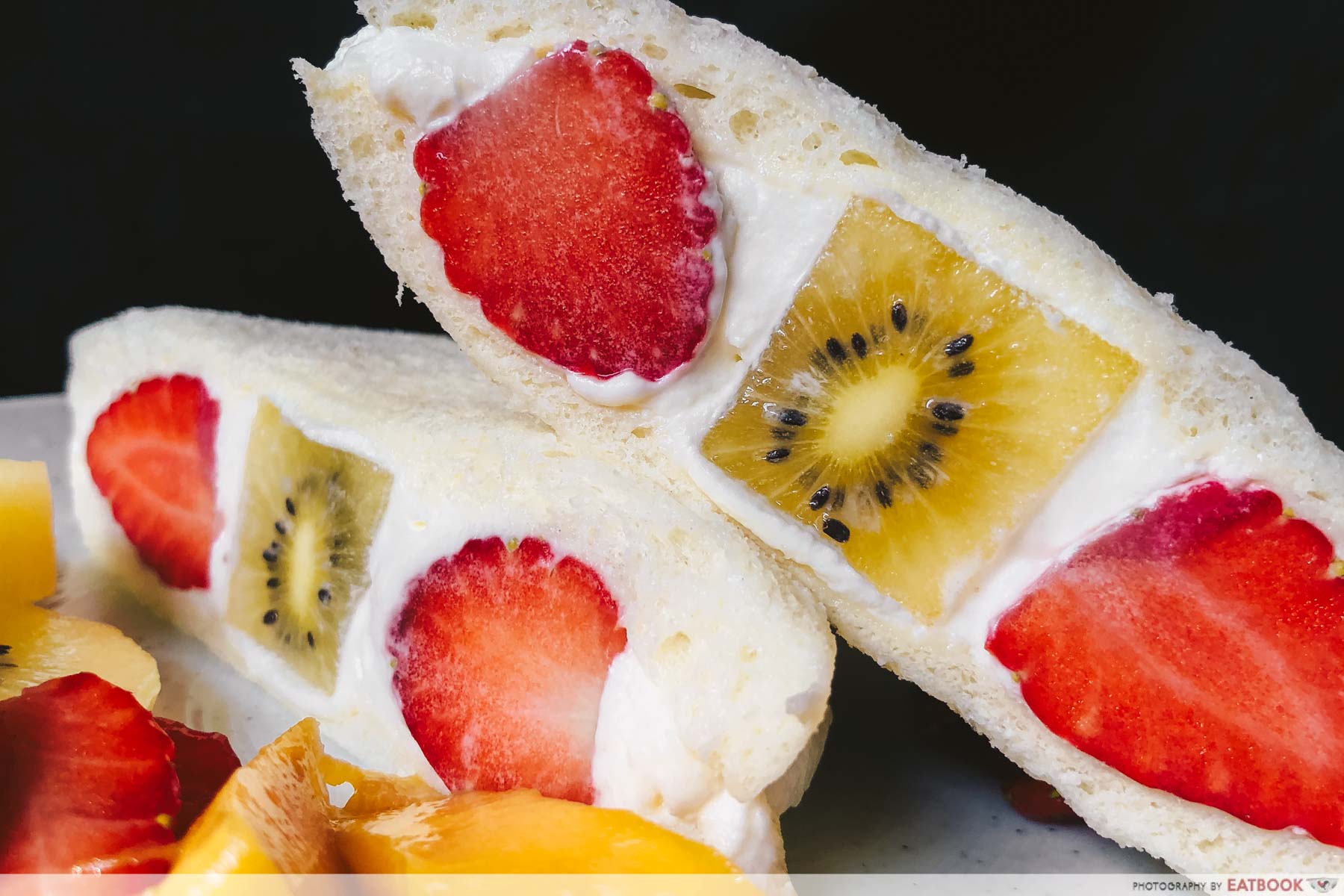 Mix and match your fruits to give the sandwich a colourful presentation. One diagonal cut across the sandwich will reveal its beautiful cross-section. To achieve a neater appearance, an essential step is wiping down your knife in between cuts.
Yield: Serves 4
Time needed: 30 minutes
Ingredients
4 slices white bread or Japanese milk bread
2 kiwi fruit
1 mango or orange
12 strawberries
1 cup heavy cream
5 tsp sugar
½ tsp vanilla extract (optional) 
Steps:
Place a large mixing bowl and hand mixer attachments, or whisk, into the freezer to chill.

Prepare the kiwi by cutting off both ends of the kiwi and removing the skin. Then, slice the kiwi in half.

Prepare the mango by peeling it and slicing it into thick matchsticks. For the orange, peel it and carefully separate each orange segment.

Prepare the strawberries by cutting off the tops.

Lightly pat down the cut fruits with clean paper towels to remove excess moisture.

Pour heavy whipping cream into your chilled bowl and whisk at low speed for one minute.

Add in your sugar and vanilla extract. Continue whipping on medium-high speed for five minutes, or until the cream thickens and can form stiff peaks.

Spread a thick layer of cream on the white bread and arrange the fruits as you like.

Lay a thick layer of cream over the fruits and top with another slice of bread. Cling wrap the sandwich securely and, using a marker, draw a line across the cling wrap to mark out the cut you will make later.

Place something heavy to weigh down the cling-wrapped sandwiches and refrigerate for at least half an hour, or up to overnight.

Take them out of the fridge and remove the cling-wrap. Using a clean knife, cut the sandwiches in half diagonally, and then cut off the crusts.
---
7. Dark Chocolate & Brie Grilled Cheese
---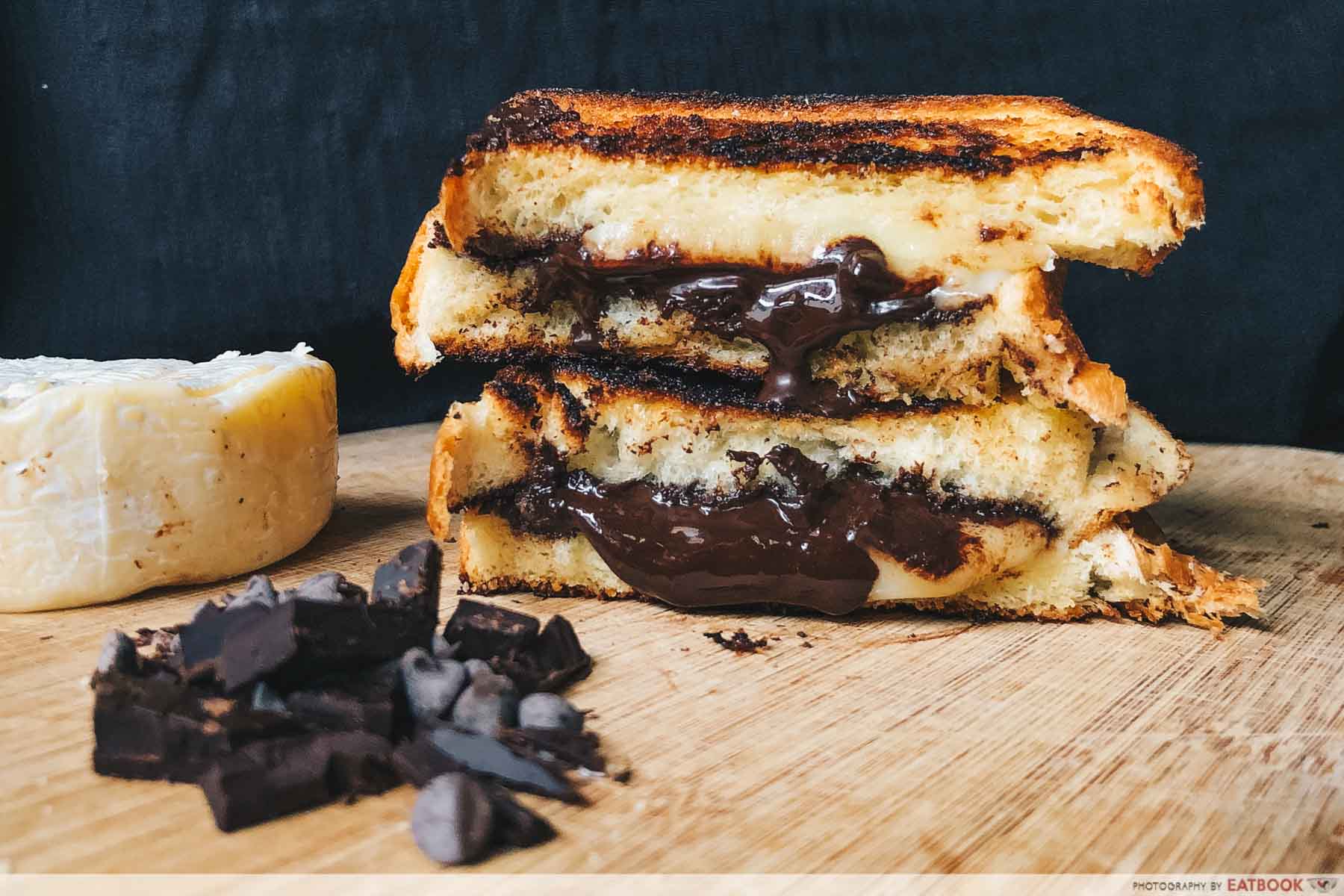 Separately, chocolate and cheese are two deliciously decadent treats, but together, these wildly different flavours actually make an unexpected heavenly pairing. Since savoury flavours such as chilli and sea salt are not foreign to the world of chocolate, it's a mystery how chocolate and cheese has not made a more typical duo.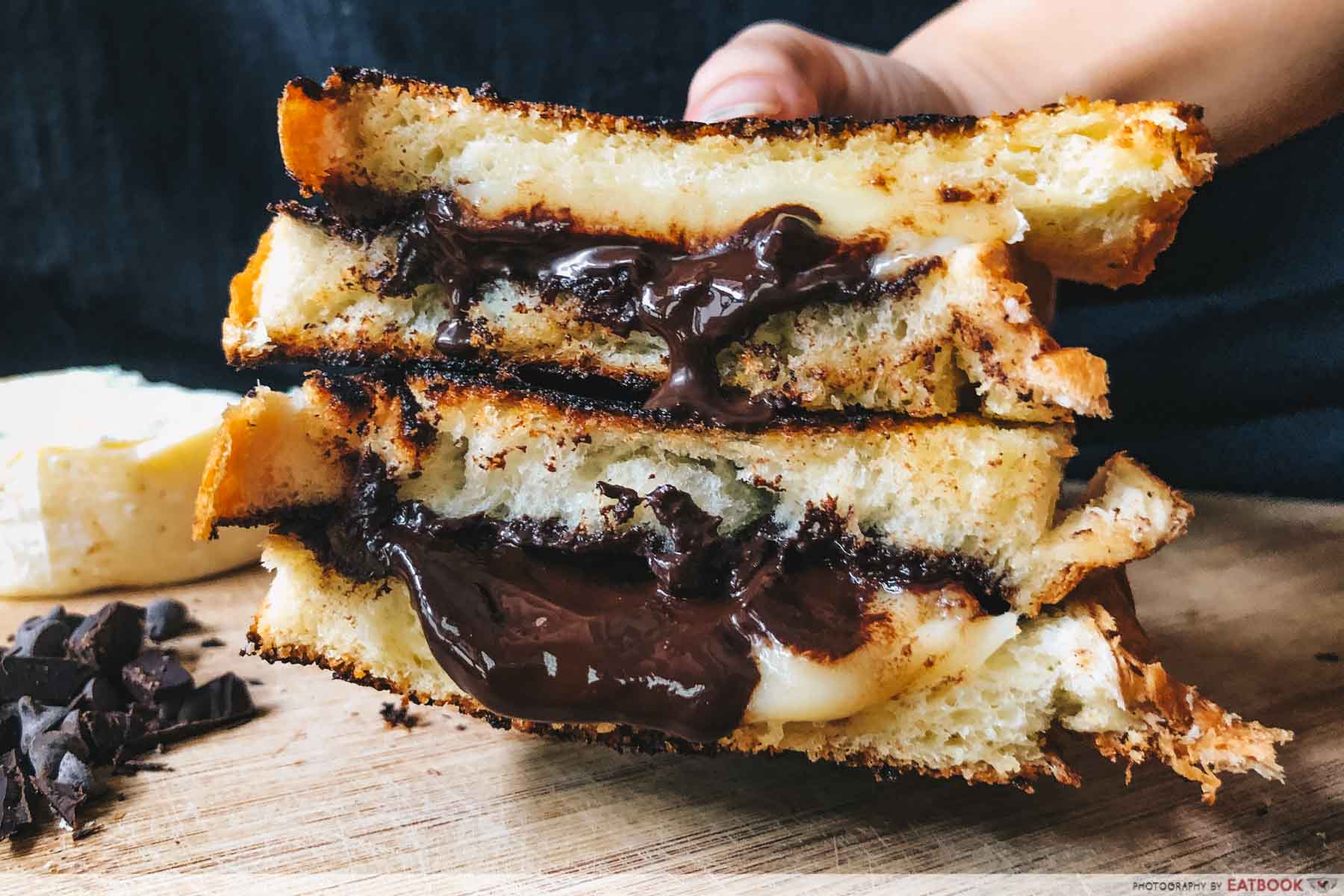 Brie works great with dark chocolate since it is very mild-tasting and possesses a creamy, almost-buttery, quality to it. Its subtle nutty flavour makes it a perfect match with bittersweet chocolate. We mixed semi-sweet chocolate chips with high-quality dark chocolate chunks to intensify the bitter bite of cocoa. 
For even more flavour, a sweet dough, such as a brioche or milk bread, works best with rich dessert sandwich recipes such as this one. 
Yield: Serves 2
Time needed: 10 minutes
Ingredients
4 slices bread
4 tbsp softened butter
Brie slices
Dark chocolate chips or chunks
Steps:
Generously butter each slice of bread, on one side, with room temperature butter.

In a heated pan over medium-low heat, place down two slices of bread with the buttered side down.

Top with brie cheese and dark chocolate. Cover with the remaining slices of bread, buttered side up. 

Flip the sandwiches over and toast the other side. You can use a spatula to press down on the sandwich to melt the cheese and chocolate together.
---
8. Yakisoba Bun
---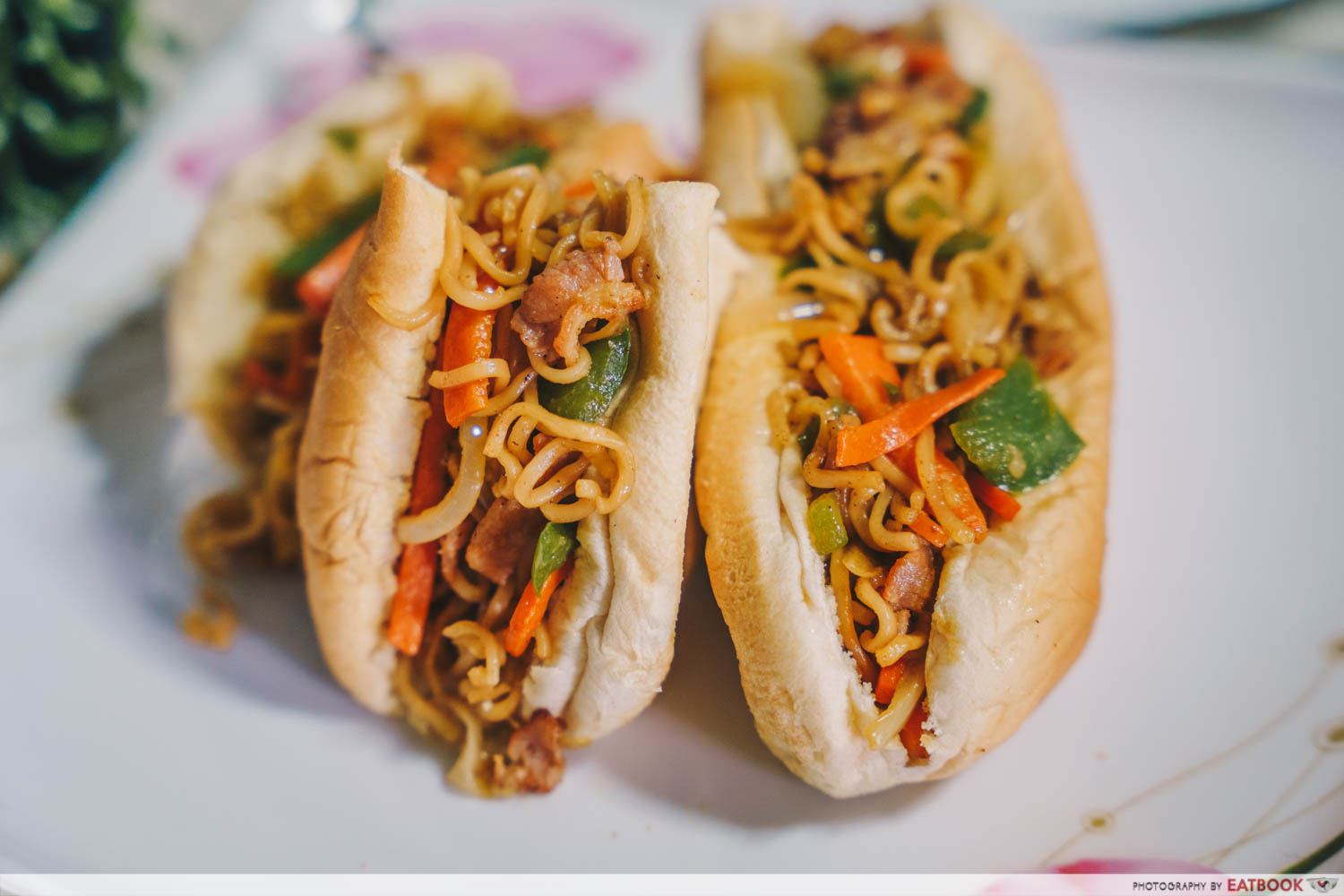 Yakisoba is a stir-fried noodle dish from Japan, it's a rather recognisable dish that makes frequent appearances in anime and Japanese variety shows. Perhaps even more iconic, is the sandwich version of the dish, the Yakisoba Bun—also known as yakisoba pan—which stuffs hot dog buns with the fried noodles.
Yakisoba is typically stir-fried with pork and vegetables, but you can use whatever you have in the kitchen, or even omit the pork for a vegetarian take on the dish. Every good yakisoba comes with its own savoury yakisoba sauce which you can make from scratch using common kitchen condiments.
Yield: Serves 4
Time needed: 20 minutes
Ingredients
Cooking oil
4 bacon strips
1 green bell pepper, chopped
1 small carrot, finely sliced
Half an onion, finely sliced
2 packets instant noodles
4 hotdog buns
Yakisoba sauce:
3 tbsp oyster sauce
1 tsp dark soy sauce
1 tsp sugar
1 tsp sesame oil
Salt
Steps:
Prepare the yakisoba sauce by mixing all the ingredients in a small bowl.

Cook the instant noodles according to the package directions, then drain it and set aside.

In a lightly oiled pan or wok over medium heat, fry the bacon strips until they start to turn crispy. Remove the bacon, and set aside.

In the same pan, stir-fry the green bell pepper, carrot, and onion till they start to soften slightly. Remove from the pan, and set aside.

Add a little more oil to the same pan and add in the cooked noodles. Stir-fry the noodles until they start to turn crispy in some places.

Add in three tablespoons of yakisoba sauce, along with the vegetables and bacon. Toss everything together.

Stuff as much of the noodles mixture into the hotdog buns as you can, and serve with a final drizzle of yakisoba sauce. 
---
9. Caramel Apple Pie Sandwich
---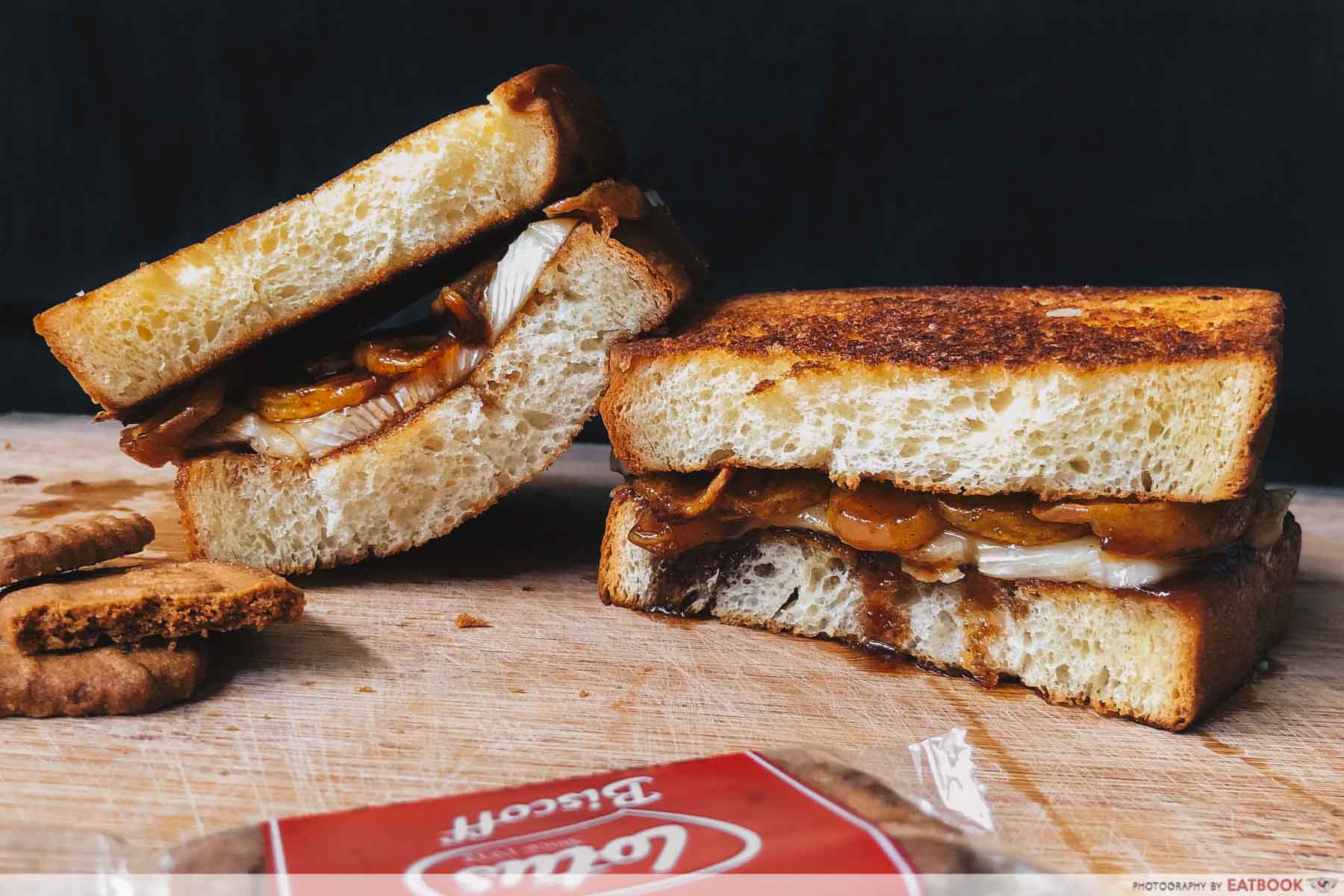 Another entry to our list of sweet sandwich recipes, this Caramel Apple Pie Sandwich is every pie lover's dream come true. Soft, caramelised apple slices sit atop a bed of cream cheese that's sandwiched between buttery slices of toast. This sandwich not only mimics the warm spices and sweetness of an apple pie, but also its textures, with crispy bread and a juicy filling.
We used brioche in this recipe since the enriched dough adds a buttery quality to the dessert. However, you can use any type of bread you have at home as long as you toast it with butter! Instead of white sugar, we made our caramel with brown sugar. It's deeper, toffee-like flavour profile pairs best with spiced desserts such as apple pie.
Yield: Serves 2
Time needed: 10 minutes
Ingredients
4 slices bread
2 tsp butter
1½ tbsp butter
2 tbsp brown sugar
1 apple, sliced
Cinnamon powder
Cream cheese
Steps:
Using one teaspoon of butter for every two slices of bread, melt the butter in a pan over medium heat and toast both sides of the bread. Remove the bread and set aside. 

In the same pan, melt 1½ tablespoons of butter. Add the brown sugar, apple slices, and cinnamon. Cook for about five minutes, or until the apples are caramelised.

Assemble the sandwich by spreading a layer of cheese before topping with apple slices and extra caramel.
---
10. Three-Coloured Sandwich
---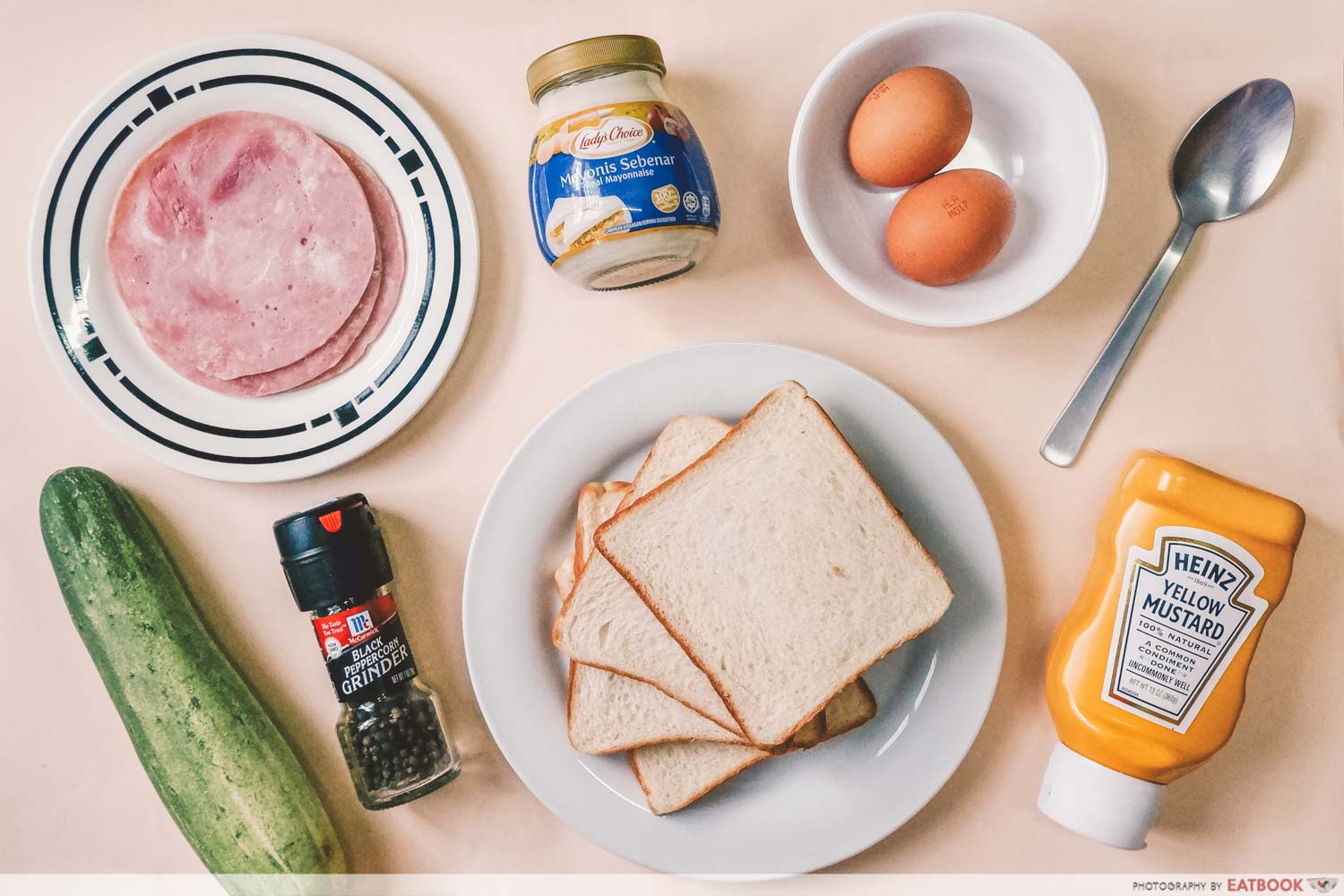 This Korean Three-Coloured Sandwich, also known as the Samsaek sandwich, is just the kind of sandwich you would spot in a fancy picnic party or served in a minimalist cafe. The tri-layered sandwich sports pastel shades of pink, yellow, and green, each made from common sandwich recipes ingredients.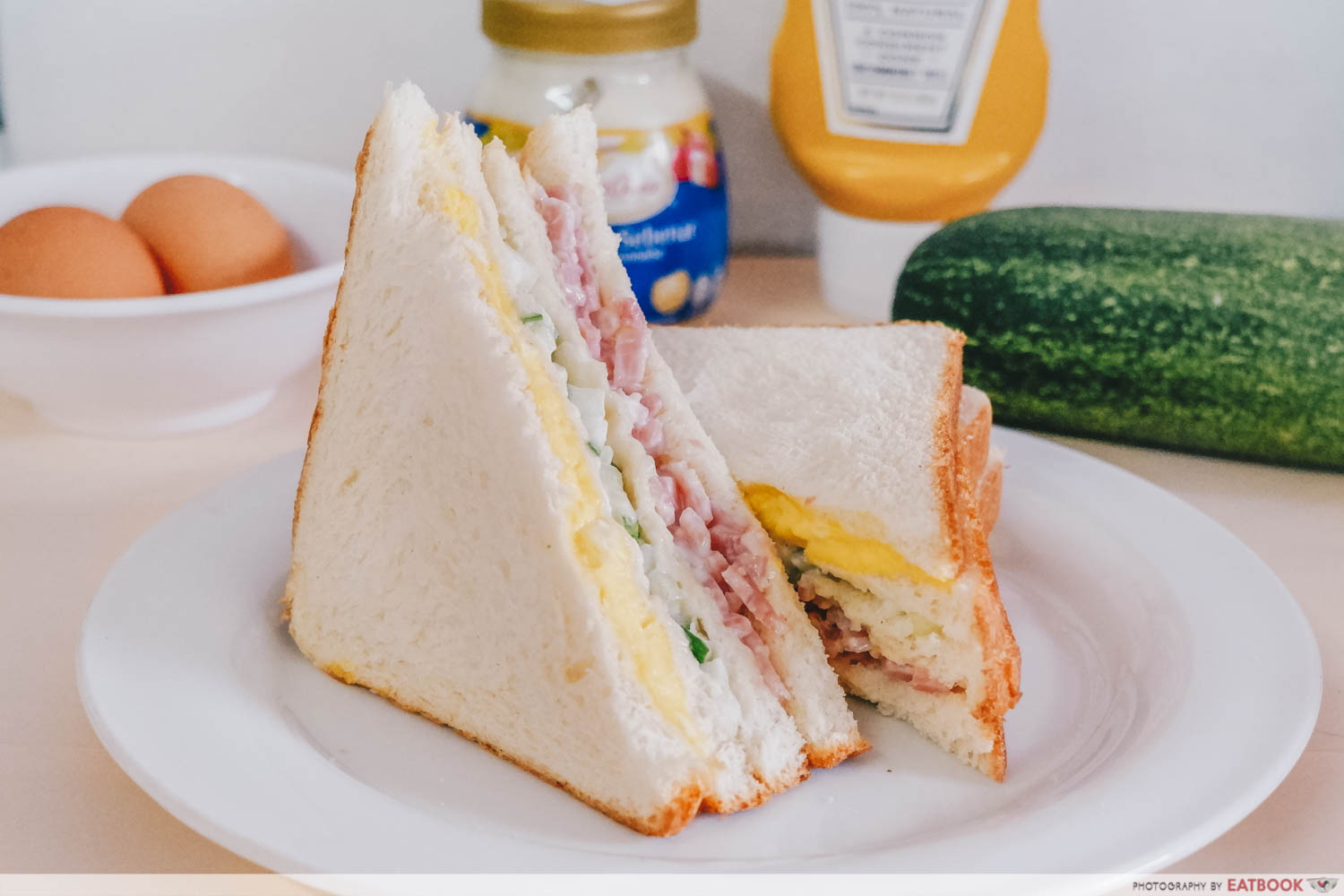 Mayonnaise is a vital ingredient in this sandwich. It acts as a binding agent that holds each filling's components together, and gives the sandwich a creamy mouthfeel. However, if you're not a big fan of the condiment, you can substitute mayonnaise with sour cream, or even plain Greek yoghurt for a healthier alternative.
Yield: Serves 3
Time needed: 25 minutes
Ingredients
12 slices bread
Green filling:
1 cucumber, finely diced
½ tsp salt
2-3 tbsp mayonnaise
Black pepper
Yellow filling:
4 hard-boiled egg yolks
2-3 tbsp mayonnaise
1 tbsp yellow mustard
Red filling:
4 ham slices
2-3 tbsp mayonnaise
Steps:
In a bowl, toss salt and finely diced cucumber and let it sit for 10 to 15 minutes, or until they sweat and release moisture.

Using a kitchen towel or clean cotton cloth, pat or squeeze out excess moisture from the cucumber.

In a dry bowl, combine the cucumber with pepper and mayonnaise.

In a separate bowl, prepare the yellow filling by mixing the egg yolks, mayonnaise, and yellow mustard together.

For the red filling, pat the slices of ham dry and finely dice it. Combine the diced ham with mayonnaise.

Assemble the sandwich by laying a slice of bread down and spreading an even layer of the yellow filling, followed by a slice of bread and red filling, and another slice of bread with the green filling. Complete the sandwich with a final piece of bread.

Using a serrated-edge or bread knife, cut the bread crust off the sides, then cut the sandwich in half.

Repeat two more times with the rest of the sandwich fillings.  
---
11. Tofu Banh Mi
---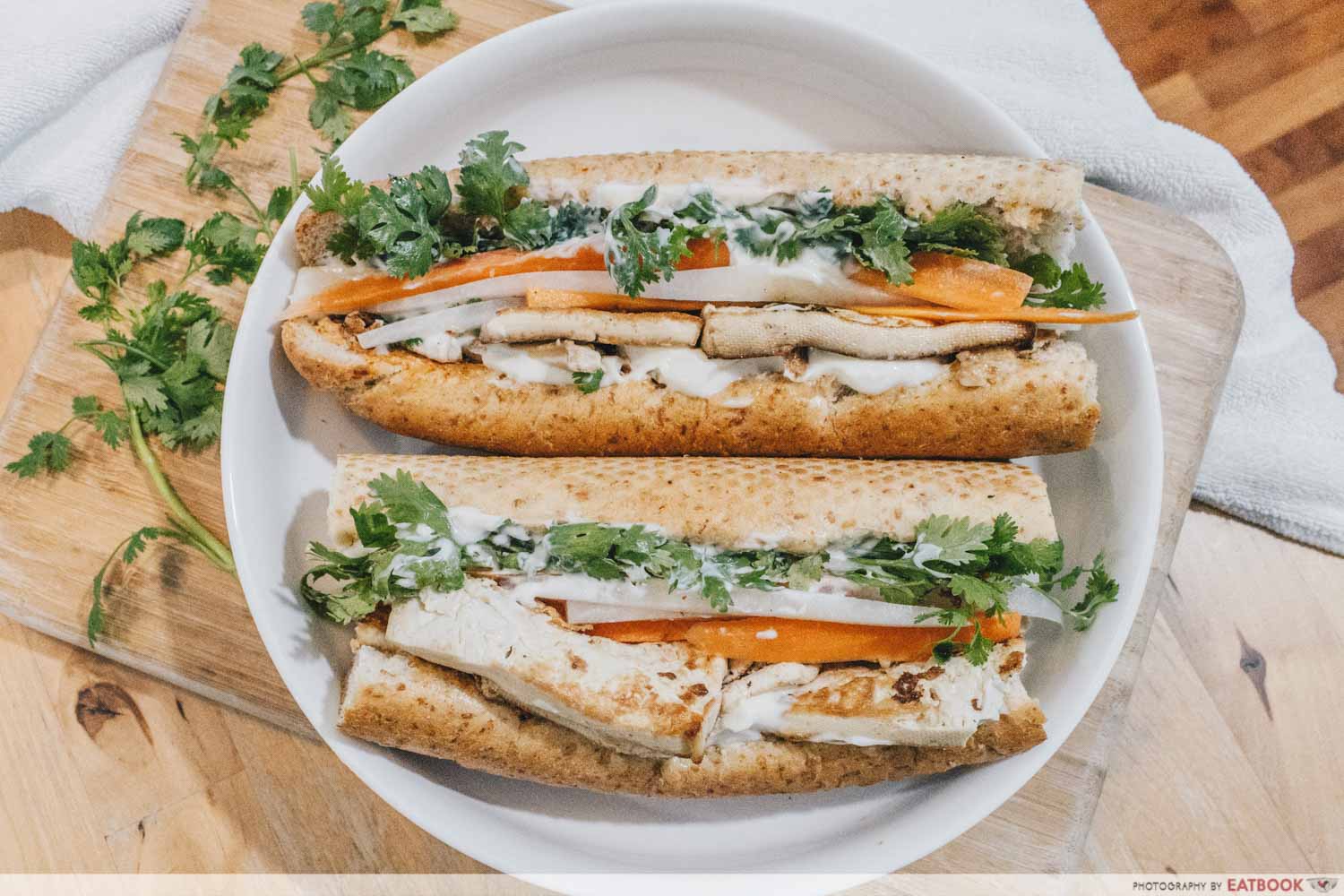 Banh mi is a Vietnamese sandwich conventionally prepared with marinated meat and pickled vegetables. While this tangy and savoury treat is a common street-side dish in Vietnam, coming across it in Singapore is not as easy. Hence, we've come up with the Tofu Banh Mi, a flavourful vegetarian version of the sandwich that anyone can recreate.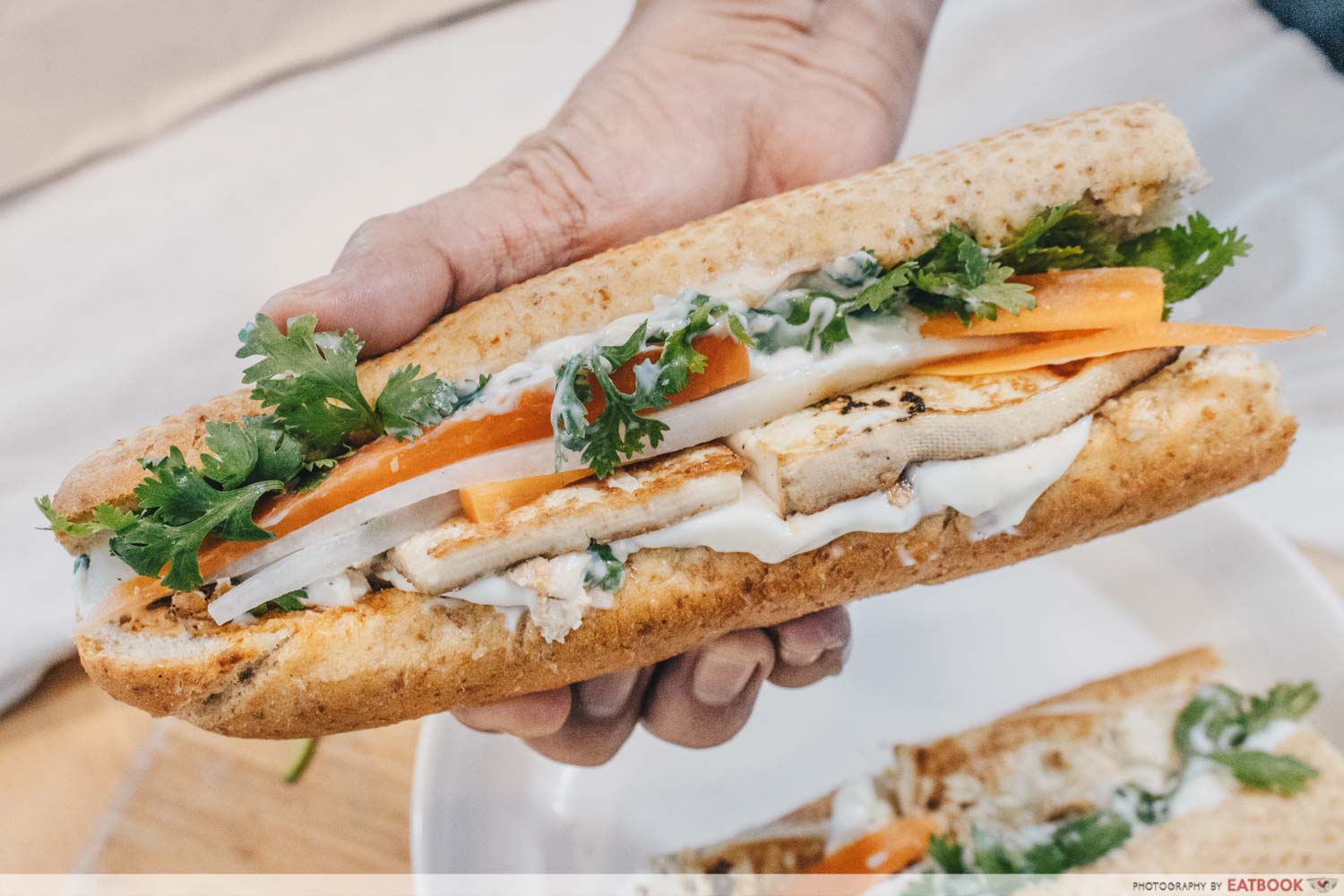 Not many people know that you can easily make pickled vegetables at home. We've included a simple pickled vegetables recipe that allows you to keep it in the fridge for up to a week. The key to a flavourful banh mi is a delicious marinade and good quality sauces, so we highly recommend using flavoured mayo or Kewpie mayonnaise if you have them at home.
Yield: Serves 4 
Time needed: 30 minutes
Ingredients
4 baguette pieces
1 package tau kwa
Coriander
Mayonnaise
Sriracha (optional)
Pickled vegetables:
2 cups water
3 tbsp rice vinegar
2 tbsp sugar
1 tsp salt
2 carrots, sliced into matchsticks
1 daikon radish, sliced into matchsticks
Tofu marinade:
1 tbsp sesame oil
2 tbsp soy sauce
Half a lime, juiced
1 clove garlic, minced
1 tsp ginger, minced
Steps:
To pickle your vegetables in advance, combine water, rice vinegar, sugar, and salt in a saucepan. Bring to a boil over medium-high heat.

Place the carrots and radish in a bowl, and pour the boiled mixture over. Let it sit for at least half an hour or up to overnight in the fridge.

In a bowl, mix together all the ingredients for the tofu marinade.

Cut the tofu block lengthwise into eight planks, and lightly pat them dry with a kitchen towel.

Place the tofu planks into a shallow dish and spoon marinade over it. Let the tofu sit for at least half an hour, up to overnight.

Meanwhile, prepare the sauce by mixing some mayonnaise with Sriracha, and set aside.

In a pan over medium-high heat, lay the marinated tofu planks down and drizzle excess marinade over them.

Cook each side for about five minutes or until each side is browned, using a spatula to firmly press down on the tofu from time to time.

Assemble your vegetarian bahn mi by spreading a generous amount of sauce onto the bread before laying down two planks of tofu, some coriander, and a handful of pickled vegetables.
---
12. Baked Katsu Sandwich
---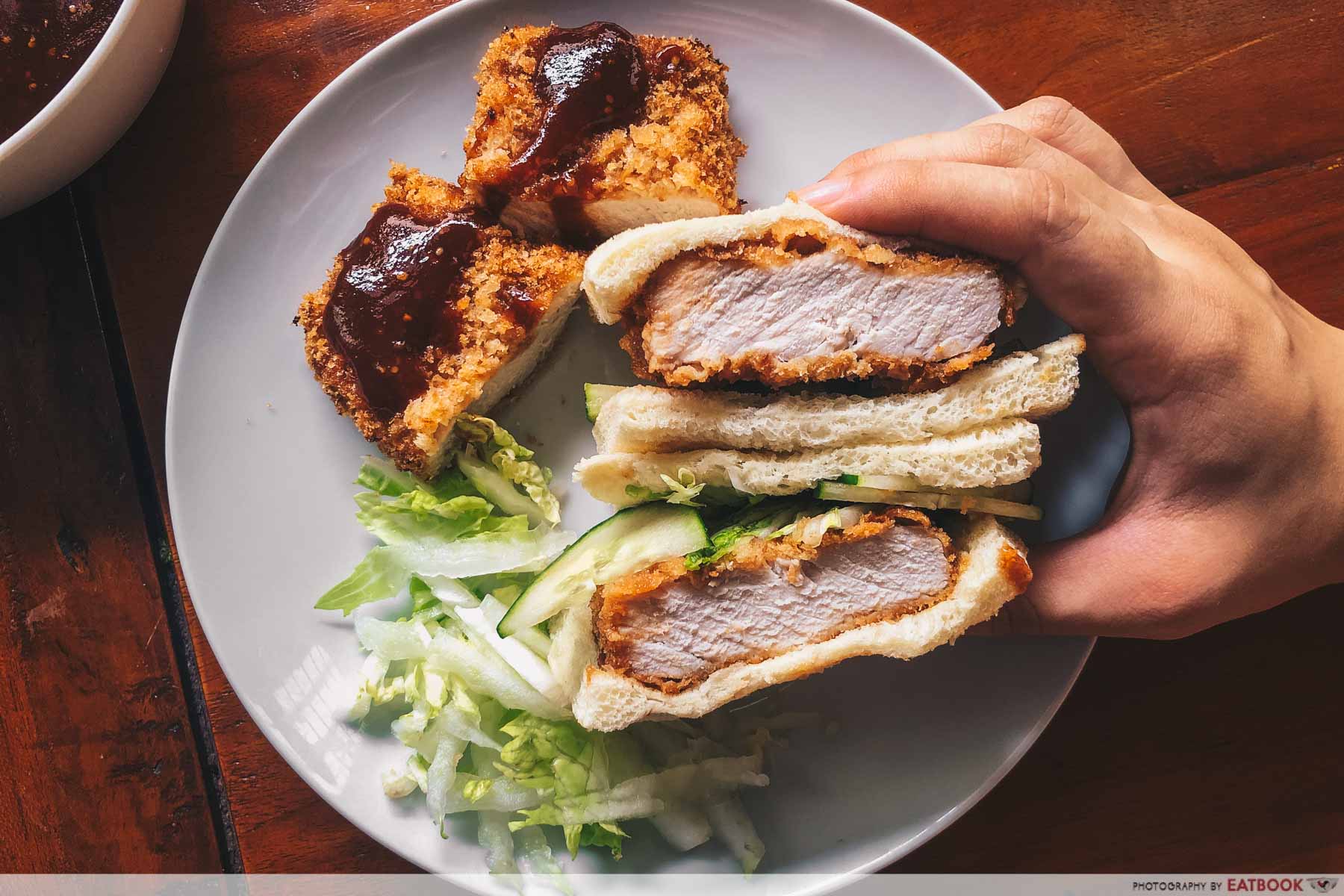 This Baked Katsu Sandwich recipe recreates the crispy Japanese pork cutlet together with a homemade tonkatsu sauce. By toasting panko crumbs in a pan and coating the pork with the crisped-up morsels, you can achieve the golden-brown tonkatsu crust without having to deal with the fuss of deep-frying.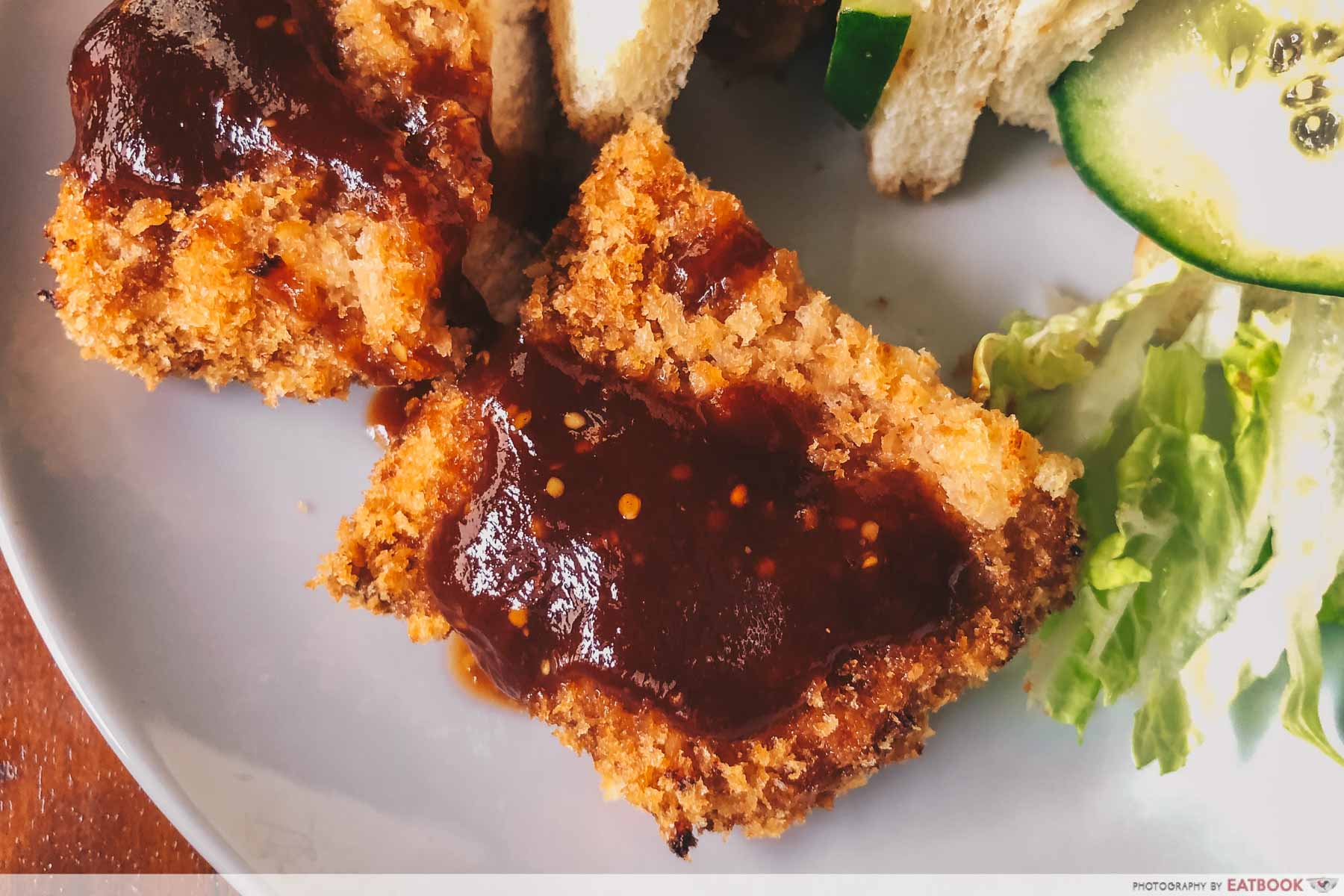 We made our sandwich with a zesty mix of lemon juice, cucumber, and shredded cabbage, but you can top your sandwich with any leftover vegetables you have at home. If you want, you can even make a bigger batch of the tangy tonkatsu sauce, and keep it in the fridge for up to three weeks, and in the freezer for up to three months. 
Yield: Serves 2
Time needed: 40 minutes
Ingredients
1 cup panko crumbs
1½ tbsp cooking oil
2 100g pork loin or boneless pork chops
2 tbsp plain flour
1 egg, beaten
2 tsp oil
Half a cabbage, finely shredded
Half a lemon, juiced
Salt
4 slices bread
Mayonnaise (optional)
Tonkatsu sauce:
6 tbsp tomato ketchup
2 tbsp Worcestershire sauce
1 tbsp soy sauce
1 tbsp mirin
1 tbsp sugar
1 tsp Dijon mustard
¼ tsp garlic powder
Steps:
In a large frying pan over medium-high heat, spread out one cup of panko crumbs evenly. 

Pour 1½ tablespoons of oil over the breadcrumbs and give the pan a shake every now and then to evenly toast them.

Once the breadcrumbs start to brown, stir the crumbs around more frequently. Continue toasting until they turn a deep golden-brown colour. Transfer the crumbs to a shallow tray and let cool.

Preheat the oven to 200°C.

Using a meat tenderiser or the back of a heavy knife, pound out the pork until they are about 2cm thick.

In a bowl, mix two teaspoons of oil with the beaten egg.

Coat the pork with a layer of flour, then dip it into the egg mixture before giving the pork a generous coating of toasted breadcrumbs.

Transfer the breaded pork to a baking sheet lined with parchment paper, or an oven-safe wire rack. Bake in the oven for 20 minutes. 

While you wait, prepare the shredded cabbage by tossing it together with lemon juice and a pinch of salt. 

Prepare the tonkatsu sauce by mixing all of the ingredients in a bowl.

Toast your bread and generously coat one side with mayonnaise and tonkatsu sauce.

Assemble by stacking your pork, followed by more tonkatsu sauce and lettuce to complete the sandwich. 
---
13. Roti John
---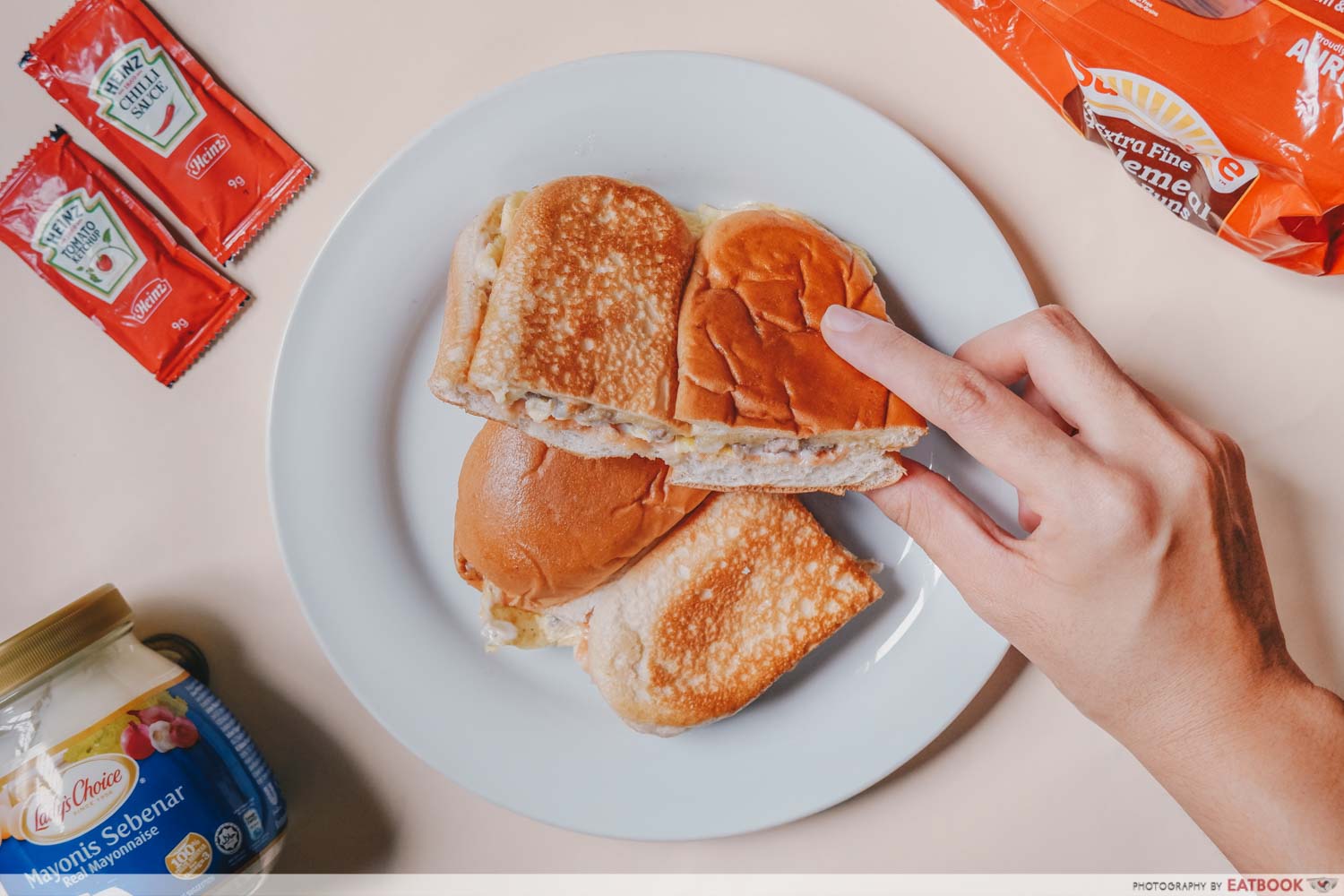 The Roti John is probably the most familiar dish in our sandwich lineup. Touted as the Singaporean version of a burger, this beloved local classic is made by slathering a spicy mixture of ground meat and egg onto open-faced baguettes, and cooked on a pan. If you want to serve it like the coffee shop uncles do, the fried omelette sandwich is not complete without an emblematic shower of ketchup and mayonnaise.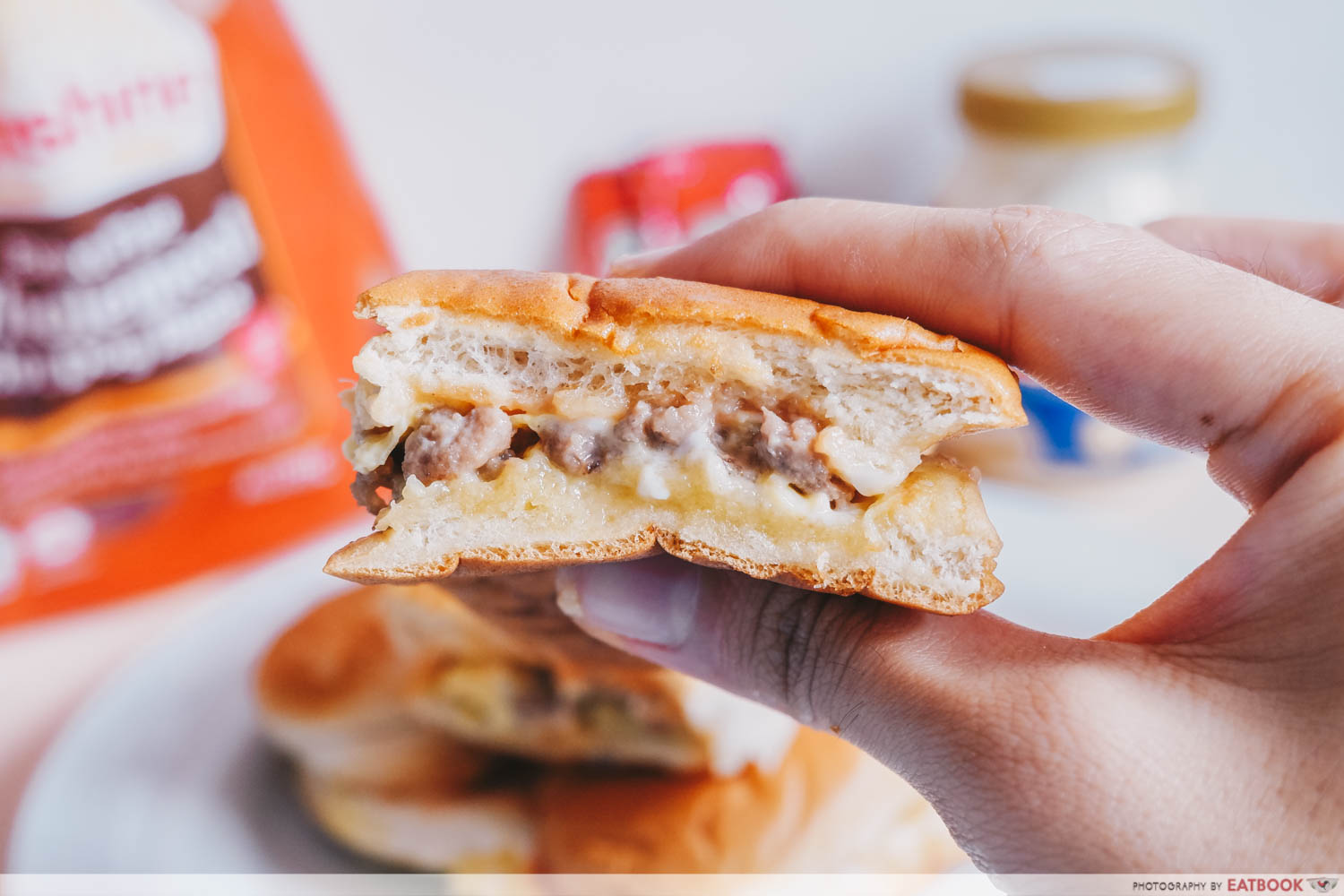 You can use any type of chilli paste you have, but to infuse as many local flavours into this dish, we highly recommended using sambal chilli. This recipe also calls for some ground beef, but you can use ground mutton instead if you are partial to meatier flavours.
Yield: Serves 2
Time needed: 15 minutes
Ingredients
1 French baguette
2 tbsp chilli paste
1 onion, chopped
4 eggs, beaten
200g ground beef
¼ tsp salt
Cooking oil
Steps:
Cut two six-inch portions of the baguette. Then make a deep cut, lengthwise, such that each piece can be opened up into a butterfly-like shape.

In a bowl, mix the chilli paste, chopped onion, beaten eggs, ground beef, and salt.

Generously grease a pan with cooking oil and ladle in half of the egg mixture. Cook over low heat for one minute.

Place the cut side of the baguette faced down into the mixture, and use a spatula to firmly press the bread into the egg. Let it cook for one to two minutes more.

Remove it from the pan, and squeeze ketchup and mayonnaise over the roti john before slicing them into smaller pieces.

Repeat with the other piece of baguette and other half of the egg mixture.
---
14. Chicken Satay Sandwich
---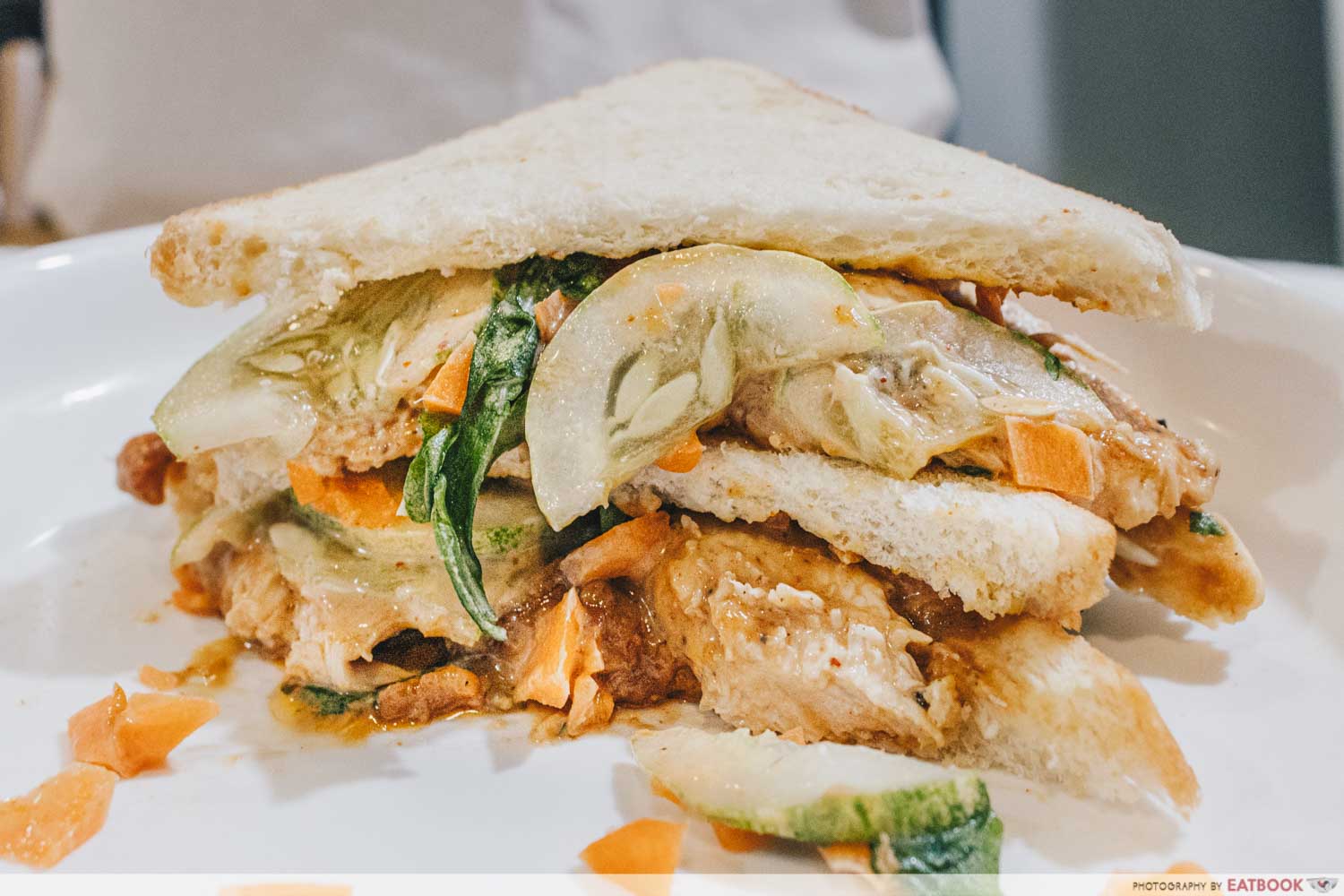 Instead of enjoying satay as a skewered snack, you can put them into a Chicken Satay Sandwich to have the sweet and savoury chunks of meat as a meal. The key ingredient of this satay sandwich is the quintessential peanut sauce that comes with every order of the dish. Don't scrimp on the peanutty satay sauce since it is what grants the sandwich the recognisable satay flavour.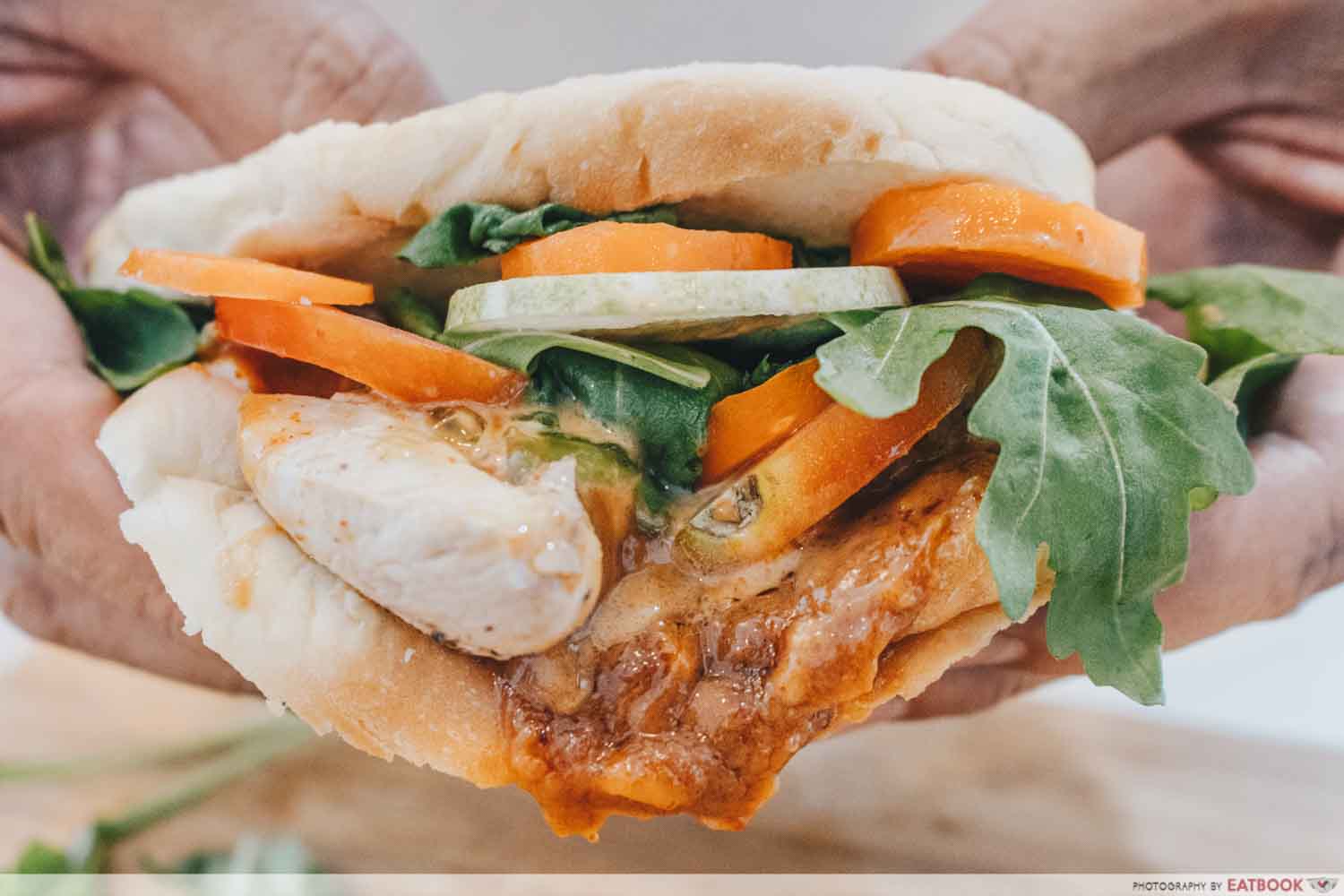 For extra flavour, you can cover the chicken meat in a marinade before cooking. Recipes for satay marinades vary, but you can follow this recipe by Rasa Malaysia which uses a few simple ingredients to recreate the flavourful paste. 
Yield: Serves 4
Time needed: 20 minute
Ingredients
4 pieces boneless chicken cutlets or chicken breast, sliced
2 tsp olive oil
Salt
Black pepper
1 tbsp lime juice
8 slices bread
1 carrot, finely sliced
1 cup baby spinach or rocket leaves
Satay sauce:
2 tbsp creamy peanut butter
1 tbsp water
2 tsp soy sauce
2 tsp lime juice
2 tsp honey
1 tsp ginger, grated
1 tsp chilli paste
Steps:
Prepare the satay sauce by combining all the ingredients in a small bowl and stirring well. Set aside.

Brush both sides of the chicken cutlet with oil and season with salt and pepper. 

In a pan or grill over medium-high heat, cook the chicken cutlets for about three minutes on both sides. Transfer the chicken pieces to a plate and squeeze lime juice over them.

Assemble your sandwich by laying down one piece of chicken, followed by a generous drizzle of peanut sauce, then stack as many vegetables as you like and close the sandwich with another slice of bread. 
---
15. Chicken Salad Sandwich
---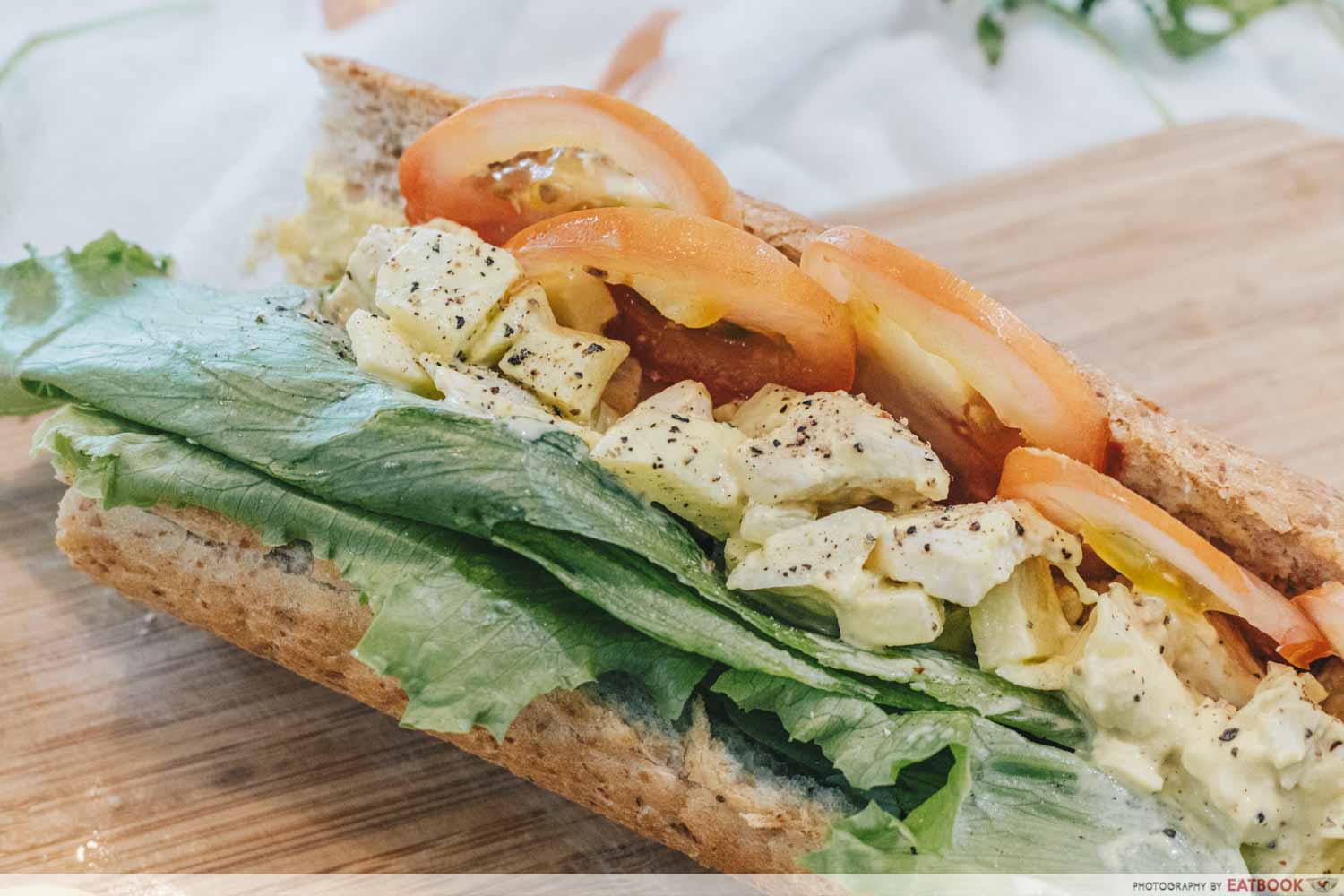 As a carb lover, I never considered salad a gratifying meal as it doesn't fill me up. Toss your salad between slices of toasted bread, and you can eat your fill without feeling too indulgent. This Chicken Salad Sandwich combines fruits, vegetables, protein, and carbs in a single dish without being too tasting too jelak.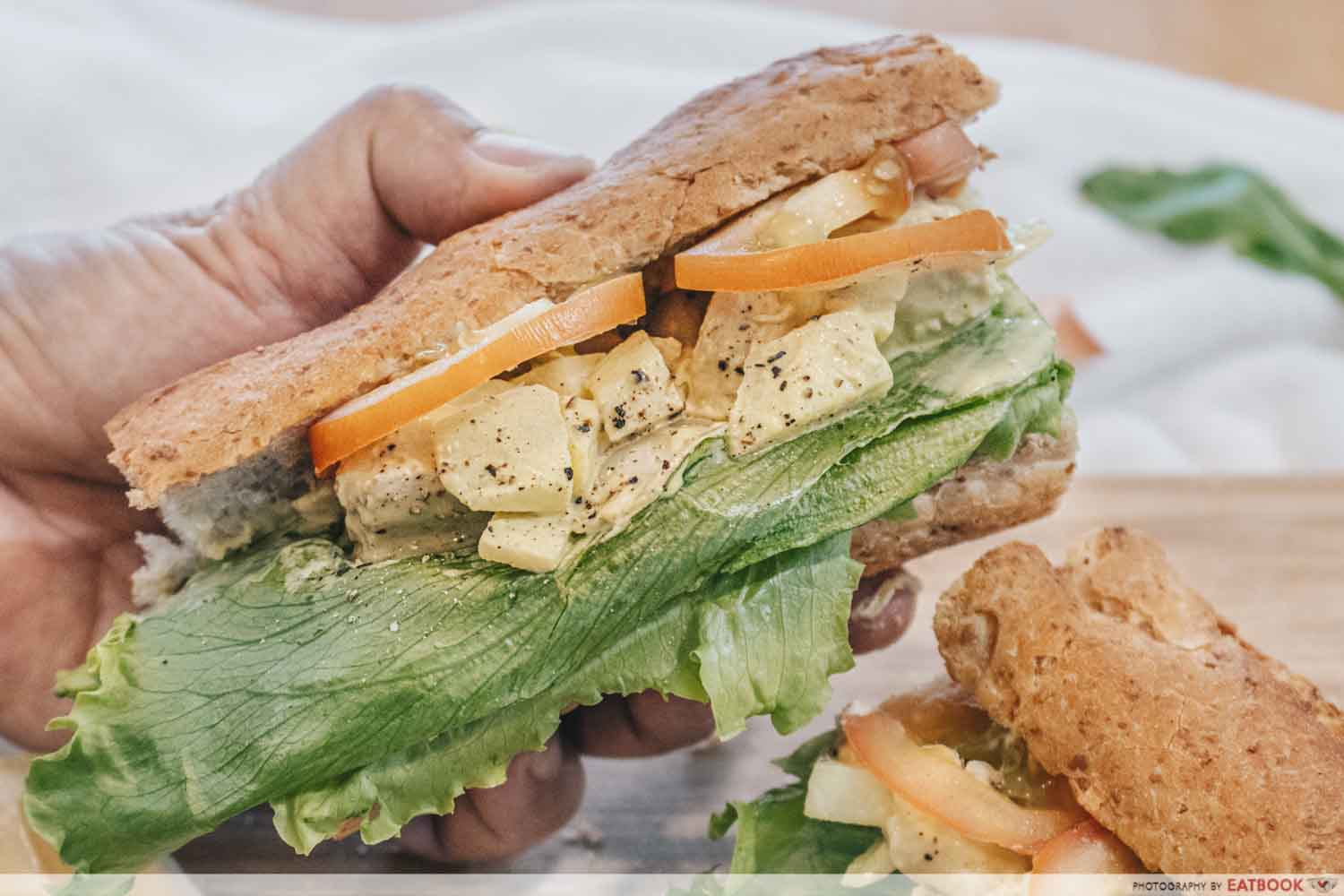 Salad is a very versatile dish, so feel free to toss in your favourite salad toppings such as nuts or cheese, and swap out the chicken for turkey or ham to suit your preferences. If you have strong feelings against celery, you can always replace it with chopped iceberg lettuce or shredded cabbage. 
Yield: Serves 4
Time needed: 25 minutes
Ingredients
4 pieces baguette or 8 slices toasted bread
3 boneless chicken breast
6 lemon slices
Dill (optional)
1 green apple, chopped
Half a red onion, minced
2 celery stalks, chopped
Salad dressing:
⅔ cup mayonnaise
¼ cup Dijon mustard
2 tbsp red wine vinegar
Salt
Black pepper
Steps:
Prepare the salad dressing in a large bowl by mixing in all the ingredients well, seasoning with salt and pepper to taste. Chill it in the refrigerator for at least 15 minutes.

In a large pot, arrange the chicken breasts in a single layer. Place the lemon slices and dill on each piece of chicken, and pour in enough water to cover the chicken.

Over medium heat, bring the water to a boil, then lower the heat and allow the water to simmer for around 10 minutes. Remove the chicken and let it cool before cutting into one-inch pieces.

In a large bowl, combine chicken pieces with chopped green apple, red onion, and celery stalks. 

Add chilled salad dressing to chicken mixture and toss well.

Stuff your French baguettes or assemble your sandwich with the chicken salad mixture.
---
16. Kaya Cream Cheese French Toast
---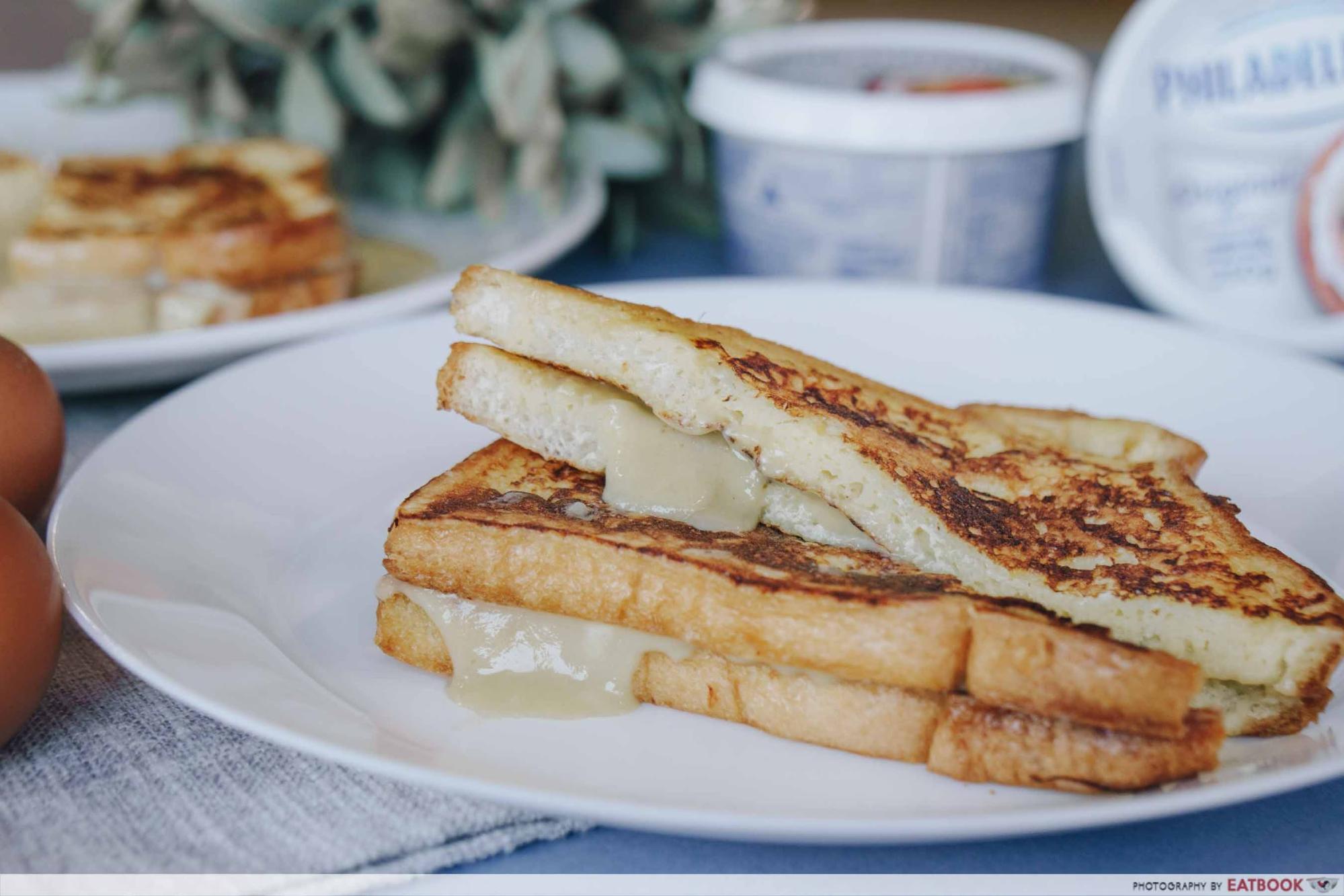 Kaya and cheese is an unconventional pairing, but it definitely works well in this Kaya Cream Cheese French Toast. Unlike the usual kaya butter toast, the tart and savoury cream cheese mellows out the sugary spread, making for a light-tasting filling.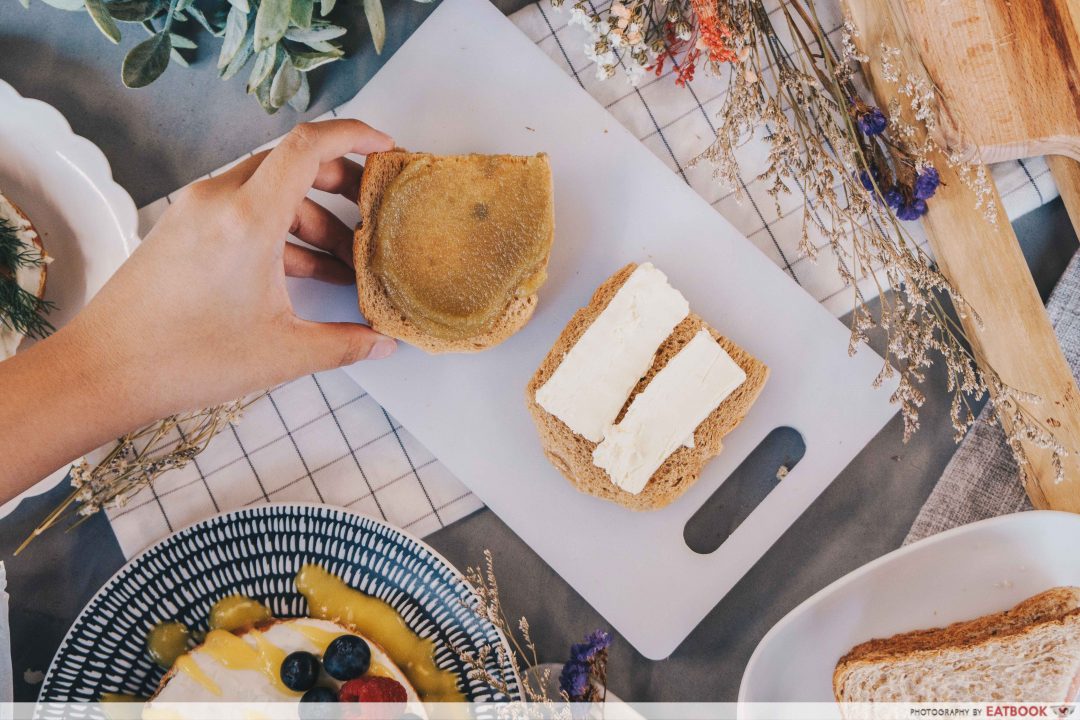 Using French toast in this sandwich adds a touch of buttery indulgence to the snack, and also keeps the sandwich from being too dry. If you can't find spreadable cream cheese, you can also substitute it with ¼ of a block of cream cheese, softened at room temperature. 
Yield: Serves 4 
Time needed: 20 minutes
Ingredients
8 slices bread
¼ cup kaya
2 tbsp spreadable cream cheese
6 eggs
1 cup milk
½ tbsp butter
Steps:
In a mixing bowl, mix kaya with the spreadable cream cheese.

Prepare the French toast mixture by whisking eggs and milk together.

Dip bread slices into the egg mixture, making sure both sides are well coated.

Melt butter in a nonstick frying pan. Place bread slices, and cook on medium heat until they are golden brown on each side, about two to three minutes.

Generously spread the kaya and cream cheese mixture onto a slice of French toast, put the second slice on top, then slice diagonally and serve.
---
Sandwich recipes to try during this Circuit Breaker
---
Bread may not always be the carb-of-choice for Asian households, but these upgraded sandwich recipes might convince you to switch away from rice and noodles from time to time. Since we'll be stuck at home for the next month, we hope that these recipes will give you a reason to stay active in the kitchen!
If you are looking for easy recipes to whip up at home, try this Mentaiko Mac and Cheese recipe made entirely in a rice cooker, or use up your stockpiled noodles with this list of instant noodle recipes.
Photos taken by Goh Kerrianne, Chng Jia Yan, John Lery Villanueva, and Leong Kit Shan.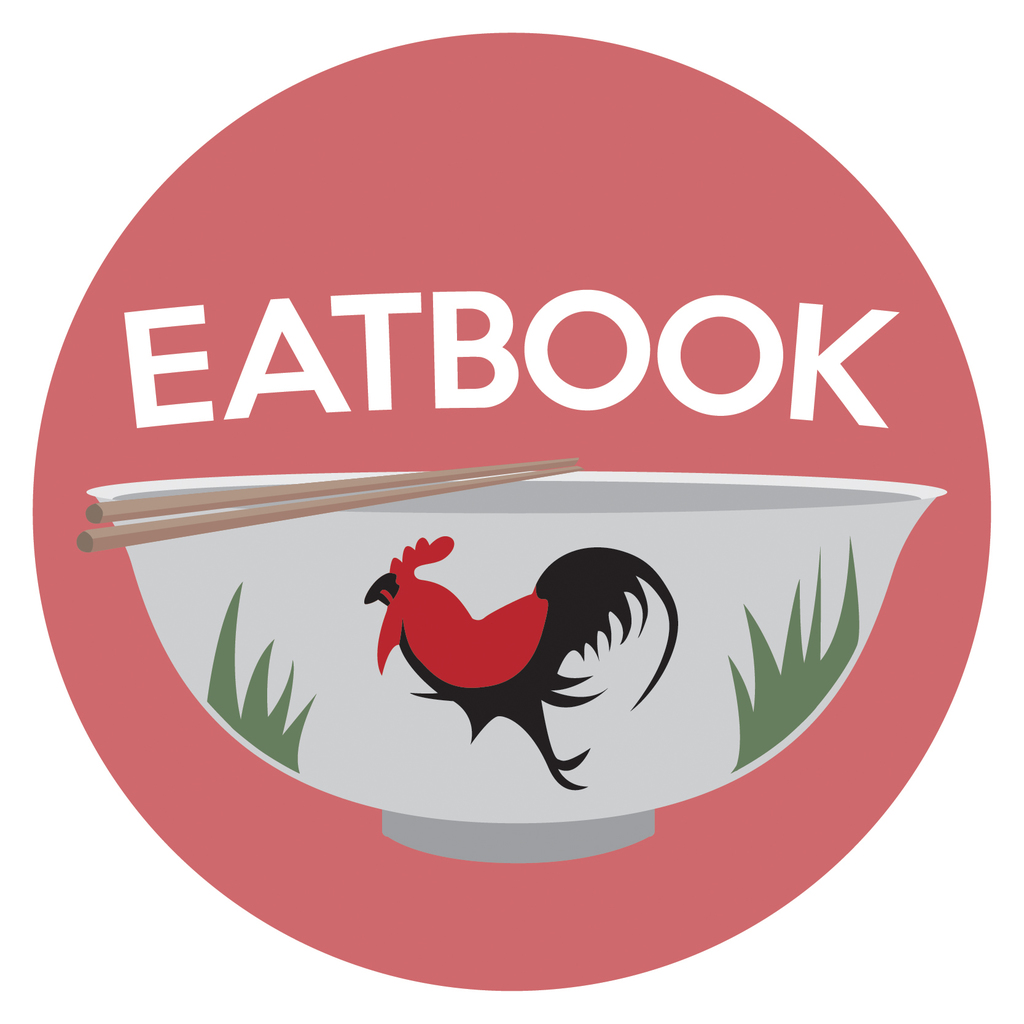 Drop us your email so you won't miss the latest news.