---
Zhng-ed up instant noodle recipes
---
Over a week into the Circuit Breaker implementations, many of us have started digging out our pots and pans, thanks to a renewed interest in cooking. If the kitchen is foreign territory to you, and having the same instant noodles for all your meals is starting to get old, it's probably time to try out these easy instant noodle recipes. 
From spicy dan dan noodles to sweet and savoury pad Thai, these recipes will turn your basic instant ramen into legit noodle dishes. You need common pantry ingredients, but for some recipes it will also require things from the supermarket or a Korean mart. 
---
1. Dan Dan Mian
---
Dan Dan Mian is a popular Sichuan noodle dish served with a nutty, savoury, and spicy sauce. Much like most other Sichuan dishes, its spice level isn't for the weak-hearted. With one packet of chicken-flavoured instant noodles and some peanut butter, you can recreate this classic dish at your own home.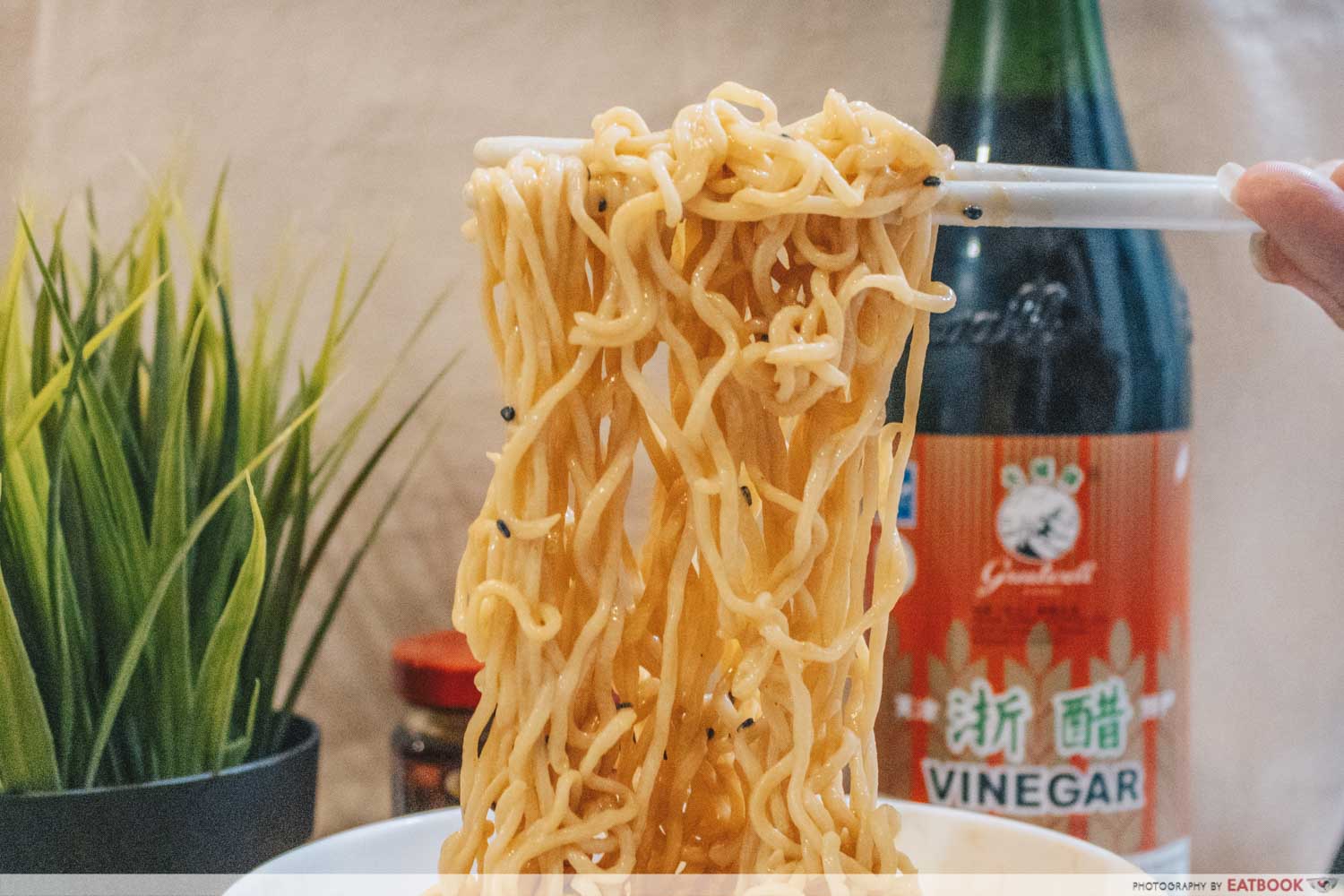 Adjust the amount of chilli oil in the sauce depending on your preference. For spice lovers, give the dish an extra numbing effect by sprinkling in some Sichuan peppercorn. This dish is conventionally eaten with minced meat and some greens, but feel free to throw in any leftover ingredients in your fridge.
Time needed: 15 minutes
Ingredients
1 packet chicken-flavoured instant noodles
6 tbsp hot water
3 tbsp creamy peanut butter
1½ tbsp sesame oil
3 tbsp Chinese black vinegar
1 bsp hot chilli oil
Chopped spring onions, nuts, and sesame seeds (optional)
Steps:
Cook the instant noodles in boiling water, without adding the seasoning. After it's cooked, transfer the noodles into a serving bowl.

To make the peanut sauce, combine six tablespoons of hot water from the pot, ½ of the seasoning packet from the instant noodles, peanut butter, sesame oil, black rice vinegar, and chilli oil. Stir thoroughly.

Pour the peanut sauce onto noodles and mix till the noodles are well-coated.

Serve with a sprinkle of sesame seeds, chopped spring onions, and nuts.
---
2. Ramelette
---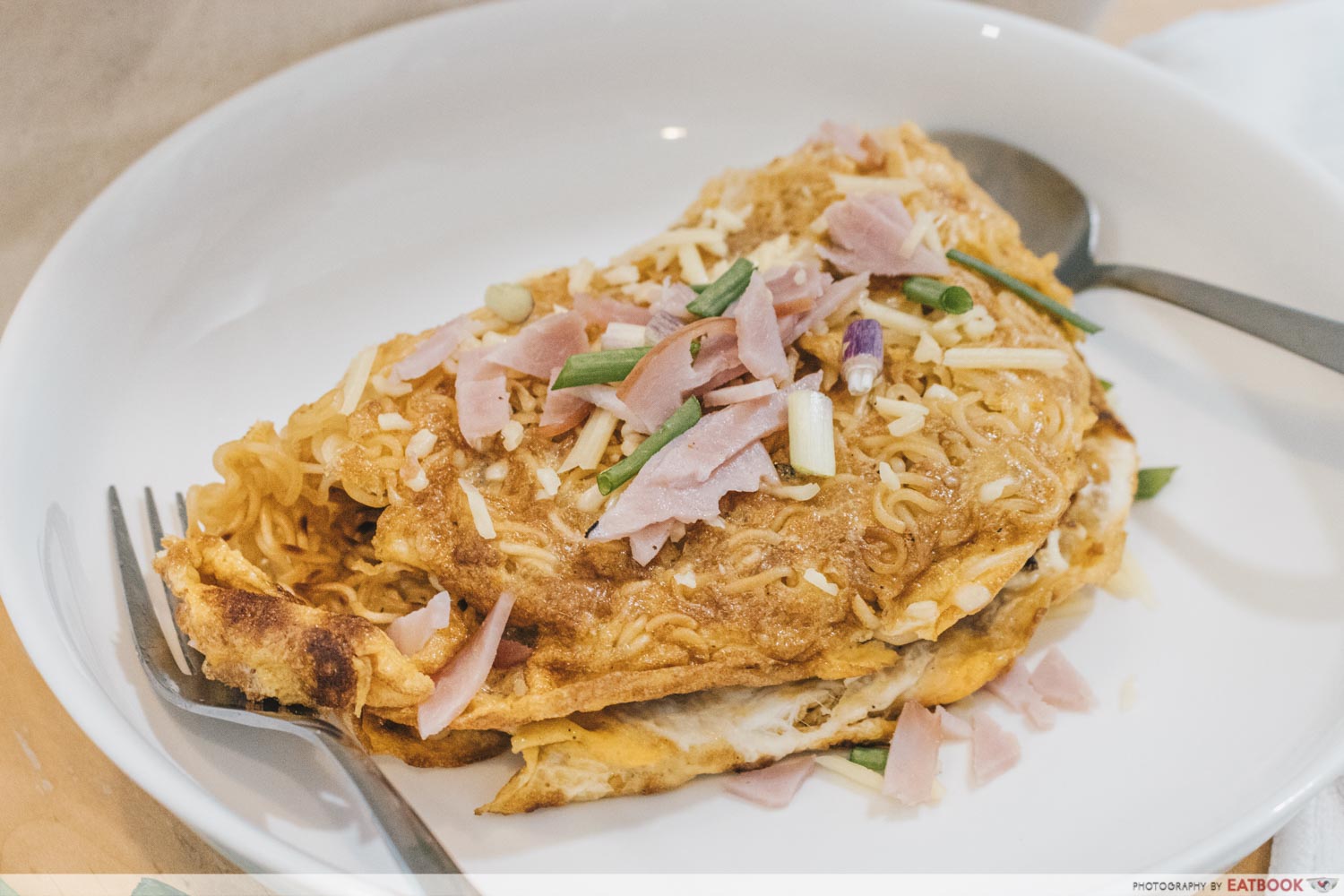 The Ramelette is a literal combination of 'ramen' and an 'omelette'. This is a glorious union of two pantry staples that can be whipped up by the most amateur of cooks. Instead of a cracked egg floating atop the noodles, the egg in a ramelette takes the limelight instead. The ramelette has a crisped-up brown exterior and a bouncy texture in the center.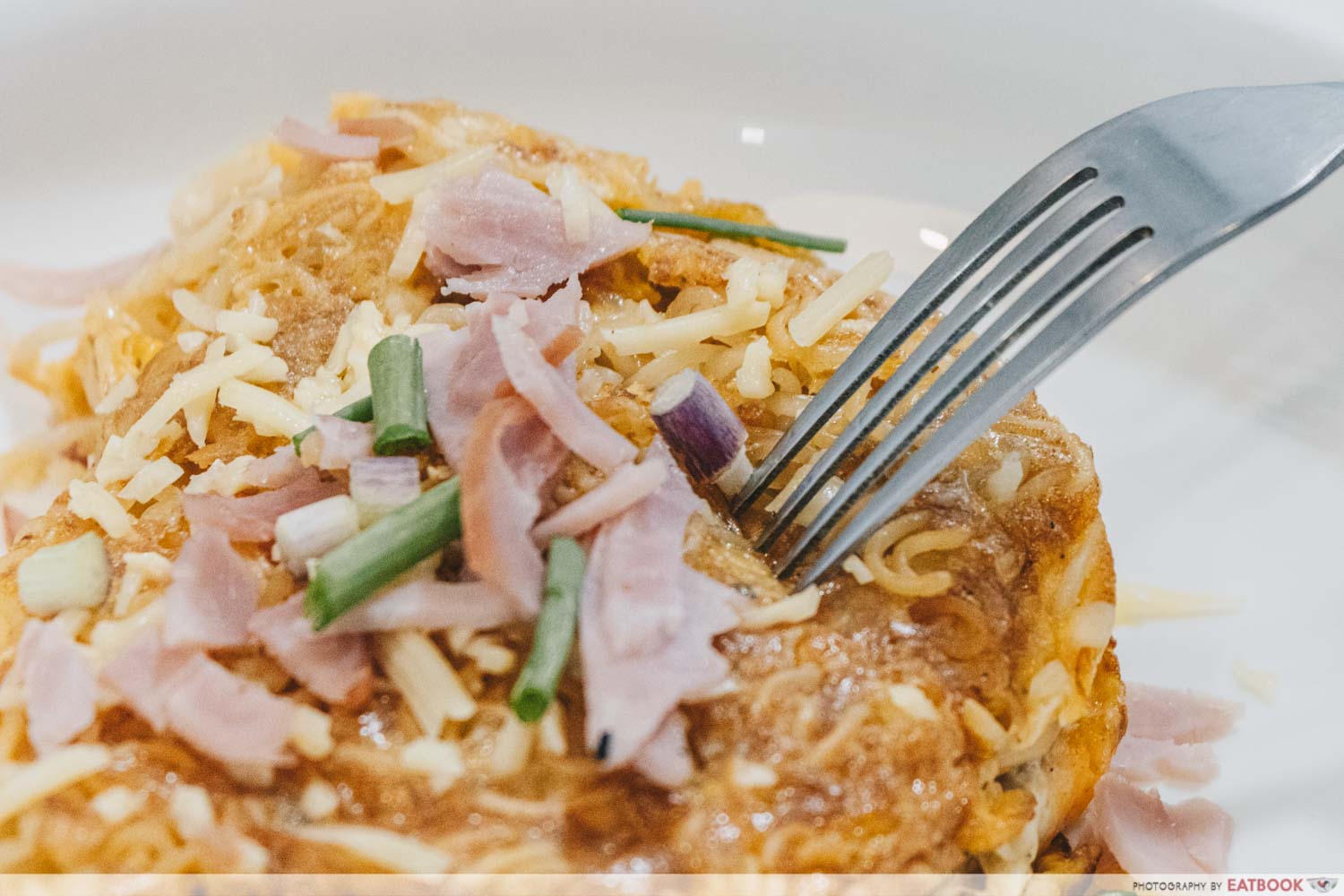 As one of the easiest on our instant noodle recipes list, this whole dish can be prepared in a single frying pan. One important step is rinsing the noodles under cold water after boiling it. Doing this stops the noodles from cooking further and becoming too soggy. Treat this dish like a regular omelette and zhng it up with cheese, ham slices, mushrooms, or veggies as much as you like!
Time needed: 10 minutes
Ingredients
1 packet instant noodles
1 tsp cooking oil
3 eggs
Cheese (optional)
Ham (optional)
Steps:
Cook the instant noodles in boiling water, without adding the seasoning. After it's cooked, drain the noodles and rinse with cold water.

Pat the noodles lightly with a paper towel to remove excess moisture.

Whisk the eggs with the instant noodles seasoning. If you prefer less salt, you can add less of the seasoning.

Lightly oil a heated non-stick pan. Add the noodles and use the back of a spatula to gently flatten the noodles into a circle.

Let the noodles cook until they turn crispy on the bottom, before flipping over to the other side.

Pour in the eggs and let them cook on one side, before flipping over again.

Put cheese and ham pieces on top of the omelette, fold it into half, and serve.
---
3. Poor Man's Tonkotsu Ramen
---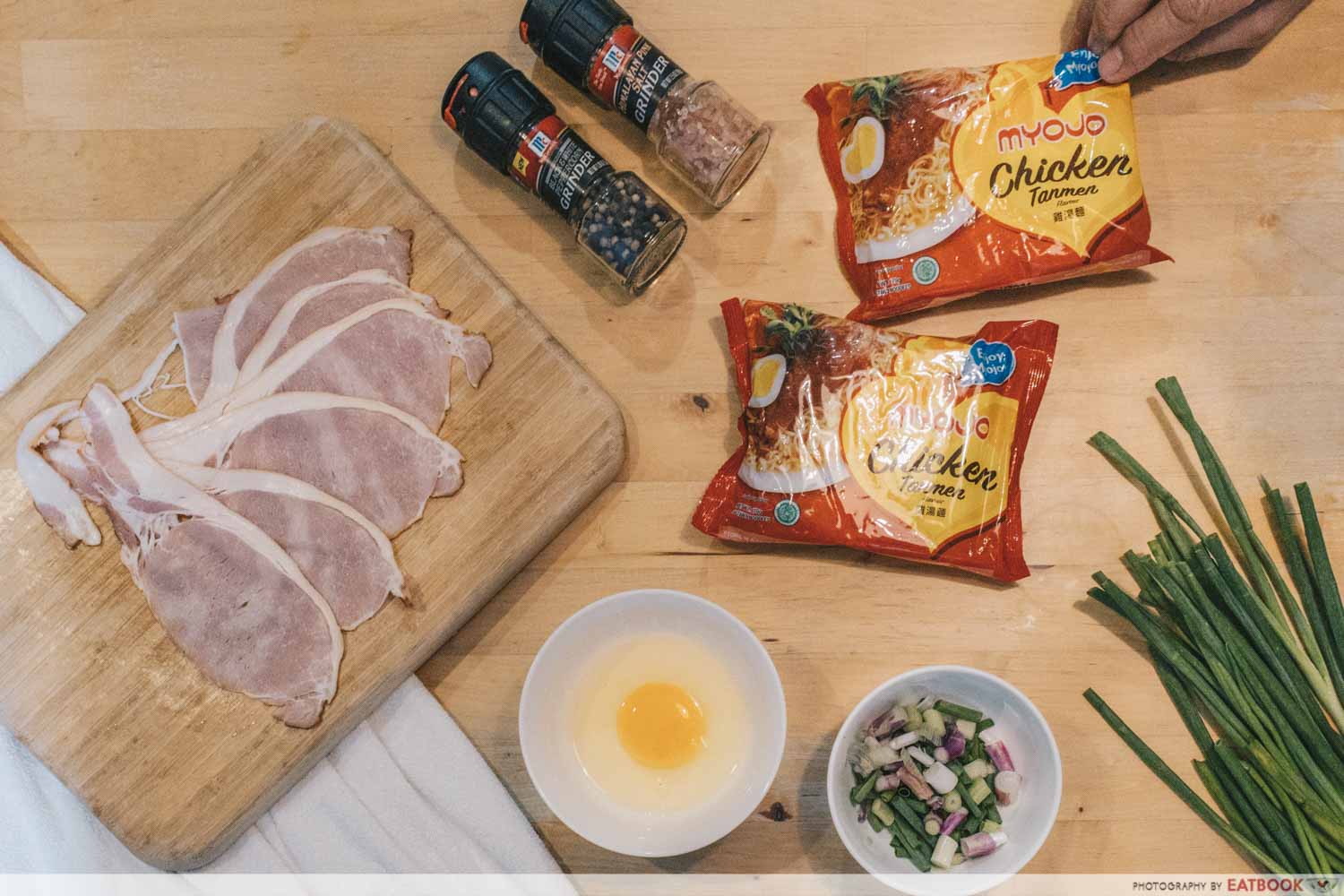 We can't go out for a tonkotsu ramen fix now, but we can at least recreate a Poor Man's Tonkotsu Ramen at home. A good pork bone stock usually takes hours or even days to attain its rich, savoury flavour. In this stay-home version, we'll be using fatty bacon as a replacement for chashu slices as well as to infuse as much pork flavour as we can into the toppings.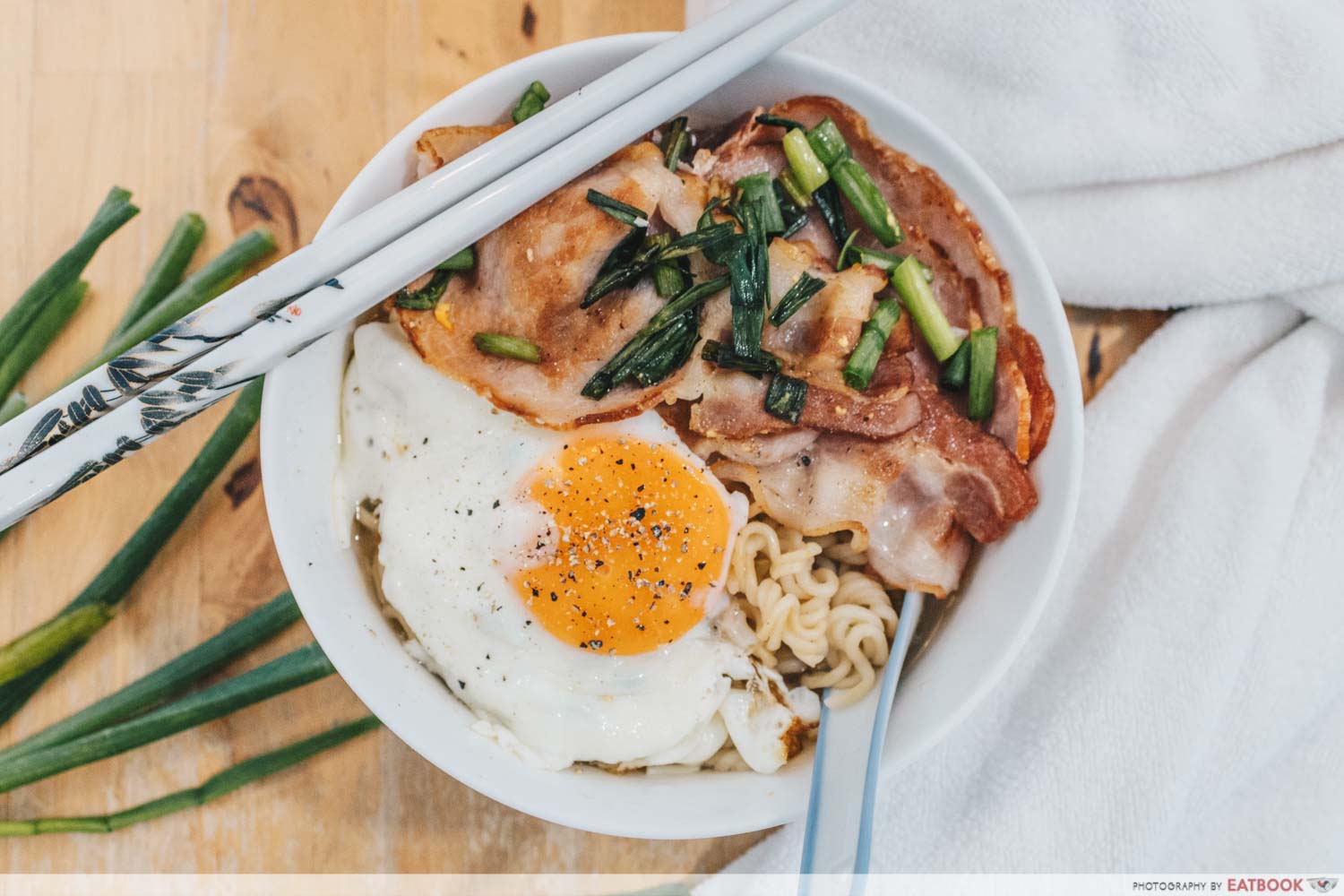 The simplest chicken-flavoured noodles will work for this recipe. A vital step is to reserve the bacon fat and use it to cook your other ingredients, thus retaining all of the mouthwatering umami flavours.
Pro tip: keep the yolk runny while frying your egg; the rich yolk adds creaminess to the broth!
Time needed: 15 minutes
Ingredients
1 packet instant noodles
6 bacon strips
1 stalk spring onions
1 egg
Salt
Pepper
Steps:
Cook the instant noodles according to the instructions on the packet and set aside in a serving bowl.

Sear bacon on a hot pan till each side is golden brown, remove, and set aside.

Using the leftover bacon fat in the pan, stir-fry some chopped spring onions and set aside.

Fry a sunny-side-up and place it onto the noodles, along with the bacon, spring onion, salt, pepper, and serve. 
---
4. Steak Ram-don
---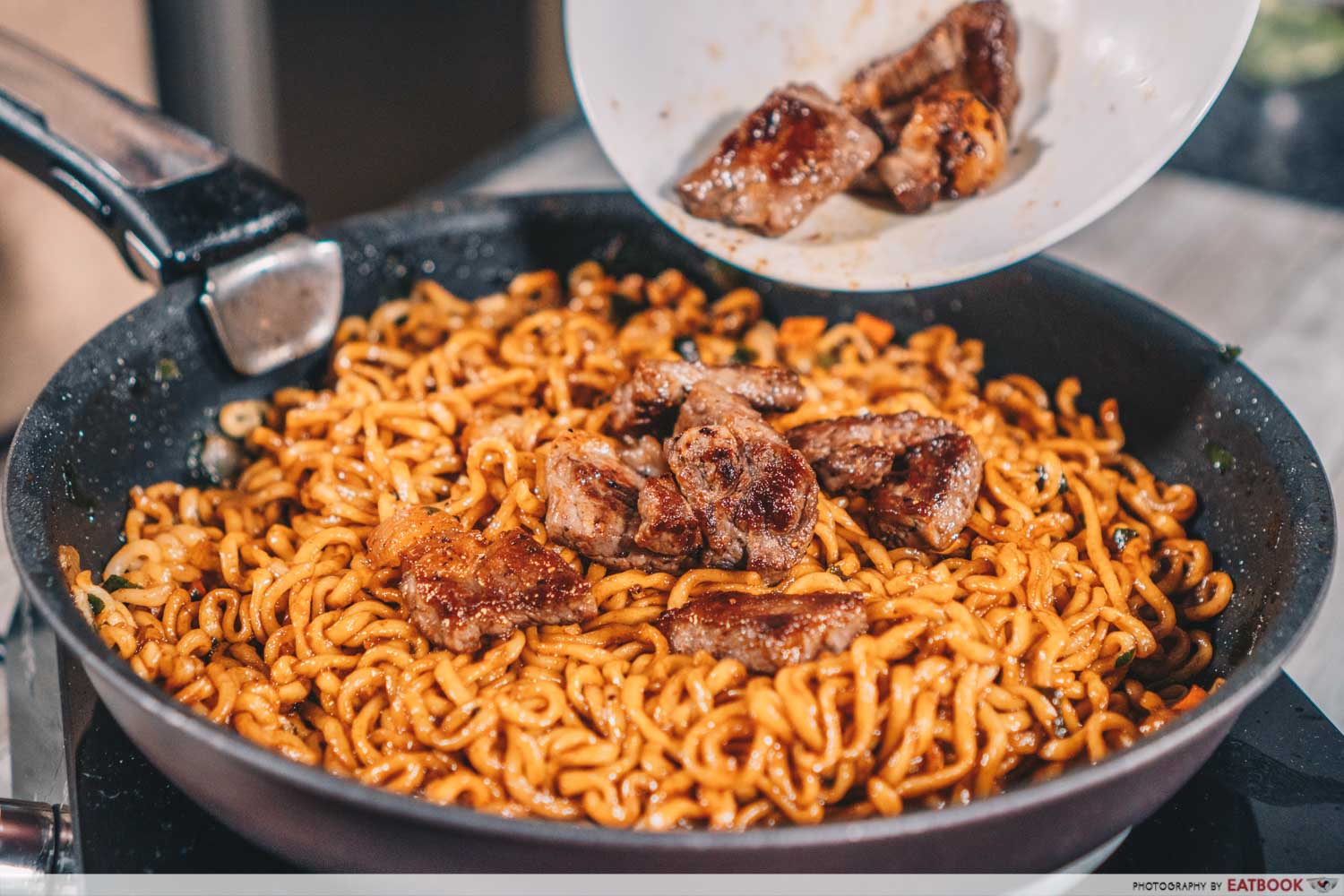 The Steak Ram-don went viral after the Oscar-winning Korean movie 'Parasite' blew up, with a scene centred around this iconic dish. In the film, the ahjumma cooks up the steak ram-don using only three ingredients under eight minutes, so this dish won't be a difficult one to recreate.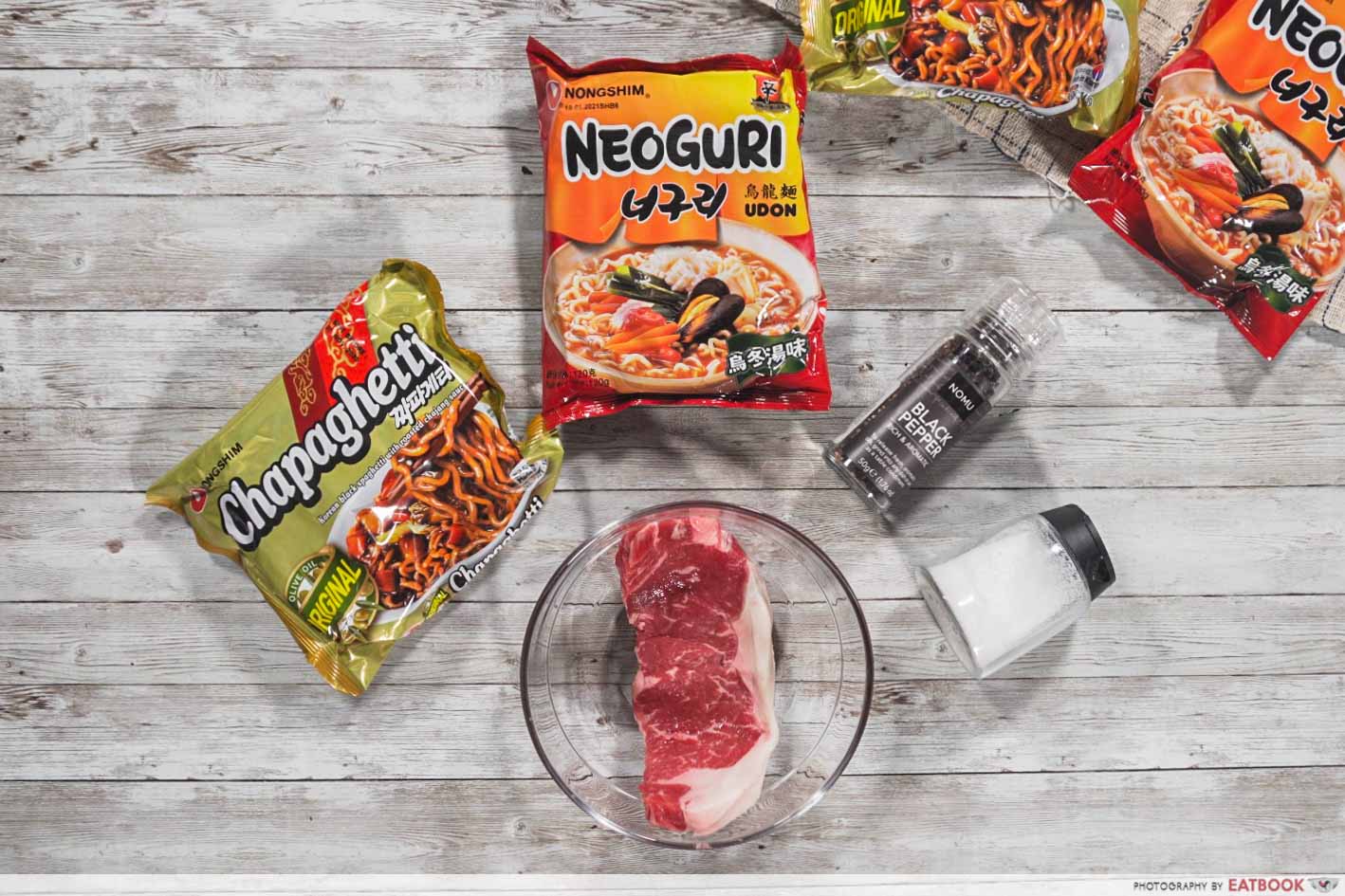 The dish calls for a packet each of Chapaghetti and Neoguri instant noodles, the former is an instant black bean noodles, and the latter is a spicy seafood udon. While this pairing is nothing groundbreaking in Korea, the film's version introduces a third element: premium marbled beef, which we've substituted with Australian Angus beef in our recipe. 
Time needed: 10 minutes
Ingredients
1 packet Chapaghetti instant noodles
1 packet Neoguri instant noodles
200g beef
2 tbsp vegetable oil
Salt
Pepper
Steps:
Start by patting the beef dry with a paper towel. Cut the beef into equal bite-sized pieces before seasoning with salt and pepper.

Heat the vegetable oil in a pan over high heat. When the oil starts to smoke, sear the beef till each side is golden brown. 

Transfer the cooked beef onto a plate and set the pan with its meat drippings aside for later use.

Cook both ramen noodles and vegetable flakes in a pot of boiling water for two minutes. Reserve the seasoning and oil sachets for later use.

Transfer the cooked noodles to the beef pan, add in four to five tablespoons of water from the pot, as well as both sachets of Chapaghetti and Neoguri seasoning.

Gently heat the noodles to maintain a steady simmer, stirring occasionally for two minutes.

Add the remaining oil sachet, beef, and give it one last stir before serving.
Check out our full recipe of the famous ram-don!
Steak Ram-don Recipe: Make The Famous "Parasite" Jjapaguri In Less Than 10 Minutes
---
5. Mapo Tofu Ramen
---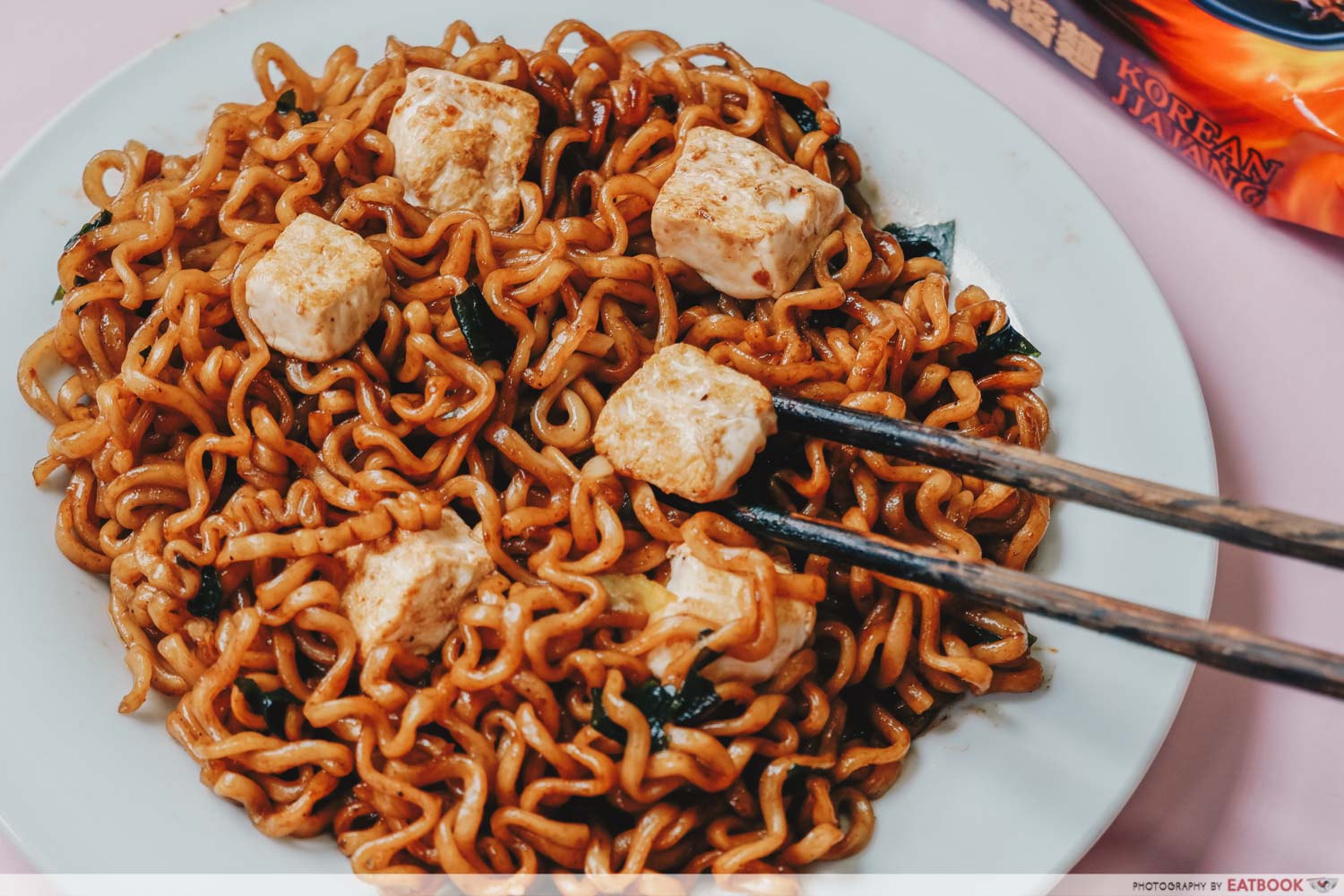 Marrying intense heat with the smoothness of tofu, this instant noodles creation is reminiscent of mapo tofu. Adapted from South Korean TV presenter, Park Jiyoon's recipe, this Korean instant Mapo Tofu Ramen can be considered the extra spicy sibling of the steak ram-don.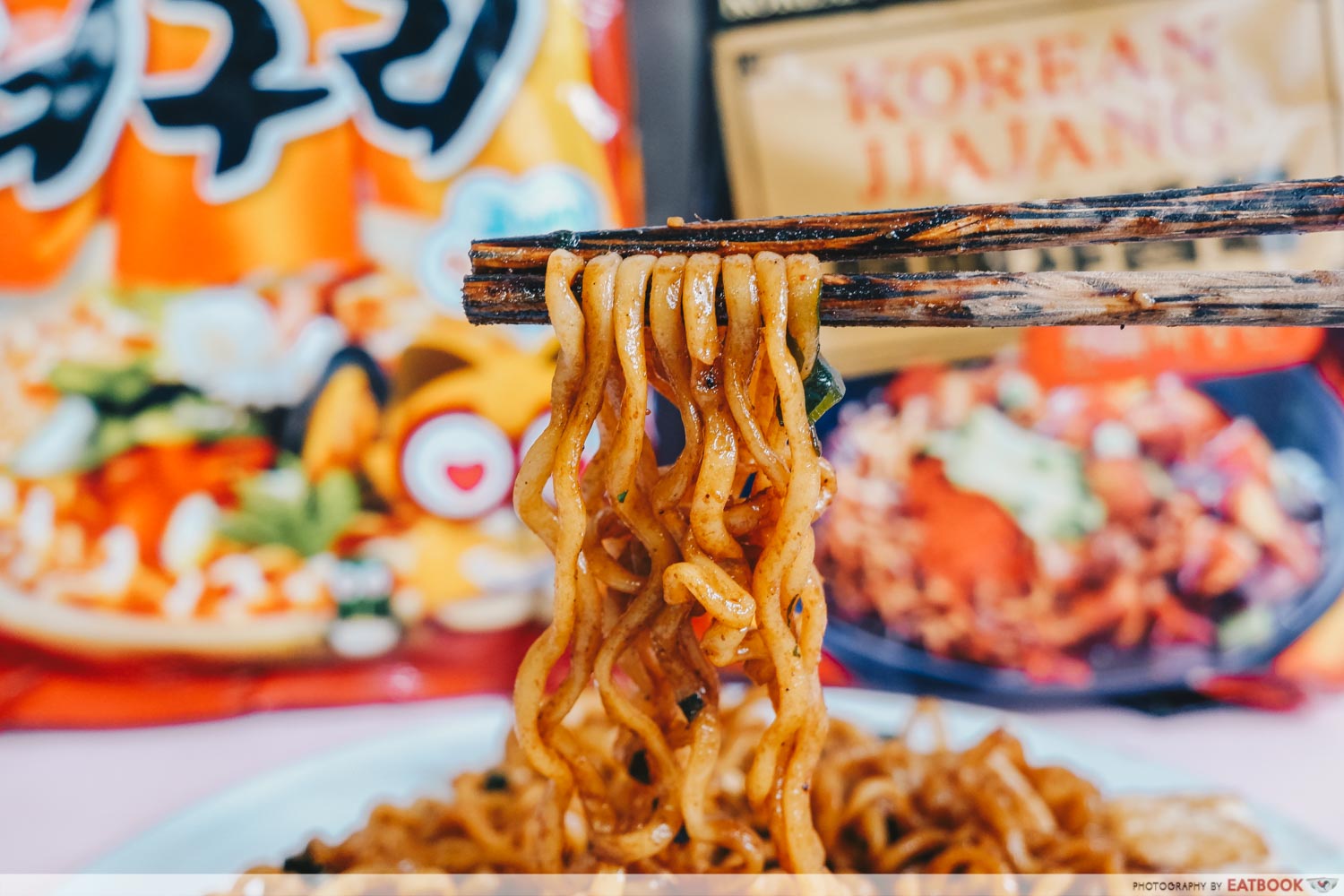 The mapo tofu ramen combines spicy jjajangmyeon together with spicy seafood instant noodles, bringing a shiok kick of heat to counter the heaviness of the savoury noodles.
The spicy noodle combination is best eaten together with a cube of crispy tofu as its light flavour balances out the greasiness of the dish. Top it up with some ground pork or beef for protein!
Time needed: 10 minutes
Ingredients
1 packet instant spicy jjajangmyeon
1 packet spicy Korean instant noodles
1 block tofu
1 cup ground meat
Cooking or sesame oil
Steps:
Cook both instant noodles packets in the same pot, adding in the dried ingredient packets.

Drain most of the water out.

Add in ⅔ of a packet of the spicy Korean noodles seasoning, and the whole packet of jjajangmyeon seasoning, mixing well.

In a hot pan greased with oil, pan-fry ground meat, followed by cubes of tofu till they turn golden brown.

Top your spicy noodles with the meat and tofu and garnish the dish as you like. 
---
6. Pad Thai
---
This 'Pad MAMA', or Pad Thai, is one that you can commonly spot on the streets of Thailand, popular for its comforting flavours as well as its easy preparation. The dish derives its name from the well-known Thai instant noodles brand 'MAMA', which be easily found at FairPrice or Cold Storage stores.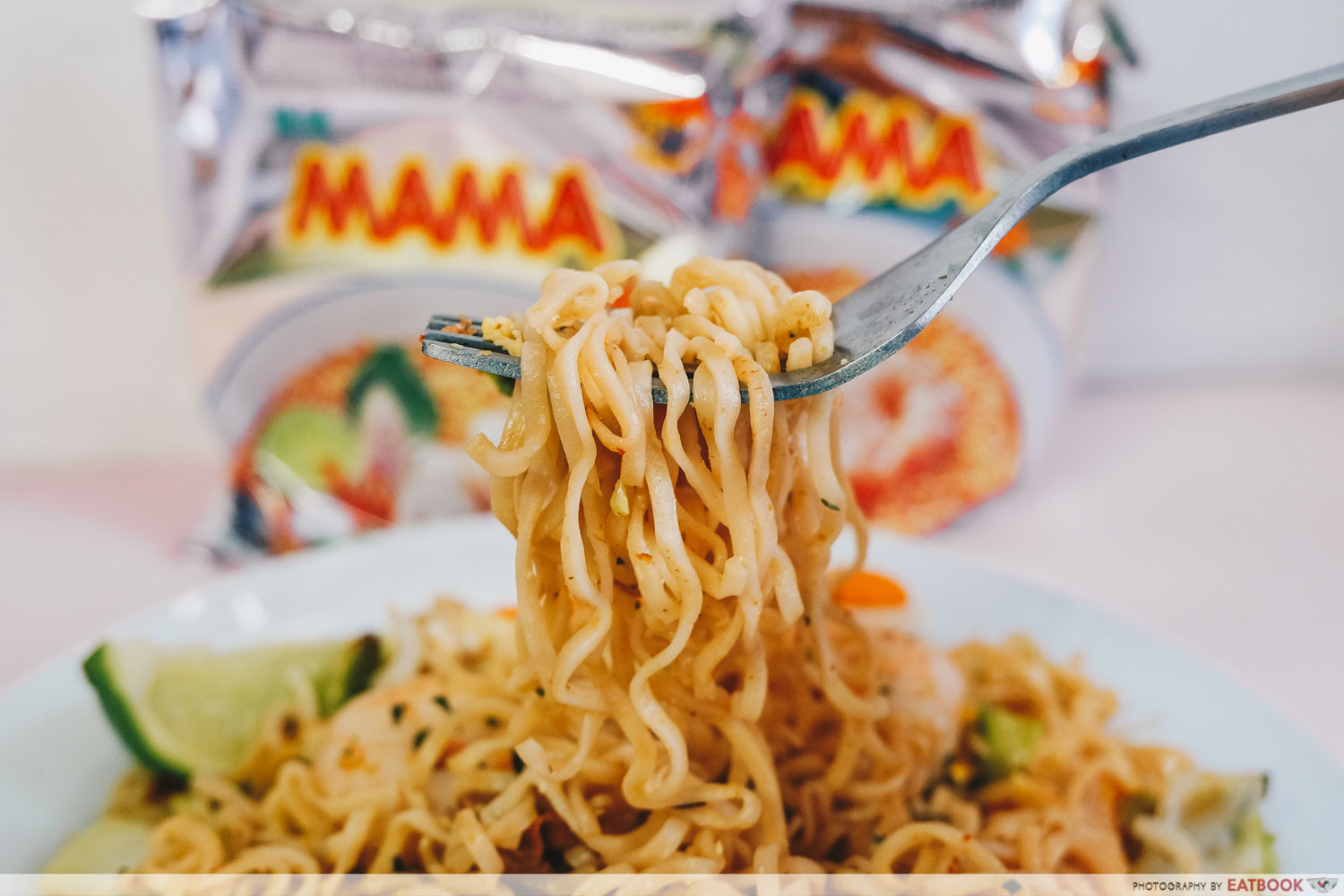 Our effort to emulate the instant noodle pad Thai involves adding vegetables to give the plate more colour and texture. Like all of our instant noodle recipes, you can always add or take away some ingredients according to what you like, and throw in meat or seafood to upgrade it even more!
Time needed: 20 minutes
Ingredients
2 packets MAMA instant noodles
1 tsp sugar
Cooking oil
4 garlic cloves, finely chopped
2 cups cabbage, julienned
½ cup carrots, julienned
2 tsp soya sauce
1 tsp fish sauce
2 eggs
Coriander (optional)
Lime (optional)
Steps:
Combine sugar with the garlic oil packets, seasoning packets, and chilli powder that which come with the instant noodles.

Cook the instant noodles in boiling water for just one minute.

Drain the noodles and rinse under cold water.

In a mixing bowl, combine the noodles with the seasoning mixture you made and toss until well-coated.

In a lightly oiled saucepan on medium heat, saute the garlic until golden brown.

Add in the onions, carrots, cabbage, soya sauce, and fish sauce. Stir-fry for a minute or two until the vegetables start to look wilted.

Move the vegetables to one side. On the empty side of the pan, crack in your eggs, and lightly scramble it.

Add in your noodles and toss everything together until the eggs are fully cooked.

Serve with some fresh coriander and a squeeze of lime.
---
7. Indomie Pizza
---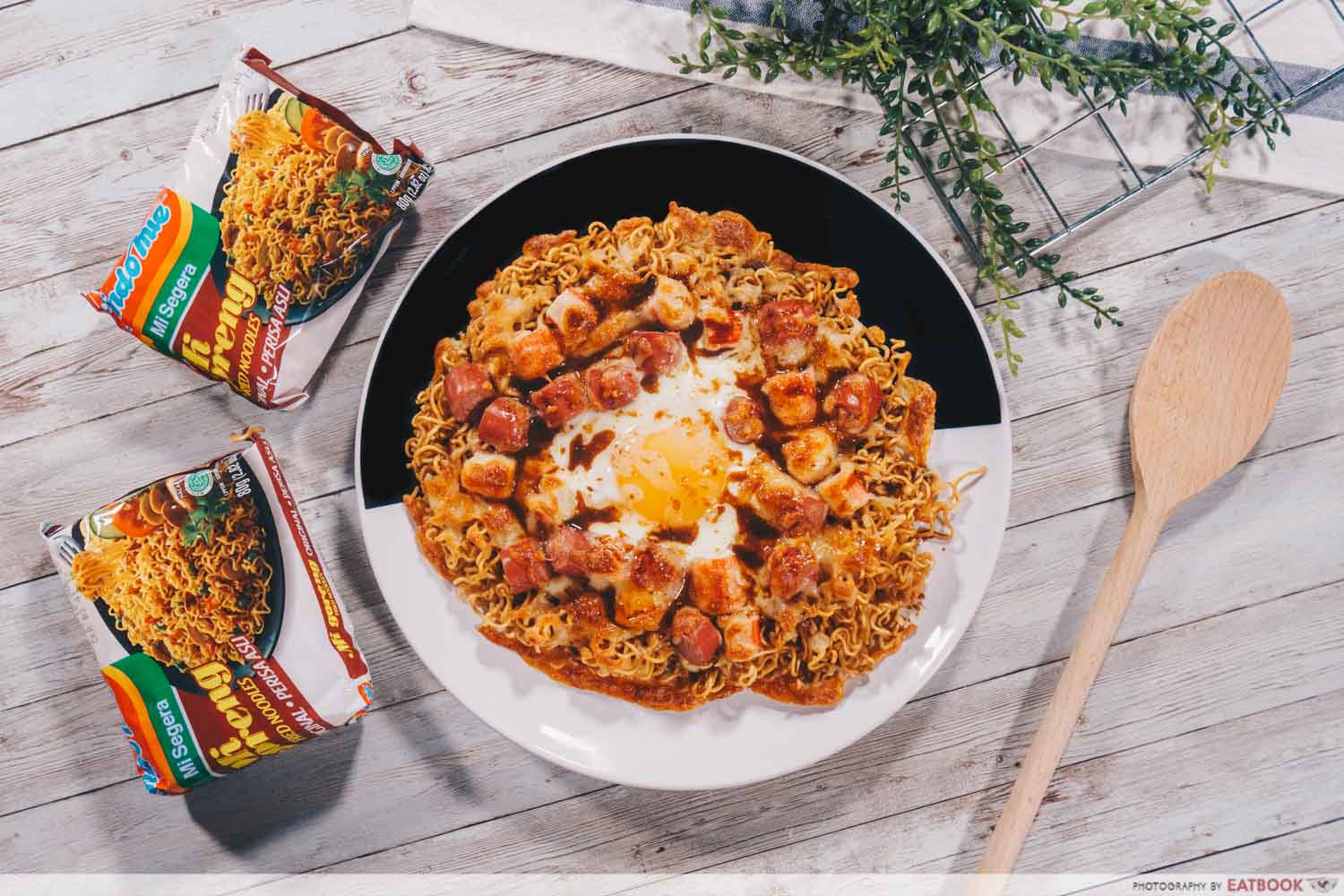 This Indomie Pizza is one way to put your stash of Indomie packets to good use. Purists might view this creation as a disgrace to the name of Indomie. But there's really nothing to hate about enjoying the familiar flavours of the instant noodle in the form of another well-loved dish—pizza.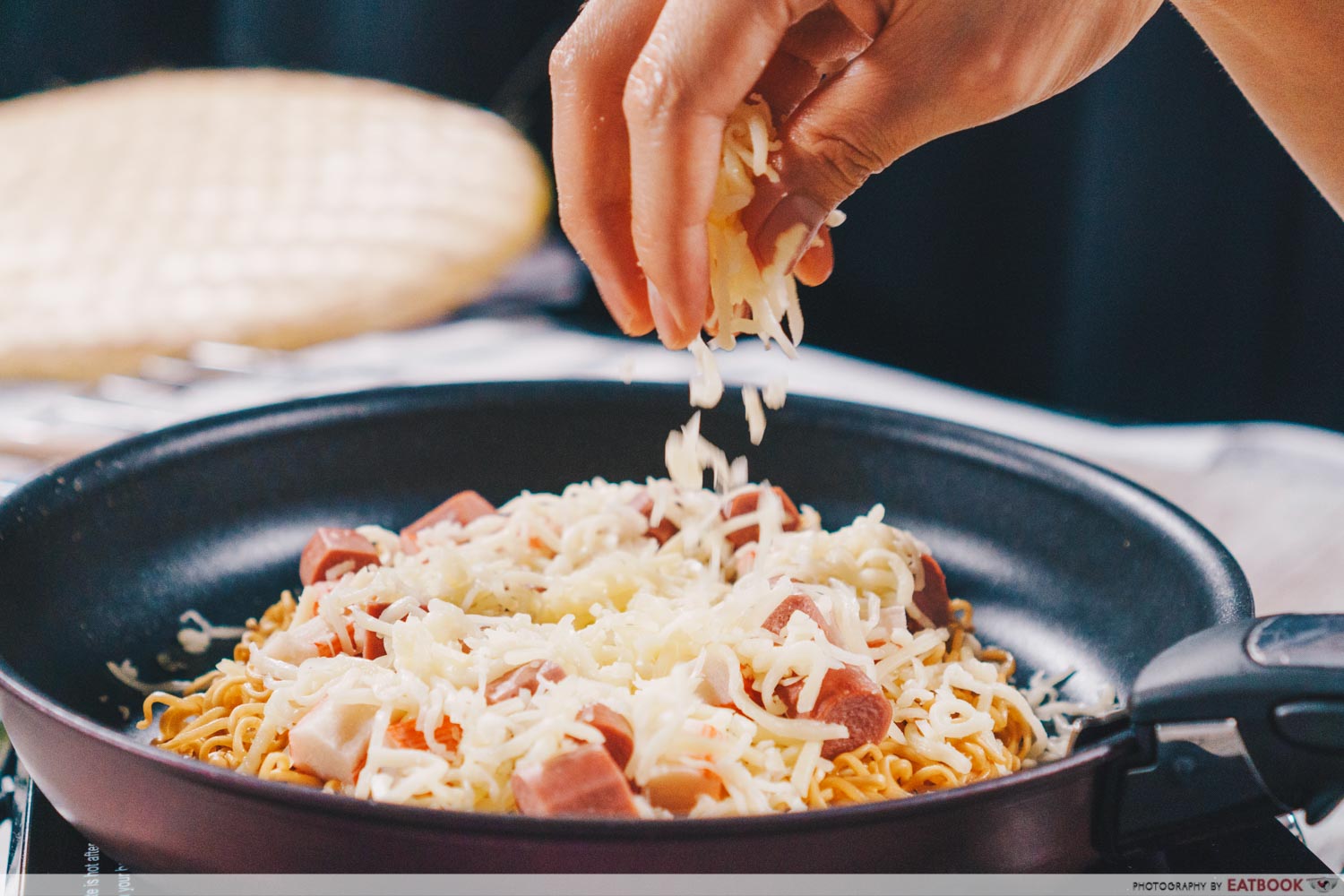 One essential step is letting the Indomie disc crisp up on the skillet, so it can form a crunchy crust and hold the pizza toppings. Besides hot dogs and crab meat, you can also throw in vegetables, mushrooms, or even pepperoni slices to customise your pizza.
Time needed: 20 minutes
Ingredients
2 packets Indomie instant noodles
1 tbsp kecap manis/dark soya sauce
1 tsp vegetable oil
½ cup mozzarella cheese
2 pieces of hot dog
2 pieces of crab meat
2 tbsp water
1 egg 
Steps:
Cook noodles in boiling water for one to two minutes, just enough for it to fall apart. Reserve the seasoning and set aside.

Drain noodles with a fine strainer and mix in the kecap manis.

Heat a non-stick pan on medium-high heat and lightly oil it with vegetable oil. Shape the noodles into a round circle. Cook for around three to four minutes until a light crust develops at the bottom.

Remove from heat and add mozzarella cheese at the bottom, followed by the hot dog, crab meat, and the rest of the mozzarella cheese.

Place the pan into an oven at 200 degrees Celsius. Bake for 10 minutes. Crack an egg on top of the pizza and bake for another five minutes.

Prepare the sauce by combining the packets of Indomie seasoning and water. Spoon the sauce evenly over the pizza. Serve immediately. 
Check out our full Indomie Pizza recipe!
---
8. Spicy Cheesy Milk Ramen
---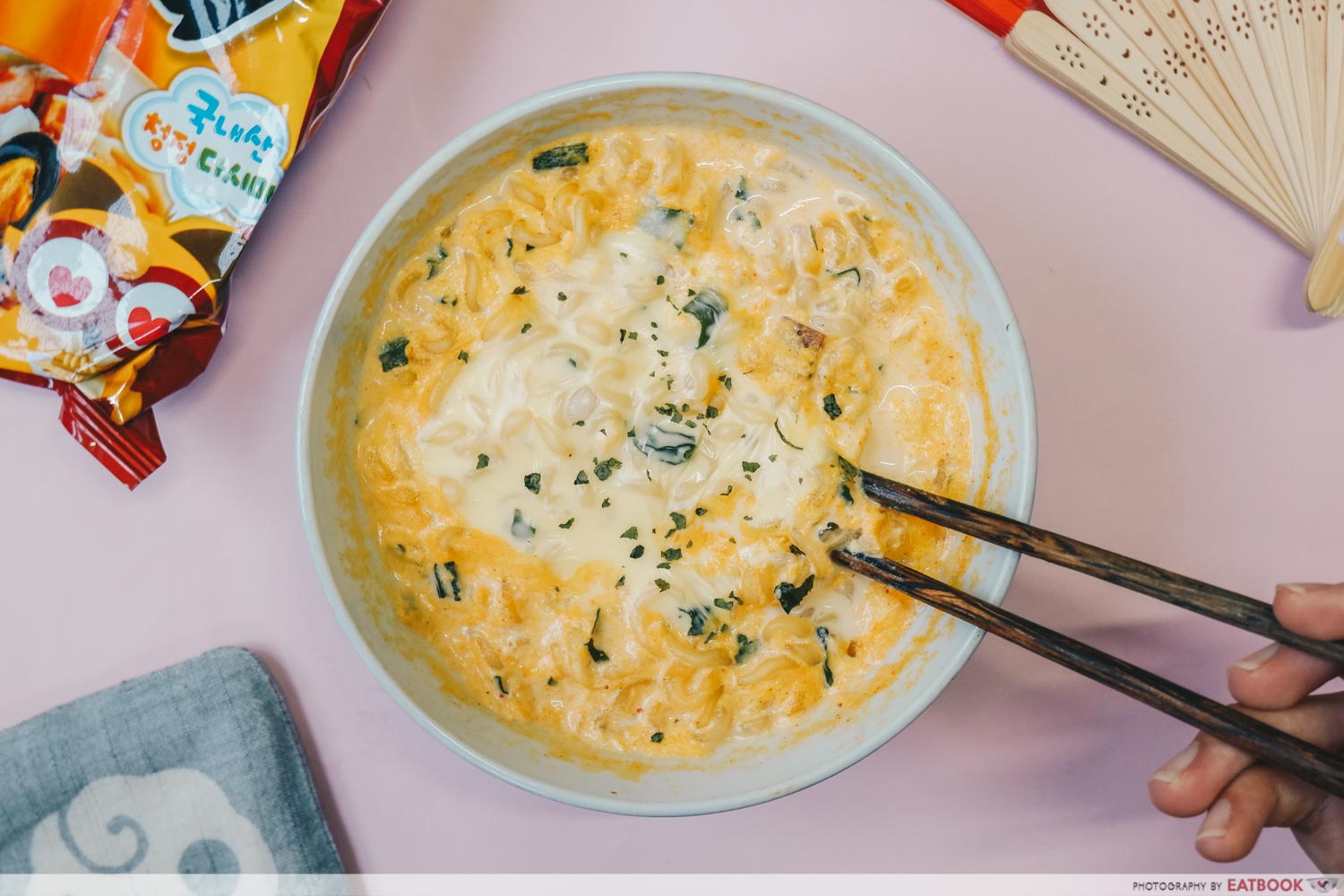 Topping instant noodles with a slice of cheese is nothing new, but cooking your spicy noodles in milk is not the usual thing to do with a packet of ramen. As abominable as it seems, the Spicy Cheesy Milk Ramen maintains a delicate balance of spiciness and richness as the heat of the broth cuts through the heaviness of the dairy.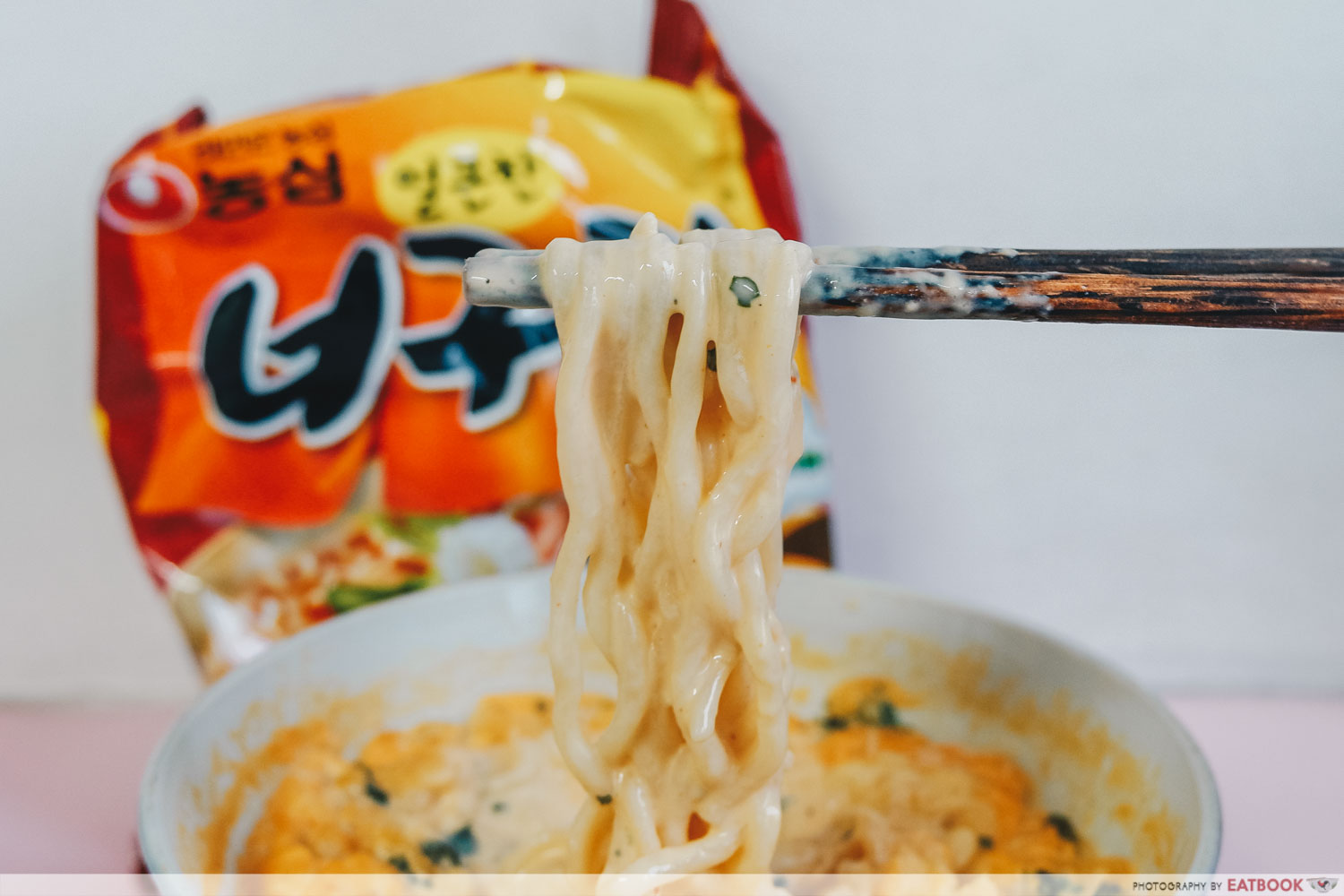 If you prefer your spicy cheesy milk ramen to be less salty, cut back on the amount of seasoning you add in but keep in mind that the additional milk will mellow out the savouriness quite a bit.
Time needed: 10 minutes
Ingredients
1 packet Neoguri instant noodles (or any spicy seafood flavour)
300ml water
300ml milk
1 egg
1 green chilli, chopped
2 cheese slices
Steps:
Cook instant noodles in 300ml water and milk, and add the seasoning and vegetable flakes that come with the packet.

Bring up the heat slightly and add in a beaten egg. 

Let the mixture come to a boil and add in the chopped green chilli.

Move the noodles into a bowl and top with cheese slices. 
---
9. Fried Sesame Noodles
---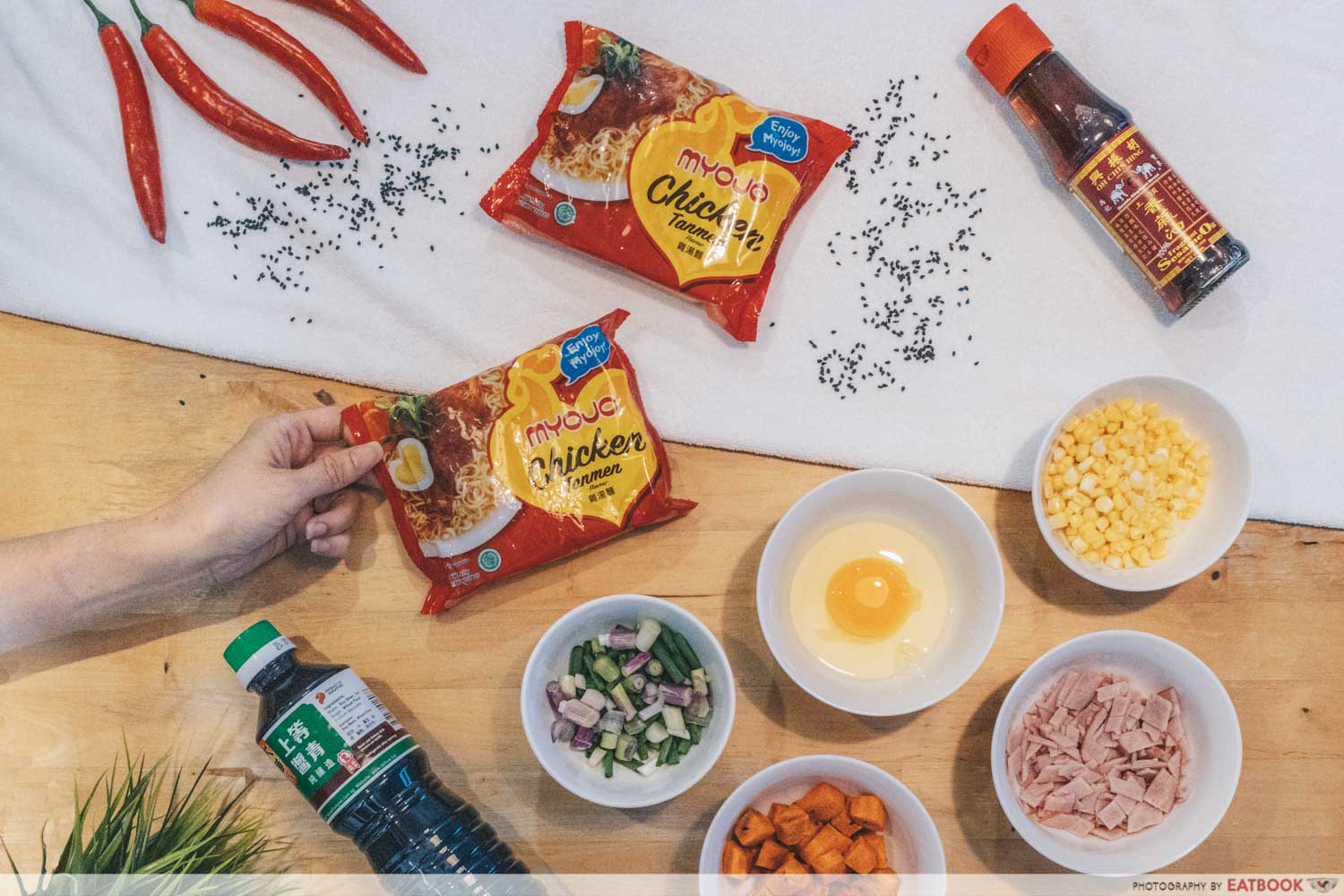 Instead of having fried rice, try this Fried Sesame Noodles instead. The style and presentation of this dish might seem very reminiscent of the classic mee goreng but flavour-wise, these fried noodles have a fragrant sesame aroma instead of the sweet scent of kecap manis.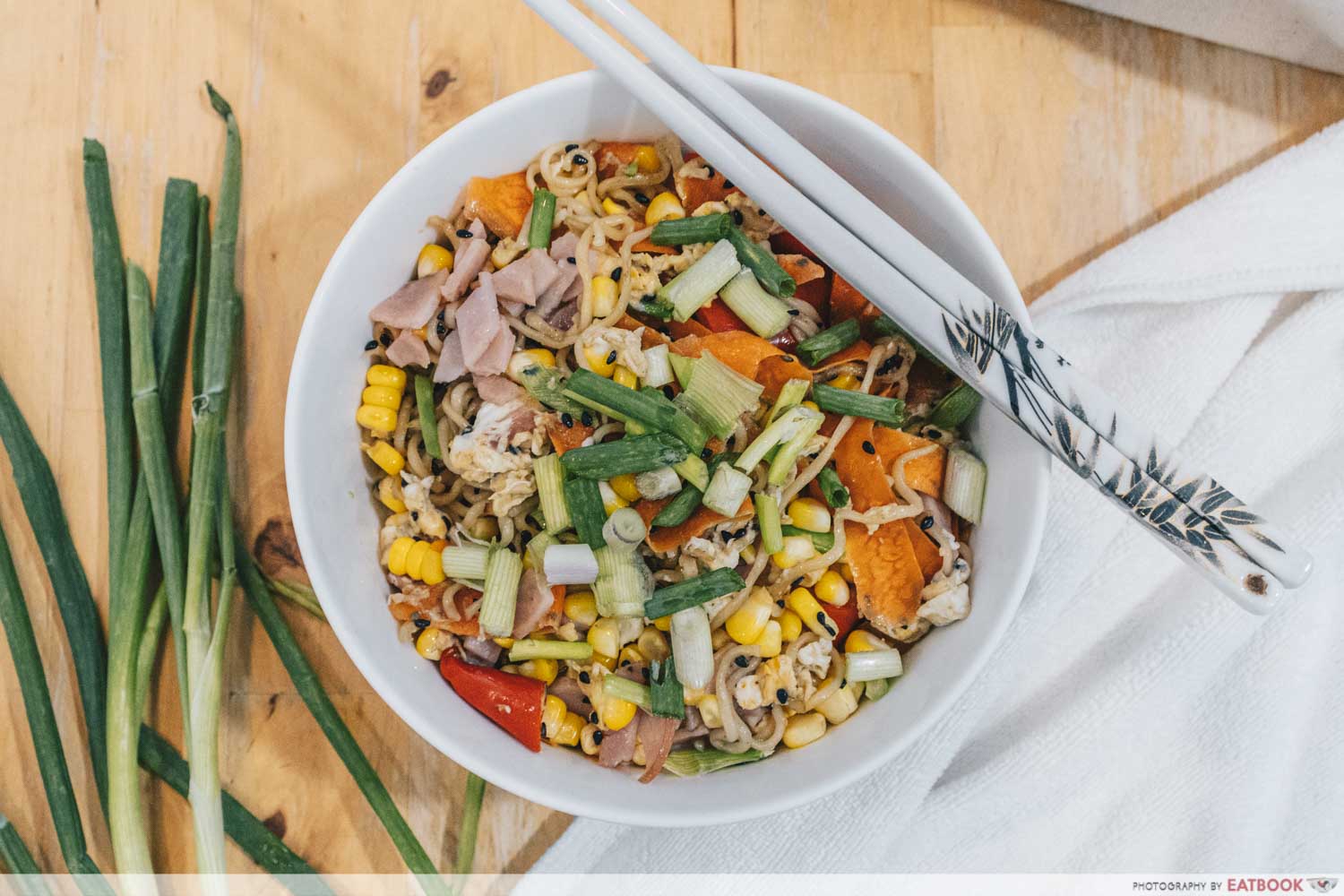 The recipe can be recreated in a single pan, and you can choose to cook up as many servings as you like in one go. As with many of our other instant noodle recipes in this list, you can choose to include a variety of ingredients based on your preferences and what you have at home. 
Time needed: 10 minutes 
Ingredients
1 packet instant noodles of your choice
1 tbsp sesame seed oil
1 ½ tbsp soya sauce
1 egg
Other additional cooked ingredients (corn, carrots, green vegetables, shredded chicken, ham etc.)
Sesame seeds
Steps:
Cook the instant noodles in boiling water, without adding the seasoning. Drain away all the water. 

In a saucepan, pour in the sesame oil and turn up the heat to medium-high. 

Add the noodles into the pan and stir-fry it with soya sauce and ¼ of the instant noodles seasoning for three to five minutes.

Move the noodles to one side. Use the empty side to lightly stir-fry your additional ingredients and roast your sesame seeds for about one to two minutes.

Move the additional ingredients aside. Use the empty side to pour in a beaten egg, making a quick scramble.

Give everything one last toss together and serve. 
---
10. Instant Chawanmushi
---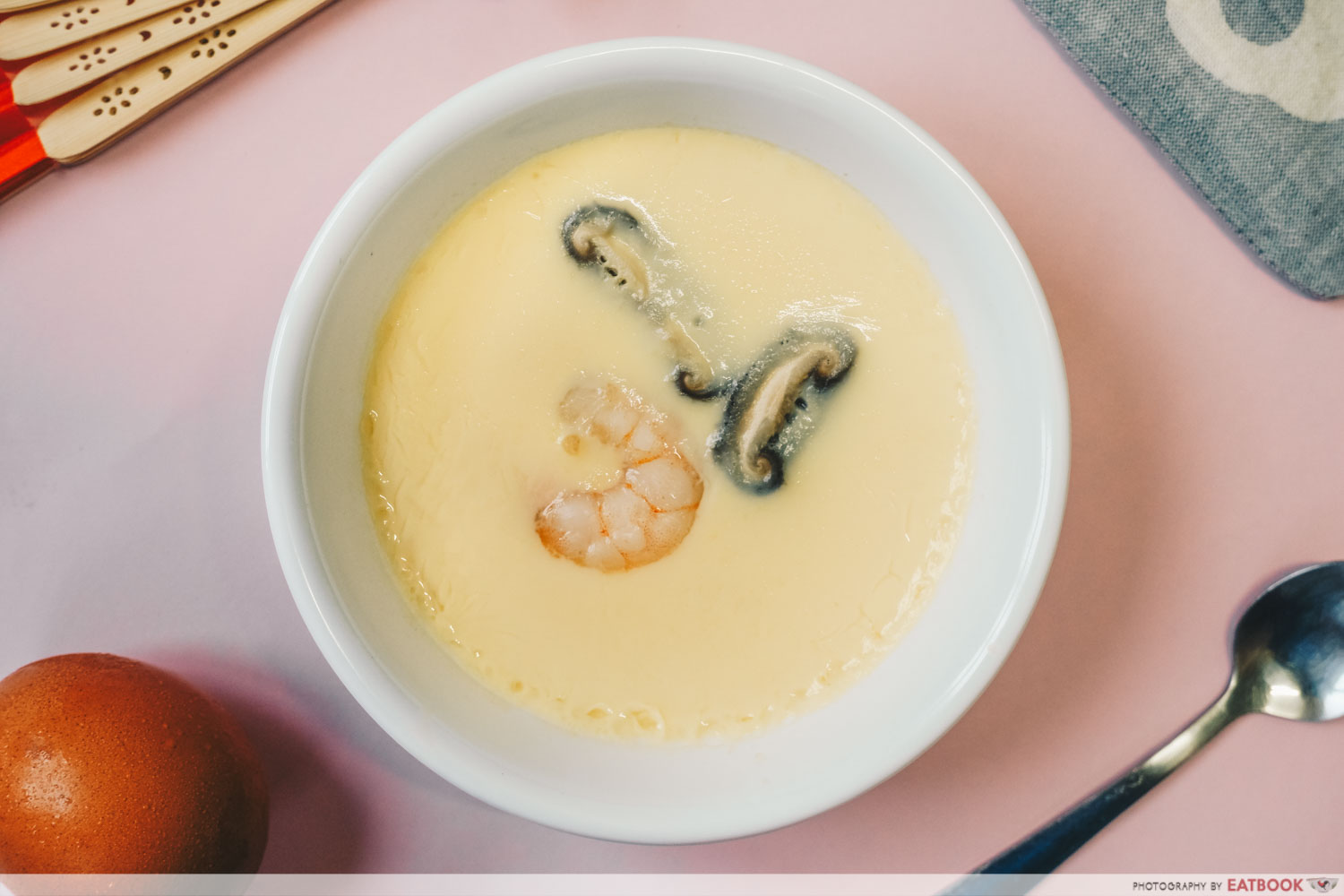 This Instant Chawanmushi will make sure that none of the savoury instant noodles broth will go to waste. After finishing up the noodles, toss in a beaten egg and a few simple ingredients to recreate your very own steamed egg side dish.
Traditionally, chawanmushi uses a combination of kombu and katsuobushi stock as its base. But if you can't get your hands on those thanks to the Circuit Breaker, this versatile dish can also be recreated with any kind of soup base, including chicken stock or your leftover tom yum soup. The instant chawanmushi can be cooked in the microwave, but if you want an extra silky texture, you can steam it in a pot for 10 minutes. 
Time needed: 5 minutes
Ingredients
150ml leftover instant noodle broth
1 egg
Cooked shrimp (optional)
Mushrooms (optional)
Chopped spring onions (optional)
Steps:
Combine leftover instant noodle broth with shrimp, and mushrooms in a microwave-safe bowl. 

Lightly whisk an egg and strain it into a bowl, making sure to only fill about ¾ of it. Mix the egg and broth together. 

Cover the bowl with a ceramic plate and cook it in the microwave for two to three minutes, depending on your microwave. 

Let it cool slightly and top with chopped spring onions.
---
Instant noodle recipes for this Circuit Breaker period
---
As life outside comes to a partial standstill, cooking has become one of the many ways to stay active and motivated at home. We hope that these instant noodle recipes will not only give you new ways to upgrade your stay-home meals, but also act as an introductory course to home cooking!
Samyang Mac & Cheese Recipe: Quick 20-Minute One-Pot Pasta That's Super Spicy
If you are looking for more easy recipes to whip up at home, give our one-pot Samyang Mac & Cheese recipe a try, or make yourself some dessert with this watermelon soju jelly recipe.
Photos taken by Goh Kerrianne and Chng Jia Yan.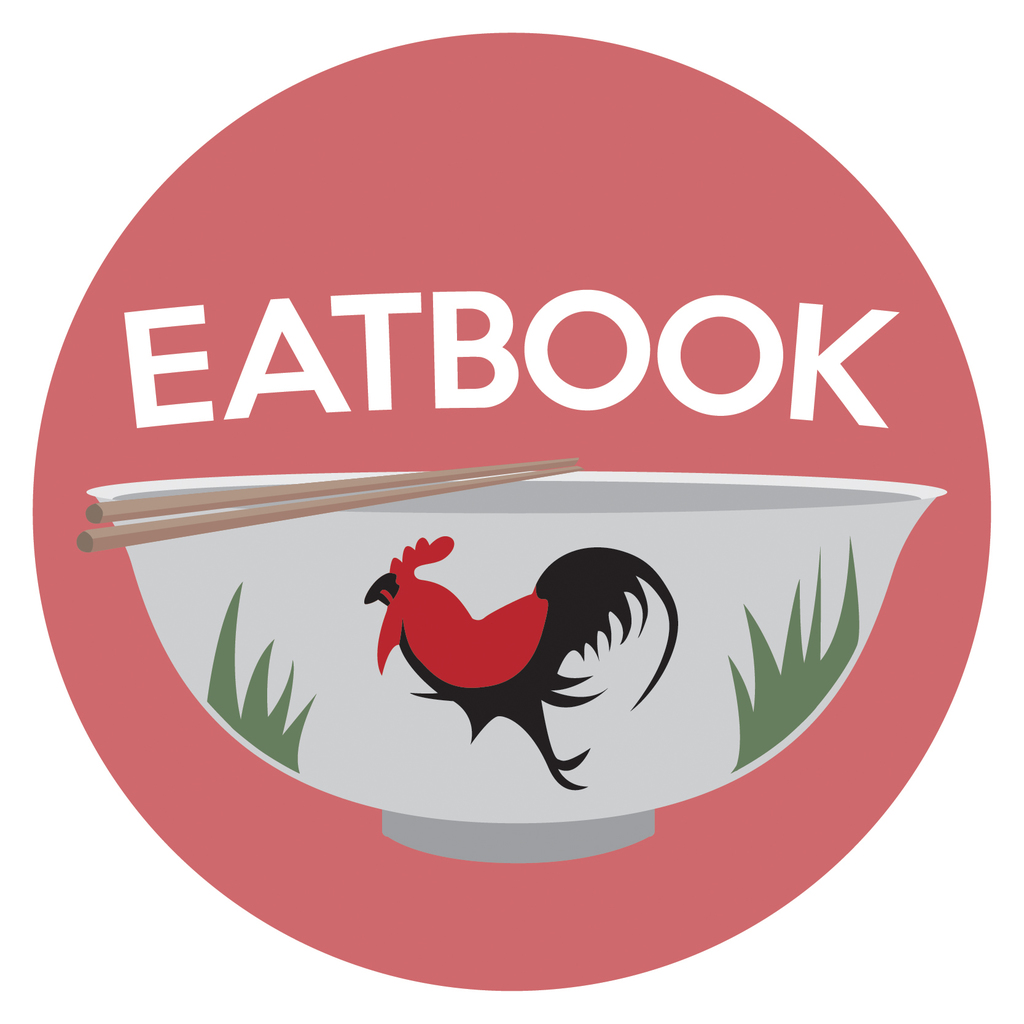 Drop us your email so you won't miss the latest news.