Steak ram-don as featured in the Oscar-winning movie "Parasite"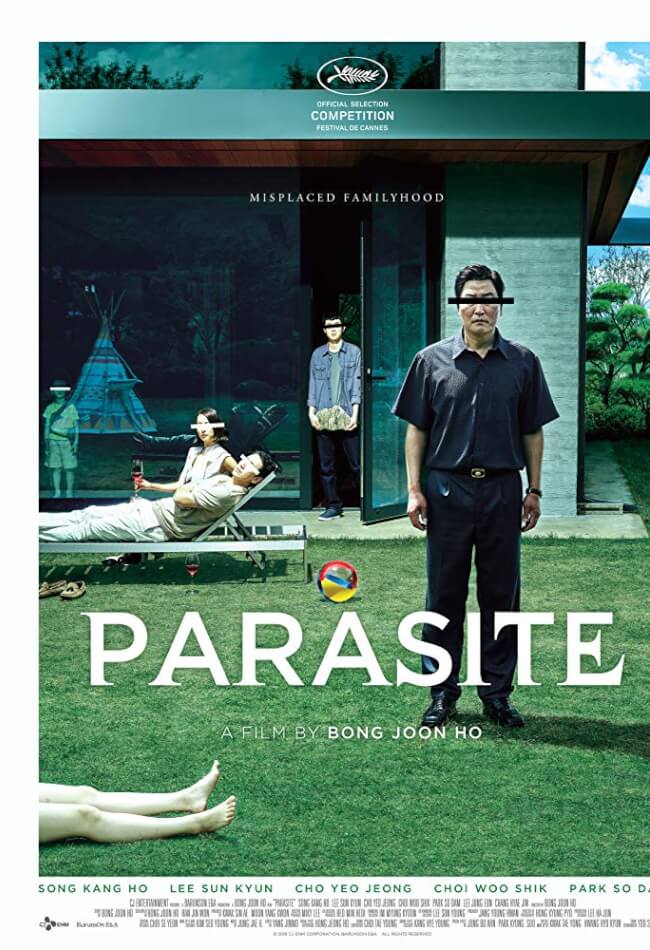 Image credit: Popcorn
The Oscar-winning movie "Parasite" has been a recent hot topic for two reasons: its amazingly orchestrated cinematography, and the iconic 8-minute steak ram-don dish which consists of a combination of two Korean instant noodles and a slab of ultra-premium Hanwoo beef.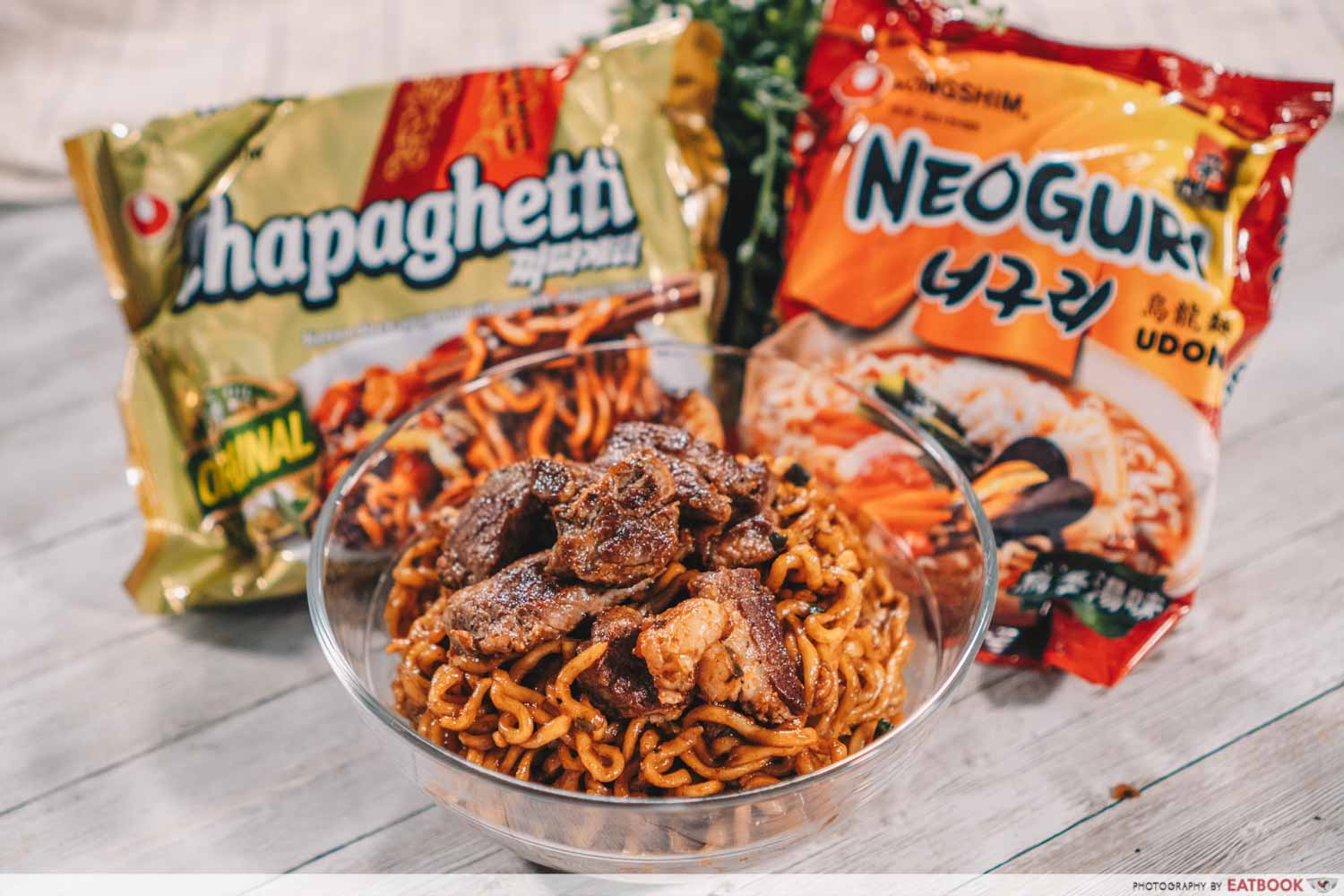 The three-ingredient noodle dish is also known as Jjapaguri, that is a wordplay of the two popular instant noodles, Chapaghetti and Neoguri. The former is an instant Jjajangmyeon or black bean noodle and the latter is instant spicy seafood udon.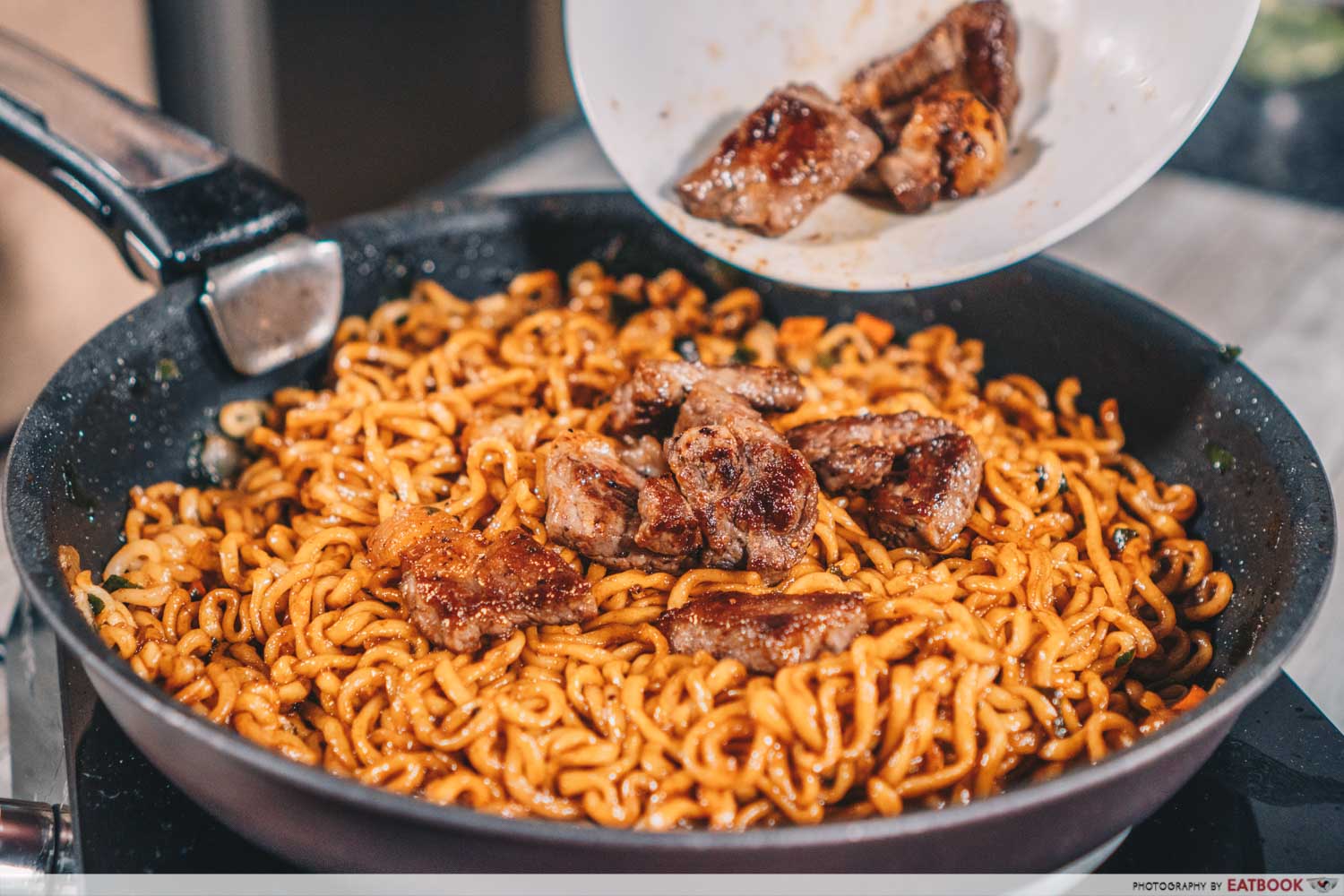 Koreans have long introduced the combination of these two very different but complementary instant noodles. But, in the film, premium beef has been added into the ram-don recipe to portray the film's overarching theme of class warfare. The instant noodles represent the poor families while the well-marbled beef represents the rich, all of whom were ironically living in the same household.
As lovers of instant noodles, we tried our hands at this easy ram-don recipe in our kitchen and recorded the process along with a mini parody you can catch:
Head down to the bottom of this article for the full recipe.
The process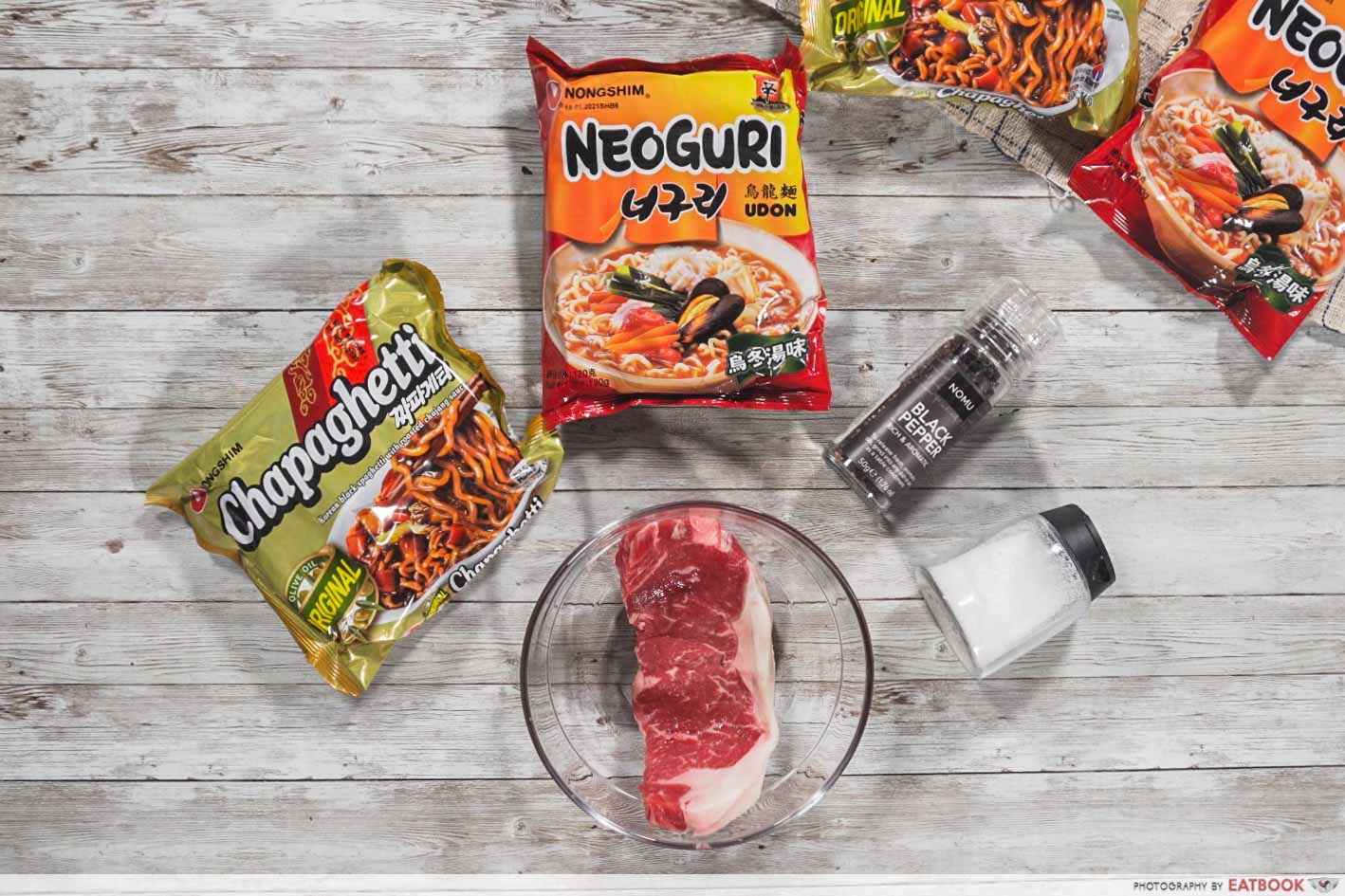 You won't be able to get your hands on Hanwoo beef in Singapore because of its strict export restrictions. We opted for a slab of Australian Angus sirloin beef instead as it is easily found in supermarkets and still delivers a wealth of flavours at a more affordable price.
We got the Chapaghetti at Bugis Junction's Cold Storage, and the Neoguri at FairPrice Finest at Jewel Changi Airport. A quick search online shows that you can find both on FairPrice's website as well.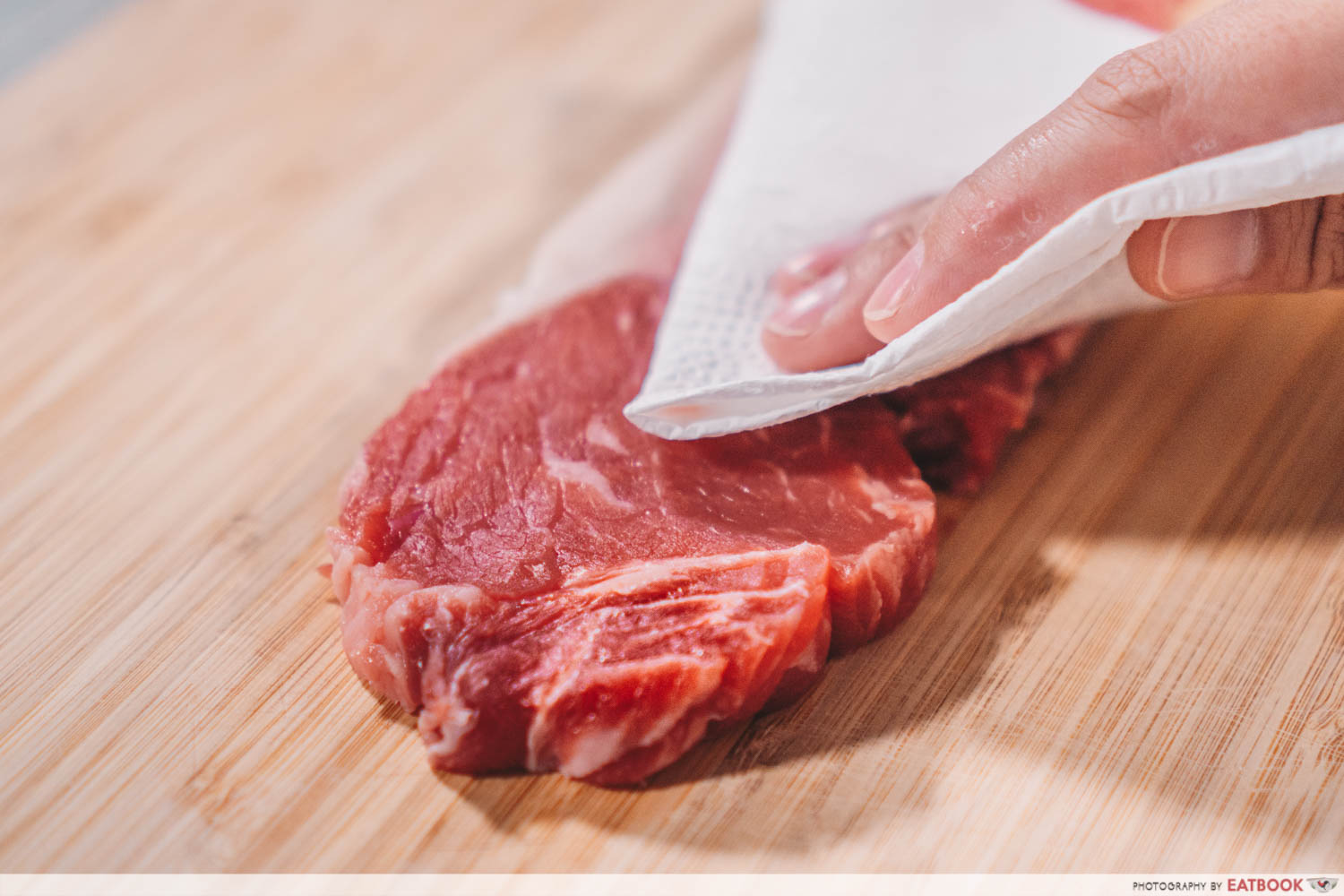 Cooking beef at home can be a nightmare to many, thanks to the smell and mess it creates. Patting the beef dry is essential to improve the contact between the pan and meat, thus minimising steam and splatters when it meets the hot oil. Not only does this step ensure an easier clean up later on, it also gives the beef a flavourful golden-brown crust.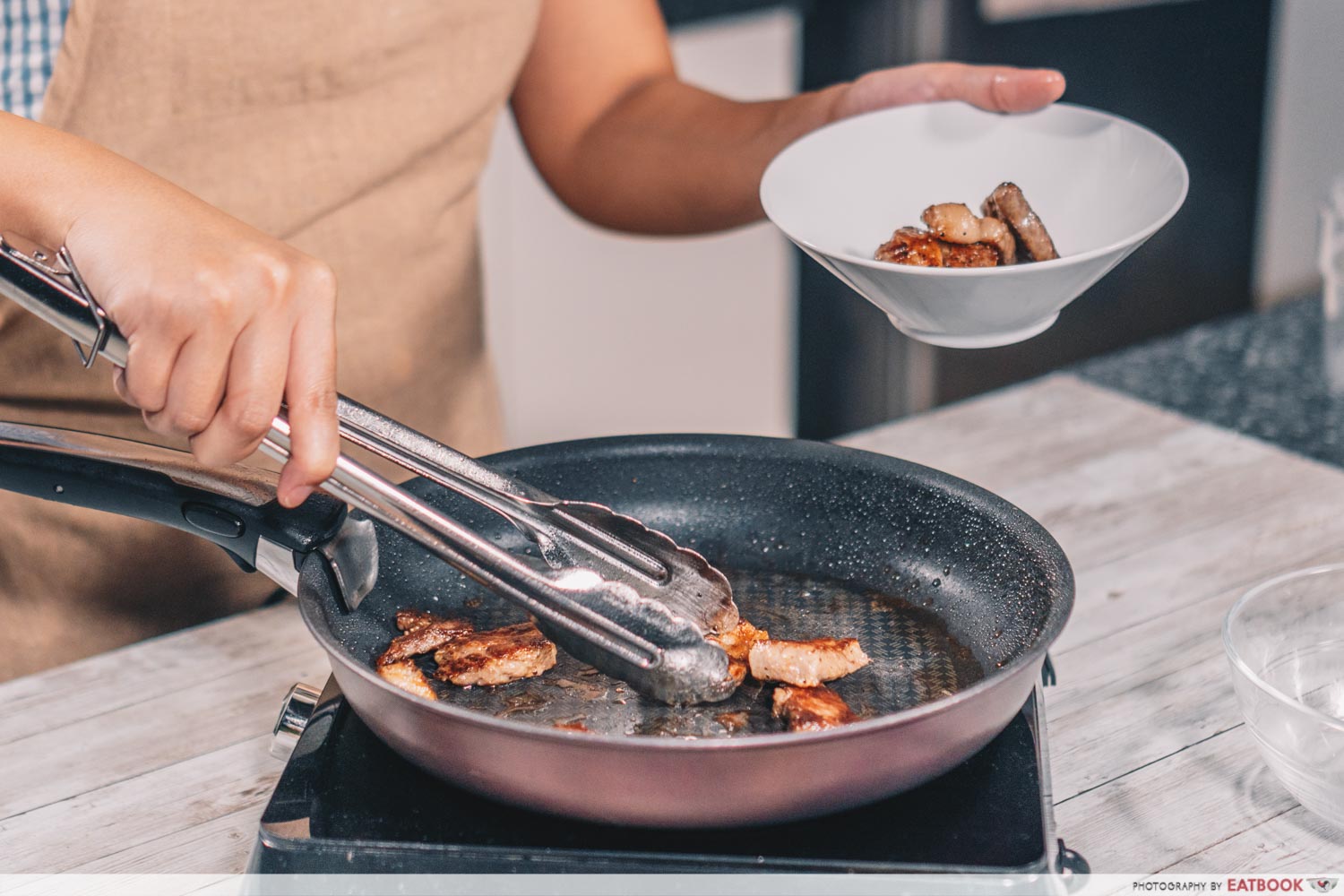 Cut the beef up into equal bite-sized cubes and season with a generous sprinkle of salt and pepper. Give them a quick sear on both sides over a well-oiled pan. Transfer to a separate bowl when done.
Pro tip: for an extra boost of meaty flavours in your ram-don, reserve the pan and its meat drippings for later use!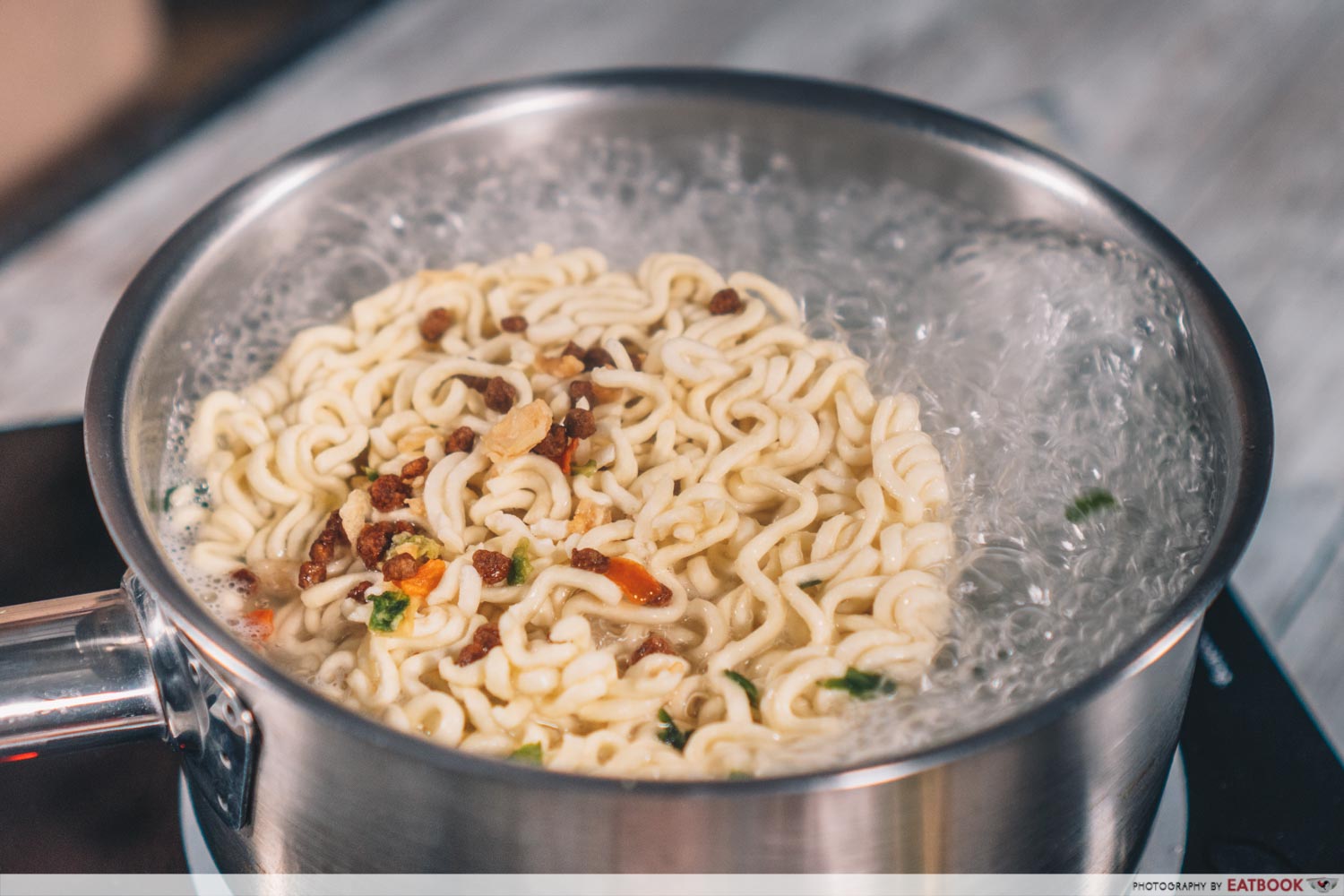 Boil the noodles and vegetable mix from both packets in a pot of water for three minutes. Do not, I repeat, do not, add in any of the seasoning or oil into the water. Ram-don is a dry instant noodle dish, meant to be enjoyed as a saucy dish instead of a soupy one.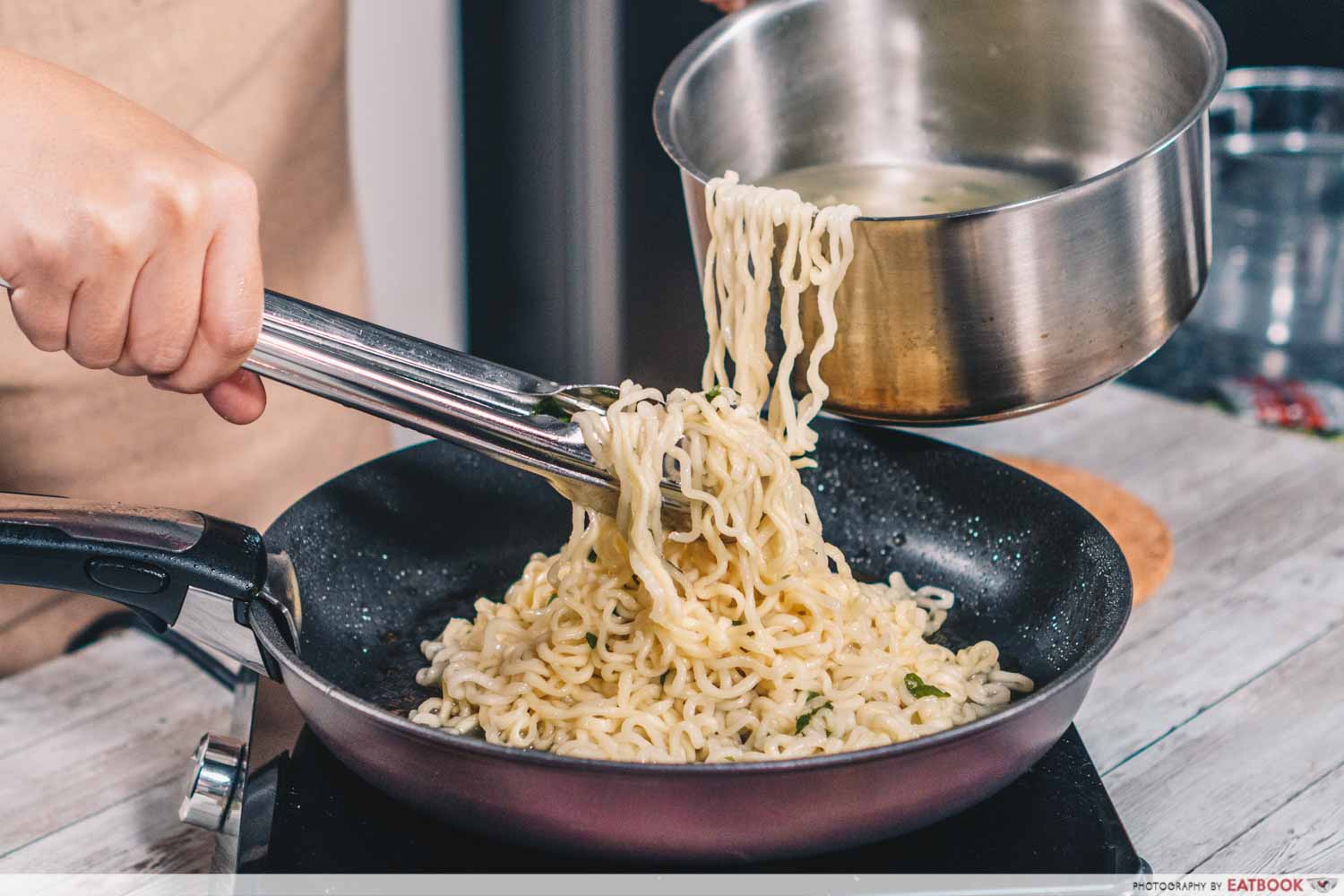 Transfer the ingredients from the pot to the pan from before. Make sure to add in an extra four to five tablespoons of water from the instant noodles. This allows the Ramdon to simmer into a wet instead of dry consistency.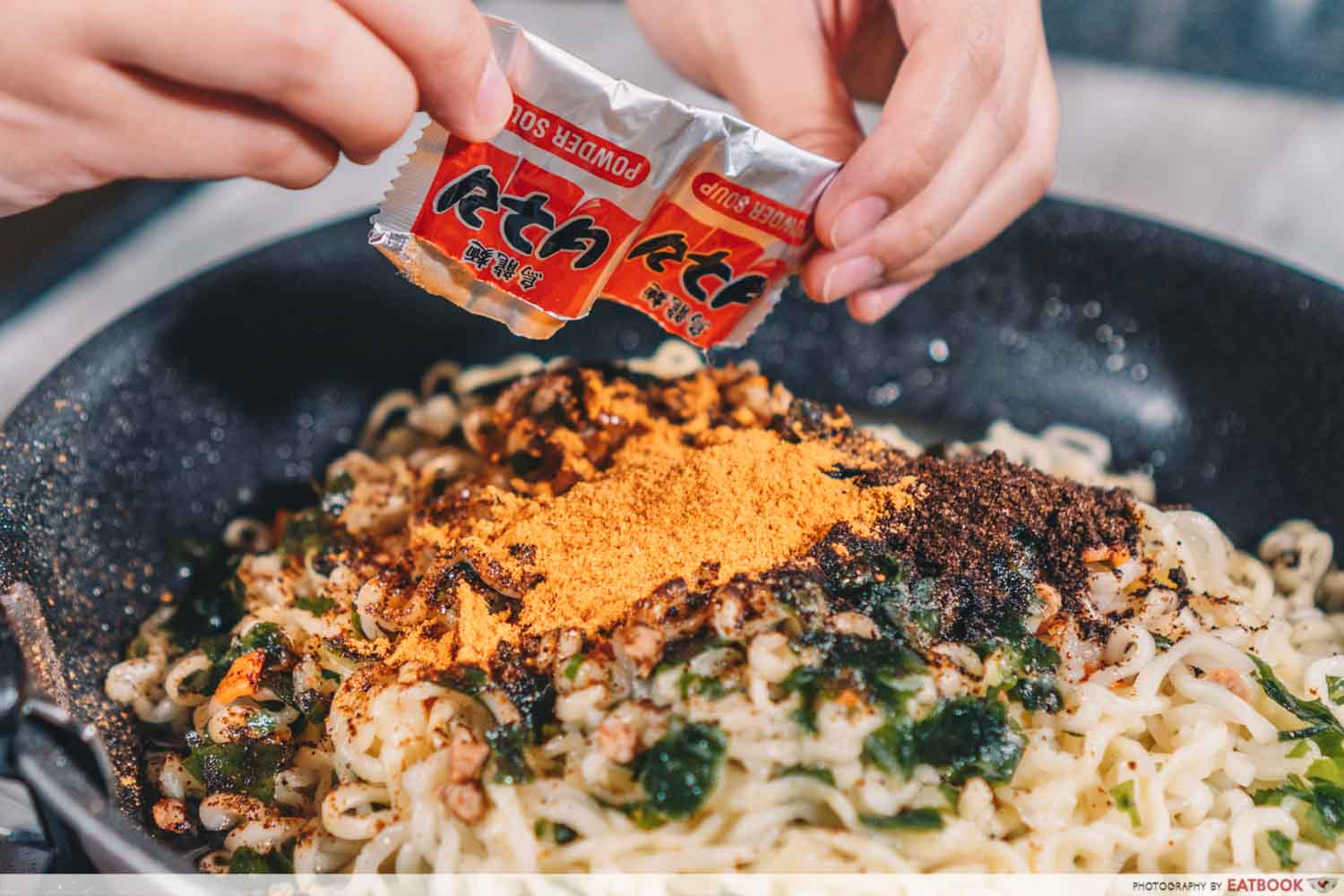 Many recipes online call for only half of the Neoguri seasoning, but I recommend adding the entire sachet, especially if you love a bit of heat in your food. Empty the Chapaghetti seasoning sachet and give everything a good stir with the pan on medium heat.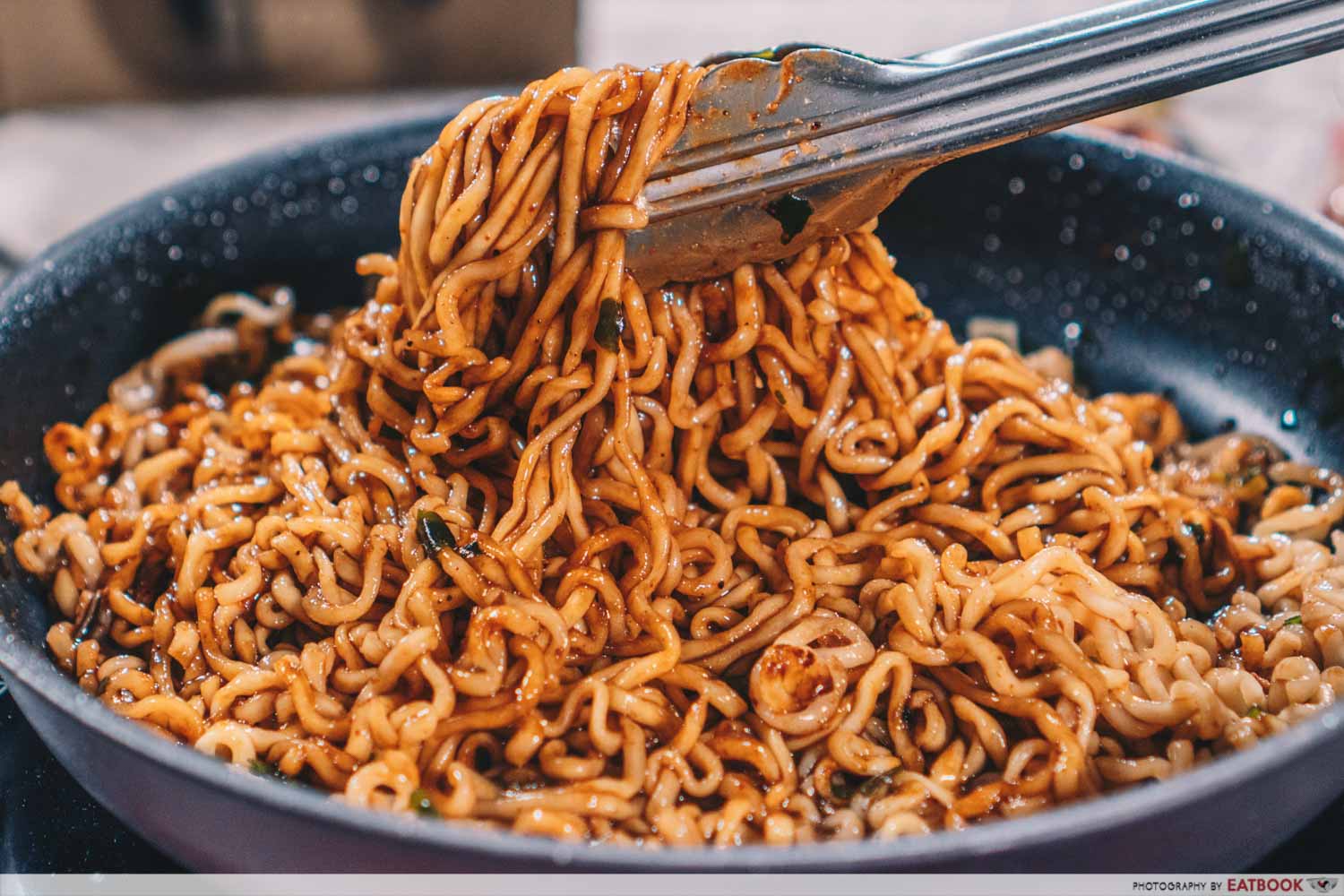 Lastly, finish the dish with the last sachet of olive oil and pile on the beef cubes. Give it one final mix and serve.
This ram-don is a low effort, high return meal that you can easily whip up in the kitchen. With a level of difficulty that's close to zero, this is a recipe even amateur cooks can definitely try. For those looking for something more of a challenge, check out our Indomie pizza recipe instead!
Ram-don recipe
Yield: Serves 2
Cooking time: 10 minutes
Ingredients:
1 packet of Chapaghetti instant noodles
1 packet of Neoguri instant noodles
200g beef
2 tablespoon vegetable oil
Salt
Pepper

Directions:
Start by patting the beef dry with a paper towel. Cut the beef into equal bite-sized pieces before seasoning with salt and pepper.

Heat the vegetable oil in a pan over high heat. When the oil starts to smoke, sear the beef till each side is golden brown. 

Transfer the cooked beef onto a plate and set the pan with its meat drippings aside for later use.

Cook both ramen noodles and vegetable flakes in a pot of boiling water for two minutes. Reserve the seasoning and olive oil sachets for later use.

Transfer the cooked noodles to the beef pan, add in four to five tablespoons of water from the pot, as well as both sachet of Chapaghetti and Neoguri seasoning.

Gently heat the noodles to maintain a steady simmer, stirring occasionally for 2 minutes.

Add the remaining olive oil sachet, beef, and give it one last stir before serving.
Photos taken by John Lery Villanueva.
Feature image adapted from a screenshot from Parasite.