This Indomie Pizza is no ordinary pizza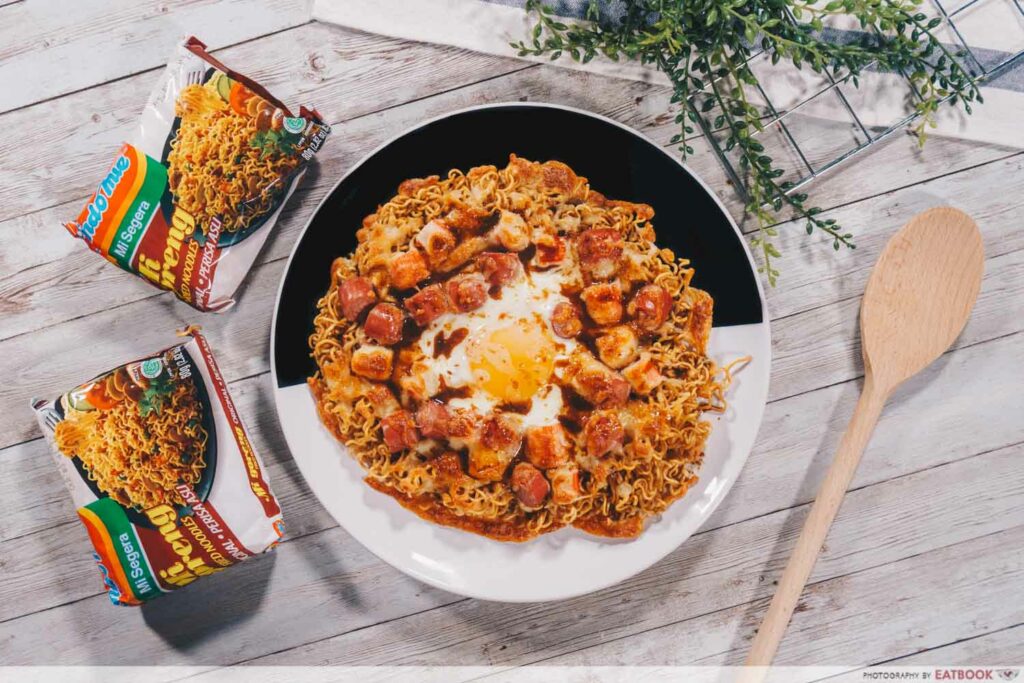 If it's not broken, don't fix it. For the case of Indomie—a perfectly tasty dish that's enjoyed by over millions around the world—it seems that there's no better way to enjoy it than on its own.

After some tinkering, however, we came up with an Indomie Pizza.  As abdominal it might seem, it retains all the little nuances that this cult-favourite noodle is famous for: the slight kiss of kecap manis, aromatic fried onion oil and of course, the special seasoning powder.  
Staying true to the Indomie experience, a soft runny egg is cracked over this pizza and briefly baked again. The finished product is then lightly brushed with Indomie seasoning, giving an exciting burst of umami and sweet flavours. 
When I first showed my creation to an Indonesian colleague, she wasn't too impressed. Calling it an abomination to Indonesians and Indomie, she didn't even lay her hands on them. I left a slice on her table and soon forgot about it.

30 minutes later, she returned with a clean empty plate and muttered, "7/10, at least the taste of Indomie is still there." That's all the affirmation I need. 
Head to the bottom of this article for the full recipe.
---
The process
---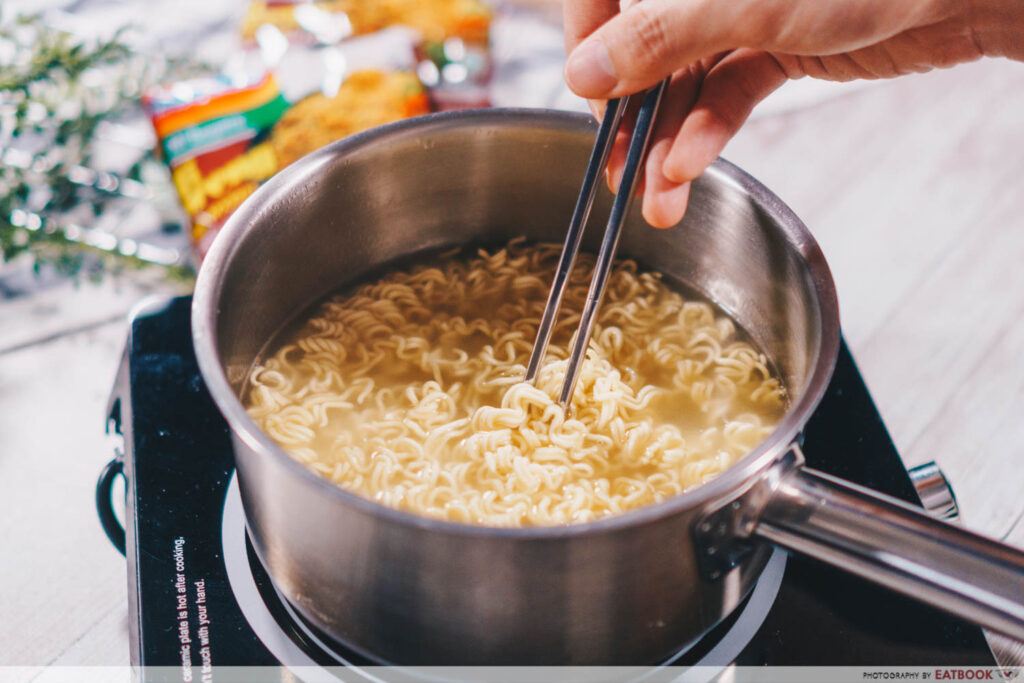 Start by cooking the noodles. There's no need to cook them all the way through. Just par-cook them in boiling water for around one to two minutes, enough for the noodles to break up.

Add a generous drizzle of kecap manis or dark soy sauce to the noodles and mix thoroughly. This gives a familiar oomph of sweet and salty flavours that Indomie is known for.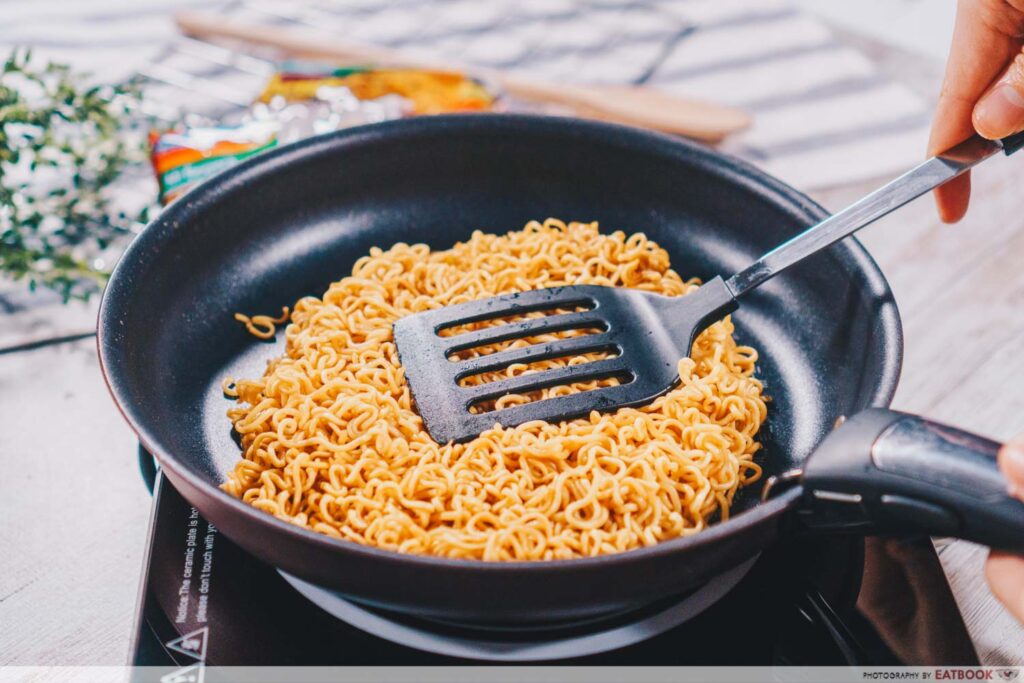 Lightly oil a saucepan on medium-high heat and add the noodles in. Gently flatten the noodles with a spatula and shape them into a circular shape. Let the noodles cook in the pan for three to four minutes, just long enough for them to develop a slightly crispy crust.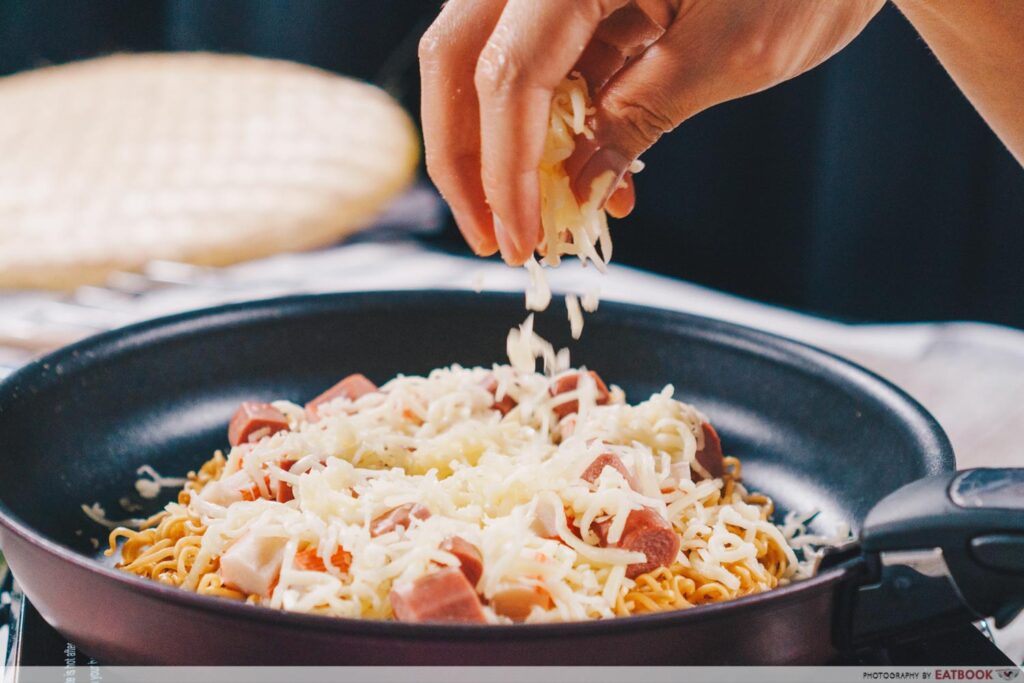 Scatter a modest amount of mozzarella on the pizza base, pile on your toppings, then blanket everything with a heavy helping of cheese again. For the toppings, we used simple pantry staples such as crab sticks and hot dogs, but feel free to jazz it up any way you want.

It's also a good idea to leave the centre of the pizza empty so that the egg can sit nicely inside when cracked open later.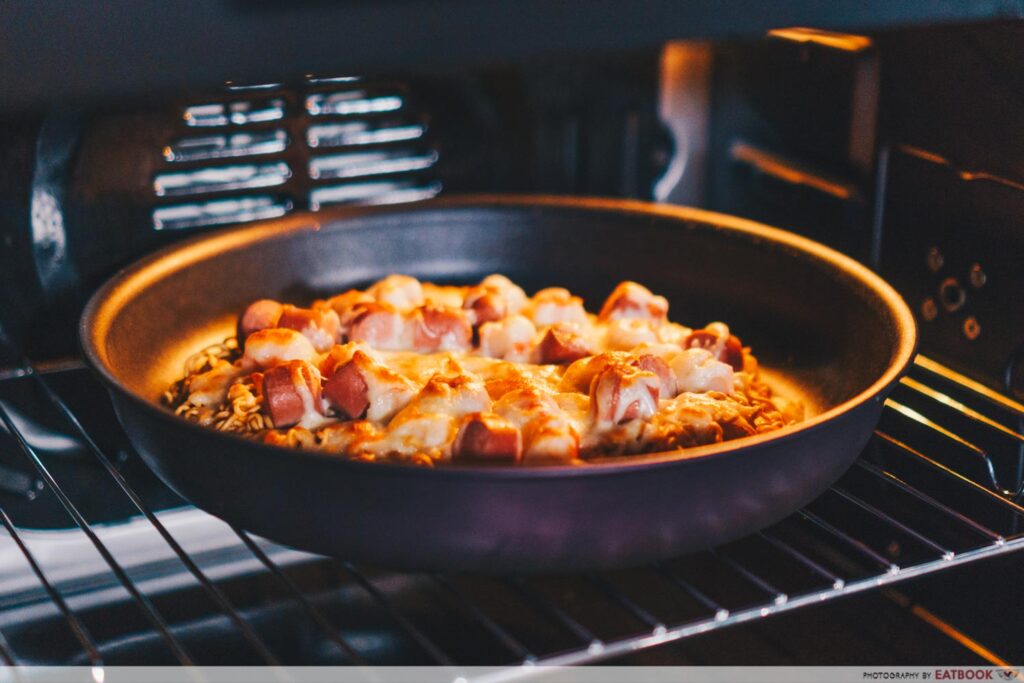 Pop the pizza in a preheated oven of 200 degrees Celsius and bake for 10 minutes. We're using the Tefal Ingenio frying pan, which lets us remove the handle and pop it directly into the oven.
If you don't have a pan with a removable handle, you'll need to transfer the pizza to a baking tray before popping the pizza into the oven. You don't want to burn any of your precious pans here.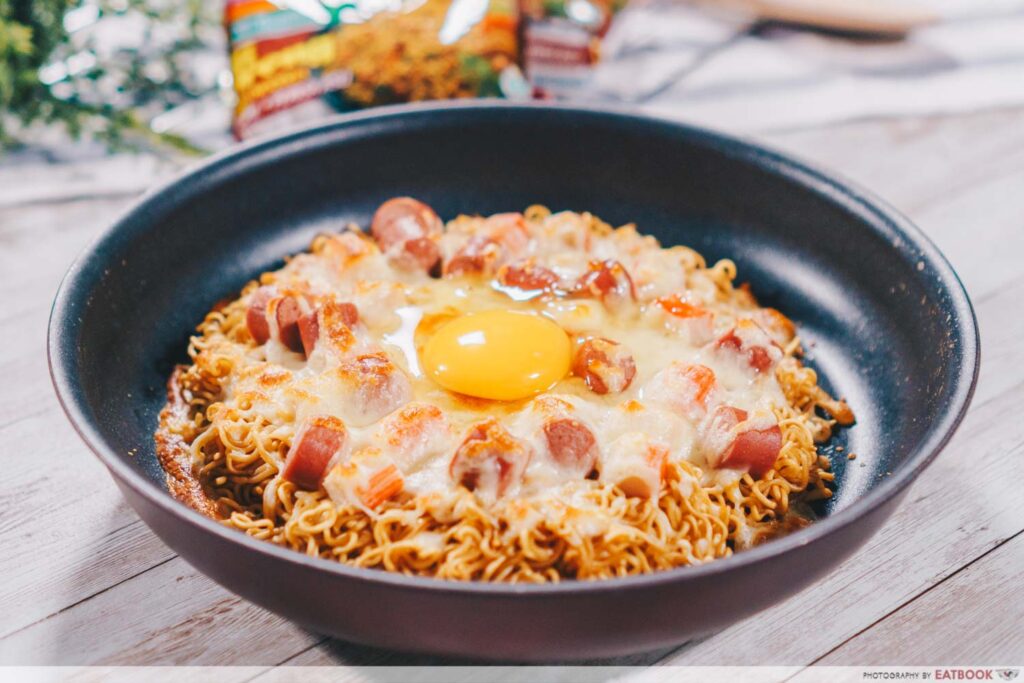 Remove the pizza after 10 minutes and gently crack an egg in the centre of the pizza. This gives it a real Indomie goreng vibe and helps bind all the other ingredients together as well. Continue to bake the pizza in the oven for another five minutes.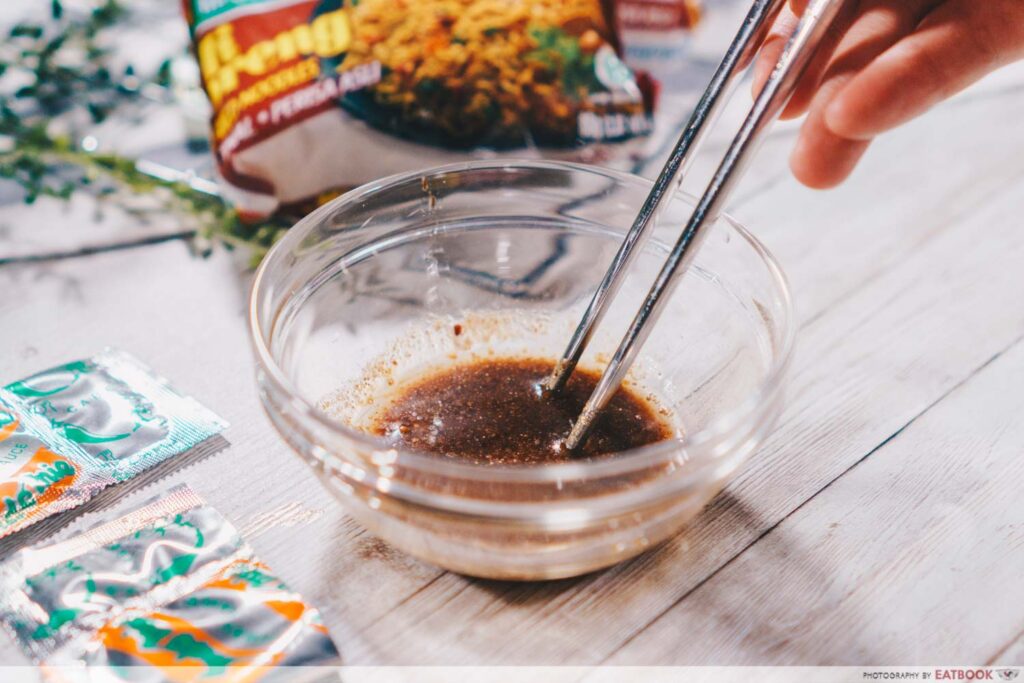 As the pizza's busy baking in the oven, you can save time by preparing the sauce for it. Simply combine all the seasoning packets you can find in the Indomie pack and add a dash of water to it.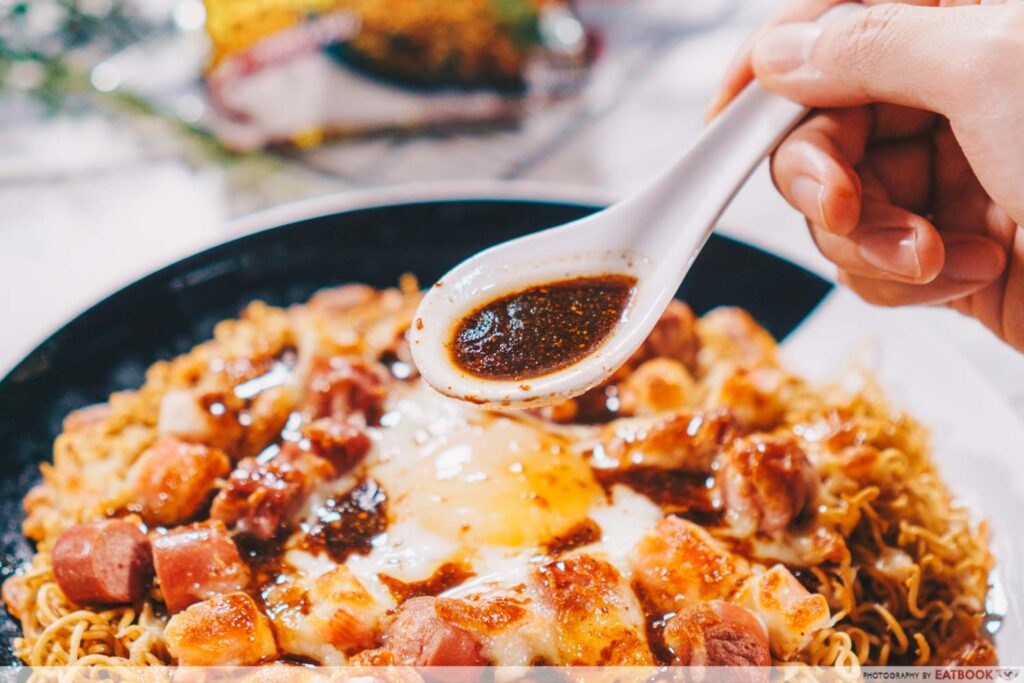 This flavourful cocktail of sweet soy sauce, chilli sauce, seasoning oil and powder, fried shallots, and fried onion flakes provides an explosion of flavours that takes regular instant noodles up a notch.

You'll want to spoon the sauce evenly over the pizza, making sure every inch is coated with this flavourful sauce. There might be some leftover sauce, and it is perfectly fine if you choose not to pour the sauce all over the pizza.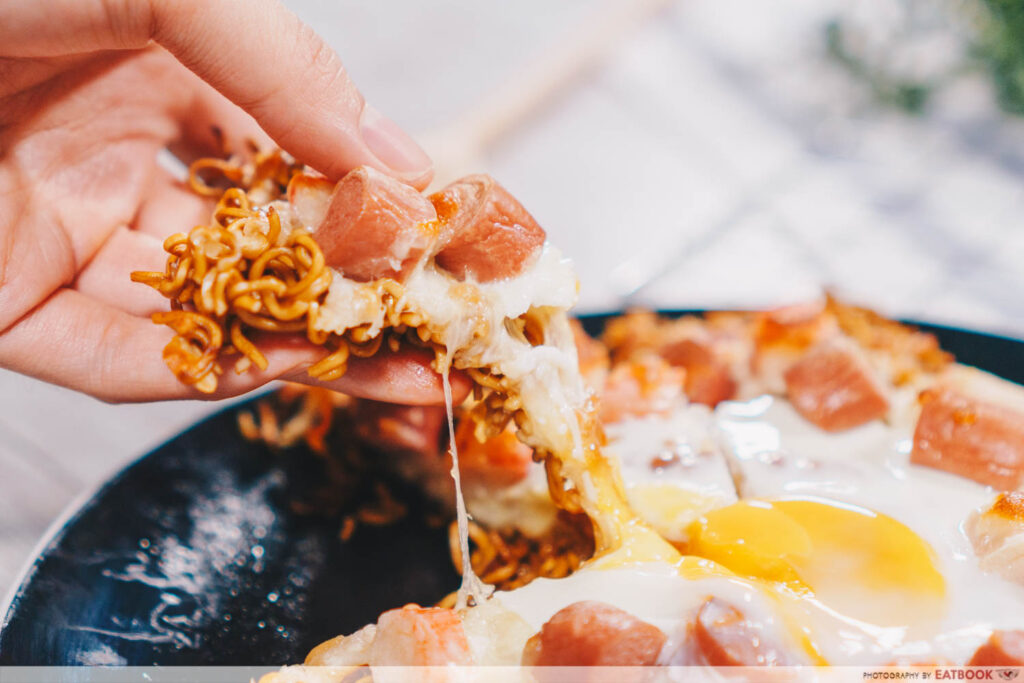 Ready in 20 minutes or so, this "pizza" is a fun and interesting dish you can easily whip up at home for last-minute parties. There's no hard and fast rule when choosing your toppings, so feel free to add anything you'd like to the pizza!

For more party-friendly recipes, check out our take on watermelon soju with this Watermelon Soju Jelly and Spicy Ma La Nuggets that are made from scratch!   
---
Indomie Pizza recipe
---
Yield: Serves 3
Cooking time: 20 minutes
Ingredients:
2 packets Indomie instant noodles
1 tablespoon kecap manis/dark soy sauce
1 teaspoon vegetable oil
½ cup mozzarella cheese
2 pieces of hot dog
2 pieces of crab meat
2 teaspoon water
1 egg

Cook noodles in boiling water for one to two minutes, just enough for it to fall apart. Reserve the seasoning and set aside.

Drain noodles with a fine strainer and mix in the kecap manis.

Heat a nonstick pan on medium-high heat and lightly oil it with vegetable oil. Shape the noodles into a round circle. Cook for around 3-4 minutes until a light crust develops at the bottom.

Remove from heat and add mozzarella cheese at the bottom, followed by the hot dog, crab meat, and the rest of the mozzarella cheese.

Place the pan into an oven at 200 degrees Celsius. Bake for 10 minutes. Crack an egg on top of the pizza and bake for another 5 minutes.

Prepare the sauce by combining the packets of Indomie seasoning and water. Spoon the sauce evenly over the pizza. Serve immediately. 
Photos taken by Lim An.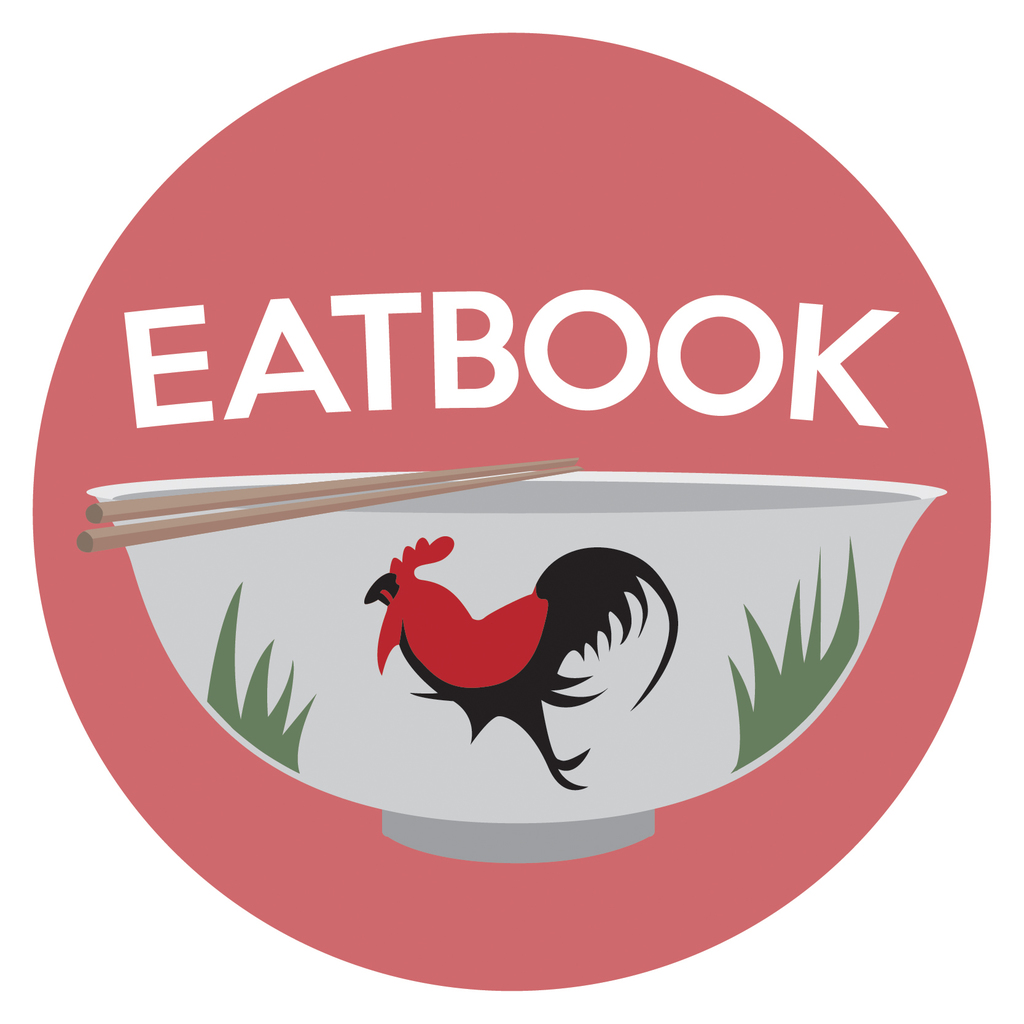 Drop us your email so you won't miss the latest news.