Watermelon soju jelly is a great party food idea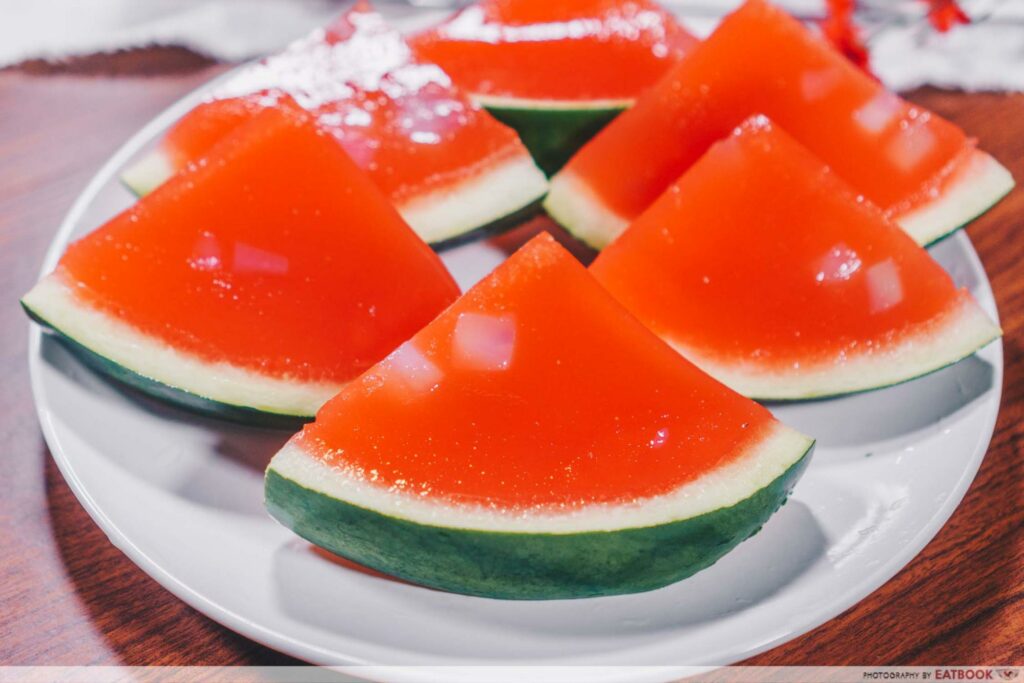 Watermelon soju is a well-loved Korean punch, commonly guzzled by Koreans through the summer. 
It's easy to see the popularity behind this cocktail. Sweet and refreshing, a glass of chilled watermelon juice is good enough on its own. Add a splash of soju and this concoction is ready to entertain a huge party. 
To give a snackable spin to this popular beverage, we experimented with konnyaku jelly powder and came up with our very own Watermelon Soju Jelly. It's cutely served in watermelon rind, making it a sure-fire conversation starter during parties. Lazy chefs will also like how there's no need to clean sticky jelly moulds as well. 
For the full recipe, scroll down to the bottom of this article.
---
The process
---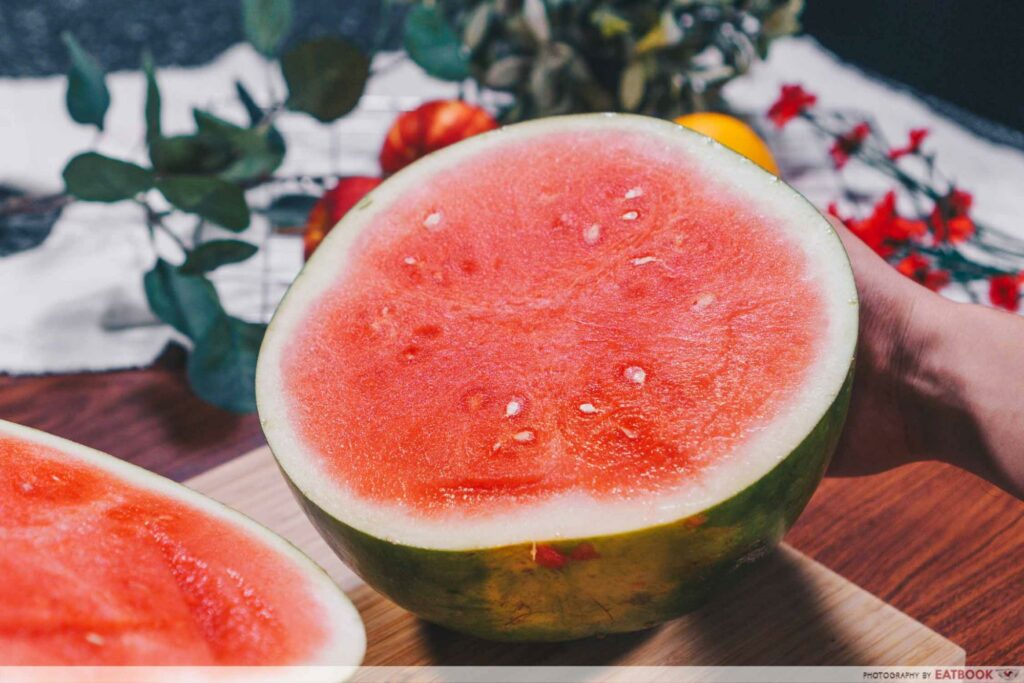 We'll only need half a watermelon for the entire recipe. You can choose to make double the portion, or simply cut the fruit into slices and enjoy it on its own. 
Start by scooping out the watermelon's flesh out of its rind. Make sure to not puncture any holes on the bottom of the watermelon. Feel free to snack on any watermelon flesh that might have come loose.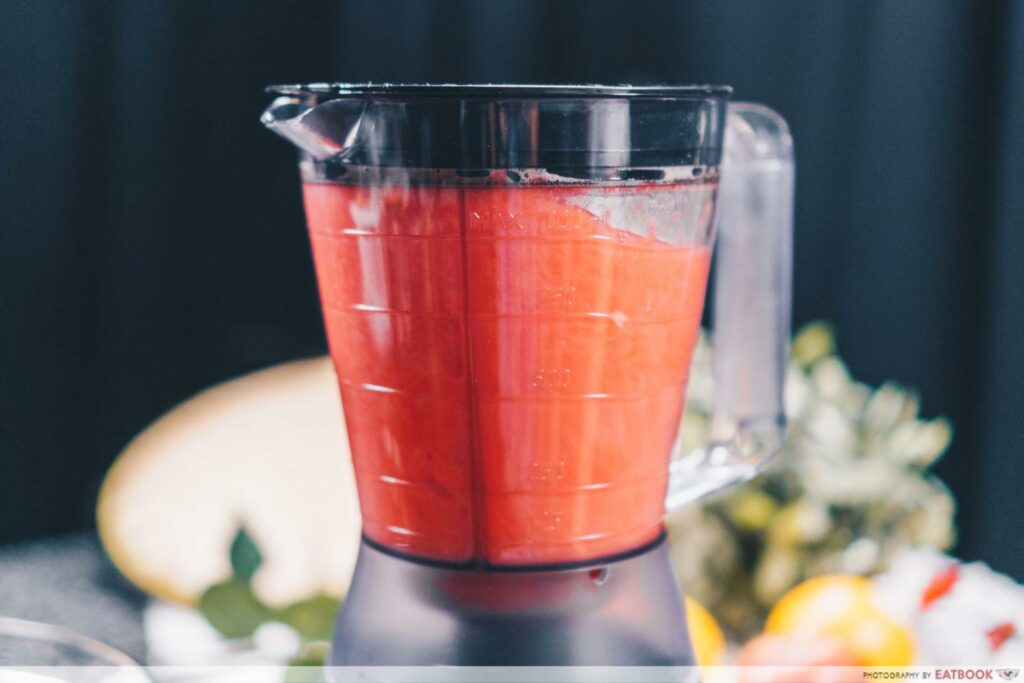 Give the watermelon flesh a whirl on the blender to juice them up finely. There shouldn't be any watermelon pieces left after blitzing them up. This should take around half a minute or so.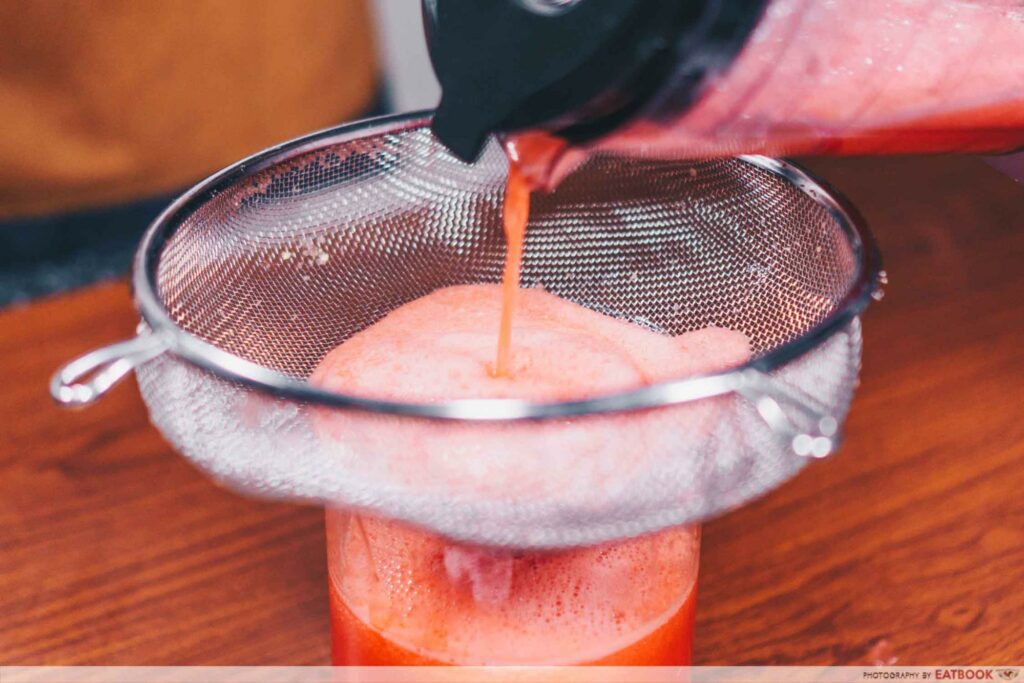 Strain the watermelon juice through a strainer. This ensures that the juice remains separated from the watermelon flesh, giving a smooth and tasty texture.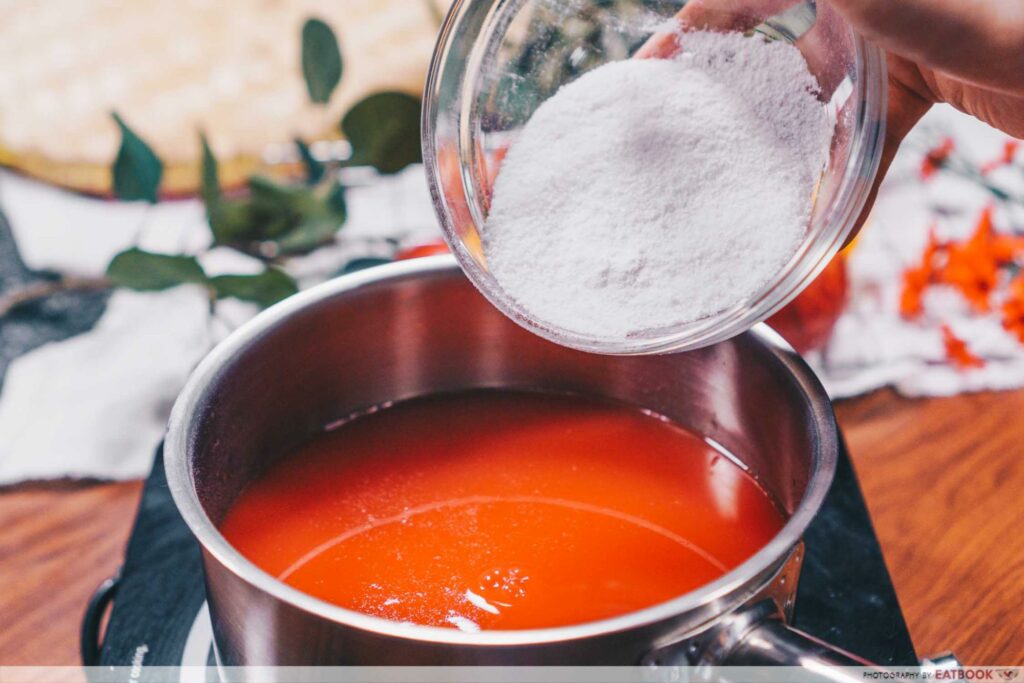 Heat up a saucepan on medium heat, and add 800ml of watermelon juice and all the konnyaku powder. You'll just need to stir the pot occasionally to prevent the powder from clumping up.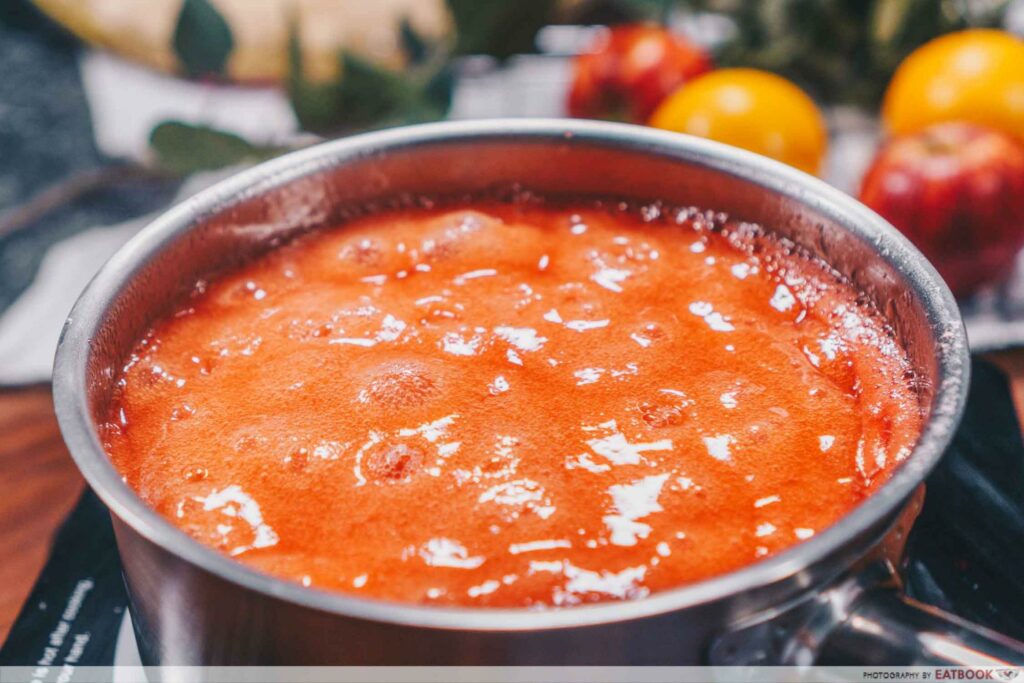 Remove the mixture from the heat when it melts, and give it a stir for a minute or two to let it cool down.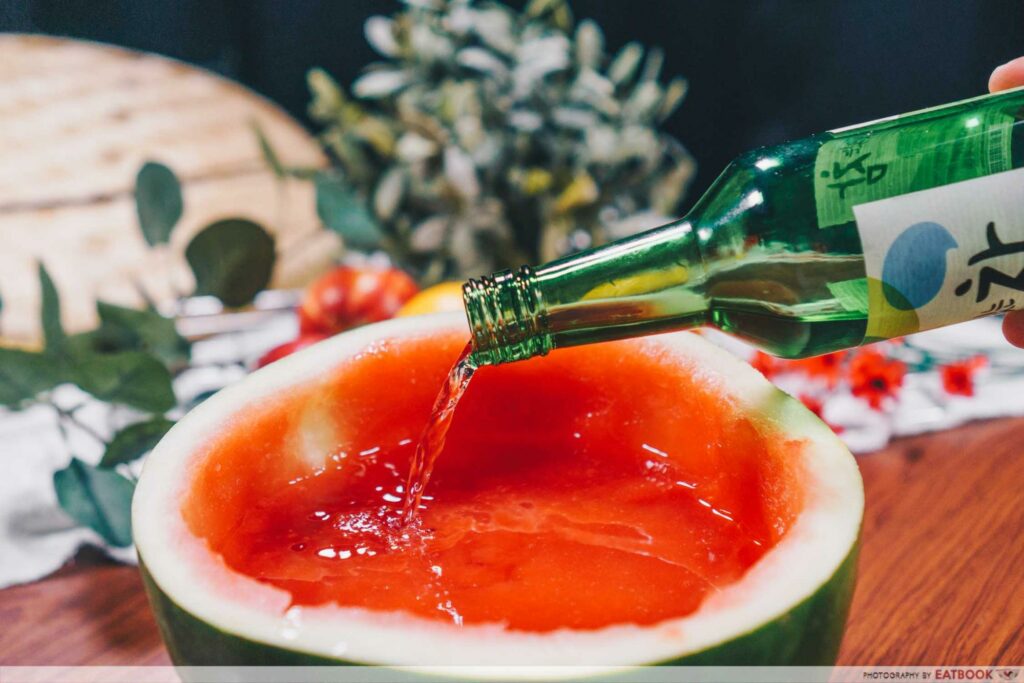 Pour the watermelon jelly mixture into the watermelon rind and pour an entire bottle of watermelon soju inside. One bottle of watermelon soju is a little mild, enough to give a light buzz to the lightest of drinkers. So feel free to add more booze if you're a heavier drinker, but be sure to adjust the proportion of watermelon juice to konnyaku powder as well.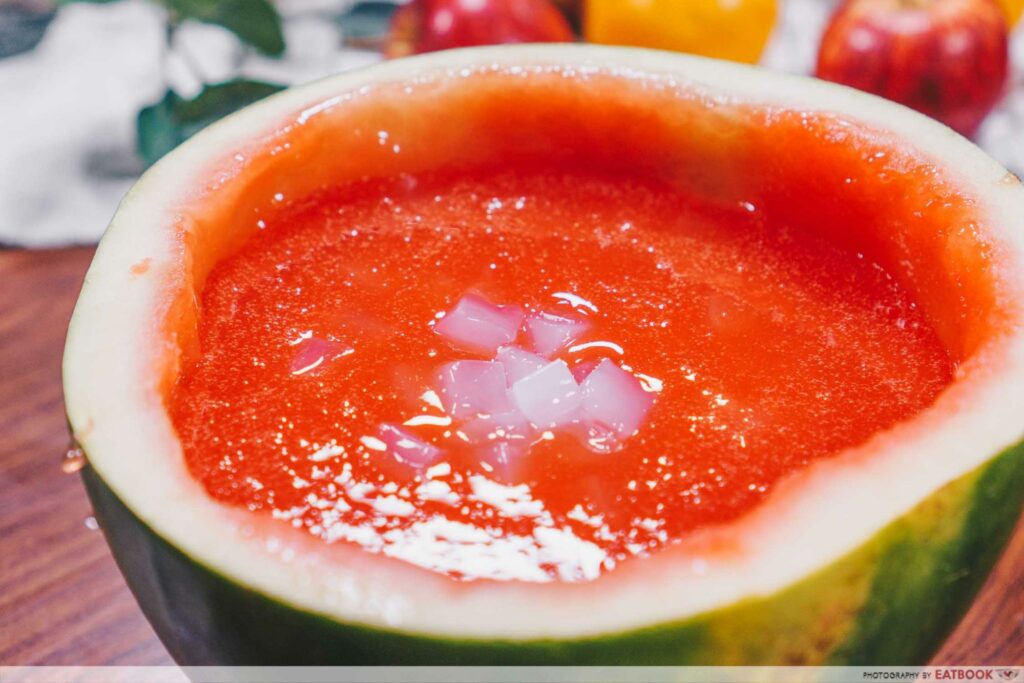 For an added burst of texture and flavour, pop in some nata de coco cubes. Be sure to mix them thoroughly.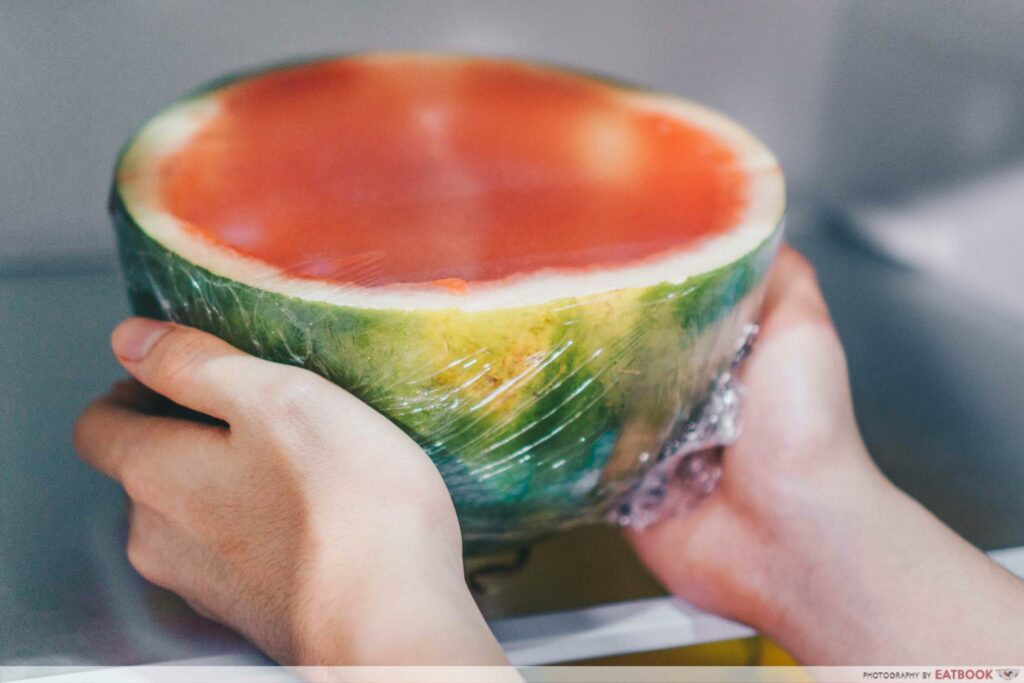 Cover the watermelon with cling wrap and chill overnight—or for a minimum of eight hours.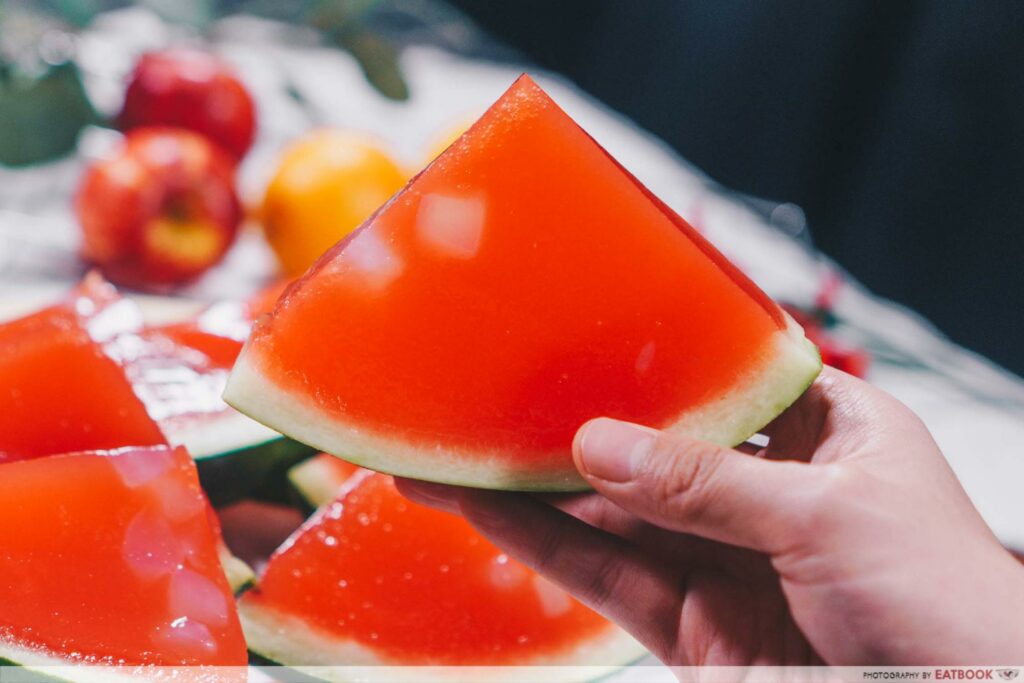 Remove the watermelon jelly from the fridge and cut it like a regular watermelon with the rind intact. Get ready to pump up the party with this tasty watermelon soju jelly!
If you're still looking for party recipes, be sure to check out these easy cornflake recipes that take minutes to make. Or if you're feeling a little fancier, whip up a portion of fiery ma la nuggets for everyone to enjoy!
Ma La Nuggets Recipe: Make Your Own Spicy Nuggets At Home In 30 Minutes
---
Watermelon Soju Jelly recipe
---
Yield: Serves 10
Cooking time: 20 minutes
Ingredients:
½  small watermelon
360ml Korean soju 
250g konnyaku powder
150g nata de coco cubes 
Directions:
Using a spoon, scoop out the flesh of the watermelon. Set the empty watermelon rind aside. 

Place the watermelon flesh into a blender and blend until everything is smooth. 

Strain the juice through a fine strainer and set aside. 

In a saucepan on medium heat, add 800ml of watermelon juice and all the konnyaku powder while stirring occasionally. 

When the mixture starts boiling, remove the pan from heat and stir for one to two minutes to cool.

Pour the mixture back into the watermelon rind and s

tir in a bottle of soju. Mix well. 

Add the nata de coco cubes and cover with cling wrap to chill overnight.

To serve, cut the watermelon into wedges with rind intact.
Photos taken by Lim An.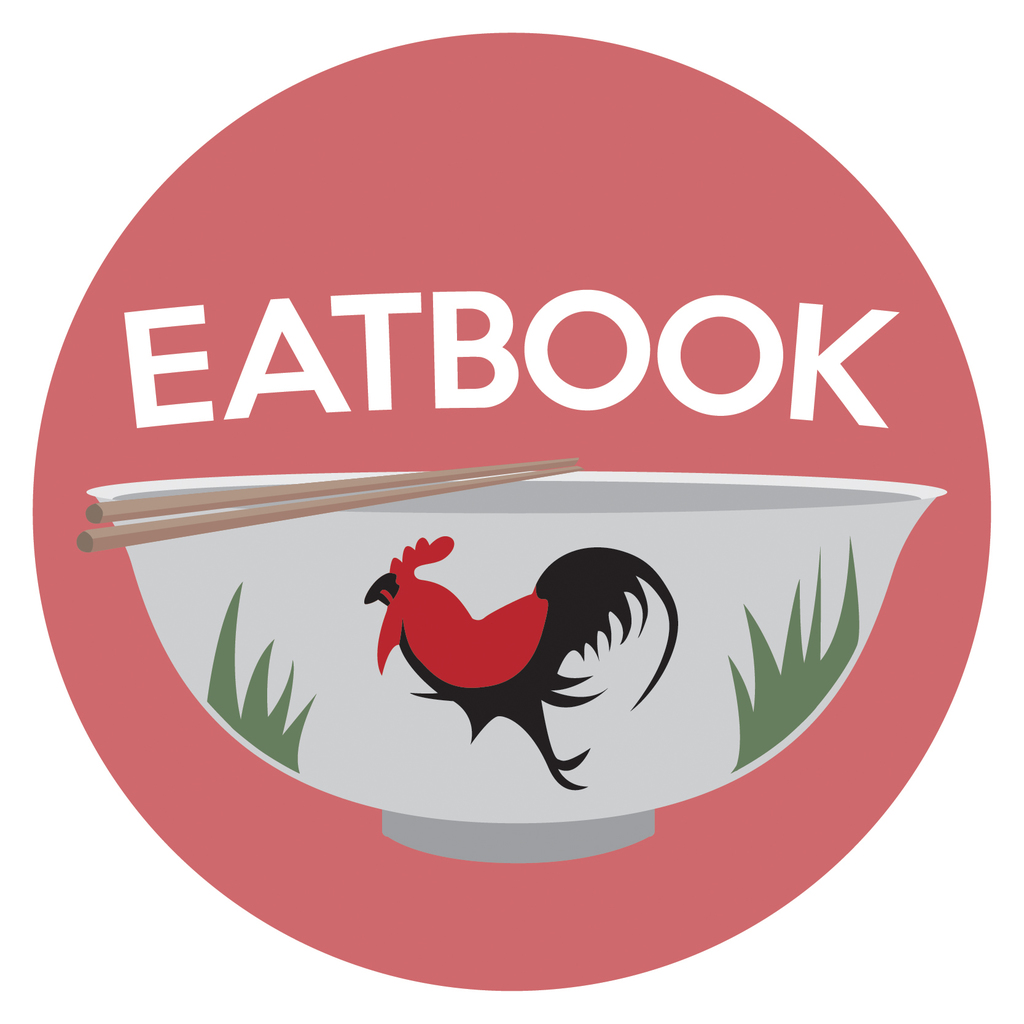 Drop us your email so you won't miss the latest news.