Katasumi Koohii – a cafe hidden by a bookstore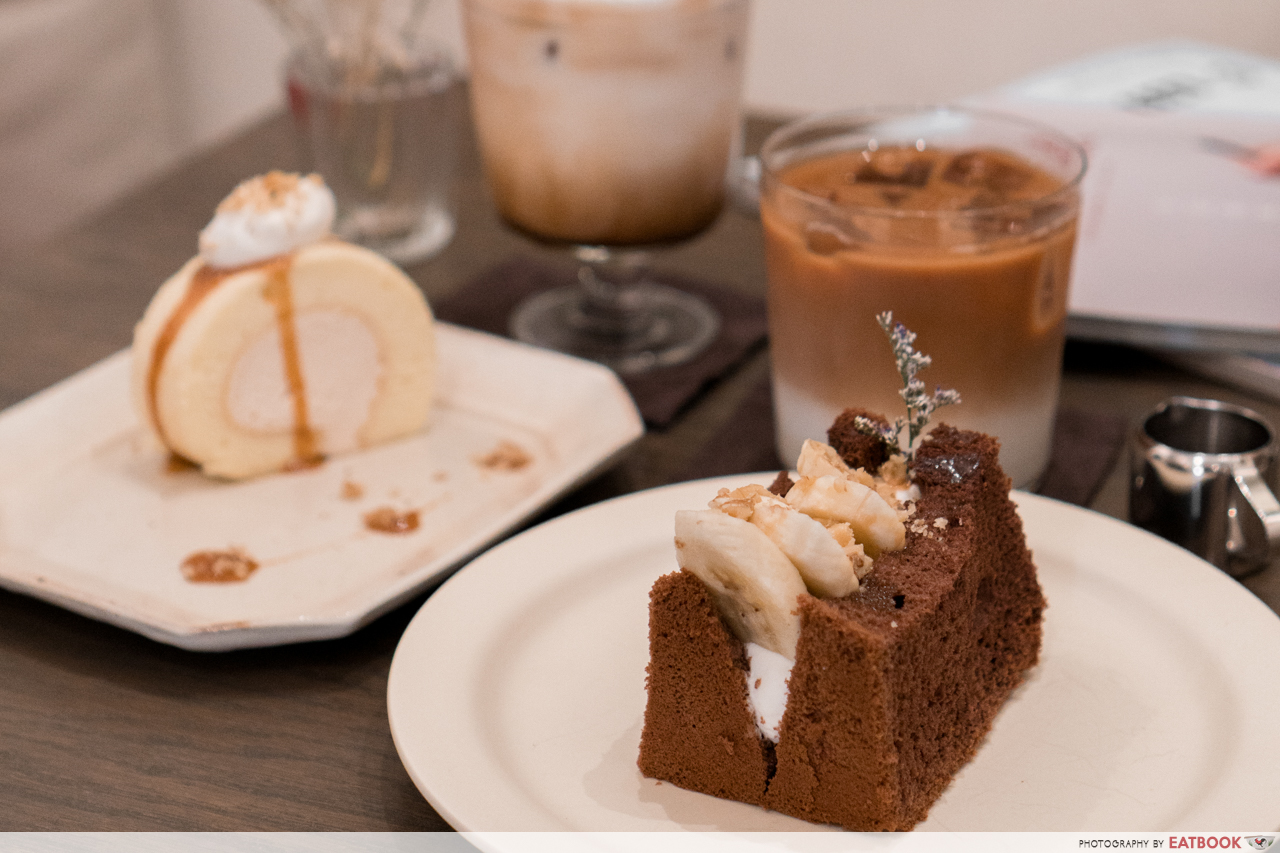 If your idea of happiness involves a quiet morning with cake, coffee, and a book, Katasumi Koohii might just be your cup of tea. Resting at the back of Grassroots Book Room, a Chinese bookstore, the quaint little cafe is hidden in plain sight. It is snug like a studio apartment, but full of #feels – delighting our senses with a wonderful baked goods scent, minimalist ambience, and chill vibes.
Food at Katasumi Koohii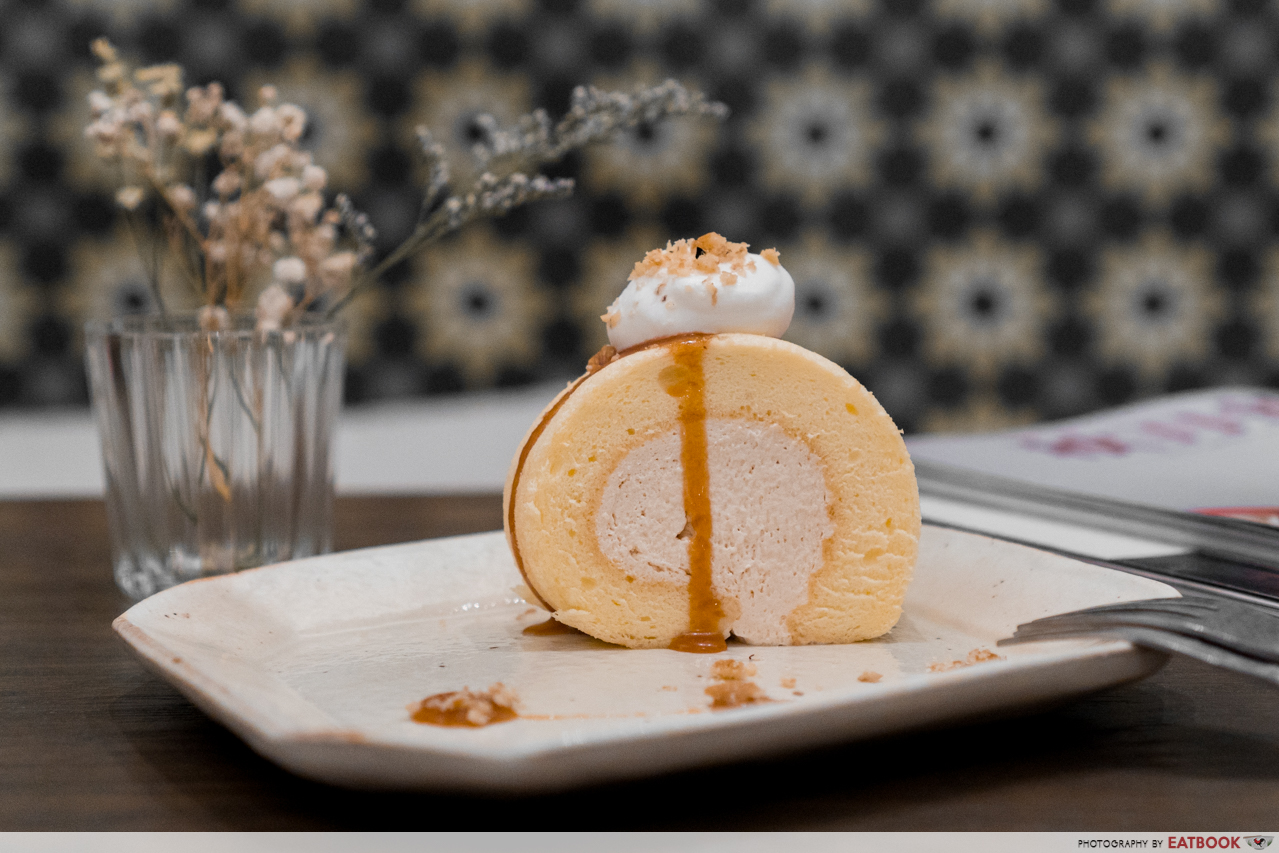 Katasumi Koohii serves a very small selection of food and drinks. It might sound like a baller move, but we got all of the cakes on the menu. Plot twist: there were only two.
The selection of desserts here varies weekly, but the Salted Caramel Roll Cake ($7) is a signature and stays permanently on their menu. There was something whimsical about this cake. Salted caramel sauce was drizzled on top, followed by a dollop of cream that looked like a fluffy cloud. In a pastel yellow, it looked soft and dainty, like a centrepiece for a summer tea party.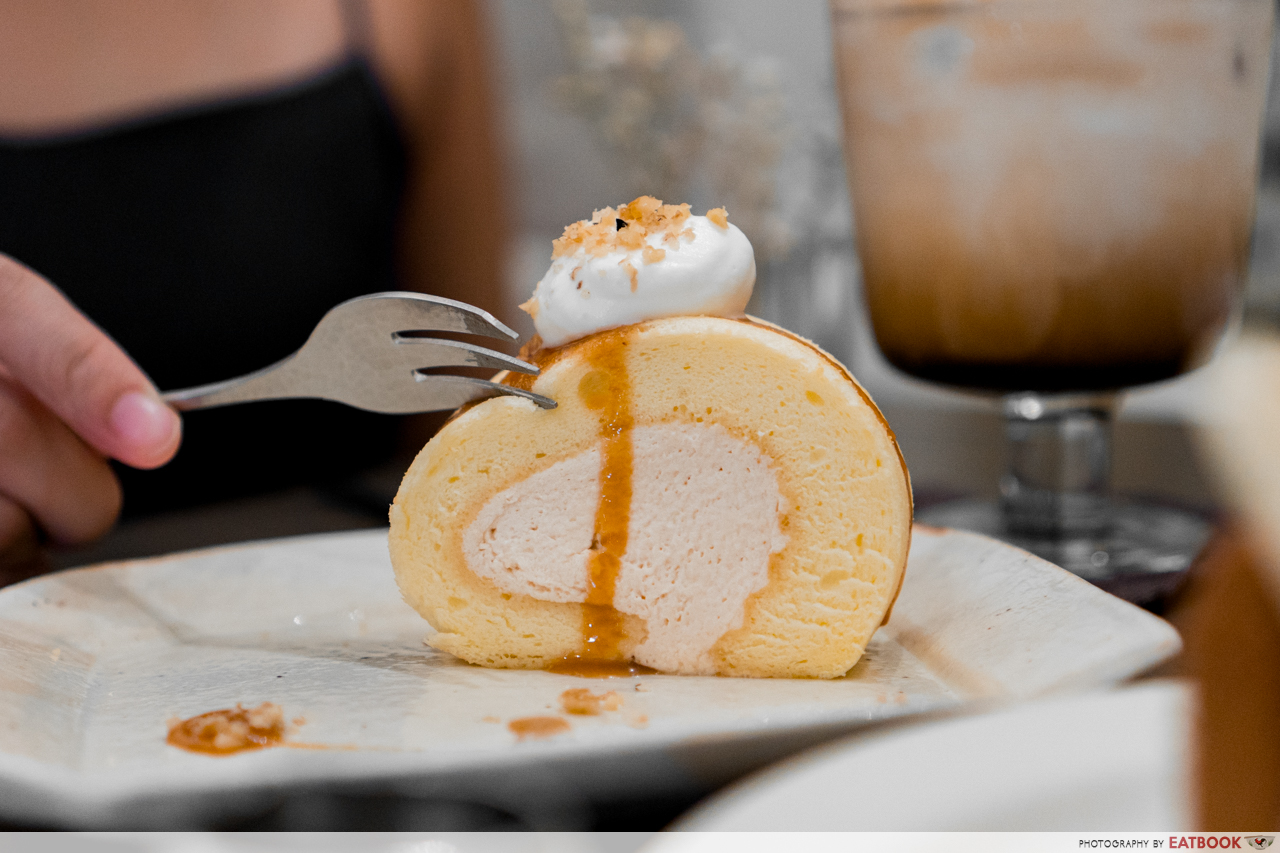 The cloud of whipped cream was so adorable I could not wait to tuck in. My dessert fork sank past the soft cake, and into the generous cream centre. I love my cakes with more cream than sponge, and the ratio for this roll cake was on point.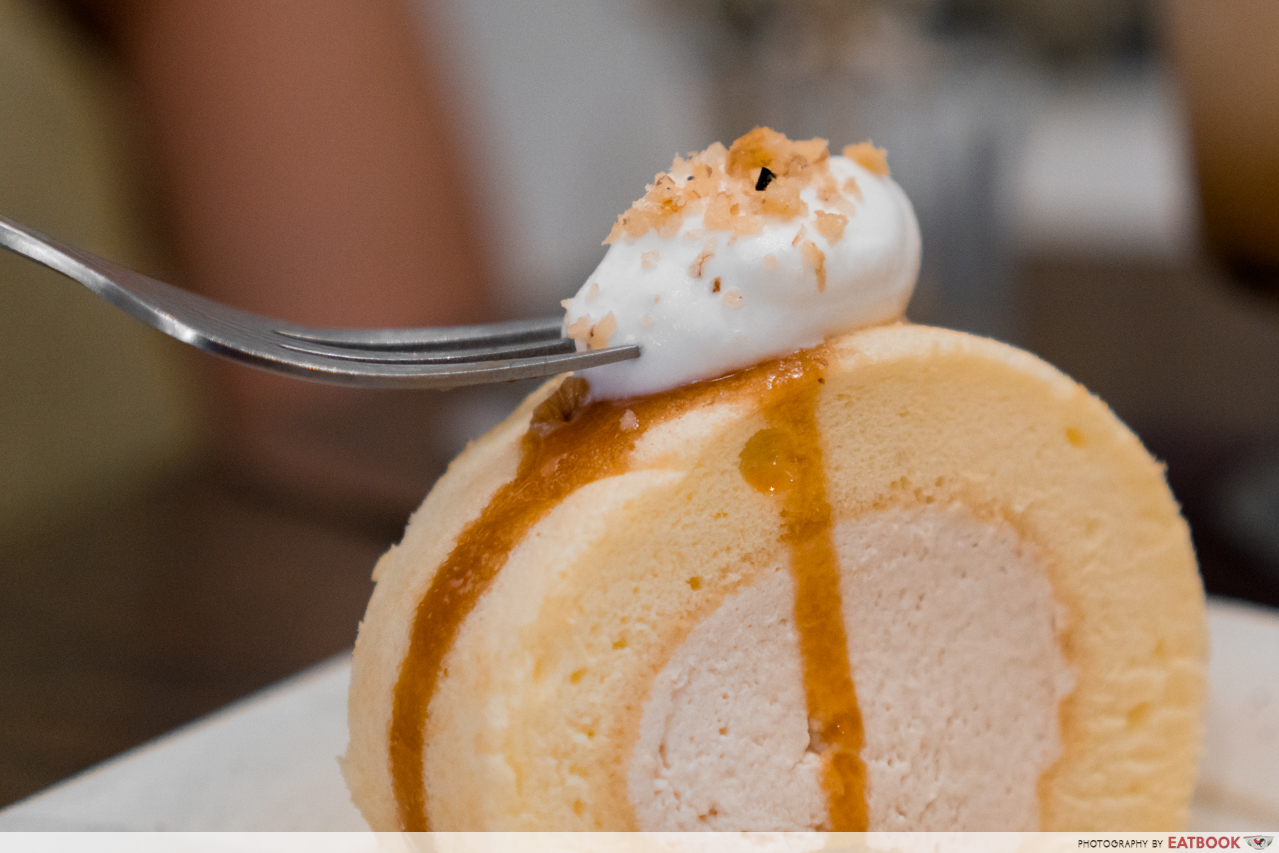 The baker evidently thrived on mixing, or rather mingling, the contrasting flavours of sweet and salty into harmony. Caramel is already delicious on its own, but the presence of salt added intrigue and complexity to each bite. Both the cream cloud and filling were smooth, buttery, and intensely milky, making the Salted Caramel Roll Cake a perfect after-dinner indulgence.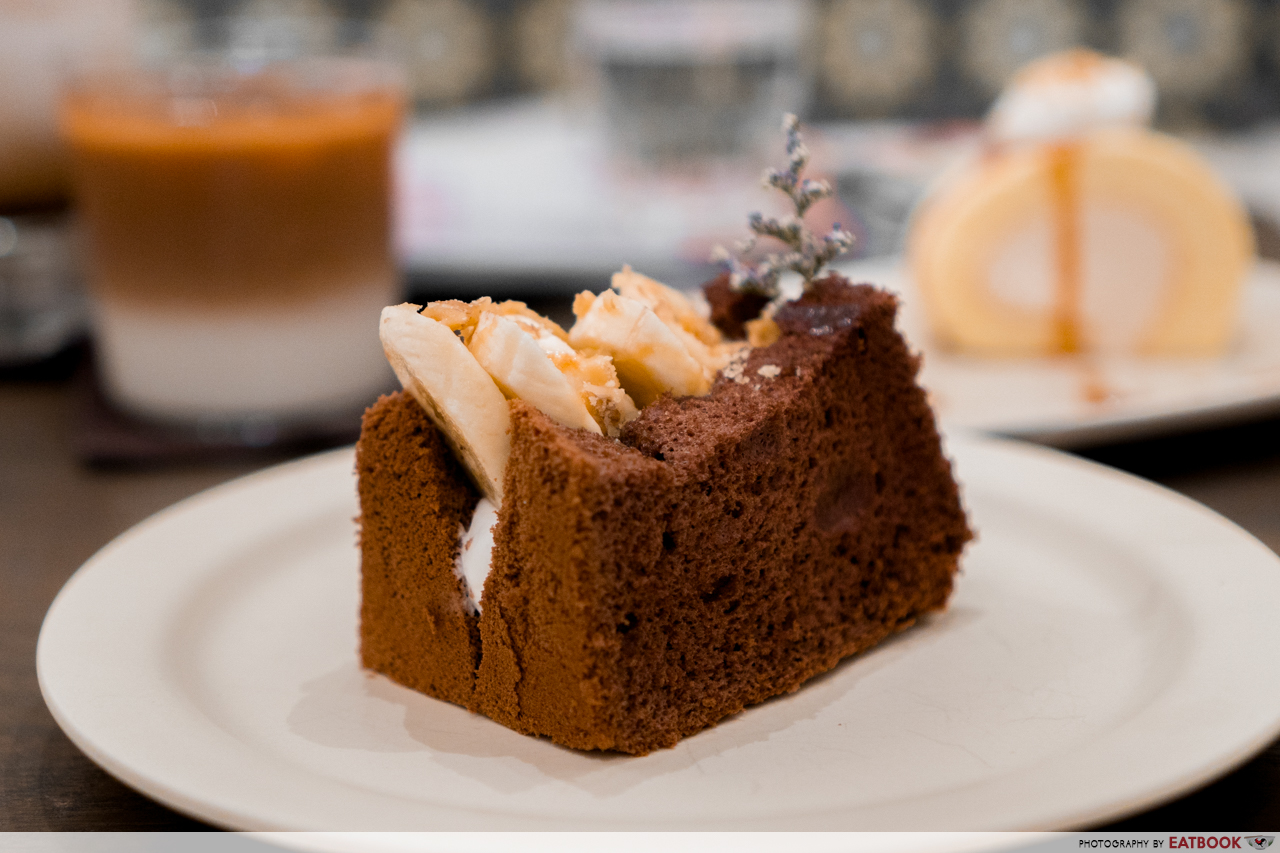 The second cake on the menu was Chocolate Chiffon with Banana ($8). It looks amusingly like a mini savoury sandwich you might find at catered buffets. At a closer look, you will see a piping of white cream with sliced bananas and bits of nuts atop.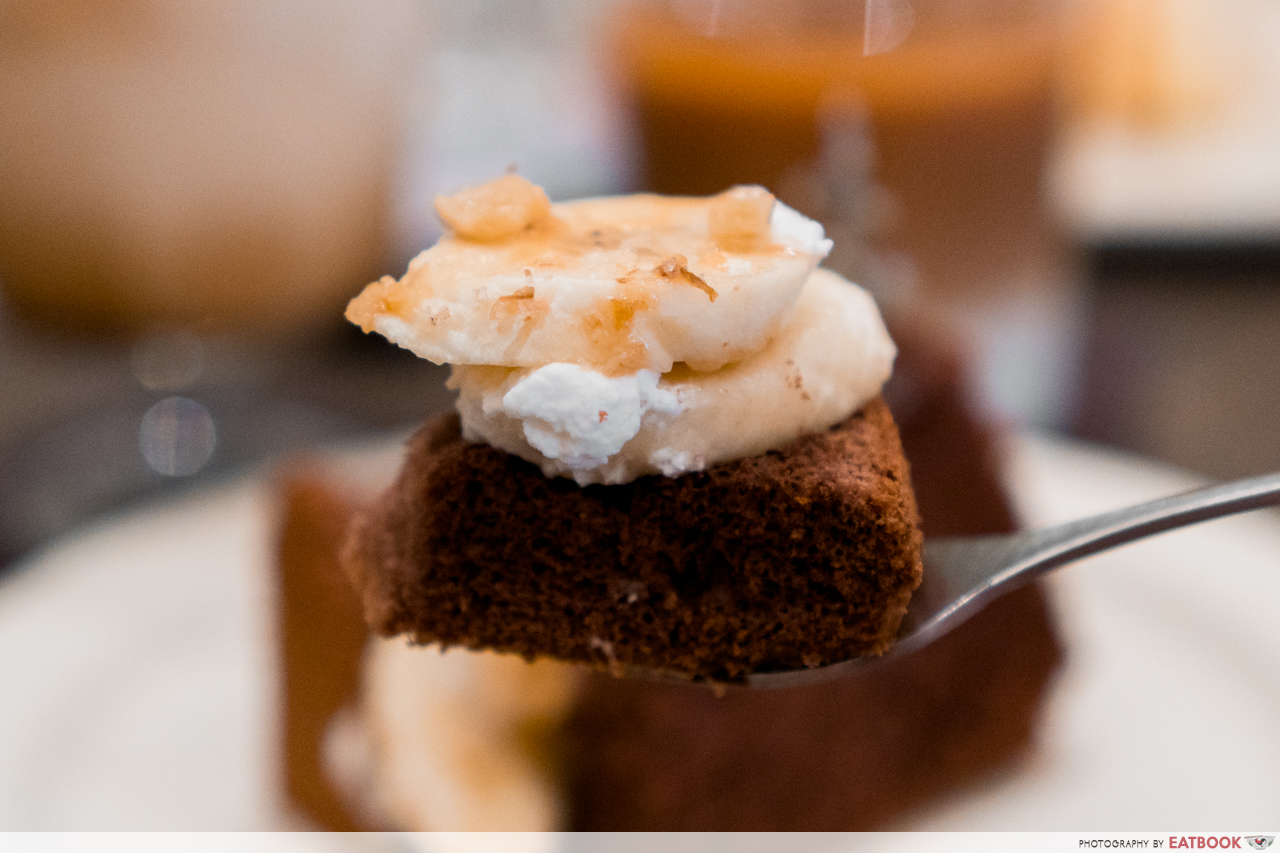 The texture of the chiffon cake was dreamy and light, whereas the taste of cocoa was pleasantly strong. It went well with the bananas and cream, reminding me of a banana split – but in the form of a cake. That being said, neither the size of the cake nor the taste justified the $8 paid. I was expecting better ingredients or at least a bigger portion of cake with that price.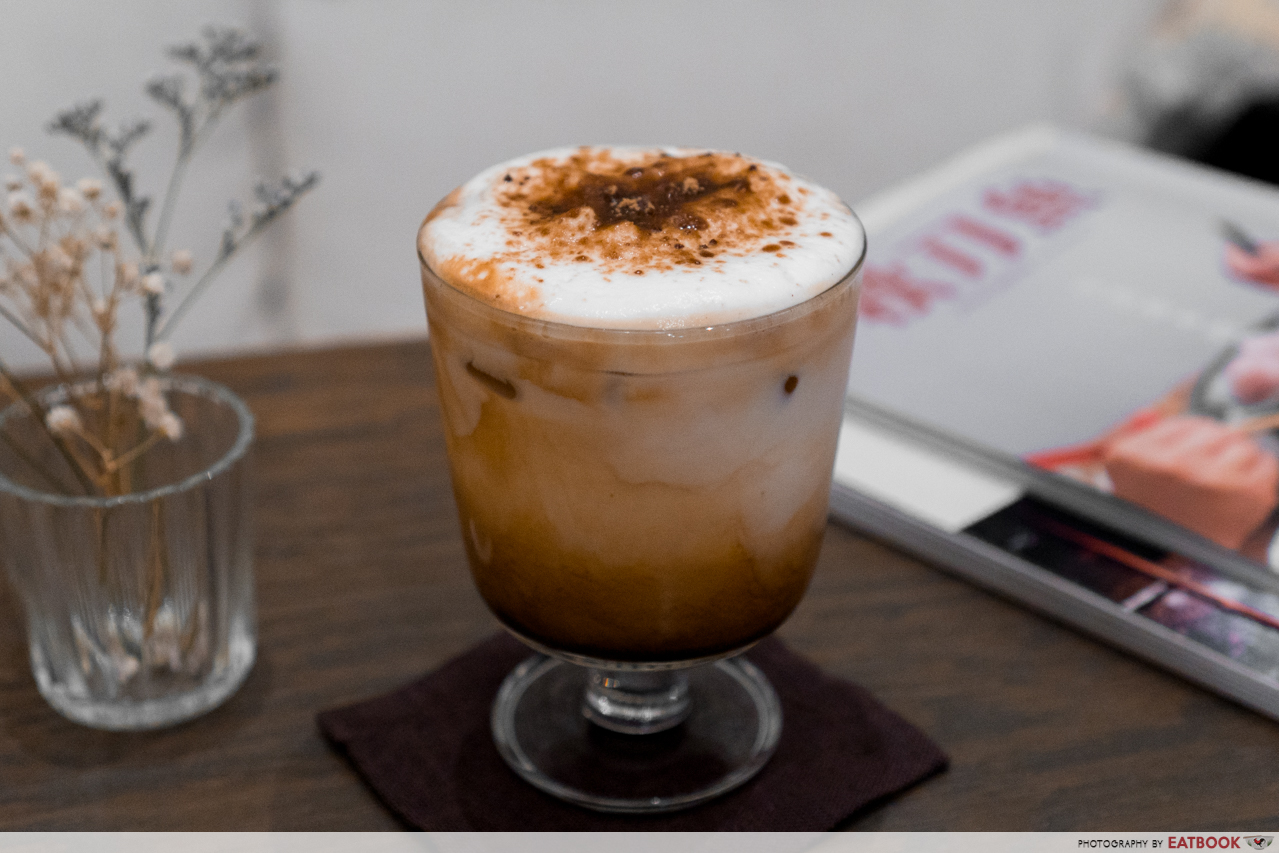 We also ordered an Iced Brown Sugar Latte ($6.50), which came in pretty layers of white and brown. There was a shot of espresso, followed by milk, foam, and then a sprinkle of brown sugar. Like how salt complemented the caramel sauce in the Salted Caramel Roll Cake, the sugar here beautifully balanced out the the bitter taste of coffee in this latte. It was $6.50 well spent.
Ambience at Katasumi Koohii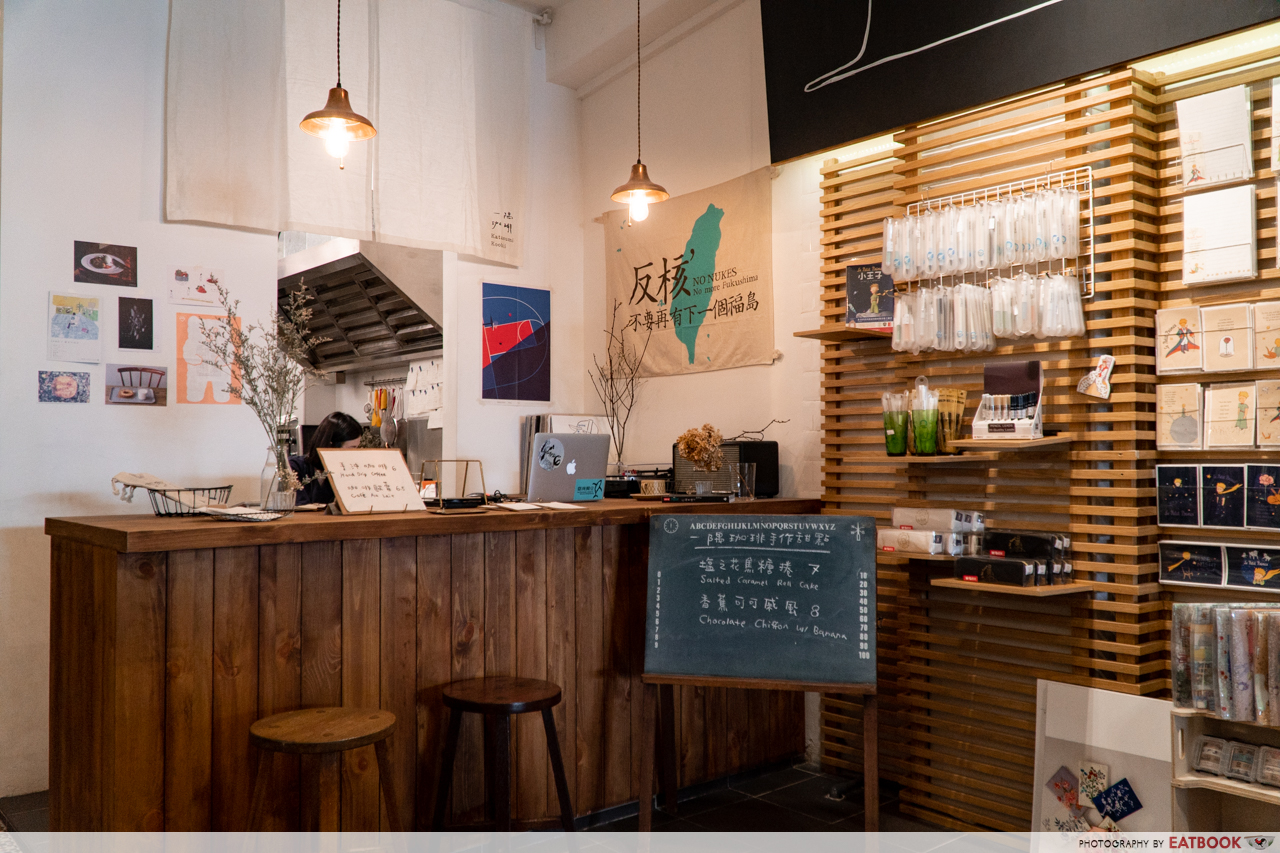 The ambience would probably be the main reason why I would head down for a second visit. Exuding the same air as cafes featured in Kinfolk magazine, Katasumi Koohii seems to be all about quiet coffee breaks and homely pleasures. It felt like time slowed down as I delved myself into the music and clinks and clanks of the cafe. The ambience paired perfectly with the minimalist cakes and simple beverages.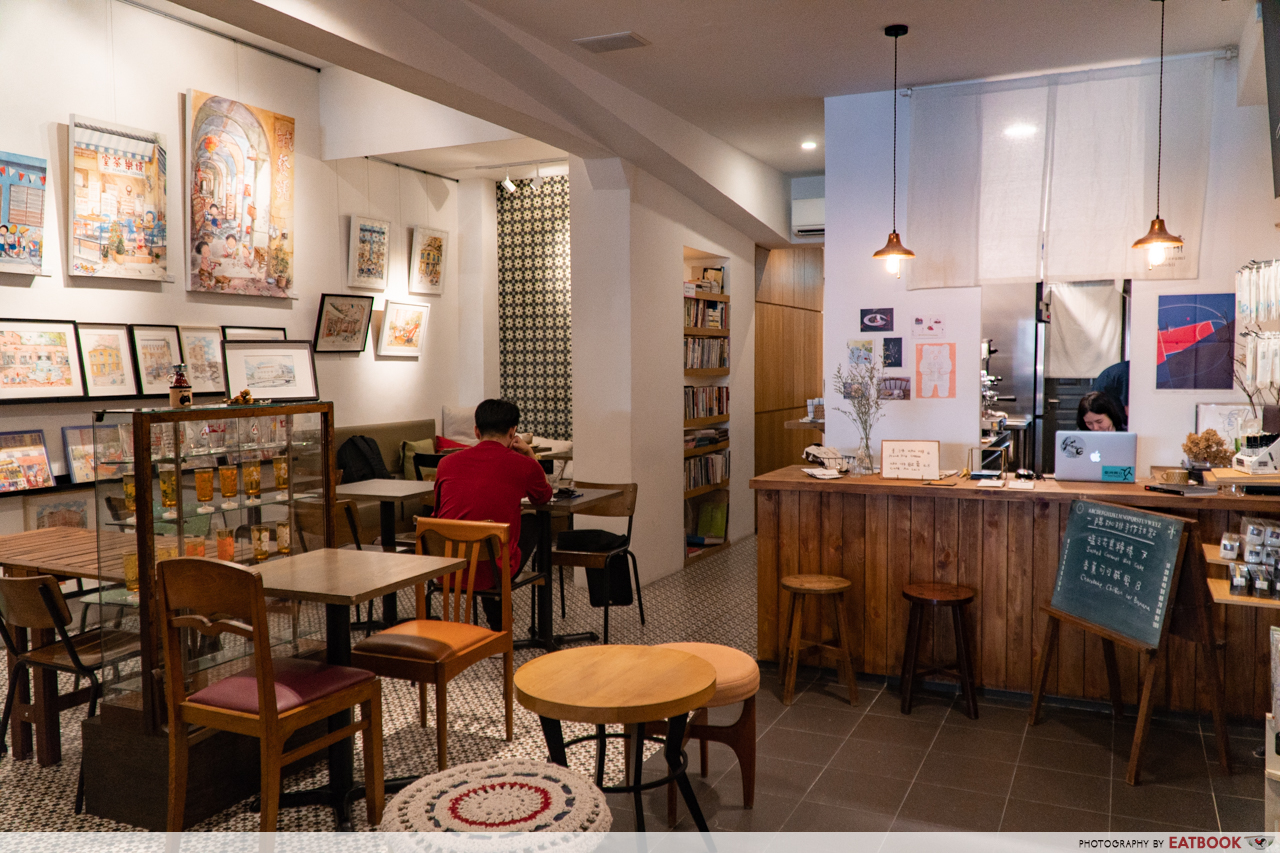 Do note that there is no Wi-Fi or sockets available in the cafe. It is as if they are making a silent war against technology, forcing customers to pick up a book or two instead.
The verdict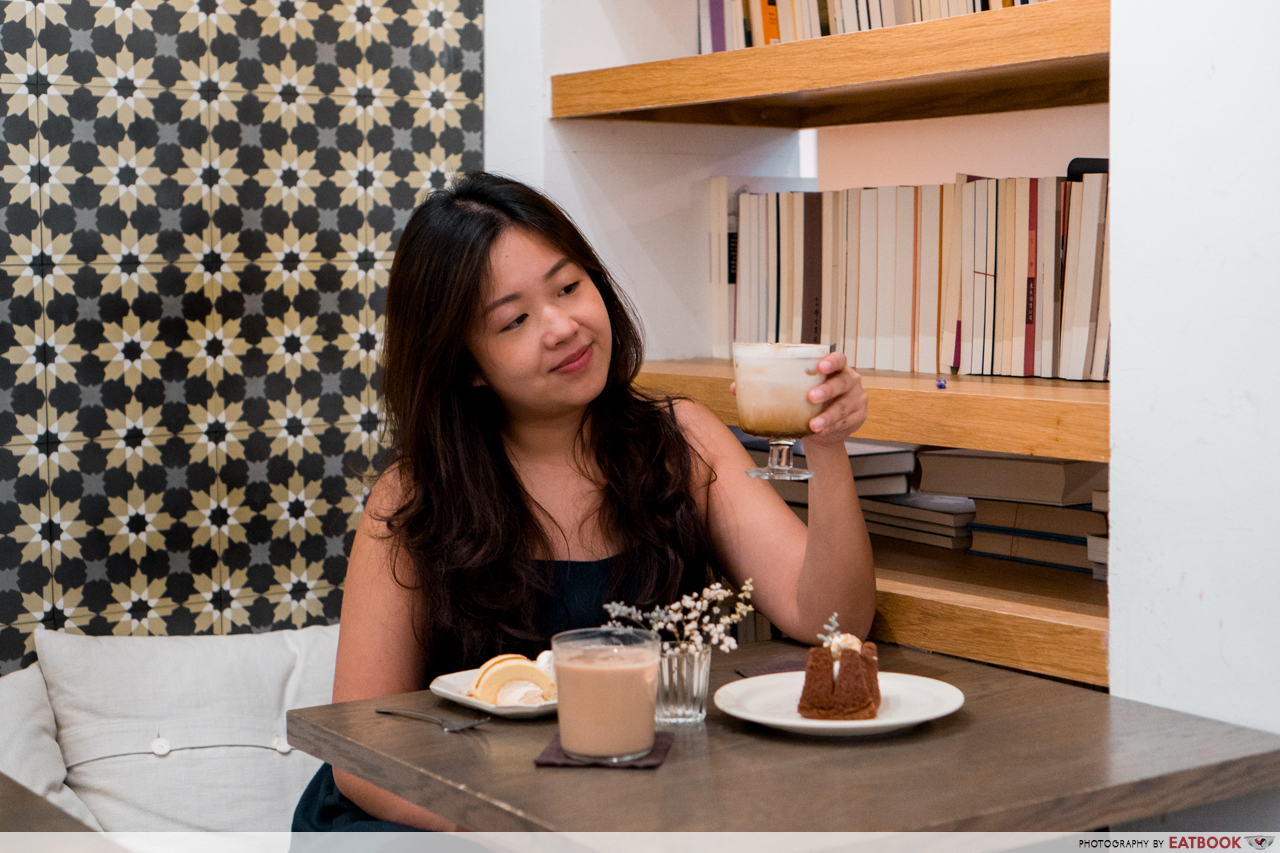 Katasumi Koohii is on my list of places to head to when I want to have some quality "me" time. Though limited, the food and drinks were simple yet novel, stealing my heart at each bite. I could only wish for a wider selection of cakes or desserts on future visits.
If you are looking for more cafes in Singapore to chill at, check out our review on Pluseighttwo, a minimalist cafe selling Korean desserts like bingsu. Alternatively, head to Cereal Citizen, a cafe decked out with neon lights and all things pink!
Address: 25 Bukit Pasoh Road, Singapore 089839
Opening hours: Mon, Wed-Thur 12pm to 8pm, Fri-Sat 12pm to 9pm, Sun 12pm to 6pm
Website
Photos taken by Nadia Loewito.
This is an independent review by Eatbook.sg.
Summary
Pros
– Dessert and drinks were good
– Quiet and good for reading
Cons
– Expensive for the portions served
– Menu was very small
Recommended Dishes: Salted Caramel Roll Cake ($7), Iced Brown Sugar Latte ($6.50)
Opening Hours:
Mon, Wed-Thur 12pm to 8pm, Fri-Sat 12pm to 9pm, Sun 12pm to 6pm
Address: 25 Bukit Pasoh Road, Singapore 089839