Cereal Citizen is Singapore's very own cereal cafe
Update (19 Mar 2019): Cereal Citizen is now permanently closed.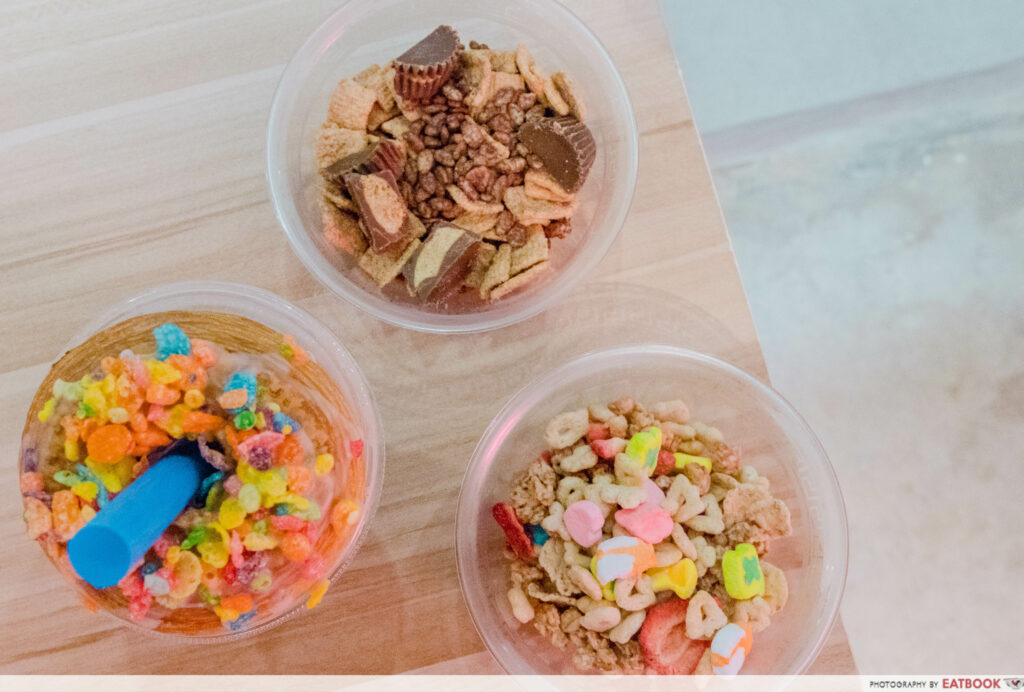 First was Kazo, followed by Huoyanshaiziniu, and then Say Chiizu. It has barely been a month into the new year and we already have so many popular food names from other countries arriving in Singapore. And so when I heard about Cereal Citizen, which opened on 10 Jan 2018, I thought London's Cereal Killer Cafe started a branch here.
A quick search on Google, however, says they are started by two Instagrammers  – Ang Chiew Ting (@bongqiuqiu) and Rachell Tan (@pxdkitty) – and their friend Carolyn Lim. Though not affiliated to the famous one in London, the IG-worthy decor at this cafe was enough to tempt us to pay it a visit.
Food at Cereal Citizen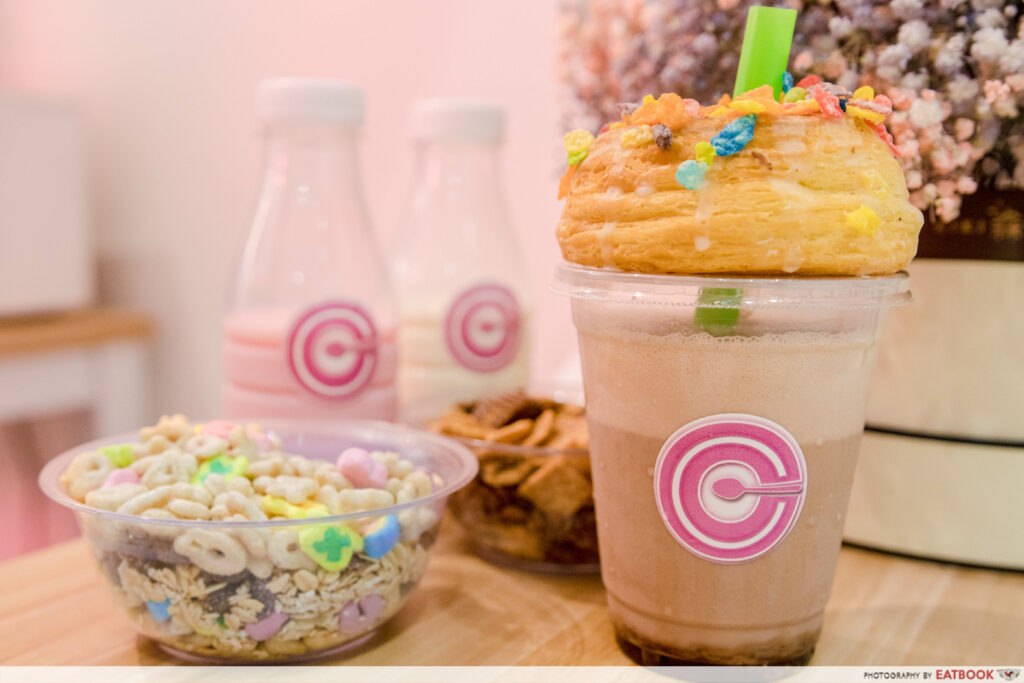 It is a given to dig into cereal here, but we couldn't wait to get our hands on their Crododo + Milkshake Combination ($10.90) before anything else. This set comes with a cup of milkshake and a croissant donut on top. For the milkshake, we chose their Chocolate Banana flavour among others such as Strawberry, Oreo, and Chocolate.
The taste of fresh banana was prominent with a slight flavour of chocolate milk coming through after a while. Overall, the milkshake was decently sweet, milky and my favourite part was the chocolate sprinkles found at the bottom that took me by surprise. Though decadent, I found a liking to this drink and my only qualm would be that it was hard to stir the milkshake and the clumps of chocolate sprinkles at the bottom became overwhelming towards the end.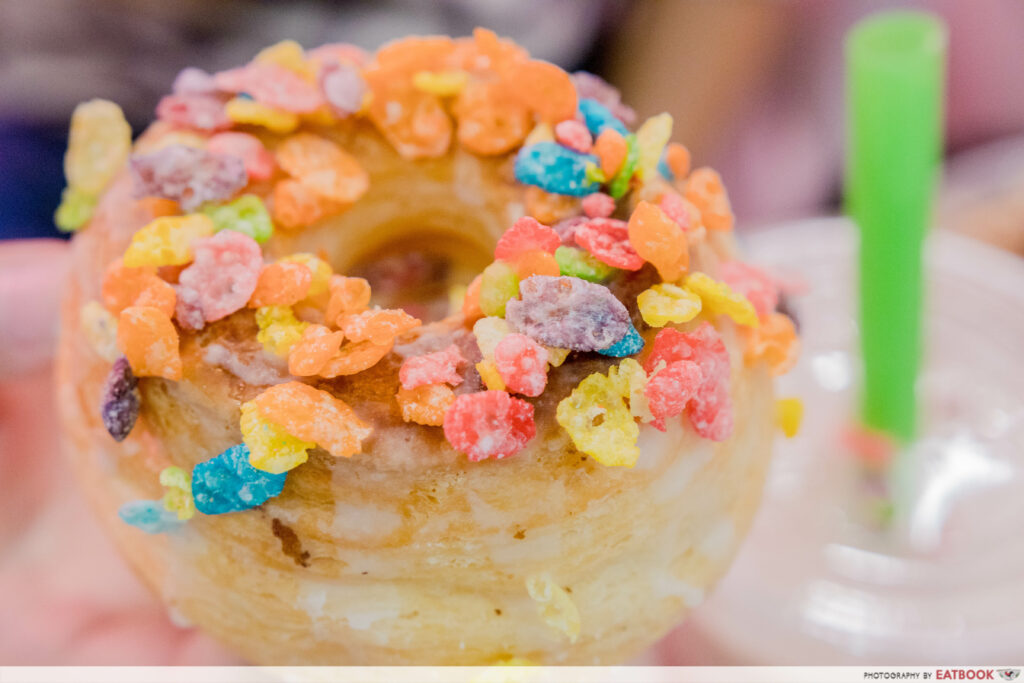 The Crododo is a croissant that comes in the shape of a donut and it is topped with a cereal of your choice. We went with Fruity Pebbles, which is "the most Insta-worthy choice" in the words of Chiew Ting, who was serving us behind the counter.
While the perfectly rounded crododo with colourful cereal and icing drizzle looked great on camera, I was skeptical about its taste.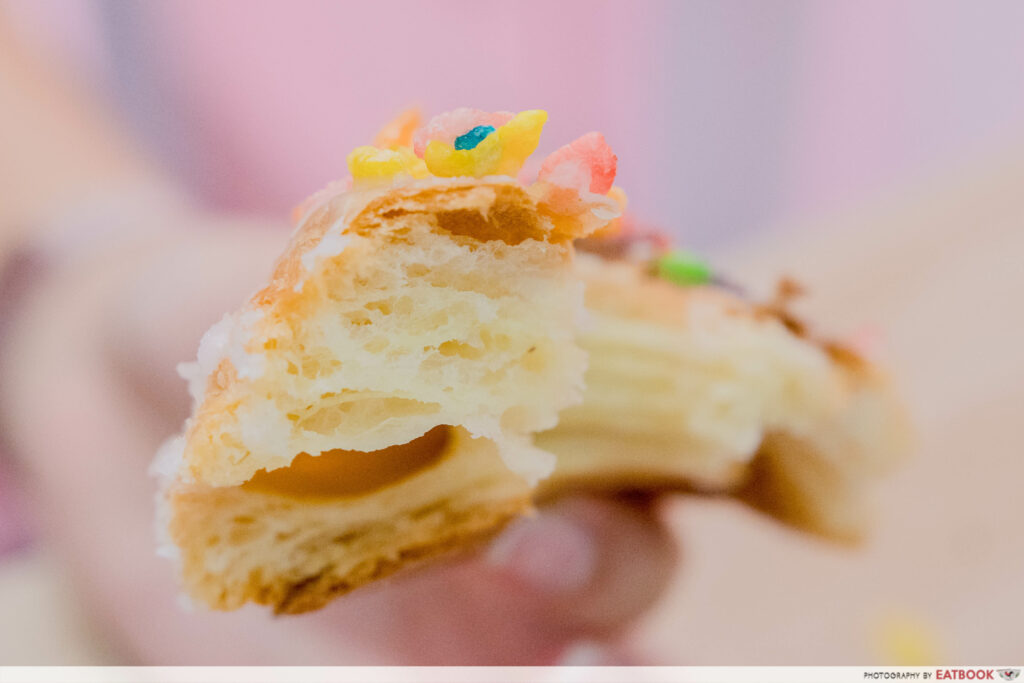 After our first bite, however, my colleague and I agreed that this looks good and also tastes decent. Mainly buttery, the crododo was a little too sweet on top but the pastry itself was soft and flaky. The crunch that came from the cereal along with the doughy interior gave a nice texture to the crododo, though I must say eating it was a messy affair, with bits of cereal, croissant flakes, and glaze falling all over. Overall, this was a satisfying dessert which will appeal especially to the younger crowd.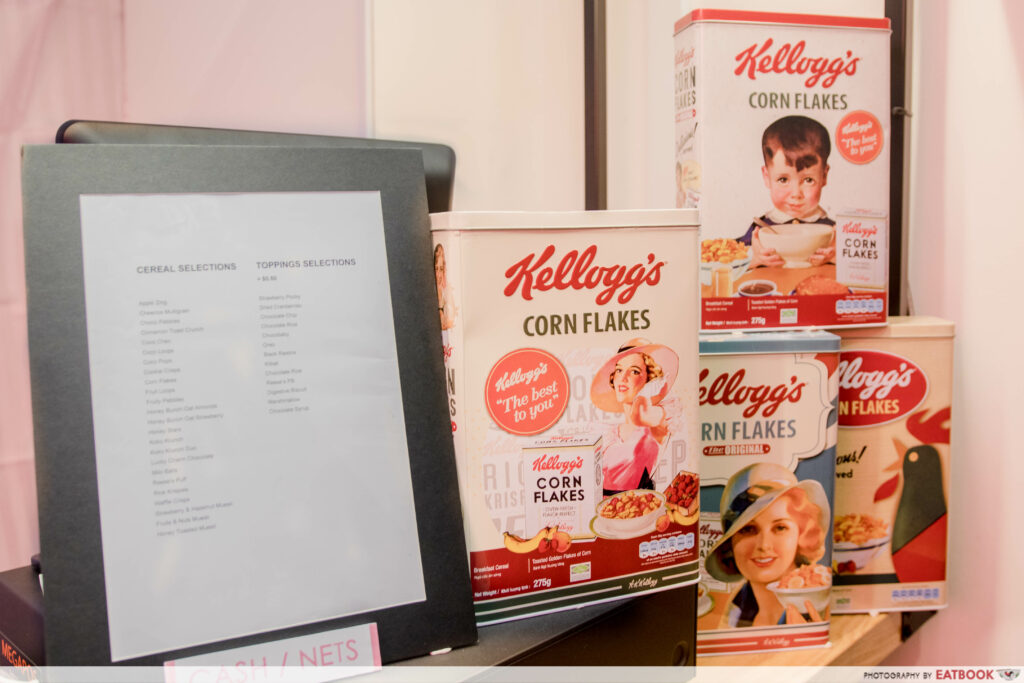 On to the cereal, every set of Cereal & Milk ($4.90) comes with two choices of cereal and a small bottle of milk. While making our way down to Cereal Citizen, we were most excited to see the cereal brands the cafe has to offer. Sadly, we ended up disappointed as they offer a wide variety of cereal but most are regular ones that can be found at supermarkets. Choices of cereal you can expect include Koko Krunch, Honey Stars, Froot Loops, and Reese's Puffs.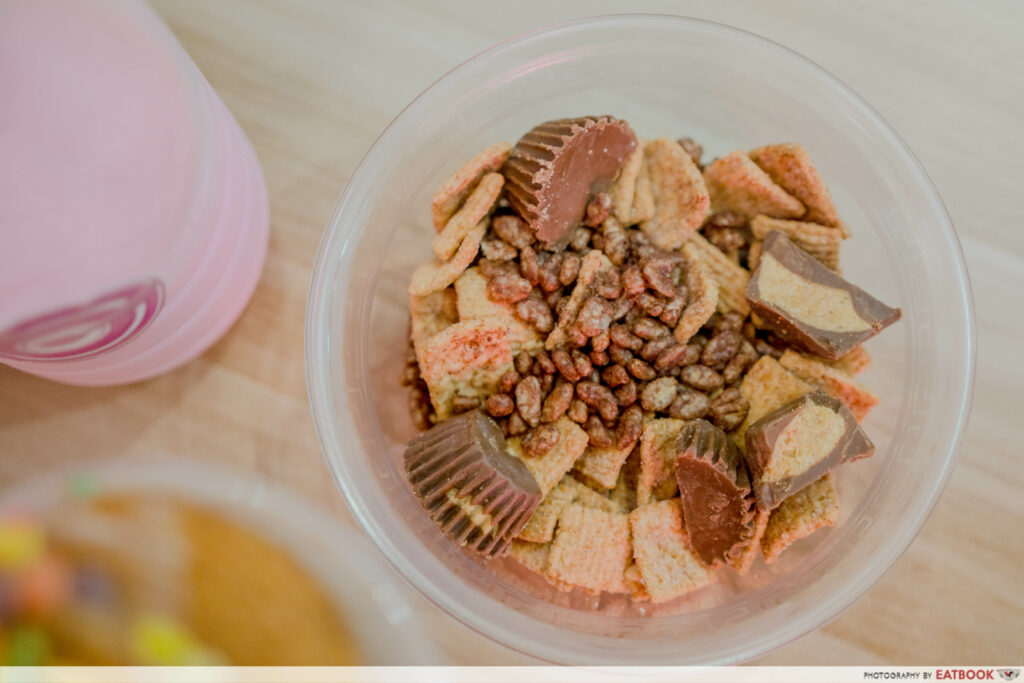 For the first set, we went for a mix of Coco Pops and Cinnamon Toast Crunch. The latter is a seasonal special that costs an additional $0.20. For another $0.50, we also added Reese's Peanut Butter Cups to the bowl. Other toppings include Strawberry Pocky, marshmallows, and digestive biscuits.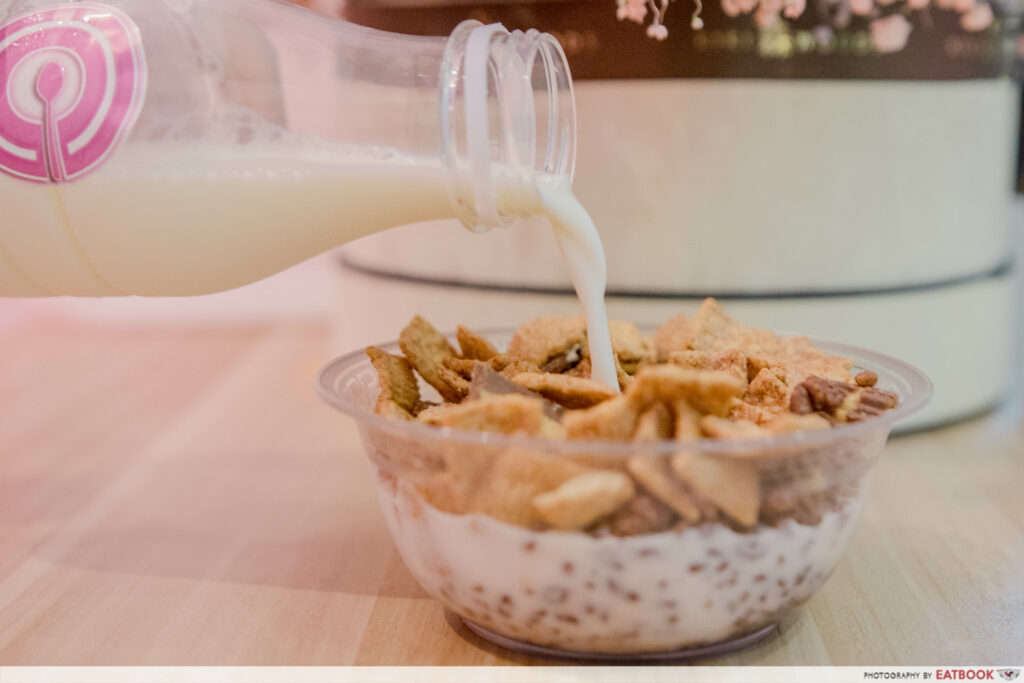 The cold milk that comes with the cereal is served separately in a plastic bottle. They also offer strawberry milk, lactose-free milk, and soy milk. 
Overall, I enjoyed the combination of the two cereals and although it was my first time trying Cinnamon Toast Crunch, I found a liking to it and I'd recommend going for this combination if you are a cinnamon lover!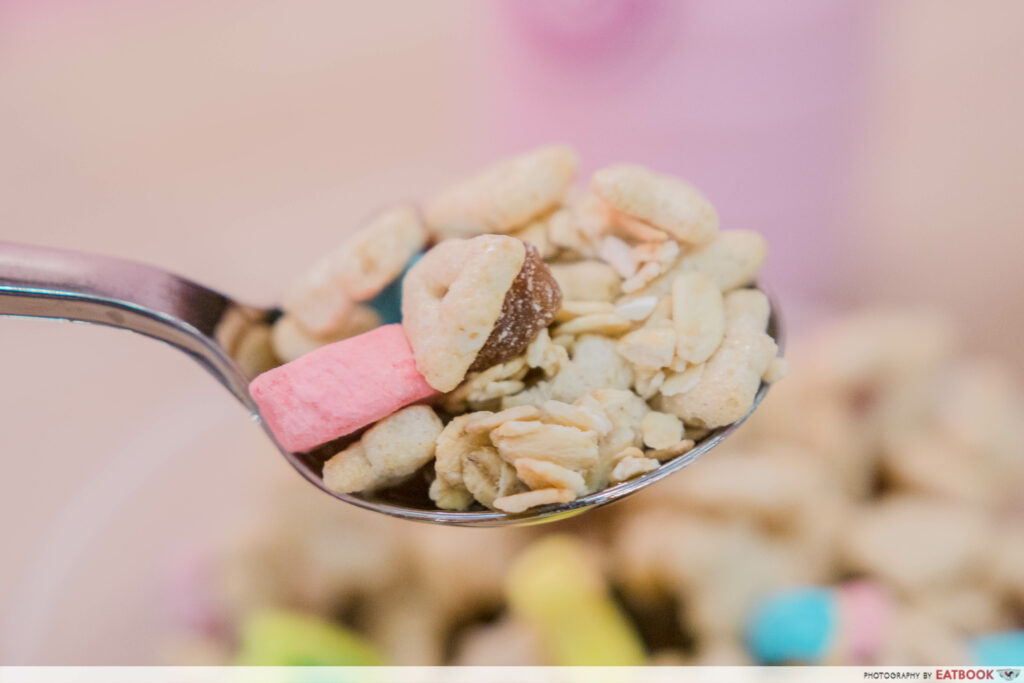 The other set that we had was much more appealing aesthetically. We chose Lucky Charms as well as Honey Toasted Muesli to balance out the sweetness of the former.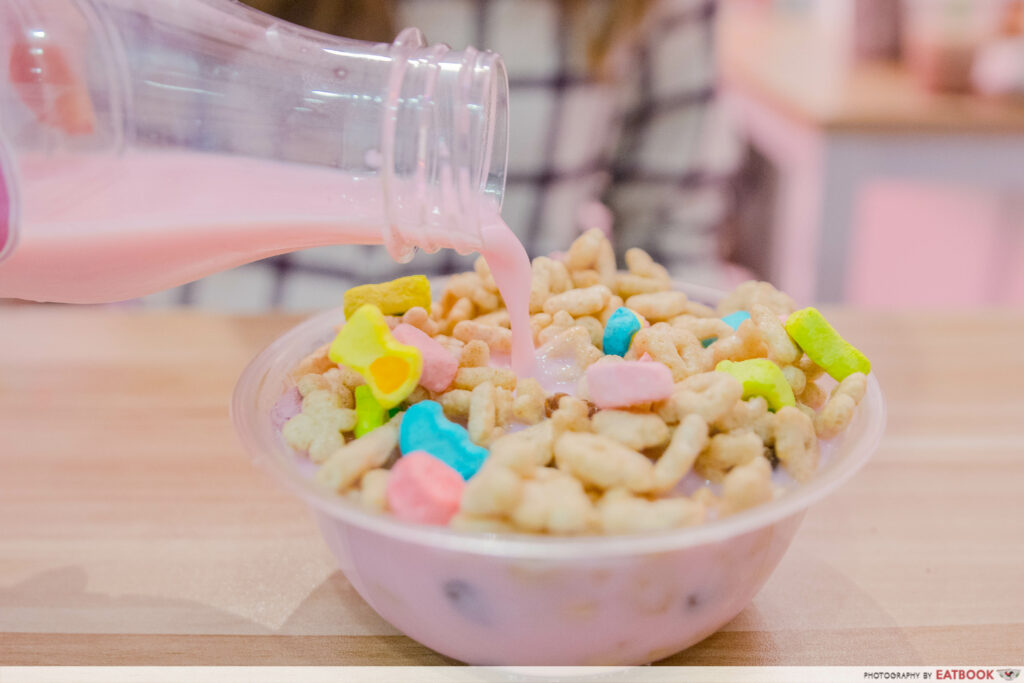 For this, we opted for their strawberry milk. Compared to the first set we had, this combination was too sweet for our liking so unless you are an absolute sucker for all things sweet, I'd recommend sticking to regular milk. Portion-wise, the bowls were small, but they were filled to the brim. One set would be enough to fill you up if you're having it as breakfast or an afternoon snack.
Ambience at Cereal Citizen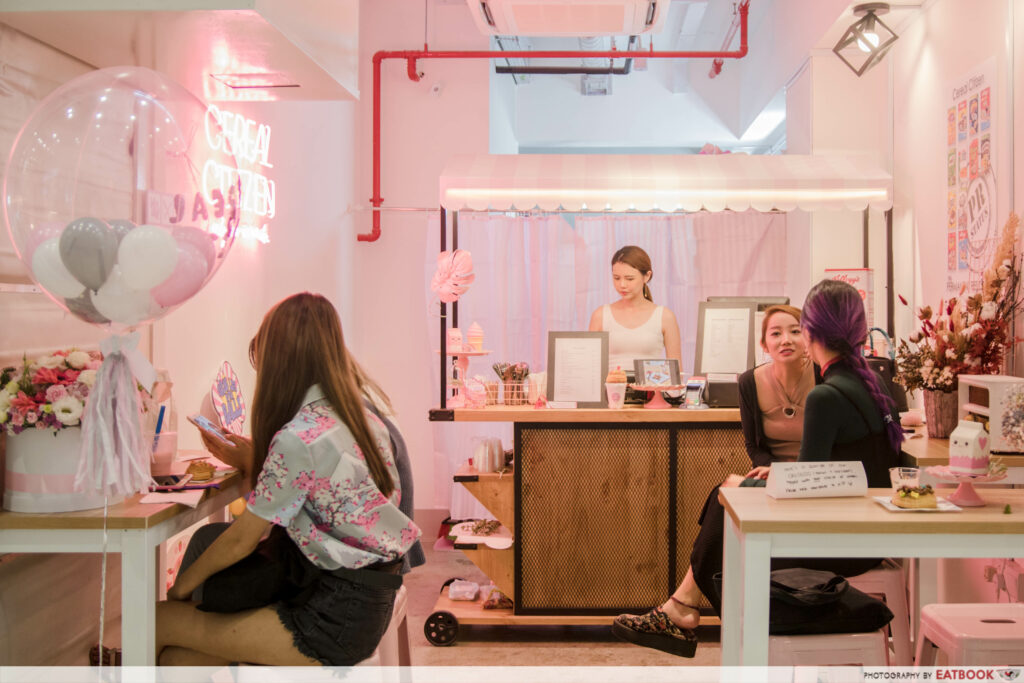 While we were there, the cafe was only about a week old but was already drawing quite a crowd mainly from youngsters. The waiting time was a little long and seats were limited to three bar tables. We were told that their second level is still under renovation and when opened, it'll be ideal for birthday parties and small gatherings.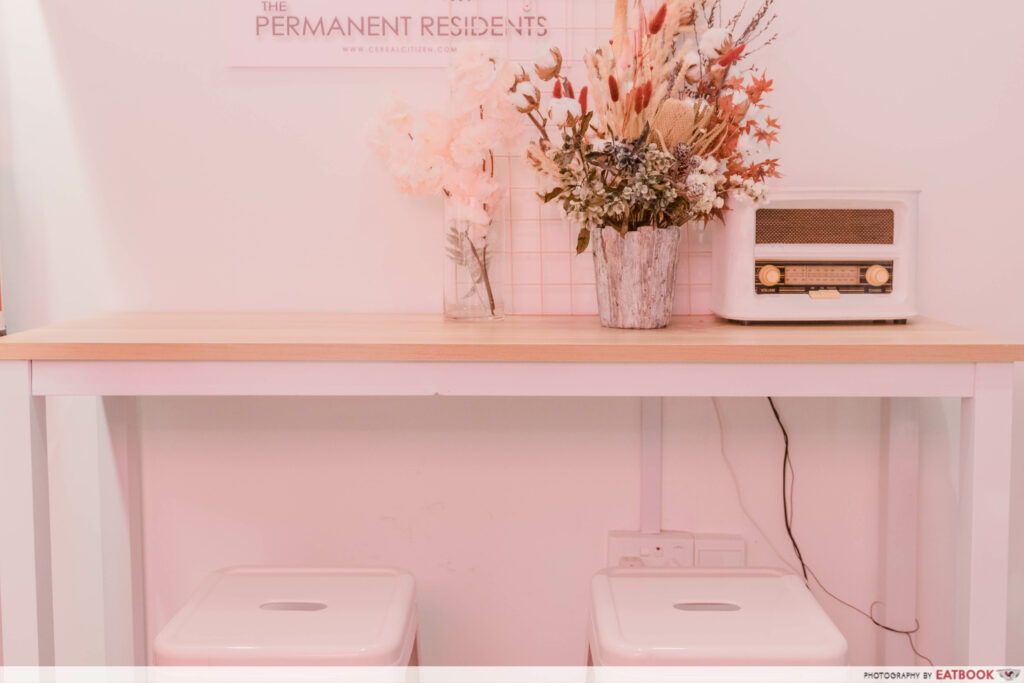 The highlight of this cafe would be its decor. Decked entirely in pastel pink hues, you can expect every corner of this small cafe to be an Insta-worthy spot, from their neon lights to bouquets of dried flowers placed on the tables. 
Cereal Citizen is a five- to 10-minute walk away from Hougang MRT Station and it is found in The Midtown, along with popular names such as Foxhole Cafe and Otoko. While these cafes are easy to spot as they are just outside the mall, you will have to enter the mall to find Cereal Citizen sandwiched between other cafes.
The verdict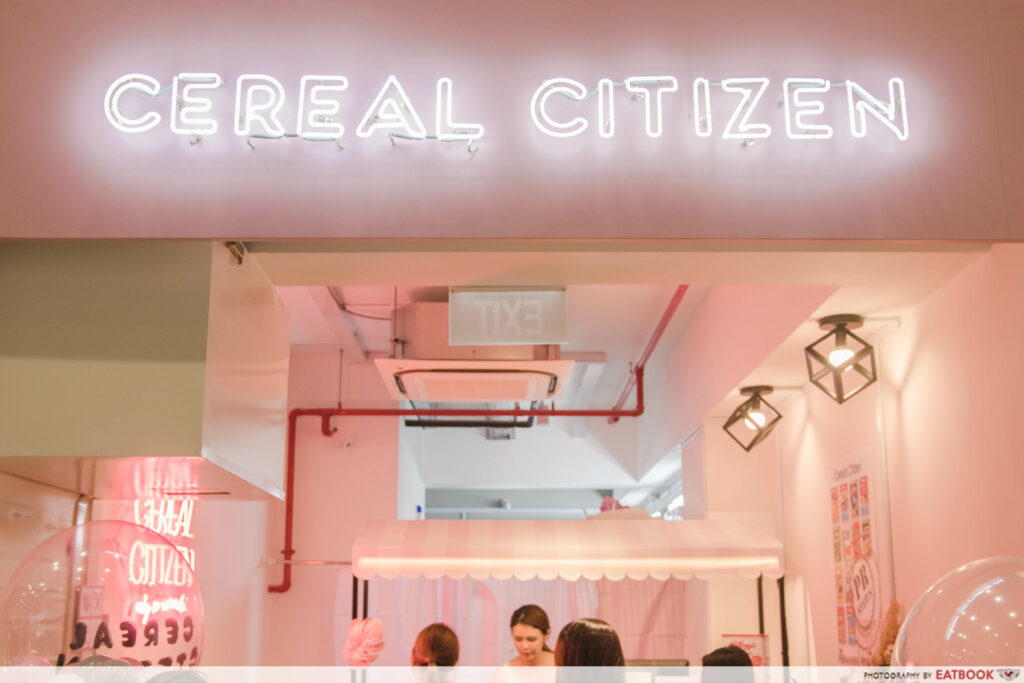 With the good service, beautiful decor, and IG-worthy food, visiting Cereal Citizen was a fun experience but will probably remain a one-off thing for me as I don't see myself paying so much for food that I can easily prepare myself. 
Address: 1187 Upper Serangoon Road, #01-47, The Midtown, Singapore 533971
Opening hours: Thur-Tue 10am to 9pm (last order at 8pm)
Tel: 8575 0786
Website
Cereal Citizen is not a halal-certified cafe.
This is an independent review by Eatbook.sg.
Summary
Pros
– Milkshake and crododo were enjoyable
– Friendly staff
– Beautiful decor
Cons
– Brands of cereal were not unique
– Expensive for such simple food
Recommended Dishes: Crododo + Milkshake ($10.90)
Opening Hours:
Thur-Tue 10am to 9pm (last order at 8pm)
Address: 1187 Upper Serangoon Road, #01-47, The Midtown, Singapore 533971