Otoko lets you customise Japanese curry rice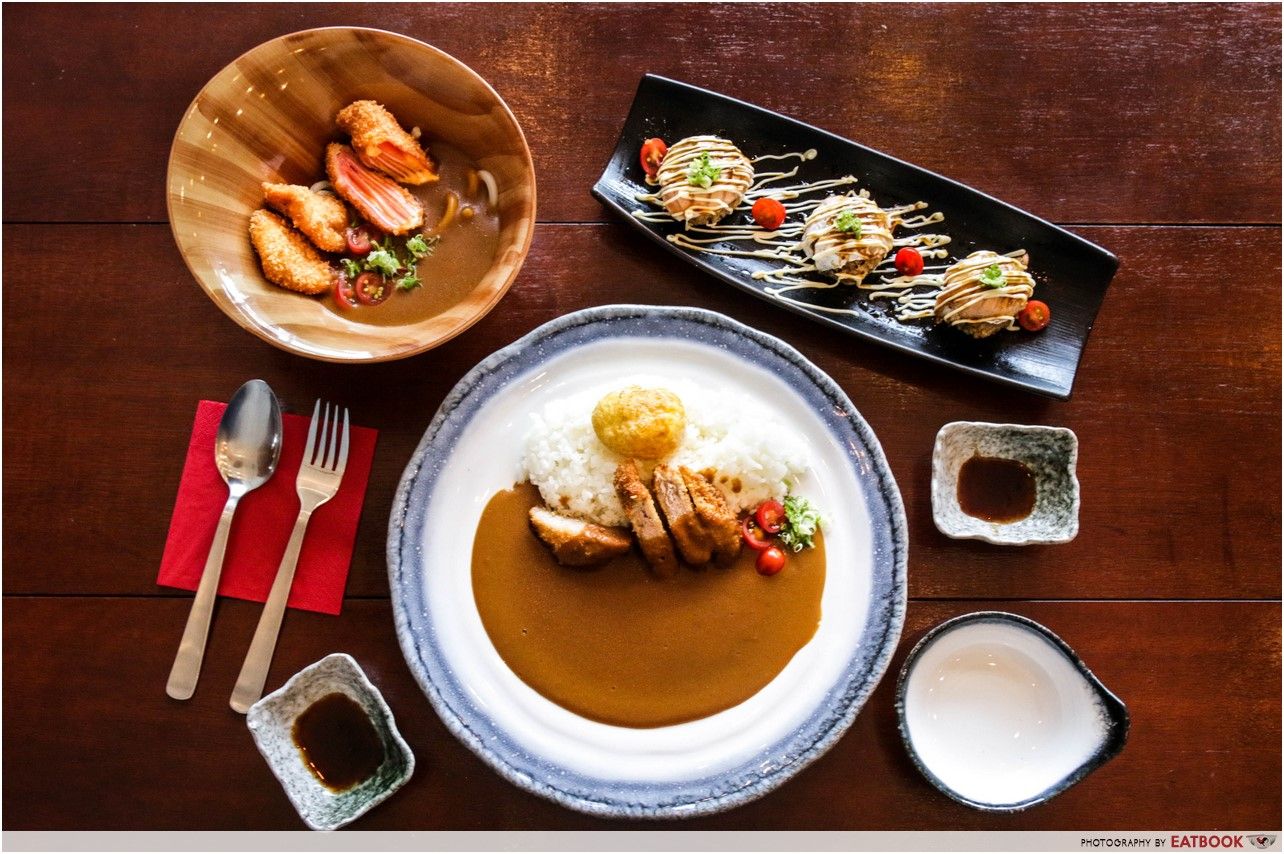 As I live just a few streets away from Hougang, many of my friends who happen to be around the area would often ask me about food places they can visit. Besides kopitiam stalls near my place, I usually only think of the all-too-familiar Lola's Cafe or Punggol Nasi Lemak which are located slightly off Hougang. However, the recent opening of new cafes like Foxhole Cafe and Nunsongyee at Hougang Midtown is making me think twice before saying to my friends, "There's nothing to eat at Hougang."

Otoko is one of the newest eateries opened at The Midtown, and it specialises in customisable Japanese curry rice and udon.
Food at Otoko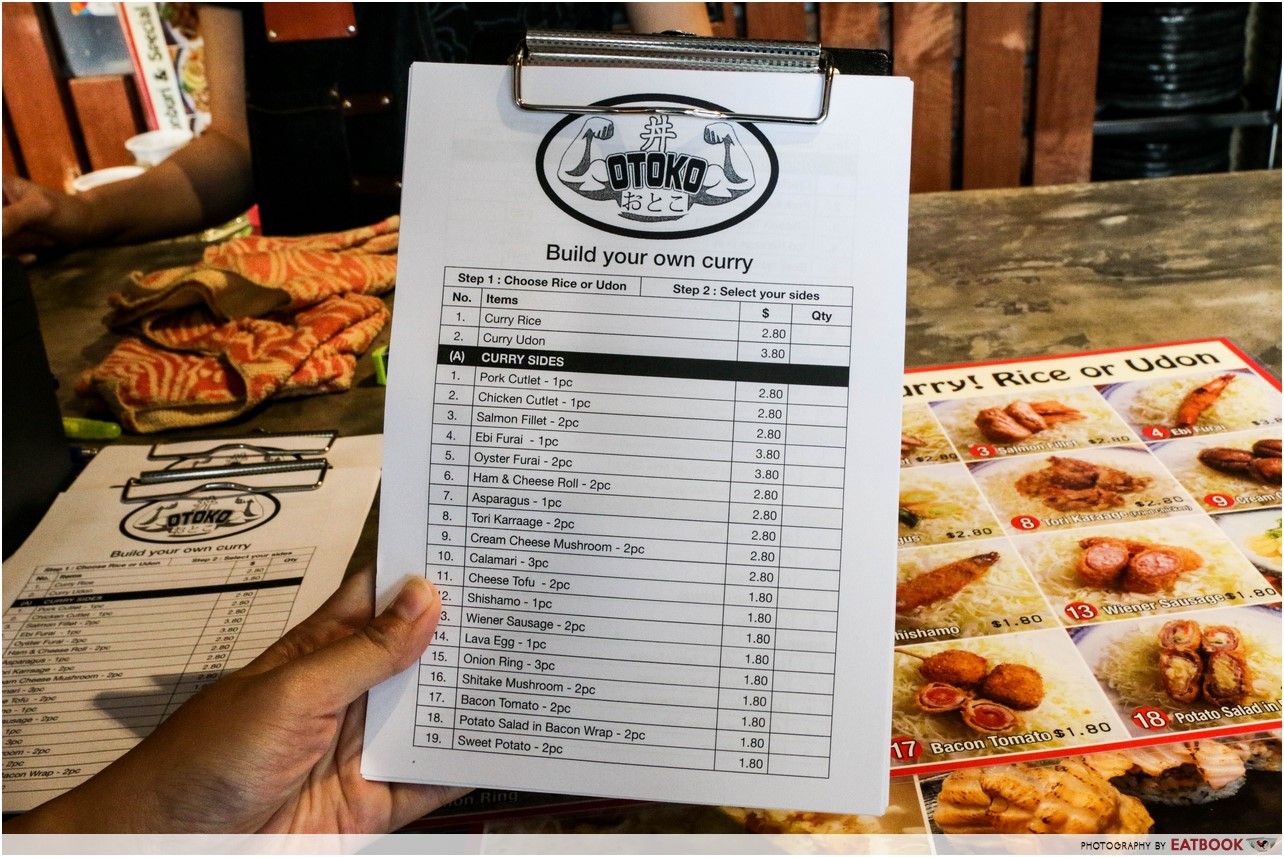 Before I made my way to Otoko, I imagined the place to be a shop with counters where fried items are displayed under light warmers, like those you would find in Goen Udon. Upon reaching the shop however, I was greeted by a friendly staff who handed me a clipboard and pen to order my food. To "build your own curry", you start off by indicating if you would like to have rice or udon, before choosing as many sides as you like to go with your main dish. The prices, in nett, are all stated clearly as well.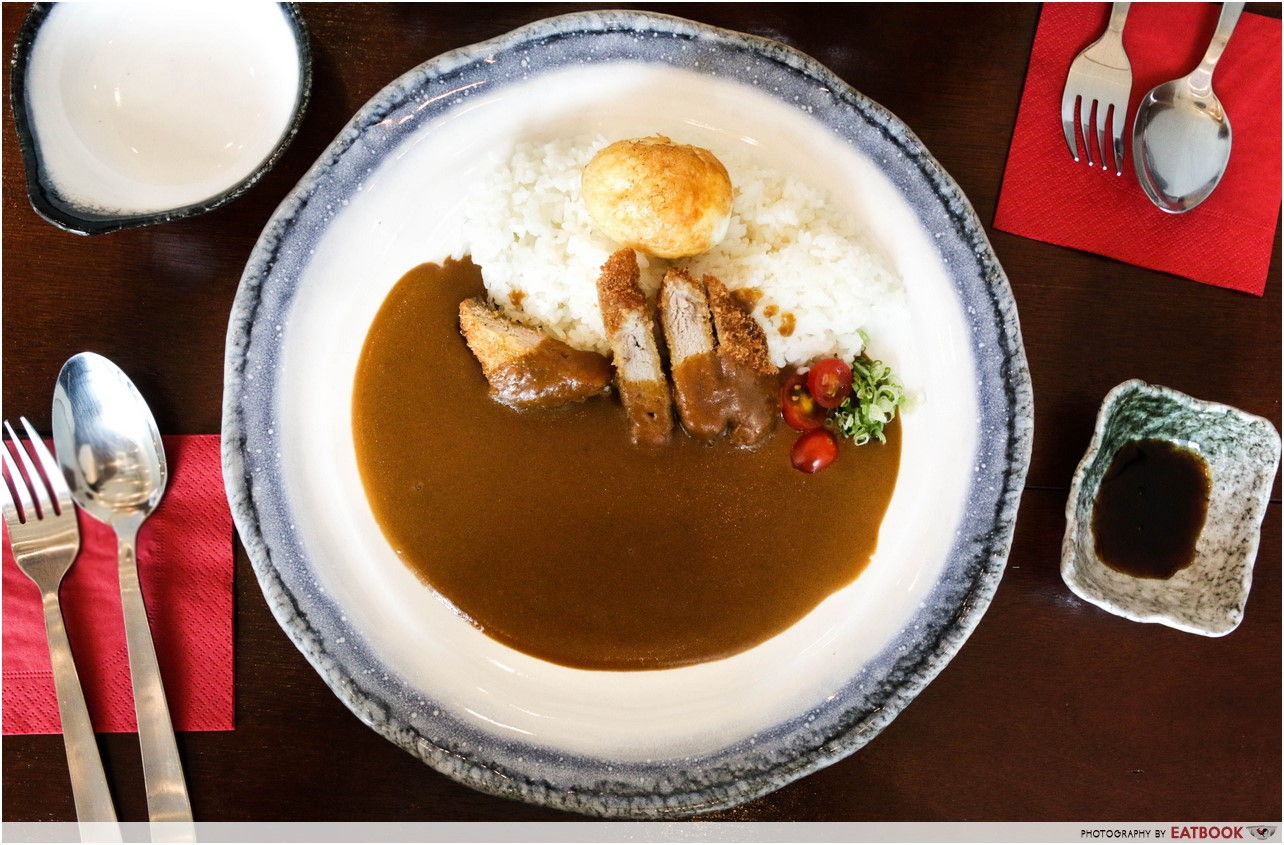 The first item we tried was their Curry Rice ($2.80) topped with Pork Cutlet ($2.80) and Lava Egg ($1.80). At first look, I was disappointed by how small the portion was. While the portion of the Japanese rice was decent enough for one person, the pork cutlet was so small it could only be divided into four bite-sized portions. Although the plate was huge, the thin layer of curry sauce took up most of the space. For the meagre plate of curry rice, I did not think it was worth $7.40.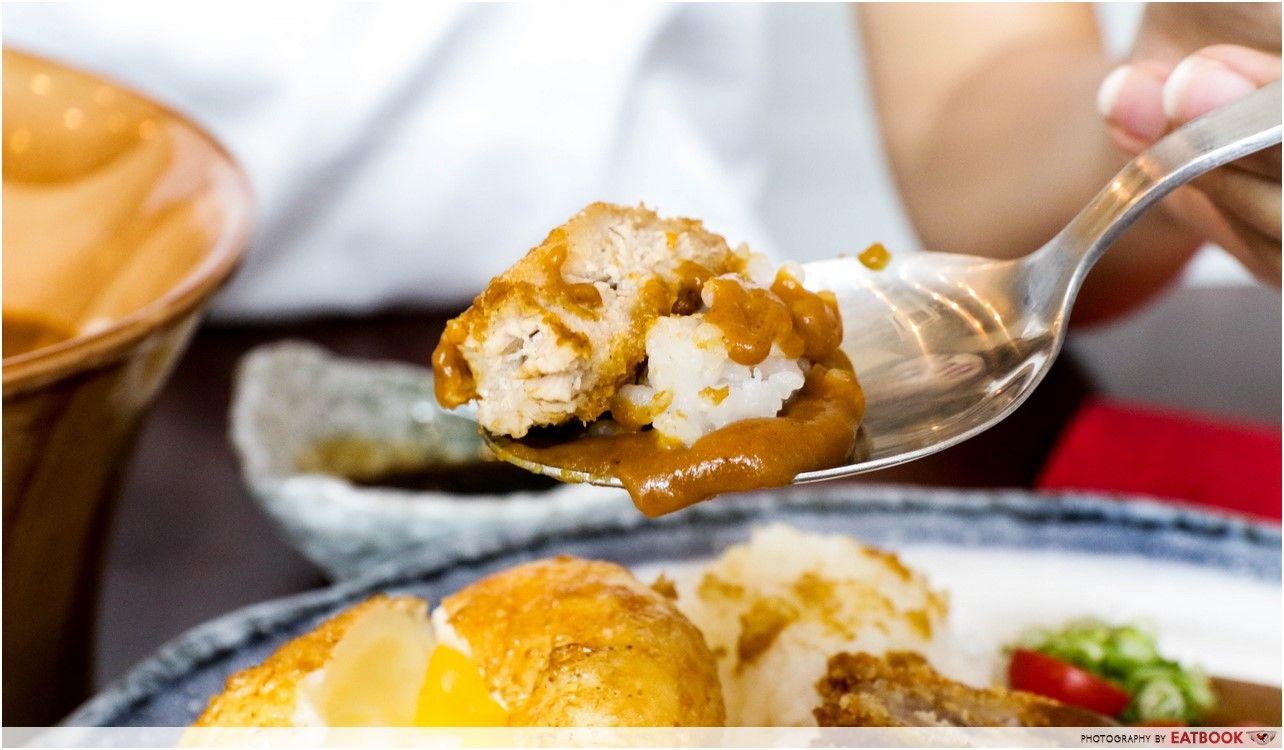 Determined not to let its look cloud my impression of the cafe, I quickly dived into my first spoonful of curry rice with pork cutlet. The first thing that struck me was how intensely flavoured the curry sauce was. Unlike most Japanese curry sauce, Otoko's is a lot spicier and less sweet, giving it a stronger kick which I enjoyed very much.
The pork cutlet however, was tough and tasteless. For me, the katsu plays a huge role in making a good plate of curry rice and the dry, bland and tiny pork cutlet did not make the cut. The saving grace was the complementary teriyaki sauce available on every table. Savoury and slightly sweet, the sauce added flavour and texture to the meat and I found myself drizzling the sauce all over the rice.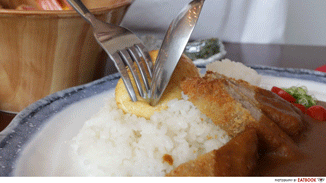 Of all the items we tried, the most memorable one was the explosive lava egg. Diving my spoon and fork into the egg, I had expected the yolk to flow out slowly. But for this, both the egg white and yolk burst from the breaded outer layer, much to my excitement. Though the egg was unflavoured, I liked that its runniness gave an overall smoother texture to the dish.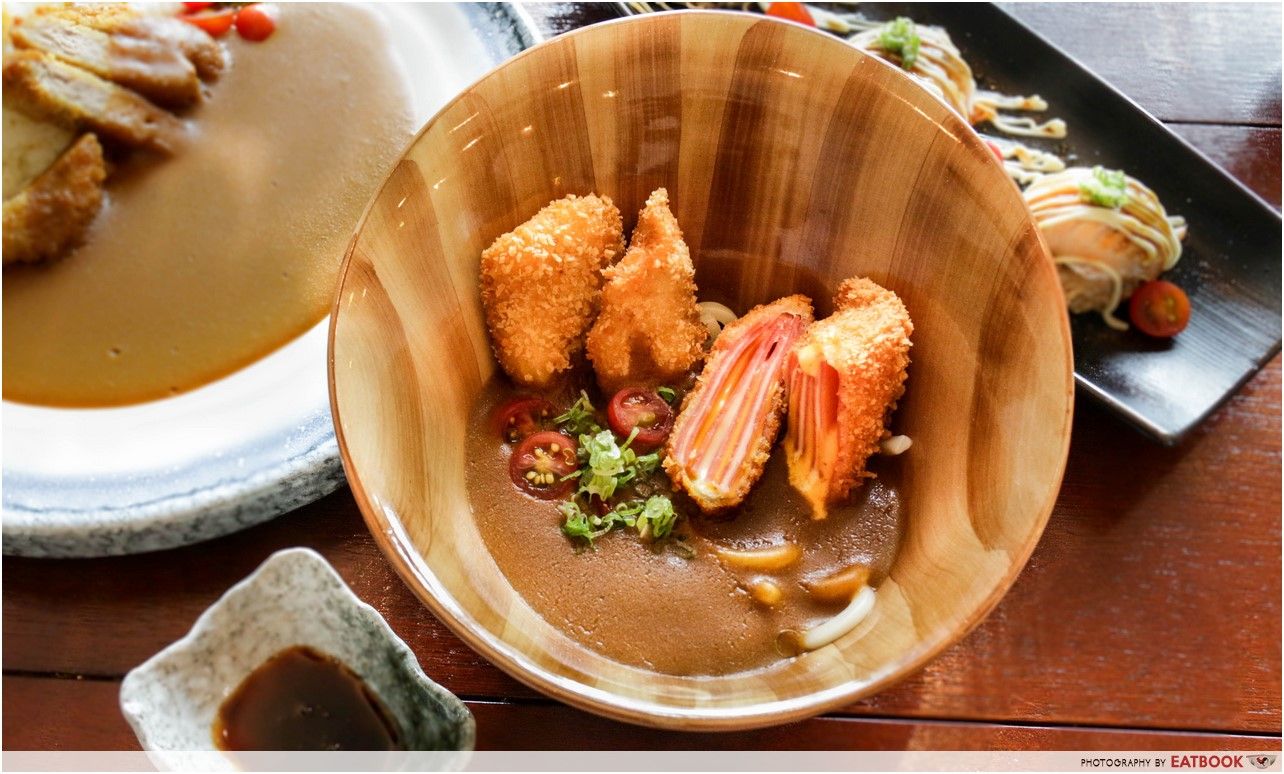 The second main that we tried was Curry Udon ($3.80) with Salmon Fillet ($2.80) and Ham & Cheese Roll ($2.80). Served in a deep bowl, the udon was covered in curry sauce, topped with cherry tomatoes, spring onions, and the fried sides that we ordered.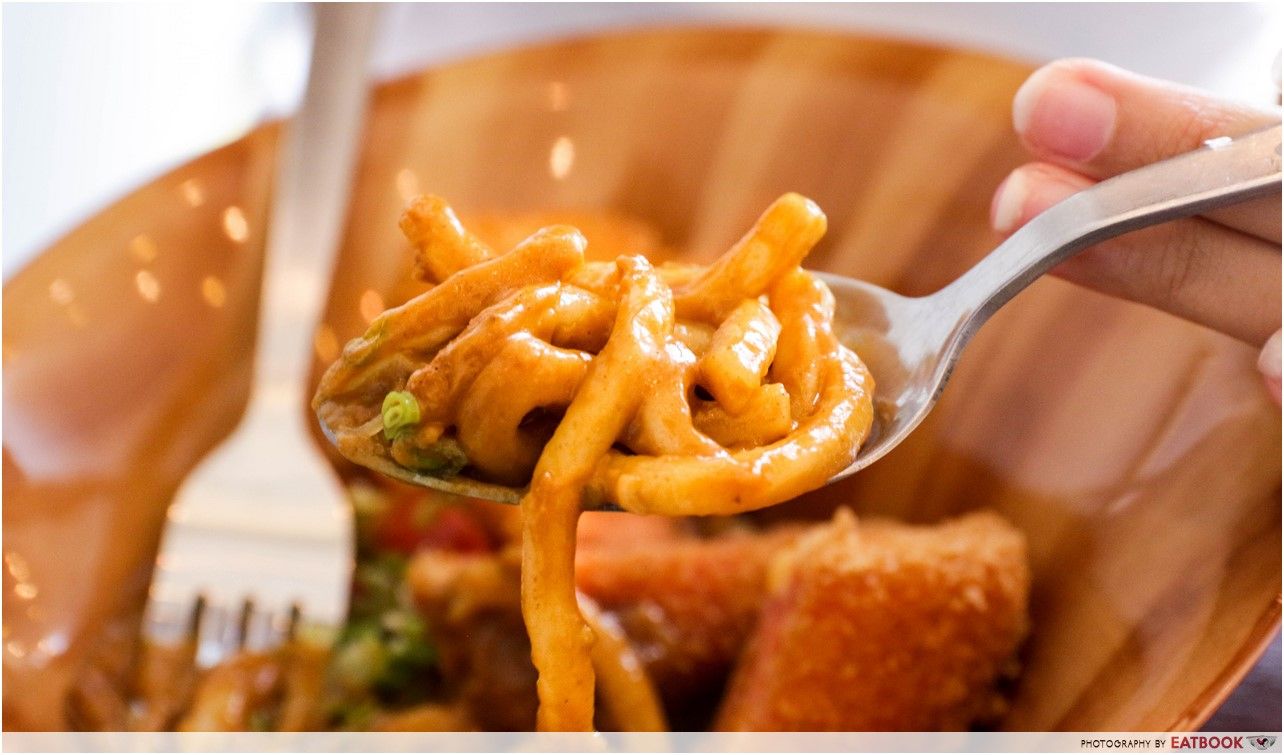 When it comes to udon, I usually opt for the soup version as I find the thick noodles difficult to swallow when eaten dry. The curry udon at Otoko took me by surprise. With a right amount of curry coating the udon, each mouthful was tasty and juicy. The udon was also cooked to the right texture, with a slight springiness in each bite. When nearing the bottom of the bowl, however, I wished that the dish came with more curry sauce.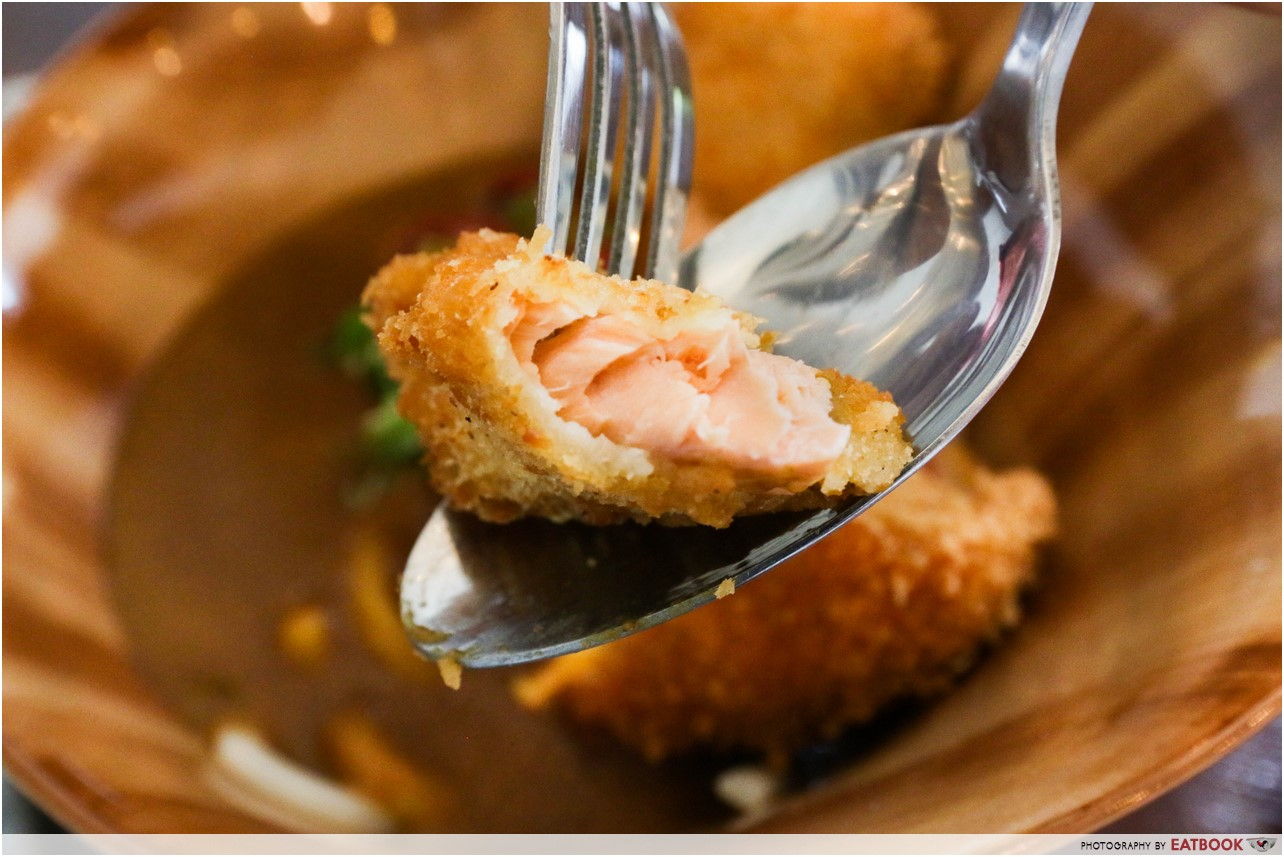 Moving on to the sides, I was impressed by how the salmon fillet and ham & cheese roll remained crispy and intact, even after sitting in the curry sauce for about 10 minutes when I was devouring the curry rice. Unlike many fish fillets that are soft and greasy, the salmon fillet was firm. While I liked the fact that the salmon fillet was not greasy at all, its overall texture was dry. Just like the ham & cheese roll and pork cutlet, the fillet only tasted good with a generous dip of teriyaki sauce.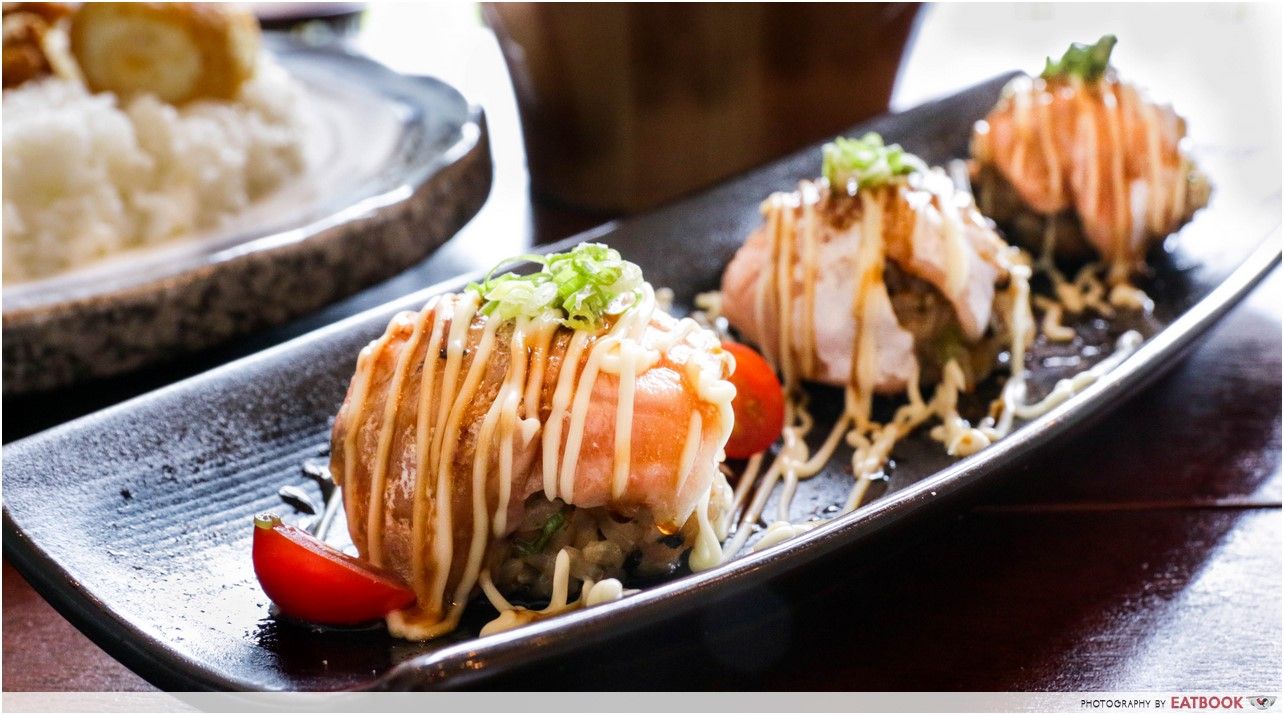 Looking for something to share, we also ordered Salmon Aburi Onigiri ($10.80). Served in three huge rice balls with a layer of torched salmon belly, this was my favourite among the three dishes we had. With the generous amount of teriyaki sauce and mayonnaise drizzled on top, the onigiri was a combination of sweet and savoury flavours.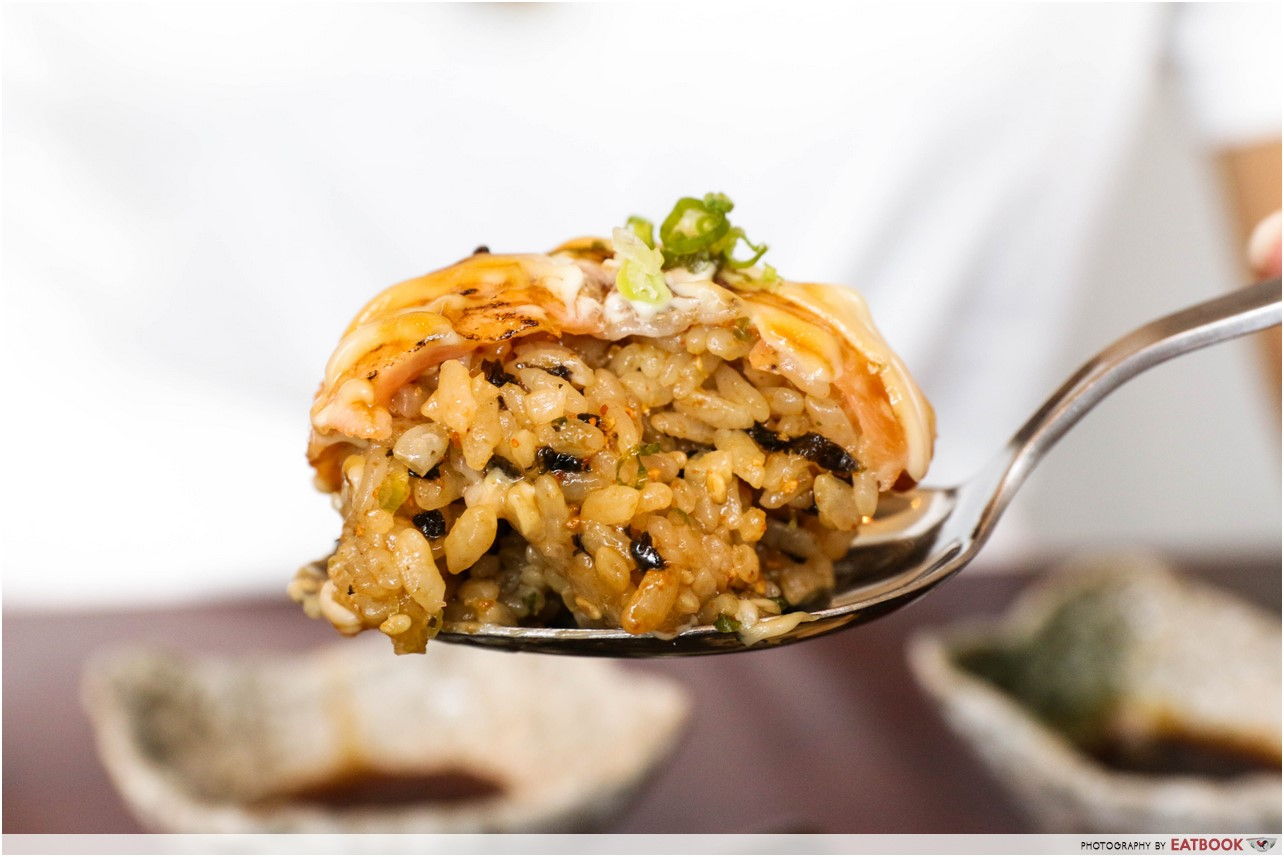 Eating this reminded me of the Salmon Aburi I had at The Sushi Bar, but with an even more intense flavour profile given by soy sauce-coated rice that was mixed with sesame seeds and seaweed. Having a low tolerance for spicy food, I felt that the sweet and juicy onigiri gave me a good break from the spiciness of the curry.
Ambience at Otoko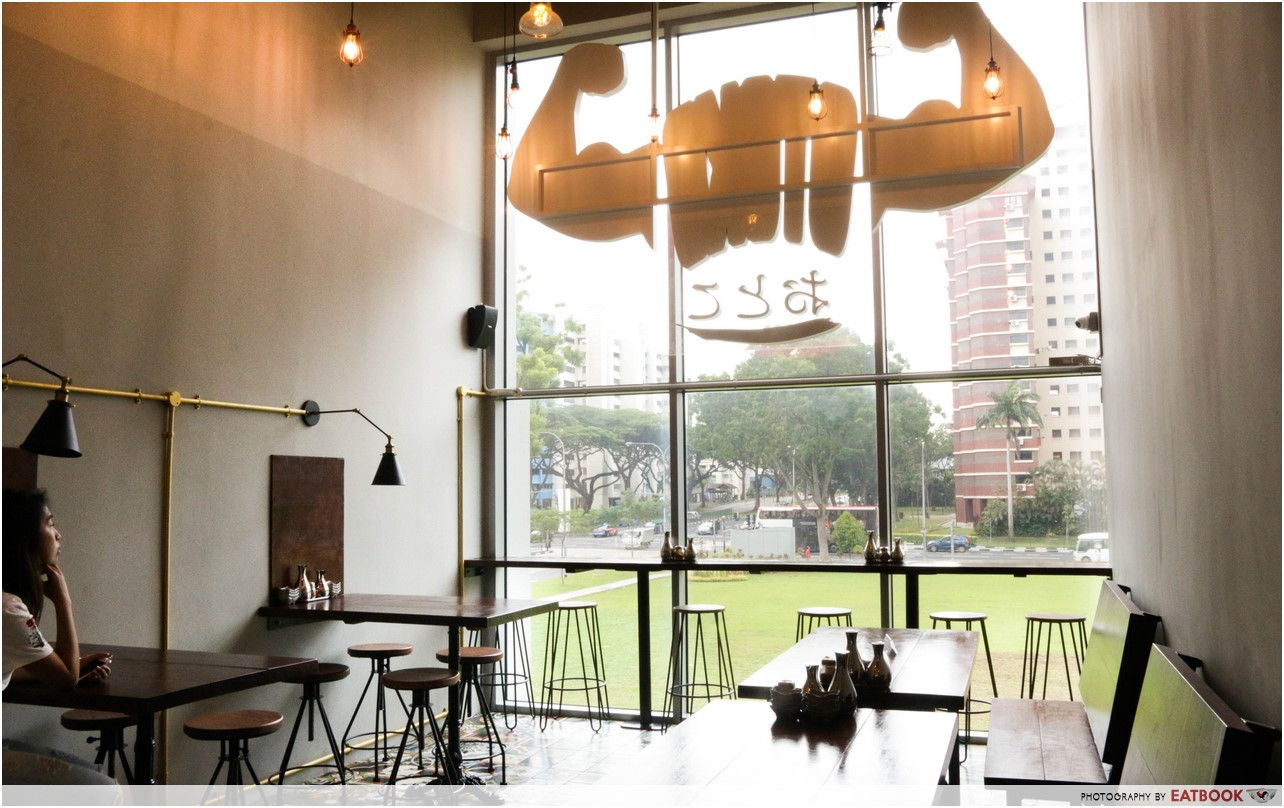 Found at The MidTown, Otoko is about a five-minute walk away from Hougang MRT Station. Though we were there during lunch time, the area was quiet and besides a few other cafes, many of the spaces in the building were vacant.
In the cafe, the dining area is only found on the second floor and had limited seats. Overlooking a huge field, the high-ceilinged interior was minimally decorated and reminded me of the cosy cafes I visited in Japan. For those looking for a quiet and relaxing place to dine at, Otoko would be the place I recommend.
The verdict
Although I live near Hougang, I probably will not return to Otoko unless a friend insists so. While I enjoyed their spicy and sweet curry sauce and was impressed by their Salmon Aburi Onigiri, their fried sides were disappointingly small in size and lacking in flavour. For delicious curry rice in town, check out Goen Udon. Alternatively, check out Tengawa Hokkaido White Curry for their special white curry rice!
Address: 1187 Upper Serangoon Road, #01-20, The Midtown Residences, Singapore 533971
Opening hours: Wed-Mon 11:30am to 10pm
Website
Otoko is not a halal restaurant.
This is an independent review by Eatbook.sg.
Summary
Pros
– Nice ambience
– Wide variety of food
– Free-flow teriyaki and tonkatsu sauce
Cons
– Food was average
– Small portions
Operating Hours:
Wed-Mon 11:30am to 10pm
Address: 1187 Upper Serangoon Road, #01-20, The Midtown Residences, Singapore 533971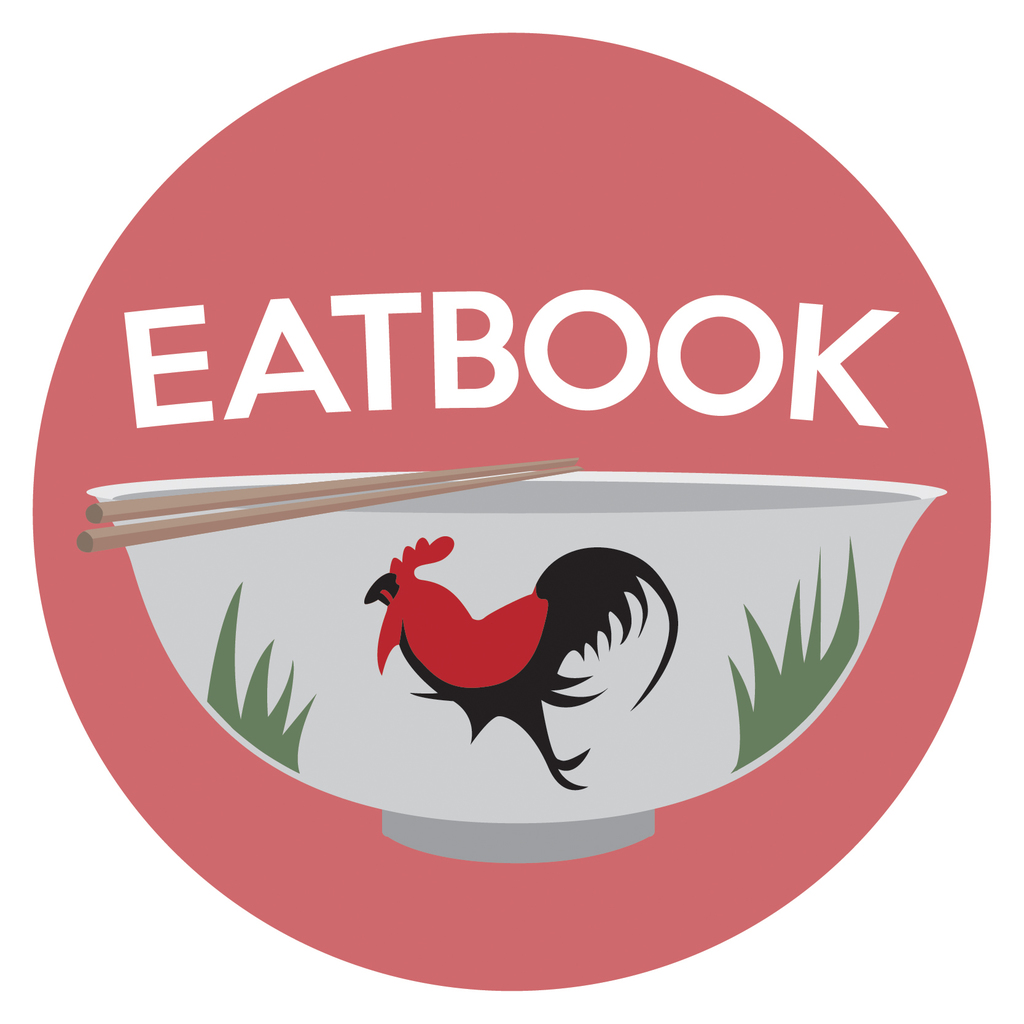 Drop us your email so you won't miss the latest news.