Tengawa Hokkaido White Curry serves Japanese white curry rice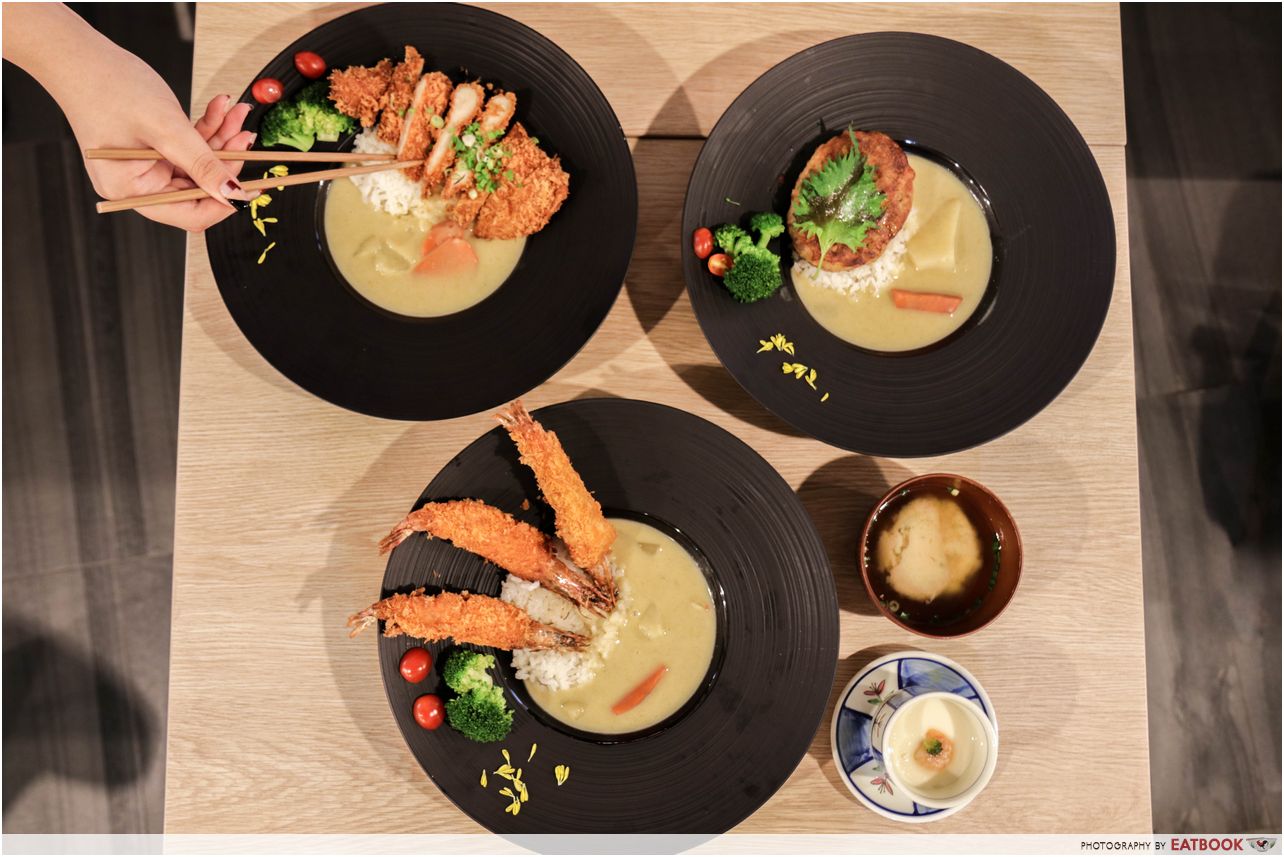 I've always had a soft spot for white rice, despite all the negative news surrounding it now, perhaps because I grew up eating it every day. One rice dish that has wriggled into a permanent spot in my heart is a plate of Japanese curry rice I had in Tokyo a few years ago. While that remains my favourite, the curry rice I had at Tengawa Hokkaido White Curry comes close to claiming the top spot.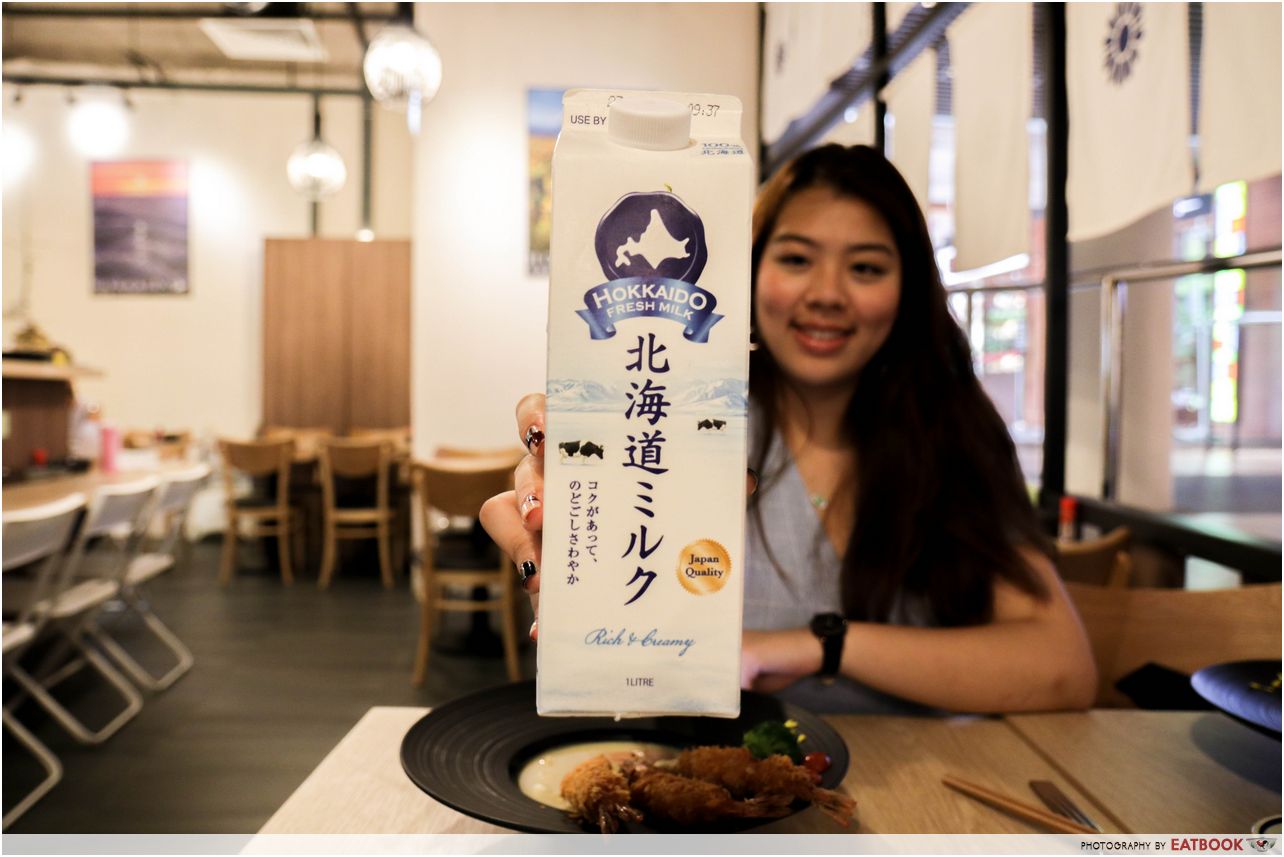 Tengawa Hokkaido White Curry serves Japanese curry made with Hokkaido milk. This gives the curry a pale appearance as well as a smoother and creamier texture. Along with the fluffy rice it comes with, this unique dish has definitely got my attention.
Food at Tengawa Hokkaido White Curry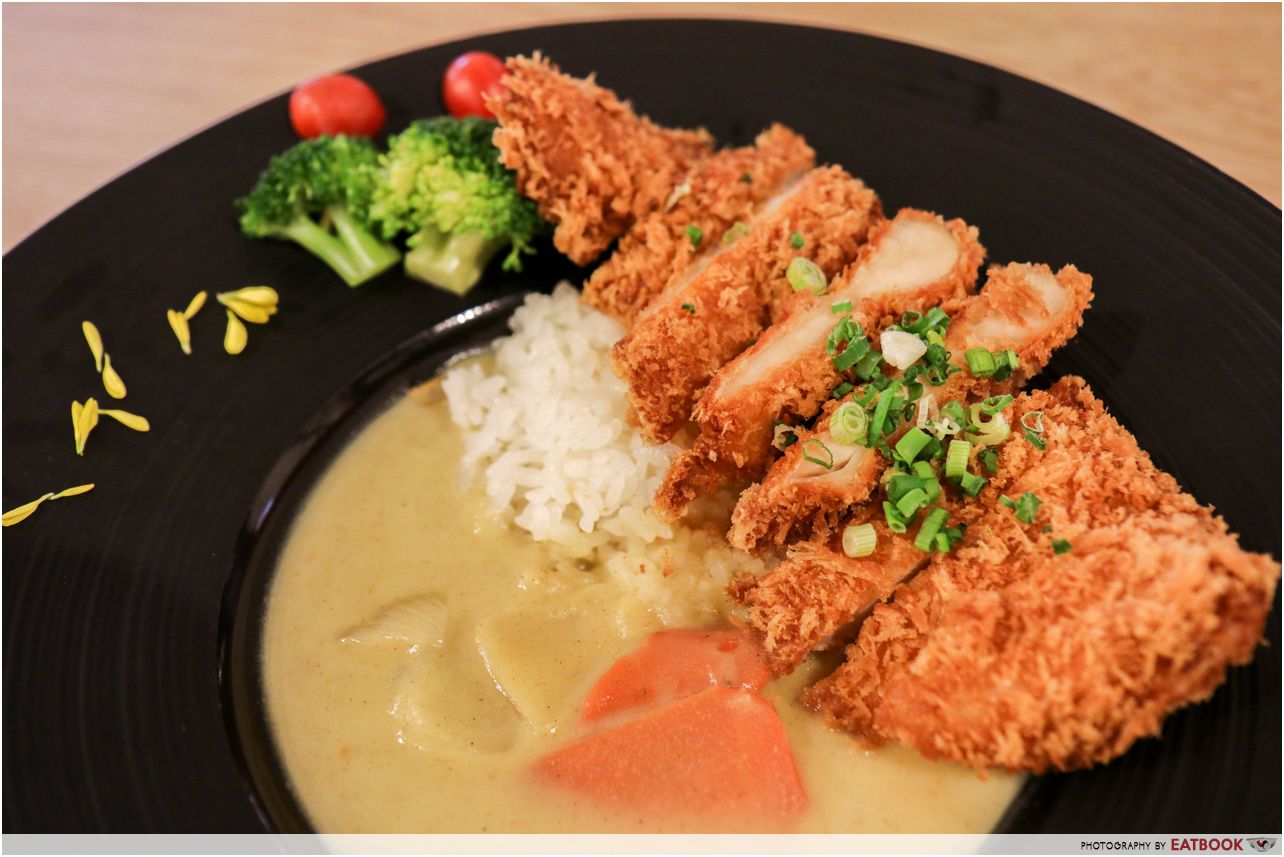 Tengawa Hokkaido White Curry has a simple menu with just three different white curry sets. First, I had Crunchy Chicken Katsu White Curry Set ($15.80++). Upon first glance, the dish was plated beautifully. It was served on a circular black plate that resembled half a UFO. The chicken katsu was laid out neatly, and topped with spring onions. Pieces of broccoli, cherry tomatoes and edible flower petals also came with the dish.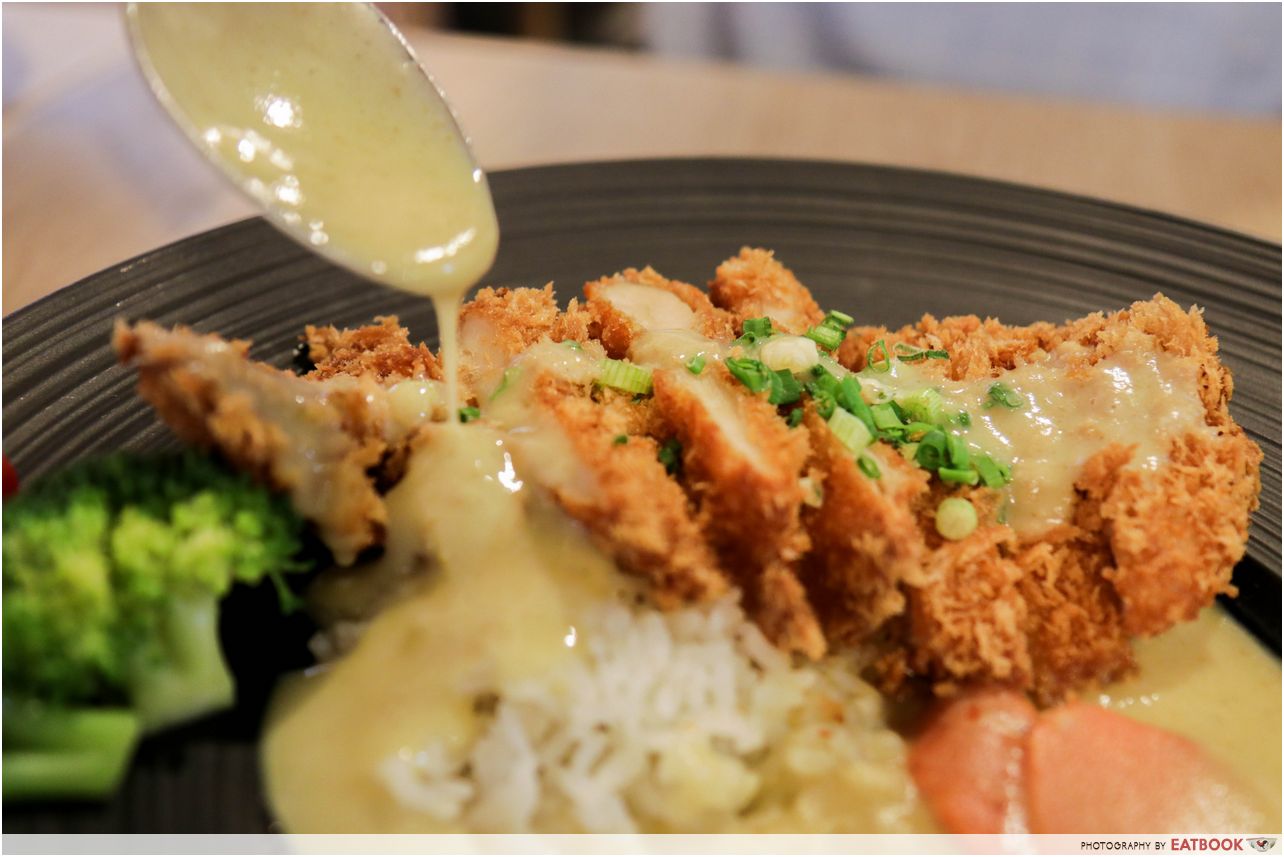 Compared to typical Japanese curry, the white curry had a milder and milkier flavour. The chicken katsu had a crispy coating of breadcrumbs and a succulent centre. It would be easy to enjoy the katsu on its own, but the velvety white curry definitely made it better. The best part about this place is that you can request for more curry for free.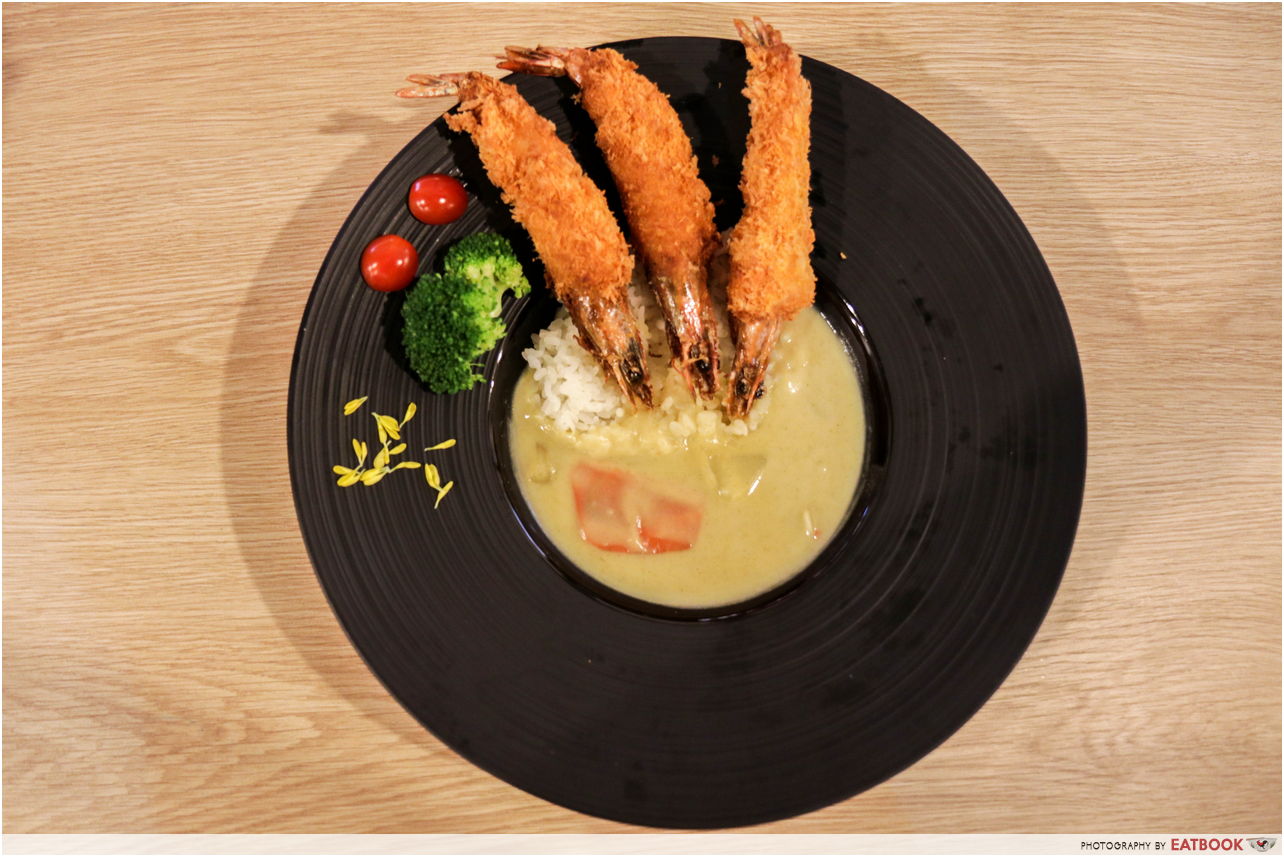 Not a fan of prawns, I wasn't sure if I wanted to try their Premium Ebi Fry White Curry Set ($16.80++). But I gave it a chance when the owner, who came to talk to us, convinced me by saying that their prawns are guaranteed fresh. He continued explaining how only the heads of fresh prawns are able to remain intact even after the process of deep frying.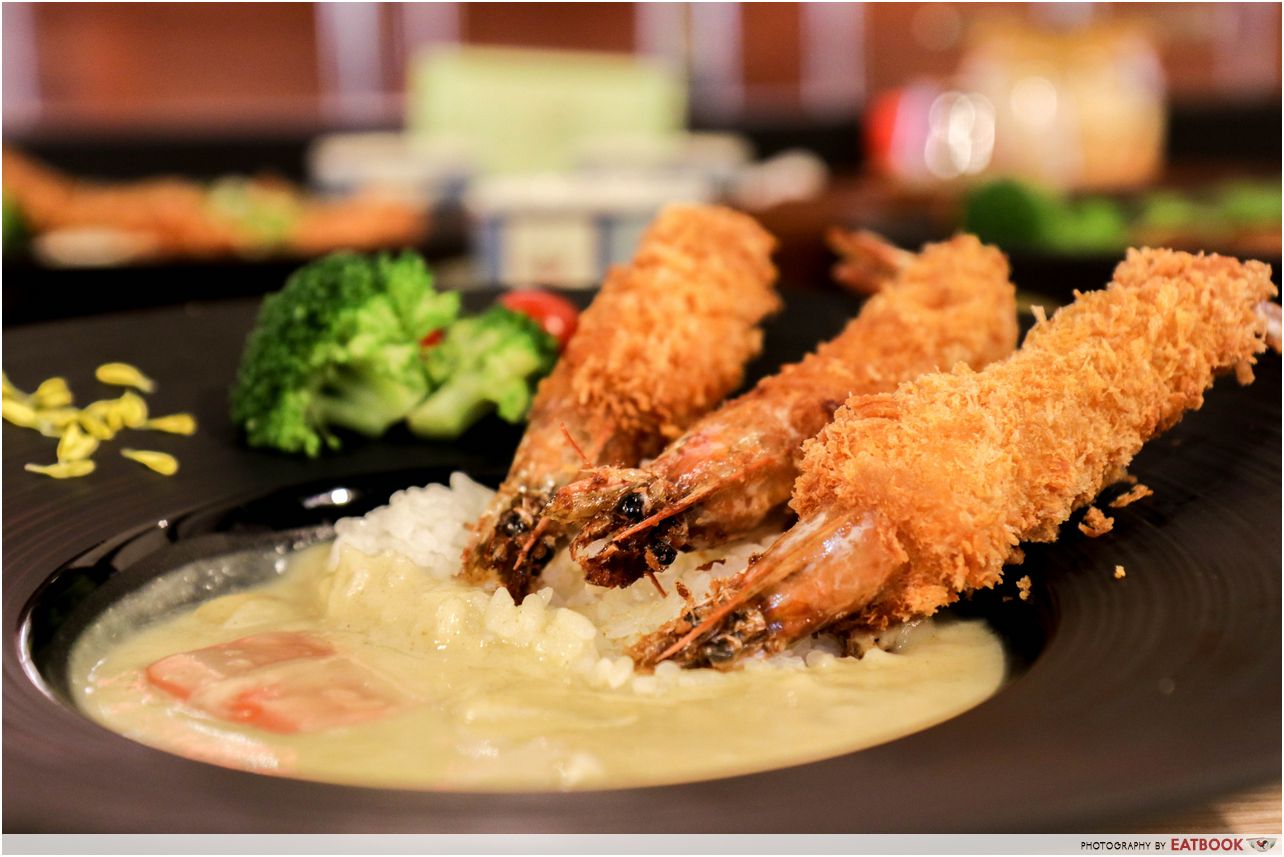 The prawns were huge and indeed fresh. Fleshy and crunchy, these crustaceans were coated with a good ratio of egg to seasoned breadcrumbs.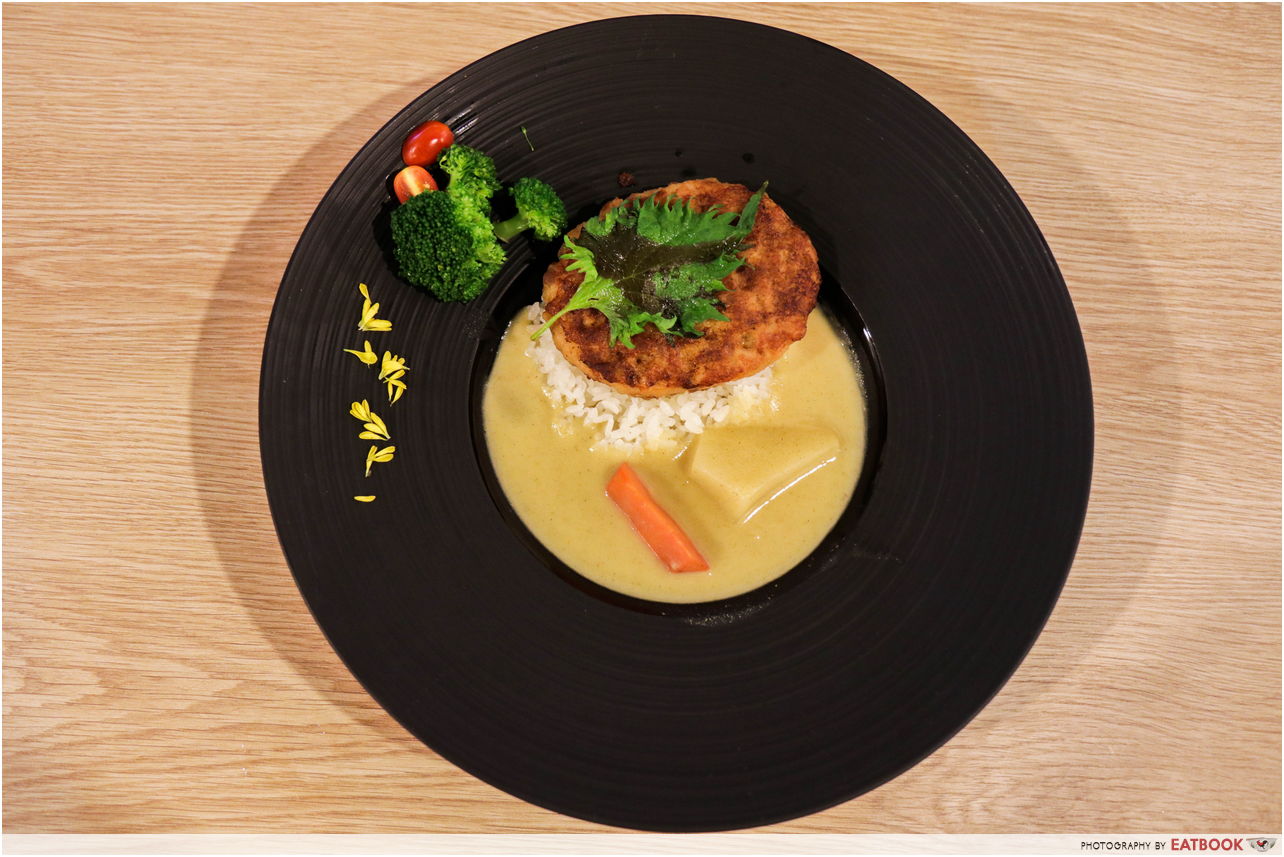 Ending our meal with some beef, Juicy Japanese Style Hamburg White Curry Set ($15.80++) is a must-try. The patty was seasoned well, and was lightly pan-fried to create crispy edges that complemented its soft and juicy inside.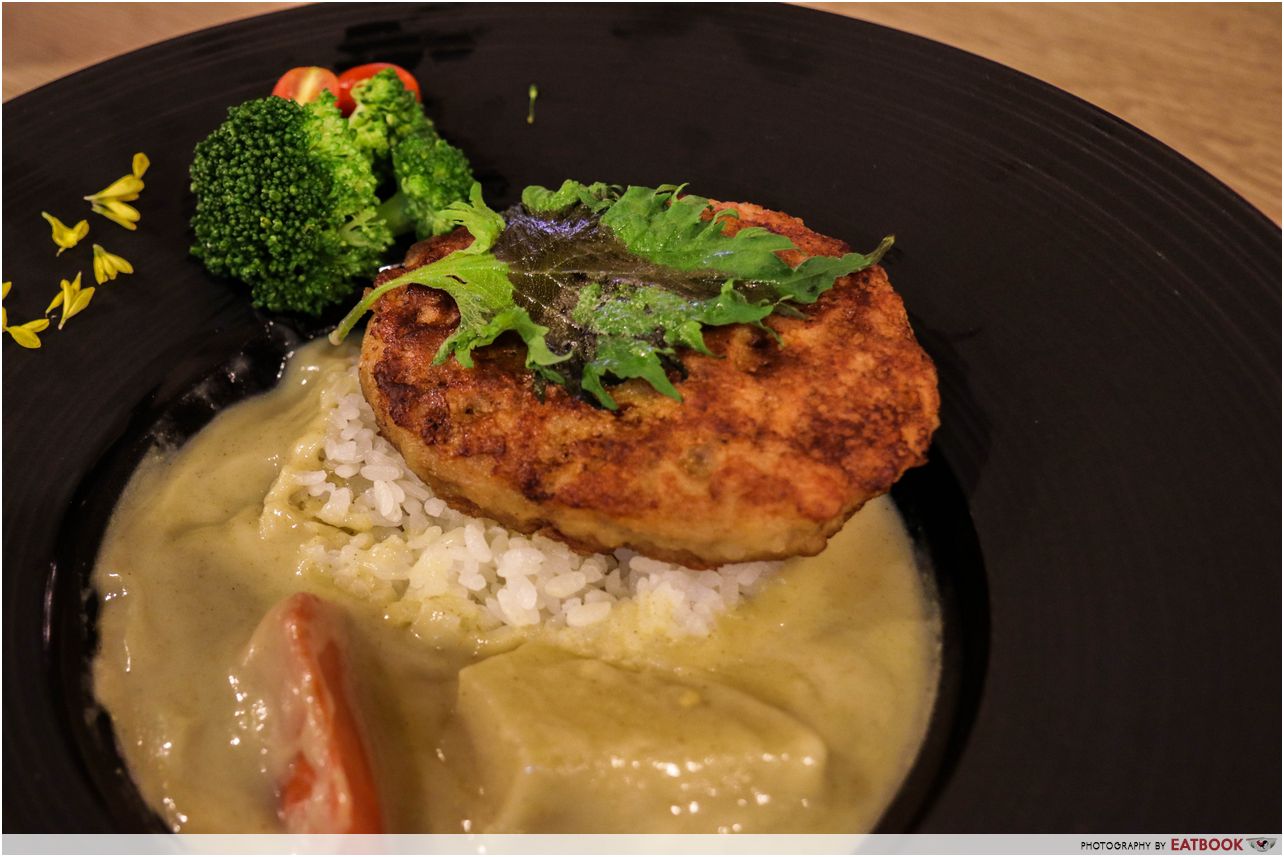 This dish is best enjoyed with a drizzle of warm curry, which enhanced the flavour of the seasoned beef patty with a creamy aftertaste.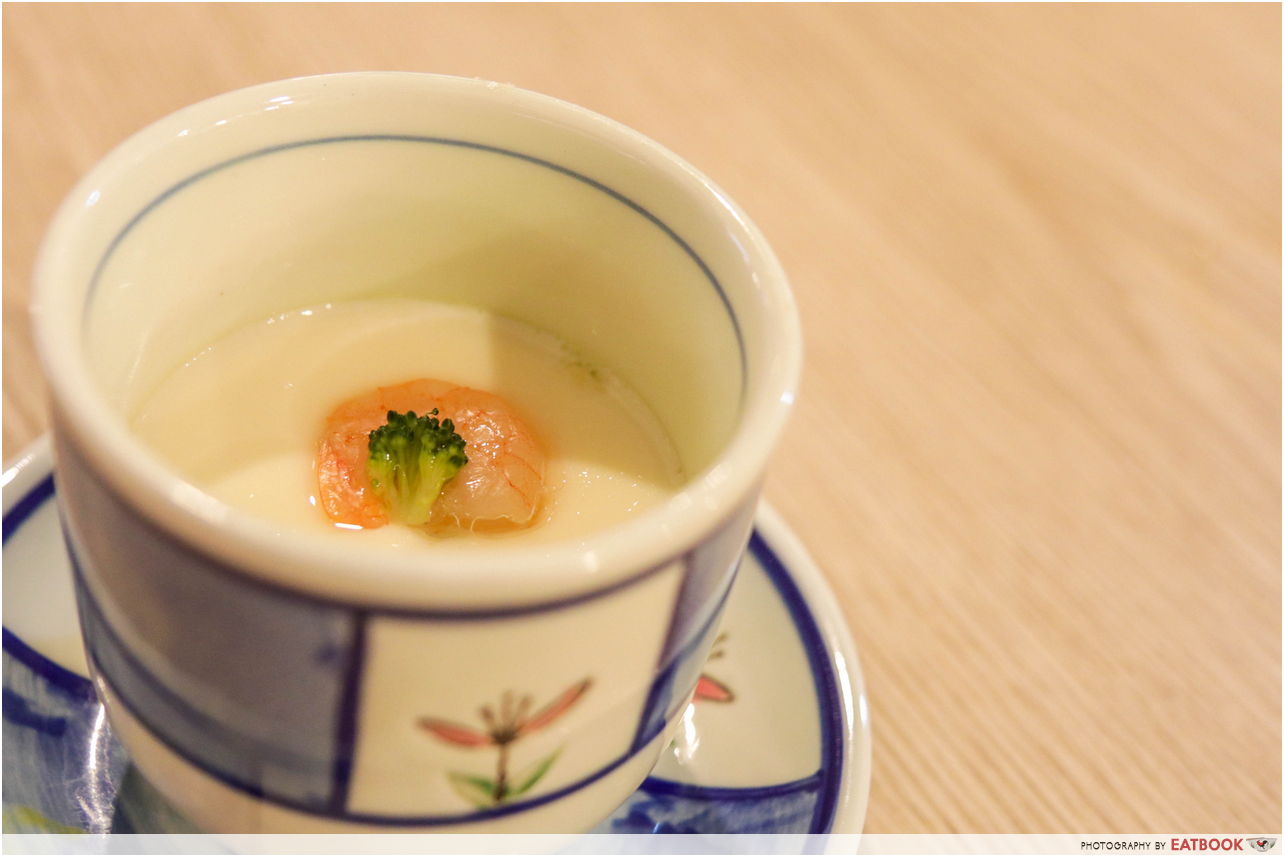 Each set comes with two sides: Truffle Oil Chawanmushi and Miso Soup. I was afraid the chawanmushi might be a truffle overkill, but my first bite surprised me. The taste of truffle wasn't overpowering and added a nice touch to the egg. The chawanmushi was garnished with a baby prawn and a tiny piece of broccoli.
Tip: Have your chawanmushi while it's hot. I left mine aside for too long and when I got back to it, the egg had an odd fishy smell. When I told the owner this, he brought it back to the kitchen immediately and got us another cup of steaming hot chawanmushi.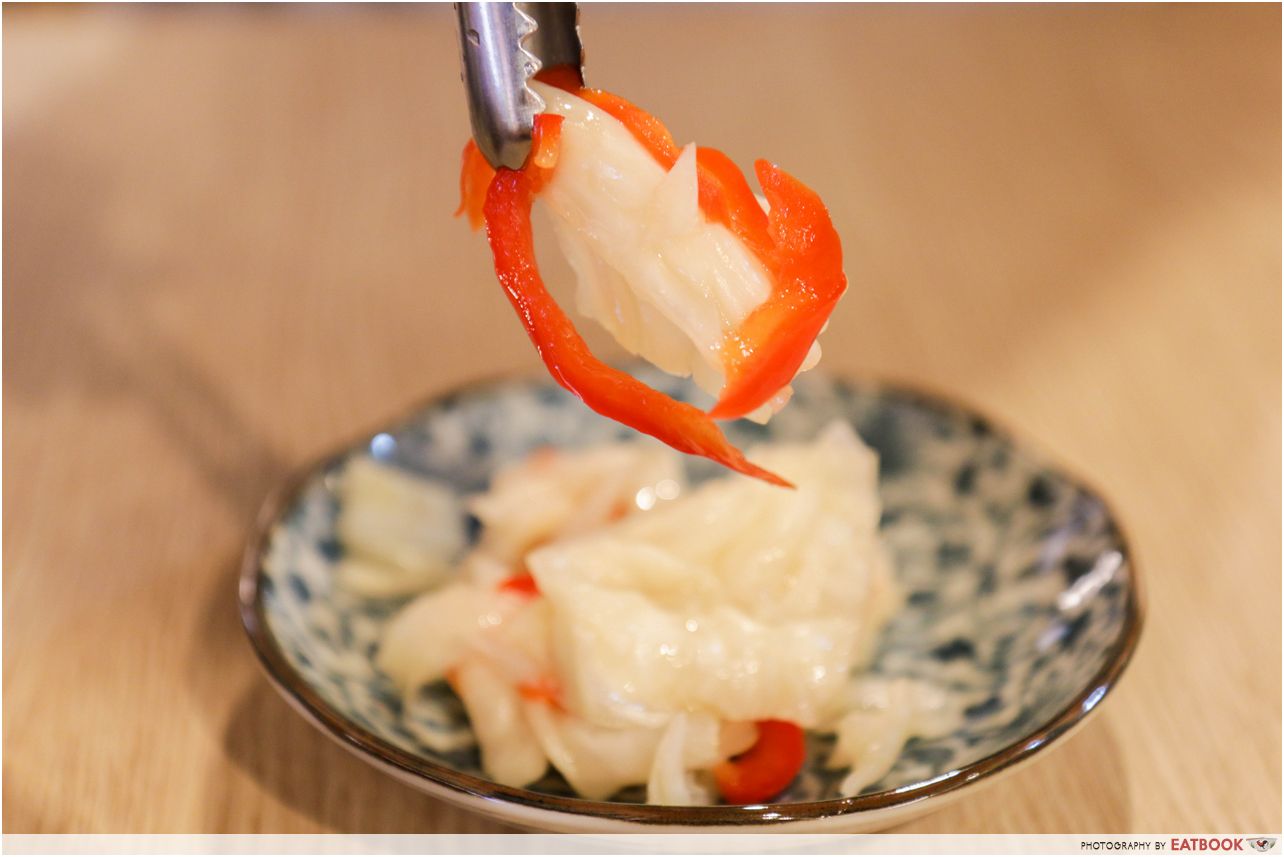 Tengawa offers free-flow rice, miso soup and pickled mixed vegetables. The pickled vegetables are made in-house, and this refreshing side helped to cleanse my palate after all that curry. Add $1 to your set to get free-flow green tea too.  

Ambience at Tengawa Hokkaido White Curry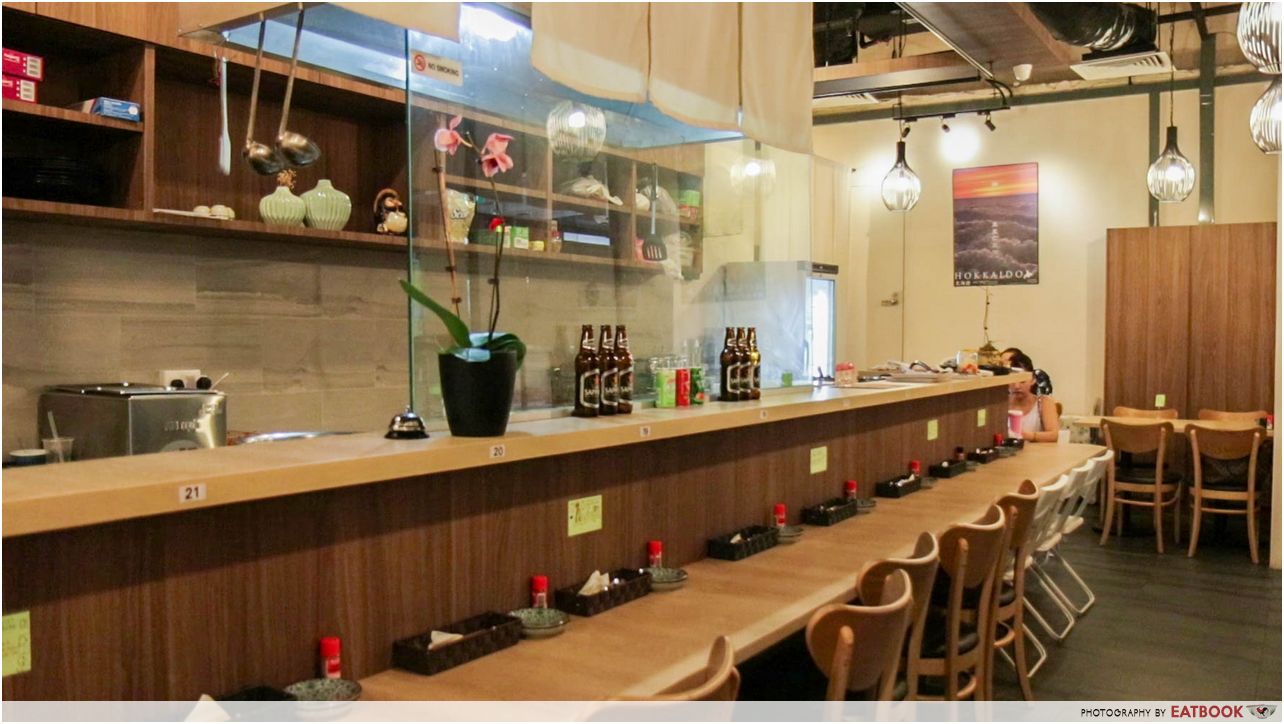 Situated in a small cosy corner of Millenia Walk, Tengawa has about 20 tables. We were able to get one easily when we visited at around 3pm on a weekday. The owner and other staff members were really friendly, making me feel welcomed as I walked in.
The verdict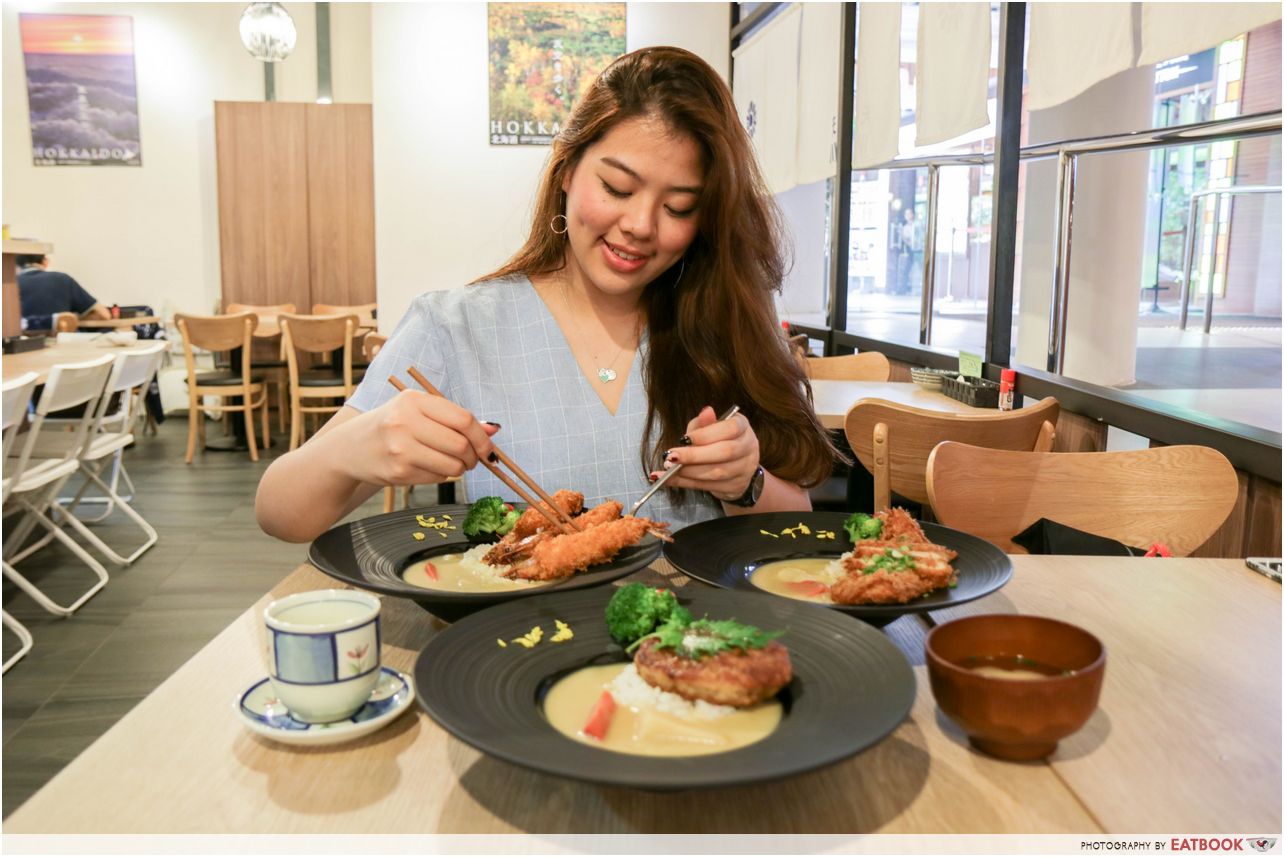 This restaurant piqued my curiosity because of the curry's unusual colour, but it is the curry's taste and the staff's hospitality that make me want to go back for more.

Address: 9 Raffles Boulevard, #02-16, Millenia Walk, Singapore 039596
Opening hours: Daily 11:30am to 10pm
Tel: 6265 1314
This is an independent review by Eatbook.sg.
Summary
Pros
– Free-flow rice, miso soup, and pickled vegetables
– Free-flow green tea at $1
– Cosy ambience
Cons
– Few seats
– Limited choices
Recommended Dishes: Crunchy Chicken Katsu White Curry Set ($15.80), Juicy Japanese Style Hamburg White Curry Set ($15.80)
Operating Hours:
Daily 11:30am to 10pm
Tel:
6265 1314
Address: 9 Raffles Boulevard, #02-16, Millenia Walk, Singapore 039596