Update: Goen Udon has now closed down.
Giant curry rice from Goen Udon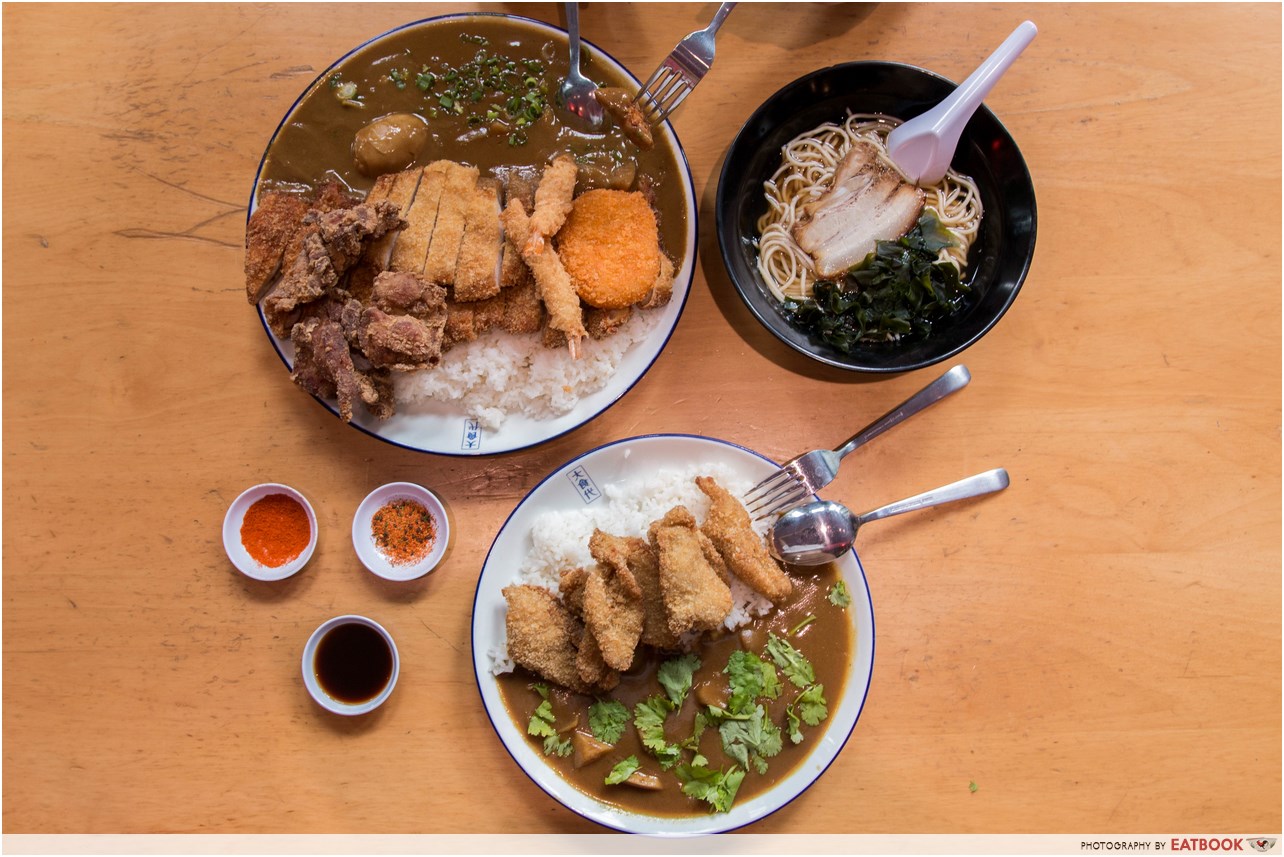 If I had to choose one cuisine to stick to for the rest of my life, my immediate answer would be Japanese. And for someone who has lived in Japan for a period of time, trust me when I say it's hard to find affordable and legit Japanese food in Singapore. That is, until I found Goen Udon, a Japanese stall in Food Republic at Wisma Atria.
Food at Goen Udon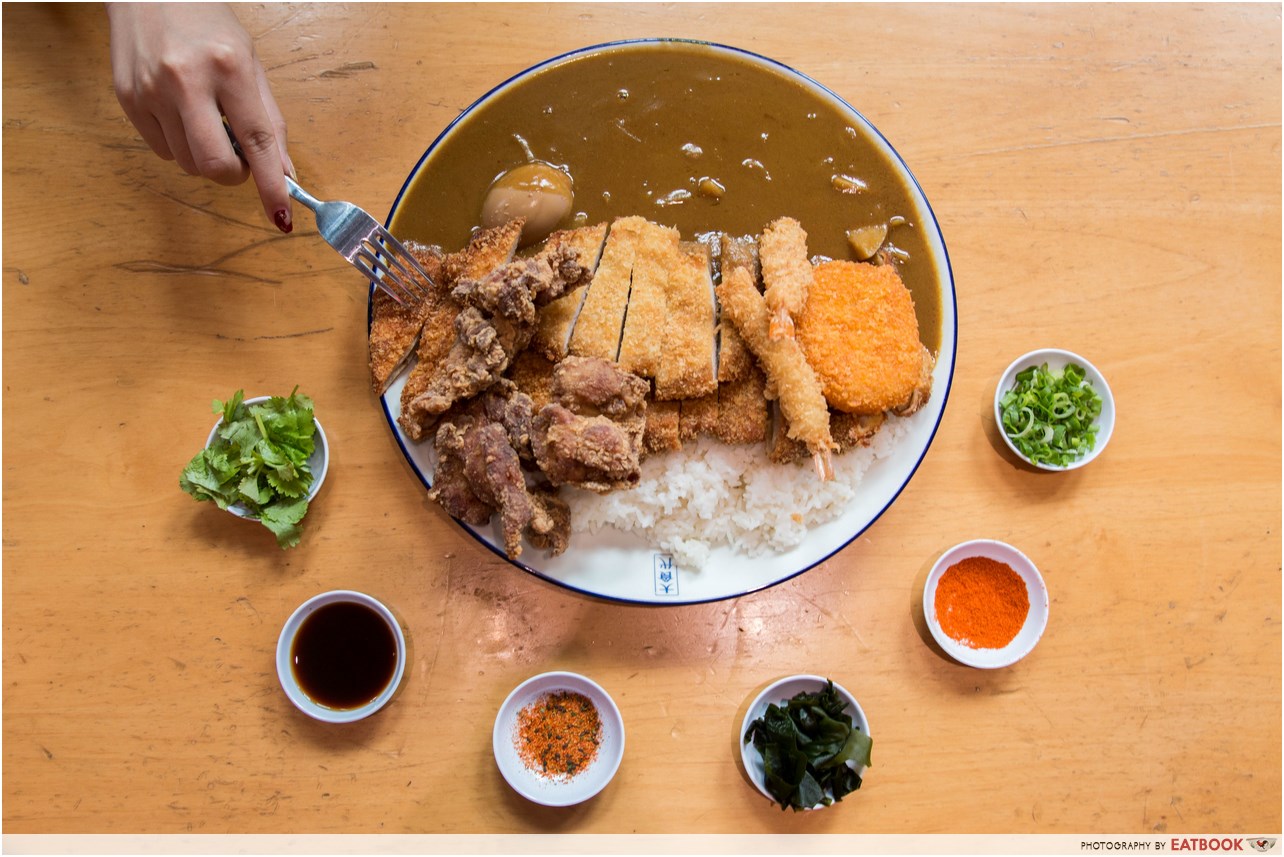 Goen Udon's Ultimate Curry Rice ($19.80) was what got us excited as we were making our way to Wisma. It is a huge plate of curry rice topped with chicken katsu, tonkatsu, chicken karaage, fried ebi, potato croquette and an egg. Although it is said to serve two to three people, this can possibly fill four tummies too. Frankly speaking, I was a little petrified as I gawked at the staff arranging the mountain of fried meat atop the huge portion of rice, but I figured we're either gonna go big, or go home.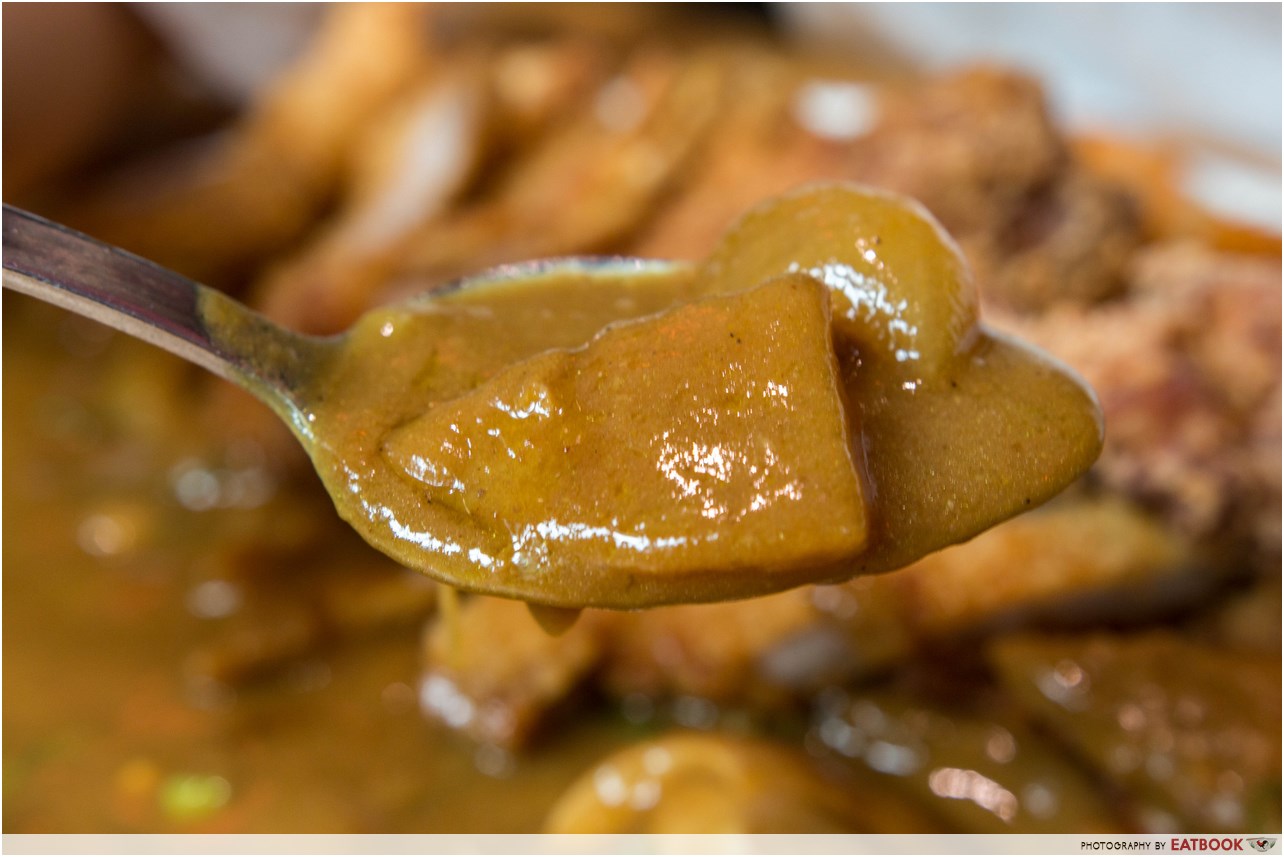 First, let's talk curry. Goen Udon makes their own tonkotsu broth, which is simmered for over 10 hours in their curry, thus imparting a depth of savouriness that balances the characteristic sweetness of Japanese curry – comparable to what I had in Japan.
Its consistency is similar to that of bechamel sauce: thick enough to coat the back of a spoon, yet smooth and creamy enough to be drizzled over the array of agemono (deep fried dishes).
The curry was not spicy, perfect for people with a low tolerance. It was also not jelak, making it truly the star of the dish.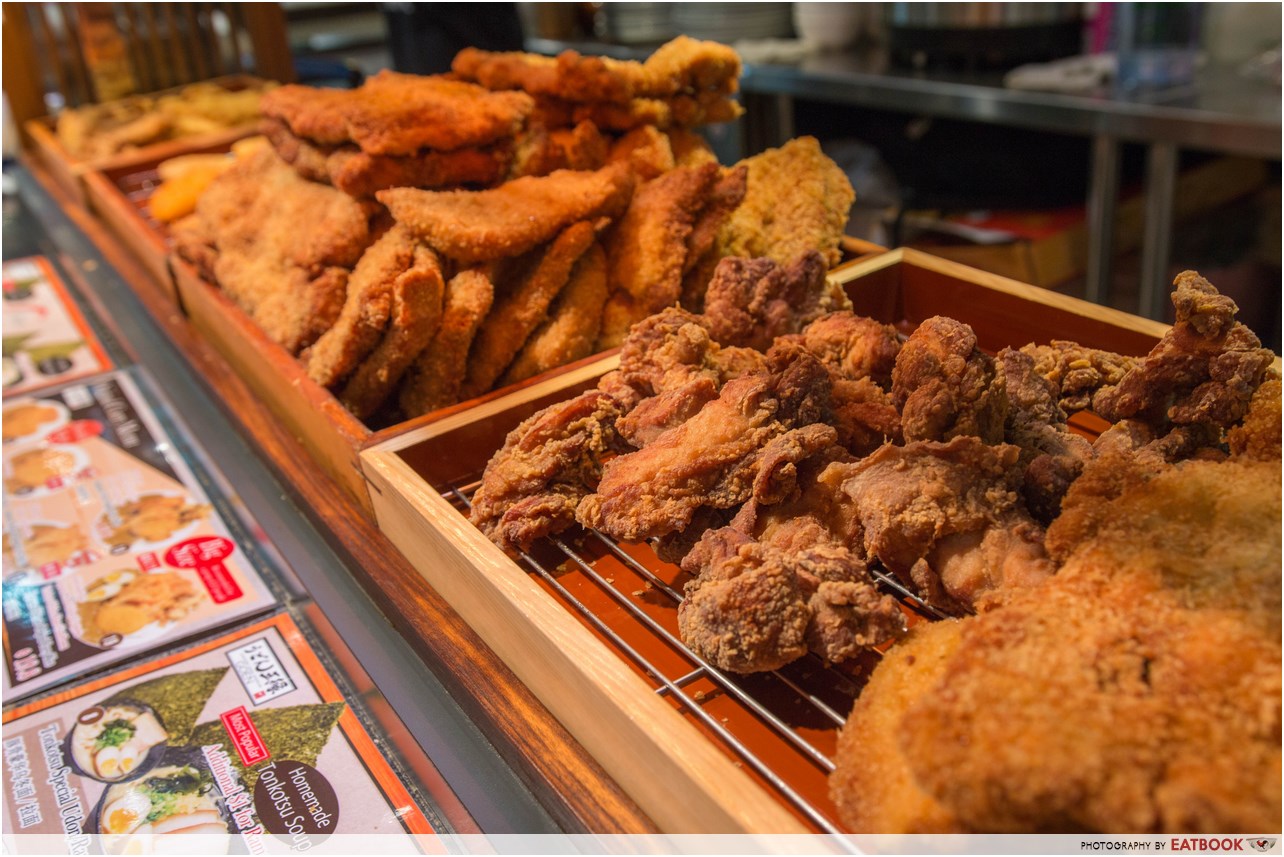 Don't worry about getting soggy meat coated in an excess of batter, as their fried items were all thinly breaded with panko crumbs, and deep fried to crispy perfection.   
Surprisingly, the chicken katsu was more succulent and tender as compared to the tonkatsu. This is because Goen Udon uses chicken thigh, a fattier cut of chicken meat, to retain the juiciness of the chicken even after deep-frying. Lean pork loin was used for the tonkatsu, which resulted in dry and tough pork slices.
The pieces of chicken karaage had a nice blend of textures thanks to the crispy chicken skin and moist chicken meat.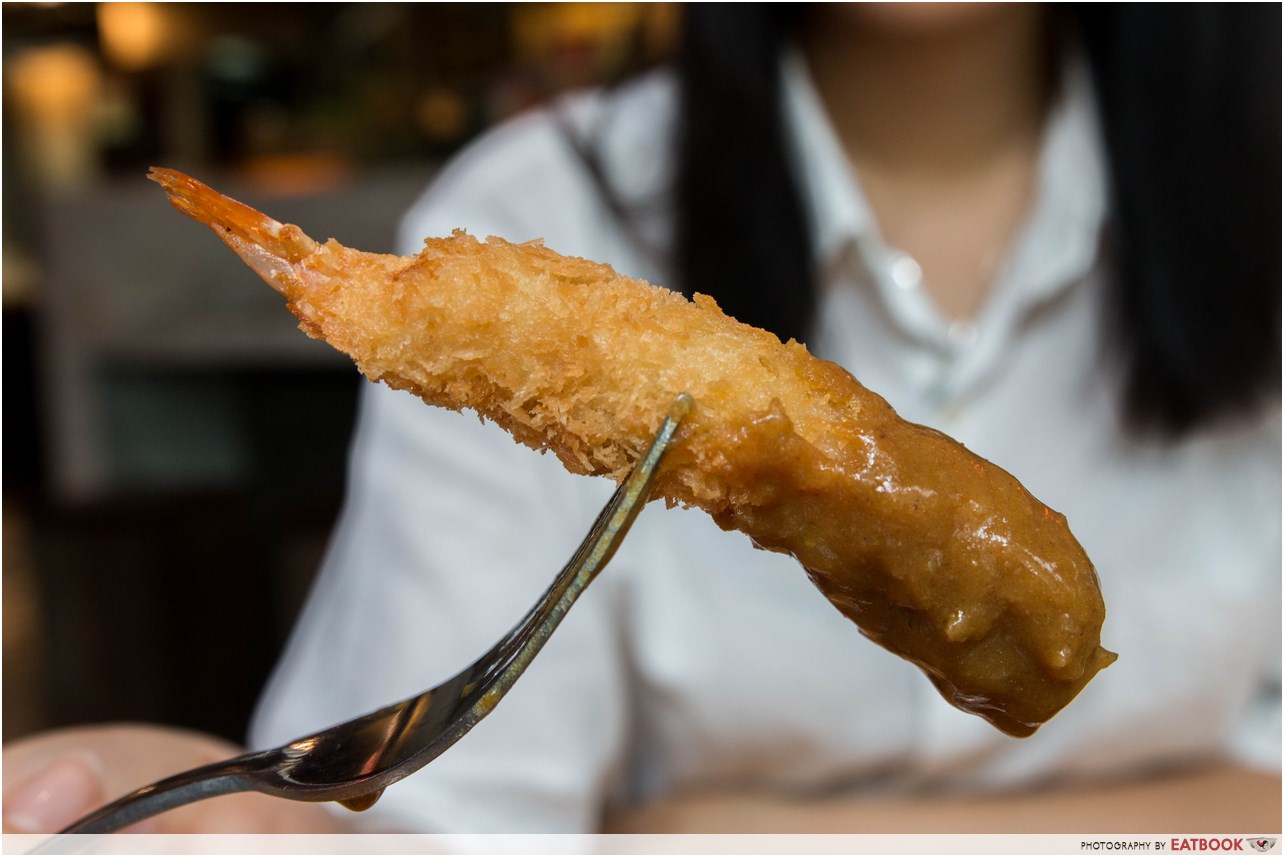 The fried ebi and croquette stood out most among all the agemono. The ebi tasted slightly sweet, and the savoury curry evened that out. It did leave a slight gleam of oil on my lips, but it wasn't overly oily.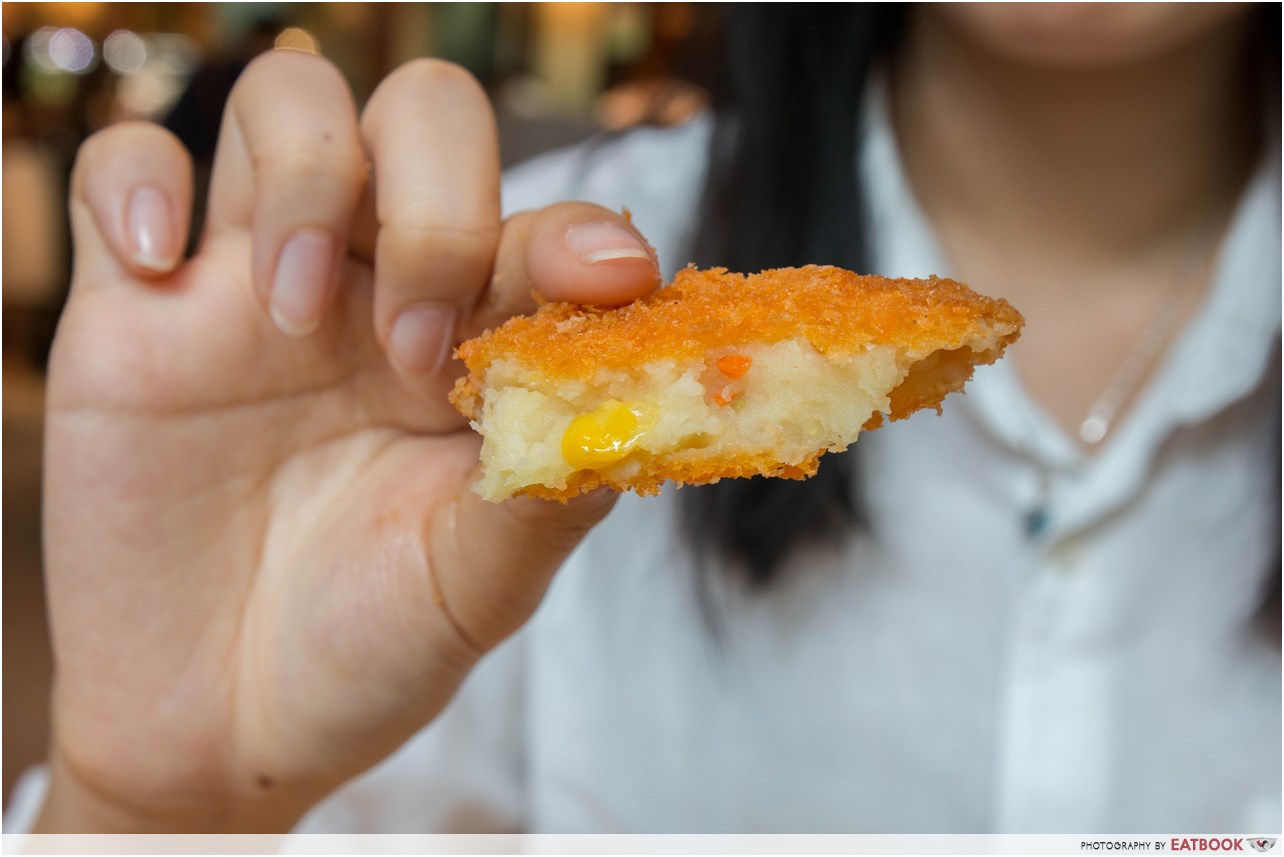 Made of deep fried mashed potato, diced carrots and corn kernels, this croquette looked simple. Yet, at my first bite, the crispy thin breading cracked open to reveal a warm and mushy interior, accentuated by bits of diced vegetables. I really didn't expect this to taste so good.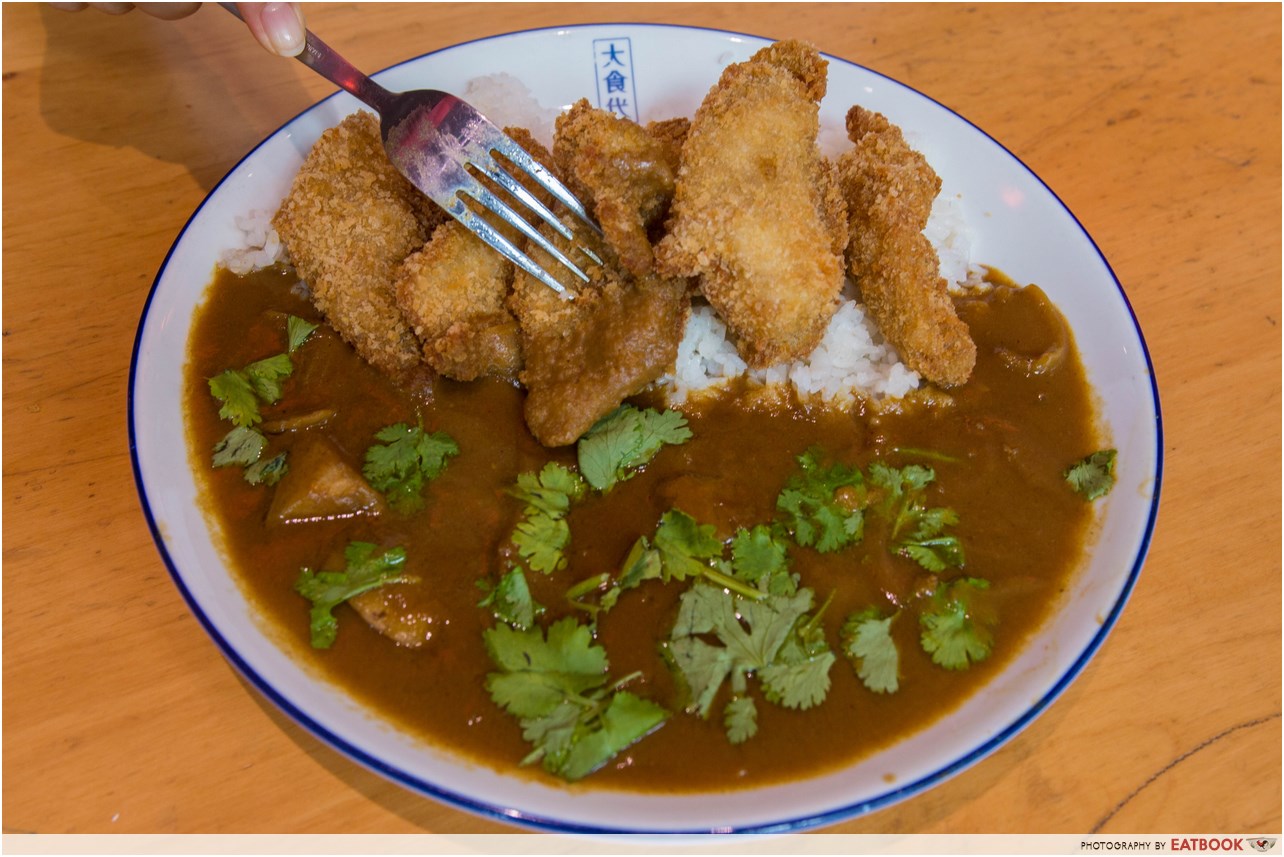 Fish Katsu Curry Rice ($7.50) is not commonly heard, so we gave it a go. It came with the usual half-rice-half-curry on a plate, and was generously topped with eight pieces of fish katsu.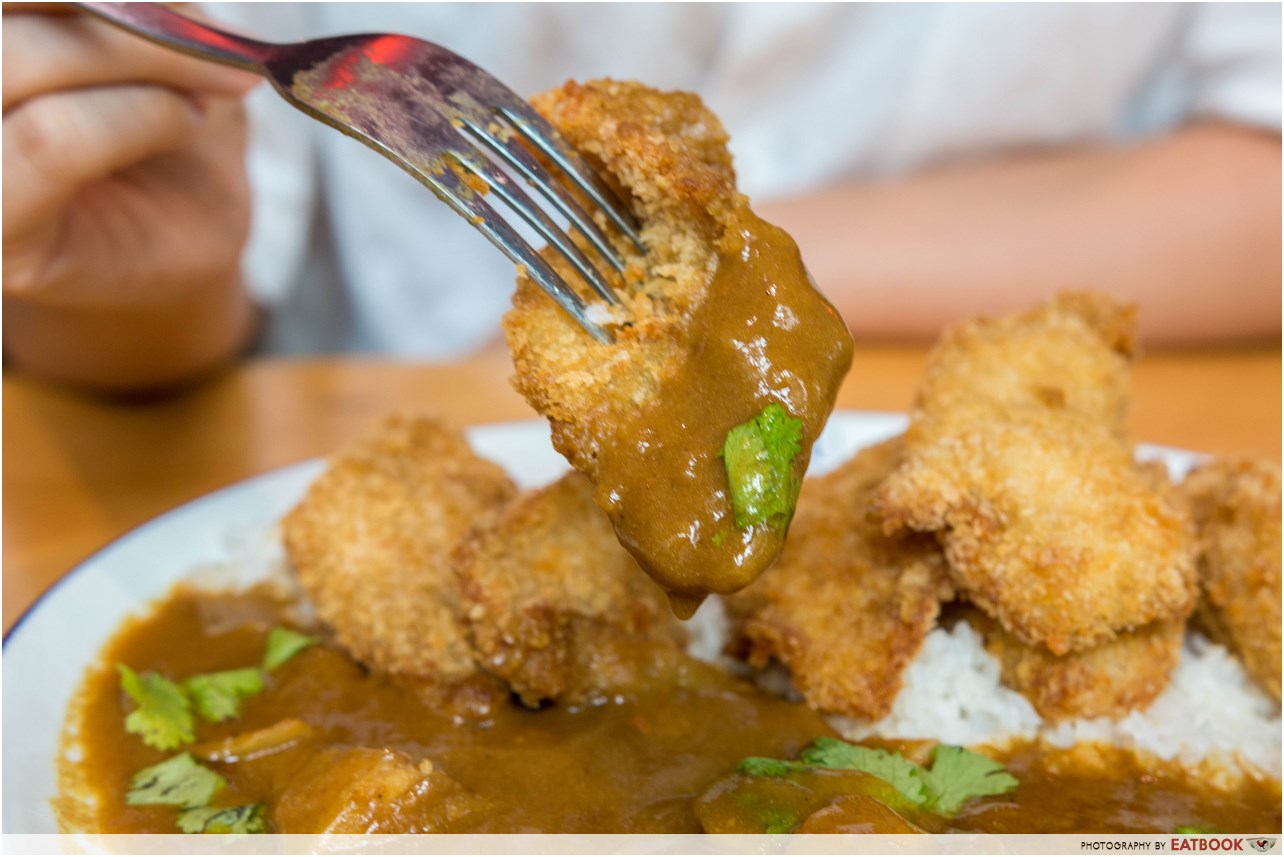 I feared the thick chunks of fried fish would end up being too dry, but thankfully, the flesh remained juicy and tender, and each bite contained a good balance of flaky meat and crisp breading.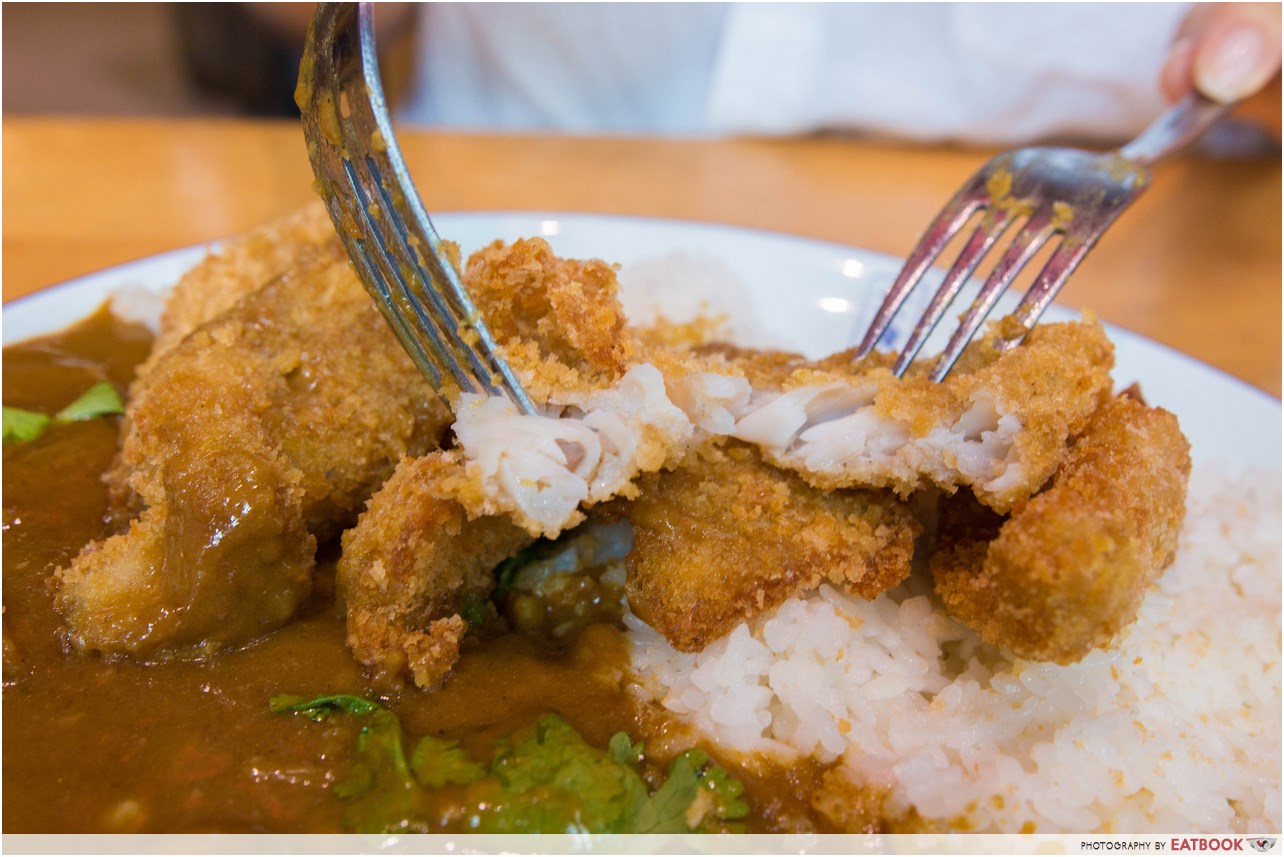 Although the breading looked thin, the crunch factor was way higher than I expected for this fish katsu, making this my favourite katsu of the day!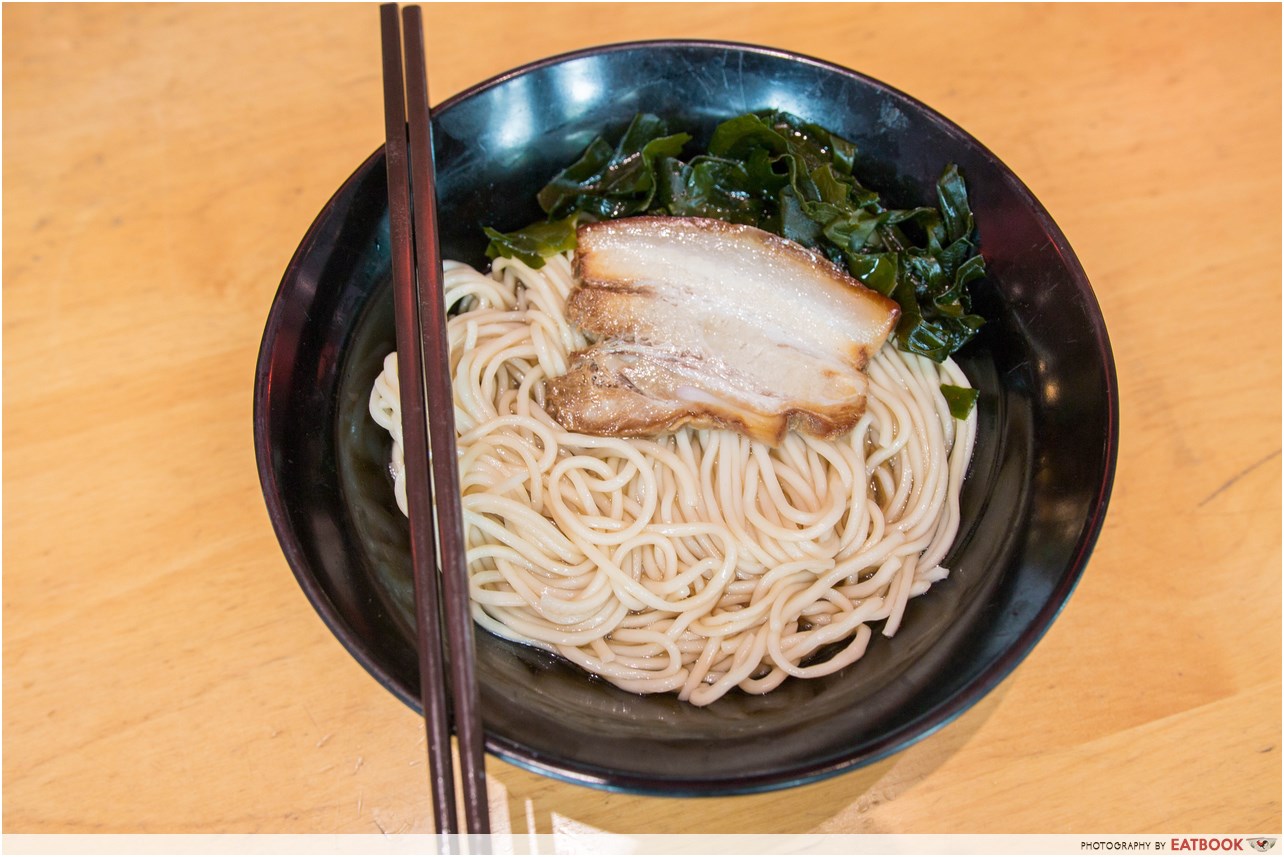 Besides curry rice, Goen Udon serves ramen and udon too. We ordered Kake Ramen ($4.80) that has an 'ever-popular' stamp on the menu. The broth is made with kelp and bonito, but the latter was slightly muted by the former in our bowl.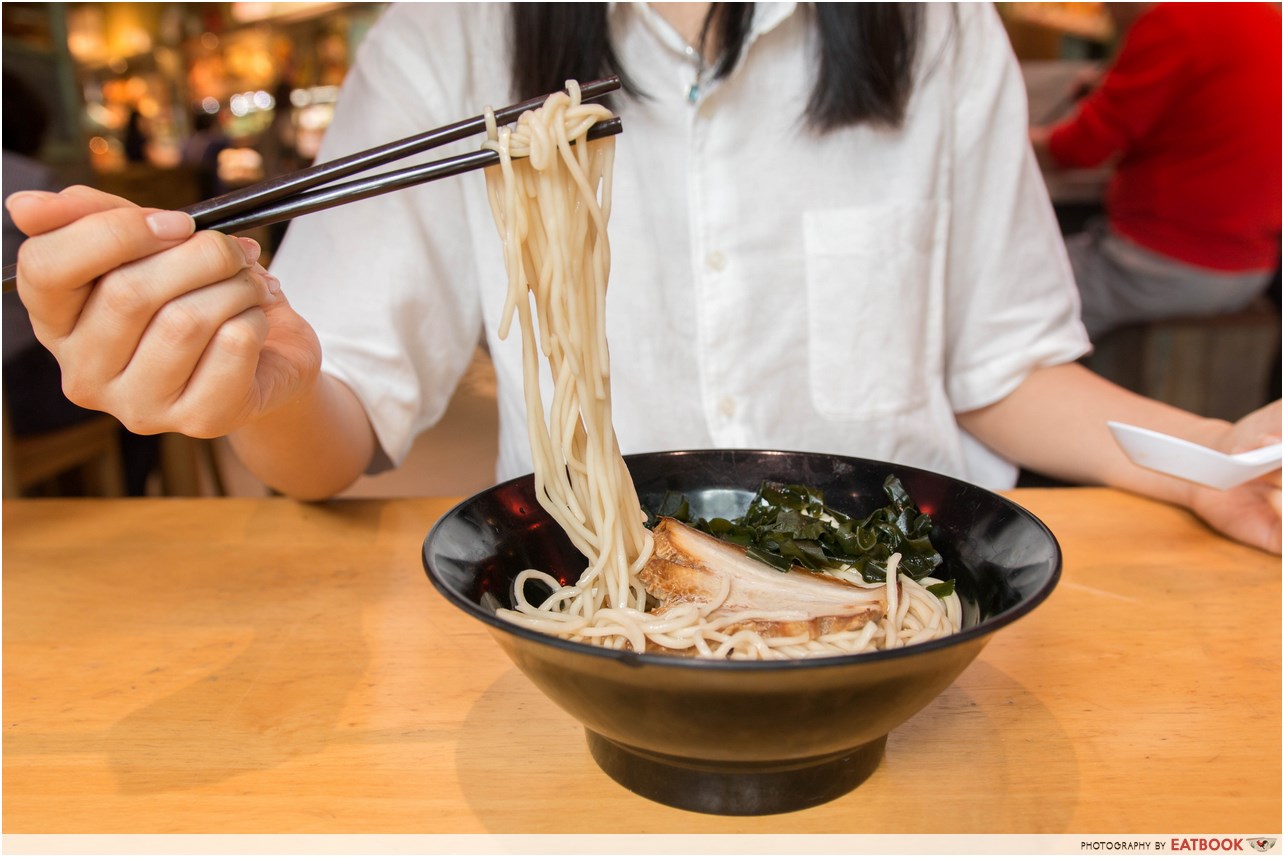 Surprisingly, the ramen noodles were the highlight of this dish. Having soaked up some of the soup, each strand was plump and springy, making it a joy to chew. The soup that seeped into the noodles gave it a slight briny flavour.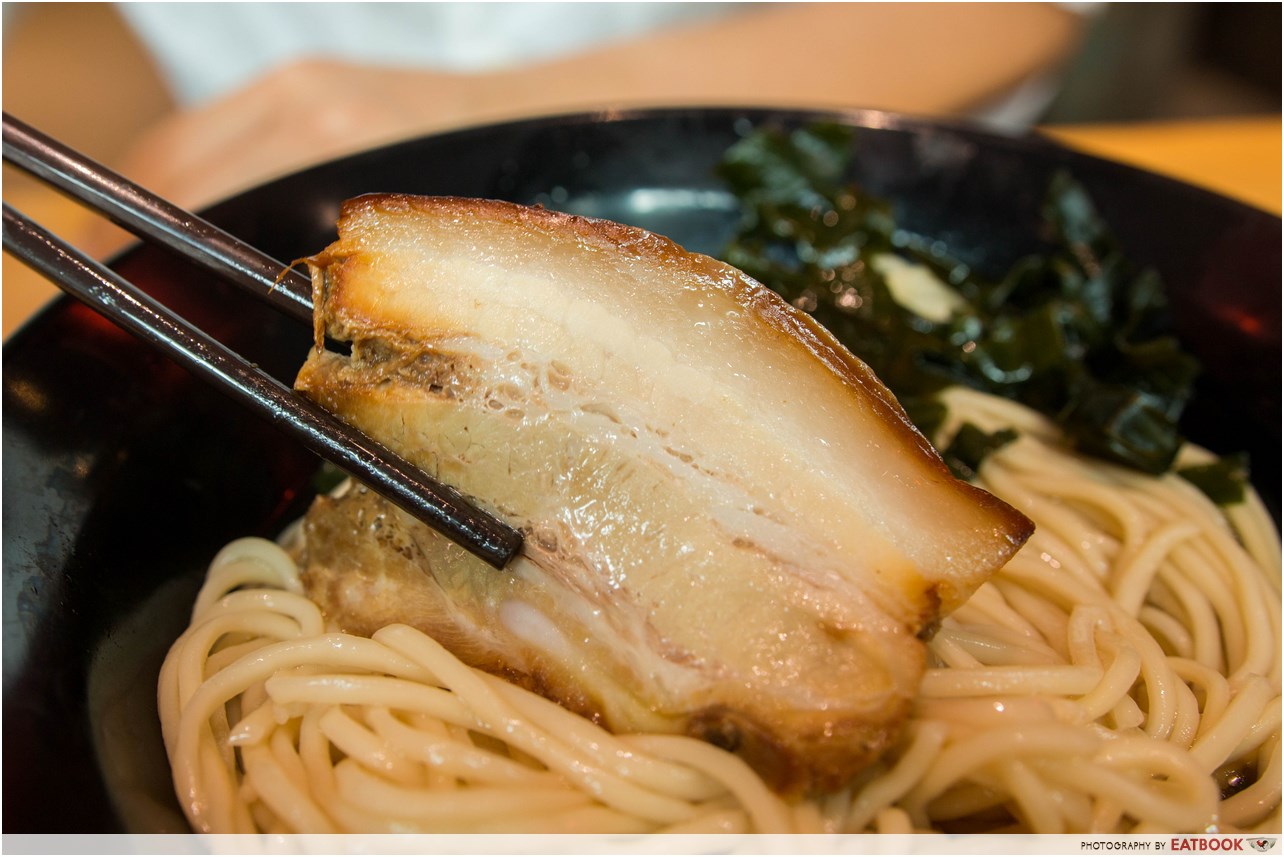 A thick slice of chashu was served atop the noodles. The chashu had a good ratio of fat to meat, and was almost melt-in-your-mouth tender. Its subtle sweetness was a great complement to the salty soup and noodles. What I didn't expect was a piece of bone swimming in my mouth after eating the chashu – it was not a pleasant surprise and I've never came across chashu with bones!
Ambience at Goen Udon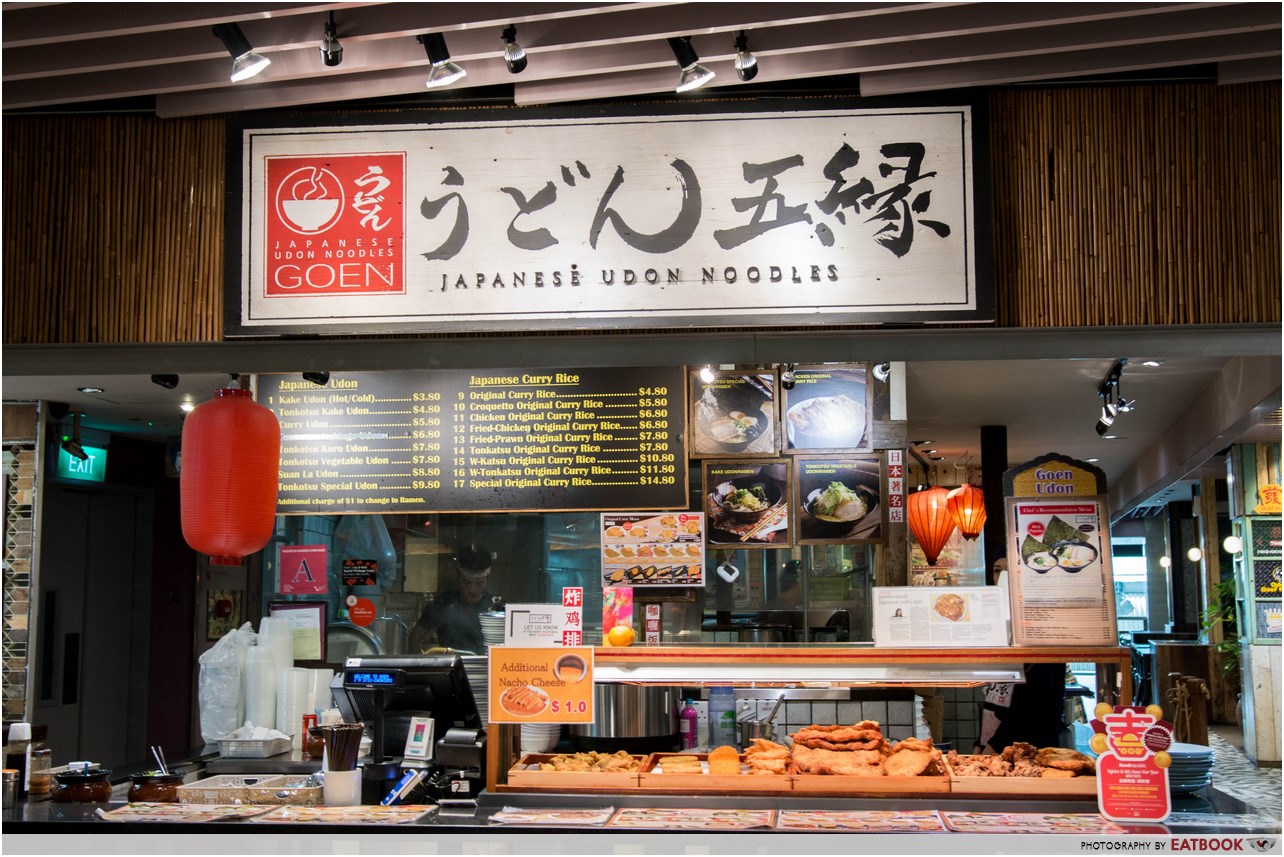 Situated across one of the escalators heading towards Food Republic in Wisma Atria, it is hard to miss this well-lit stall. We arrived at 12pm on a weekday, and there was hardly a queue. Service for the curry rice was quick, as the staff simply picked our agemono off the rack and arranged it over the steaming hot rice, complete with a final ladle of curry.
There might be a short waiting time for their ramen and udon, as these are prepared in the kitchen.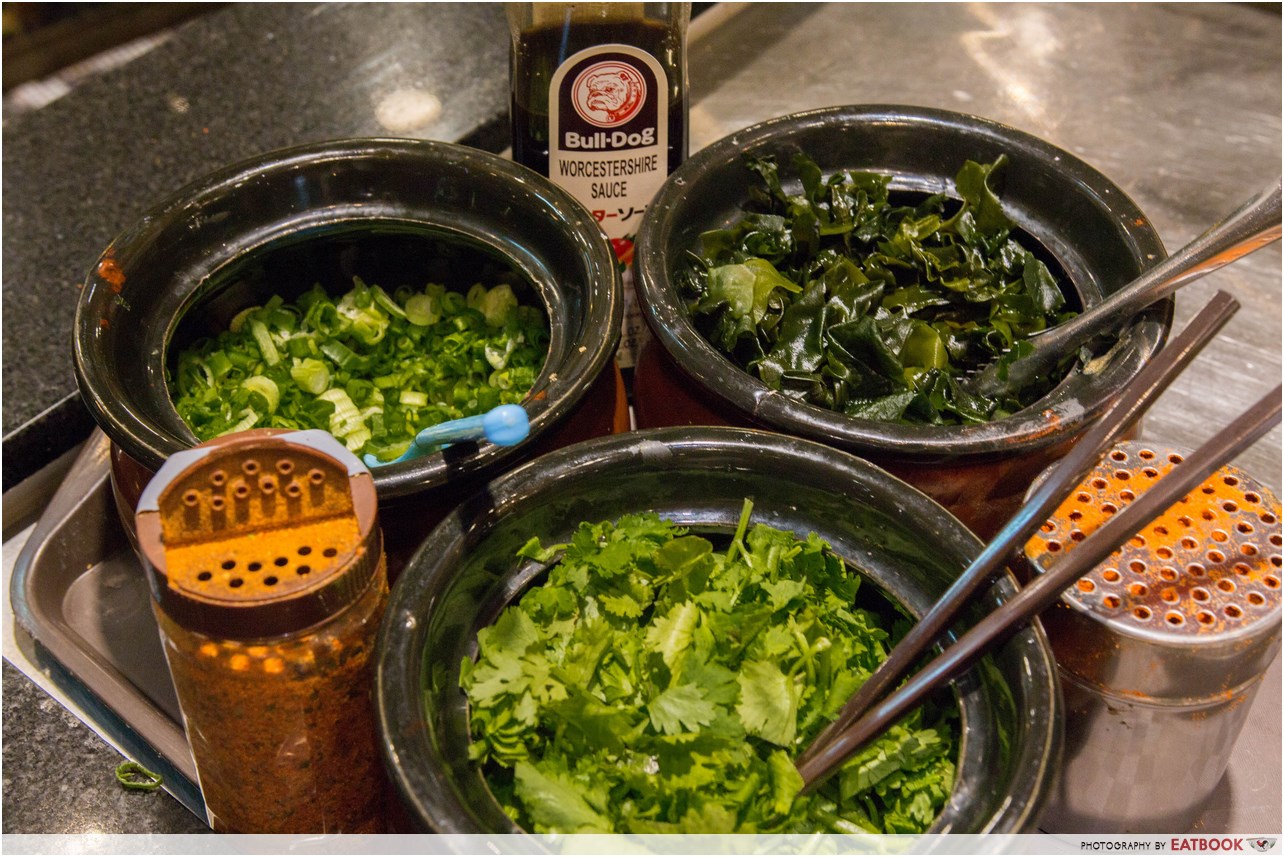 There was a wide variety of condiments and toppings at the side, including seaweed, parsley, chives, curry powder, chilli powder and Worcestershire sauce. Help yourself to more Worcestershire sauce, as it makes a good complement to fried meat, especially the tonkatsu.
The verdict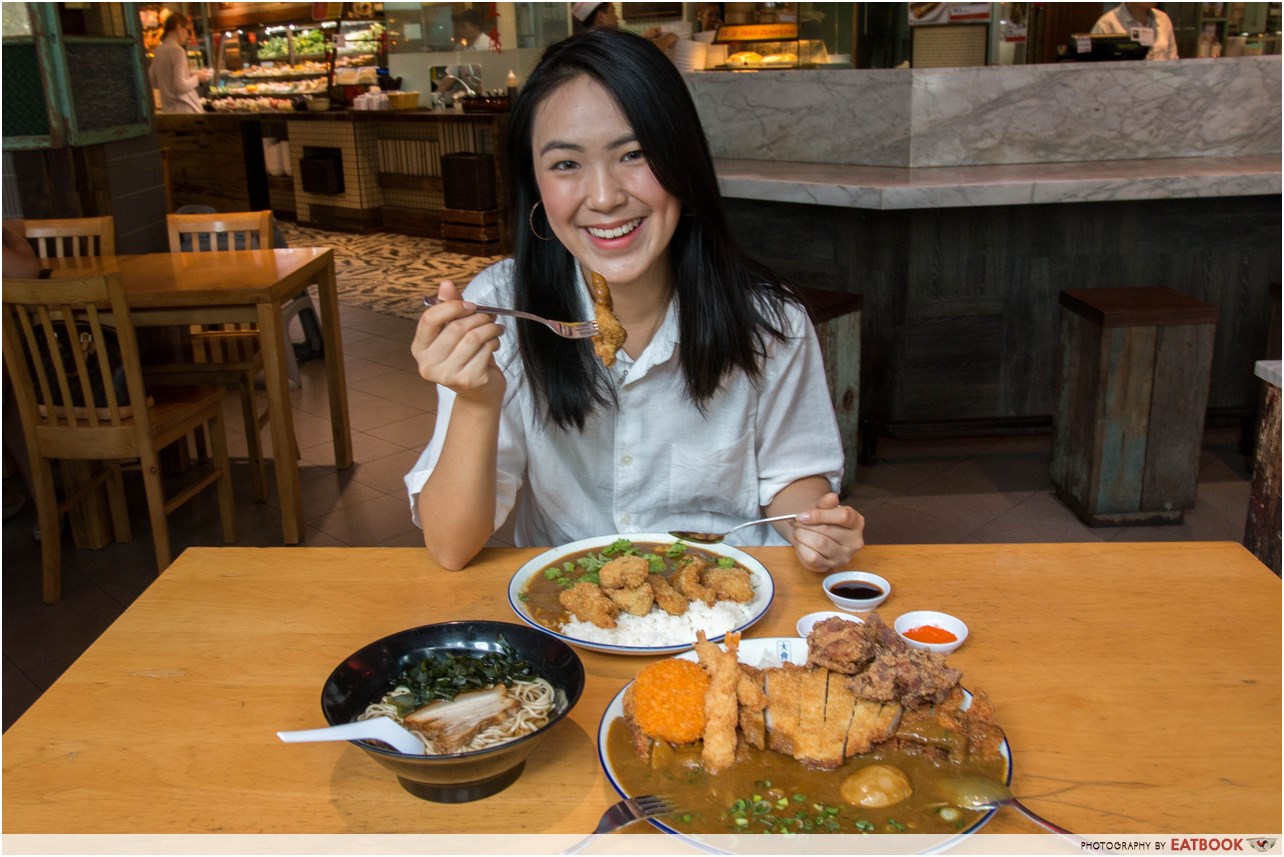 Japanese food makes for a great meal anytime of the day! Drag your friends to Goen Udon the next time you guys are shopping in town for a satisfying, affordable and most importantly, oishii Japanese meal. With that, itadakimasu!
This is an independent review by Eatbook.sg.
Summary
Pros
– Affordable
– Convenient location
– No GST or service charge
Cons
– May be noisy and crowded during mealtimes
Recommended Dishes: Kake Udon ($4.80), Fish Katsu Curry ($7.50), Ultimate Curry Rice ($19.80)
Operating Hours:
Daily 10am to 10pm
Tel:
6337 4237
Address: 435 Orchard Road, #04-02/38, Stall 11, Wisma Atria Food Republic, Singapore 238877