Delicious fried chicken from Otoké Chicken
Update: Otoke Chicken is permanently closed.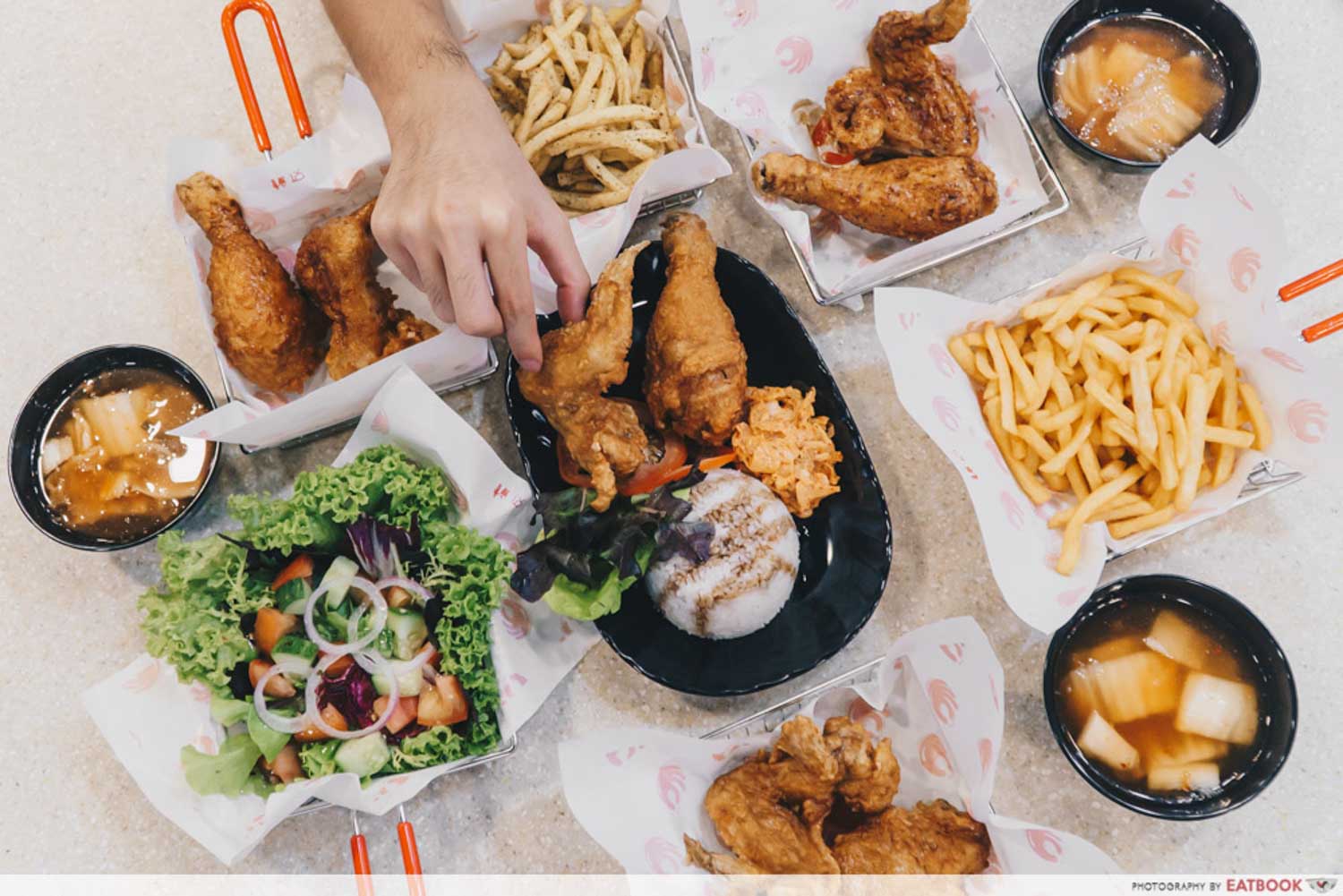 I dare not proclaim myself as "the champ" of fried chicken, but I do nurse a soft spot for it. With its crunchy skin and buttery goodness, this not-so-guilty pleasure regularly appears on my dinner plate. It's also why most of my diets inevitably fail.
As such, I was excited to check out Otoké Chicken's first outlet in Singapore. A popular fast-food chain in Vietnam, the place has earned a loyal following with their hearty Korean fried chicken.
Food at Otoké Chicken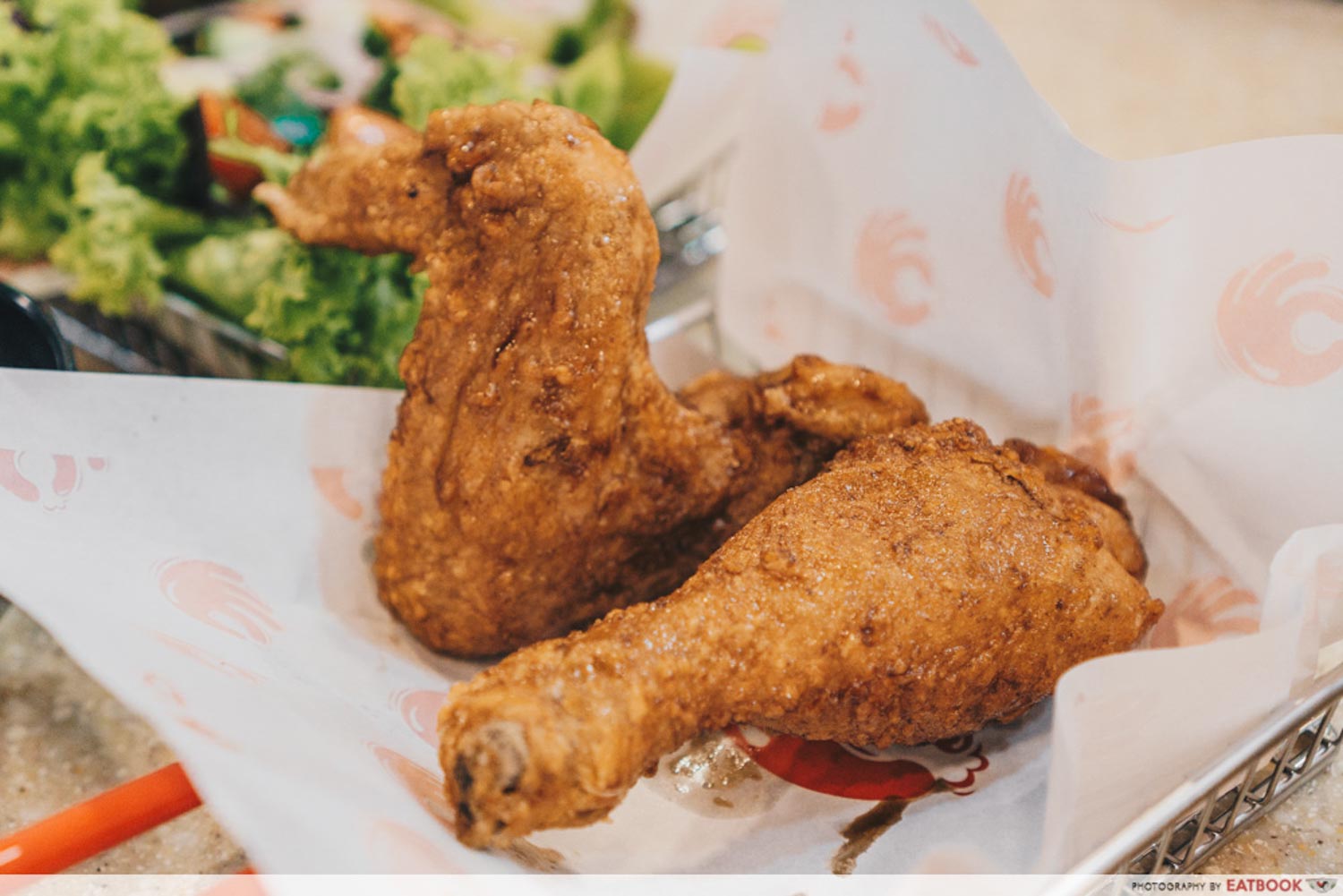 Fried chicken is the name of the game at Otoké Chicken. More than just original and crispy, they have a selection of sauces to go with your chicken including Spicy, Soy Garlic, or Black Pepper Sauce.
Using quality ingredients is central to the cooking philosophy here. Delivered daily from the farm, their chicken impresses with its juicy and succulent bite. The drumsticks are also thick and plump–a welcome change from the paltry drumlets some stalls offer.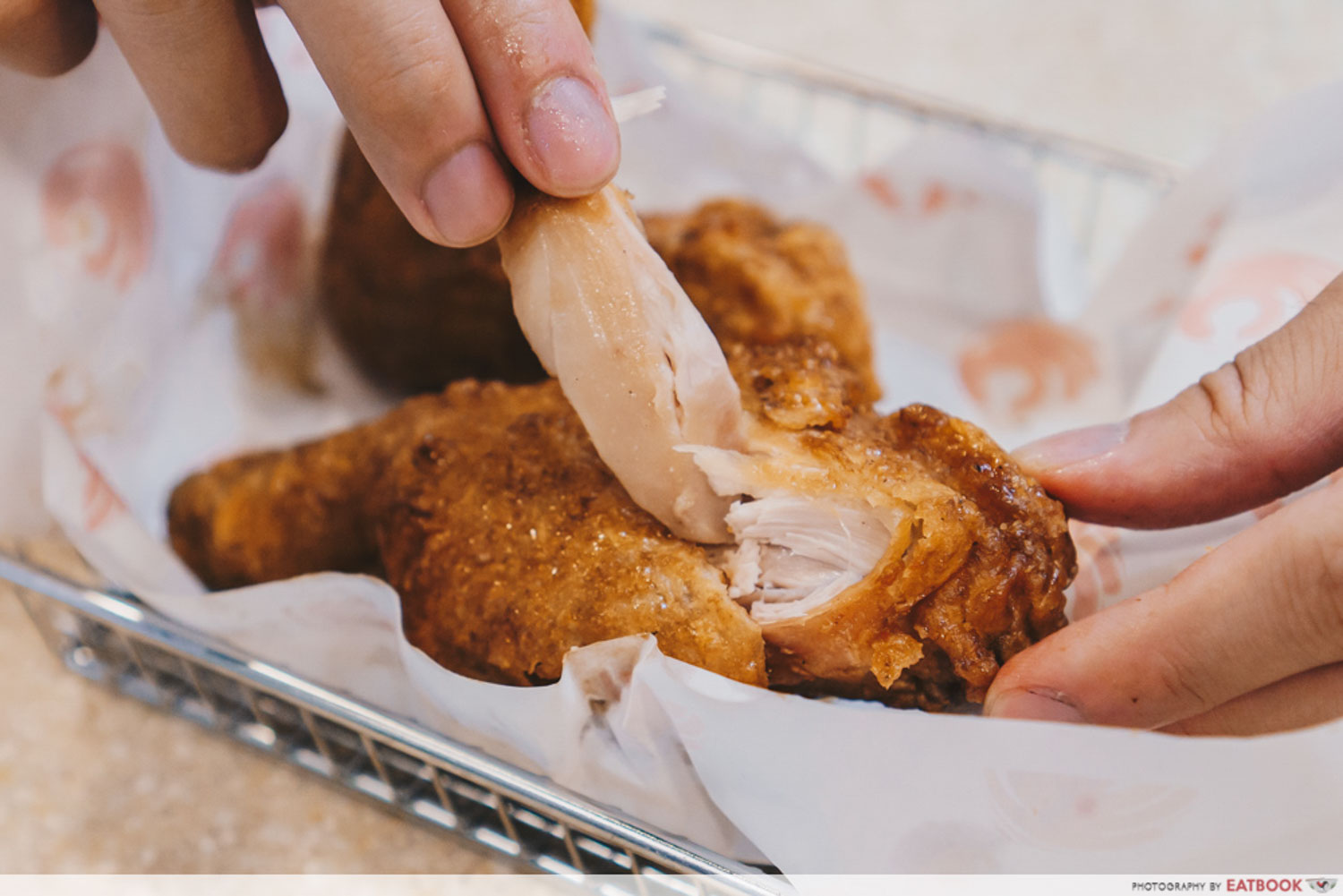 Coated in a thin batter, the meat is encased in a shatteringly crispy crust. Break past it and experience a rush of buttery flavours, followed by faint notes of ginger and pepper, dancing across your palate. The drumstick is well-drained of oil, so every mouthful is untainted by an unctuous aftertaste.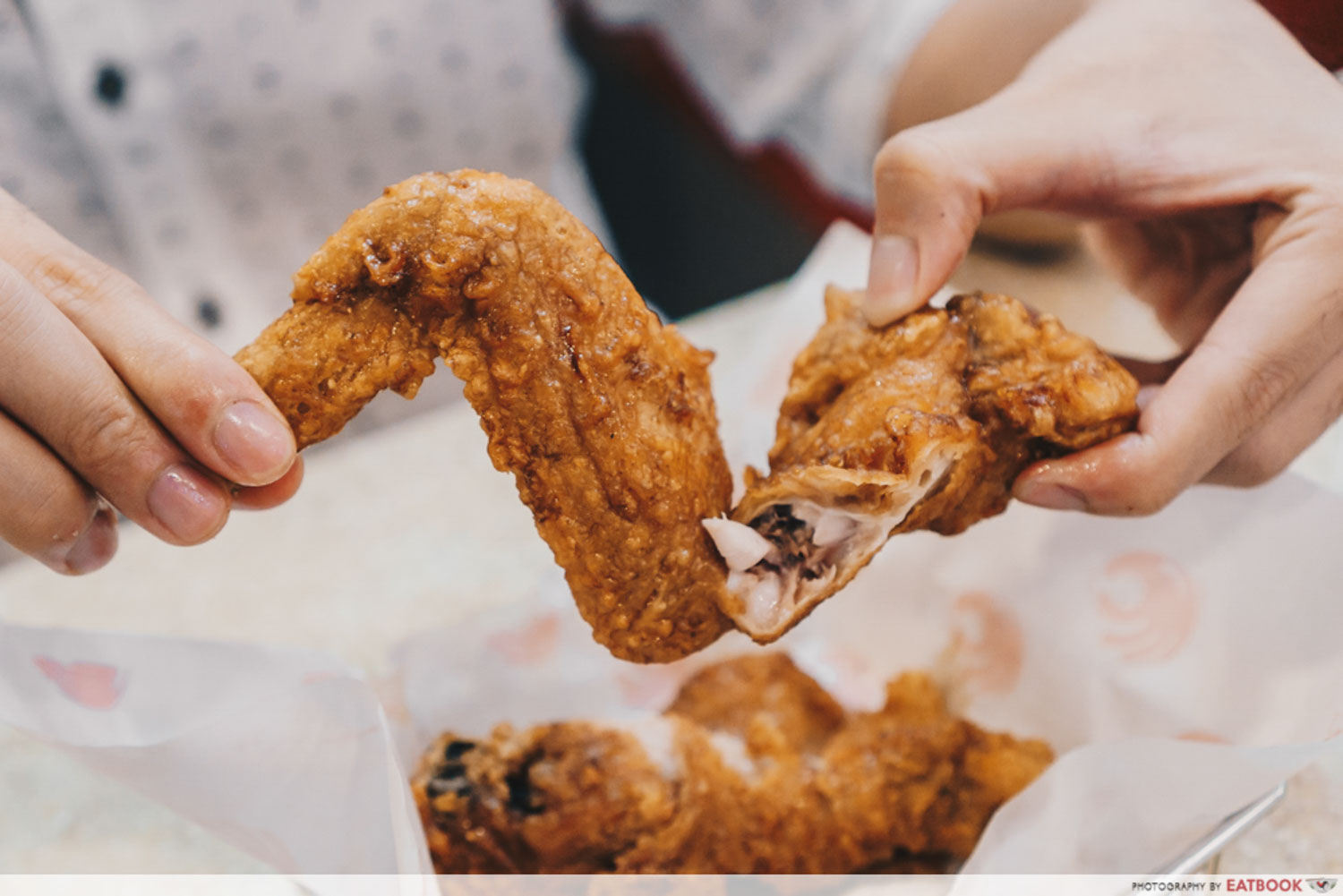 While the fried chicken is flavourful on its own, the Soy Garlic sauce adds depth with its robust tang. Although the first bite brought on a distinct garlickiness, the dimensions of flavour packed in the glaze gradually revealed itself. A subtle sweetness eventually steps into the frame, complementing the rich tang of the fried skin.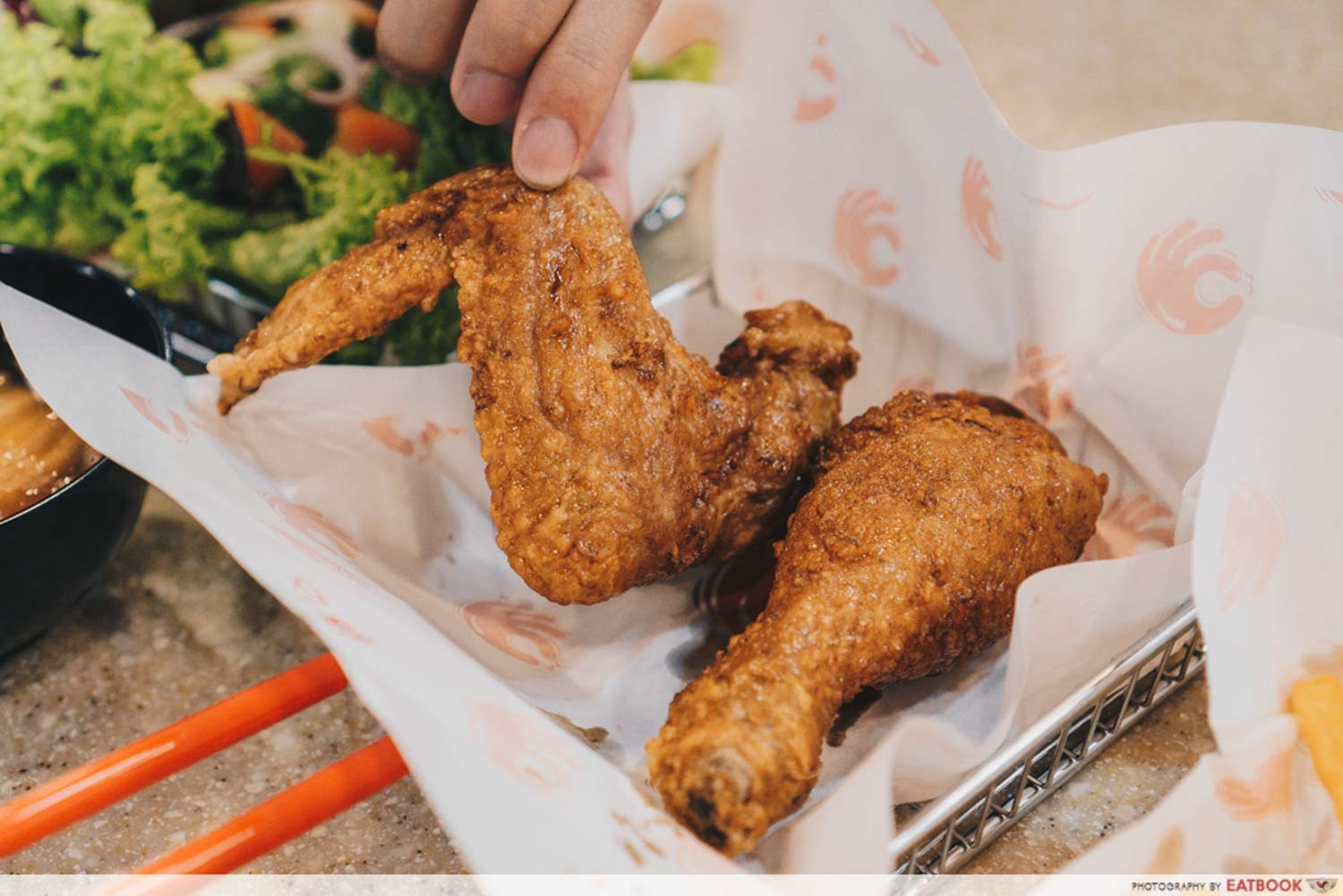 The Soy Garlic and Spicy Sauce Fried Chicken may seem like two peas in a pod, but they are as different as chalk and cheese.
Don't be fooled by the unassuming appearance of the Spicy sauce, as it packs a devilish burn. Unlike ma la, it doesn't overpower you with a fiery wallop. Instead, it stacks layers of incremental spiciness before leaving a numbing sensation on the tongue. Def' not for the faint of heart.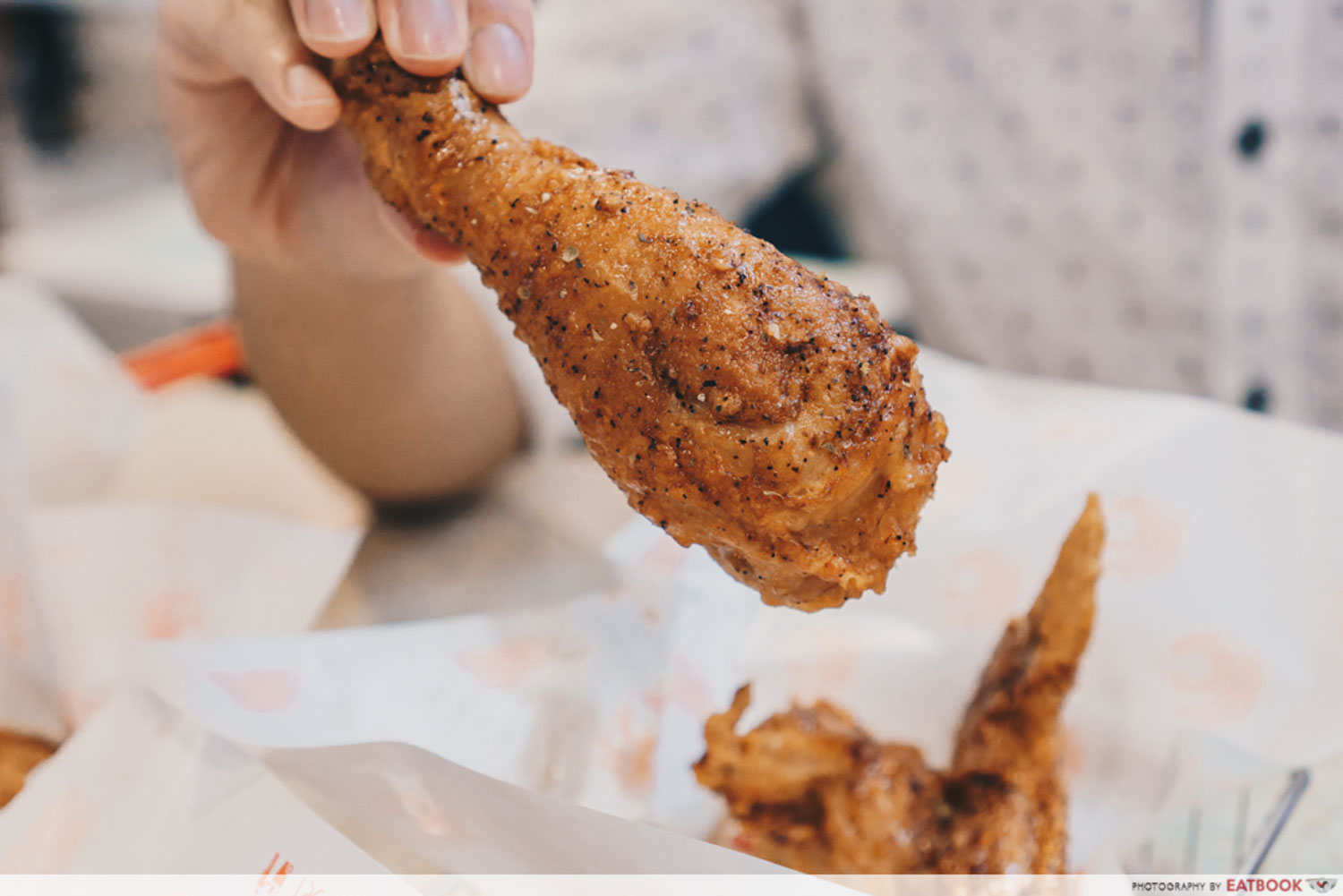 If you can't handle the heat but relish an injection of piquancy, the Black Pepper Sauce Fried Chicken offers a suitable middle ground. What I love most about this dish is the balance of flavours. Bolstered by a tinge of sweetness, the peppery kick of the sauce supports – instead of overpowers – the savoury meat.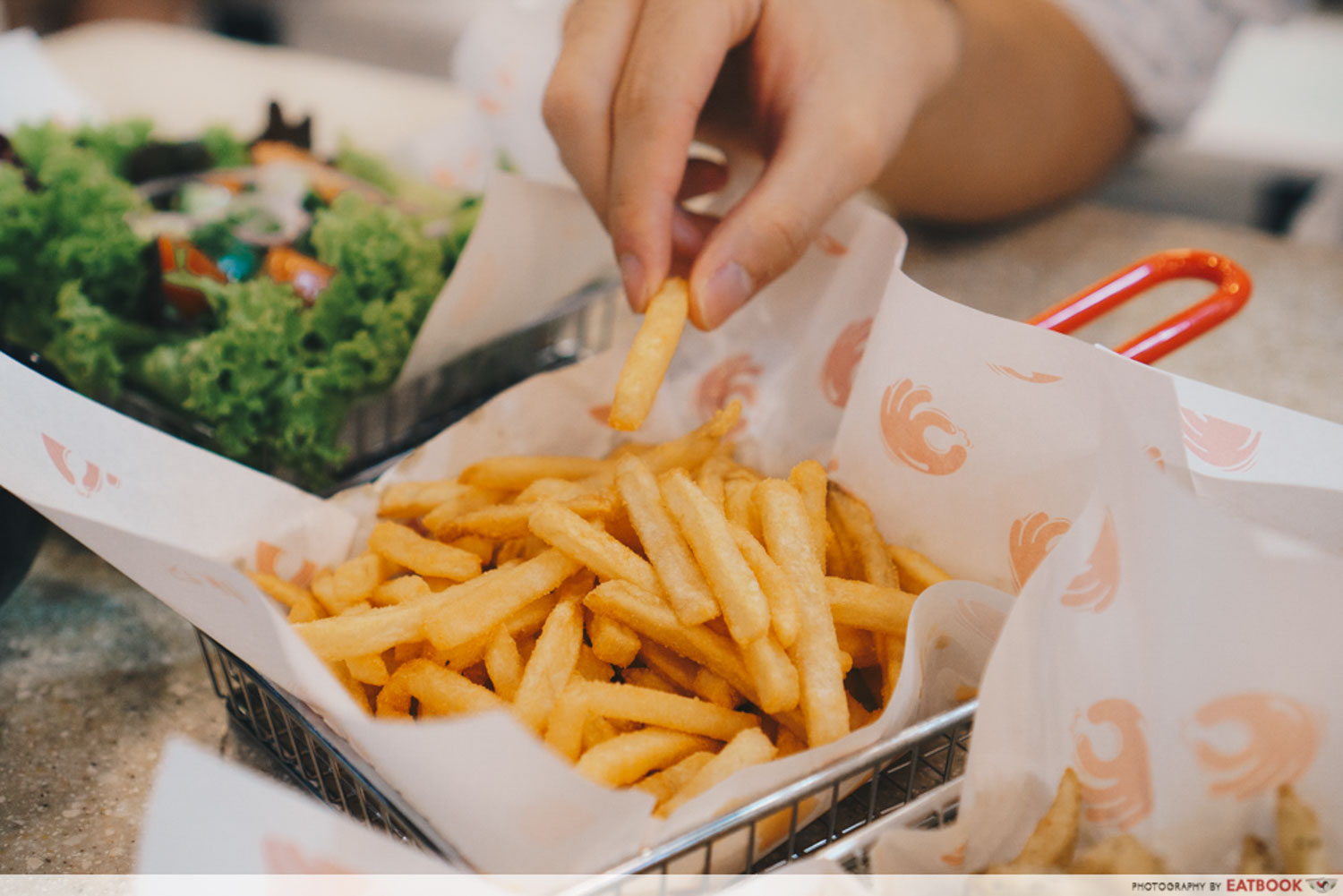 Complete your meal with their Shaked French Fries ($2.80/$3.50), which comes with either Cheese or Seaweed.
Directly imported from Korea, the cheese powder empowers the fries with buttery and caramelised accents. With their blend of sweet and savoury notes, these tater tots are reminiscent of honey butter chips.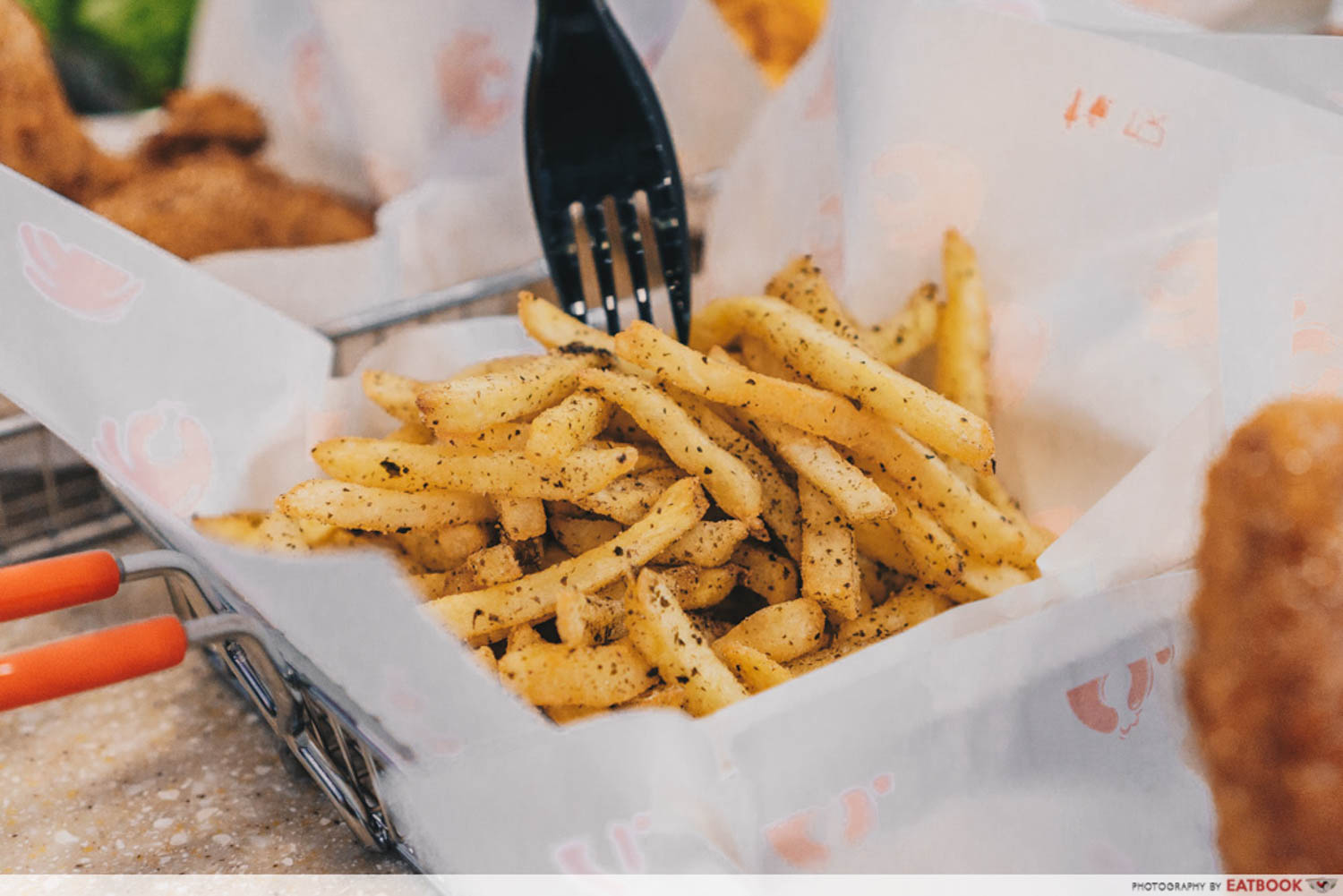 On the other hand, their Seaweed Shaked French Fries can still be improved. While they pack a robust kick, they, unfortunately, lack an edge of umami.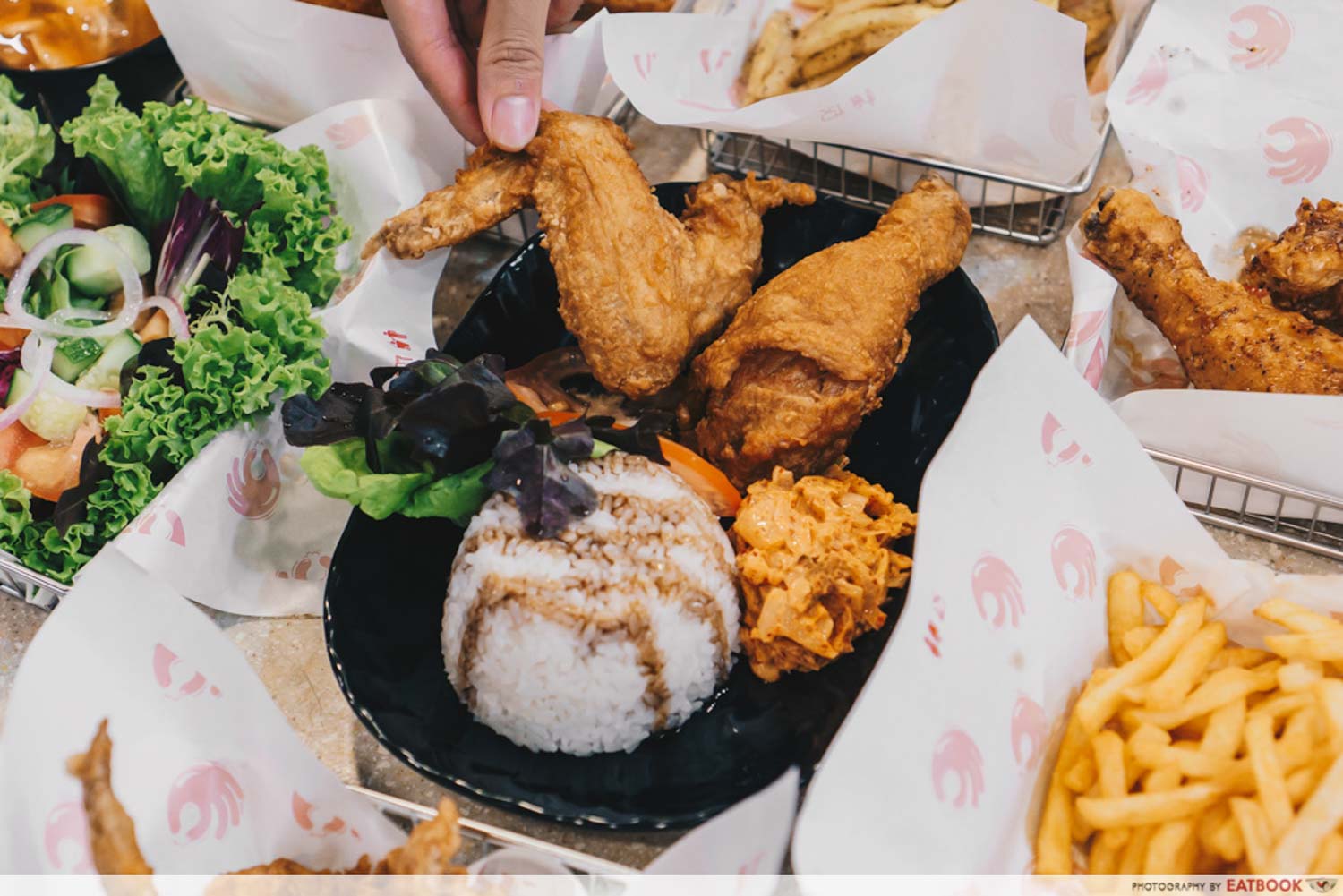 To get a good bang for the buck, drop by between 11am to 2pm and enjoy their Saver Lunch ($6.50) set. Besides two pieces of drumsticks, this filling set also features a generous scoop of rice drizzled with teriyaki sauce and a bowl of kimchi soup.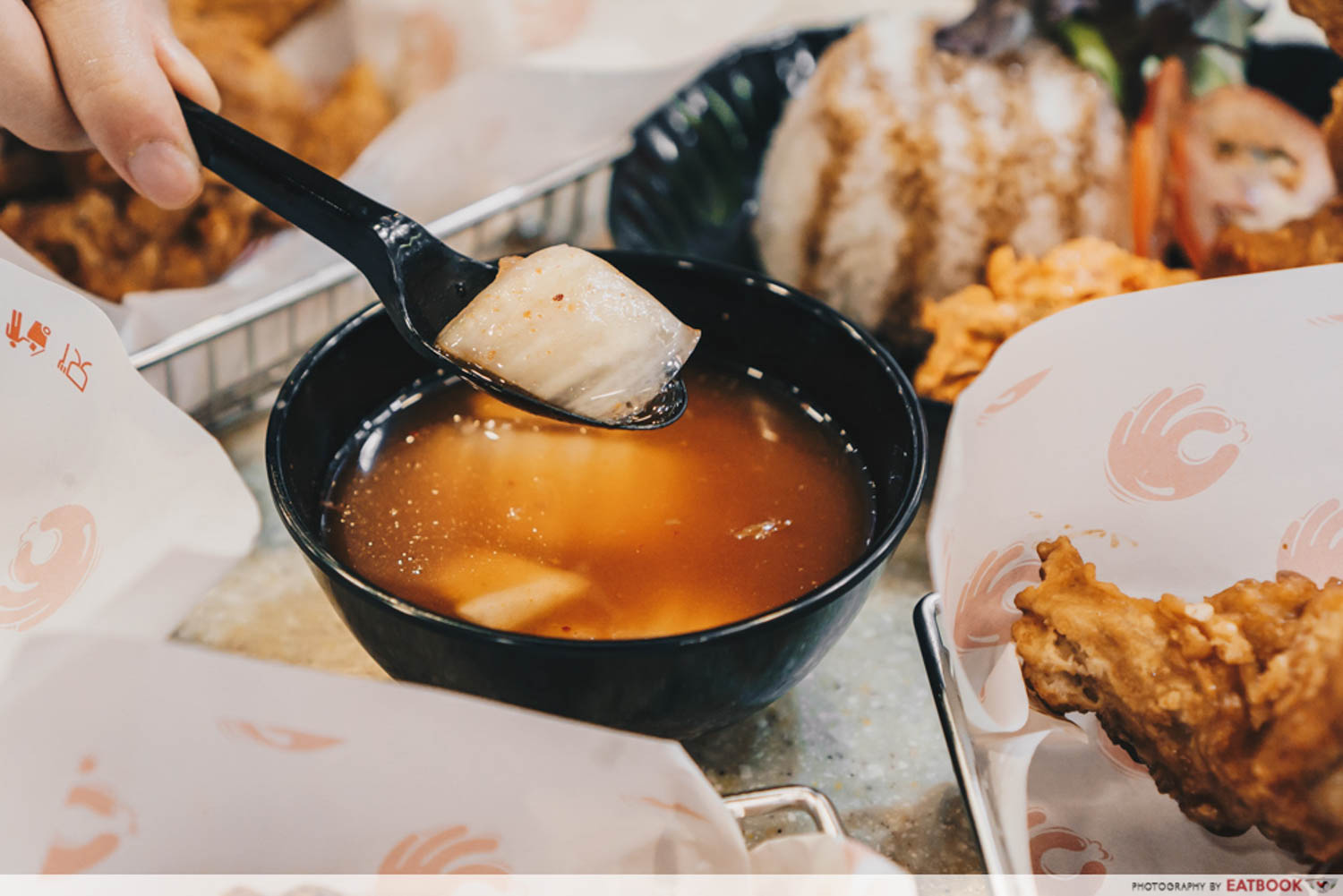 Special mention goes out to the broth, which refreshes your palate with its tangy bite. Though it's peppered with slices of kimchi, it lacks the characteristic pungency of the ingredient. That being said, given the chilli flakes swimming in the broth, we recommend slowly drinking the soup.
10 Low-Key Orchard Food Gems To Impress Your Friends At Your Next Gathering
Ambience at Otoké Chicken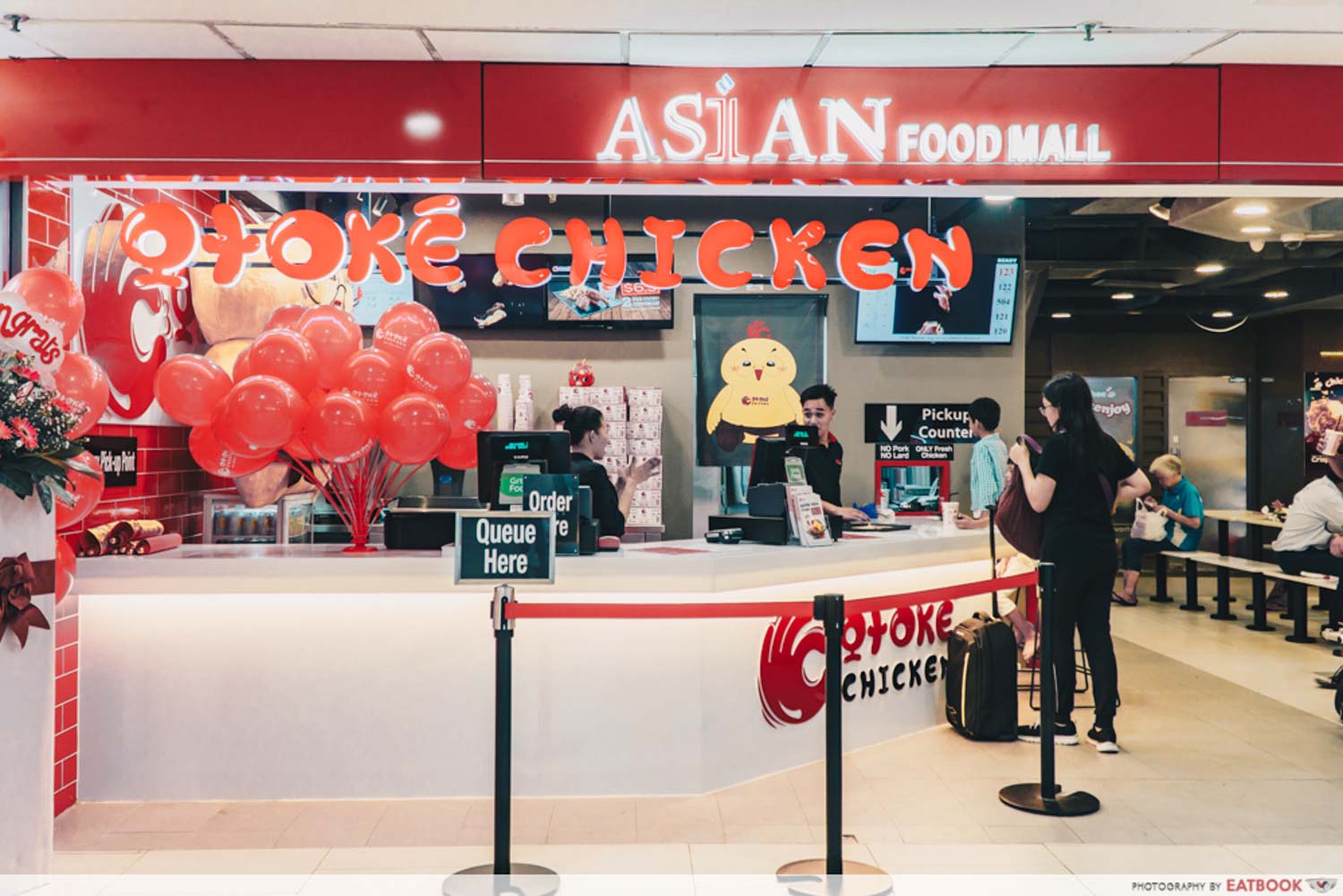 Unlike most fast food chains, Otoké Chicken doesn't have an independent store. Instead, it's snuggled in a corner of Asia Food Mall—a homely food court in Lucky Plaza. Although a small line of seats is reserved for their customers, it's best to search for spots in the food court.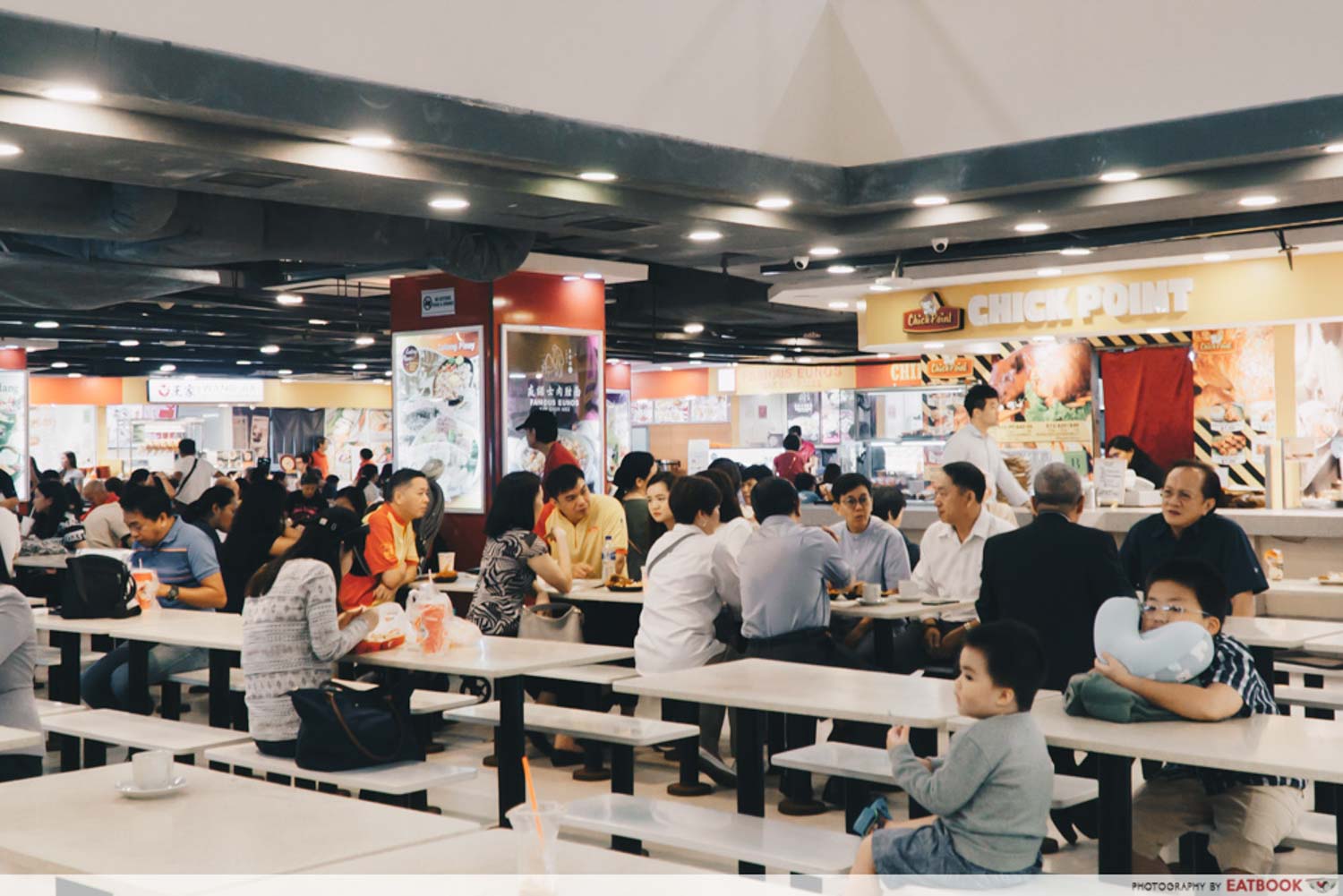 However, be prepared to jostle for seats as Asia Food Mall is popular with both tourists and office workers during lunch.
The verdict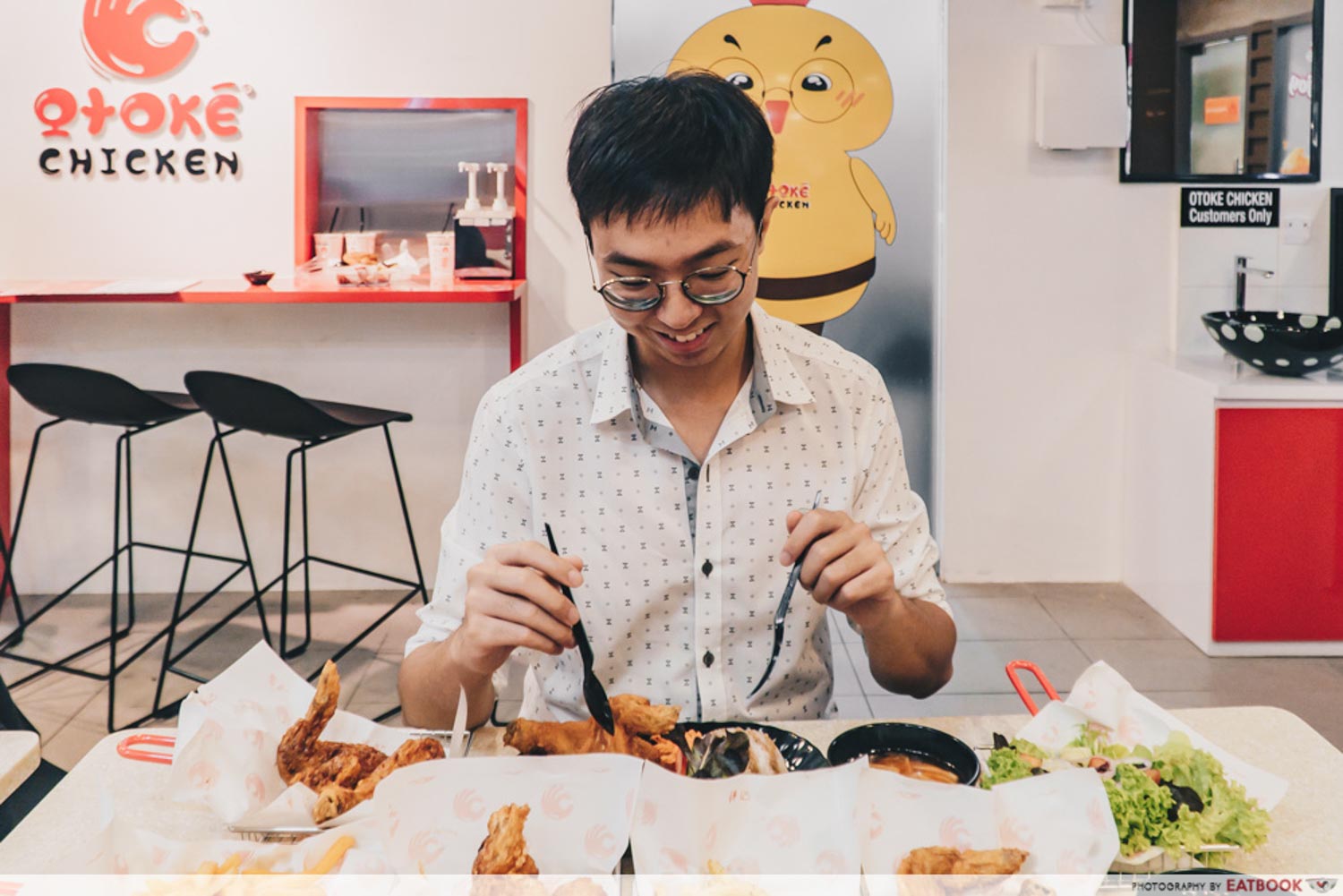 Otoké Chicken may be the new kid in town, but their fried chicken can proudly stand alongside more popular brands. The crust is shatteringly crispy, the meat deliciously tender, and best of all, the prices are affordable. And given our shared love for all things fried chicken, I'm sure many of us are excited for future stores to open.
10 Fried Chicken Dishes From Around The World Including Nashville Hot Chicken
Address: 304 Orchard Road, #B1-38, Lucky Plaza, Asia Food Mall, Singapore 238863
Opening hours: Daily 9am to 10pm
Tel: 8816 8468
Website
Otoké Chicken is not halal-certified, but their food contains no pork nor lard.
Photos taken by Adria Tham.
This post is brought to you by Otoké Chicken.
Summary
Pros
— Delicious fried chicken
— Value-for-money portions
— Located in town
Cons
— Difficult to find seats during meal times
Recommended Dishes: Black Pepper Sauce Fried Chicken Drumstick/Wing ($6.40/$11.40/$16.40), Soy Garlic Sauce Fried Chicken Drumstick/Wing ($6.40/$11.40/$16.40)
Opening hours: Daily 9am to 10pm
Address: 304 Orchard Road, #B1-38, Lucky Plaza, Asia Food Mall, Singapore 238863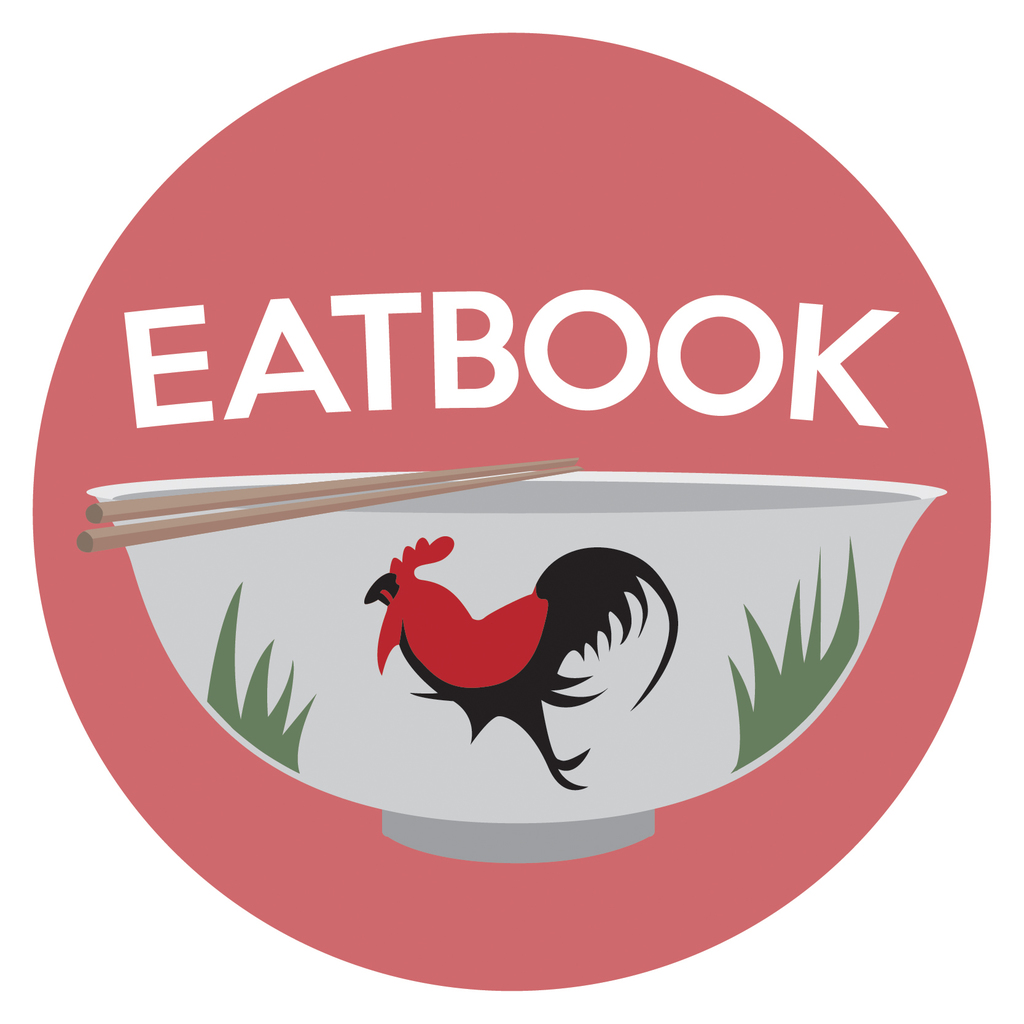 Drop us your email so you won't miss the latest news.