---
No-bake Asian desserts for those with a sweet tooth
---
The Internet is no stranger to no-bake treats. From Oreo cheesecake to homemade ice cream, there are endless recipes to browse through if you're looking for a dessert that doesn't require an oven. However, if you're looking for something more than the run-of-the-mill chocolate chip cookie, plug in your rice cooker, grab a bag of glutinous rice flour, and try your hand at these no-bake Asian desserts.
---
1. Orh Nee Tarts
---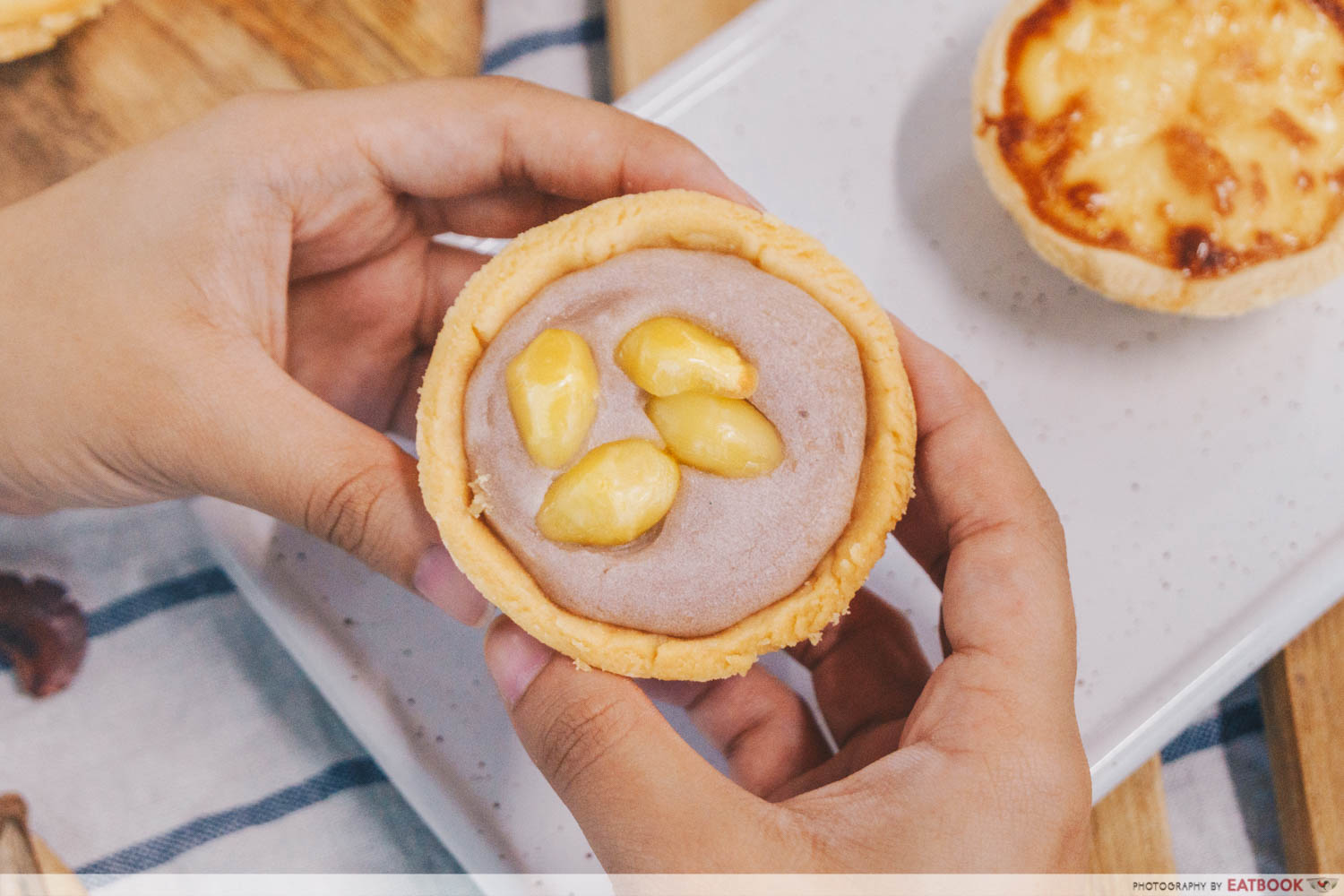 It's hard to beat the luscious orh nee tarts sold at the old-school confectionery, June Bakery. But since we're all stuck at home, you can try your hand at recreating some Orh Nee Tarts of your own, and you won't even need an oven for one of these no-bake Asian desserts.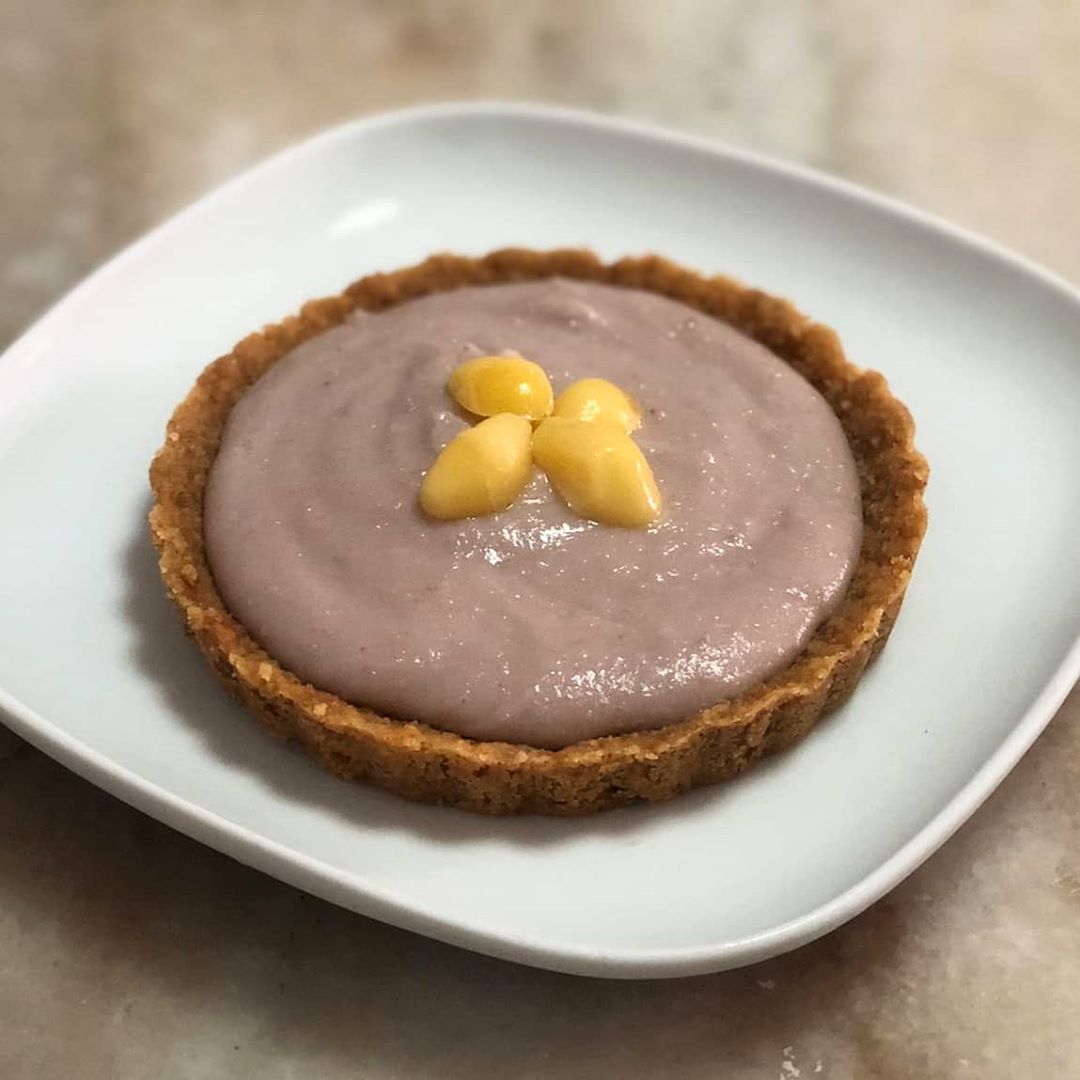 Image credit: @fromsavourytosweet
We've adapted a traditional orh nee recipe for our tart filling, which typically has a few small yam chunks mixed into the paste. But if you want the paste to be as smooth as the June Bakery version, give the yam filling a good blend in a food processor after mashing it up.
Yield: 24 pieces
Time needed: 1 hour
Ingredients
Tart shells:
85g whole wheat cookies or butter cookies
40g melted butter
Filling:
800g yam, skinned and diced
50ml water
160ml oil
6 shallots, sliced
200g sugar
Gingko nuts, shelled and skinned (optional)
Steps:
Crush the cookies in a Ziploc bag till they become fine crumbs. Add melted butter to the crumbs and mix well. 

Prepare a cupcake or muffin pan with cupcake liners. Divide the crumb mixture evenly into 24 portions and press them firmly into the sides of each cupcake liner. Freeze for at least 20 minutes.

To prepare the orh nee filling, steam the cubes of yam for around 20 minutes, or until they are soft.

Using a fork, mash the softened yam till smooth. Add in 50ml of water and continue mashing to achieve a smooth paste.

In a wok over medium heat, fry the sliced shallots in oil till they turn brown. Remove the fried shallots and add in the yam paste and sugar.

Continue stirring for five minutes to combine all the ingredients. Turn off the heat and let the yam filling cool to room temperature.

To prepare the gingko nuts garnish, shell and skin them before removing the cores. Pour boiling water over the gingko nuts to cook them, then drain the water.

Generously fill each tart shell with yam filling, and top them with the cooked gingko nuts.
Recipe adapted from Kitchen Misadventures' post.
---
2. Rice Cooker Muah Chee
---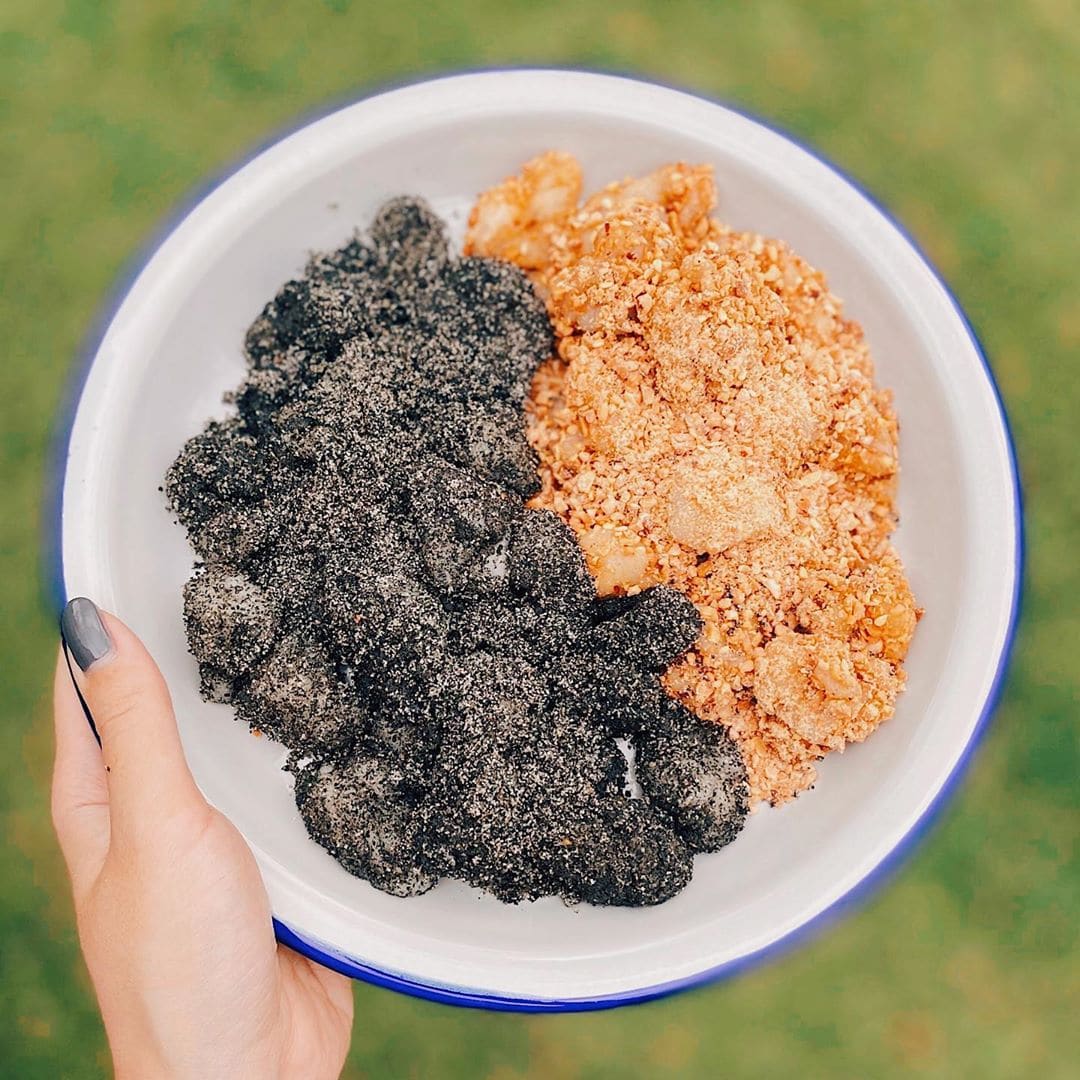 Image credit: @nanoeater
Muah chee are these chewy, peanut-coated chunks of no-bake Asian desserts, which bring back memories of me as a child roaming the pasar malam. You can satisfy your muah chee cravings and evoke some nostalgia with this easy Rice Cooker Muah Chee recipe at home!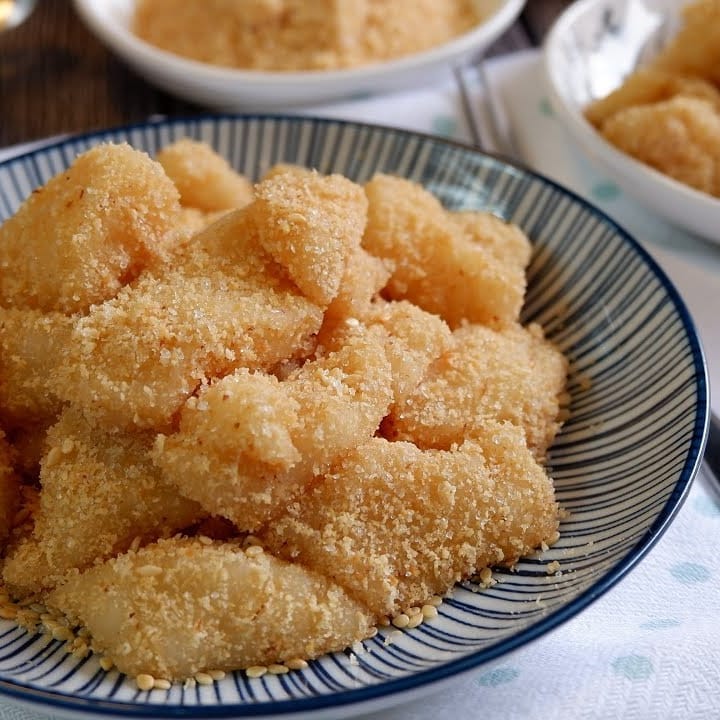 Image credit: @ashjourneywther
If you can't find peanut powder on your grocery run, make your own peanut powder in a food processor with a 2:1 ratio of peanuts and sugar. For something more fancy, remake the Hougang 6 Miles Famous 'yin yang' muah chee by blending toasted black sesame seeds in the same 2:1 ratio to create a fragrant sesame powder.
Yield: Serves 3 to 4
Time needed: 15 minutes
Ingredients
2 cups glutinous rice flour
2 cups water
Cooking spray or oil
1 tsp sesame oil
Toppings
Peanut powder
½ cup black sesame seeds, toasted (optional)
¼ cup sugar (optional)
Steps:
Optional step: In a food processor, blend toasted black sesame seeds, or toasted peanuts, together with sugar till it becomes a fine powder.

In a bowl, combine glutinous rice flour and water. Stir well to combine.

Lightly oil the inside of the rice cooker using cooking spray, or a kitchen towel and some vegetable oil.

Pour in the flour mixture and set the rice cooker to 'Quick Cook' mode, or simply 'Start Cook' for older models.

After three minutes, use a spoon to stir the mixture around.

Close the lid again and let it cook for another three minutes. Repeat this process until the mixture can be formed into a ball and is cooked through.

Add a teaspoon of sesame oil to the muah chee and mix it in well.

On a plate or tray, dust the powdered topping evenly. Cut a portion of the muah chee and place it on the powdered topping.

Cut the muah chee into smaller chunks and coat it thoroughly with the topping.
Recipe adapted from Leslie Koh's post.
---
3. Rice Cooker Pandan Chiffon Cake
---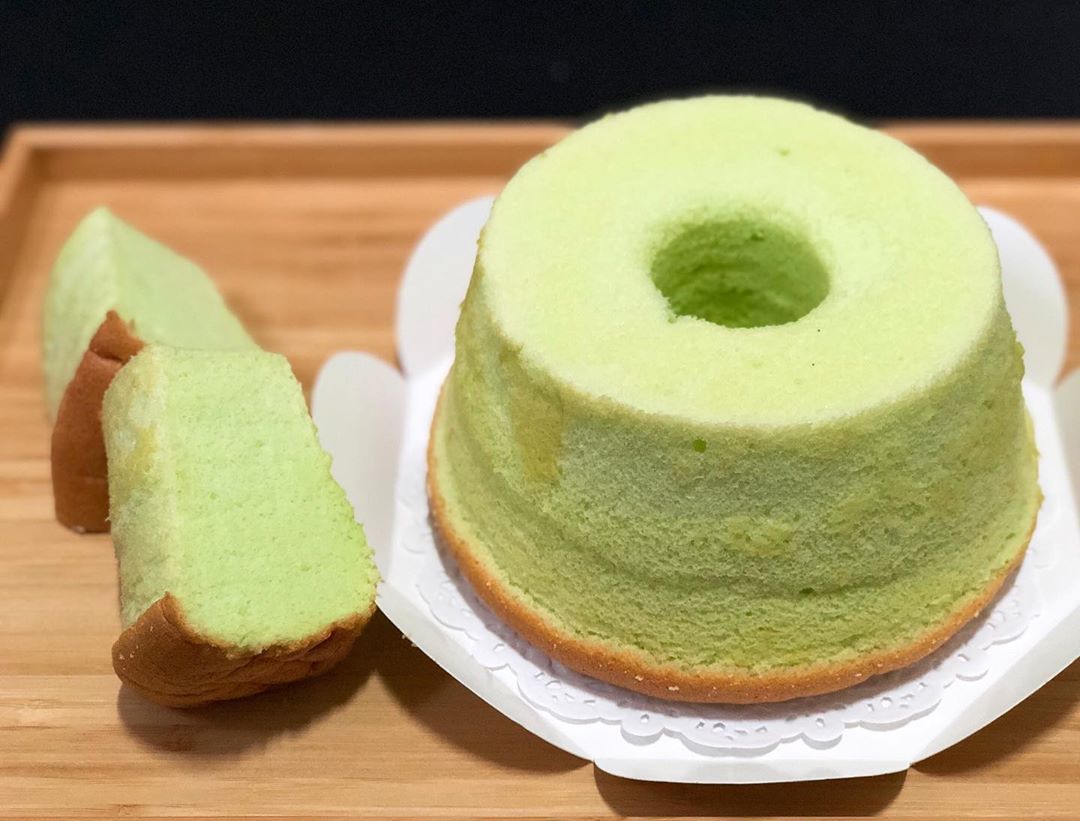 Image credit: @suannchia
A good Pandan Chiffon Cake is light, fragrant, and almost dissolves in your mouth as you bite into it. Its delightfully fluffy sponge has a characteristic pale green tinge and a caramelised light brown top. Traditionally, chiffon cakes are baked in an oven, but these no-bake Asian desserts been modified such that the cakes are made entirely in a rice cooker.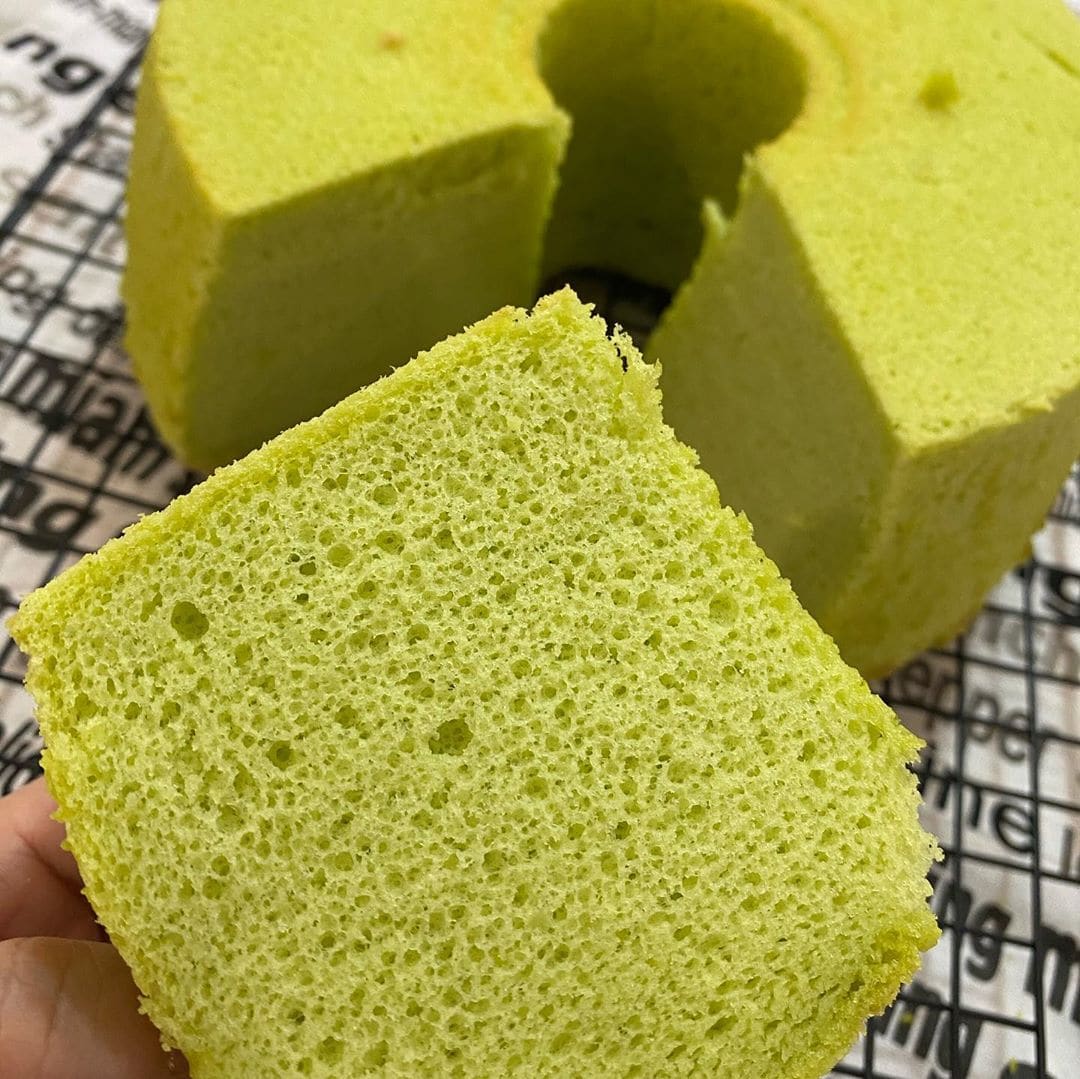 Image credit: @ahkat
The key to making a successful chiffon cake is to incorporate as much air as possible, whilst keeping the batter light. You can do this by ensuring that the meringue has been whipped up till soft peaks form, and that little air is knocked out when you fold the batter together. 
Yield: Serves 8
Time needed: 40 minutes
Ingredients
Pandan juice:
30g pandan leaves
2 tbsp water
Pandan batter:
40g whole milk
50g trim coconut milk
2 tbsp pandan juice
2 tsp pandan essence
30g condensed milk
20g flavourless oil
140g cake flour
⅛ tsp salt
½ tsp baking powder
Meringue:
4 egg whites
¼ tsp cream of tartar
130g fine sugar
4 egg yolks
Steps:
To make pandan juice, roughly chop up pandan leaves into small pieces and pulverise them in a blender with two tablespoons of water. Using a cheesecloth or fine strainer, drain the pandan juice from the blended mixture.

In a large mixing bowl, combine whole milk, coconut milk, pandan juice, pandan essence, condensed milk, and oil. Using a sift, add the flour, salt, and baking powder. Fold together until the mixture is smooth.

In a separate bowl, beat the egg whites with a hand mixer set to medium speed, for 45 seconds. 

Add in the cream of tartar and continue beating for another 45 seconds. Gradually add in the sugar and continue beating until the meringue holds soft peaks.

Whisk the egg yolks into the meringue one at a time.

Add ⅓ of the meringue to the pandan batter and stir well. Then, add the rest of the meringue and fold the mixture together gently.

Pour the cake batter into a well-greased rice cooker pot. Tap the pot on the table just twice to get rid of big air bubbles.

Select the 'Cake' function on the rice cooker. Alternatively, press the 'Cook' button and let it run for two cycles, or at least 40 minutes. Insert a toothpick into the middle of the cake. If it comes out with wet batter, give it more time in the rice cooker. If it comes out clean, the cake is done.

Carefully flip the cake out onto a plate and let it cool completely before serving.
Recipe adapted from My Mind Patch's blog.
---
4. Tiramisu Mochi
---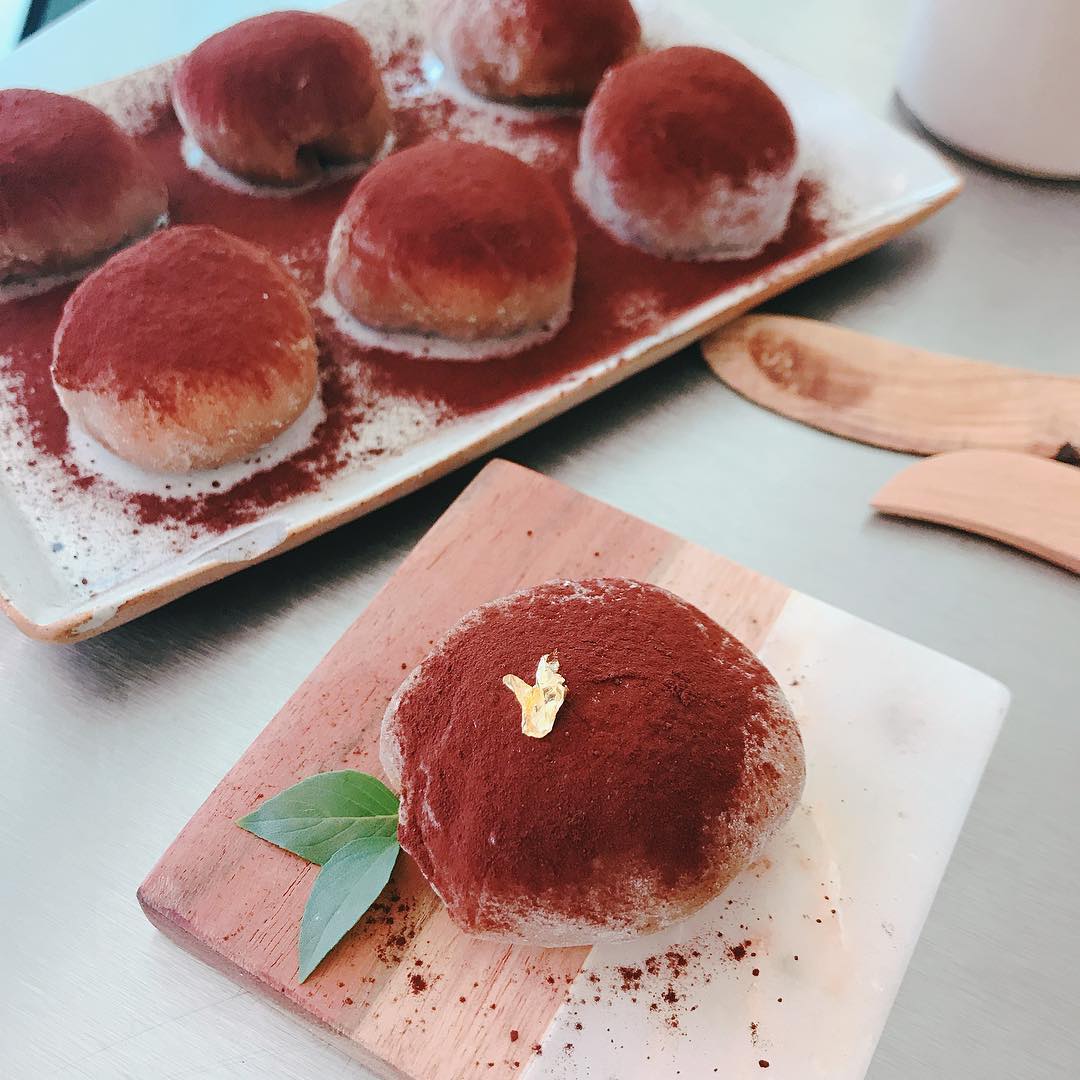 Image credit: @yunak210
A popular sweet snack in Japan is the daifuku mochi, which is filled with a smooth red bean paste. This Tiramisu Mochi recipe marries the flavour of the Italian dessert with the traditional Japanese treat. Every bite-sized piece of these no-bake Asian desserts comes bursting with a creamy cheese filling.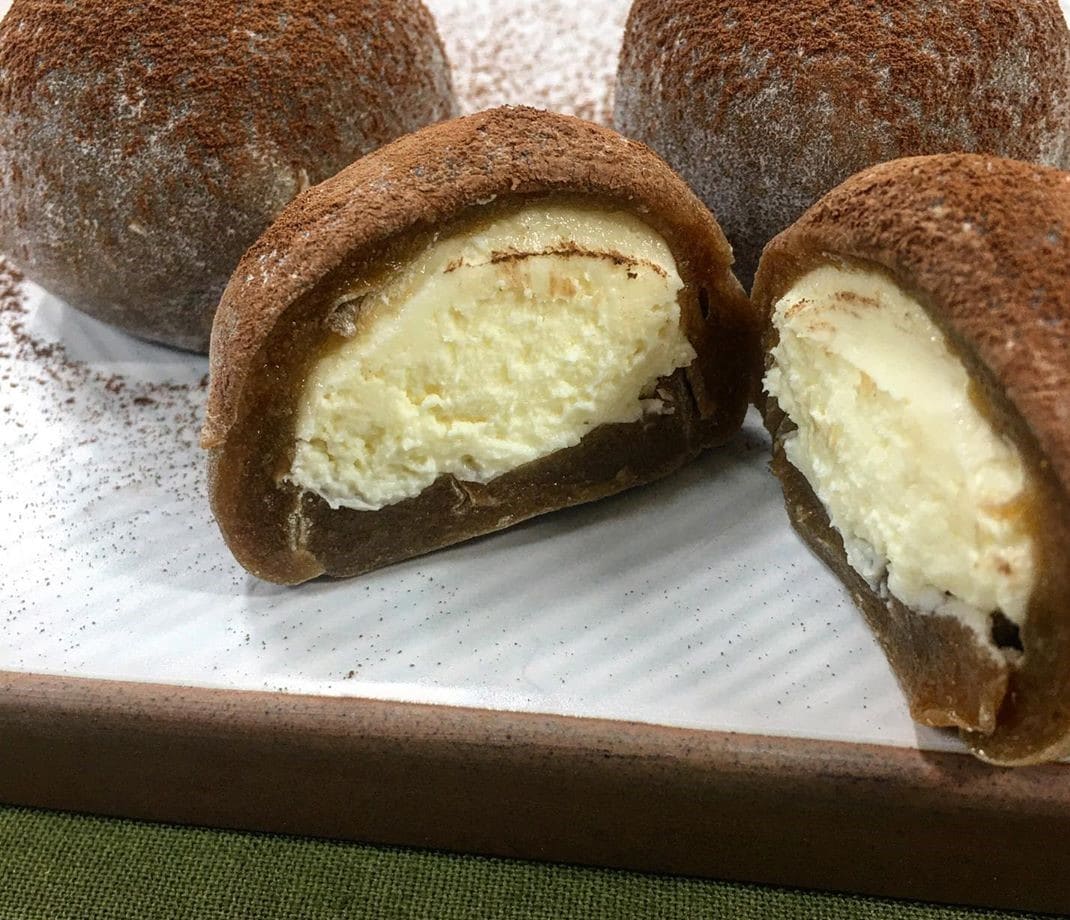 Image credit: @puzzledjane
The cheese filling calls for mascarpone cheese, but if that is not readily available to you, feel free to substitute the mascarpone for 75g of cream cheese and 25g of heavy whipping cream. 
This recipe is versatile so you can replace the coffee powder with matcha or even Milo powder!
Yield: 18 pieces
Time needed: 30 minutes 
Ingredients
Filling:
100g mascarpone cheese, cold
20g sugar
90g heavy whipping cream
Mochi:
150g glutinous rice flour
90g sugar 
½ tsp salt
220g hot water
½ tsp instant coffee powder

Cornstarch
Cocoa powder
Steps:
Prepare your filling by mixing mascarpone cheese together with sugar and heavy whipping cream in a bowl.

Cut out 18 palm-sized squares of cling wrap. Pipe or dollop two tablespoons of the mixture onto each square. 

Bring the edges of the cling wrap together and twist it at the top like a pouch. Freeze the pouches of cheese filling for an hour.

In a microwaveable bowl, whisk together the glutinous rice flour, sugar, and salt.

Combine instant coffee powder with hot water. Add the coffee to the mixture of flour, sugar, and salt. Mix well.

Cover the bowl with cling wrap and microwave for 90 seconds. Take it out and give it another good mix, before popping it back in the microwave for another 90 seconds.

Mix it again in the bowl, and let the mochi cool down.

On a surface covered with cornstarch, scoop your mochi out and dust it well with more cornstarch. Mold it into a rectangle and cut the mochi into 18 equal pieces.

Flatten each piece of mochi and place a frozen filling in the centre. Pinch the mochi dough together to seal the filling in.

Dust the tiramisu mochi pieces with cocoa powder and enjoy them cold. 
Recipe adapted from Cooking tree's video.
---
5. Fried Sesame Balls
---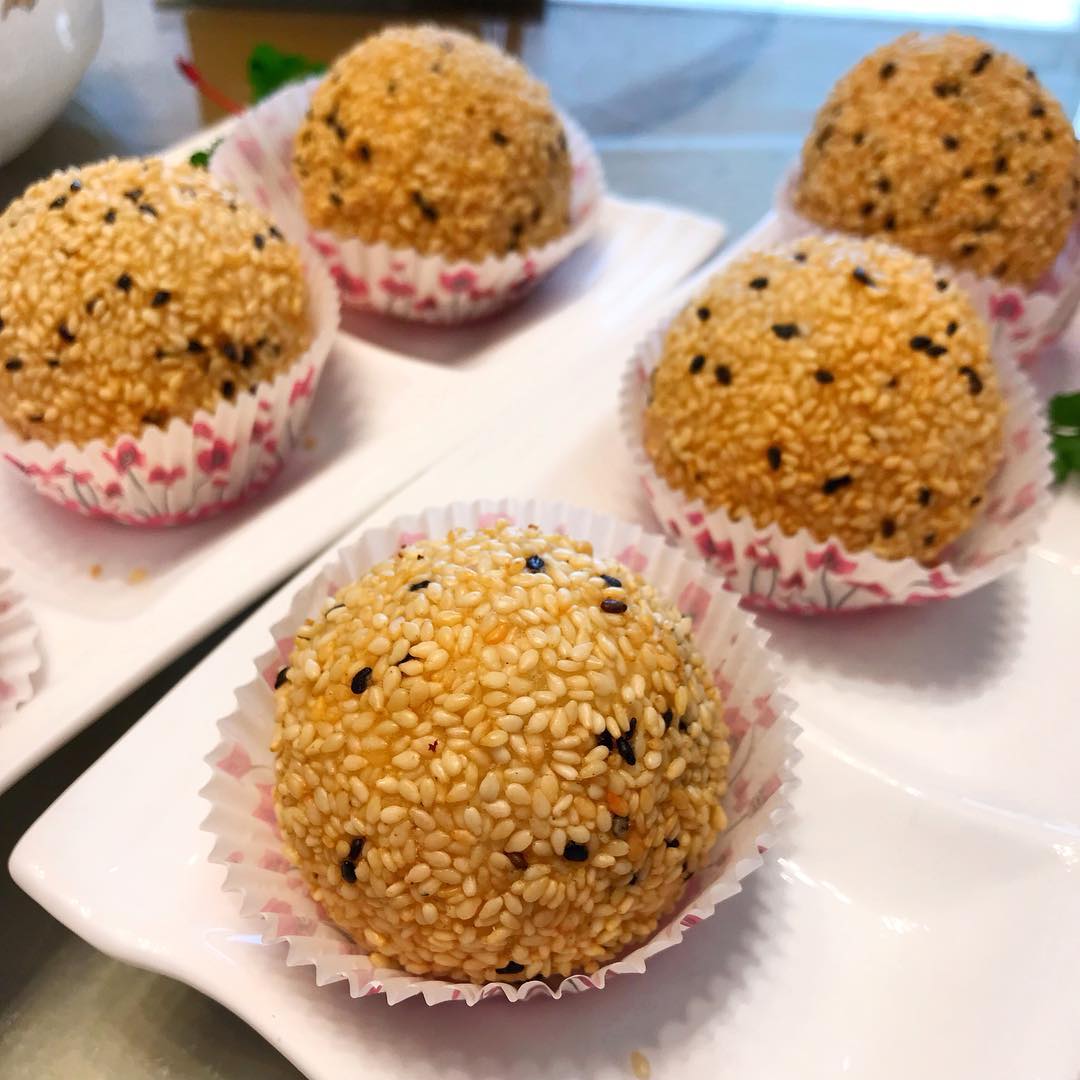 Image credit: @tohungrymoments
Adding onto our lineup of glutinous rice balls, this Chinese Fried Sesame Balls are staple no-bake Asian desserts at any Chinese buffet or during CNY gatherings. The balls have a puffed-up, crispy skin and a soft mochi dough. Encased within is a sweet centre, which is most commonly filled with red bean, mung bean, or crushed peanuts.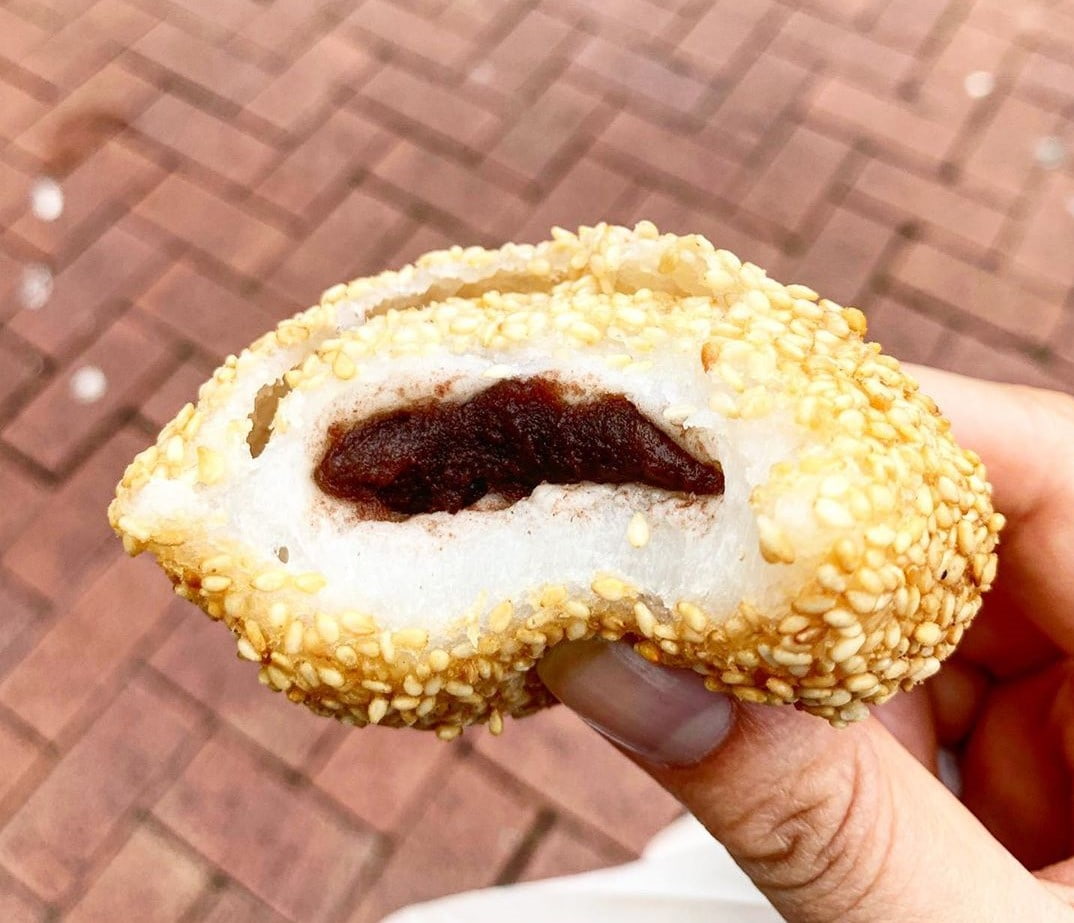 Image credit: @eatouteveryday
The key to allowing the balls to puff up and stay crispy without burning, is to keep the oil at a medium-low temperature while deep-frying them. Once the mochi balls expand and turn a shade of golden brown, remove them from the oil and serve warm. 
Yield: 10 pieces
Time needed: 30 minutes
Ingredients
150g glutinous rice flour
3 tbsp brown sugar
90ml hot water
150g red bean paste
6 tbsp white sesame seeds, toasted
Oil
Steps:
Dissolve brown sugar in the hot water.

Add glutinous rice flour into a mixing bowl. Make a well in the centre of the flour and pour in the sugar mixture in batches, mixing well in between additions. Form the mixture into a dough ball.

Spread the toasted sesame seeds onto a tray or plate. Prepare a small bowl of water next to it.

Pinch off a piece of dough roughly the size of a golf ball, and using your thumb, make an indentation in the centre of the dough, flattening it slightly.

Place a teaspoon-sized ball of red bean paste in the indentation. Gently shape the dough around the red bean filling and pinch the dough together to seal it. 

Dip the ball in the bowl of water, then transfer it to the tray to coat it with a layer of sesame seeds. Repeat for the other balls.

Fill a pot with at least three inches of oil, and heat it up to 160°C.

Fry a few balls at once, using a pair of chopsticks or tongs to rotate them gently.

Occasionally, press them up against the side of the pot to prevent them from expanding too quickly or unevenly.

Remove the sesame balls from the oil, and let them cool on paper towels.
Recipe adapted from Cooking With Dog's post.
---
6. Thai Mango Sticky Rice
---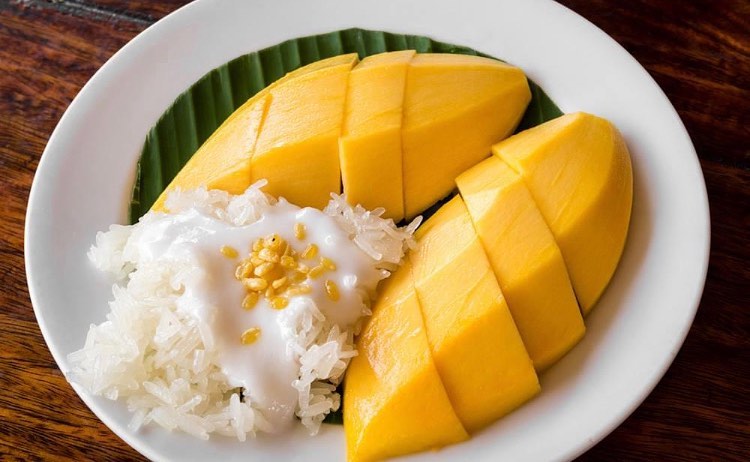 Image credit: @peggy_hass_fotografie
Mango Sticky Rice is practically a staple in any Thai restaurant or eatery you visit. If just like me, you've experienced an occasional and inexplicable craving for one of the most classic no-bake Asian desserts, master this recipe and resolve your cravings once and for all.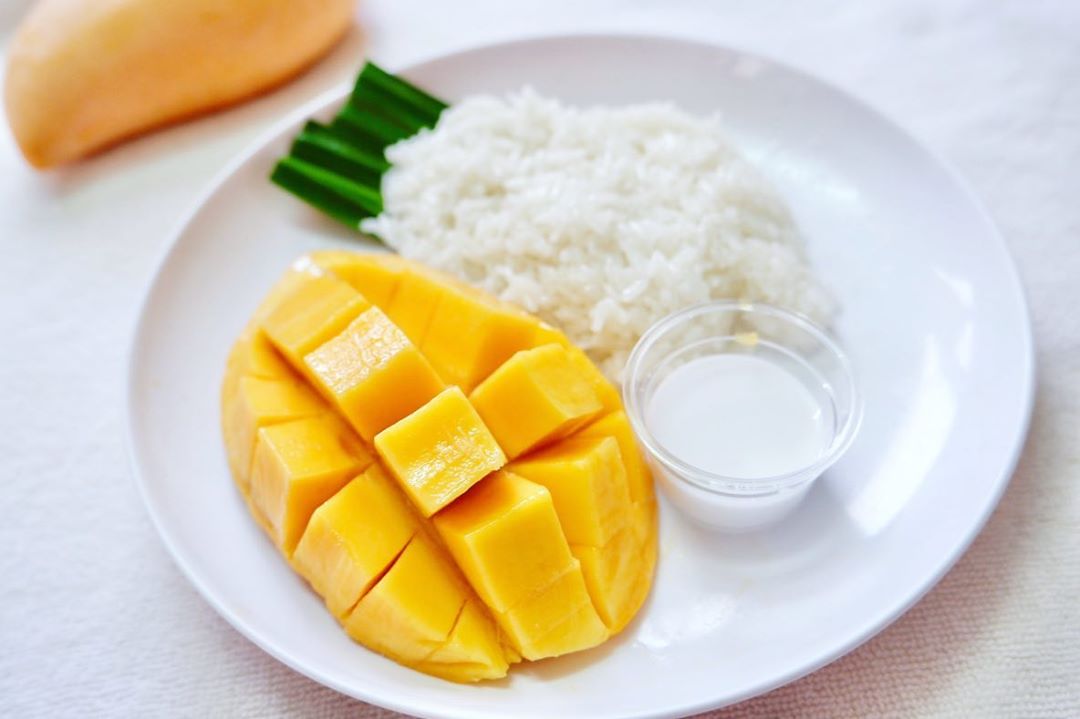 Image credit: @iiamfodd
The sweetened glutinous rice can be stored in the fridge for up to a week, and you can heat it up in the microwave whenever you're ready to enjoy it. Mango essentially makes up half of the dish, so be sure to use fresh and ripe mangoes in order to maximise the satisfaction you get from this dessert!
Yield: Serves 4
Time needed: 40 minutes
Ingredients
200g glutinous rice
2 to 3 pandan leaves (optional)
1 cup coconut milk
¼ cup sugar
½ teaspoon salt
2 ripe mangoes
Steps:
Soak the glutinous rice in water for at least eight hours.

Drain the sticky rice and steam it, together with the pandan leaf knots, for 20 to 25 minutes.

In a saucepan over low heat, combine the coconut milk, sugar, and salt. Stir until the sugar dissolves. Separate ¼ cup of the mixture, and set aside for serving later.

Take the rice out of the steamer and, while it is still hot, pour the rest of the coconut mixture onto the rice. Stir to combine, then let it cool to room temperature.

While waiting, skin and cut the mangoes into small cubes.

Drizzle the remaining coconut milk onto the sticky rice when it is ready to be served.
Recipe adapted from Rasa Malaysia's post.
---
7. Martabak Manis
---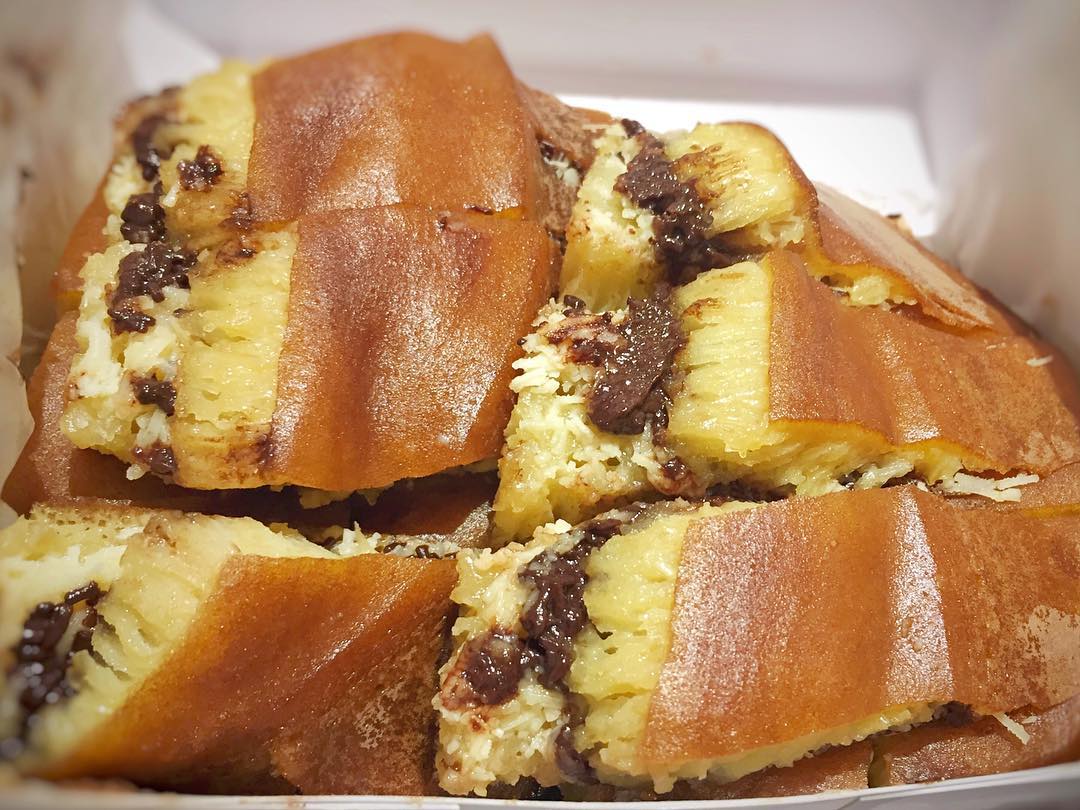 Image credit: @thepennywise
Commonly mistaken for the local hawker mee jiang kueh, this thick, gooey pancake is a popular Indonesian street snack named Martabak Manis. These spongy no-bake Asian desserts are made in a rather unique way. The batter needs to rest for an hour before an additional egg and baking soda mixture is added to give it its characteristic spongy texture.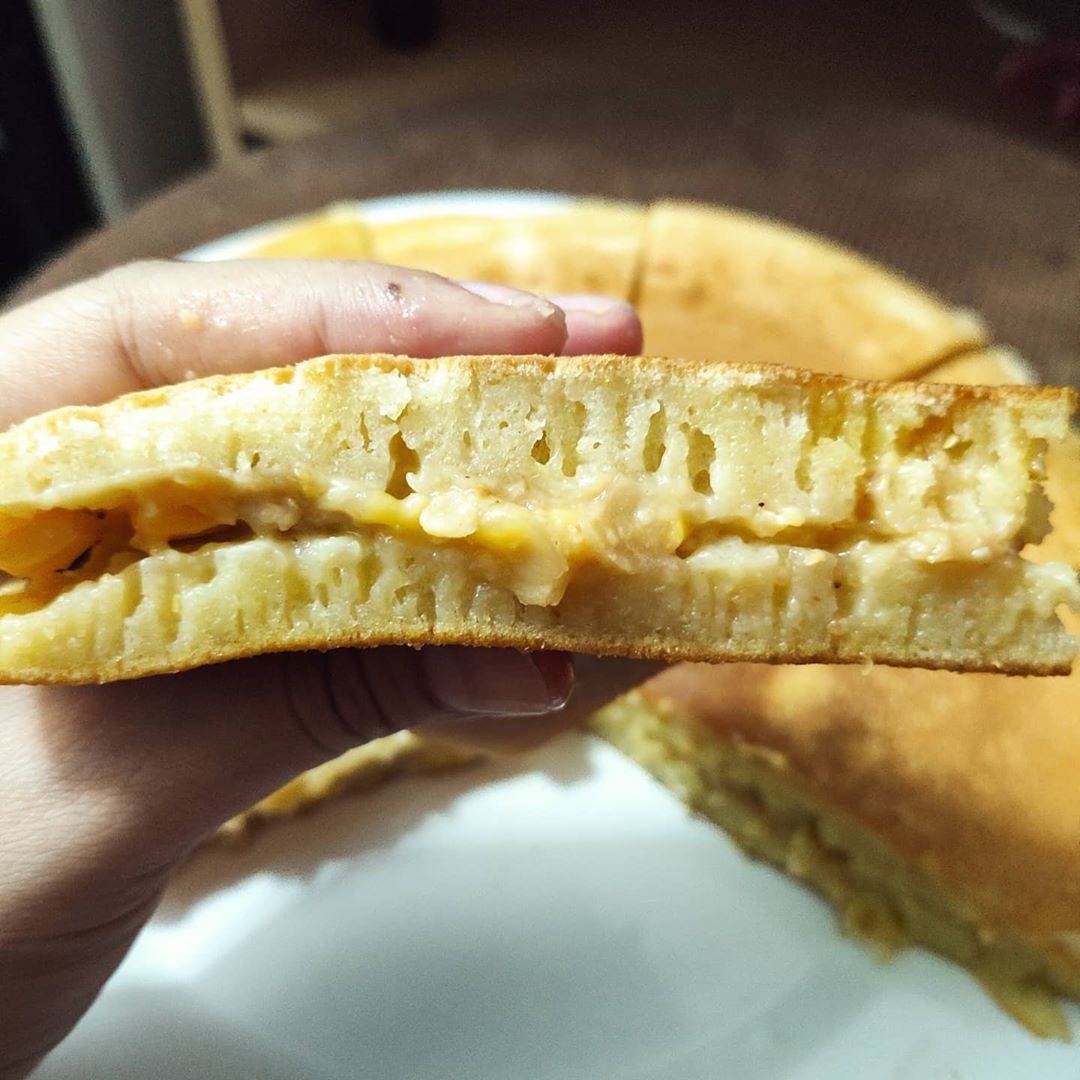 Image credit: @darlaraylajanim
To prevent burns before the pancake is completely cooked, use a small, non-stick pan. Traditionally, the martabak manis is topped with butter, condensed milk, cheese, and chocolate. But you can get creative with your toppings and use red bean, peanut powder, or even Oreo crumbs for a personalised snack.
Yield: Serves 4
Time needed: 20 minutes 
Ingredients
120g all-purpose flour
40g fine sugar
¼ tsp salt
100ml water
2 eggs
½ tsp baking soda
1 tbsp water
1 tbsp sugar
Filling:
Butter or margarine
Condensed milk
Shredded cheese
Chocolate chips or chocolate rice
Chopped peanuts (optional)
Steps:
In a bowl, combine the flour, sugar, salt, water, and one egg. Mix well and leave to rest at room temperature for an hour.

After an hour, add in the extra egg and whisk to combine.

Preheat your pan or skillet over medium-low heat.

Mix the baking soda with one tablespoon of water, and add the mixture into your batter. Stir to combine.

Immediately pour the batter into the preheated pan. Rotate and tilt the pan slightly to coat the sides of it.

Cook until bubbles start to appear on at least ¾ of the surface of the pancake. Sprinkle a tablespoon of sugar across the pancake. 

Turn the heat to low and cover the pan with a lid, letting it cook for another five minutes.

Transfer the martabak to a plate, spread butter over the surface, and drizzle condensed milk over it.

Coat one half of the pancake with a layer of shredded cheese, and the other half with chocolate chips. Fold the pancake in half and cut into bite-sized pieces. 
Recipe adapted from Two Kitchens' blog.
---
8. Leche Flan
---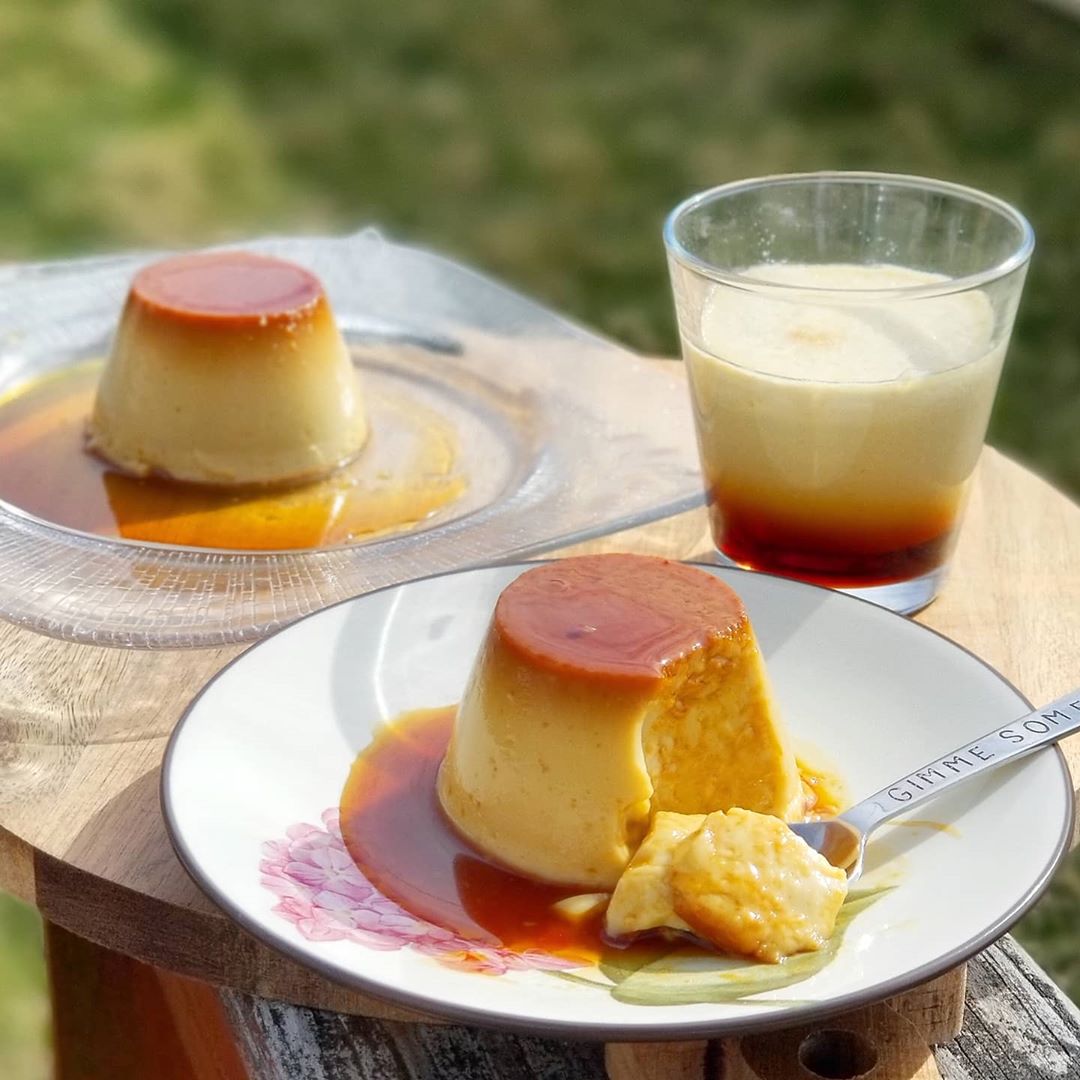 Image credit: @cypianist
The Leche Flan is one of the most common no-bake Asian desserts to complete any special Filipino household feast. This caramel-topped custard is traditionally made in oblong-shaped pans called llanera, but they can also be enjoyed in individual servings using pudding cups, ramekins or even small jars.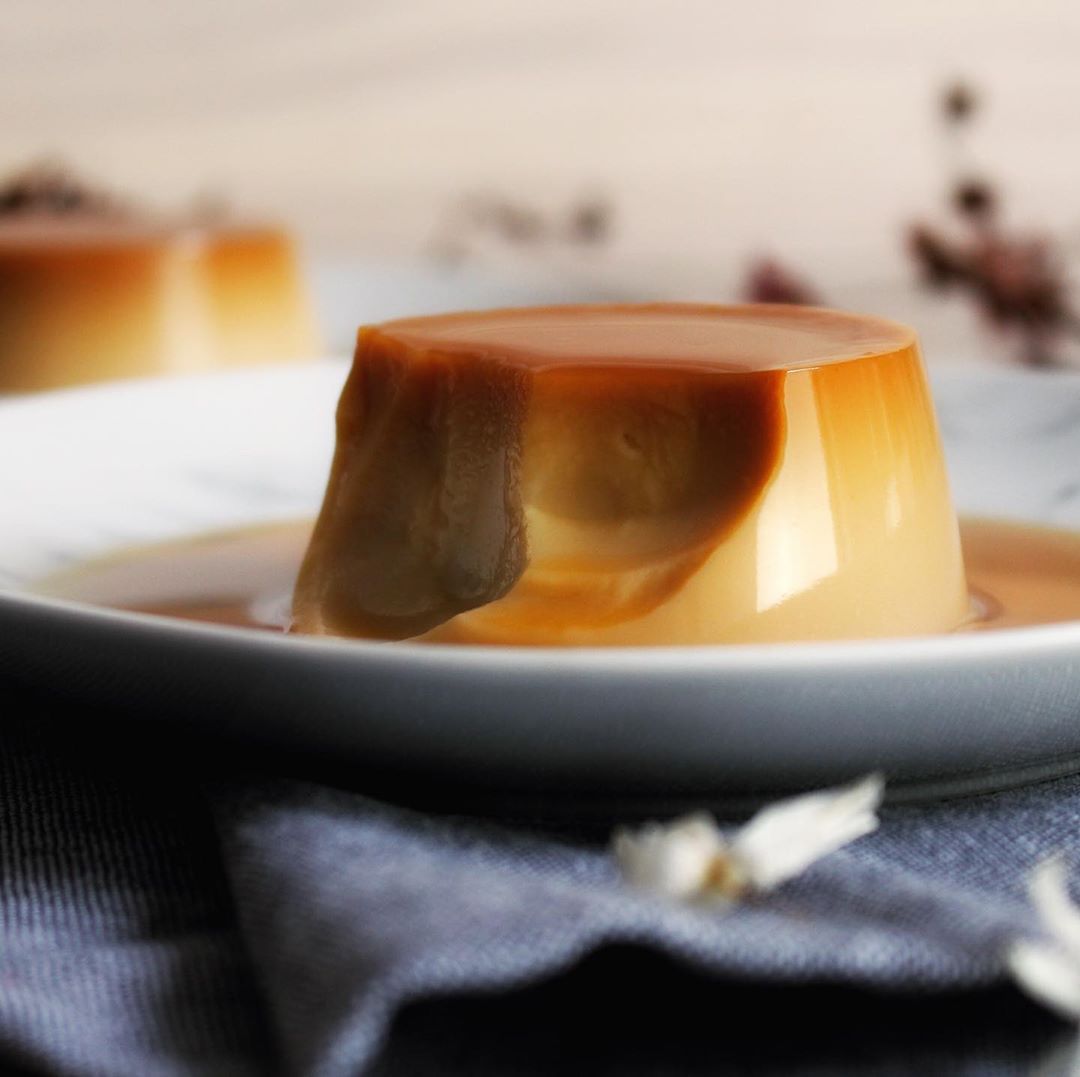 Image credit: @cheer.seeds
Leche flan is cooked in a steamer in the oven, using a bain-marie method. If you're not a fan of working with heat, there's also a version of the no-bake dessert that uses gelatin and sets in the fridge, named 'Jelly Flan'. This recipe makes enough to fill one llanera, or four ramekins.
Yield: Serves 4 
Time needed: 45 minutes
Ingredients
4 egg yolks
100ml condensed milk
½ cup evaporated milk
70g sugar
1 tbsp water
1 tbsp boiling water
Steps:
In a mixing bowl, combine egg yolks, condensed milk, and evaporated milk. Whisk well.

Using a fine sieve or cheesecloth, strain the mixture to get rid of clumps.

In a small saucepan over medium heat, add sugar and one tablespoon of water. Gently swirl the pan around to spread out the sugar. Let the mixture cook without touching it, until it turns a deep amber.

Immediately remove from the heat, and place the pot over a damp kitchen towel to stop further cooking. Pour in a tablespoon of boiling water and stir to thin out the caramel.

Fill your pan or ramekins with the caramel and let it sit and harden.

Pour the custard into the pan or ramekins, then cover loosely with aluminium foil.

Place it into a double boiler and steam for 25 minutes. Turn off the heat without removing the steamer's cover, and let the leche flan cook for another five minutes in the residual heat.

Let it cool to room temperature or chill in the fridge before serving. 
Recipe adapted from Kawaling Pinoy's post.
---
9. Fried Nian Gao
---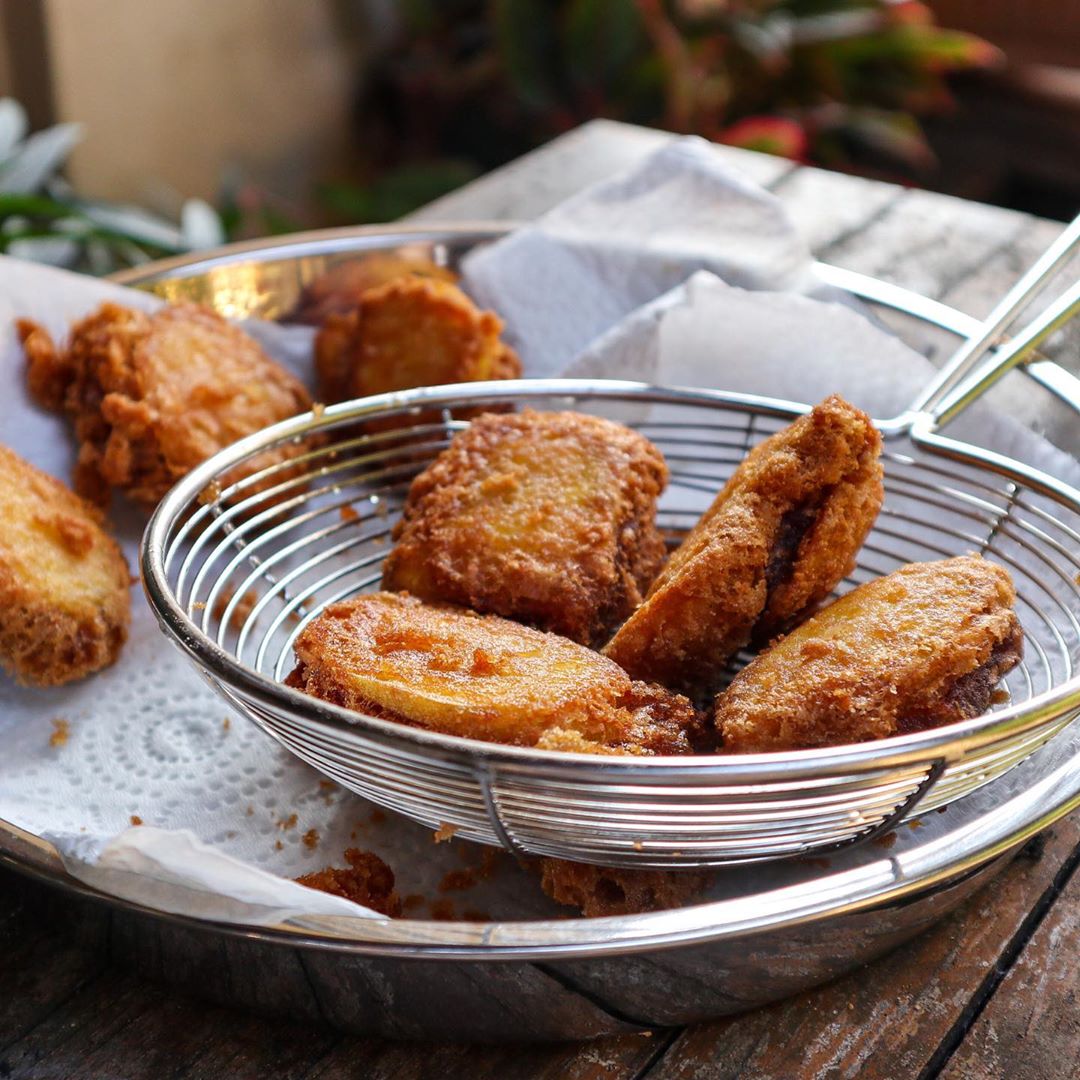 Image credit: @yslcooks
Every CNY gathering without fail, there will be a plate of these Fried Nian Gao displayed on the table for me and my cousins to devour. Though they are mostly available during the festive season, there's nothing stopping you from making this sweet, deep-fried snack all year round.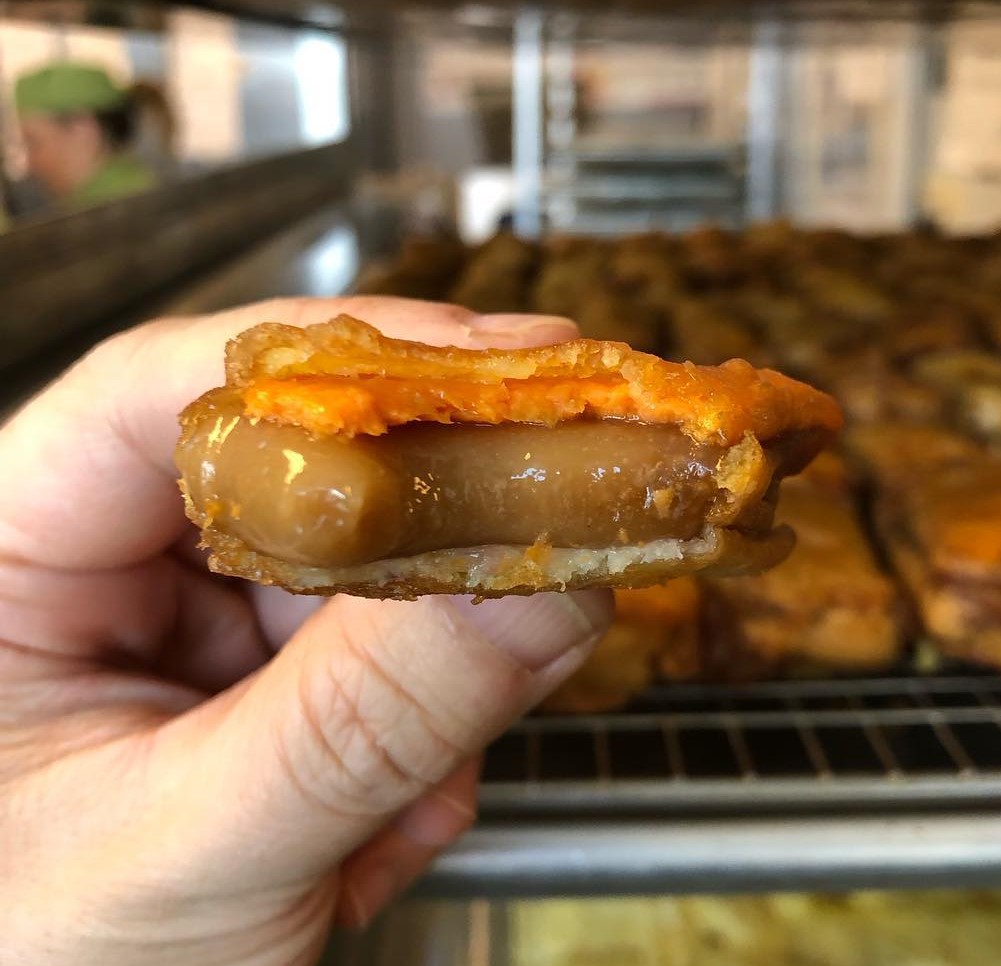 Image credit: @chefymuse
The chewy rice cake centre is usually sold only during CNY, but you can easily make nian gao at home from scratch, and keep it in the fridge for up to six months. 
The most popular way to enjoy fried nian gao is to create a yam and sweet potato sandwich that softens while you fry it. Pro tip: slice the sweet potato and yam thinly to cook them faster without burning the batter!
Yield: 18 pieces
Time needed: 30 minutes
Ingredients
Nian Gao:
300g glutinous rice flour
300ml water
300g white sugar
100g dark brown sugar or coconut sugar
Batter ingredients:
100g plain or cake flour, sifted
2 eggs
½ tsp baking powder
90ml ice water
400g sweet potato (optional)
400g yam (optional)
Steps:
In a saucepan over medium heat, add white sugar, brown sugar, and water. Bring to a gentle simmer, or until the sugar has completely dissolved.

In a mixing bowl, add the sugar-water mixture gradually into the glutinous rice flour. Stir well in between additions till all the lumps disappear.

Liberally grease two five-inch cake pans with cooking spray or oil.

Divide the mixture into the two pans and cover them loosely with aluminium foil. Steam on high heat for 30 minutes, then on lower heat for 2 hours and 30 minutes. Remove from the steamer and let the nian gao cool completely.

Slice the nian gao into 18 thin squares. Skin the yam and sweet potato, then slice them into 18 thin pieces. Sandwich the nian gao with a slice of yam and sweet potato each.

In a mixing bowl, combine flour, baking powder, and eggs. Stir in the ice water and oil until the batter is smooth.

Heat a pot filled with oil. Dip the nian gao sandwich in the batter, then carefully drop it in the hot oil. Deep-fry the nian gao on low heat, in batches, until golden brown on both sides.

Remove from the oil and place onto a plate lined with paper towels to soak up excess oil.
Recipe adapted from What To Cook Today's post.
---
10. Korean Dalgona Candy
---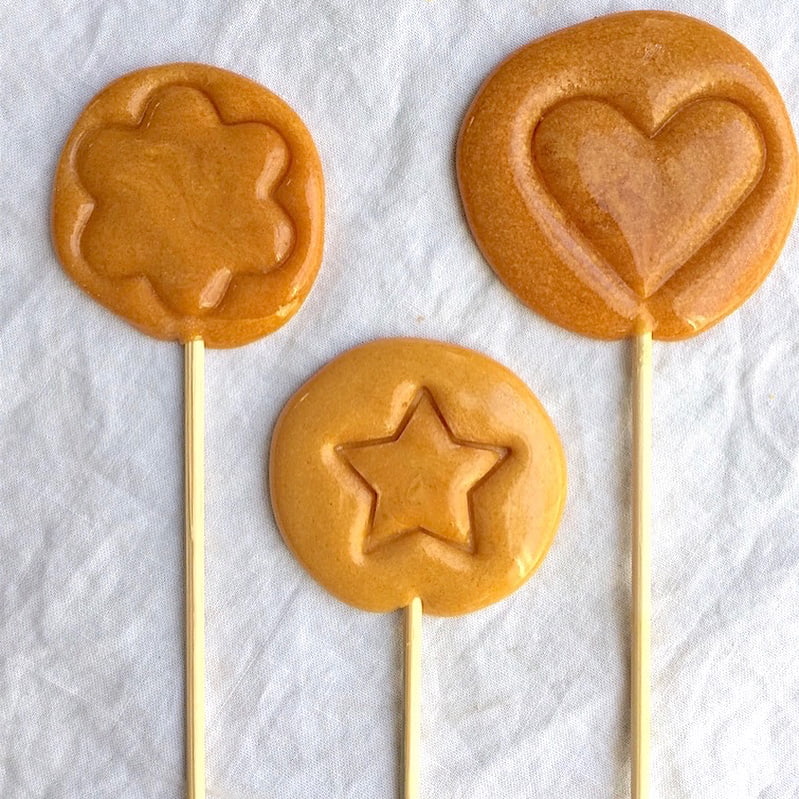 Image credit: @tc_center.kz
If you haven't caught onto the viral Korean Dalgona coffee craze, you've probably been living under a rock. This whipped coffee trend got its name from the Korean Dalgona Candy, also known as ppopgi in Korea. Its honey-brown colour and puffed-up look is what inspired the name behind the trendy drink.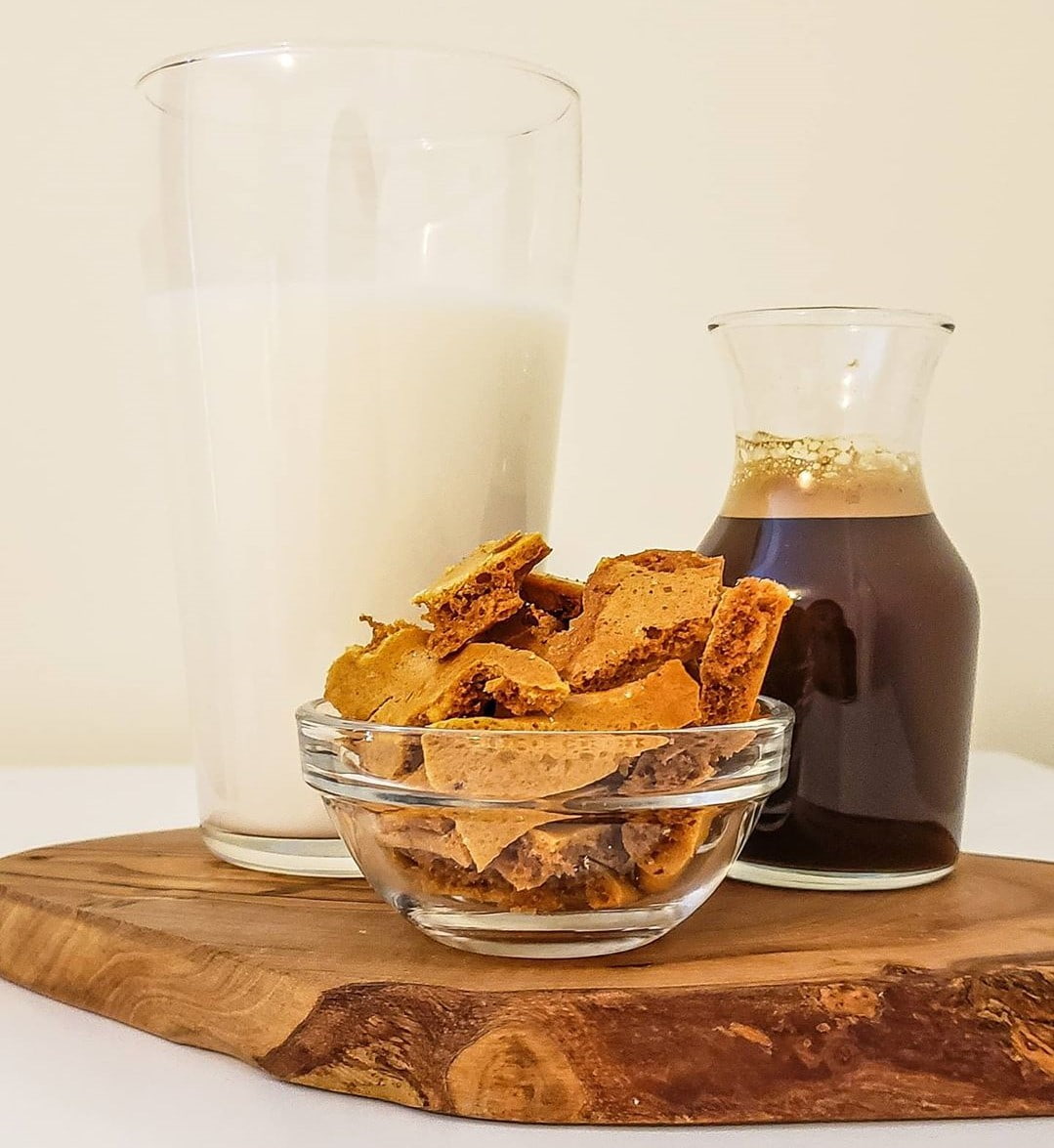 Image credit: @andgelnoms
This honeycomb candy only uses two ingredients: sugar and baking soda. There's a lot of chemistry that goes behind the making of this dessert, but the most essential points to take note are to grease your equipment well and to work fast. 
You can use cookie cutters to make patterns like the ones sold on the streets of Korea. Or, you can pour the molten mixture onto baking pans, and break the hardened sheet into thick honeycomb shards for snacks.
Yield: Serves 4
Time needed: 10 minutes 
Ingredients
¼ cup sugar
¼ tsp baking soda
Steps:
Prepare a sheet of parchment paper or a greased tray. Grease any cookie cutters or molds you are using with oil or cooking spray.

In a small pan over low heat, slowly cook the sugar, stirring frequently. Cook the sugar until it melts and turns golden brown. 

Turn off the heat and add in the baking soda. Stir vigorously until the baking soda is mixed in.

Immediately pour out the mixture onto the parchment paper or greased surface in four small circles. Place skewers into the centre of each circle such that they look like lollipops. 

Let the candy harden for another 10 seconds before you place your greased cookie cutters onto the candy to mark out a design.

Let the Dalgona candy completely cool to room temperature. 
Recipe adapted from Yummy Tummy and Genius Kitchen's posts.
---
11. Banh Bao Chi
---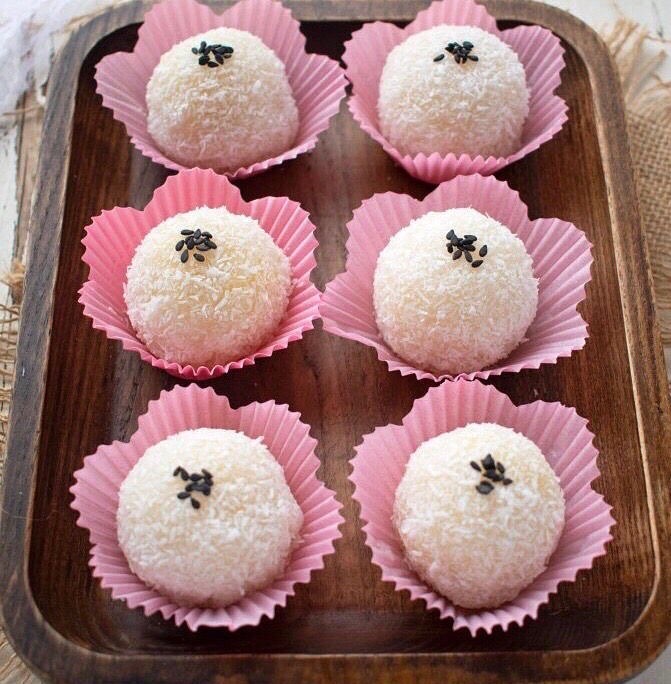 Image credit: @scruffandsteph
The Banh Bao Chi is a fondly regarded coconut dessert in Vietnam. These adorable, bite-sized no-bake Asian desserts are sometimes prepared like ondeh ondeh with a coating of desiccated coconut.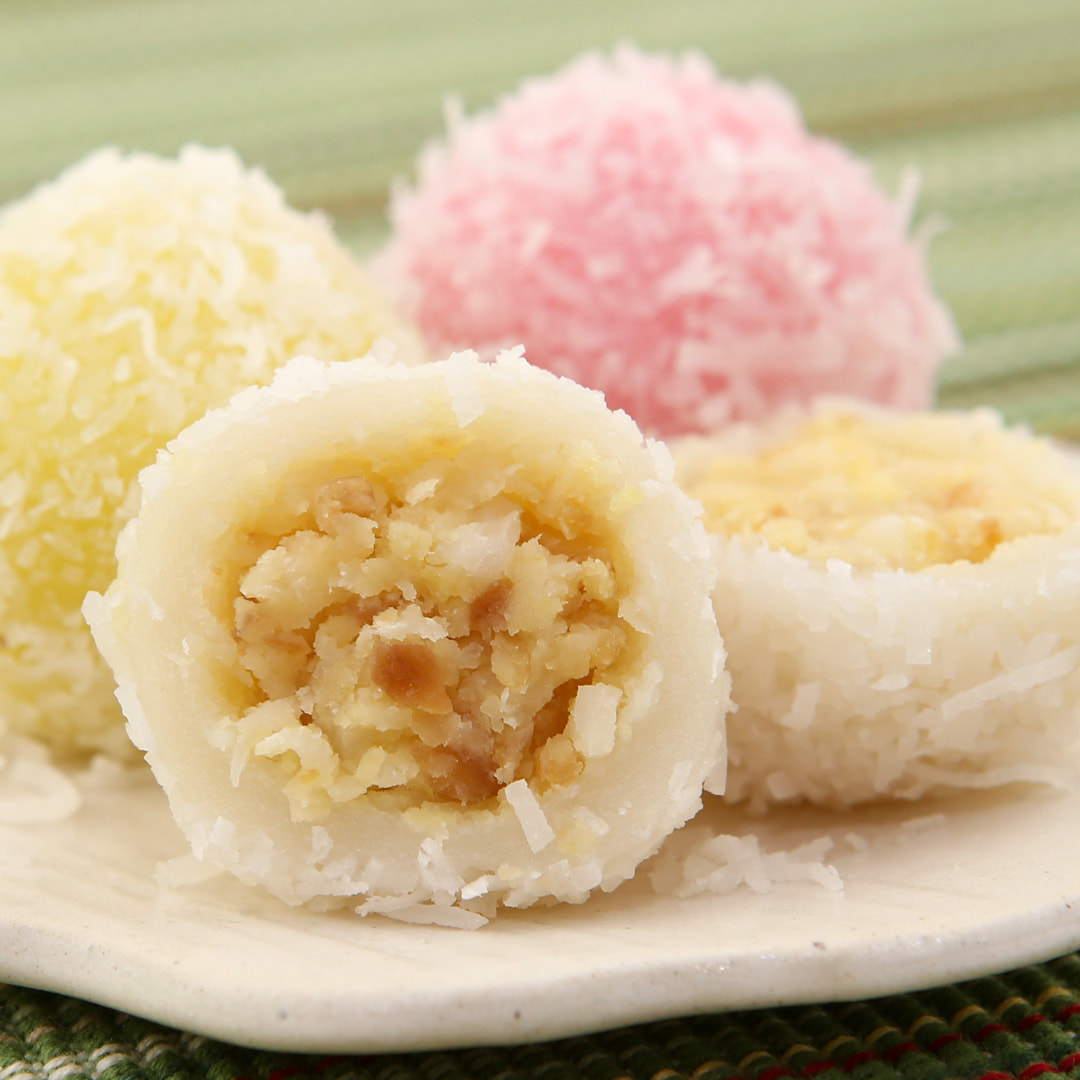 Image credit: @runawayrice
Encased within each chewy dough ball is a filling made out of mung beans, coconut shavings, and crushed peanuts. For a more IG-worthy presentation, you can split the dough and use food colouring to yield a batch of rainbow snowballs, or even serve them in mini cupcake liners to disguise any misshapen parts and seams. 
Yield: 24 pieces
Time needed: 1 hour 
Ingredients
Filling:
⅓ cup mung bean, peeled and split
⅛ tsp salt
½ cup water
1 cup desiccated coconut
2 cups water
½ cup peanuts, roasted and chopped
¼ cup water
¼ cup sugar
Dough:
2 cups glutinous rice flour
1 cup boiling water
¼ cup sugar
1 cup desiccated coconut
Steps:
Rinse and drain the mung beans a few times, until the water becomes clear. Let the beans soak in water for at least an hour or up to overnight.

Simmer the beans on the stove for 20 minutes. Once they've softened, transfer the beans to a food processor or bowl and mash them up.

Rehydrate desiccated coconut by soaking it in 2 cups of water for 10 minutes. Drain the water and gently squeeze out any excess moisture.

In a saucepan over medium heat, combine ¼ cup of water and sugar. Stir to dissolve the sugar, then add in the rehydrated coconut. Stir for three to four minutes until the coconut is cooked and translucent.

Add in the chopped peanuts and mashed mung beans, and stir until everything is combined. Make 24 small balls of filling and lay them on a tray.

To make the dough, start by dissolving sugar in boiling water.

In a large mixing bowl, add 2 cups of glutinous rice flour and add the hot sugar-water mixture. Mix vigorously with a spoon or use a hand mixer on low speed.

Once the dough turns soft and pliable, stop mixing and turn it out onto a work surface. Divide the dough into 24 portions.

Using your fingers, flatten each piece of dough into a circle, then place a ball of filling in the centre. Bring up the edges of the dough to encase the filling, then pinch the ends together to seal it. Repeat for all the snowballs.

Bring a large pot of water to a boil over medium heat. Cook six balls at a time, stirring them around so they don't stick to the bottom. Cook until they float to the top.

Spread out 1 cup of desiccated coconut on a large plate or tray. Roll each cooked snowball in the coconut, until the surface is completely coated.
Recipe adapted from Run Away Rice's post.
---
Easy no-bake Asian desserts to try during this Circuit Breaker
---
You may find that many of these no-bake Asian desserts work with very similar ingredients such as glutinous rice flour and coconut milk. The reason for this is because in the past, butter and milled flour were not common ingredients. As such, Asian desserts are nothing like cheesecakes or brownies, but still special–and delicious–in their own ways.
10 Zhng-ed Instant Noodle Recipes Including Cheesy Ramen, Indomie Pizza And More
If you are looking for more fuss-free recipes to whip up at home, take a look at our instant noodle recipes. Or, if you want to satisfy more sweet cravings at home, try out our take on the viral Dalgona coffee with this Dalgona Speculoos Milk recipe!
Featured image adapted from @nanoeater, @cypianist, and @annafamb.