Freshly made bagels and pastries at Onalu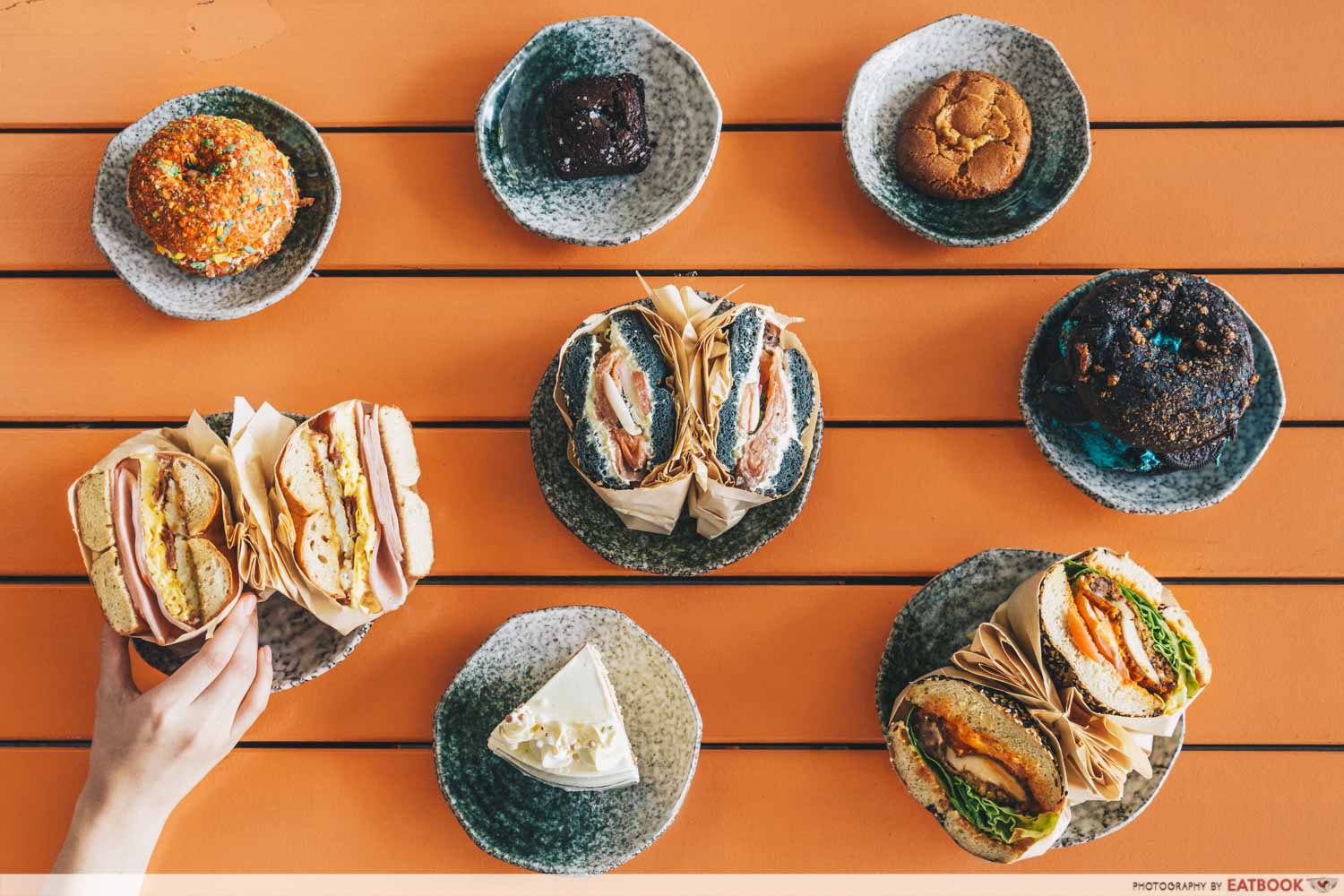 Onalu isn't exactly new to the bagel game. However with their latest revamp, they've placed themselves in the same playing field as the likes of Two Man Bagel House by choosing to make their own bagels in house. Now, they are home to an extensive menu, which includes savoury, dessert, and customisable bagels, as well as pastries from a popular online bakery called Grams.
Two Men Bagel House 2.0 Review: Smoked Meat Bagel Sandwiches With Spiced Ribs
Freshly made bagels aren't common in Singapore because of their tedious baking process. In fact, Samantha, one of the founders and bakers, spent her Circuit Breaker as a circuit baker, meticulously experimenting with baking her own bagels. The result is Onalu's revamped menu featuring their very own moist, fluffy, yet dense house-made bagels.
Food At Onalu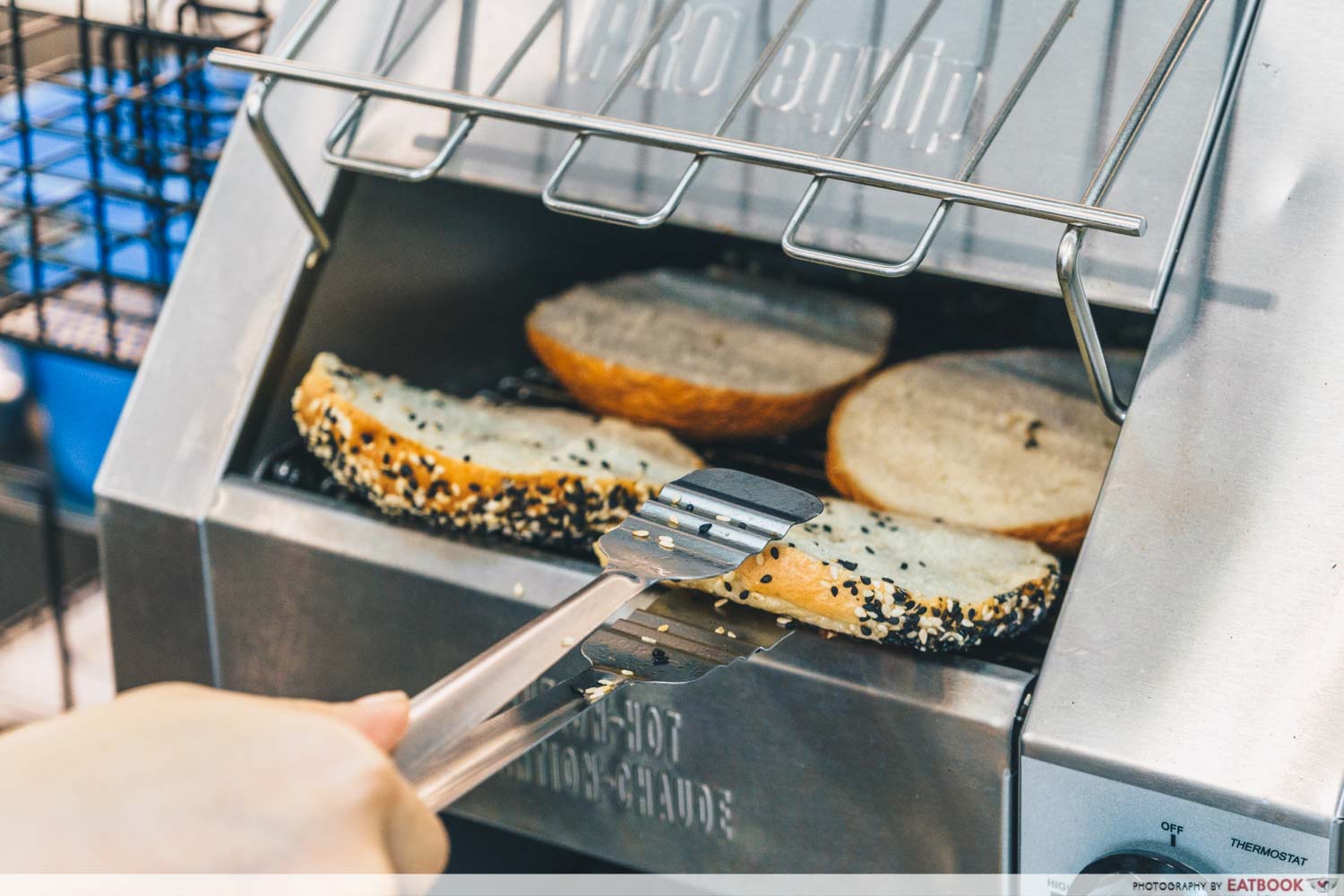 You can start off by picking either their Original, Sesame, or Everything Charcoal bagels. My dining companion and I liked the sesame bagels best, just for that added texture and mild savouriness.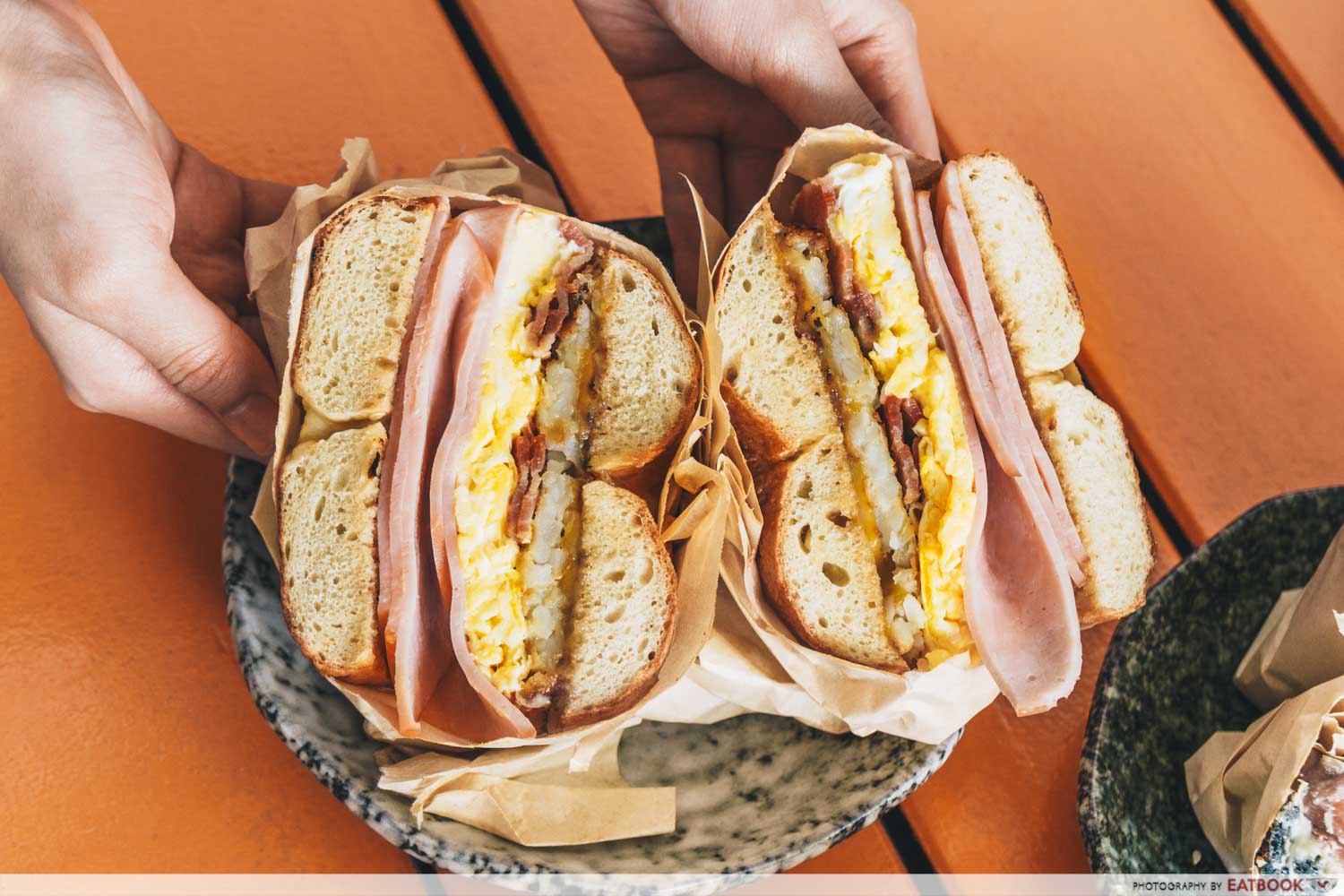 We went for their most popular item, The Big Breakfast ($15), complete with a plain bagel. This mealtime pick-me-up was #thiccandchonky. True to its name, it is packed with silky scrambled eggs, savoury bacon, juicy ham, a slightly crispy hashbrown, and completed with some cheese — enough to make a breakfast platter. I bit through the chewy, fluffy bagel, to also find a distinct, delightful charred taste from torched cheese.
Somethin' Fishy ($11) is just what I'd get for a satisfying brunch. Chock full with slices of Norwegian smoked salmon, this bagel also stars a zesty, oniony scallion cream cheese which provided an enjoyable tang.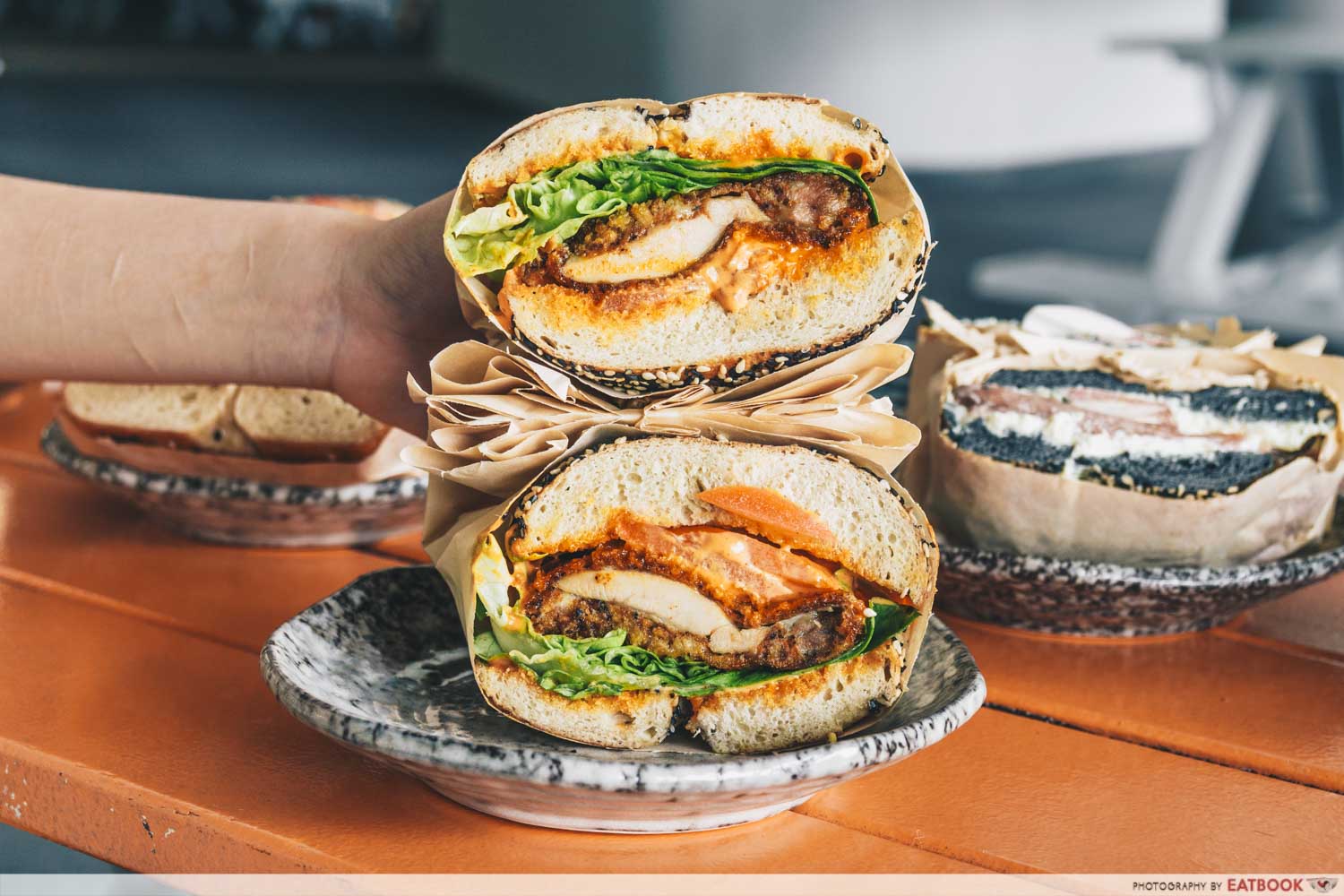 Onalu's Cheeky Chicks ($10) surprised me as it definitely packed some real heat with lavish amounts of spicy mayo. Sandwiched between this fiery bagel was a tender and succulent slab of well-marinated chicken with a crispy exterior that gave nice crunches as I sank my teeth into it.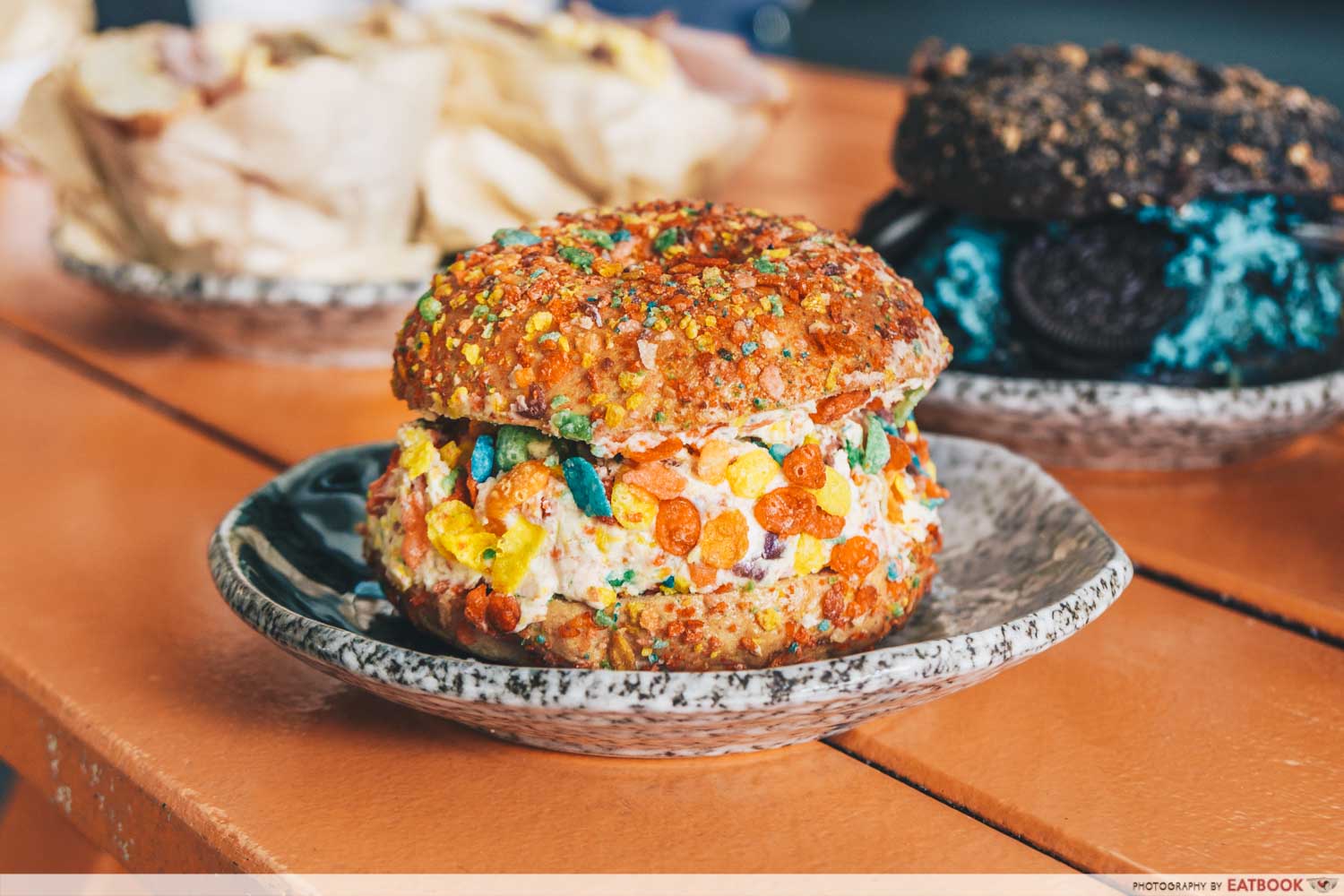 Onalu also has some IG-worthy dessert bagels on their menu. Sold as seasonal specials, each dessert item is available on a rotational basis, so do check their Facebook page before heading down for these sweets treats.
Onalu's Fruity Pebbles ($10) brought me back in time. The colourful pebbles cereal fondly reminded me of my childhood where I used to munch on them with milk. These bagels are baked with crunchy cereal, and later slapped with cream cheese mixed with even more of the little rainbow gems. This creamy dessert is rather heavy, so enjoy it with a friend if you don't have too much of a sweet tooth.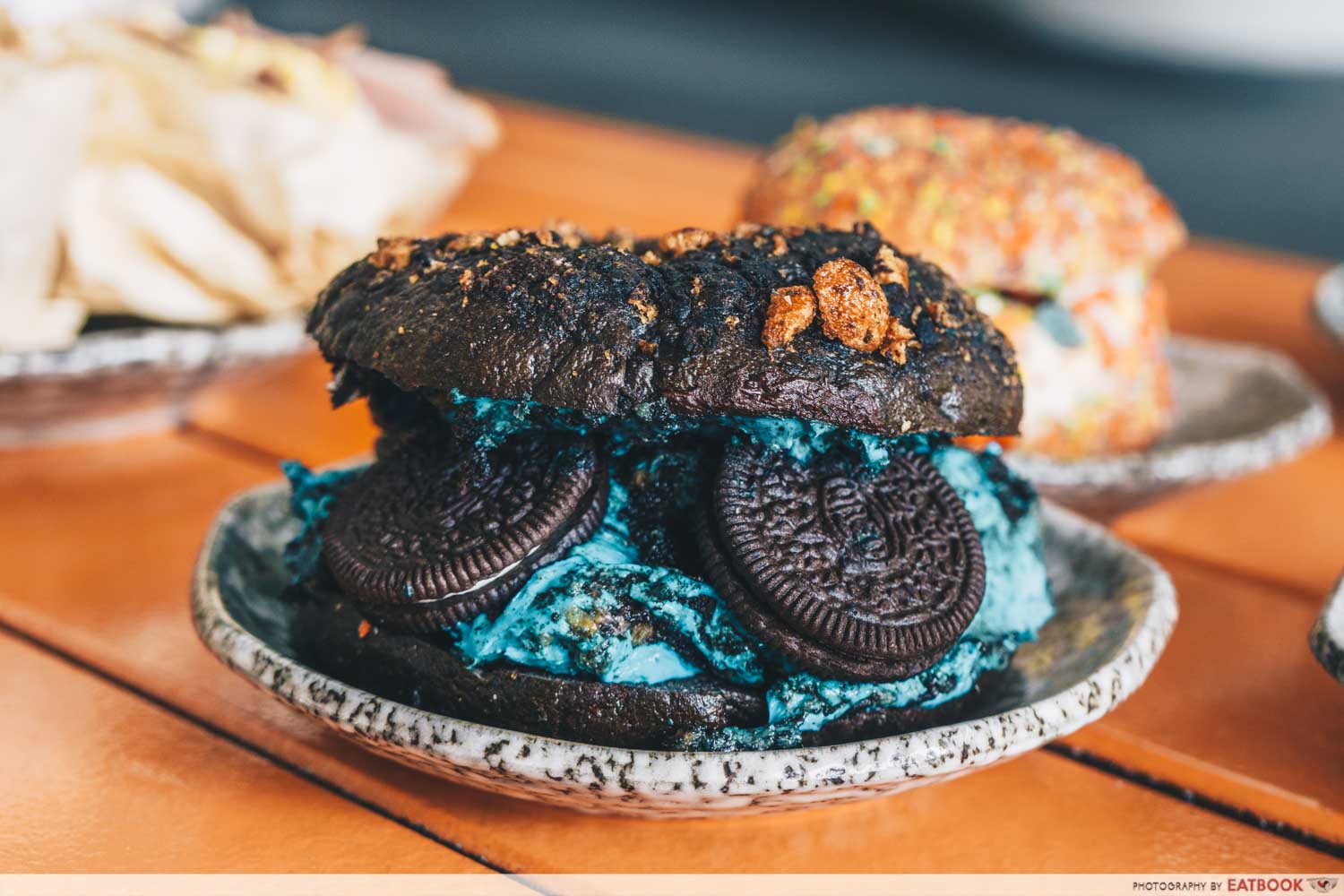 The Cookie Monster ($10) caught our eyes with its striking blue cream. With blue-coloured cream cheese and oreo cookies generously sandwiched between dark chocolate bagels, this dessert gets slightly cloying so you'd really have to share it with a fellow chocolate and oreo lover. I really just recommend getting this for the 'gram, that's it.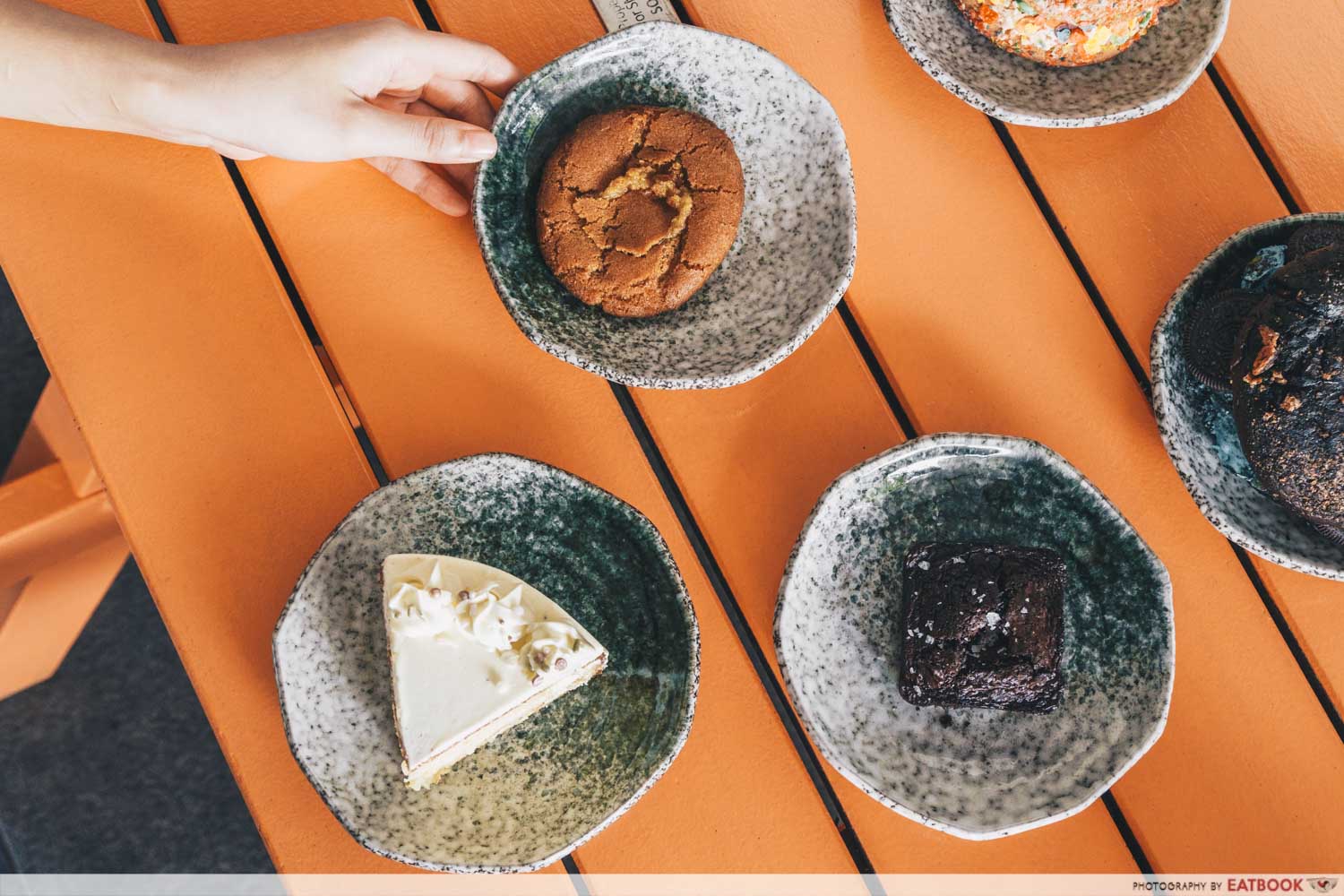 Onalu is also working with Grams. Not to confuse the name with Vivocity's Gram Cafe & Pancakes, it is an online bakery popular for their customisable cakes. Here at Onalu, they sell an array of bakes that vary from time to time as well.
Gram Cafe & Pancakes Review: Jiggly Souffle Pancakes From Osaka Arrives In Singapore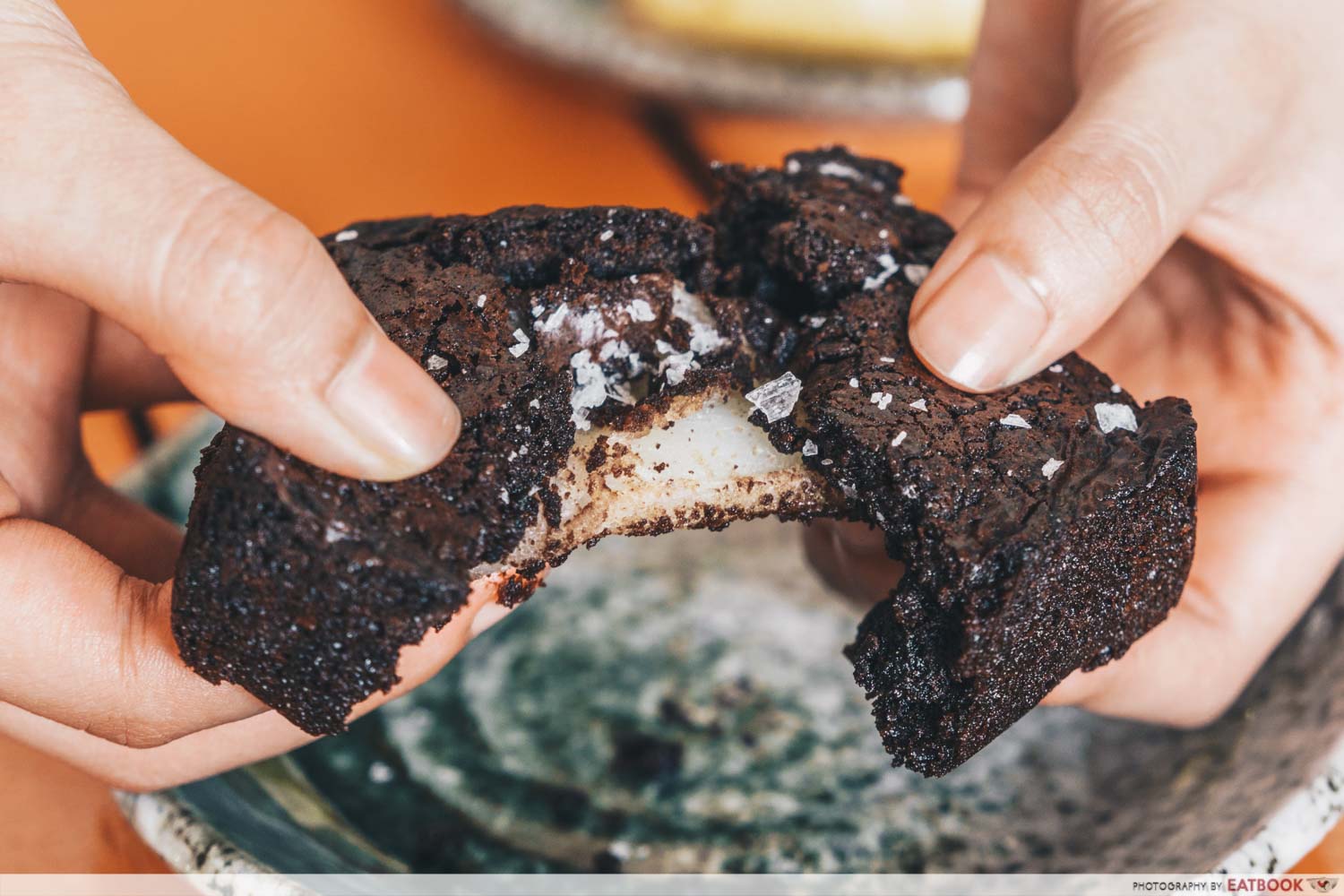 I went for their Sea Salt Mochi Chocolate Brownie ($5) instantly, which was served warm. Its brittle exterior broke apart to reveal fudgy chocolate and a stretchy mochi, serving a party of textures and flavours all in a single decadent dessert.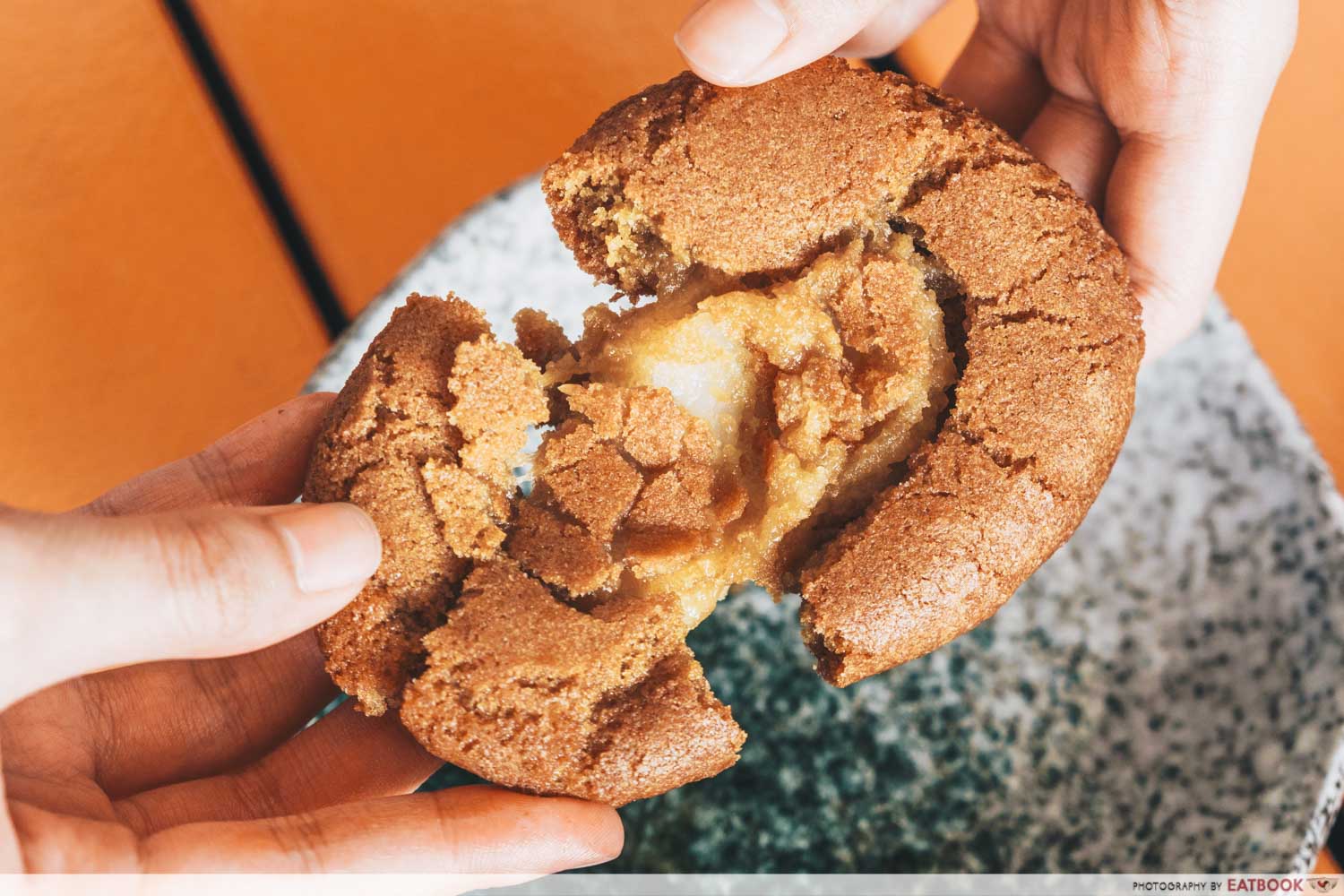 Their Mochi Cookie ($5) is another one to look out for. It has a denser, chewier cookie encasing a stretchy mochi, which is perfect for that IG-worthy mochi-pull shot.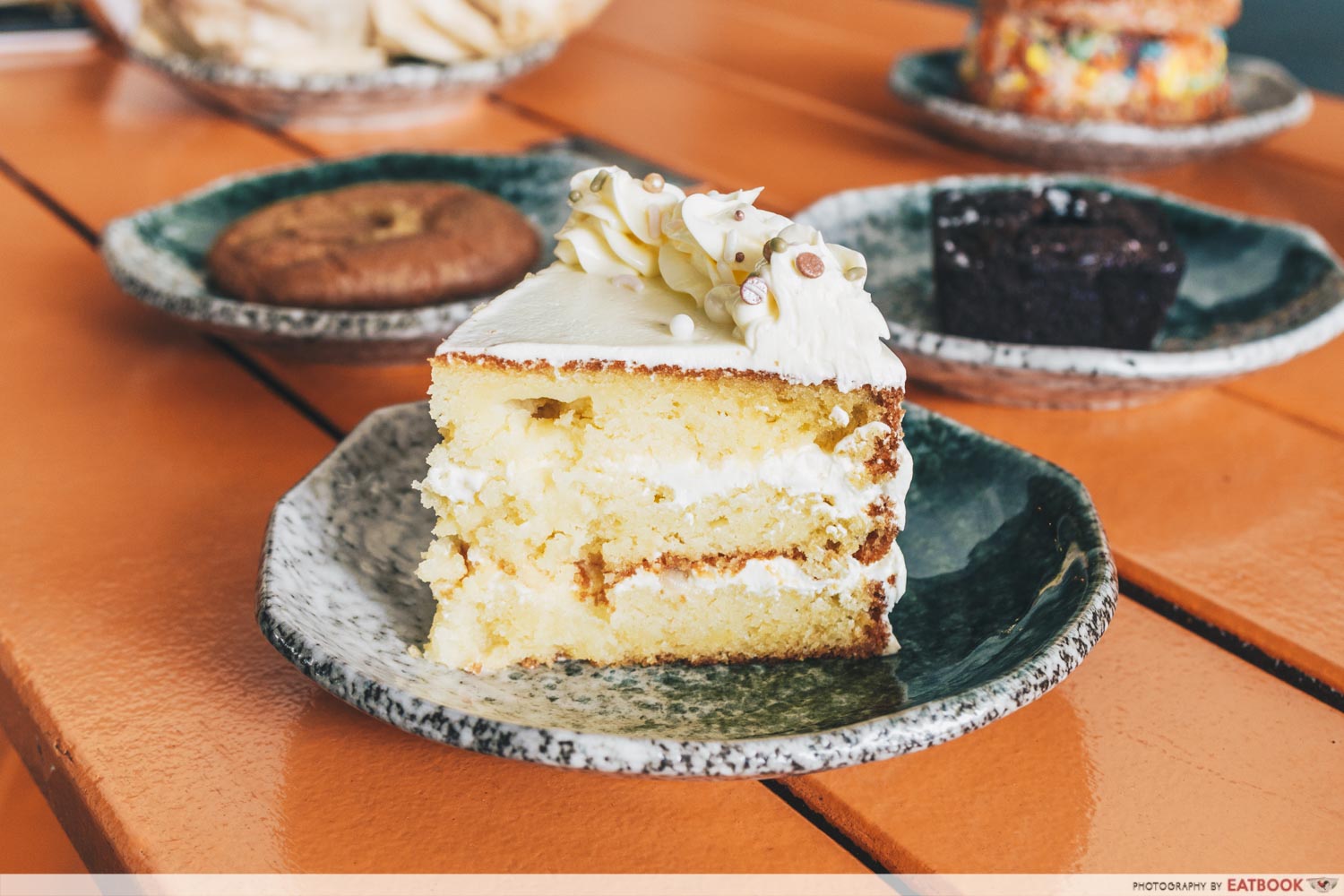 Look out for Grams' cakes as well. Our slice of Lychee Rose Cake ($7.50) was moist and aromatic. Chunks of lychee fruit made for some extra texture and threw in a nice splash of freshness.
Ambience at Onalu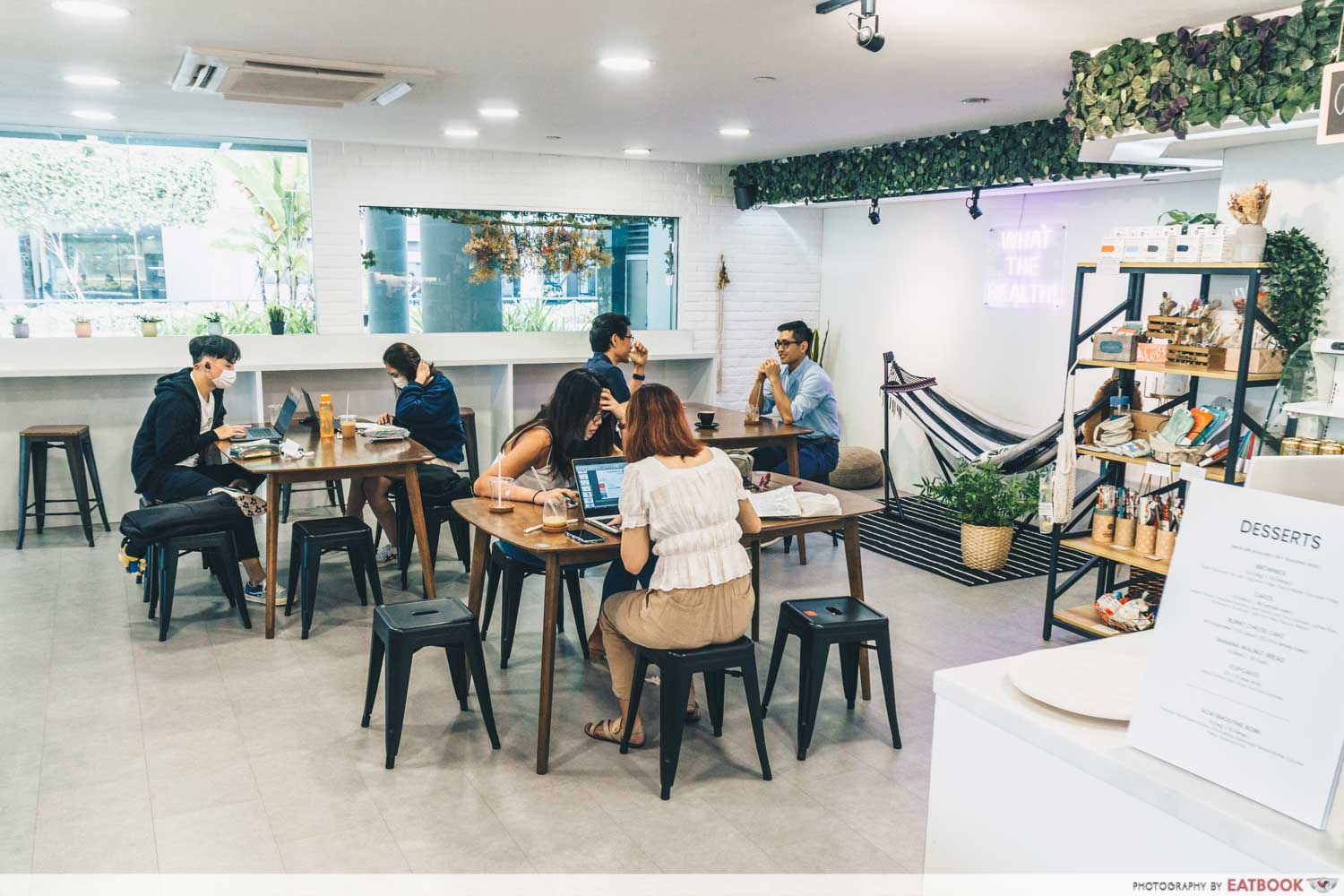 As Onalu is located in SMU, it isn't surprising to see handfuls of students chatting or working with a bagel in hand. They have a brightly lit and slightly small indoor seating space. You can also go for their outdoor seating, which is slightly more spacious. Being fully sheltered from the sun, it doesn't get too warm there either.
The verdict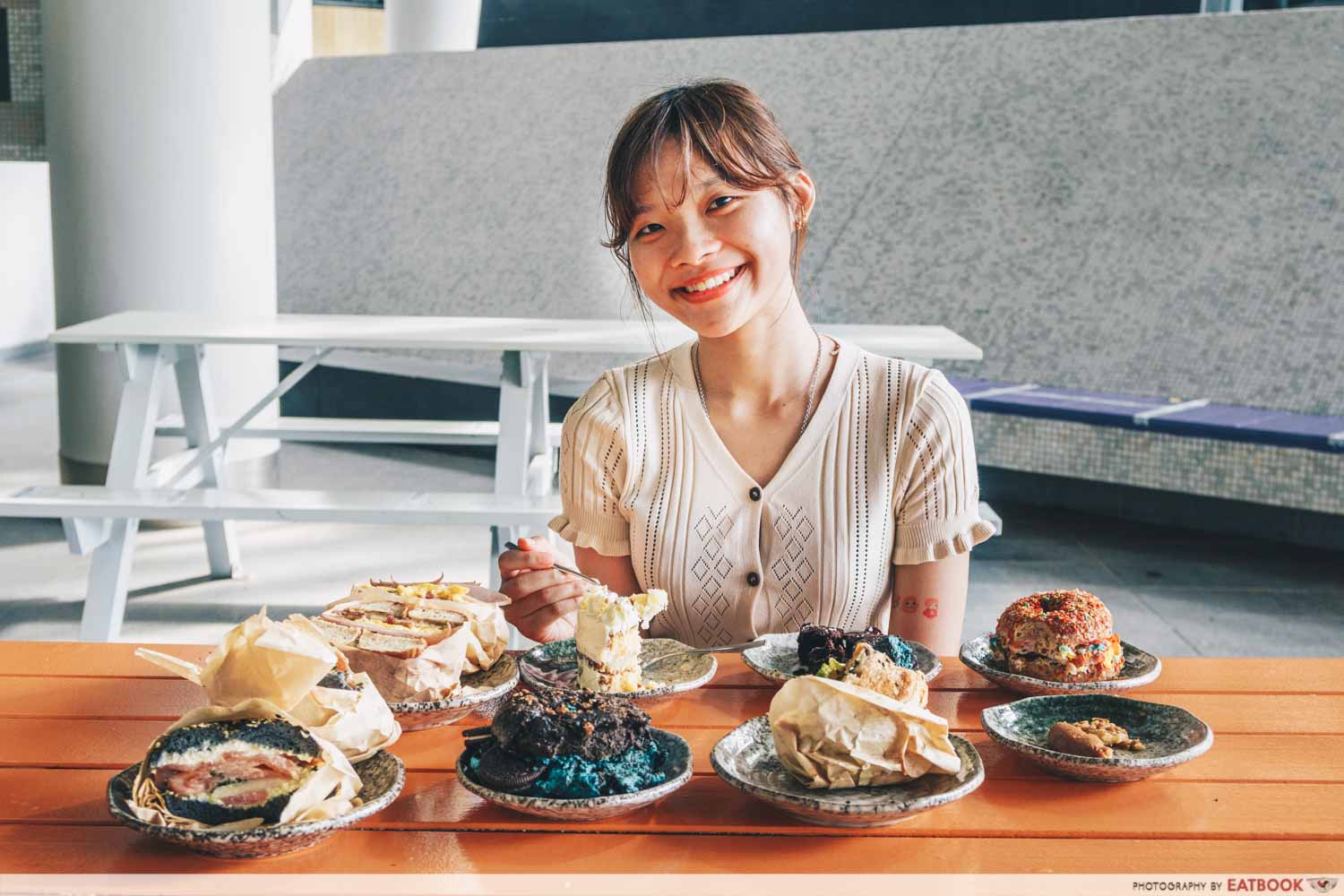 Bagels, when done wrong, tend to be dry and stiff. Onalu, however, nails their bagels by freshly making them, serving up fluffy and moist bagels with satisfying fillings. While their dessert bagels are better left for those IG shots, they still make rather comforting sweets when shared. Along with the decadent bakes from Grams, Onalu makes a great spot to satisfy your cravings for freshly made bagels and pastries in town.
For other cafes to look out for, check out Bloom Artisan and Urban Table.
Bloom Artisan Review: Gelato Cafe With Sourdough Waffles And Unique Flavours Such As Wheatmilk In Yishun
Address: 60 Stamford Road, #01-11, Singapore 178900
Opening hours: Tue-Fri 10am to 7pm, Sat-Sun 10am to 6pm
Tel: 8268 5900
Website
Onalu is not a halal-certified eatery.
Summary
Pros
– Fluffy bagels
– Satisfying fillings
– Indulgent pastries
Cons
– Dessert bagels were jelak
Recommended dishes: The Big Breakfast ($15), Somethin' Fishy ($11), Sea Salt Mochi Chocolate Brownie ($5)
Opening hours: Mon-Fri 10am to 7pm, Sat-Sun 10am to 6pm
Address: 60 Stamford Road, #01-11, Singapore 178900