Ma la pasta at The Workbench Bistro
Update: The Workbench Bistro has permanently closed.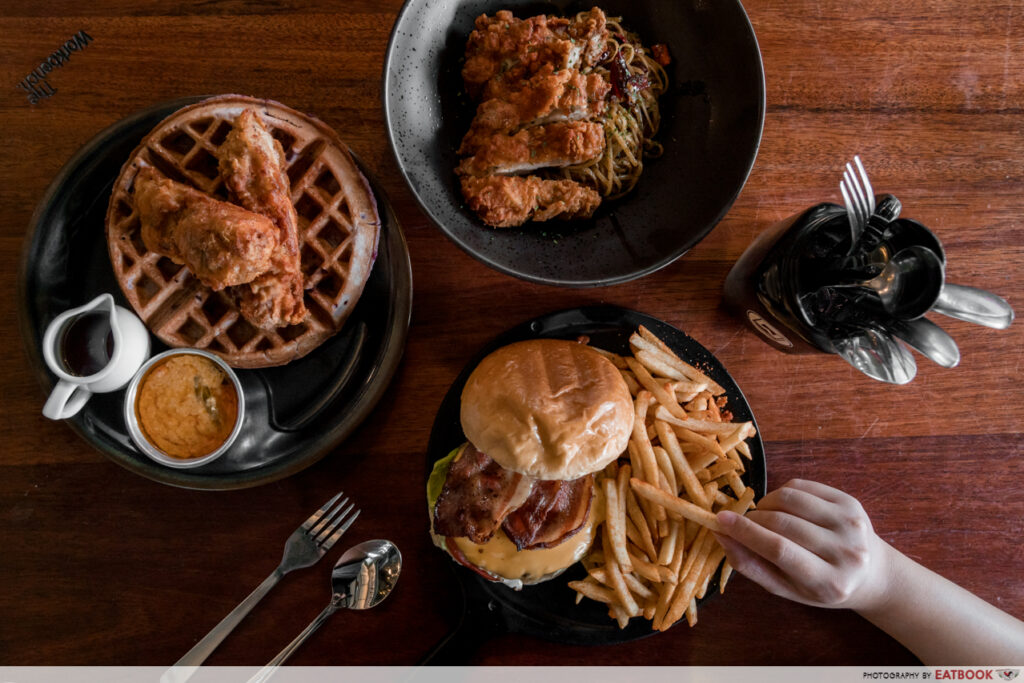 Singaporeans love ma la, period. It is evident that the ma la trend is still going strong after our review on Fat Bird, a ma la xiang guo buffet that took Eatbook's website by storm a week ago. As an avid fan of all things ma la, I couldn't help but make a beeline down to The Workbench Bistro when I heard about their ma la pasta.
Food at The Workbench Bistro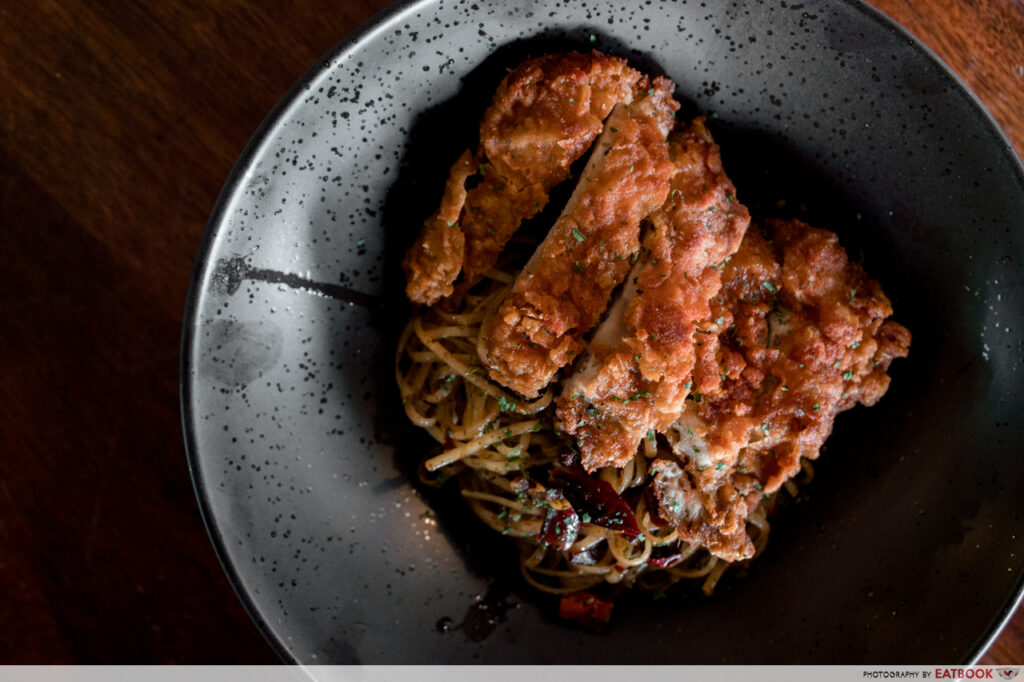 We came here for the Ma La Pasta ($16.90), and got it served first. Similar to ordering ma la xiang guo, you are given a choice of three spice levels: xiao la (not so spicy), zhong la (medium spicy), and da la (very spicy). We decided to go for zhong la (medium spicy). When it arrived at our table, we were engulfed by its aroma. Call me bias, but I was already sure this dish wouldn't disappoint.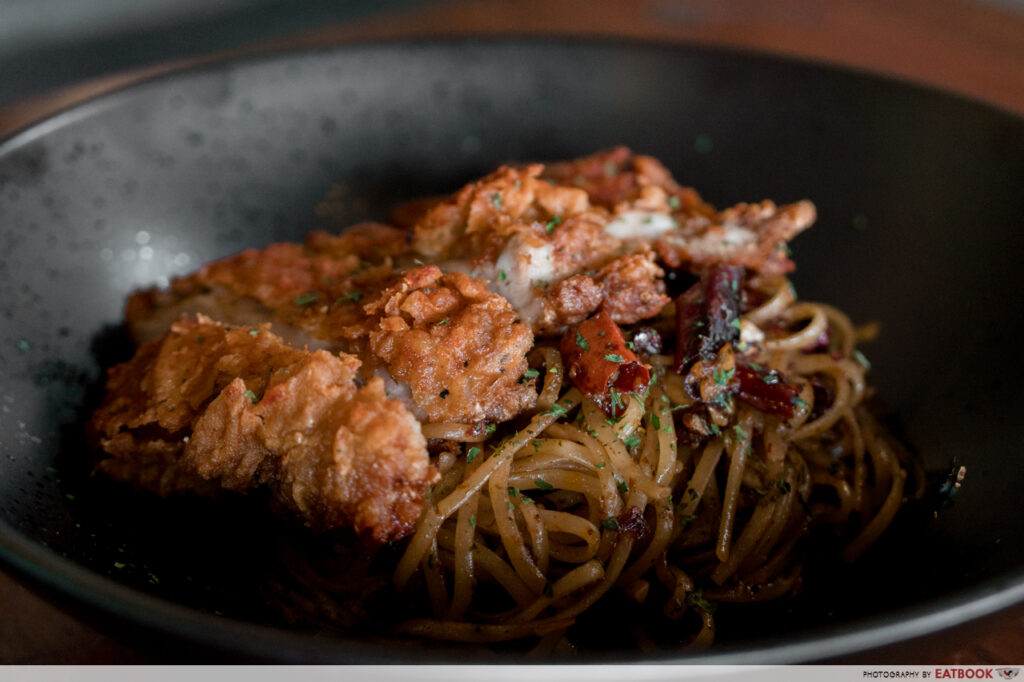 Practising some delayed gratification instead of diving straight into the ma la pasta, we headed for the chicken lying on the top first. It was a thick, buttermilk fried chicken.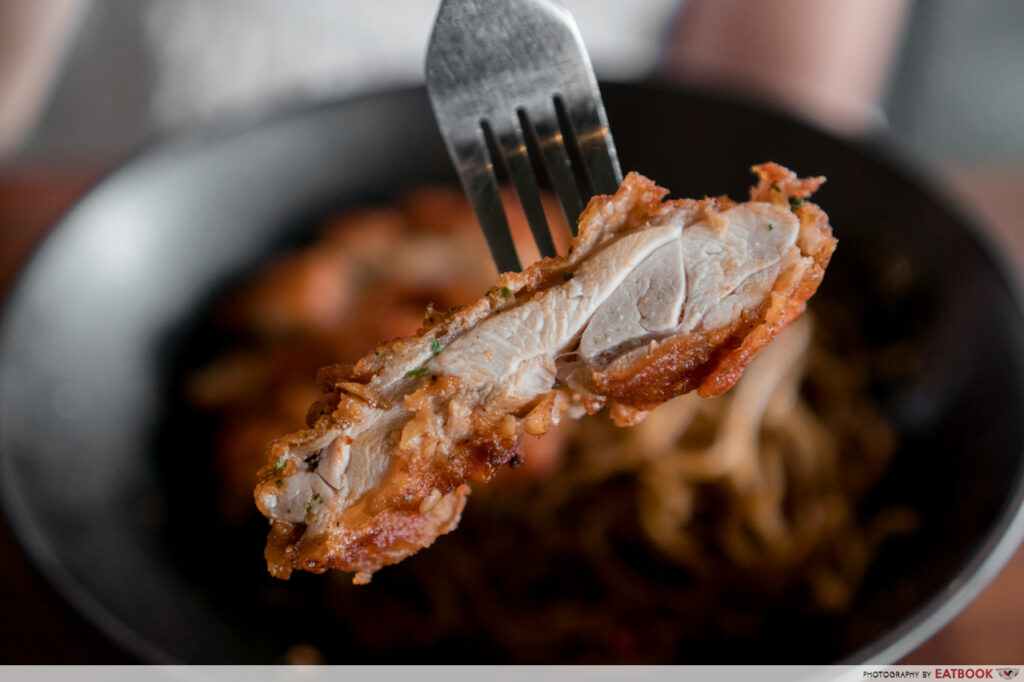 I could tell the cafe pays close attention to detail as I bit into their chicken. It was flavour-packed, from the crispy crust to the meat within. I also loved the fact that although the well-seasoned crust was rather thick, it stuck to the tender meat like glue, giving each bite a nice, salty crunch.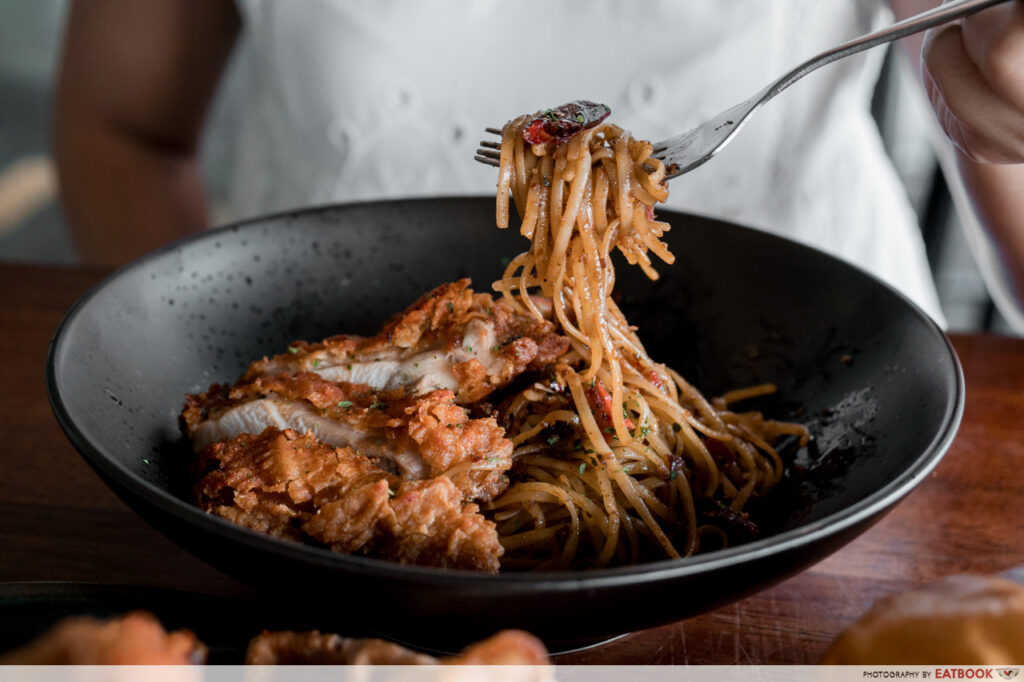 Moving on to the pasta: It was prepared like an aglio olio – dry without any sauce blanketing the spaghetti.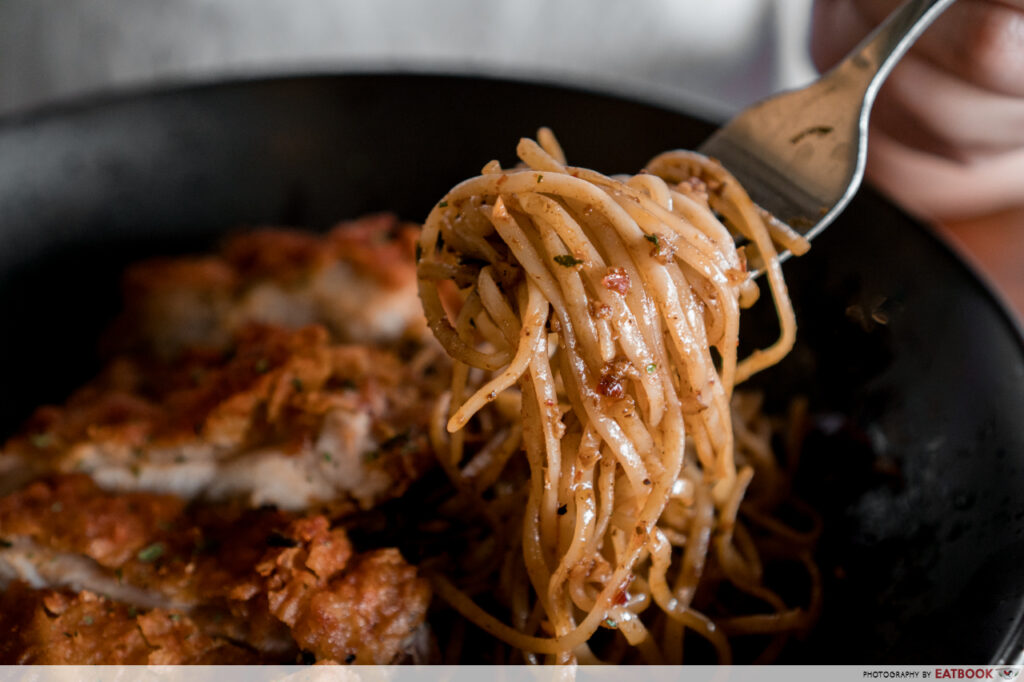 This was about as deep and rich as a spicy pasta can get. It was as if the pasta was sautéed in the remnants of a ma la xiang guo dish – after one has finished all the meat and vegetable – the garlic, the oil, the pepper, and all its glory.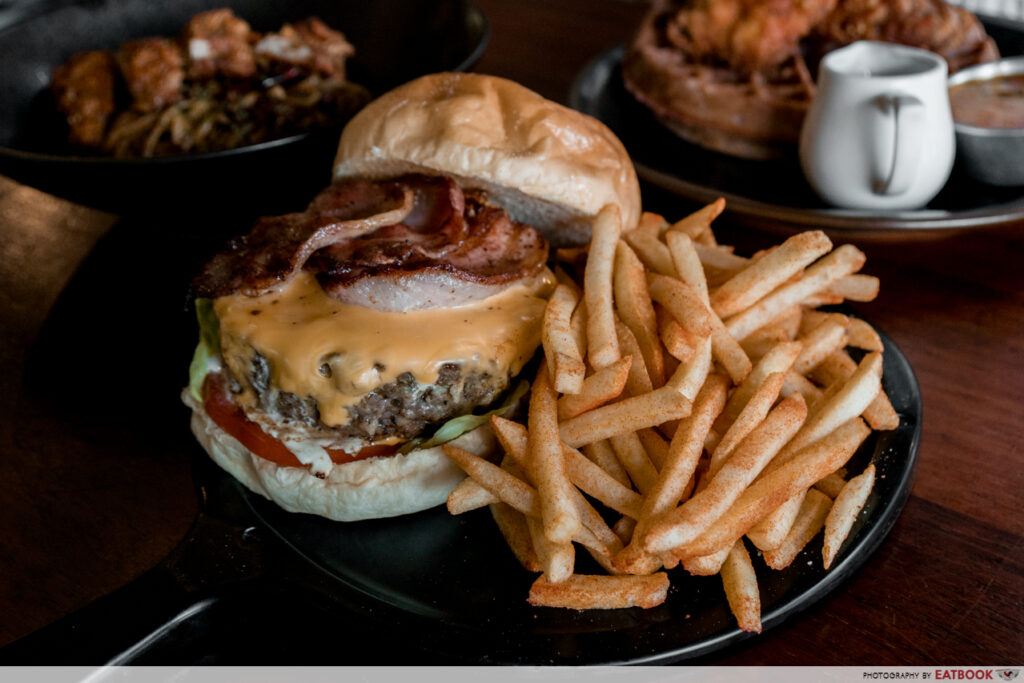 Another item on the menu which impressed us was the Egg Lava Beef Burger ($18.90). It features a beef patty in the form of a donut, with bacon and cheese piled on top. The star of the show, however, was the half boiled egg hidden in the middle of the patty.
I love a good burger, and I especially love #eggporn food. As if the burger wasn't already seeping with juice, the eggy centre further moistened the entire dish.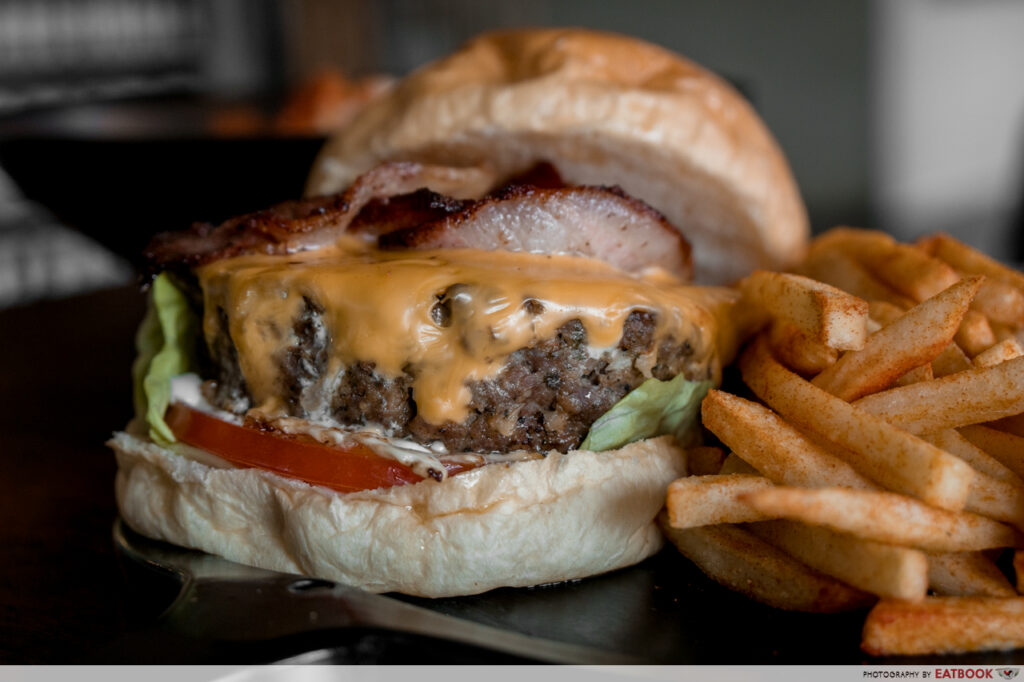 The beef patty might probably be one of the thickest ones I've ever had. It was as thick as the two-finger spacing I used for penmanship in kindergarten. The clever addition of bacon and melted cheese gave more depth and flavour to the thick beef patty. The cafe was also generous in their portions, and the plate was flooded with paprika-dusted fries.
Ambience at The Workbench Bistro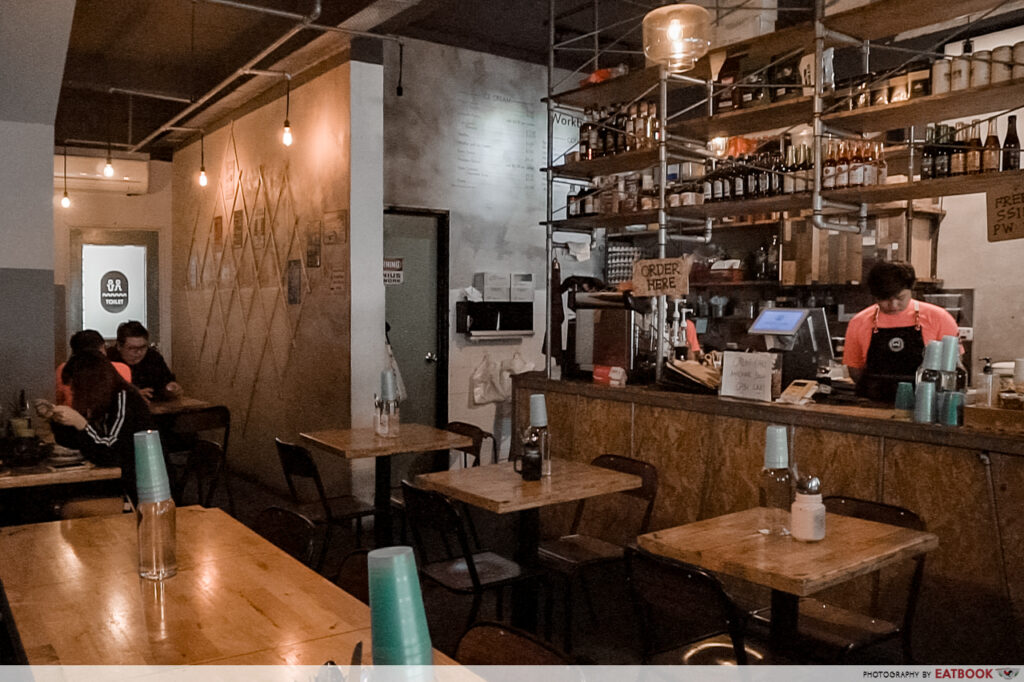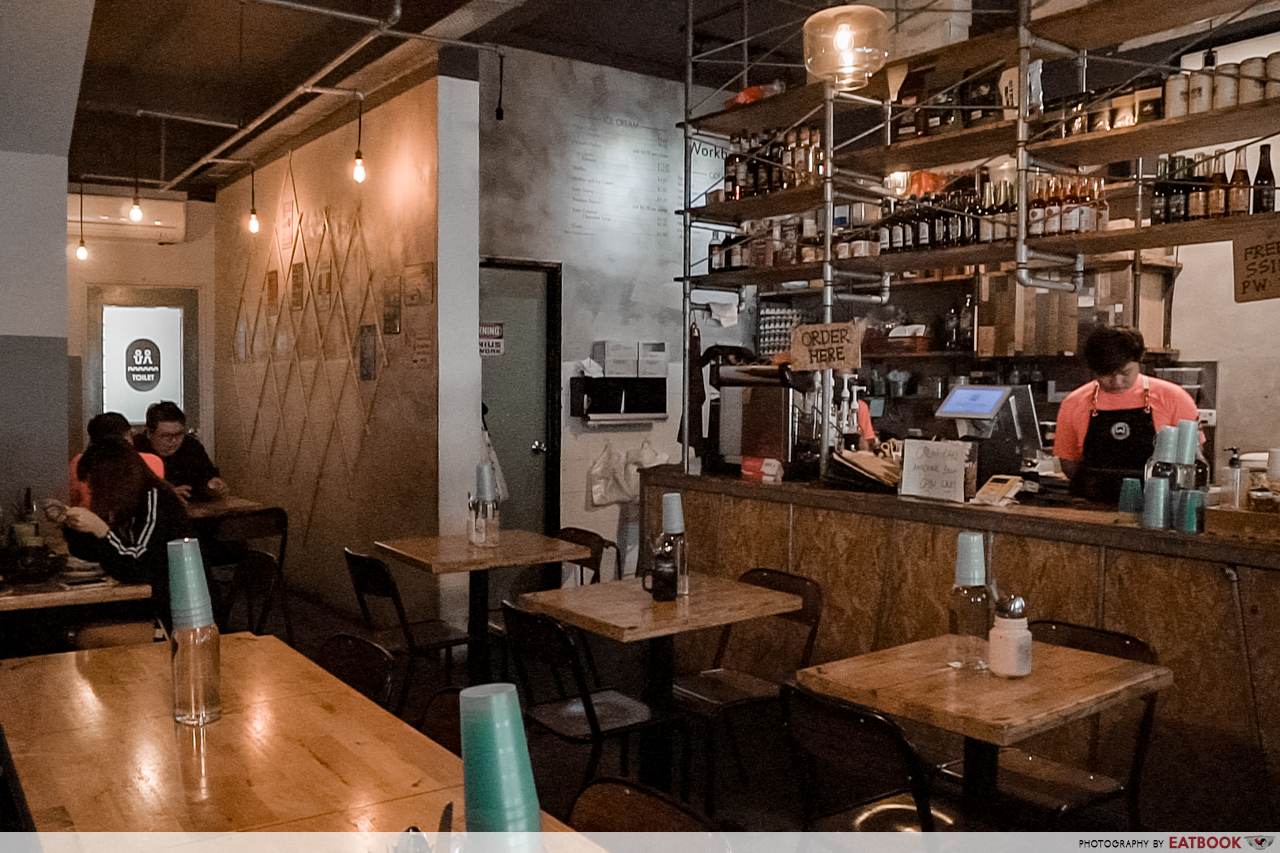 Located alongside mama shops and neighbourhood bakeries, you wouldn't expect to find a cafe like this under the HDB block. But look out for the warm ambient lighting sticking out like a sore thumb amongst the strong white lights used by the other shops, and you can easily find The Workbench Bistro. We were there on a weekday afternoon and the cafe had plenty of tables available.
The verdict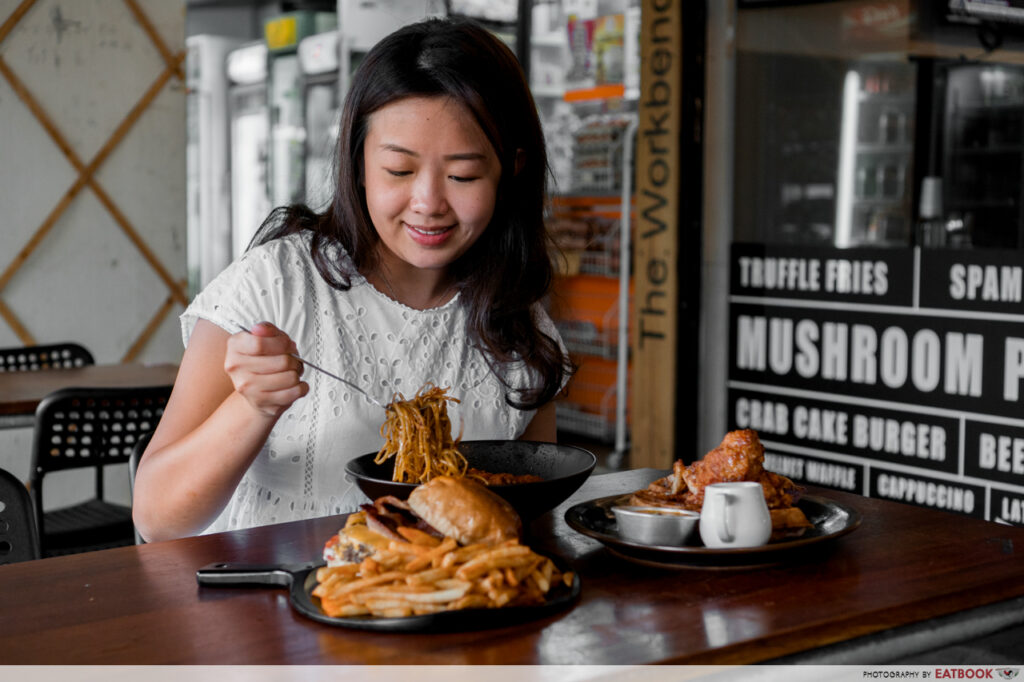 As the name suggests, The Workbench Bistro can be a place to sit down and get some work done, thanks to their complimentary wi-fi. Whether you're after caffeine, brunch, or just a spot for reading, this cafe makes for a good option. I was certainly sold on their novel food and quick service.
If you're looking for something sweet, they also offer interesting desserts such as purple sweet potato waffles and chocolate S'moreffles. It is only a pity I don't live around the area.
If you are looking for more neighbourhood cafes, check out these West-side cafes with nett prices, or these Toa Payoh cafes to visit after you collect your BTO keys at HDB Hub.
Address: Blk 332 Ang Mo Kio Avenue 1, #01-1881, Singapore 560332
Opening hours: Mon-Thur 12pm to 10pm, Fri 12pm to 11pm, Sat 10am to 11pm, Sun 10am to 10pm
Tel: 6452 0810
Website
This is an independent review by Eatbook.sg.
Summary
Pros
– Generous portions
– Nett prices
Cons
– Inconvenient location
Recommended Dishes: Ma La Pasta ($16.90), Egg Lava Beef Burger ($16.90)
Operating Hours:
Mon-Thur 12pm to 10pm, Fri 12pm to 11pm, Sat 10am to 11pm, Sun 10am to 10pm
Address: Blk 332 Ang Mo Kio Avenue 1, #01-1881, Singapore 560332