Eat My CB has nostalgic homemade curry buns
There is no way a name like "Eat My CB" won't make you do a double-take. By few stretches of the imagination would such a phrase bring a family-run home business to mind, because honestly, you'd be too busy wondering which "CB" this is, and why on earth should you eat it.
Just with that curiosity, you've singlehandedly proven why "Eat My CB" is a name that works.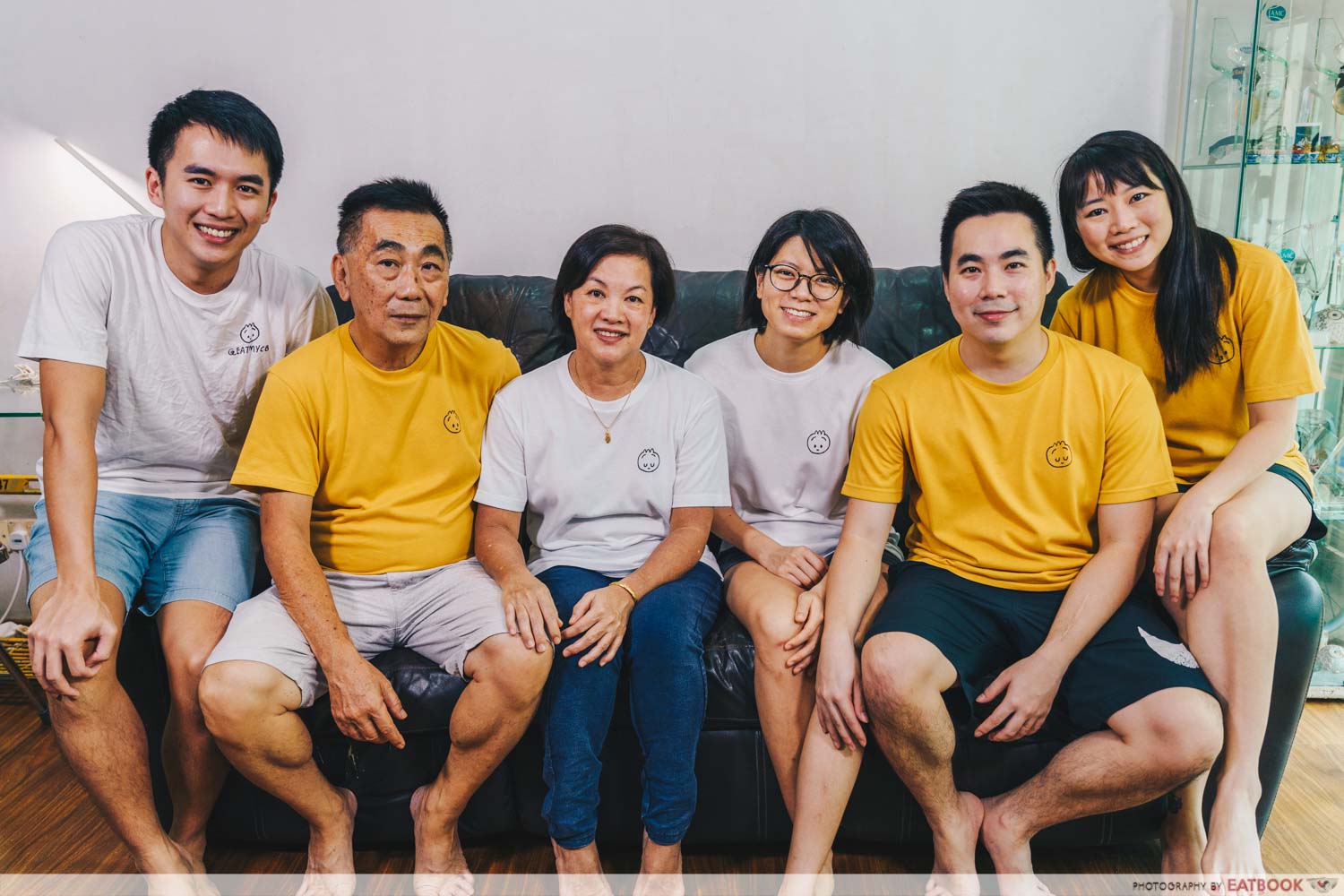 Eat My CB is a home-based curry bun business started by a local family of six known as the Lees. Most of them are freelancers, including the 60-odd-year-old parents. When the Circuit Breaker clamped down to ease COVID-19's spread, they found their sources of income lost overnight. To survive, their approach to work had to pivot.
How the business began
The "a-ha!" moment came thanks to mother Annie Neo. The 60-year-old is a Thermomix ambassador with a passion for cooking that shaped both her professional life and her family's appetites. It is a running joke in the family is that her name is Annie, and she can cook anything.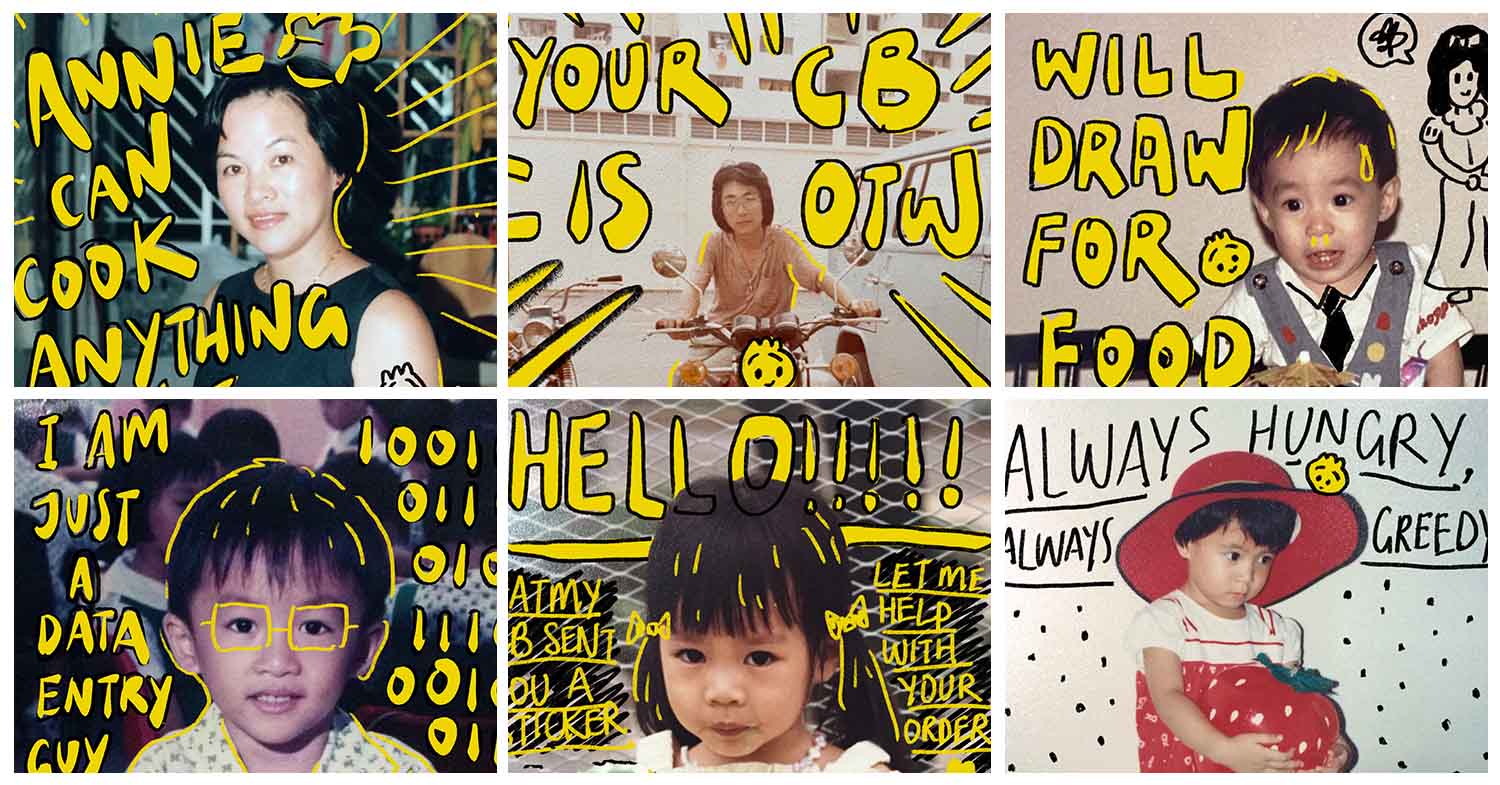 Image credit: Eat My CB
Her children, Jasmine, 34, and Lester, 32, both rave about their mom's love for cooking, and how it impacted their childhood. So strong is her interest that she has six personal recipe books she authored from scratch.
"My mother is the heart and soul of the brand. The rest of us just know how to eat only," joked Lester, who works as Eat My CB's graphic designer and resident potato peeler. 
As part of her job, Annie teaches cooking classes to fellow "aunties". During the Circuit Breaker, her kids encouraged her to take her classes online, riding on the wave of the popular livestream cooking sessions that were all the rage during the lockdown.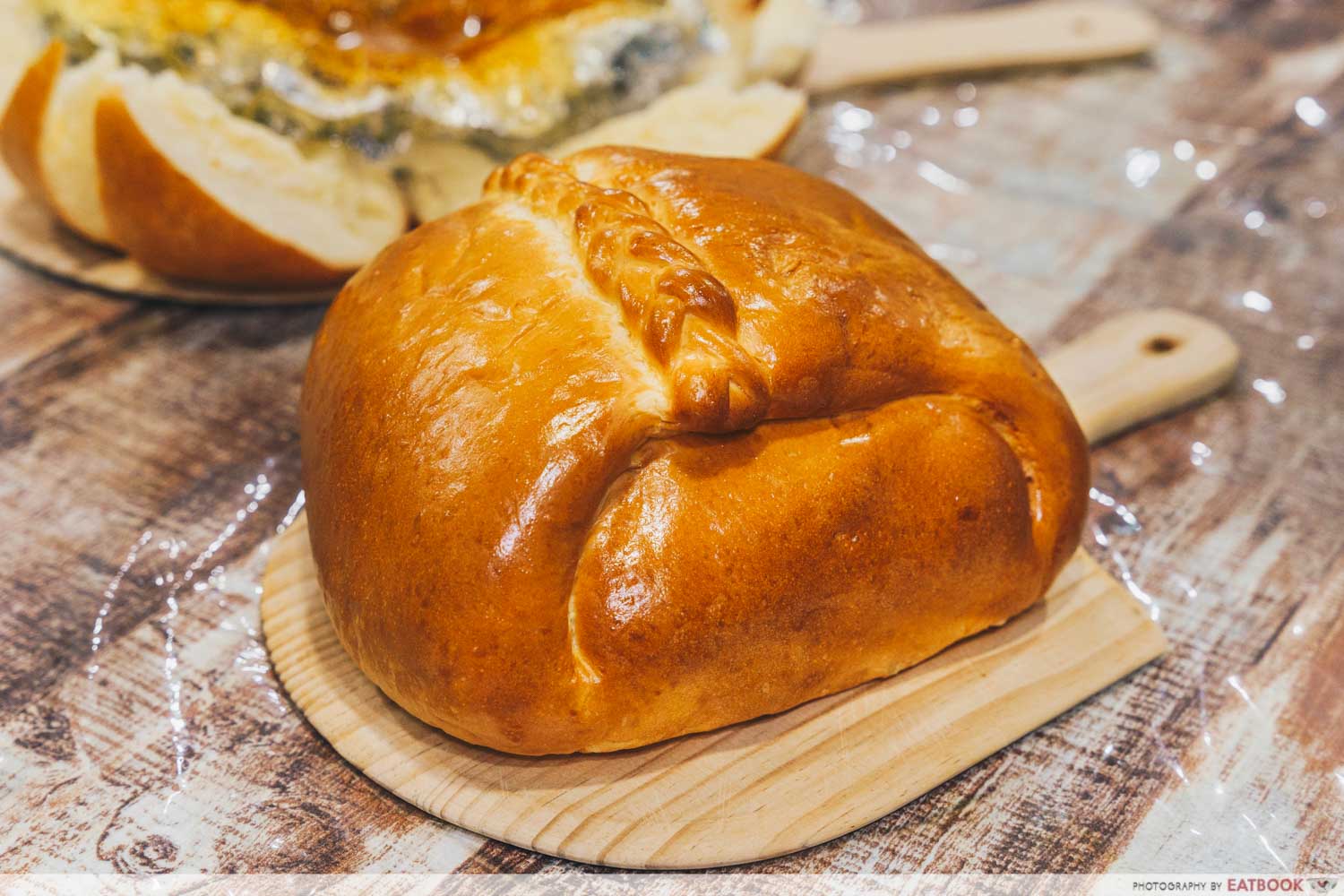 During one of the live sessions, Annie made curry buns. Not the palm-sized curry pans you get at Japanese bakeries, but proper, pillowy whoppers packed with curry chicken that every Singaporean has at least shared with their loved ones once. The recipe had sentimental value for the Lees too, which added to the appeal.
"This was what we grew up eating, especially on special occasions or family gatherings," said Lester. "In some way, these curry buns are also Singapore's secret national dish. You can't get this in hawker centres, it is not immediately the type of dish you'd introduce to a foreign friend, but it's something that Singaporeans do enjoy and have fond memories of."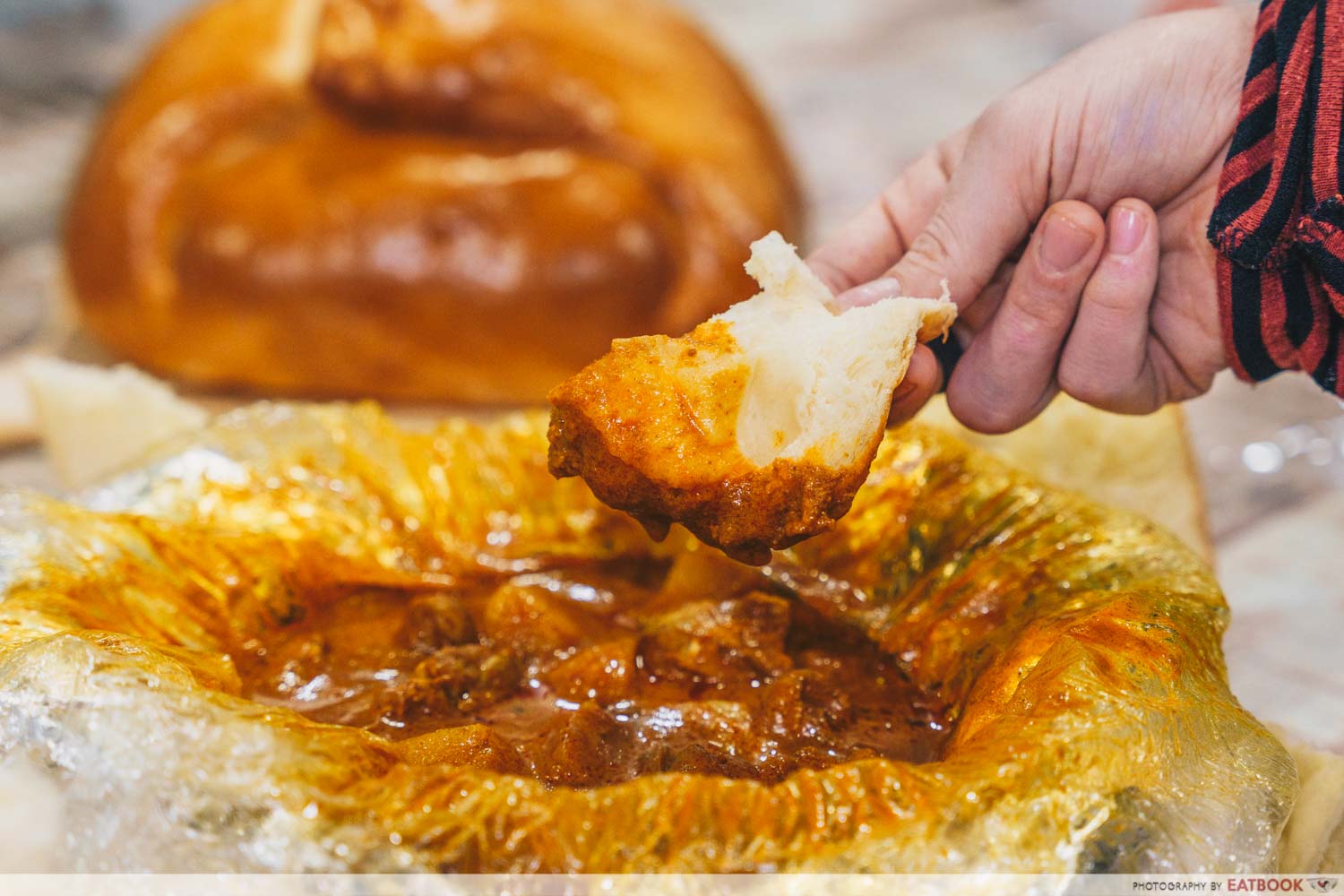 After the session, the family gave four of the buns they made to neighbours and friends. Four grew to many requests for more. Soon, even strangers got wind of the curry buns and were reaching out to the Lees for orders.
"It grew organically from there. People were WhatsApping us to see pictures of the buns, to place orders, so we created an Instagram account," he said.
Bendemeer Tutu Kueh: Hidden Tutu Kueh Stall By A 67-Year-Old With Over 50 Years Of Experience
The origin of the "Eat My CB" name
Every business needed a name, so Lester and his wife, Charmaine, 31, decided to consult a friend to seek advice. The friend suggested using "CB" in the name because they were making curry buns during the Circuit Breaker, and both of them tried hard not to roll their eyes.
"We were like, 'why would you give us such an awful name?'" said Lester.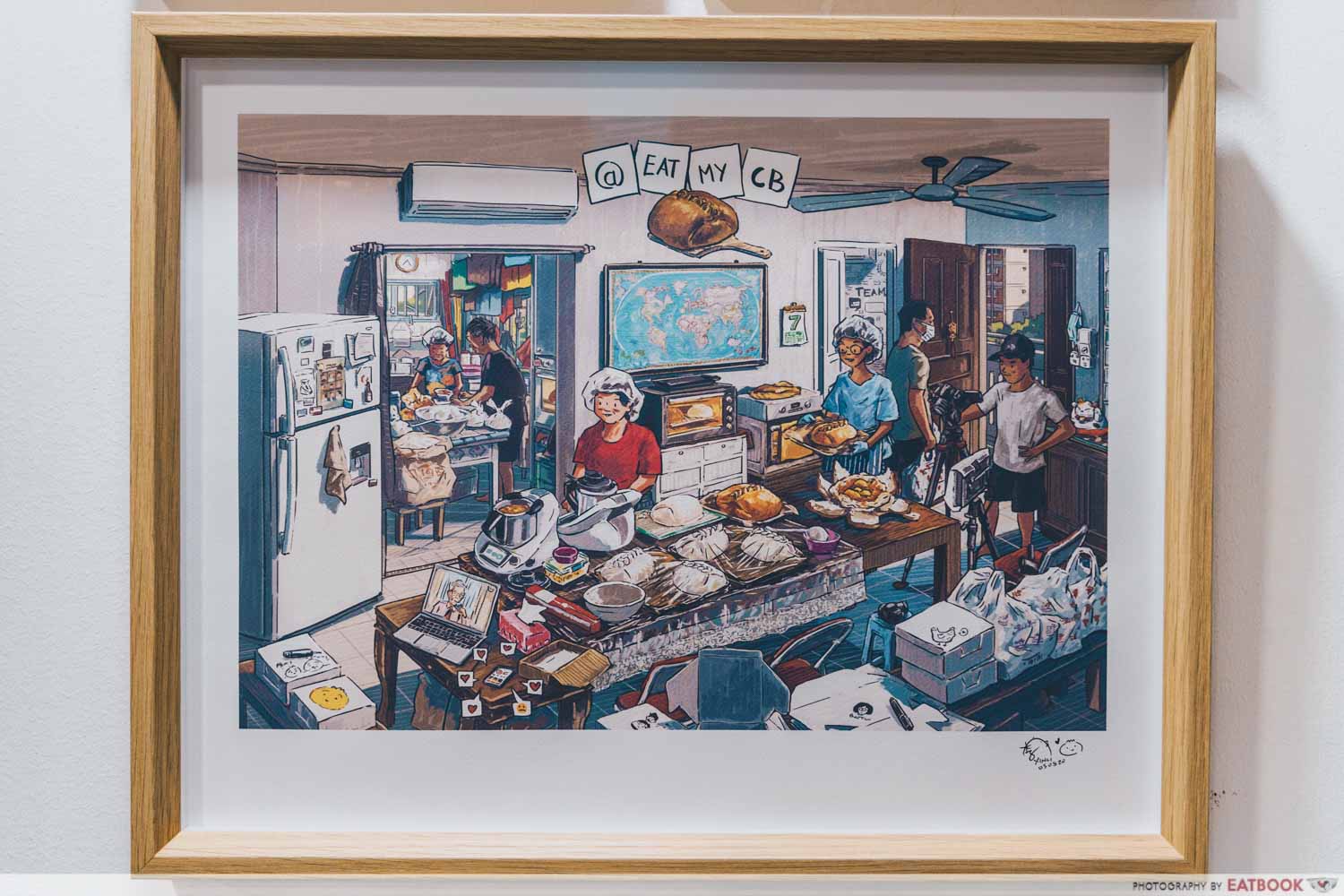 "The next morning, when we woke up, though, we just couldn't get the word out of our heads," said Charmaine. " We decided to just do it. There was no harm trying."
Eat My CB became a home-based food business that kept the Lees afloat. Though they only sell one item—Annie's signature curry buns—there are a lot of moving parts to the business, especially since the buns themselves are quite labour-intensive to make.
How the curry buns are made
Annie and Charmaine are both in charge of making the curry buns. Annie is in charge of the curry, while Charmaine, the bread. A bun takes two and a half hours to prepare from scratch. Every single one is made to order.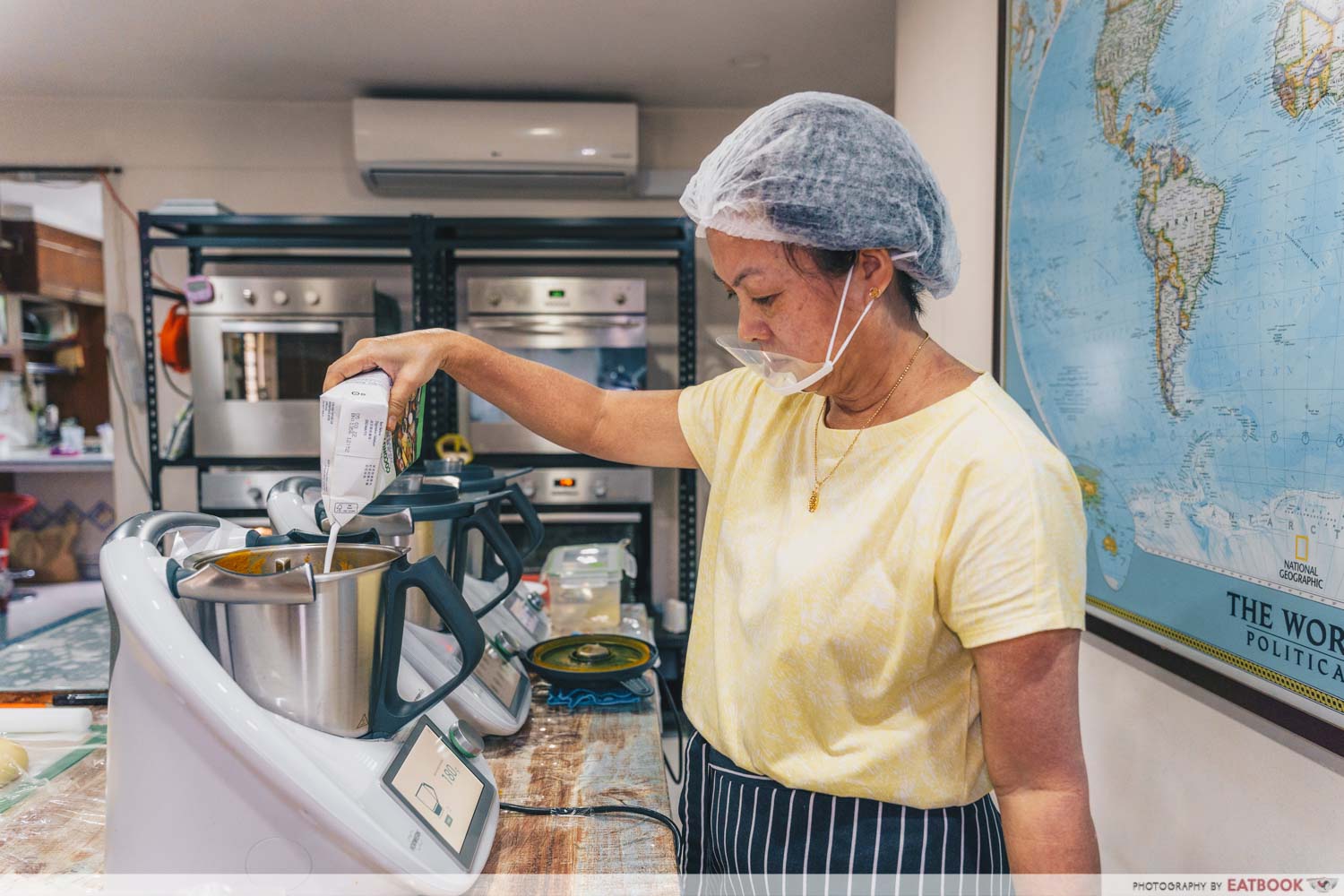 Preparation begins the night before, where Annie cuts, debones, and de-skins the chicken before it is marinated.
"Young people these days, they don't like bones, they don't like skin, so we make our chicken curry like this," she jokes.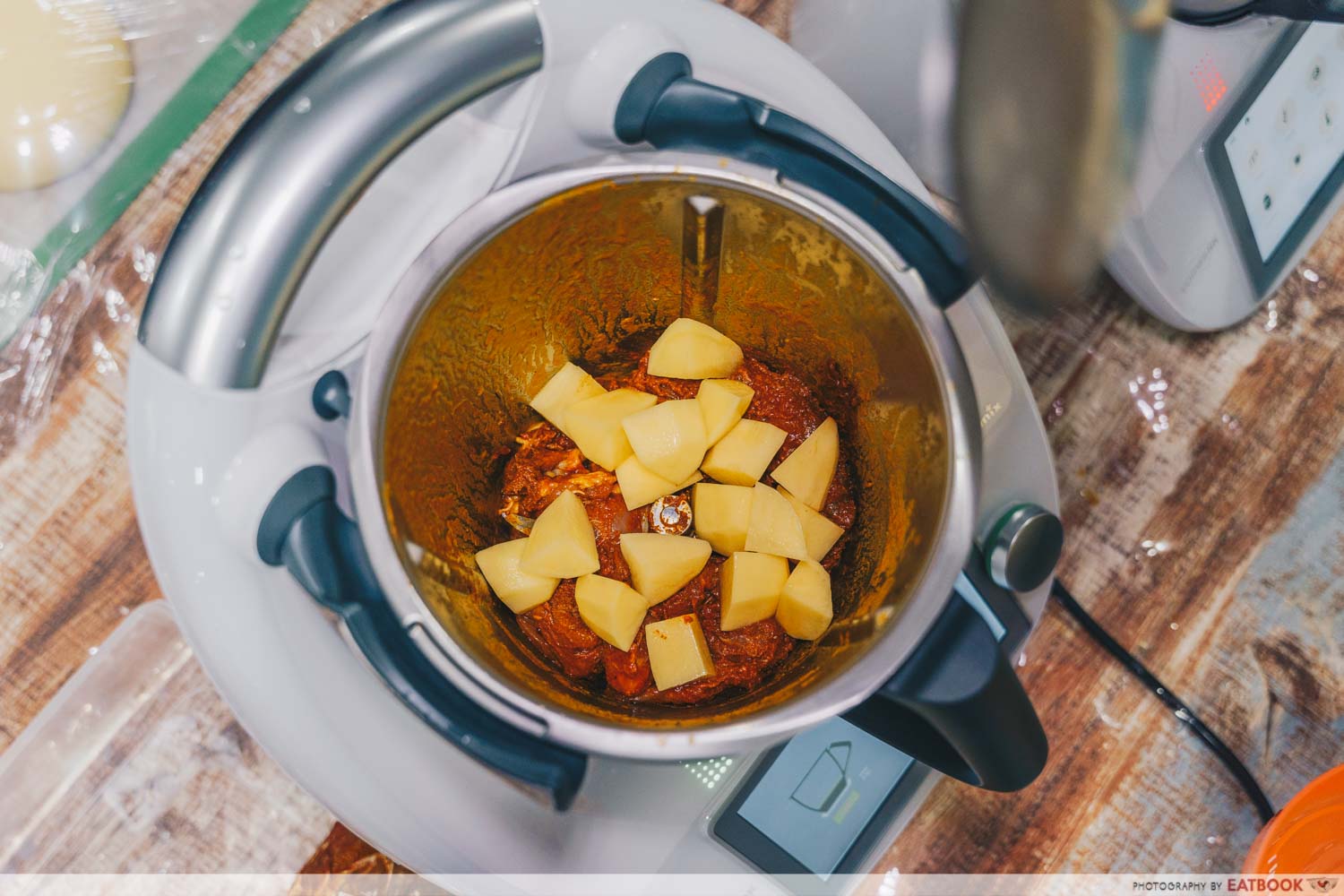 The chicken is cut into bite-sized pieces, and the potatoes too. Annie is very specific about this, especially the potatoes. Too small and they dissolve during cooking, too large and they become too hard. Lester griped that he got scolded a few times for cutting the potatoes wrongly.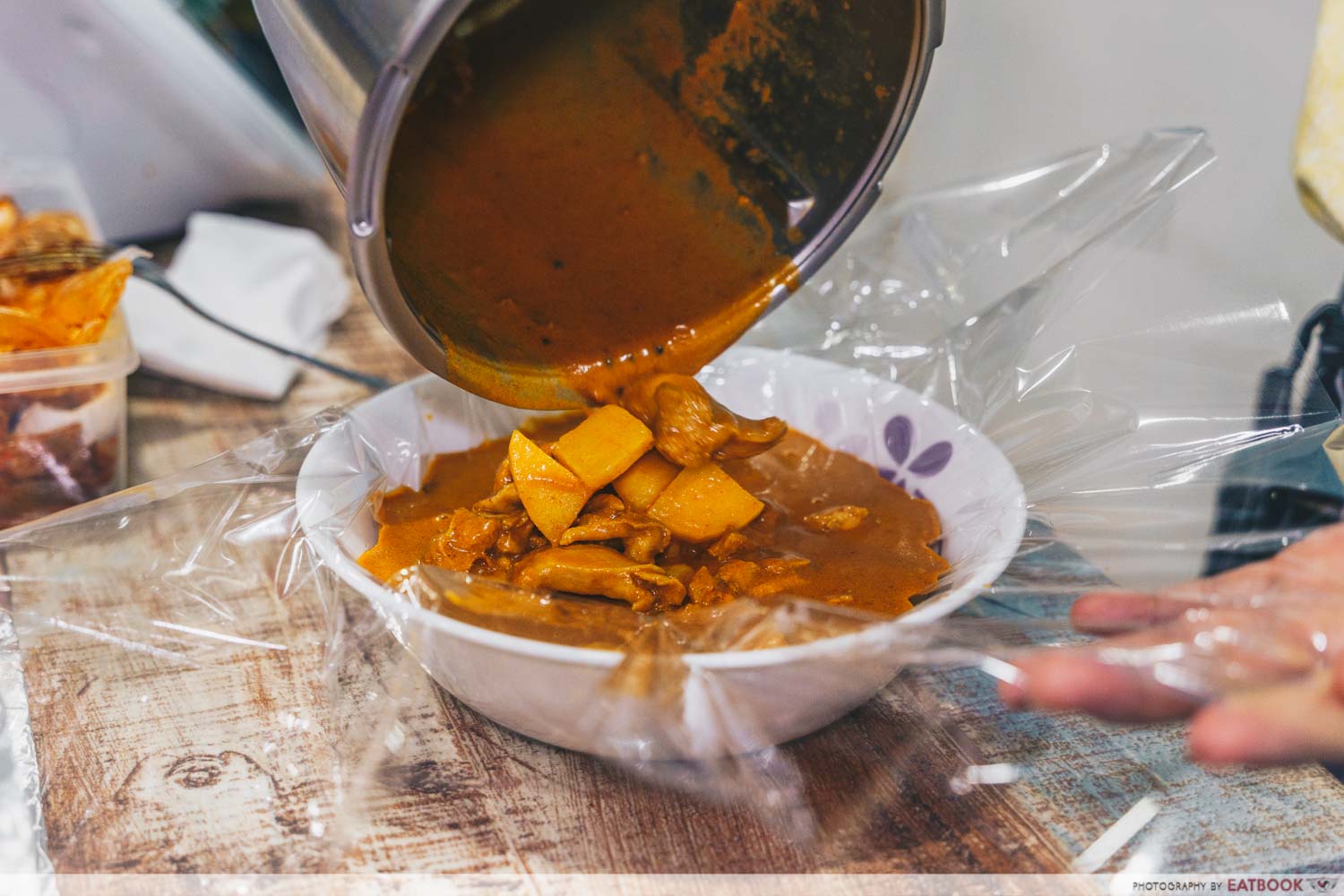 Work continues at 5:30am the next morning. Charmaine starts making the bread dough once she wakes. Precision is key to achieve the soft, buttery brioche that will later blanket the curry chicken.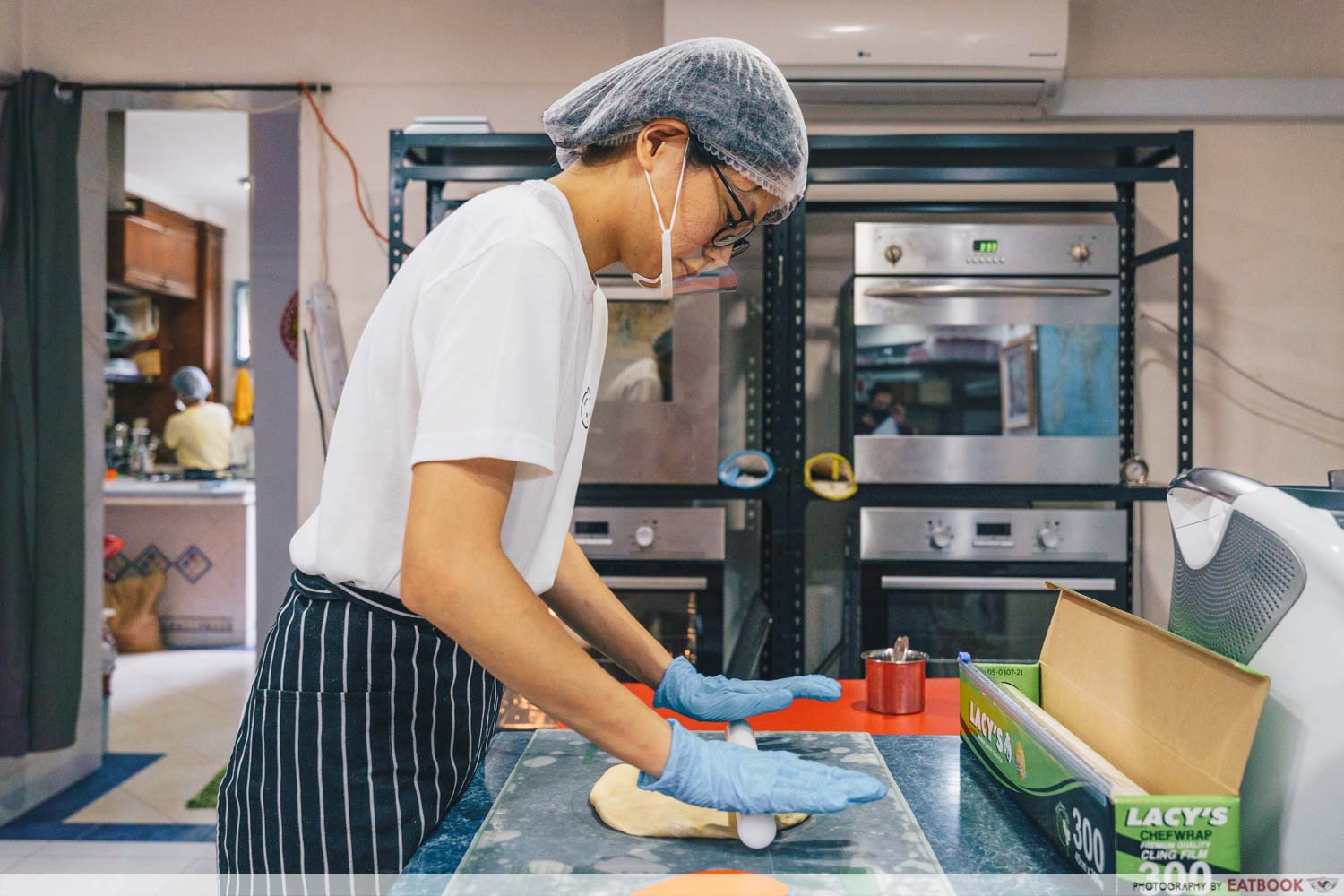 Prior to this venture, Charmaine was never much of a cook. The family had Annie taking good care of their appetites, but because of the home business, she picked up baking from her mother-in-law and has since become a pro at making bread.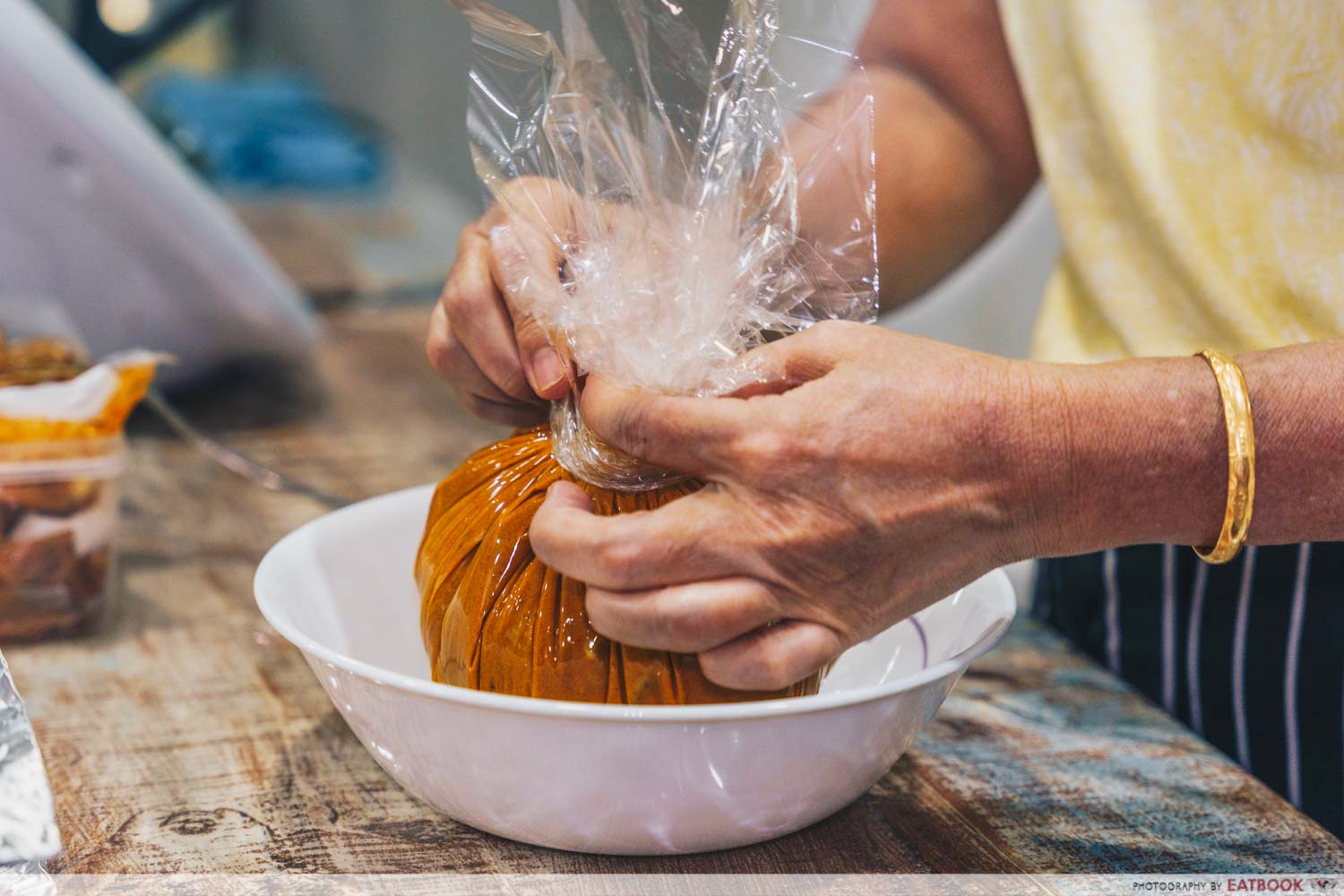 Annie follows with the curry. The recipe runs in the family, but she has modernised to cook in the Thermomix, which also helps for food hygiene. The marinated chicken parts are portioned, then cooked with the curry mixture for close to an hour. A lot of trials went into fine-tuning this curry so that the consistency remains the same, from the minute you tear into the bun till the very last bite.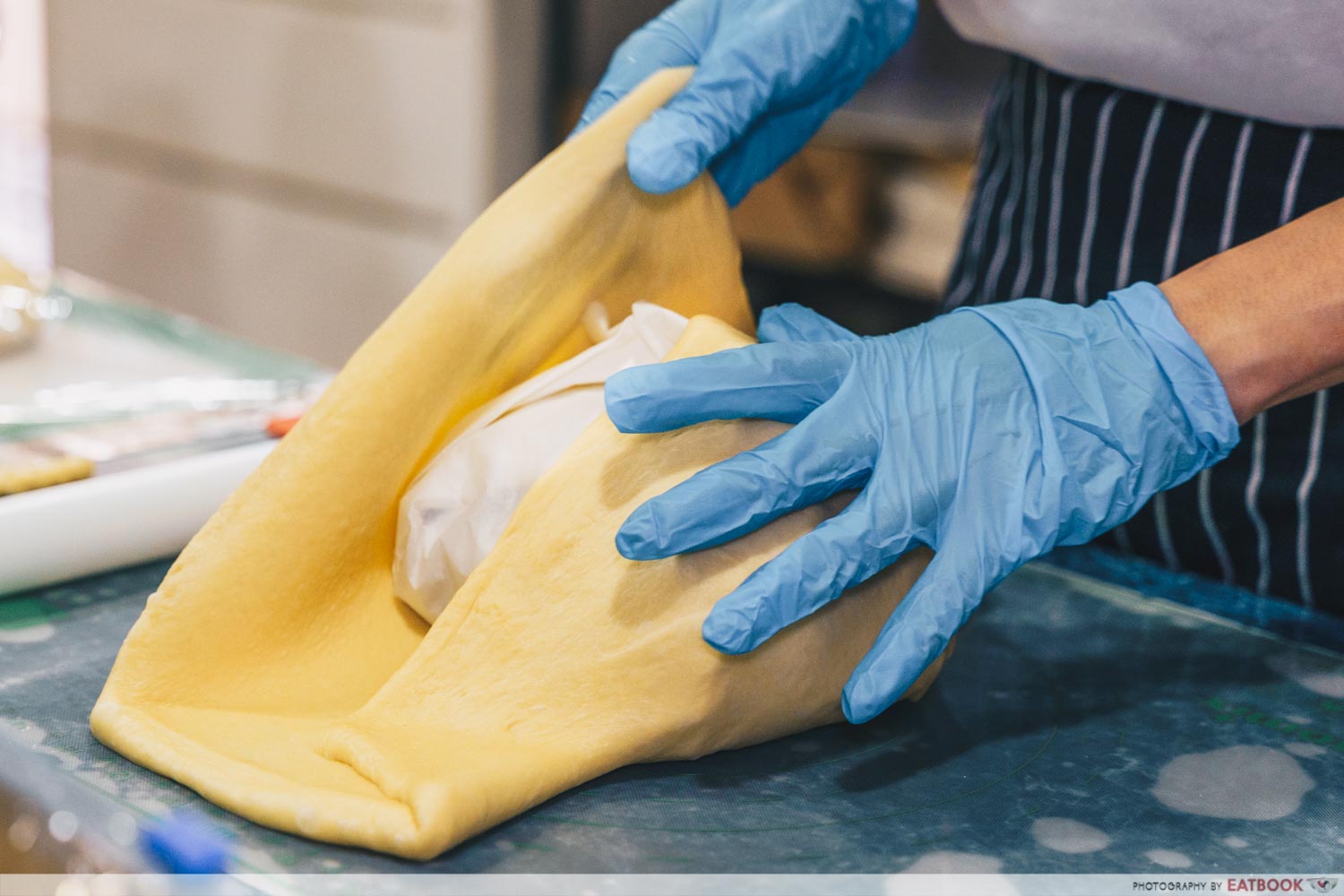 Then, Charmaine takes over. The proofed bread dough is wrapped around the curry chicken. She finishes every bun with a braid detail, which many customers praise as the best part of the curry bun, given how crisp it gets when cooked. Another 45 minutes for proofing and the bun goes into the oven.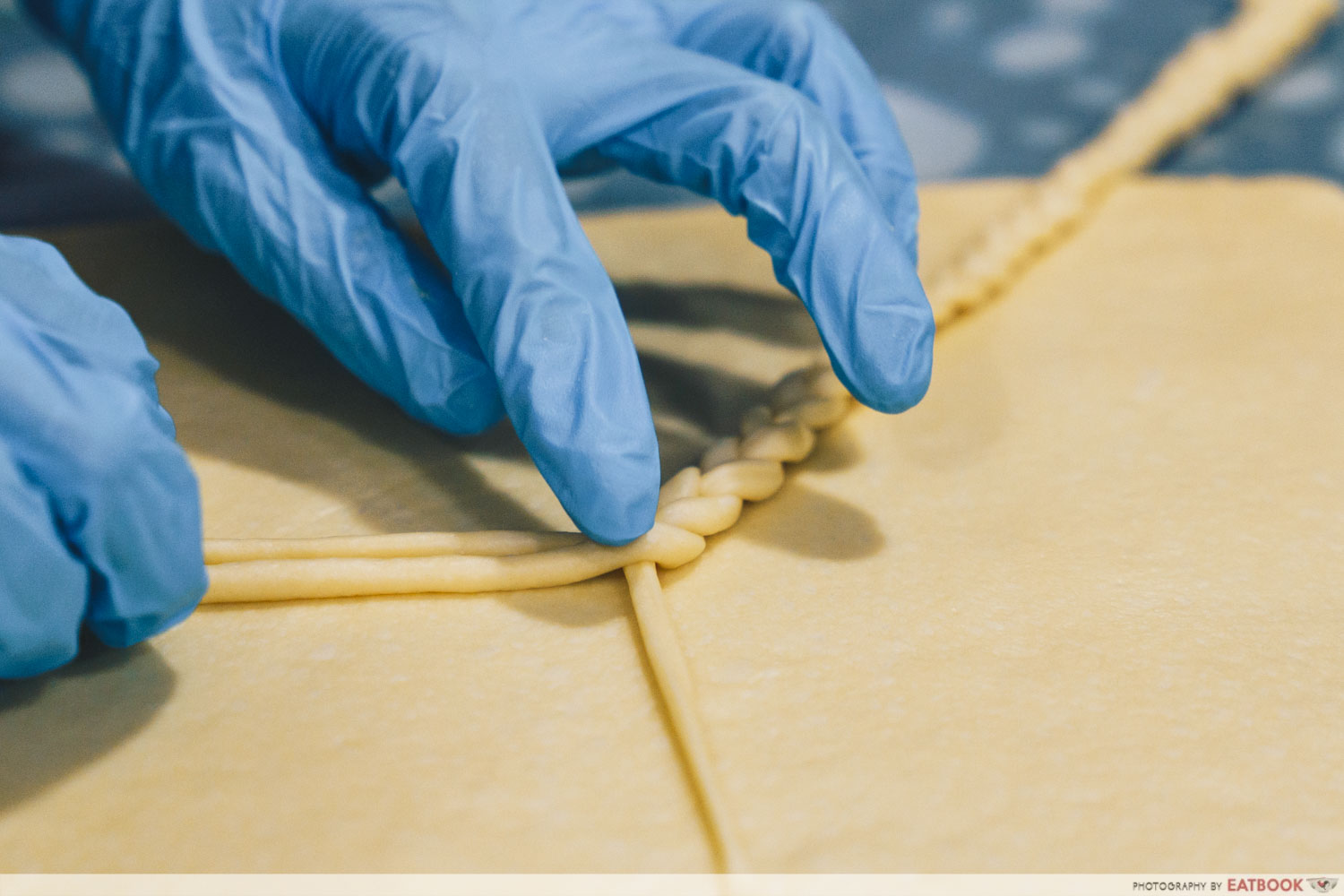 Once baked, the golden, piping hot parcel is packed in boxes with art hand-drawn by Lester. When inspiration hits, the order may come with a customised drawing—a cute personal touch from their family to yours.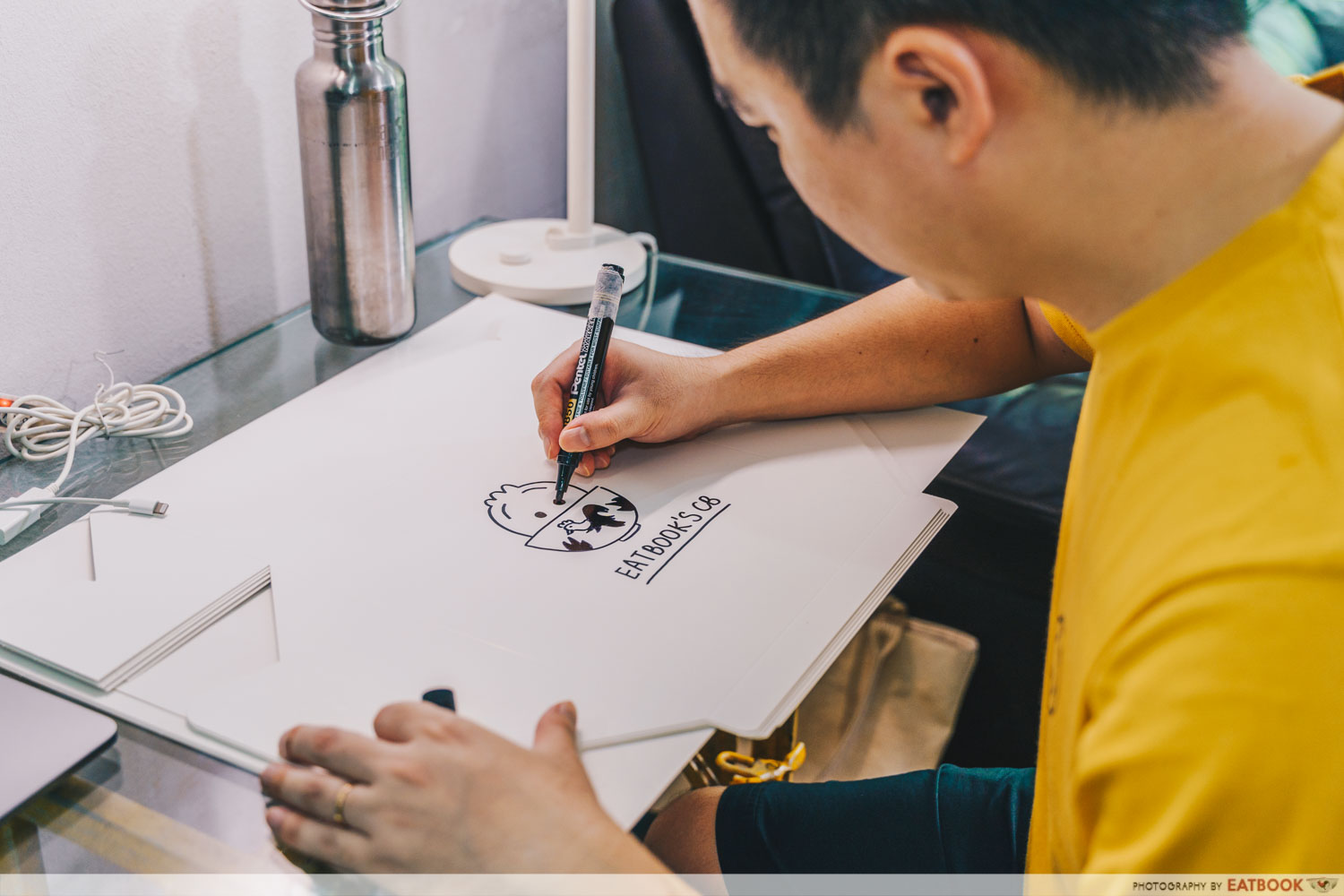 The cycle continues all the way until lunch, where Annie takes a break to make a home-cooked meal for everyone. Though she's been making curry buns all morning, she makes it a point to prep family meals twice a day, simply because she enjoys it.
Then, they reset for the next batch of evening orders. Apart from the Thermomix, everything else is done by hand.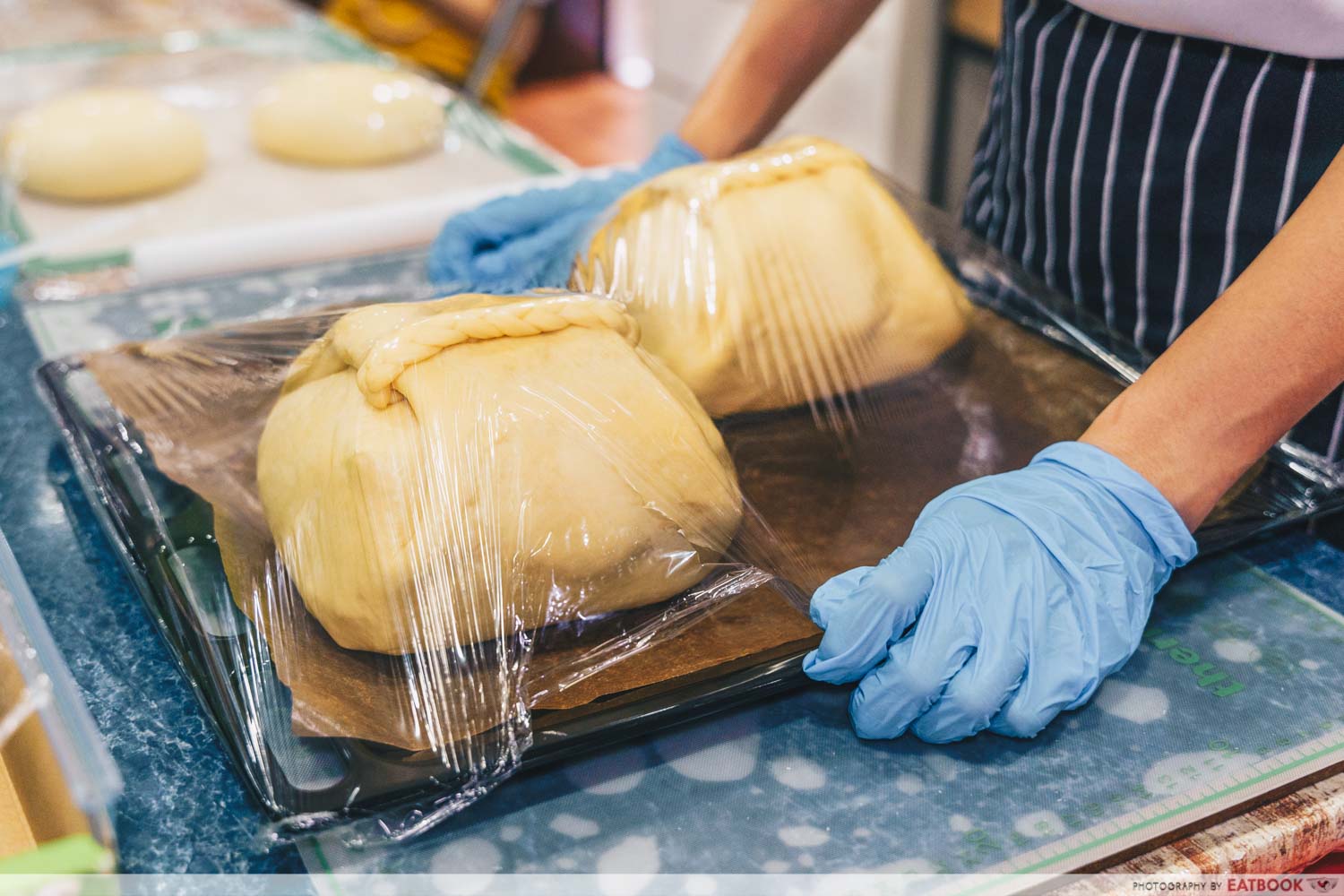 "Because we do everything by ourselves from scratch, it's [all] hard work" explains Lester.
The final daily delivery goes out around dinnertime, handled by the family comedian and father Mark, 66. Logistics whizz and sister Jasmine, 34, helps plan the delivery routes to specific neighbourhoods.
The business has acquired a steady fanbase since it opened. One customer ordered over 20 buns to share. Another ardent fan had Eat My CB's curry buns 16 times since the Circuit Breaker. Some confessed to Jasmine, who processes the Instagram orders, that they have dreamed about the family's curry buns. 
Tastes like Grandma's curry
Many who order again praise Eat My CB's buns as familiar and comforting. Though some say the curry's profile tastes Chinese, others claim it's more Indian, or Peranakan. 
"It really is just Grandma's curry, to us," said Charmaine.
The curry is rich, thick, and perfumed with aromatics. Annie does not discount on spice, so every mouthful of curry brings a pleasant hum of heat. The chicken and potatoes are piquant, having absorbed the curry, and remain fork tender. Sealing the deal is the bun—fluffy like a hotel pillow, distinctly buttery, with a thin golden crust. It tastes very much like home.
Priced at $32 each, this may seem steep to some, but every bun is a handcrafted labour of love and time. It feeds three to four people, or "one very hungry man", they laughed. Hand on heart, the family swears one man polished off their curry bun solo.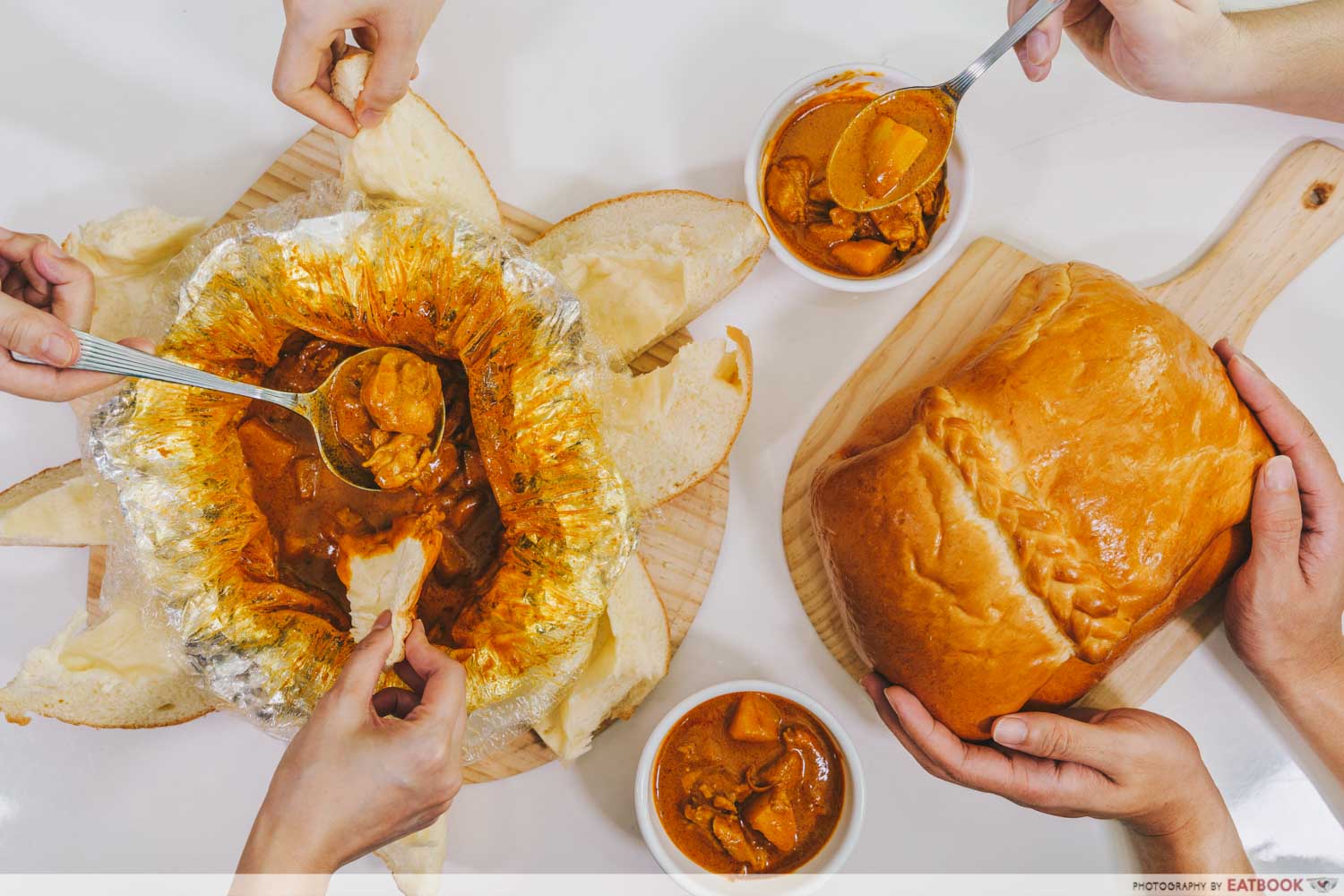 The struggles behind a home-based business
While Eat My CB has settled into its own rhythm now, there were many speed bumps through their five-month journey. For one, their lack of a solid business plan at the start made the family question whether the path was even worth pursuing. Courtesy of brother Brandon, 29, this has thankfully changed.
However, there were added challenges acquiring supplies during the Circuit Breaker, where flour was wiped off shop shelves. Both Charmaine and Annie recall queuing for upwards of three hours just to get bagfuls.
The name itself, though catchy, was polarising. When they were featured in local magazines, some comments online had lewd and derogatory remarks about Charmaine and Annie. The family occasionally also got messages claiming that people would never order from them based on the business' name alone because they found it disgusting and uncouth. 
"These comments, we understand them, because the name was a risk for us to take," said Lester.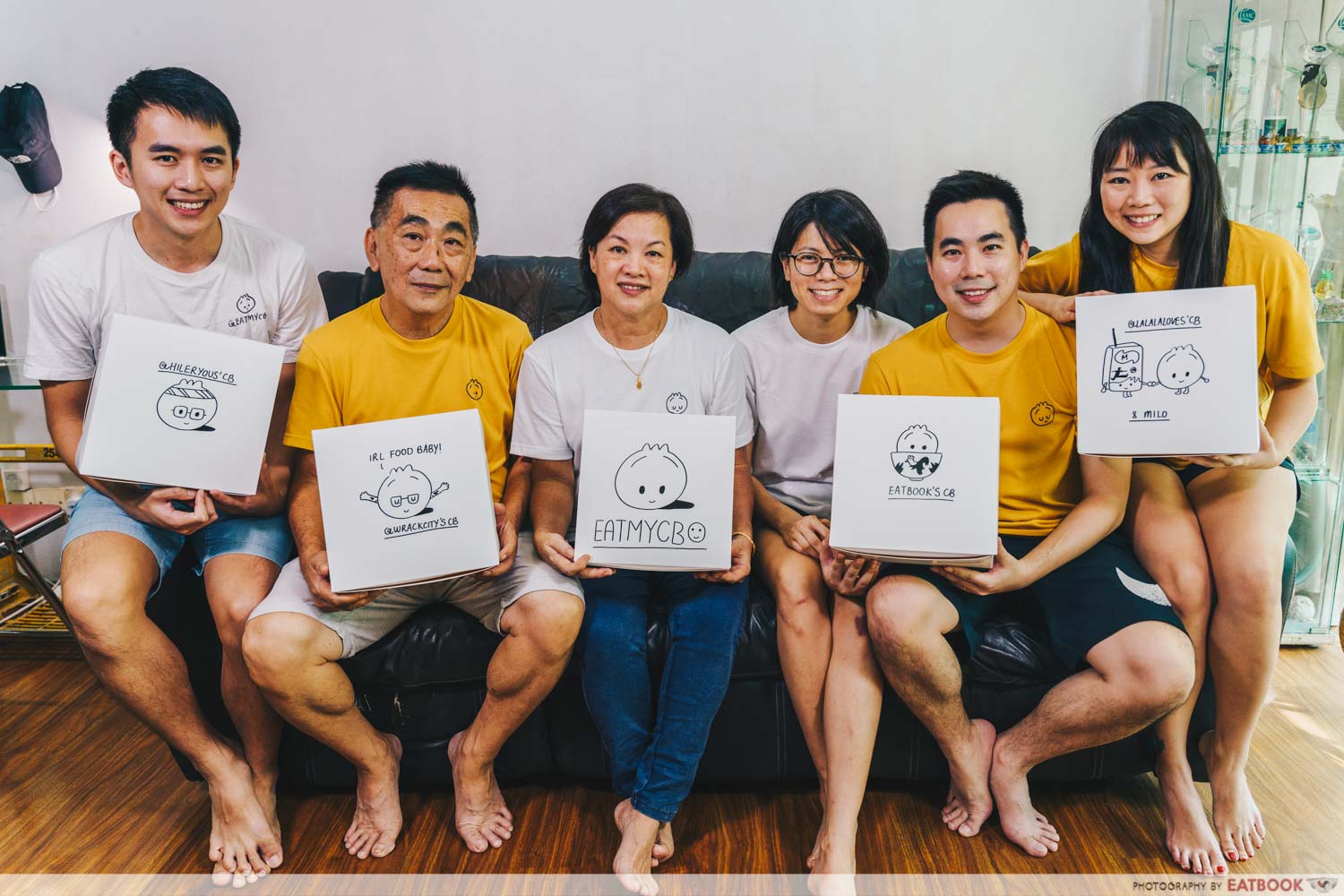 Still, the positive traction Eat My CB got made the family push through, though candidly, they did not have much of a choice due to the lapse in income.
"When you have four freelancers in the family with no income, we had to take creative risks [with the name and the business], if not, we would not have survived the Circuit Breaker," he continued. For others, a home business could be a hobby which lets the owner make some money on the side, but for most of the Lees, this truly is their livelihood.
Eat My CB has built quite a fanbase for itself now, but the road ahead is equally uncertain. The family still harbours some concerns over the sustainability of the business, given that pandemic-related restrictions are easing, and people are less keen to dine at home. 
Whatever the future may hold, the Lees remain spirited and passionate about the curry buns they make for their customers. Should you wish to lend your support and see what Eat My CB is all about, you can check out their Instagram page @eatmycb.
Don't be shy—ask for a message on your order's box if you want, you might get a custom drawing to go with it. Or, reach out and inquire about their secret menu item. If you know, you know.
Photos taken by Lim An.
This was a media tasting at Eat My CB.