The Fat Kid Bakery in Ang Mo Kio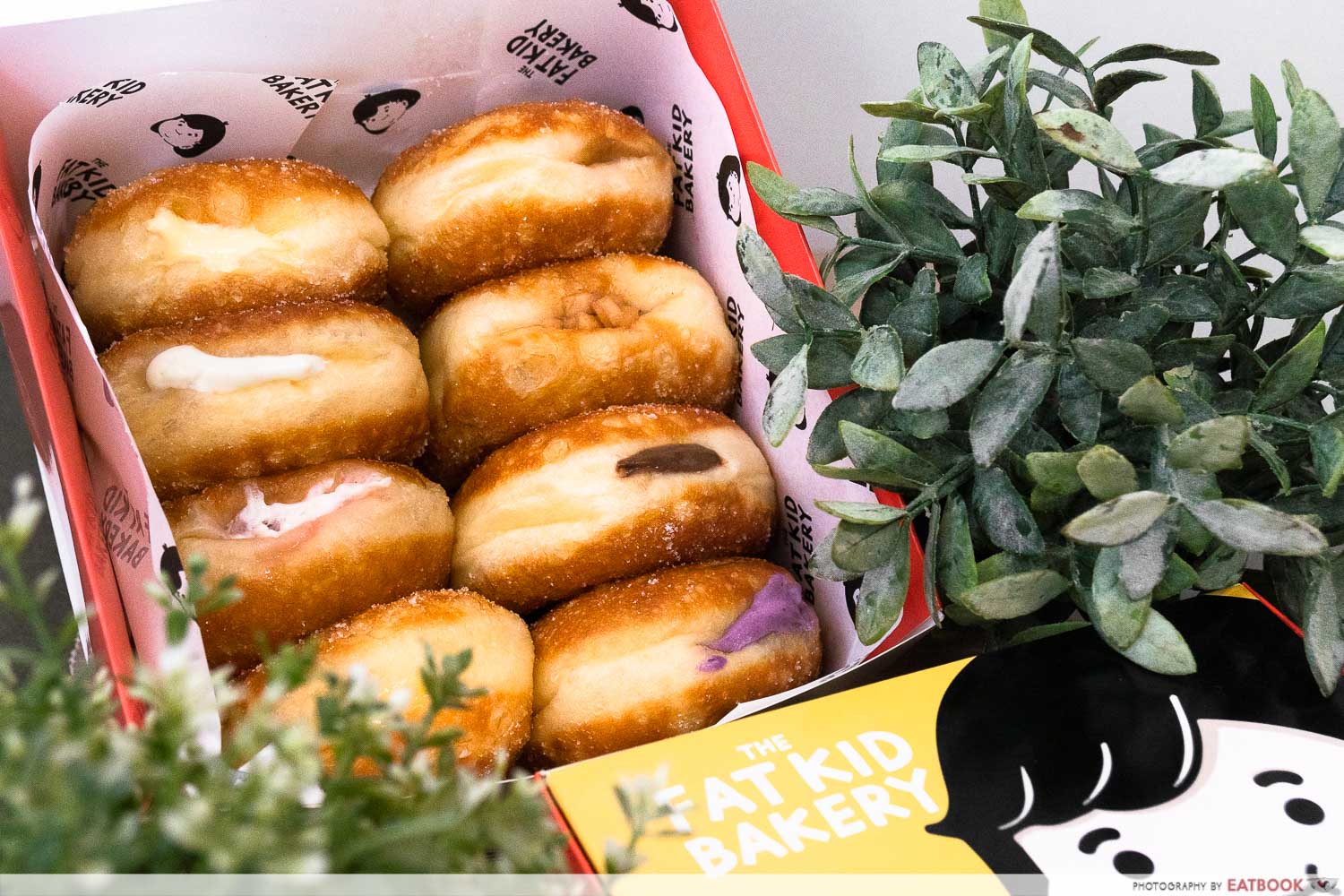 I have to admit that when it comes to choosing a sweet and indulgent treat, doughnuts are nowhere near my top picks. Due to past experiences, they have never left a good impression on me as they have either been too sweet, too greasy, or both. Moreover, I tend to find doughnuts a tad bit dense and doughy for my liking—until I chanced upon the ones at The Fat Kid Bakery.
Singapore has seen a recent spike of interest in bomboloni, an Italian stuffed donut. Highly praised for their airy, fluffy texture, these doughnuts have taken over my social media page. And so I fell into the rabbit hole of The Fat Kid Bakery, a small bakery known for their sourdough bomboloni, and proceeded to place a preorder for a box of eight.
Food at The Fat Kid Bakery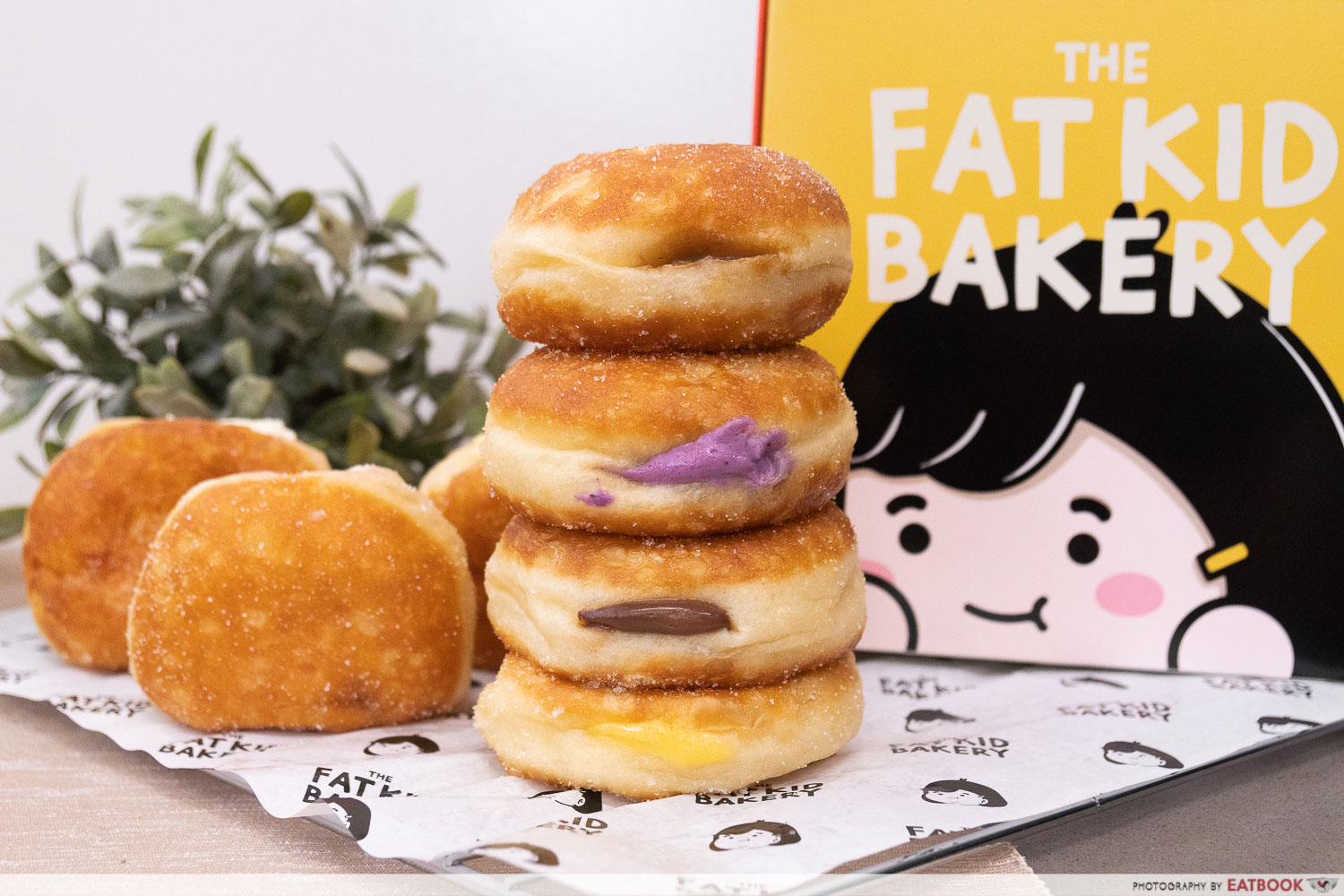 At first glance, we were slightly underwhelmed by the look of the bomboloni. There was just a hint of filling barely peeking out through a small slit, which revealed the flavour of each donut. Moreover, the filling didn't ooze out as expected when we gave the bomboloni a gentle squeeze, and hence we assumed that they were not generously filled.
However, we were too quick to judge. Tearing open each of these pillowy rounds revealed a hefty amount of filling. Some were creamy and fluffy, while others had flowy centres akin to that of liu sha bao.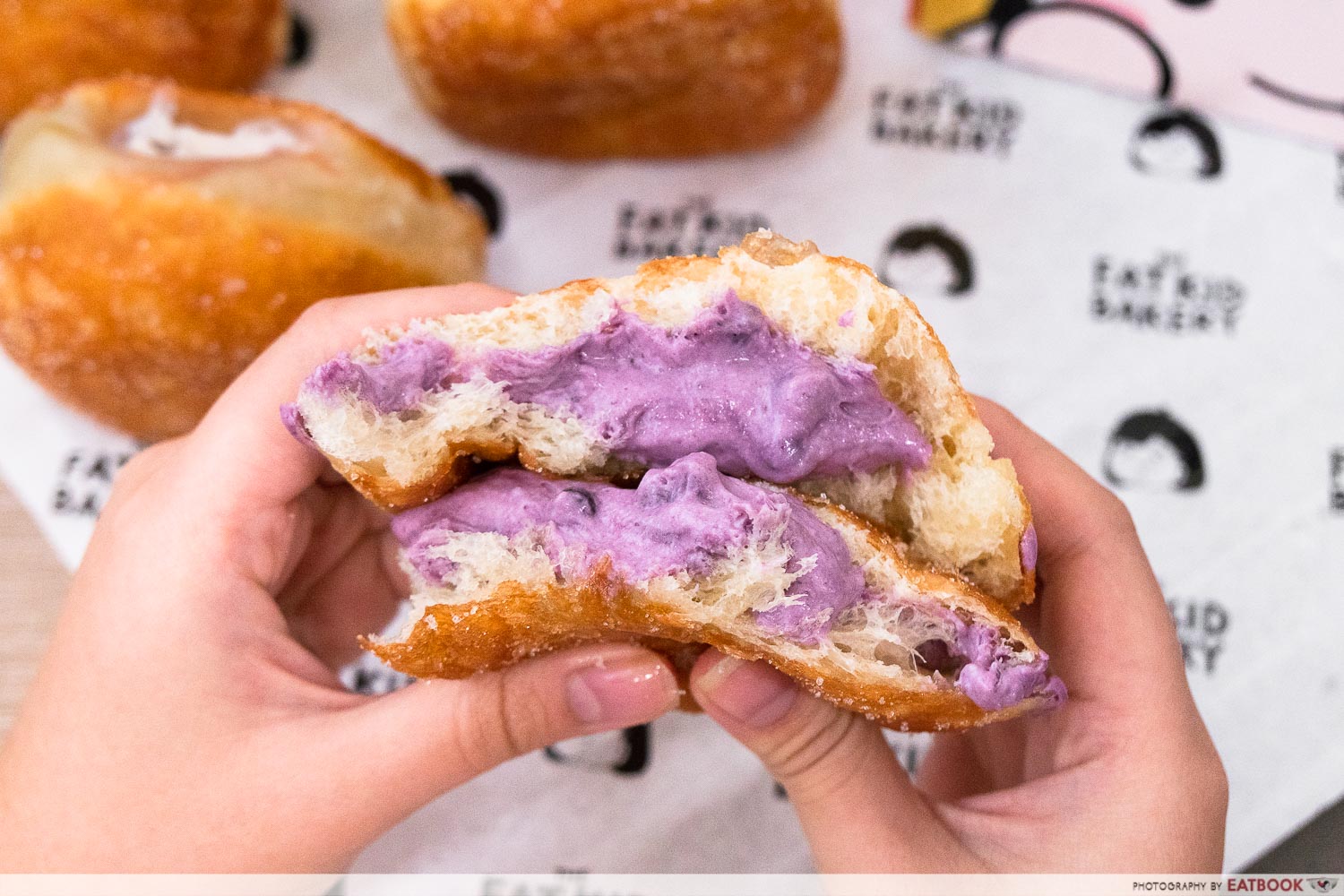 We started our round of bomboloni with the Blueberry Cheesecake ($4.80). Tearing into this doughnut released a sweet, fruity aroma, and revealed a beautiful lavender-coloured cream. I was also delighted to find a generous amount of real berries in it. 
15 Donut Shops For Milo Dinosaur Doughnuts, Ondeh-Ondeh Bombolinis And More
As its name suggests, the filling featured blueberry and cream cheese flavours. It had a prominent berry flavour with an underlying tanginess from the cream cheese. The use of real fruit added textural contrast to the cream, as I got bursts of juice amidst the silky filling. 
Filling aside, the texture of the doughnut was simply sublime—slightly crusty on the outside, fluffy and airy on the inside. Moreover, it didn't sit heavy in my stomach or leave a greasy film in my mouth, which I greatly appreciated.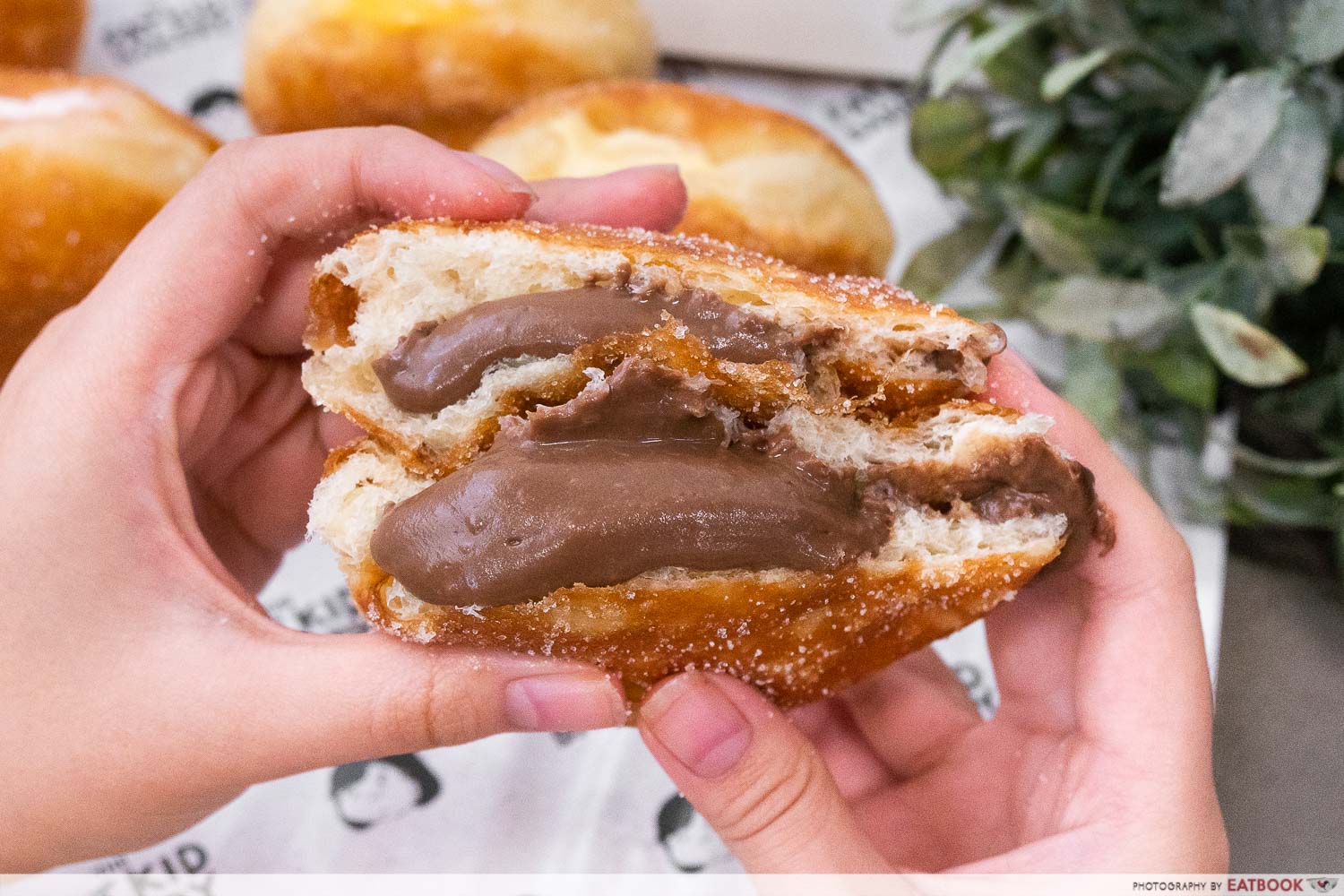 We moved on to one of the crowd favourites at The Fat Kid Bakery━Chocolate Mess ($4). This bombolone was filled with a glossy, velvety chocolate cream. It looked so lush and thick that it had me salivating even before I'd taken a bite. 
Although the pastry cream was said to be infused with dark chocolate, I felt that it was lacking in the rich, slightly bitter, and decadent flavour profile that I associate with dark chocolate. To me, the filling bore a resemblance to semi-melted chocolate ice cream—milky, creamy and slightly sweet. I'd recommend this for fans of milk chocolate.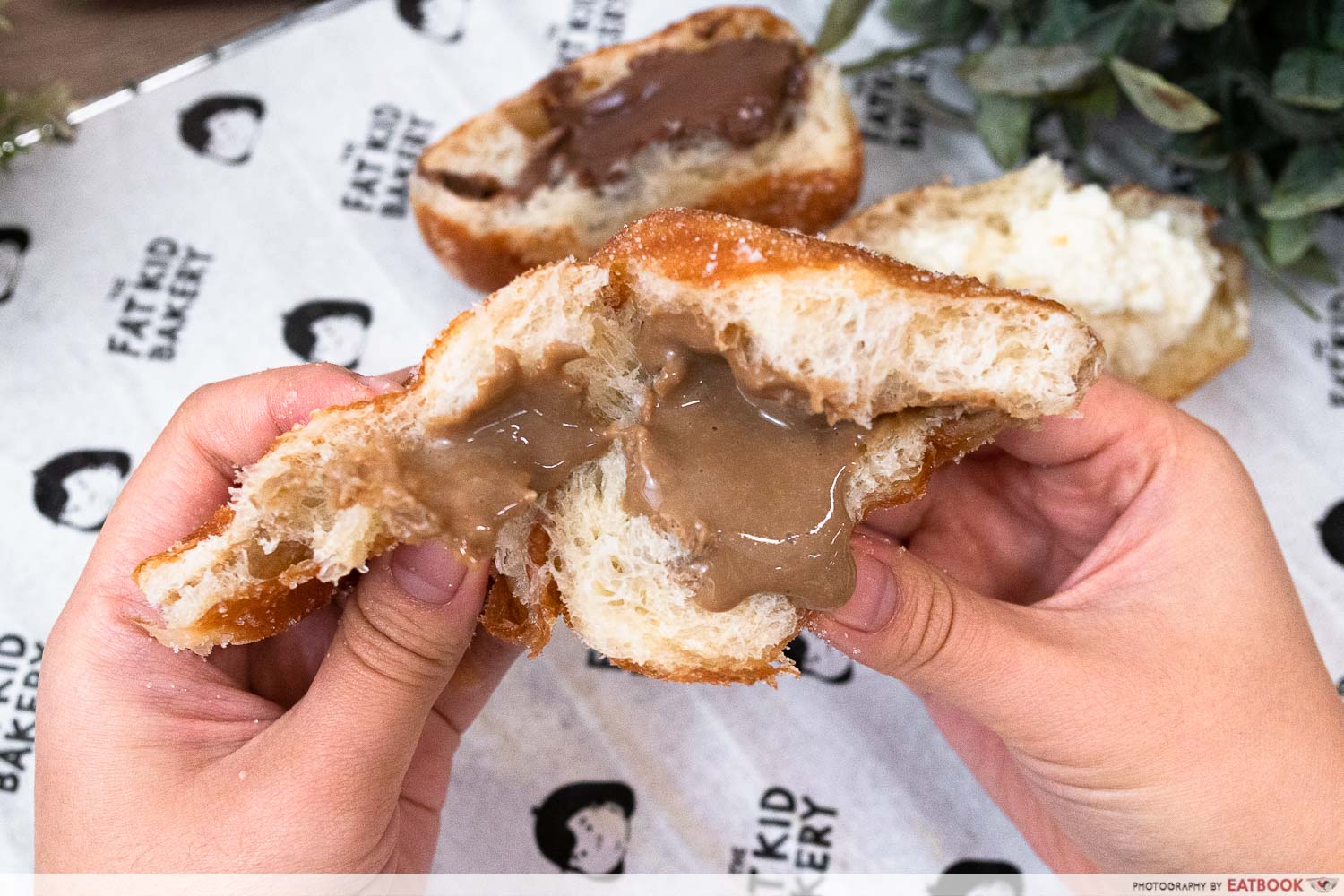 Next, we tried the Earl Grey ($4) bombolone, which is another popular choice among fans of The Fat Kid Bakery. Unlike the previous doughnuts, the filling in this was runny and made a bit of a mess. Personally, I found this much sweeter, making it rather jelak. The flavours of the Earl Grey cream were punchy and robust, though, so if you're an Earl Grey fan, this flavour will not disappoint.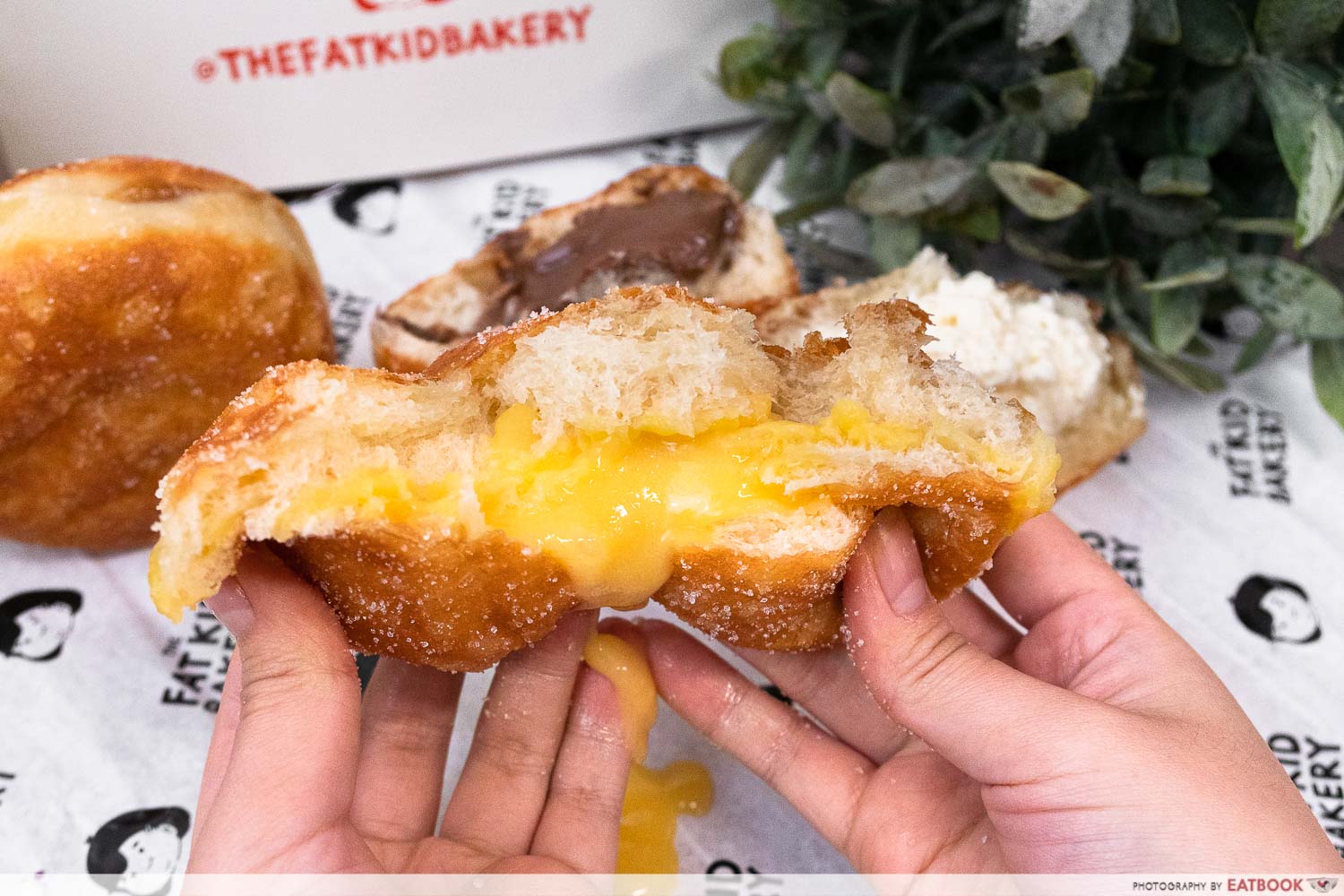 After all the sweet flavoured bomboloni, we went for the Citrus Bomb ($4.80), which was tart and refreshing. True to form, the filling in this was a literal citrus bomb. It was exploding with citrusy, tangy flavours, without overpowering the main star—calamansi. My colleague felt that the tanginess helped cut through any greasiness from the doughnut, thus making this flavour one of our top picks.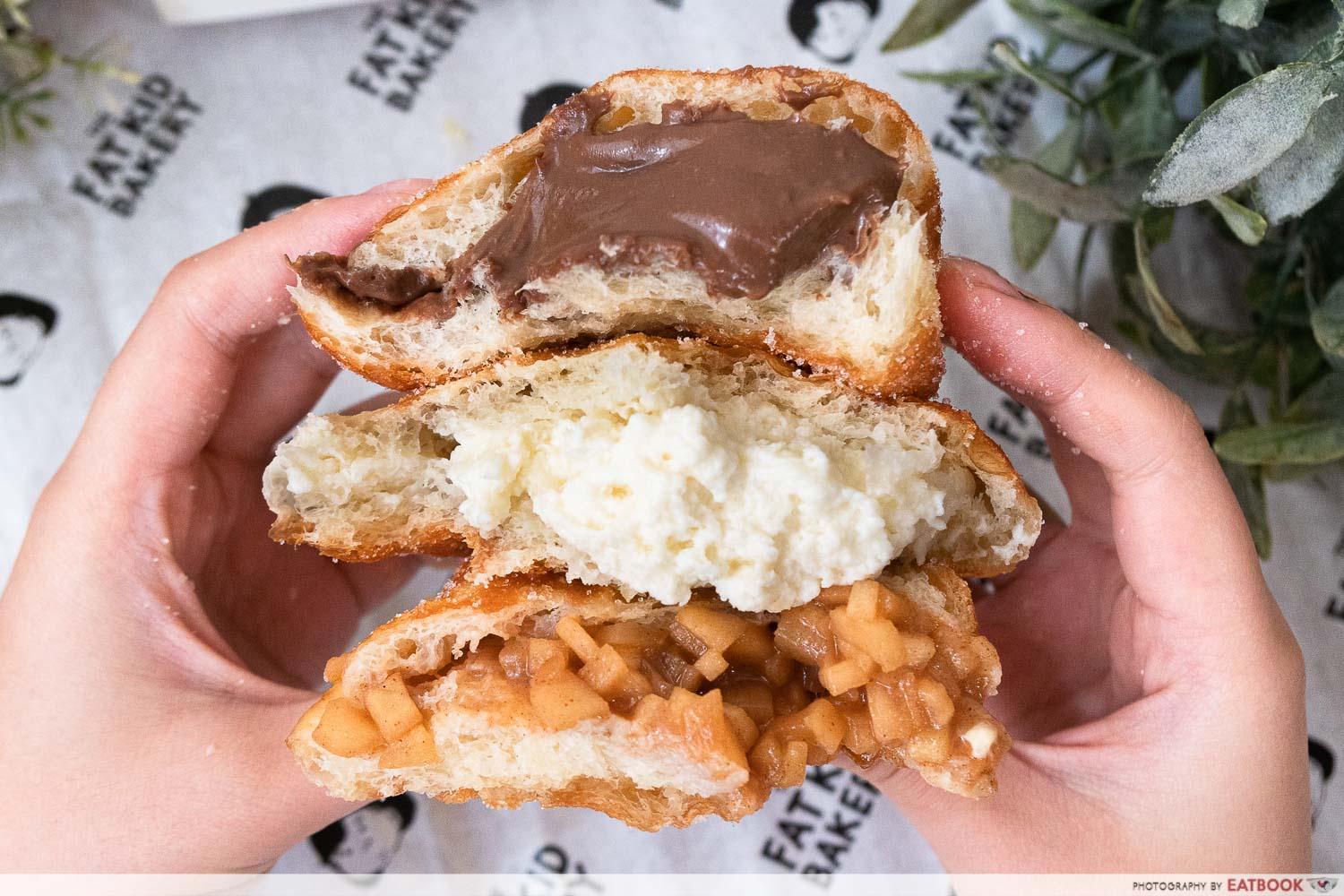 With only four more flavours to go, we tried the Sea Salt Maple ($5) and Apple Pie ($4.80) first. The former sees a dense and crumbly filling, much like cottage cheese, but creamier. Taking a bite of this reminded me of a rich, buttery, salted buttercream. Although the maple was masked by the salt, the cream was still perfumed with a caramelly, earthy aroma. Compared to the previous, sweeter flavours, this sweet-salty cream left a memorable impression. 
Korio Review: Brooklyn-Inspired Brioche Donuts And Grilled Cheese Toasts At CBD
On the contrary, the Apple Pie had an intense, spiced cinnamon flavour, which almost felt too overpowering. However, I loved how the apples were cooked to the perfect texture—soft, yet retaining a bite.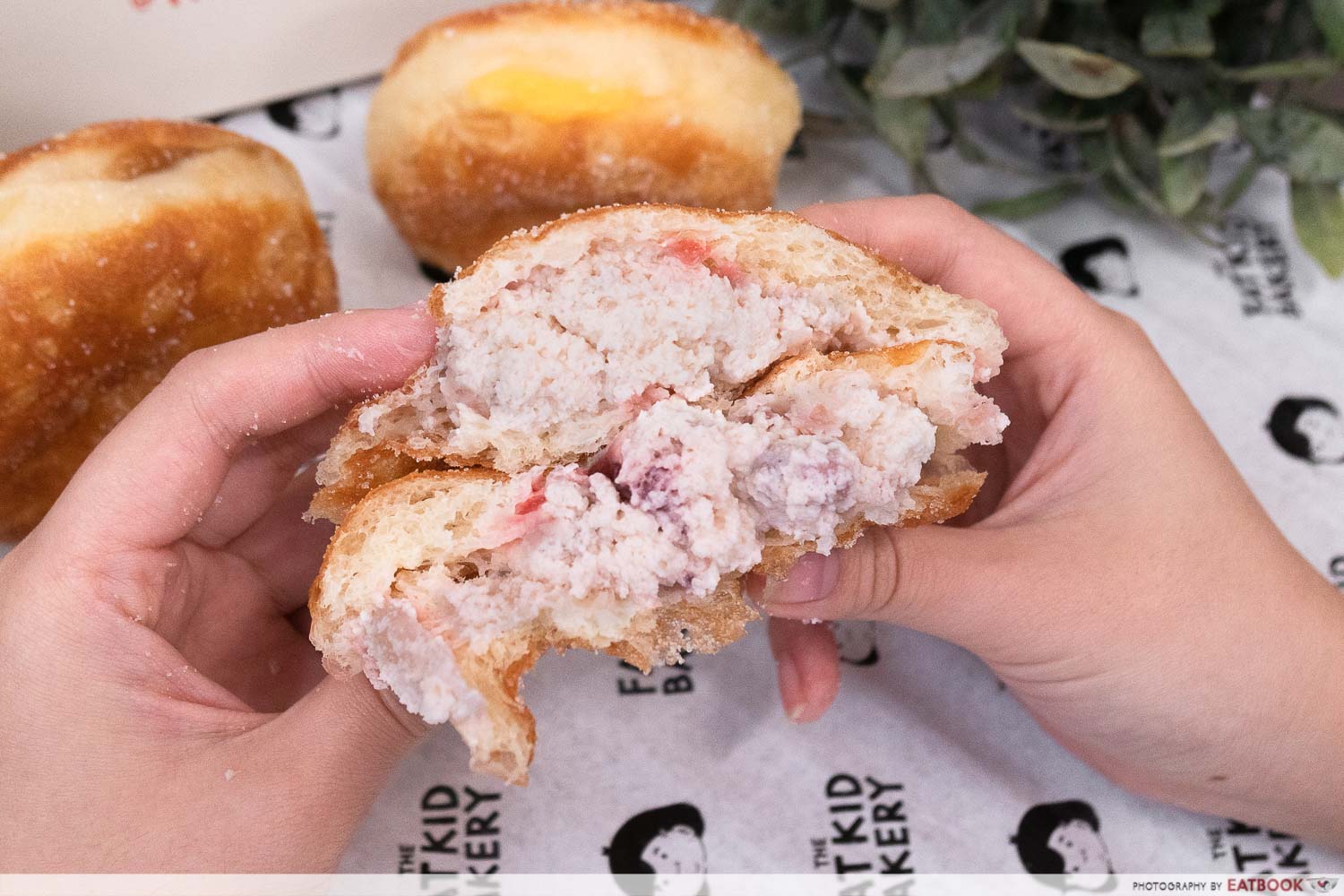 We also had the Strawberry Shortcake ($5). Tearing into this doughnut revealed a filling that had the same cottage cheese-like texture as the Sea Salt Maple, with swirls of strawberry juice and strawberry bits. It reminded me of an actual strawberry shortcake━light, fresh, and with a tinge of sweetness. I've always been a fan of strawberry shortcakes, so I was truly impressed by how well replicated the flavours were.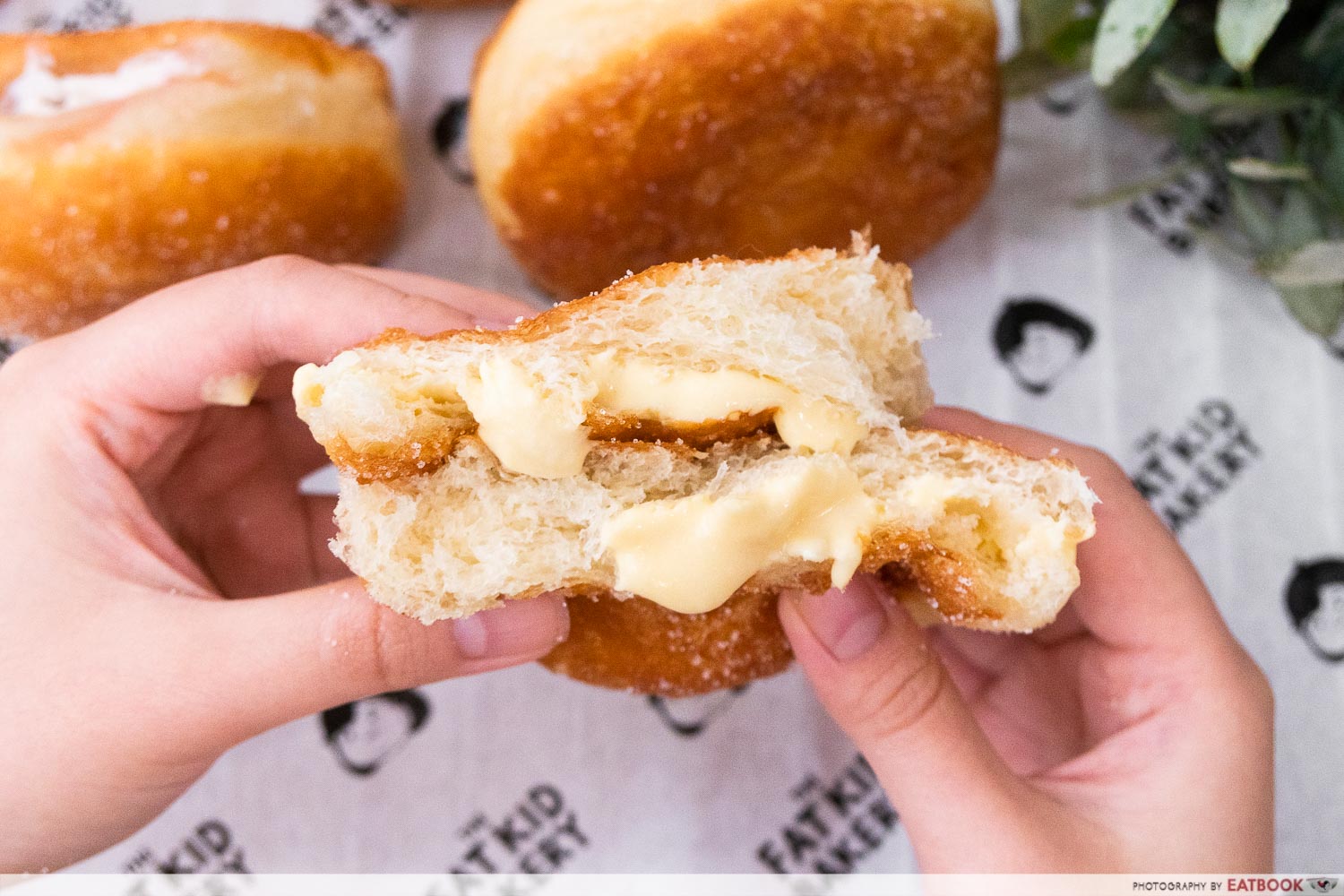 As with the Strawberry Shortcake, this Mango Mousse ($5) was light with a slight zing, resembling a mango flavoured yoghurt. We also tasted other fruit in this, such as passionfruit and a hint of lemon, which added depth and brightened the flavour profile of this bombolone. However, we felt that the taste of mango was a little overwhelmed by the other fruits.  
Aside from bomboloni, The Fat Kid Bakery also offers other baked goodies such as, Brownies (from $15), Cookies (from $12), Eclairs (from $25), Sourdough (from $8.50), and Milk Loaf ($8), which we didn't get to try on this trip. 
Ambience at The Fat Kid Bakery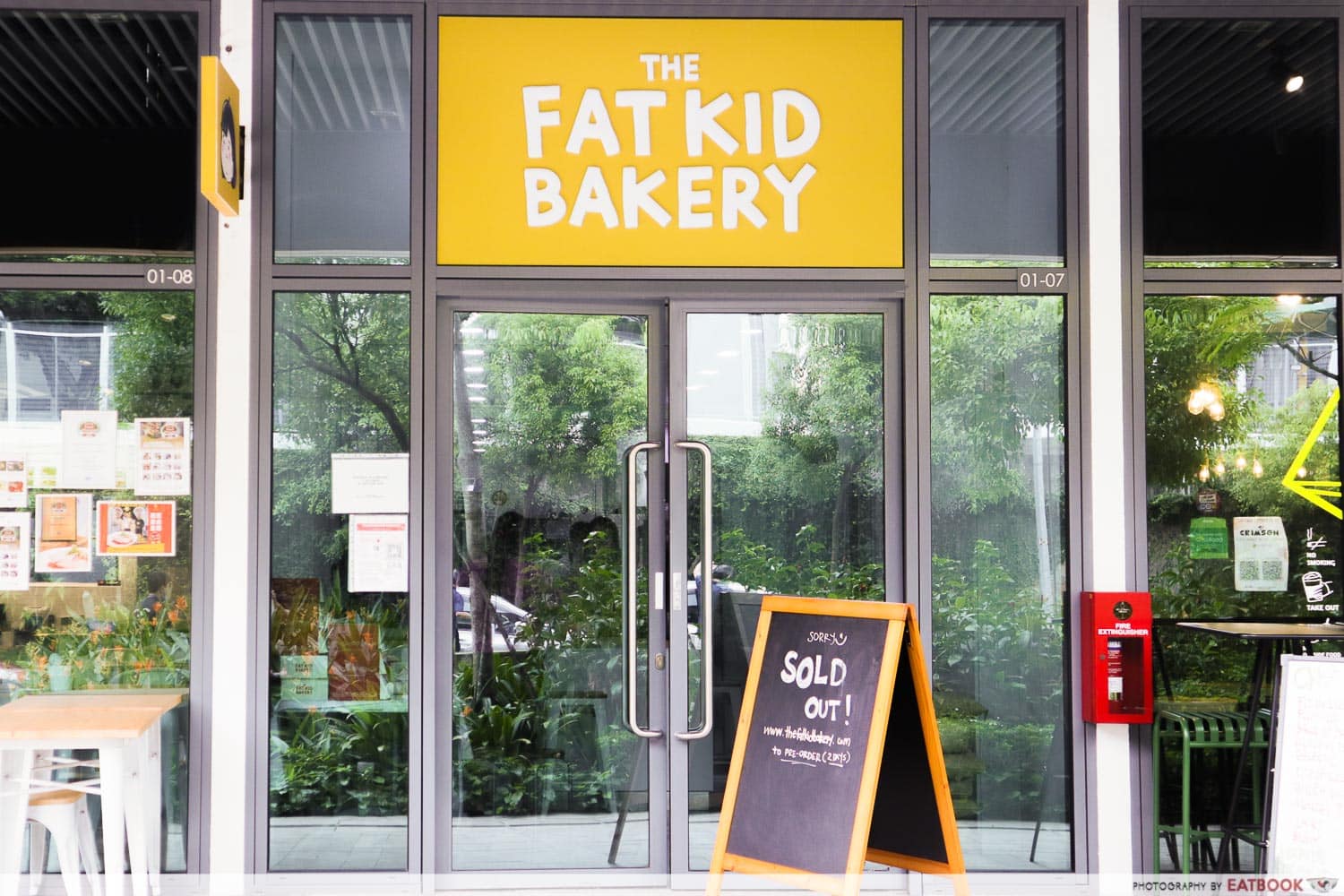 The Fat Kid Bakery is located in Flora Vista, an area that contains a few retail and residential units. Its location is rather inaccessible, as it requires a 20-minute bus journey from Yio Chu Kang MRT Station, followed by a five-minute walk.
Although the bomboloni are available for walk-in purchases, they tend to sell out rather quickly. Avoid disappointment by preordering them three days in advance before heading down to the store to pick them up. If you can't make a trip, delivery is also available at a flat rate of $10 islandwide. 
The verdict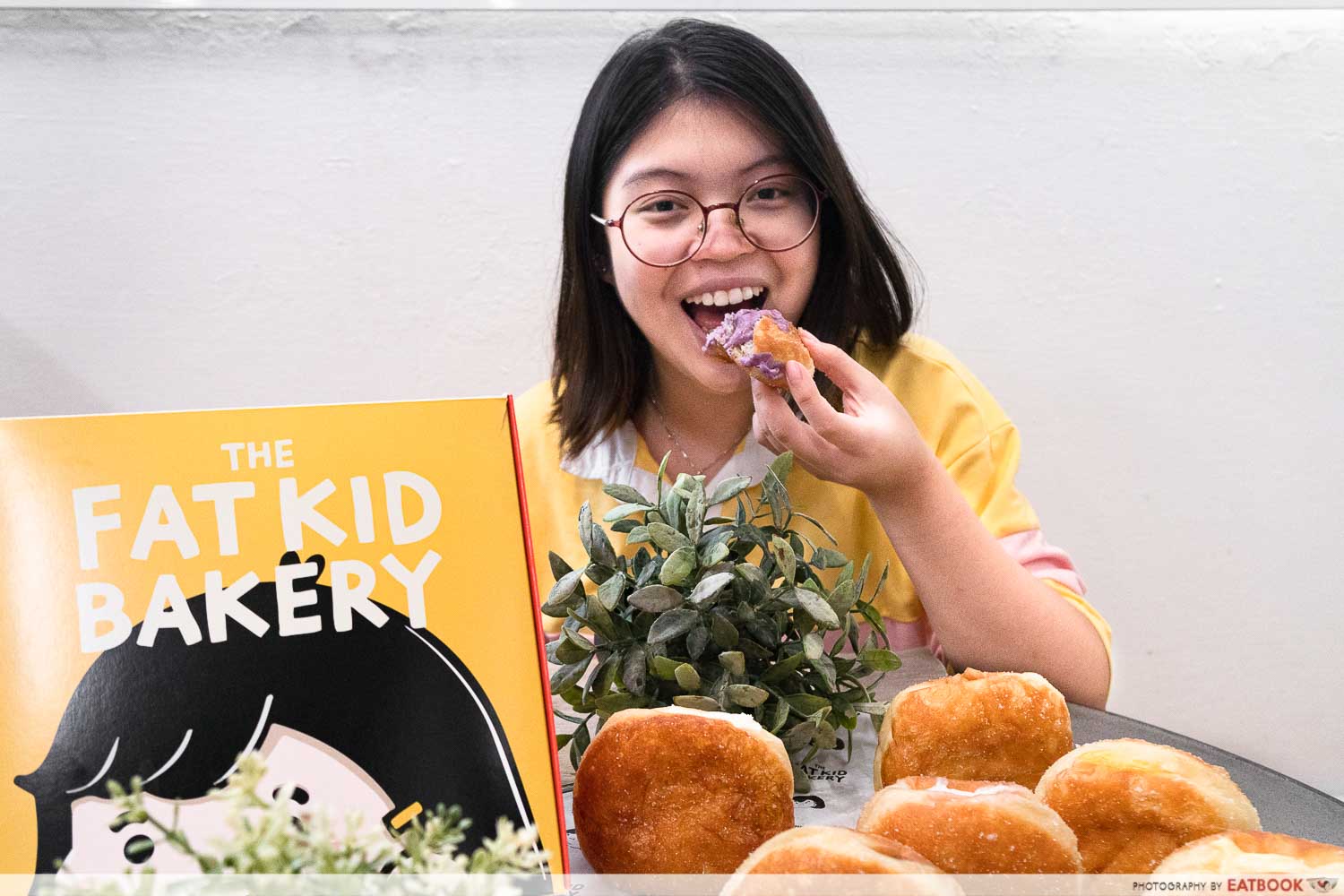 The Fat Kid Bakery has changed my impression of doughnuts. I was truly blown away by how the texture of the bomboloni was so fluffy and airy, making them dangerously addictive. In all honesty, words cannot justify how good these doughnuts were, so I would highly recommend you to try them out yourself. It's best that you have these bomboloni on the day of purchase to enjoy them fresh. Although these bomboloni are slightly pricey, and The Fat Kid Bakery is rather out of the way, I would definitely be willing to fork out more for them, and travel down for an occasional treat.  
For more doughnut options, read our guide on the best doughnuts in Singapore, which includes locally-inspired flavours like Milo dinosaur, ondeh ondeh, and more. Alternatively, check out WTV Food SG, Singapore's first mochi doughnuts. 
This Home-Based Business Sells Mini Mochi Doughnuts In Flavours Such As Kaya And Biscoff
Address: 7 Ang Mo Kio Street 66, #01-07, Flora Vista, Singapore 567708
Opening hours: Wed-Sun 10am to 5pm (or sold out)
The Fat Kid Bakery is not a halal-certified eatery. 
Photos taken by Lim Yu Hui .
This is an independent review by Eatbook.sg.
The Fat Kid Bakery Review: Stuffed Donuts In Flavours Such As Calamansi, Sea Salt Maple And More
The Fat Kid Bakery Review: Stuffed Donuts In Flavours Such As Calamansi, Sea Salt Maple And More -

8/10
Summary
Pros
–Fluffy texture
-Generous amount of filling
Cons
–Not as fresh the day after
-Inconvenient location
Recommended dishes: Blueberry Cheesecake ($4.80), Citrus Bomb ($4.80), Sea Salt Maple ($5)
Opening hours: Wed-Sun 10am to 5pm (or sold out)
Address: 7 Ang Mo Kio Street 66, #01-07, Flora Vista, Singapore 567708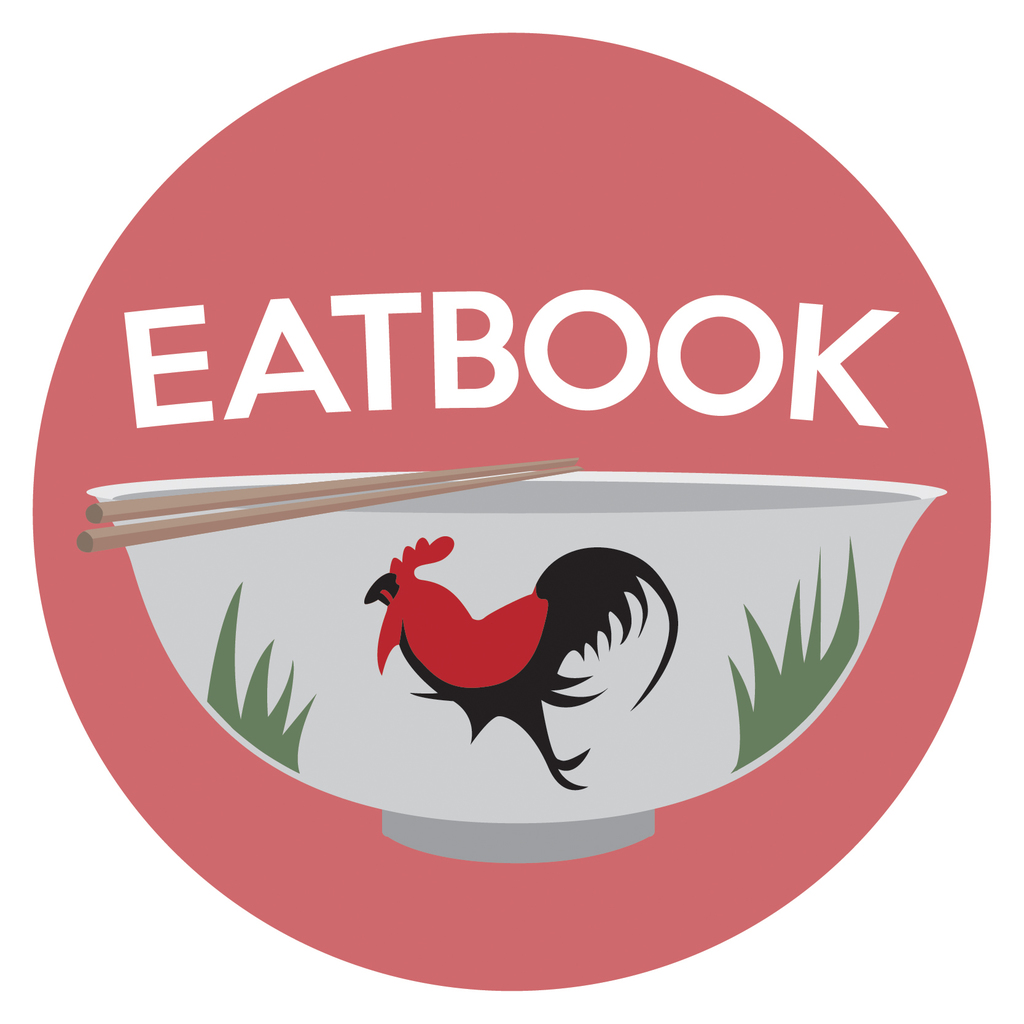 Drop us your email so you won't miss the latest news.