Geylang (Hamid's) Briyani at Geylang Serai Food Centre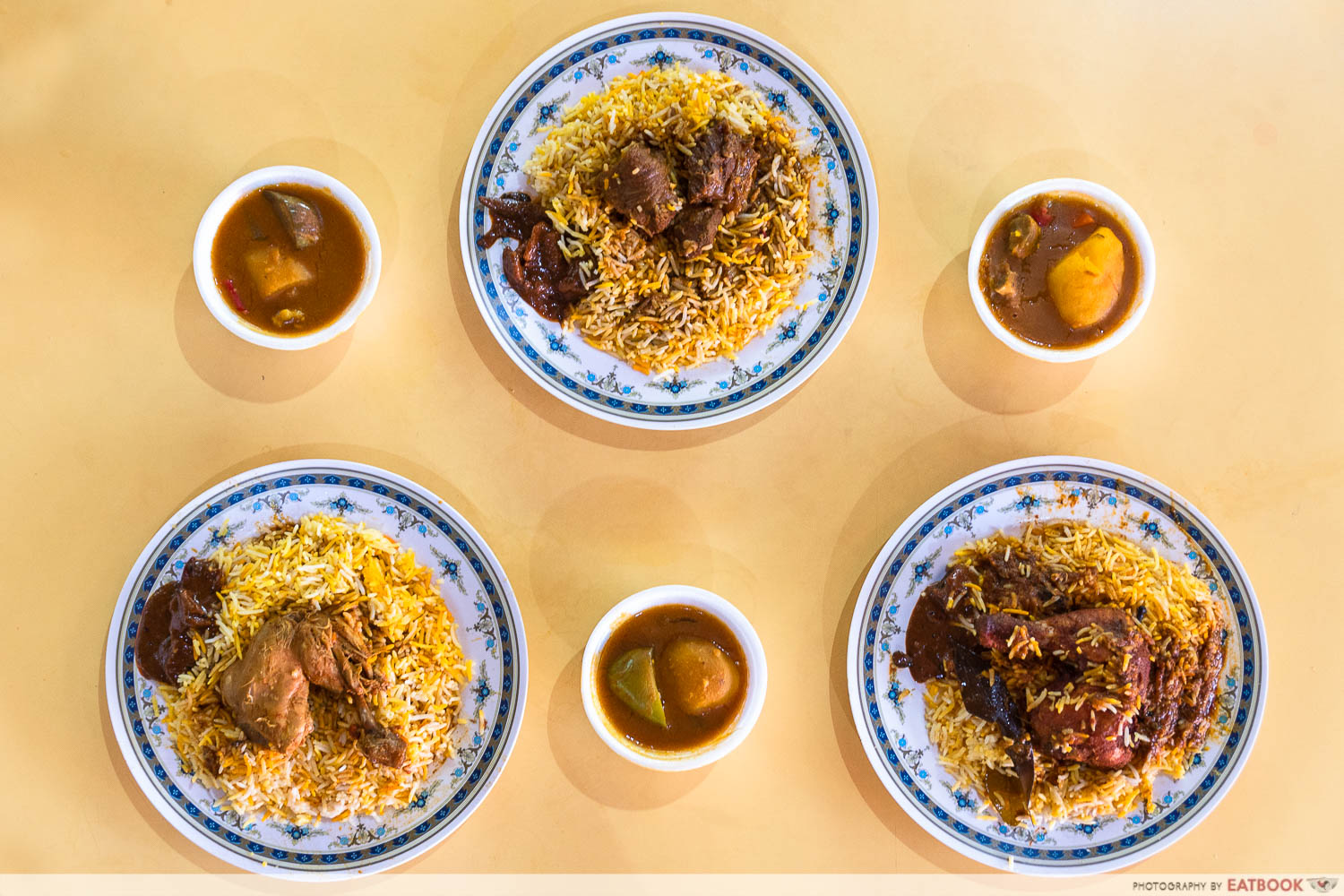 One thing I'm grateful for about living in Singapore is the melting pot of cultures that have made Singapore into a food paradise, with the best local dishes coming from hawker stalls that have been honing their craft for generations. Geylang (Hamid's) Briyani Stall is one of them: a briyani stall that has been passed down through three generations, from grandfather to father to son.
Visit the stall today and you'll see that Hamid's family still runs the operations today, helping out with the preparation of ingredients, managing of customers, and cooking. 
Golden Nur Review: Crispy Chicken Briyani By Family-Run Business In Telok Ayer
Food at Geylang (Hamid's) Briyani Stall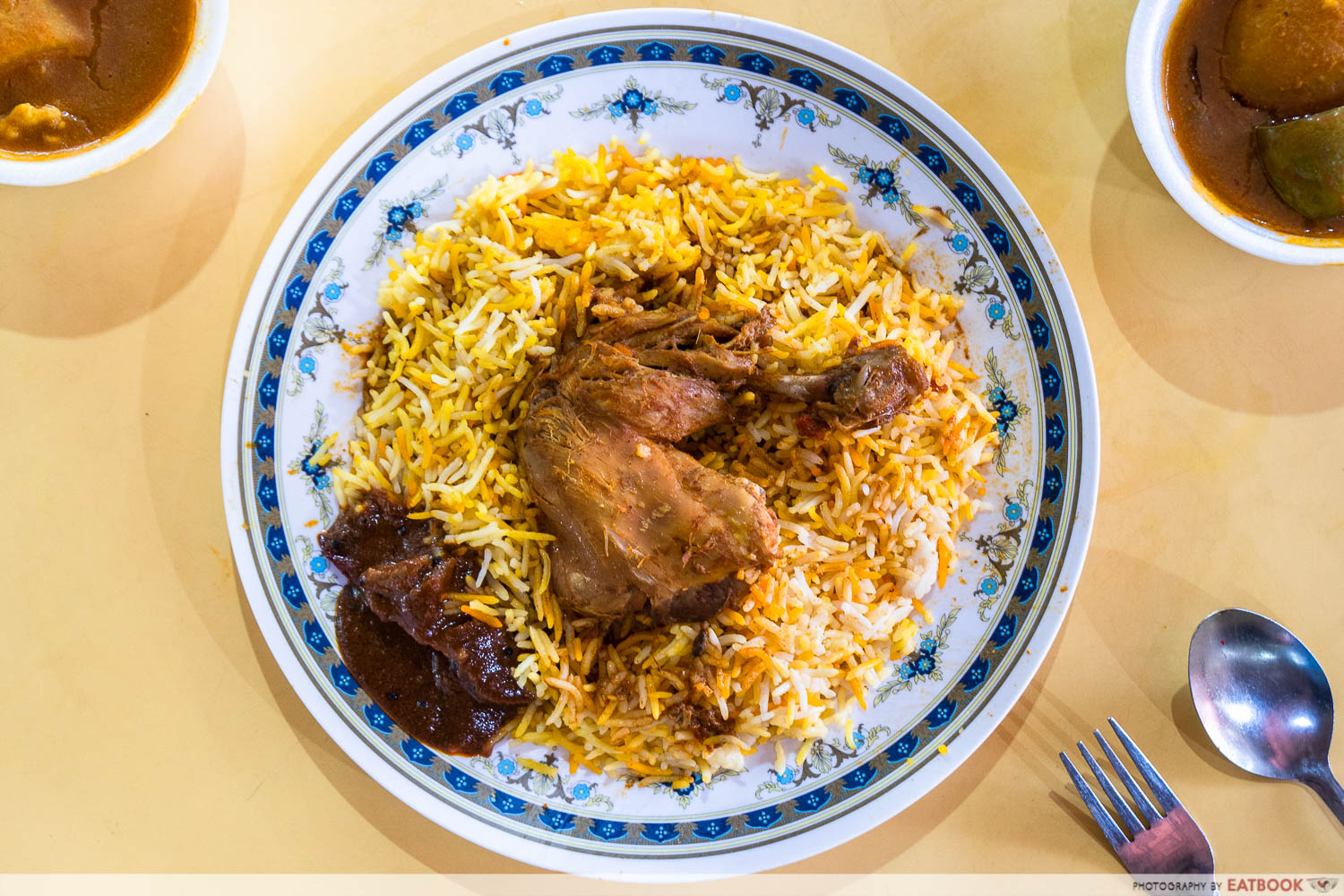 Geylang (Hamid's) Briyani Stall only serves three dishes, one of which is the Briyani Ayam ($6). They go above and beyond in terms of portion size; after the standard scoop of rice and serving of chicken, even more rice is piled on top, with chicken curry ladled on thereafter, making this a hefty serving that is definitely worth your six bucks.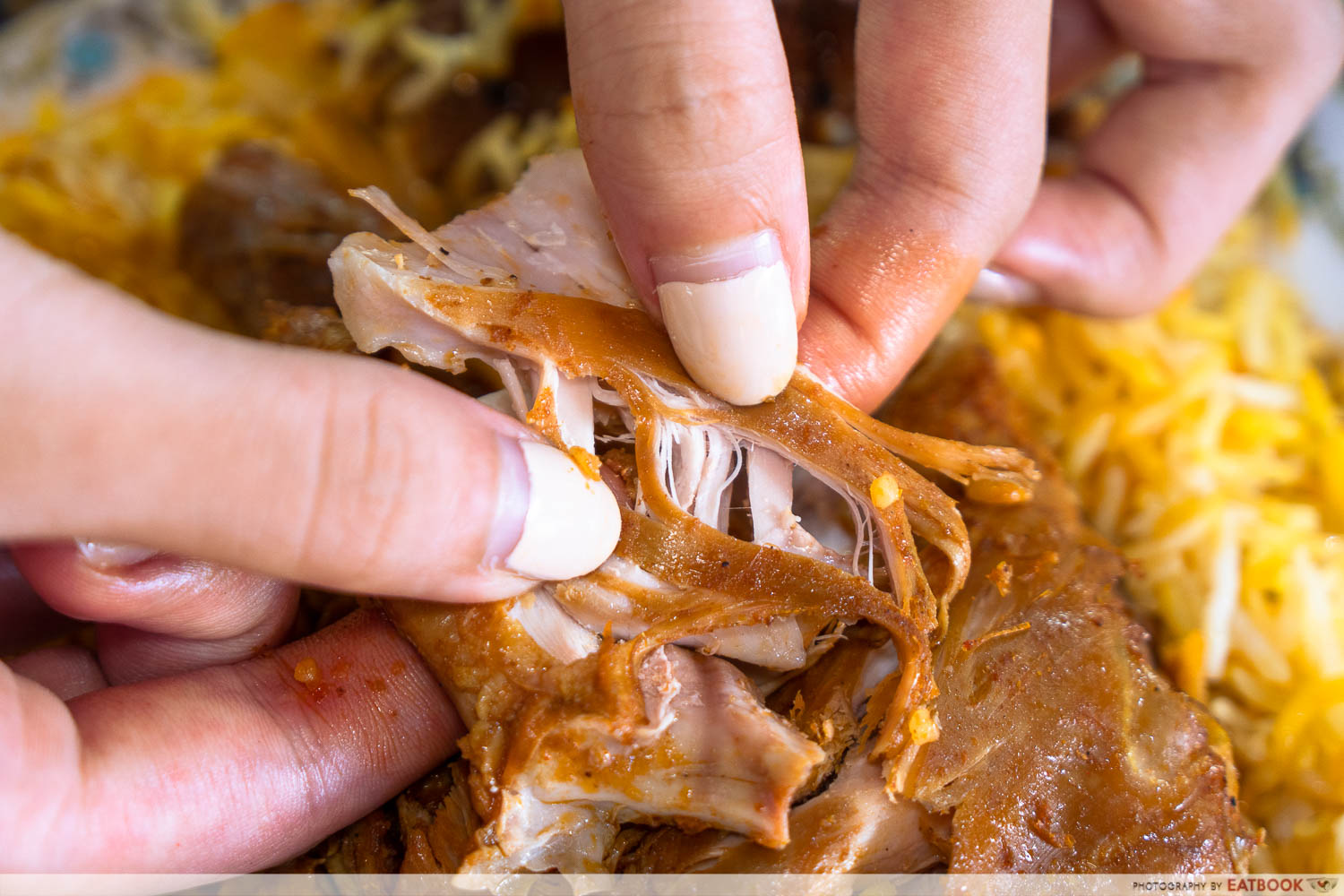 The chicken here is slow-cooked in curry, which explains the tender texture and strong flavours. The chicken literally fell off the bone, and I could taste the medley of spices used here, including cardamom, cumin, and cinnamon.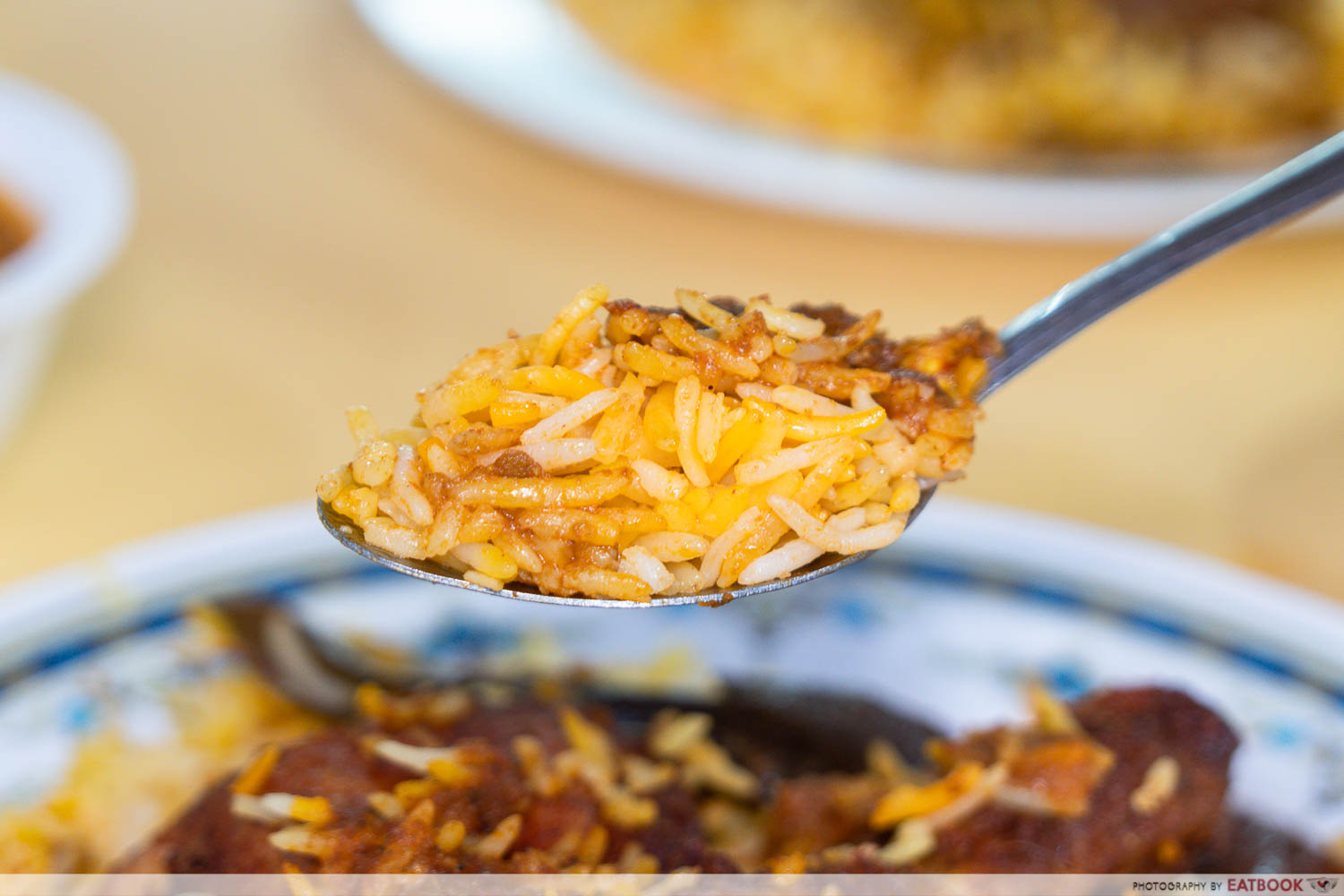 Stained a mostly yellowish-orange colour, the basmati rice was fluffy, with each grain distinct, and not overly greasy. There are isolated grains that are still white, but don't mistake this for uneven seasoning or flavour. The rice is intensely flavourful and fragrant throughout, no doubt due to the turmeric, cloves, and other spices used.
The fluffiness of the rice also, in my opinion, balances out the heavier curry and meats with some lightness of texture.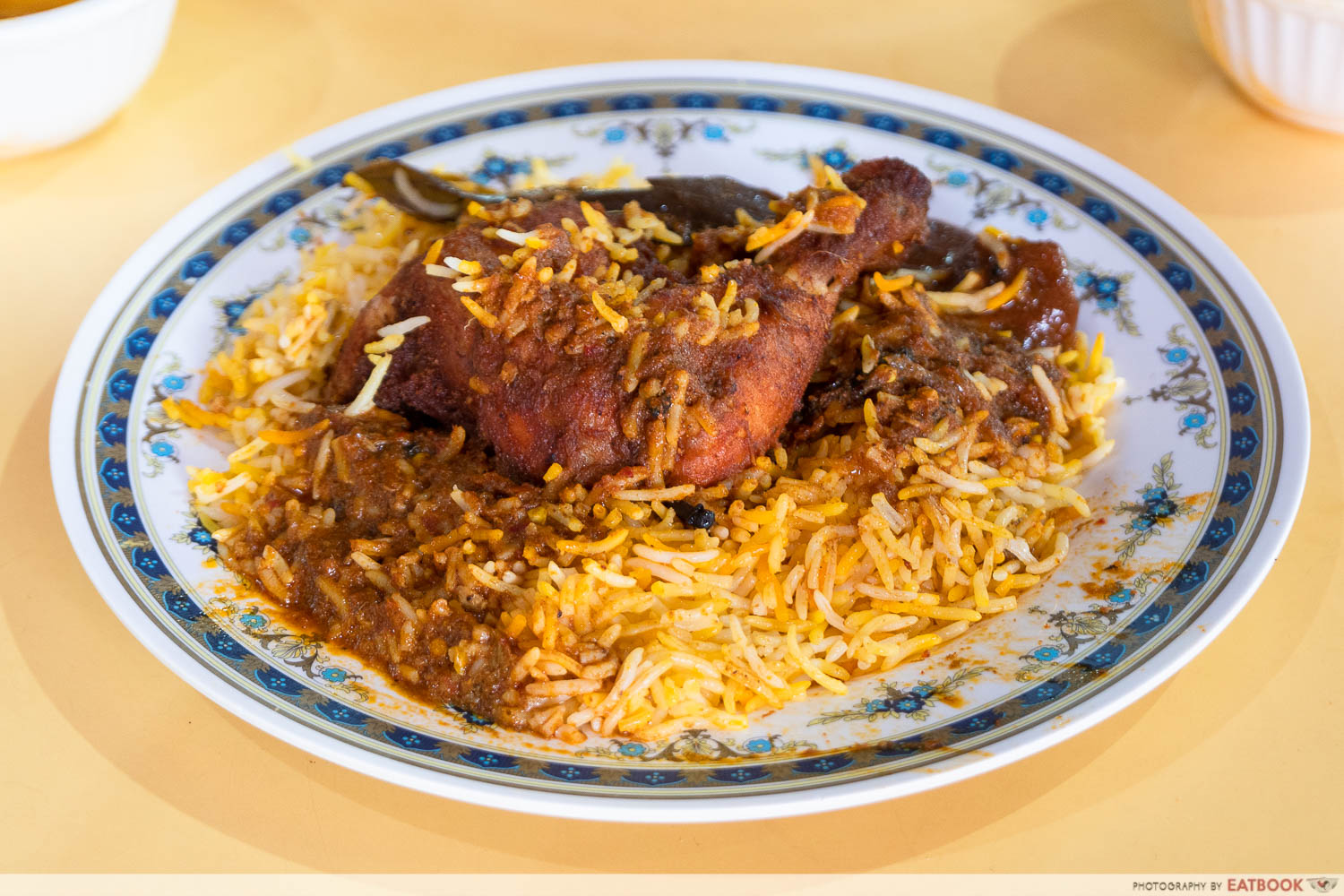 Geylang (Hamid's) Briyani Stall also sells a Briyani Ayam Goreng ($6), which substitutes the slow-cooked chicken with fried chicken. Chicken curry is also poured on top, chasing away any fears you may have that you'll be getting dry mouthfuls of chicken and rice.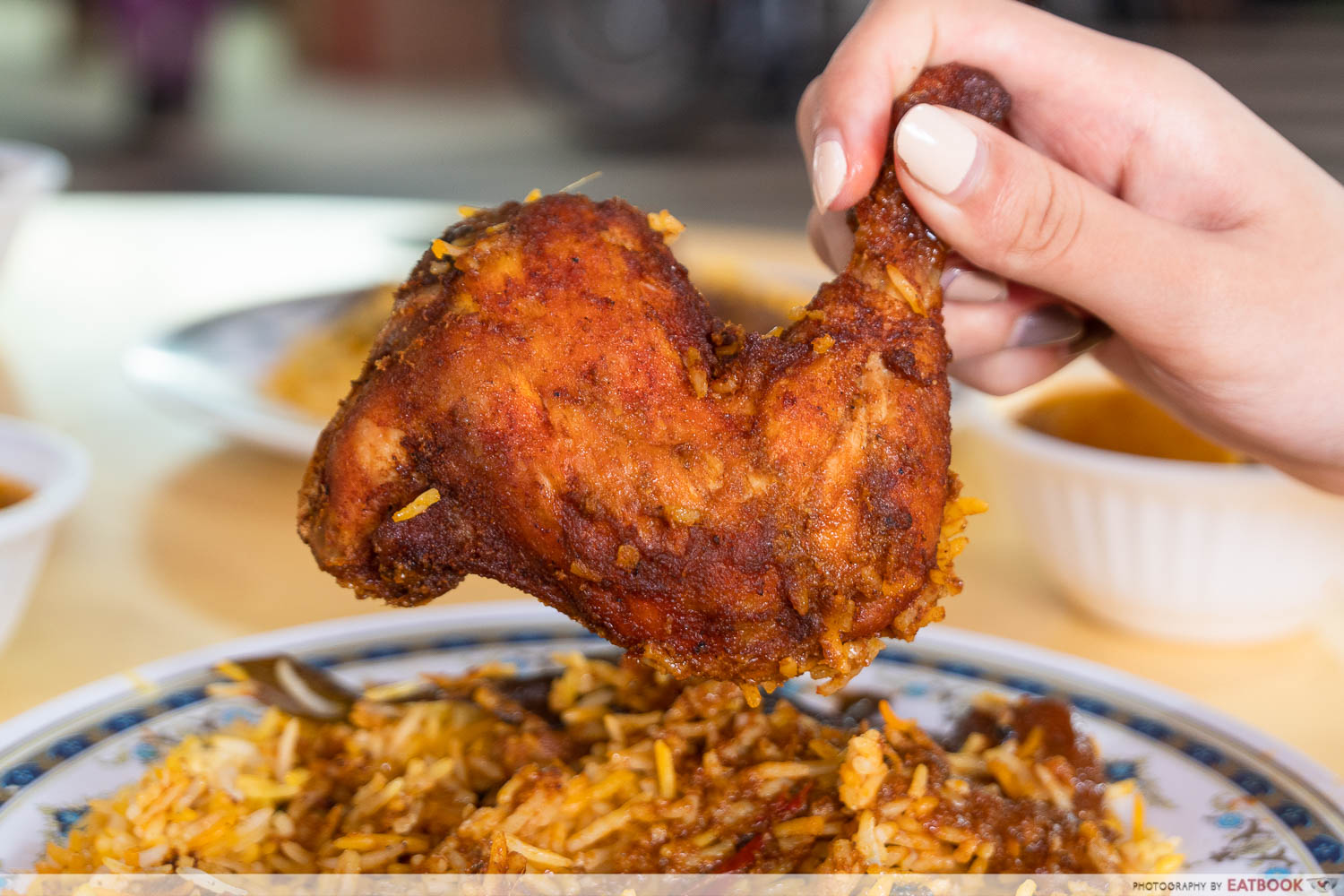 The difference between the two chicken legs lies in the skin. Here, the skin boasts a more vivid orange and is crispy. I would recommend ditching the cutlery and getting your hands dirty here, as it makes each bite of the juicy chicken more satisfying.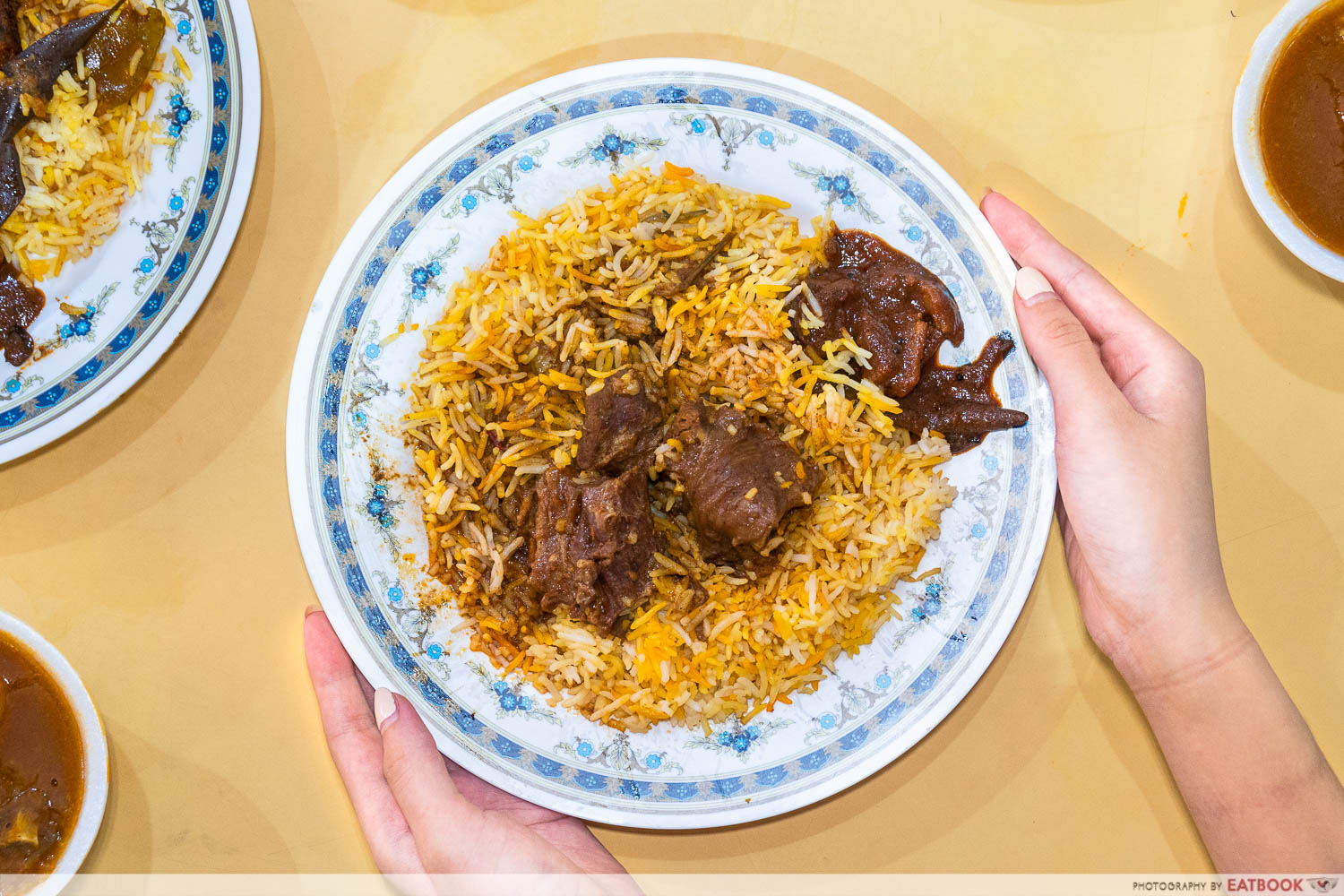 The last item on their menu is a Briyani Kambing ($6), AKA mutton briyani. The curry here is vastly different from the chicken curry featured in the previous two dishes, and I would compare it more to a black pepper gravy as a point of reference.
The mutton here was incredibly soft and fork-tender, while its peppery gravy added a mellow heat. I'm a fan of mutton and didn't find this gamey at all, so as you can expect, I gobbled this dish up. My colleague, on the other hand, didn't share the same sentiment.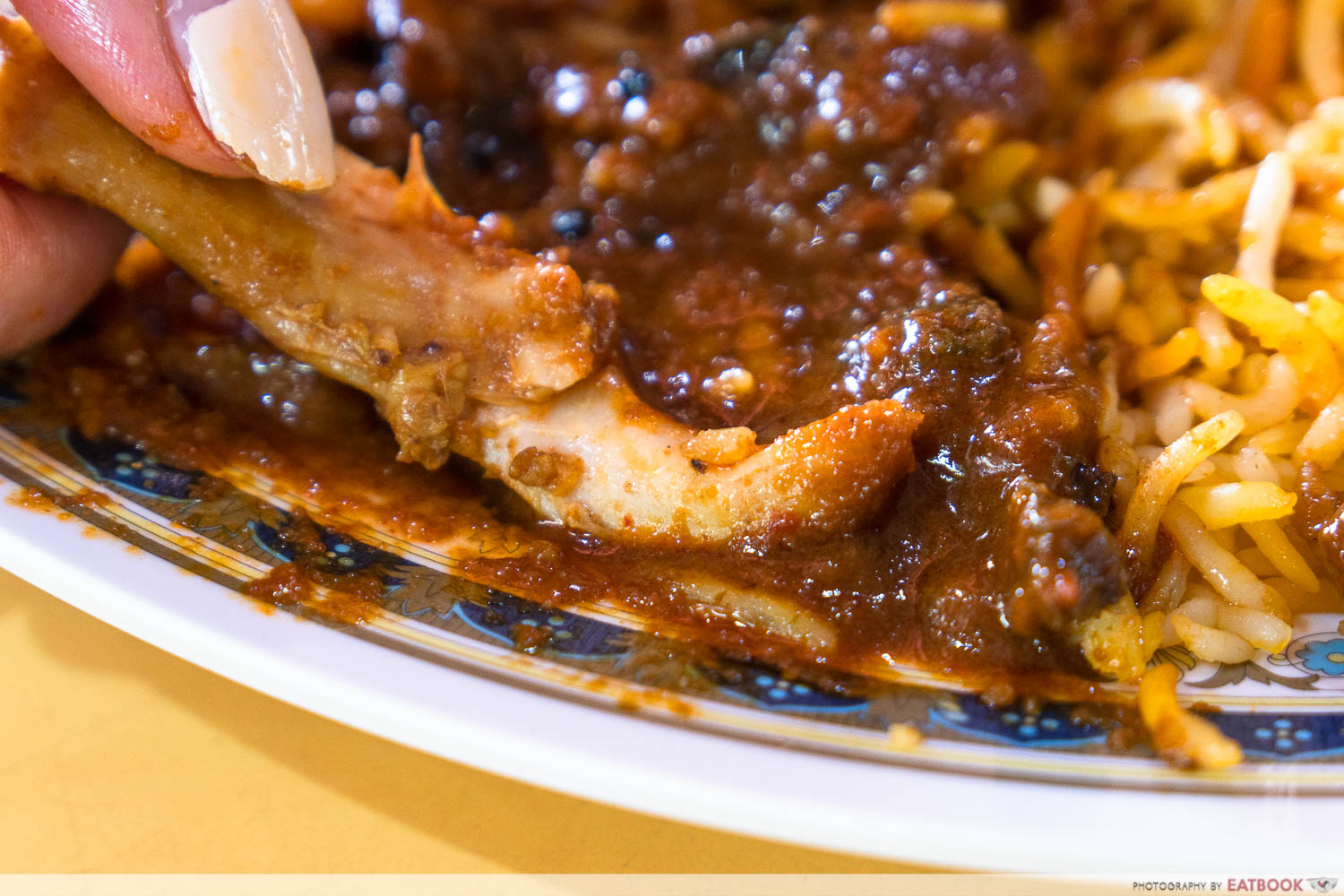 Spooned on the side of every plate is some sambal chilli, which adds more sweetness than spiciness and thus provides a nice contrast to the savoury curry.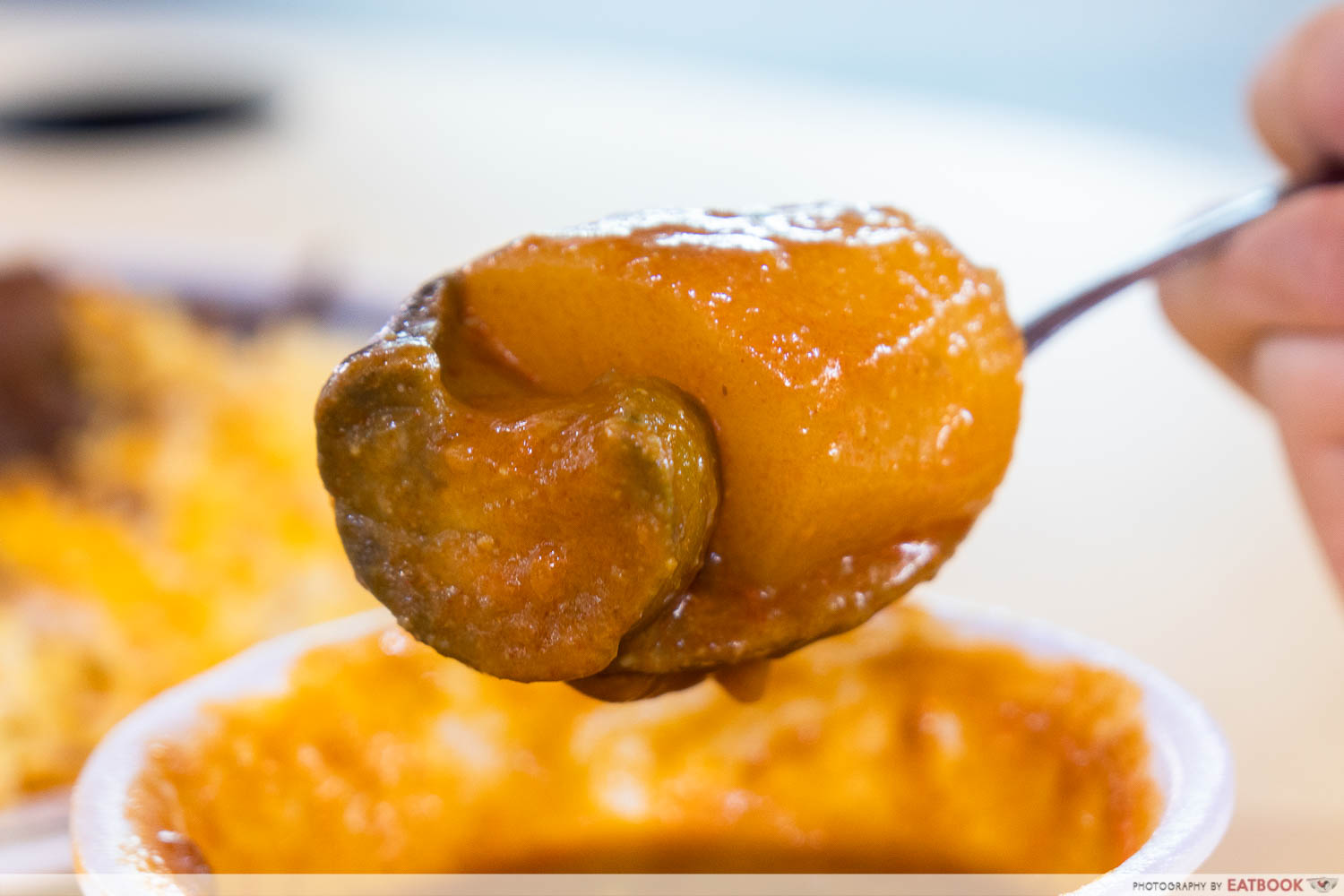 Each order also comes with a bowl of dhal curry on the side, which is full of chunky potato and eggplant. Though the dhal had a more watery and soupy consistency, I enjoyed drizzling this equally flavourful curry over my rice. 
Ambience at Geylang (Hamid's) Briyani Stall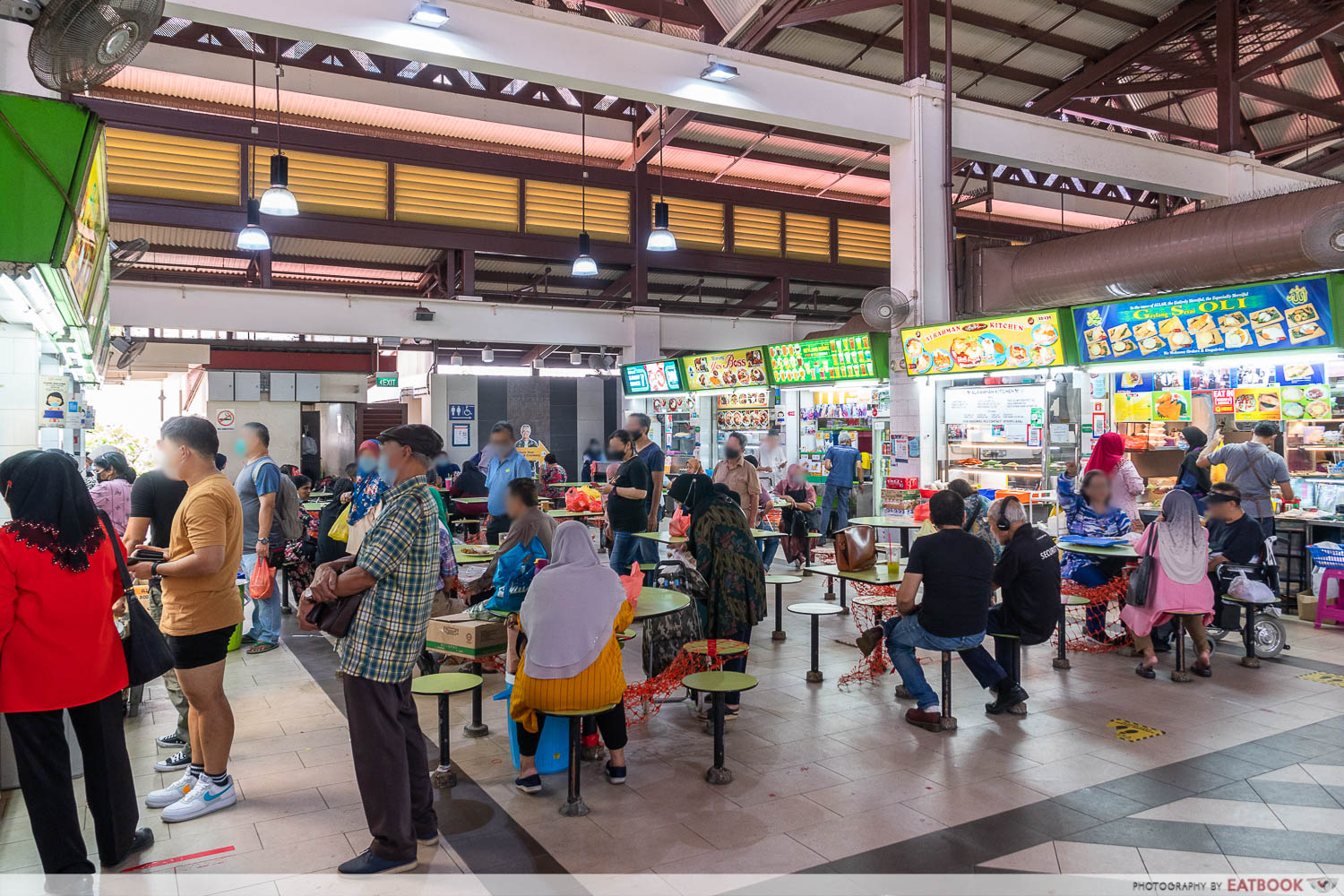 The closest stations to Geylang Serai Food Centre are Paya Lebar MRT Station and Eunos MRT Station. From there, a five-minute bus ride will drop you off right in front of the market. 
As one of the few food centres in Singapore primarily serving halal and Muslim-friendly fare, it can get pretty crowded throughout the day. The food centre is on the second floor, where the tall, tiered roof means it's naturally breezy all the time. There are also ceiling fans that further take the edge off from Singapore's heat.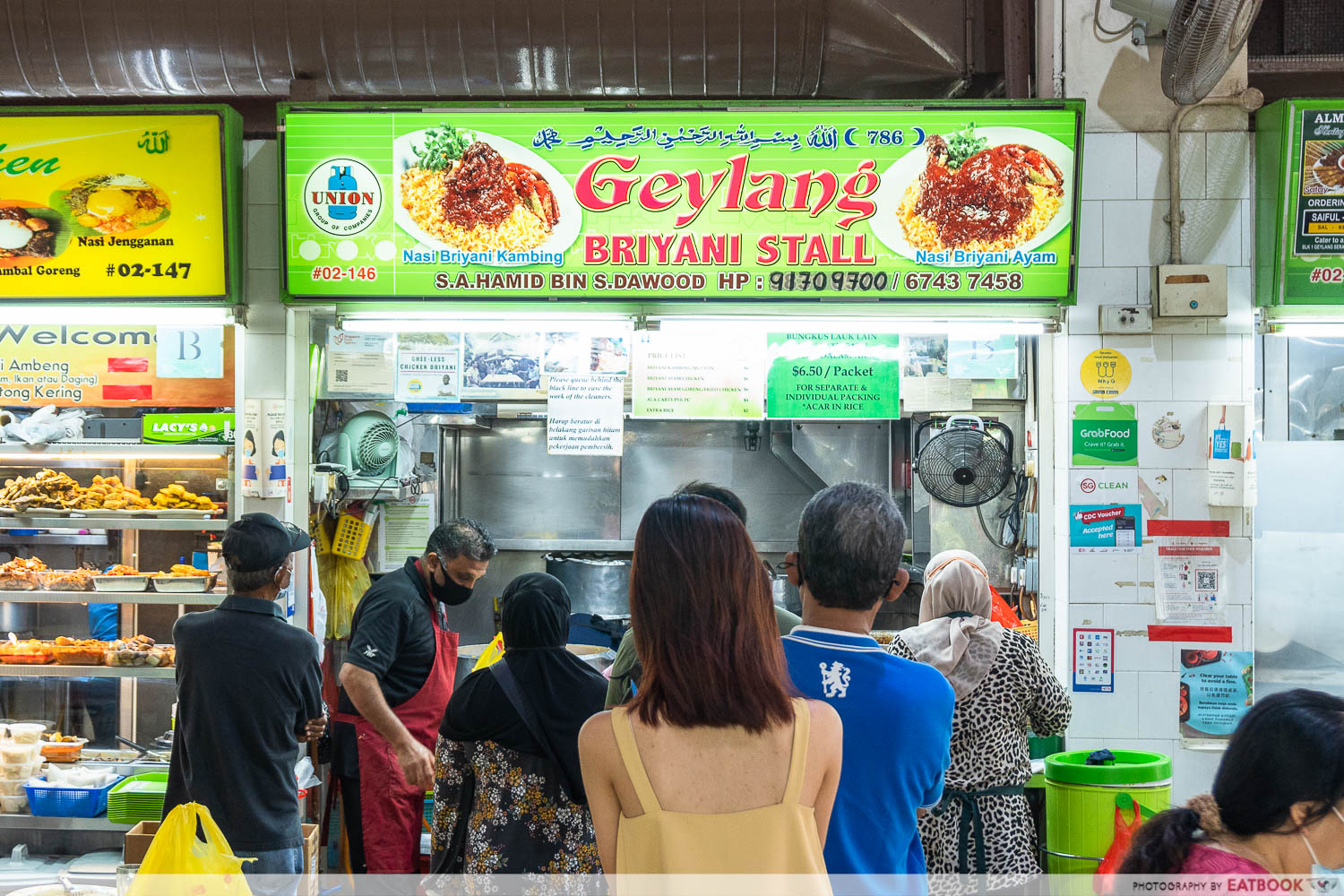 In the time we spent there, the queues for Hamid's Briyani just didn't stop growing. This is not a problem though, as the family works at lightning speed, so there's no need to worry about long waiting times despite the snaking queues. 
Brostern Review: Affordable Muslim-Owned Western Stall With XXL Platters, Salted Egg Roti John, And More
The verdict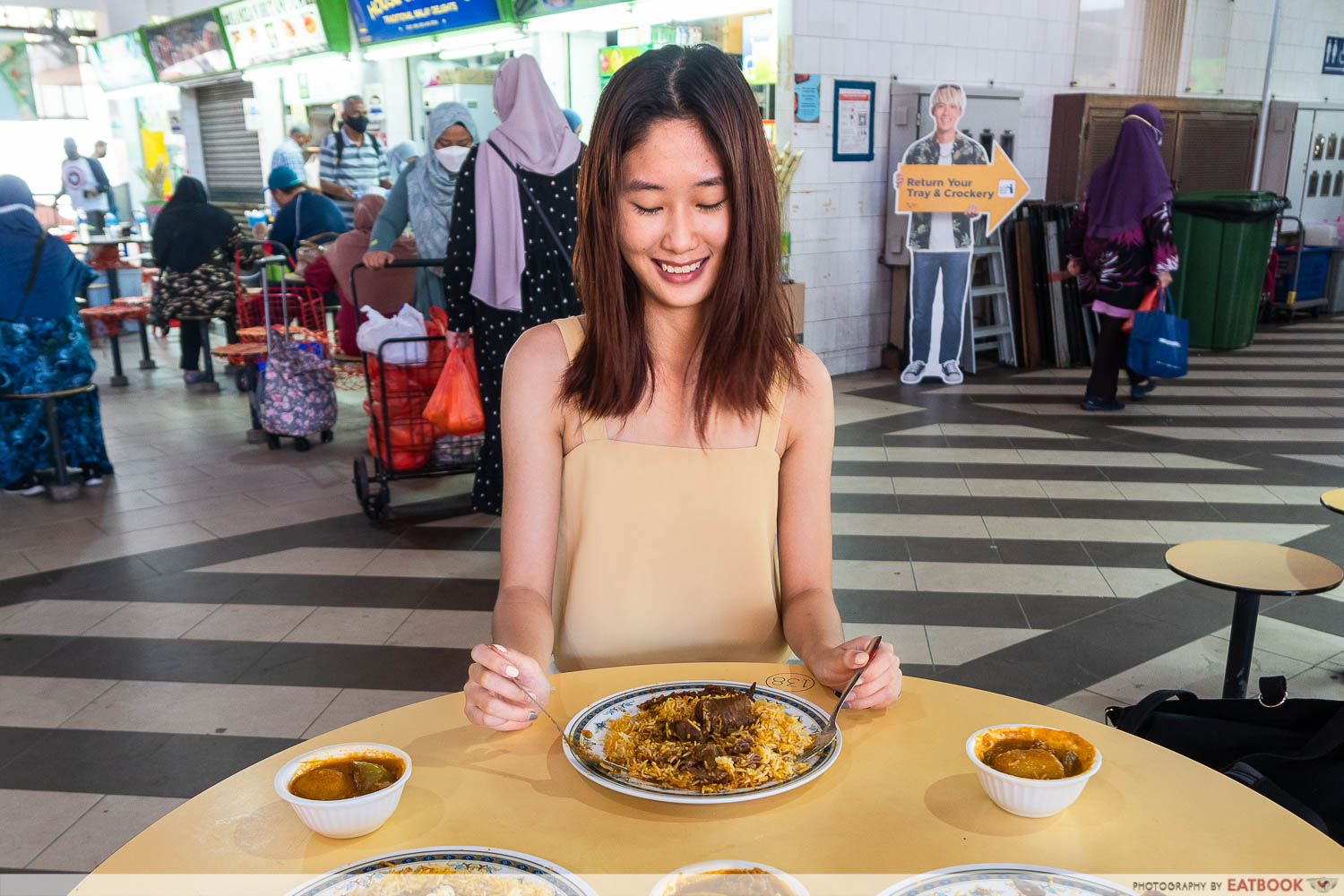 Geylang (Hamid's) Briyani Stall serves the type of comfort food I'd crave after a tough day at work or school━if only they had longer opening hours. Though some might scoff at the slightly steeper price point, I'd happily travel all the way down, queue, and pay to enjoy their hearty briyani. 
If you're looking for more briyani stalls to visit, check out our Golden Nur review for crispy chicken briyani by a family-run business. Also worth checking out is our Bismi Biryani review, with XXL briyani platters that have lamb shanks, mutton chops, and more. 
Address: 1 Geylang Serai, #02-146, Geylang Serai Market and Food Centre, Singapore 402001
Opening hours: Tue-Sun 10.30am to 3pm
Tel: 9170 9700
Website
Geylang (Hamid's) Briyani Stall is a halal-certified eatery.
Golden Nur Review: Crispy Chicken Briyani By Family-Run Business In Telok Ayer
Photos taken by Zadelin Wong.
This is an independent review by Eatbook.sg.
Geylang (Hamid's) Briyani Stall Review: Three-Generation Family Briyani Stall Since 1964
Geylang (Hamid's) Briyani Stall Review: Three-Generation Family Briyani Stall Since 1964 -

8/10
Summary
Pros
– Flavourful rice
– Well-marinated, tender meats 
Cons
– Short opening hours
Recommended dishes: Briyani Kambing ($6), Briyani Ayam ($6)
Opening hours: Tue-Sun 10.30am to 3pm
Address: 1 Geylang Serai, #02-146, Geylang Serai Market and Food Centre, Singapore 402001