Value-for-money XXL briyani at Bismi Briyani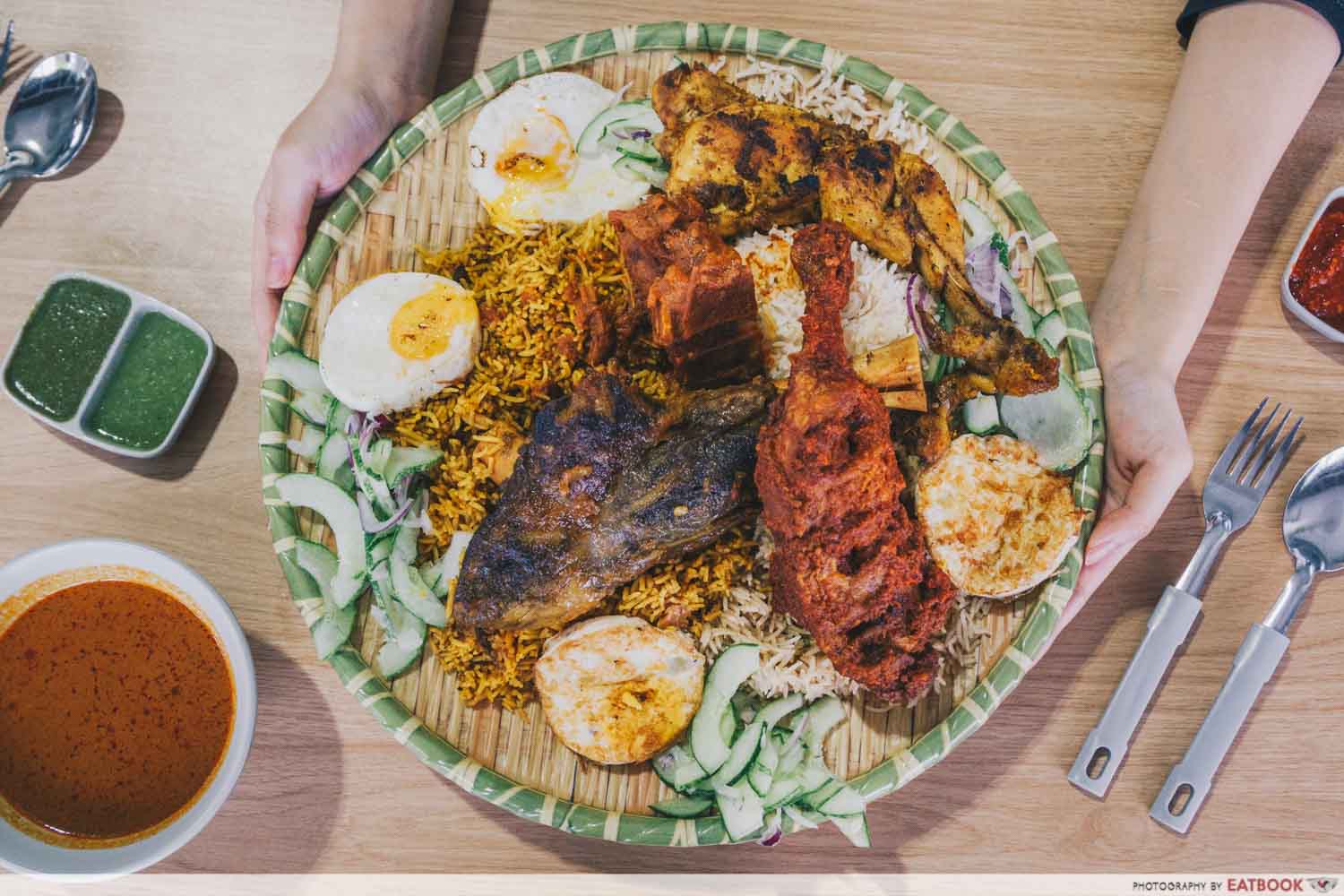 XXL food isn't for the faint of heart. Bismi Briyani takes this to a new level by offering four different servings of meat, three types of rice, alongside fried and hard-boiled eggs—all on a single platter. Having last enjoyed Limau Thai Kitchen's tasty XXL Thai basil chicken rice, I was stoked to give this daunting platter a go.
Food at Bismi Briyani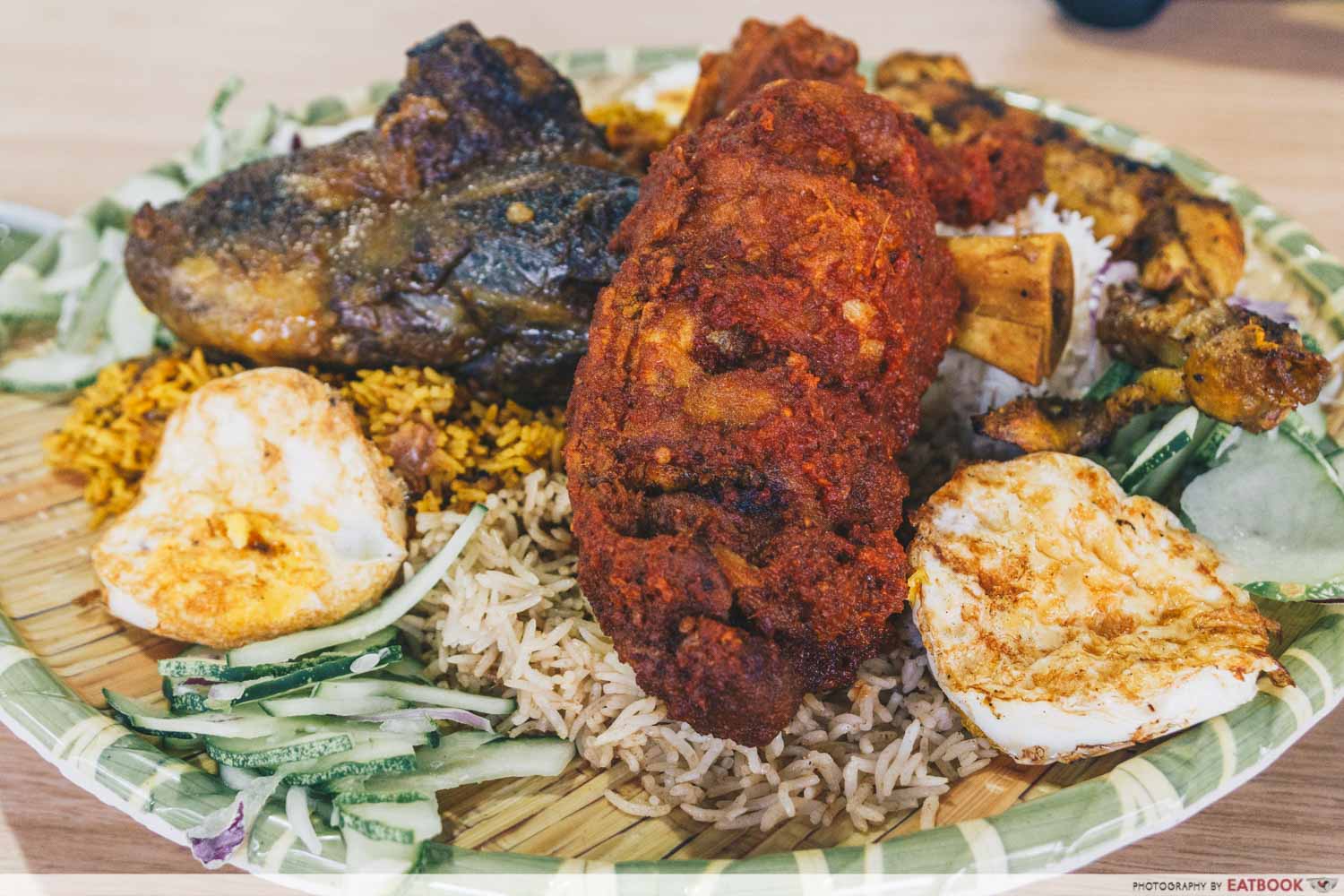 Upon ordering the Combo Platter Dulang, I watched in awe as the kitchen staff piled on heaps of rice before stacking four huge chunks of meat on top. Affordably priced at $30, this hefty plate looked like it could feed at least a party of four.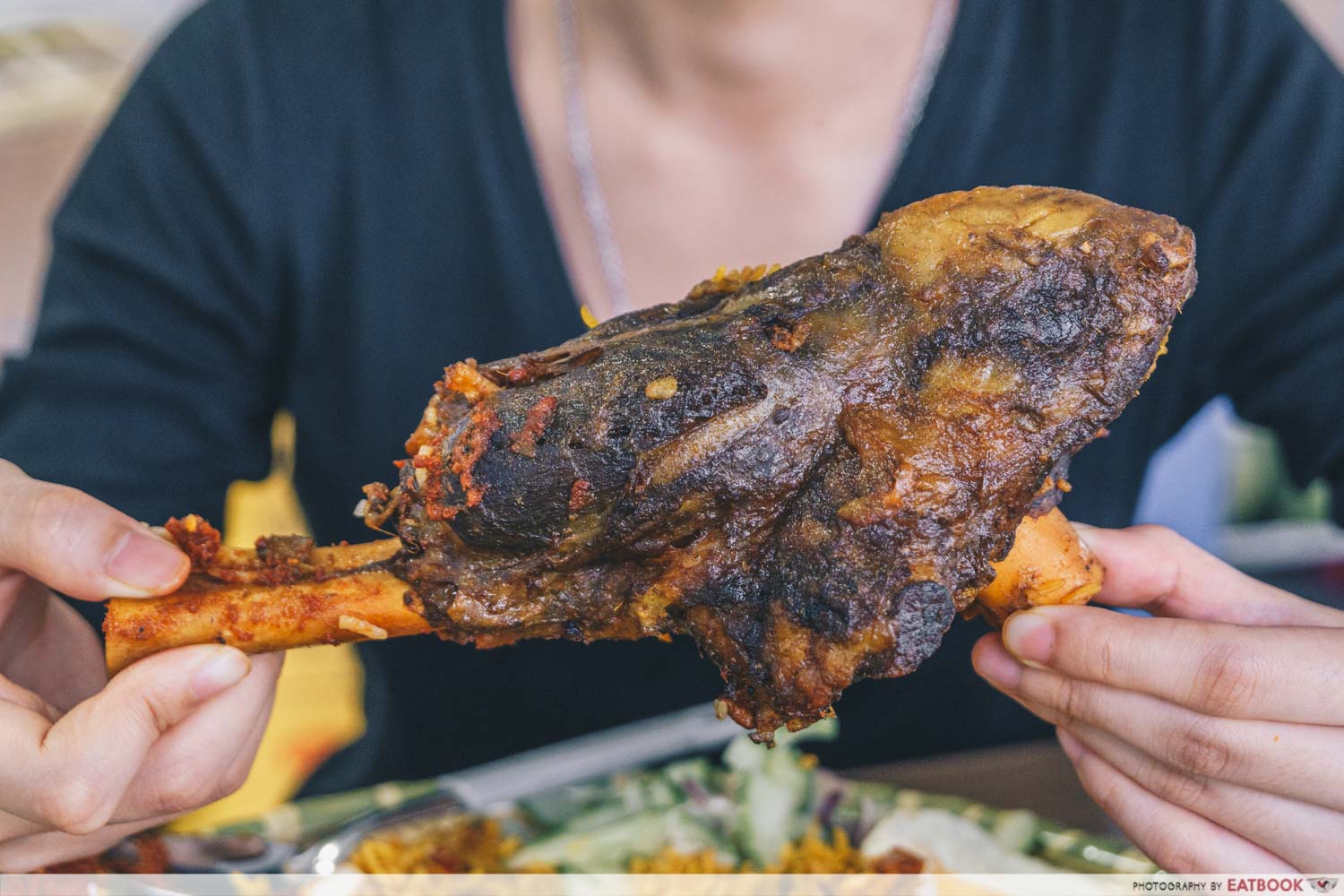 I went straight for one of the four large chunks of meat. Starting with the Lamb Shank, I was delighted to find its meat fork-tender. When done wrong, lamb shanks tend to be tough and gamey. Thankfully, Bismi Briyani's lamb shank was fatty and tender with just the right amount of chew. Flavour-wise, the fatty lamb shank was bursting with a smoky savouriness.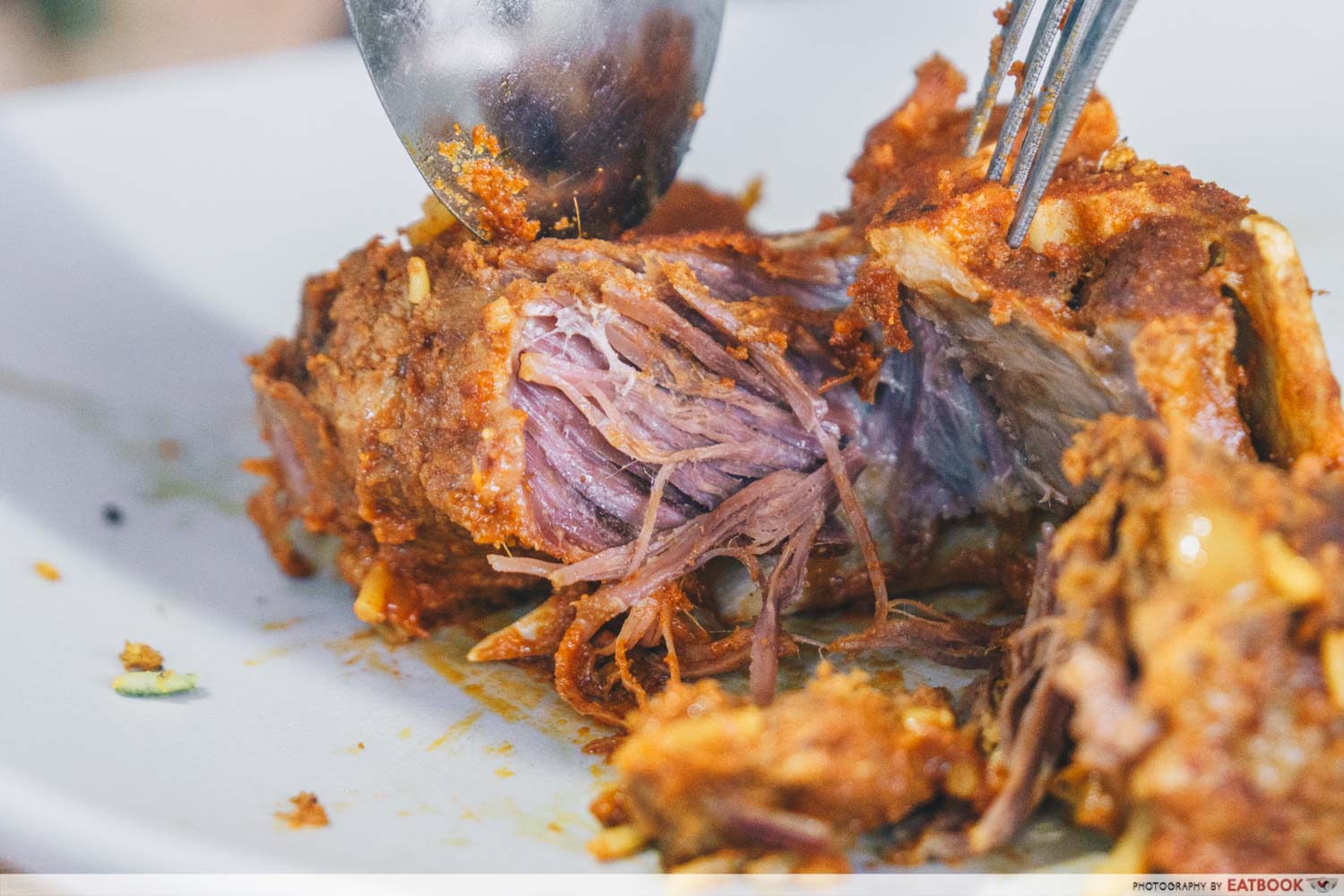 Always one for mutton briyani, I headed for the Lamb Mutton Chop next. Its good fat to meat ratio resulted in a succulent chunk of protein.
In comparison to their lamb shank, Bismi Briyani's mutton chop had a mild layer of natural sweetness. Though I had thoroughly enjoyed their lamb shank, the stall's mutton chop stole me away with its complex flavour profile.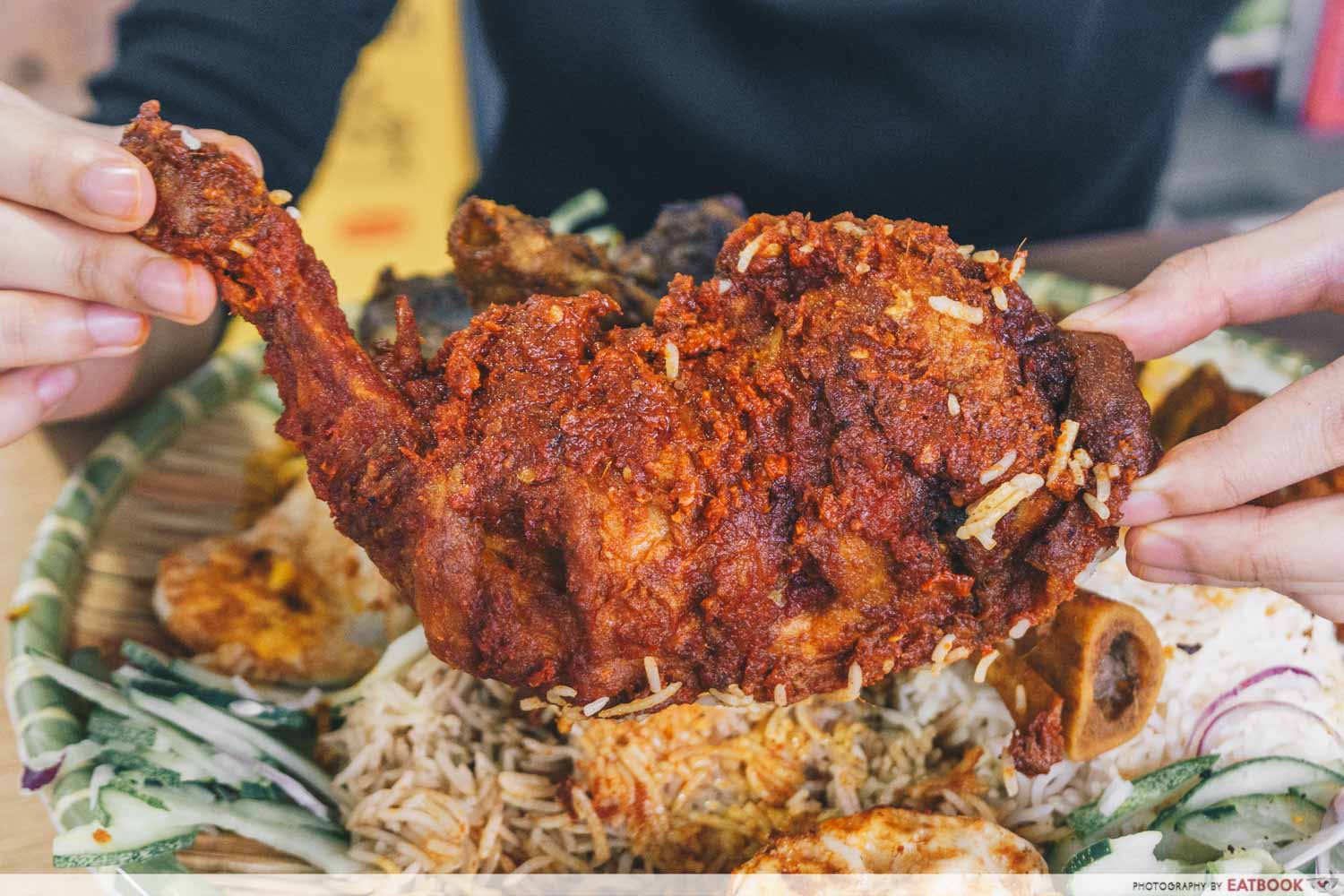 Apart from lamb meat, the platter also comprises two servings of chicken. Digging into the Fresh Sambal Chicken was a fun, messy affair that left my fingertips sticky with sambal sauce.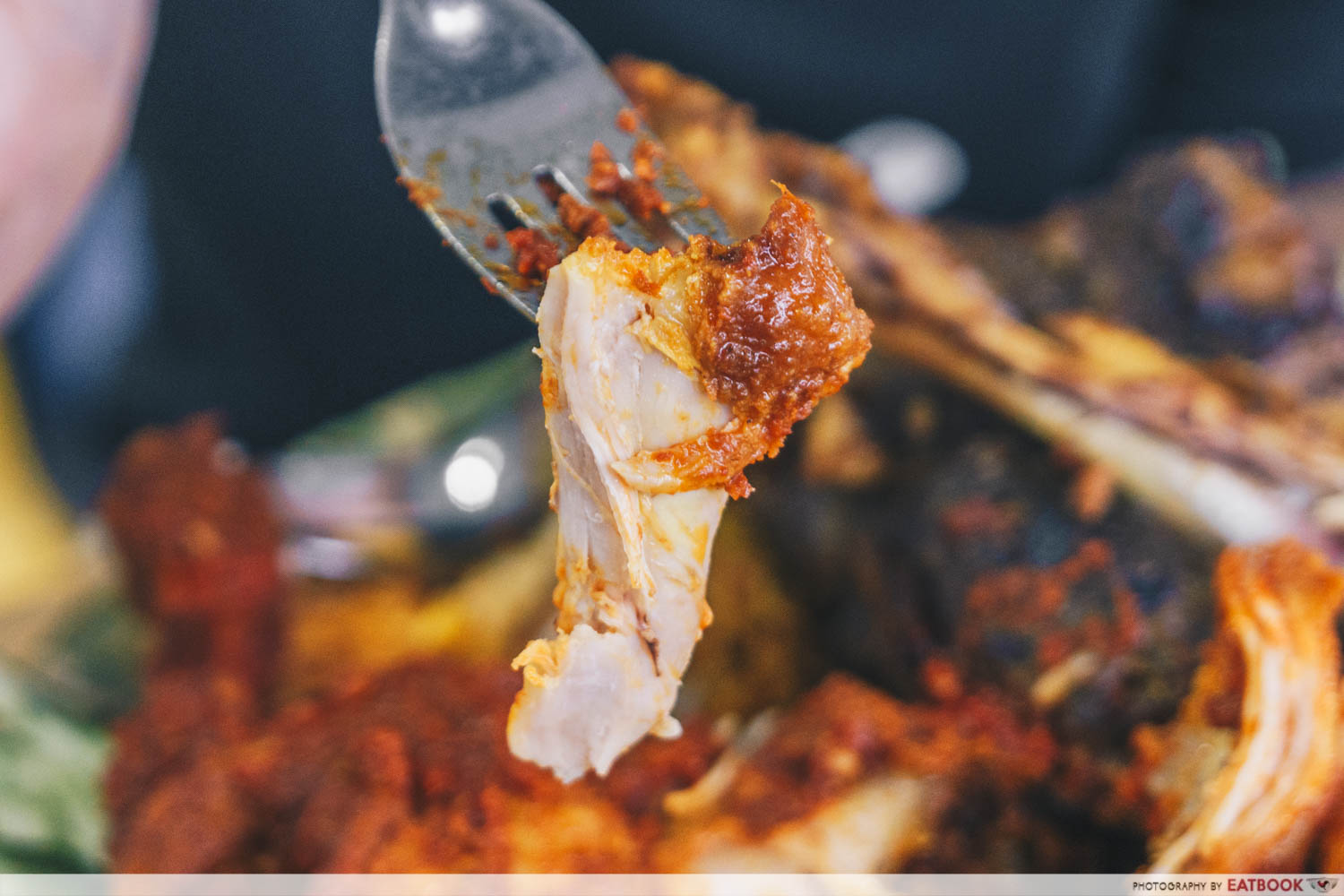 The highlight of this sizeable drumstick was its piquant sambal sauce, coated liberally around it. Dense and thick, this honeyed sambal sauce was garlicky and prickly enough to satisfy the average spice lover without burning their tongues. Its meat, however, was a tad dry, though the sauce somewhat made up for it.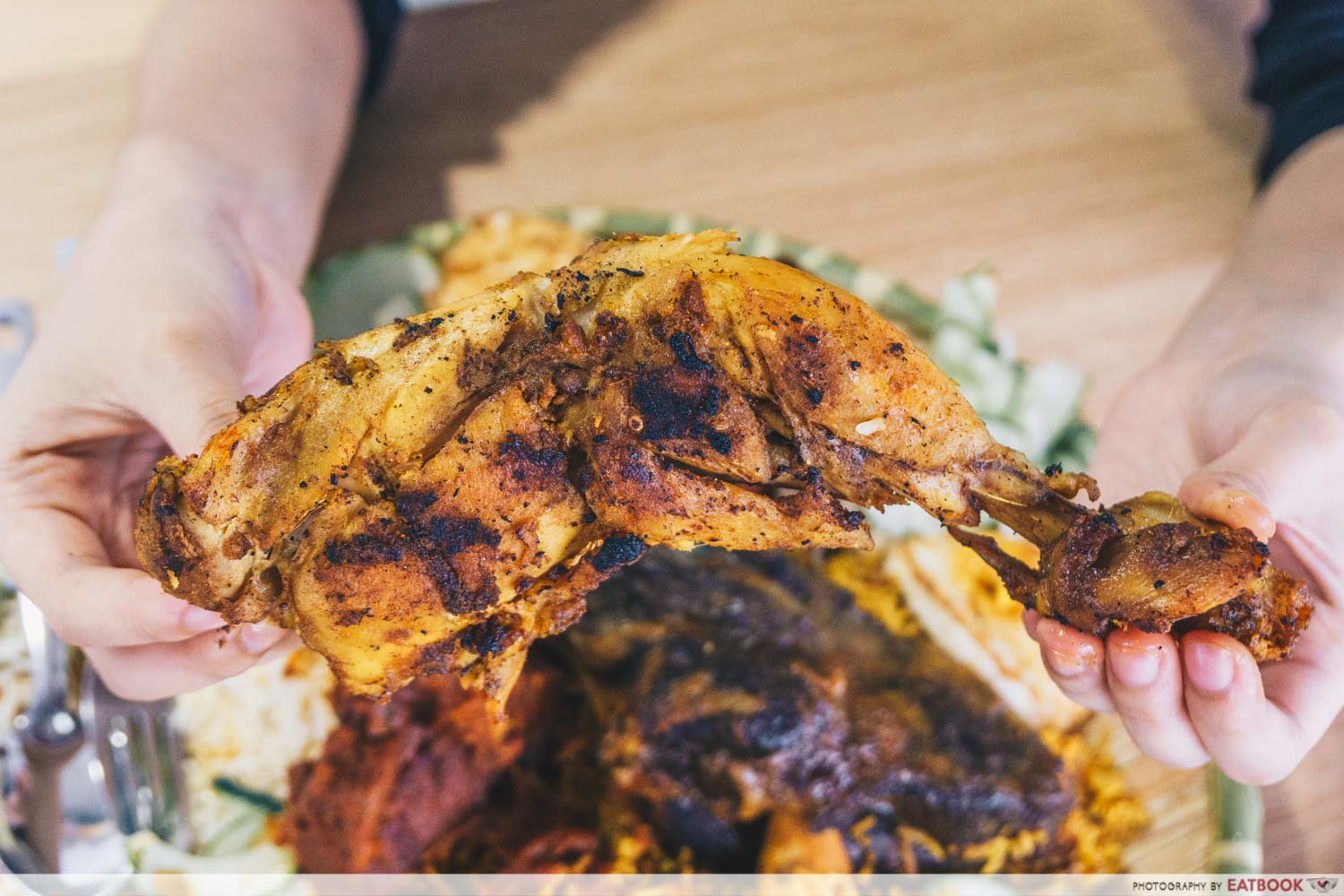 Last of their proteins was the Mandi Chicken which sported a yellowish hue. Biting through its flame-kissed exterior, the chicken was flavoursome with a peppery kick.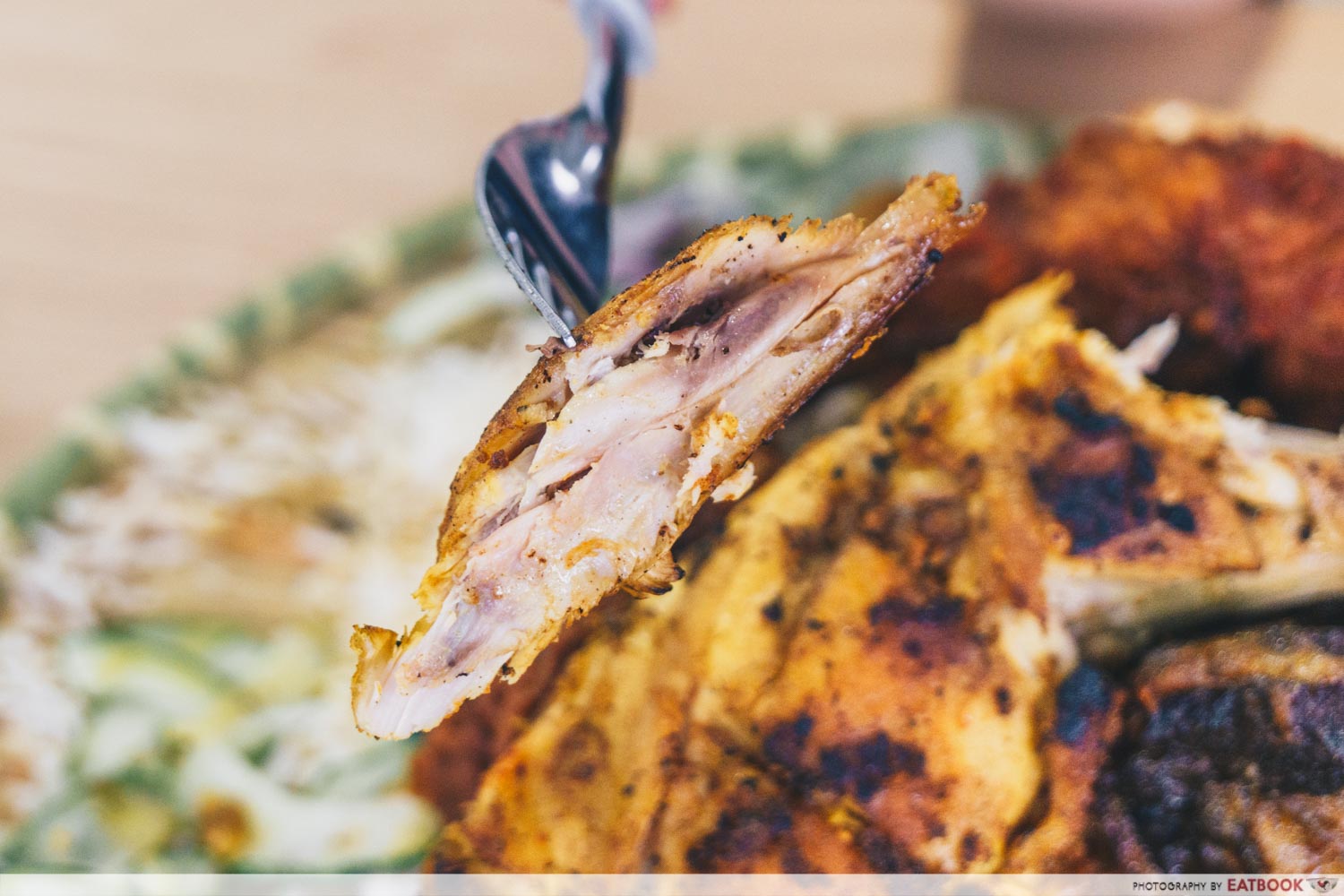 Unfortunately, texture-wise, the meat was a little too tough, making it slightly difficult to finish.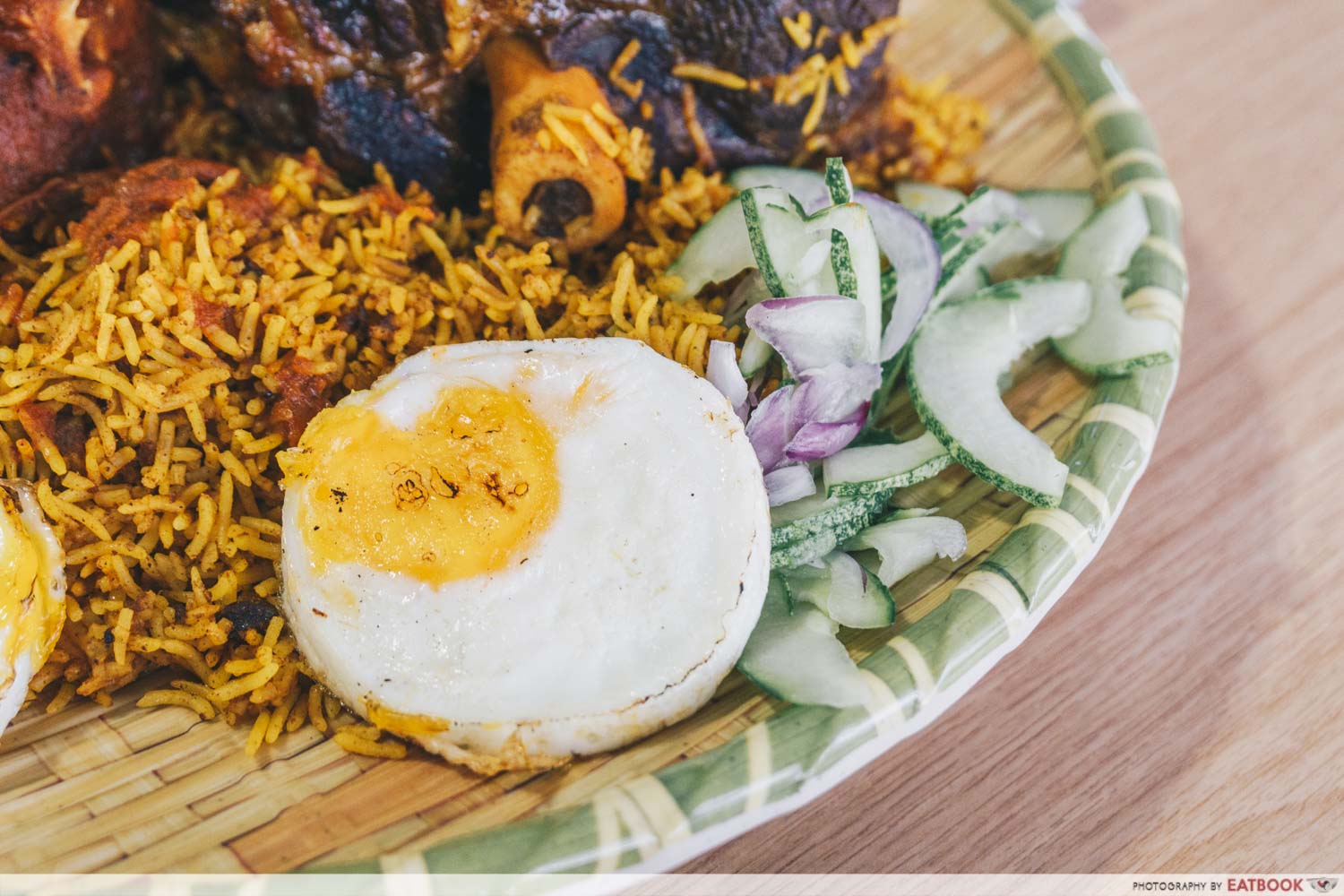 Fried eggs and hard-boiled eggs scattered around the platter added even more variety for proteins.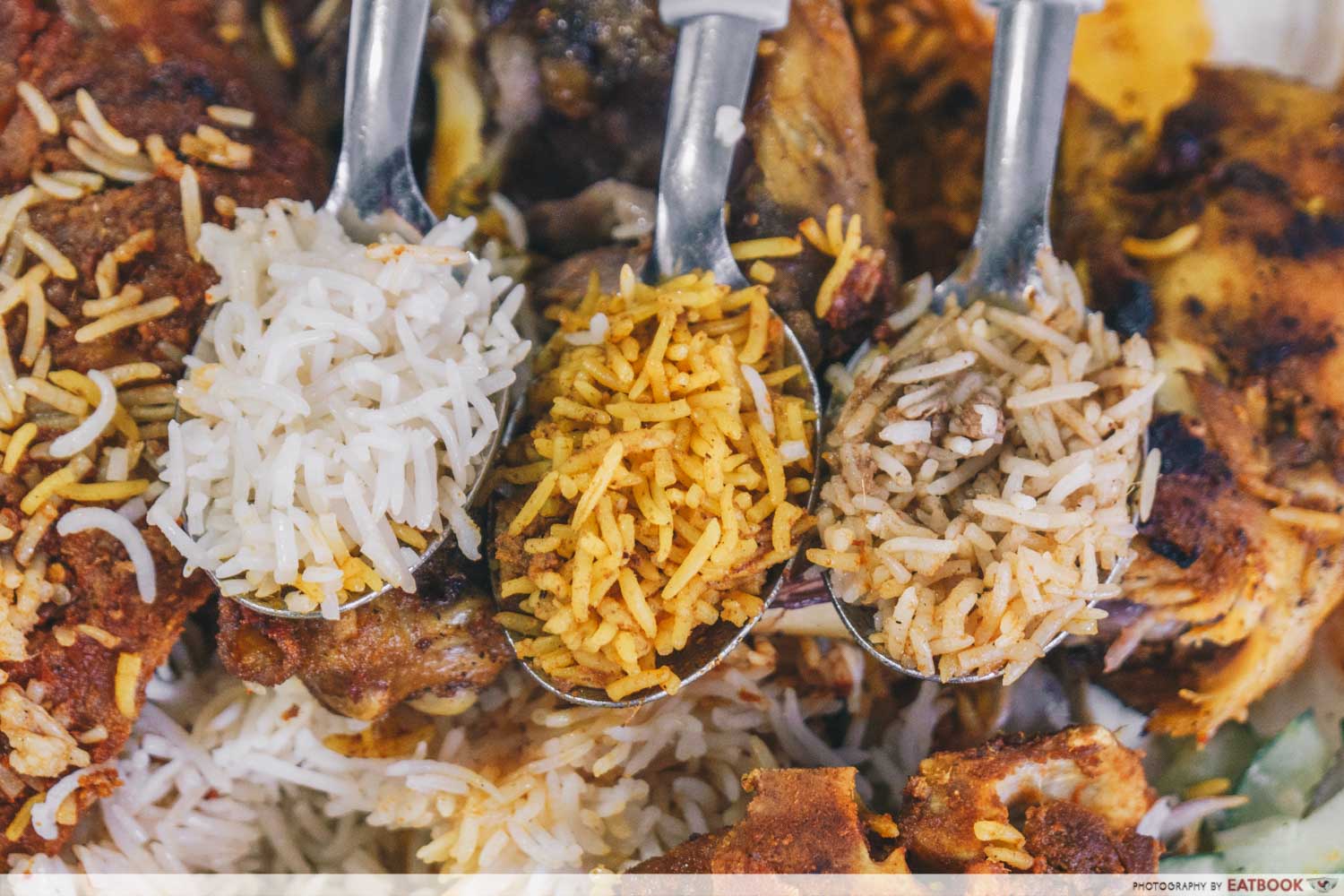 Other than the massive chunks of meat, heaps of rice also lent weight to this colossal platter. Bismi Briyani serves their XXL platter with three types of rice. Tastiest of the lot was the Briyani Rice, fragrant and warm with aromatic hints of spices, most distinctively pepper, garlic, and cloves. 
Similar in flavour to their briyani rice was the Mandi Rice, which was dry and fluffy in texture. This one tasted much like plain ol' basmati rice with some belated addition of spices.
Their Kabsa Rice, on the other hand, was buttery and brimming with savouriness and a tinge of sourness, much like tomato.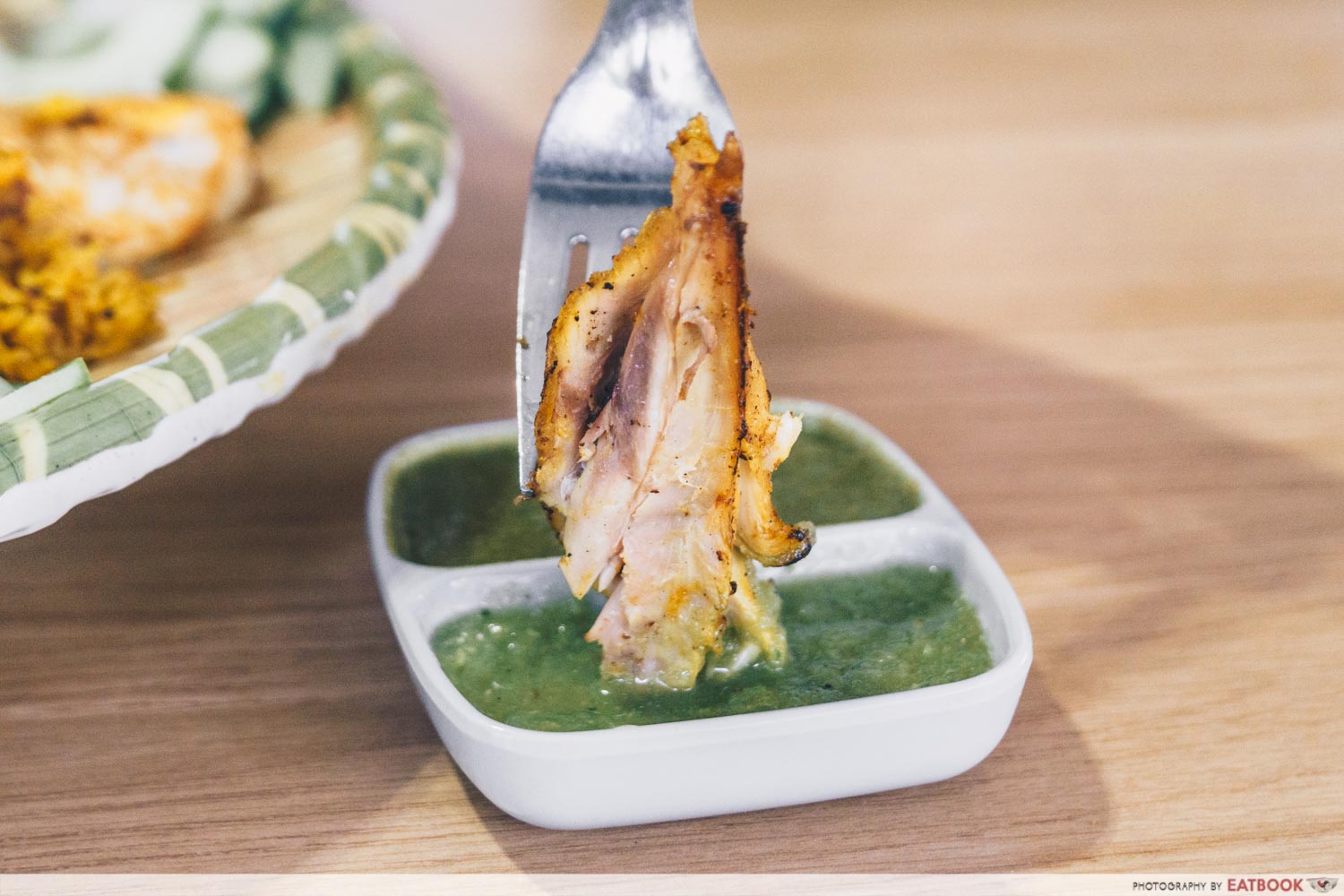 Be sure to enjoy your platter with their sauces, which Bismi Briyani serves a variety of. For those who appreciate the love-it-or-hate-it herb, give their strong and minty Coriander Sauce a try. I'm not on #TeamCoriander though, so I'd have to say I loved the Green Chilli Sauce best, which was packing some serious tingly heat.
If you're seeking something smaller in portion, individual-sized mains are up for grabs too. I'd definitely go for the Bismi Lamb Chop Briyani ($7) if I'm visiting alone in future.
Ambience at Bismi Briyani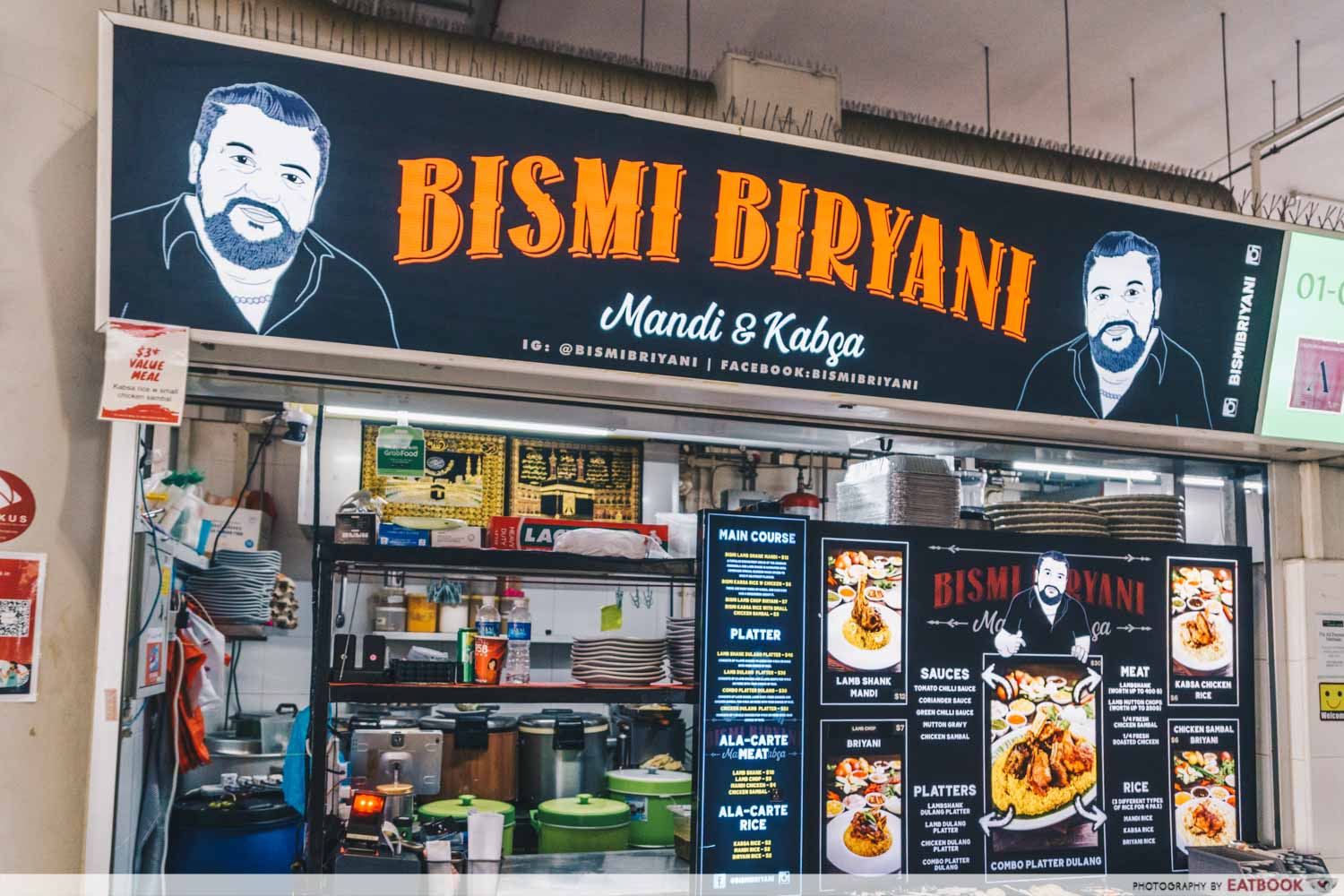 A 10-minute bus ride away from Yishun MRT Station, Bismi Briyani sits at Yishun Park Hawker Centre, near other popular stalls such as Hideki's Japanese cai png and Munchi Delights' unique min jiang kueh. With its slightly obscure location, it may be pretty inconvenient for non-Northies to visit. 
The hawker centre itself is considerably clean, well ventilated, and offers an abundance of seats. However, ongoing construction works around the place may make the space noisier than usual. 
The verdict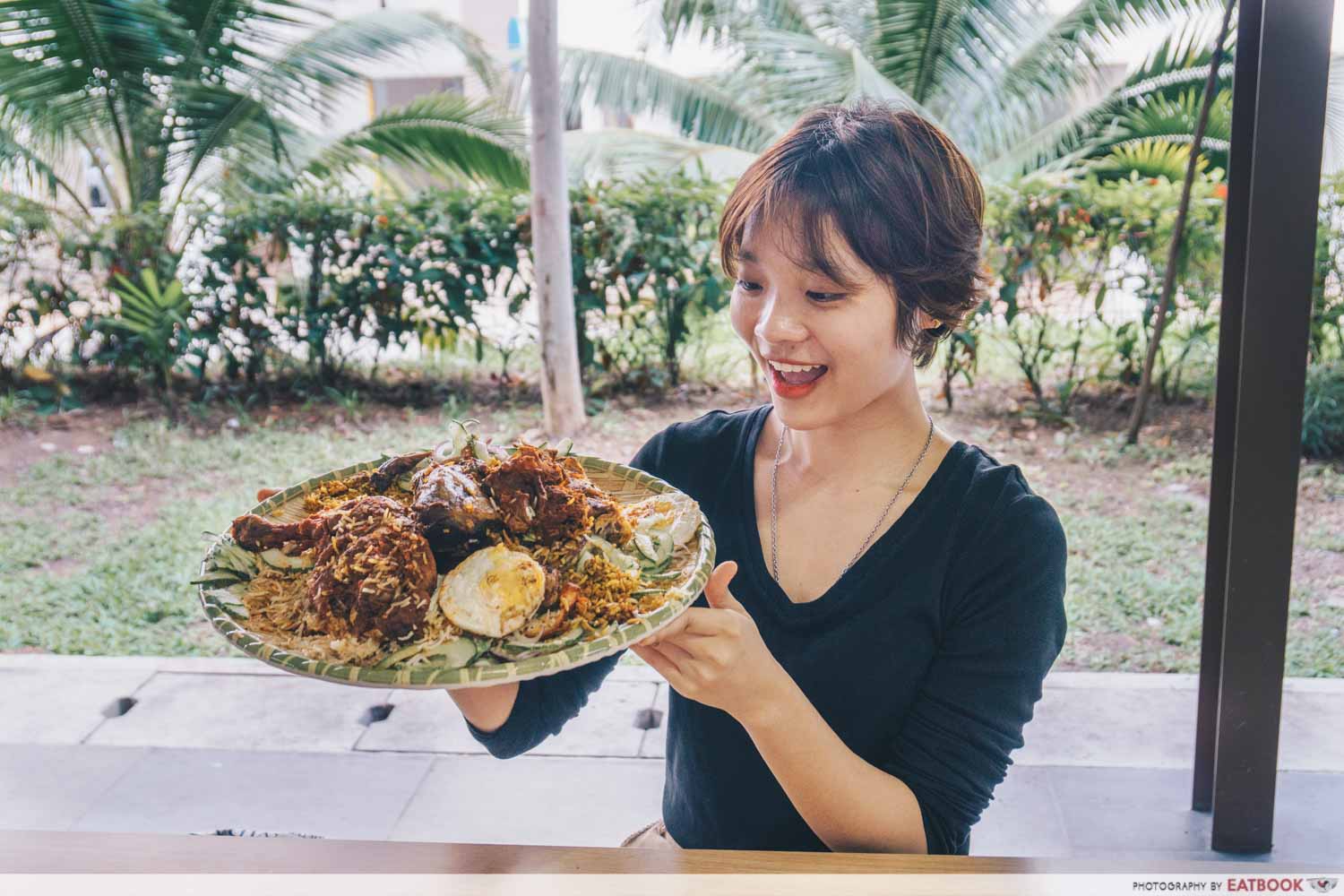 If you're looking for XXL food, Bismi Briyani has really got it going. With liberal portions, good variety, tasty condiments, and decent dishes for just $30, this platter is worth every cent. Though there were some misses such as their dry and tough chicken, their proteins were largely enjoyable. In fact, I can see myself returning for another serving of their mutton briyani soon.
For more food in the area, check out our food guide to Yishun Park Hawker Centre too!
Address: 51 Yishun Avenue 11, #01-05, Yishun Park Hawker Centre, Singapore 768867
Opening hours: Tue-Sun 11am to 8pm
Website
Bismi Briyani is a halal-certified eatery.
6 Yishun Park Hawker Centre Food That Are Cheap, Good, And IG-Worthy
Photos taken by Hay Thi.
This is an independent review by Eatbook.sg.
Bismi Briyani Review: XXL Briyani Platter With Lamb Shank, Lamb Chop, Chicken And More At Yishun
Summary
Pros
– Huge portions
– Affordable
– Succulent mutton
Cons
– Chicken was a little dry and tough
Recommended dishes: Lamb Shank, Lamb Mutton Chop
Opening hours: Tue-Sun 11am to 8pm
Address: 51 Yishun Avenue 11, #01-05, Yishun Park Hawker Centre, Singapore 768867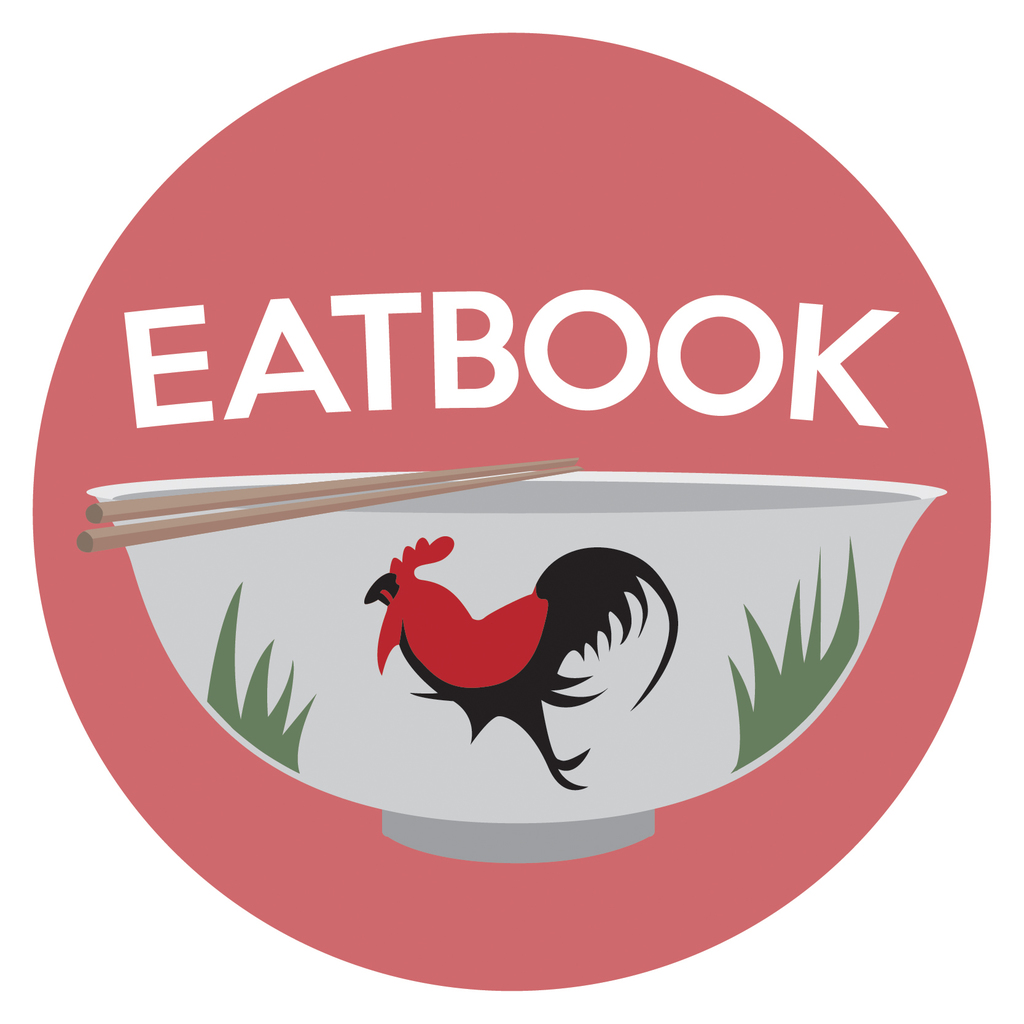 Drop us your email so you won't miss the latest news.