Munchi Delights min jiang kueh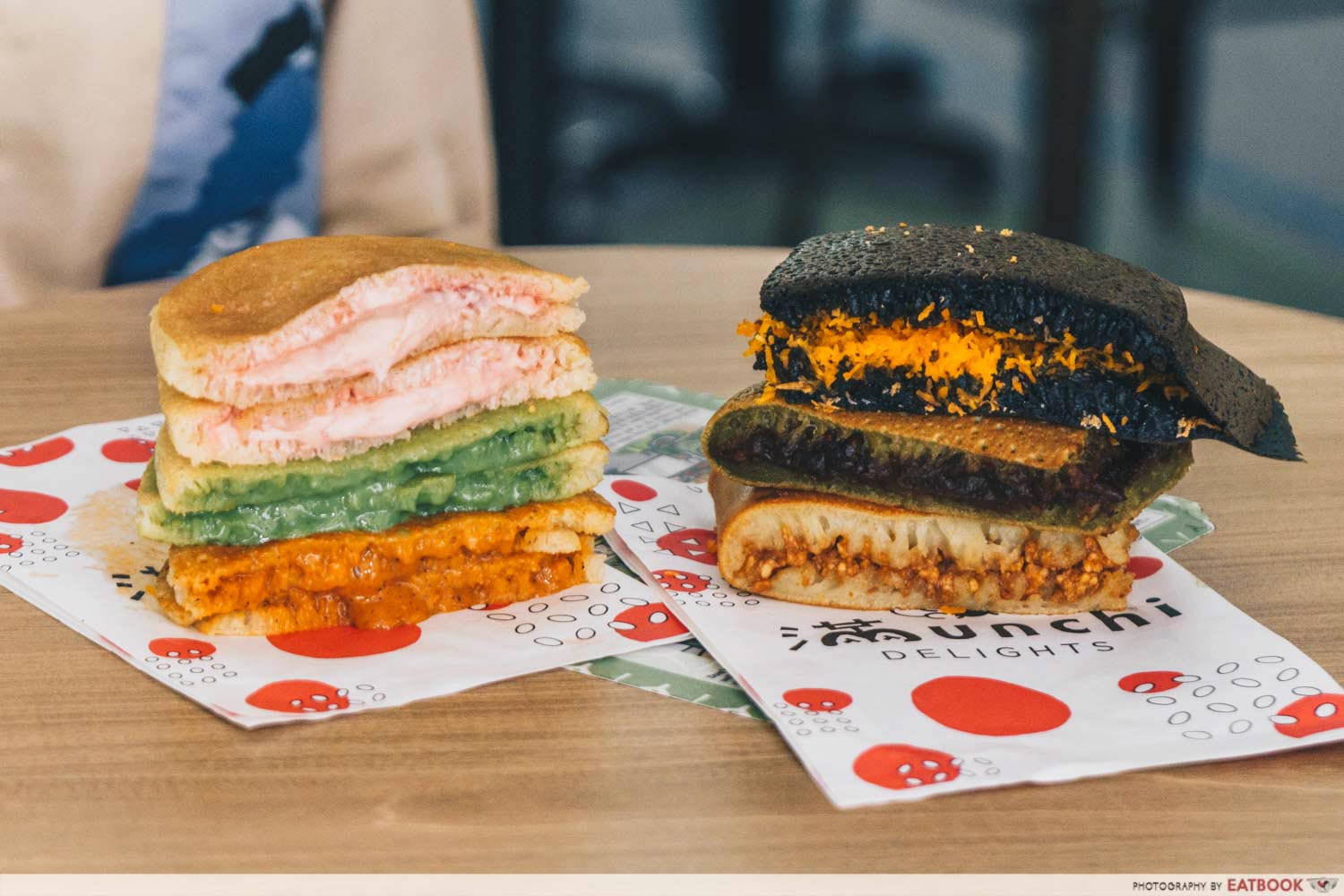 If you're an Instagram foodie, Munchi Delights' colourful and chunky min jiang kueh should have crossed your feed at some point. Despite being a Northie myself, I never visited the store, which was growing in popularity, especially on social media. Thus, I decided to make my way down to see whether these snacks were worth the hype.
A hearty chunk of fragrant peanut min jiang kueh means a comforting breakfast to me. Munchi Delights' is home to min jiang kueh in three crust flavours, namely Original, Charcoal, and Matcha. You can also pick between Peanut, Coconut, and Red Bean fillings to go with your pancake. Being an ardent fan of the kueh, I had to try all three flavours and fillings.
Food At Munchi Delights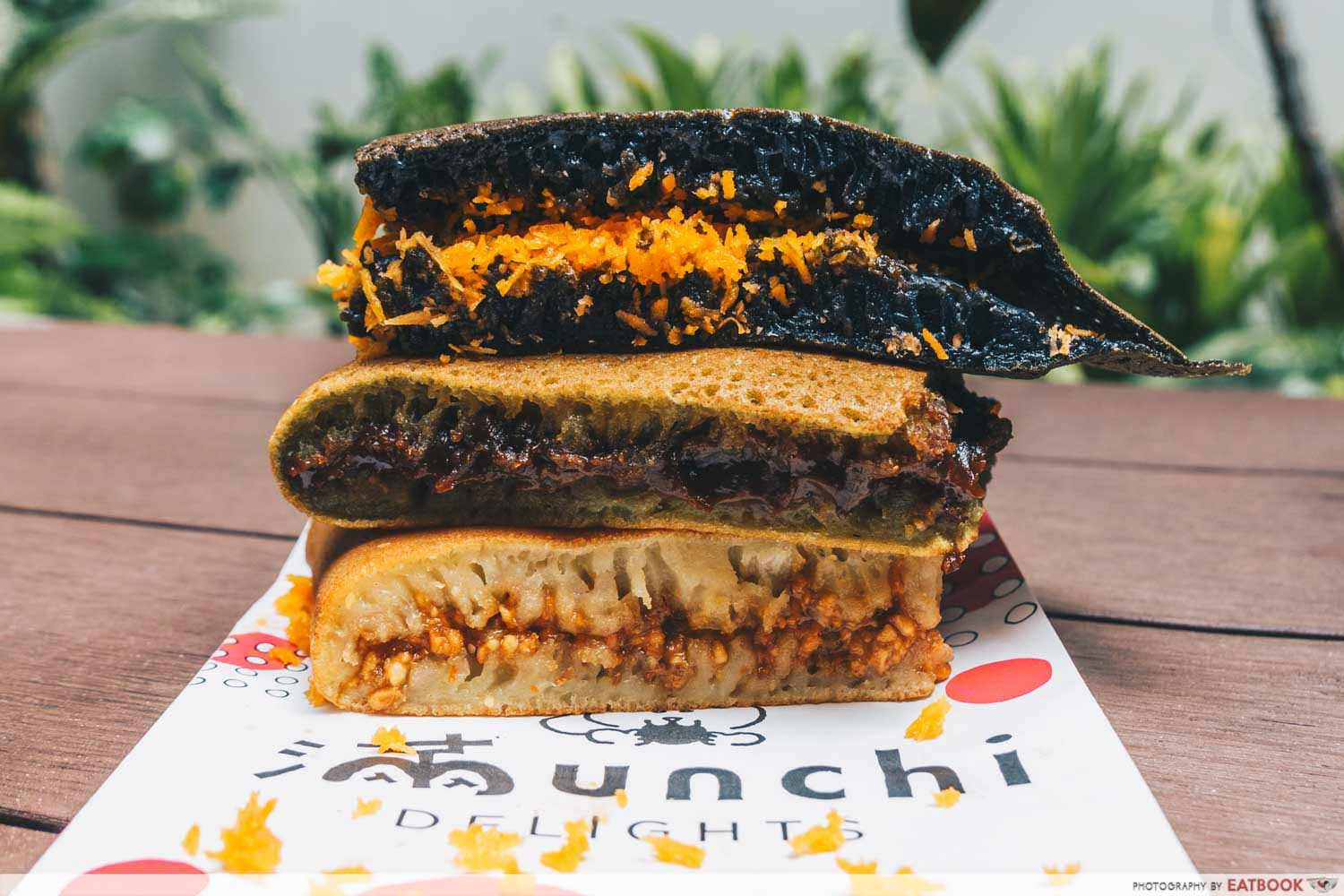 Our min jiang kueh, priced at $1.20 each, came rather chunky—good for that colourful IG-worthy shot when stacked up.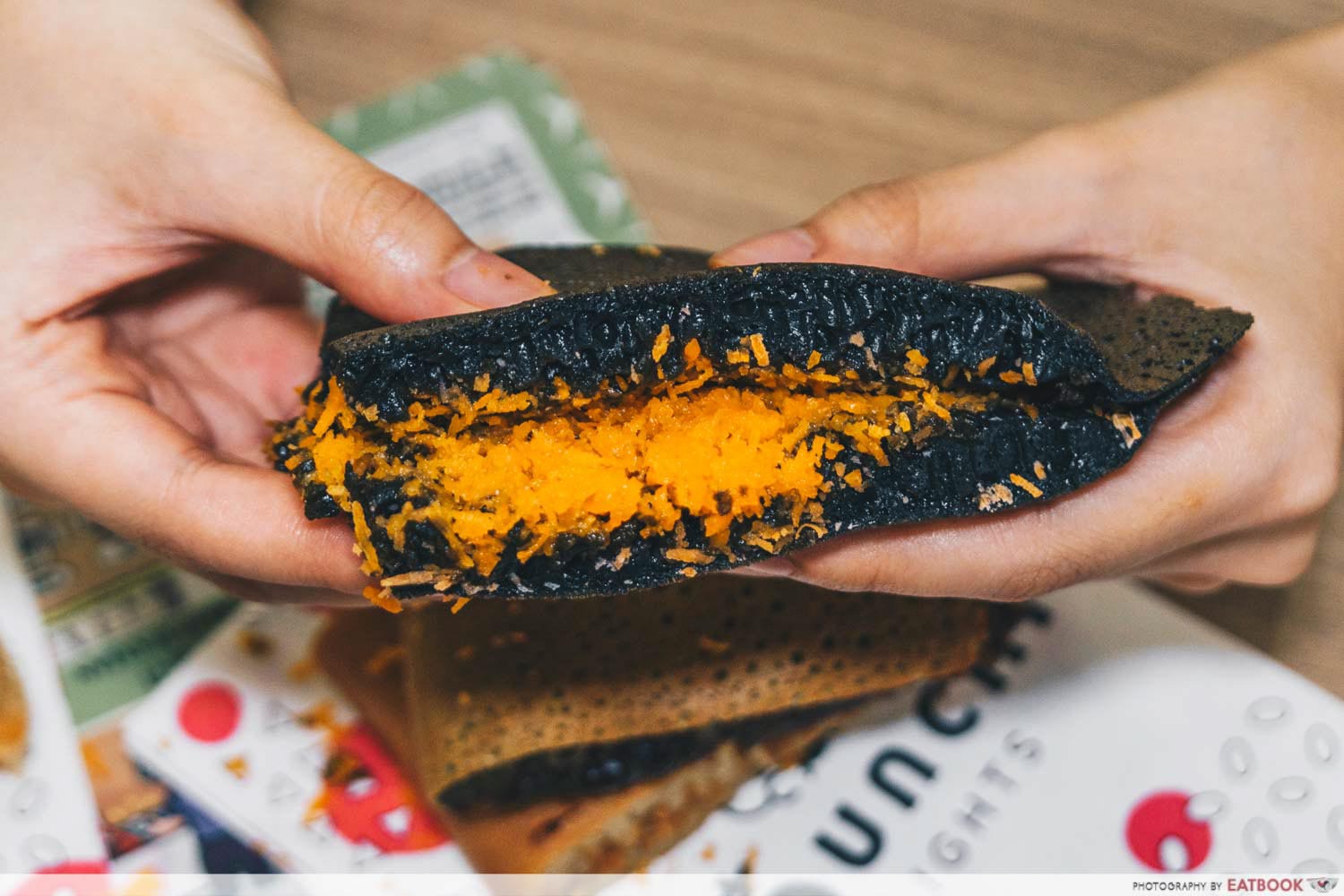 I went for the most eye-catching Charcoal Min Jiang Kueh paired with Coconut filling, which sported an intense orange hue for a visually dramatic treat. The dense crust offered some bite as I chomped onto it, and I was delighted to find that the kueh was moist and fluffy. Min jiang kueh, when done wrong, tends to be rubbery, yet Munchi Delights' version offered just the right amount of chewiness.
Wedged liberally between the min jiang kueh, the flaky coconut filling gave a punch of sweetness and an extra crunch. The combination of crisp, sugared coconut and soft crust resembled the flavours and textures of tutu kueh.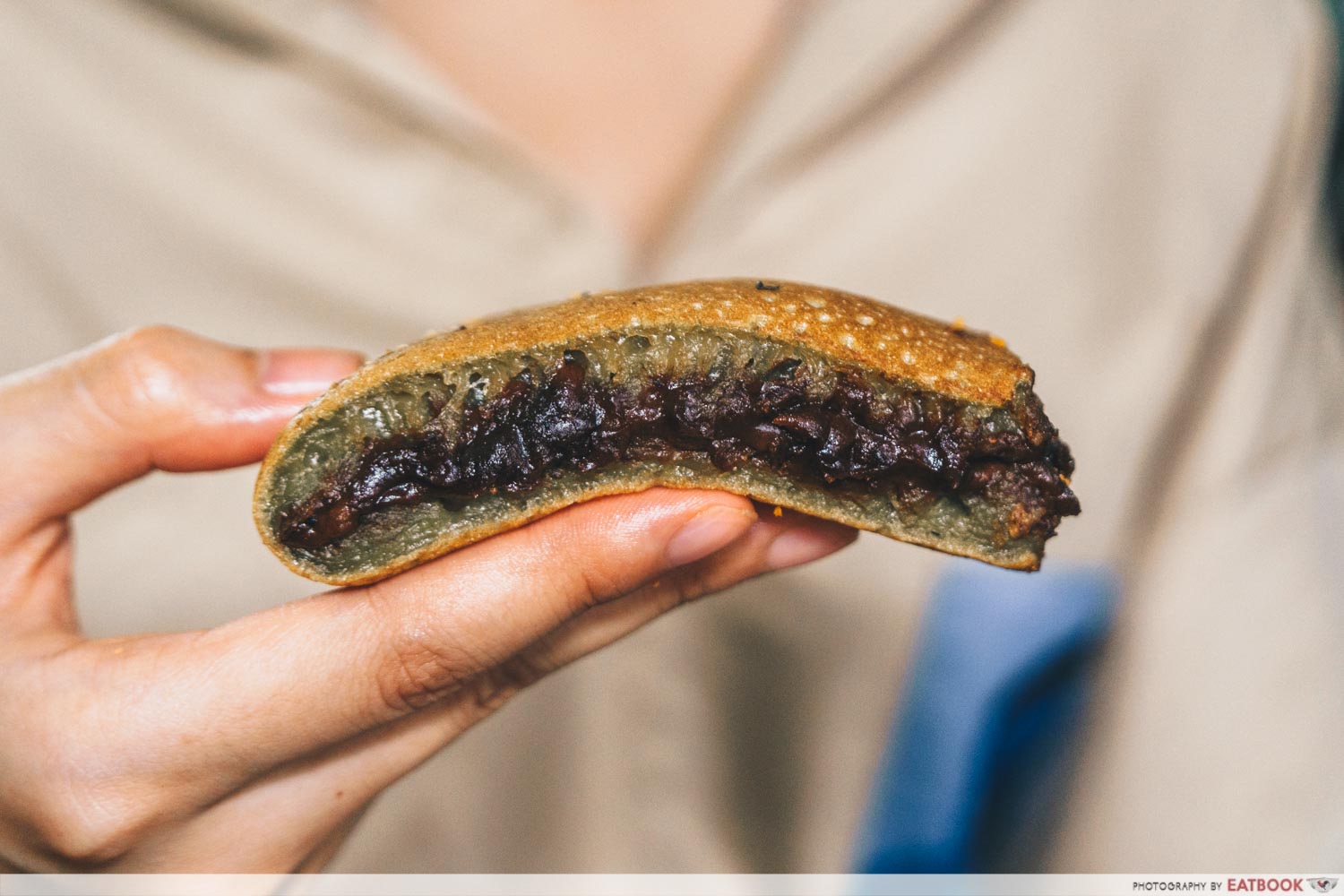 Going for yet another unique flavour, I went for the Matcha Min Jiang Kueh with some Red Bean filling. Boasting the same soft, chewy texture as its charcoal counterpart, the matcha min jiang kueh had an additional kick of rich, fragrant earthiness from the matcha.
18 Kueh Delivery Options To Enjoy Traditional Handmade Snacks From Home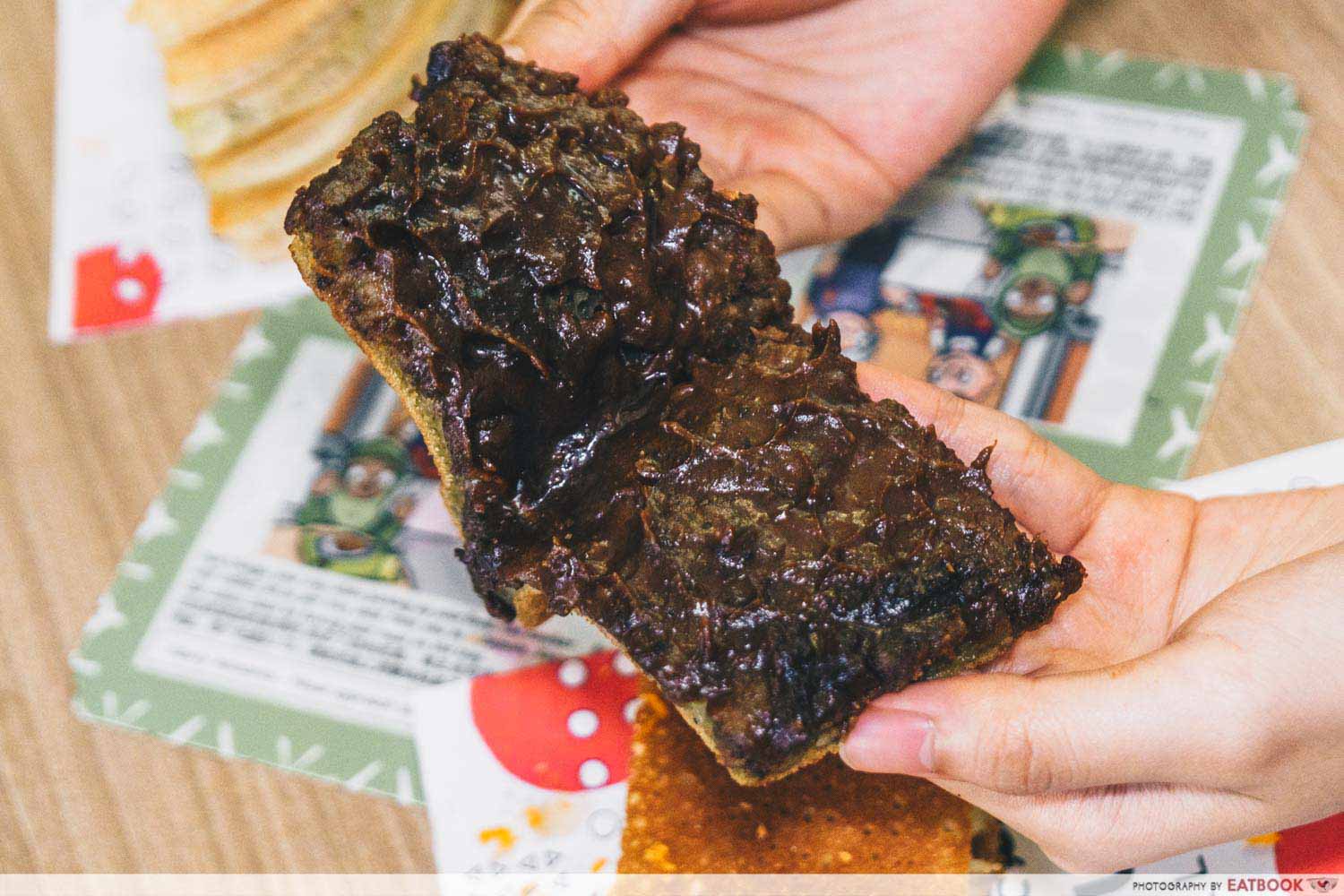 This went especially well with the red bean filling, which pandered on the sweeter side. While it was slightly sugary for my liking, the red bean was a smooth paste free of mushiness. The pairing of these flavours reminded me of matcha azuki desserts offered in Japanese eateries.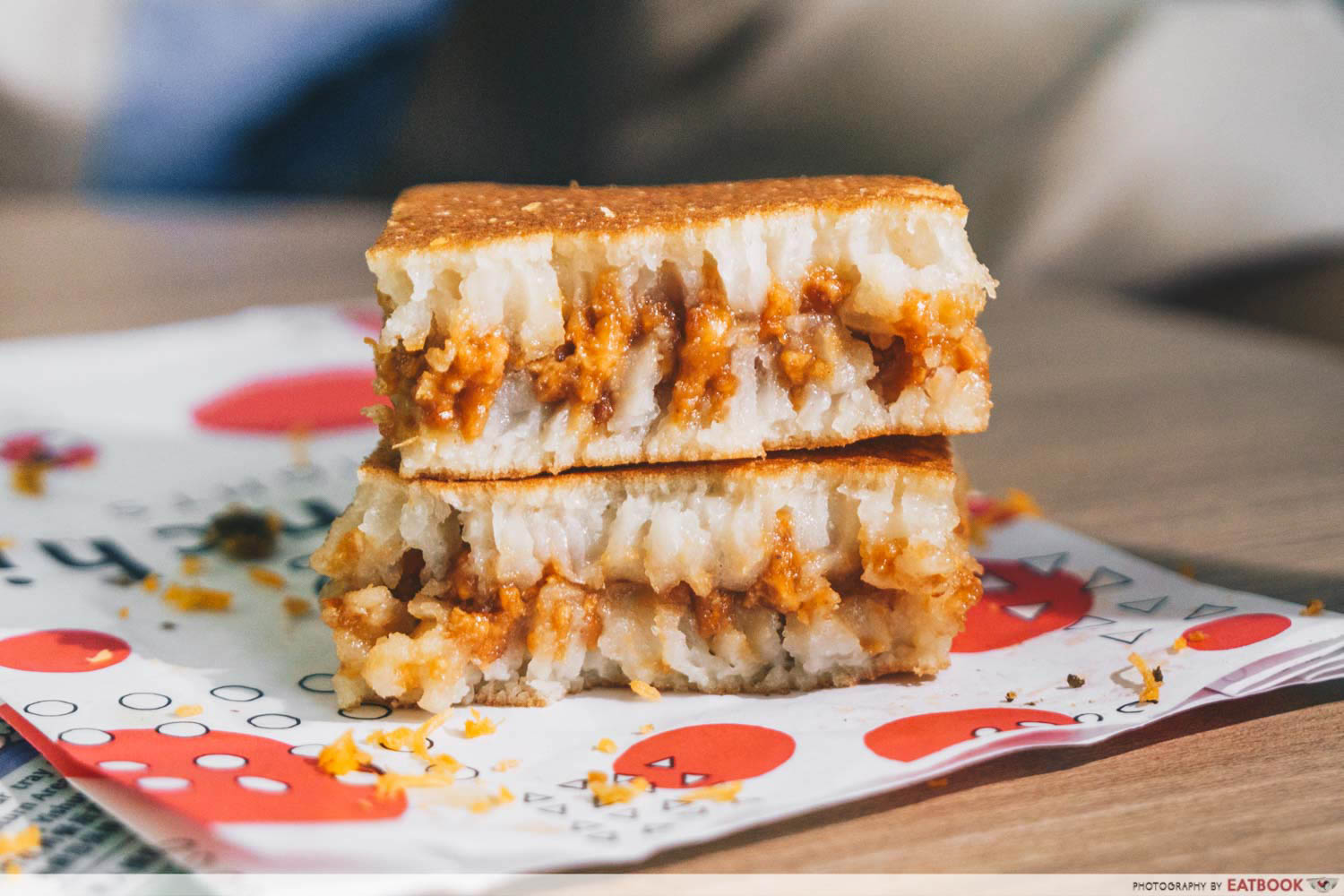 No discussion about min jiang kueh is complete without mentioning the peanut classic. The marriage of sweet and salty notes from the Peanut filling, along with the chewy Original Min Jiang Kueh and crunchy peanut, gave a delightful party of flavours and textures. All in all, this was a hearty peanut min jiang kueh.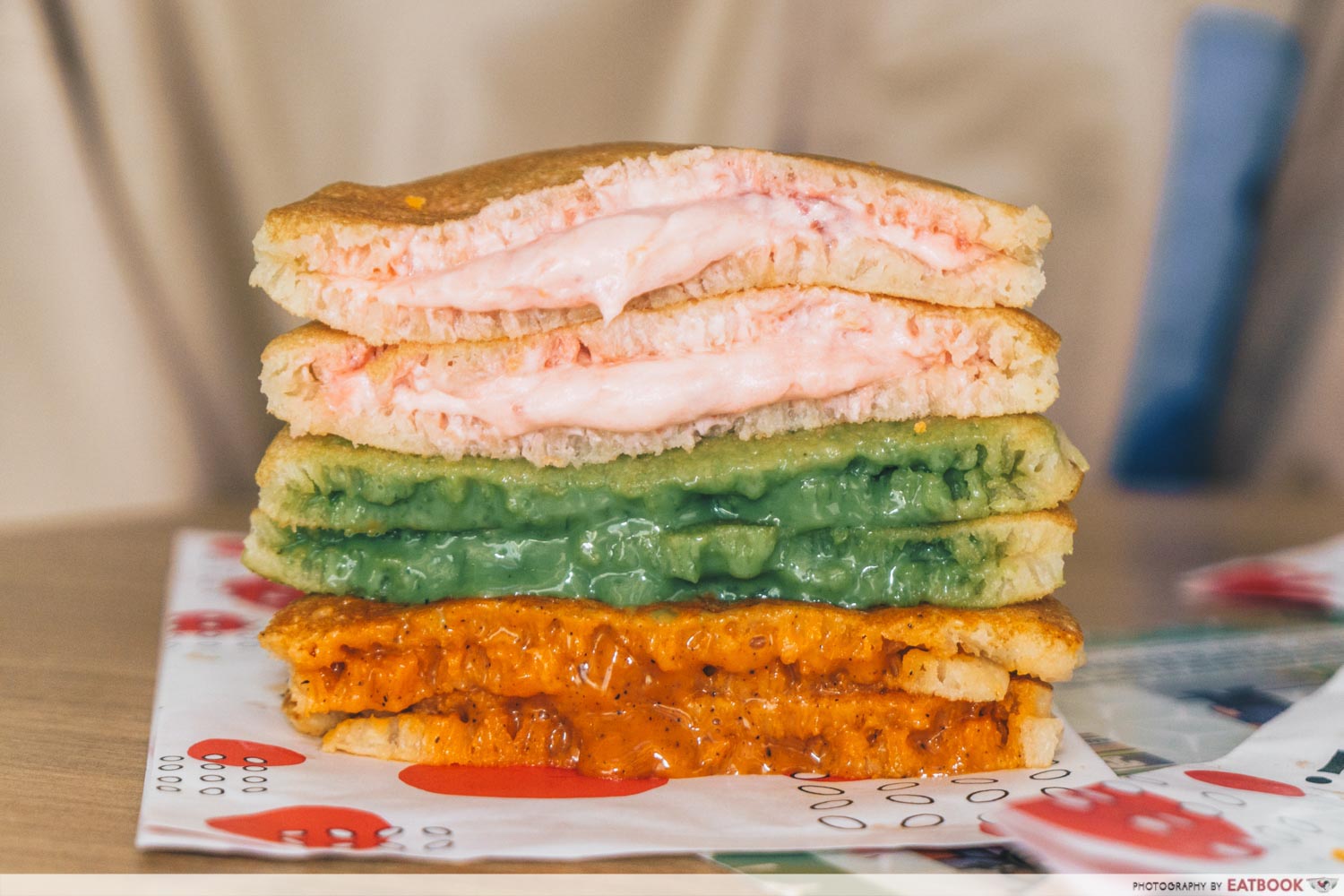 Apart from min jiang kueh, Munchi Delights is also home to western pancakes that come in an array of fillings. Typically, you can pick between Charcoal, Matcha, and Original flavours for your Munchi Pancake as well. Unfortunately, the charcoal and matcha pancakes were unavailable during our visit, and we had to make do with the original ones.
I tore the palm-sized Thai Milk Tea Munchi Pancake ($1.80) apart to find its liquidy, dark orange filling flow out. Encased in the fluffy, pillowy soft pancake was a Thai milk tea filling which we found slightly cloying.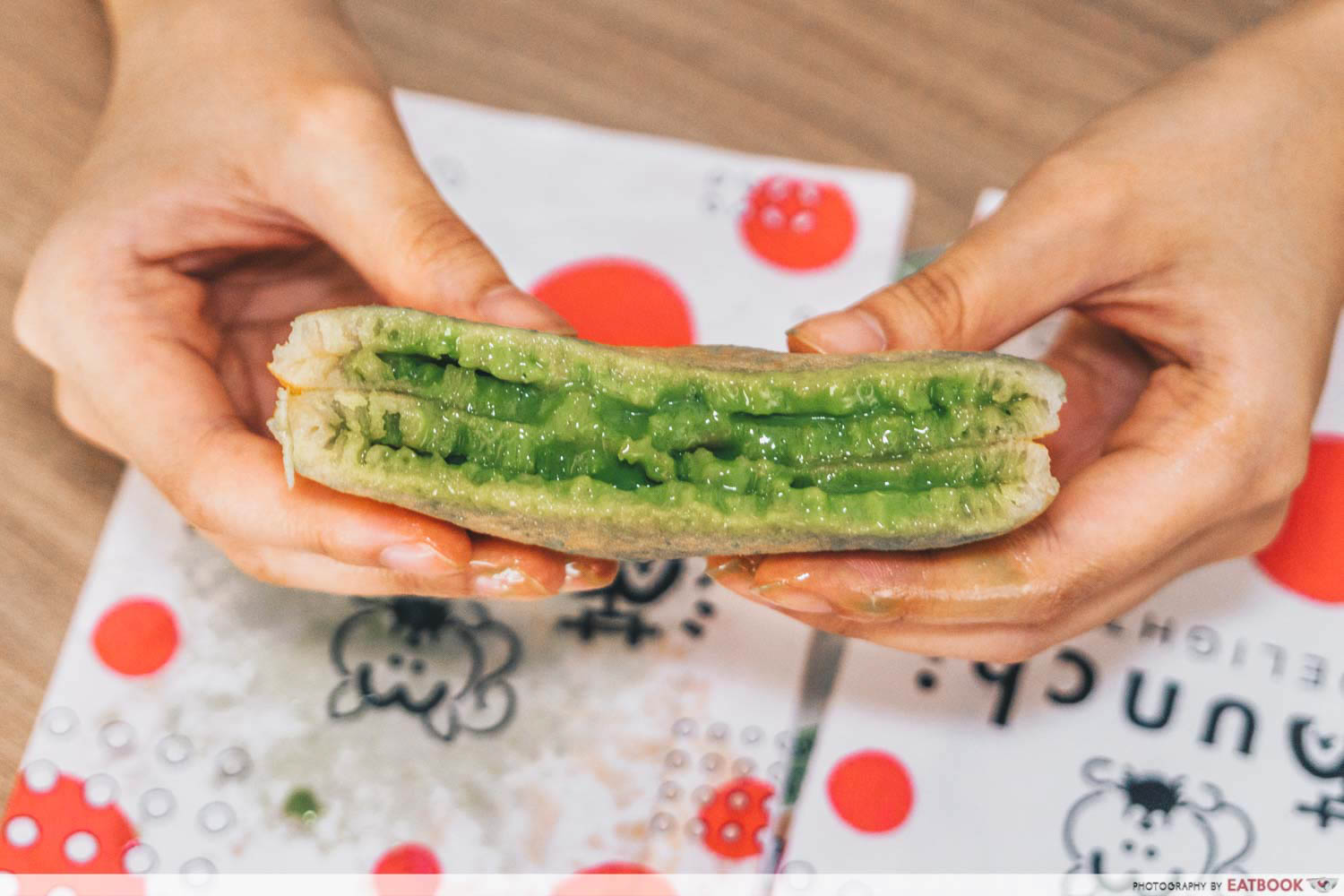 Similarly, the Matcha Munchi Pancake ($1.80) came with a filling which was also a tad too sweet. If you are a fan of Thai green milk tea and like your desserts really sugary, this pancake flavour might just be your thing.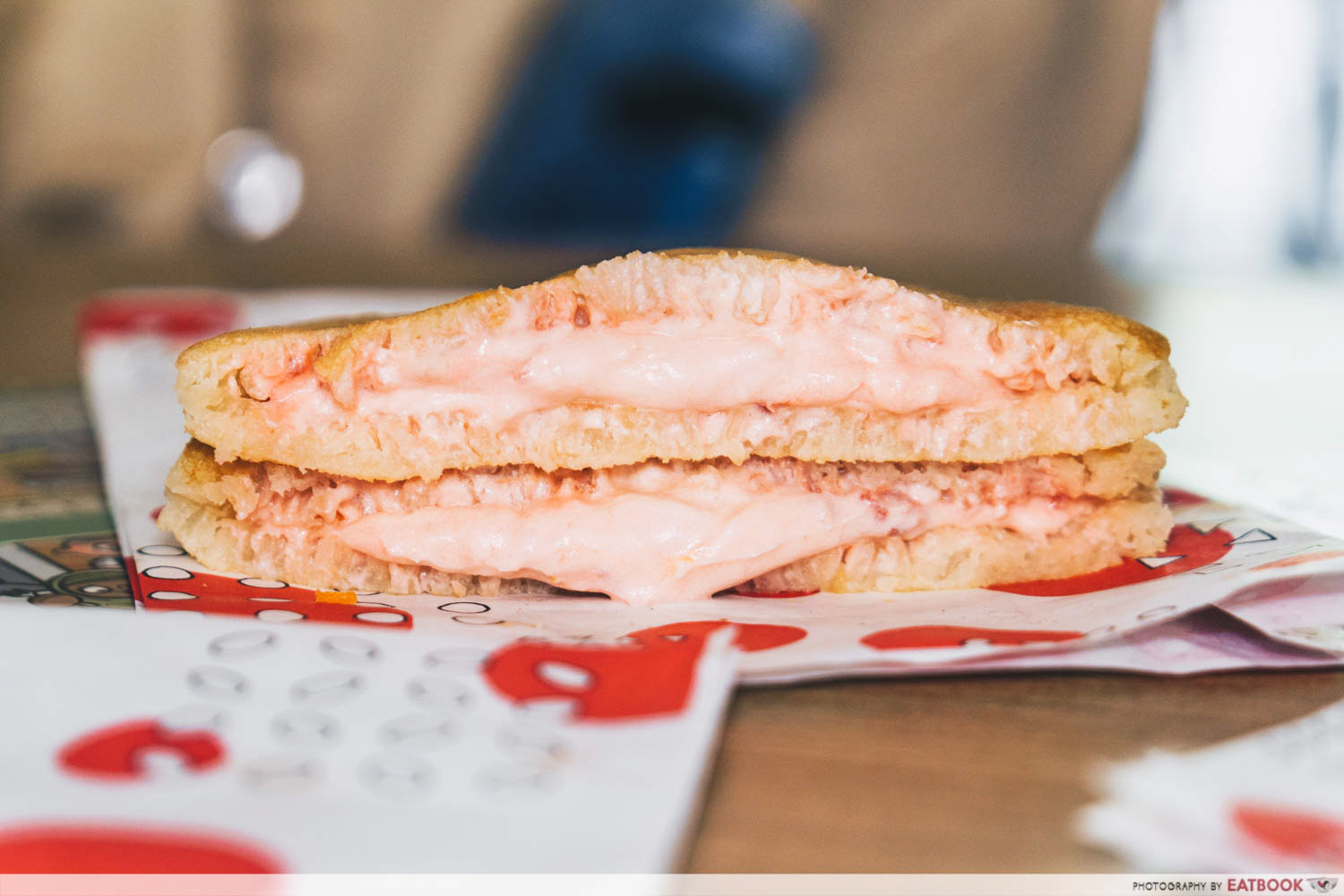 Straying away from tea flavours, I decided to also give the Strawberry Cheese Munchi Pancake ($1.80) a go as well. The strawberry cheese filling was much firmer than the liquidy matcha and Thai milk tea ones. Hints of tanginess from the cheese underlay the dominant sugariness of artificial strawberry flavour.
10 Traditional Soon Kueh Stalls In Singapore That Even Your Grandparents Will Approve Of
Ambience at Munchi Delights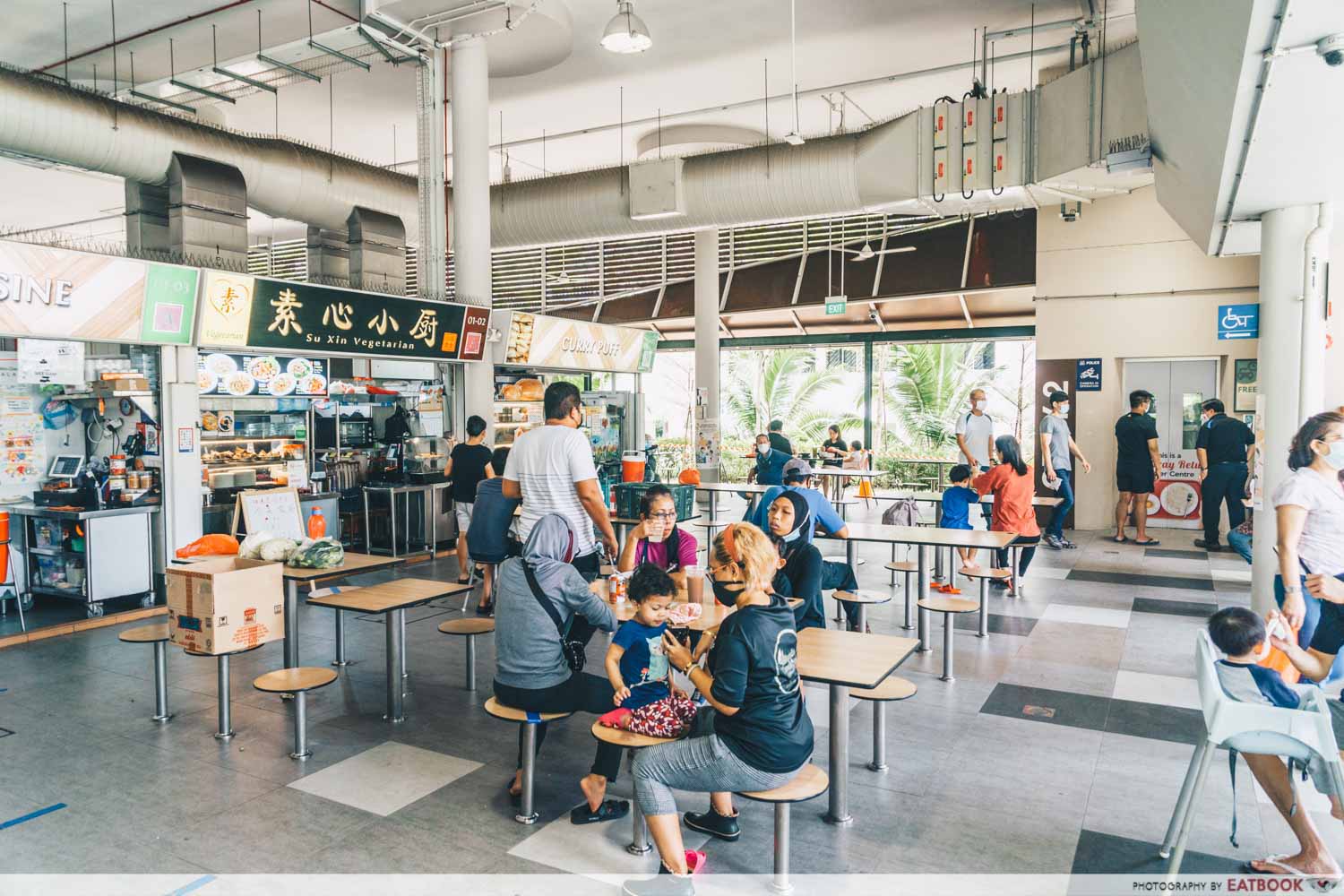 Munchi Delights is situated at the spacious Yishun Park Hawker Centre, well-protected from the heat to allow for a comfortable meal. However, being a ten-minute bus ride away from Yishun MRT Station, it is rather inconvenient.
The verdict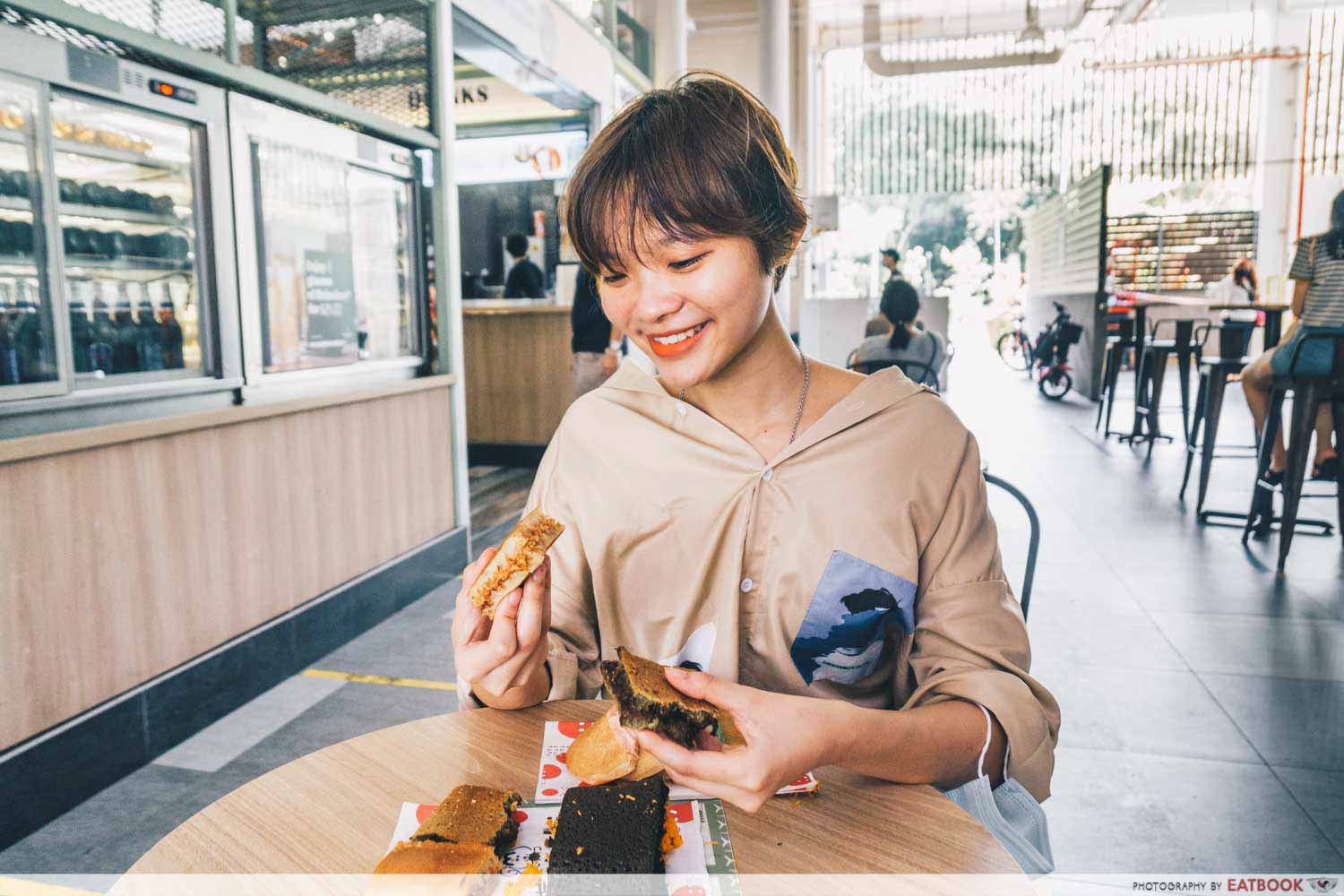 Munchi Delights does get their min jiang kueh right, and for just $1.20, it is considerably generous in size. Unfortunately, their Munchi pancakes were quite the miss, their cloying fillings making them difficult to finish. If you're looking to visit, go just for the min jiang kueh, and get their Munchi pancakes only if you have a really sweet tooth.
Donq Bakery's Uji Matcha Lava Bun With Chocolate And Cookie Crumble Is Going Viral
If matcha sweets entice you, check out Donq Bakery's viral Matcha Uji Lava Buns. Otherwise, if colourful snacks are your thing, Spuds also serves rainbow fries, which might be your next IG-worthy go-to snack.
Address: 51 Yishun Avenue 11, #01-43, Yishun Park Hawker Centre, Singapore 768867
Opening hours: Tues-Sun 7:30am to 9pm
Tel: 9369 3664
Website
Munchi Delights is a halal-certified eatery.
Spuds Review: New Cafe In Orchard Serves Rainbow Cheese Fries And Nasi Lemak Fries
Photos taken by Hay Thi.
This is an independent review by Eatbook.sg.
Summary
Pros
– Chewy min jiang kueh
– Generous size
Cons
– Fillings were too sweet
– Inaccessible location
Recommended dishes: Original Min Jiang Kueh with Peanut Filling ($1.20), Matcha Min Jiang Kueh with Red Bean Filling ($1.20)
Opening hours: Tues-Sun 7:30am to 9pm
Address: 51 Yishun Avenue 11, #01-43, Yishun Park Hawker Centre, Singapore 768867