Build your own Japanese don bowl at Hideki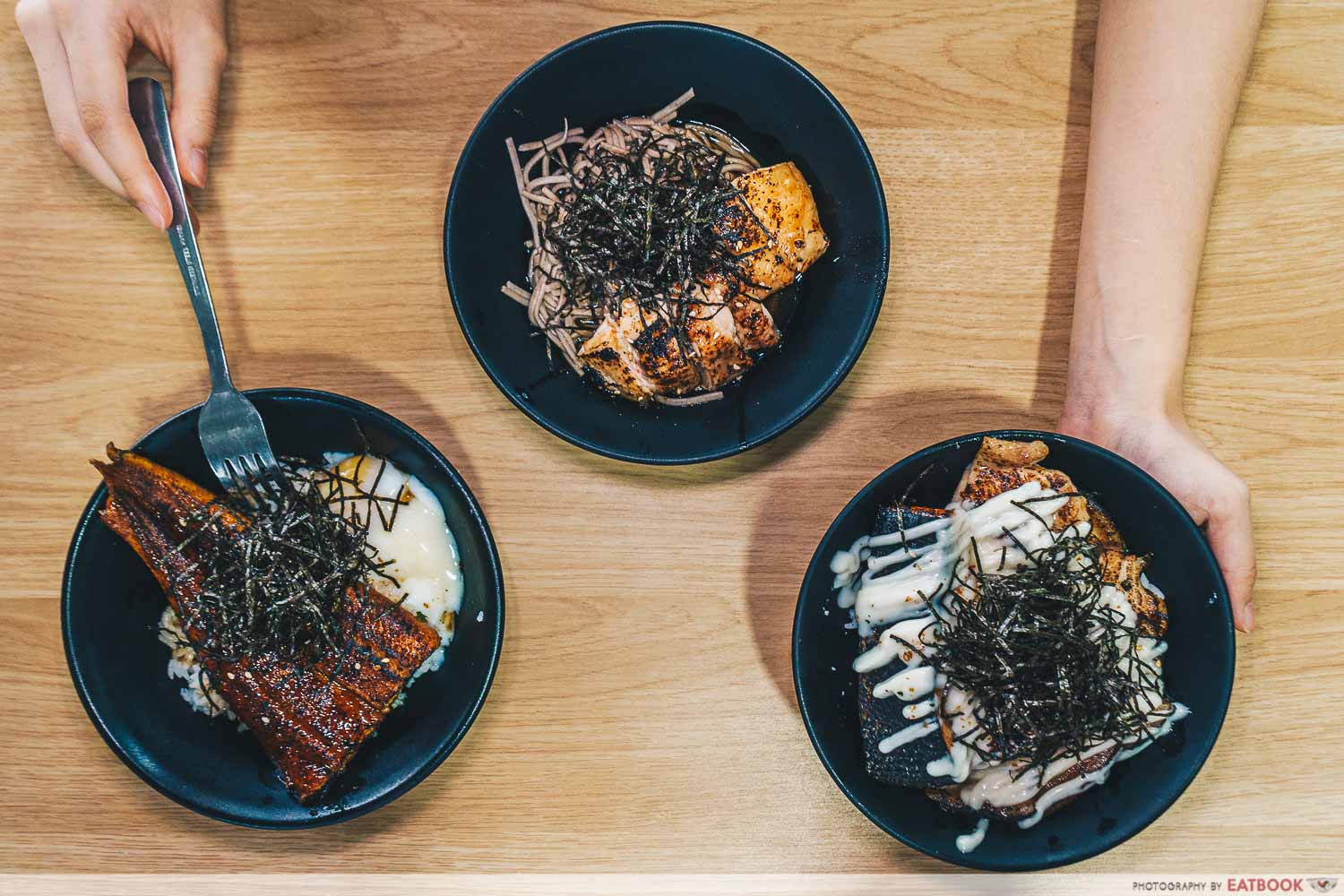 Cai png is pretty much a diet staple in Singapore. When we think of cai png, though, we think of a mix of Chinese dishes piled atop white rice, served at a low price. Hideki subverts this with a Japanese twist, bringing customisable and affordable Japanese don bowls to diners.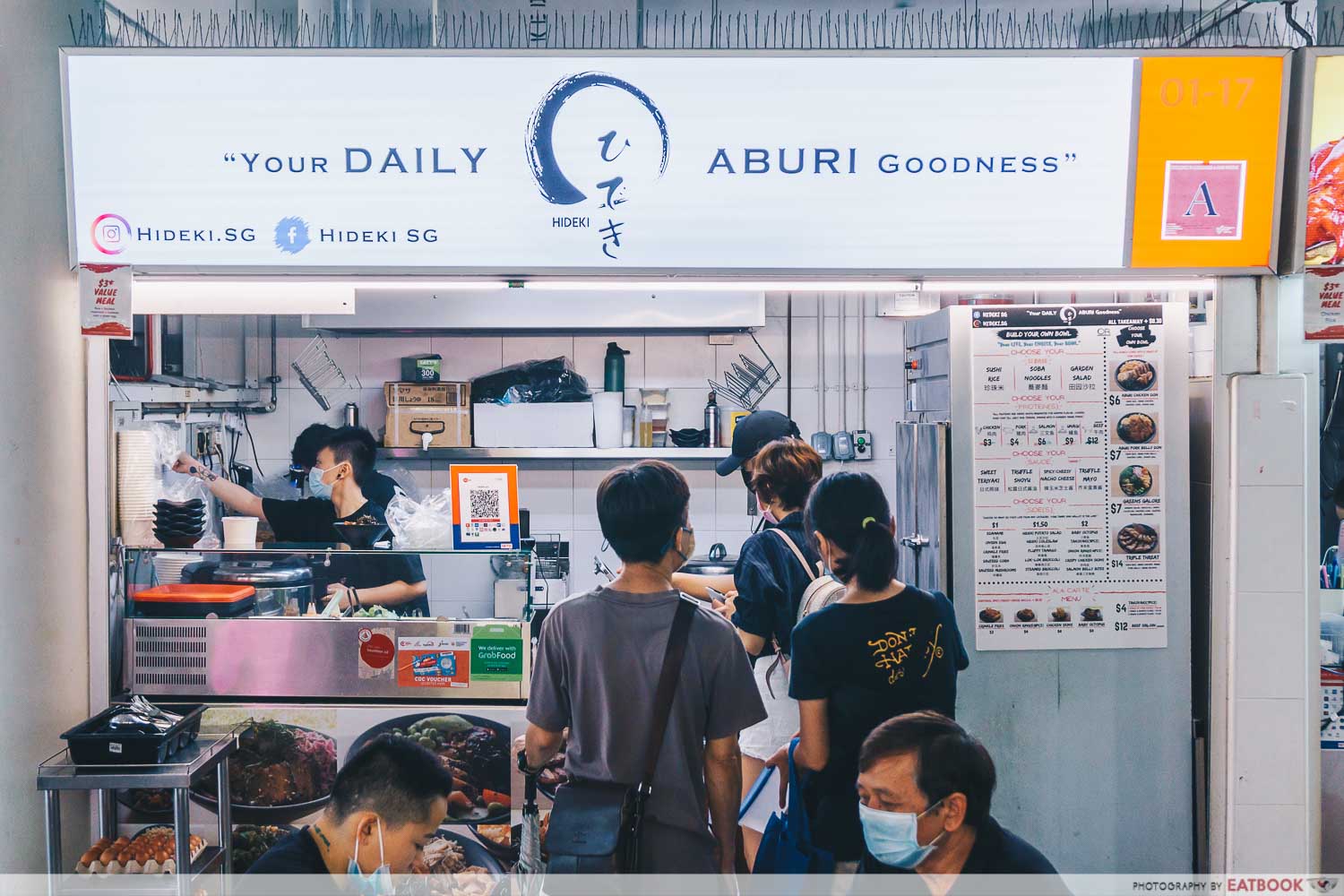 Japanese food isn't unheard of in the hawker scene but Hideki makes it different by serving a Japanese cai png-style concept. The stall doesn't exactly have trays of dishes splayed out for customers to pick, as we would expect from a typical mixed vegetable rice stall. Instead, there are guides in place to help customers choose their ingredients.
Food at Hideki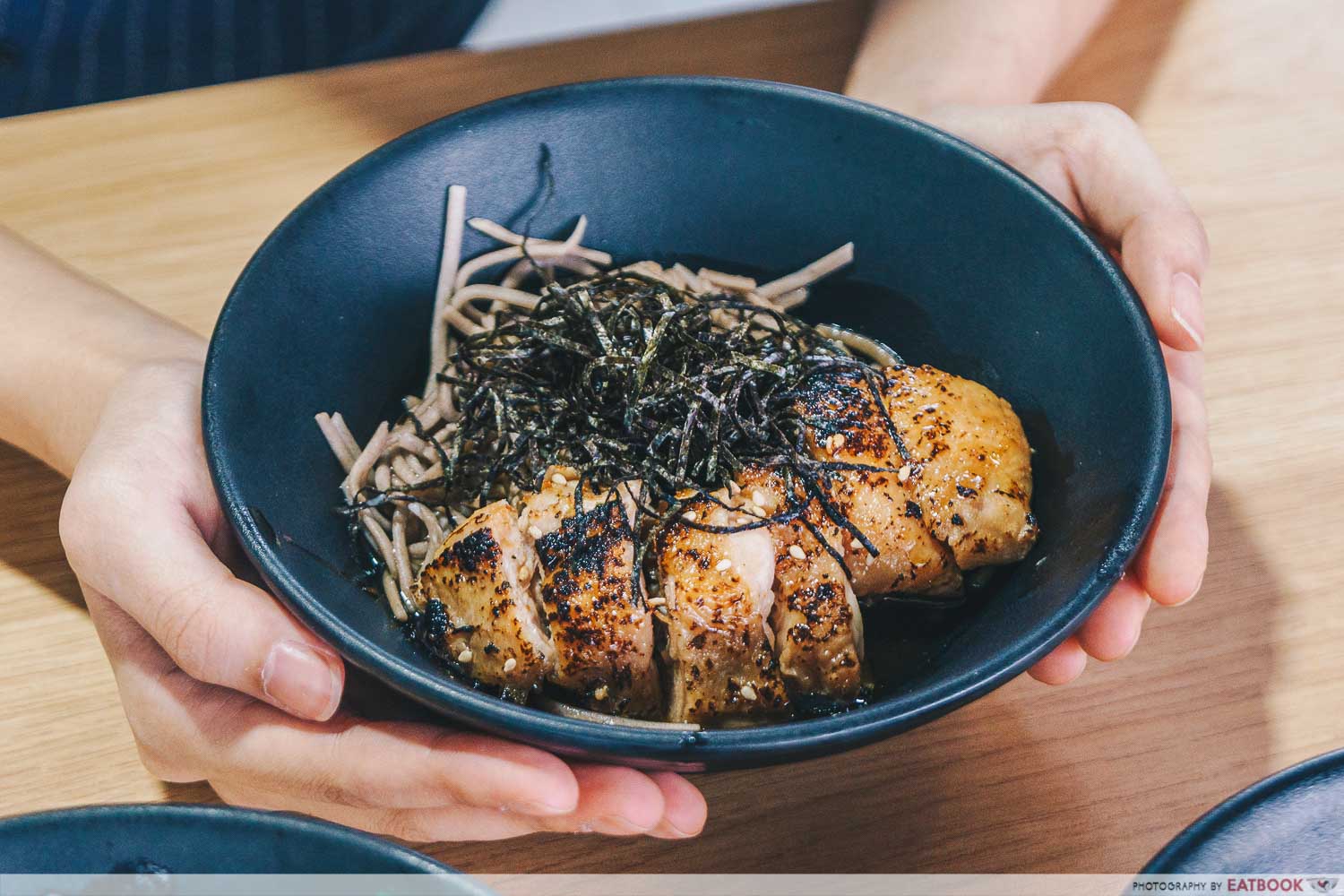 Apart from picking your own ingredients, Hideki also lets you pick your carb between soba and sushi rice, finished with a complimentary sauce of your choice. Attempting to build the cheapest bowl possible, I started out with the combination of Soba Noodles ($1) and Chicken ($3) doused with some Truffle Shoyu.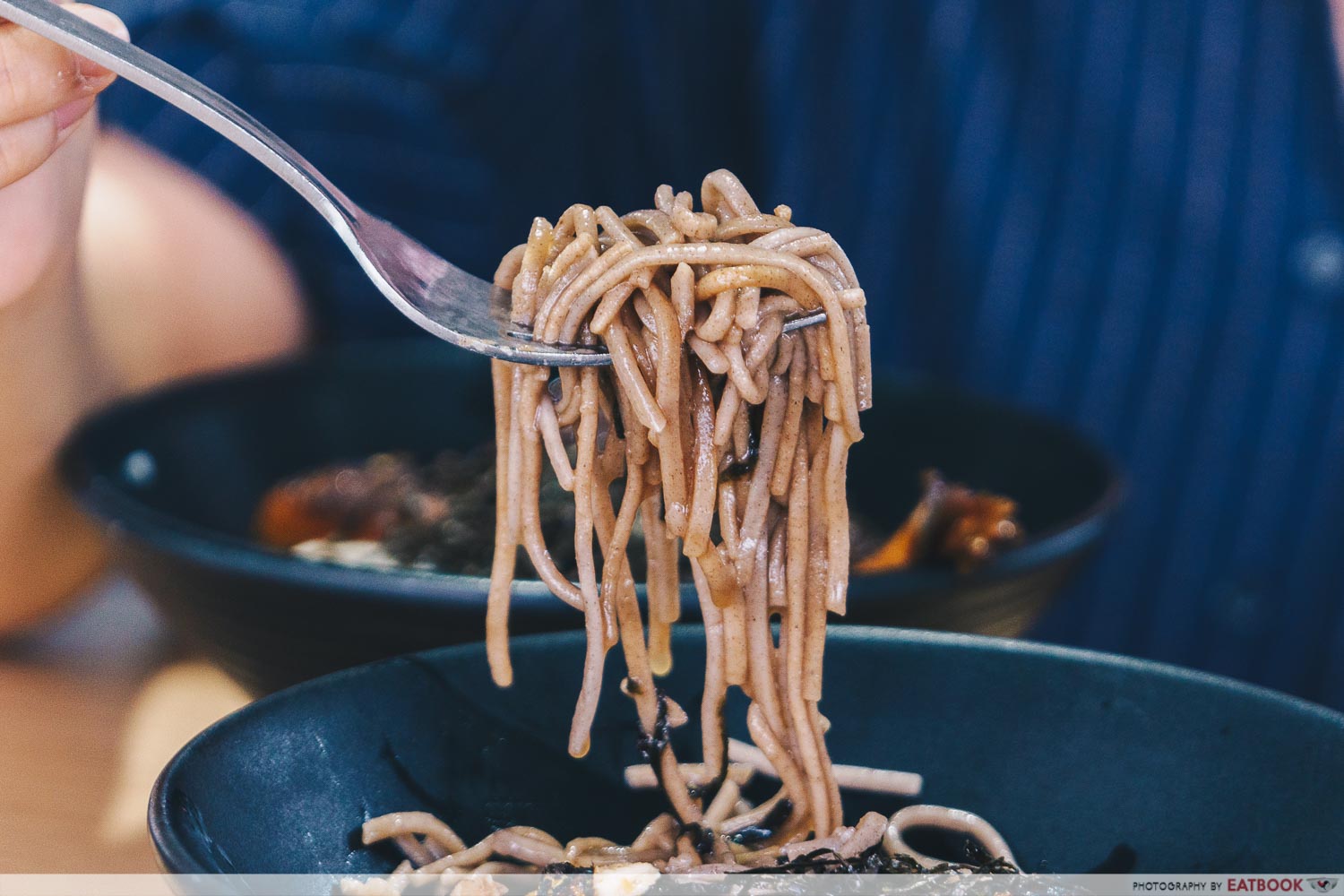 Despite sparing almost no time to dig into the soba, I found the noodles limp and slightly mushy, likely from having sat in a truffle shoyu for too long. The shoyu, while delivering the familiar fragrance of truffle, was more of a sweet soya sauce that wound up pairing surprisingly well with the bland noodles.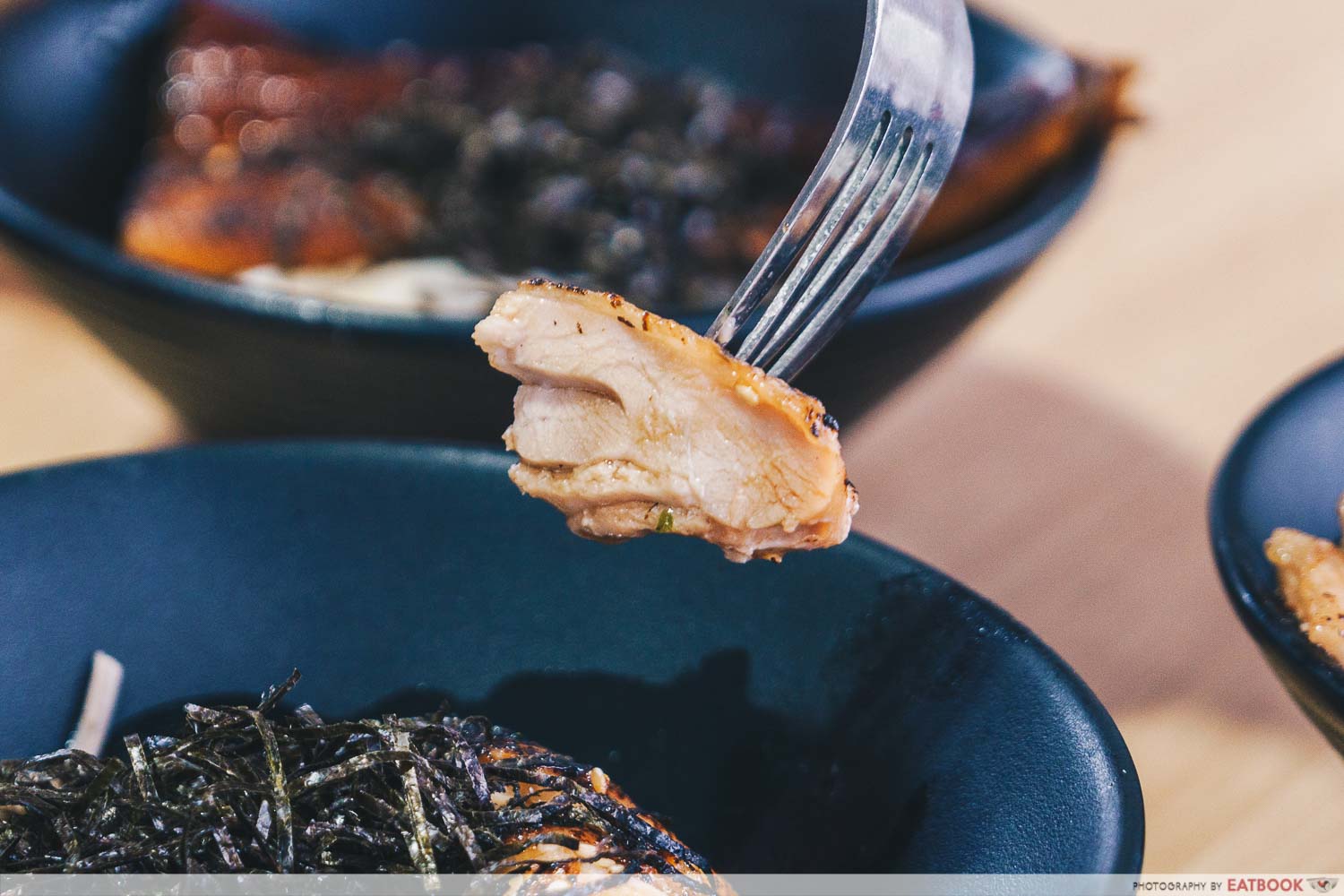 The aburi chicken was served with a nicely torched exterior, adding smoky notes to the meat, which was firm to the bite. Though I had picked my ingredients with the purpose of it being the cheapest combination Hideki could offer, the hearty bowl of soba didn't disappoint in the flavour department.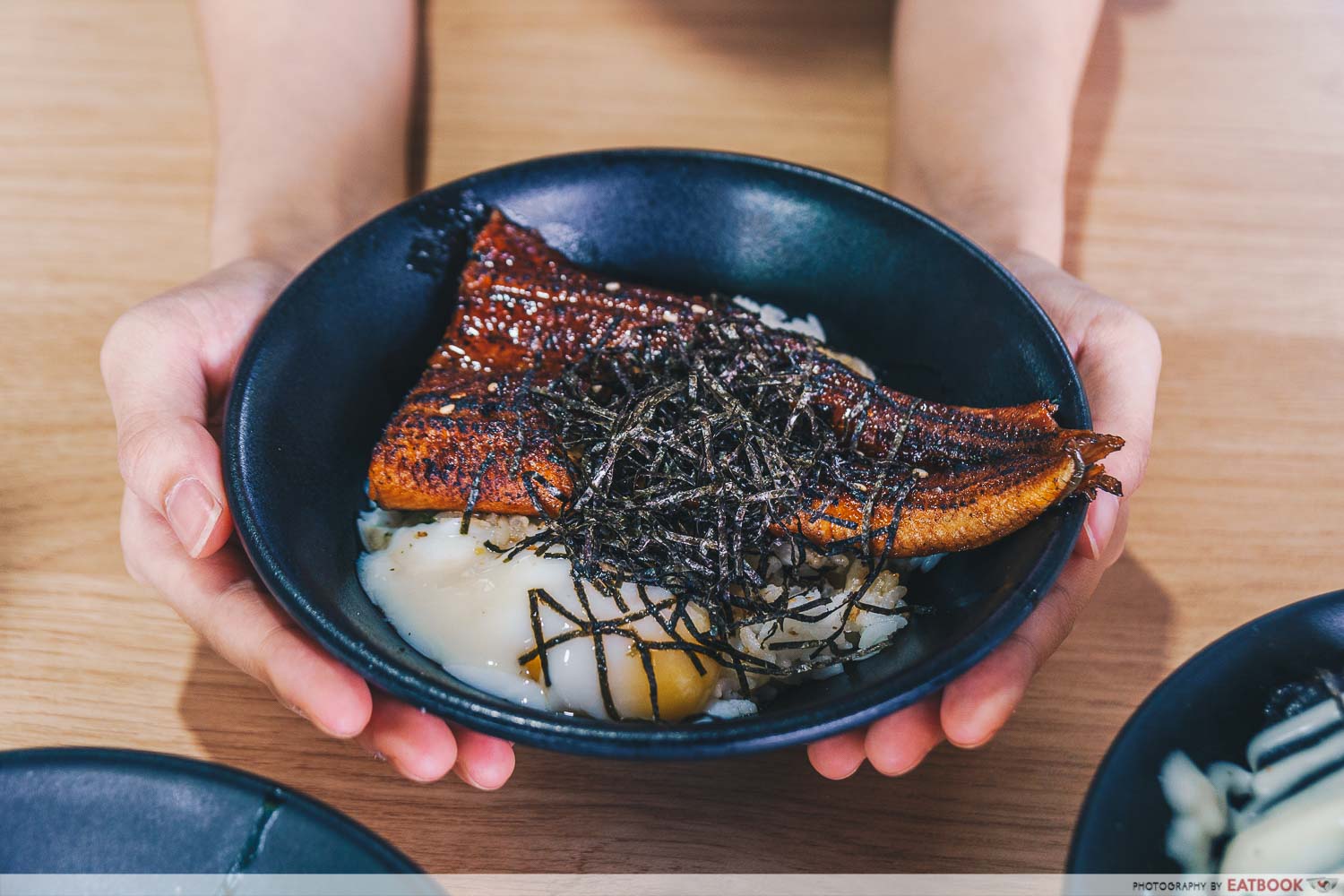 Cheap and good grilled eel isn't frequently available at hawker centres so I decided to get the Unagi ($9) alongside Sushi Rice ($1) and a silky Onsen Egg ($1), finished with some Teriyaki Sauce.
I was ecstatic to find a relatively generous wedge of unagi awaiting me as I dug in excitedly. Considering most unagi don sit around the $10 to $20 range, Hideki's version was reasonably priced.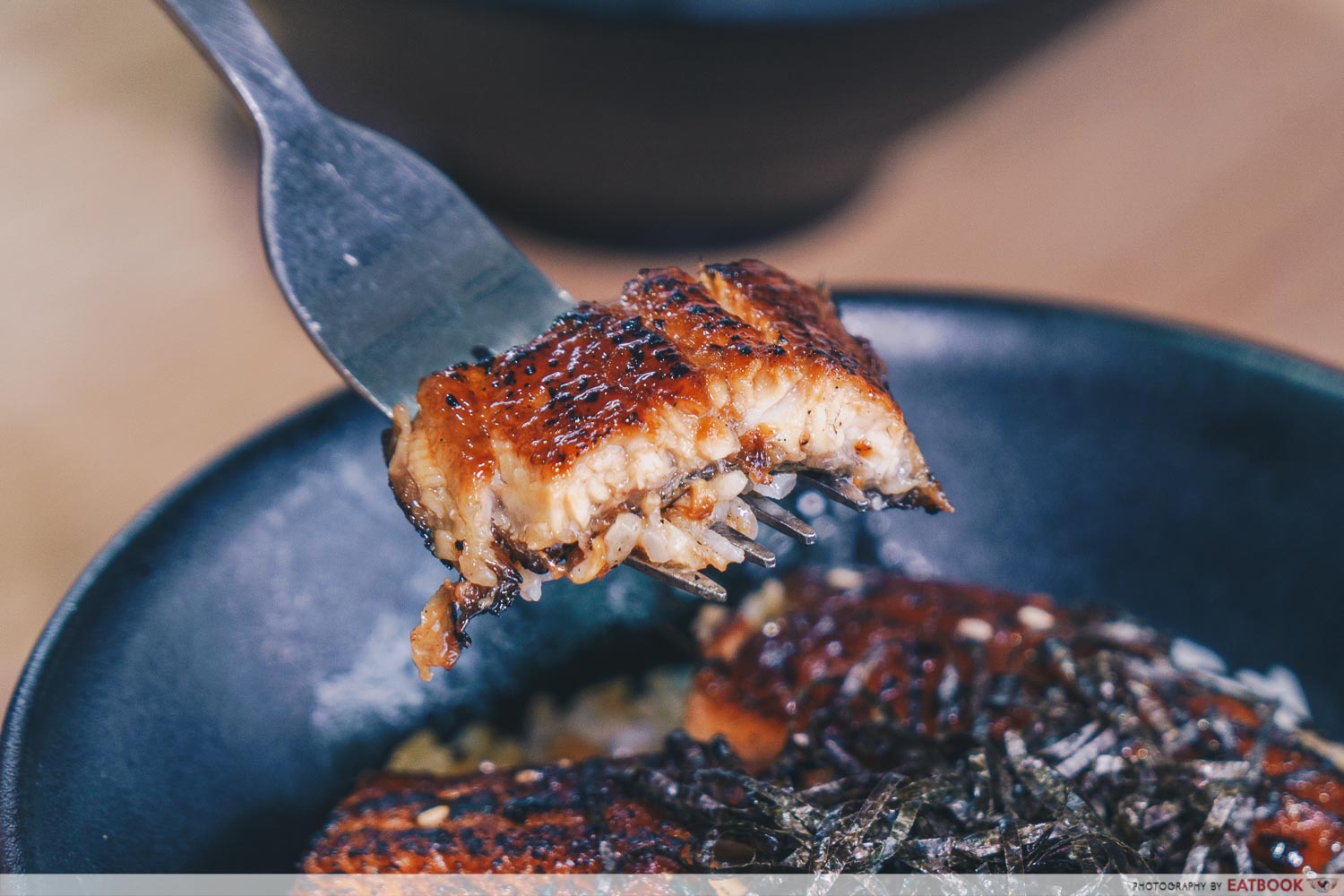 The thick chunk of grilled eel meat was soft and flaky, with its caramelised exterior shining, probably from being dipped in sweet shoyu. The teriyaki sauce gave the dish additional umami, further enhanced by the fluffy bed of naturally sweet rice. My only complaint was the odd lot of rather thick bones in the unagi which were a hassle to pick out.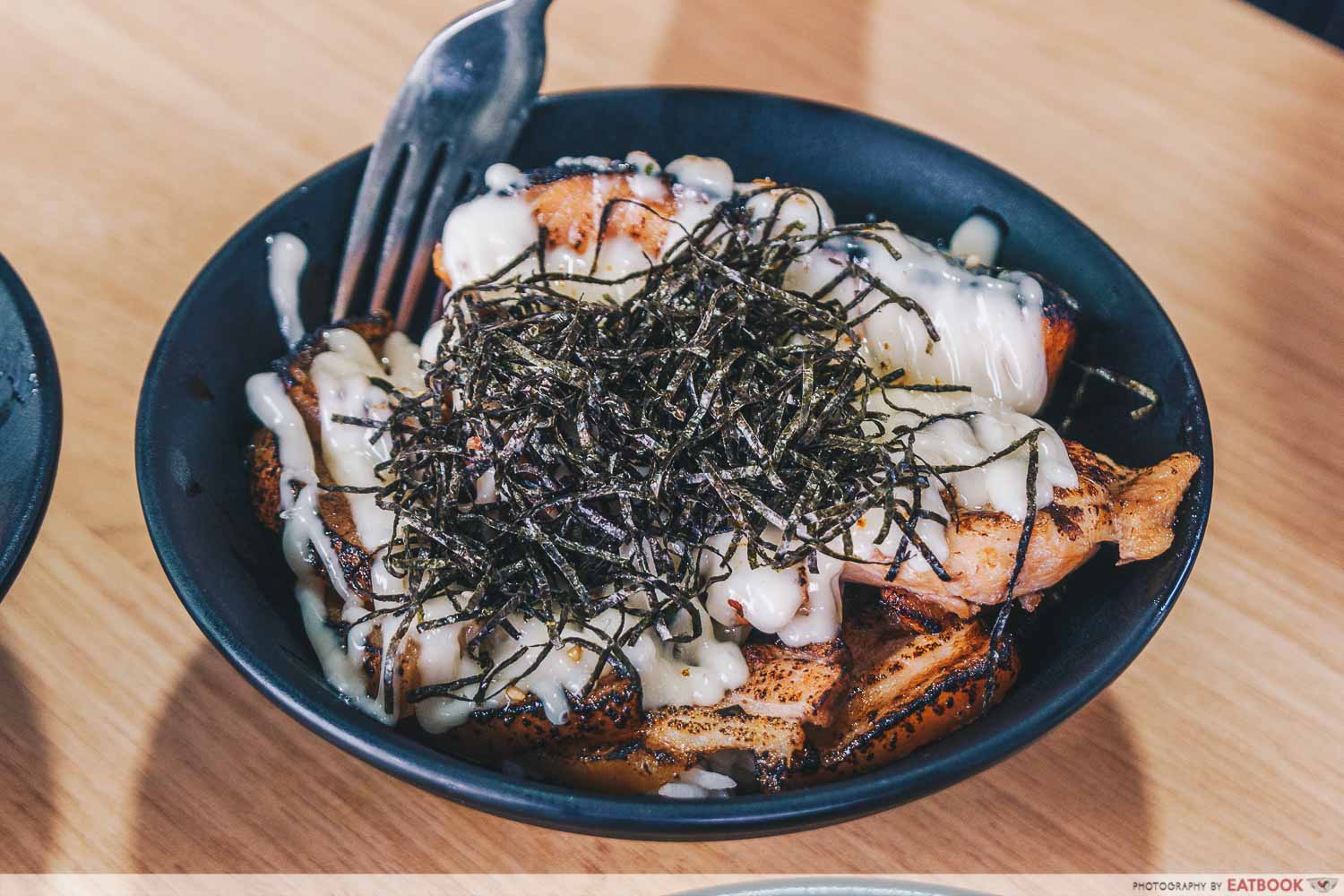 Hideki is home to a number of ingredients and since I couldn't quite decide on a single meat for my last dish, I went with one of their suggested combos, the Triple Threat ($14) bowl. This bowl features three different proteins—aburi salmon, aburi pork, and aburi chicken. I topped my dish with some Truffle Mayo which was rich, buttery, and distinctly earthy with the truffle oil.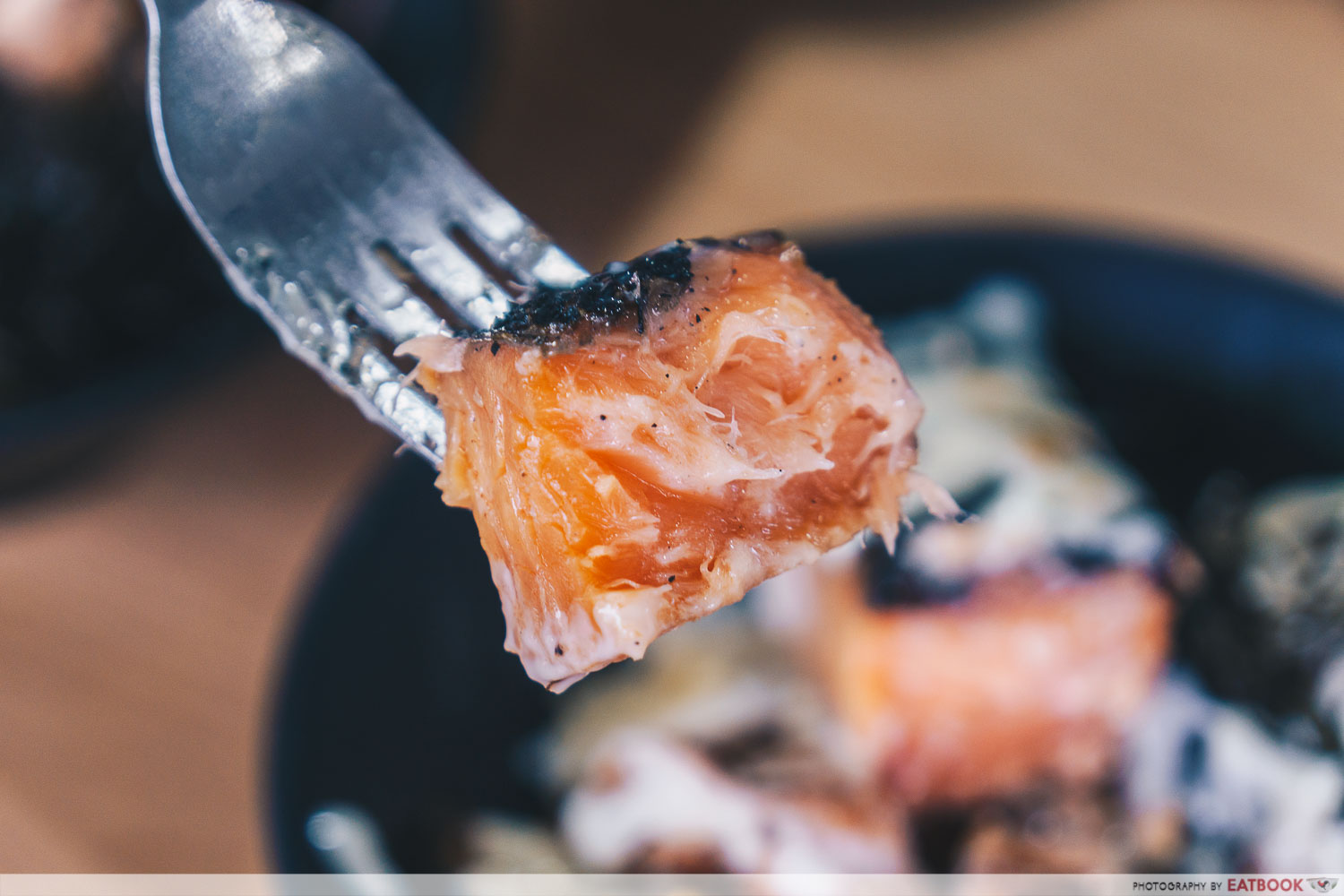 Since I had already given the chicken a try earlier, I went straight for the thick slab of salmon. The aburi salmon, having been flame-torched, had a pinkish exterior and largely orange centre. The Salmon itself goes at $6 when ordered individually and was my personal favourite. Its seared exterior was crisp, a contrast to its creamy, fatty centre.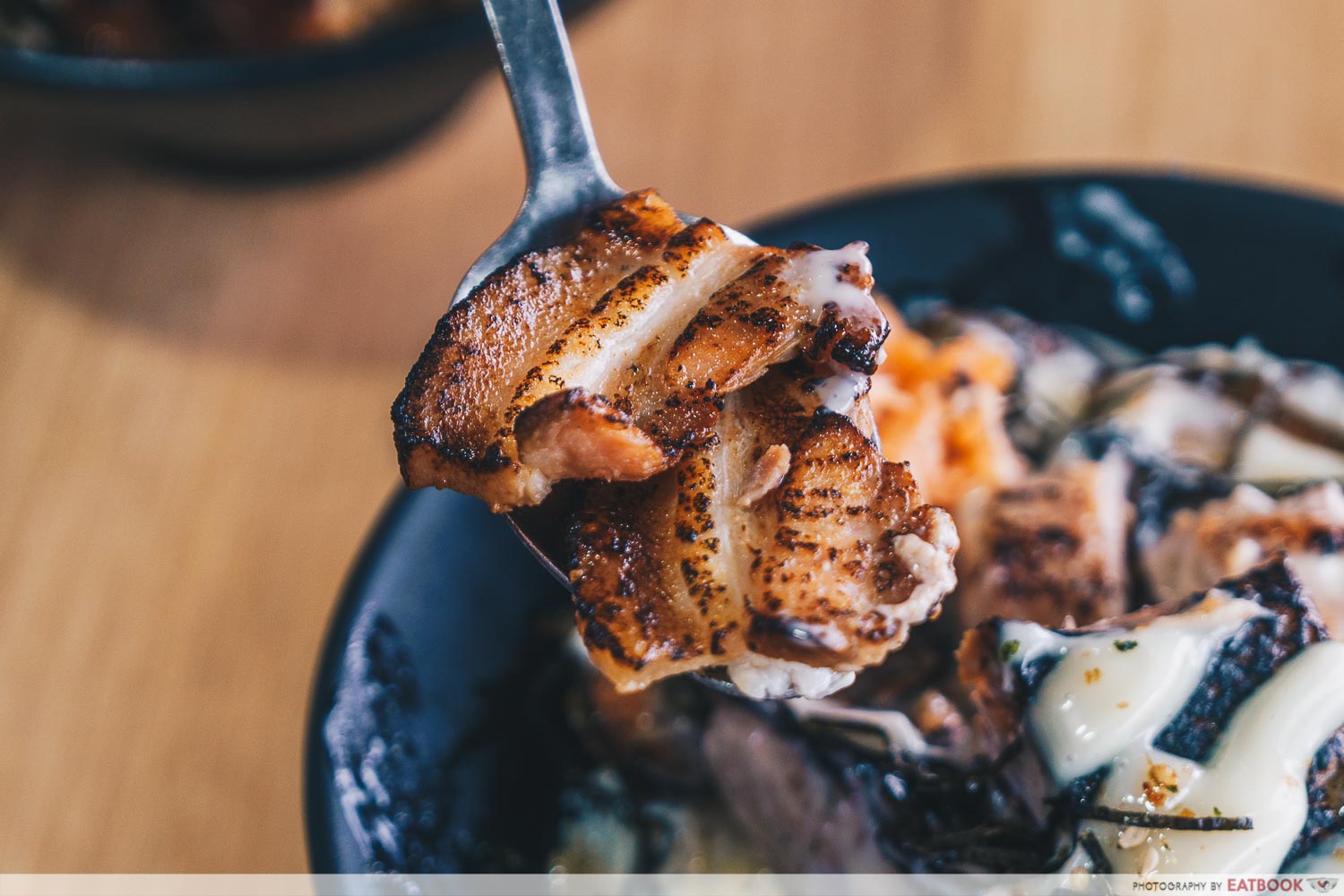 The aburi pork belly was noteworthy as well, tasty and juicy from being marinated in shoyu. Sadly, the meat was a tad stiff and tough. Its scorched exterior also gave sharp charred notes. For $14, this bowl was filled to the brim with a variety of enjoyable proteins, making it pretty worth its price.
Ambience at Hideki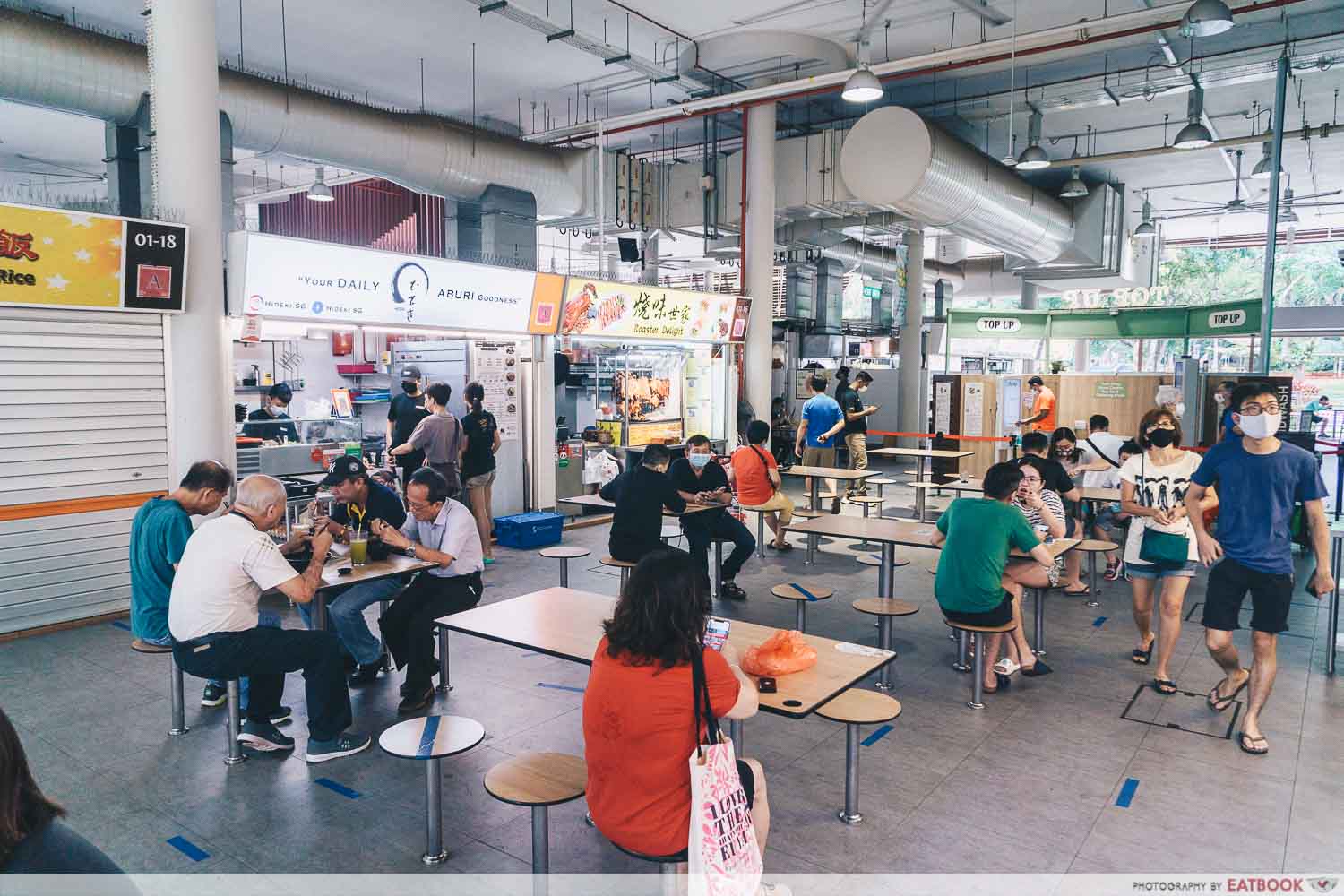 Hideki is located at Yishun Park Hawker Centre, which is a 10-minute bus ride from Yishun MRT Station. The hawker centre itself is spacious and well-ventilated, with plenty of seats available. It is also sheltered from the sweltering heat too.
The verdict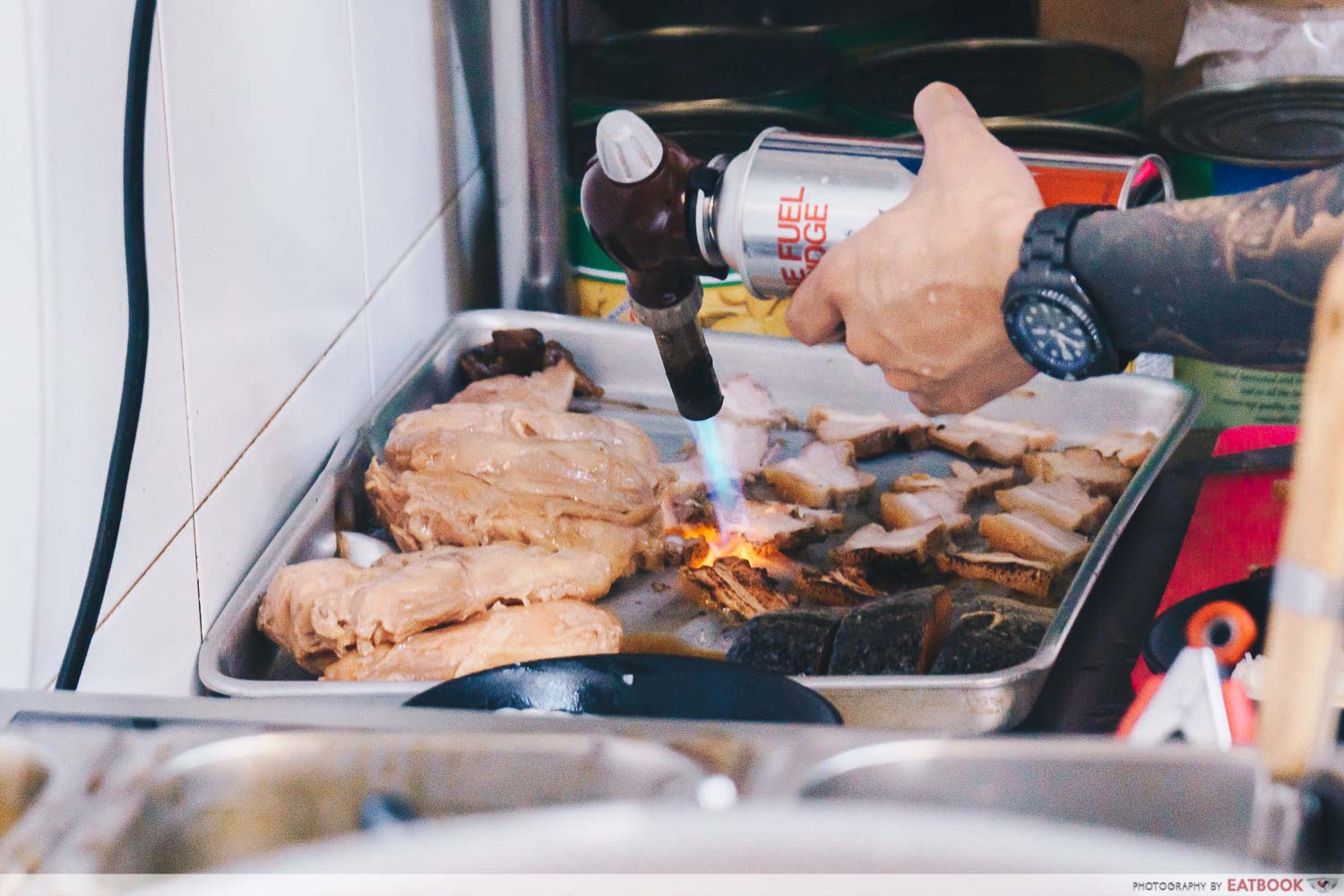 Hideki tries to break out of the no-frills cai png norm by giving their version a Japanese revamp—from the dishes to the carbs. There were a couple of minor misses such as the mushy soba, tough pork belly, and it was indeed a hassle to pick out so many large bones from the unagi. 
However, considering how they're a relatively young hawker stall, there's much room for improvement on their consistency. In fact, as a Northie, I can even see myself coming back in future for another serving of their aburi salmon.
For more dining options in nearby, check our Yishun food guide or for other Japanese hawkers, check out our Mentai-Ya review.
Address: 51 Yishun Avenue 11, #01-17, Yishun Park Hawker Centre, Singapore 768867
Opening hours: Daily 11:30am to 2:30pm, 5pm to 8pm
Tel: 9234 4659
Website
Hideki is not a halal-certified eatery.
Mentai-Ya Review: Mentaiko Don Stall In Bukit Panjang Sold 10,000 Bowls In Their First Week
Photos taken by Muhammad Hafiq.
This is an independent review by Eatbook.sg.
Hideki Review: Japanese Cai Png With Aburi Salmon, Unagi, Pork Belly And More From $4 At Yishun
Summary
Pros
– Well-marinated proteins
– Rich sauces
– Customisable dishes
Cons
– Slightly tough pork
– Mushy soba
Recommended dishes: Salmon ($6), Triple Threat ($14)
Opening hours: Daily 11:30am to 2:30pm, 5pm to 8pm
Address: 51 Yishun Avenue 11, #01-17, Yishun Park Hawker Centre, Singapore 768867