---
Unagi don that won't break the bank
---
There's something alluring about seeing a slab of grilled eel sitting on a bowl of white rice, in all its glistening glory. High in protein, vitamin A, and calcium, unagi has a melt-in-your-mouth texture and is usually grilled with a sweet sauce. Though the fish can get pretty pricey, indulging in a bowl of unagi don doesn't have to break the bank. Here's a list of 10 places you can get it at under $20++ for days you gotta #treatyoself.
---
1. Don Meijin
---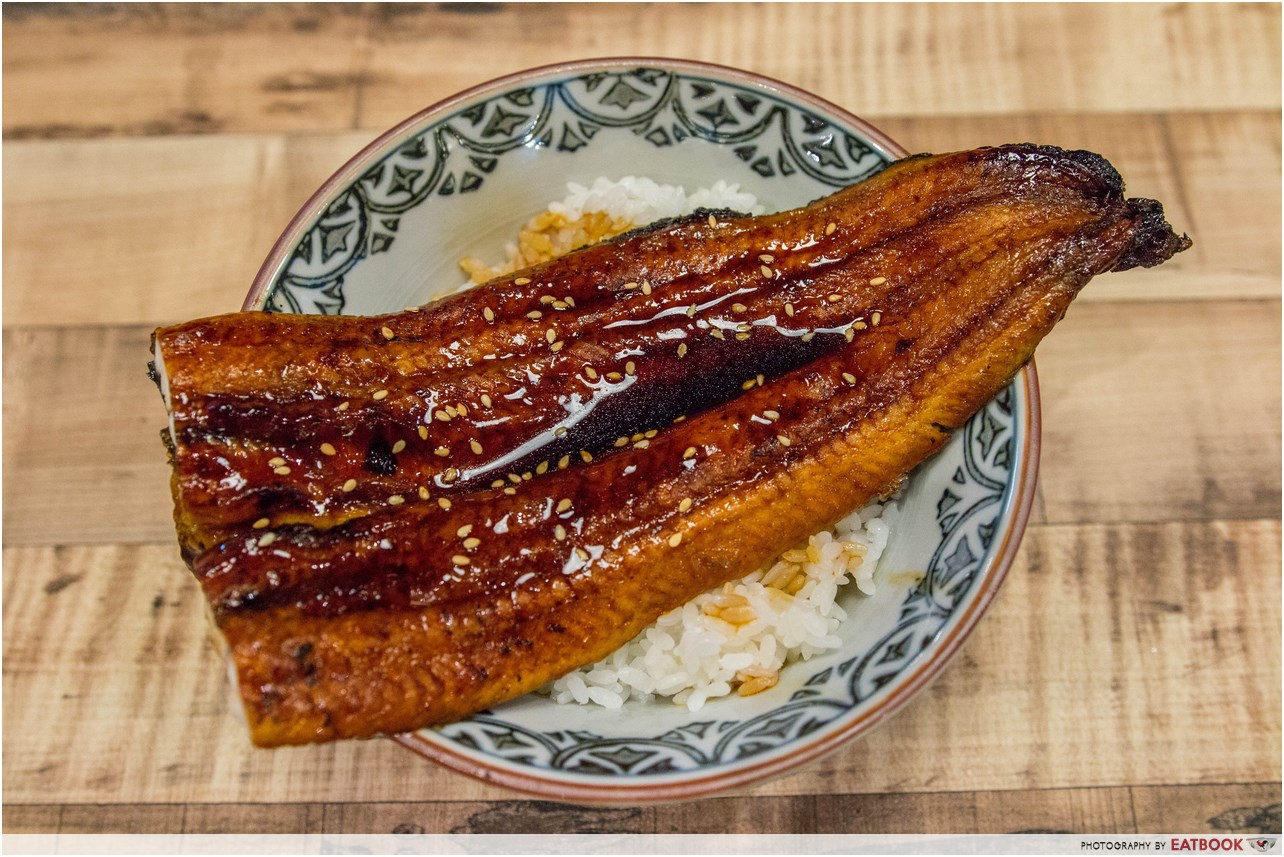 Located in Ramen Champion at Bugis+, Don Meijin is the first stall you'll see when you enter the restaurant. While they are known for their Spicy Chilli Crab Tendon ($14.80+), their Unagi Don ($18.80+) is one hell of a stunner too. Priced at $20.10 after taxes, the huge portion of tender grilled eel is worth every cent.
Check out our full review of Don Meijin!
Address: 201 Victoria Street, #04-10, Bugis+, Singapore 188067
Opening hours: Mon-Fri 11am to 10:30pm, Sat-Sun & PH 10:30am to 10:30pm
Tel: 6238 1011
Website
---
2. Kazan Japanese Cuisine
---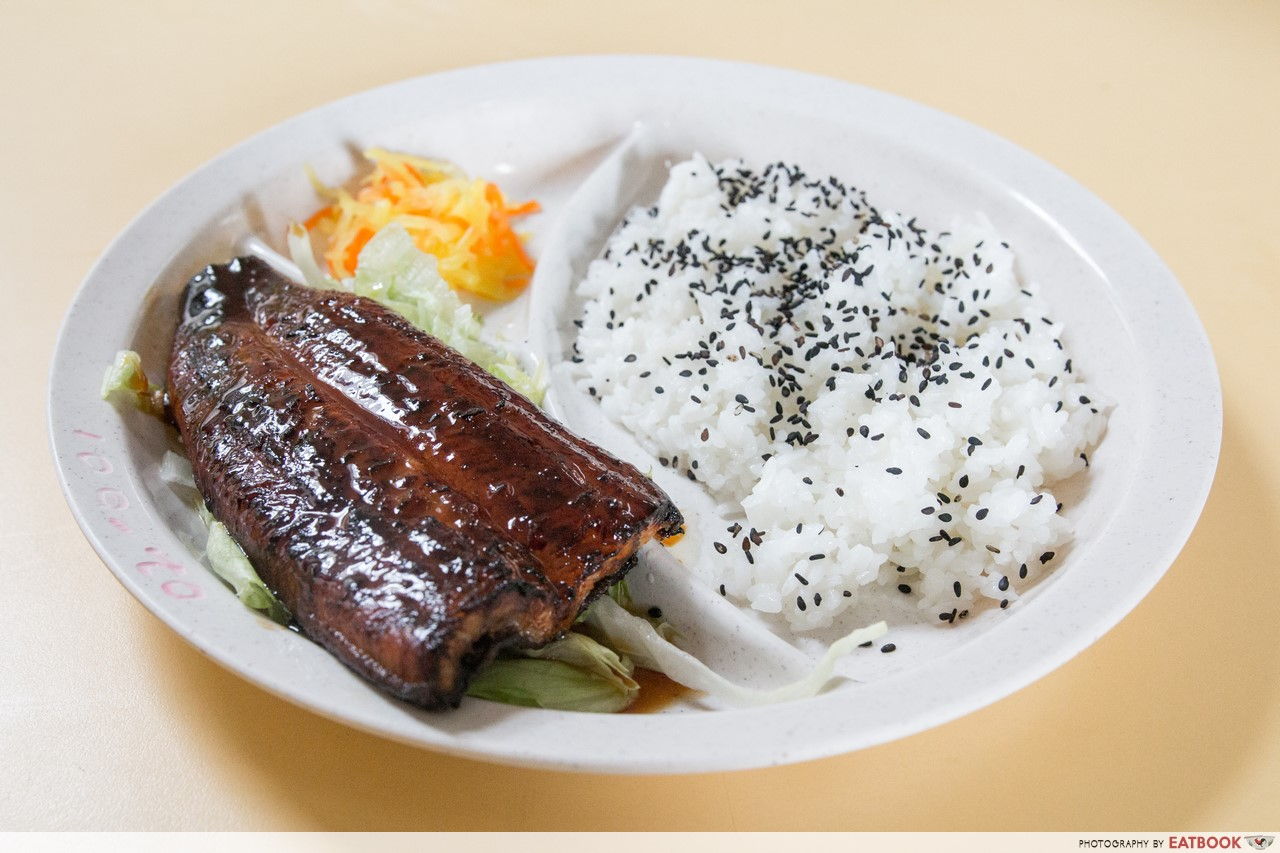 Kazan Japanese Cuisine is a hawker stall in Chinatown Complex Food Centre. Affordable and generous in portion, the food served here is great for a quick fix when the cravings hit! The slice of eel in their Unagi Don ($8) is glazed with a sticky sauce, complete with a skin that is grilled till crisp. It is then served on a bed of iceberg lettuce, with pickles and Japanese short-grain rice.
Check out our full review of Kazan Japanese Cuisine!
Address: 335 Smith Street, #02-001, Chinatown Complex Market & Food Centre, Singapore 081006
Opening hours: Mon-Fri 12pm to 8:30pm, Sun 12pm to 6:30pm
Tel: 8455 5229
---
3. Ryori by Sushiro
---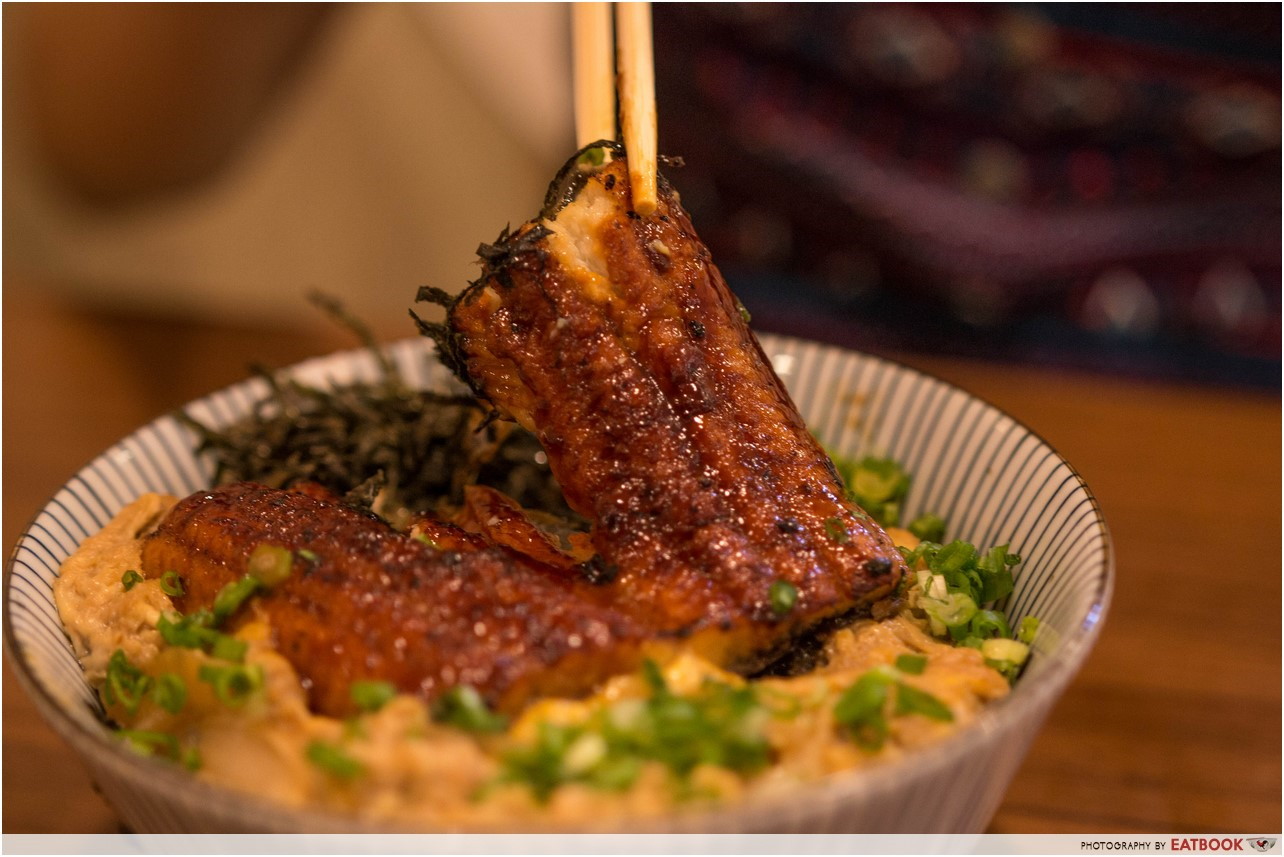 If just unagi and rice can't satisfy, give Ryori by Sushiro a try. Their Unatama Don ($15) includes a thick slice of grilled eel that sits on a layer of fluffy egg and a bed of Japanese rice, which is sweetened with lashings of dashi stock. For something more decadent, try their Salmon Mentaiyaki Don ($13) that comes with a huge piece of salmon topped with torched mentaiko sauce.
Check out our full review of Ryori by Sushiro!
Address: 301 Upper Thomson Road, #01-113F, Thomson Plaza, Singapore 574408
Opening hours: Tue-Sun 11:45am to 2:15pm, 5:45pm to 9:15pm
Tel: 9450 1020
---
4. Katanashi
---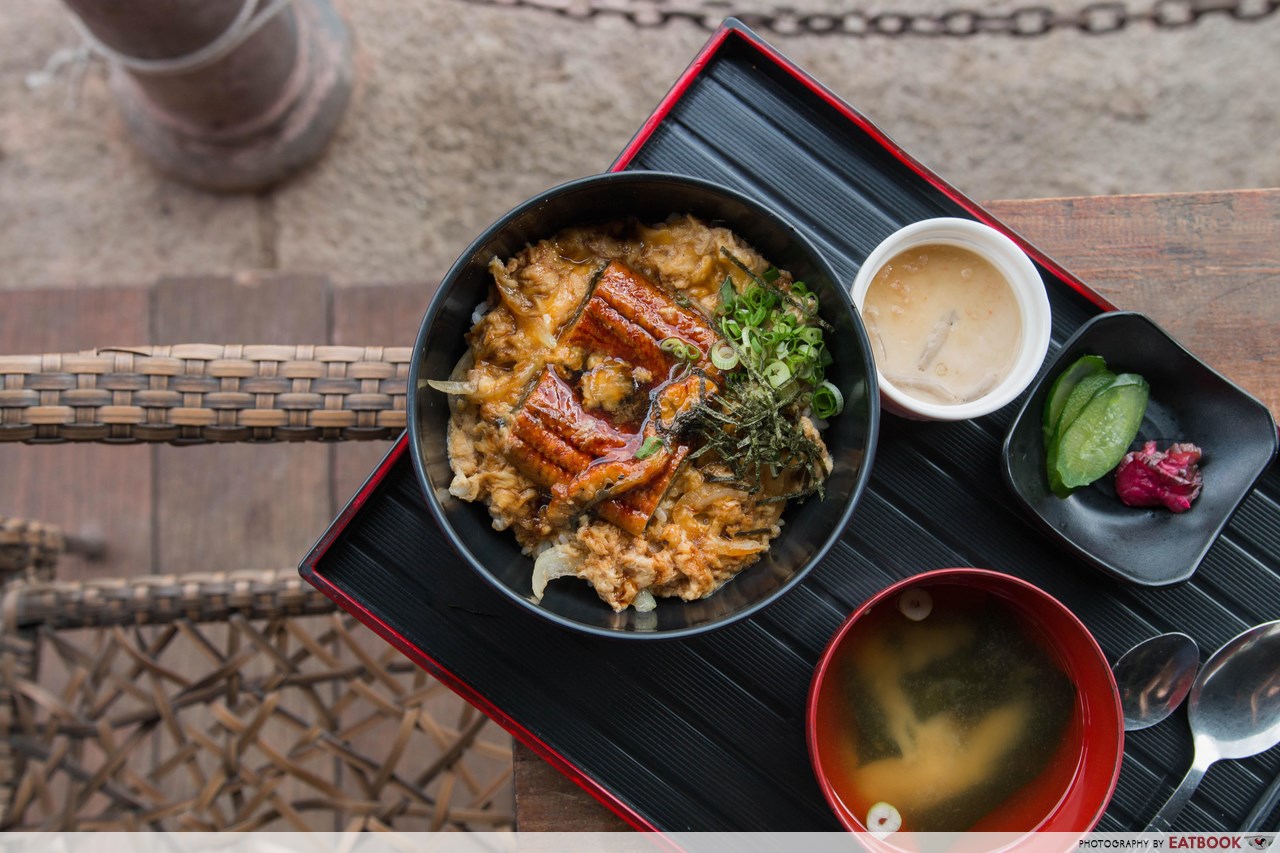 Another place selling affordable unatama don is Katanashi. Dig into a variety of Japanese rice bowls at $12 when you order their lunch sets during lunch hours! The grilled eel in their Unatama Don Lunch Set ($12) comes coated with a sweet, sticky glaze, and is served atop an omelette and a bed of rice.
Check out our full review of Katanashi!
Address: 77 Boat Quay, Singapore 049865
Opening hours: Mon-Fri 11:45am to 2pm, 5pm to 11pm, Sat 5pm to 10:30pm
Tel: 6533 0490
Website
---
5. Man Man Japanese Unagi Restaurant

---
Man Man's unagi don might cost slightly above $20 after taxes and service charge, but it's certainly one of the best in town, earning itself a spot on the 2017 Michelin's Bib Gourmand list. Be prepared to queue for a minimum of 45 minutes during peak hours here! Specialising in Nagoya-style grilled Japanese eel, Man Man uses live eels imported from Japan. Prices start at $18.60++ for an Unagi Donburi Set.
Check out our full review of Man Man Unagi Restaurant.
Address: 1 Keong Saik Road, #01-01, Singapore 089109
Opening hours: Mon-Sat 11:30am to 2:30pm, 6pm to 10pm
Tel: 6222 0678
---
6. Bonta Bonta
---
Situated in Japan Food Town at Wisma Atria, Bonta Bonta's Unagi Kabayaki Don will bowl you over with its sheer size. Their rendition of unagi don is served with Kinmemai rice, a premium grain that is higher in nutritional value. The grilled eel here is slathered with a sticky, sweet sauce before going on the grill, resulting in a skin that is crisp and slightly charred. It is available in two sizes and prices – $28++ for full size, $15++ for half size – but the half-sized portion is only available from 11:30am to 3pm.
Address: 435 Orchard Road, #04-39, Japan Food Town, Wisma Atria, Singapore 238877
Opening hours: Mon-Fri 11:30am to 3pm, 5pm to 11pm, Sat-Sun 11am to 3pm, 5pm to 11pm
Tel: 6694 6535
Website
---
7. Kinsa Sushi

---
At Kinsa Sushi, both Una Don ($15.80++) and Una with Omelette Don ($16.80++) are available. For a more substantial meal, go for the latter. That's a bowl of white rice, lightly cooked omelette, mushrooms, onions, and a mouthwatering slab of unagi topped liberally with white sesame seeds and spring onions. Kinsa Sushi also serves purple rice maki rolls for sushi lovers who prefer a healthier alternative to sushi.
Check out other places with interesting maki rolls!
Address: 4 Hillview Rise, #02-02, HillV2, Singapore 667979
Opening hours: Mon-Fri 11:30am to 3pm, 5:30pm to 10pm, Sat-Sun 11:30am to 11pm
Tel: 6710 7278
Website
---
8. Genki Sushi

---
Genki Sushi is known for their unique way of serving food. The ordering and serving process is a fun experience; orders are placed and tracked via iPads and little trains on conveyor belts deliver food right to your table! If you're looking for an affordable unagi don in a restaurant setting, then Genki Sushi is your best bet. Their River Eel Bowl, while smaller in portion than the average rice bowl, is a steal at $5.80++.
Address: 181 Orchard Road, #04-30, Orchard Central, Singapore 238896
Opening hours: Daily 11:30am to 10:00pm
Tel: 6238 0900
Website
Full list of outlets
---
9. Watami
---
Watami is a Japanese chain that has been around since 2008. The menu here is extensive, ranging from affordable lunch sets to seasonal premium items. Their Eel Rice in Tokyo Style comes in two sizes – $23.90++ for the large, and $14.90++ for the smaller version. Dial up the decadence by adding a Hot Spring Egg ($0.90++) to your unagi don.
Address: 9 Bishan Place, #01-33, Junction 8 Shopping Centre, Singapore 579837
Opening hours: Daily 11:30am to 10pm
Tel: 6258 3577
Website
Full list of outlets
---
10. Sushi Tei
---
Sushi Tei joins the Una Tama Don ($16.80++) gang with their generously portioned version. An egg mixture is tossed with onions and rapidly cooked over fire until slightly set, then placed onto a bed of fluffy rice. The dish is topped with a slice of grilled eel before it is served with spring onions. With 13 outlets around Singapore, you can easily satisfy your cravings for this here!
Address: 290 Orchard Road #05-04/05, Paragon, Singapore 238859
Opening hours: Daily 11:30am to 10pm
Tel: 6235 1771
Website
Full list of outlets
---
Have an eel-ectrifying meal!
---
It might seem like a simple dish of grilled eel and steamed white rice, but boy, a good bowl of unagi don certainly takes skill and finesse to whip up. Are there any other places with affordable grilled eel rice bowls that we missed out? Let us know in the comments below!