Man Man does justice to unagi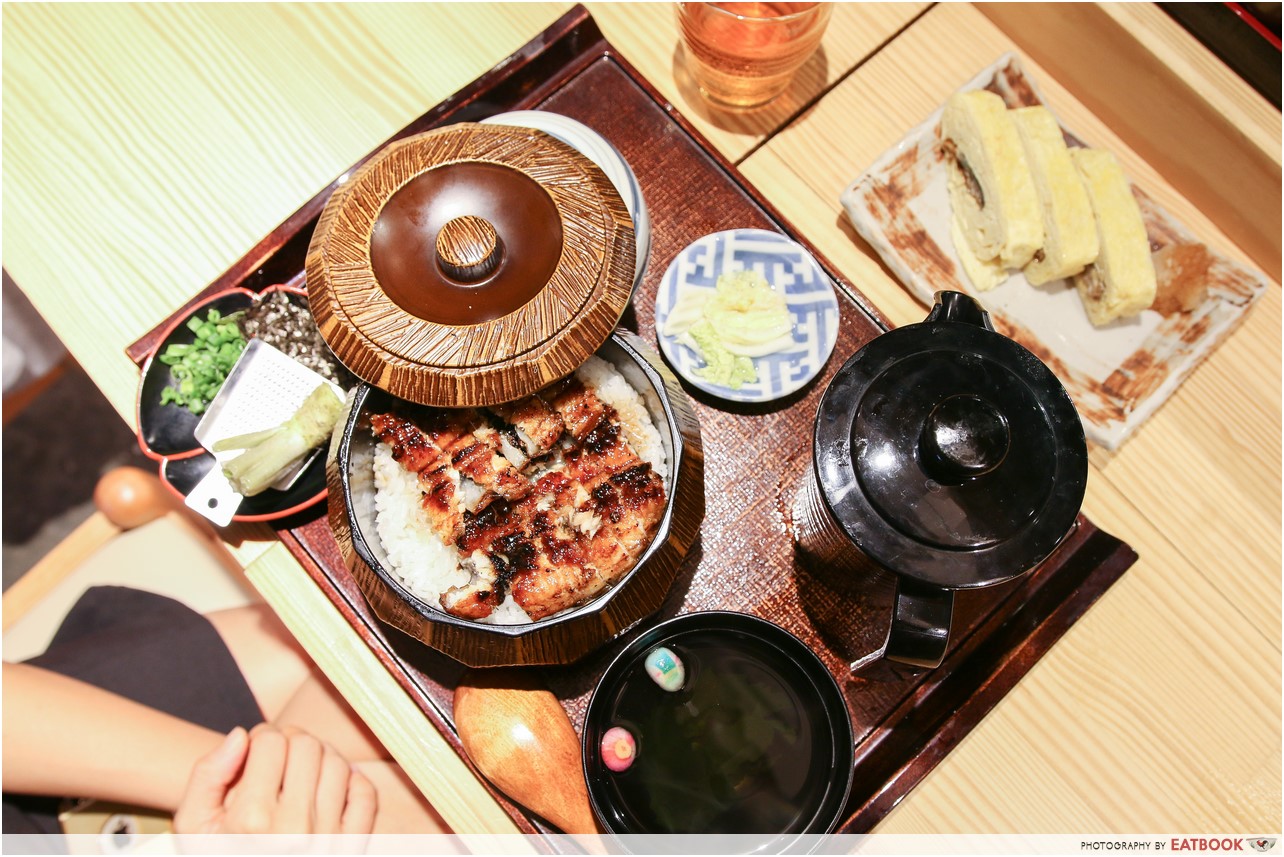 I love unagi. There's something about sweet, luxurious Japanese freshwater eel that's been charcoal-grilled till crispy-edged and slicked with a smoky-sweet tare (thick and sweet Japanese soy sauce) that always keeps me craving for more.
However, there's a flipside to having an insatiable taste for this fish – it can be difficult to find unagi that's both high-quality and affordable here in Singapore. There's nothing more disappointing than unagi that isn't fresh; it's limp, fishy and leaves an unpalatable aftertaste. Slaying your cravings for this delicacy can be a stretch if you aren't willing to splurge.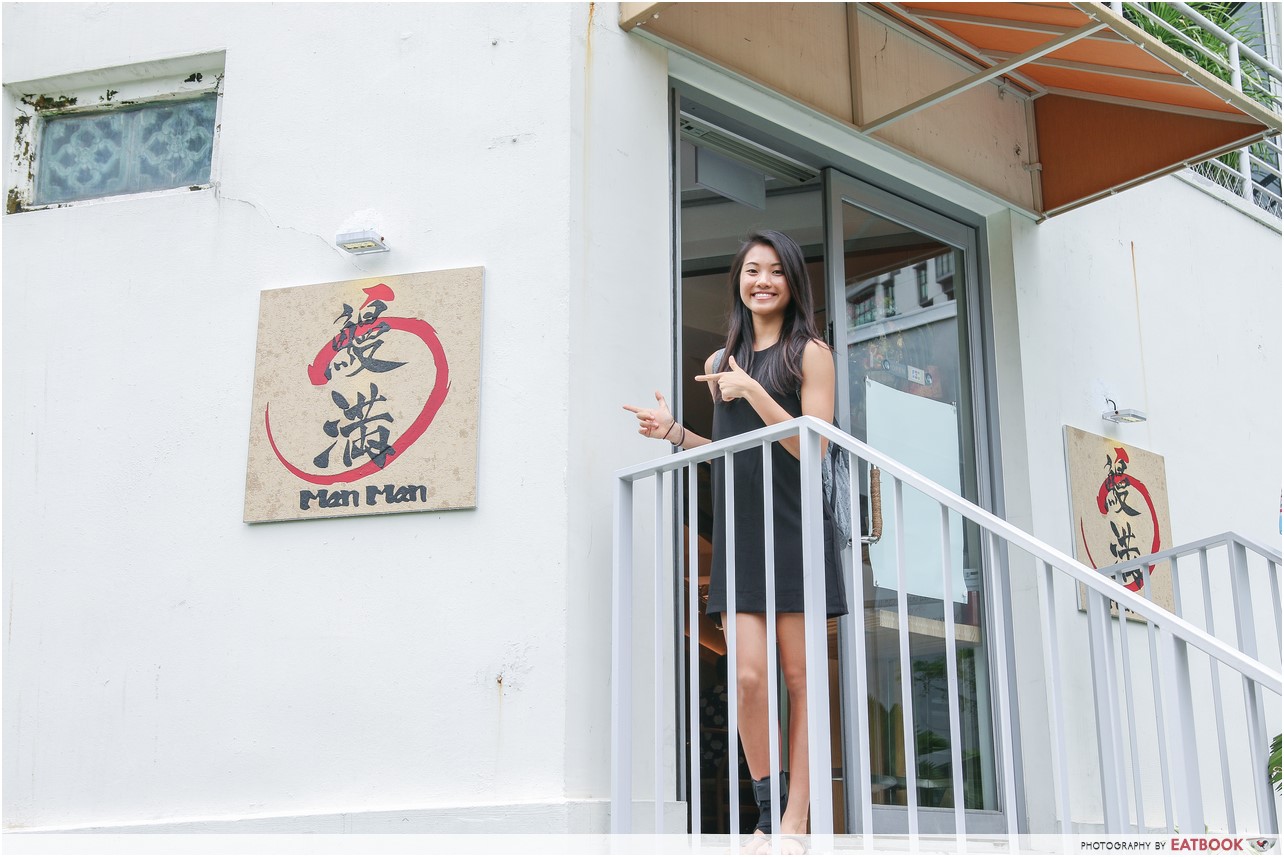 The TEPPEI Group's latest concept, Man Man, could be a game changer in the unagi scene. This unagi speciality restaurant imports eels LIVE from Japan – you can see them in tanks in the restaurant – and is cooked on demand. It doesn't get any fresher than this unless you fly to Japan.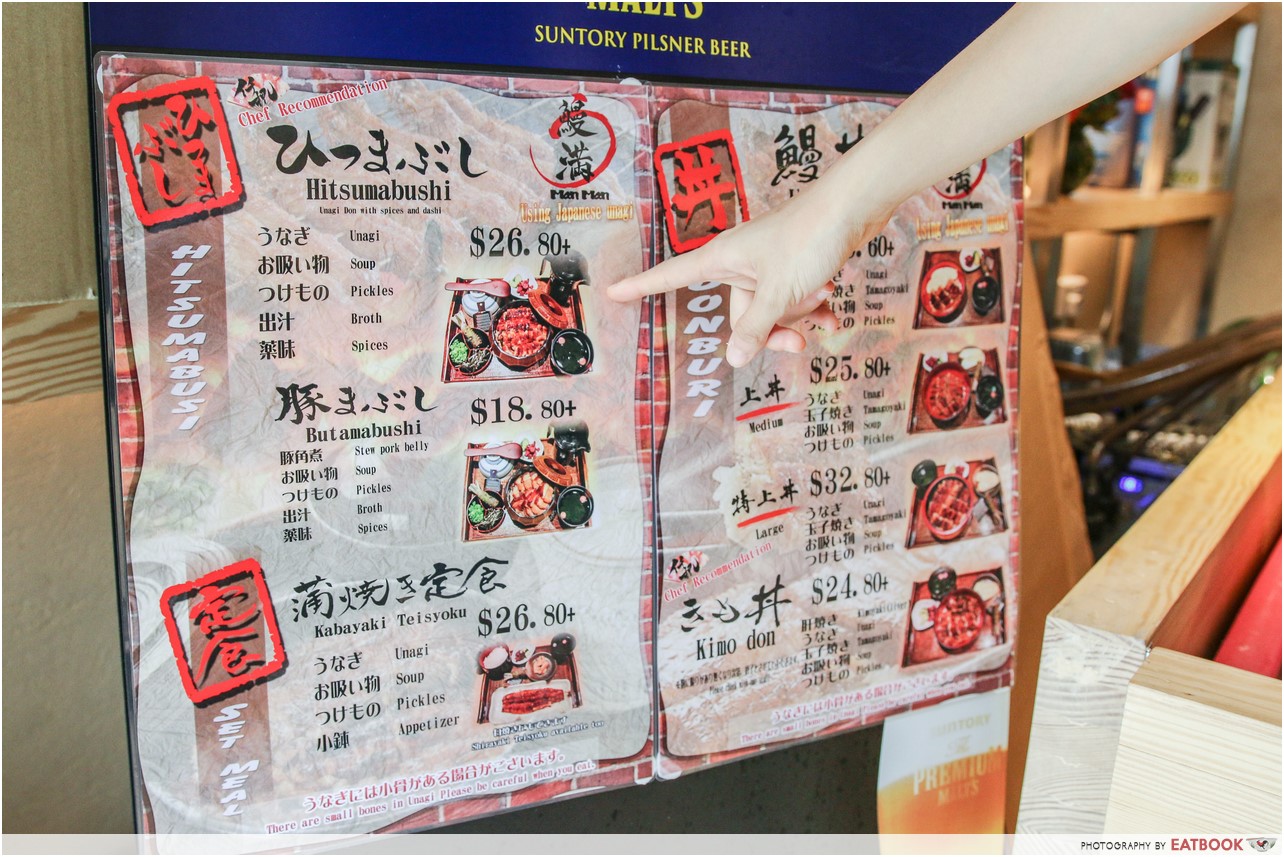 Prices for mains starts from $18.80+, and you can order Hitsumabushi here, a special Nagoya-style unadon that allows you to enjoy your unagi in different ways!
Umaki at Man Man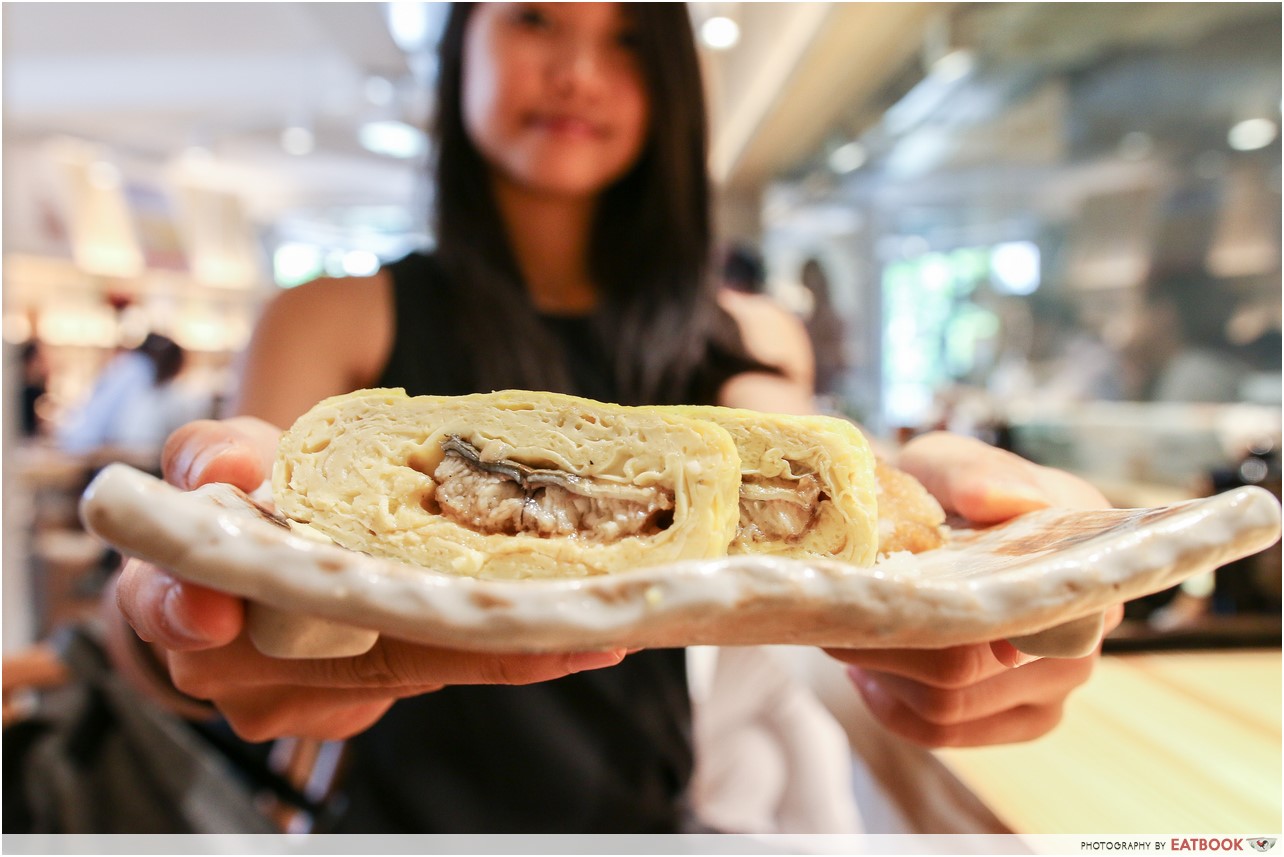 The moment I saw Umaki ($12.80+) on the menu, I knew right off the bat I had to order it. This Japanese-style omelette comprises of a piece of unagi rolled up within layers of fluffy tamagoyaki (pan-fried rolled egg) and served in plump slabs.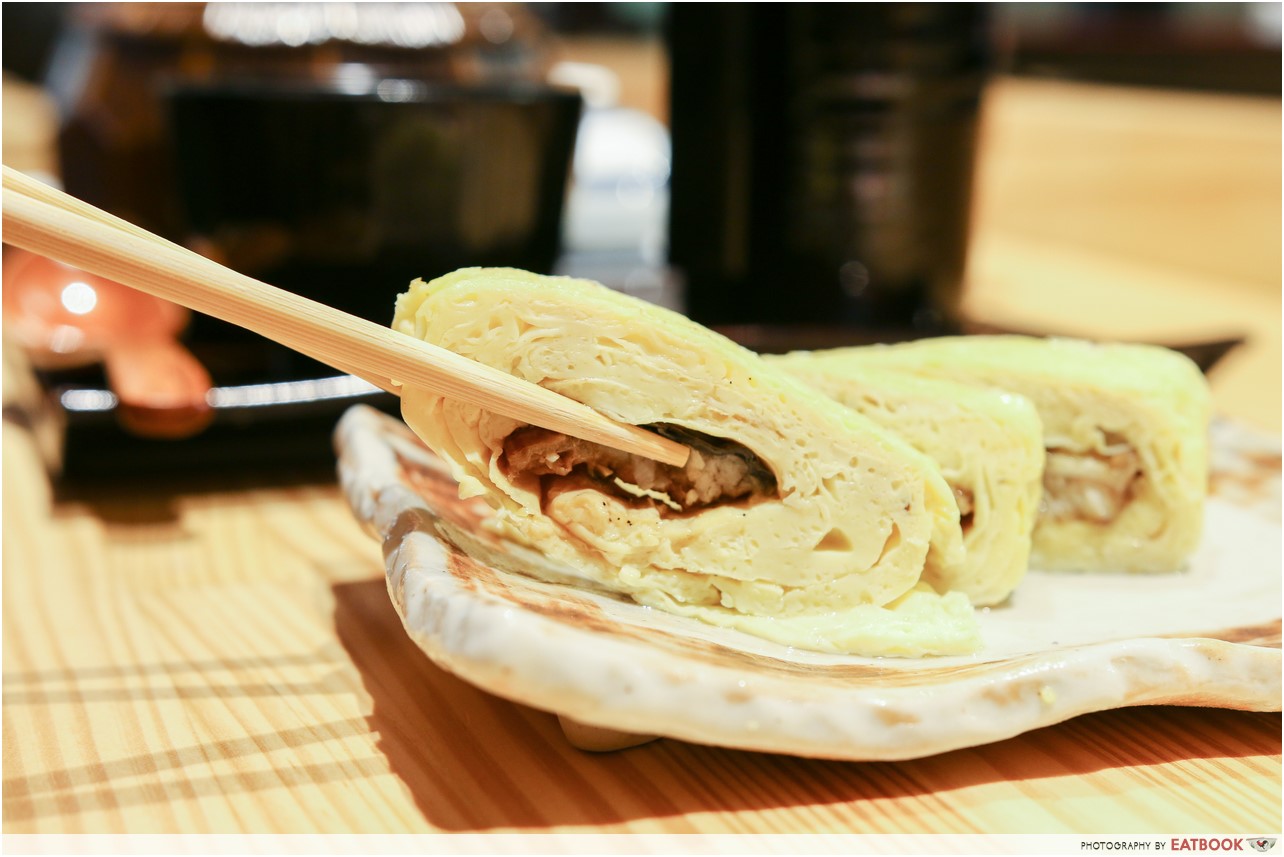 This side dish did not disappoint. Unlike the sweet tamagoyaki that you'll find at sushi restaurants or in chirashidon, the egg in umaki was savoury, with the grilled eel adding a natural sweetness to the roll. Tender unagi and pillowy tamagoyaki will always be a winning combination.
The taste of the grilled eel was slightly overpowered by the egg; this dish would have packed more punch if there was a more generous serving of unagi.
Hitsumabushi at Man Man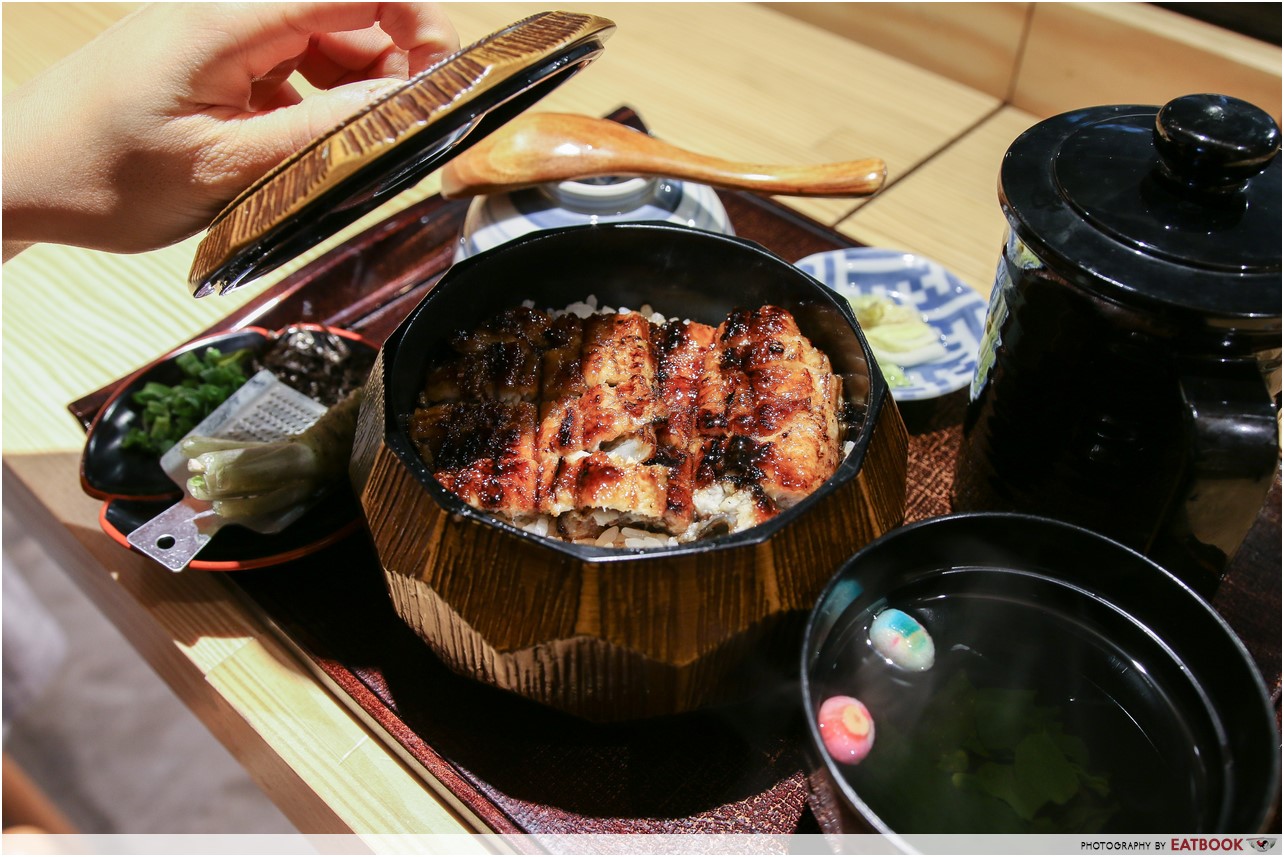 Hitsumabushi ($26.80+) is one of Nagoya's specialities. Nagoya-style unagi is prepared in a different fashion: the eel is sliced along the belly and grilled whole over charcoal fire, without steaming. This results in a richer mouthfeel and taste, as it ensures that the natural oils in the eel are not lost during the steaming stage.  
Hitsumabushi allows the diner to enjoy the eel in different ways, presenting a refreshing style of eating unagi as opposed to your regular eel-on-rice donburi.
In Man Man's Hitsumabushi, fresh-grilled unagi is served chopped, on a bed of steamed Japanese short grain rice. This is accompanied by a side dish of chopped spring onions and seaweed, a kettle of house-brewed dashi stock, wasabi root and an empty porcelain bowl.
Here are four steps that detail how to eat Hitsumabushi, Nagoya-style!
Step one: on its own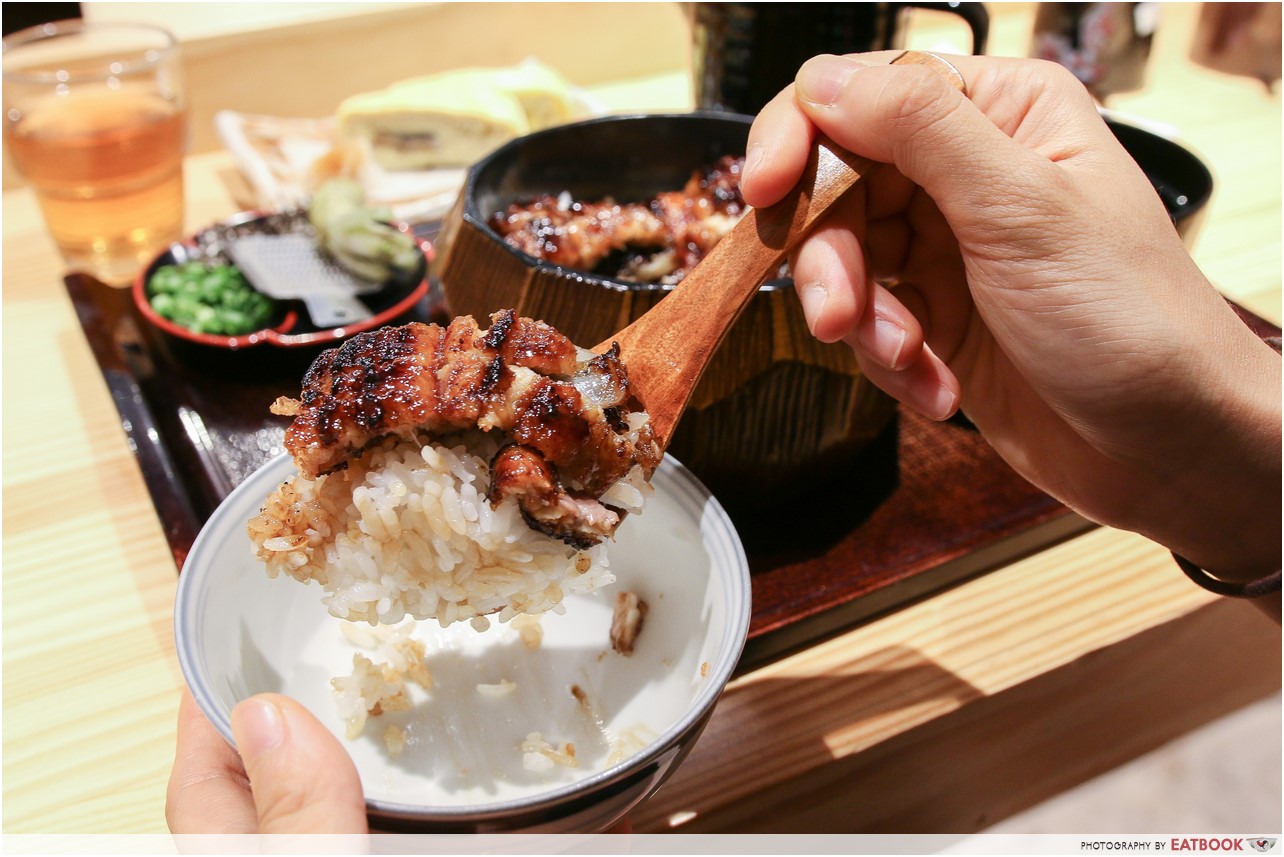 First, divide your portion of unagi into four sections.  Next, scoop out one portion into the smaller bowl, and savour the charcoal-crisped unagi on its own.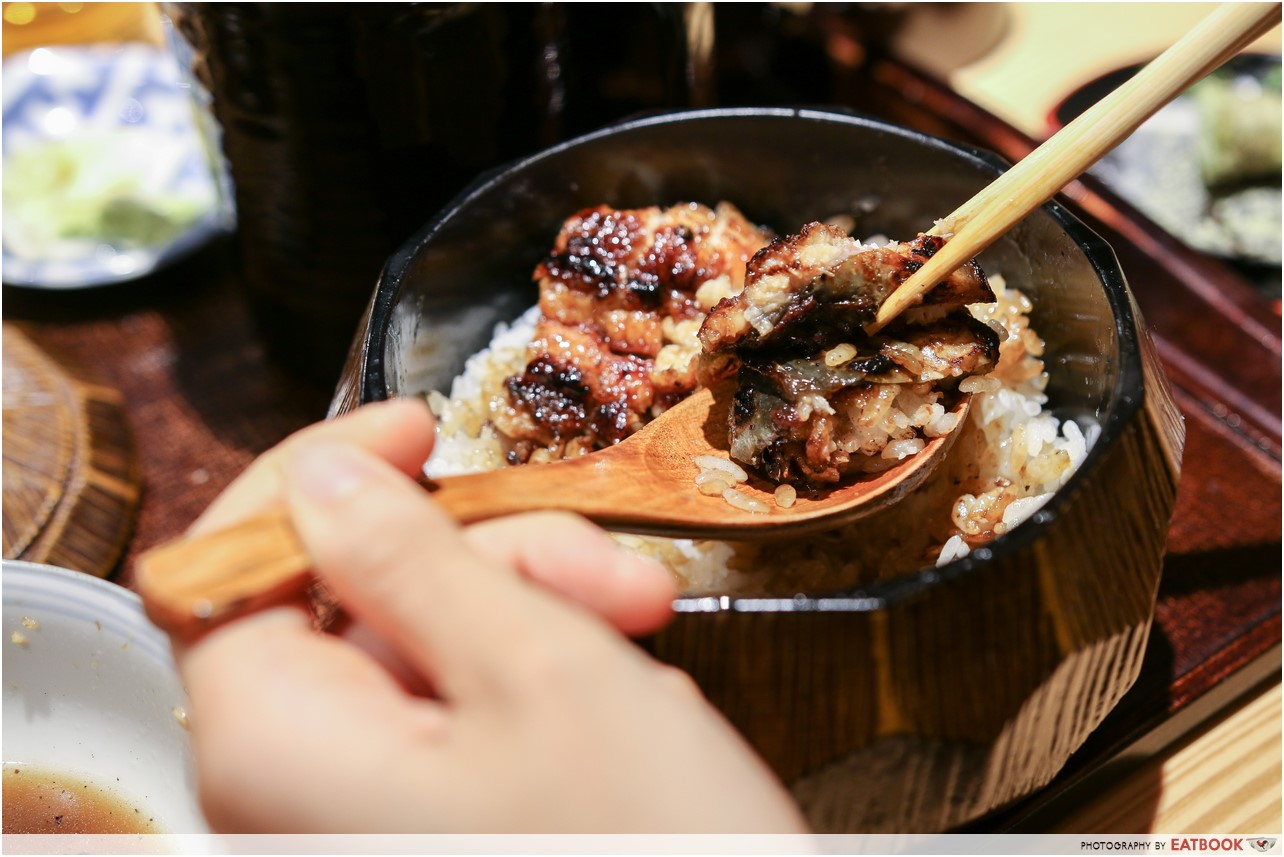 I was blown away at first bite. The moment the glazed unagi hit my mouth, it practically melted with a heavenly richness that's accompanied by a deep smoky char from the charcoal grilling. The tare was on point, striking just the right balance of sweetness and saltiness to boost the umami in the sweet eel without drowning out its natural flavour.
Combined with the natural oils of the unagi that coated the fluffy rice in a decadent medley of addictive flavours, I couldn't help but polish off every grain. For those who are especially fussy about attaining a perfect eel-sauce-rice ratio, Man Man provides a bottle of their signature tare on every table.
Step two: with garnishes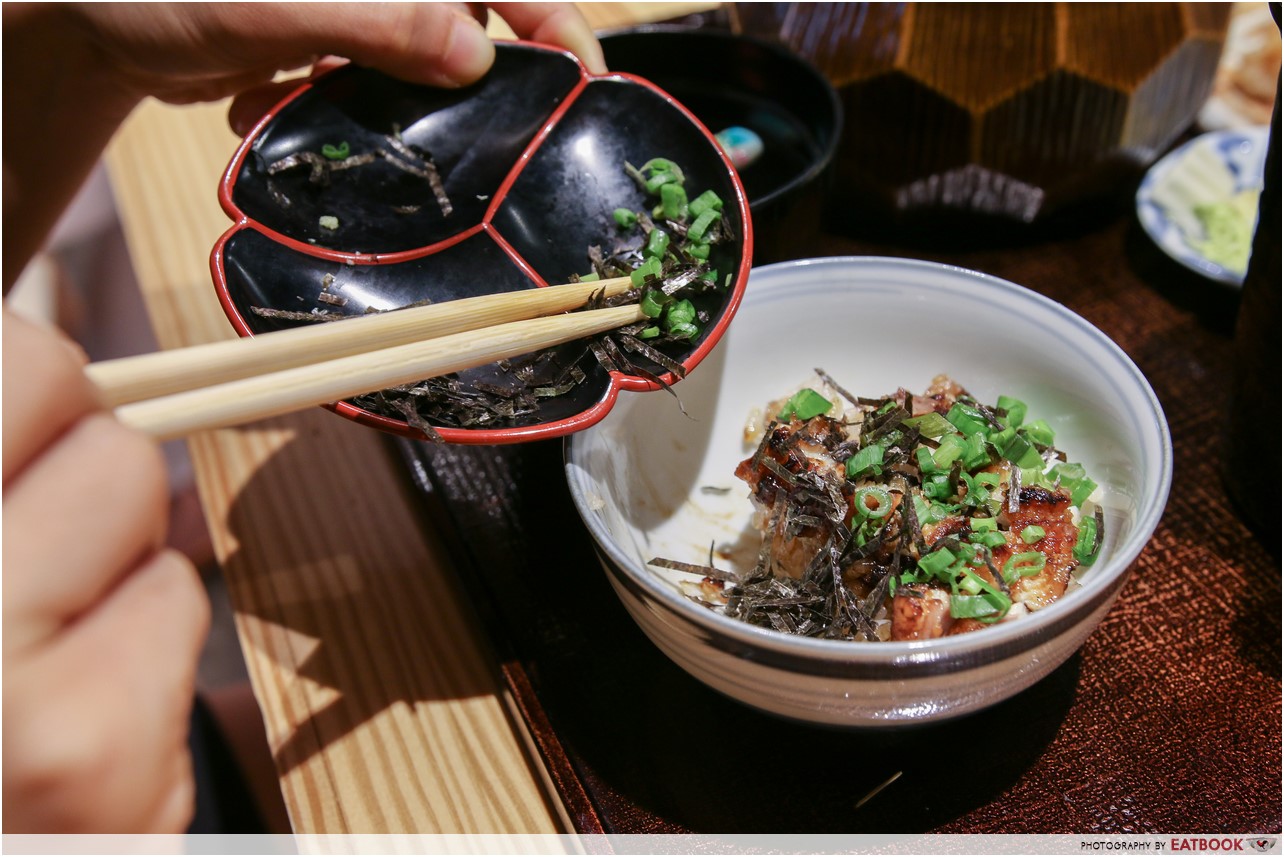 Scoop out the second portion into the bowl, toss in the side dish of garnishes, top off with some freshly grated wasabi and give it a good mix with the spoon.
I was surprised by how the simple accompaniments of chopped spring onions, nori (seaweed) and wasabi altered the dish's profile so distinctly. The crisp spring onions and sharp wasabi added the perfect amount of crunch and heat, giving a refreshing quality to the unagi and rice.  
Step three: with dashi broth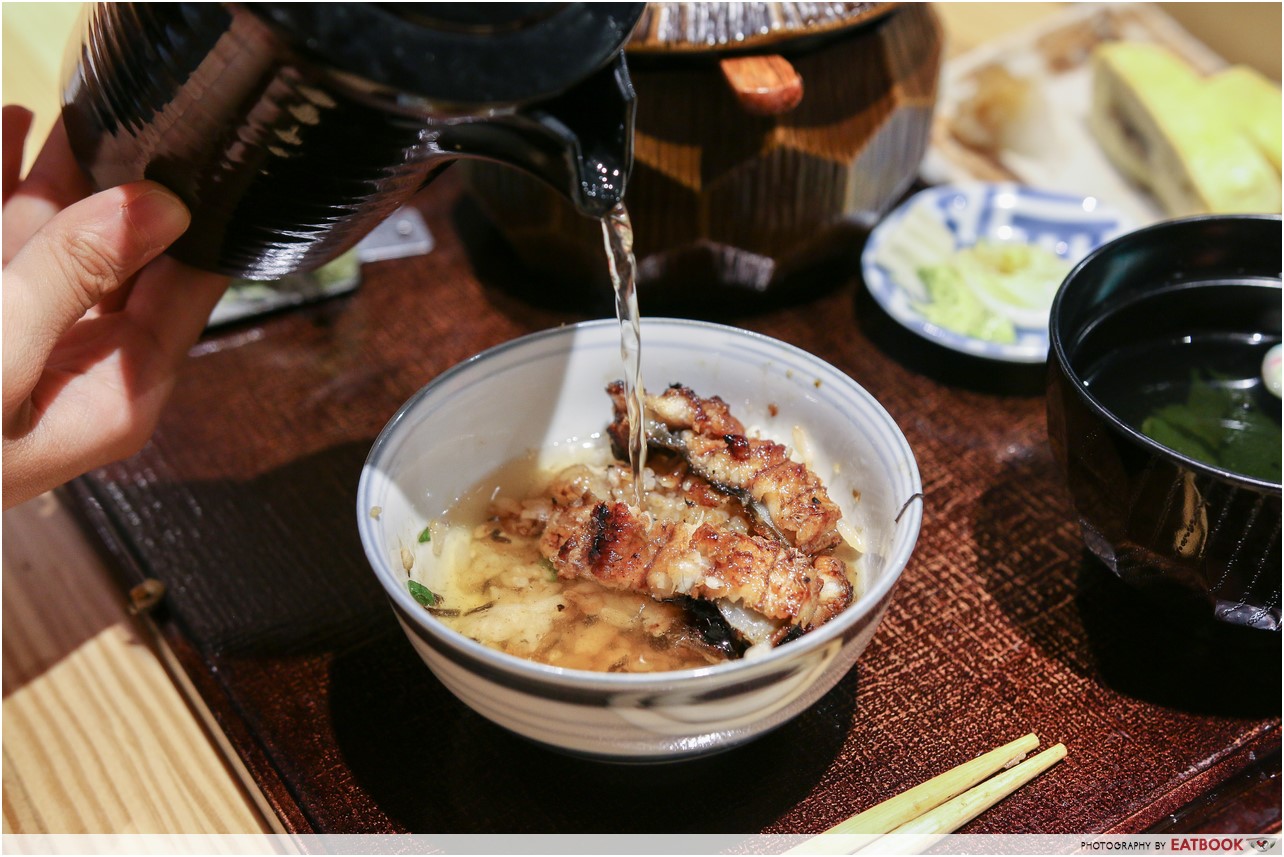 Scoop the third portion into the bowl, and pour dashi broth from the kettle all over the rice till it's just covered. Let the rice soak for a minute. The texture of the grains will change and you'll be left with a delicious chazuke (rice soaked in broth) of soft, plump rice grains and tare-seasoned dashi broth, with slightly crispy pieces of unagi floating around in it.  
This was worlds apart from just eating eel with rice. The crystal dashi broth was so light, yet incredibly flavourful after combining with the oils in the unagi and the tare to make an umami-packed soup. I took a sip of the dashi on its own, and was surprised by how bright it tasted. Cleaning up a whole serving of rice with the dashi and tare alone would be no problem at all.
The chazuke has a slight porridge-like feel, making for an excellent comfort dish. This style of eating unagi really cuts through the heavy richness of the eel, lightening it up while transforming the classic pairing of rice and eel.  
Step four: enjoy it as you wish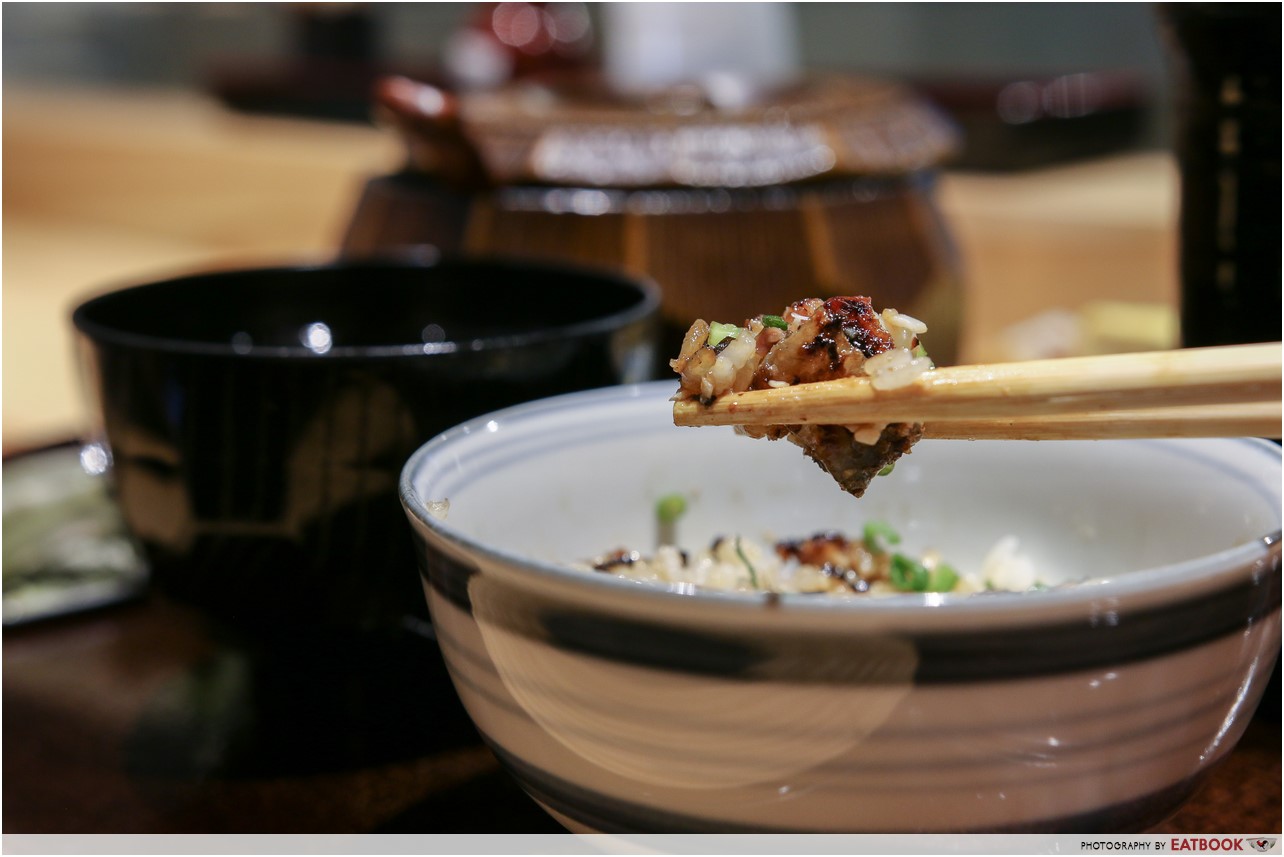 For the final portion, you get free reign in deciding how you want to polish off your last serving!
Ambience at Man Man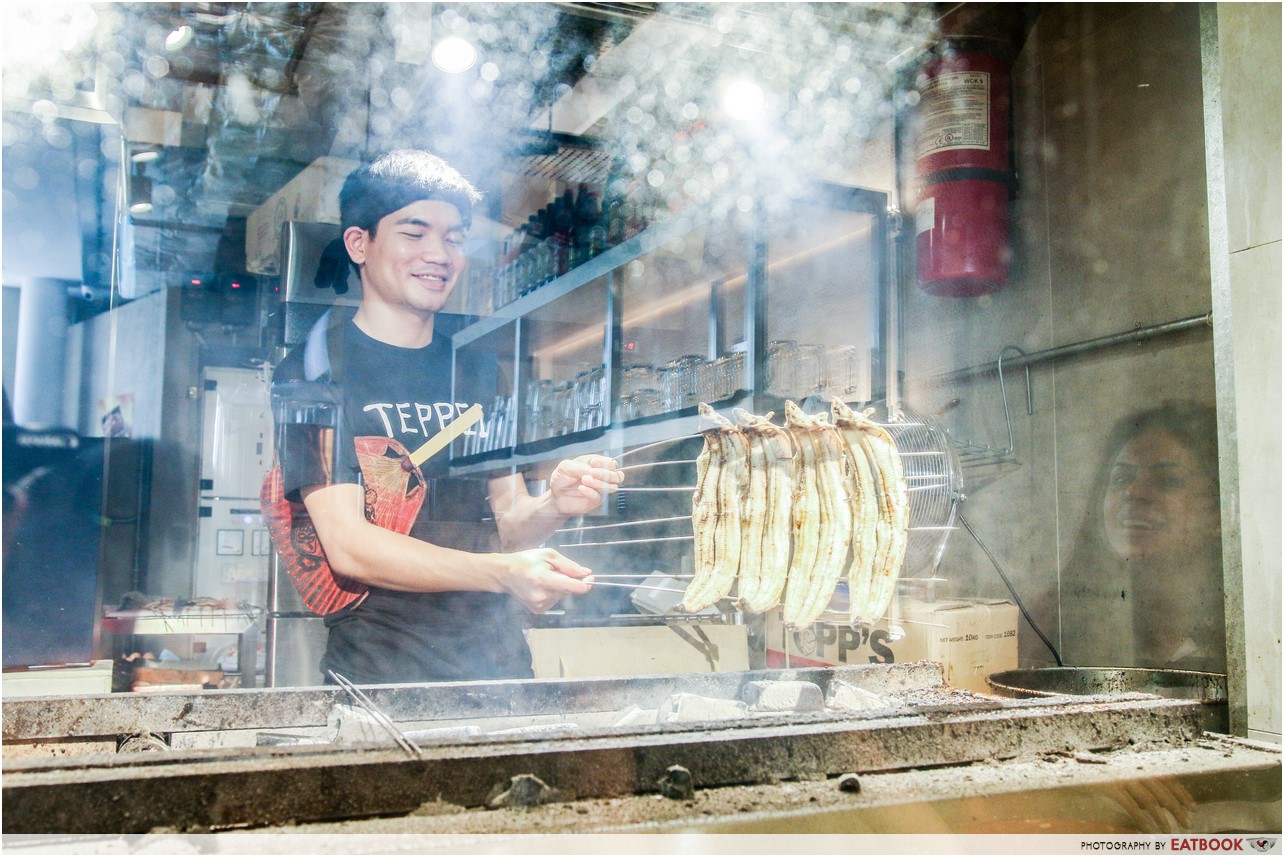 The cool thing about dining in at Man Man is you get to watch a chef grill the eel behind glass. Feel free to say hi if you got a seat at the counter!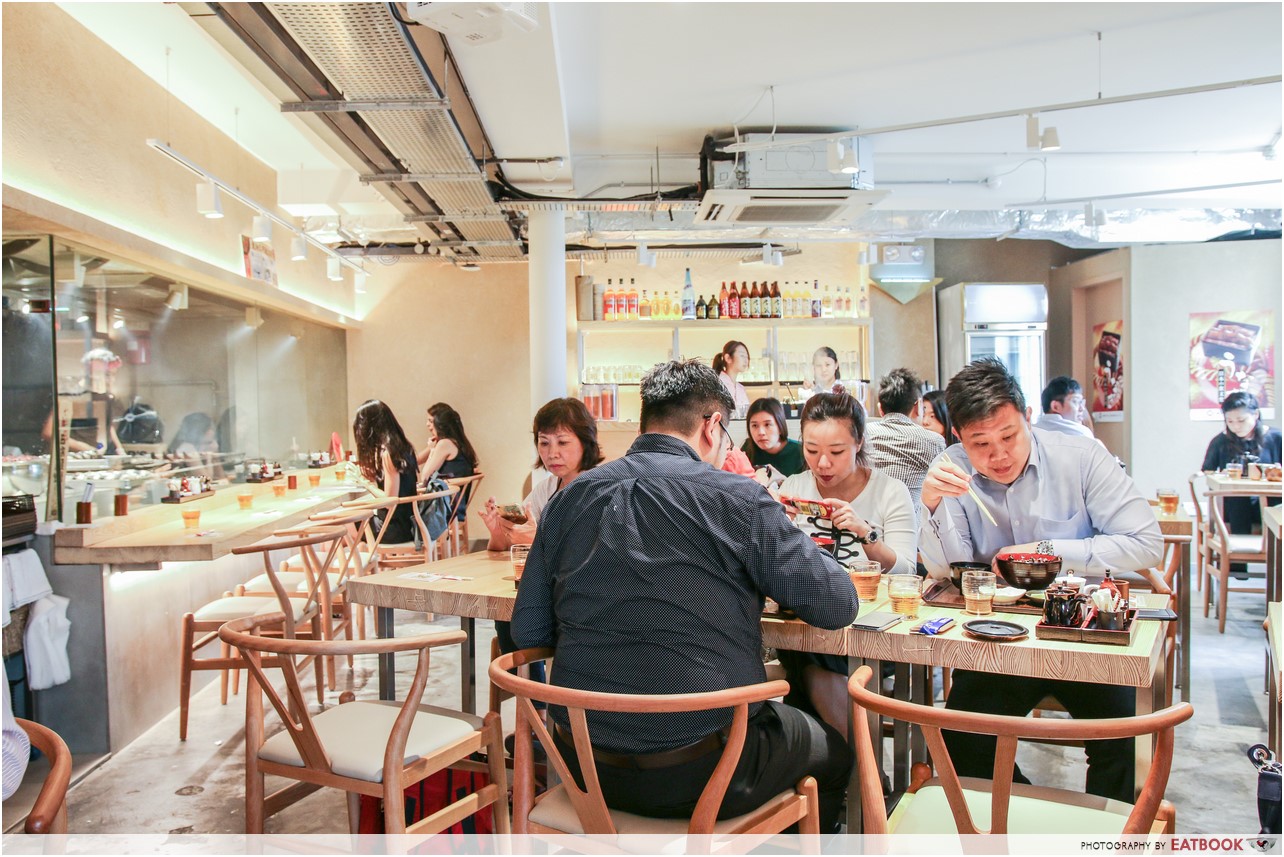 Located at Keong Saik, this is a convenient spot for CBD-kias to meet friends after work. Be warned though, it's not a huge space, so expect queues if you come during peak hours.
The verdict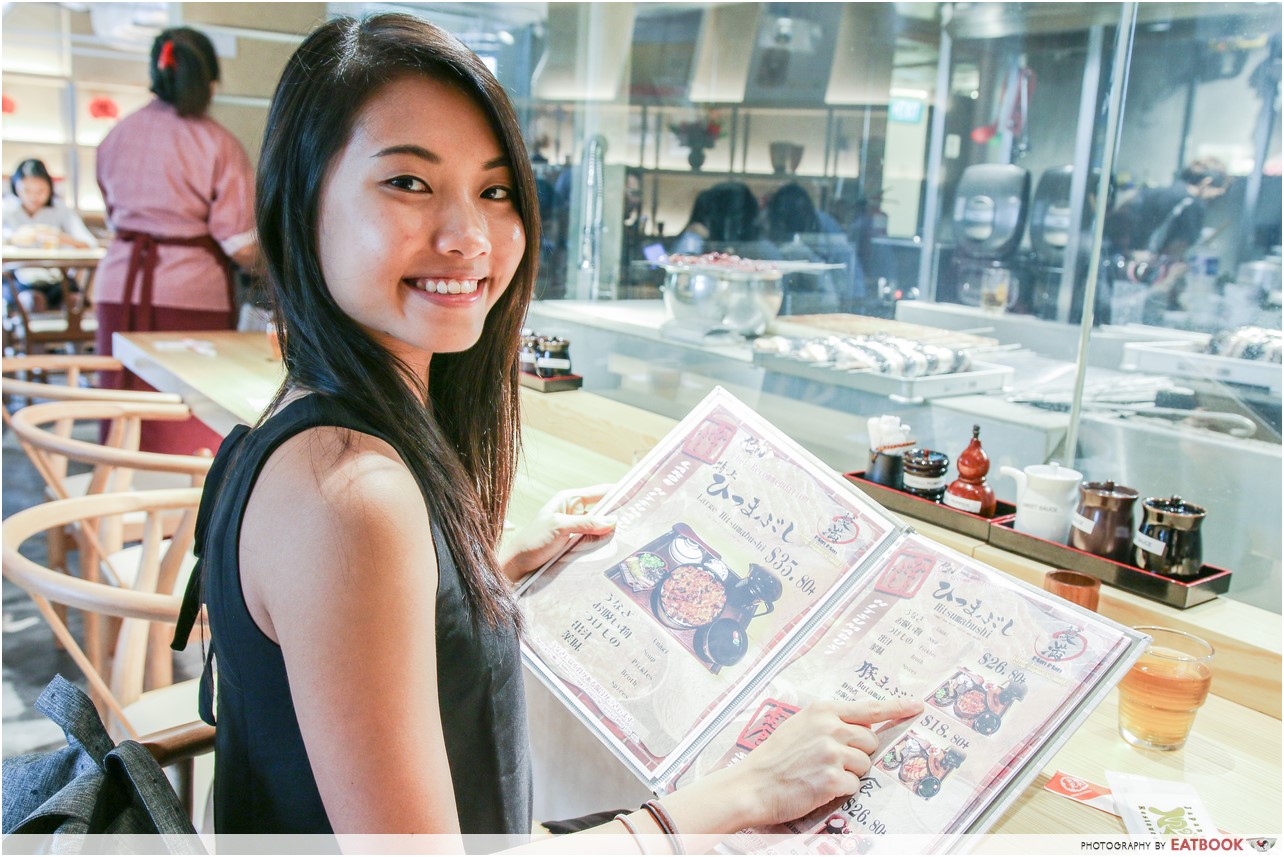 Unagi at Man Man is indisputably fresh and prepared with impressive finesse. While it might not be as cheap as some $10 to $15 unadons at chain restaurants, you'll be getting your money's worth in terms of quality, detail and taste.
I've never had hitsumabushi before and I enjoyed the unique experience immensely. By taking the time to prepare each portion of grilled eel with rice, I was able to savour and appreciate each precious bite of unagi. Being able to enjoy all these different styles in one dish also opened my eyes to the versatility of unagi.
This is an independent review by Eatbook.sg.
Summary
Pros
– Fresh unagi
– Convenient location
Cons
– May have to queue
Recommended Dishes: Hitsumabushi ($26.80+)
Operating Hours:
Monday – Saturday 11:30am to 3pm, 6pm to 10:30pm
Tel:
6222 0678
Address: 1 Keong Saik Road, #01-01, 089109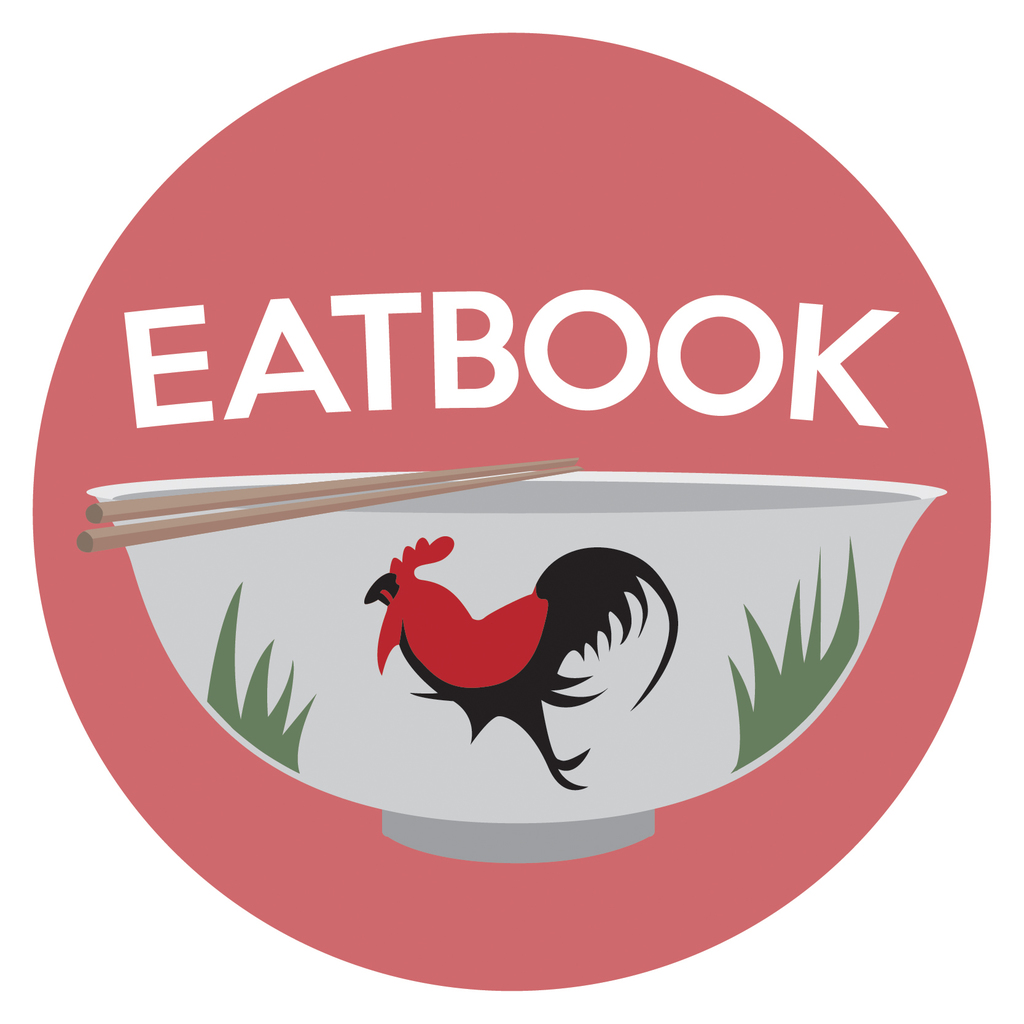 Drop us your email so you won't miss the latest news.